Looking for dinner ideas for tonight?  Check out the top 15 best chicken recipes on the internet.  These easy chicken recipes use common ingredients, quick cooking methods, and tasty flavors.

Check out the variety of chicken recipes with easy ingredients that you can throw together quickly for a delicious meal for your family.
For recipes requiring pre-cooked chicken, check out my epic post on how to cook chicken breast on the stove so it doesn't dry out.
1. Chicken Enchiladas with Sour Cream Sauce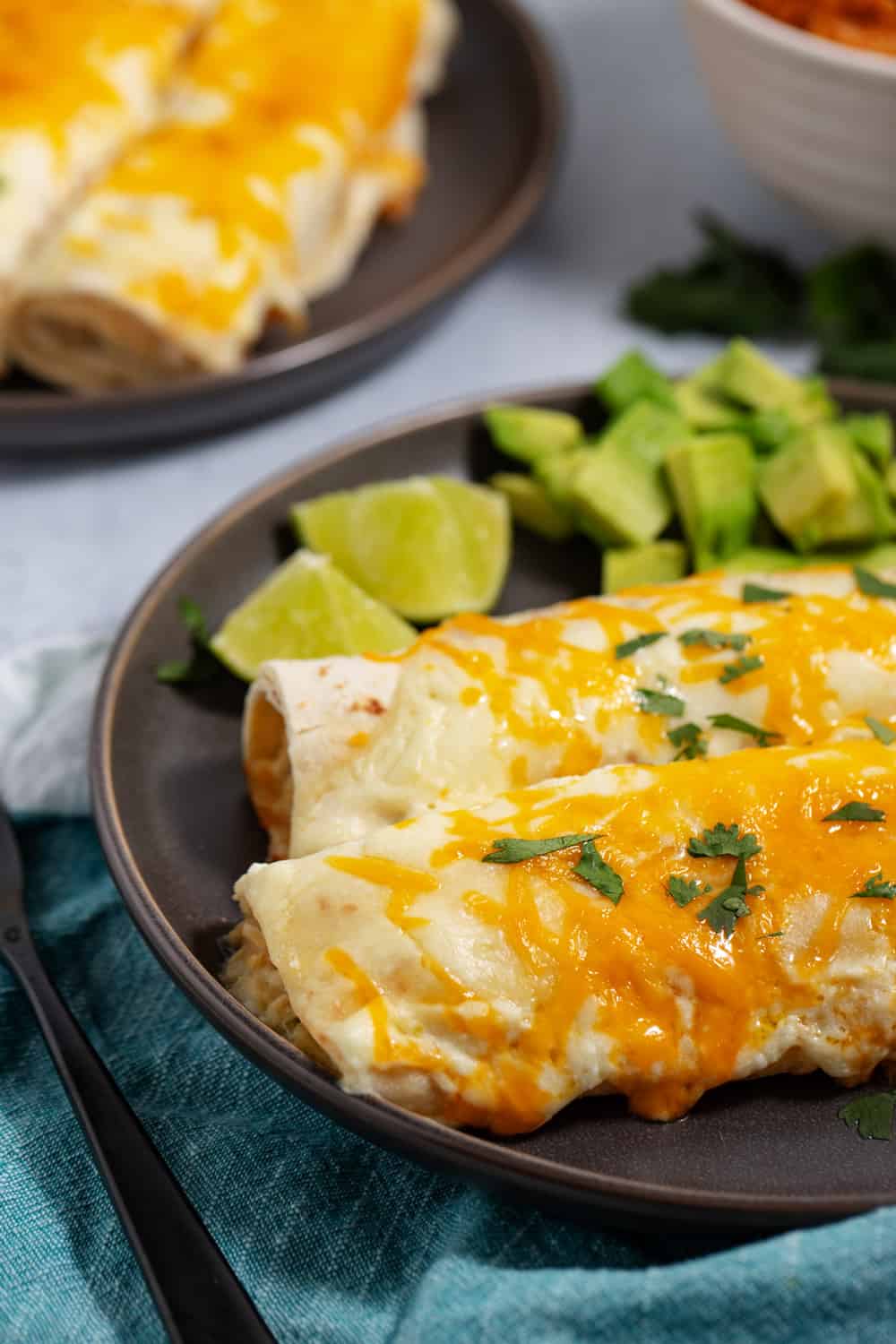 Make creamy, cheesy Sour Cream Enchiladas from The Tasty Tip.  Make a homemade green chili sour cream sauce and combine it with chicken and Monterey Jack cheese.  Roll it all up in a flour tortilla, cover it with more sour cream sauce and bake until bubbly.  Do the prep work the night before and this easy dinner can be on the table in under 40 minutes.
2. Easy Cobb Salad with Chicken
Looking for a full-meal salad.  A hearty Cobb Salad with chicken from The Tasty Tip fits the bill.  It has greens, three kinds of protein, vegetables, and a fresh vinaigrette.  Cook the proteins ahead of time for fast assembly.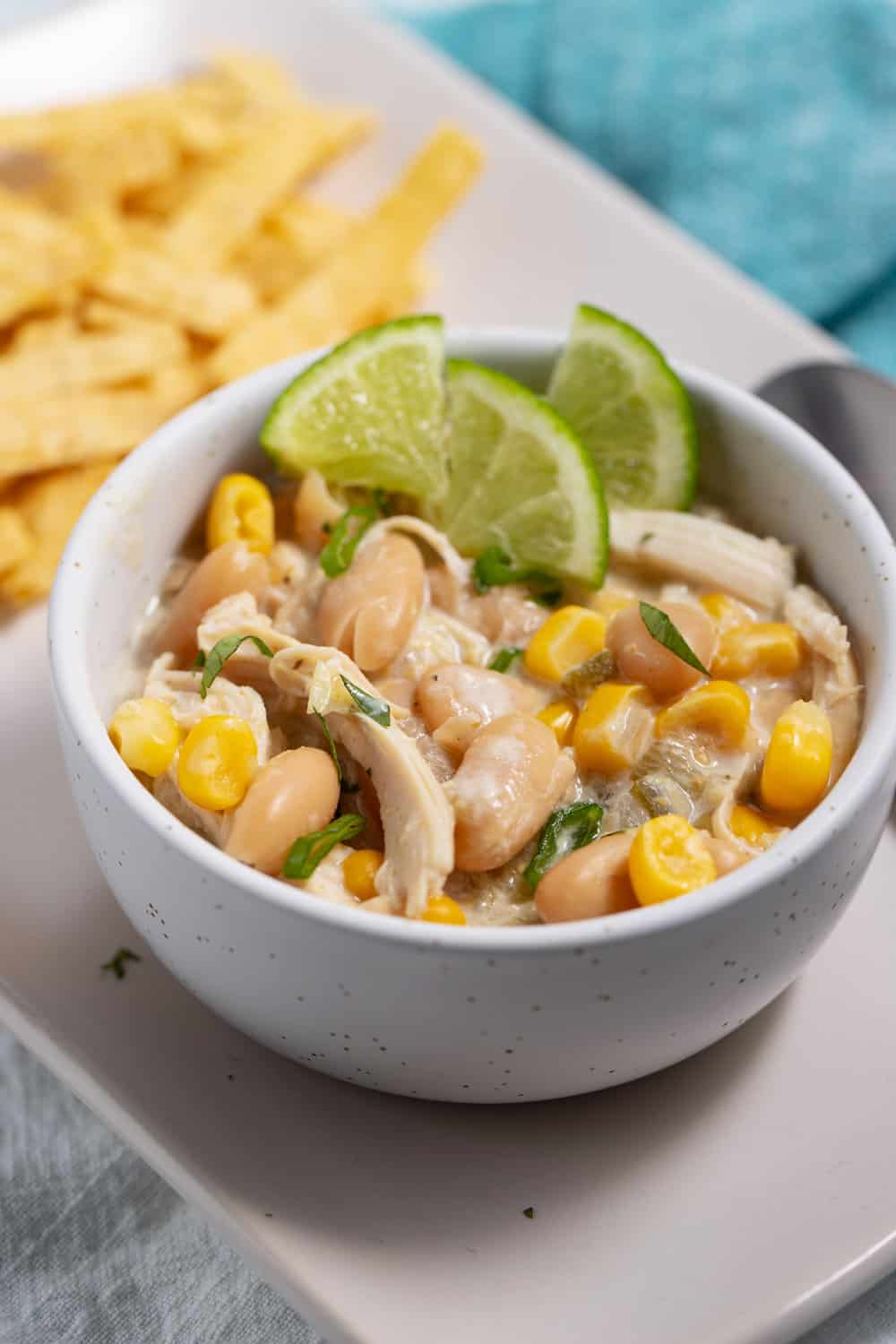 Make an epic white chicken chili with salsa verde recipe for dinner tonight. Salsa verde infuses flavor. Cream cheese adds a velvety texture. Gimme seconds, please.
4. Instant Pot Chicken Salad Sandwich with Grapes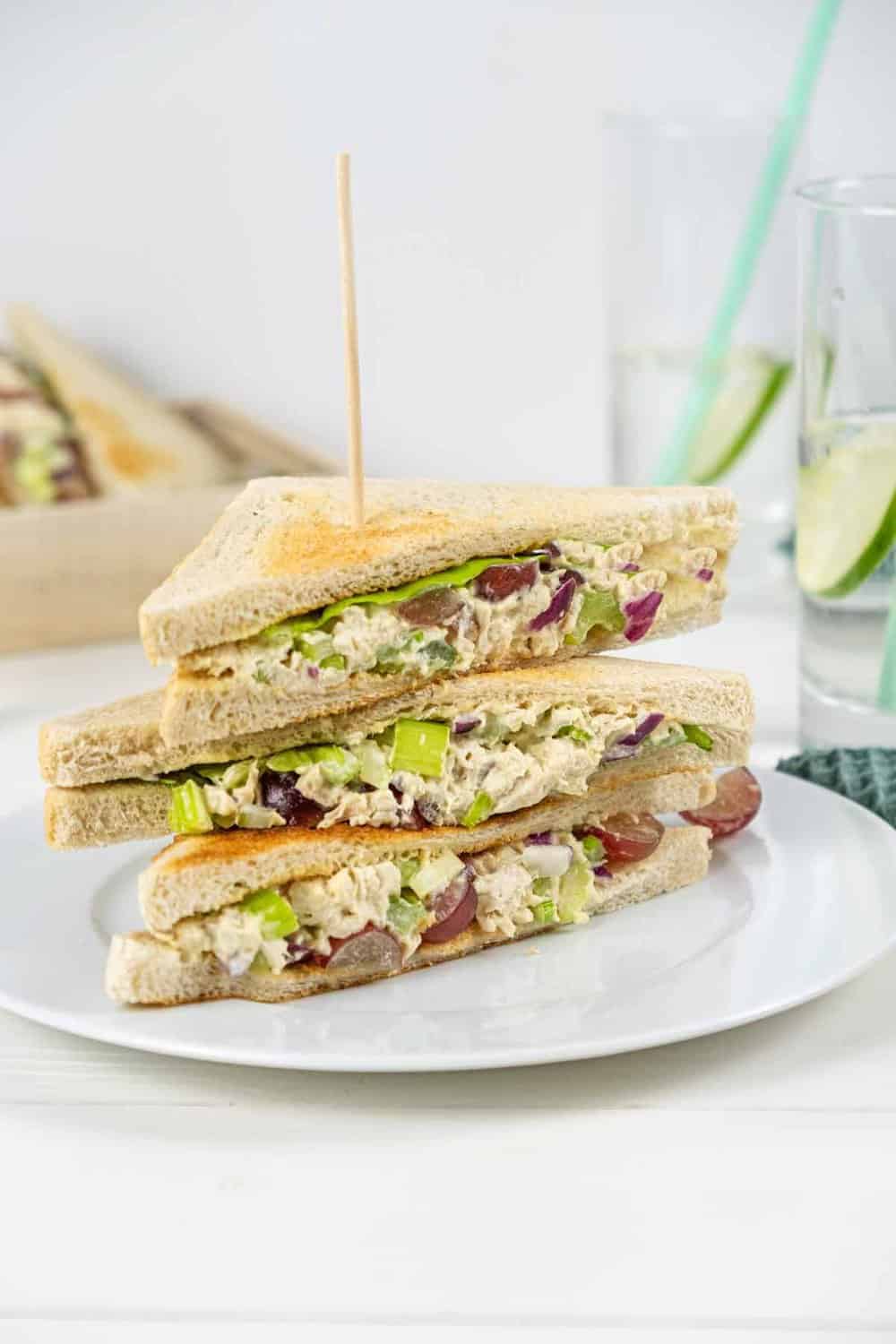 Use your Instant Pot to make a quick easy chicken salad recipe with grapes. Avoid overcooked dry chicken with 5 crucial pressure cooker tips for cooking chicken.
You may also be interested in learning about the best bread for chicken salad sandwiches. And while you are at it, discover the best chicken salad sandwich toppings.
5. Chicken Enchiladas Lasagna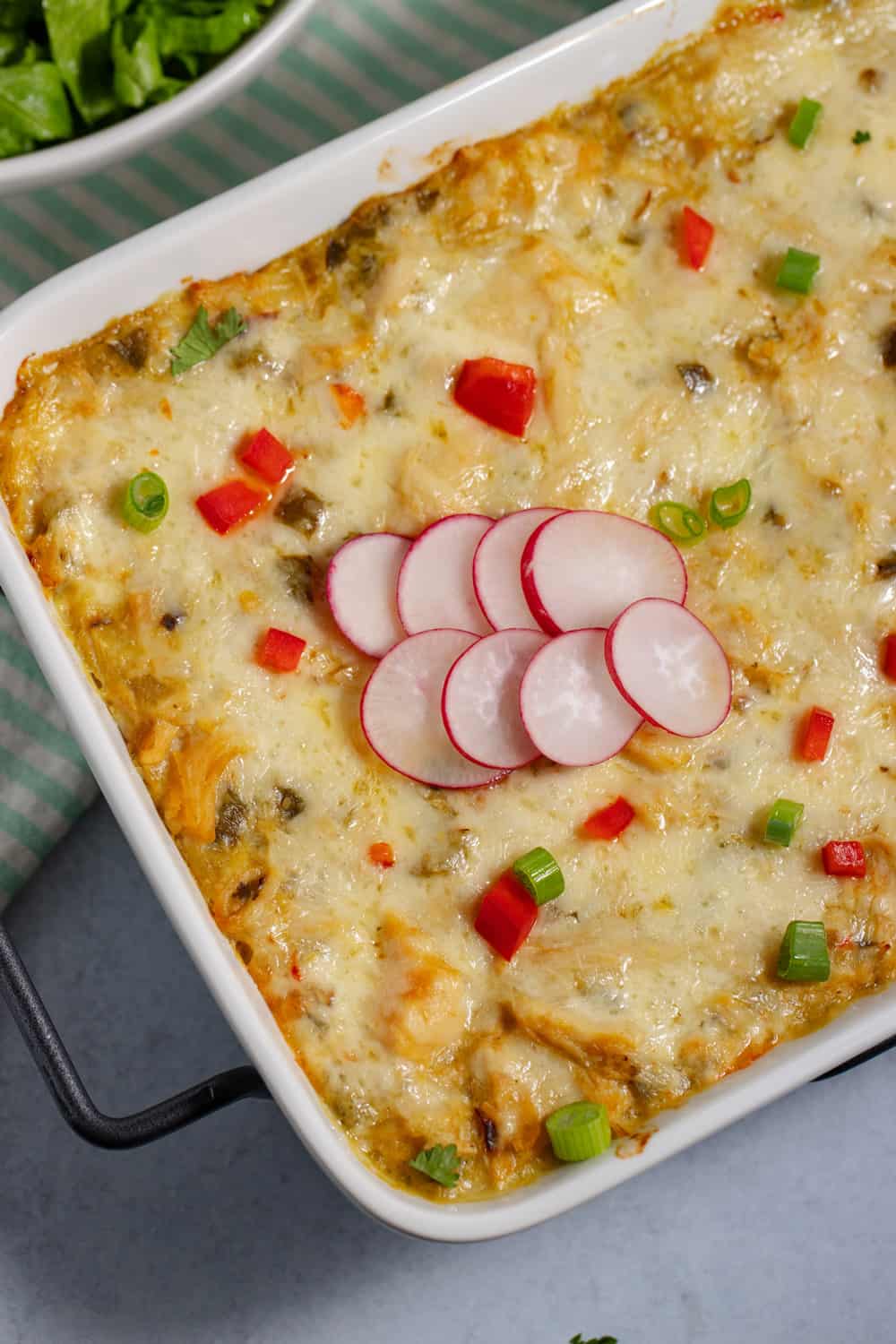 You will love this chicken enchiladas lasagna recipe. Layers of corn tortillas, green chili chicken, cilantro Cotija, and pepper jack cheese.
Use leftover chicken and make it for dinner tonight.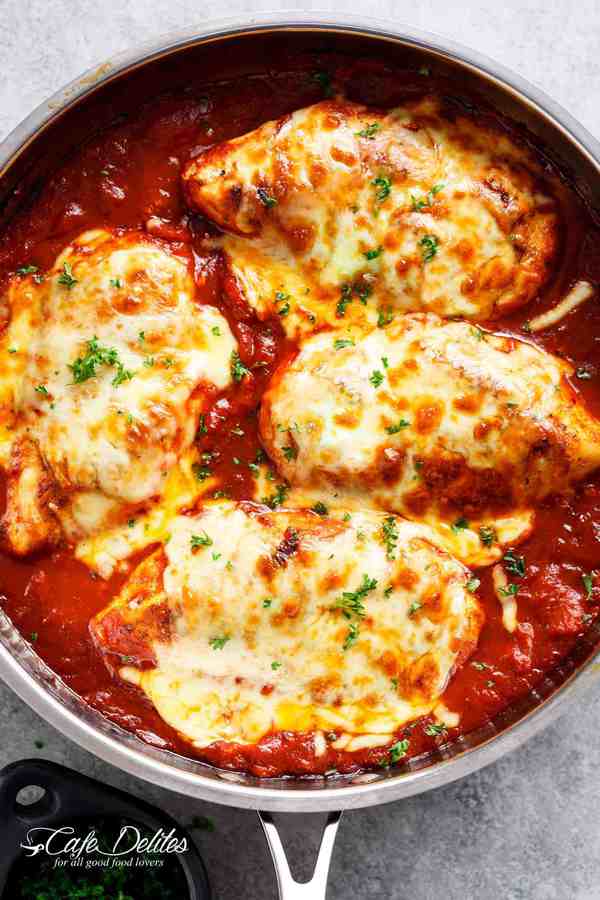 Easy Mozzarella Chicken comes to us from Karina at Café Delites.  This chicken recipe calls for chicken breasts, seasonings, onion, garlic, fire roasted pepper, crushed tomatoes, tomato paste, and mozzarella cheese.  Season the chicken and cook it in a skillet.  Combine the other ingredients in the skillet and cook the sauce.  Place the chicken in a casserole dish, pour the sauce over it, followed by the cheese.  Broil the chicken until the cheese is browned and bubbling.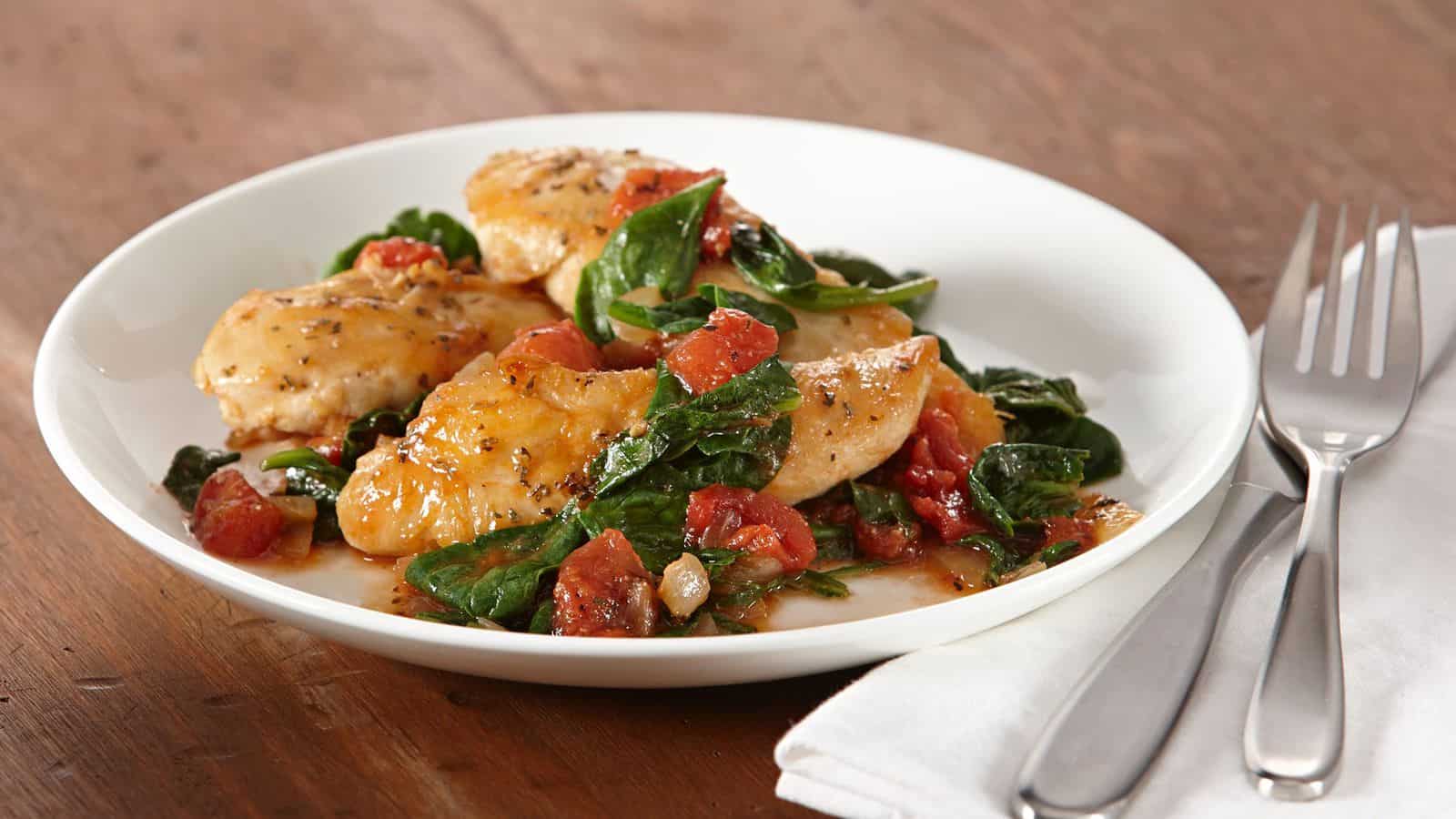 Mccormick shares a healthy chicken recipe with spinach and tomatoes, served over pasta or couscous.  This easy dinner recipe whips up in 30 minutes and is a one pot wonder.  The ingredients are chicken tenders, onion, diced tomatoes, spinach leaves, and four McCormick spices.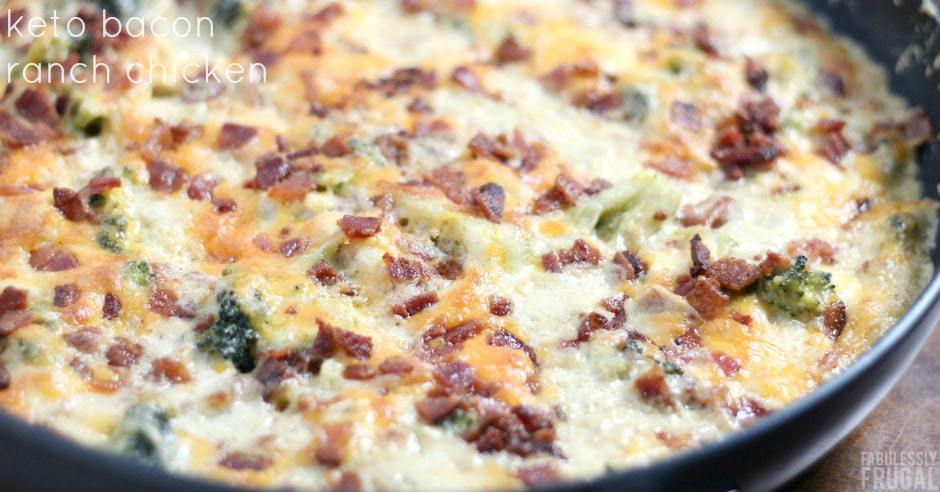 Check out Keto Bacon Ranch Chicken by Fabulesslyfrugal.com.  Ingredients include cooked chicken, broccoli, bacon, cheese, cream, chicken broth, butter, cream cheese, and spices.  Make the sauce and steam the broccoli.  Combine the chicken, broccoli, and sauce in an oven-proof pan.  Top with cheese and bacon and bake in the oven for 20 minutes until sauce is bubbly.
Hearty Chicken Chili was featured in Martha Stewart Living, October 2010.  This recipe is finished in under an hour and leftovers can be refrigerated for five days or frozen for a month.  The recipe calls for chicken thighs, kidney beans, tomatoes, onion, jalapeno chili, garlic, chicken broth, and seasonings.  Broil the vegetables and then pulse them in a food processor.  Cook the chicken in a skillet and add all ingredients, simmering for about 30 minutes.

Katerina Petrovska at Diethood.com introduces Creamy Garlic Herb Chicken.  It is a one pan meal, ready and on the table in 30 minutes.  Season chicken breasts and cook them in a skillet until done.  Make the cream sauce with cream cheese, milk, Parmesan cheese, garlic, and spices.  Spoon the sauce over the chicken and sprinkle with Parmesan cheese.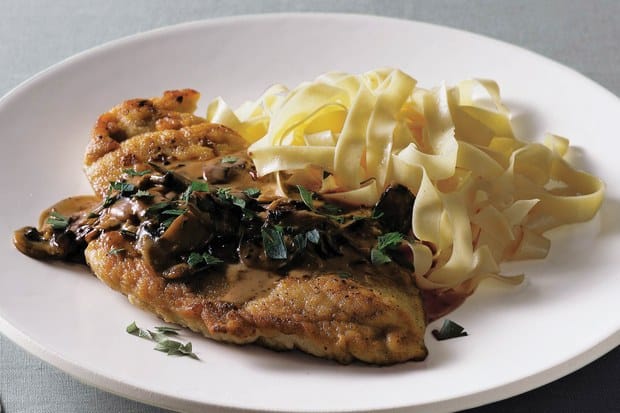 In June 2005, Gourmet magazine published this tasty recipe for Chicken Marsala, made in just under an hour.  This recipe got high reviews with over 90% of people saying they would make it again.  This chicken recipe calls for chicken breast, seasonings, shallot, mushrooms, chicken broth, cream, and lemon juice.  Pound, season, and dredge chicken.  Cook chicken in skillet.  Make sauce and serve over chicken.
Any time is a good time for the ultimate Chicken Noodle Soup featured on Taste of Home.  It takes about an hour to get this dinner recipe on the table and it makes a whopping 10 servings.  It calls for chicken thighs, onion, garlic, celery, carrots, egg noodles, chicken broth, and seasonings.   Cook chicken in a stock pot.  Cook vegetables in chicken drippings.  Add the broth, seasonings, chicken and noodles.
Straight from the Pillsbury Kitchens comes this classic Chicken Pot Pie, made in under 30 minutes.  The recipe calls for refrigerated pie crusts and filled with cooked and shredded chicken, mixed vegetables, onion, milk, flour, and seasonings.  Make the pie crusts as directed and then make the sauce.  Stir in the chicken and vegetables.  Spoon into pie crust and bake until golden.
The Food Network Kitchen shares their easy Chicken Fettuccine Alfredo recipe, made in under 30 minutes.  This recipe calls for chicken breast, fettuccine, creamy, Parmigiano-Reggiano cheese, and spices.  Cook the pasta to al dente.  Season the chicken and cook in a skillet.  Remove chicken and make the Alfredo sauce.  Toss the sauce with the chicken and noodles.
Try this Chicken Teriyaki recipe from Molly Baz at Epicurious.  It takes 40 minutes to prepare and can be served with rice.  This chicken recipe calls for chicken thighs, soy sauce, radishes, scallions, rice vinegar, and seasonings.  Season chicken and cook it in a skillet.  Remove chicken from the skillet and make the sauce in the skillet.  Toss the chicken with the sauce and serve with radishes and scallions over rice.
If you like these chicken recipes, share this post on facebook, twitter or pinterest.