Like homemade almond milk? Love chocolate? Then learn how to make chocolate almond milk for a healthy sweet refreshing drink.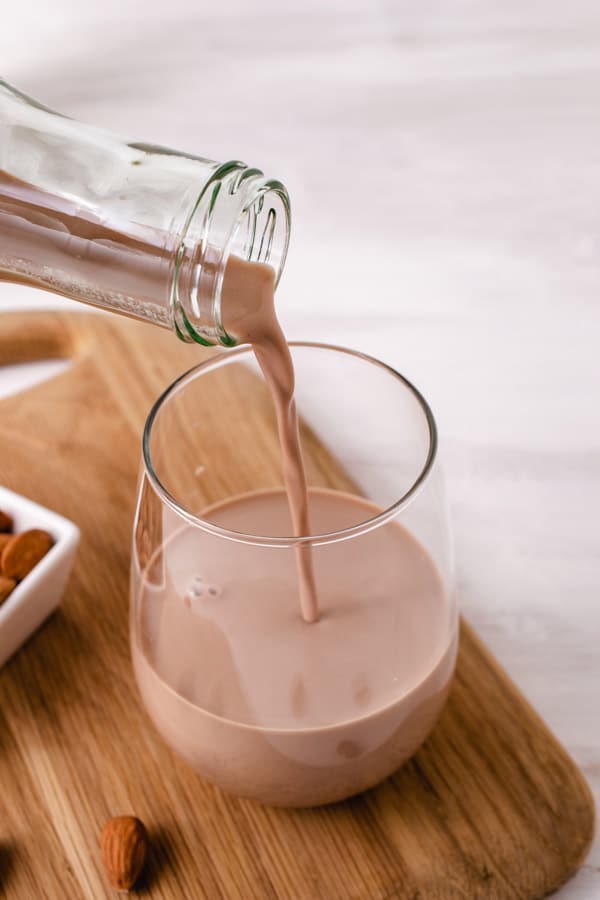 When I learned how to make almond milk, I made it every week to pour on oatmeal and use in baking to replace dairy milk.
Since it tastes delicious and is a great substitute for dairy milk in most recipes, I decided to see if it would work as a chocolate milk as well.
We don't drink much milk in our family. It not that we're lactose-intolerant. However, sometimes we get congested when we drink a lot of dairy milk. So we use alternatives when we can.
Fortunately, we don't miss dairy milk when we use almond milk. But chocolate milk is another matter. While we pour regular almond milk on oatmeal or cereal, we drink chocolate milk by itself as a stand alone treat.
Because we usually drink chocolate milk in the morning, I wanted to make a healthy, sugar-free recipe. I am not really a fan of sugary foods in the morning.
Don't get me wrong. I have plenty of desserts on this blog that have sugar. I make those desserts as a special treat.
But in the morning? I want something healthy and nutritious.
Chocolate milk feels like a morning drink to me. So, no sugar. This recipe contains no sugar, and is sweetened with dates.
What's in Chocolate Almond Milk?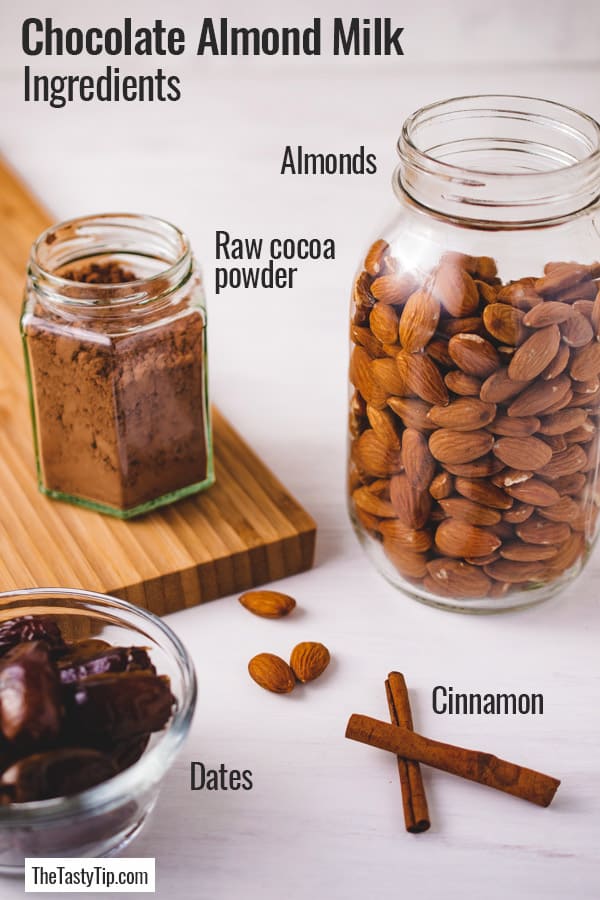 This recipe has no sugar or dairy in it. It has 4 simple ingredients blended with water with an optional pinch of salt.
Almonds
Raw cacao powder. Note that cocoa powder is cacao powder that has been heated. Cocoa powder can be substituted for cacao powder if that is what you have.
Pitted dates
Cinnamon
What Does Chocolate Almond Milk Taste Like?
Homemade chocolate almond milk tastes creamy, yet light. That is the almonds. The texture is smooth chocolate with a deep earthy chocolate flavor from raw cacao powder. It is sweetened by dates. So it tastes more naturally sweet, rather than sticky sugary sweet.
How to Make Chocolate Almond Milk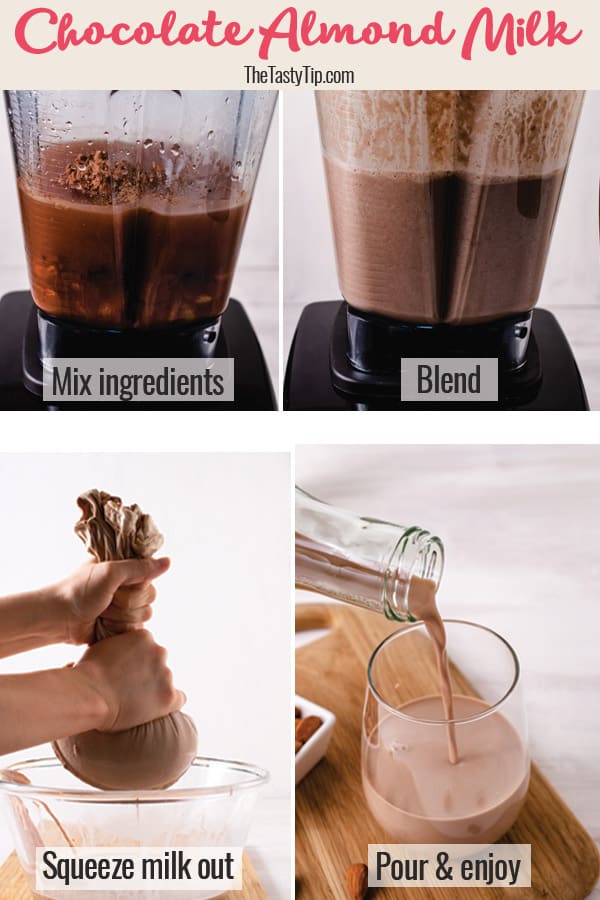 SOAK the almonds 6 to 48 hours (depending on how creamy you want the milk).
DRAIN the almonds.
POUR water into a high-speed blender. I recommend the Vitamix.
A quick note: for success at this recipe, you really need a high powered blender, like a Vitamix or a food processor.
The Vitamix is my go-to blender of choice. I love mine. I have had it for years and anticipate owning it forever.
It especially shines when blending an ingredient with a liquid, like water and almonds. I can blend my almonds and water in under a minute.
ADD the cacao or cocoa powder, almonds, dates (or other sweetener), cinnamon, and pinch of salt into the blender.
BLEND for 1 minute.
SQUEEZE the chocolate milk through a nut milk bag.
CHILL for 2 or more hours.
ENJOY.
Frequently Asked Questions
Can chocolate almond milk be heated?
This vegan chocolate milk can be heated.  If it simmers for several minutes, it starts to thicken.  Heat the milk as a first step when making chocolate pudding.
Can you freeze chocolate almond milk?
You can freeze chocolate nut milks.  If you make a large batch of chocolate milk and you don't think you can finish it before it goes bad, freeze a portion of it.  Then thaw it out for several hours or overnight. It will separate a bit so shake it before you drink it.

You can also freeze this milk in ice cube trays if you are going to use it to make a smoothie.  Chocolate milk ice cubes won't water down your smoothie like regular ice cubes.
How long does chocolate almond milk last?
Any nut milk is best used within 3 to 4 days after you make it.  It can last a few days longer than that in a pinch.

However, fresh is always better.  So make smaller batches and enjoy fresh more often.
Is chocolate almond milk dairy free?
Chocolate almond milk is dairy free.  The only exception would be if a recipe called for milk chocolate.  This recipe does not call for milk chocolate and so it is completely dairy free.
Is chocolate almond milk vegan?
This recipe for chocolate almond milk is vegan.  The cocoa powder has no dairy in it. However, beware of recipes that call for blending a chocolate bar into the almond milk.  The chocolate bar may have dairy in it.
Is chocolate almond milk paleo?
Homemade chocolate almond milk is paleo.  Almonds, raw cacao powder, and dates are all paleo ingredients.

Processed cocoa is cacao powder roasted at high temperatures.  Although it can be used in this recipe, choose raw cacao powder instead if you are on a paleo diet.
Is chocolate almond milk keto?
This recipe has keto-friendly ingredients, such as almonds and cocoa powder.  However, it also calls for dates, which is a dried fruit high in carbs. Dates are not recommended on a keto diet.

If you are on a keto diet, you can substitute a keto-friendly sweetener, such as stevia or xylitol.  Instead of the dates, add 1 tablespoon of the sweetener of your choice. Taste and add more until it is as sweet as you like.
What to Use Chocolate Almond Milk For?
Use any chocolate nut milk as a healthy sweet drink. It can also be used in smoothies, protein shakes, almond milk ice cream, and almond milk pudding.
---
Did you like this post? Then let's be social. FOLLOW ME on PINTEREST and INSTAGRAM to keep up with the latest tutorials, favorite recipes and interesting happenings.
---
Yield: 4 cups
Chocolate Almond Milk
Make smooth, rich, creamy chocolate almond milk for a healthy sweet refreshing drink.
Additional Time
5 minutes
Total Time
6 hours
10 minutes
Ingredients
4 cups water
1 cup (6 ounces) raw almonds
3 tablespoons raw cacao powder (or cocoa powder)
6-10 dates, pits removed
¼ teaspoon cinnamon
pinch of salt (optional)
Instructions
SOAK

almonds in water enough water to cover the almonds by at least an inch.

Soak at least 6 hours and up to 48 hours. The longer the soak, the creamier the milk.

DRAIN

the almonds.

POUR

water into the Vitamix or other powerful blender.

ADD

the cocoa powder, almonds, dates, cinnamon, and salt.

BLEND

until completely liquefied, at least 1 or 2 minutes.

TASTE

and add more dates if needed.

POUR

the milk into a nut milk bag (best) or cheesecloth or thin towel if that is all you have.

STRAIN

the milk through the nut milk bag and into a storage container.

CHILL

the chocolate almond milk in an airtight container, preferably a glass milk jug.

DUMP

the almond pulp out of the nut milk bag.

Dry the pulp and use it as you would almond meal.

CLEAN

your nut milk bag, dry it, and get it ready for your next batch of milk.
*Note: If you forget to soak your almonds the night before, you can boil the almonds in water for 15 minutes to soften them. This makes it easier to blend them.
It is also possible to blend the almonds into milk without soaking them if you have a powerful enough blender. The Vitamix is powerful enough and I have made the milk with raw, unsoaked almonds.
Notes
All images and content are © TheTastyTip.com. If you want to use this recipe and techniques, please take your own photos, write your own description, and link back to this page. Thank you.
Nutrition Information
Yield
4
Serving Size
1 cup
Amount Per Serving
Calories

171
Total Fat

9g
Saturated Fat

1g
Trans Fat

0g
Unsaturated Fat

12g
Cholesterol

0mg
Sodium

43mg
Carbohydrates

22g
Fiber

6g
Sugar

12g
Protein

9g
Nutrition information is an estimate only and may vary based on individual ingredients added and cooking methods used.
---
Did you make this recipe? Tag @thetastytip on Instagram and hashtag it #thetastytip.
Chocolate or plain nut milk — which is your favorite? Comment below and let me know.