Love homemade almond milk? Craving chocolate? Then learn how to make chocolate almond milk for a refreshing, dairy-free drink.
Sometimes a tall glass of chilled chocolate milk is just what you need to start your day. But if you are avoiding cow's milk for health reasons, you may fear your chocolate milk days are over. Don't worry. Chocolate almond milk is the perfect substitute.
To make chocolate almond milk, blend almonds, cocoa powder, a sweetener, and flavorings. Filter the almond pulp out and chill the milk. When it is cold, you will have a smooth, creamy, chocolatey delicious treat.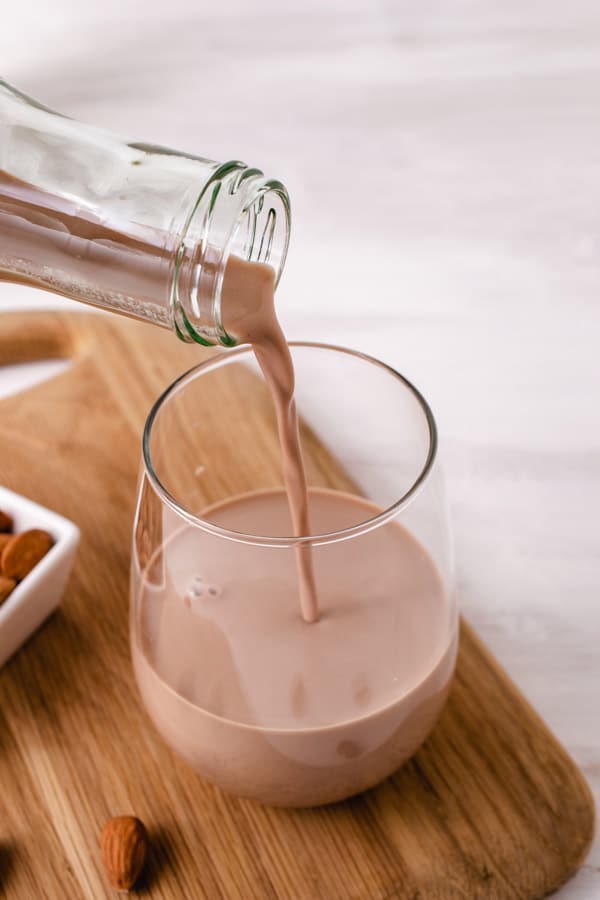 Learn how to make chocolate almond milk without white sugar or any other undesirable additives. Too often chocolate almond milk from the grocery store has ingredients the health-conscious wish to avoid.
If you already make your own almond milk, homemade chocolate milk will be no problem.
You never miss dairy milk when you use unsweetened almond milk in baking. You pour vanilla almond milk on oatmeal or cereal with great results.
But chocolate milk is another matter. You drink chocolate milk by itself. As a stand-alone treat.
You need a homemade chocolate almond milk recipe that tastes fabulous. But is still healthy. Then when the craving hits, you can drink with no guilt.
What Does Chocolate Almond Milk Taste Like?
Homemade chocolate almond milk has a light, yet creamy chocolate flavor.
Soaked almonds blend into a rich, smooth texture. Raw cacao powder infuses a deep earthy chocolate flavor. Unsweetened cocoa powder is an easy substitute for cacao powder.
When sweetened with dates or maple syrup, the chocolate milk tastes naturally sweet, rather than sticky sugary sweet.
I do not like the taste of store-bought almond milk. It is fine to pour on cereal. But drink it from a cup? No way. You probably feel the same way if you are exploring any homemade nut milk recipe.
All the almond milks I have tried have a higher water to almond ratio than this recipe. That high water ratio dilutes the flavor.
Almond milk companies try to remedy the lack of flavor by adding sugar. Sugar does not bring back lost flavor.
If you are going to learn how to make chocolate almond milk, use a recipe that tastes good. Add more almonds. Do not dilute the flavor. Sweeten naturally.
Making your own nut milk is a healthier option and a better tasting one too.
Ingredient List: What's in Chocolate Almond Milk?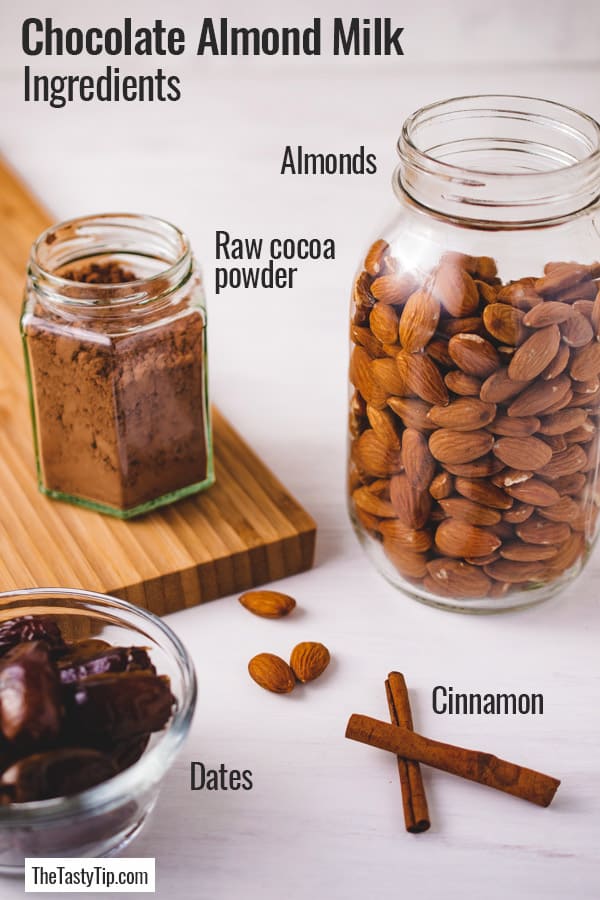 This recipe has no sugar or dairy in it. It has 4 simple ingredients blended with water and an optional pinch of salt.
Almonds. Use whole, unpeeled almonds for the best flavor. Blanched almonds are too devoid of flavor to use in milk.

Some recipes use almond flour instead of whole almonds. However, it does not give the best flavor to the milk. Avoid that route, if possible.
Raw cacao or unsweetened cocoa powder. Note that cocoa powder is heated cacao powder. Cocoa powder can be substituted for cacao powder if desired.
Pitted dates, maple syrup, or your sweetener of choice. If you need to limit your sugar intake in any form, skip the sweetener.
Dash of cinnamon. Optional spice, but it enhances the chocolate flavor.
How to Make Chocolate Almond Milk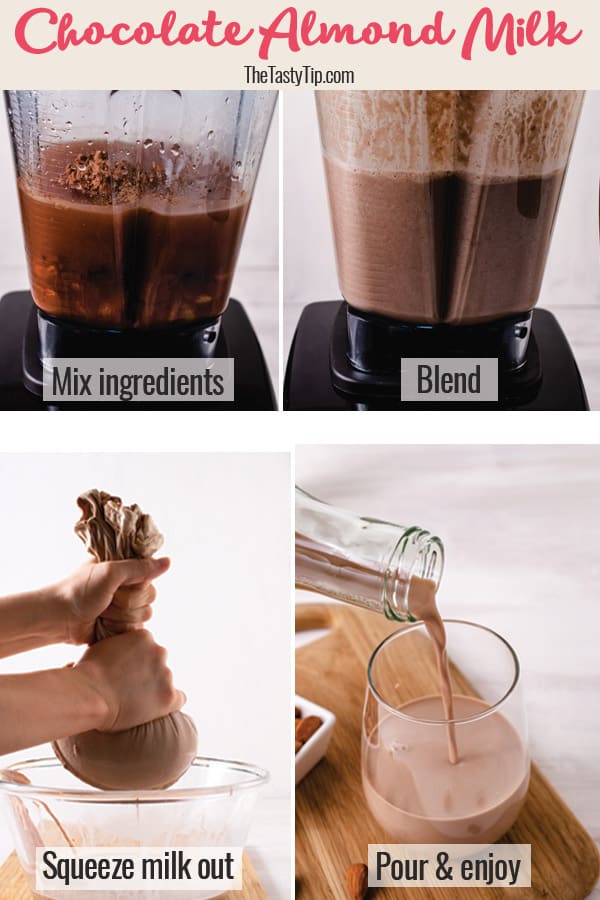 SOAK the almonds 6 to 24 hours (depending on how creamy you want the milk). Use ½ cup of almonds for every 1½ to 2 cups water.


DRAIN the almonds.


POUR 2 cups of fresh water into a high-speed blender. I recommend the Vitamix.

A quick note: For recipe success, you really need a high-powered blender, like a Vitamix or a food processor.

The Vitamix is a great choice and my go-to blender of choice. I love mine. I have had it for years and expect to own it forever.

It especially shines when blending an ingredient with a liquid, like water and almonds. I can blend water and almonds in under a minute.


ADD the cacao or cocoa powder, almonds, dates (or sweetener of choice), cinnamon, and pinch of sea salt into the blender.


BLEND for 1 minute.


POUR the liquid through a fine mesh strainer to catch the thick pieces. Then pour into a nut milk bag. Or use a cheese cloth.


SQUEEZE the chocolate milk through the nut milk bag. The almond pulp will stay in the bag. Use the pulp in smoothies or muffins.


CHILL for 2 or more hours.


ENJOY during any chocolate craving.
Frequently Asked Questions
Can chocolate almond milk be heated?
This vegan chocolate milk can be heated. Heat it up and drink it as hot chocolate. If you want a thicker hot cocoa, melt some chocolate chips and stir them into the warm milk.

If the chocolate almond milk simmers for several minutes, it starts to thicken. This is a good choice to start almond milk chocolate pudding.
Can you freeze chocolate almond milk?
You can freeze chocolate nut milks. If you make a large batch of chocolate milk and you don't think you can finish it before it goes bad, freeze part of it.

Thaw it in the refrigerator for several hours or overnight. It will separate a bit so shake it before you drink it.

You can also freeze the milk in ice cube trays and then use it to make your favorite smoothies. Try it in a chocolate banana smoothie or a chocolate peanut butter smoothie.

Chocolate milk ice cubes won't water down your smoothie like regular ice cubes.
How long does chocolate almond milk last?
Any nut milk is best used within 3 to 4 days after you make it. It can last a few days longer than that in a pinch.

However, fresh is always better. So make smaller batches and enjoy fresh more often.

When it gets bad, you will know it. It curdles, smells, and separates. Do not let it get that far. Small batches are your best friend.
Is chocolate almond milk dairy free?
Chocolate almond milk is dairy free. The only exception is recipes calling for milk chocolate. This recipe does not include milk chocolate and so it is completely dairy free.
Is chocolate almond milk vegan?
This recipe for chocolate almond milk is vegan. The cocoa powder has no dairy in it. However, beware of recipes that call for blending a chocolate bar into the almond milk. The chocolate bar may have dairy in it.
Is chocolate almond milk paleo?
Homemade chocolate almond milk is paleo. Almonds, raw cacao powder, and dates are all paleo ingredients.

Processed cocoa is cacao powder roasted at high temperatures. Although it can be used in this recipe, choose raw cacao powder instead if you are on a paleo diet.
Is chocolate almond milk keto?
This recipe has keto-friendly ingredients, such as almonds and cocoa powder. Be aware of added sweeteners. Dates are a dried fruit high in carbs and not recommended on a keto diet.

If you are on a keto diet, you can substitute a keto sweetener, such as stevia or xylitol. Instead of the dates, add 1 tablespoon of the sweetener of your choice. Taste and add more until it is as sweet as you like.
How to Use Chocolate Almond Milk
Drink any chocolate nut milk as a healthy sweet drink. Or use it in any recipe calling for chocolate milk.
Try it in hot cocoa, smoothies, and almond milk pudding.
Use any homemade almond milk in ice cream, pancakes, crepes, and waffles.
Unsweetened Chocolate Almond Milk Nutrition Facts
Most commercial almond milk has cane sugar unless it is unsweetened. Unsweetened chocolate almond milk does not have any added sugar.
Commercial almond milk has been fortified with calcium carbonate, potassium citrate, vitamin A palmitate, vitamin D2, and D-alpha-tocopherol.
If you make your own chocolate almond milk, you will not have these added minerals. That may be a downside.
However, store-bought chocolate almond milk contains artificial gums and emulsifiers. These add-ins make the milk thick and creamy. You may see gellan gum and sunflower lecithin on the label.
Gellan gum is an emulsifier and a vegan thickening agent, artificially made by manufacturers. Its role is to keep the milk from separating. Since it is not an ingredient in homemade chocolate almond milk, you may have to shake your milk before pouring a glass.
Sunflower lecithin plays a similar role as an emulsifier. It keeps the milk from separating. Some people even add it to their homemade almond milk.
Commercial almond milk has been diluted with more water than this recipe calls for. The ratio of water to almonds is high. Homemade chocolate almond milk has a much lower water to almond ratio.
When you compare the taste of store-bought versus homemade, the taste difference is obvious. However, that difference is also reflected in the nutrition facts.
Homemade Chocolate Almond Milk Nutrition Facts
Based on a serving size of 1 cup:
75 calories
9 grams of fat
4 grams of protein
2 grams of fiber
4 grams of carbs
Keep in mind that this is an estimate only.
Commercial Almond Milk Nutrition Facts
Blue Diamond Unsweetened Chocolate Almondmilk has a higher ratio of water to almonds. The nutrition facts reflect this.
Based on a serving size of 1 cup:
40 calories
3 grams of fat
1 gram of protein
<1 gram of fiber
2 grams of carbs
In addition to almond milks, cashew milks and soy milks are great dairy-free milk alternatives.
Homemade chocolate almond milk plays an important role in a plant-strong diet. Drinking it is a guilt-free way to satisfy your chocolate cravings.
---
Did you like this post? Then let's be social. FOLLOW ME on PINTEREST and INSTAGRAM to keep up with the latest tutorials, favorite recipes and interesting happenings.
---
Yield: 4 cups
Chocolate Almond Milk
Make smooth, rich, creamy chocolate almond milk for a healthy sweet refreshing drink.
Additional Time
5 minutes
Total Time
6 hours
10 minutes
Ingredients
4 cups water
1 cup (6 oz) raw almonds
3 tablespoons raw cacao powder (or cocoa powder)
Sweetener of your choice (dates, maple syrup, stevia, or xylito
¼ teaspoon cinnamon
pinch of salt (optional)
Instructions
SOAK almonds in water enough water to cover the almonds by at least an inch. Soak at least 6 hours and up to 48 hours. The longer the soak, the creamier the milk.
DRAIN the almonds.
POUR water into the Vitamix or other powerful blender.
ADD the cocoa powder, almonds, dates, cinnamon, and salt.
BLEND until completely liquefied, at least 1 or 2 minutes.
TASTE and add more dates if needed.
POUR the milk into a nut milk bag (best) or cheesecloth or thin towel if that is all you have.
STRAIN the milk through the nut milk bag and into a storage container.
CHILL the chocolate almond milk in an airtight container, preferably a glass milk jug.
DUMP the almond pulp out of the nut milk bag. Dry the pulp and use it as you would almond meal.
CLEAN your nut milk bag, dry it, and get it ready for your next batch of milk.
*Note: If you forget to soak your almonds the night before, you can boil the almonds in water for 15 minutes to soften them. This makes it easier to blend them.
It is also possible to blend the almonds into milk without soaking them if you have a powerful enough blender. The Vitamix is powerful enough and I have made the milk with raw, unsoaked almonds.
Notes
All images and content are © TheTastyTip.com. If you want to use this recipe and techniques, please take your own photos, write your own description, and link back to this page. Thank you.
Nutrition Information
Yield
4
Serving Size
1 cup
Amount Per Serving
Calories

75
Total Fat

9g
Saturated Fat

0g
Trans Fat

0g
Unsaturated Fat

0g
Cholesterol

0mg
Sodium

44mg
Carbohydrates

4g
Fiber

2g
Sugar

0g
Protein

4g
Nutrition information is an estimate only and may vary based on individual ingredients added and cooking methods used.
---
Did you make this recipe? Tag @thetastytip on Instagram and hashtag it #thetastytip.
Chocolate or plain nut milk — which is your favorite? Comment below and let me know.