Are you looking for a quaint, comfortable place to eat breakfast in Albuquerque?  Cecilia's Café is a charming place to eat in Albuquerque, with the appeal and comfort of a home-cooked meal with authentic New Mexican food.
We stayed the night in Albuquerque, New Mexico during our summer road trip.  In the morning, we wanted to eat an authentic Albuquerque breakfast.  When searching for places to eat in Albuquerque, we came across Cecilia's Café.  The online menu showed some authentic New Mexican dishes, such as blue corn pancakes and breakfast burritos.  We were sold.
See the other foodie tours in New Mexico and the rest of the states.
Breakfast in Albuquerque: Cecilia's Cafe Location
Cecilia's Café is in downtown Albuquerque in an older, but well-kept up part of town.  There are one-way streets near the café, so keep an eye on the signs if you are not familiar with the area.  We parked a couple of blocks away, near the fire station.
Parking
Cecilia's Café does not have any parking.  You are limited to street parking, some of which is metered (and closely patrolled) or free for a couple of hours if you are willing to walk a few blocks AND get lucky enough to find a spot.  There are also some paid parking areas, but be prepared for a short walk.
Cecilia's Café is open for breakfast and lunch.  The fare is home cooked New Mexican food.  They offer take out, catering, and online ordering.
Our Experience Eating Breakfast in Albuquerque
Overall, our breakfast in Albuquerque at Cecilia's Café was a satisfying way to start our morning.  We were treated politely and seated quickly at 8 AM.  By the time our food arrived, the café was hopping.
We observed regulars coming in to eat, old friends meeting up, and many people coming in to pick up their take-out orders.
Cecilia was there herself, taking care of everyone. She treated her regulars who called in to order take out order like a favorite family member. And the regulars who came in were greeted just as warmly.
Food Recommendations
For our authentic Albuquerque breakfast, we ordered blue corn pancakes and a breakfast burrito.
The blue corn pancake order came with 3 pancakes with a blueish-purple hue (about 5 inches in diameter), butter in a little container and syrup (not homemade) served in a plastic squeeze bottle.
The breakfast burrito was filled with scrambled eggs, potatoes and onions and a choice of meat.  The burrito could be customized in a number of ways, depending on what you wanted or didn't want inside.  It could be smothered with red or green chilie.  We got ours plain.  The menu stated that the tortillas were homemade.  We were surprised since the tortillas didn't particularly stand out.  (We are tortilla snobs though.  When you have tasted as many amazing tortillas as we have, average tortillas don't impress.)
Recommended Favorites
Firemen's Burrito (order if you are very hungry).  This burrito weighs in at about 2 ½ pounds and is a flour tortilla filled with: Carne adovada, eggs, hash brown, chicharron, bacon, sausage and beans, served with red or green chilie.
If you are feeling daring, ask for the Fireman's challenge weighing in at about 10 pounds.
Additional recommended lunch items: Blue corn enchiladas, Indian Taco and Frita Pie, basket of sopaipillas.
Moderately Price
Prices averaged around $10 for a meal.  The quantity of food was fair for the price.  The bill is not brought to the table.  Rather, when you are through eating, go to the cashier and pay.  Credit cards are accepted.
Décor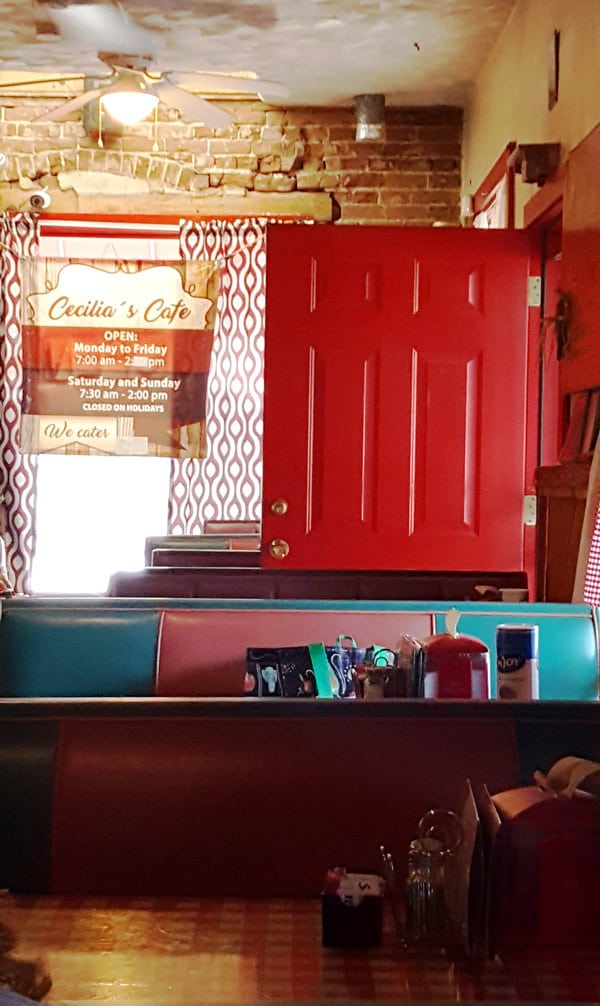 Cecilia's Café is a small charming café with a charming red door.  With only about a dozen seating areas, it can feel crowded when the café is full.
However, the furnishings feel cozy and comfortable with a combination of red brick wall and wood décor. The style is somewhat rustic. The framed awards and articles featuring the café and "Family Rules" plaque hanging on the wall is just enough decoration without being too cluttered.
There were a couple of windows that let in some light, but it was darker than I wanted for pictures.  The red door remained open most of the time.
The place settings are casual with a plastic red and white checkered table cloth on each table and silverware wrapped in paper napkins.  The food and plates are simply presented, but hearty, hot and prepared quickly.
Service
We were greeted by Cecilia, who was brisk, professional and somewhat harried.  Even though busy, she took the time to warmly chat with one of her regulars.  We left with the feeling that if we kept coming back, we would be greeted just as affectionately.
The kitchen grill was very close to the tables and the staff was chatty with each other and somewhat loud.  This didn't bother us, but this isn't the place if you want a little solitude.
Somewhat Family Friendly
Cecilia's Café is a good place to bring kids to eat breakfast in Albuquerque, as long as they like eggs, breakfast burritos or blue corn.  We didn't see a separate kid's menu, but most items were simple enough for children.  A posted sign reminds parents to supervise their children.  There is not room for restless kids to move around.
Bathroom Facilities: There was a single small bathroom in the back.  To get to it, we had to walk through a room filled with storage and supplies.  There is no changing table and really no room for one in that small bathroom.
Wheelchair Accessibility
Cecilia's Café had a step into the entrance of the café and no wheelchair ramp in the front.  The narrow seating areas may make it hard for someone in a wheelchair to navigate.
Reputation
Cecilia Baca, owner of Cecilia's Cafe worked at many restaurants for years before deciding to open her own restaurant.  In an interview, she explained that some previous restaurants where she worked, the meals were promoted as fresh, but were not necessarily made that day.  This bothered her and she wanted to open a restaurant that would serve fresh food, prepared that day. This was her main motivation for opening her own place.
Now with her own café for over 15 years, Cecilia can serve fresh home cooked food to her customers, whom she greets as warmly as family.
Cecilia's Cafe Contact Information
Website:
Hours:
Monday - Friday 7 AM to 2:30 PM. Saturday and Sunday 7:30 AM to 2 PM.
Address: 
230 Sixth Street, Albuquerque, NM 87102
Contact:
505-243-7070
Ceciliascafe459@gmail.com
Traveling to El Reno, Oklahoma?  Try Sid's Diner on Route 66 for the best fried onion burgers made right in front of you.