Looking for some tasty food on Route 66? Try Sid's Diner in El Reno, Oklahoma. Oklahoma is home of the fried onion burger and Sid's Diner will fry you up a tasty burger right before your eyes.
What's the Buzz About Sid's Diner?
If you are driving on Route 66 in Oklahoma, stop by Sid's Diner for their specialty fried onion burger. Featured on Food Network, Man vs Food, and Travel Chanel, Sid's Diner has a reputation for tasty burgers and shakes, a friendly atmosphere, and good customer service.
Sid's Diner is an attractive establishment with an eye-catching red door. It looks like an old fashioned rail car or "lunch car" as early diners often were. It is long and narrow and has a red shade covering with black and white checkered trim.
This popular eatery has limited seating, so if the tables and counter seating are taken, eat outside on the shaded picnic benches.  When the weather is pleasant, children can run on the grass while they are waiting for their food.
And see other food tours and adventures throughout the United States.
Parking
Free street parking in front and a small parking lot in the rear of the building provide adequate parking spaces for the number of guests the diner can accommodate. For mobile guests, there is a drive-in window to pick up take-out orders.
History of Sid's Diner
Sid's Diner is located on a quiet street, on Route 66 in El Reno, Oklahoma. Marty Hall opened the diner in 1989 and named it after his dad, Sid, who envisioned the eatery with him.
Sid's Diner is known for the fried onion burger, invented in Oklahoma in the 1920's.
Before Mr. Hall opened Sid's Diner, he worked at another diner on Route 66, where he also made fried onion burgers.
With over 50 years' experience making these iconic burgers, Mr. Hall knows all the secrets to making a burger that brings his customers back week after week.
Secret #1 ► a well-seasoned grill. With pork, salt, and fat seasoning his grill for over 25 years, every food cooked on that grill comes off tasty.
Secret #2 ►a special spatula, made with a brick trowel. This trowel/spatula is popular enough that sometimes his customers ask to buy one from him. With "Sid's Diner" burned into the wood handle, customers often buy them and give them as gifts.
Food Recommendations
We recommend the fried onion burger. Sid's Diner is known for this burger. Get it with a large basket of shoestring fries or tater tots.
The coney and the shakes are also popular and tasty items, so give them a try too.
They make the fried onion burger to order, but the food still arrives quickly. The piping hot fries come first, followed a few minutes later by the burger.
The burger is served with tomatoes, lettuce, and pickles on a good sized bun. The food is hot and fresh, and served on a Styrofoam plate without any frills.
The fries arrive in a red plastic basket. Guests throughout the restaurant share the half dozen condiment bottles. The serve staff locate and retrieve bottles of ketchup or mustard for guests when they need them.
How the Fried Onion Burger is Made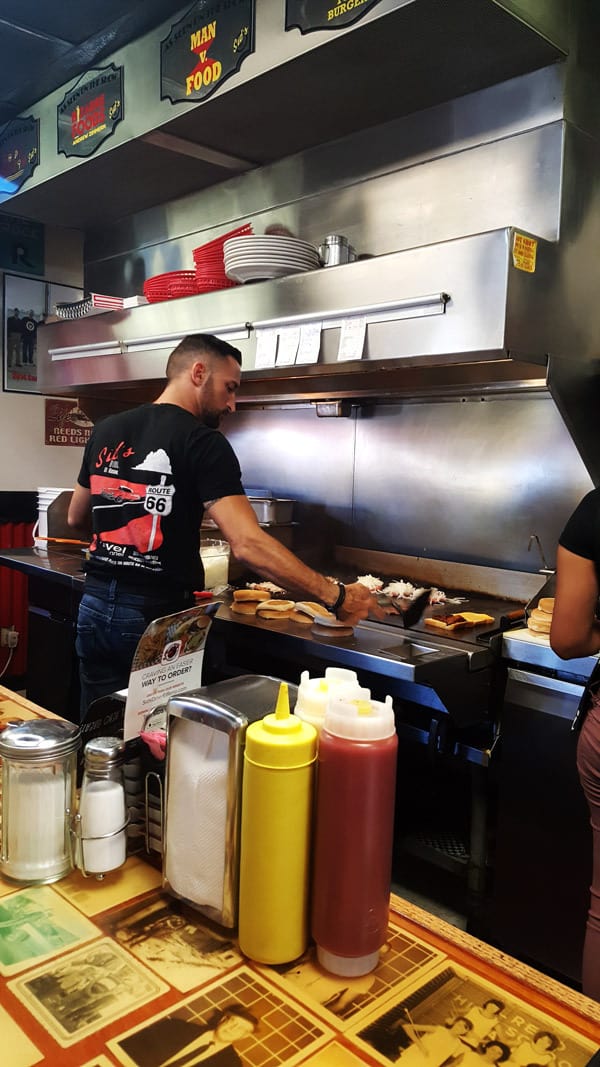 Marty Hall acknowledges "a well-seasoned grill" as one reason for such tasty burgers.
The burgers are 100% pure beef. You can choose ¼, ½, or a full pound of meat for your burger.
The grill chef places thin slices of Spanish yellow onions on top the raw burger meat on the grill. Then he seasons the meat with salt and pepper.
Next, the chef smashes the meat and onion combination with a special spatula, made with a brick trowel. Smashing the meat spreads it out, creating a large thin burger that cooks quickly. As the meat cooks, the onions start to caramelize.
After the chef flips the burger, he places the top half of the bun on the cooked meat, steaming the bun. The bottom half of the bun toasts directly on the grill.
After the burger is finished cooking, it is placed on the warm bun. Tomatoes and pickles are added and the sandwich is delivered hot, juicy, and fresh to waiting customers.
Note: The burgers can be made with raw onions or no onions, depending on your preference.
Moderately Priced
The burgers, coneys, fries, and shakes are moderately priced at less than $5 per item, for a regular size. The food is tasty enough to feel like you are getting a deal.
Seating
Sid's Diner is small and narrow, with only four or five tables crammed together.
In addition to the tables, there are a dozen counter seats, where you can watch your food cooking. We sat at the counter seeing our food cook, and we loved it.
If the weather is nice, eat outside in the grass. There are two benches with an umbrella and two covered picnic benches. There is plenty of grass, so restless children can run and play while they are waiting for their food. Or they can run around after they have eaten.
Service
The food arrived hot and delicious in a short time. The front staff was friendly and answered questions we had about the location and history of Sid's Diner.
Somewhat Family Friendly
The tables in the diner sit close together, so navigating with small children inside might be difficult. Everyone shares one bathroom, tucked away in the corner. The bathroom was clean and there was a changing table inside.
Wheelchair Accessibility
A small step up at the entry leads you into a very narrow diner. A wheelchair would have difficulty maneuvering inside.
Decor and Atmosphere
Sid's Diner is long and narrow with a bar counter and rail car appearance. Family pictures and newspaper articles under the counter glass provide decoration.
Hall family photographs and diner awards are displayed around the room. Photos of El Reno citizens who have served in the armed force or as first responders also adorn the walls. Sid's Diner celebrates these local residents.
A United States map and a world map are dotted with dozens of push pins, showing where visitors have traveled from to eat at Sid's Diner. Use a push pin to mark where you are from before you go.
Two televisions at opposite ends of the diner played different stations. One played the news and the other played a sitcom.
The atmosphere, while welcoming to newcomers, catered to their regulars. The regulars who came in knew it would be busy. One woman commented, "It's always busy here."
The wait staff knew their regular customers and had a good rapport with them. One waitress encouraged an elderly customer to finish his salad. She spoke to him as a concerned friend, noticing he hadn't eaten much in the last few days.
The regulars were welcoming to the newcomers. One elderly man struck up a conversation with my son. He told him he once met a little boy with a new baby brother. When the man jokingly asked the young boy if he could take his new little brother home, without hesitation the youngster said, "Yes!" Our new friend chuckled and chuckled at his story.
Food Safety Issue
As we watched the food being cooked and prepared, I noticed a food safety issue -- the potential for cross contamination. Read more about how to eliminate food safety hazards.
The raw hamburger meat was placed next to a container of sliced tomatoes. The two items were close enough together that I kept my eye on them. I did not see the grill chef touch the tomatoes and I did not see the sandwich maker touch the raw meat. However, the raw meat was too close to the tomatoes for my comfort.
Contact information
Website:
https://www.sidsdinerelreno.com/
Hours:
7 AM to 8 PM Monday – Saturday
Address
300 S Choctaw Ave.
El Reno, OK 73036
Contact
(405) 262-7757
---
If you are looking for other restaurant suggestions, check out Cecelia's Cafe in Albuquerque.
---
Did you like this post? Then let's be social. FOLLOW ME on PINTEREST and INSTAGRAM to keep up with the latest tutorials, favorite recipes, and interesting happenings.
---