Craving a healthy refreshing smoothie? Blend 5 simple, wholesome ingredients into an amazing strawberry smoothie with yogurt.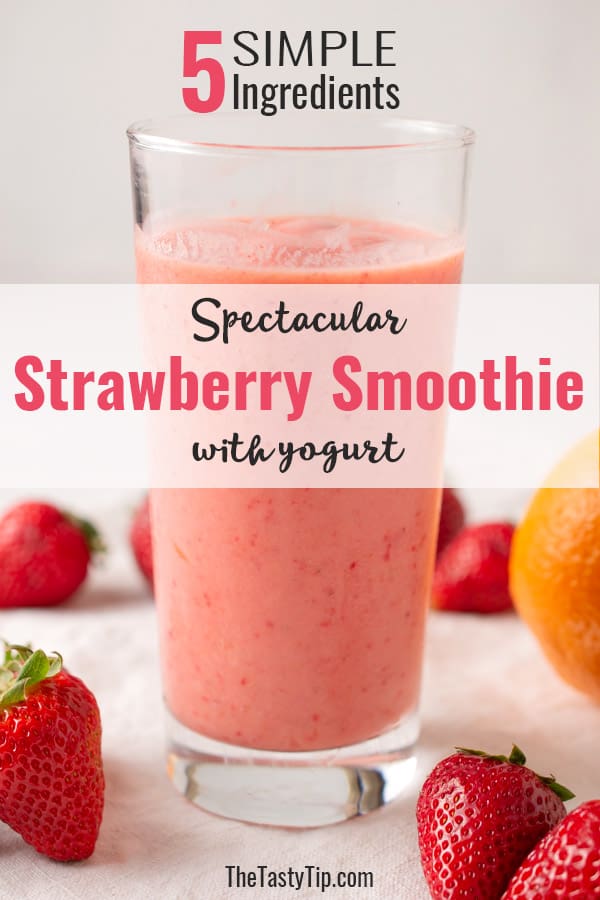 I am obsessed with a couple of foodie things. Finding the best way to prepare a recipe and discovering mouthwatering flavor combinations.
The 5 simple ingredients in this strawberry smoothie are a fusion meant to be together. Not only is the combination sweet and refreshing, but each ingredient is nutritious and adds a unique benefit to the smoothie.
The citruses pull out the fresh strawberry flavor.
Greek yogurt adds protein and a smooth, creamy texture.
A whole Cara Cara orange contributes fiber.
Strawberries, lemon, and Cara Caras all provide beneficial antioxidants.
Nothing not to like here.
To top it off, kids love the sweet and creamy texture, so this is definitely a kid-friendly smoothie.
Smoothie Recipes
It has been fun to discover the benefits of smoothies. And it's been a blast to create a bunch of delicious and healthy smoothie recipes.
Strawberries have always been one of my favorite fruits. I started my smoothie collection with a healthy strawberry smoothie recipe with oatmeal.
Now the new Cara Cara Strawberry Smoothie with yogurt can join my recipe collection. I hope you like it just as much as I do.
This smoothie features strawberries and the Cara Cara orange.
My Smoothie Guidelines
I only want to make healthy smoothies, so I've given myself rules for each smoothie recipe. The rules make them nutritious and convenient.
I make my smoothies for breakfast or as a snack. I believe breakfast and snacks should be healthy.
There is a time and place for desserts (yes, Snickerdoodle Cookie time is real). But smoothie time is not one of those times.
This rule prevents watery smoothies. Unless you drink your smoothie right away, ice cubes that melt will turn your smoothie watery.
We all intend to drink the smoothie right away, but sometimes distractions happen. If you need ice, freeze juice or milk into ice cubes.
Use organic fruit when possible.
If possible, use fruit free of pesticides, herbicides, and waxes or other coatings. If you are trying to make a healthy smoothie, start with pure and healthy ingredients.
Some fruits are especially high in pesticides. Unfortunately, strawberries are one of the most highly pesticided fruits. So find organic, if you can.
Freeze fruit every week for a smoothie.
If you make smoothies as often as we do, consider freezing your own fruit -- especially if you get a good deal on seasonal fruit.
5 Simple Ingredients for a Healthy Strawberry Smoothie With Yogurt
Five ingredients + an optional sweetener build this strawberry smoothie.
Of course, you can always combine other add-ins if you want. Popular add-ins include flax seed, hemp seed, a handful of spinach, or protein powder.
#1 Strawberries (use frozen strawberries)
Strawberries are the star of this show. They are sweet berries usually in season in the summer. However, you can buy them frozen year round.
Strawberries are high in antioxidants and they have anti-inflammatory properties. They are rich in Vitamin C and manganese (which helps keep bones healthy).
#2 Cara Cara Oranges
If strawberries are the star, the Cara Cara orange is the Oscar-winning supporting actor. This smoothie would not be the same without the Cara Cara.
What is a Cara Cara orange? A Cara Cara is a type of navel orange. On the outside, it looks the same as a regular navel orange.
However, when you pick it up, it feels heavier because it is crammed with juice.
When you cut it open, you will see a beautiful deep red orange color. Lycopene and beta-carotene cause this unique color.
Just as a reminder, lycopene helps prevent DNA damage to cells and beta-carotene helps maintain healthy skin.
There are no seeds and there is very little pith in a Cara Cara, making it an ideal fruit to blend into a smoothie.
The Cara Cara orange is low in acid and has a sweet, mildly tart flavor with a hint of raspberry. Perfect for a strawberry smoothie!
However -- if you can't find a Cara Cara orange, substitute a couple of clementines or another orange. Your smoothie will still be good. You just won't get the unique Cara Cara flavor.
If you use a regular navel orange, you may need to add a sweetener to your smoothie. Cara Caras are sweeter than regular navel oranges. Taste the smoothie and do what you need to do.
#3 Cara Cara Orange Juice
The orange juice won't have the fiber that the whole orange does, but we do need some liquid to blend the smoothie. Use the juice in just one orange.
#4 Lemon Juice
Lemon juice is high in vitamin C and is good for the liver and kidneys. Throw in a splash to enhance the bright flavor of the strawberry.

#5 Greek Yogurt
Greek Yogurt is thick, creamy, and filled with protein. Yogurt also has beneficial bacteria, which can help you have a healthy gut.
Can you substitute another kind of yogurt? Yes, of course. Regular yogurt is thinner, so use less juice (use ¼ cup of juice).
If you are a dairy-free family, use unsweetened non-dairy yogurt. Coconut yogurt, almond yogurt, cashew yogurt, or soy yogurt will all work.
Just remember to use unsweetened yogurt and to add less orange juice (only ¼ cup of juice).
Optional Sweetener
I did not think this smoothie needed a sweetener. It was already sweet because of the orange juice. But if you want it a bit sweeter, try a drizzle of mild-flavored honey.
How to make a Strawberry Smoothie With Yogurt
Most of my smoothie recipes only take 5 minutes to whip up. This one takes a bit longer (10 minutes) because you need to peel one Cara Cara orange and juice the other orange.
Don't let that deter you. It is still a quick and healthy breakfast or snack.
PEEL 1 CARA CARA ORANGE. Peel and then pull apart the orange sections for easier blending. There will be little pith to worry about.
JUICE 1 CARA CARA ORANGE. You should get about ½ cup of juice from a medium orange. If you get a little less juice, you may need to add a touch more yogurt if you think the smoothie is too thick.
JUICE ½ a LEMON. You only need a teaspoon of lemon juice for this recipe. Just enough to help enhance the strawberry flavor. I do recommend using freshly squeezed lemon juice, if possible. Your taste buds will thank you.
POUR INGREDIENTS INTO VITAMIX (or other high-powered blender). Start with the liquids and end with the fruit. Layer in this order: Cara Cara orange juice, lemon juice, Greek yogurt, (any optional powdered add-ins like protein powder or flax seed powder), Cara Cara orange slices, and strawberries.
BLEND UNTIL CREAMY. Blending usually takes 30 to 60 seconds. The length of time depends on the power of your blender and how long it takes to get the consistency you love.
TASTE AND SWEETEN (if necessary). Add honey to sweeten, if you think you need it. I don't sweeten this smoothie. I think the Cara Cara is sweet enough. But add what you want. My husband prefers smoothies with a little honey added.
SERVE IMMEDIATELY. There is nothing like a freshly blended smoothie! As it sits, the frozen strawberries melt just a little bit, which affects the consistency. Since no water or ice were added, it won't taste watered down if it melts. So you are good even if it melts a bit.
Facts about Strawberry Smoothie with Yogurt
Strawberry smoothie with yogurt calories:
The nutrition estimate is 156 calories for a 9 ounce serving of this smoothie recipe.  There are 37 carbs, 4g protein, and 3g fiber.
Is strawberry smoothie with yogurt keto?
Although strawberries and Greek yogurt are recommended for the keto diet, oranges are not because of their high carbs.  This smoothie may not be ideal if you are on the keto diet.

To make it a keto-friendly smoothie, don't use Cara Cara oranges or orange juice. Substitute milk for the orange juice and add a handful of spinach.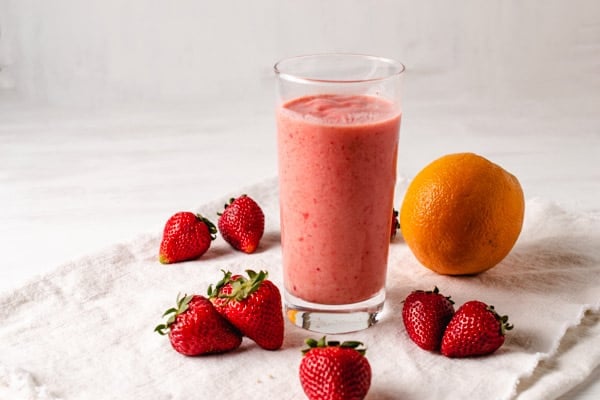 ---
Did you like this post? Then let's be social. FOLLOW ME on PINTEREST and INSTAGRAM to keep up with the latest tutorials, favorite recipes and interesting happenings.
---
Recipe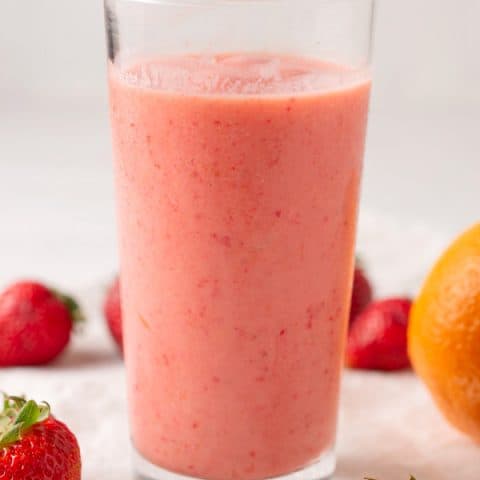 Cara Cara Strawberry Smoothie with Yogurt
Craving a healthy refreshing smoothie? Blend 5 simple, wholesome ingredients into an amazing strawberry smoothie with yogurt.
Ingredients
Smoothie
1 ½

cups

strawberries

frozen

2

medium Cara Cara oranges

1

teaspoon

lemon juice

freshly squeezed

¼

cup

plain

unsweetened Greek yogurt

1

tablespoon

mild honey

optional
Optional Add-ins
flaxseed

hemp seeds, protein powder
Instructions
JUICE 1 orange and half a lemon.

PEEL the second orange and separate the orange sections.

POUR the orange juice, lemon juice, yogurt, and honey into the blender container.

ADD the orange sections and the frozen strawberries and any optional add-ins.

BLEND starting on low speed and increasing to high speed. Blend until the smoothie is the right consistency (approximately 30 to 45 seconds).

TASTE and add additional honey if necessary.

SERVE IMMEDIATELY.
Notes
All images and content are © TheTastyTip.com. If you want to use this recipe and techniques, please take your own photos, write your own description, and link back to this page. Thank you.
Nutrition
Serving:
9
ounces
Calories:
299
kcal
Carbohydrates:
35
g
Protein:
22
g
Fat:
10
g
Saturated Fat:
1
g
Polyunsaturated Fat:
9
g
Cholesterol:
4
mg
Sodium:
42
mg
Fiber:
7
g
Sugar:
22
g
---
When do you drink your smoothies? Breakfast, snack, after a workout? Comment below and let me know.