Easy, creamy, healthy strawberry smoothie recipe that blends up in 5 minutes. Discover the secret ingredient for a smoothie bursting with fresh strawberry flavor.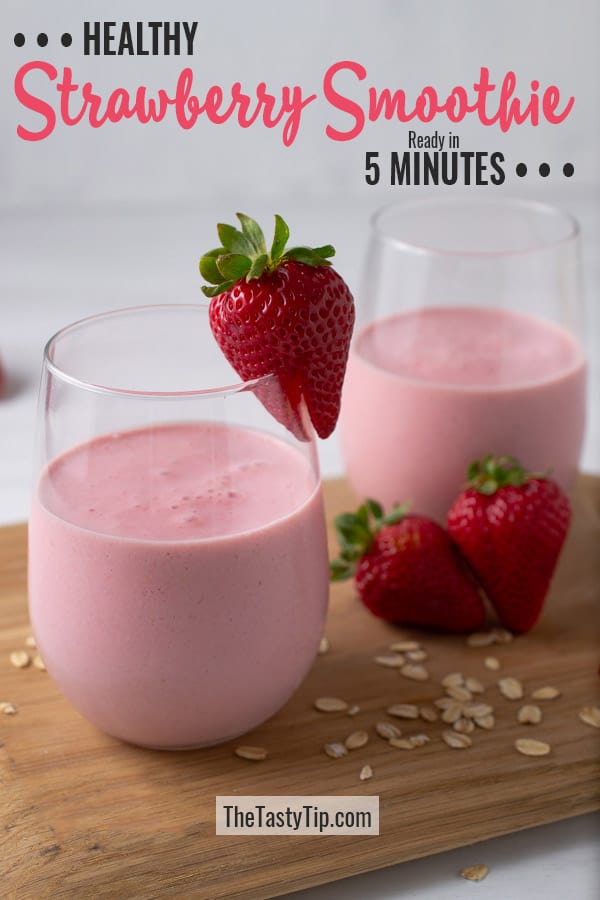 For a long time, I wasn't into smoothies. I thought smoothies were mostly unhealthy and just a dessert. If I wanted to use my calories on a dessert, I planned to eat a cookie, like my famous Snickerdoodle Cookies.
The only smoothies I had ever tasted were from smoothie bars. I don't have to tell you about all the fat, calories, and sugar loaded in those smoothies.
They left me feeling weighed down and a little over-sugared. No thank you.
I wanted an easy smoothie that was just as healthy as it was tasty.
Strawberries have been my favorite fruit for a long time, so strawberry was the easy choice for my first smoothie recipe.
In addition to this recipe, you may also be interested in my 5 ingredient Strawberry Smoothie with yogurt.
Gotta Taste the Fruit
If you have read my Banana Muffin recipe, you know that I like my fruit recipes to taste like the fruit that is in them.
Unfortunately, fruit nowadays often has a much more bland flavor than it used to when I was a kid. Or even a decade ago.
Have you noticed that about fruit?
Large-scale food producers often sacrifice flavor in exchange for producing inexpensive food as quickly as possible. Chemicals and certain manufacturing practices lead to high yield and low taste.
Sometimes artificially flavored foods taste more like the real fruit, than the real fruit does.
Sad, but true.
My first option is farmer's market fruit if I can't grow it myself. I find produce from a farmer's market tastier than produce from a regular grocery store.
But wherever I get my fruit, I have a cheat sheet of hacks to bring out more of the natural fruit flavor.
For this strawberry smoothie, I add a complimentary ingredient to enhance and bring out the taste of strawberries.
How to Bring Out the Strawberry Flavor
There are tons of strawberry smoothie recipes with a variety of flavors added to the strawberry. They are all great. But this recipe is a simple strawberry smoothie -- pure strawberry with a splash of lemon juice to bring out the flavor.
That's right. Lemon juice is the secret ingredient to enhance the flavor of the strawberry. You only need 2 tablespoons of lemon juice. That is about one medium lemon juiced. It is enough to highlight strawberry, but not enough to taste lemony.
Guidelines to the Best Strawberry Smoothie
When I decided to dive into making smoothies, I gave myself some mandatory guidelines to create healthy and delicious recipes. All my smoothie recipes follow these guidelines.
This is important to me. There are plenty of desserts I make that do have sugar, but I want my smoothies to be healthy. I make them for breakfast or for an afternoon snack, so they have to be nutritious.
There are a variety of other foods that sweeten the smoothies, if they need to be sweetened. Whole dates, honey, maple syrup, juice, and whole oranges are a few of these sweeteners.
If you drink your smoothie in a flash after you make it, you may be able to get away with adding ice cubes.
However, if you get distracted, drive the kids to school, start a load of laundry, take the dog out, etc., your smoothie may sit on the counter for more than a few minutes.
The longer it sits on the counter, the more ice cubes can melt, watering down your smoothie. This dilutes the fruit flavor and may make you want to add sugar to sweeten it.
Now, if you like the iciness of a smoothie and you aren't getting it from the frozen fruit, make ice cubes out of milk, juice, or coconut water. Then if you add them to your smoothie and it melts, it won't dilute the flavor like water will.
If possible, use fruit free of pesticides, herbicides, and waxes or other coatings. If you are trying to make a healthy smoothie, start with pure and healthy ingredients.
Some fruits are especially high in pesticides. Unfortunately, strawberries are one of the most highly pesticided fruits.
Freeze fruit every week for a smoothie.
Make a plan for your weekly smoothies and then freeze the fruit, so it is ready to go. You can buy frozen fruit as well, but if you find a good deal on seasonal fruit, buy a bunch and freeze some.
Strawberries and Pesticides + Chemicals
The United States Department of Agriculture (USDA) have scientists who tested pesticide and chemical use on strawberries between January 2015 and October 2016.
Their results were very disturbing. Just to highlight a few…
99% of the tested strawberries had detected residues of at least one pesticide.
30% had detected residues of 10 or more pesticides.
Overall in the sample, there were 81 different pesticides detected.
Carbendazim (a chemical banned in the European Union) was found in 16% of the samples. Carbendazim is a fungicide known to potentially damage the male reproductive system.
Bifenthrin (insecticide labeled a possible human carcinogen by the Environmental Protection Agency and regulators in California) was found in over 29% of the samples.
Strawberries routinely are on EWG's Dirty Dozen™ list because of the pesticides and chemicals used to grow them. In 2019, strawberries are #1 on the list.
So bottom line, if you can get organic strawberries, use them.
Strawberry Smoothie Ingredients
Strawberries. Strawberries are the main star of this strawberry smoothie. All the other ingredients are meant to compliment the strawberry flavor or add a delicious creaminess.
Lemon juice. Acids like lemon juice, orange juice, or balsamic vinegar enhance the flavor of strawberries.
I chose lemon juice for this easy strawberry smoothie. You won't need much to bring out the flavor.
Milk. Milk is the liquid for this smoothie. Use whatever kind of milk you like. Dairy milk is the most common choice, but almond milk is what we use most often.
Check out my post on how to make almond milk. It is easy to make and tastes so much better than almond milk you buy in a store.
Rolled oats. Use raw rolled oats for a creamy, rich taste. Adding oatmeal also increases fiber, which we all need.
Honey. Sweeten with just a tablespoon of honey. Add more if you like your smoothies a little sweeter.
Frequently Asked Questions
How many calories in a strawberry smoothie?

This simple strawberry smoothie recipe has a nutrition estimate of 231 calories for an 8 ounce serving.  In addition, there are 5 grams of fiber and 9 grams of protein.

How many strawberry smoothie carbs?
There are an estimated 31 carbs in this recipe.  Most come from the old-fashioned oatmeal. Keep in mind that oatmeal contains healthy complex carbohydrates, which take longer for your body to break down and absorb.  

In addition to complex carbohydrates, oatmeal gives you protein and fiber.
How to make strawberry smoothie healthy
The best way to make a strawberry smoothie healthy is to eliminate any added sugar.  Sweeten with natural sweeteners, such as honey.

Other ways to make a healthier strawberry smoothie include substituting almond milk for dairy milk.  Or you can add a handful of spinach or kale. It blends beautifully and doesn't diminish the taste.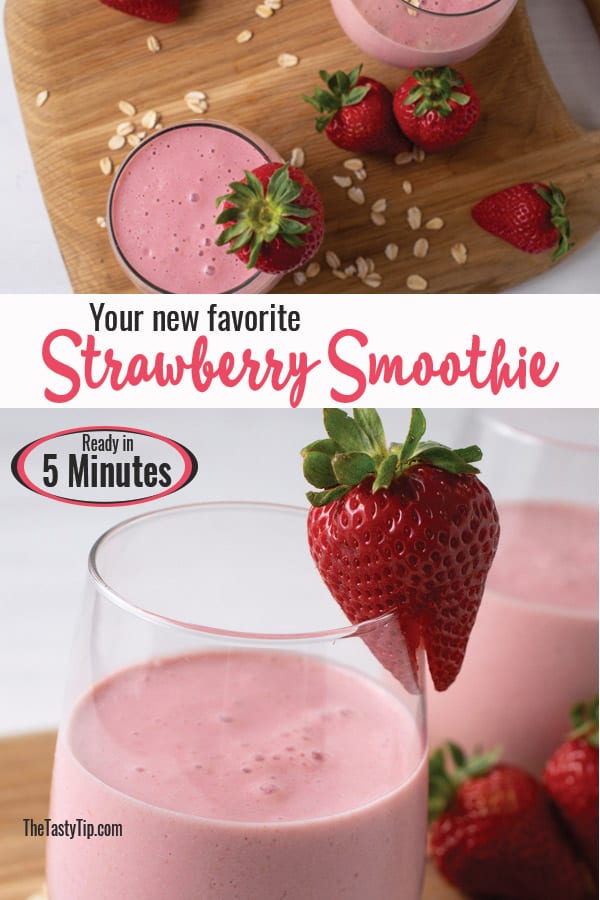 ---
Did you like this post? Then let's be social. FOLLOW ME on PINTEREST and INSTAGRAM to keep up with the latest tutorials, favorite recipes and interesting happenings.
---
Recipe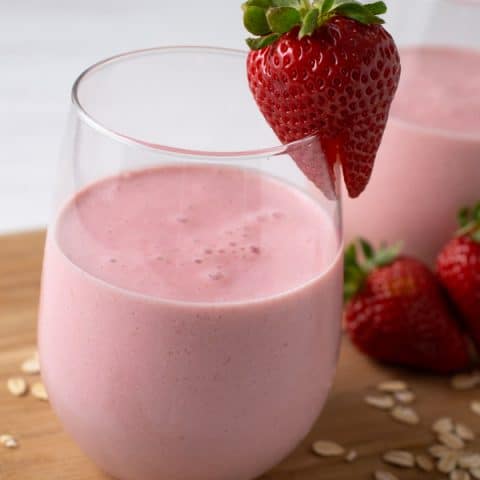 Strawberry Smoothie
Smooth, creamy, and healthy strawberry smoothie, free of sugar and ready to go in 5 minutes.
Ingredients
Smoothie Ingredients
1 ½

cups

milk

any kind - dairy, almond milk, etc.

2

tablespoons

lemon juice

freshly squeezed

1

tablespoon

honey

mild variety, or more to taste

¼

cup

old-fashioned rolled oats

raw

2

cups

frozen strawberries

hulled
Optional Add-ins
1 to 2

tablespoons

flaxseed

ground

1 to 2

tablespoons

hemp seeds
Instructions
POUR milk, lemon juice, and honey into the blender container.

ADD rolled oats.

BLEND starting on low speed and increase to high speed for 30 seconds or until the oats are blended smoothly.

ADD the frozen strawberries and any optional ingredients (if using).

BLEND starting on low speed and increasing to high speed until the smoothie is the right consistency (approximately 30 seconds).

TASTE and add additional honey if necessary.

SERVE IMMEDIATELY.
Notes
All images and content are © TheTastyTip.com. If you want to use this recipe and techniques, please take your own photos, write your own description, and link back to this page. Thank you.
Nutrition
Serving:
8
ounces
Calories:
231
kcal
Carbohydrates:
33
g
Protein:
9
g
Fat:
5
g
Saturated Fat:
2
g
Polyunsaturated Fat:
7
g
Cholesterol:
10
mg
Sodium:
75
mg
Fiber:
5
g
Sugar:
14
g
---