If you have ever wondered if Vitamix customer service is any good, read about my experience with them when I broke my Vitamix container.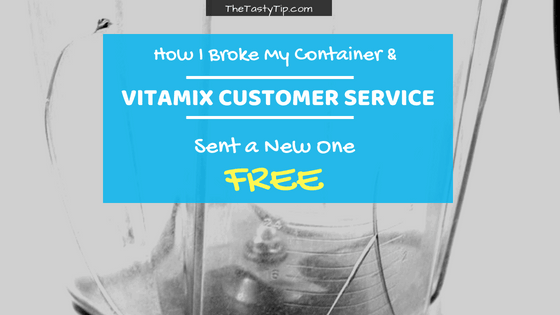 I'm not one to keep anyone in suspense.  I have good things to say about Vitamix customer service.  I have to give shout-outs when they are deserved.
We all know what a bad customer service experience feels like.   You are on hold for twenty, thirty or even sixty minutes.  When you finally speak to someone, you either can't understand them, can't hear them or they don't know what they are talking about.  They certainly aren't empowered enough to help you and they aren't paid enough to really care.  We have all been there.
That is why, when my experience with Vitamix customer serve was so positive, I had to write about it because it was such a contrast to my interactions with other companies.
My Vitamix History
First off, I have owned my Vitamix 5300 model for about three years.  I use it every week and usually several times a week.  I have chopped and pureed and blended with it.  There have never had any problems with it.
However, one day I did something a little foolish.  I had some hard Parmesan cheese that was too hard to hand grate.  We are talking rock hard and old.  I didn't want to shred it and risk shredding my fingers in the process.  Surely the Vitamix could do it easily.
So I threw in a big hunk of the hard cheese and turned the blender on.
The second I turned it on, the cheese flew around the container, knocking against the walls.  The cheese bounced around and around above the blade, barely touching the sharp ends.  So foolishly I increased the speed gradually up to 10, thinking this would force the cheese and blade to make contact.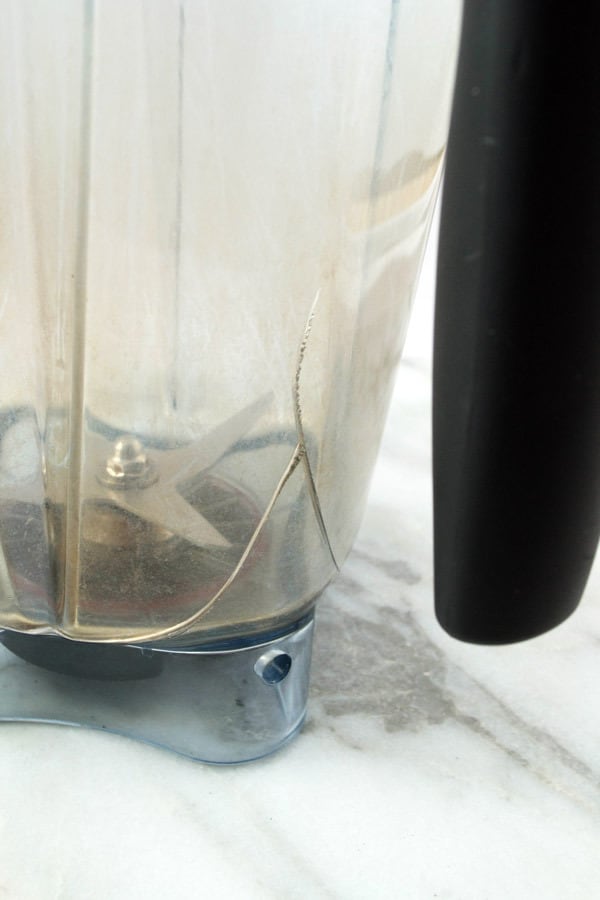 What a disaster!  Instead of pushing the cheese into the blade, the cheese bounced into the walls of the container with even more force.  The impact of hard cheese hitting container side caused a big CRRRACK!
It wasn't a little crack.  It was a massive all-the-way-around-the-container crack.
Immediately I shut off the Vitamix.  And then just stared at my previously unfazed, can-tackle-any-project Vitamix, broken in the worst way.  I knew the container couldn't be fixed.  No super gluing here.
Dejectedly I wondered if my small flour container would be able to handle all the things my big Vitamix container could.  Of course, I knew it couldn't.
I make hummus every single week and husband takes it to work for a snack every day.  My man needs his snacks and bad.
The broken container sat on my counter for a week as I mourned its death and the money I suspected would soon be leaving my pocketbook in exchange for another container.  Meanwhile, husband had to make due with Costco hummus – not nearly as good as my hummus, but he didn't complain.  He just silently waited for me to figure out how to make him the good stuff again.
Finally, as I bit the bullet, ready to make the container purchase, a thought crossed my mind.  Did my Vitamix warranty cover the container?  Would Vitamix customer service consider my actions with the Parmesan cheese to be a misuse of the Vitamix and void my warranty?
There was only one way to find out.
Calling the Vitamix Customer Service Hotline
When I called the Vitamix customer service hotline, I didn't know what to expect.  Happily, in a short five minutes, I was chatting on the phone with a live Vitamix customer service representative.
First, she listened to the problem.  The Vitamix customer service agent was polite, friendly and sympathetic when I explained the situation.  She informed me that the Vitamix could handle shredding Parmesan cheese.  But she cautioned, it was best to only put one inch pieces in the blender container, rather than a big block.
Second, she checked my Vitamix registration.  When the representative asked if I had registered my Vitamix (to get the full warranty), I was really nervous.  I usually don't register my products and I was afraid all was lost.
After reading her the serial number on the machine, she knew when and where I bought the machine and she knew that I had not registered it yet.  Instead of turning me away for lack of registration, she let me register the machine over the phone.  Now I was set.
Third, she verified warranty coverage.  The warranty DID COVER my unfortunate breakage of the container!  What a relief!  Trust me.  I've learned my lesson with hard Parmesan cheese.
Fourth, she sent me a new Vitamix container.  With my mailing address confirmed and instruction to put smaller pieces of cheese in the new container, she sent me a new Vitamix container ABSOLUTELY  FREE.  Yes, I hoped for this outcome, but I was prepared for the worst.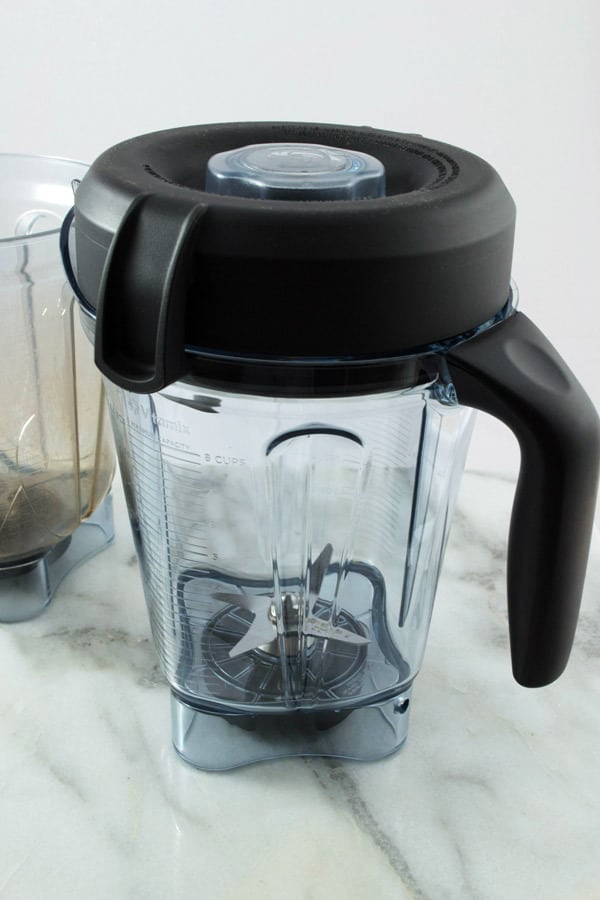 The brand new container arrived in less than a week.  And I couldn't be happier.
Important Takeaways
Register your Vitamix.  It is quick and easy to do.  You can do it online or you can call the Vitamix customer service number.  They will get your basic information like name, address, phone number and will note your Vitamix serial number.
Contact customer service immediately if your Vitamix is damaged. Not everything is covered.  Don't try to chop rocks or anything.  But most damage done during the course of regular use is covered.
Cut that hard Parmesan cheese into one-inch pieces before you try to shred them. If the Parmesan cheese is too hard for the Vitamix, it is too hard for your teeth also.  Just toss it and get some fresh cheese.
 Read the owner's manual, available online, for information about use and care of your machine.
Few companies have decent, let alone outstanding customer service.  It can be frustrating to speak to someone who can't help you or doesn't care.
However, rest assured that Vitamix customer service is not like the typical company you may encounter.
The hold time is short.
Customer service representatives are friendly, helpful and they really know the machine.
Empowered employees solve your problem without need to take it to another level.
I am a big fan of my Vitamix.  I originally bought mine to make hummus because no other blender could make the smooth, creamy hummus my family craved.  When I bought the Vitamix I thought, if it can just make hummus it will be worth the purchase.
I'm glad to say that it does a lot more than hummus.
Now I can add outstanding customer service to my reasons to recommend the Vitamix.  If you don't have one yet, check them out.
If you do have one, don't forget to register it.