Looking for the best pizza in Chandler, AZ? From classic to gourmet, find a wide variety of styles and flavors in this ultimate guide.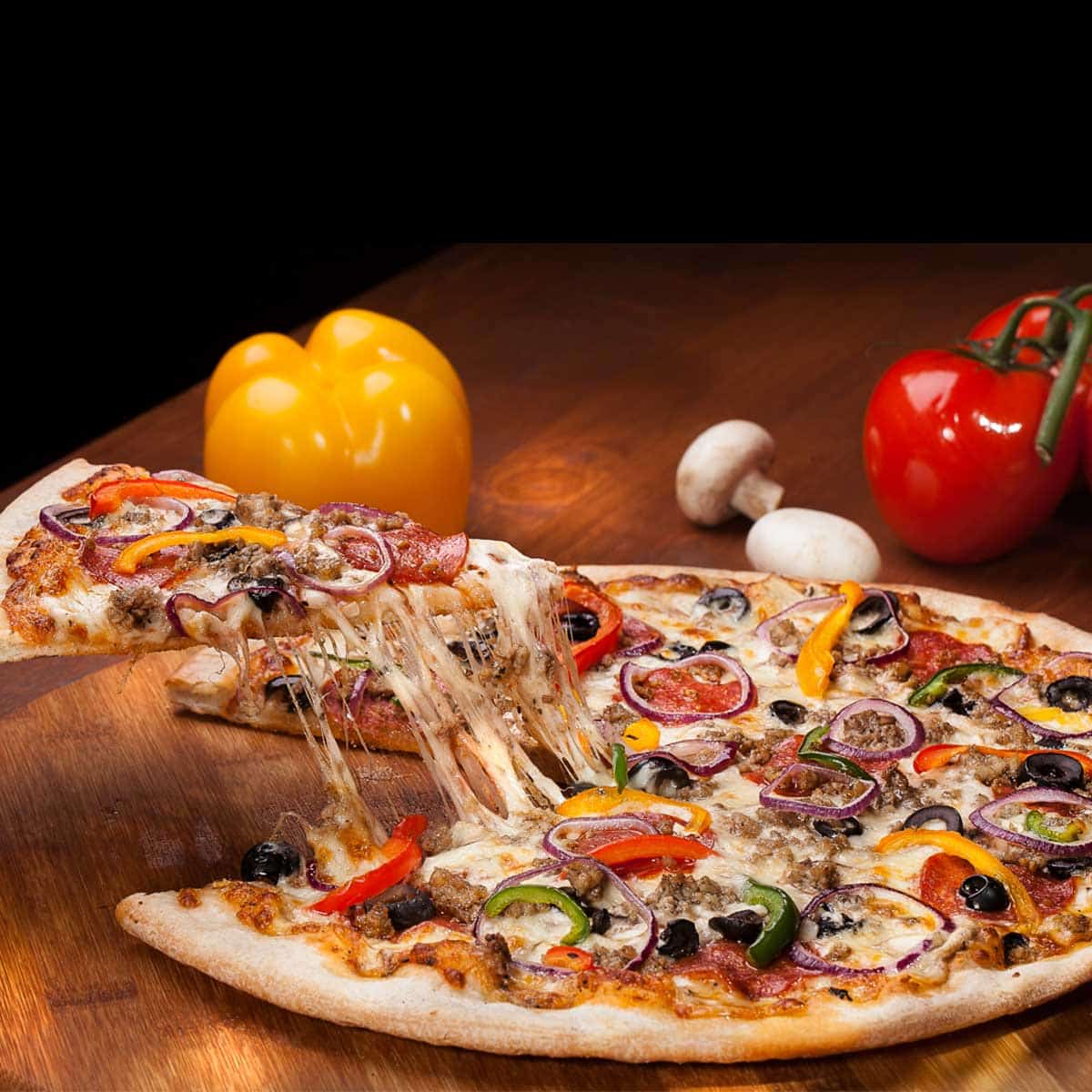 Chandler is the fourth largest city in Arizona, but it might just be the number one when it comes to pizza. Yes, Chandler is home to a pizza-loving bunch, and pizza restaurants in the city have risen to the occasion.
You will love this list if you are looking beyond Pizza Hut quality pizza. Check out the best pizza places in Chandler AZ. From classic pizza to creative pies, you will find the perfect pizza joint on this list.
Check the section for pizza by zip code or look at the pizza map below.
Is your favorite spot missing? Let me know in the comment section!
Jump to: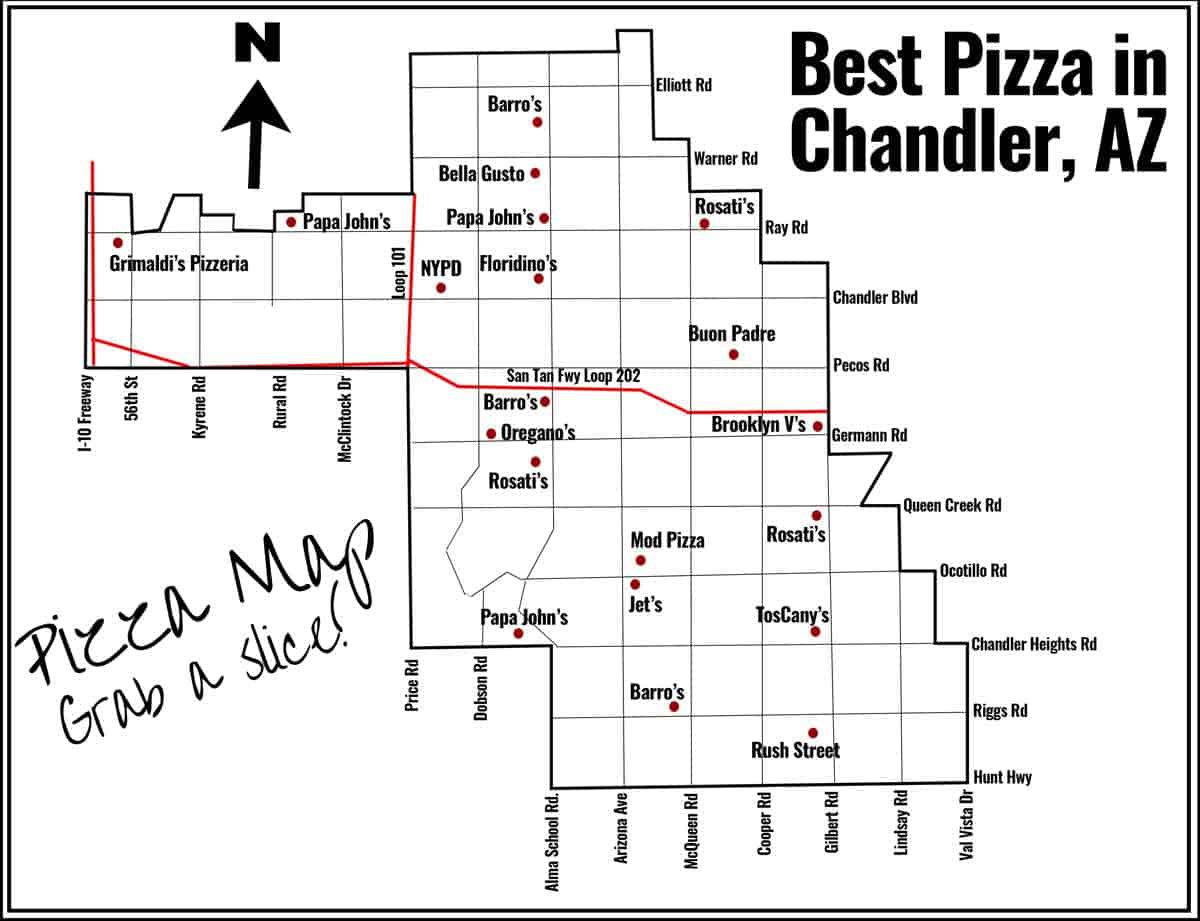 ToScany's Coal Oven Pizza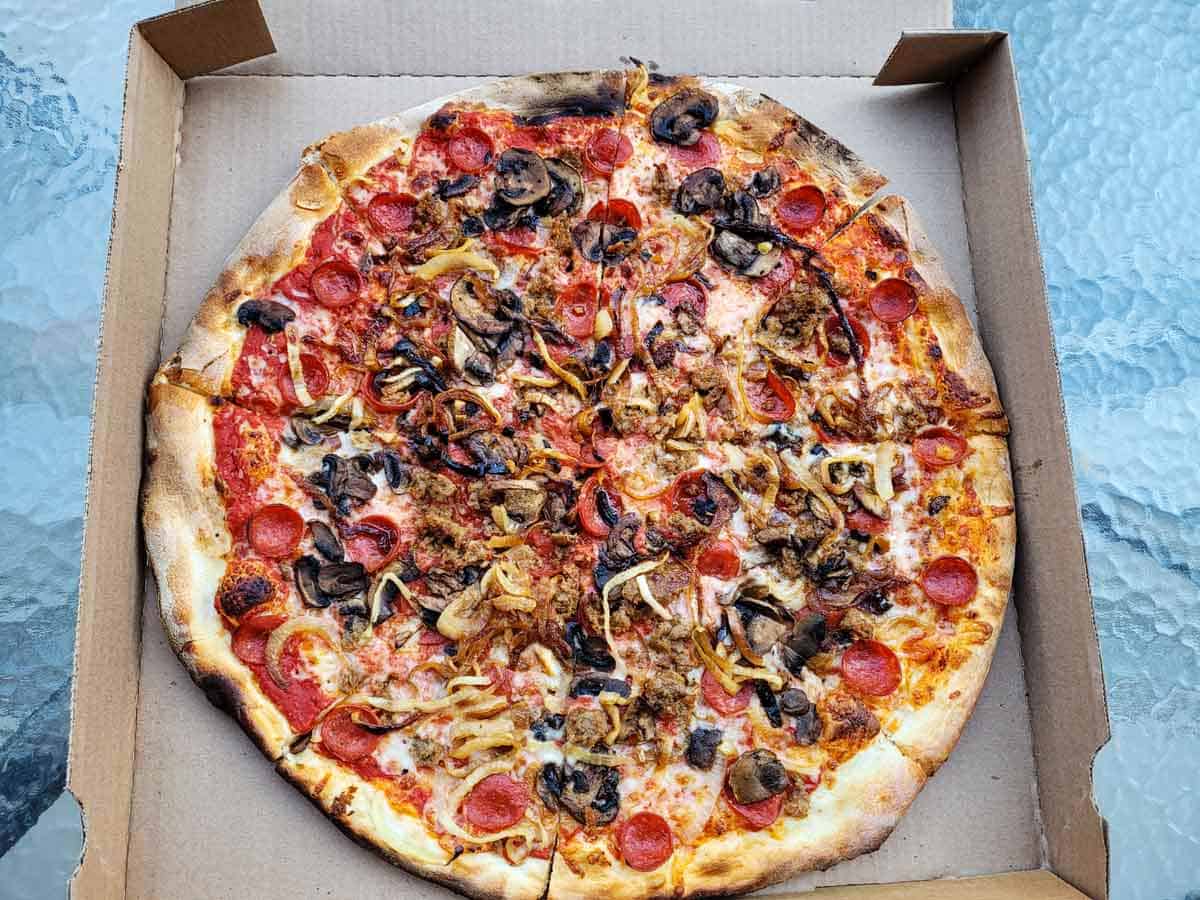 Don't expect to see freezers, fryers, or microwave ovens in this kitchen. Just a good-old coal-fired pizza oven. What more do you need?
Pizza bubbles in seconds in the 1000° oven, resulting in bubbly pies and golden crusts. They serve thin crust smoky pizzas you will love.
ToScany's is located in south Chandler at Chandler Heights and Gilbert Road in the Bashas supermarket plaza. It is rapidly becoming the best pizzeria in the area.
With food and drink specials and fun events, like Trivia Thursday, ToScany's is on a mission to become your neighborhood pizza place. As they say, "taste happens at 1000°."
Amenities
Plenty of seating
Online ordering
Delivery by Door Dash
Specials and events
Catering
Menu Recommendations:
Bianco. Thin crust cheese pizza with four different kinds of cheese (ricotta, provolone, Romano, and mozzarella)
Chicken Bruschetta Pizza. Olive oil, roasted chicken, mozzarella, roasted mushrooms, bruschetta mix, feta, and balsamic glaze.
Website: ToScany's
Like this post? It is just one of the restaurant reviews on this site.
Grimaldi's Pizzeria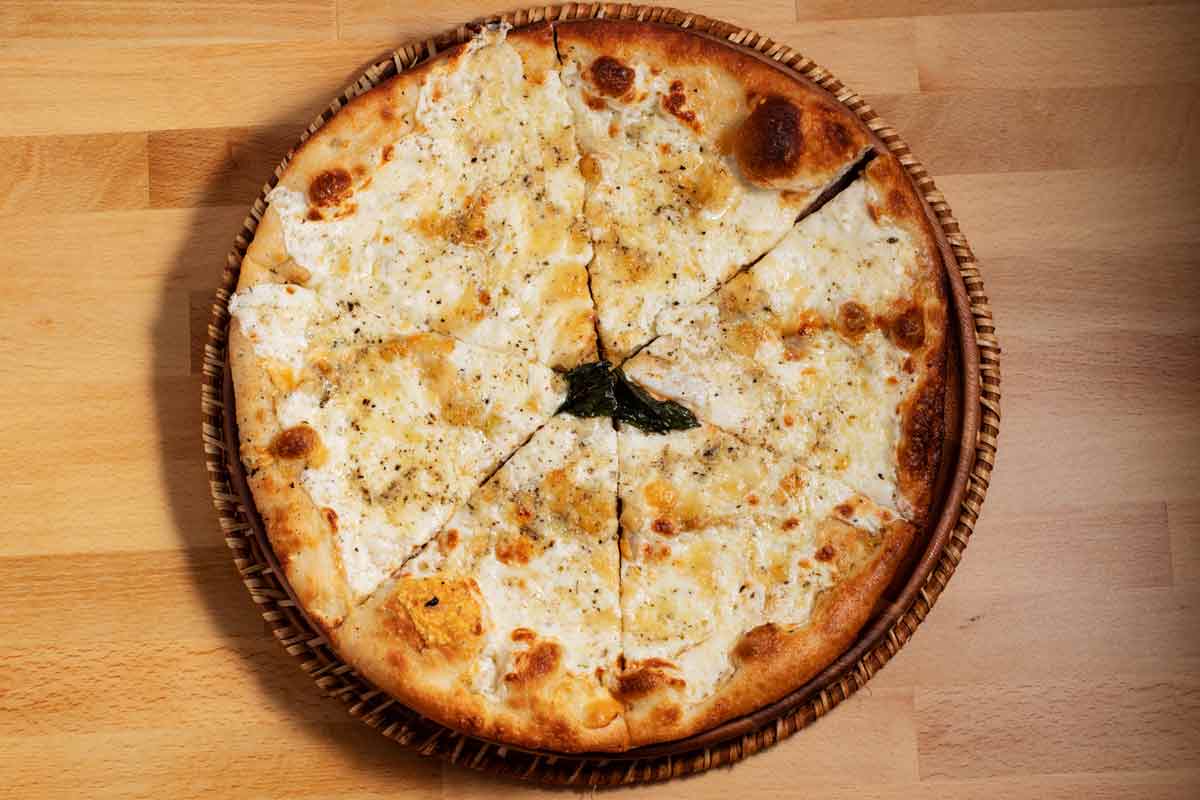 This famous coal-fired brick oven pizzeria makes award-winning pizza. Its origins can be traced back to the 1900s under the Brooklyn Bridge, NYC.
The Grimaldi's Pizzeria Chandler location is in the upscale Chandler Pavilions, off of I-10 and Ray Road. There are twelve Grimaldi's in Arizona, but don't let the pizza chain concept discourage you from trying it. It is one of the best pizza restaurants in the state.
Their signature pizzas are made with a secret recipe for dough that is hand-tossed daily. Plus, fresh ingredients, including homemade mozzarella and fresh veggies. Choose from two pizza sauces – traditional or white with fresh garlic and pesto.
Amenities
Patio seating
Group dining (minimum of 72 hours for booking)
Pizza delivery via a partner site
Menu Recommendations
Brooklyn Bridge Pizza. Red peppers, ricotta, and Italian sausage.
Garden Pesto Pizza. Artichokes, red onions, and ricotta cheese, drizzled with basil pesto sauce.
Website: Grimaldi's Pizzeria
Buon Padre Pizza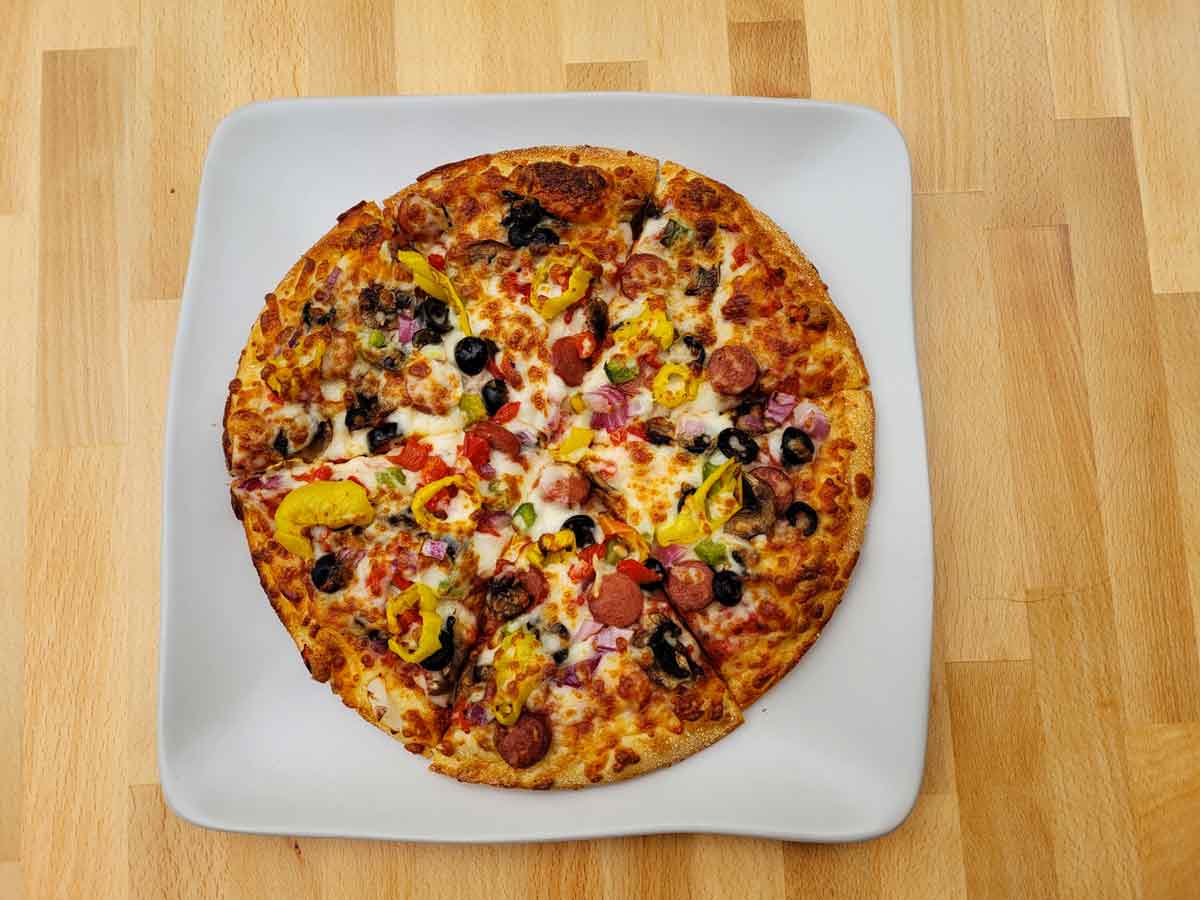 The "Good Father" of pizza restaurants is a family-friendly eatery where the pizza, hot dogs, and wings are all fantastic.
Buon Padre is located on the Northeast corner of McQueen and Pecos next to KTR (indoor action sports ground). Pair a birthday party with pizza next door, and the kids will love it.
It is a small hole-in-the-wall pizza place. But it has a large menu for such a small shop.
Everything is made from scratch, and the pizza dough is kneaded daily. You can choose from regular, gluten-free, or cauliflower crusts.
The variety of chicken pizzas and several vegetarian pizza options keep this restaurant's menu interesting. And no pizza is more unique than the grilled hotdog pizza (gotta try it once).
Amenities
Outdoor seating
Limited indoor seating
Parties accommodated upon request (though it would be hard to fit a large group)
Delivery available only online
The specialty pizzas come in all sizes, so give a couple of varieties a try.
Menu Recommendations
Meatza Pizza. Thin crust with pepperoni, Italian sausage, ham, beef, and bacon loaded to the edge. Perfect for the meat lover.
Veggie Pizza. Mushrooms, black and green olives, green peppers, tomatoes, and onions.
Buon Padre Pizza. Grilled hotdog pizza. (Just to say you've tried it.)
Website: Buon Padre Pizza
See all the other foodie adventures in Arizona and the rest of the states.
Jet's Pizza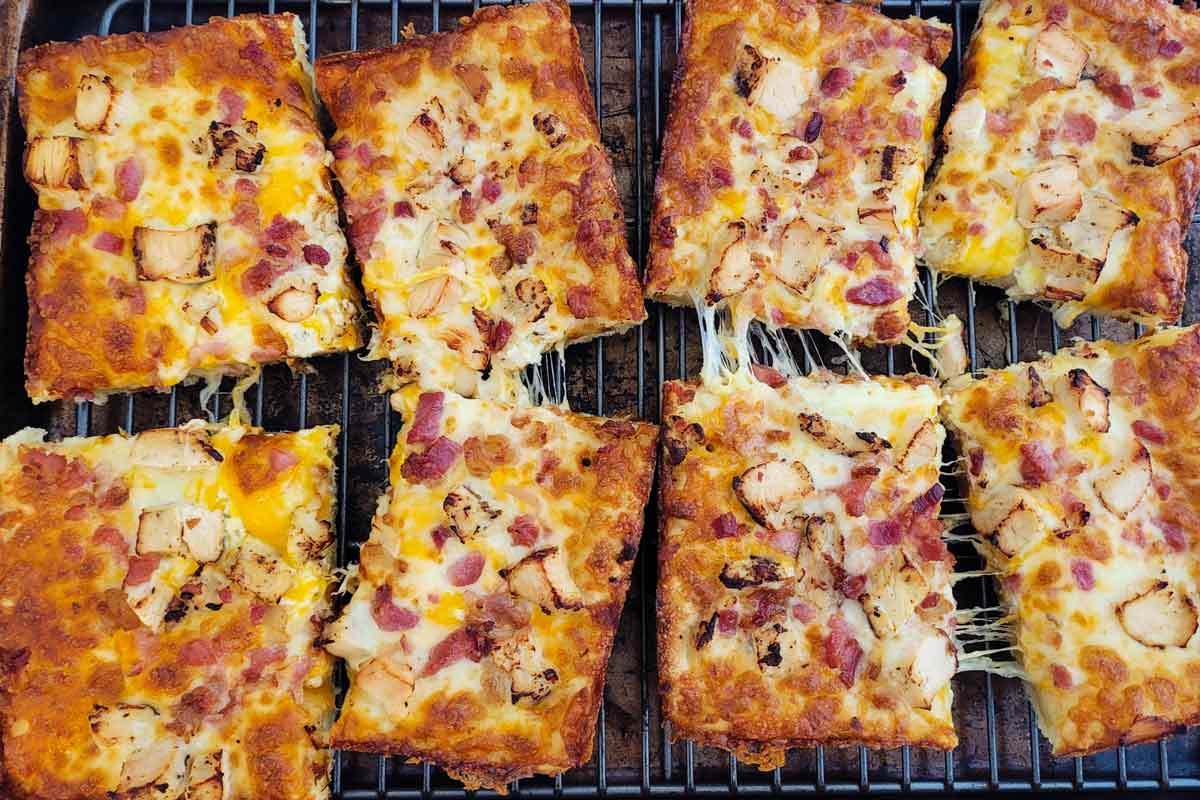 Square pizza lovers rejoice. Jet's Detroit-style deep-dish pizza is one cheesy pie. They also have round pizzas, including a lovely thin crust. But you know you are here for the rectangles.
Located in a new area of South Chandler on Arizona Avenue and Ocotillo. It is south of Hamilton High School in the Home Depot shopping area.
They are known for their deep-dish buttery signature crust that can be flavored. These cheesy pizzas can be bought by the slice at lunchtime.
They also offer several homemade dips and dressings. Try the ranch dressing. Yum!
Amenities
Online ordering
Text ordering (at a discount price)
Minimal indoor seating
Menu Recommendations
8 Corner Chicken Bacon Ranch. Ranch, mozzarella, cheddar, grilled chicken, and bacon.
Jet 10. Pepperoni, ham, hamburger, Italian sausage, bacon, mushrooms, onions, green peppers, black olives, and mozzarella.
Website: Jet's Pizza
N.Y.P.D. Pizza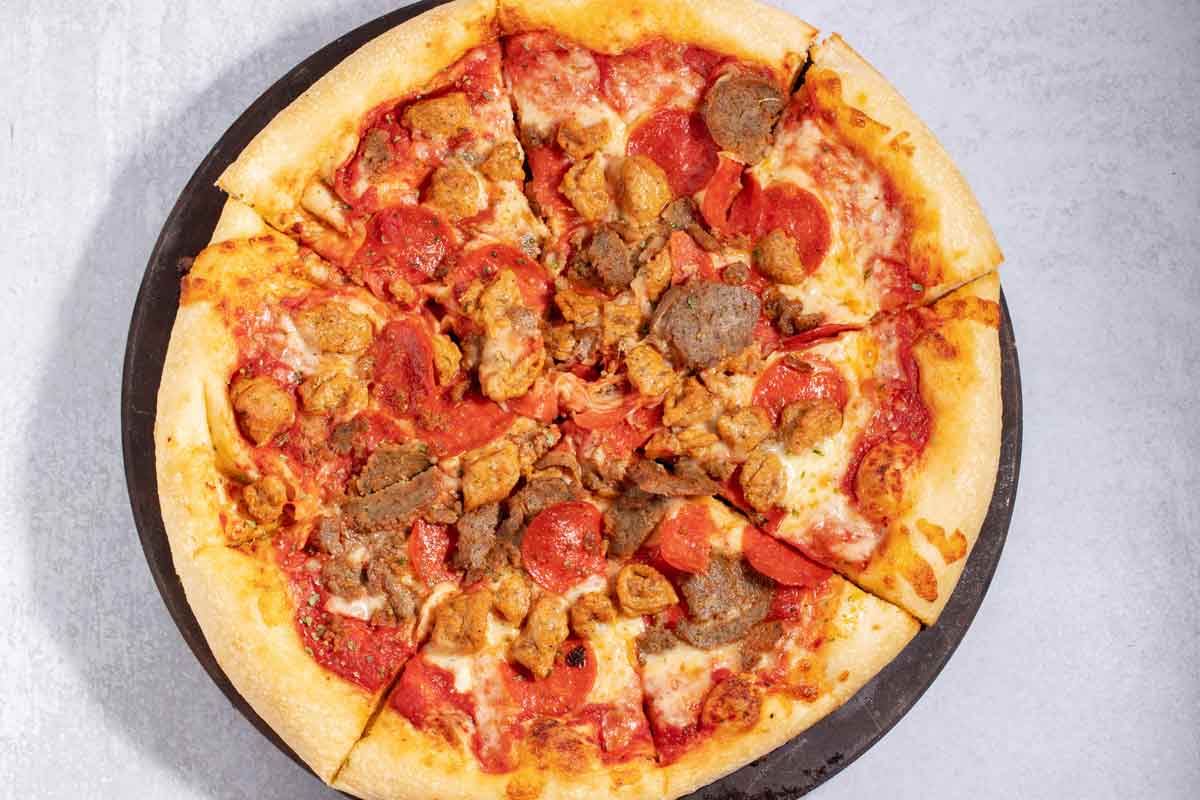 NYPD Pizza is more than a great restaurant. It's a statement. There's nothing like New York-style pizza.
NYPD was founded in 1996 by native New Yorkers. They set out to show Arizona exactly how pizza is really supposed to taste.
With the authentic flavor of the Big Apple, NYPD Pizza now has eight valley locations. The Chandler location is off of the 101 and Chandler Boulevard, less than two miles from the Chandler mall.
So, grab a meal at NYPD and then head on over to Harkins Theater for the latest flick.
Choose from traditional New York hand-tossed, thin-crust pizza baked in a stone oven. Or select the square Silican thick crust, hand-formed pizza baked in a deep-dish pan.
Amenities
Plenty of seating for the family (or for your soccer team after a big win)
Online ordering
Catering
Best pizza delivery
Dough raiser fundraiser program for children, education, youth sports, and community projects
Menu Recommendations
Wall Street Pizza. Pepperoni, sausage, and bacon. Plus mushrooms to make it extra rich.
Fran's Favorite. Roma tomatoes, mushrooms, and fresh basil. Ask for it crispy!
Website: NYPD Pizza
Brooklyn V's Pizza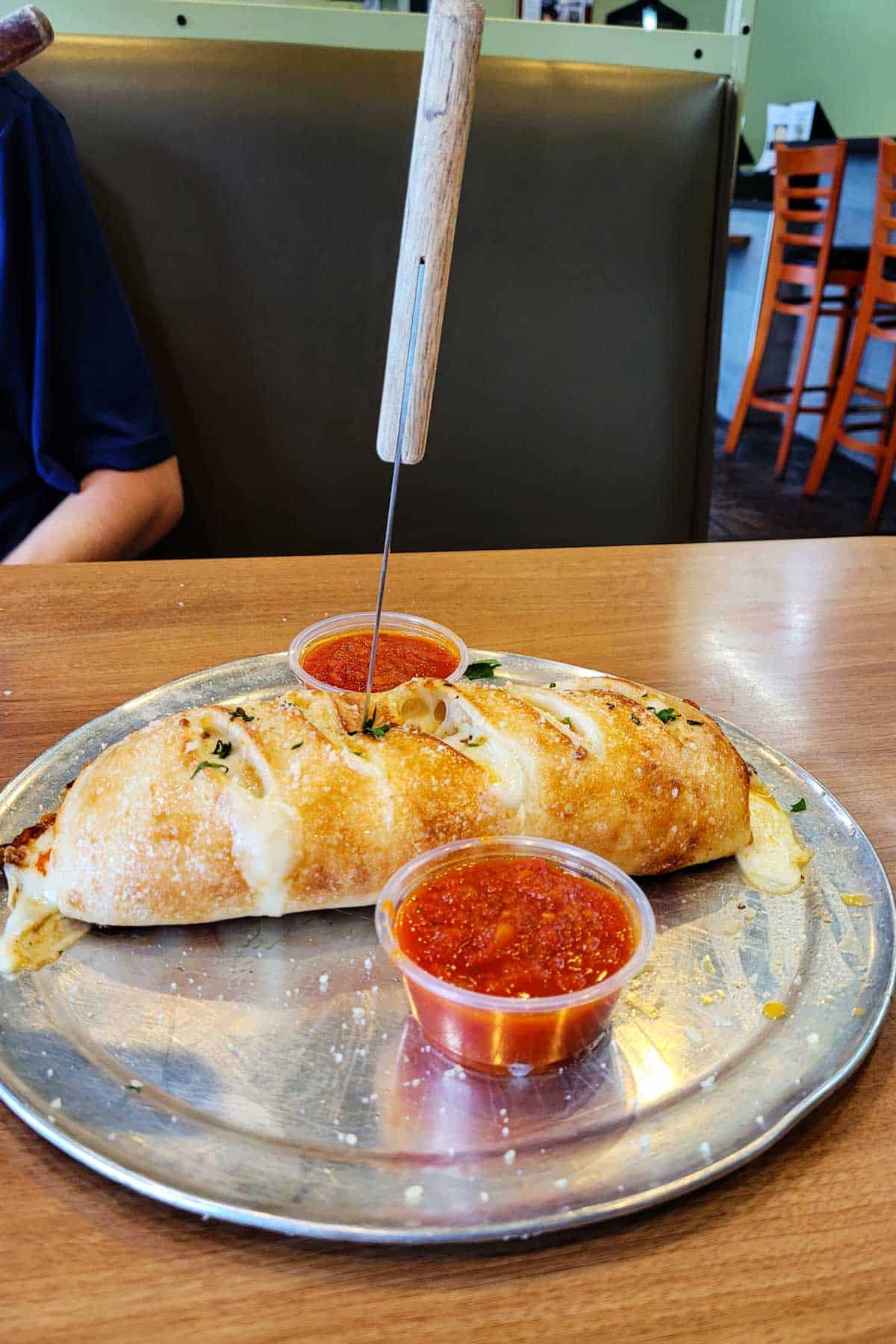 As a native New Yorker, Vito LoPiccolo doesn't just make great pizza. He creates gourmet pizza.
With four locations, Brooklyn V's is a typical New York-style pizza. Everything is made to order here, even the vodka sauce they use to top a very special pizza.
The Chandler location is off the Loop 202 and Gilbert Road. Harkins Theater is one neighbor, so grab a movie and some pizza for a fun date night. Brooklyn V pizza prides itself on great service and great food.
They focus on the finest ingredients and authenticity — the recipe for success. The menu is creative, with Buffalo chicken pies served along with more traditional Margherita pizza.
Plus, the stromboli, garlic knots, and pasta will have you drooling. There's something for everyone at Brooklyn V's.
Amenities
Plenty of seating and parking
Catering
Fundraising program
Online or phone ordering
Small party room - great size for a soccer party
Menu Recommendations
Sausage and Peppers Stromboli. Italian sausage, sweet peppers, onions, fresh marinara, and mozzarella.
White Eggplant Pizza: White pizza with breaded eggplant, seasoned ricotta cheese, mozzarella, and marinara sauce. When you want something different, give this pizza a try.
Website: Brooklyn V's Pizza
Rush Street Pizza
Rush St. Pizzeria offers the best of two worlds. Hand-tossed, cracker crust New York-style pizza and their own version of the Chicago deep-dish pies. Despite the name, the quality is never rushed here.
Located in south Chandler at Riggs and Gilbert Road in the Albertson's shopping center. There is no dine-in. It is strictly pick up or delivery.
They serve classic pizzas, along with a few original varieties.
Amenities
Online ordering. Go through a chrome browser, or you may have trouble with their ordering app.
Menu Recommendations
Rush Streeter. Pepperoni, sausage, mushroom, olive, and green pepper.
Rattlesnake. Sausage, jalapenos, green chili, and extra cheese.
Happy Greek. Garlic oil crust, spinach, black and green olives, artichoke hearts, tomatoes, feta, and mozzarella.
Website: Rush Street Pizza
Mod Pizza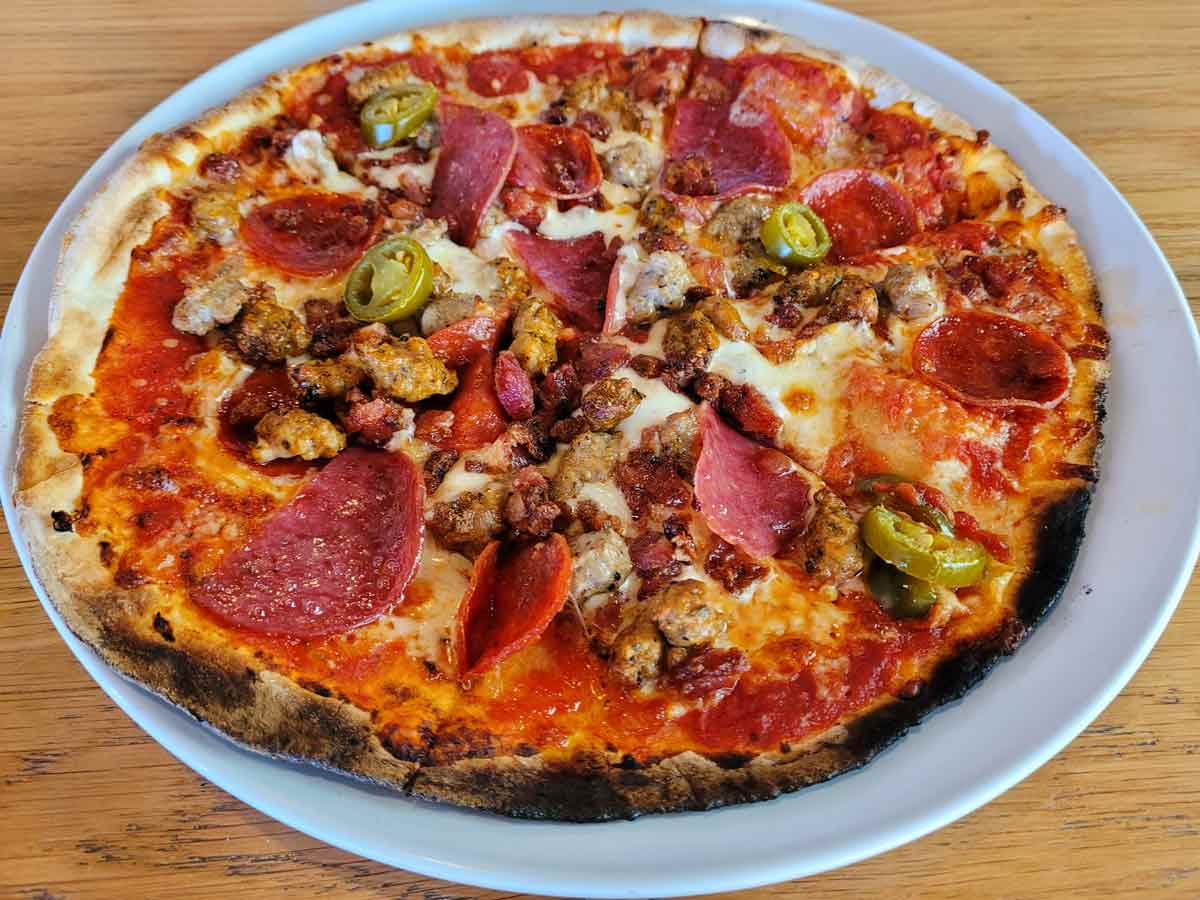 Mod Pizza is individually sized pizzas that are fully customizable. With 40 toppings, 8 finishing sauces, and 8 dressings, you can get a new pizza every time.
The Chandler location is at Arizona Avenue and Ocotillo.
The MOD Squad (pizza employees) are trained to provide excellent customer service. In turn, they have access to educational and professional development from the company.
Amenities
Plenty of seating
Giving back to the community and organizations
Super-fast pizza
Menu Recommendations
Build Your Own. Choose any combination of crust, sauces, toppings, and finishing sauces.
Pizza Salad. Make your own salad on a warm pizza crust.
Website: Mod Pizza
Oregano's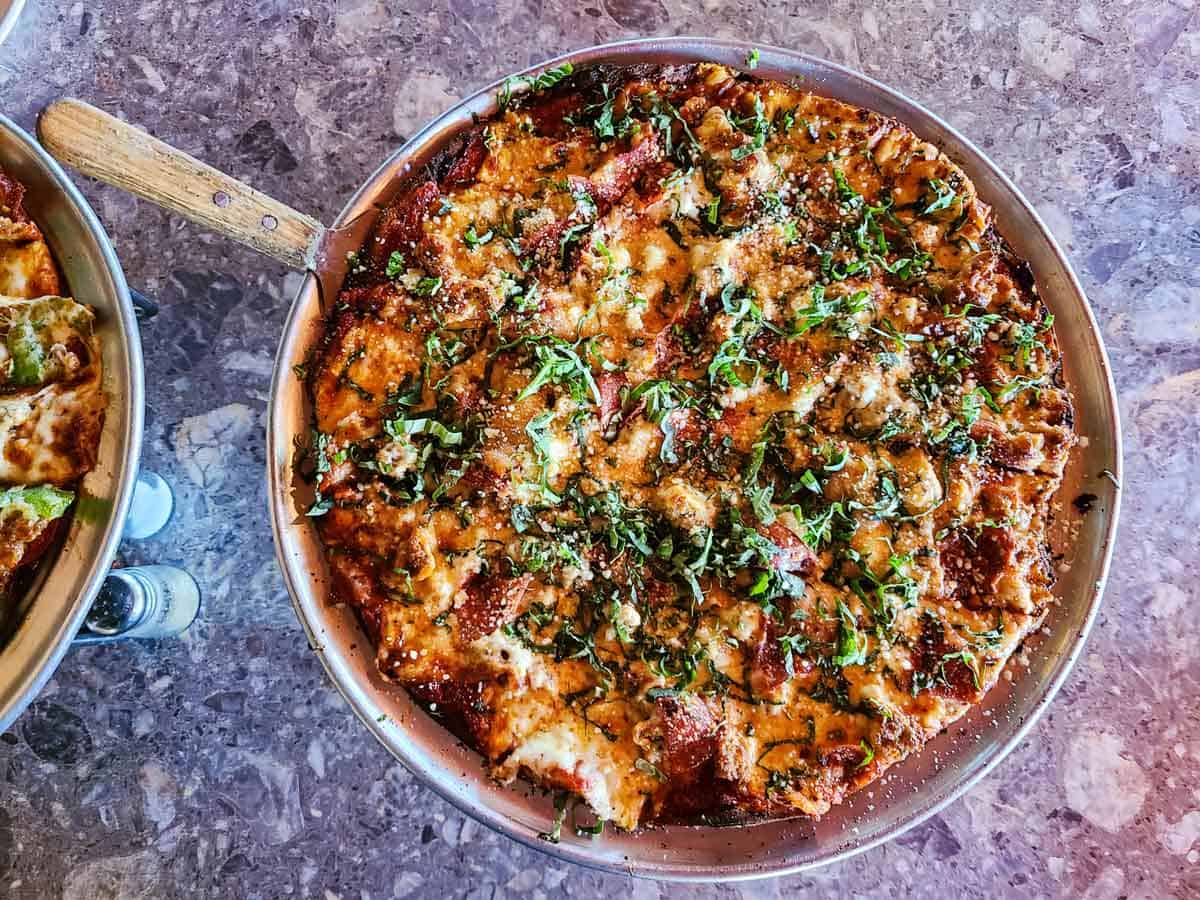 Oregano's started 50 years ago in the Gibbilini Family's apartment, where friends and family enjoyed good-old Italian food at special dinner parties. The family tradition eventually became a restaurant, and Oregano's was born.
Oregano's is located at Dobson and Germann Road. It is one of the best restaurants for décor and atmosphere.
The retro-chic dining room is evocative of good times, and the food is equally exciting. Don't be alarmed to see a real motorcycle as part of the décor.
Get the Chicago-style deep-dish pizza with a light, flaky crust, topped with real Wisconsin cheese and a few shakes of oregano.
Amenities
Plenty of seating and fun décor
Catering
Door Dash delivery
Doughnation fundraising, along with an ongoing donation to Phoenix Children's.
Menu Recommendations
NUMERO ONE-O. Sausage, pepperoni, mushrooms, onions, green peppers, and Wisconsin cheese.
The Yahoo Barbecue Chicken Pizza. Chicken, cotija, cheddar and Wisconsin cheeses, red onions, scallions, diced tomatoes, and Oregano's BBQ sauce.
Website: Oregano's
Floridino's Pizza & Pasta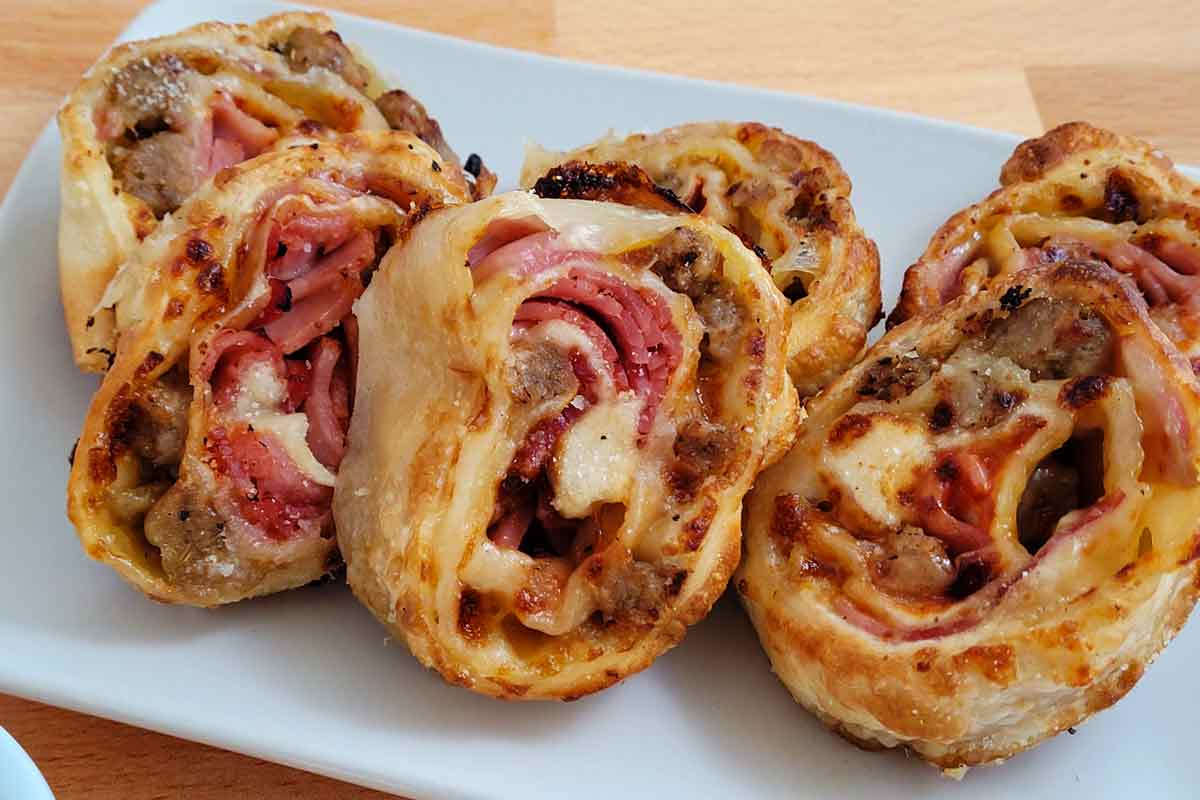 Home of the pizza muffin and the "world's largest calzone," Floridino's Pizza and Pasta is a Chandler Italian restaurant that loves giving back to the community.
They are located on Alma School between Ray Road and Chandler Boulevard. They are less than a mile from Skateland. Skate and then eat. What could be better!
During the day, the parking areas may be crowded because of the other stores in the shopping plaza. Parking at night should be less of an issue.
Their affordable prices on the menu make them a great place to feed large families.
They are known for their pizza muffins. The muffins are rolled with pizza dough and stuffed with unique toppings. And they have a pizza muffin of the month.
In addition to pizza with regular toppings, they have some nice white pies with a tasty white sauce made with ricotta, garlic, herbs, and spices.
Amenities
Plenty of indoor seating
Banquet room
Catering for casual or special events
Special events (Senior Night, Kids Eat Free Night, etc.)
Active sponsoring of fundraisers for the community
To-go family meals
Menu Recommendations
Spicy Chicken Wings Pizza Muffins (Staff favorite). Chicken breast with spicy buffalo sauce, cheddar, and mozzarella cheeses.
Gourmet White Pizza. White pizza sauce with tomatoes and mozzarella. Change it up with the addition of broccoli, spinach, or eggplant.
Website: Floridino's Pizza and Pasta
Barro's Pizza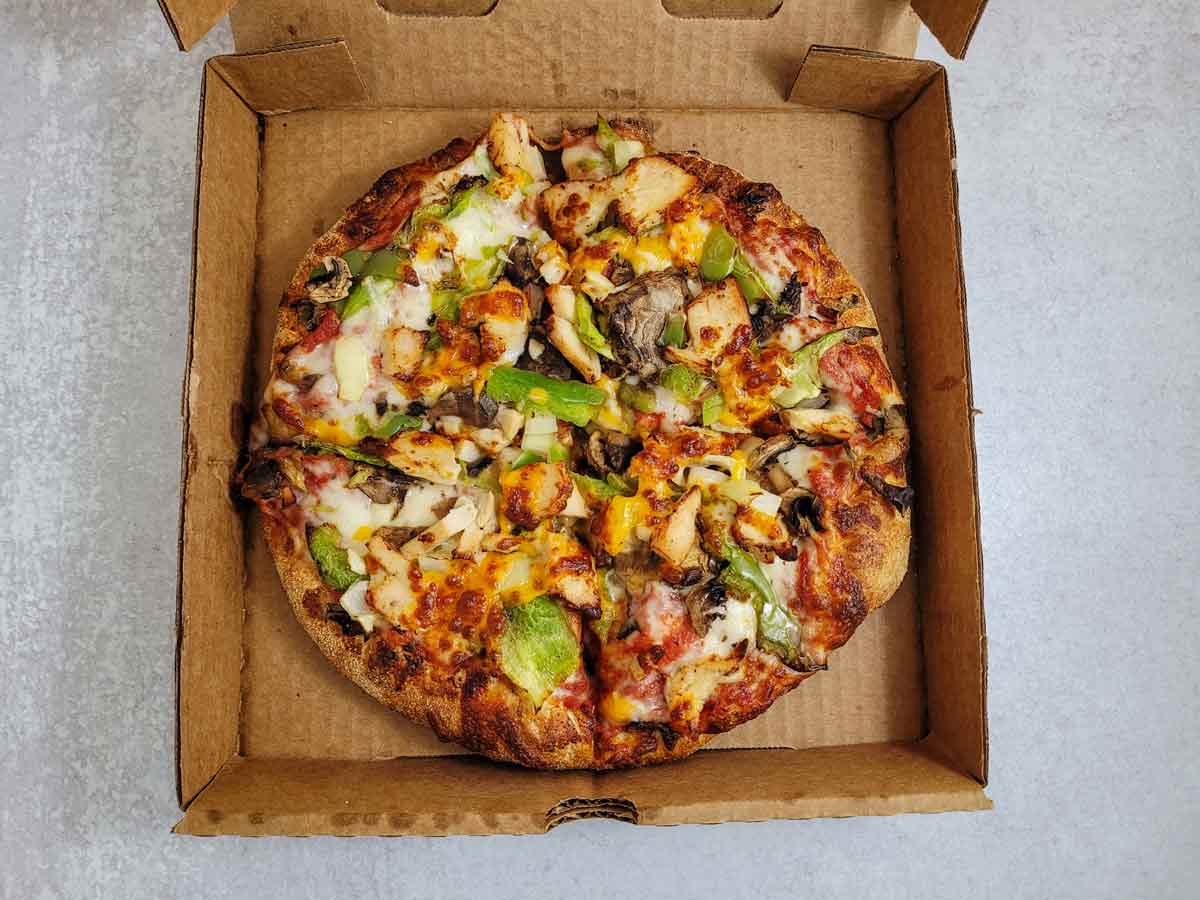 Barro's pizza recipe came straight from Grandma Angelina Barro in Italy. She perfected the thick fluffy crust and tangy-sweet sauce, and the family opened its first location in Arizona in 1980.
In Chandler, Barro's has three locations:
Alma School and Germann
McQueen and Riggs
Alma School and Warner
This family-friendly pizza chain caters to the lunch crowd by offering pizza by the slice. And it attracts young families with a kid's area complete with a TV playing kid's favorite shows.
We have had plenty of soccer pizza parties at Barro's Pizza because of their great food, affordable prices, and menu variety.
Amenities
Plenty of seating, including a special kid's area
Catering
Friendly customer service. The staff gets to know the lunch crowd by name and order.
Give back to the community through donations to St. Mary's Food Bank and Arizona Cancer Foundation for Children. They are also involved with and sponsor local school sports teams.
Menu Recommendations
Barros. Pepperoni, ham, mushroom, green peppers, and onions.
Kona. Teryaki sauce, chicken, pineapple, mozzarella, and cheddar cheese.
Website: Barro's Pizza
Bella Gusto Urban Pizzeria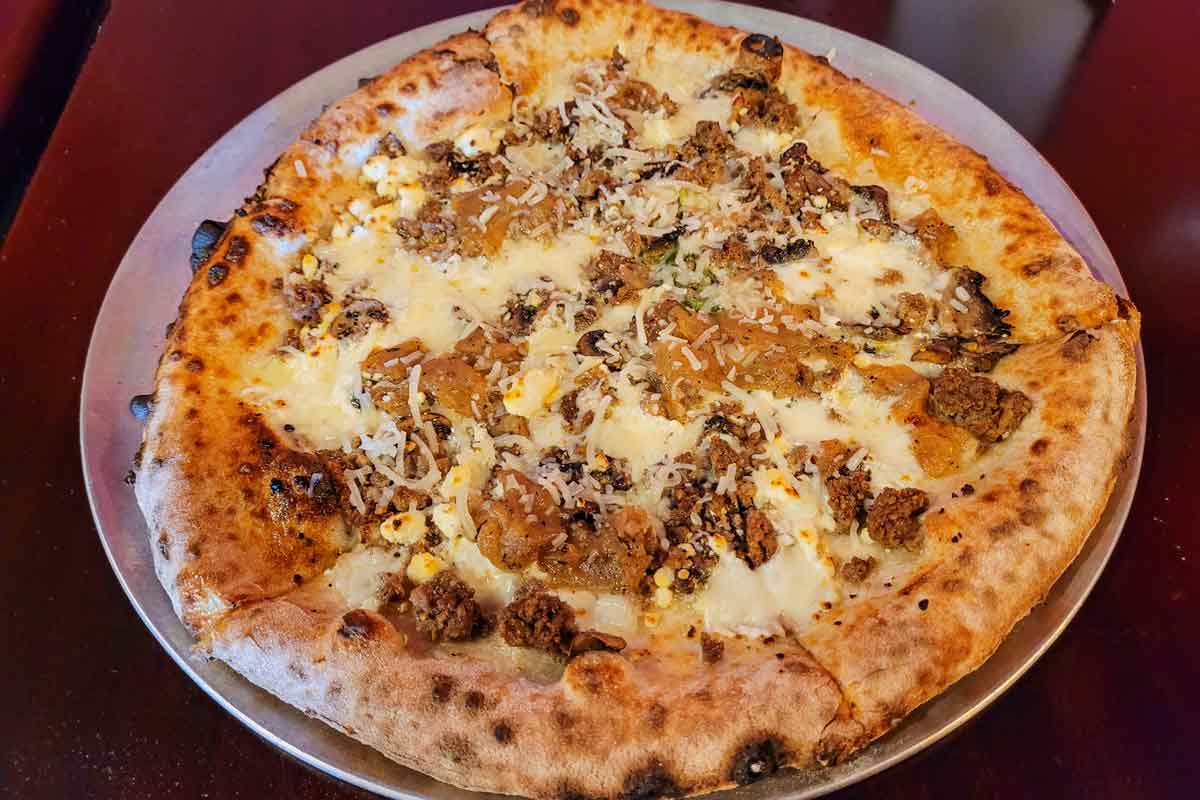 This urban pizzeria is all about using fresh ingredients to craft traditional pizza. What else do you need?
Located at Alma School and Warner, this hidden gem has a small interior. The best time for walk-ins is during the week.
This is one of Chandler's hottest pizza restaurants for a Neapolitan-style pizza. The tomato sauce is made with San Marzano tomatoes, and the cheese is authentic mozzarella. The pies are creative, and the pasta is fantastic.
Amenities
Reservations are available and strongly recommended for the weekend.
Parties
Catering
Online ordering
Menu Recommendations
G.O.A.T. Pizza. Mozzarella, goat cheese, caramelized onions, roasted mushrooms, Italian sausage, Pecorino Romano, and white truffle oil.
Bianca Neapolitan Pizza. Fresh mozzarella, caramelized onions, mushrooms, spicy soppressata, pecorino Romano, and white truffle oil.
Triple P Pizza. Fresh mozzarella, pancetta, goat cheese, fig jam, roasted mushrooms, baby arugula, and pickled red onion.
Website: Bella Gusto Urban Pizzeria
Casanova Brothers Pizza Closes
In fall 2021, after being in business for 14 years, Casanova Brothers is no longer open. Co-owner Mike Casanova passed away, and the decision was made to permanently close.
Best Pizza in Chandler by Zip Code
Pizza near 85226:
Pizza near 85224:
Pizza near 85225:
Pizza near 85286:
Pizza near 85248:
Pizza near 85249:
A Few Fast Food Pizza Joints
Along with the best pizza in Chandler, AZ, here are some more choices for take-out pizza you might be in the mood for.
Best Pizza Outside of Chandler AZ
Pizzeria Bianco
With five locations and nationwide shipping, Pizzeria Bianco is a well-established pizza place with a large fanbase. Chris Bianco (James Beard Award Best Chef Winner) opened his first store in 1988, championing craft artisanal pizzas, and things just got better after that.
The wood-fired pizza oven gives the pies their personality, but Chef Bianco's creativity makes eating here unique. Dine here if you want to experience the local pizza scene.
This is history in the making! Modern-cut pizzas would not exist without Chef Bianco's contribution to pizza in the United States.
Pizzeria Bianco is ideal for all special occasions. All of the menu items showcase amazing food.
Menu Recommendations
Rosa Pizza. Red onion, Parmigiano Reggiano, rosemary, and pistachios.
Wiseguy. Wood-roasted onion, house-smoked mozzarella, and fennel sausage.
Website: Pizzeria Bianco
Rocco's Little Chicago
Deep-dish, Chicago-style pizza has arrived in Tucson, and it's very much appreciated by the cheese-loving community.
Rocco's has been making pizza in the area since 1998. There is nothing fancy to see here. Just good pizza to take you to the Windy City with every bite. Rocco's is truly a little corner of Chicago in Arizona.
Menu Recommendations
Great Chicago Fire. Italian sausage, fresh jalapenos, green peppers, and onion.
Heart Attack Special. Sausage, pepperoni, prosciutto, roast beef, and extra cheese.
Website: Roccos Little Chicago
Now that you have a great list of the best pizza in Chandler, AZ, try some out. Comment below to let me know which ones are your favorites.
More Restaurant Reviews
Did you like this post? Then let's be social. FOLLOW ME on INSTAGRAM and PINTEREST to keep up with the latest happenings.