Elevate your food storage game with a fridge organized for food safety. Master the perfect shelf placement for each item to keep cross-contamination at bay and your food fresher than ever. Say goodbye to wasted grub and hello to a more organized, efficient fridge experience.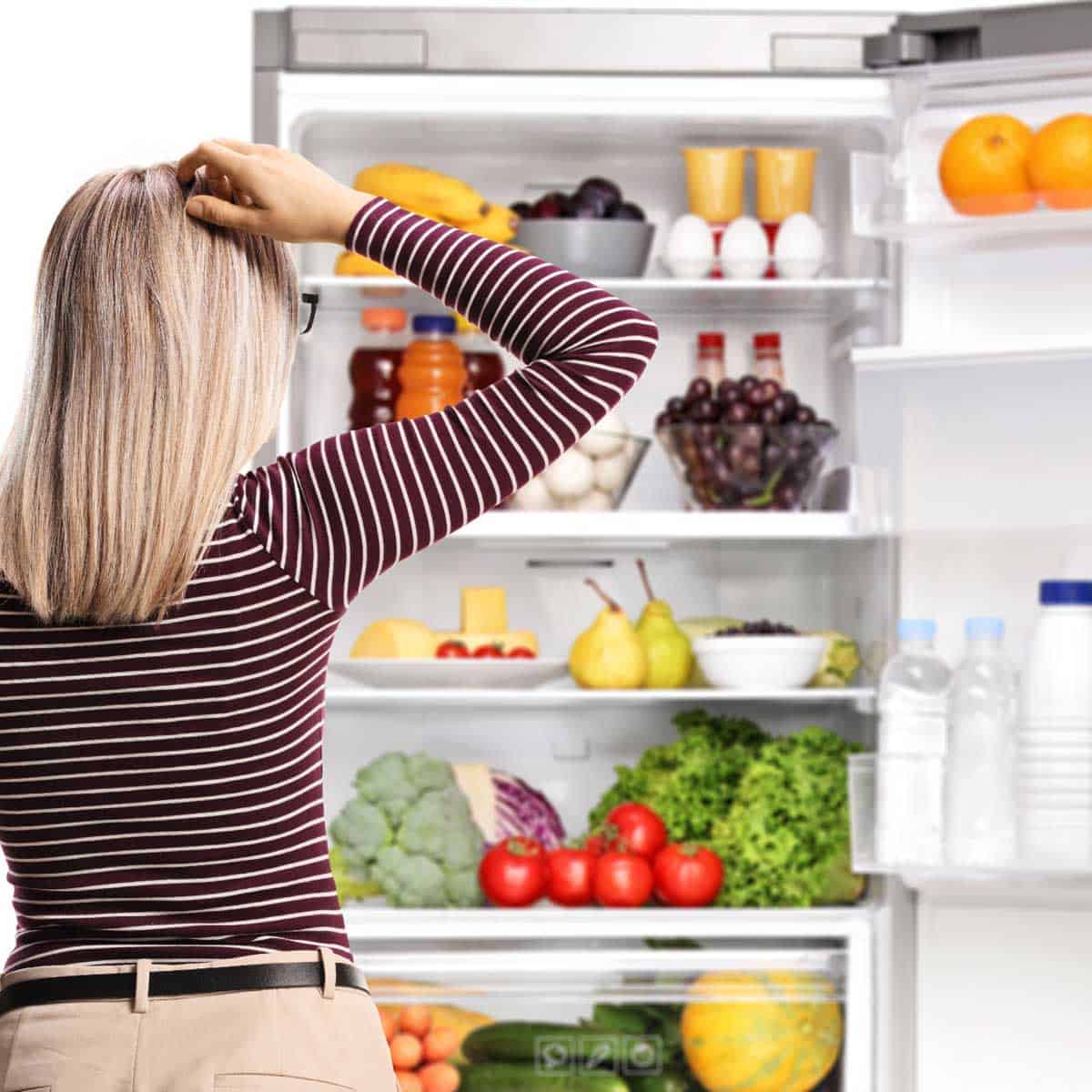 Are you tired of constantly rifling through your fridge, looking for something to eat, only to find expired and spoiled food? Do you want to keep food safe, extend its shelf life, and reduce waste?
Then an organized refrigerator focused on food safety is your answer. Organization can keep your food safe, your fridge waste-free, and your sanity intact.
But let's be real. Organizing the fridge can be a daunting task. Especially if it is stuffed to the brim with an array of containers in a precarious balancing act.
Fear not. I'm here to help you organize your fridge like a pro, one shelf at a time. So get ready for practical food storage tips, USDA food safety guidelines, and common sense.
Jump to: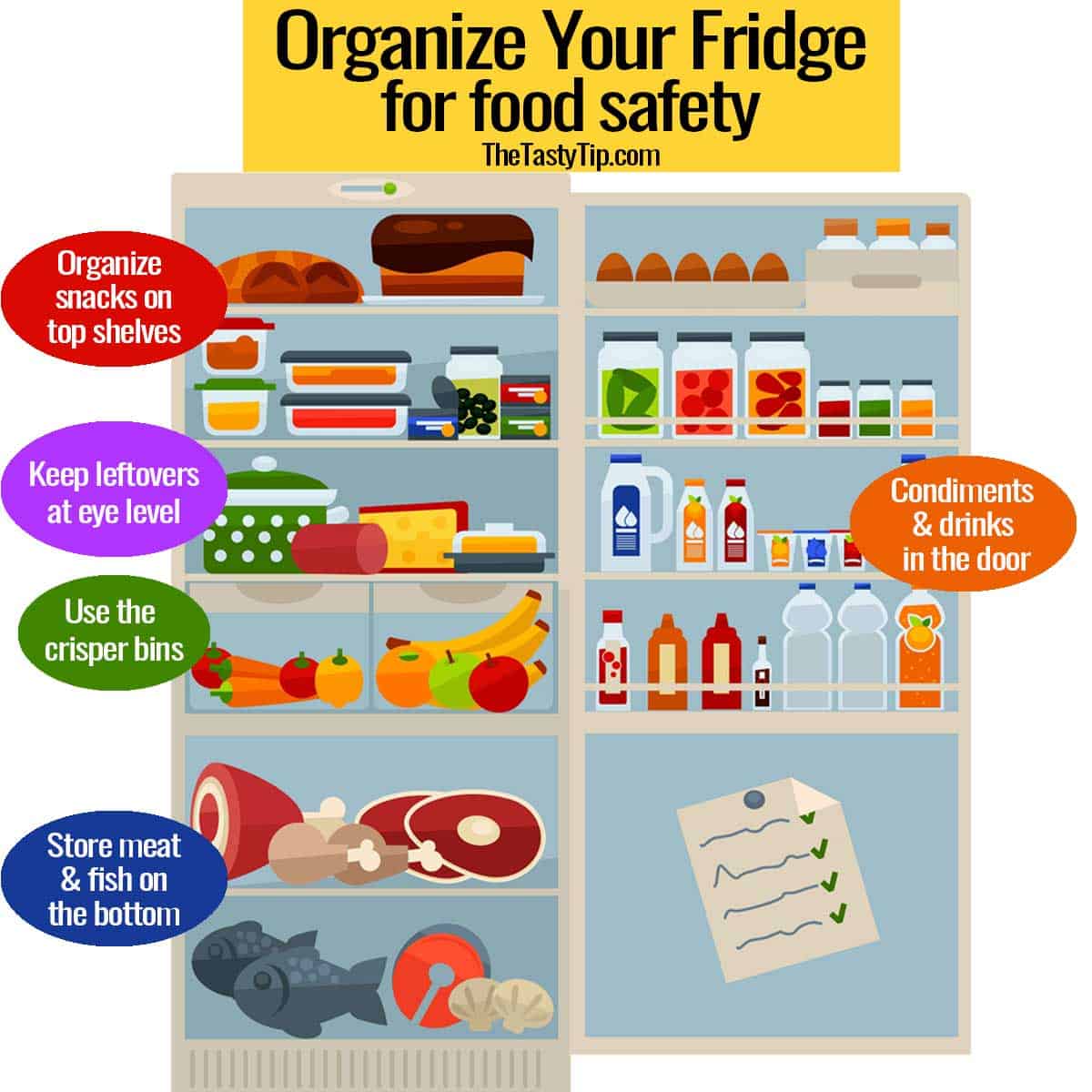 Why Organizing Your Fridge Matters
An organized fridge is not just about aesthetics. It's also crucial for food safety and minimizing waste.
Prevent Cross-Contamination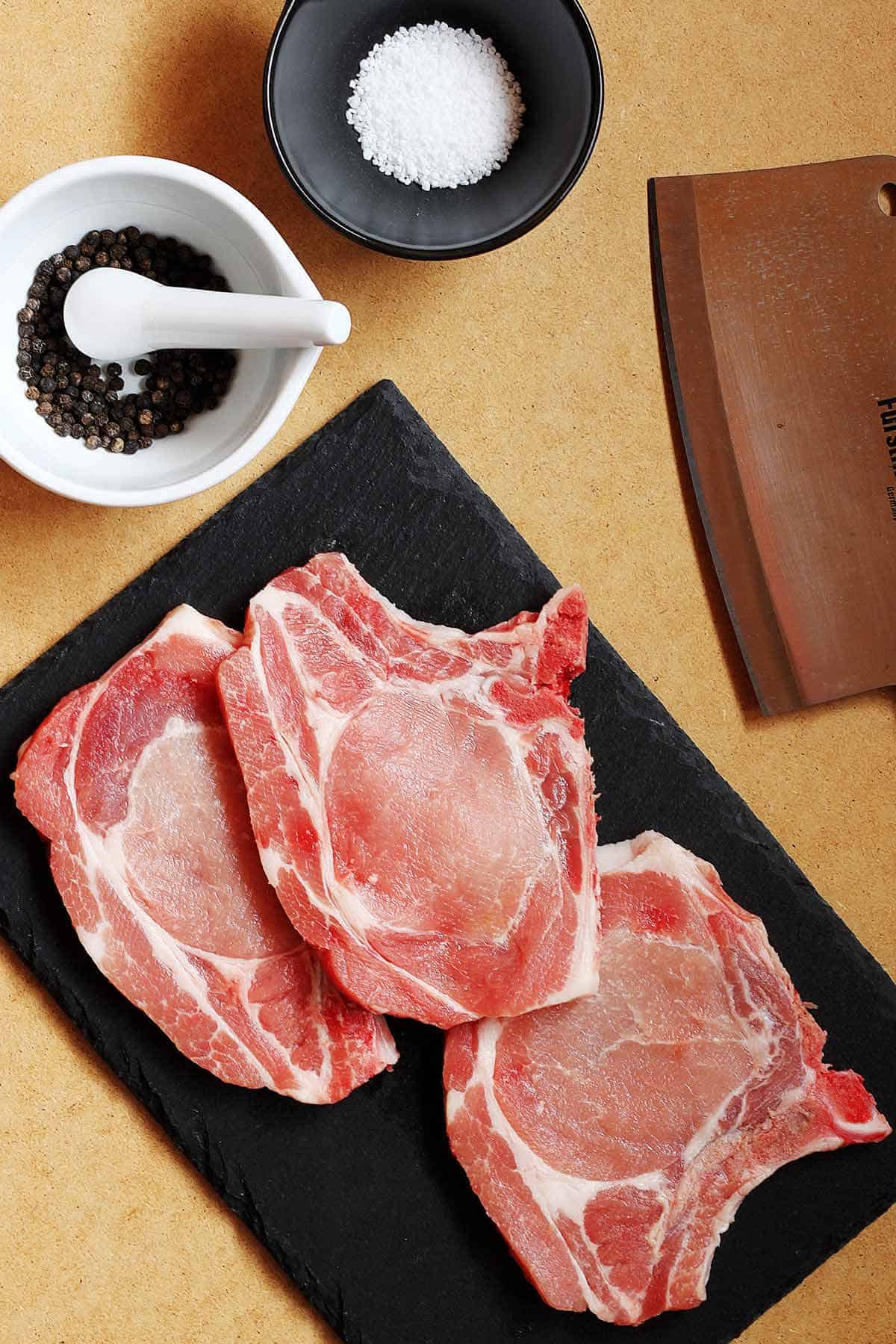 The USDA defines cross-contamination as the transfer of harmful bacteria to food from another food or a contaminated surface (such as a cutting board, utensil, or dish).
Cross-contamination is one of the biggest culprits of food poisoning.
To keep food safe, separate raw meat, fish, and poultry from everything else, especially fresh produce.
Designate a shelf for raw meat and ban other items from sneaking onto that shelf.
One out of every six Americans (48 million people) gets food poisoning every year, with 128,000 people being hospitalized and 3,000 people dying.
Minimize Food Waste
If you see it, you will probably eat it.
You're less likely to forget about that leftover shredded chicken if you can see it. And you won't run out to buy a new tub of sour cream if your old container is clearly visible.
Keeping your fridge organized means you can use your items before they spoil, saving you money in the long run. No leftovers lost in the jungle.
USDA Guidelines You Should Know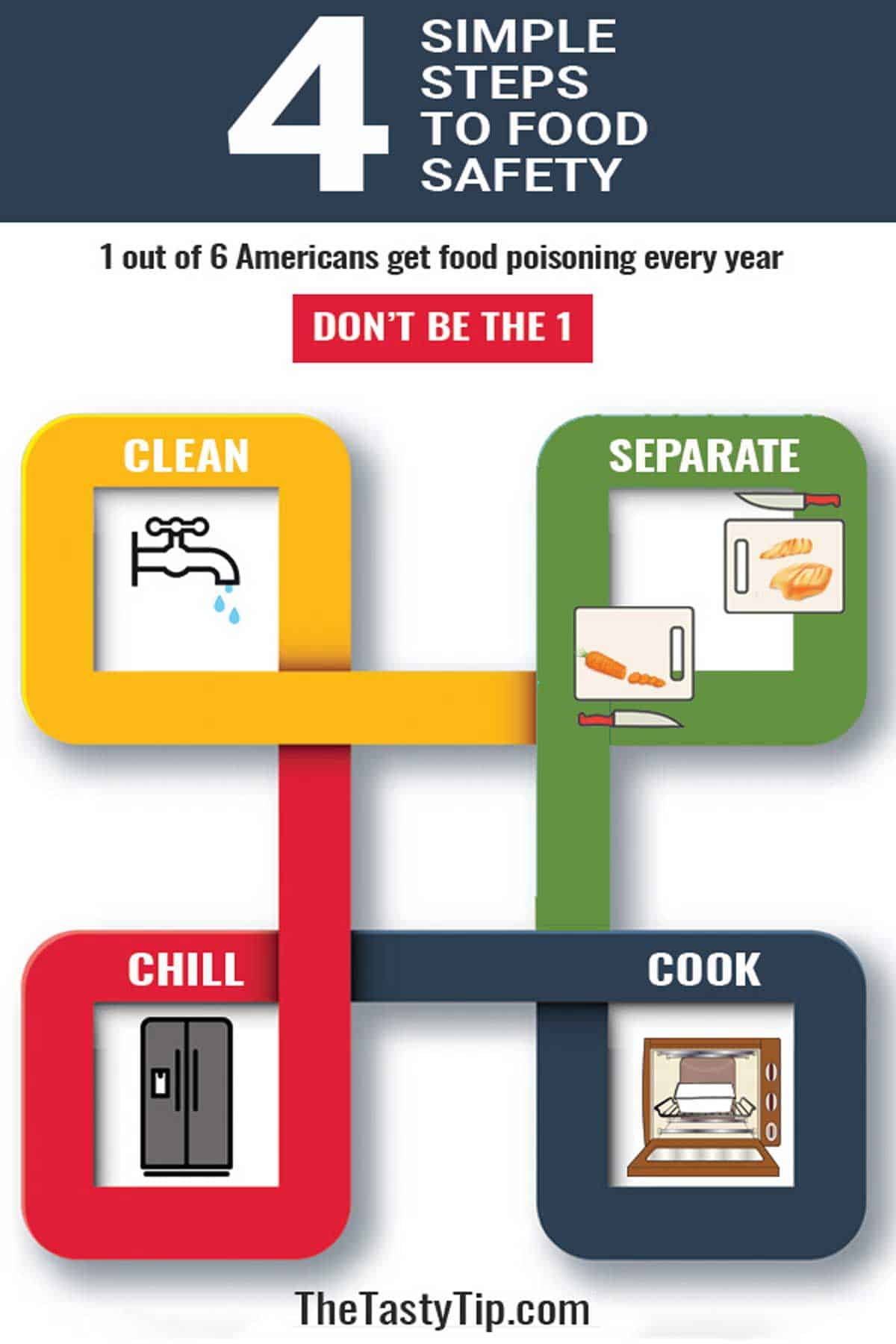 To emphasize guidelines for food safety, the USDA weighs in on refrigerator temperature, handling of raw meat, fridge cleanliness, and storage time for food.
Temperature. Keep the refrigerator temperature between 35°F and 40°F (1.7°C and 4.4°C).
Separation. Keep raw meat separate from everything else to prevent cross-contamination.
Cleanliness. Maintain a clean fridge. Mop up spills with a paper towel or damp cloth immediately.
Shelf life. Become familiar with standard storage times for refrigerated foods. Cooked leftovers can last 1 to 3 days, depending on the item. And be aware of the expiration dates of store-bought products.
Within these boundaries, you can organize your fridge to work with your appliance model, your height, and personal preferences.
Tip #1: Check and Maintain the Correct Temperature
Keeping a steady temperature is critical to food safety. An organized fridge is no good if the temperature isn't cold enough to prevent spoiling.
Bacteria multiply in temperatures between 40°F (4.4°C) and 140°F (60°C). That's why temperature control is crucial to keep your food safe.
The ideal temperature range for a fridge is between 35°F and 40°F (1.7°C and 4.4°C).
If your fridge has a built-in thermometer, great. If not, use an appliance thermometer to check the fridge temperature and adjust the controls accordingly.
A refrigerator thermometer is an inexpensive tool that can be a lifesaver. Verify the temperature with a thermometer, adjust the thermostat as needed, and keep the air vents clean and clear for proper airflow.
Generally, the warmest part of your fridge is the door storage, while the coldest is the bottom shelf. And the back of the fridge is chillier than the front near the door.
When the fridge door is opened and the longer it remains open, the more the internal temperature will drop.
When your fridge is at the correct temperature, it's time to figure out the best way to organize YOUR refrigerator.
What kind of fridge do you own? A classic top-freezer model, the sleek side-by-side design, or the fancy freezer-bottom option?
The layout of your fridge will determine which shelf you will place certain items on.
Virtually all refrigerators have adjustable shelves, so adjust them. Give yourself the room and flexibility you need.
Tip #2: Reserve the Eye-Level Shelf for Leftovers & Short Shelf Life Foods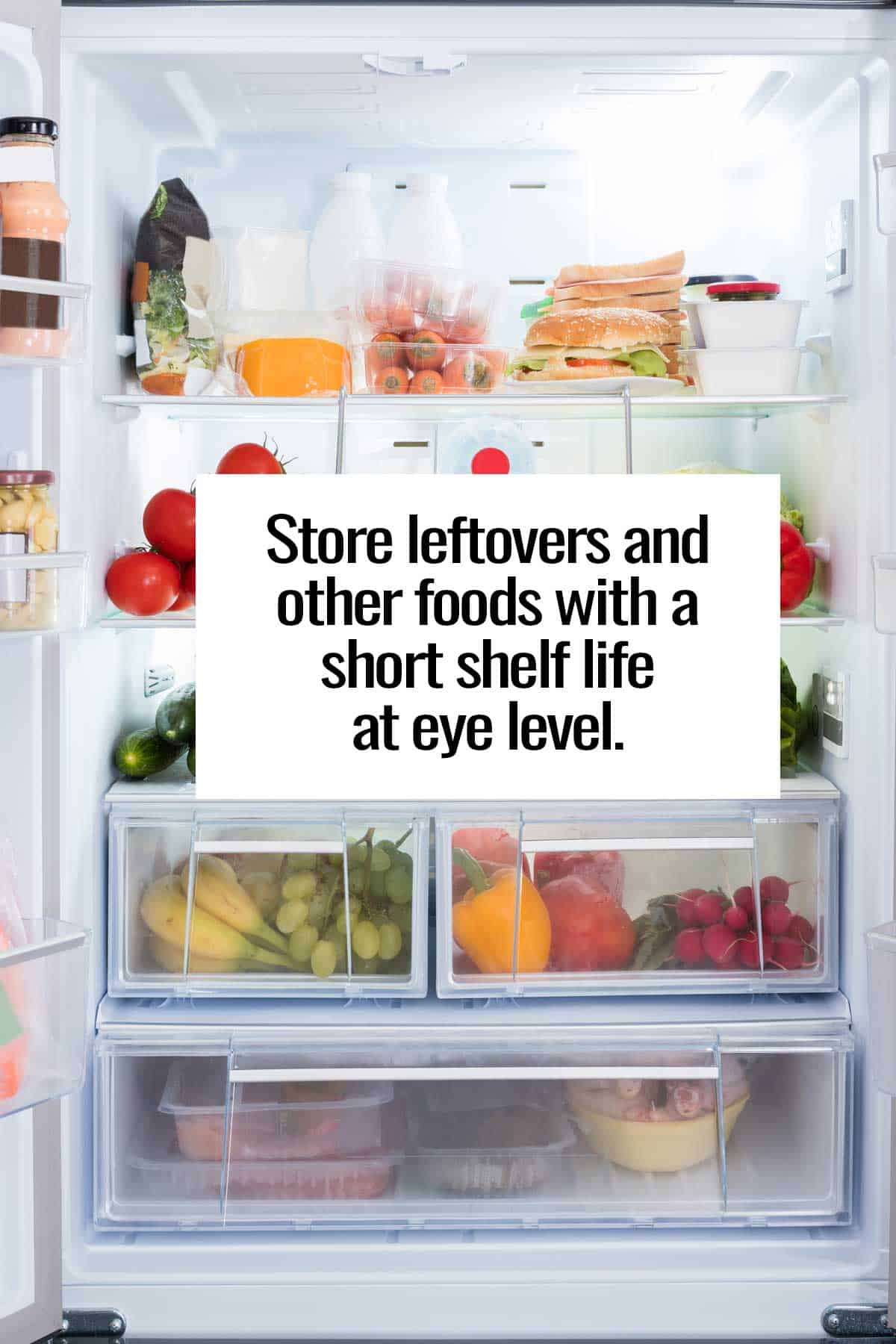 Depending on your fridge and your height, the shelf at eye level might be the top shelf, or it could be the middle shelf.
The eye-level shelf is the one that catches your eye when you open the fridge. Ideally, you don't have to stand on your tip toes or crouch down to see what is there.
Store leftovers and foods with a short shelf life on your eye-level shelf.
When you store perishable foods in your line of vision, you won't be able to forget them. You will see them every time you open the door.
Keep leftovers in clear containers so you can quickly identify the food. Label the leftovers with the dish name and the date it was made.
Keeping the most frequently used foods on this shelf is also convenient if there is enough space for these items and leftovers.
Tip #3: Use the Top or Middle Shelf for Dairy Items and Snacks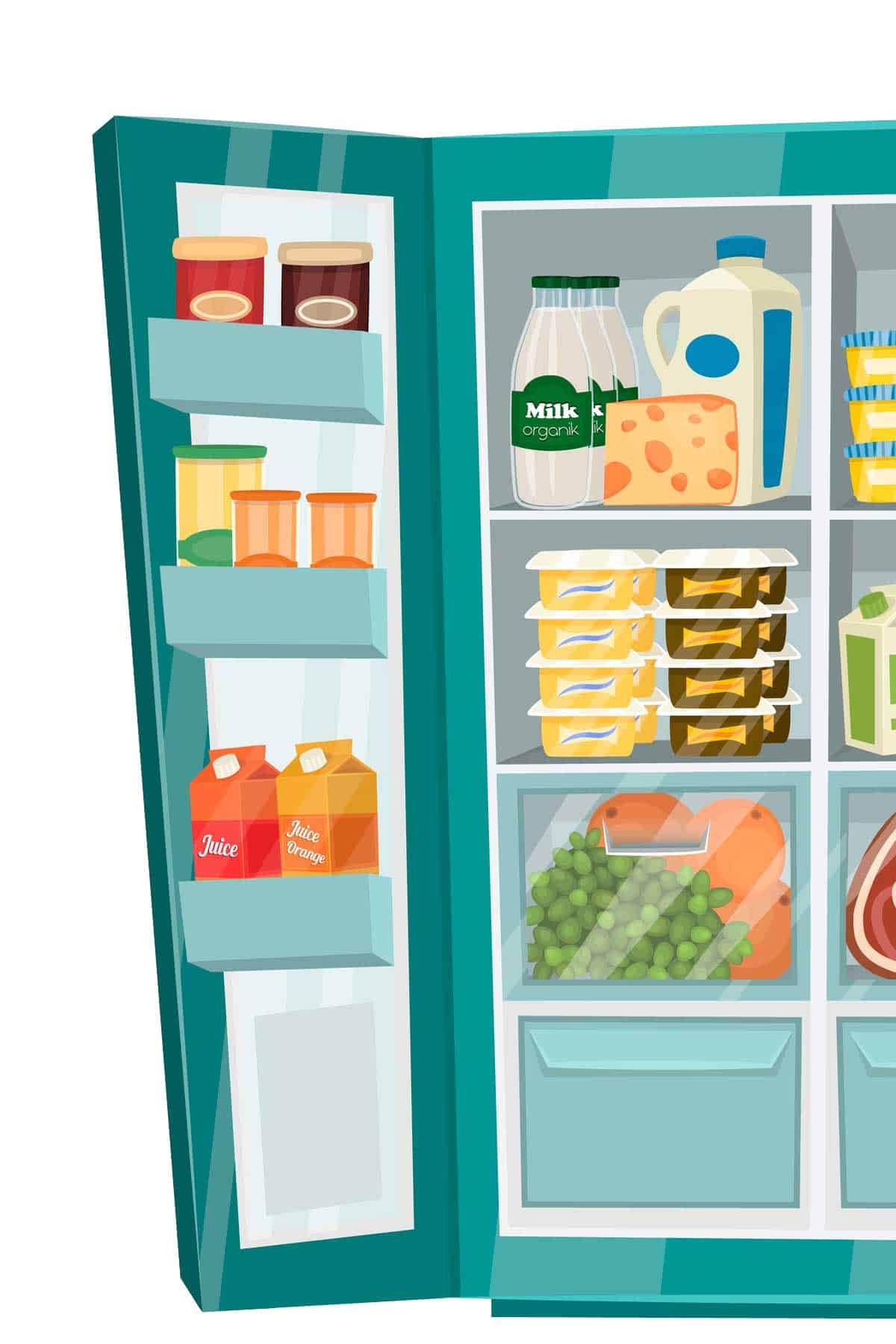 Fill the top shelf (or the shelf that isn't eye level) with milk, juice, eggs, and dairy. You will use these often, so you won't forget them if they are out of sight.
Keep packaged foods and snacks on the middle shelf. This is also a fantastic location for deli meats and hard cheeses if you don't have a deli meat/cheese drawer.
If your kids grab their own snacks, designate an area on the middle shelf for snacks. Keep yogurt or prewashed and cut fresh fruit and veggies in the "snack spot."
A storage basket is ideal for your kid's cold snacks. When your child knows exactly where the snacks are and has easy access to them, they won't rummage around with the door open.
In a perfect world, they will open and close the door quickly, keeping the cool air in.
Tip #4: Dedicate the Bottom Shelf to Raw Meat and Fish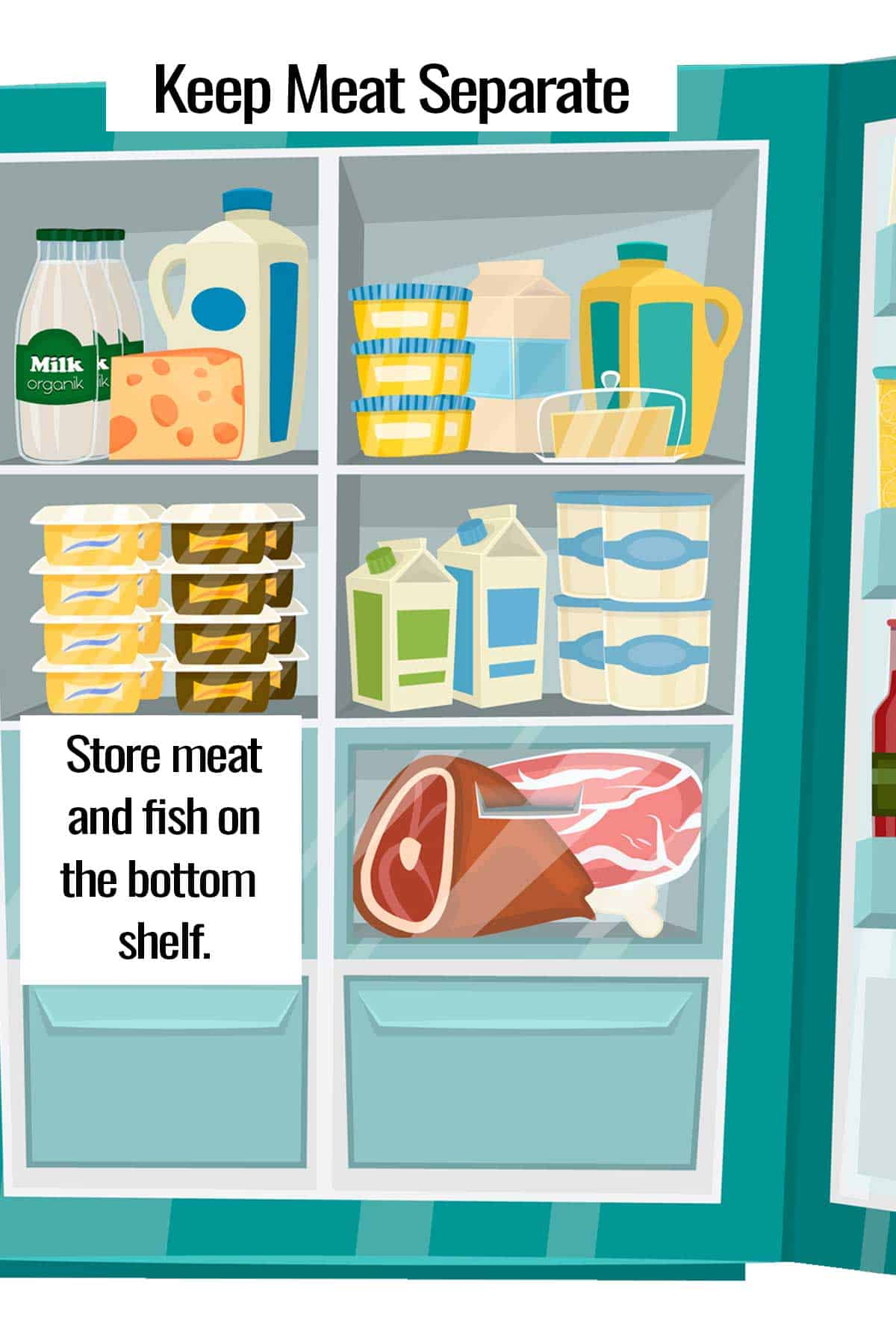 One of the worst food safety hazards is the cross-contamination of raw meat. Keep meat separate from other items in the refrigerator.
The rear of the refrigerator on the lowest shelf is the coldest part of your fridge. This is the best place to store raw chicken, meat, and fish.
When you store raw meat on the bottom shelf, you can prevent juices from dripping onto other foods if there is a leak.
Keep the meat in the original packaging and place the package on a plate or rimmed dish in case of leakage.
And always keep track of use-by dates.
Tip #5: Make the Most of Your Crisper Drawers for Fruits and Vegetables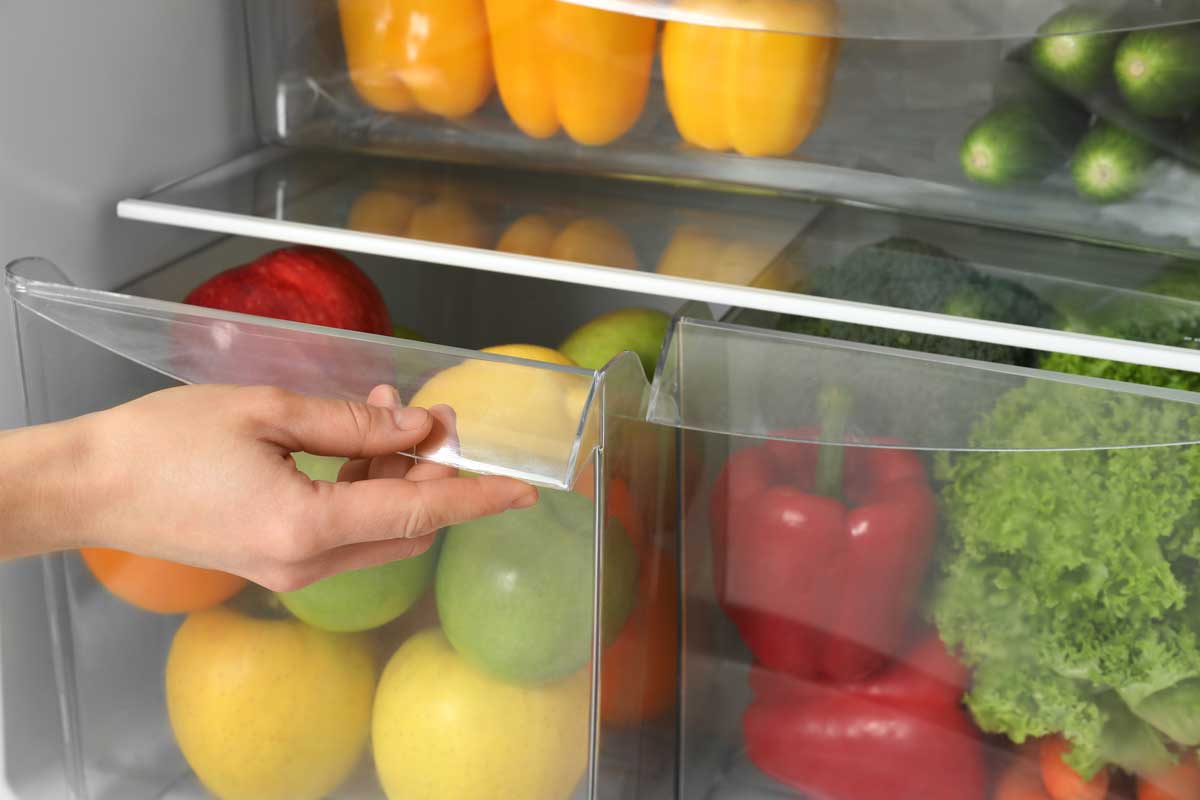 Crisper drawers – If you have them, use them.
Most refrigerators have two produce crispers. And many allow you to adjust the humidity in the drawers.
Store vegetables like leafy greens in the high-humidity drawer to prevent wilting. And keep fruits like apples or pears in the low-humidity drawer to prevent them from getting too moist.
Using these drawers as intended is a great way to organize food, extend the shelf life, and prevent cross-contamination.
Tasty Tip: Foods that give off ethylene gas, like apples, pears, or peaches, should be stored separately from foods that are sensitive to the gas, like lettuce, carrots, and broccoli. This is one reason why keeping fruits and vegetables in separate bins is a good idea.
Tip #6: Optimize Door Storage for Condiments and Beverages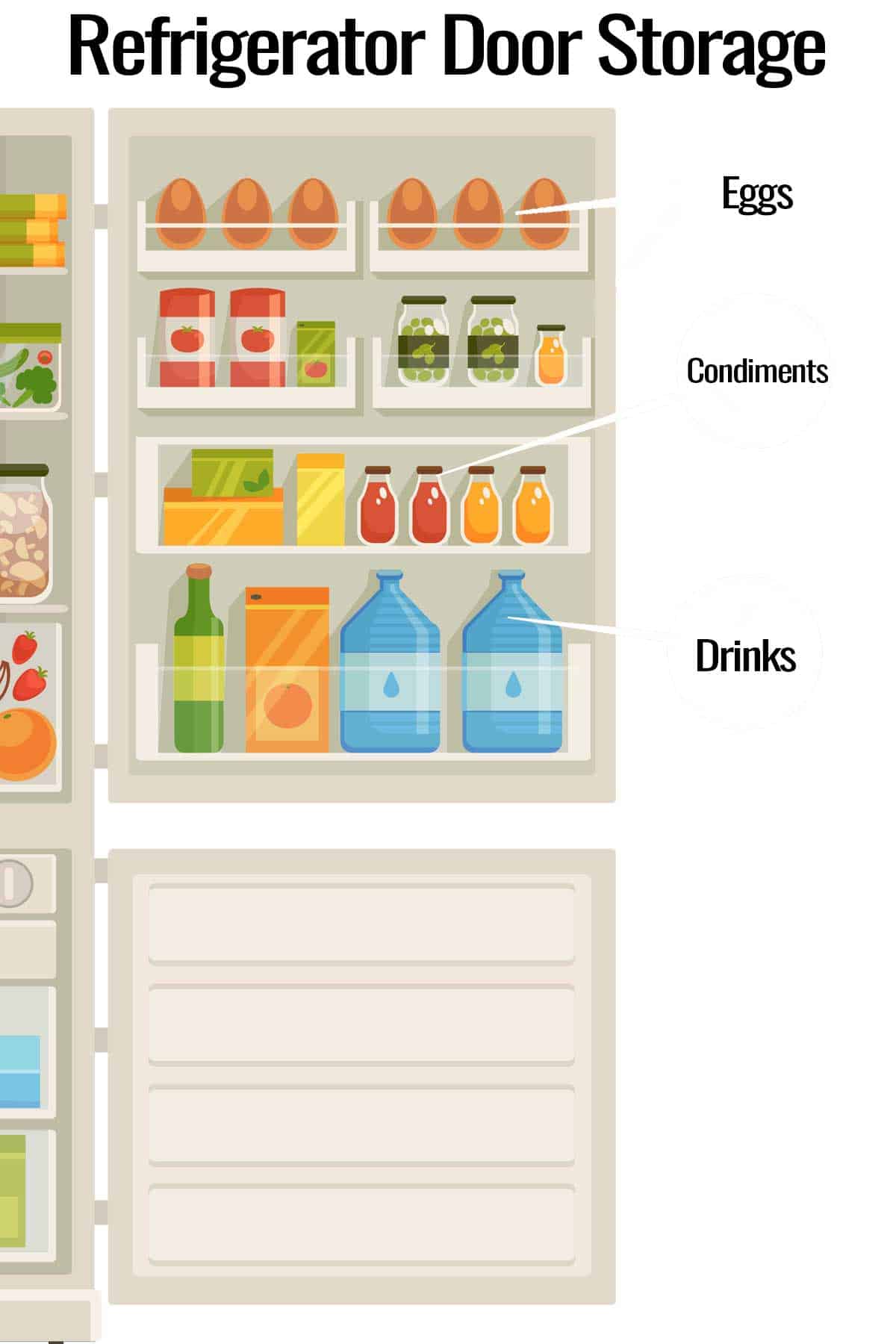 The fridge door is the warmest part of the fridge. It is a great spot for condiments and other items with a longer shelf life. This includes salad dressings, mayo, mustard, ketchup, and pickles.
Butter and eggs (if there is an egg storage area) are also good items to store there.
The door is also the perfect spot for water bottles, sports drinks, or soda.
Avoid storing milk and other liquid dairy products on the door even if you have the space. The temperature fluctuations (as the door opens and closes) can cause them to spoil faster.
Every time I've stored milk in the door (because the rest of the fridge was too full), it expired earlier than the listed expiration date.
Tip #7: Prioritize Regular Cleaning for a Fresh, Odor-Free Fridge
Part of food safety is cleanliness. Clean spills and crumbs as soon as they happen to avoid the growth of bacteria.
I recommend e-cloth kitchen cleaning cloths to clean refrigerator shelves. These cloths only need water to clean surfaces, so there is no risk of using chemicals near your refrigerated food.
Cleanliness Habits
Once a week, throw out old or expired food.
Removing Odors
A vinegar and water spray is effective for cleaning and eliminating odors.
An open container of baking soda in the fridge can also absorb unpleasant odors.
Best Refrigerator Organizers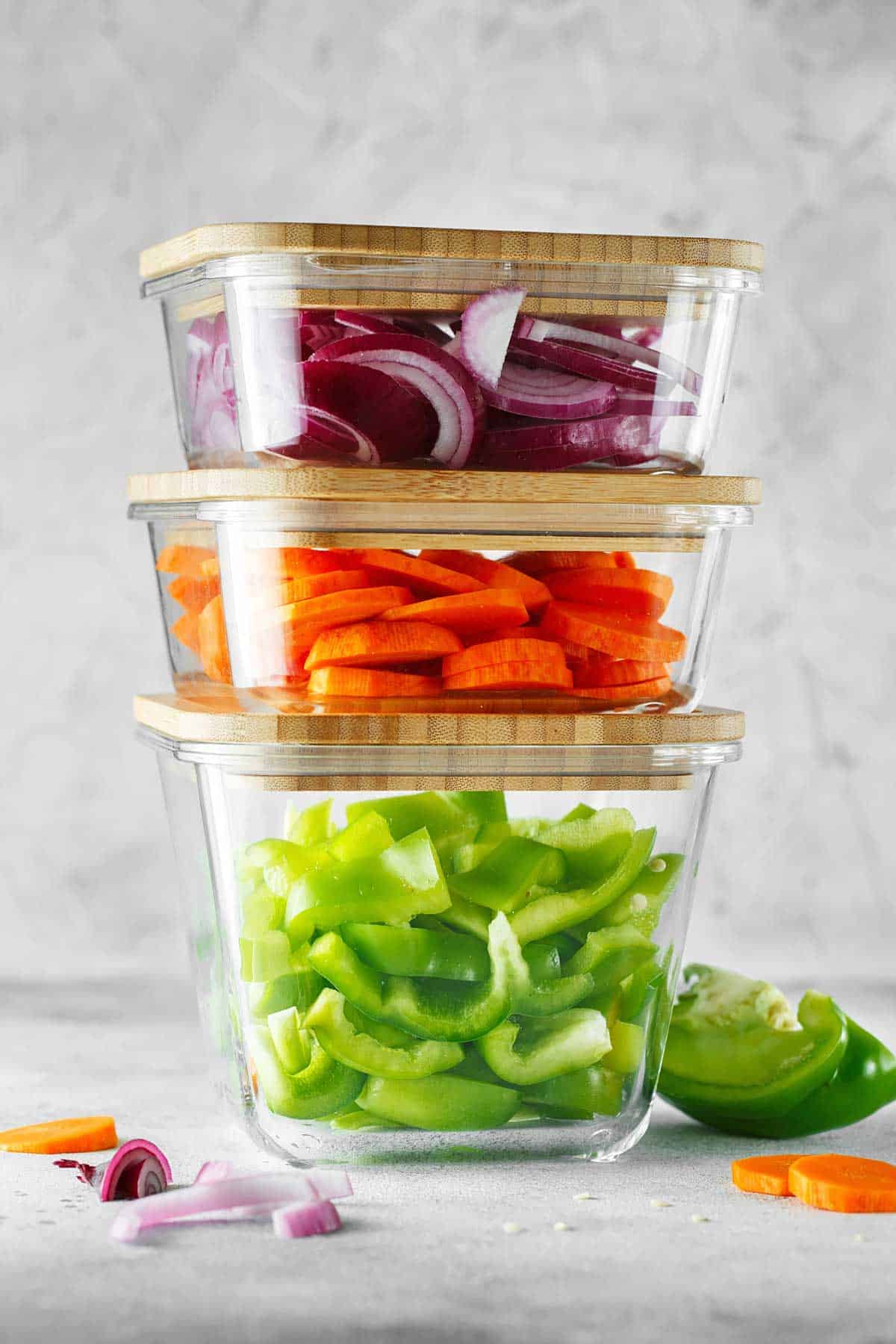 The best organizers are clear for visibility, easily stackable, and quick to clean. Here are some fridge organizers you will love.
Maintaining Fridge Organization
Fridge organization is not a one-time task but an ongoing process. To keep your fridge organized and your food safe, you must maintain it regularly. Here are some tips to maintain a spotless refrigerator:
Spot clean daily and deep clean monthly, wiping down shelves and drawers with warm soapy water.
Rotate food frequently. When you return from the grocery store, place newer items in the back and rotate older items to the front of the fridge.

Got new leftovers? Pull the old leftovers to the front. Set a weekly leftover dinner night. You may find it helpful to keep a small magnetic whiteboard on the fridge. Write the leftovers on the board and erase when they are eaten.
Label leftovers and include the date.
Weekly, check the expiration dates of food items and discard anything past its prime.
Tricks for Fridge Space Optimization
If you have a small fridge, you need to get creative with your fridge organization. Here are some tricks to optimize your fridge space:
Use clear containers to see what's inside and avoid waste. Buy from Amazon.
Use a lazy Susan to access items at the back of the fridge. Buy from Amazon.
Remove unnecessary packaging that is bulky. This can free up space and reduce clutter.
Use shelf dividers to separate items and keep things from falling over or getting lost in the back of the fridge. Buy from Amazon.
Regularly clean and declutter.
Conclusion
Organizing your fridge may seem daunting, but it doesn't have to be. Take it one shelf at a time, and you'll have an organized fridge in no time.
A clean and organized fridge not only looks great but also ensures that your food is fresh and safe to eat.
Did you like this post? Then let's be social. FOLLOW ME on INSTAGRAM and PINTEREST to keep up with the latest tutorials, favorite recipes, and interesting happenings.
More Food Storage Questions Answered