Learn how to make bread crumbs without a food processor. Make soft bread crumbs with a blender or coffee grinder. Or use a box grater, rolling pin, or kitchen mallet for toasted crumbs.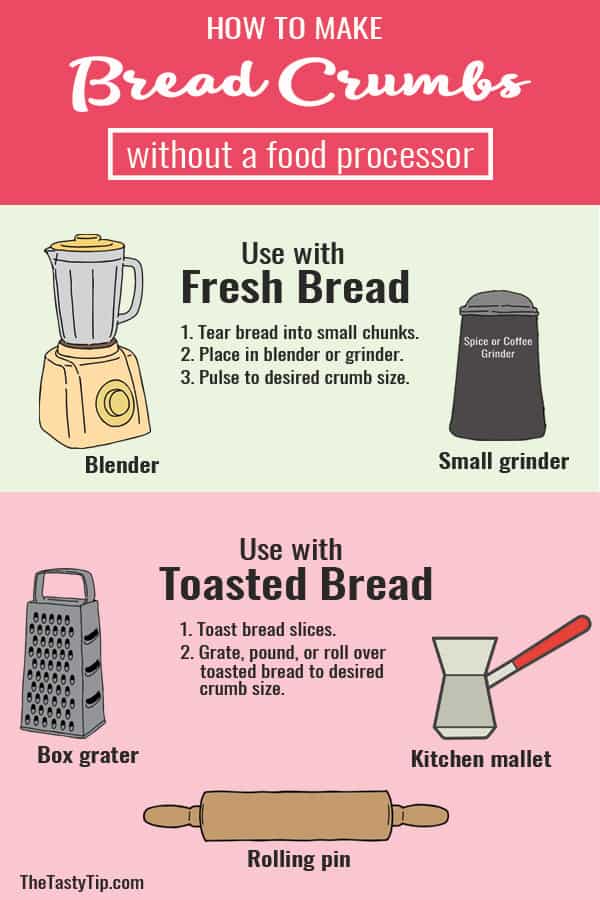 This post contains affiliate links. If you click and buy an item, I might earn a small commission at no extra charge to you. Thank you for supporting this site.
I didn't have a food processor for a long time so I thought I couldn't make homemade bread crumbs.
Not to be deterred, I looked around my kitchen and found 5 tools that can substitute for a food processor. You probably have at least one of these tools in your kitchen.
Bread crumbs are tiny crumbles of bread, either fresh or toasted, used to coat crispy foods or to top casseroles.
The challenge with homemade bread crumbs is getting the crumbs to a uniform size. Read on to see the 5 tools I used and the unique challenges to making bread crumbs each tool had.
However, take care when making bread crumbs with toasted bread. Toasted bread slices are not as forgiving as fresh bread slices when you pulverize them. It is easy to over-process them and end up with bread crumb powder. Not too tasty.
Check out the post how to make bread crumbs to learn the 3 ways to toast bread for bread crumbs.
How to Make Bread Crumbs Without a Food Processor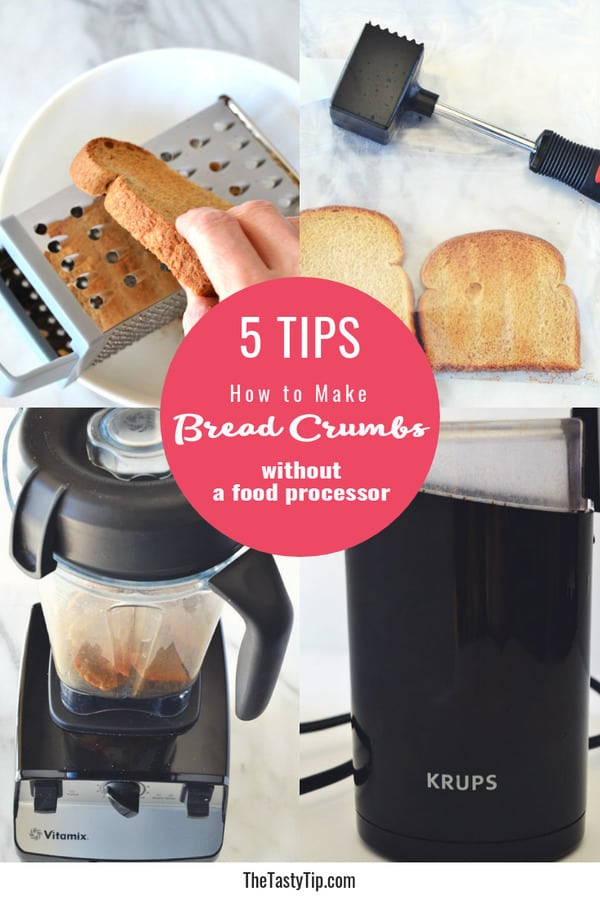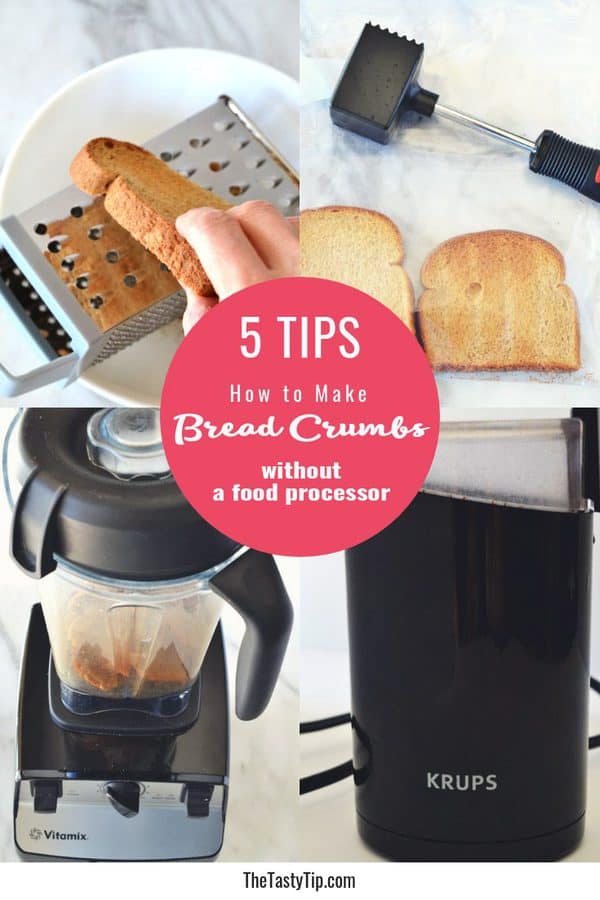 The 5 tools I used to make bread crumbs without a food process are: coffee or spice grinder, a blender, a box grater, a rolling pin, and a mallet.
Some of these tools require the bread to be toasted to work.
#1 Use a Small Coffee or Spice Grinder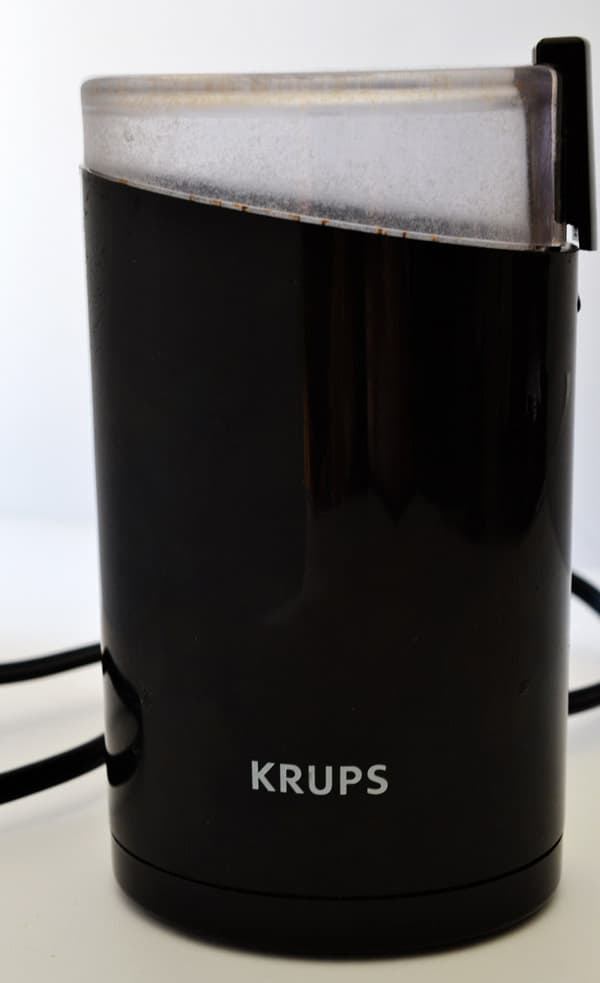 I have a Krups coffee/spice grinder. I use it every day to grind flax seeds. Be sure to wipe it out thoroughly before grinding bread crumbs or it will taste like whatever you just ground. Flax bread crumbs were yummy!
A coffee or spice grinder makes amazing soft bread crumbs.
How to Make Bread Crumbs with a Coffee or Spice Grinder
Tear 2 slices of fresh bread into pieces or cut into cubes.
Next add a few bread pieces at a time to the coffee grinder and pulse five to eight times, until you get the right texture.
Dump out the finished batch of bread crumbs.
Repeat the process with the remaining bread pieces.
It is trickier to use a coffee grinder to make toasted bread crumbs. It is easy to over process and make the bread crumbs too fine.
Unfortunately, this can happen quickly. To overcome this challenge, process the toasted bread pieces in smaller amounts for shorter times and check on your crumbs more often. In my experience, the only use for powdery bread crumbs is to thicken soup.
#2 Use a Blender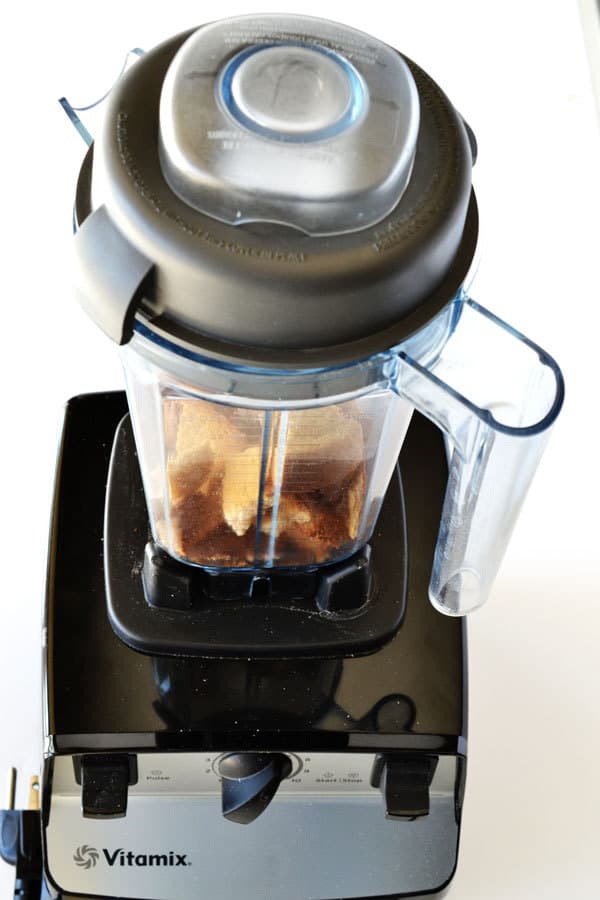 My favorite blender is the Vitamix. The Vitamix flour container is an effective food processor substitute.
If you are looking for a less powerful blender to make bread crumbs, consider these blenders
.
To make the crumbs, use the pulse setting with the Vitamix or other blender so you can control the level of processing.
Break the fresh or toasted bread into pieces.
Add a few pieces of broken bread to the blender.
Pulse two to three times.
Check the crumb consistency.
Pulse again until you get the right consistency.
Pour out the bread crumbs and sift. Remove the large crumbs and reprocess.
Watch your bread crumbs. If most of the bread crumbs are the right texture, but some pieces are still large, dump out the crumbs. Pick through the large pieces and reprocess.
#3 Use a Box Grater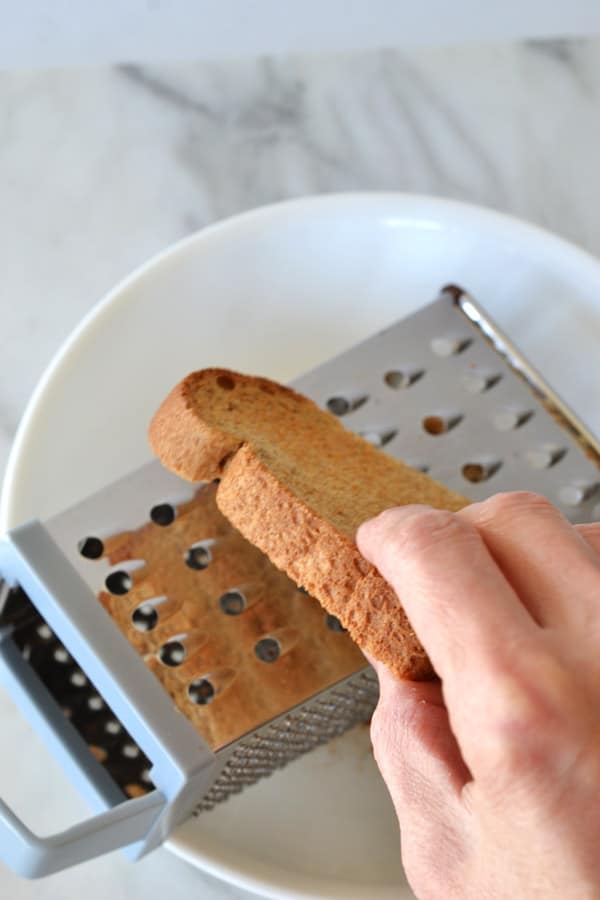 A box grater will only work on toasted or dry bread. It is also the most difficult method. Be cautious when grating, especially when your fingers get close to the grater. Don't cut your fingers on the grater.
Grate the whole slice of toast. Do not break it into pieces.
The hole size of the grater determines the size of the bread crumbs.
Using a box grater was faster than I thought it would be and I was soon down to the end. A grater made more consistent sized pieces because the grater holes were the same size.
#4 Use a Zip Top bag and Rolling Pin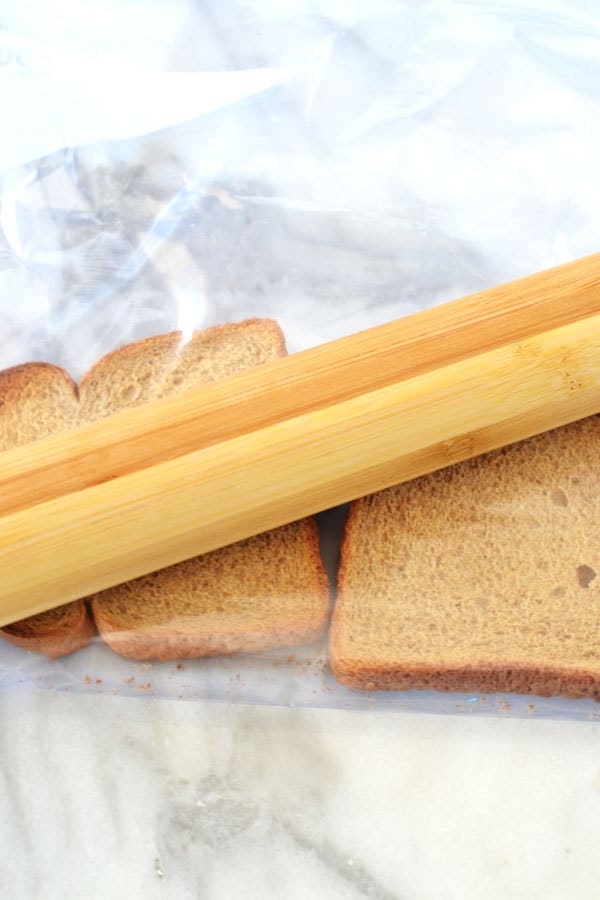 Another way to make bread crumbs without a food processor is to use a rolling pin. This only works with toasted bread.
Step #1: Toast your bread in the oven or toaster oven. The toast must be very dry for this method to work. After the toast cools, break it into pieces and place in zip top bag.
Step #2: Roll the toasted bread with the rolling pin to crumble.
If the bread does not crumble immediately, it has not been toasted enough. The toasted bread should crumble, not flatten. If your bread is flattening, toast the pieces again until the moisture is gone from the bread.
#5 Use a Zip Top Bag and Kitchen Mallet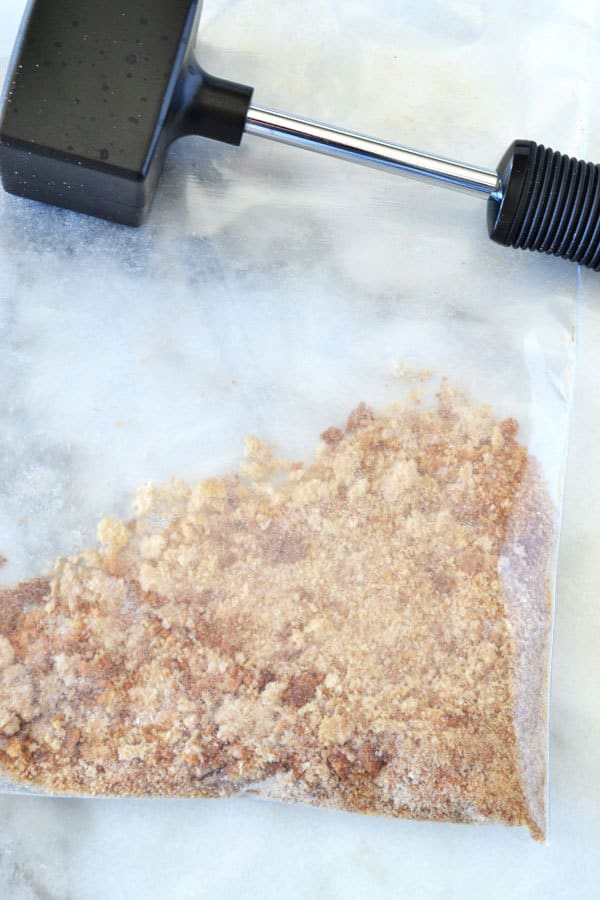 Instead of using a rolling pin, consider a kitchen mallet. With the toasted bread pieces safely in a zip top bag, gently pound (an oxymoron perhaps) with a kitchen mallet to crumble those bread crumbs.
How to Store Bread Crumbs
Make bread crumbs before you need them and store them in the freezer for one to two months. Seal the bread crumbs in a zip top bag freezer bag. Label and date the bag with a permanent marker before you put it into the freezer.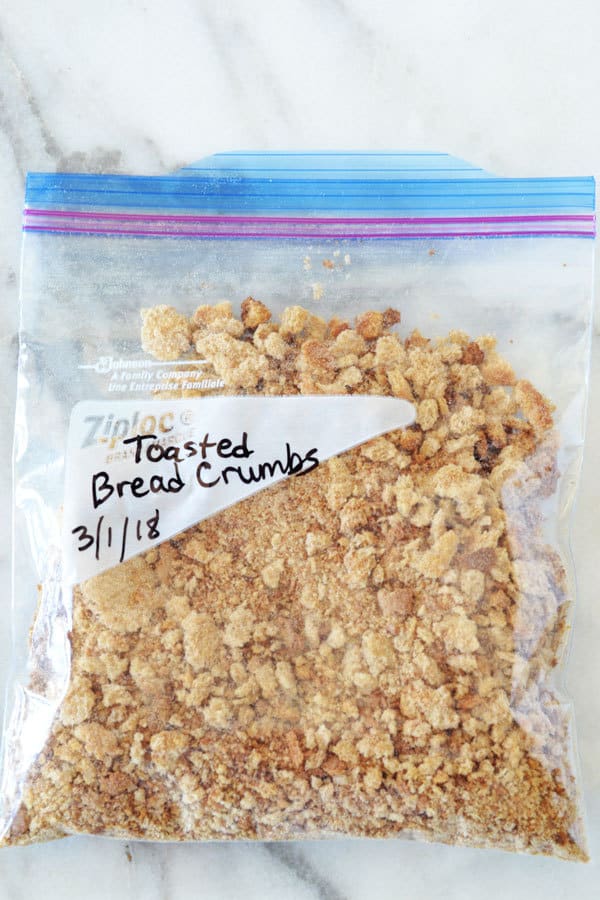 So there it is -- The Tasty Tip of the day -- how to make bread crumbs without a food processor. You can use five different tools as a food processor substitute to make bread crumbs.
Don't get me wrong. A food processor is by far the easiest way to make bread crumbs. But if you don't have one, try one of these tools and let me know what you think.
I'm always looking for new ways of doing things, so if you think of another way to make bread crumbs, comment below and share it with our tasty community.
---
Did you like this post? Then let's be social. FOLLOW ME on PINTEREST and INSTAGRAM to keep up with the latest tutorials, favorite recipes and interesting happenings.
---
Recipe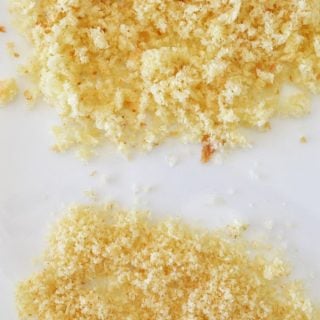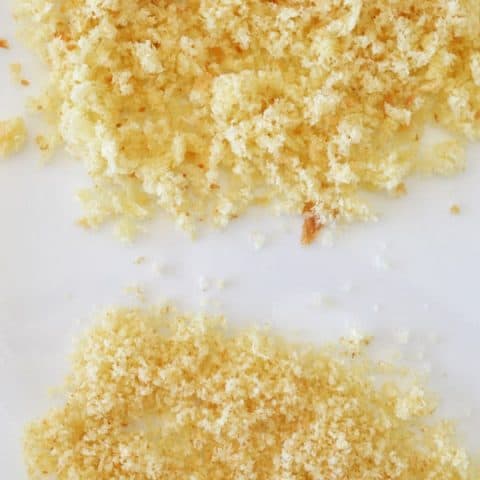 Make Bread Crumbs Without a Food Processor
Learn how to make bread crumbs without a food processor.  Although a food processor is the best tool to use when making bread crumbs, other kitchen equipment can be substituted.  Make a large batch of bread crumbs and store in the freezer so they are available for your next crispy recipe.
Instructions
SOFT BREAD CRUMBS
CUBE bread or break into small pieces.

LOAD bread pieces into a coffee/spice grinder or in a blender. Do not overfill. Load grinder or blender ⅓ of the way full.

PULSE a few times until the crumb reaches the right size. Dump crumbs into a bowl.

REPEAT until bread pieces have all been pulsed.
TOASTED BREAD CRUMBS
TOAST

 bread in oven or toaster oven. (Don't use a toaster. It doesn't dry out the bread enough). Read more on how to

toast bread

to make bread crumbs.

BREAK bread into pieces and place bread pieces in a coffee or spice grinder, in a blender and pulse OR KEEP BREAD SLICES WHOLE and SHRED with a cheese grater, ROLL with a rolling pin or POUND with a kitchen mallet.
Notes
Bread slices to Bread Crumb Equivalency
2 slices of fresh bread = approximately 1 ½ cups course breadcrumbs or ¾ cup fine bread crumbs
2 slices of toasted bread = approximately 1 cup of coarse bread crumbs or ⅔ cup fine bread crumbs.
Learn how to make bread crumbs with a food processor.
All images and content are © TheTastyTip.com. If you want to use this recipe and techniques, please take your own photos, write your own description, and link back to this page. Thank you.
Nutrition
Serving:
2
tablespoon
Calories:
28
kcal
Carbohydrates:
5
g
Protein:
1
g
Sodium:
51
mg
Sugar:
1
g