Wondering how to make store-bought chicken salad better? Get brilliant suggestions for add-ins and seasonings. Transform bland into exciting.
Are you tired of bland-tasting ready-made food? Just because you don't start from scratch doesn't mean you have to sacrifice taste. If you are wondering how to make store-bought chicken salad taste better, you are in the right place.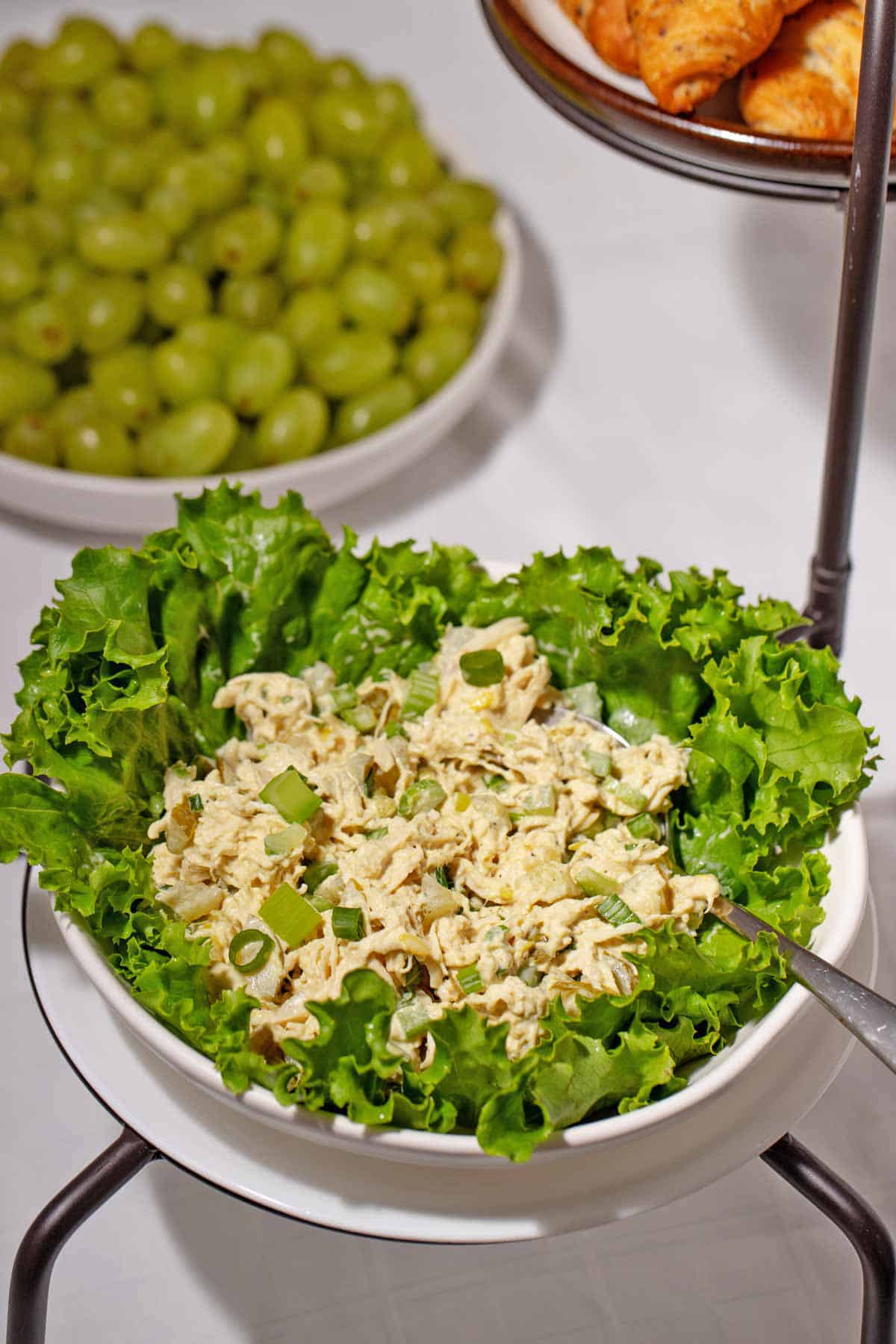 How do you make store-bought chicken salad taste better? The best way to make a store-bought chicken salad better is to drizzle in an acid (like pickle juice), stir-in items (like bacon), or sprinkle in a flavorful seasoning mix. Better yet, jazz up the chicken salad by combining two or more flavorful additions.
Want more specifics? Read on to learn the best ingredients to add to jazz up chicken salad. You will love the easy food and spice combinations I share at the end to make creative chicken salad variations.
Now no one will be able to tell you stopped by the deli to pick up dinner.
Check out this post on how long chicken salad lasts and how to tell when it has gone bad. You will like that store-bought deli salad lasts longer than homemade.
Stir in Pickle Juice (or another acid)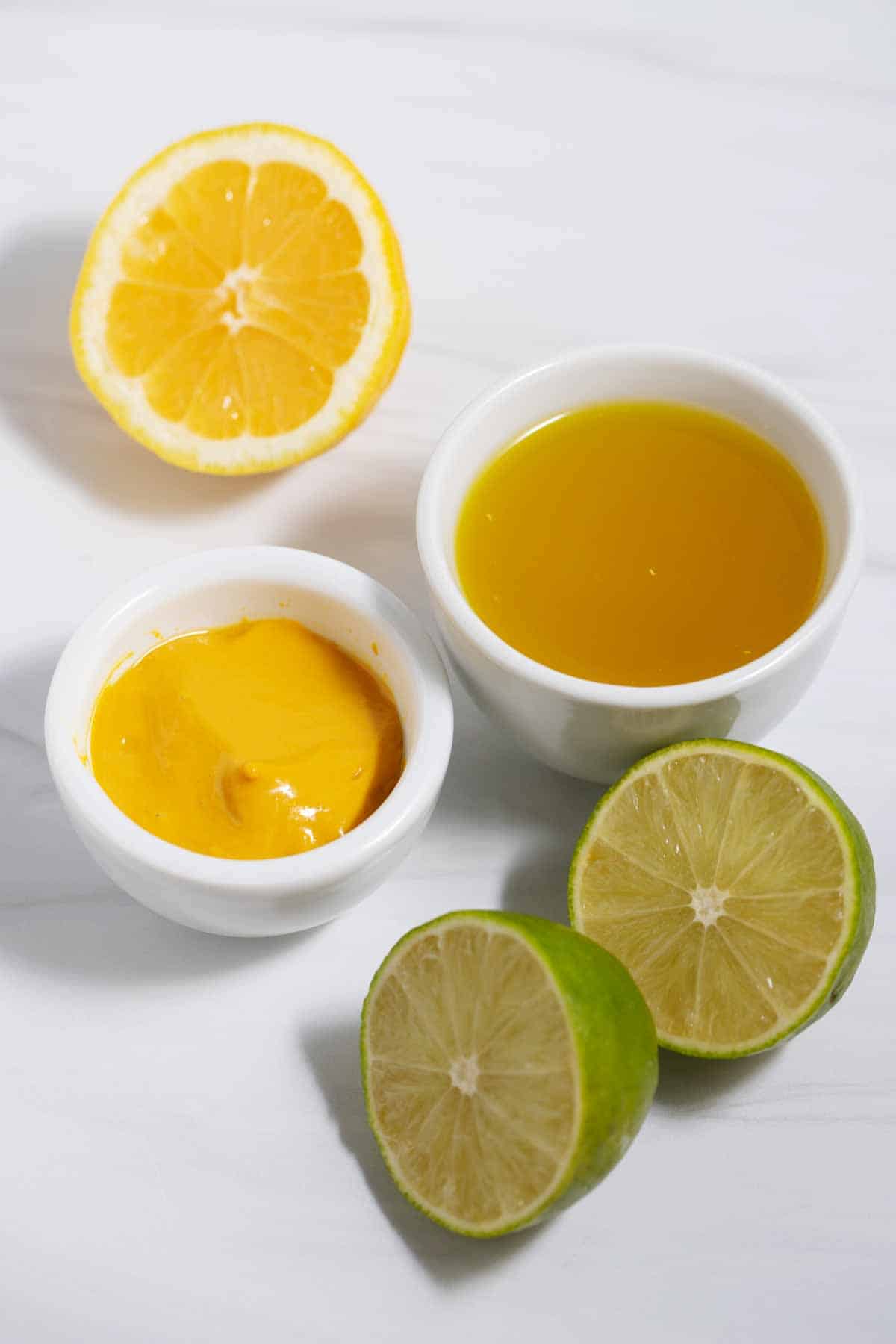 An acid can do wonders to brighten the flavor of a dull salad. Pickle juice is my go-to choice. It gives the salad a unique dill flavor that can't be beaten.
However, lemon or lime juice can be equally effective in livening up the salad. And you may prefer citrus juice if you plan to add fruit to the salad.
Start with 1 teaspoon per 2 cups of salad. Then add more in small increments until you achieve your desired taste.
What to try:
Dijon mustard (really any mustard, but Dijon is the best)
Balsamic vinegar (go cautiously and choose a vinegar you already like instead of experimenting)
Get fantastic ideas for side dishes to serve with chicken salad at a luncheon.
Herbs, Spices, and Seasonings (Oh, my!)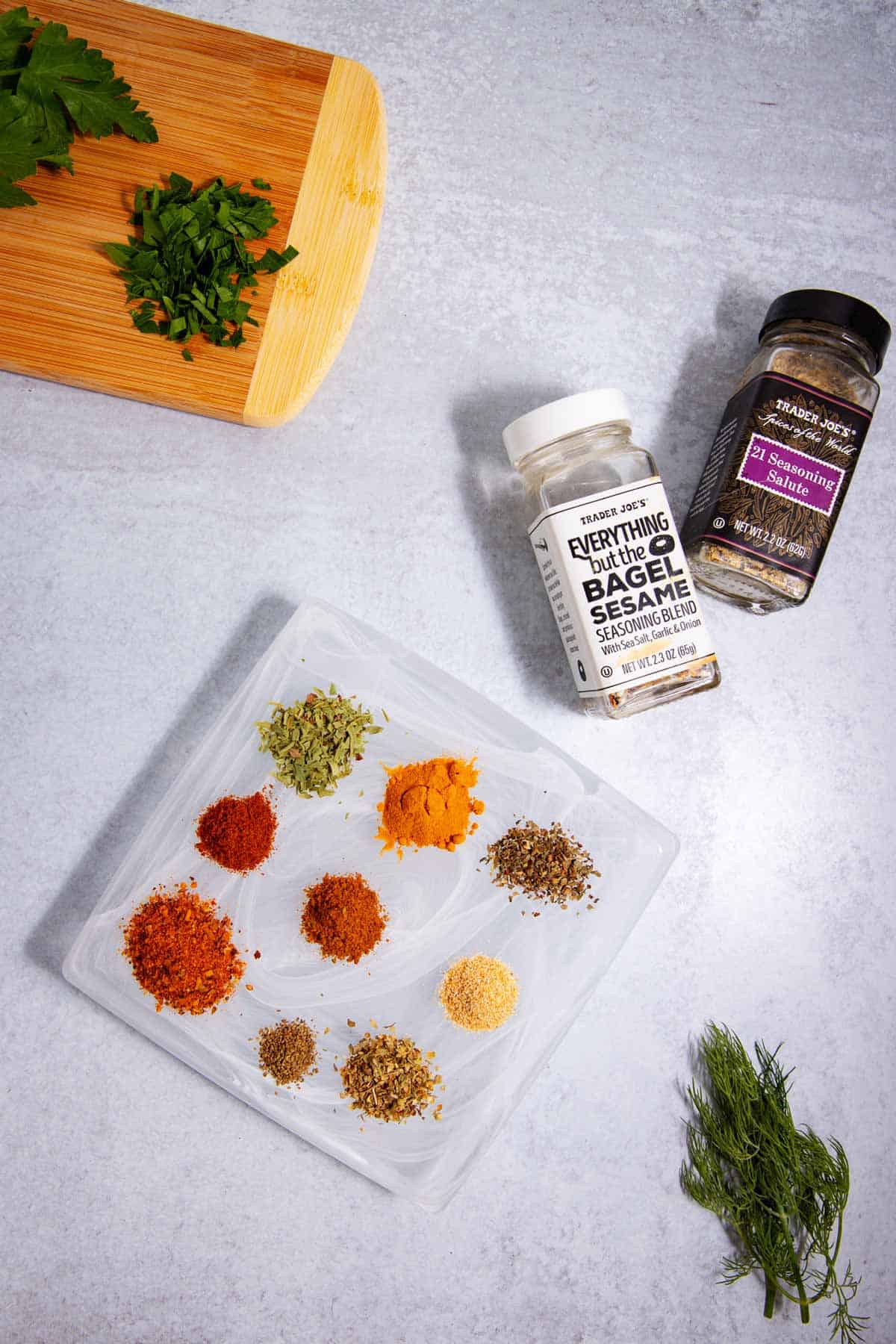 A few herbs, spices, or seasonings can do wonders for injecting flavor into bland store-bought chicken salad. Fresh herbs are the best (especially fresh parsley, dill, and basil).
Check out these flavor-enhancers:
Chili powder (or cayenne pepper)
Trader Joe's Everything Bagel seasoning (it is salty, so add slowly)
Trader Joe's 21 Seasoning Salute Blend (salt-free blend)
Pro Tip: Some pre-made seasonings have a lot of added salt, which may make your chicken salad too salty. To fix a chicken salad that is too salty, counter with lemon juice, a teaspoon of sugar, or a cup of vegetables or chickpeas.
Bacon Makes Everything Better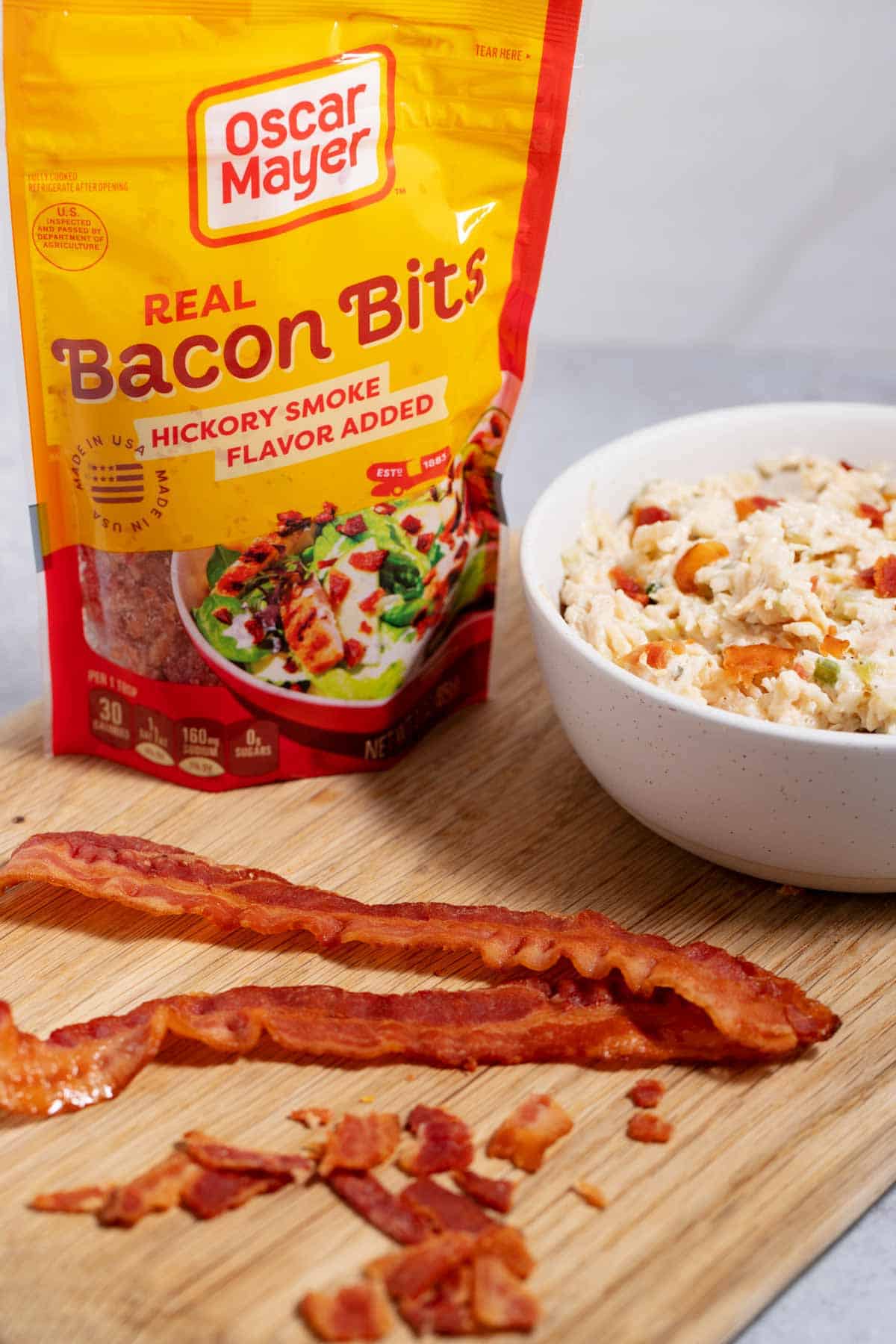 Who can say no to bacon? Bacon in chicken salad? Oh yeah!
Read this post on cooking bacon in the oven. It is easy and hands-free. It may become your new favorite way to cook bacon.
But if you are short on time, grab some bacon bits (made with real bacon) when you pick up the deli chicken salad. Bacon bits have come a long way over the years. Oscar Meyer makes excellent crumbled bacon bits.
And although bacon is popular, don't overlook these other similar foods:
Are You Nuts for Nuts?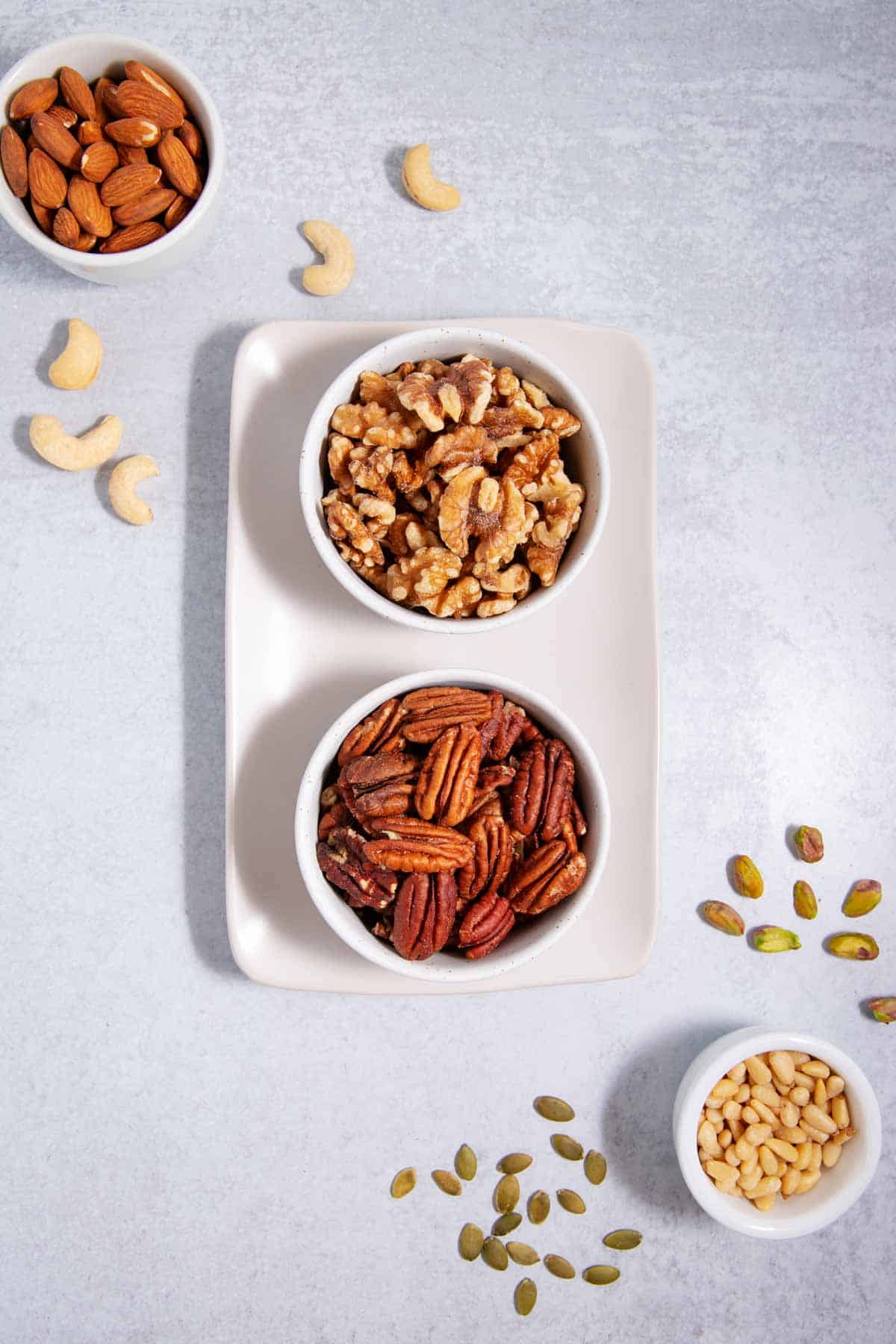 If you love nuts, it is a no-brainer to use them to jazz up your store-bought chicken salad. Practically any nut tastes good with chicken. Especially when you toast the nuts first.
Use ½ of a cup of nuts for every 2 cups of salad. Unless you love nuts. Then go crazy.
Here are a few of my favorite nuts and seeds to try:
Macadamias (hello Hawaiian chicken salad)
Pucker Up for Pickles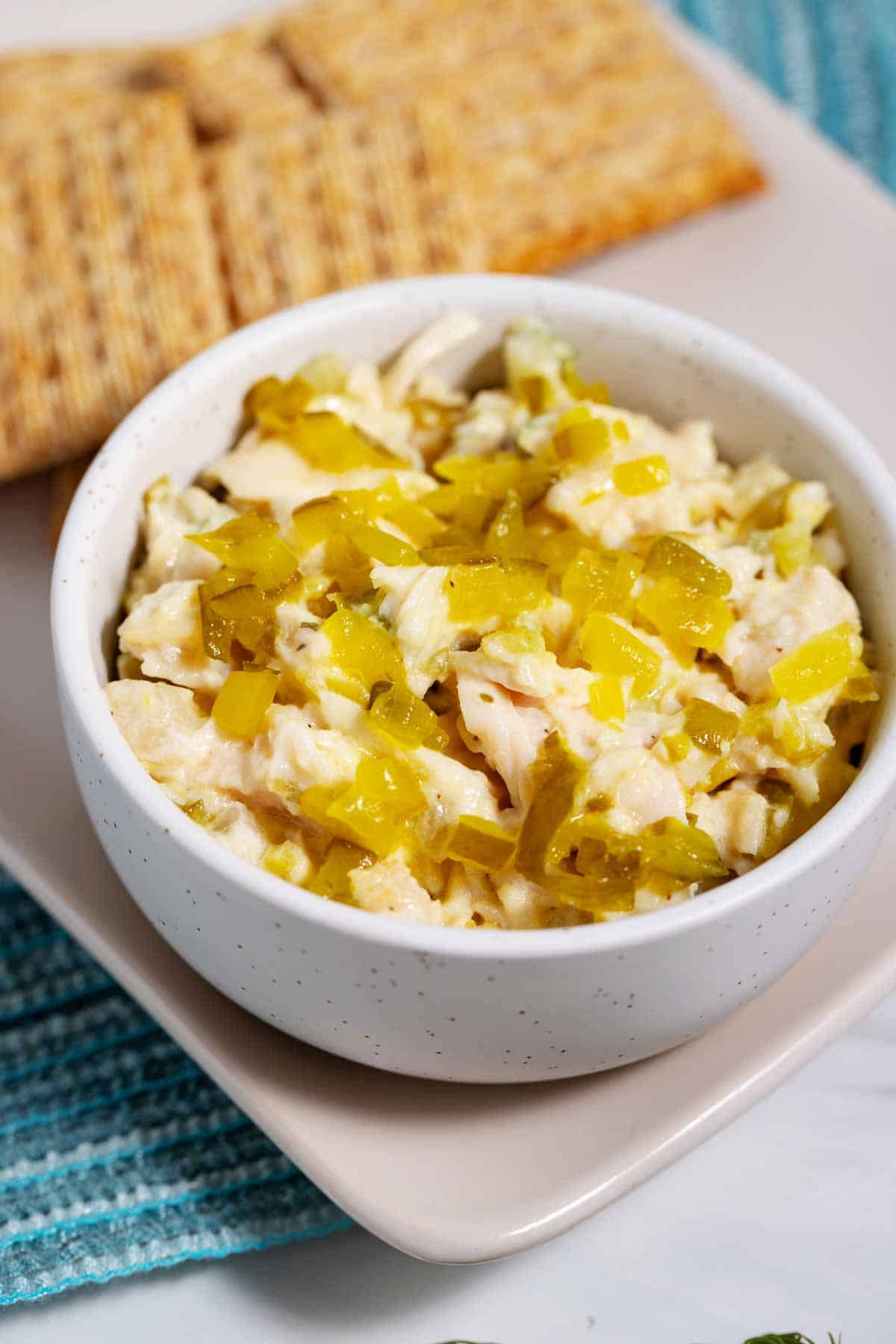 Dill pickles or dill pickle relish are my favorite add-ins to infuse flavor into store-bought chicken salad.
Pro Tip: Chopped dill pickles have more flavor, but the relish is quicker and easier to use.
If you prefer sweet pickles (or relish) or bread and butter pickles, go for it. No wrong answers here.
Roasted or Pickled Peppers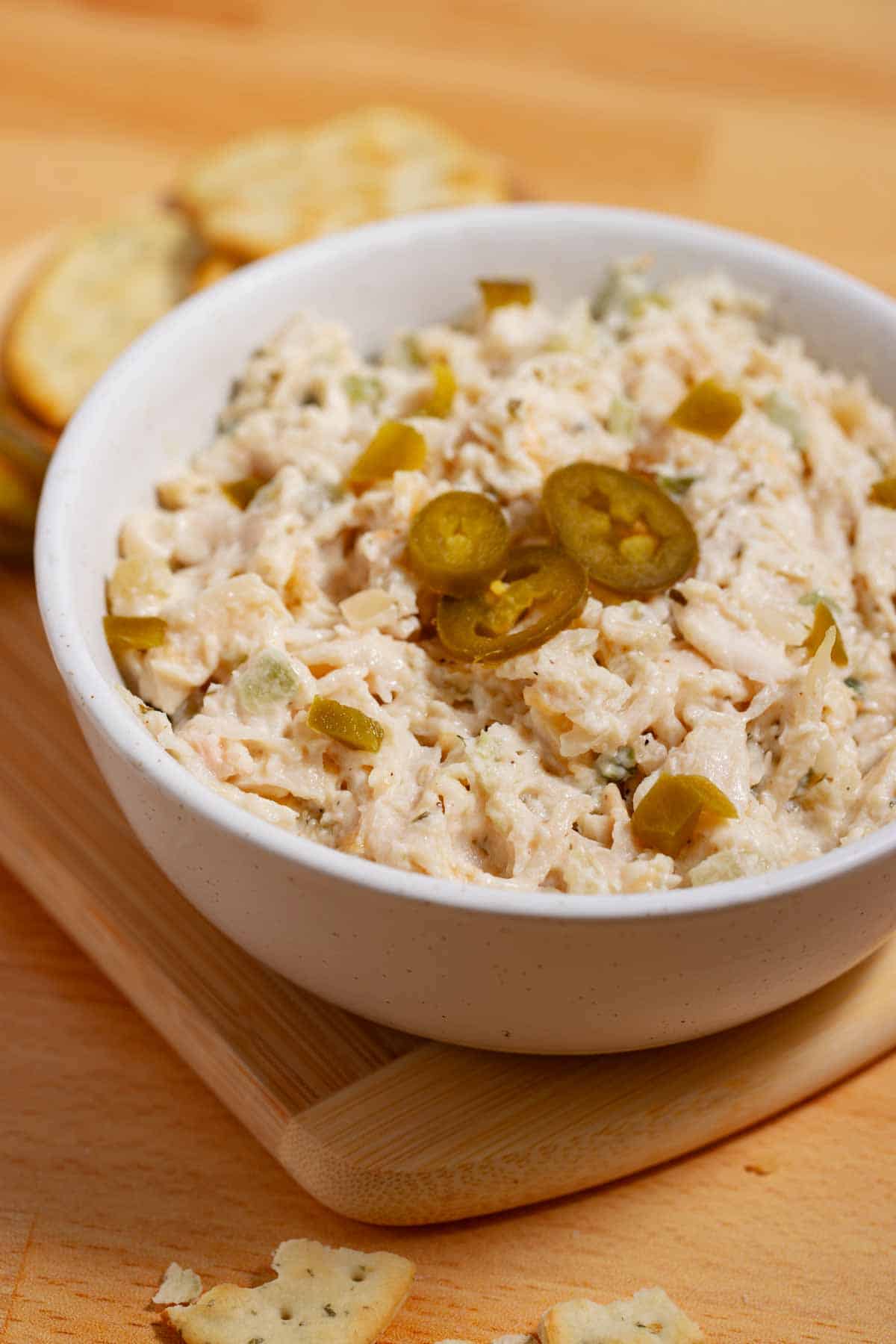 Sounds like a nursery rhyme. But what it really is, is a delicious addition to your store-bought salad.
Pickled jalapenos are sour and spicy. Jarred banana peppers and pepperoncini are sweet, spicy, and tangy.
Roasted red peppers are sweet and smoky. See my post on how to roast red peppers. You will want to make your own when you taste how good they are.
More ideas:
Throw in Some Fresh Veggies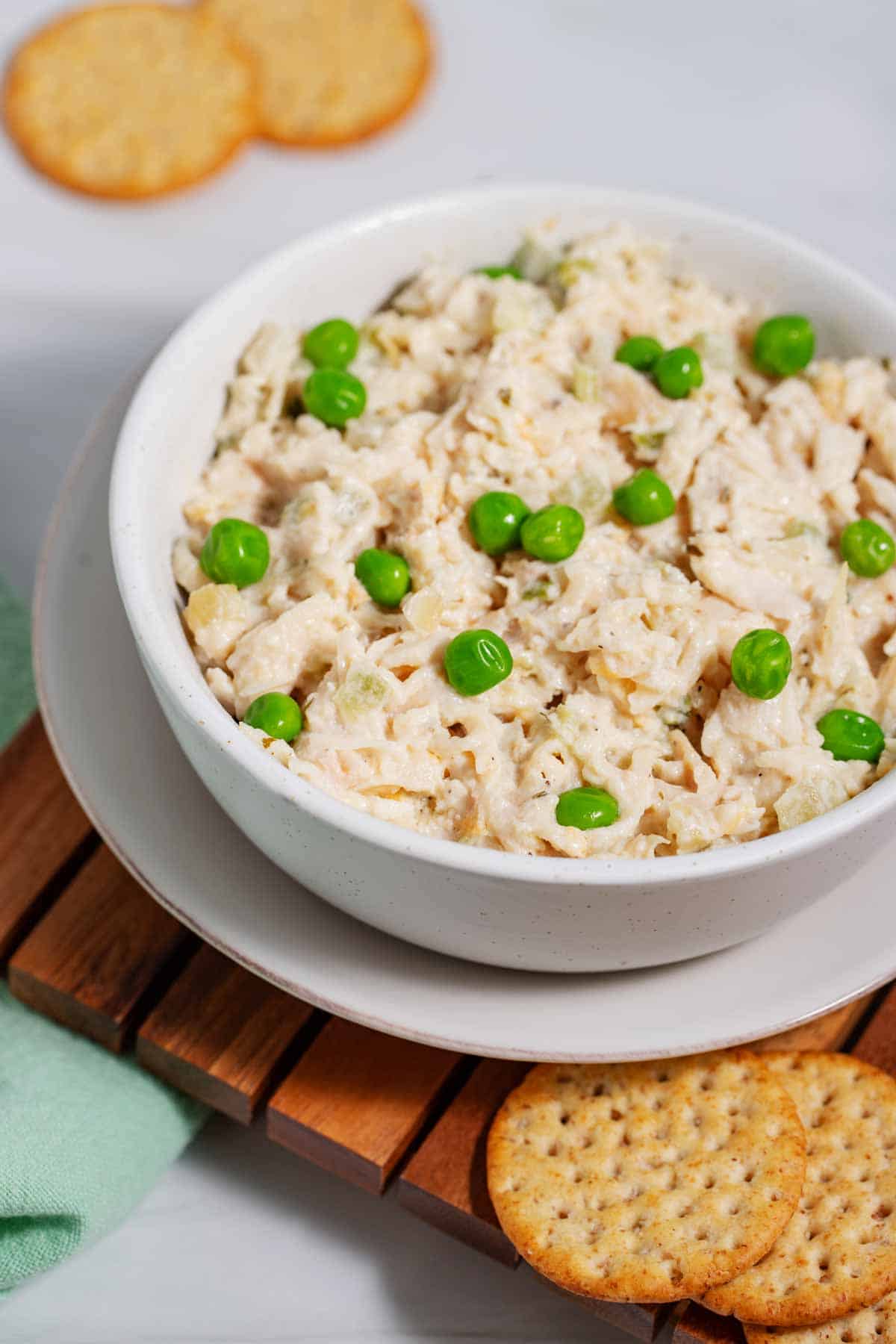 Most deli chicken salads have some celery in them. However, if the celery lost its crunch or you need your spectacles to locate it in the salad, chop up another rib and throw it in.
Celery isn't the only vegetable worth including. Peas are also delicious in the dish. Here is a list of appetizing veggies that can jazz up a chicken salad from the store.
Cherry tomatoes (technically a fruit, but I included it in this list because it's savory)
Fresh corn cut off the cob
Sweeten with Fresh Fruit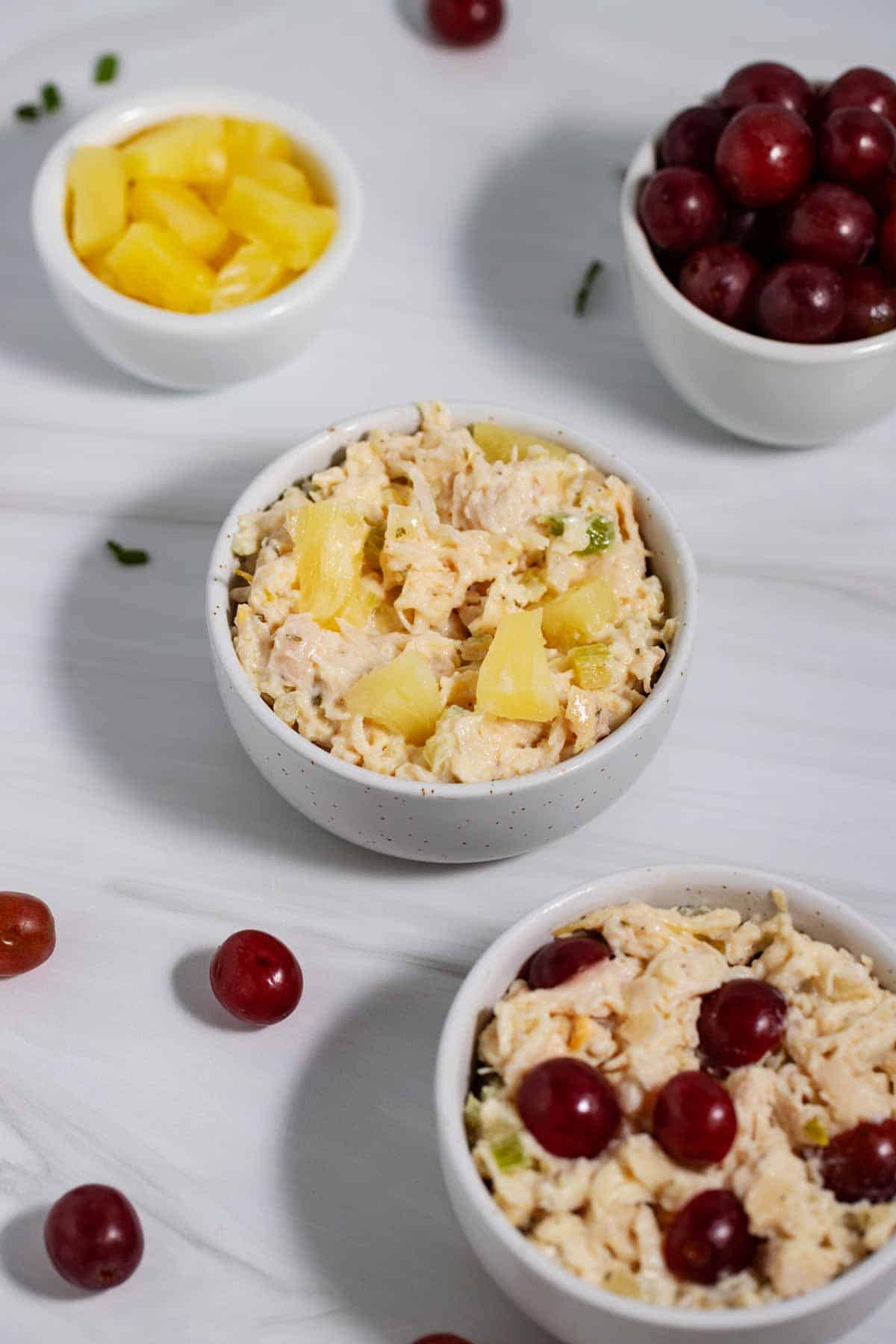 Chicken pairs exceptionally well with fresh fruits. If you want a sweet, refreshing upgrade to your grocery store chicken salad, consider including one of these fruits.
Seedless grapes (red, green, or purple)
Strawberries, blueberries, or raspberries
Try a Bit of Chutney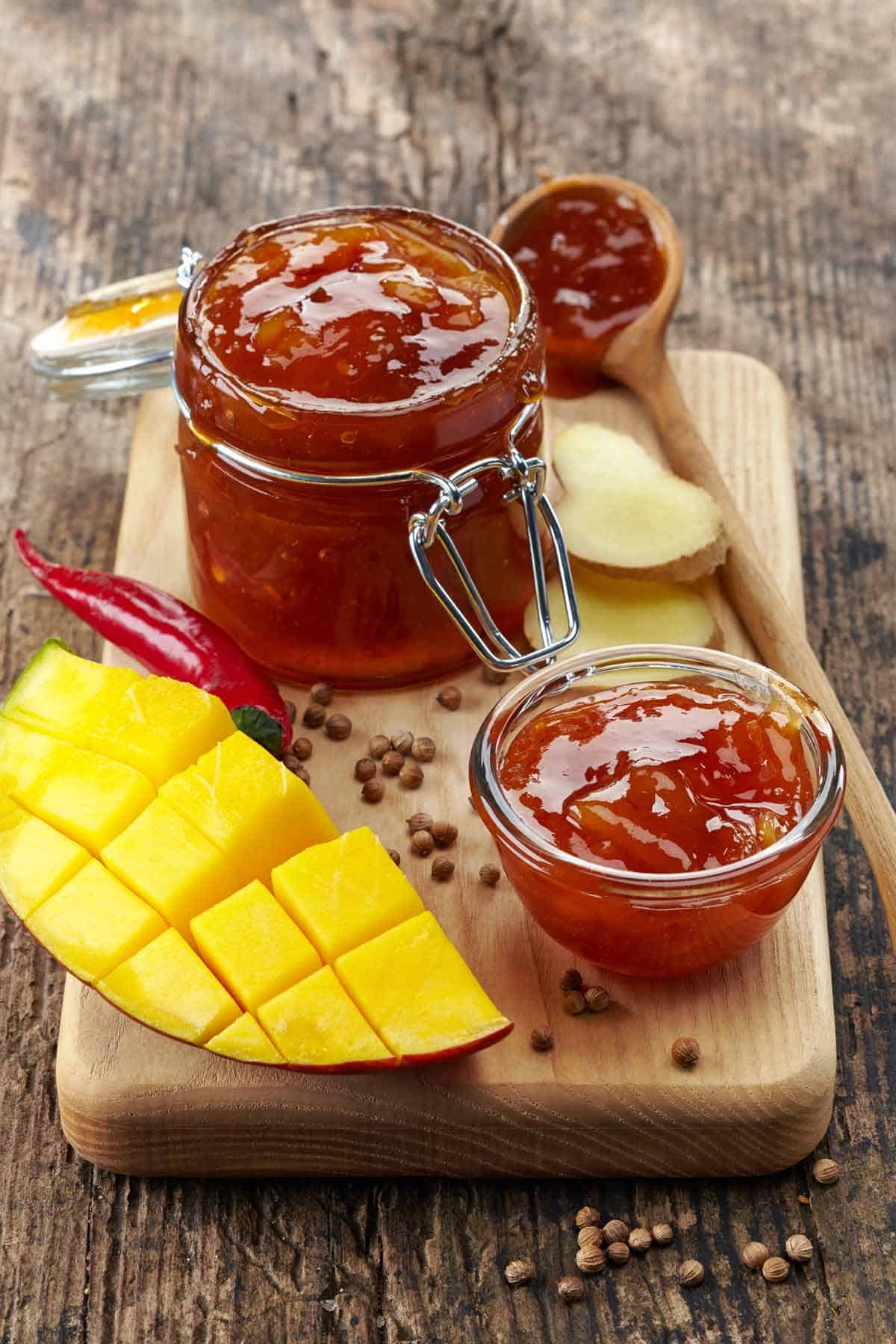 Chutney is a flavorful sweet or spicy condiment that originated in India. It is made with fruits, vegetables, and spices, preserved with vinegar and sugar.
Chutney will change the salad's flavor profile and add a splash of color to a plain store-bought chicken salad.
Some of the best-tasting chutneys to flavor a store-bought chicken salad are:
Cauliflower carrot chutney
Dried Fruit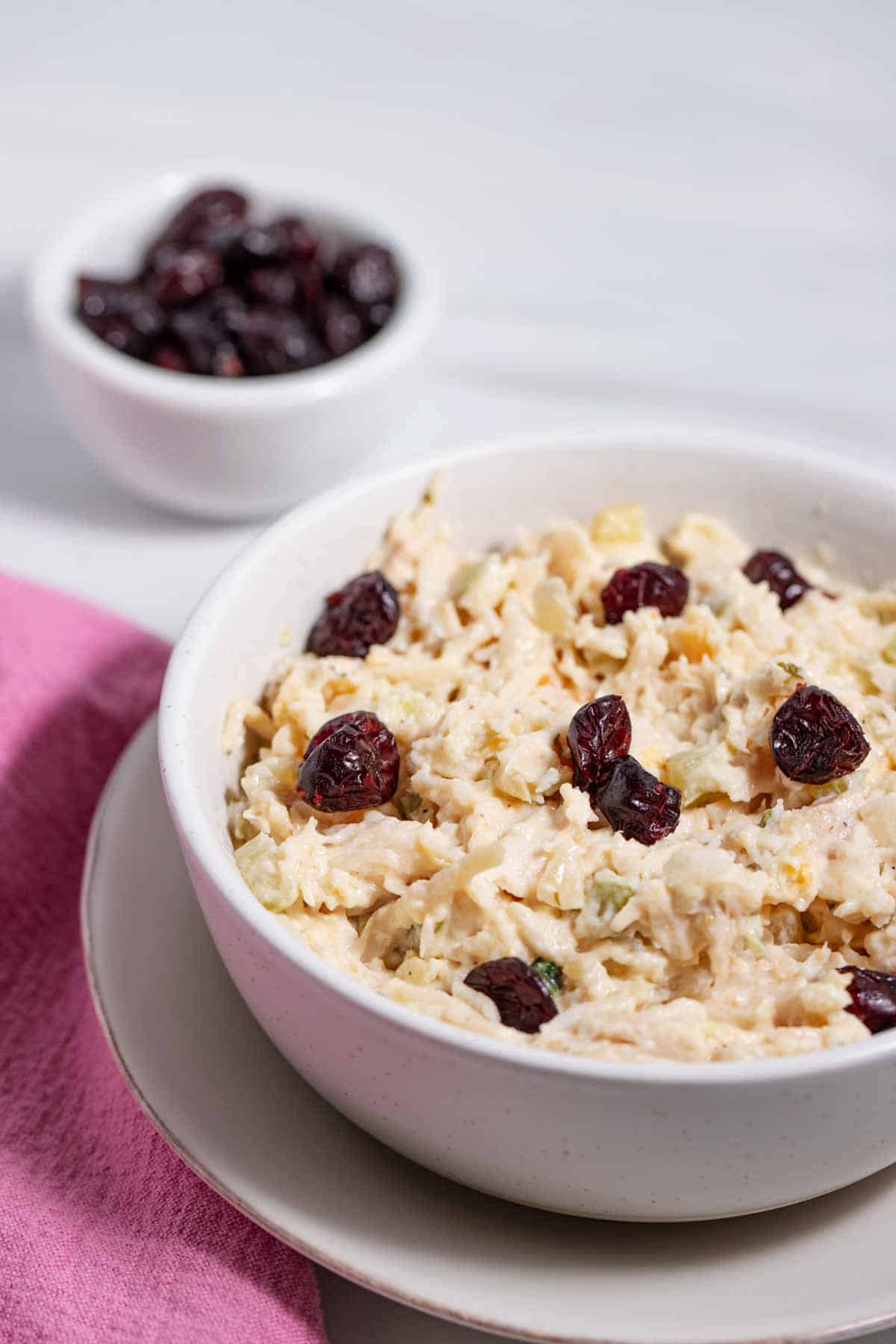 Sometimes simple dried fruit is all you need to turn deli chicken salad from bland to exciting.
Dried cranberries (like Craisins), raisins, currants, berries, figs, prunes, apricots, and mango are all brilliant suggestions for dehydrated fruit. One fruit choice is all you need.
Craisins, raisins, currants, and dried berries can all be thrown into the salad without prep work. Dried figs, prunes, apricots, and mangos may need to be chopped before being added.
Pro Tip: The pairing of dried fruit + nuts jazzes up chicken salad quite nicely.
Don't Cry Over Onions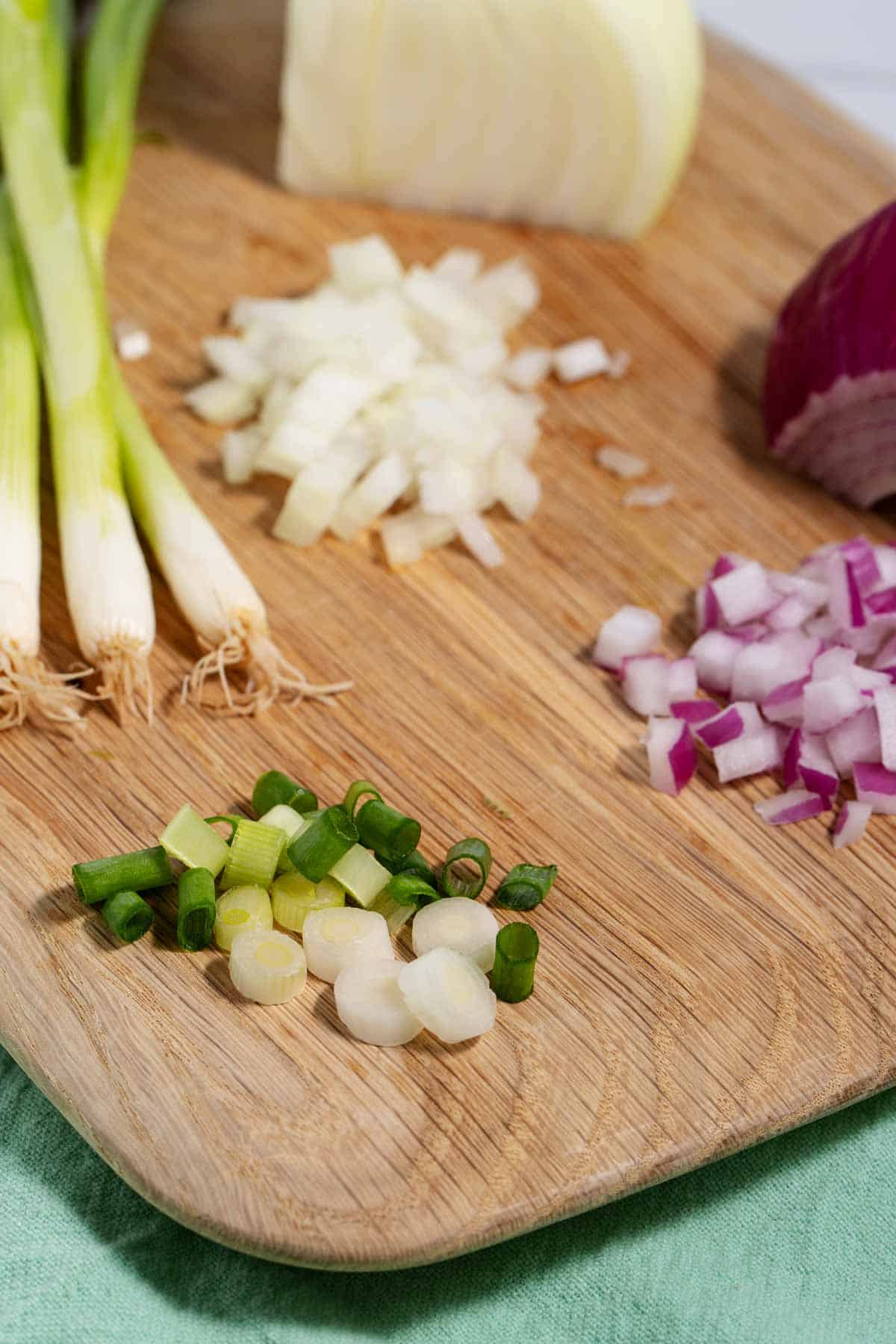 Many chicken salads from the grocery store have a little onion in them. However, I find the onion presence to be underwhelming at best. So why not add some more. Here are my favorites.
Red onions: milder with a bit of a kick
Green onions: much tamer than other varieties
Yellow onions: the strongest bite of them all
You don't need to add very much onion to make an impact. So, tread lightly at first.
Heart-Healthy Avocado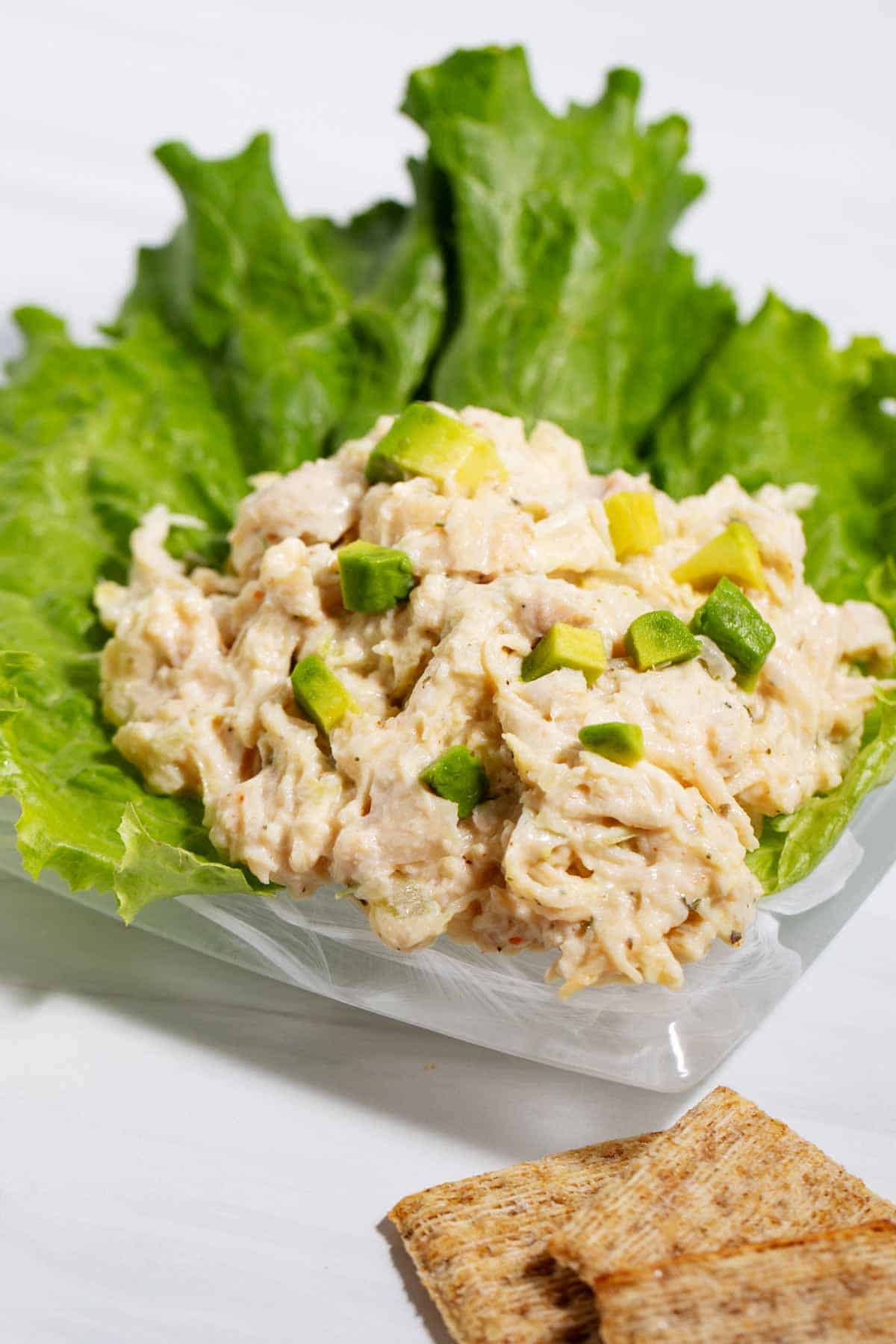 If you love avocados, you will love how they make a ready-made chicken salad taste better. And you can add them one of three ways.
Cut them in chunks. They are like the addition of a fruit or veggie.
Mash and stir in. This is a clever use of a very ripe avocado. Stir mashed avocado in like a dressing. Although they may make the salad look like it has a lot of sauce, you may not mind because avocados are full of healthy fats.

But if you want to reduce the feel of too much dressing, add more veggies like carrots, peas, or celery. Or add half the avocado cut in chunks and the other half mashed as a dressing.
Check out my post on choosing the best avocado. Or read up on the best way to slice and dice an avocado.
Hard-Boiled Eggs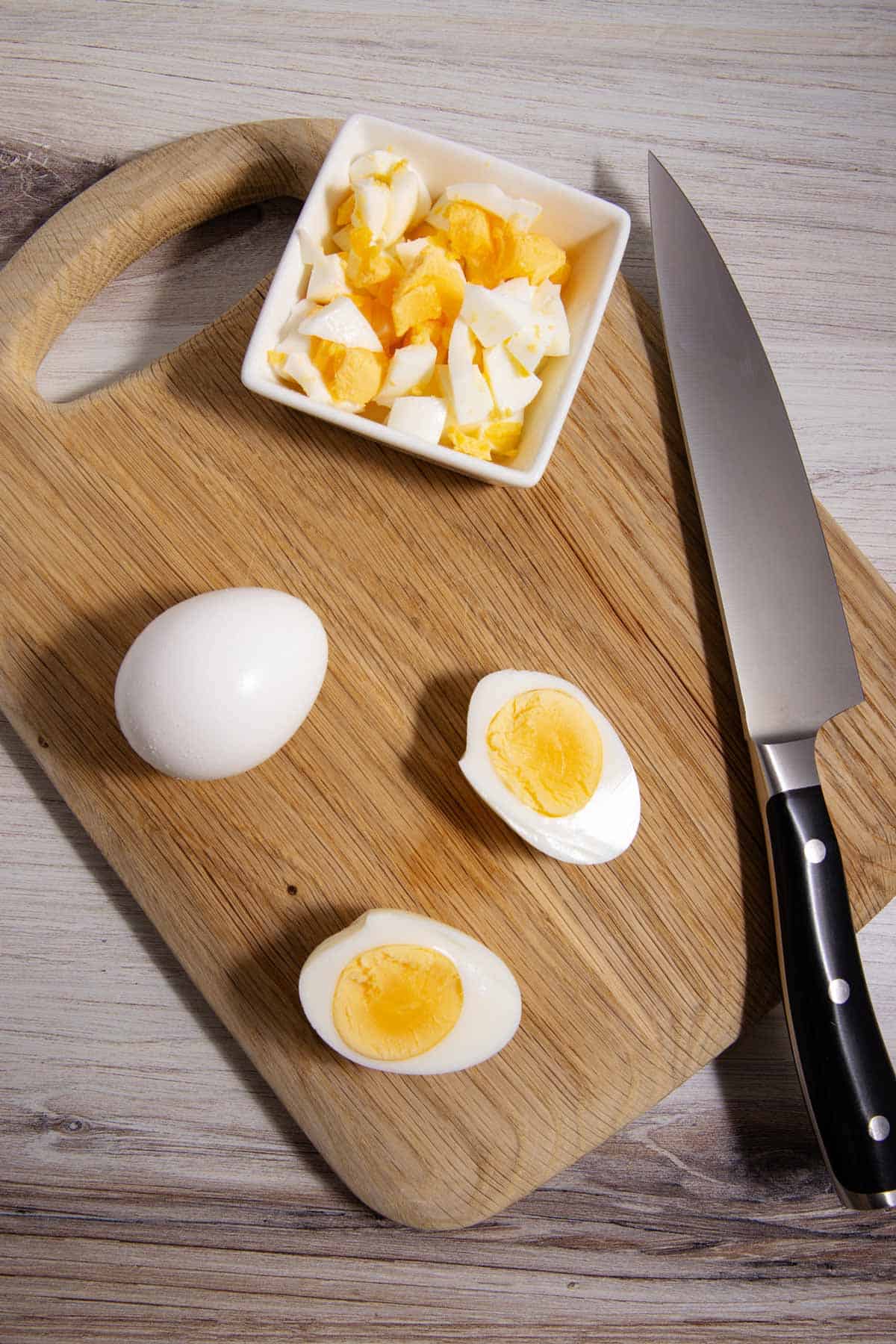 Hard-boiled eggs will seem right at home in chicken salad. They are found in many traditional chicken salad recipes.
The best thing about including hard-boiled eggs is that they contribute a protein-packed supplement to the chicken salad. Plus, you can stretch the salad even further to feed more people or ensure leftovers.
If you toss in the eggs, be prepared to add more moisture if the salad seems dry when you stir them in. A little mayo, mustard, ranch dressing, pickle juice, or lemon juice may do the trick. No need to fuss with anything fancy.
Let's Get Cheesy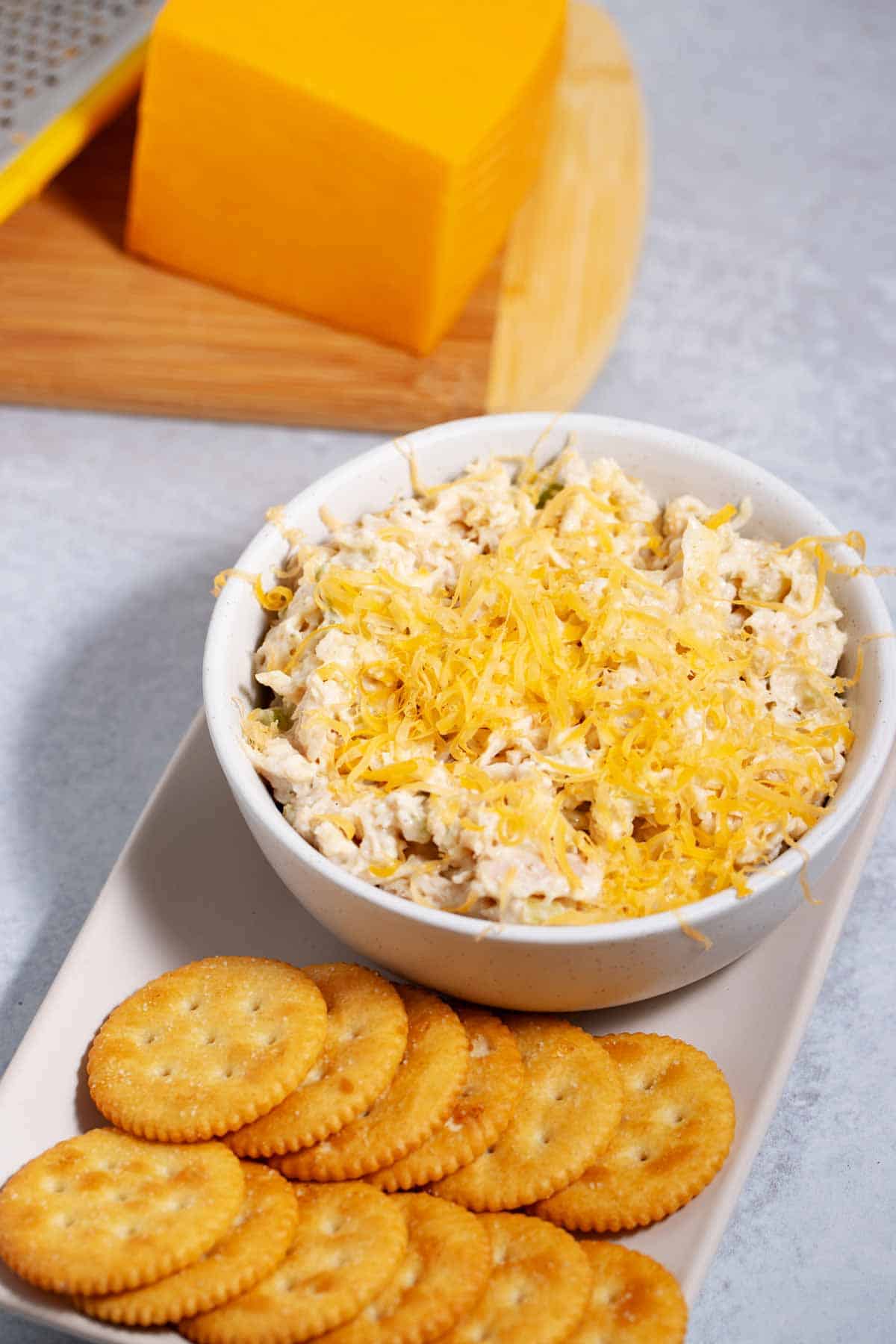 With so many varieties of cheese, your store-bought chicken salad will get the updating it deserves. You can add hard grated cheese or soft crumbly cheese. Each cheese variety adds its own unique taste and texture.
Here are a few to try:
Cheddar (grated or cubed)
Bocconcini (balls of mozzarella cheese)
Whichever cheese you choose, pairing it with a complimentary herb or spice will ensure the salad gets gobbled up.
Flavored Seasoning Mixes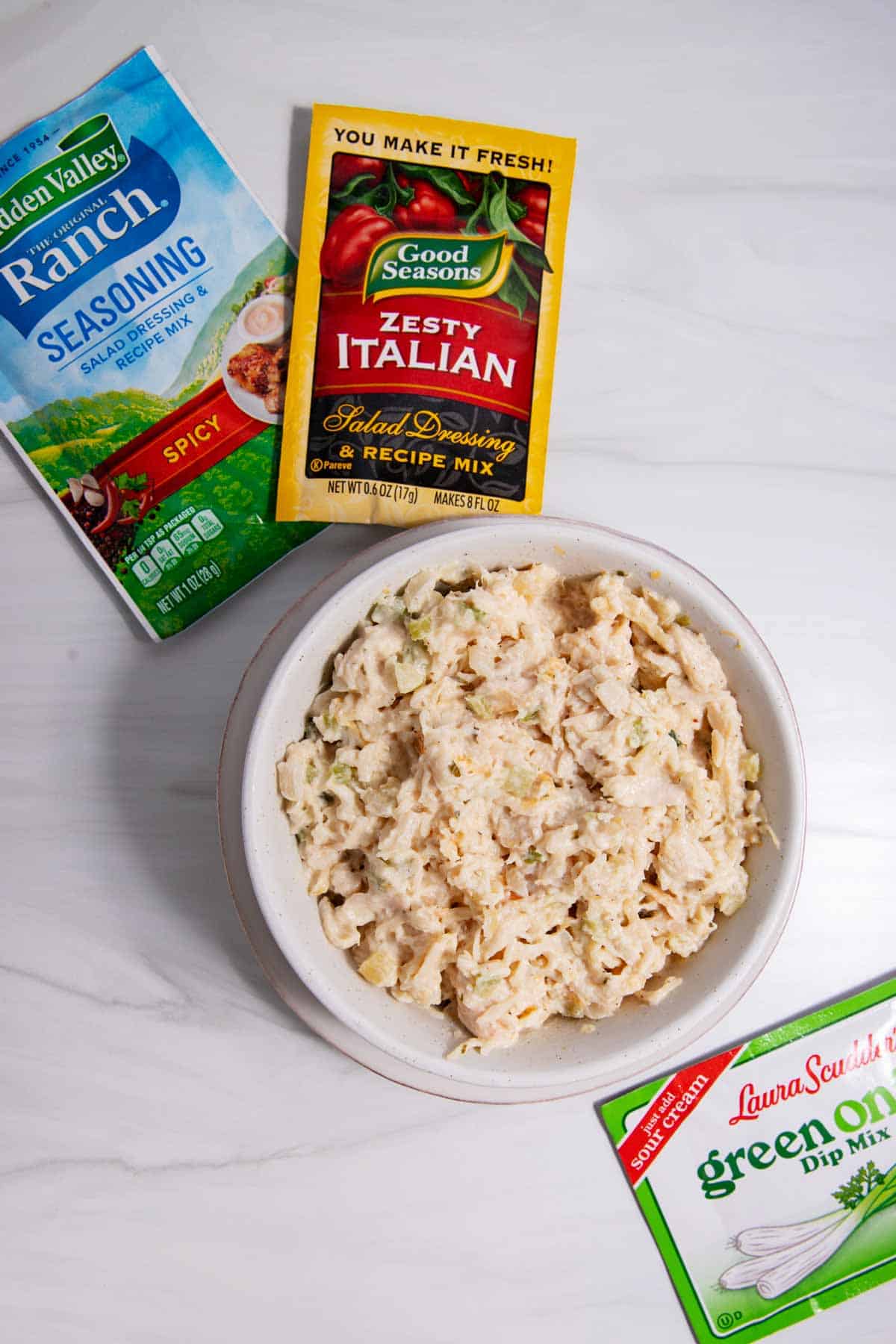 Ranch dressing, onion dip, and Italian dressing all come in seasoning mix packets that can liven up the flavor of store-bought chicken salad.
The flavors are concentrated in the mixes, so be prepared to add sour cream or mayonnaise to even out the taste.
Be aware of the salt content of mixes. Perhaps you only need a tablespoon or two of the mix.
If the salad gets too salty, add an acid (lemon juice), a sweetener (sugar), or sour cream to mellow out the taste.
More Tricks to Make Store-Bought Chicken Salad Taste Homemade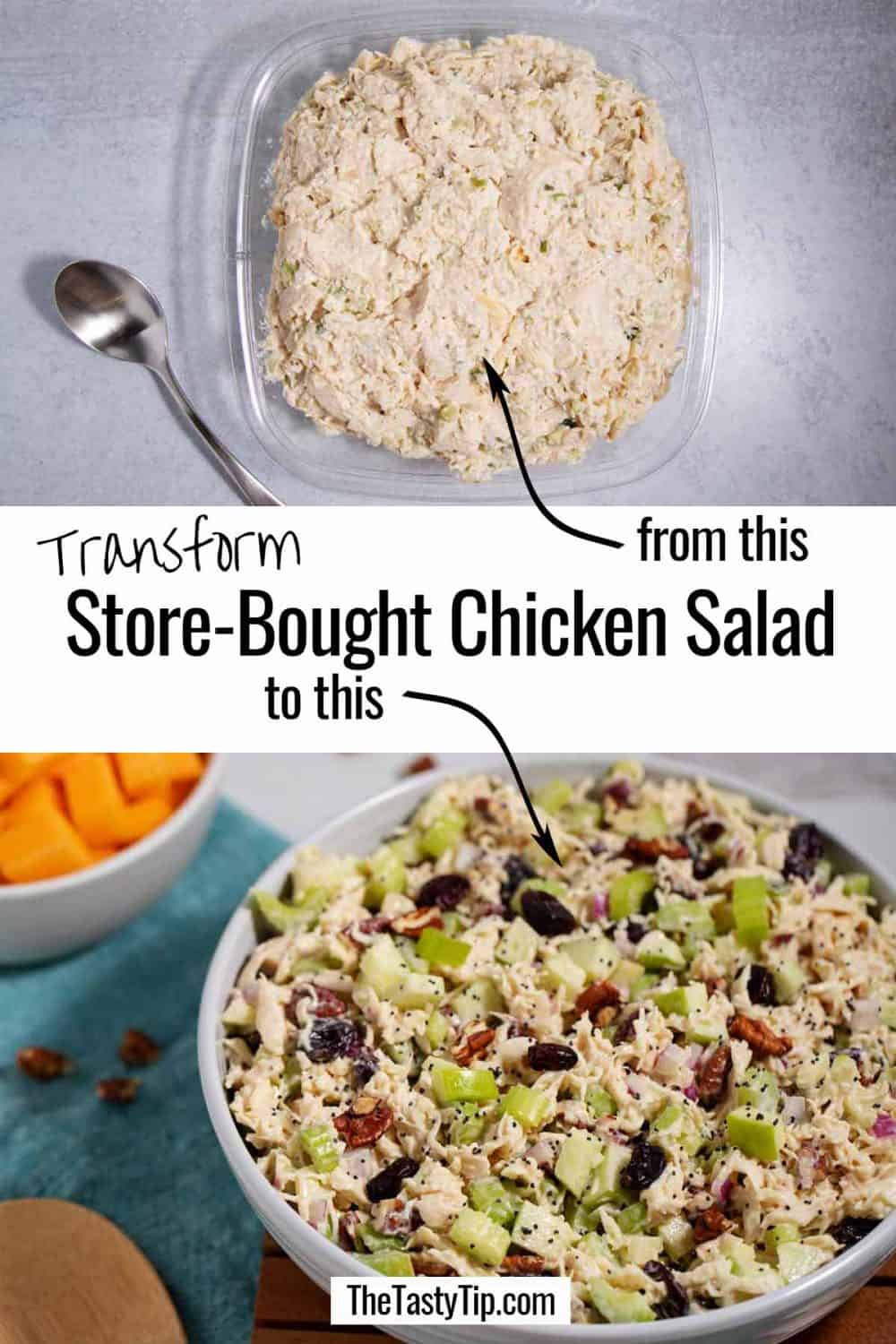 Use a serving bowl. DO NOT serve the salad in the disposable plastic tub it came in. Instead, pour it into one of your nice serving bowls and give it a quick stir. Throw the tub away so no one is the wiser.
Shred the chunks. Stir the chicken salad. If your find large pieces, shred them.

I often find several larger chunks of meat in store-bought chicken salad made with rotisserie chicken. Shred the big pieces so the salad has a uniform consistency.
Garnish. Simple as that. A garnish tells your loved ones you care enough to take extra time on the meal. A garnish doesn't have to take long. Snip some fresh herbs on top or sprinkle with smoked paprika.
Flavor Combinations to Jazz Up Store-Bought Chicken Salad
Here are a few simple suggestions to get you started.
Bacon Ranch: Ranch dressing mix, sour cream, bacon
Simple Seasonal Garden: Peas, dill pickle juice, red onions
Hawaiian-Style: Pineapple, macadamia nuts, coconut
South of the Border: Pickled jalapenos, corn, Cotija cheese
Straight from India: Curry powder, mango chutney, raisins
Dilly-o: Dill pickles, green onions, hard-boiled eggs
FAQ
How to serve chicken salad
The most popular ways to serve chicken salad are as a sandwich filling, as a dip with crackers, or on a bed of lettuce.
How long does chicken salad last?
Read the best-by date on the chicken salad package! Chicken salad usually lasts 3 to 4 days in the fridge.
Can you freeze chicken salad?
Sometimes you can freeze chicken salad if all the ingredients can freeze and then thaw without getting mushy. My guess is your store-bought chicken salad contains mayo, which does not freeze well.

Read my post on freezing chicken salad to find out when you can and can't throw it in the freezer.
How can you fix watery chicken salad?
If your store-bought chicken salad is watery, drain the moisture. Don't stir it back in. The liquid won't have a good flavor.

You can also add other ingredients like hard-boiled eggs or cooked chickpeas if the chicken salad has too much dressing.
Do you need some ideas on ways to serve chicken salad? Check out this post on creative ways to serve chicken salad at a party. You will love the suggestions.
More Chicken Salad Resources
How did you end up jazzing up your store-bought chicken salad? Comment below and let me know.
---
Did you like this post? Then let's be social. FOLLOW ME on INSTAGRAM and PINTEREST to keep up with the latest tutorials, favorite recipes, and interesting happenings.
---