Wondering how to serve chicken salad at a party? Go beyond a serving bowl of salad and a plate of croissants. Learn easy, creative ways to serve chicken salad.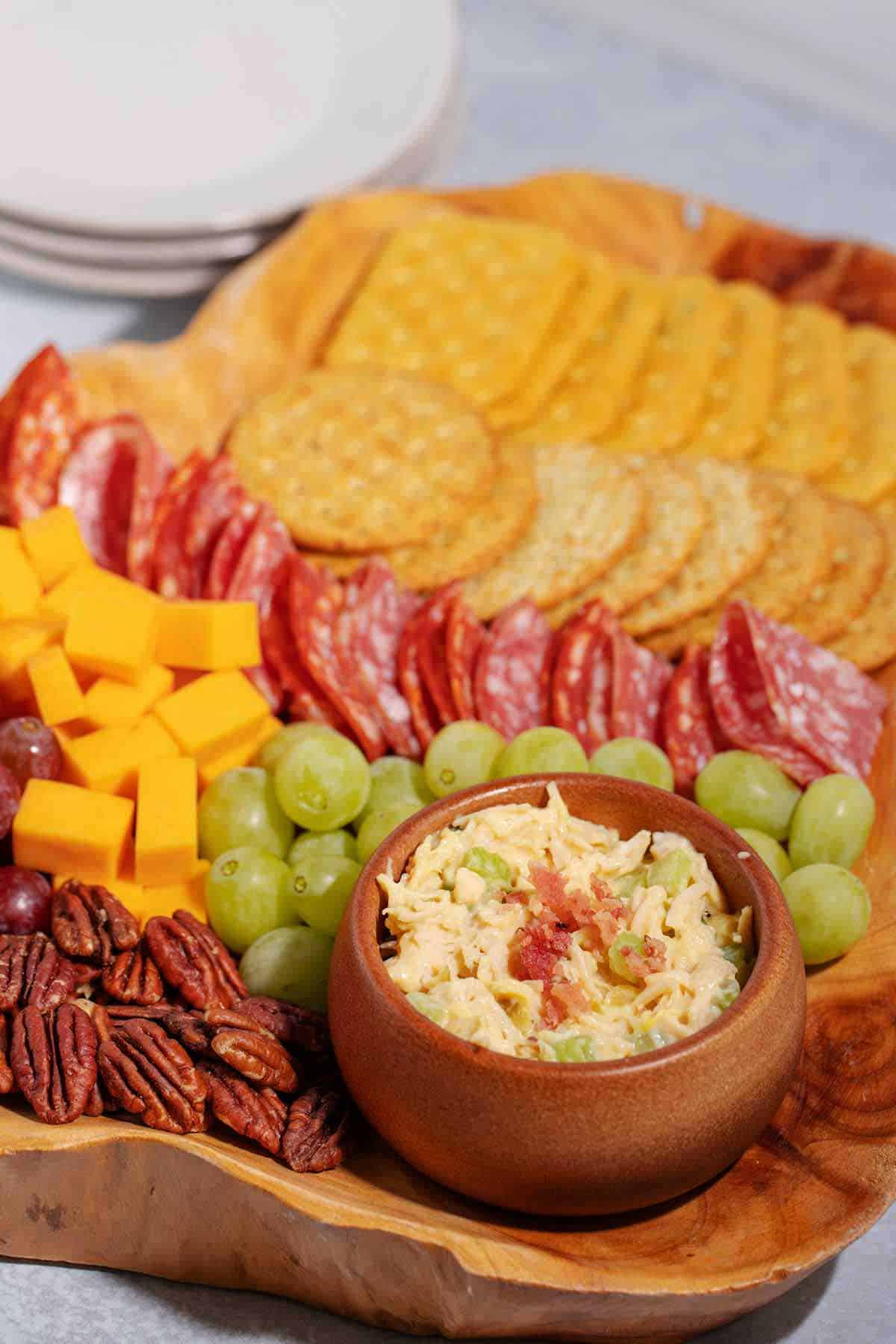 Chicken salad is an easy recipe to make for a crowd. That's why you chose it. But you may wonder how to serve chicken salad at a party. You want to be creative AND make it easy for guests to serve themselves.
The easiest way to serve chicken salad at a party is in a big bowl with a side plate of croissant rolls. Guest can scoop their salad onto their plate and make their own sandwich. This method is efficient and common.
However, if you want to present the chicken salad more creatively, you will love these terrific ways to serve chicken salad at any party.
Get fantastic ideas for side dishes to serve with chicken salad. And learn how much chicken salad you need per person.
Jump to:
Scoop Inside Baked Won Ton Cups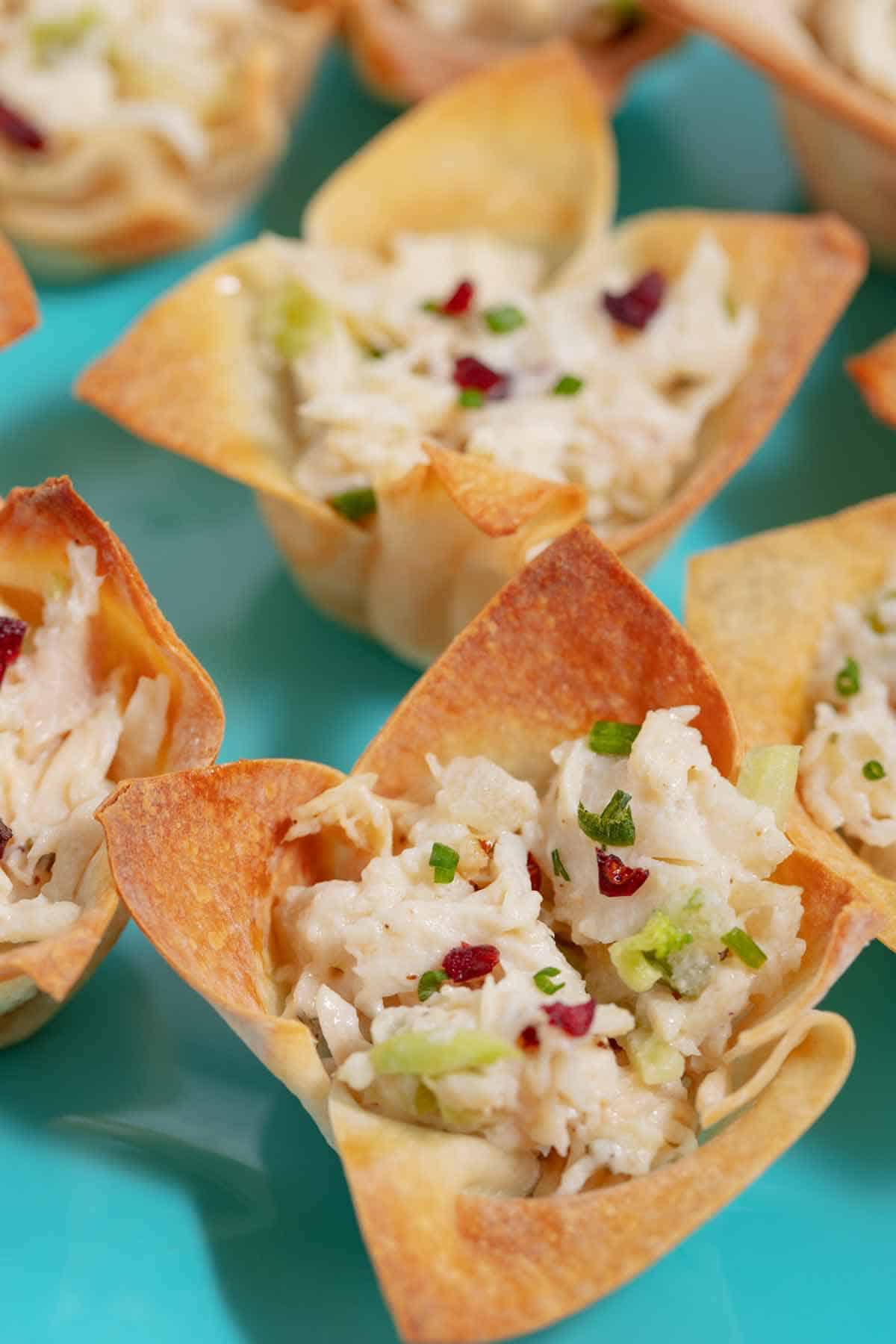 Nothing is more appetizing than cute won ton cups. They are quick to bake and sturdy after cooling. Best of all, they look like party food.
Grab a mini muffin pan, preheat the oven to 350°F (175°C), and press the won ton wrappers into the muffin tin. Bake for 6 to 8 minutes.
Cool the crispy shells in the pan for 5 minutes. Then remove the won ton cups and finish cooling them on a wire rack for another 20 to 30 minutes.
Scoop chicken salad into the cups. Voila! Chicken salad appetizer complete.
Try this classic chicken salad recipe with leftover chicken, celery, and grapes.
Stuff into Hardboiled Eggs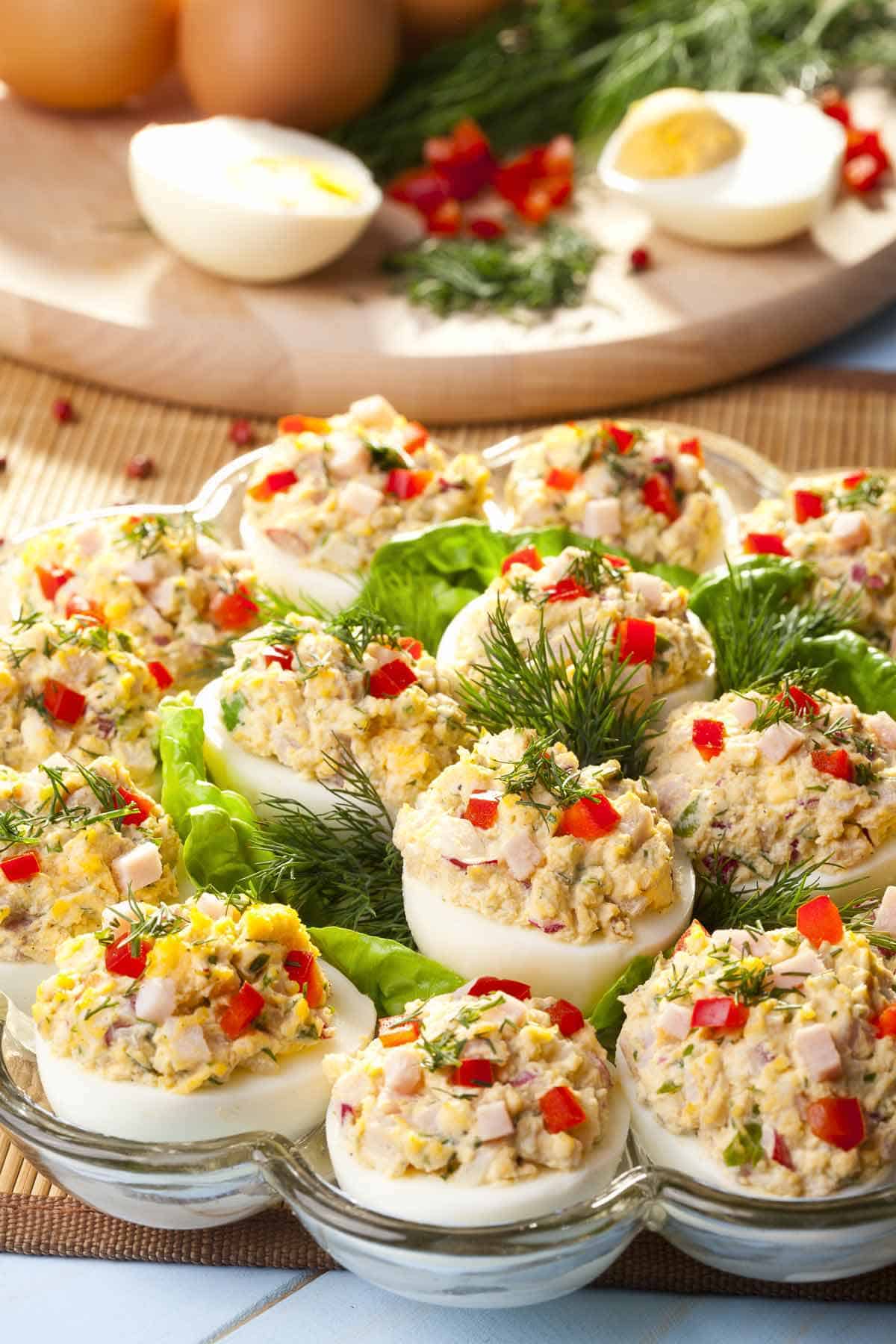 Does your chicken salad recipe include hardboiled eggs? Try adding the hardboiled yolk to the salad for moisture, richness, and taste.
Then stuff the chicken salad into the hollows of the leftover egg whites. This is a beautiful appetizer to serve at a holiday party.
Check out this post on the best way to cook hardboiled eggs. They cook up moist, smooth, and creamy.
Serve Finger Sandwiches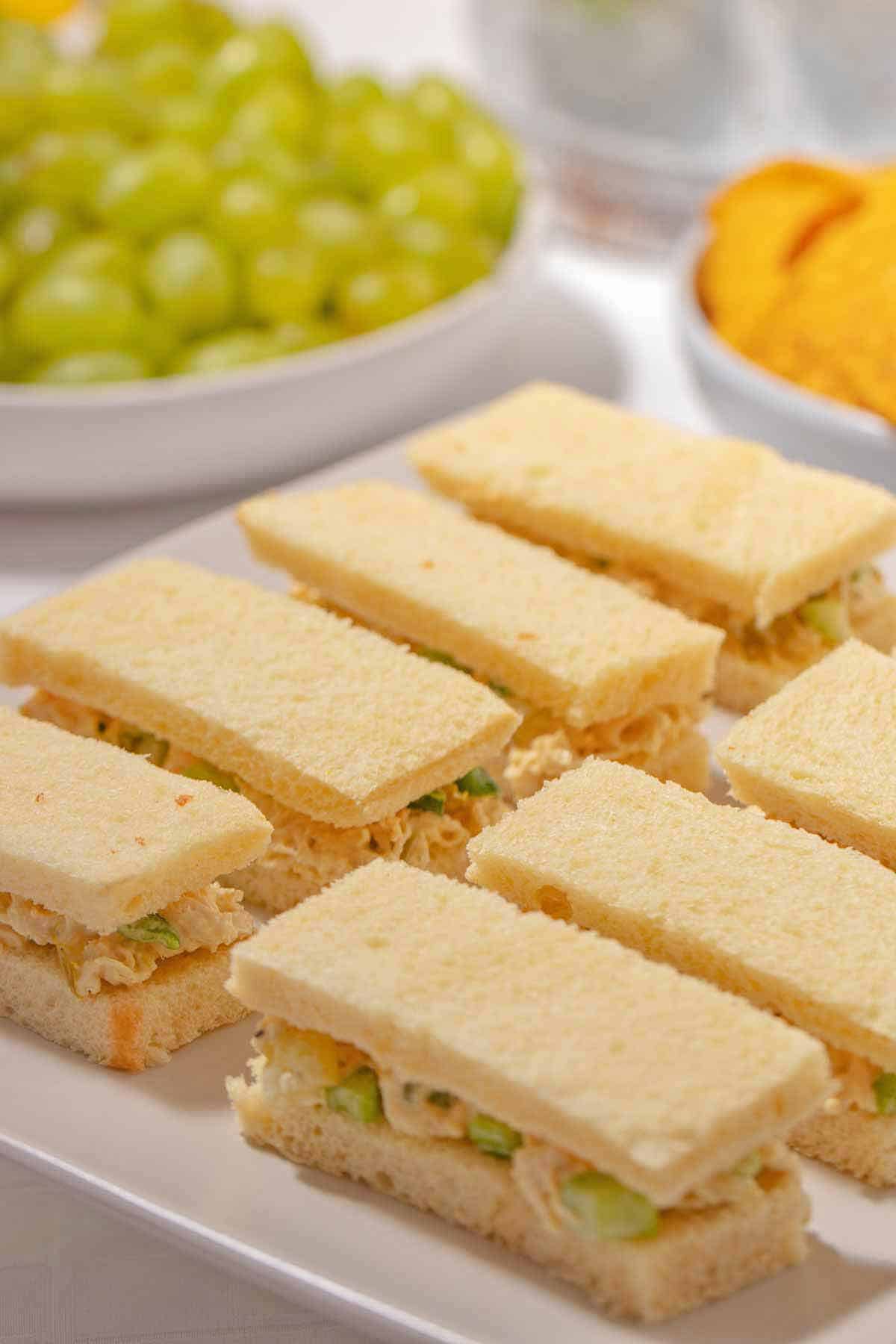 Nothing says tea party like finger sandwiches. Ok, maybe you aren't hosting a tea party.
But a bridal shower? A baby shower? Chicken salad finger sandwiches are a perfect choice for the meal.
The best thing about finger sandwiches is that you can cut them into any shape with a cookie cutter.
Like your geometrics? Cut rectangles, squares, circles, or triangles.
Going with your party theme? Use a cookie cutter to shape the sandwiches into hearts, baby booties, or Christmas trees.
Try to choose cookie cutters without fine details, so it's easier to make the sandwich.
Make an easy chicken salad recipe for a crowd with canned chicken, celery, and pickles in a creamy sauce. Mayonnaise (or Miracle Whip), mustard, and pickle juice create a creamy texture.
Spoon into a Cup with Crackers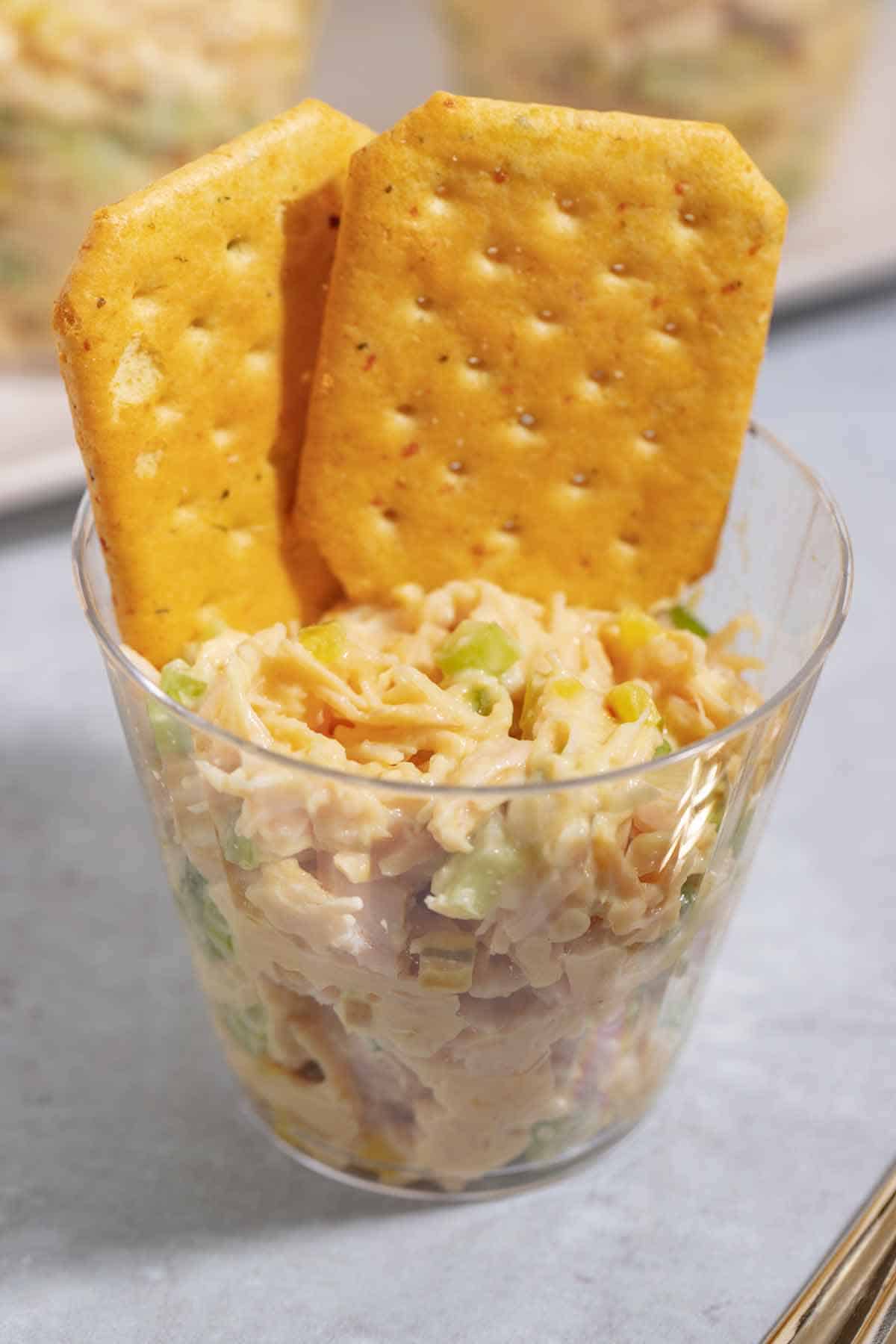 Do you want to keep the food line moving at your party? Then dish up the chicken salad ahead of time. Small, clear plastic cups are the perfect serving size for your guests.
Top the salad with a few crackers, and your guests can grab one and go. It's a speedy way to feed people. Plus, it is clean, easy, and a super quick prep.
Cut into Pinwheels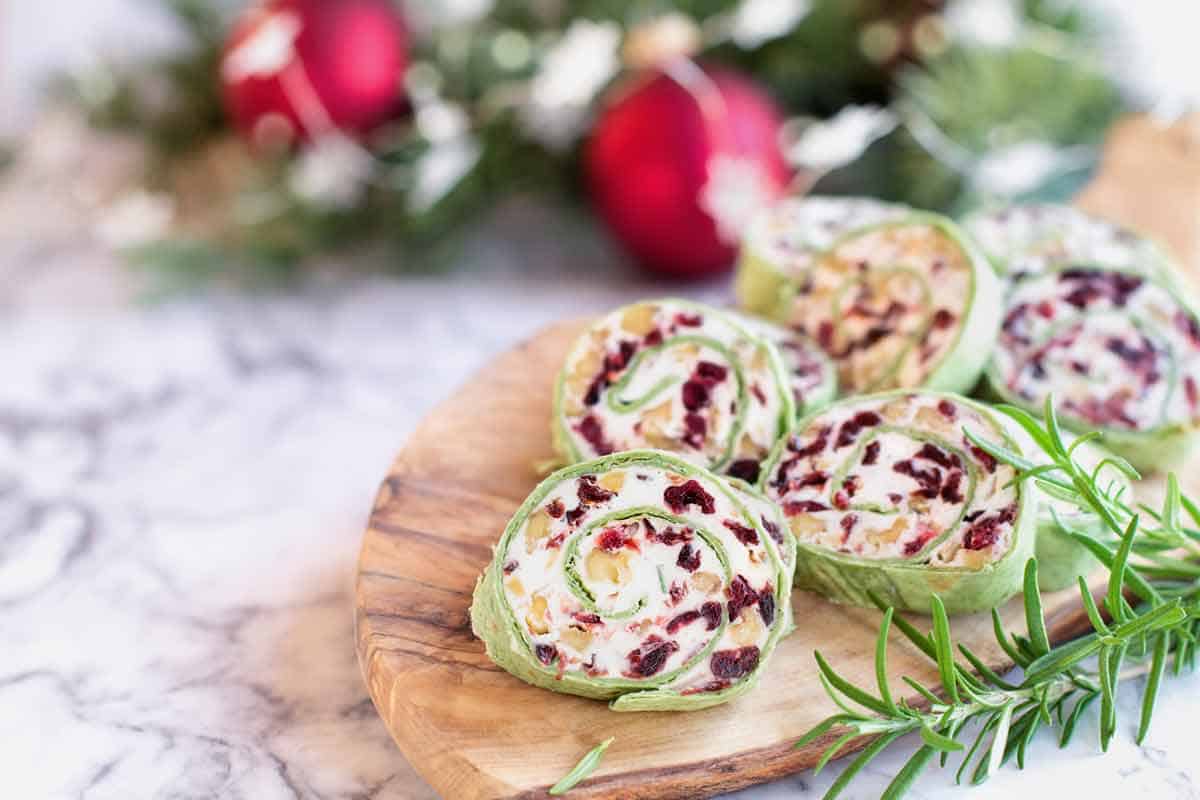 Pinwheels can be gorgeous appetizers. Especially when you use colorful flavored tortillas to brighten up the serving tray. Green spinach tortillas, red tomato tortillas, or blue corn tortillas are dazzling.
Making a pinwheel is straightforward. Smear chicken salad on a tortilla. Then roll the tortilla into a cylinder and cut slices. Beautiful, simple, tasty.
Pro Tip: Use a chicken salad recipe that has cream cheese. That will help hold the salad together, ensuring the pinwheel stays rolled.
Skewer the Salad Components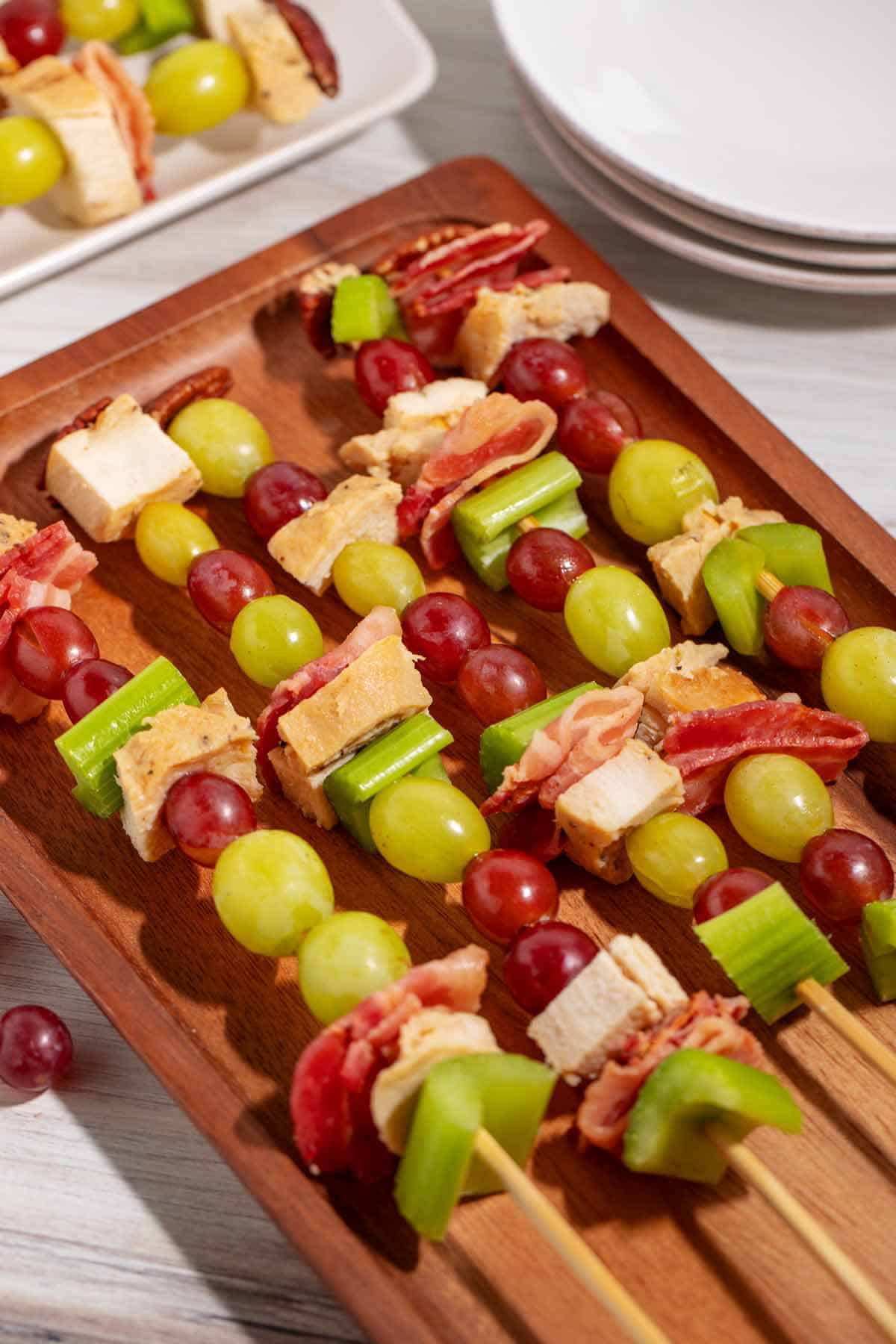 Skewers are a creative way to serve chicken salad. Instead of composing the salad, spear the salad components on a wooden skewer. It is still the classic dish you love, but eaten in pieces instead of as a filling
This is a time for the chicken to shine. Grill the chicken or cook it on the stove. Check out this post on cooking chicken without drying it out. You will love the hints on keeping the chicken moist and juicy.
What goes on the skewer? Chop anything you think complements chicken salad into small pieces. Here are some of the easiest foods to work with.
Cubes of grilled chicken breast. The best way to keep everything from sliding off the end of the stick is to start with the chicken at the bottom. It is dense enough to stay in place without sliding.
Red or green seedless grapes
Thick celery slices to add a nice crunch. Celery is another good choice to start with.
Thick dill pickles. These might slide a bit, so be strategic about their placement on the skewer.
Whole pecans or walnuts. You may need to top the skewer with a nut since they are hard to poke all the way through without breaking.
Serve Inside Mini Bread Bowls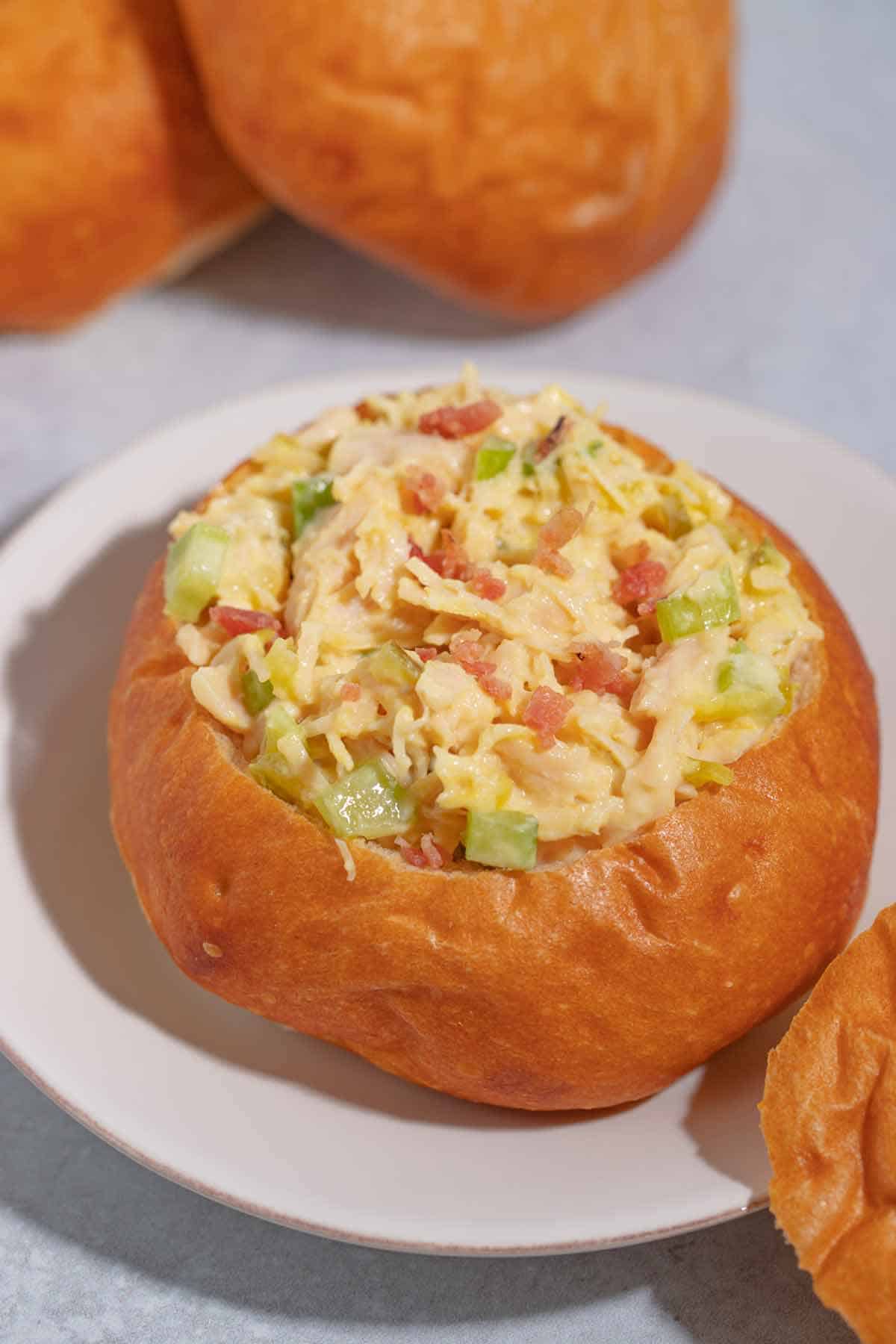 It is a breeze to make mini bread bowls with dinner rolls. Carefully cut a section off the top of the roll. Then scoop out the insides until you have a hollow bowl.
Plop a dollop of chicken salad into the bread bowl. It's not quite a sandwich, but it is definitely heartier than an appetizer.
Your guests will love this creative way to serve chicken salad.
Wondering what to do with the insides and top of the roll? Here is your solution. Make homemade breadcrumbs. It is a 2-minute job with a food processor.
But what if you don't have a food processor? You will love all the ingenious ways you can make breadcrumbs. I share them all in the post on how to make breadcrumbs without a food processor. No wasted food here.
Assemble Cracker Appetizers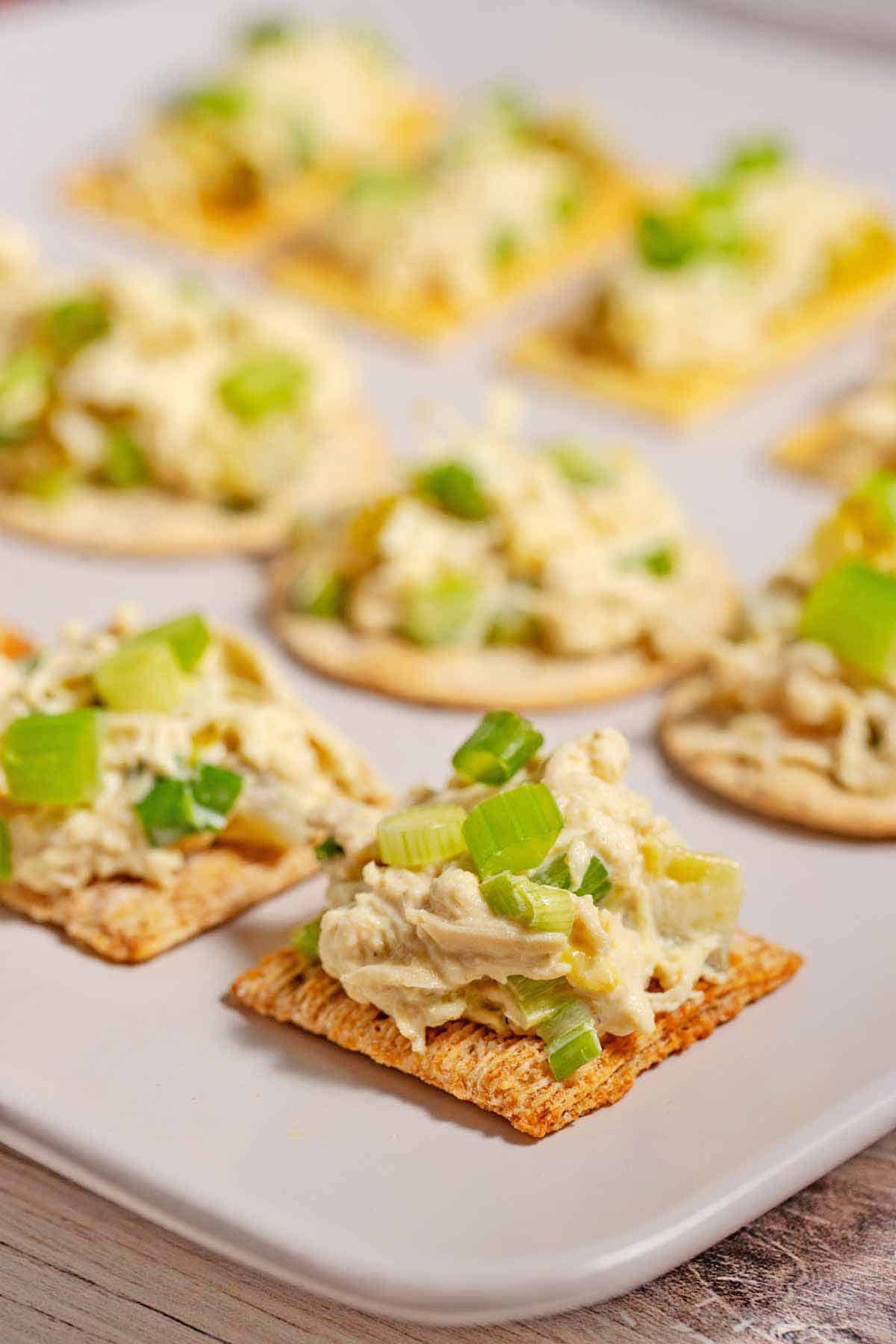 If appetizers are on your mind, then make chicken salad cracker appetizers. Choose your favorite crackers and smear chicken salad on top.
Read up on the best crackers for chicken salad. You will like the cracker suggestions, including the gluten-free options.
Combine a couple of cracker varieties, and your guests will think you spent hours preparing. Fool them even further by topping each cracker differently. Even when the chicken salad is the same, the appetizers are different.
Here are a few foods to sprinkle on top of the chicken salad crackers:
Fresh herbs. Try fresh dill, parsley, or cilantro.
Fill a Hollow Fruit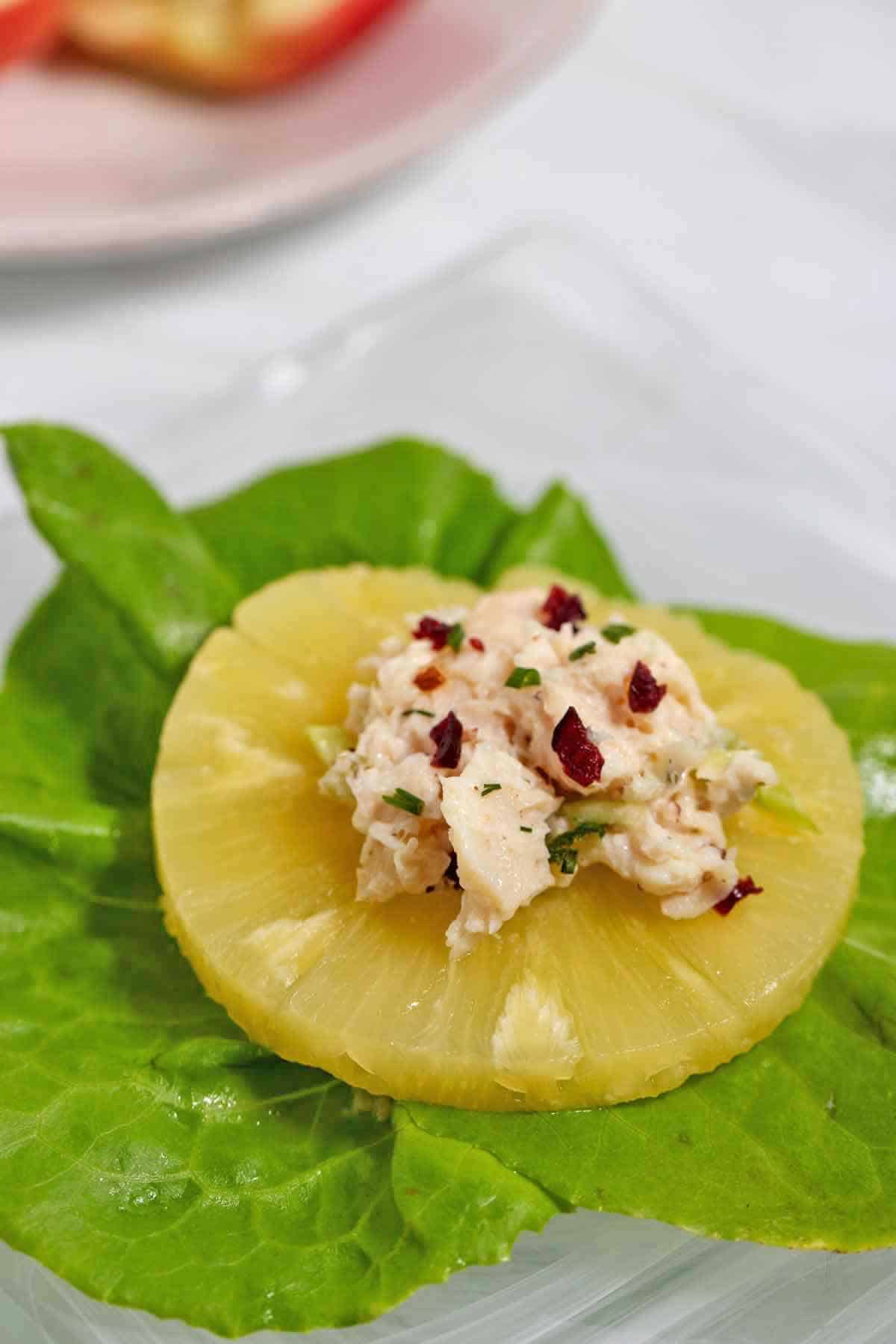 It is fun to make chicken salad and fruit appetizers. Many fruits have a hollow space when the seeds are removed.
These suggestions may take a little more work, so I suggest serving them at a smaller party.
Half of an apple. Little rocket apples are an ideal size to use.
Apricot half. Pull out that seed, and you have the right space to fill.
Peach half. Peaches are larger, but they still taste good with chicken.
Pineapple rings. Since the rings are holes, place them on top of a lettuce leaf so the chicken filling doesn't fall through.
Can you make chicken salad ahead? You usually can. Store the salad in an airtight container in the refrigerator. Read all my tips on making chicken salad early.
Compose a Veggie Appetizer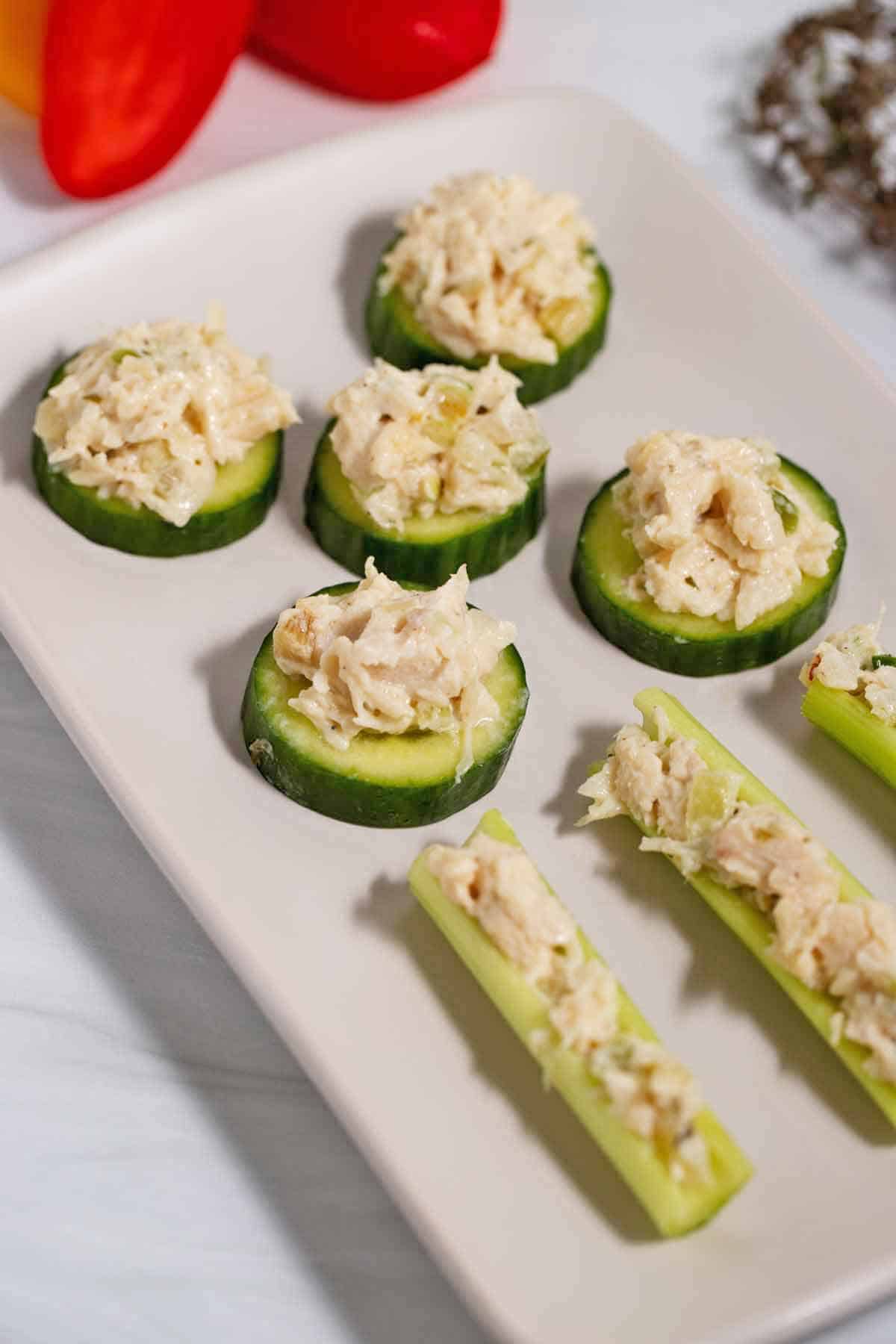 There are countless ways to fill, smear, or top vegetables with chicken salad. You may prefer raw vegetables since chicken salad is usually eaten cold.
Here are some veggie ideas:
Cucumbers. Make a cucumber sub. Or slice the cucumber and spread the filling on top.
Tomatoes. Smear the filling on tomato slices, fill a hollow cherry tomato, or spoon it into a tomato half.
Celery. Squeeze the salad in the celery hollows. Cut them to whatever size you prefer.
Bell peppers or mini sweet peppers. Cut the top off the pepper and then carefully scrape out the seeds. Fill the cavern with chicken salad and eat cold.
Lettuce. Make an effortless meal of lettuce wraps. All you need is the leaves of lettuce and the delicious salad.

Green leaf lettuce is a breeze to roll into a burrito shape. Romaine lettuce is easier to use as a taco shell. Of course, you can always shred the lettuce, scoop the chicken salad on top, and eat it with a fork.
Create Walking Chicken Salad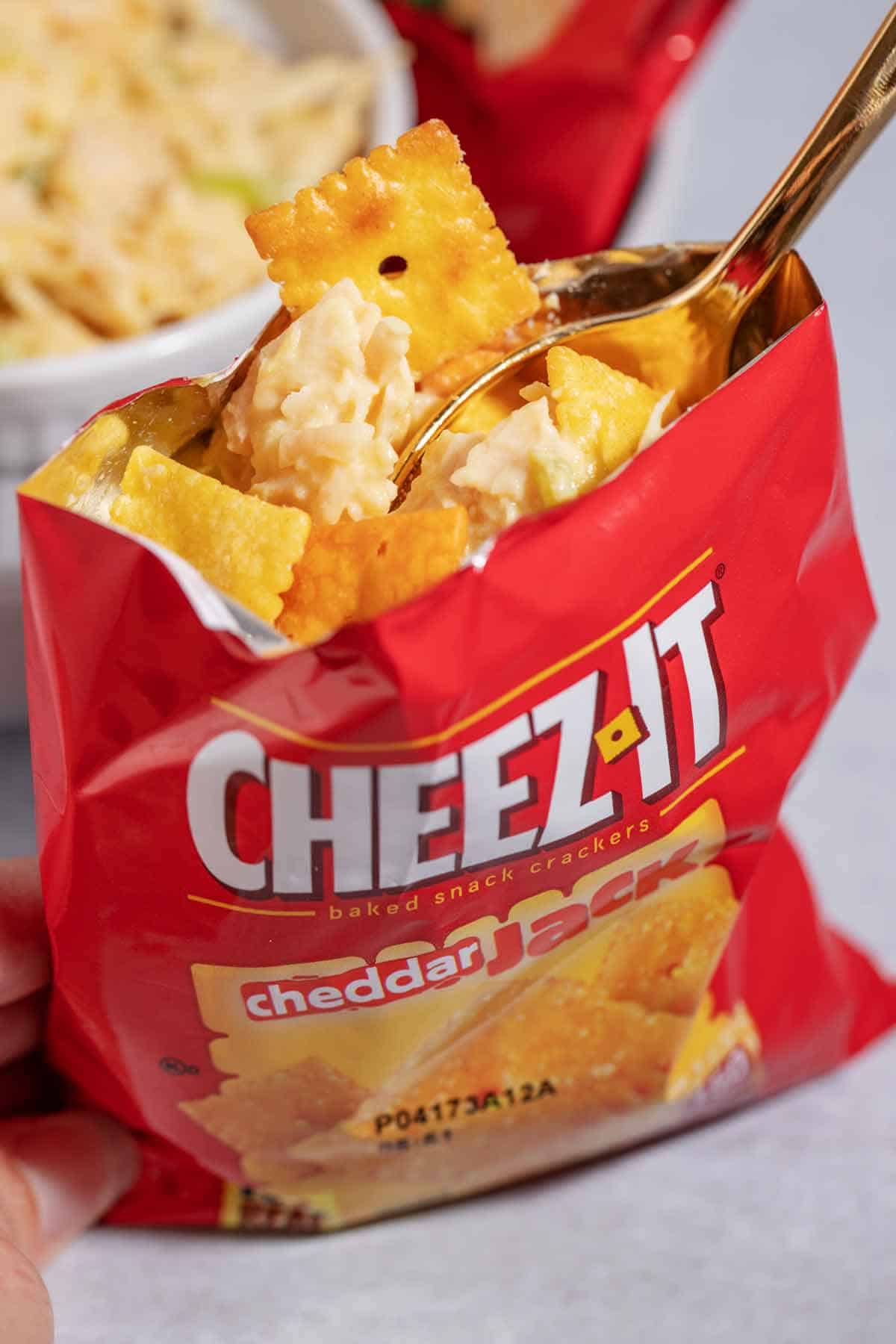 Walking chicken salad is an excellent way to eat chicken salad at a picnic. Guests can grab their cracker bag, fill it, and munch while they chat.
You will need mini cracker bags. Ritz Bitz, Ritz chips, Cheez-it crackers, goldfish, and cheese nips are a few of the cracker brands available in individual serving sizes.
Grab a bag, tear it open, and scoop some chicken salad on top. Sprinkle on a topping, snatch a spoon, and your guests are on their way.
Layer the Chicken Salad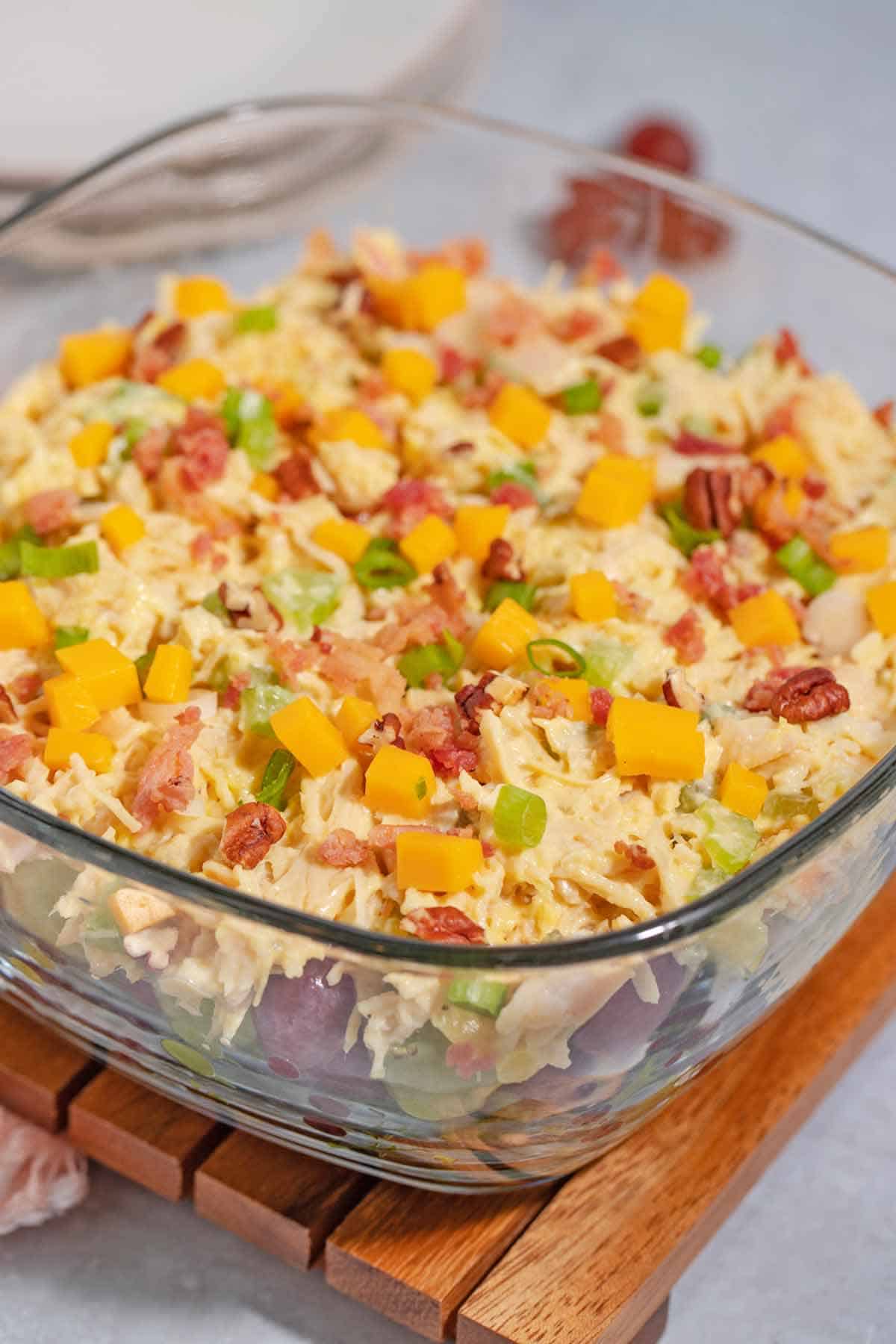 Layered chicken salad is like a 7-layer dip. Use a trifle bowl if you have a large crowd at your shindig. Or use a medium glass dish if the guest list is smaller.
What are the layers? Glad you asked. Make a single layer in this order:
Shredded lettuce
Green and red grape halves
Chicken salad. Make it with shredded rotisserie chicken, crunchy celery, mayo, and mustard.
Diced green onions
Shredded cheese
Crumbled bacon
Sliced almonds or coarsely chopped pecans or walnuts
If you have a trifle dish, repeat the layers.
Wondering how long chicken salad lasts? Read up on how long you can keep chicken salad at room temperature without running into food safety issues.
Ladle into Toasted Bread Cups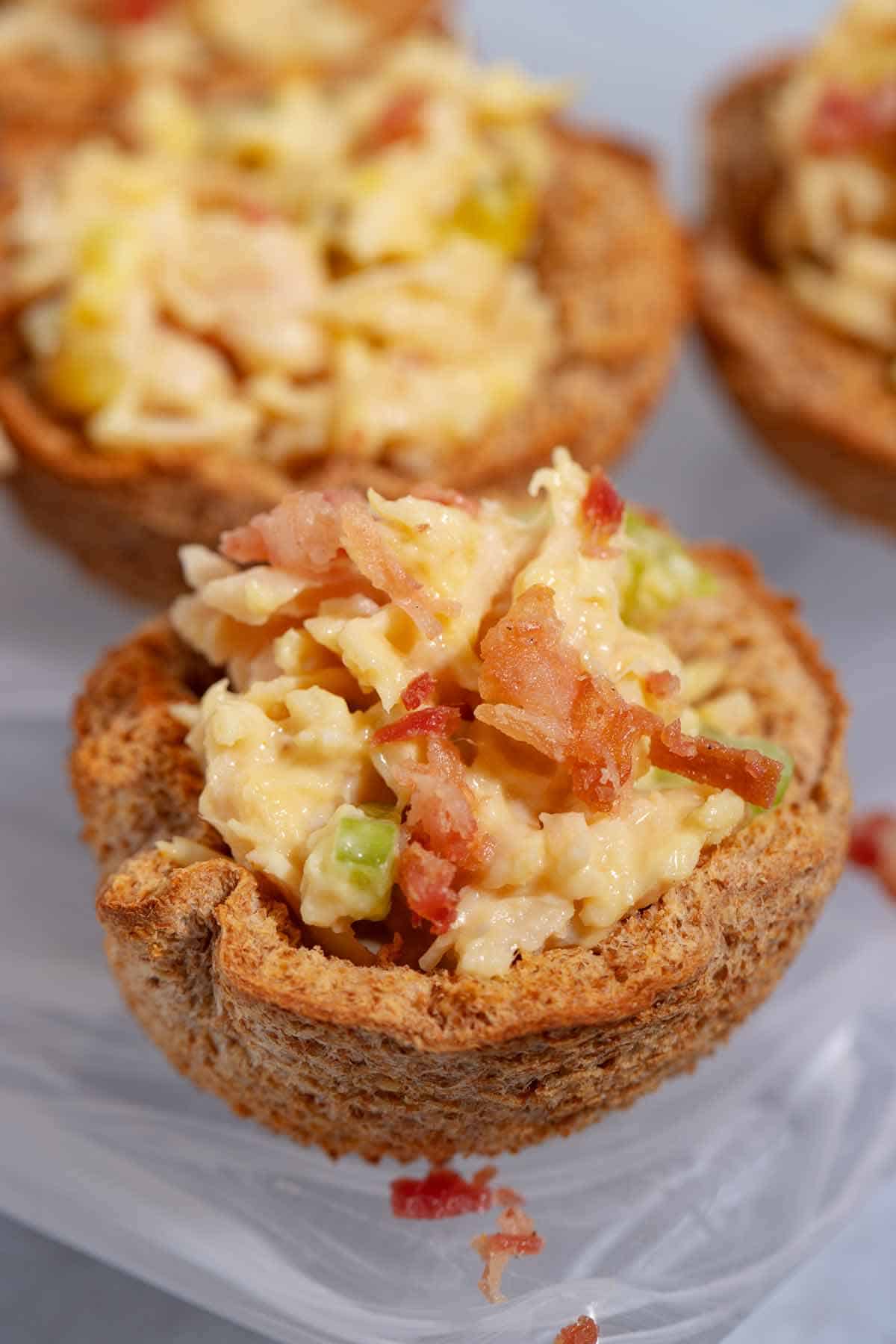 Instead of making won ton cups, make mini bread cups. Cut out a large round circle from a slice of bread.
Preheat the oven to 350°F (175°C). Put the bread circle in a muffin tin. Bake for 10 to 12 minutes or until the bread is toasty.
Cool the bread cup down, and then ladle the chicken salad inside.
This popular dish makes a fantastic chicken salad entree for a book club luncheon. It is manageable to make bread cups when the guest list is small.
Build Sandwiches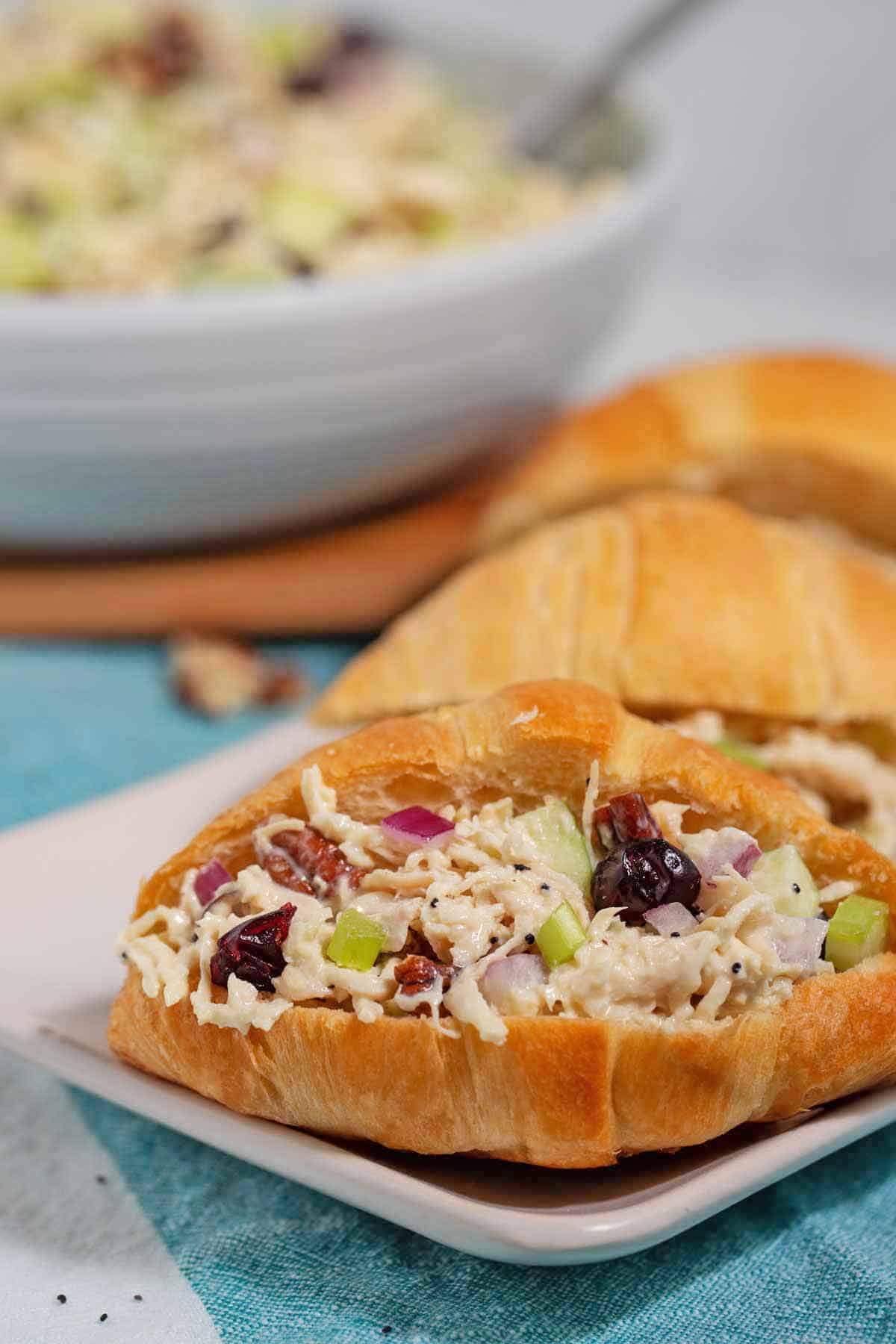 Sometimes the easiest way to serve chicken salad at a party is to serve sandwiches. There are so many delicious bread varieties that you will find it easy to make a flavorful sandwich.
Here are some of the best breads for chicken salad sandwiches.
Croissants. This is the classic choice. You will find chicken salad croissants most often.
Hawaiian rolls. Slightly sweet, Hawaiian rolls make excellent cold chicken salad sliders.
Pita bread. You can find many sizes of pita bread, including mini pitas.
Sandwich bread. Honey whole wheat, sourdough, potato, buttermilk, and white bread. So many flavors of bread to choose from.
If you are hungry for more bread ideas, check out the post on the best bread to serve with chicken salad sandwiches. Lots of ways to make sandwiches with a few slices of bread.
You may also enjoy the best chicken salad sandwich toppings.
Compose a Charcuterie Board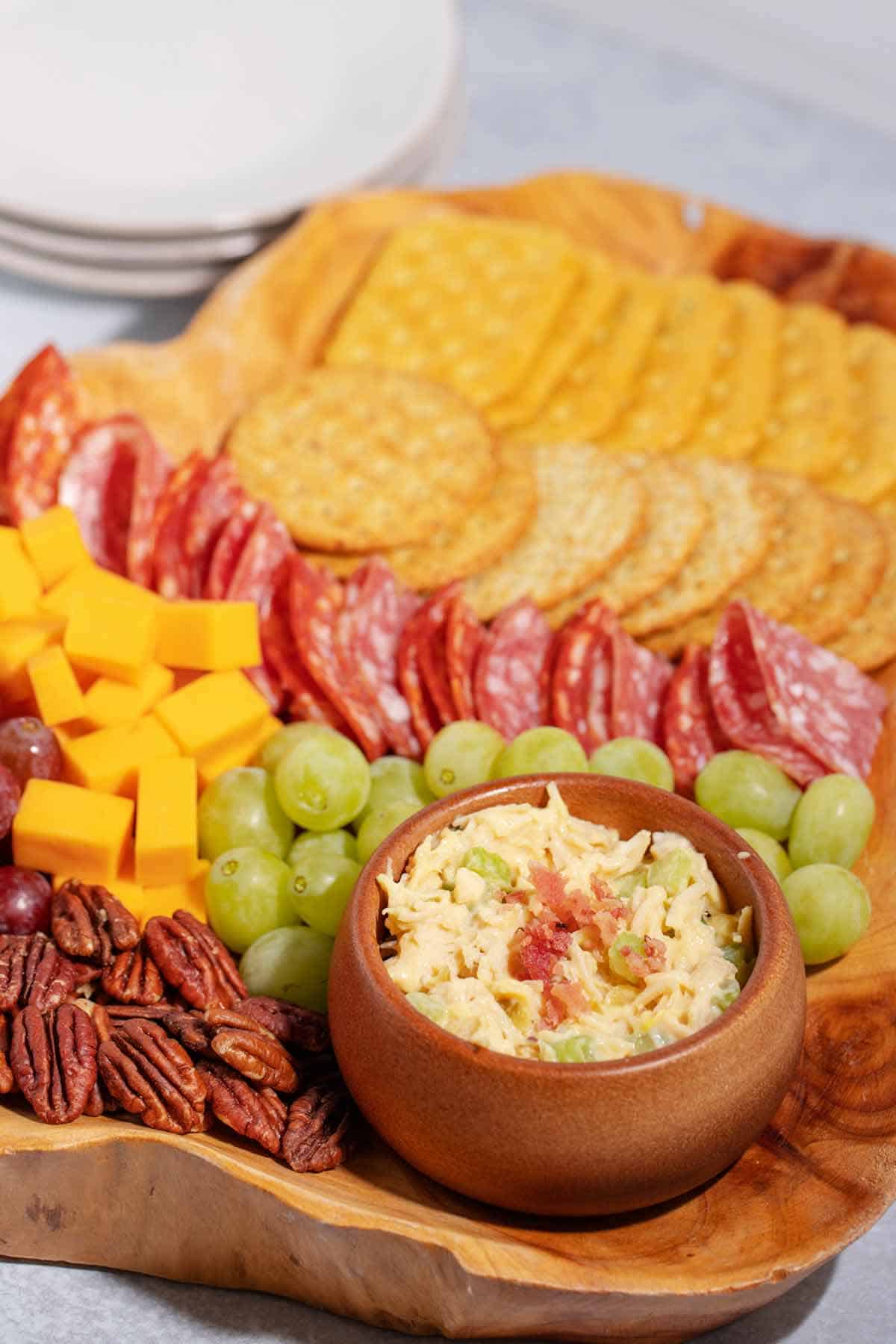 Do you want to provide a beautiful spread? Then make a chicken salad charcuterie board.
Start with a bowl of chicken salad. Then surround it with crackers, cheese, cured meat, olives, grapes, and toasted pecans. Try these sweet and spicy candied pecans like Trader Joe's.
You will love how the board turns out. And your guests will love the creative way you serve the chicken salad.
Frequently Asked Questions
Can you freeze leftover chicken salad?
Chicken salad usually doesn't freeze well. But if your recipe has freezable ingredients, feel free to throw it in the freezer.

Learn when you can and can't freeze chicken salad.
How do you jazz up store-bought chicken salad?
If you bought chicken salad for the party, there are plenty of ways to make it better. Add-ins, seasonings, and even pickle juice are great ways to improve the taste.

For all the suggestions, check out this post on how to make store-bought chicken salad better.
Best Side Dishes to Serve with Your Famous Chicken Salad
Now you know how to serve chicken salad at a party, what side dishes will you prepare? Here are easy recipes to get you going.
Ambrosia fruit salad. Ambrosia is a simple recipe that will pair well with any traditional chicken salad. Mix it up, chill it, and watch it disappear.
French fries. The best sides are the ones that will have you licking your fingers. Bake or air-fry the fries and dish them up warm with the party chicken salad.
Potato chips. Lots of brands, lots of varieties. Pour them in a large bowl next to homemade dip.
Vegetable tray. Provide fresh veggies like sliced cucumbers, carrot sticks, celery sticks, and grape tomatoes.
Soup. A soup sandwich combo makes a wonderful main dish. Creamy soups like butternut squash soup or potato soup are ideal soups to pair with a chicken salad sandwich.
Did you like this post? Then let's be social. FOLLOW ME on INSTAGRAM and PINTEREST to keep up with the latest happenings.