Effortlessly make the best ambrosia salad recipe with Cool Whip. This quick and easy dessert salad is perfect for potlucks, parties, and dinner tonight.
Wide hungry eyes follow your every move. Any second now, a swarm of ravenous children will pounce. So put that serving bowl down and quickly step away. Step away. But first, hand them the spoon.
Yes, you are the most popular person at the party. You brought your unforgettable ambrosia salad recipe with Cool Whip. And you did not even break a sweat.
But wait, let's back up. You need an ambrosia salad recipe with Cool Whip. You are looking for quick, easy, cheap, and delicious. A crowd-pleaser that leaves you with an empty bowl at the end of the party.
How do you make an easy ambrosia salad recipe with Cool Whip? Simple. Open and drain canned fruit (pineapple, mandarin orange slices, and maraschino cherries). Make a creamy sauce with thawed Cool Whip and sour cream. Mix the sauce with 1 cup of mini marshmallows and all the fruit. Chill and serve.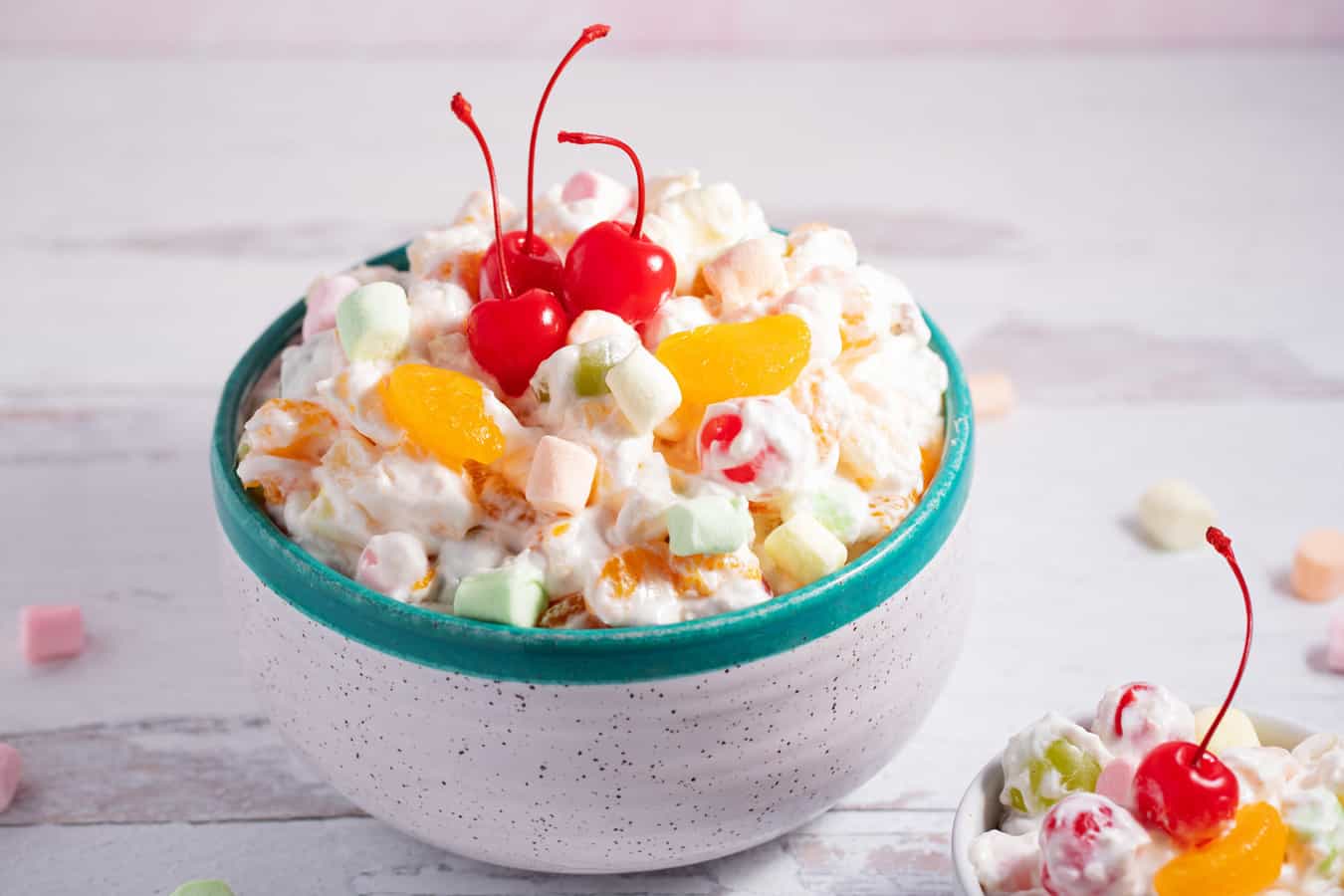 Sound good? In this article you will learn ambrosia salad ingredients, get clever pro tips, and discover how to effortlessly customize the salad. Plus get the scoop on how early you can make the salad, how to store leftovers, and what to serve with ambrosia salad.
Ready? Let's go!
Ingredients for Ambrosia Salad Recipe with Cool Whip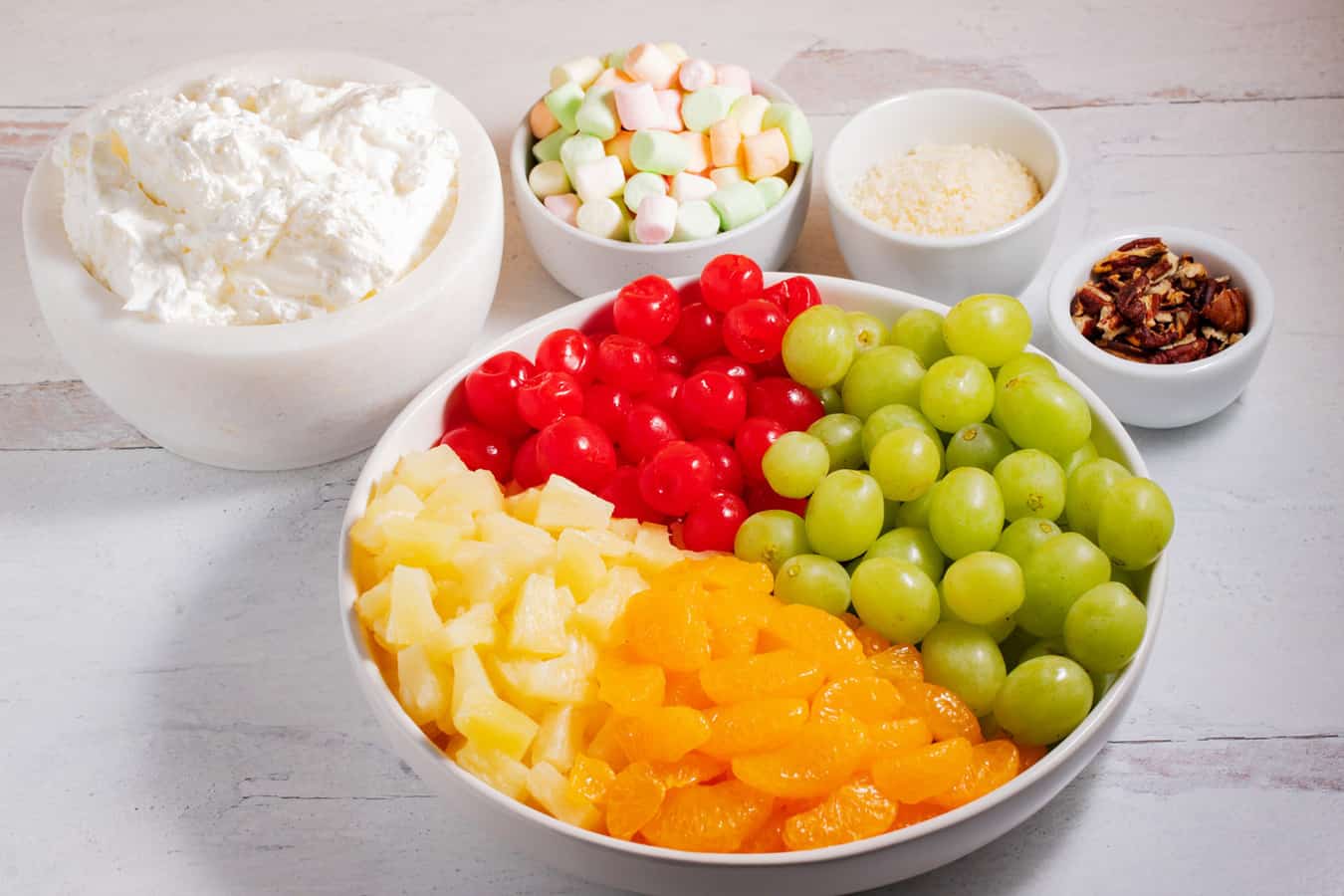 Ambrosia salad is a creamy fruit salad. As popular in the summer months as it is at holiday dinners.
It is a dessert salad that is never treated like a dessert. Go to a cookout and you will find it next to the macaroni salad and potato chips, not next to the cookies.
You might know it as a 5 cup salad recipe because you add 1 cup each of all 5 ingredients. One cup of four fruits, plus 1 cup of marshmallows.
So, what is ambrosia salad made of? Here is a rundown of the classic recipe ingredients.
Mandarin orange slices. Sweet mandarin oranges have always been in the classic recipe. In the old days, home cooks peeled and sectioned fresh oranges. Then they separated each section from the pith and membrane. That is a lot of work.
Today Dole does that work for you. You just open a can of mandarin oranges and bask in the joy of modern convenience.
Pineapple chunks or tidbits. Open a can of pineapple tidbits or pineapple chunks. Either size is fine for the ambrosia salad.
The key is to keep all the fruit a consistent size. So, if you use pineapple chunks, do not cut the grapes or cherries in half.
Likewise, if you choose pineapple tidbits, take the time to cut the grapes and cherries in half.
Avoid crushed pineapple. It is too mushy and too wet to work in a creamy fruit salad. Also do not use pineapple rings. They are not a good size for a fruit salad.
You can use your own fresh pineapple and cut it up for the salad. Fresh pineapple will be firmer than canned pineapple.
Maraschino cherries. Compare bright maraschino cherries with grandma's canned cherries, and you will see two different cherries.
Maraschino cherries are transformed from a cherry to a firm, preserved, dyed, sweetened treat. That is why they are an unnatural red and why they will still be firm in ambrosia salad days later.
Maraschino cherry producers refer to the maraschino cherry as a piece of candy. They avoid the word fruit. Just ask Josh Reynolds, vice president and general manager of Gray and Company (maraschino cherry producer).
Maraschino cherries are treats like fruity marshmallows and Cool Whip.
Want to go healthier? Skip the maraschino cherries, but do not use canned cherries. Instead, use fresh cherries. Pit them, cut them in half (or not) and add them in.
They will not be as brightly colored, nor will they last as long in leftover salad without getting mushy. But they will last for the party and the next day if you have leftovers. Beyond that, you are in uncertain territory.
Green grapes. Grapes are usually the only fresh fruit in an ambrosia fruit salad recipe. Use seedless red or green grapes. Wash them but do not bother peeling them. If they are large, cut them in half.
Green grapes or red grapes are both good choices for the salad. You might prefer red grapes when serving the salad on a holiday dinner table at Christmas. And you might select green grapes for the salad on Mother's Day.
Mini marshmallows. Along with maraschino cherries, marshmallows are the "candy" that change ambrosia salad into a dessert salad. White miniature marshmallows or miniature fruity marshmallows are equally acceptable. I prefer fruity marshmallows. How about you?
You only need 1 cup of marshmallows, but if you go crazy and add half the bag, I'm not judging. You will not hear a single complaint about your marshmallow salad.
Tub of Cool Whip. Creamy Cool Whip is the base of the creamy dressing. One 8-ounce tub of Cool Whip is all you need. Any whipped topping will work, but Cool Whip is the easiest. Thaw the Cool Whip before making the dressing.
Sour cream. Sour cream is the second ingredient in the creamy dressing. Its purpose is to cut the sweetness of the salad. That is why I recommend using sour cream instead of vanilla pudding or flavored yogurt.
Unsweetened Greek yogurt can substitute for sour cream. But avoid regular yogurt because it is too thin. You want a creamy dressing, not a runny dressing.
Coconut (optional). Coconut was one of two ingredients in the first ambrosia salad ever made. Today, it has been demoted to optional ingredient.
I recommend unsweetened coconut because the salad is already very sweet. But sometimes unsweetened coconut is hard to find. In that case, sweetened coconut is acceptable.
Nuts (optional). Try pecans, walnuts, or almonds in this creamy fruit salad. Use a food processor or a knife to cut the nuts into tidbits.
Better yet, buy them already cut in small pieces. The Fisher Nuts brand sells chopped nuts, slivered nuts, and nut pieces.
6 Pro Tips You Need for a Sensational Ambrosia Salad
Ambrosia salad is a family favorite. An easy dessert usually reserved for special occasions. You have expectations for it.
But first, let us agree on what you do not want in an ambrosia salad. You do not want soggy. You do not want mushy. And you do not want too sweet. So, how do you avoid those pitfalls? Simple. Follow my pro tips.
PRO TIP #1: Drain your canned fruit for at least 30 minutes.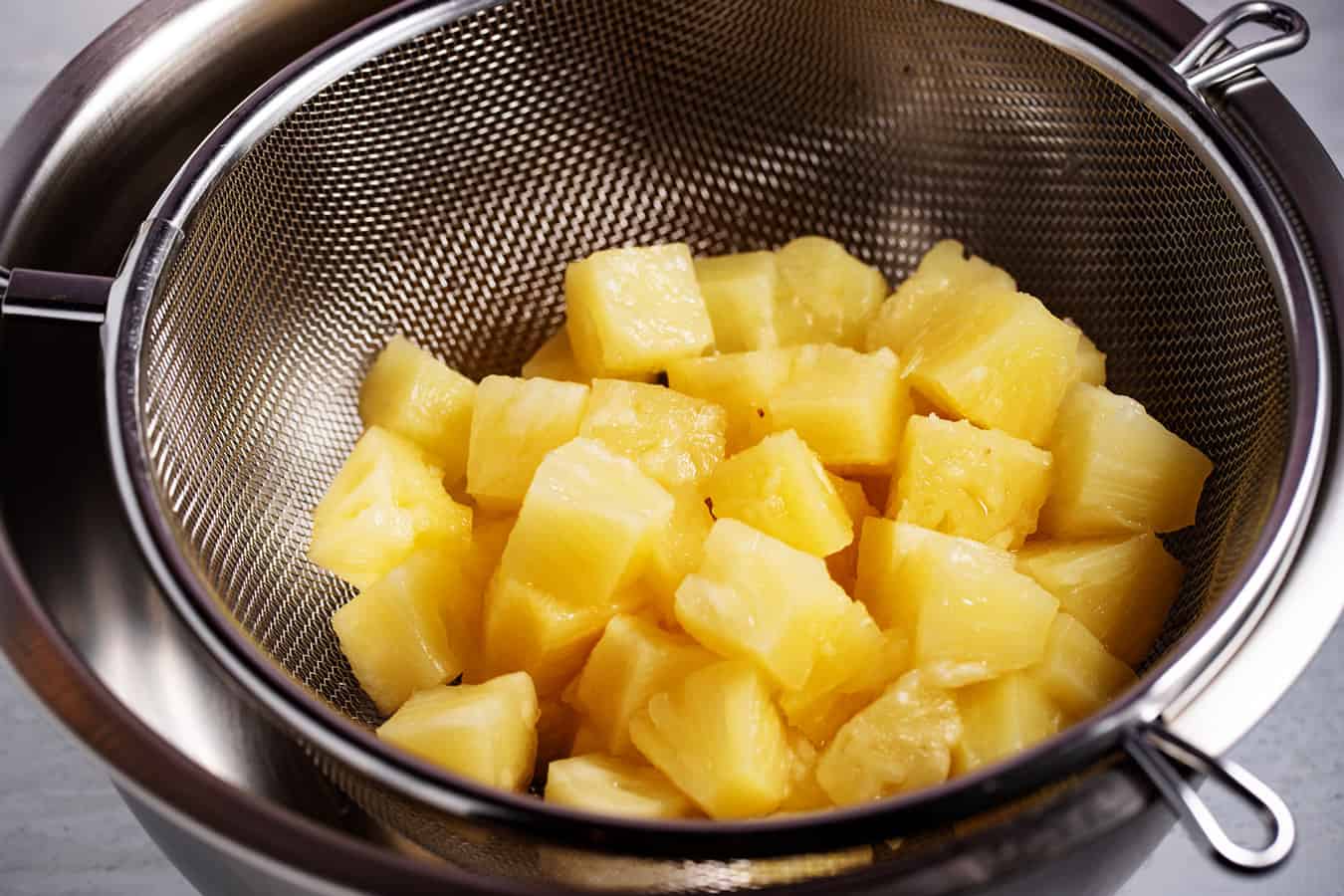 Any extra liquid will make the salad soggy. Over time Cool Whip thins out when mixed with juice.
Canned fruit swims in liquid. Don't be fooled, after draining the juice from the can, that all the juice is gone. Hidden juice still clings to the fruit.
The only way to be sure the fruit is thoroughly drained, is to drain it in a colander. I recommend 30 minutes. But if you are in a hurry, whittle that time down to 15 minutes.
But please take the time to drain the fruit. The sogginess of your ambrosia salad depends on it.
PRO TIP #2: If you are making ambrosia salad the day before, do not choose fruits that will mush. Bananas, I am talking to you.
The second you cut a banana, it begins to oxidize and turn brown. The more time passes, the less firm the slices stay and the mushier it becomes.
If you will eat the salad the same day you make it, bananas are acceptable. If you make the ambrosia salad ahead of time, choose a different fruit.
Along these lines, if you choose fresh fruit, be selective in the individual fruit you choose. Look for firm, fresh fruit. Not old fruit you are trying to get rid of by sneaking it into a salad.
PRO TIP #3: Mix sour cream or Greek yogurt with Cool Whip. Otherwise, the salad will be too sweet.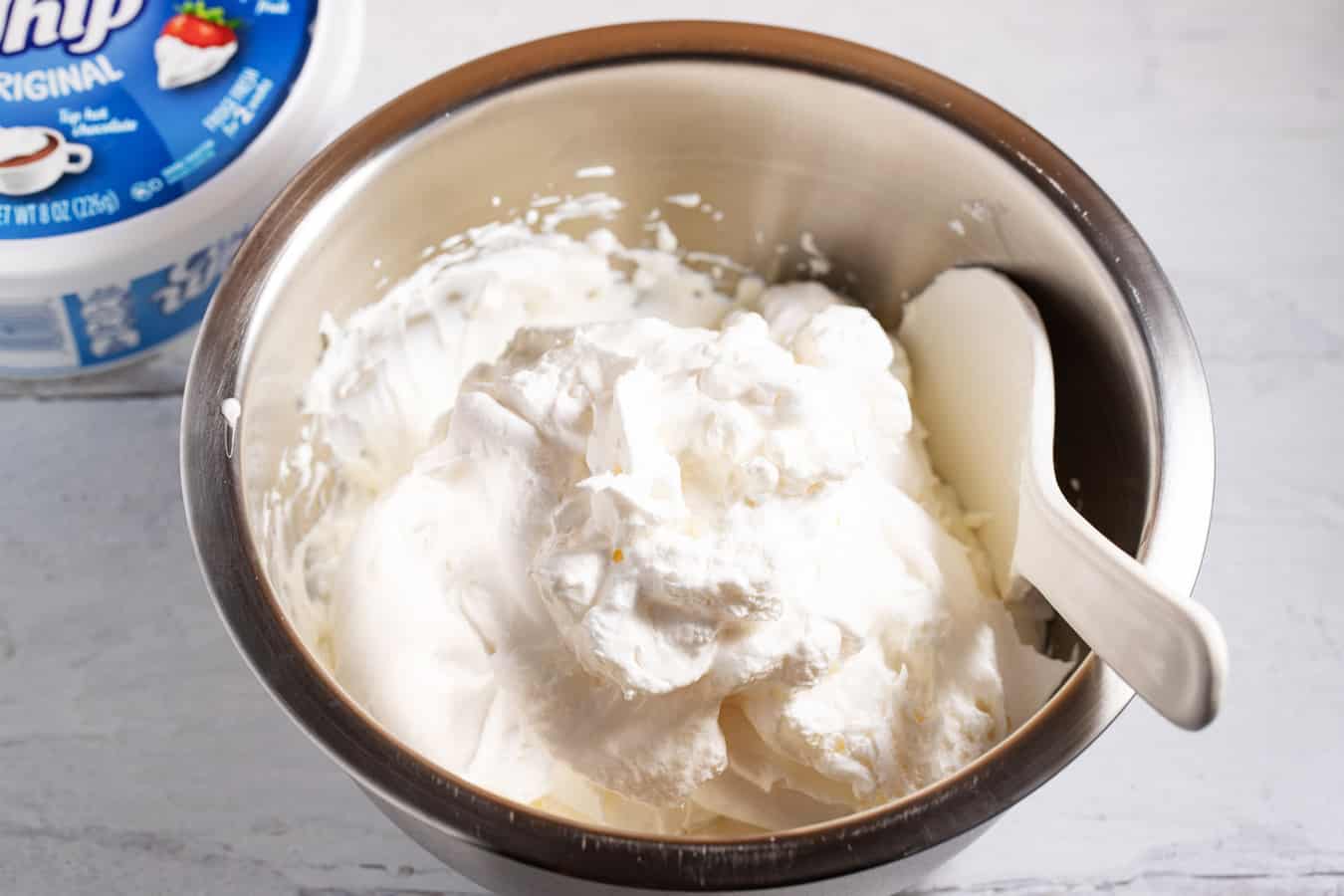 You have sweet fruit. You have sweet Cool Whip. If you mix them together with nothing else, the salad will be too cloying. Unpleasantly sweet and heavy is not what you want ambrosia salad to be.
To cut some of the sweetness, mix sour cream or Greek yogurt with the Cool Whip to make a sauce.
Greek yogurt is better than regular yogurt because it is thicker, so the sauce will not be too thin.
When you choose yogurt over sour cream, choose plain yogurt. Using fruit-flavored yogurt is tempting, but the added sugar makes it too sweet for the salad.
The only exception to flavored yogurt is vanilla yogurt. You can buy unsweetened vanilla yogurt. Try that in place of sour cream if you want to lighten this classic salad.
PRO TIP #4: Use a large bowl to mix everything.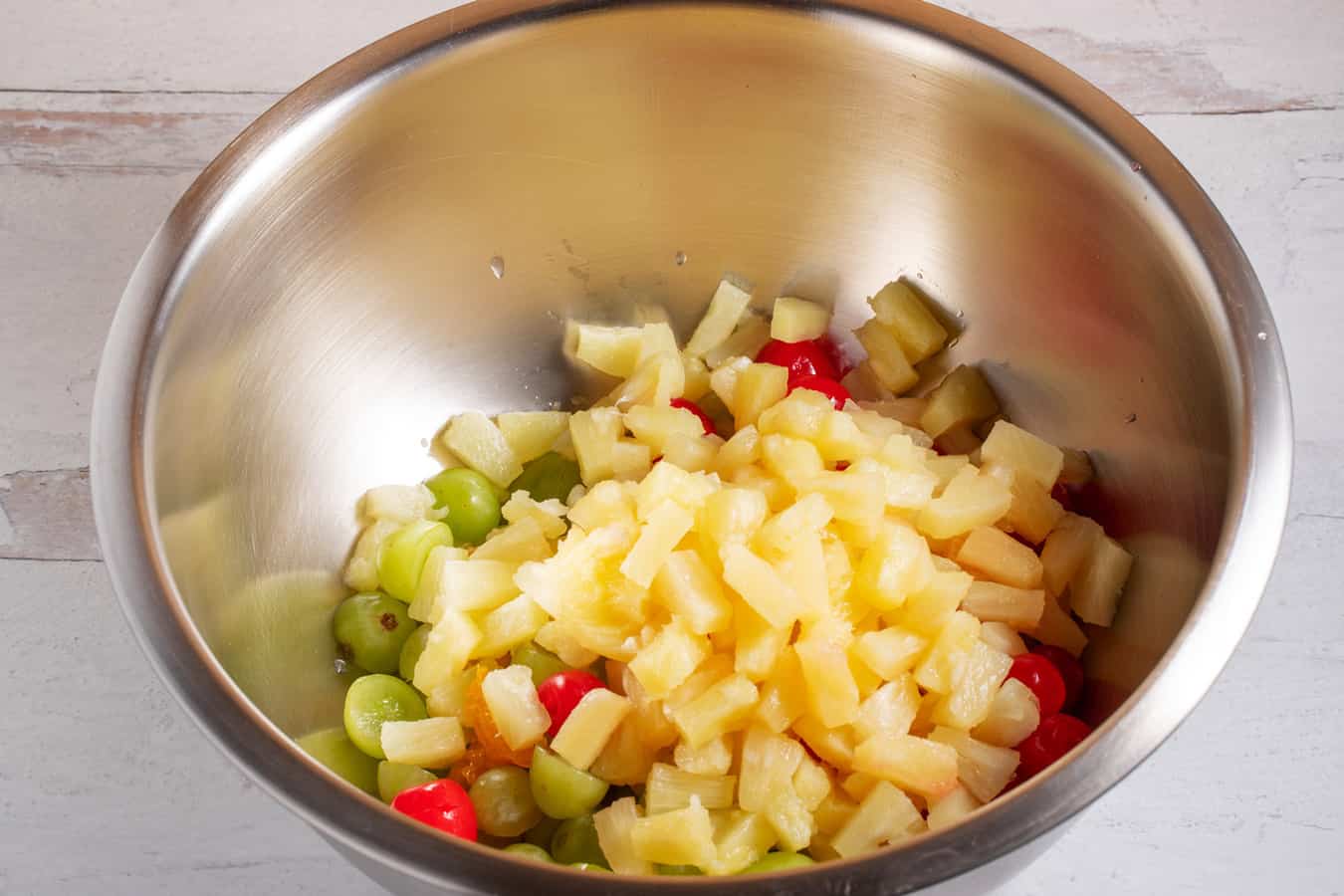 It may not seem like you need a lot of space when you only have a few cups of fruit. But you need the room to combine the ingredients without food spilling over the side. Use a big bowl and avoid a mess.
After mixing the salad together, you can transfer it to a serving bowl.
PRO TIP #5: If you are adding nuts or coconut, mince them. They should be a nice background, not front and center.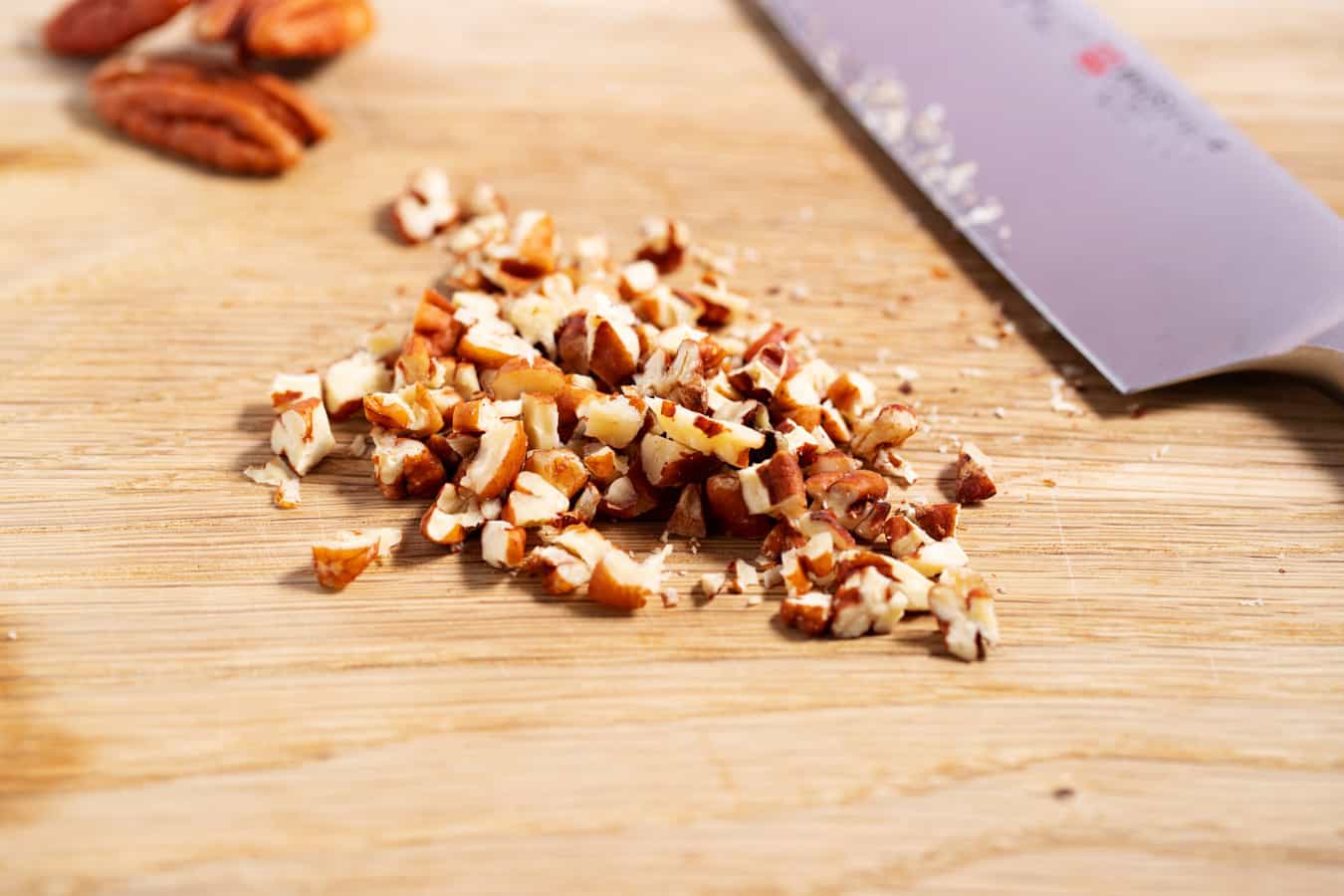 Nuts and coconut are not the star of the salad. They are the supporting cast. Meant to enhance the flavor, texture, and interest of the salad.
If you add them, use a food processor to mince them. Do not over-process them though. You want minced, not powdered.
If you can buy nut tidbits, even better.
PRO TIP #6: Stir the mandarin orange slices in last. Sweet mandarin oranges are delicate and break easily. Treat them gently.
How to Make Ambrosia Salad with Cool Whip
STEP 1: Prep the fruit.

Pour the pineapple tidbits and mandarin oranges into a colander to drain for 15 to 30 minutes.

Drain the maraschino cherries on a paper towel. Remove the stems of all but three or four that you will use for garnish. Reserve the ones with the stems.

Wash the green grapes and cut them in half if they are too big.
STEP 2: Prep the nuts and coconut.
Chop with a knife or use a food processor to cut the nuts and coconut into tidbits. A food processor chops the nuts into a consistent size. But a knife is more convenient.
STEP 3: Make the creamy dressing.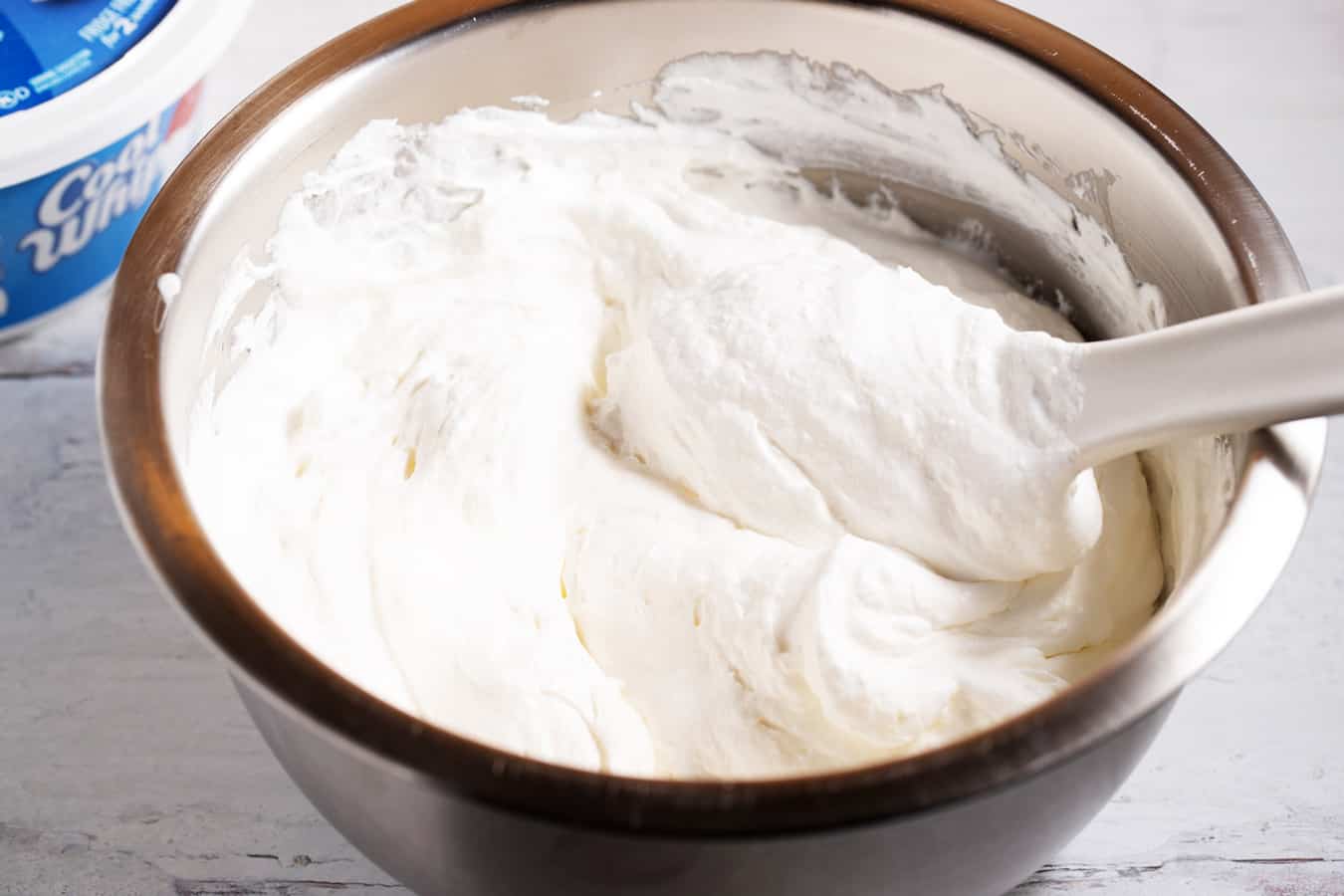 Whip the sour cream until smooth.

Fold the tub of Cool Whip into the sour cream.

Add any flavoring extracts, powders, or spices (optional). Stir to combine.
STEP 4: Make the salad.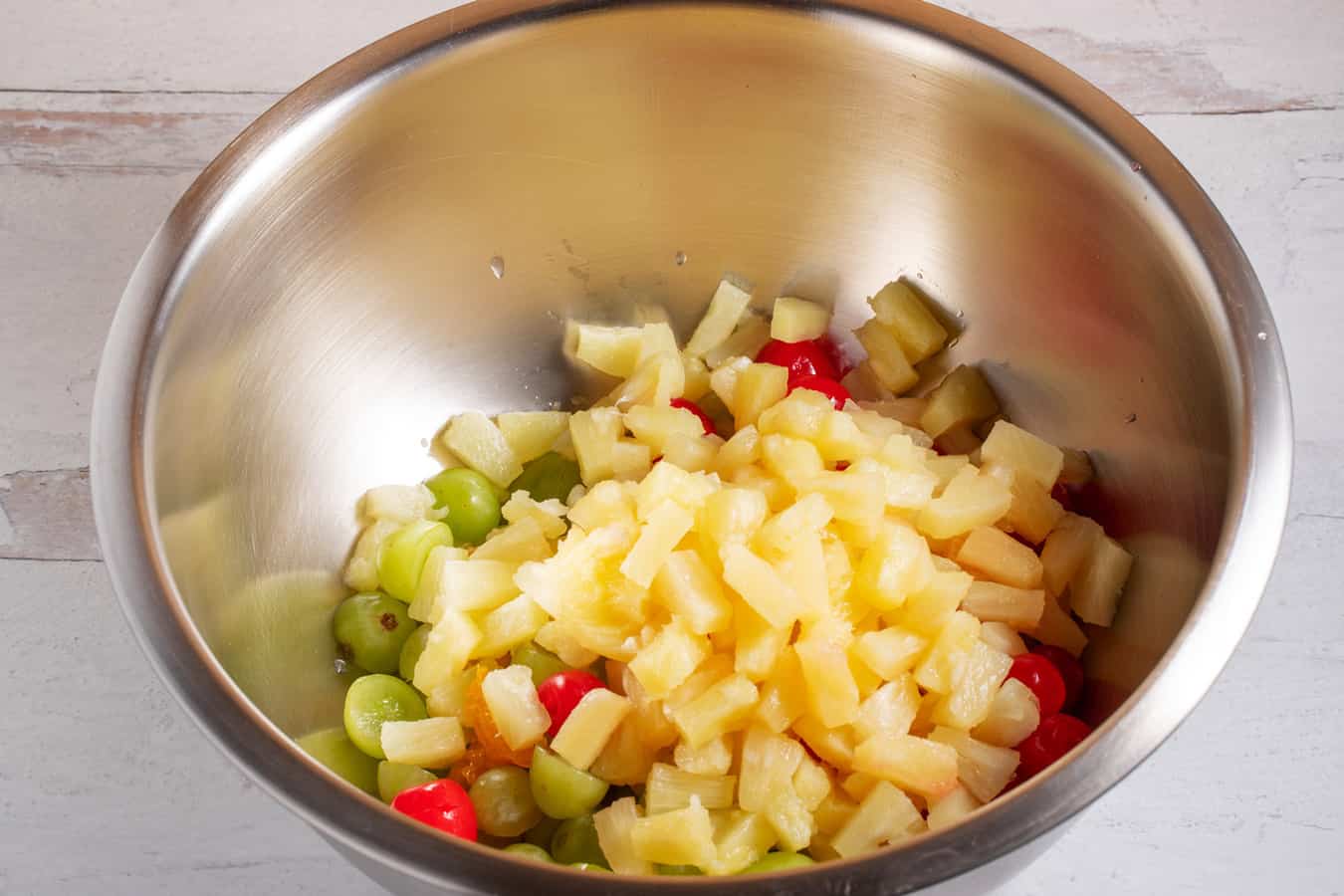 Pour the pineapple, maraschino cherries without the stems, and the grapes into a large bowl.

Stir in the Cool Whip dressing.

Add the marshmallows, coconut, and nuts.

Lastly, gently fold in the mandarin oranges.
STEP 5: Chill the salad.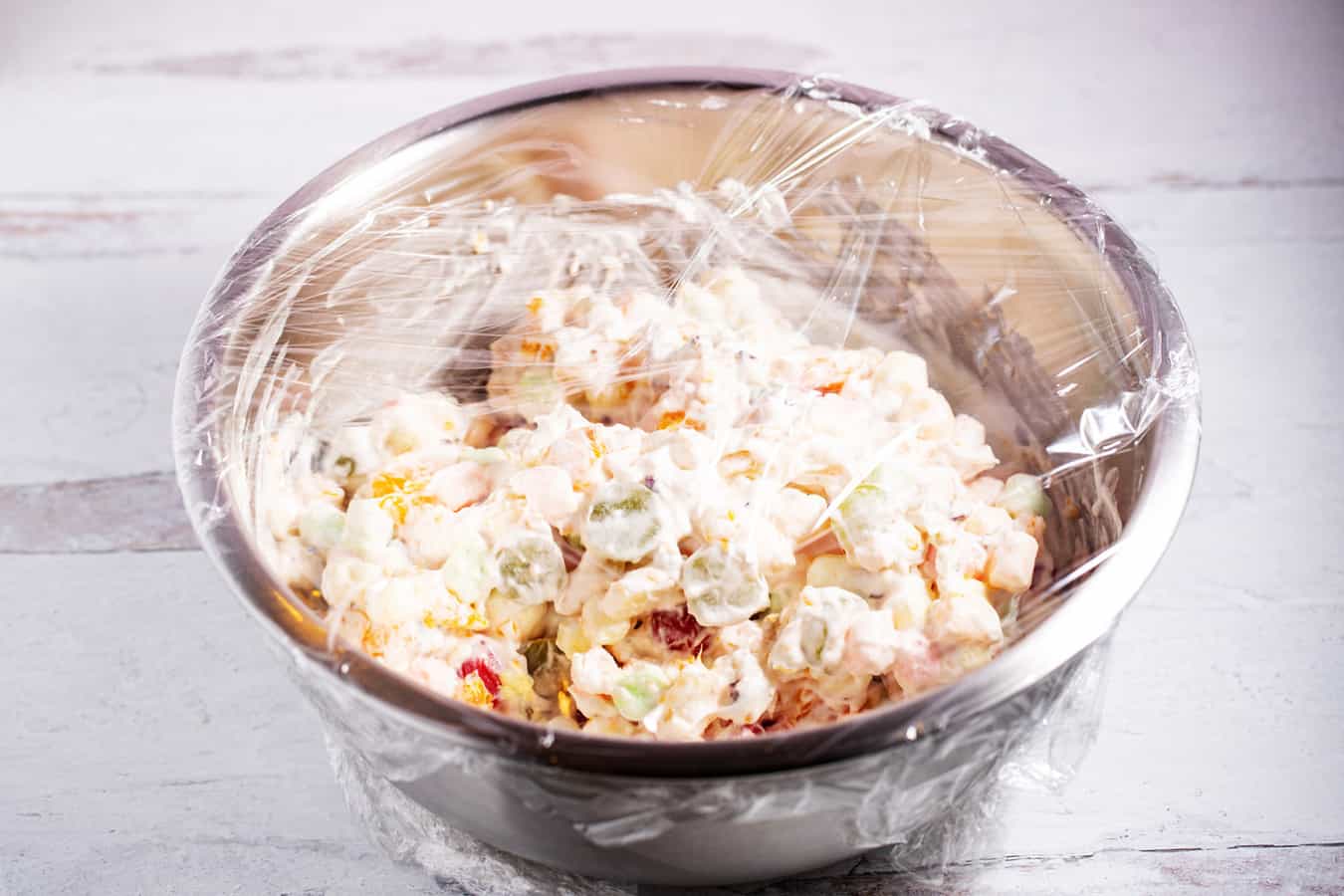 Cover the creamy fruit salad and refrigerate it for 1 to 2 hours.
STEP 6: Garnish.
Remove the salad from the refrigerator and stir once or twice.

Garnish with the reserved maraschino cherries with stems intact and a few fruity marshmallows.

Serve immediately.
How to Customize Ambrosia Salad
You can customize your own ambrosia salad recipe with Cool Whip. Every ingredient can be tweaked to your taste. Let me show you how.
Fruits
Orange slices were the only fruit in the original ambrosia salad created in the Southern United States in the 1800s. What a great recipe! So simple.
Over time, creative chefs added other fruits. Today's recipe consists of mandarin oranges, pineapple tidbits, cherries, and grapes.
However, these fruits are interchangeable. Choose the fruits you like. Your favorite fruits can be an addition or replacement.
If you want to change up the canned fruit, try peaches, pears, mango slices, or even fruit cocktail. Some old recipes use only fruit cocktail.
What about fresh fruit? If you want your ambrosia salad recipe with Cool Whip to have only fresh fruit, try these fruits.
All types of berries, including strawberries, blueberries, cherries, raspberries, blackberries, and boysenberries.
Tropical fruit like mango and papaya are more work to cut but can turn your ambrosia salad into a tropical dish.
Cool Whip
Cool Whip is quick and easy, but any whipped topping can replace it.
Easy substitutes for Cool Whip:
Heavy cream whipped into whipped cream
Dream Whip
Crème Fraiche
Easy vegan substitutes for Cool Whip:
So Delicious Coco Whip frozen topping
Whipped light tofu
Nondairy yogurt
Flavored Creamy Sauce
Remember how I said to not use flavored yogurt because it made the sauce too sweet? Well, just because you are not using flavored yogurt does not mean you can't add your own flavor to the sauce.
It is easy to flavor Whip Cream with extracts, powders, or spices.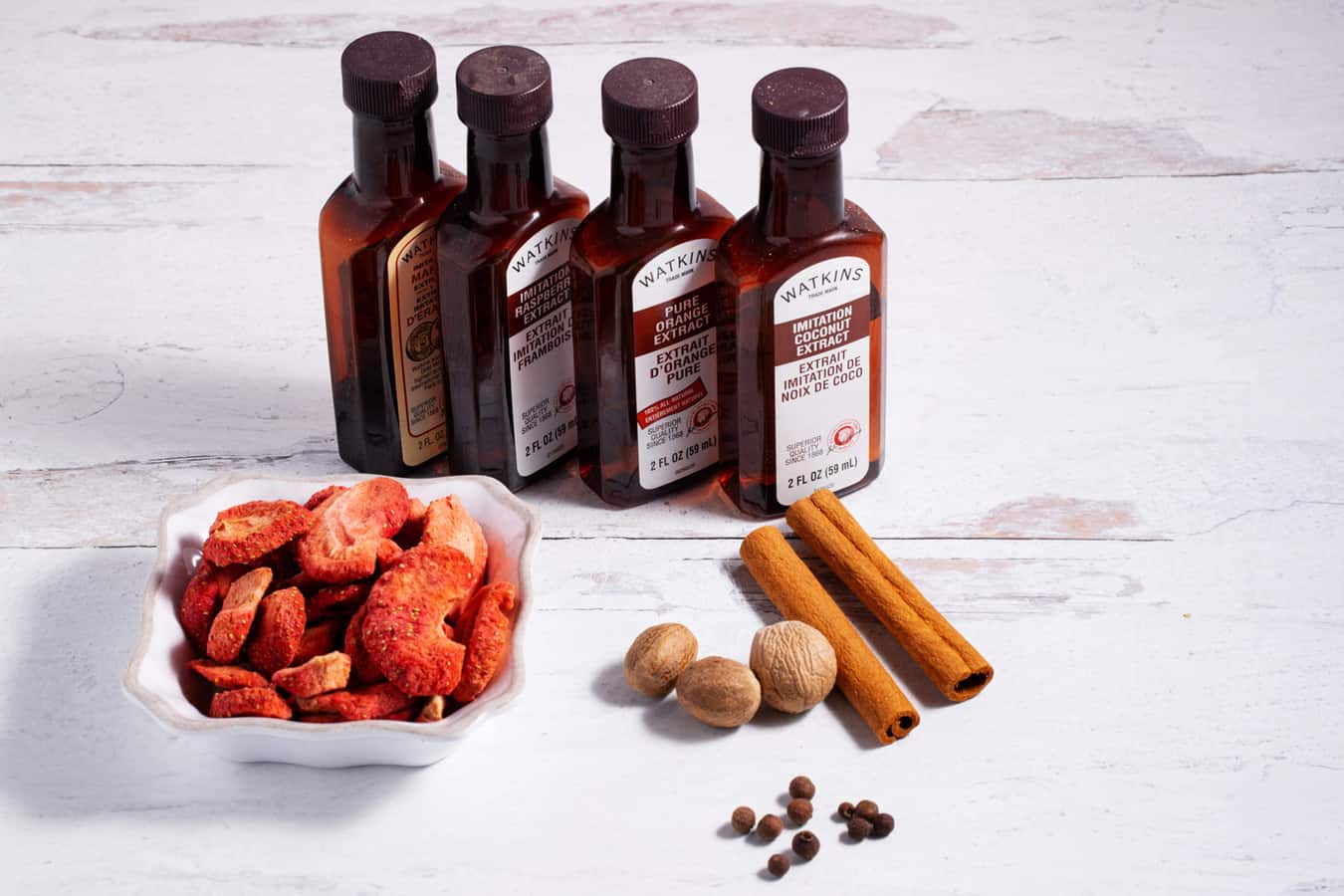 Extracts
Try vanilla, coconut, strawberry, almond, lemon, orange, or lavender extract. Use only ⅛ to ¼ teaspoon of extract.
Powders
Pulverize freeze-dried fruits into a powder with a food processor. Add 1 or 2 tablespoons of the powder to flavor the salad.
Some of the best freeze-dried fruits to use are blueberries, strawberries, peaches, sweet corn, or bananas.
Spices
Sprinkle ¼ to 1 teaspoon of spice to add subtle flavor. Try cinnamon, chili powder, nutmeg, cloves, allspice, ginger, or marjoram.
Nuts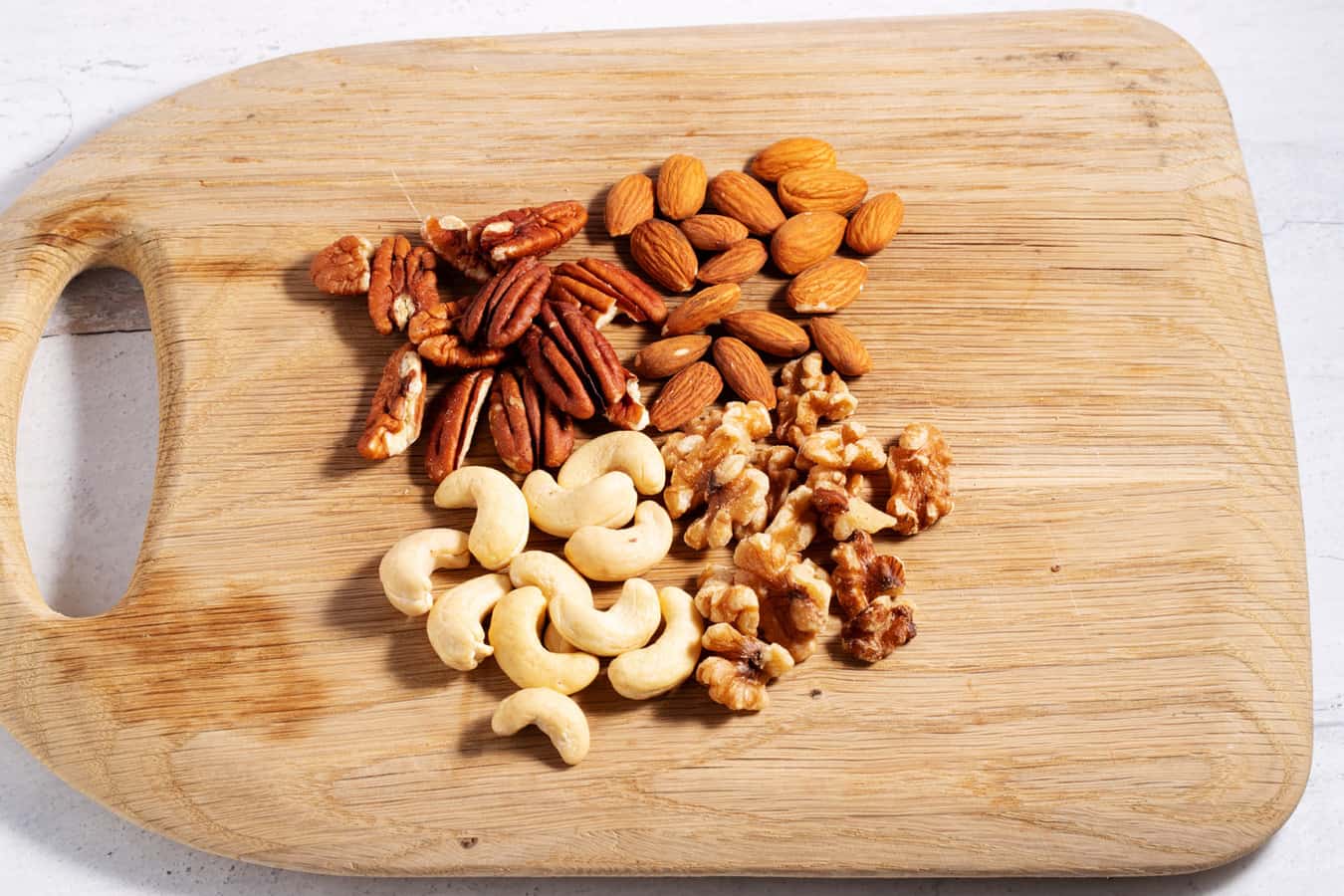 Add your favorite nuts to the salad. But first toast them to enhance their flavor.
Popular salad nuts include pecans, walnuts, macadamias, pistachios, hazelnuts, and almonds.
Can You Make Ambrosia Salad the Day Before?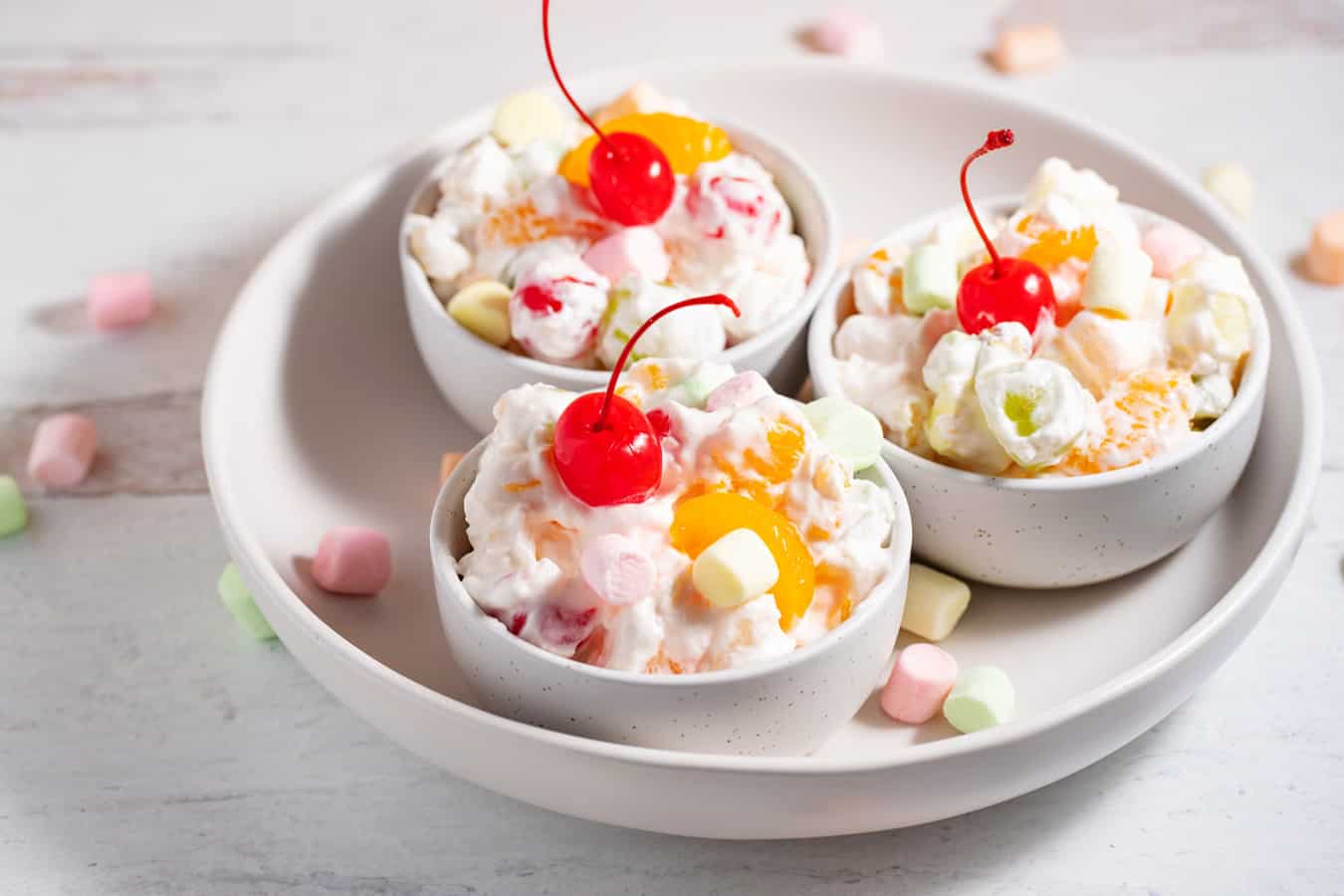 Yes, you can make ambrosia salad the day before. Especially if you use Cool Whip. The Cool Whip helps preserve the freshness and prevent sogginess. It does not break down as quickly as regular whipped cream.
My 1950s ambrosia salad recipe uses homemade whipped cream. Cool Whip holds up better than whipped cream when you make ambrosia salad the day before.
However, fruits will break down over time. Draining your fruit has never been so important. If you make ambrosia salad the day before, drain the fruit a minimum of 30 minutes. But one hour is better.
The next day, stir the salad and check for excessive fruit juice. What if you find a pool of juice in the bottom of the container? Use a slotted spoon to transfer the salad into a fresh serving bowl. Leave the accumulated juice behind.
Add more Cool Whip or sour cream if you think the creamy sauce got too thin.
How to Store Leftover Ambrosia Salad with Cool Whip
Store leftover ambrosia salad in an airtight container in the refrigerator. When you eat the leftovers, watch out for excessive juice as the fruit breaks down over time.
How long will ambrosia salad last in the fridge? Eat it in two or three days for maximum freshness.
What to Serve with Ambrosia Salad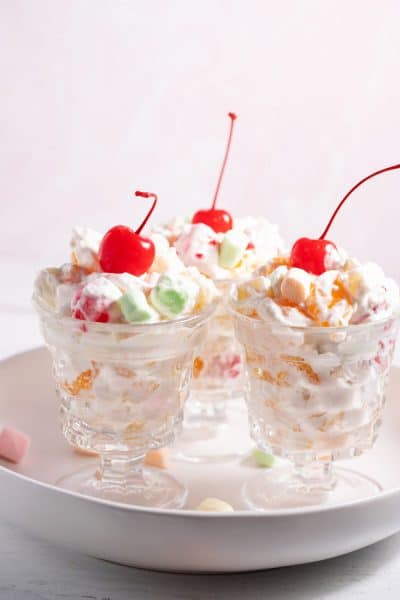 Ambrosia salad feels like a party food found at special occasions and holiday dinners. But do not discount it as a side dish at a regular weekday meal. No one will complain. Weeknight dinners are the perfect time to try some new fruit or flavor combinations.
At a barbecue or cookout, serve ambrosia salad with hamburgers, bratwursts, pulled pork, or barbecued chicken.

Serve it at Thanksgiving dinner next to turkey and stuffing. Or at Christmas alongside ham and scalloped potatoes.

During the week, serve it as a side dish for sour cream chicken enchiladas, Cobb salad, burritos, mac and cheese, grilled chicken, baked potatoes, tacos, etc.
You get the idea. It can go with practically anything you serve for dinner. See also best sides to serve with fruit salad.
FAQ
How long does ambrosia last in the fridge?
Leftover ambrosia lasts one or two days in the fridge. After that, the fruit won't taste as good, and the sauce will start thinning.
Is ambrosia a fruit?
Ambrosia is not a fruit. The definition of ambrosia is "delicious or fragrant". However, in Roman and Greek mythology, ambrosia was the food of the gods. It gave longevity and immortality to the gods but was impossible for humans to eat without dying.

Percy Jackson fans know that giving a tiny taste of ambrosia to the demi-gods helped them heal.
Why is it called ambrosia salad?
Ambrosia is the food of the gods. This salad may have been named ambrosia because it was new, sweet and tantalizing, and made with exotic ingredients.

Exotic ingredients? Yes. The first printed recipe for ambrosia salad appeared in the 1867 Dixie Cookerie cookbook written by Maria Massey Barringer. It had only three ingredients (oranges, coconut, and sugar). In the 1800s, if you didn't live near an orange grove or sugar field, you ate these foods only on special occasions.

However, as railroads spread throughout the country, they connected food producers with consumers. The once exotic ingredients, like citrus and coconut, became more available.
Is ambrosia salad a dessert or side dish?
Ambrosia salad is a dessert disguised as a side dish. Cool Whip, marshmallows, and maraschino cherries whisper dessert, but the fruit argues for side dish status.
Is ambrosia salad keto?
Unless you make ingredient substitutions, ambrosia salad is not keto. Keto experts recommend avoiding pineapple, oranges, and grapes. In addition, marshmallows, maraschino cherries, and Cool Whip contain excessive sugar. So traditional ambrosia salad is not keto.

However, if you make the salad with raspberries, strawberries, and blackberries mixed with a low-carb Greek yogurt, you have a good keto ambrosia salad. Add in nuts but leave out the marshmallows.
How many carbs in ambrosia salad?
There are 13 grams of carbs in ½ cup of ambrosia salad.
So, there you have it. An easy, tasty ambrosia salad recipe with Cool Whip. Make it again and again for parties. Never give up your status as the most popular guest at the shindig.
---
Did you like this post? Then let's be social. FOLLOW ME on PINTEREST and INSTAGRAM to keep up with the latest tutorials, favorite recipes, and interesting happenings.
---
Recipe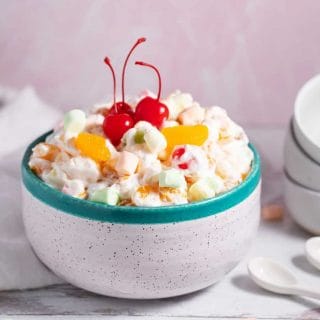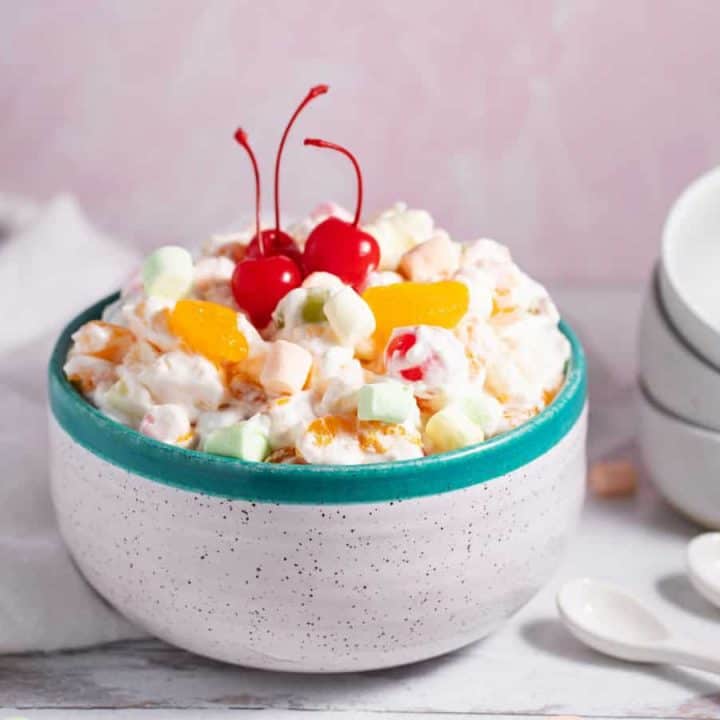 Easy Ambrosia Salad with Cool Whip
Effortlessly make the best ambrosia salad recipe with Cool Whip. This quick and easy dessert salad is perfect for potlucks, parties, and dinner tonight.
Ingredients
1

20 oz. can Dole pineapple tidbits, well-drained

1

15 oz. can of Dole Mandarin oranges, well-drained

1

cup

of green seedless grapes

washed and cut in half

1

16 oz. jar of Regal maraschino cherries, well-drained. Remove stems of all the cherries, except 2 or 3 reserved for garnish.

1 ½

cups

Jet-Puffed Fun-Mallows

½

cup

unsweetened coconut

shredded

⅓

cup

pecan tidbits

1

8 oz. tub of Cool Whip, thawed

½ to ¾

cup

sour cream
Instructions
OPEN and DRAIN the cans of fruit. Time permitting, drain the fruit in a strainer for 30 minutes.

WASH the grapes and cup them in half.

REMOVE the maraschino cherry stems and cut the cherries in half. (Reserve 2 or 3 cherries with stems for garnish.)

MEASURE out the sour cream and WHIP with a hand mixer until smooth. Use ½ cup for sweeter salad and use ¾ cup for less sweet salad.

FOLD the thawed Cool Whip into the sour cream. Gently mix in any flavoring extracts or powders, if using.

In a big bowl, STIR the pineapple, grapes, and cherries together.

MIX in the shredded coconut and nut tidbits.

STIR in the Cool Whip sauce until thoroughly combined.

ADD the marshmallows and mix until combined.

Finally, gently MIX in the mandarin oranges.

COVER and CHILL at least 2 hours and up to 24 hours before serving. This refrigeration blends the flavors, chills the fruit, and moistens the marshmallows.

SERVE cold, garnished with the reserved cherries with the stems.
Notes
All images and content are © TheTastyTip.com. If you want to use this recipe and techniques, please take your own photos, write your own description, and link back to this page. Thank you.
Nutrition
Calories:
114
kcal
Carbohydrates:
13
g
Protein:
1
g
Fat:
7
g
Saturated Fat:
4
g
Polyunsaturated Fat:
3
g
Cholesterol:
5
mg
Sodium:
9
mg
Fiber:
2
g
Sugar:
9
g
---
Did you make this recipe? Tag @thetastytip on Instagram and hashtag it #thetastytip.