Make quick & easy strawberry banana pudding recipe -- the best dessert for a crowd. Made with instant pudding, this recipe is simple to make.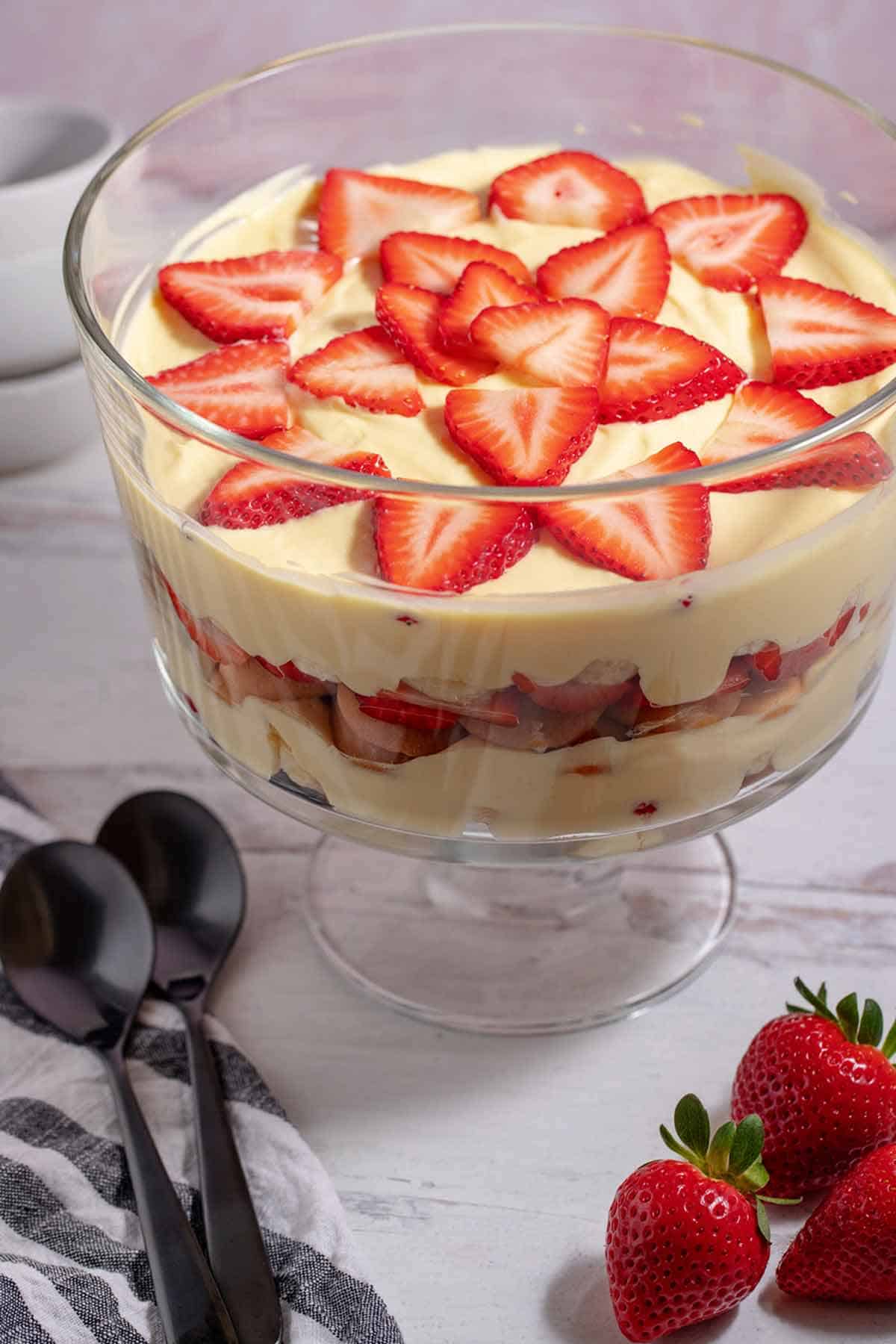 Ready to add a colorful twist to ordinary banana pudding? Then pull out those strawberries, roll up your sleeves, and get ready to make some magic.
Display this easy strawberry banana pudding recipe in a jar, a casserole bowl, or a trifle serving dish. Or check out tons of other cool ways to serve banana pudding.
Is it strawnana or banaberry pudding? Any way you scoop it, the dessert will be a hit.
Jump to:
Why You Will Love This Strawberry Banana Pudding Recipe
Strawberries make the dessert versatile. Change the strawberries, change the dessert. Switching up how you make the strawberries will give you 3 varieties of this classic recipe.

Sliced fresh strawberries (classic), strawberry crunch (throwback), and strawberry topping (modern).
Beautiful to display. Show off those layers of cookies, bananas, strawberries, and pudding. The dessert is gorgeous in a trifle bowl, glass jar, or another clear serving container.

Get ready for the oohs and ahhs of your guests. It will happen. Take a moment to bask in the praise.
Great dessert for a crowd (and to make early). Don't worry. I will tell you the essential tips so you can make the pudding the night before. Stop fretting about brown bananas and mushy cookies. You will learn how to avoid them.
Strawberry Banana Pudding Ingredients
Vanilla pudding. Whip up a box of instant vanilla pudding. It's easy and sets in about 5 minutes.

You can swap out the vanilla pudding with instant banana pudding mix or even strawberry pudding. But I don't recommend it.

Vanilla pudding is the best flavor to pair with layers of fresh strawberries and bananas.
Whipped cream or Cool Whip. It is easy to make whipped cream with heavy cream and a hand mixer with a wire whip attachment. Make it in under 5 minutes.

However, Cool Whip is ready-made and more convenient. Choose whichever whipped topping suits you.

You will mix the whipped cream into the vanilla pudding to make it light and fluffy.
Strawberries. The sweeter the strawberry, the better for layering. Slice fresh strawberries for the classic and throwback versions.
Bananas. Ripe bananas are sweet and pudding worthy. However, too-ripe bananas can be mushy in the pudding. Choose a banana you would eat as a snack, not the ones you would make banana bread with.

Bananas begin to brown right after they are cut. Do not slice them until you are ready to construct the pudding layers.

If you make the pudding the day before, check out these tips for success.

For example, browning is a problem for bananas. But if you sprinkle banana slices with lemon juice or Fruit Fresh, it helps prevent them from turning brown.
Cookies. There are many cookies you can use in creamy strawberry banana pudding. Vanilla wafers are the most common but definitely not the only choice.

Check out this article on the best cookies for banana pudding. You will find several cookie choices.
My top recommendations for a strawberry banana pudding are vanilla wafers or shortbread cookies.
Vanilla wafers. Nilla wafers are associated with banana pudding. They are cheap and crumble easily. They are the best choice when you serve the pudding within a couple of hours after making it.
Shortbread cookies. Shortbread cookies are hearty. If you are making a strawberry banana pudding recipe early, this is a great choice. They hold up well overnight under layers of pudding.
Directions
Before making your strawberry banana pudding recipe, decide how to display it. That will help you choose how to prep the strawberries.
Instant Vanilla Pudding Directions
Instant pudding is quicker to make than homemade pudding. Throw out the package directions and try these instead. Use two packages of pudding mix.
Dump the pudding mixes in a large bowl. Combine pudding mix with the cold milk.
Whisk for two minutes.
Set the bowl aside for 5 minutes while the pudding sets.
Carefully fold the whipped topping into the pudding mixture with a rubber spatula.
How to Assemble Classic Strawberry Banana Pudding (with sliced fresh fruit)
Prep Work
Slice the fresh strawberries.
Slice the bananas. Sprinkle them with lemon juice or citric acid (optional).
Assembly Instructions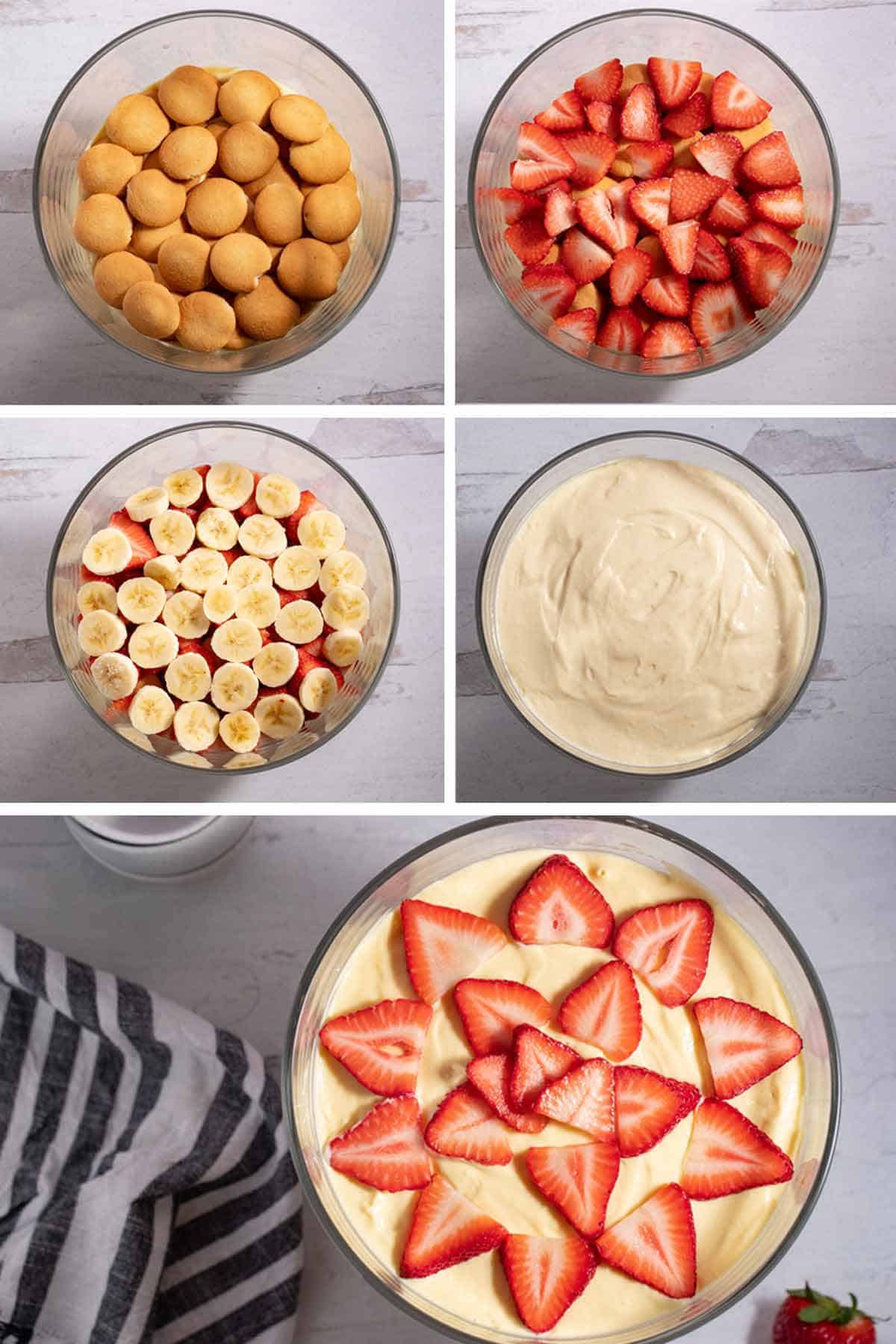 Place a layer of cookies at the bottom of a glass trifle dish.
Add a layer of bananas on top of the strawberries.
Layer half of strawberries on the cookies.
Spread a layer of vanilla pudding on top of the fruit.
Repeat the layers, starting with the cookies. Finish with vanilla pudding on top.
Crush the remaining cookies.
Garnish the top with fresh strawberries and a generous sprinkling of more crushed wafers.
Can You Make Strawberry Banana Pudding Ahead?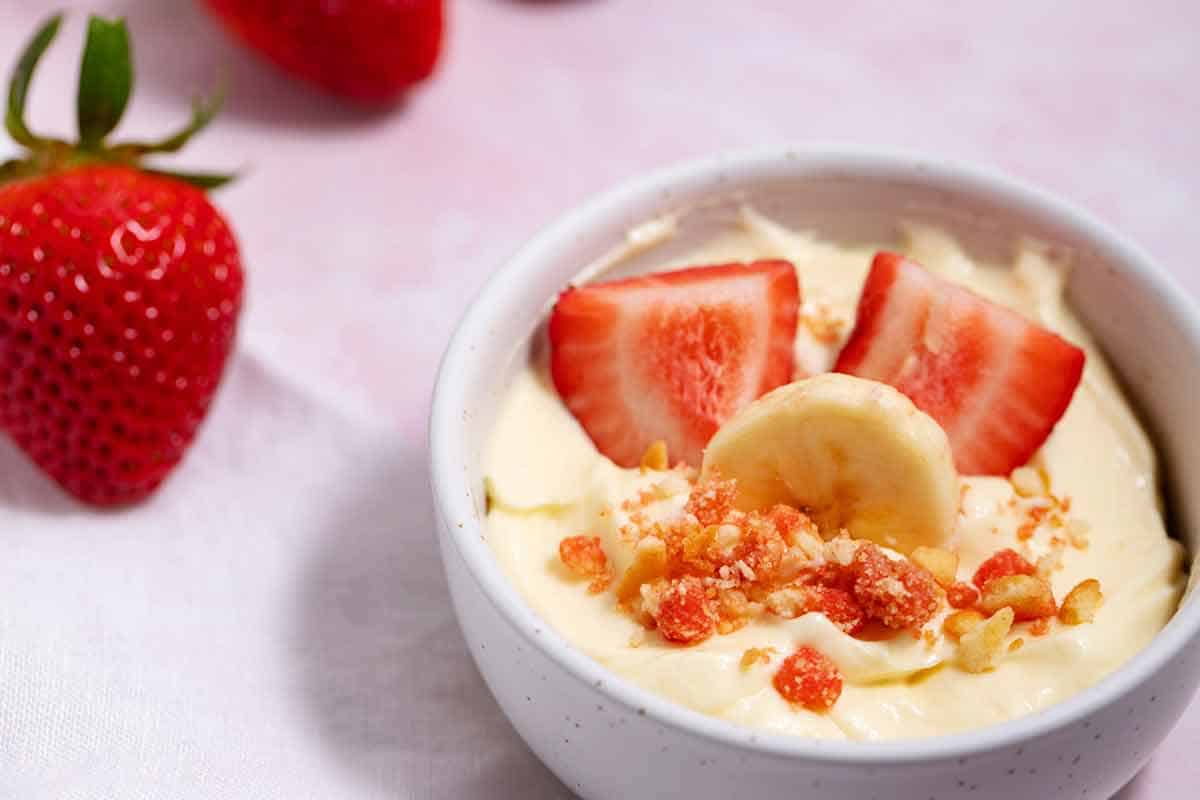 You can make strawberry banana pudding the day before, but for best results, no earlier.
Coat the bananas in lemon juice to prevent the banana slices from turning brown. Then when assembling, completely cover the banana pieces with pudding. These actions help eliminate browning.
How to Store Strawberry Banana Pudding
Store the strawberry banana pudding in an airtight container in the refrigerator.
How long will banana strawberry pudding last? The pudding is best for one or two days in the refrigerator. It will last up to three days. However, the bananas start browning, the cookies get mushy, and the pudding turns runny.
Can You Freeze Strawberry Banana Pudding?
Don't freeze pudding. The consistency will be awful when it thaws, even if the taste is fine.
If you are looking for a pudding you can freeze, try cream cheese banana pudding with Chessmen cookies. That freezes perfectly.
What to Serve with Strawberry Banana Pudding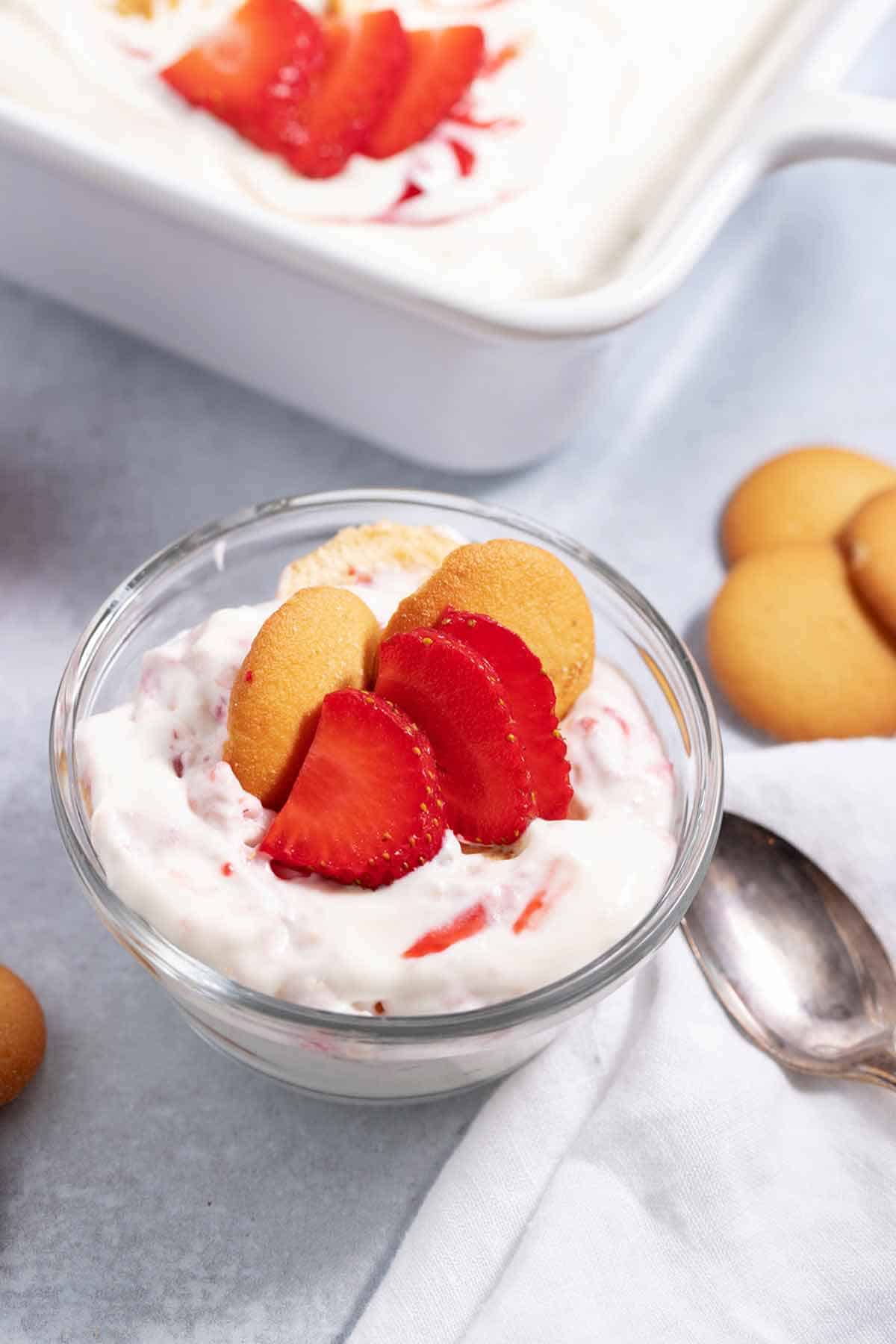 Strawberry banana pudding is a popular recipe to serve at a party.
Serve it during summer barbecues next to hamburgers and bratwursts. Pair it with burritos and tacos. Or bring it to holiday parties when you are eating ham or turkey.
Did you like this post? Then let's be social. FOLLOW ME on INSTAGRAM and PINTEREST to keep up with the latest happenings.
Recipe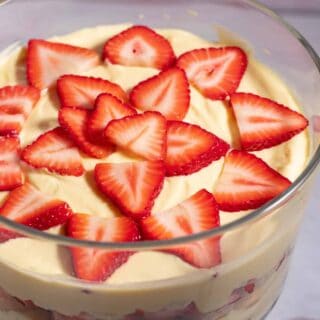 Strawberry Banana Pudding
This fantastic strawberry banana pudding recipe is the best dessert for a crowd. Layer cookies, bananas, strawberries, and pudding.
Ingredients
2

(3.4 ounces) of instant vanilla pudding

4

cups

of cold milk

8

ounces

of Cool Whip, thawed

3 to 4

medium bananas

firm, not too ripe

1

pound

of fresh strawberries

1

11 oz. package of vanilla wafers OR Keebler sandies shortbread cookies
Instructions
WHISK the milk with the pudding mixes for 2 minutes. Let it rest for 5 minutes until it thickens.

FOLD in the thawed Cool Whip.

WASH the strawberries. Cut off the stems and slice them.

PEEL and SLICE the bananas. Sprinkle with lemon juice or fruit-fresh to keep them from turning brown (optional).

PLACE a layer of cookies on the bottom of a container with an airtight lid. Reserve a few cookies to use as a garnish, if desired.

LAYER half banana slices on the cookies.

ADD ⅓ of the strawberry slices on top of the banana slices.

SPREAD a layer of vanilla pudding on top of the fruit.

REPEAT the layers, starting with the cookies. Finish with vanilla pudding on top.

GARNISH the top with the rest of the fresh strawberries or crushed wafers.

CHILL it in the refrigerator for about 2 hours.
Notes
All images and content are ©TheTastyTip.com. If you want to use this recipe and techniques, please take your own photos, write your own description, and link back to this page. Thank you.
Nutrition
Calories:
118
kcal
Carbohydrates:
19
g
Protein:
4
g
Fat:
4
g
Saturated Fat:
2
g
Polyunsaturated Fat:
0.3
g
Monounsaturated Fat:
1
g
Trans Fat:
0.001
g
Cholesterol:
13
mg
Sodium:
48
mg
Potassium:
306
mg
Fiber:
2
g
Sugar:
13
g
Vitamin A:
188
IU
Vitamin C:
25
mg
Calcium:
128
mg
Iron:
0.2
mg
---
Did you make this recipe? Tag @thetastytip on Instagram and hashtag it #thetastytip.
---
Craving More Dessert Recipes?
Try some of our family's favorite recipes and make them your favorites too.
Snickerdoodle cookies without cream of tartar. These cookies will make you drool. Called "the best snickerdoodles I've ever tasted" by more fans than I can count.
No-bake cherry pie: Make a cherry pie with canned filling, a cream cheese filling, and graham cracker crust.
Ambrosia salad. Fruit salads are perfect for potlucks. Ambrosia is a canned fruit mixture with a creamy dressing. Bring it and watch that dessert salad disappear.
Hershey chocolate chip cookies. Need a trusty chocolate chip cookie recipe? Rely on Hershey chocolate chips in these cookies, and everyone will beg you to make just one more batch.