Do you want to make the BEST Snickerdoodle cookies? Learn the 7 techniques that will take your Snickerdoodles from good to absolutely AMAZING! Thick, soft and chewy, and slightly tangy with a crinkly top, the cookies taste of cinnamon and sugar sweetness.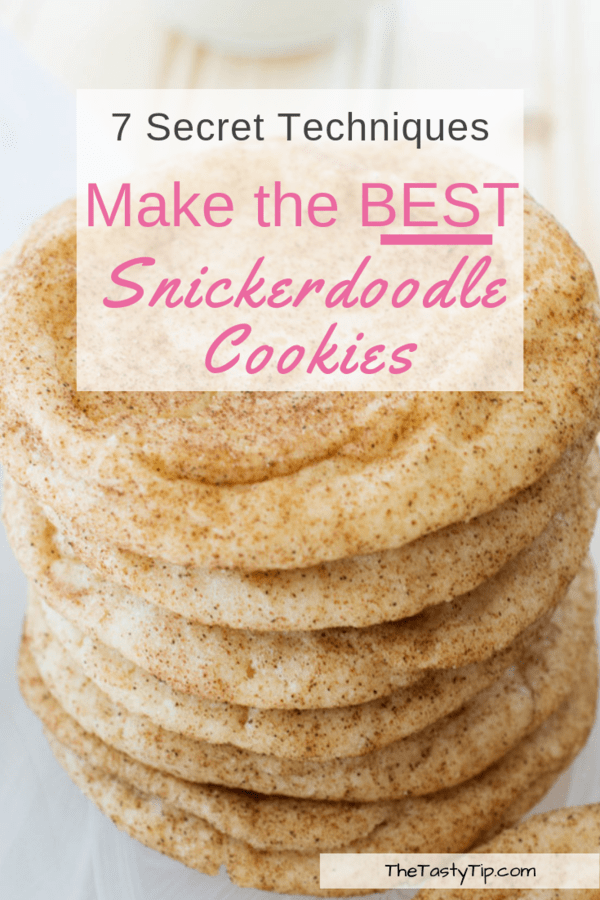 I have a history with Snickerdoodle cookies. And it hasn't always been a good history.
When I was a teenager, somehow — I still don't know how — I was assigned to make the dessert for a welcome home party for my uncle. He had been away for two years and we were expecting a large crowd at his party. My assignment: make an easy, cheap dessert to feed a couple hundred people.
The dessert choice? You guessed it – Snickerdoodle cookies. I had baked Snickerdoodles on occasion and with that qualification, I was nominated for the job.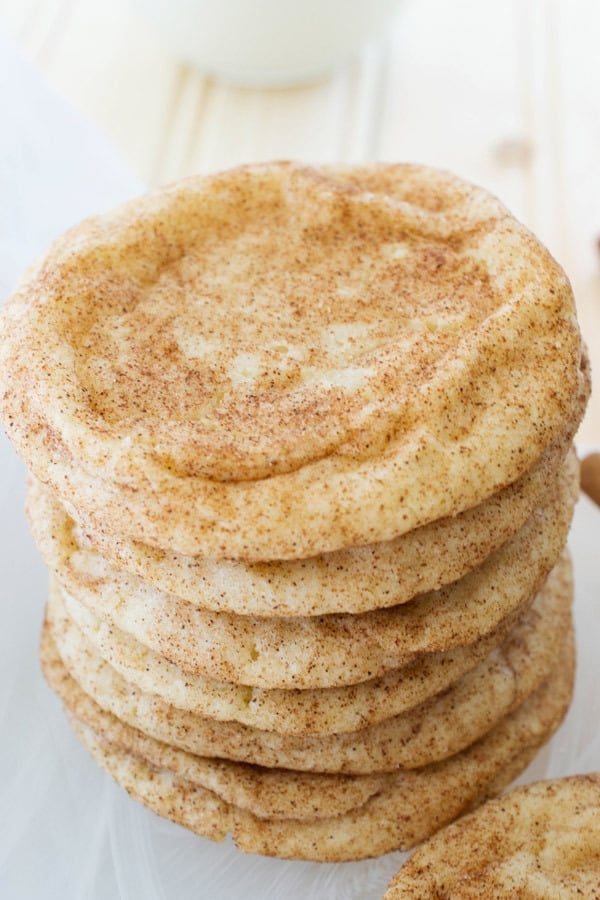 I was charged with making about 500 cookies – in our little kitchen – with our little oven – using our one and only cookie sheet.
It took about two days being up to my elbows in sugar, cinnamon and flour – rolling and rolling and rolling those cookie dough balls.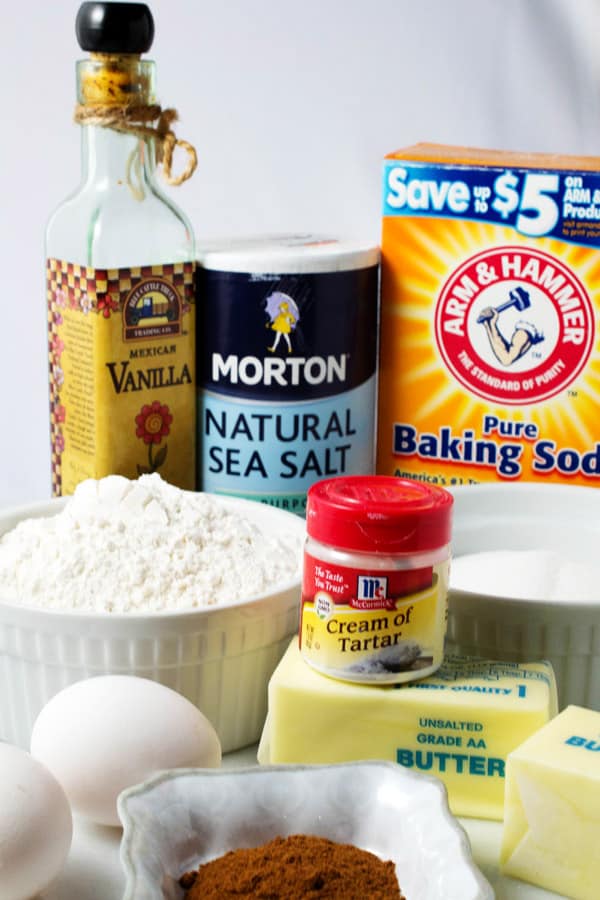 Every once in a while, my mom wandered into the kitchen to check on me. I would emerge from a cloud of flour and cinnamon to gasp, "More sugar. I need more sugar."
So my mom rushed off to buy more sugar. And I would keep baking until the next time she walked by and I would pant, "Flour. I'm out of flour." And so the pattern continued.
Finally, I had baked all I could bake. We loaded up the cookies and headed over to Grandma's house smelling of cinnamon and sugar.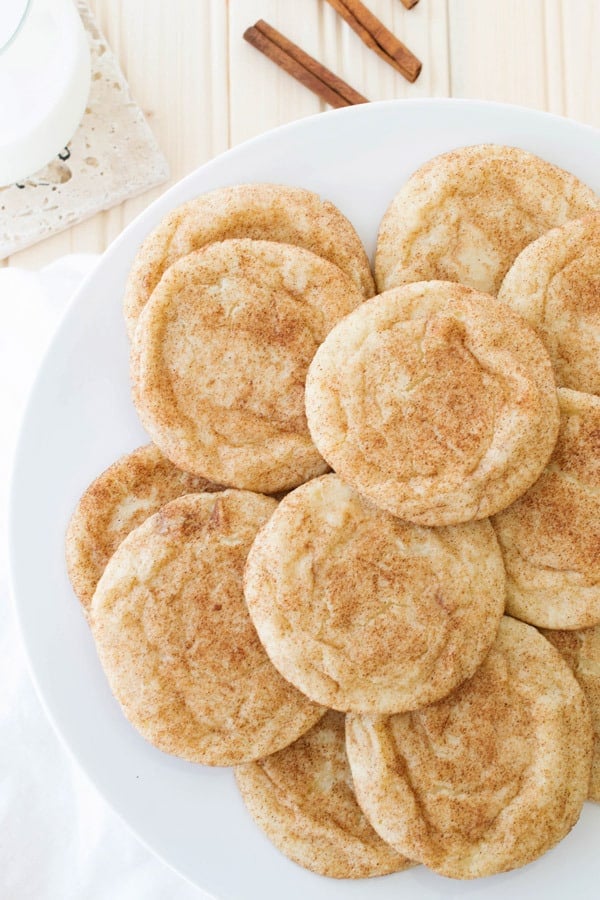 At the party, I avoided the Snickerdoodles, feeling slightly sick with the smell clinging to my clothes and hair.
After that night, I avoided Snickerdoodle cookies for over 10 years.
The Road Back to Snickerdoodles + Discovering Techniques
When I had young children, life changed. Snickerdoodle cookies are the perfect cookie for little ones to "help" make. They get to play with the dough and roll the cookie ball in sugar and cinnamon. Nothing beats that.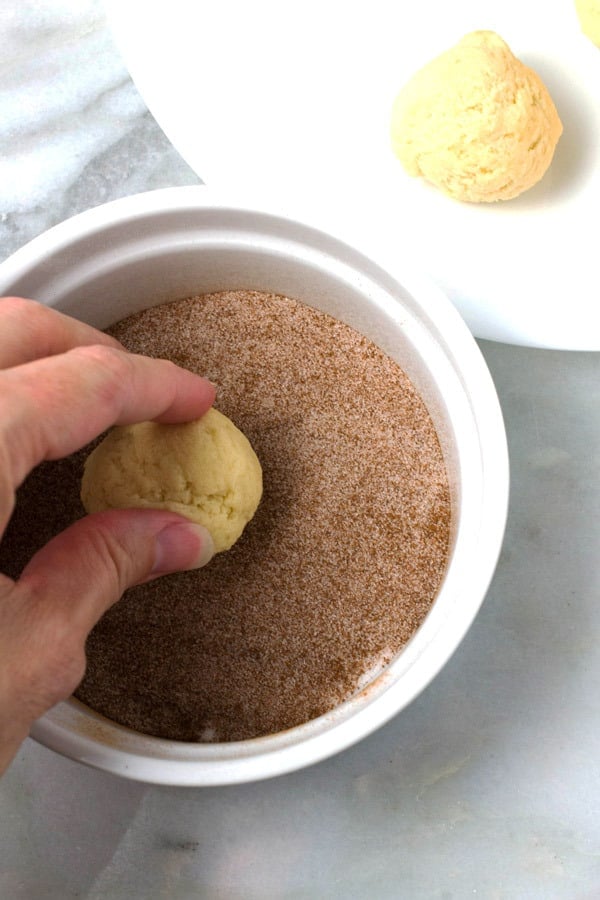 So I put aside my Snickerdoodle phobia and got out the sugar and cinnamon. My young daughter and I baked Snickerdoodles together and had a blast. When the cookies were ready, we ate a couple and then froze the rest.
A few days later, we pulled them out of the freezer. When they reached room temperature, I ate a cookie. To my surprise, they tasted even better after being frozen and then thawed.
I had discovered my first secret technique to making the best cookies. I learned that how I made the cookies (the technique) affected how the cookie tasted.
Over the years I discovered even more techniques that affected how my Snickerdoodles taste.
Secret Techniques to make the BEST Snickerdoodle Cookie
My Snickerdoodle cookie techniques are simple, but they make a noticeable difference in the cookie taste. I recommend following ALL of the techniques. However, you will notice a difference in your cookies, even if you try only a few of the techniques.
The most important tips to follow are techniques #2 and #6.
Technique #1: Sift the Flour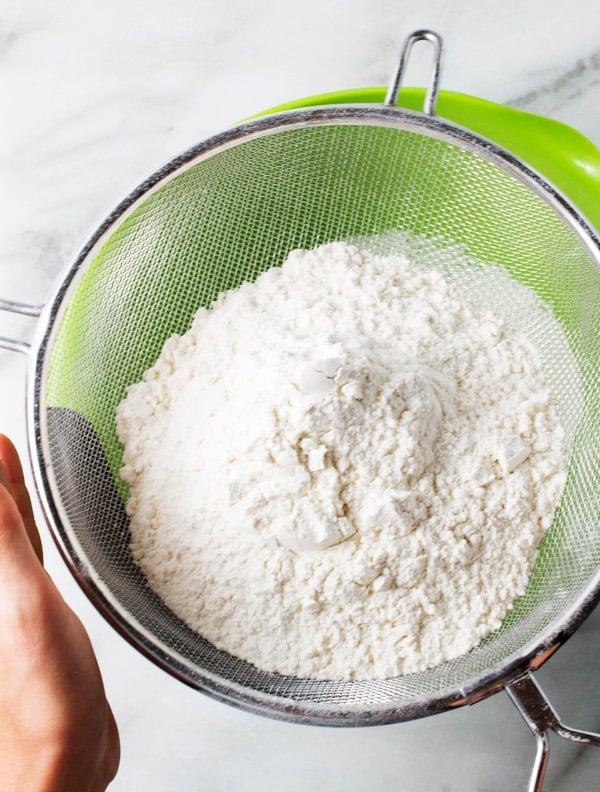 Measure out at least one more cup of flour than you will use. Sift it with a strainer or other sifter at least 3 times. I usually sift the flour at least 6 times. More sifting works better.
Pull out two large bowls and sift the flour back and forth between them. This only takes about 3 minutes, but it makes a huge difference in the softness and fluffiness of the cookie.
Technique #2: Weigh Ingredients (Don't Measure Them)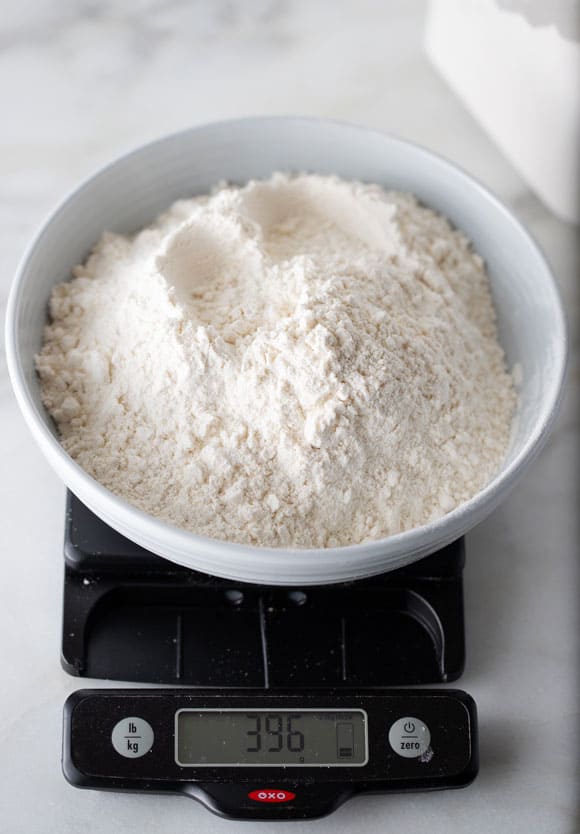 To get consistent results, always weigh your ingredients (especially flour) instead of measuring them. Rather than measuring them by volume with a measuring cup, use a kitchen digital scale.
For more information, read my post on how to eliminate baking disasters with a simple kitchen scale.
People scoop and measure flour differently. This means that one person's cup of flour and another person's cup of flour is probably a different amount. A digital scale solves the problem and gives you consistent results.
Snickerdoodle dough should be tacky, but not so sticky that it sticks to your hands.
On the other hand, the dough should not be so dry you have to press the crumbs together to get them to stay in a ball.
Adding too much flour is one of the common problems with cookies, causing them to be dry and not spread when they bake.
Solve this problem before it becomes a problem by weighing your ingredients.
Technique #3: Don't Skip the Cream of Tartar
Although you can make Snickerdoodles without cream of tartar, I don't advise it if you want the distinctive Snickerdoodle taste. The cookie won't be what I consider a true Snickerdoodle with a subtle tang, crinkly top, and soft middle.
The combination of cream of tartar and baking soda form carbon dioxide which makes the cookie rise and then fall. You are left with a tangy sweet cookie with a Snickerdoodle craggy top.
Technique #4: Use the Right Ratio of Cinnamon to Sugar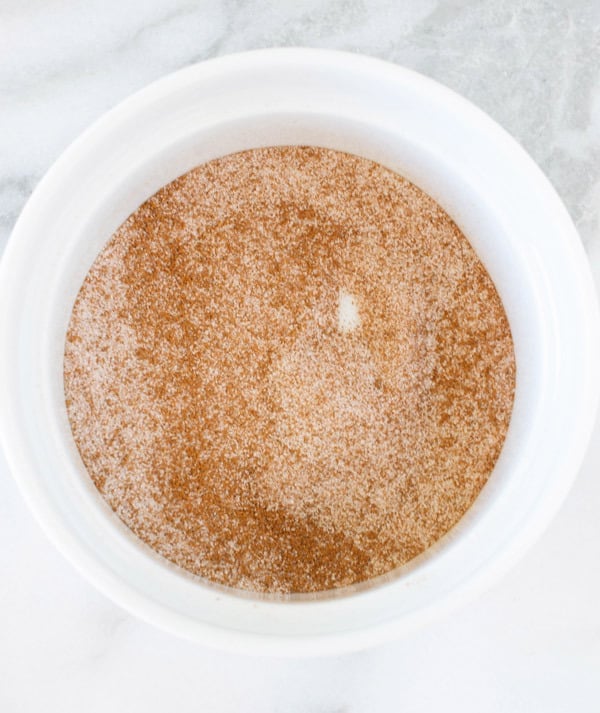 A Snickerdoodle cookie should taste like cinnamon and sugar. But don't add cinnamon to the cookie batter. The cookie only gets the cinnamon flavor when the cookie dough ball is rolled in the cinnamon sugar mixture.
If you want to taste cinnamon, make sure your cinnamon sugar mixture has enough cinnamon so you can taste it in the final cookie.
I like to use a 1:3 cinnamon sugar ratio. This comes out to 1 teaspoon of cinnamon to every 1 tablespoon (3 teaspoons = 1 tablespoon) sugar.
Technique #5: Use a Silicone Baking Mat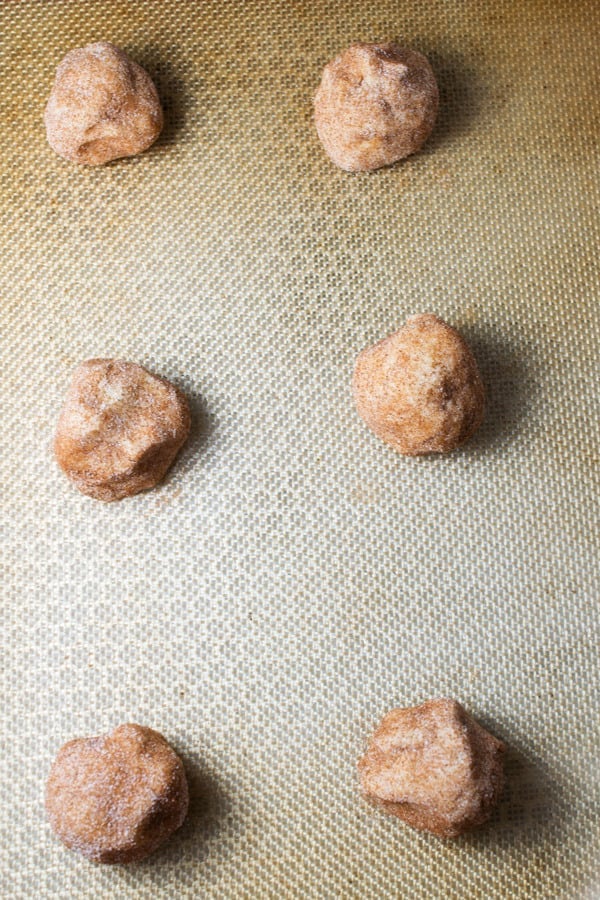 One of the biggest advantages to using a silicone baking mat is that the Snickerdoodle cookies don't stick to the mat, even when they cool on the mat for several minutes.
If you use a regular cookie sheet, you must transfer the cookie to the cooling rack before 3 minutes have passed. If it cools longer than about 3 minutes on the cookie sheet, you risk the cookie sticking to the pan and breaking when you remove it.
In addition, a good quality metal sheet pan cooks faster. If you do use a metal pan, bake the cookies at 350° Fahrenheit and keep a close eye on them.
Technique #6: Bake Cookies Just Until the Edges are Barely Set (The center won't look quite done.)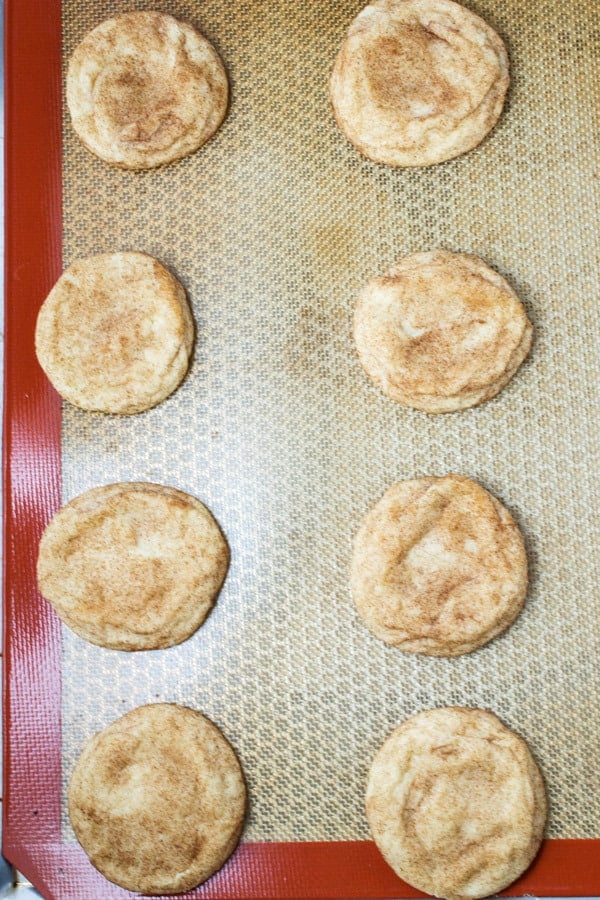 Minimal baking time makes Snickerdoodles thick and chewy.
Before you make the Snickerdoodles, be sure to calibrate your oven and adjust your oven temperature as needed.
Read my post on calibrating your oven. It is easy to do and you will get better baking results from doing it.
Preheat your oven. When your oven is ready, place the cookie sheet of Snickerdoodle balls in the oven and set the timer. Remove the cookies when the cookies have spread to about a 3 inch diameter (if using a tablespoon size cookie scoop) and the edges are barely done.
Remove the cookie sheet from the oven and allow the cookies to sit for 5 minutes. The cookie centers will continue to bake with residual heat.
After 5 minutes, transfer the cookies to a cooling rack to finish cooling.
Please note: If you use a regular cookie sheet, cool the cookies for only two minutes before transferring them to a cooling rack. The cookies will stick to the baking sheet if you let them cool much longer than two minutes. This can lead to a broken cookie and a harder time cleaning the cookie sheet.
When the cookies come out of the oven, they will be slightly puffy. However, after a few minutes of cooling, they will deflate and get the crinkly appearance of Snickerdoodles.
Technique #7: Freeze, Thaw, and Then Eat
I admit, the success of this last technique depends on your willpower. I am most successful when I am making Snickerdoodles for an event in the future, such as a work party. But I do admit to eating some cookies before following this last step.
First allow the cookies to cool completely.
Next, stack the cookies in groups of 4 or 5.
Double wrap the stacks of cookies with plastic wrap. Be sure that none of the cookie is exposed.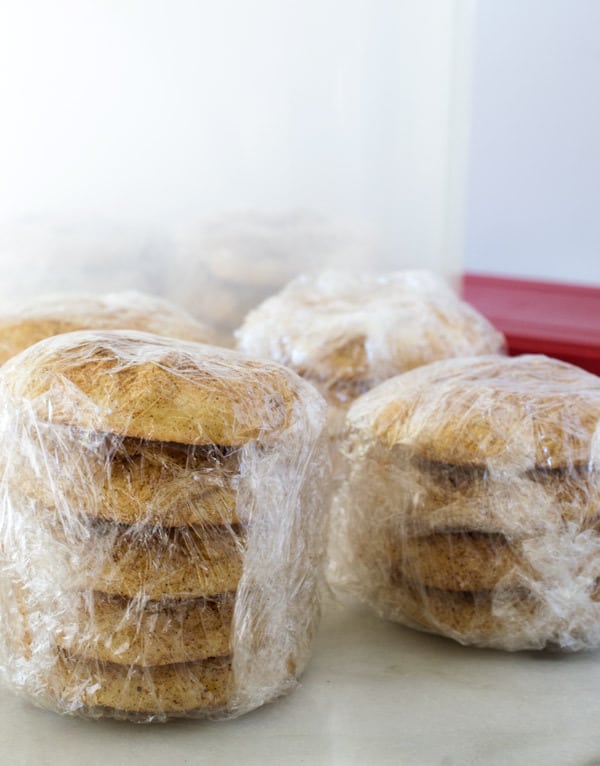 Place the plastic wrapped cookies in an airtight container. Place the container in the freezer. Freeze 24 hours for best results. But, even freezing them for 2 hours makes a difference in the cookie taste and texture.
One hour before serving, remove the container from the freezer and allow the cookies to thaw and return to room temperature.
Remove the plastic wrap and place the cookies on a serving tray.
Maybe someday I will understand the science of why a freeze and thaw make a cookie taste so good. But for right now, I will use this technique because it works so well.
Final Thoughts on Snickerdoodles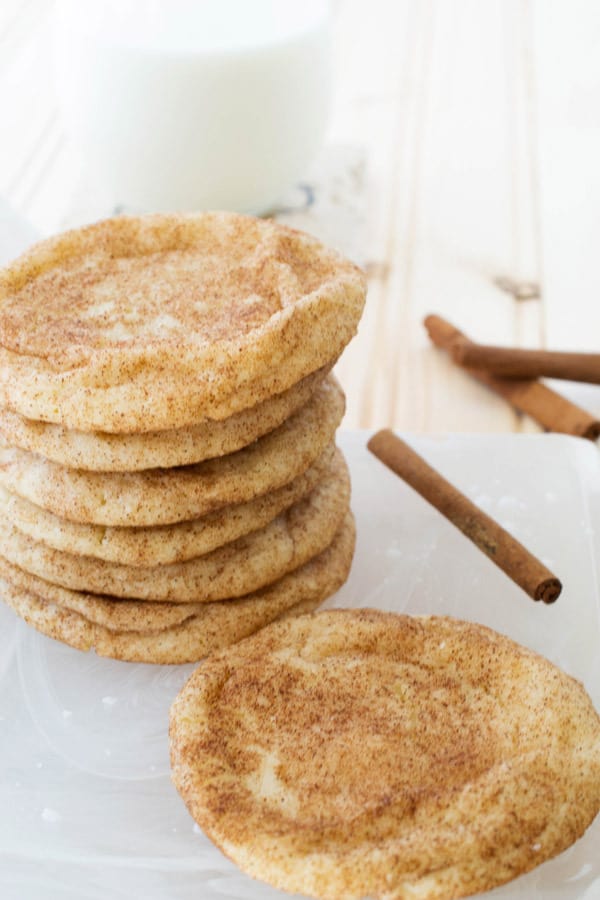 Snickerdoodles are my daughter's favorite cookie, along with mint chocolate chip cookies. And luckily, I have gotten over my bad teenage experience with them.
I serve them often now – for birthdays, Christmas, or potluck parties. And always, the compliments flow.
---
Did you like this post? Then let's be social. FOLLOW ME on PINTEREST and INSTAGRAM to keep up with the latest tutorials, favorite recipes and interesting happenings.
---
Yield: 18 cookies
World's BEST Snickerdoodle Cookies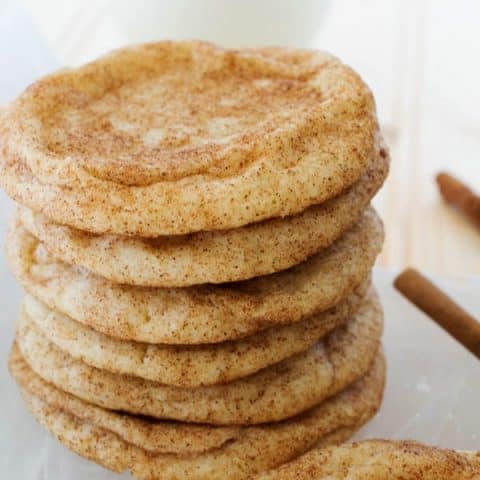 Learn to make the BEST Snickerdoodle cookies with 7 secret techniques. Your Snickerdoodles will be complimented every time.
Ingredients
396 grams (3 cups + 1 tablespoon) flour, all-purpose
4 grams (1 teaspoon) of cream of tartar
2 grams (½ teaspoon) of baking soda
3 grams (½ teaspoon) of table salt
227 grams (1 cup) unsalted butter, slightly softened, about 65° Fahrenheit
330 grams (1⅔ cup) white, granulated sugar
2 eggs, cold, straight from the refrigerator
5 grams (1 teaspoon) of vanilla extract
38 grams (3 tablespoons) white, granulated sugar
8 grams (3 teaspoons) cinnamon
Instructions
PREHEAT oven to 400° Fahrenheit.
SIFT several cups of flour back and forth between 2 large bowls 3 to 4 times.
WEIGH 396 grams of flour on a digital kitchen scale and place it in a bowl. (If no scale use 2 ¾ cups flour.)
WHISK the cream of tartar, baking soda, and salt into the flour.
In a separate bowl, CREAM 330 grams (1⅔ cup) sugar and butter together with an electric mixer on high for 1 ½ to 3 minutes, or until the texture progresses from sandy to creamy. Please note: The butter should be about 65° Fahrenheit. Colder butter could prevent cookie from spreading enough as it cooks. Warmer butter will cause the cookie to spread too much when baking and may create a more crispy cookie. If the butter gets too warm, refrigerate for a few minutes before creaming it.
BLEND the vanilla and eggs (one at a time) into the creamed sugar and mix on medium speed for 30 seconds. Please note: Take the eggs straight from the refrigerator before blending. They should be cold.
MIX the flour mixture into the wet ingredients. Use an electric mixer on low and mix until the flour is incorporated.
In a small, shallow bowl STIR the cinnamon with 38 grams (3 tablespoons) sugar until well blended.
SCOOP the cookie dough with a 2 tablespoon muffin scoop.
ROLL the cookie dough ball in the cinnamon sugar mixture until it is completely coated.
PLACE the cookie dough ball on a silicone baking sheet (best option) or a regular cookie sheet.
REPEAT rolling the cookie dough balls and place them all on the baking sheet about 3 inches apart.
BAKE for 8 to 10 minutes. Rotate the cookie sheet in the oven at the 6-minute mark so the cookies will bake evenly. Then bake an additional 1 to 2 minutes, or until the edges are set, but middle does not look completely done. Use your judgement here. The cookie should not be doughy. Cook until the cookies look almost done.
REMOVE the baking sheet from the oven and cool for 5 minutes.
TRANSFER the cookies to a cooling rack and allow to cool completely, about 45 minutes.
To Freeze:
COOL the cookies completely.
STACK the cookies 4 or 5 cookies high.
DOUBLE WRAP the stacked cookies with plastic wrap, ensuring that the cookie is completely covered.
PLACE the wrapped cookies in an airtight container.
FREEZE the cookies at least 24 hours.
REMOVE the cookies from the freezer at least an hour before eating them.
BRING the cookies to room temperature.
UNWRAP the cookies and place on a serving plate.
EAT AND ENJOY!
Notes
All images and content are © TheTastyTip.com. If you want to use this recipe and techniques, please take your own photos, write your own description, and link back to this page. Thank you.
Nutrition Information
Yield
18
Serving Size
1 cookie
Amount Per Serving
Calories

128
Total Fat

10g
Saturated Fat

3g
Trans Fat

0g
Unsaturated Fat

2g
Cholesterol

24mg
Sodium

52mg
Carbohydrates

3g
Fiber

0g
Sugar

1g
Protein

1g
Nutrition information is an estimate only and may vary based on individual ingredients added and cooking methods used.
---
Did you make this recipe? Tag @thetastytip on Instagram and hashtag it #thetastytip.
---
Try our famous pumpkin snickerdoodles, a twist on the classic cookie. The pumpkin puree and brown sugar make a slightly darker cookie. Roll them in sugar, cinnamon, cloves, nutmeg, and ginger.