If you love snickerdoodle cookies and pumpkin, you are in for a nice fall treat. Try pumpkin snickerdoodles for a twist on the soft and chewy, slightly tangy, classic cinnamon sugar cookie.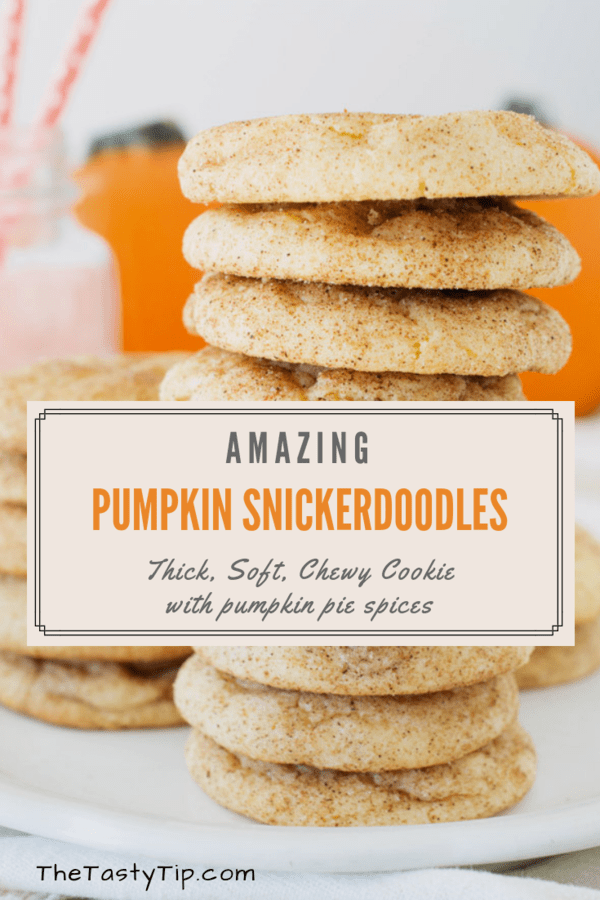 I didn't start on the right foot with snickerdoodle cookies. As a teen, after making 300+ cookies in a little kitchen all by myself, I was done with snickerdoodles. It took me over a decade to give them a try again.
When I finally braved them again, I discovered some valuable techniques to make them thick, soft, and chewy. They became unbelievably popular with everyone.
They were so good, I hesitated to mess with them. I had a cookie that really worked. However, with fresh pumpkins everywhere, I just had to make some new pumpkin recipes.
I love pumpkin and my snickerdoodle recipe is AWESOME, so I married the two to see what I could come up with.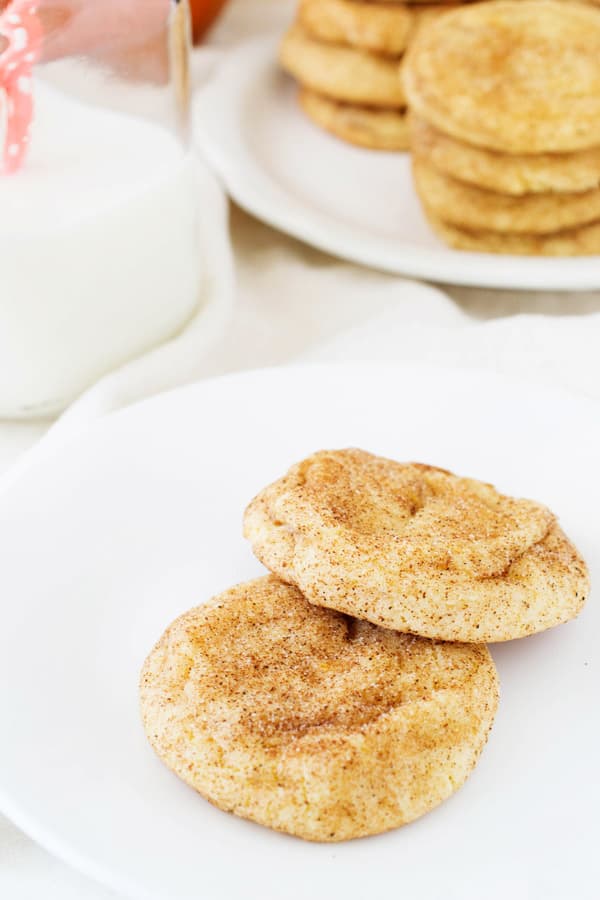 Pumpkin snickerdoodle cookies combine the sweet tangy taste of classic snickerdoodles with pumpkin puree. Roll the cookie dough ball in pumpkin pie spices, bake, and you have a tasty and unique pumpkin dessert.
You only need a couple of tablespoons of pumpkin puree to make the cookie, so they are a wonderful recipe when you need to know what to do with leftover pumpkin puree.
You may also be interested in a comparison showdown between snickerdoodles and sugar cookies.
The Best Pumpkins to Use for Pumpkin Snickerdoodles
To keep the cookie soft and chewy, but add an autumn flair, I needed a hint of pumpkin.
If you don't have the time or desire to make your own pumpkin puree, just open a can of your favorite canned pumpkin.
However, if you are up for the adventure, sugar or pie pumpkins are the best pumpkins to use to make a puree for this cookie.
After I learned how to make pumpkin puree, I prefer it over canned puree. Pressure cook the pumpkin if you make puree. It is the quickest method to get the smoothest results. I like to use the Fagor Lux™ Multi-Cooker. Read my Fagor pressure cooker review to find out why.
You can also roast the pumpkin, but the puree doesn't end up as smooth as it does when you pressure cook it.
There are many reasons to cook a fresh pumpkin, instead of opening a can. However, if you don't have time to make your own pumpkin puree, good quality canned puree works just as well.
I have a recipe for snickerdoodles without cream of tartar (using baking powder instead), but this pumpkin snickerdoodle recipe uses cream of tartar and baking soda to create the quick rise and fall and tangy aftertaste.
Pumpkin Snickerdoodle Cookies for Fall Parties
My husband had a fall party at work. He asked me to make some chicken chili and I agreed, but I was thinking about the pumpkin puree I had in the refrigerator.
A month earlier, he brought in a batch of the best snickerdoodle cookies to work for his birthday and they were a hit. I wanted to try pumpkin snickerdoodles to see if they were as popular. There is few things I like more than being praised for a delicious recipe I've made.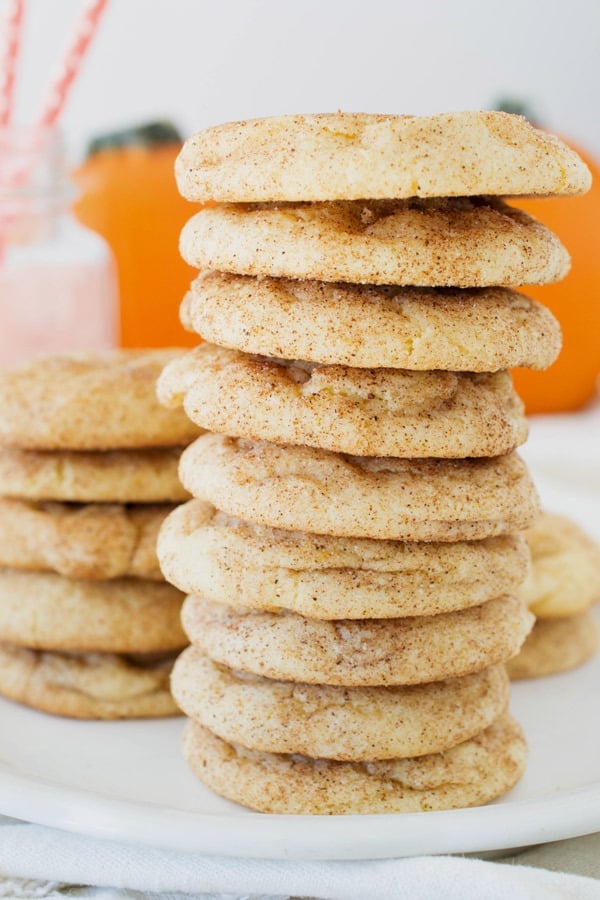 After the party, he reported that they were a hit. And my son was very disappointed there were none leftover at the end of the day.
RELATED: Read up on the differences between snickerdoodles and gingersnaps. And find out which of the two is most popular.
Pumpkin Snickerdoodles vs Classic Snickerdoodles
What is the Same?
Sift the flour before measuring.
Weigh ingredients (especially flour) instead of using a measuring cup.
Use baking soda and cream of tartar to make the cookie rise and fall to get that crinkly look.
Use a silicone baking mat.
Bake the cookies until the edges are barely set.
What is Different?
Use less butter and add pumpkin puree.
Roll the cookies in a homemade pumpkin pie spice mixture.
Bake pumpkin snickerdoodles for about a minute or so longer than regular snickerdoodle cookies.
As you can see, there are more similarities than differences between classic snickerdoodles and pumpkin snickerdoodle cookies.
Both cookies are easy to make, easy to freeze, easy to bring to holiday parties, and very VERY easy to eat. Beware. They will disappear, especially if you have a little boy who loves his sweets. We have one of those at our house.
How to Make Pumpkin Snickerdoodles
#1 Sift the flour.
Always, always sift the flour before weighing it. I use a simple strainer to sift from one large bowl to another. I recommend sifting at least 4 times. I usually sift 6 times.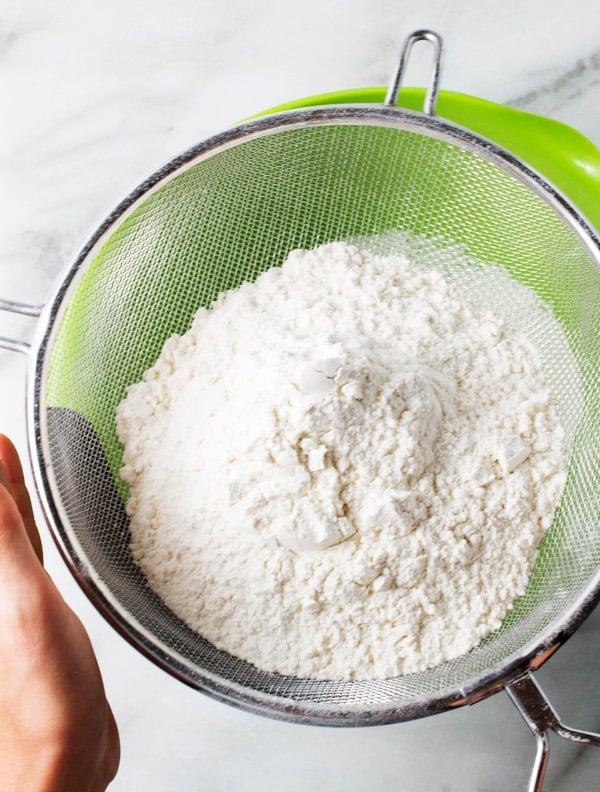 #2 Weigh ingredients.
For consistent results, it is important to weigh your ingredients, especially flour.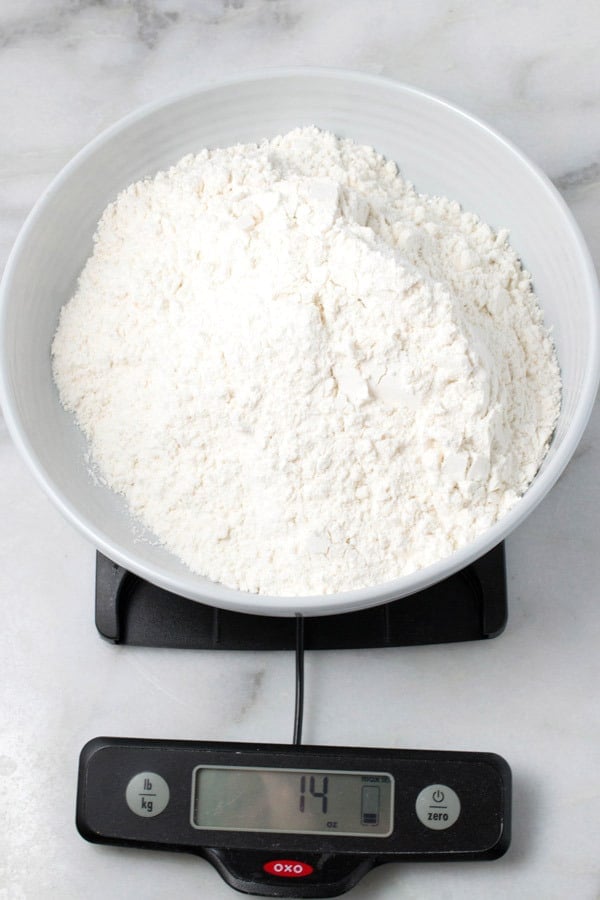 We all scoop and measure flour with a measuring cup differently. This means that the amount of flour you scoop in your measuring cup is probably different than the amount I scoop in my measuring cup.
So please use a digital scale. They are relatively inexpensive and it will make a world of difference in the consistency of your baking.
Read more information in my post on how to eliminate baking disasters with a kitchen scale.
If you don't have a digital scale and must use a measuring cup, I recommend:
After sifting, lightly spoon the flour into the measuring cup until it overflows.
Shake the measuring cup to even out the flour and shake the excess off.
Be mindful of your dough. Be prepared to add a little more flour if your dough is too sticky.
#3 Use cream of tartar and baking soda.
The best snickerdoodle cookie recipes have that unique tang, crinkly top, and soft middle due to the combination of cream of tartar and baking soda.
Although you can make snickerdoodles without cream of tartar, using baking powder instead, the cookie will not have that tangy aftertaste.
My favorite snickerdoodle cookie recipe uses cream of tartar and baking soda. I also use cream of tartar with pumpkin snickerdoodle cookies.
Cream of tartar (an acid) combines with baking soda (an alkali) to create carbon dioxide. Together, they become the leavening agent in the cookie. The cookie quickly rises and then falls and then cracks form in the cookie.
You will detect a slight tangy aftertaste in the cookie.
#4 Mix cinnamon and pumpkin pie spices with sugar.
Mix cinnamon, cloves, nutmeg, and sugar together for a homemade pumpkin pie spice, perfect for pumpkin snickerdoodles.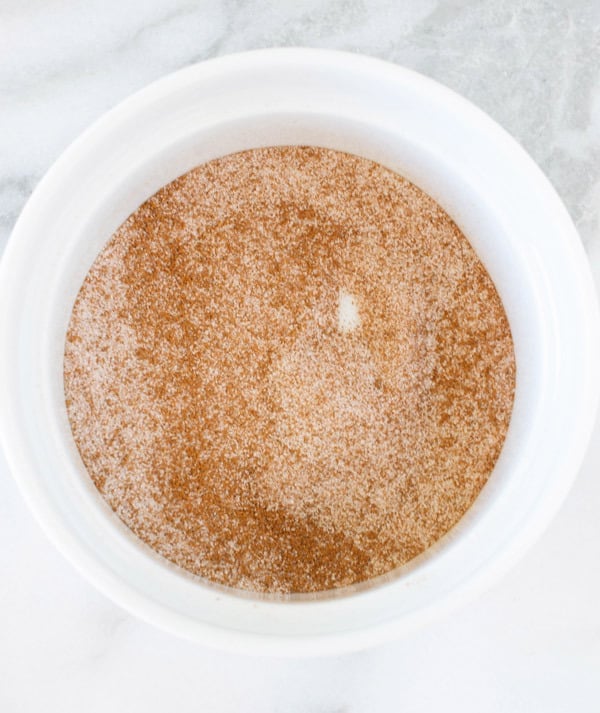 I use a ratio of 1:3 cinnamon spice mixture to sugar. This comes out to 1 teaspoon of the cinnamon, clove, nutmeg mixture to 1 tablespoon sugar (3 teaspoons = 1 tablespoon) sugar.
#5 Use a silicone baking mat.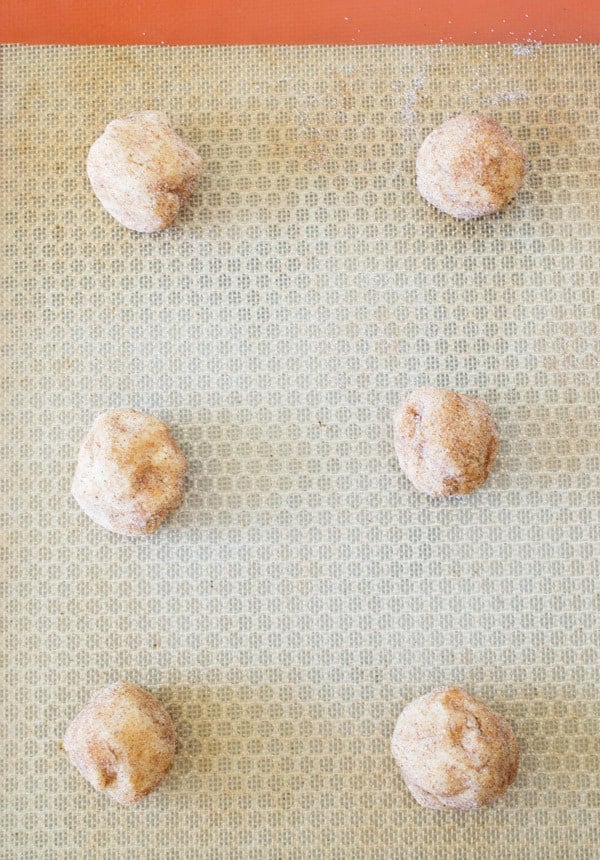 Snickerdoodle cookies are notorious for sticking to the baking sheet if they are not removed after two short minutes. When you use a silicone baking mat, the pumpkin snickerdoodle cookies won't stick to the mat, even if they are left on the mat until they are completely cool.
If you don't have a silicone baking mat, you must transfer the cookies to a cooling rack before 3 minutes have passed. And 2 minutes on the cookie sheet is even better.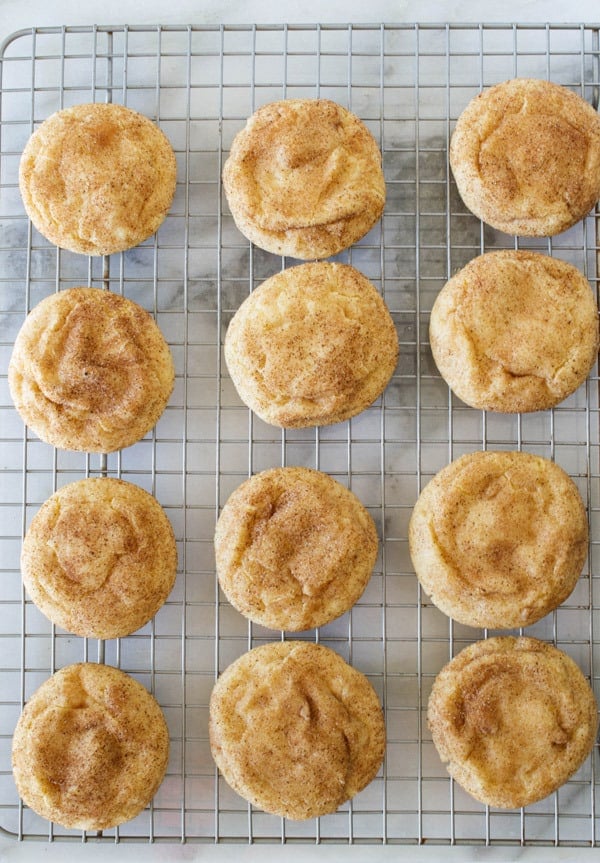 If you cool them too long on the cookie sheet, they will stick -- guaranteed. You may even end up breaking the cookie when you try to remove it.
Step 6: Bake the cookies until the edges are just set.
Pumpkin snickerdoodle cookies should be soft in the middle and slightly chewy on the outside. To achieve the pillowy soft middle, don't overcook them.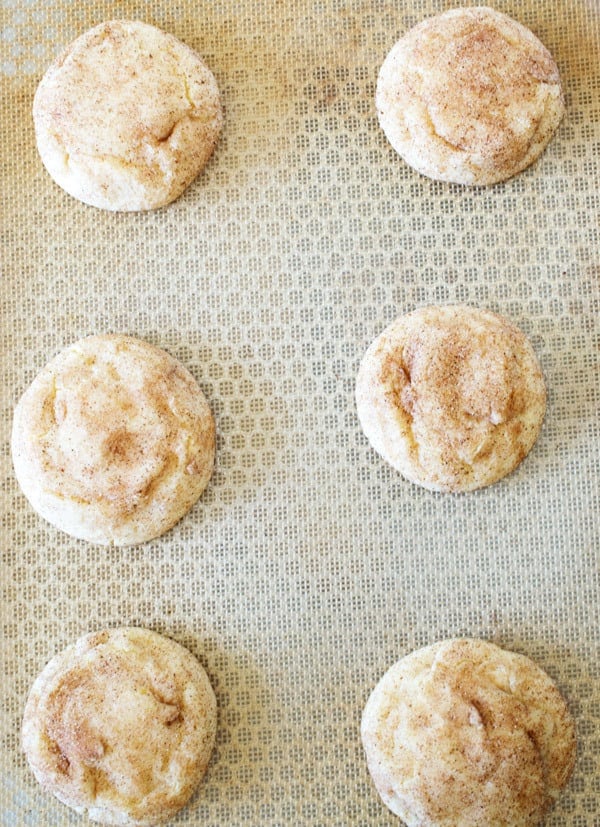 When the edges just begin to set, the middle will not look baked. However, when you remove them from the oven and let them rest on the silicone mat for at least 5 minutes, the cookie continues to bake with residual heat.
The heat from the cookie and the baking mat, rather than the heat from the oven, finishes cooking the cookie. The result is a soft chewy center.
But use your best judgment before pulling the cookies out of the oven. The cookies should not look doughy. The middle will be softer than the edges, but it shouldn't be doughy when you pull it out.
If your batch of cookies need to bake a minute or two longer, that's just fine. Give them the time they need. Not all ovens bake the same.
I highly recommend you calibrate your oven, so you know its true temperature. I have a post on how to calibrate your oven. It is easy to do. After you do, you will find your baking becomes more consistent and reliable.
Step 7: Freeze, then Thaw, and Finally Eat.
I accidentally discovered this technique years ago. I don't know why cookies taste better after they have been frozen and then thawed. But they really do.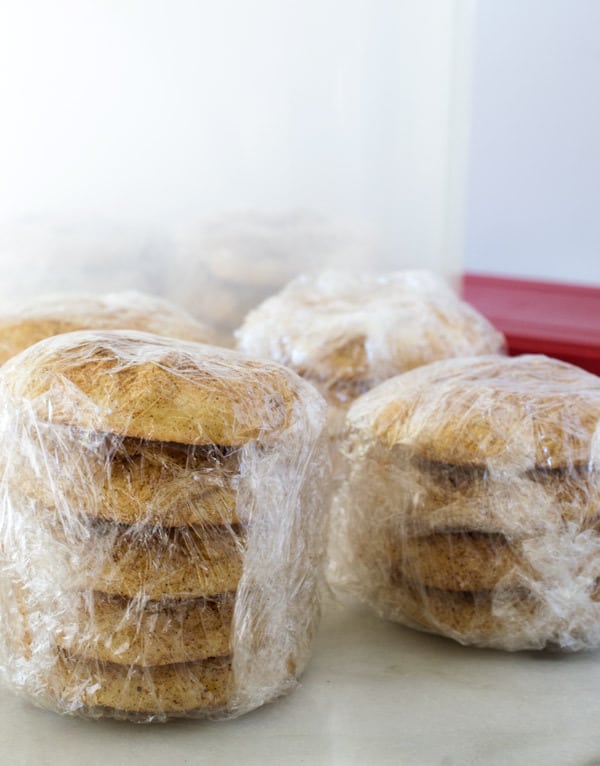 If you have the patience, try it to see if you notice a difference in the taste of the cookie.
This method works best when I am making cookies in advance for an event or potluck.
This technique is also successful if you don't want to eat too many cookies at once. Freeze them so they are out of the way and out of sight.
Then slowly over the next weeks, pull out one or two at a time (or more if you have a family to share with) and enjoy them at room temperature.
RELATED: Try these two-bite snickerdoodles. They will satisfy all your mini cravings.
Final thoughts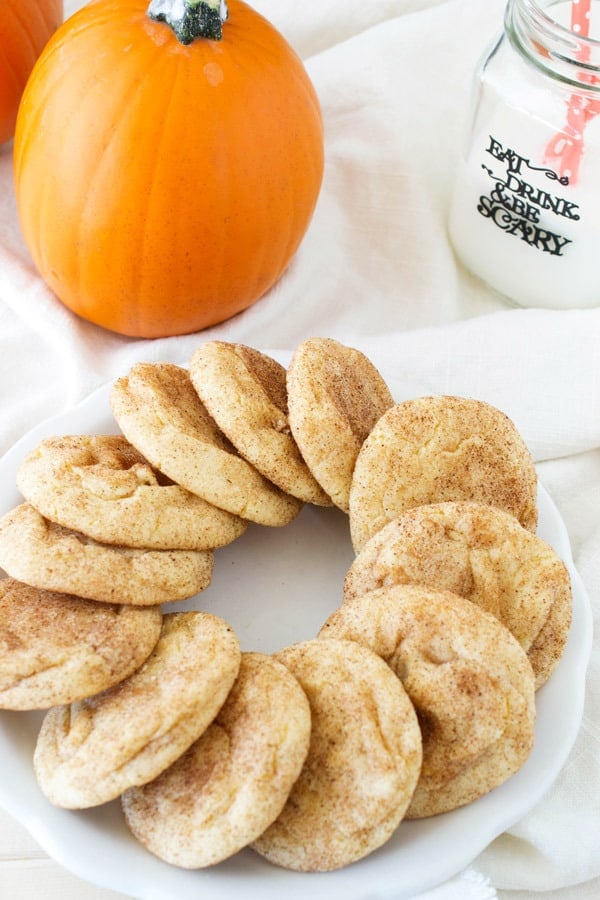 The recipe below makes a good sized batch, perfect for holiday parties or holiday gifts. They freeze very well, so you can make a batch and pull 2 or 3 out all season long. I hope these cookies become your new favorite autumn cookie.
What is your favorite fall cookie? Comment below and let me know.
---
Did you like this post? Then let's be social. FOLLOW ME on PINTEREST and INSTAGRAM to keep up with the latest tutorials, favorite recipes and interesting happenings.
---
Recipe
Amazing Pumpkin Snickerdoodles - Thick, Soft, Chewy Cookie with Pumpkin Pie Spices
If you love snickerdoodle cookies and pumpkin, you are in for a nice fall treat.  Try pumpkin snickerdoodles for a twist on the soft and chewy, slightly tangy cinnamon sugar snickerdoodles.
Ingredients
304

grams

2 cups flour, all purpose

1

teaspoon

cream of tartar

½

teaspoon

baking soda

½

teaspoon

salt

170

grams

¾ cup butter, softened, about 65° Fahrenheit

180

grams

¾ cup sugar, granulated

100

grams

½ cup brown sugar

70

grams

¼ cup pumpkin puree

½

teaspoon

vanilla

1

egg yolk

straight from the refrigerator
Pumpkin Spice Coating
3

tablespoons

4 grams sugar, granulated

1 ½

teaspoons

3 grams cinnamon

¼

teaspoon

cloves

⅛

teaspoon

nutmeg

freshly grated recommended

⅛

teaspoon

ground ginger
Instructions
PREHEAT oven to 400° Fahrenheit.

MEASURE about four cups of flour.

SIFT the flour back and forth between 2 large bowls 4 to 6 times.

WEIGH 304 grams of flour on a digital kitchen scale and place it in a bowl.

WHISK the cream of tartar, baking soda, and salt into the flour.

In a separate bowl, CREAM 340 grams (1 ½ cup) sugar and butter together with an electric mixer on high for 1 ½ to 3 minutes, or until the texture progresses from sandy to creamy. Please note: The butter should be about 65° Fahrenheit. Colder butter could prevent cookie from spreading enough as it cooks. Warmer butter will cause the cookie to spread too much when baking and may create a more crispy cookie. If the butter gets too warm, refrigerate for a few minutes before creaming it.

BLEND the pumpkin puree, egg yolk, and vanilla into the creamed sugar and mix on medium speed for 30 seconds. Please note: Take the egg straight from the refrigerator and separate the yolk from the whites before blending. The egg should be cold. Save the white for another recipe.

MIX the flour mixture into the wet ingredients. Use an electric mixer on low and mix until the flour is incorporated. Use a spatula to turn the dough from the bottom of the bowl to ensure all the flour is incorporated.

In a small, shallow bowl STIR the cinnamon, cloves, nutmeg, and ginger with 3 tablespoons sugar until well blended.

SCOOP the cookie dough with a 2 tablespoon muffin scoop.

ROLL the cookie dough ball in the cinnamon spice sugar mixture until it is completely coated.

PLACE the cookie dough ball on a silicone baking sheet (best option) or a regular cookie sheet.

REPEAT rolling the cookie dough balls and place them all on the baking sheet about 3 inches apart.

BAKE for 8 minutes. Rotate the cookie sheet in the oven so the cookies will bake evenly and bake an additional 1 to 2 minutes, or until the edges are set, but middle does not look completely done. Use your judgement here. The cookie should not be doughy. Cook until the cookies look almost done.

REMOVE silicone baking sheet from the oven and cool cookies for 5 minutes.

TRANSFER the cookies to a cooling rack and allow to cool completely, about 45 minutes.
To Freeze:
COOL  the cookies completely.

STACK the cookies 4 or 5 cookies high.

DOUBLE WRAP the stacked cookies with plastic wrap, ensuring that the cookie is completely covered.

PLACE the wrapped cookies in an airtight container.

FREEZE the cookies at least 24 hours.

REMOVE the cookies from the freezer at least an hour before eating them.

BRING the cookies to room temperature.

UNWRAP the cookies and place on a serving plate.

EAT AND ENJOY!
Notes
All images and content are © TheTastyTip.com. If you want to use this recipe and techniques, please take your own photos, write your own description, and link back to this page. Thank you.
Nutrition
Serving:
1
g
Calories:
94
kcal
Carbohydrates:
24
g
Cholesterol:
10
mg
Sodium:
95
mg
Sugar:
23
g