Make snickerdoodles without cream of tartar and get delicious cookies, but without the distinct tangy aftertaste that comes from cream of tartar. Use baking powder instead of cream of tartar and baking soda to discover the cookie you can't stop eating.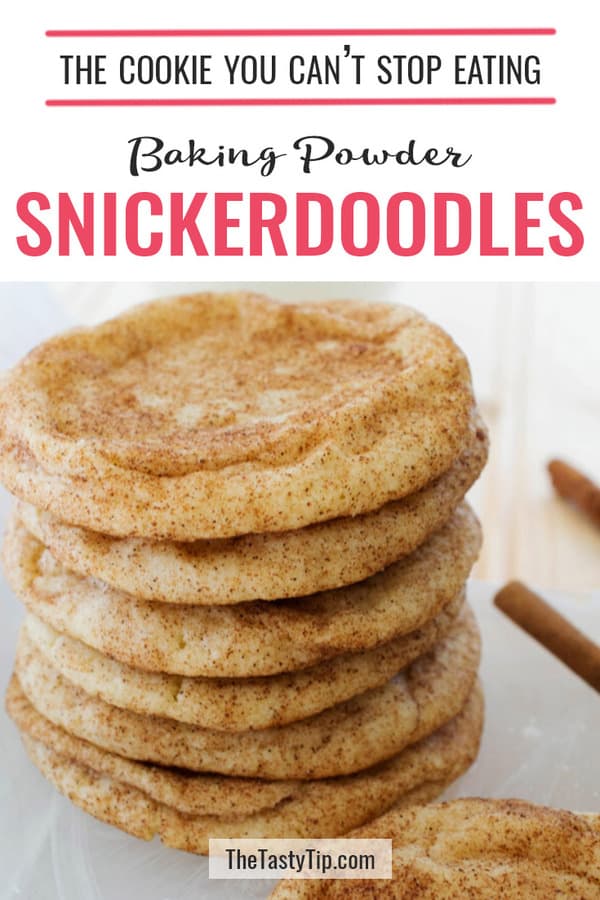 Snickerdoodle cookies are one of our family's favorite cookies. With that tangy cinnamon sugar sweetness, they have a distinct flavor, thanks to cream of tartar.
So what happens if you don't have cream of tartar? Can you still make snickerdoodles without cream of tartar?
The answer is yes, sort of. You can make snickerdoodles without cream of tartar, but they won't be quite the same. The tangy flavor that characterizes old-fashioned snickerdoodles will be absent.
The cookie will taste like a chewy sugar cookie rolled in cinnamon and sugar. Still delicious. And many people prefer this cookie recipe to the tangy aftertaste of traditional snickerdoodles.
So if you are out of cream of tartar, I have you covered. Look for the baking powder snickerdoodle recipe (without cream of tartar and baking soda) at the end of the post.
What do Classic Snickerdoodles Taste Like?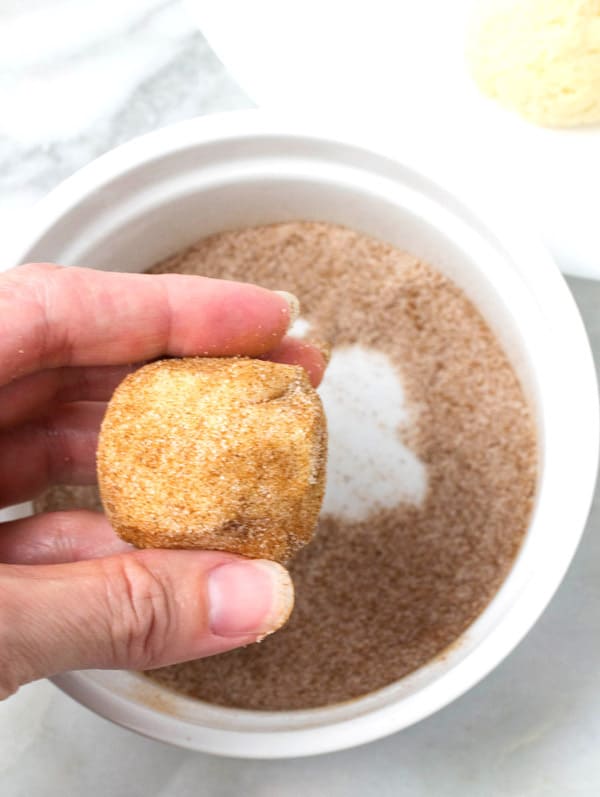 When I think of a snickerdoodle cookie, I imagine a cookie rolled in a ball and then coated with cinnamon and sugar.
The baked cookie has a top that has crinkled and cracked. The edges are crispy and the center is soft and chewy.
It tastes like cinnamon and sugar, but it has a distinct tangy, somewhat sour aftertaste.
A snickerdoodle cookie made without cream of tartar will still taste good. But it will taste closer to a chewy sugar cookie than a traditional snickerdoodle cookie.
Were the First Snickerdoodles Made Without Cream of Tartar?
According to Stella Parks, author of Brave Tart, snickerdoodles evolved from a nineteenth century "Snip Doodle" cake. The Snip Doodle was a cinnamon coffee cake made with butter and dusted with sugar.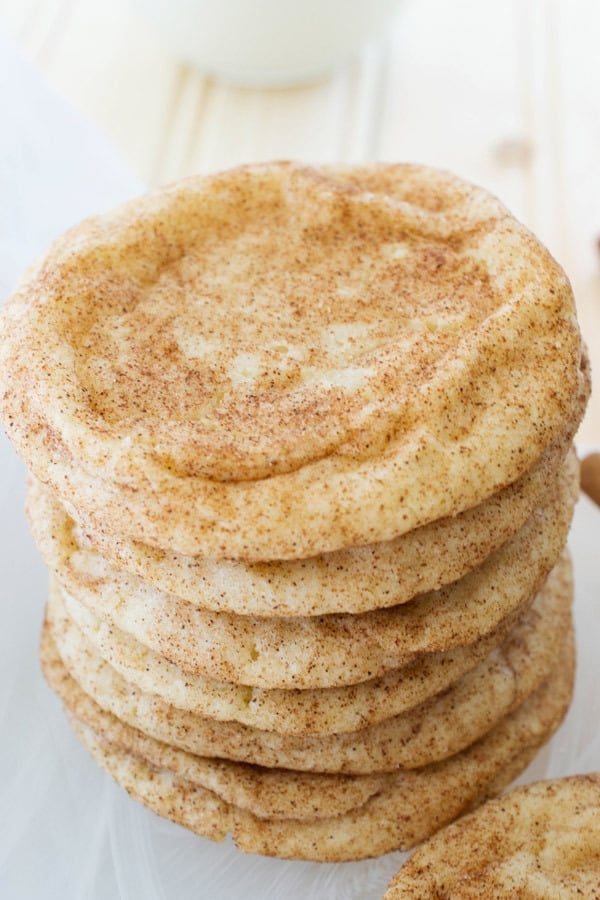 Over time, the Snip Doodle cake evolved into snickerdoodle cookies. The earliest recipes called for baking powder, not cream of tartar.
In fact, in 1891 Cleveland Baking Powder used the snickerdoodle recipe with baking powder in their national advertising campaigns.
The first baking powder was invented in 1843 to help bread rise without yeast. Over the next decades, food scientists experimented with different substances to find the best chemical formula that would help baked goods rise.
When snickerdoodle cookies evolved, baking powder was not a common household pantry item. Housewives were accustomed to using baking soda and an acid together to get a leavening reaction.
The combination of cream of tartar and baking soda leavened cookies just as well as baking powder.
Since cream of tartar and baking soda were more common than baking powder, they were used in the early version of the cookie recipe.
What was in Early Baking Powder?
The product sheet for Cleveland Baking Powder boasted that the baking powder was "perfectly wholesome" with its only ingredients being cream of tartar, soda, and a little flour for strength.
What is the Chemistry of Cream of Tartar and Baking Soda?
Baking soda is alkaline and cream of tartar is acidic. The acid released when cream of tartar dissolves in a batter reacts with baking soda to produce carbon dioxide. This combination becomes the leavening agent in the cookie.
When cream of tartar and baking soda are used, three things happen.
The cookie rises as it cooks and then falls as it cools.
Cracks appear in the cookie.
A tangy aftertaste mingles with the cinnamon sugar taste.
Cream of tartar also weakens gluten. As the gluten weakens, the cookie can become more tender. It can also make the crumb fine, tight, and whiter.
Fortunately, baking powder can fulfill the function of the combination of cream of tartar and baking soda.
Best Tips for Any Snickerdoodle Recipe
I recommend special tips and techniques for any snickerdoodle recipe on this blog. To read more about these techniques, go to my post on the Best Snickerdoodle Cookies.
SIFT THE FLOUR before you measure it.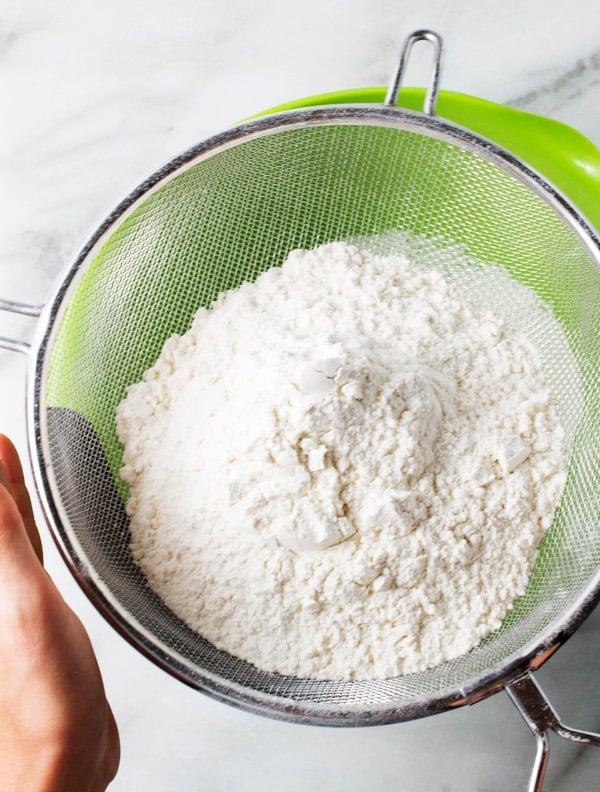 When you sift the flour back and forth between two bowls, it makes a huge difference in the softness and fluffiness of the cookie.
I usually sift the flour 4 to 6 times. Use a strainer and two big bowls. It is easy and only takes about 3 minutes. It is well worth this short amount of time.
WEIGH INGREDIENTS. Don't measure them.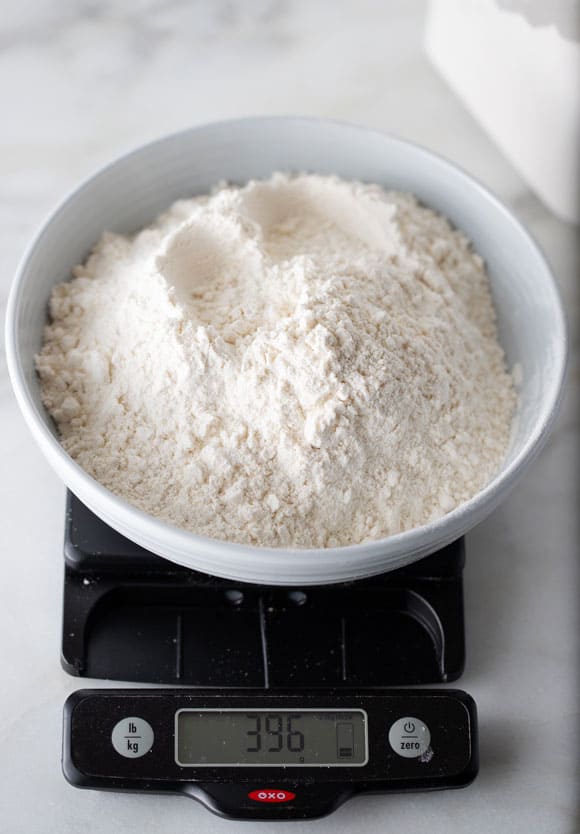 You will get consistent results if you weigh ingredients — especially the flour. Digital kitchen scales are inexpensive, yet so effective.
No one scoops and measures flour with the same results. But everyone can weigh 396 grams of flour with the same results.
USE THE RIGHT RATIO of cinnamon to white sugar.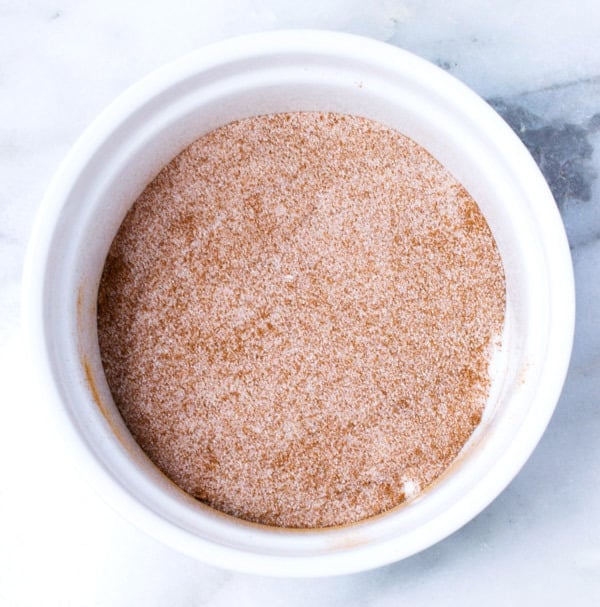 Use a 1:3 cinnamon sugar ratio. This is 1 teaspoon of cinnamon to every 3 teaspoons (1 tablespoon) of sugar. This is the ideal ratio to taste the cinnamon, but not be overwhelmed by it.
Stir the cinnamon sugar mixture together in a small bowl.
CALIBRATE YOUR OVEN. Make sure you are baking at the right temperature.
Use an oven thermometer and find out how accurate your oven temperature is. When you calibrate your oven, you will get more consistent baking times.
USE A SILICONE BAKING MAT. If you don't own one, use a heavy duty cookie sheet lined with parchment paper.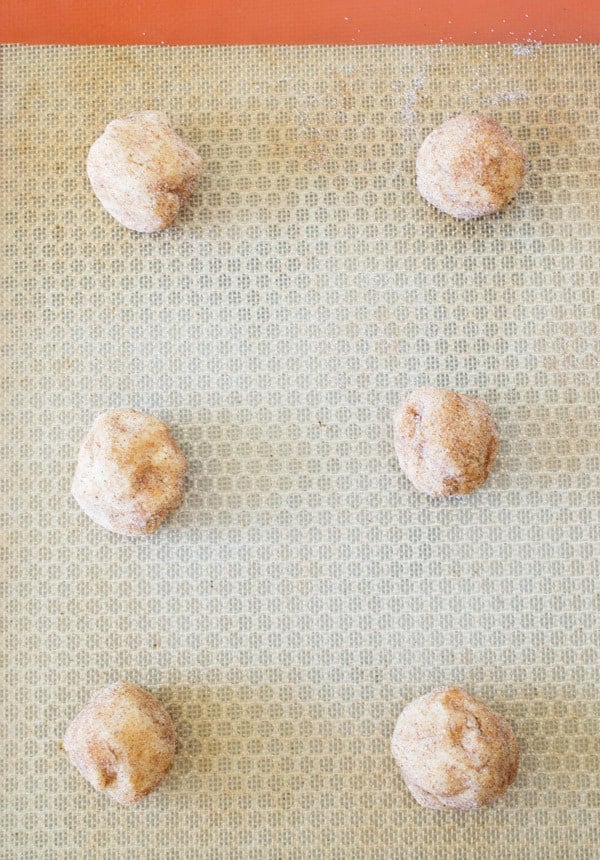 The #1 reason to use a silicone baking mat with snickerdoodles is so the cookies can cool for a few minutes on the baking mat without sticking to it.
I recommend using a Silpat baking mat for best results. It is my favorite way to bake cookies.
If you use a regular baking sheet, you must transfer the cookies to a wire rack before 3 minutes have passed. Otherwise, the cookies will stick to the pan and you will have to scrape them off.
If not using a silicone baking sheet, I recommend the USA pan cookie sheet with a parchment sheet on it.
DON'T OVERBAKE COOKIES. Bake cookies just until the edges are barely set. The very center of the cookie won't look done yet.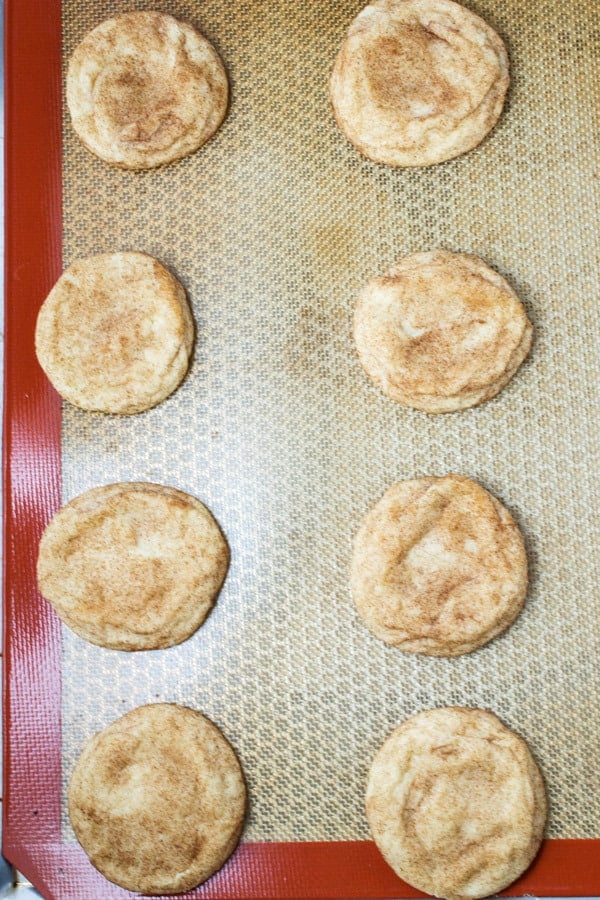 The cookie won't be doughy, but will have a nice golden brown color.
If you cook the cookies too long, they will get hard and dry very quickly. Keep your cookies soft by not over-baking.
FREEZE, THAW, AND THEN EAT. But only if you have enough will power.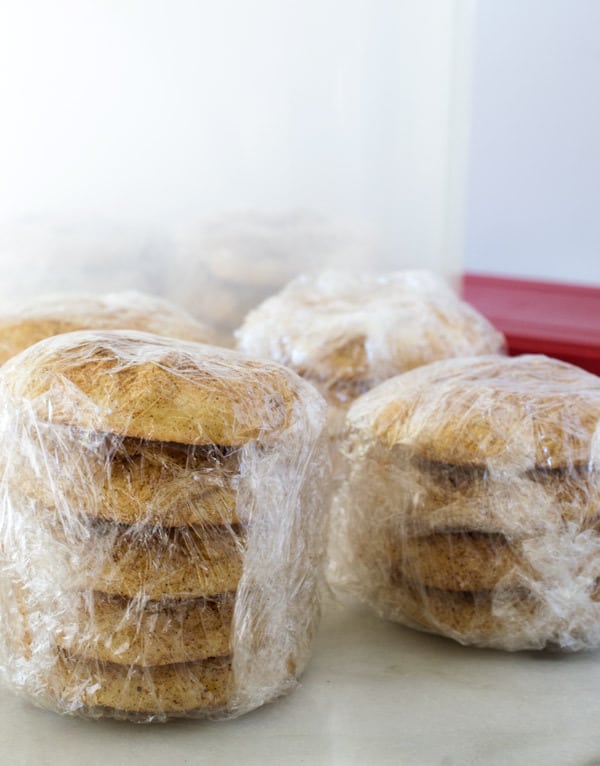 This step is optional. However, I discovered that cookies taste really good after they have been frozen for a day or so, and then brought back to room temperature. They are soft, chewy, fluffy — everything you want in delicious snickerdoodles.
All of these tips will help make your cookie recipe stand out. However, you will notice a difference in your cookie even if you try only a couple of the tips.
Can you Make Snickerdoodles Without Cream of Tartar?
You bet! And they will taste great. Enjoy the recipe below.
---
Did you like this post? Then let's be social. FOLLOW ME on PINTEREST and INSTAGRAM to keep up with the latest tutorials, favorite recipes and interesting happenings.
---
Yield: 18 cookies
Baking Powder Snickerdoodles (no cream of tartar)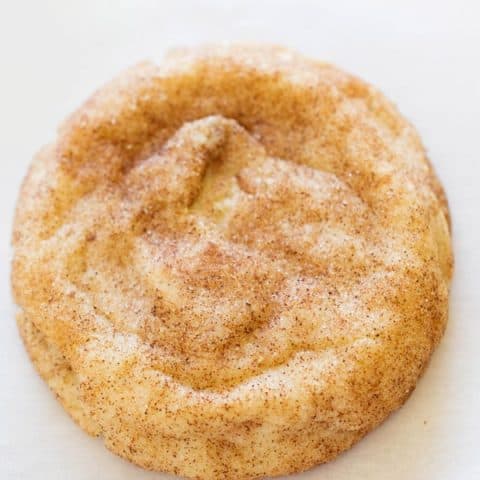 Make Snickerdoodles without cream of tartar and get delicious cookies, but without the distinct tangy aftertaste that comes from cream of tartar. Use baking powder instead of cream of tartar and baking soda.
Ingredients
396 grams (2 ¾ cup) flour, Gold Medal all-purpose
5 grams (1 teaspoon) baking powder
3 grams (½ teaspoon) sea salt
227 grams (1 cup) unsalted butter, cool room temperature, about 65° Fahrenheit
340 grams (1 ½ cups) sugar
2 eggs, cold, straight from the refrigerator
7 grams (1 teaspoon) vanilla
45 grams (3 tablespoons) sugar
7 grams (3 teaspoons) cinnamon
Instructions
PREHEAT oven to 400° Fahrenheit.
SIFT several cups of flour back and forth between 2 large bowls 4 to 6 times.
WEIGH 396 grams of flour on a digital kitchen scale and place it in a bowl. If you don't have a scale, use 2 ¾ cups flour.
WHISK the baking powder and salt into the flour.
In a separate bowl, CREAM 340 grams (1 ½ cup) sugar and butter together with an electric mixer on high for 1 ½ to 3 minutes, or until the texture progresses from sandy to creamy. Please note: The butter should be about 65° Fahrenheit. Colder butter could prevent cookie from spreading enough as it cooks. Warmer butter will cause the cookie to spread too much when baking and may create a more crispy cookie. If the butter gets too warm, refrigerate for a few minutes before creaming it.
BLEND the vanilla and eggs (one at a time) into the creamed sugar and mix on medium speed for 15 to 20 seconds. Please note: Take the eggs straight from the refrigerator before blending. They should be cold.
MIX the flour mixture into the wet ingredients. Use an electric mixer on low speed and mix until the flour is incorporated.
In a small, shallow bowl STIR the cinnamon with 45 grams (3 tablespoons) sugar until well blended.
SCOOP the cookie dough with a 2 tablespoon muffin scoop.
ROLL the cookie dough ball in the cinnamon sugar mixture until it is completely coated.
PLACE the cookie dough ball on a silicone baking sheet (best option) or a heavy duty aluminum cookie sheet lined with parchment paper.
REPEAT rolling the cookie dough balls and place them all on the baking sheet about 3 inches apart.
BAKE for 6 minutes. Rotate the cookie sheet in the oven so the cookies will bake evenly and bake an additional 1 to 3 minutes, or until the edges are set, but middle does not look completely done. Use your judgement here. The cookie should not be doughy. Cook until the cookies look almost done.
REMOVE silicone baking sheet from the oven and cool the pan for 5 minutes on a cooling rack.
TRANSFER the cookies to a cooling rack and allow to cool completely, about 45 minutes.
To Freeze:
COOL the cookies completely.
STACK the cookies 4 or 5 cookies high.
DOUBLE WRAP the stacked cookies with plastic wrap, ensuring that the cookie is completely covered.
PLACE the wrapped cookies in an airtight container.
FREEZE the cookies at least 24 hours.
REMOVE the cookies from the freezer at least an hour before eating them.
BRING the cookies to room temperature.
UNWRAP the cookies and place on a serving plate.
EAT AND ENJOY!
Notes
All images and content are © TheTastyTip.com. If you want to use this recipe and techniques, please take your own photos, write your own description, and link back to this page. Thank you.
Nutrition Information
Yield
18
Serving Size
1 cookie
Amount Per Serving
Calories

128
Total Fat

10g
Saturated Fat

3g
Trans Fat

0g
Unsaturated Fat

2g
Cholesterol

24mg
Sodium

48mg
Carbohydrates

3g
Fiber

0g
Sugar

1g
Protein

1g
---
Did you make this recipe? Tag @thetastytip on Instagram and hashtag it #thetastytip.
---
Try our famous pumpkin snickerdoodles, a twist on the classic cookie. The pumpkin puree and brown sugar make a slightly darker cookie. Roll them in sugar, cinnamon, cloves, nutmeg, and ginger.