Munch through this snickerdoodle vs. gingersnap comparison. Learn what makes each cookie unique. Compare appearance, taste, texture, and more.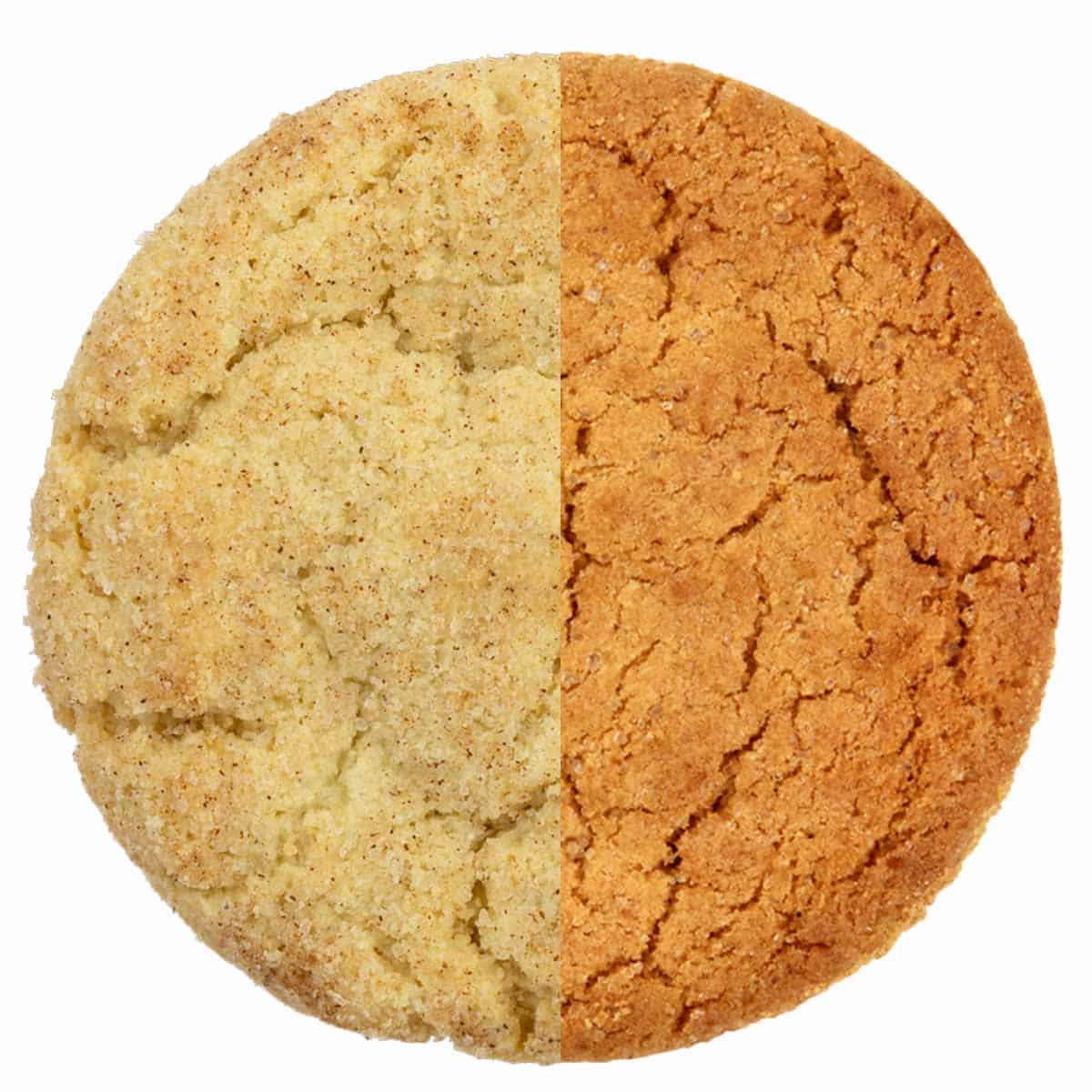 Welcome to the ultimate spicy/sweet standoff: snickerdoodles vs. gingersnaps! Two tasty desserts, worlds apart in flavor, texture, and charm.
What are the main differences between snickerdoodle and gingersnap cookies? Snickerdoodles are soft, chewy cookies with a tangy, sweet-warm flavor. Gingersnaps are crunchy, spiced cookies known for their rich, warm taste and distinctive snap when bitten.
In this cookie showdown, you'll get a peek at the variations in appearance, flavor, texture, ingredients, and baking journey.
And find out which cookie wins the popularity contest.
Ready to sink your teeth into what makes these cookies so darn irresistible. Let's get baking.
Jump to:
Side-by-Side Comparisons
Prepare to compare appearance, flavor, texture, ingredients, and baking process.
Appearance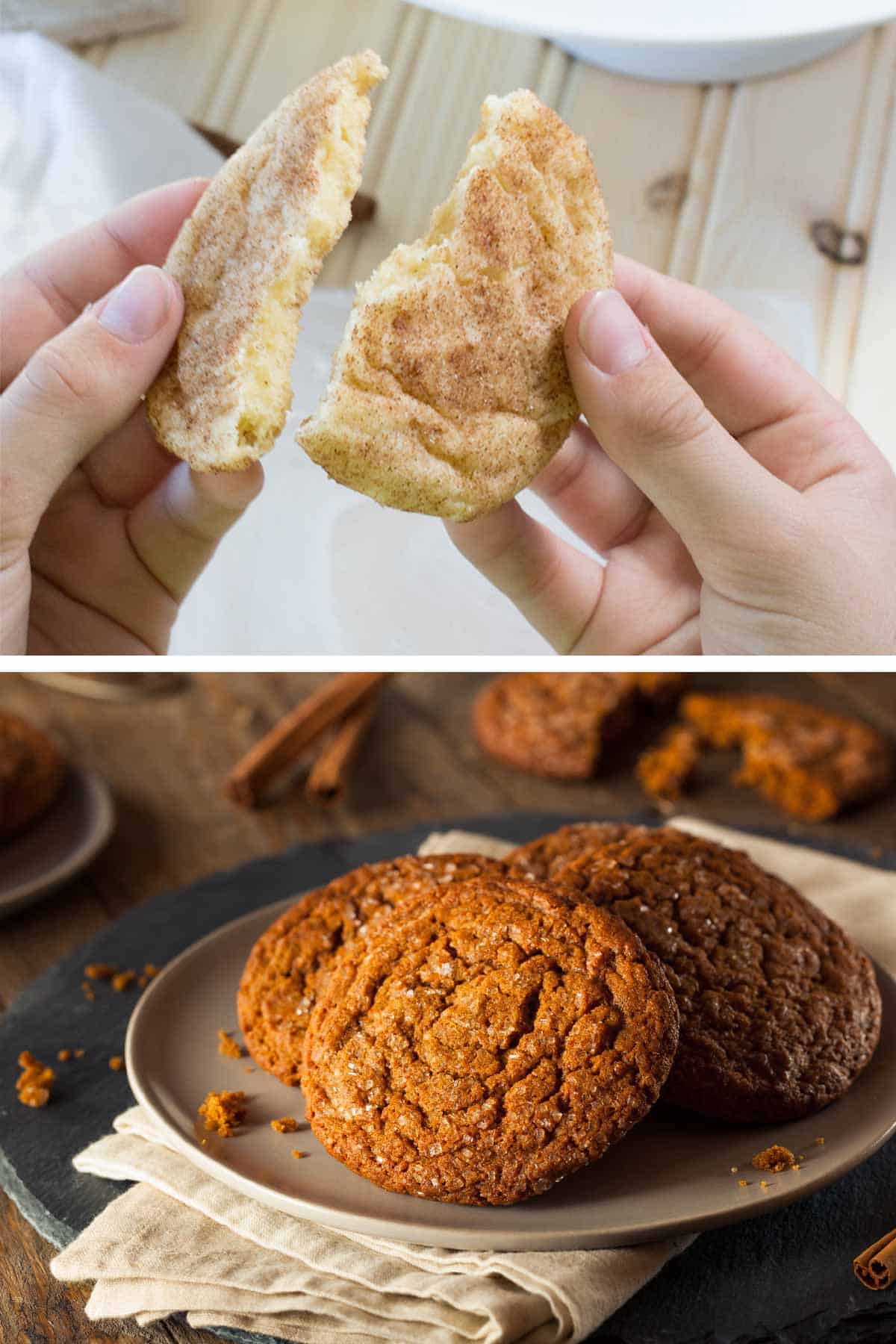 Glance at a snickerdoodle and gingersnap. You'll easily be able to see that each cookie looks unique.
Snickerdoodles are a light, golden hue, reflecting their buttery base and cinnamon-sugar coating. They have a soft, inviting appearance with a crinkly top.
These cookies may puff up during baking but then deflate as they cool.
In contrast, the use of molasses and dark-colored spices makes the gingersnap dough a dark, rich color. Gingersnap cookies are thinner and have a distinctive crackled surface, sometimes with sparkling sugar crystals on top.
Unlike the soft and chewy snickerdoodles, gingersnaps are firm and crisp, evident even from their appearance.
Flavor
Snickerdoodles and gingersnaps have quite distinct flavor profiles.
Snickerdoodles are sweet, offset by a slight tanginess from the cream of tartar. However, the defining flavor characteristic of these classic cookies is a warm, comforting cinnamon note. This is courtesy of the cinnamon-sugar coating on each cookie.
However, gingersnaps deliver a bold, sweet-spicy flavor experience. They get their zesty kick from ginger, cloves, and cinnamon. Additionally, they have a rich, sweet, complex molasses flavor profile.
Looking for sweet? Choose snickerdoodles. After a kick? Go with gingersnaps.
RELATED: This baking powder snickerdoodle recipe is a family favorite. Follow all the easy techniques, and it will become your new favorite cookie.
Texture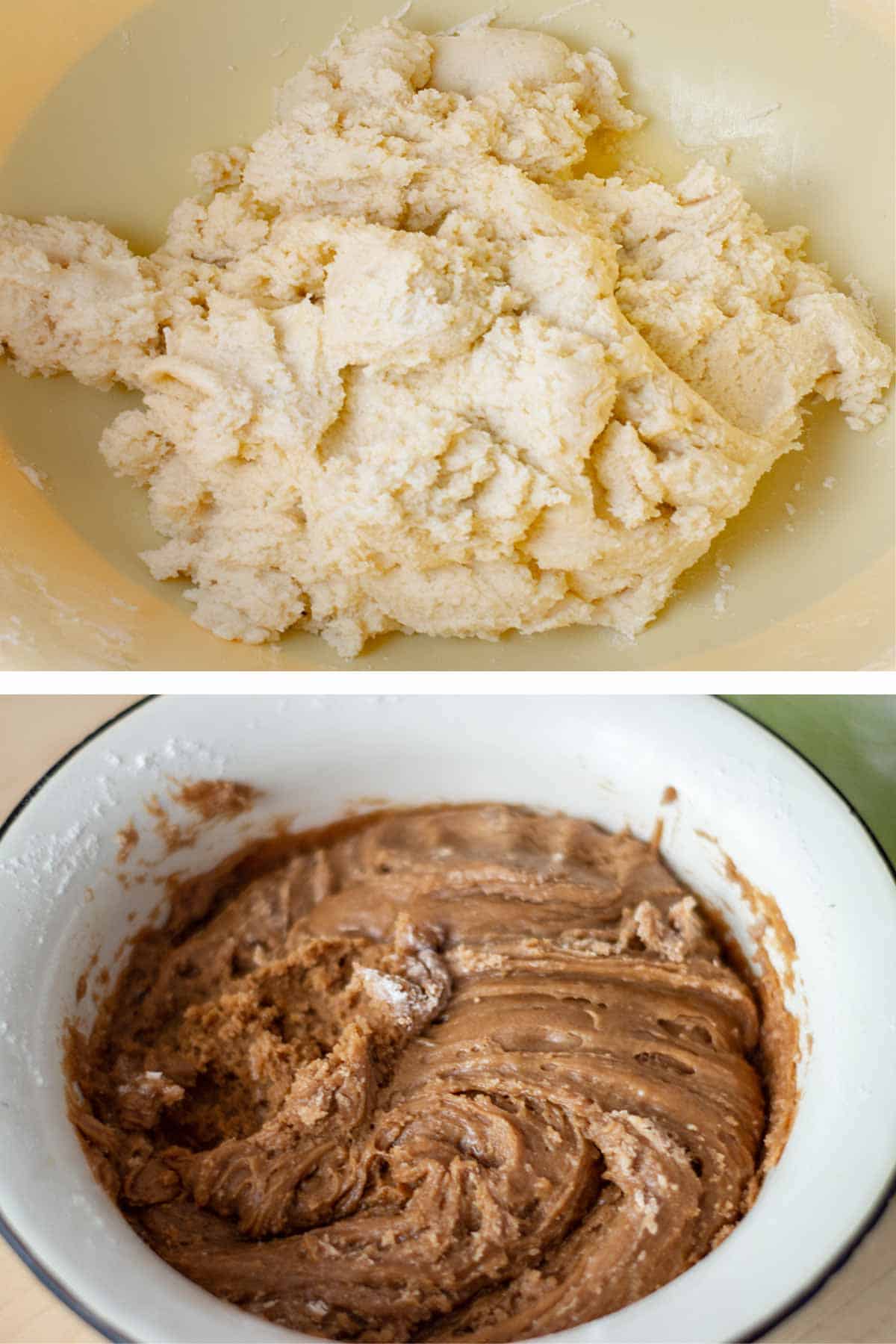 The textures of snickerdoodles and gingersnaps are not the same either.
A snickerdoodle is a thick, soft, chewy cookie. The inside is tender. But the outside is rugged from the cinnamon-sugar coating.
On the other hand, traditional gingersnaps are thin, hard, and crisp. Occasionally, they have sugar crystals on top, adding to the crunch.
RELATED: If you like to keep to tradition, you will like this original recipe for snickerdoodles. These baked cookies are thick with a chewy center.
My husband's coworkers call these their favorite cookies and request them at every employee potluck.
Ingredients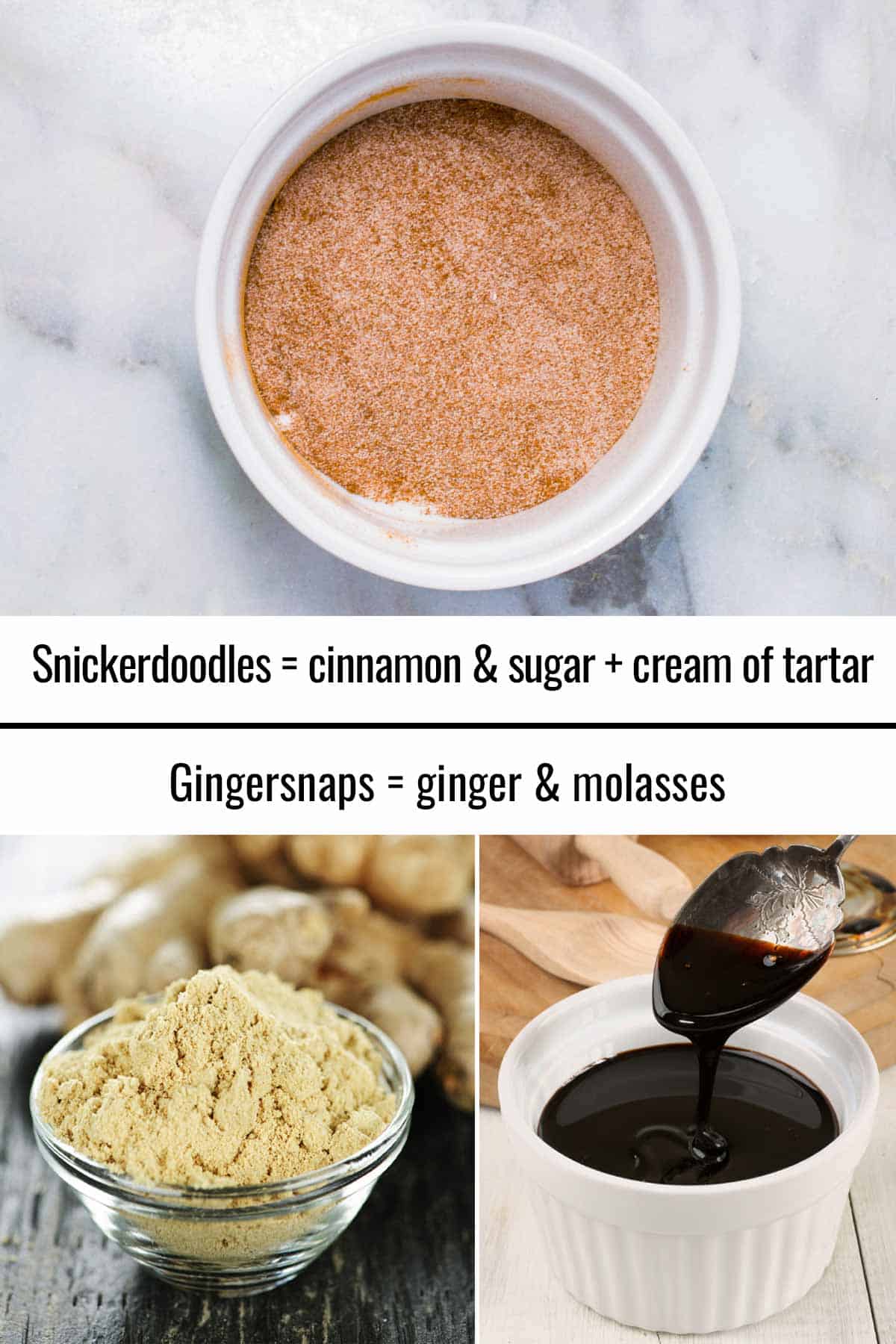 While snickerdoodles and gingersnaps share some basic dry ingredients like flour, butter, sugar, and eggs, they differ in a few components.
Cream of tartar is included in the snickerdoodle dough. This ingredient imparts a recognizable tangy flavor. It also contributes to the soft, fluffy texture of the cookies.
In addition, the cookie dough balls are coated in a perfect blend of white sugar and cinnamon before baking.
On the other hand, gingersnap cookie dough ingredients include dark molasses, brown sugar, and a blend of ginger, cloves, cinnamon, or nutmeg.
Some recipes even use whole wheat flour in place of a portion of the white flour in the recipe. Instead of using a cinnamon mixture, roll gingersnap dough balls in sugar only.
RELATED: Looking for a 2-bite treat? Try mini snickerdoodles. You'll fall in love!
Baking Process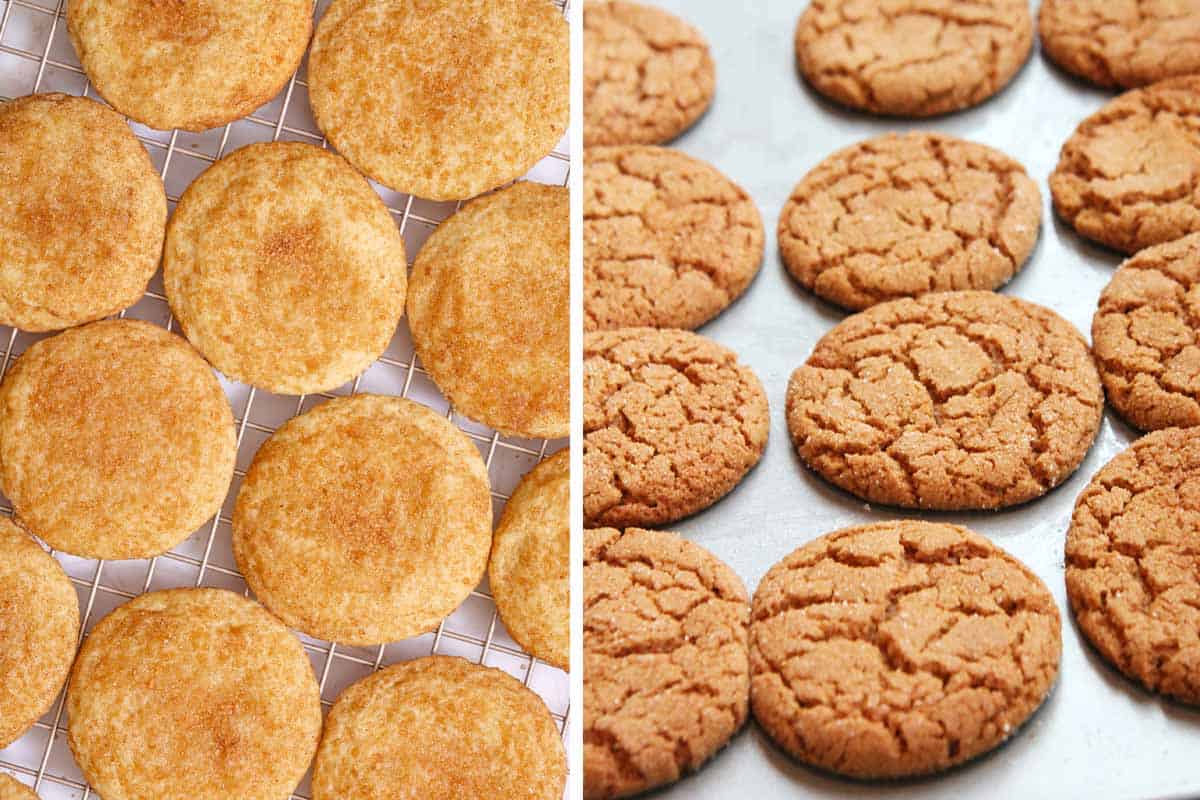 The baking processes for snickerdoodles and gingersnaps are almost identical, except for the baking time and temperature.
Gingersnaps are baked longer than snickerdoodles to achieve their characteristic crispness.
The best snickerdoodle recipes are baked at a higher-than-average temperature for cookies (400°F (225°C)) for about 8-10 minutes.
The goal is to bake them just until they are set and begin to crack. But they'll still be soft in the middle. This helps to maintain their characteristic chewy texture.
Gingersnaps are typically baked at a slightly lower temperature, at 350°F (175°C), and have a longer bake time. Usually between 10-15 minutes.
This extended baking time at a lower temperature helps to achieve the crispy, "snap" texture that gives the gingersnap its name.
Variations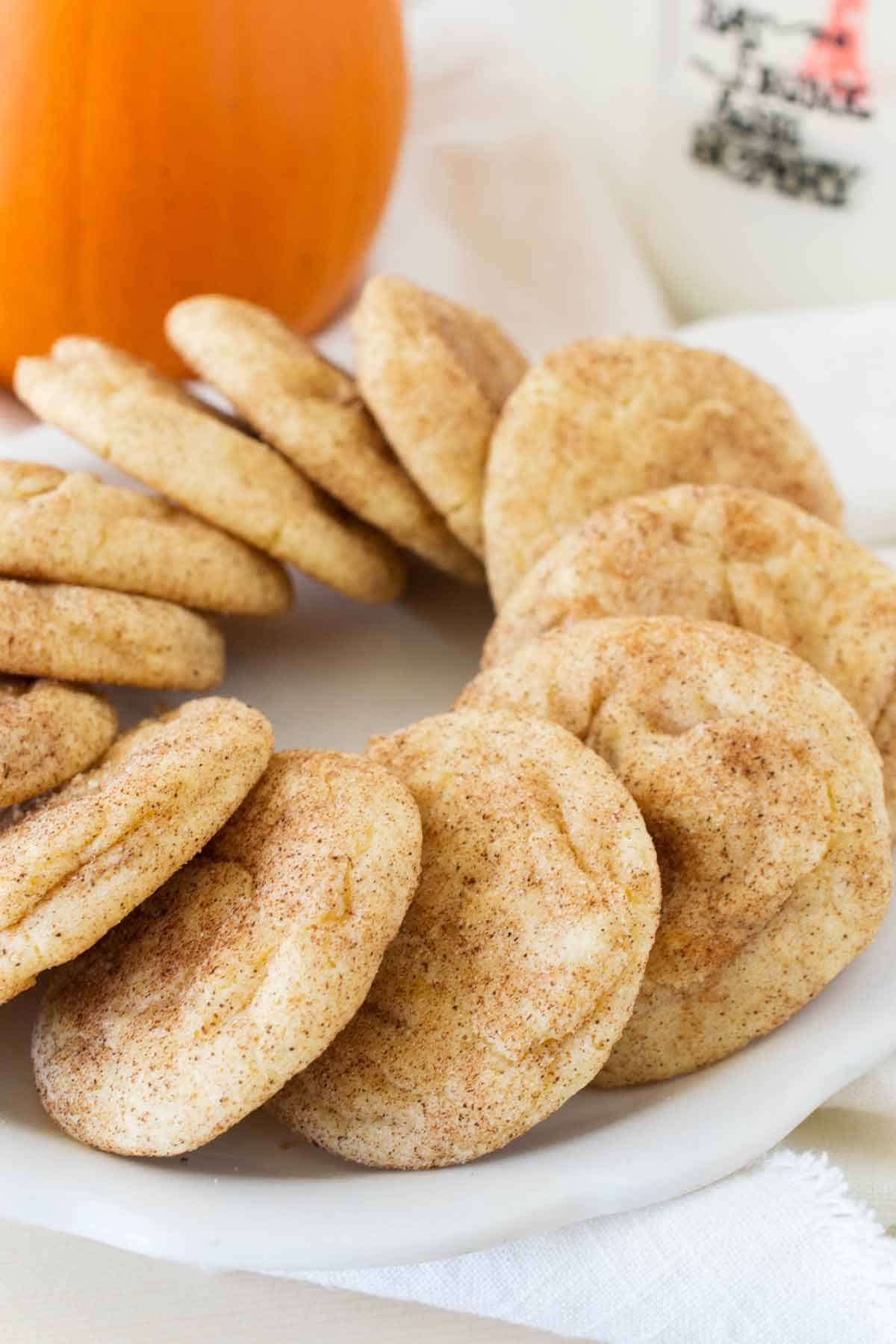 Snickerdoodles can come in many flavors, including pumpkin, chocolate, and peanut butter.

You can even make gingerdoodle cookies, the perfect cross between snickerdoodles and soft ginger cookies.

Any doodle cookie can be dipped in melted white chocolate. Or for a unique flavor, the cookies may have add-ins included, like white chocolate or caramel.
Gingersnaps can also be dipped in white chocolate. However, add-ins are uncommon in this cookie.

You can also tweak the recipe a little bit and end up with chewy gingersnap cookies. I actually prefer chewy ginger molasses cookies instead of the crunchy version during the holiday season.
RELATED: Want a soft cookie snickerdoodle? Try the pumpkin snickerdoodle variety. It is a twist on the perfect holiday cookie recipe.
History of Snickerdoodles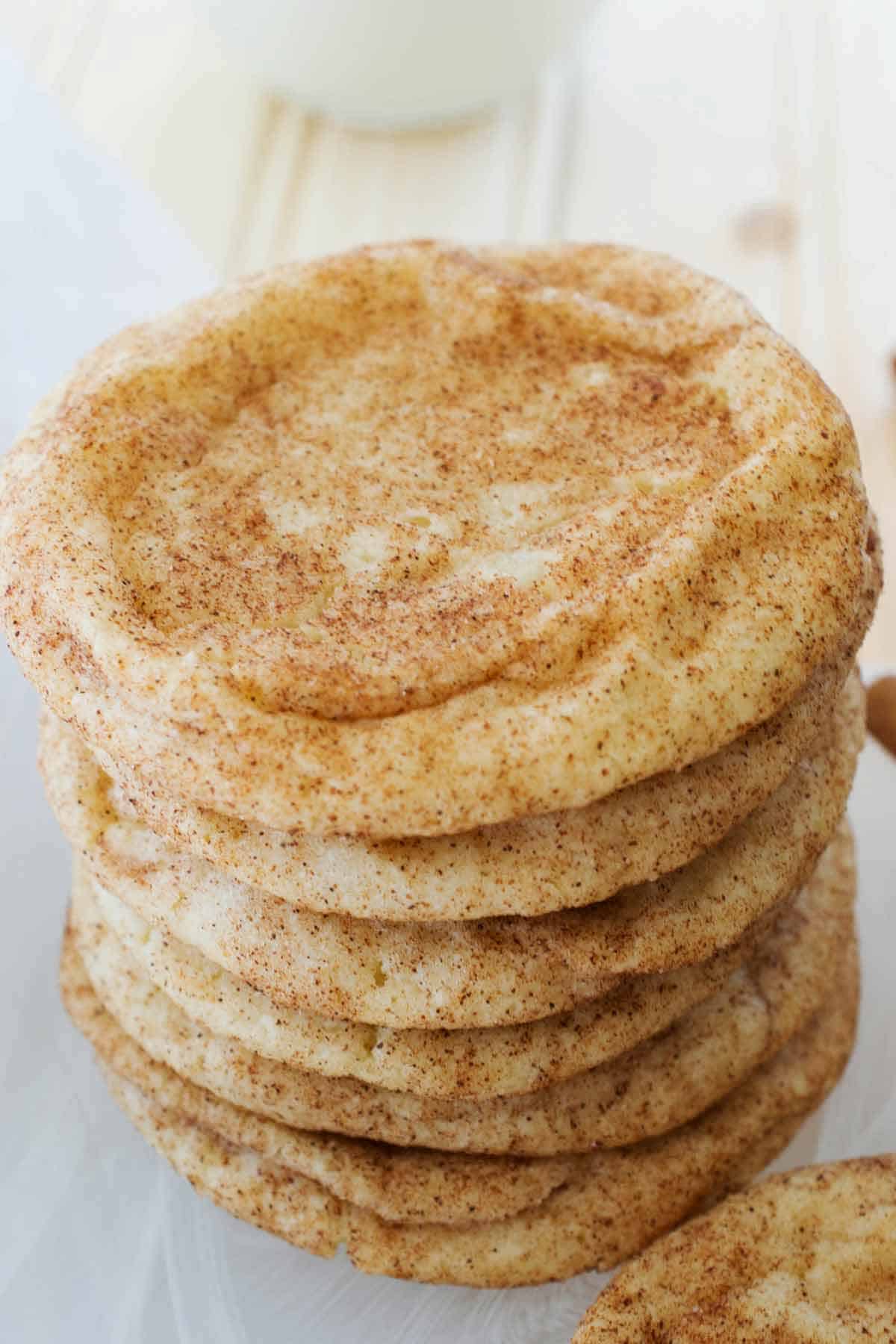 The history of the snickerdoodle cookie is a bit fuzzy. But it's generally agreed that the cookie has German or Dutch origins.
Today's snickerdoodles are primarily associated with New England and are a well-loved part of the American baking tradition.
No one really knows how the snickerdoodle got its name. Some suggest that it's just a nonsense name with no particular meaning. This is in line with a New England tradition of whimsical cookie names.
The simple ingredients and delightful flavor have ensured snickerdoodle's continued popularity to the present day.
RELATED: You may also be interested in the differences between snickerdoodle and sugar cookies.
History of Gingersnaps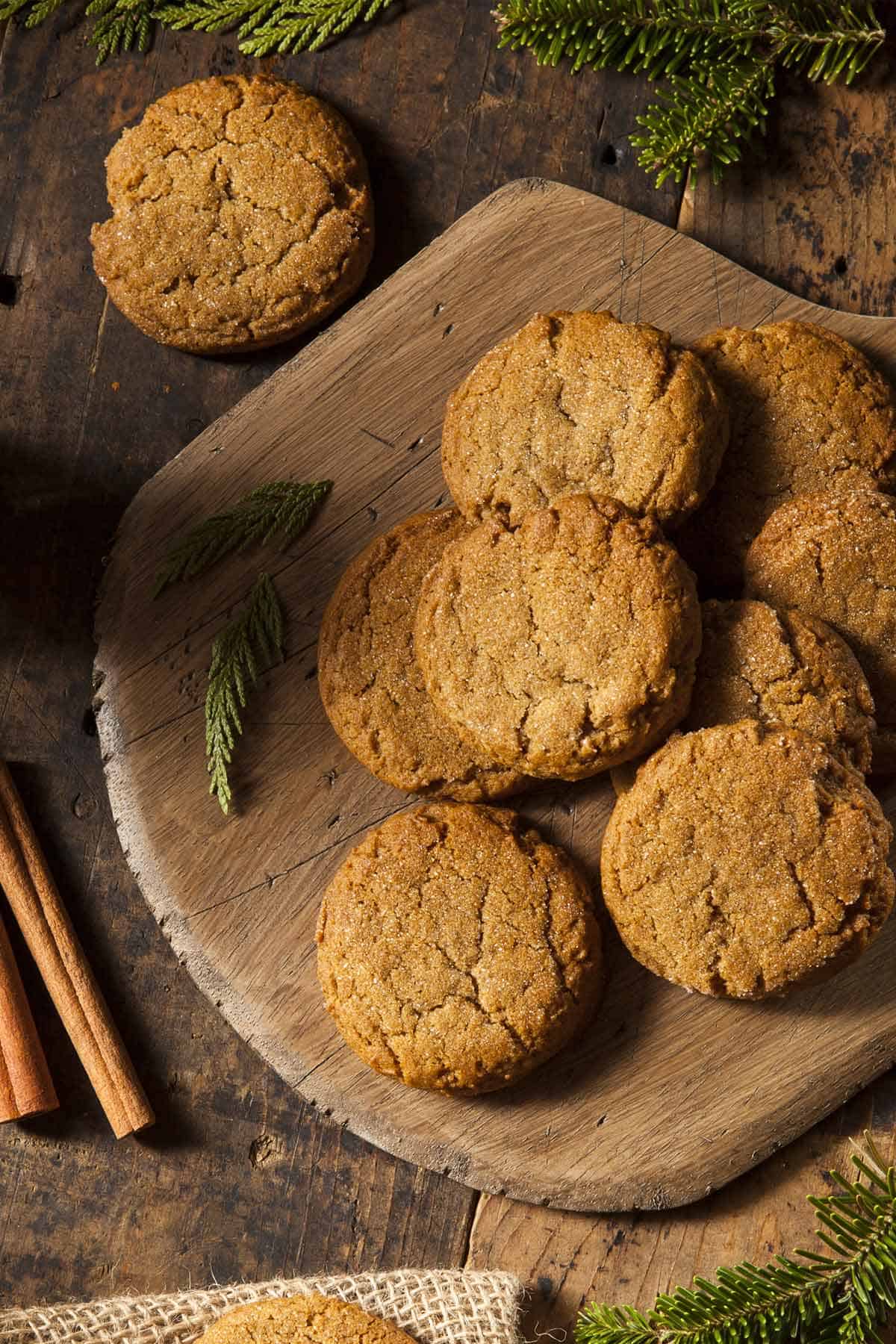 Gingersnaps have a rich history, dating back to medieval times. Their origins can be traced to England, Germany, and Sweden. Gingerbread cookies have been a beloved treat for centuries in these countries.
The term "gingersnap" refers to the crispiness of the cookie and its rich ginger flavor. Gingersnaps evolved as a variant of a soft gingerbread cookie. The critical difference is that gingersnaps are thinner and baked longer to achieve a crisp texture.
Gingersnaps, like other gingerbread treats, are popular in the winter months because of ginger's warming properties.
Using molasses in gingersnaps is a distinctly American adaptation. It was introduced during the colonial era when molasses was a common sweetener. This addition gives the cookies a deeper, more complex flavor and a darker color.
Popularity Contest: Snickerdoodle vs. Gingersnap Cookies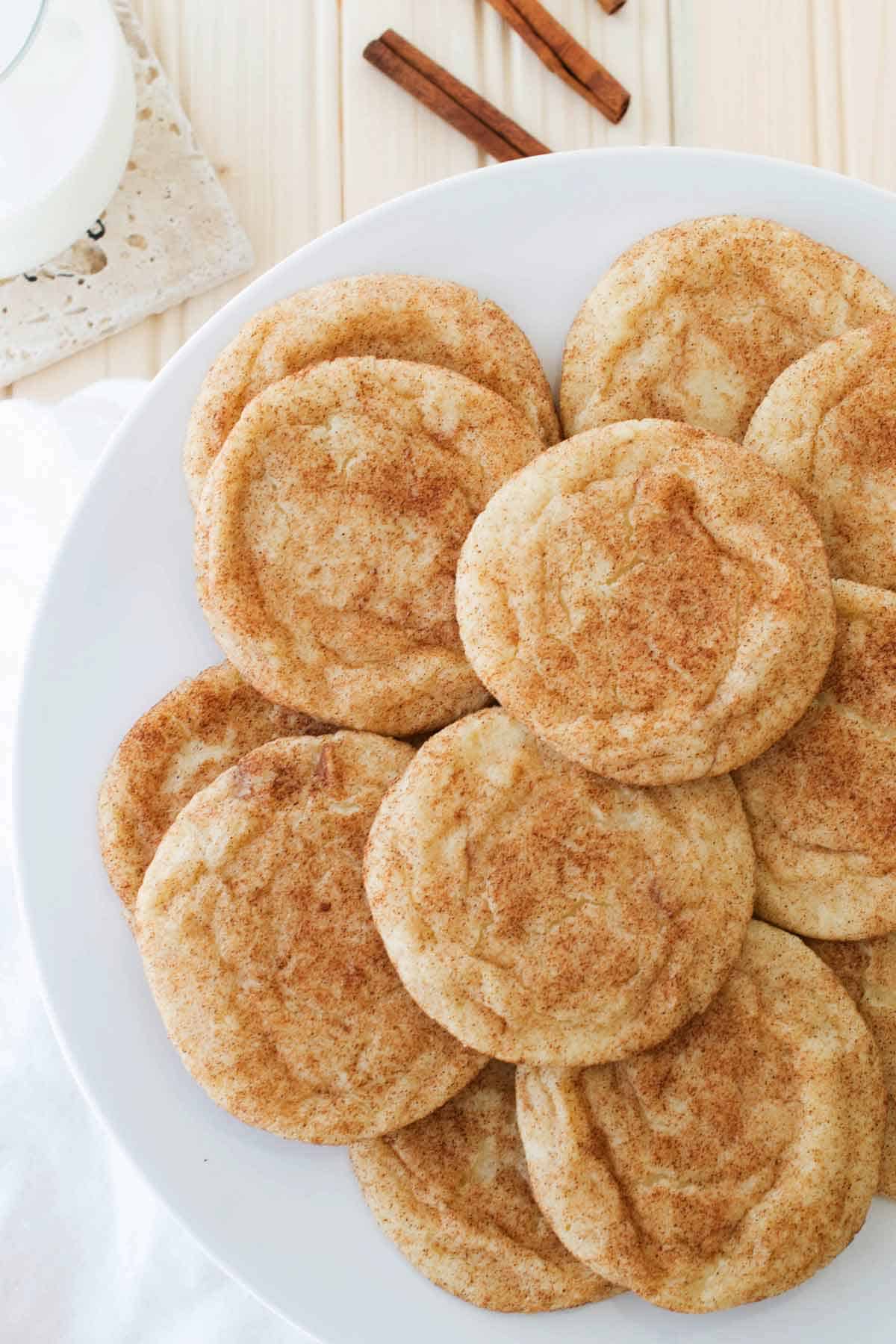 Determining which cookie is the more popular of the two is tricky. It often depends on the region, the season, and personal taste.
However, according to Google Trends, snickerdoodles are more popular than gingersnaps.
In the United States, in the past 12 months, there have been double the number of searches for "snickerdoodle cookies" compared to searches for "gingersnap cookies." This trend is consistent across all age groups and demographics.
The availability of snickerdoodles versus gingersnaps in bakeries can vary greatly depending on the region, the bakery's focus, and the time of year. Both of these holiday cookies are commonly seen during the Christmas season.
Gingersnaps might have a slightly narrower audience because of their intense flavor. People who enjoy a more assertive, spicy cookie tend to love gingersnaps.
In the United States, you are more likely to find snickerdoodles than gingersnaps in general bakeries. However, gingersnaps are a popular holiday tradition, especially during the fall and winter when ginger and molasses are more sought after.
Both cookies are excellent additions to your festive cookie exchange.
How to Serve Snickerdoodles and Gingersnaps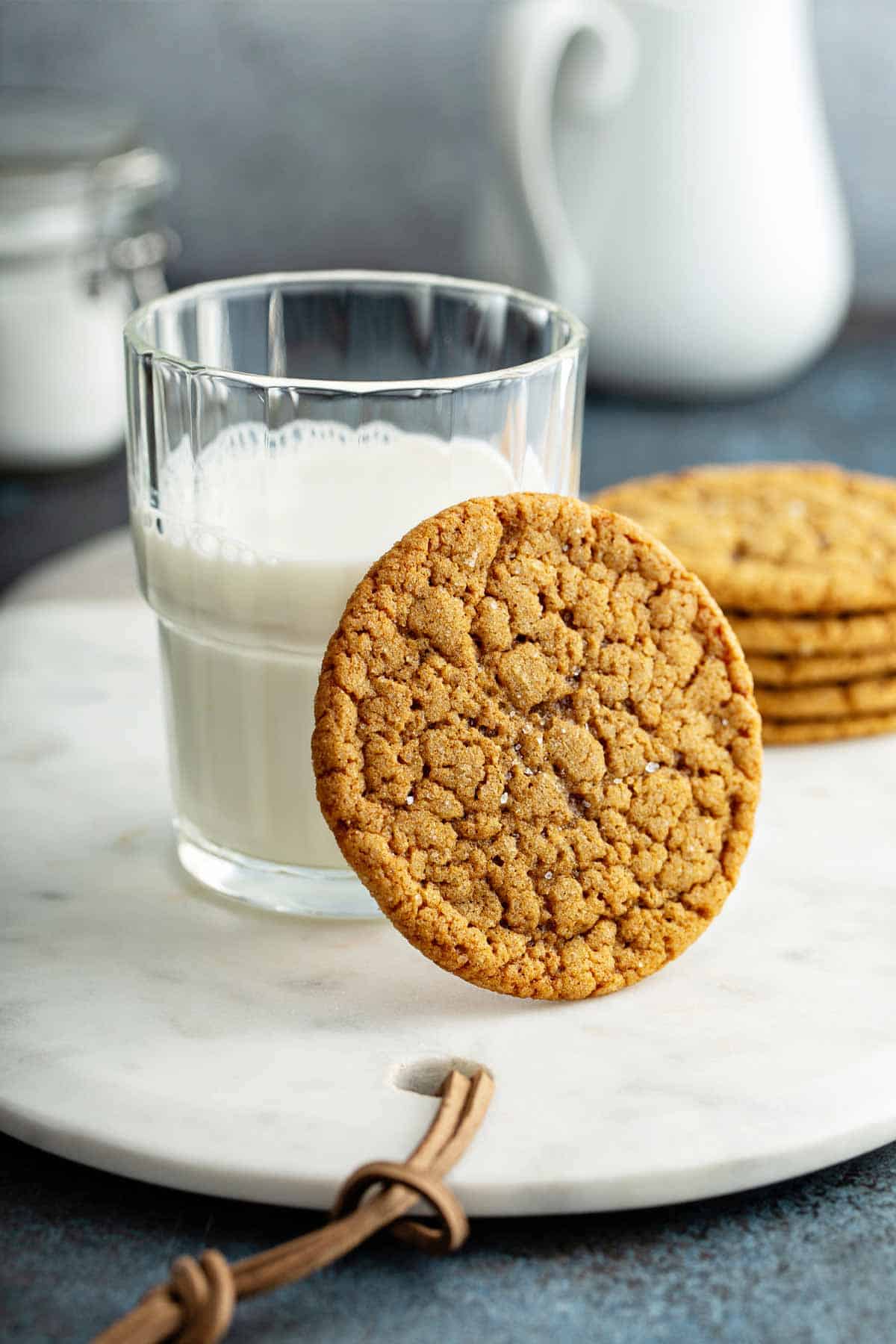 Serve either cookie with a glass of cold milk. Dunk if you like.
Hot chocolate tastes best with snickerdoodle cookies. But you also might enjoy it with gingersnaps.
Homemade gingersnaps would be a yummy cookie for banana pudding. Store-bought gingersnaps are too tough. But freshly made would be incredible!
Include both cookies on your holiday cookie platter at any festive gathering.
How to Store Cookies
The best way to store either cookie is in an airtight container at room temperature.
Make sure the cookies are completely cool before storing them. Otherwise, they might soften in the container because of the condensation from the heat.
Note that crispy cookies may lose their crunch fairly quickly. As I discovered in my post on how to store chocolate chip cookies, the best way to store crispy cookies is in the freezer.
It may take a few minutes for a frozen cookie to thaw when you want a treat. But when the cookie is ready to eat, it will still be crispy.
How to Freeze Cookies
To freeze cookies individually without them sticking together, follow these steps:
Line a baking sheet with parchment paper.
Arrange the cookies in a single layer on the baking sheet.
Flash freeze the cookies for about an hour.
Transfer the frozen cookies to a freezer zip-top bag or container.
Return the bag or container to the freezer for storage.
Freeze for up to six months.
The Deciding Bite
There's no clear victor in the battle of snickerdoodles vs. gingersnaps - only delicious distinction.
Chewy tang or crunchy kick? That's your call to make.
So, step into the kitchen, dust off that oven mitt, and let the cookie dough roll.
Did you like this post? Then let's be social. FOLLOW ME on INSTAGRAM and PINTEREST to keep up with the latest happenings.