Wondering what to serve with burritos tonight? Get fresh ideas for brilliant sides, toppings, entrees, desserts, and drinks to revive your burrito dinner menu.
Are you a Gen X who eats burritos once a week? Or a Millennial who confesses to eating burritos up to three times a week? If you eat burritos often, you may wonder what to serve with burritos to make a full meal.
If you have pondered what to serve with burritos, you will like this list. The best side dishes to serve with burritos are nachos, Mexican rice, beans, soups, and salads. Popular toppings to serve with burritos are salsa, guacamole, and Mexican crema.
Whether you are serving fresh or frozen burritos, homemade or takeout, try one of my ideas. This article categorizes what to serve with burritos into five categories:
Side Dishes
Toppings
Entrées
Desserts
Drinks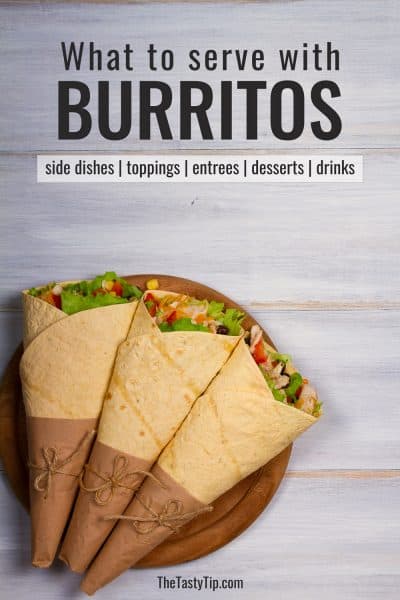 Do not settle for rice and beans every time you serve burritos. Instead mix things up with finger foods, salad, or soup.
Appetizing Finger Foods to Chomp On
Finger foods are addictive. They are the perfect way to start family dinners. Try these crunchy, crispy, finger-licking Mexican recipes.
1. Nachos
Thick tortilla chips, dripping in a nacho cheese sauce make the best appetizer for a burrito. Homemade nacho cheese sauce is worth every minute it takes to make from scratch.
Drizzle the leftover nacho sauce on your burrito and eat it piping hot. No one needs to tell you twice.
Best served with: authentic Mexican shredded beef burrito, Taco Bell beefy Frito burrito (copycat recipe), Taco Bell chili cheese burrito (chilito)
2. Cheese Quesadilla
Make the perfect quesadilla with a flour tortilla, a hefty handful of shredded cheese, and a smear of cheesy jalapeno sauce.
Toast it until the cheese melts and gets gooey. Dip in salsa or crema to whet your appetite for the burrito to come.
Make several quesadillas, slice them in wedges, and share with the whole table.
Best served with: smothered burritos with green chili, healthy chicken burritos, potato burritos
3. Taquitos
Taquitos are a genius appetizer to serve with burritos. Especially when you use the same burrito filling.
Smear a thin layer of burrito filling on a corn tortilla. Roll it up like a cigar. Bake or fry it. Dip in salsa, queso, or crema.
Best served with: Copycat Taco Bell bean burrito, chicken burrito
4. Homemade Tortilla Chips with Bean Dip
We love bean dip! We could eat it straight from the bowl. But adding homemade tortilla chips turns it into a great side dish.
Homemade bean dip is the best. But if you need something quick, Fritos makes tasty bean dip in original or hot flavor.
Heat the bean dip and spoon a little over your chicken burrito.
Best served with: chicken burrito, potato burrito
5. Tortilla Chips and Salsa
Ho hum chips and salsa? Not at this table.
Make amazing homemade tortilla chips effortlessly. Start with dried corn tortillas cut into wedges. Fry in hot oil. Remove from oil and sprinkle with salt.
With so many varieties of salsa, you will never get bored serving chips and salsa with burritos.
Best served with: any kind of burrito
6. 7-layer Dip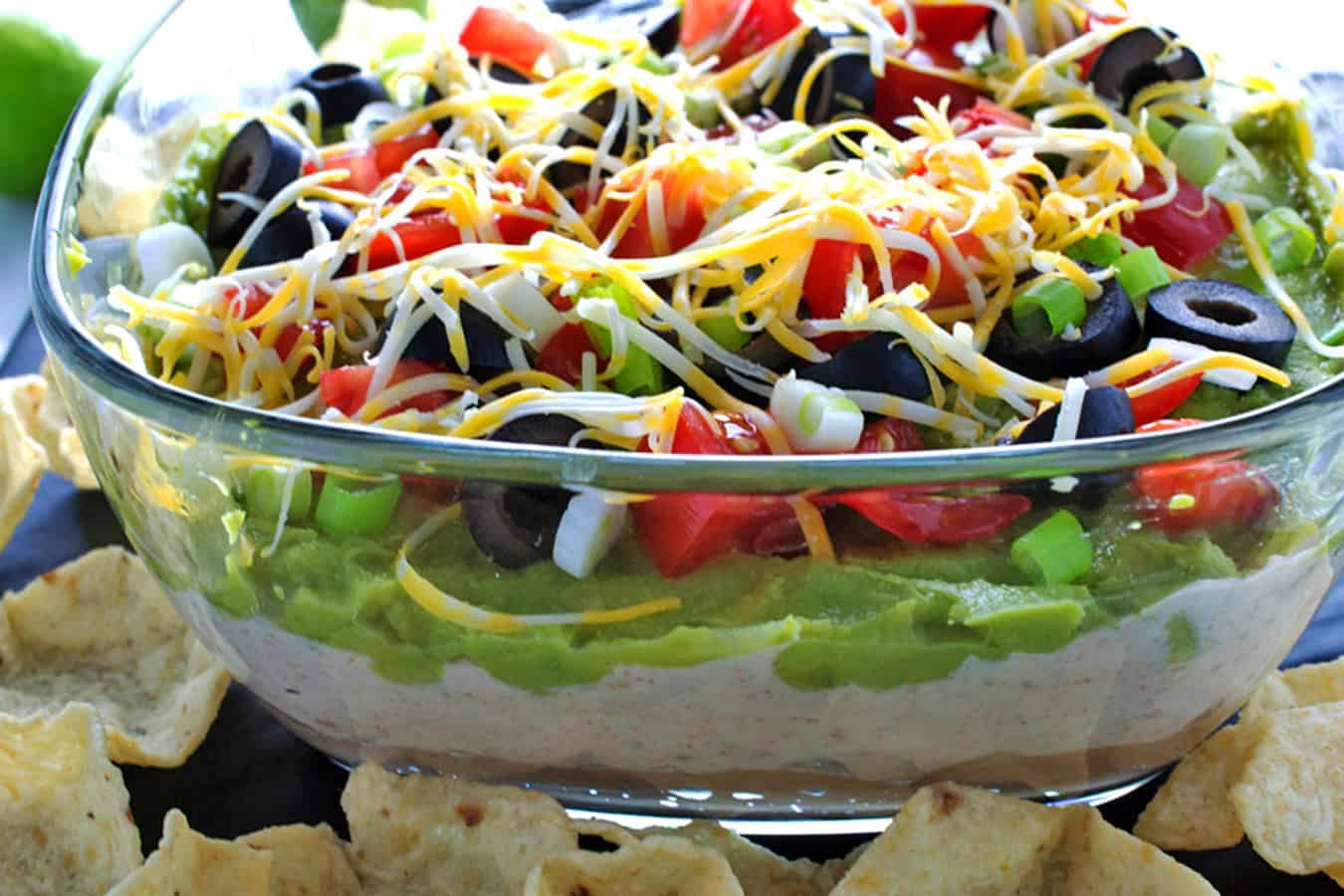 Having a party? Seven-layer dip is a perfect appetizer when serving burritos. It is hearty and filling, meaning you can get away with less burritos for your guests.
Make sure the tortilla chips are strong enough to hold up to the layers of dip. Check out the only 7-layer dip recipe you will ever need.
Best served with: Mexican style burritos
7. Panela Cheese (queso panela)
Mild-flavored panela cheese is a lower fat semi-soft cheese from Mexico made from skim milk. It does not melt when heated. Instead, it stays firm and flexible.
Want a great side dish? Slice the panela, pan fry it, and sprinkle it with lime juice and cilantro. Your family will beg for more.
Find panela cheese in the refrigerated Mexican cheese section at your grocery store.
Best served with: carne asada burritos or veggie burritos
8. Stuffed Jalapenos
Wake up your taste buds with stuffed jalapenos before you dig into your burrito.
Fill the jalapenos with cream cheese or queso fresco. Or stuff them with Mexican chorizo and smoked gouda cheese.
Make your own stuffed jalapenos or find them in the frozen section of your grocery store.
Best served with: ground beef and rice burritos, vegetarian burritos
9. Chili Rellenos
Speaking of stuffed peppers … chili rellenos make an unforgettable side to burritos.
Start with a mild Anaheim chili pepper. Stuff it with cheese. Dip it in batter. Fry it until crispy.
Chili rellenos will whet your palate in preparation for a hearty burrito.
Best served with: beef burritos
10. Tacos
You can never, and I mean never, go wrong when you serve tacos. The varieties of tacos are endless. Use the same fillings in the tacos that you use in the burrito for convenience.
But if you crave variety, use a different meat to fill your tacos.
Best served with: any burrito
11. Empanadas
Empanadas resemble a turnover or hand pie. Flakey dough, scrumptious filling. You get the idea.
Be the first to serve mini empanadas as a burrito side dish. They will an instant hit.
Best served with: authentic Mexican burritos
Classic Rice and Beans
Rice and beans are familiar comfort sides to serve next to a burrito. They are cheap, easy to cook, and easy to make in large quantities. Check out these reliable rice and bean recipe ideas.
12. Mexican Rice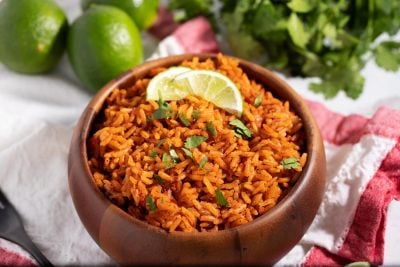 Mexican rice, also known as red rice or Spanish rice, is a familiar favorite. It is safe. It is cheap. It will survive the scrutiny of your pickiest eater.
Always remember this crucial tip. Never, ever, ever stir the rice after you pour water in the pan. If you do, the rice will stick to the pan.
Find this tip and more in my copycat Taco Bell seasoned rice recipe. Try it with your next burrito meal.
Best served with: any burrito
13. Cilantro Lime Rice
Looking for a change from Mexican rice? Try cilantro lime rice. Toast white rice with garlic and cook it with cilantro. Drizzle with freshly squeezed lime juice and toss to serve.
Restaurants like Chipotle and Café Rio popularized cilantro lime rice. They serve it instead of traditional Mexican rice.
The flavor of cilantro lime rice is more subtle than Mexican rice, but equally as tasty.
Best served with: smothered burritos with green chili, chicken wet burrito, fish burrito
14. Refried Beans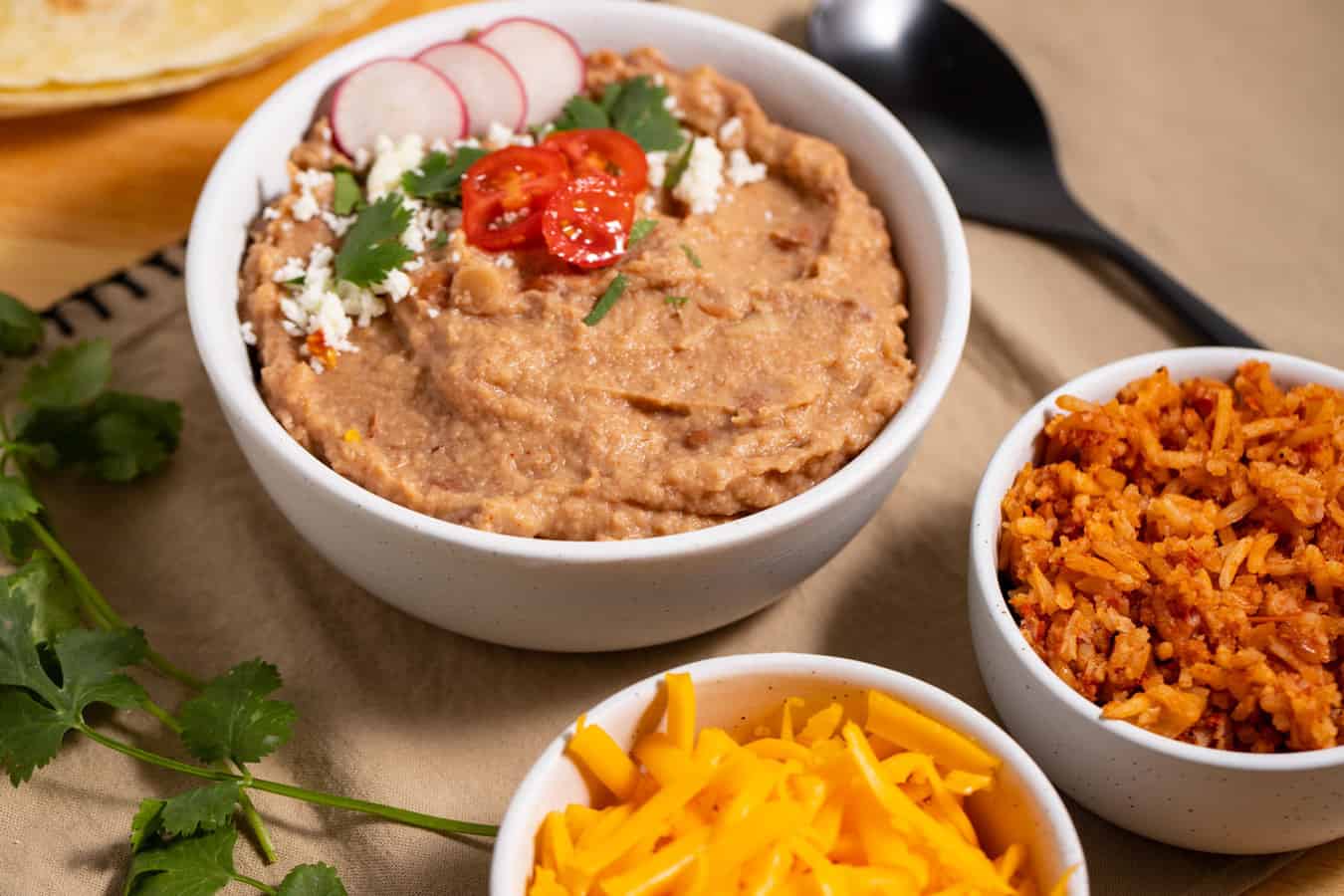 The most common side dishes to find on a restaurant plate of burritos is Mexican rice and refried beans. Refried beans make a hearty side, topped with melted cheese.
The easiest way to make refried beans is to use canned beans. It is easy to transform canned refried beans into restaurant style with a few easy steps.
Want to make refried beans from scratch? Start with cooked beans. Then mash and fry them with Mexican spices and a lard (or another fat).
Use any bean for refried beans, although pinto beans are the most common. Black beans or white beans can also make tasty, refried beans. Change up the seasonings when you change up the beans.
Best served with: any burrito
15. Pinto Beans
No time to refry your beans? No problem.
Make a well-seasoned batch of pinto beans as a side. No one will miss refried beans when there are flavorful pinto beans on the table.
Pre-soak the beans overnight with plenty of water and salt. Then simmer the pinto beans with spices in the slow cooker all day.
The smell of cooking beans reminds me of my childhood. When I got off the school bus the aroma of cooking beans surrounded me. I ran home knowing what was for dinner.
Best served with: any burrito
16. Black Beans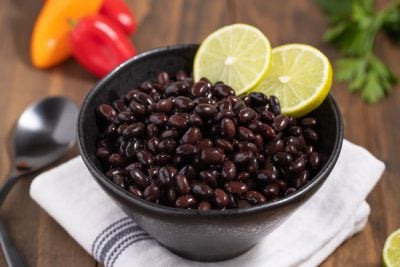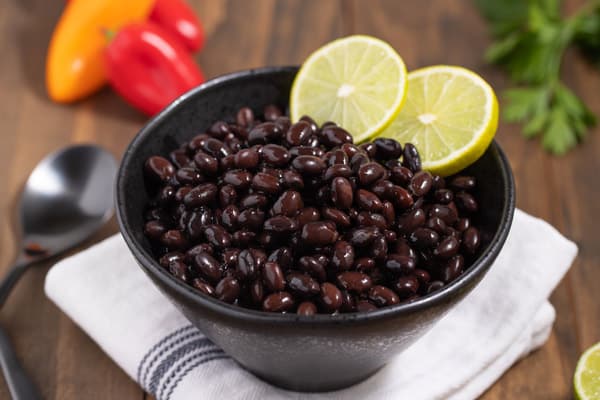 Black beans and cilantro lime rice make a good couple. Sit them side-by-side on a plate with a burrito for a contrast in color and taste.
Change things up from the expected refried beans and Mexican rice.
Use a pressure cooker, like the Instant Pot, to cook the black beans quickly. Pre-soaked the beans overnight. Then cook them in 15 minutes in an electric pressure cooker.
Best served with: fish burrito, shrimp burrito, chicken burrito
17. Charro Beans
Charro beans are pinto beans simmered in a broth with bacon, onions, and cilantro. They may be soupy beans, but do not mistake them for soup. Its more like beans in sauce.
Because they are saucy, serve them in a small bowl on the side, rather than on the plate next to a burrito.
Best served with: shredded beef burrito, Taco Bell beefy Frito burrito
Thrilling Salad and Veggie Ideas
Every dinner should have a salad or veggies. That's what Mom said, right? This section is for the healthy-minded burrito lovers.
18. Mexican Street Corn (esquites asados)
Mexican street corn is boiled or grilled corn on the cob. Season first, then slather with a creamy sauce. Finally top with queso fresco or feta cheese.
In Mexico, the aroma of Mexican street corn permeates the food peddler's vicinity. These vendors peddle sweet corn alongside burritos, tacos, or fresh salsa.
It is the perfect side to a burrito.
Best served with: carne asada burritos, fish burritos, salsa verde chicken burritos
19. Black Bean and Corn Salad
Black bean and corn salad works best next to a burrito without beans.
Serve the salad cold with well drained black beans and sweet corn. Add diced red bell peppers, chopped tomatoes, and cubed avocado. Drizzle with lime vinaigrette and sprinkle on sliced green onions and chopped cilantro.
Best served with: chicken burrito, shredded beef burrito
20. Mango Avocado Salad
Avocado anything compliments burritos and avocado salad is no exception.
An avocado salad is not guacamole. Instead of mashing the avocado, cube it.
Line the serving bowl with butter lettuce. Add avocado, mango, cherry tomatoes, diced red onion, queso fresco, and cilantro. Drizzle with lime juice and olive oil. Season with salt and pepper.
Avocado salad is quick to whip up and can cool down a spicy burrito.
Best served with: any spicy burrito
21. Chopped Salad
Who says you can't pair a garden salad with a burrito? Not me.
Start with your choice of lettuce, like green leafy lettuce or romaine. Spice the greens with a cup of arugula or watercress.
Add tomatoes, red bell peppers, jicama, and sweet corn kernels. Drizzle with a chipotle ranch and sprinkle with queso fresco. Watch a ho-hum garden salad transform into a spicy crispy Mexican salad.
Best served with: California burrito, shrimp burrito
22. Creamy Mexican Fruit Salad (bionico)
Bionico, a creamy fruit salad, originated in Guadalajara, Mexico and street vendors still sell it there.
The sweet creamy sauce, toasted pecans, and coconut differentiate this salad from others.
Start with fresh fruit like strawberries, pineapple, and cantaloupe.
Stir in the sweet dressing and add toppings like coconut, nuts, and raisins.
Best served with: any meat burrito
23. Quinoa Black Bean Salad with Zucchini + Lime Dressing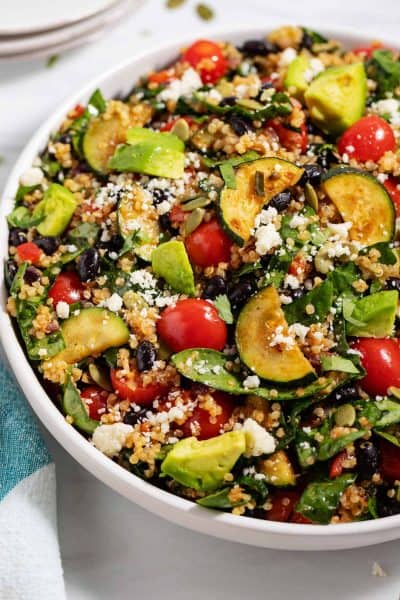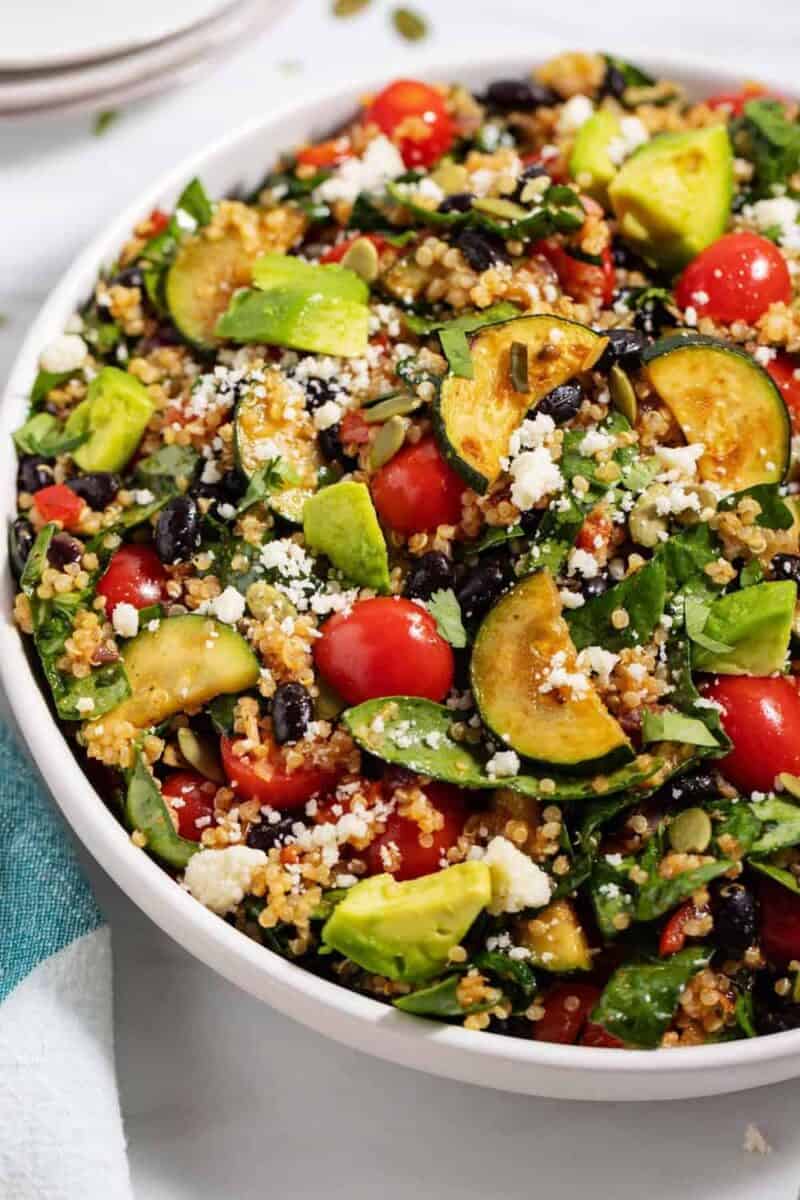 Looking for a light, filling, healthy salad? A quinoa black bean salad recipe with zucchini and cumin lime dressing is your answer. Fluffy quinoa, hearty black beans, fresh spinach, and sauteed summer vegetables, sprinkled with a zesty dressing are perfect together.
If you associate rice (not quinoa) with Latin American food, think again. Quinoa is an ancient grain originating in the mountains of Bolivia, Chile, and Peru over 3,000 years ago.
Best served with: beef burritos, chicken burritos
24. Caesar Salad
An original Mexican salad, Caesar Cardini created the first Caesar salad in his Tijuana restaurant.
The Caesar salad dressing brightens this uncomplicated salad of romaine hearts and cotija cheese. Try making your own Caesar salad dressing if you have time.
Best served with: pork burrito, chicken burrito
25. Mexican Fruit Salad (pico de gallo fruta)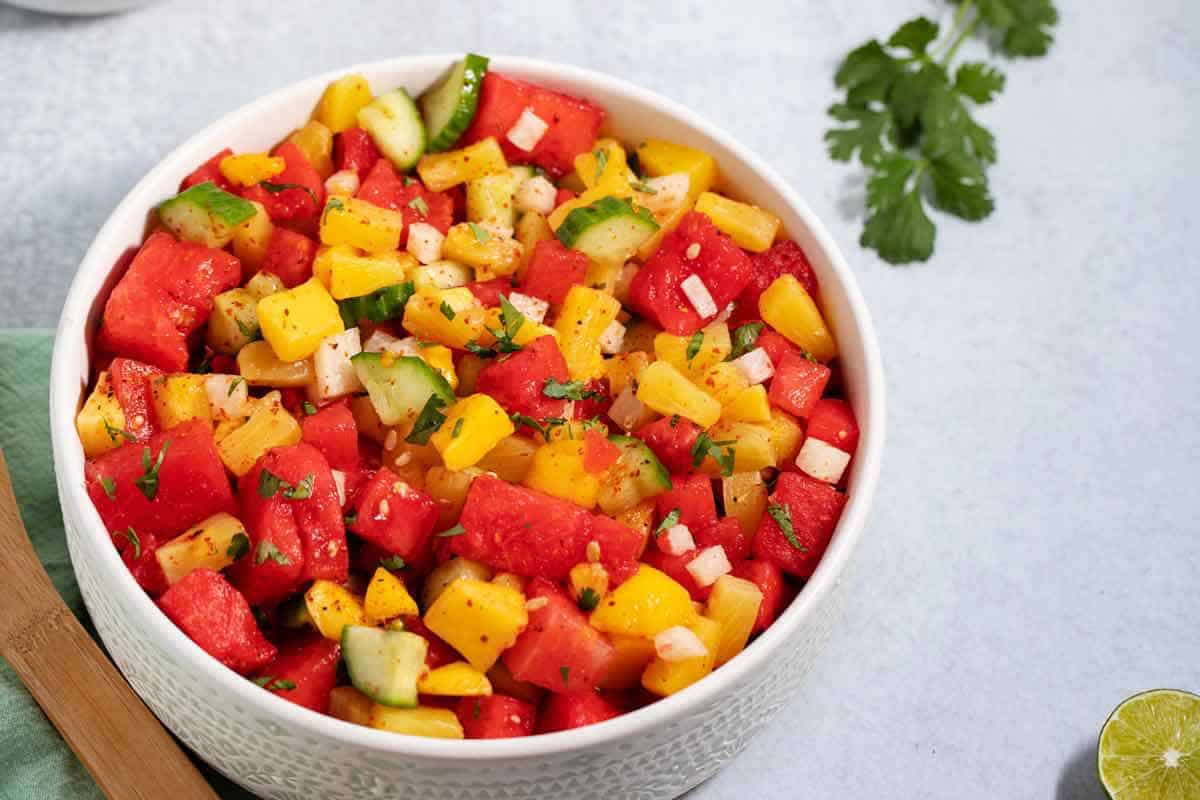 Try this easy Mexican fruit salad recipe (pico de gallo fruta). It is the perfect blend of sweet, spicy, and salty. Vibrant, colorful summer salad you will make again and again.
Drain all the fruits for at least 20 minutes. Otherwise, it will be a sloshy soupy mess.
The flavors of watermelon, mango, and pineapple mingle and cucumber and jicama add some crunch. The star of the show is the chili-lime seasoning lavishly sprinkled throughout to complete this drool-worthy Mexican fruit salad.
Best served with: breakfast burritos, healthy chicken burrito
26. Spicy Jicama and Cabbage Slaw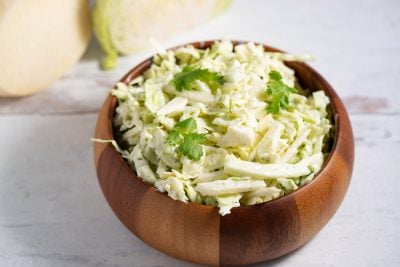 Instead of a coleslaw with only cabbage, shake up your slaw with a jicama. Jicama is a root vegetable native to Mexico. It crunches like a water chestnut. It is mildly flavored. The slightly savory flavor hints of apple, pear, and potato.
Combine shredded jicama and cabbage with a small jalapeno, cilantro, and a creamy vinaigrette.
Best served with: fish burrito, shrimp burrito, chicken burrito
Stunning Soups
A cup of soup can hit the spot when paired with a burrito. It's warming and filling. Simply satisfying. Serve one of these authentic soups with your next burrito meal.
27. Black Bean Soup
My vegan black bean soup recipe is crammed with flavor. The incredible taste comes from the roasted poblano peppers and tomatillos, and the sweet corn blended into the soup.
It is a hearty soup. Serve it with any traditional Mexican burrito. Mexican burritos are much smaller than the mission style burrito Chipotle made famous.
Mexican burritos are easier recipes. Smaller tortillas hold one ingredient with an optional smear of refried beans. Because they are smaller and lighter, a side of black bean soup pairs nicely.
Best served with: Mexican burritos
28. Butternut Squash Soup
Squashes are some of the oldest foods. Although the butternut squash did not originate in South America, this soup still makes a great side for burritos.
Butternut squash soup is pureed. Pureeing a soup makes it heavy and filling. Even if a vegetable is the main ingredient.
Just like black bean soup, butternut squash soup is a suitable side dish for a smaller lighter Mexican burrito.
Best served with: Mexican burritos
29. Sopa de Albondigas (meatball soup with rice)
Traditional rice and meatball soup does not feel as hearty as a pureed soup. Still, rice and meatballs can be filling.
Sopa de albondigas pairs best with a Mexican style burrito. Although one smeared with refried beans would not be amiss.
Best served with: Mexican burritos
30. Tortilla Soup
A plethora of Mexican spices make up the flavorful broth in tortilla soup. Submerge strips of fried tortillas and garnish with shredded cheddar cheese and avocado cubes.
Keep the soup thin and the cheese light to make a good burrito side dish.
Best served with: Mexican chicken burrito
31. Refried Bean Soup
Instead of a side of refried beans, change it up with refried bean soup. Add a dollop of crema to the top to garnish.
Best served with: authentic Mexican burritos
32. Chili Con Carne
Chili is Tex-Mex. It is not found in Mexico unless there are tourists around. Spicy chili peppers and beef are the main ingredients of chili con carne. No beans here.
Best served with: chili cheese burrito, Taco Bell bean burrito
33. Creamy Chicken Chili with Salsa Verde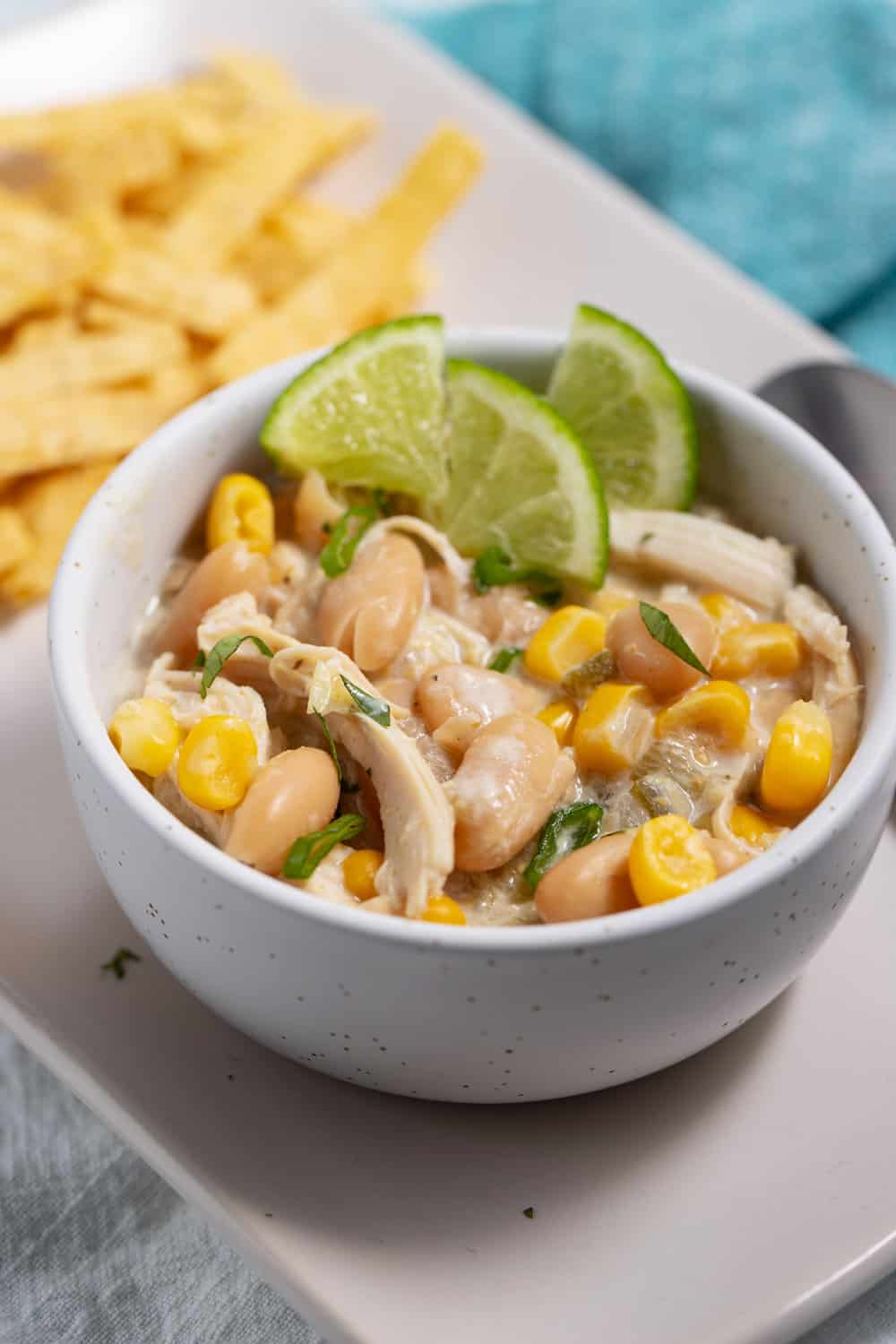 The 1980s celebrated when chicken lightened up traditional chili. Now a creamy white chili made with white beans and chicken competes with chili con carne for attention.
If you want a burrito side dish without beef, try salsa verde chicken chili. It did not originate in Mexico … or in Texas. But try it with burritos and you will not be disappointed.
Best served with: chicken burritos
Dazzling Casseroles and Dishes
One-pot wonders. Saucy, bubbly, and oh so desirable. Boost your burrito meal with these saucy ideas.
34. Chilaquiles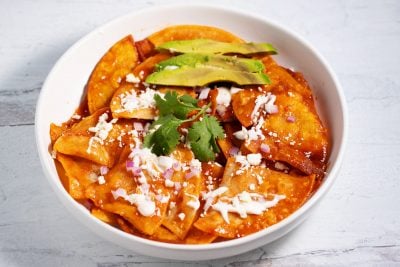 Chilaquiles are corn tortilla wedges first fried and then simmered in a red or green chili sauce. The end result? A crunchy, chewy pleasure.
Add any topping you want (egg, steak, chicken, refried beans, etc.) for a main dish. Or keep it simple when you serve it side-by-side a burrito.
Best served with: any air fryer burrito
35. Poblano and Corn Gratin
Creamy spicy poblano and corn gratin is a casserole side dish. Make it with roasted poblanos, sweet corn kernels, Oaxaca cheese, crema, and half and half.
Bake until bubbly and you have a cheesy veggie side dish to go along with your protein-filled burrito.
Best served with: steak burrito
36. Creamy Mexican Corn
Ok. This is not the lightest dish. The nutritional value of the corn cannot possibly compensate for the heavy cream cheese, bacon, and butter.
But who cares!
Sweet corn, jalapenos, cream cheese, half and half, bacon, and butter. What can go wrong?
Best served with: chicken burrito, California burrito
37. Poblano Grits
Grits are sorta Tex-Mex and sorta southern. Whatever the origin, you have got to try it with your burrito.
Skip the rice and try the grits. Cook the grits. Mix in eggs, cheese, poblanos, and spices. Bake it in individual ramekins. Side dish coming right up.
Best served with: any burrito with smoky meat
38. Enfrijoladas
Have leftover corn tortillas and beans? Use them to make enfrijoladas and serve with burritos.
To make enfrijoladas, dip corn tortillas in a bean sauce and top with cheese. Fold the tortilla in half or in quarters and bake in the oven until the cheese melts (about 10 minutes).
Best served with: cheesy rice and bean burritos
Tasty Toppings to Serve With Burritos
Serving a burrito bar at your party? The toppings are just as important as the burrito itself. Add salsa, burrito sauce, cheese, or veggies to compliment any burrito flavor.
Toppings turn a homemade burrito into restaurant quality. Here are some favorite toppings.
39. Tomato Salsa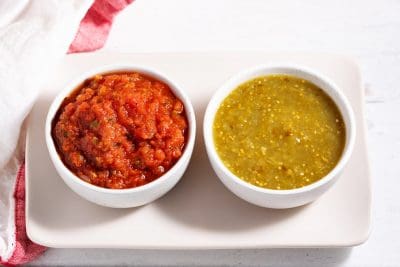 Salsa is a thinner sauce usually served on top of a burrito, rather than inside.
Back in the 1980s, Mexican restaurants popularized tomato-based salsas. Salsas are usually cooked, giving the sauce a stronger tomato flavor.
Pureed ingredients thin out the salsa, making it a great choice for dunking chips as well as topping a burrito.
Best served with: shredded beef burritos, chicken burritos
40. Salsa Verde
Instead of tomato salsa, try salsa verde. The primary ingredients are tomatillos and green chili peppers.
The tomatillos lend a sweet flavor to the salsa. The green chili peppers add all the spice.
Best served with: chicken burrito
41. Black Bean and Corn Salsa
Taking a break from tomato salsa? Try black bean and corn salsa.
Although it can have a tomato in it, the tomato is not the focus. Add red peppers, red onion, a small jalapeño, and cilantro. Mix everything together with a splash of lime juice and salt to taste.
Best served with: breakfast burritos, healthy chicken burritos
42. Homemade Guacamole
Avocados are abundant in Mexico and served with virtually all Mexican food. Guacamole takes avocados to the next level and is perfect to serve in a dollop on top of a burrito.
Try my customizable tasty homemade guacamole recipe for your own burrito bar.
Best served with: chicken burritos, breakfast burritos, steak burrito
43. Pico de Gallo (also known as salsa fresca)
Most Mexican restaurants serve their own version of pico de gallo. The chunky texture of fresh tomatoes, onions, hot peppers, and cilantro adds to the mouthfeel of burritos and tacos.
Every ingredient is raw and diced. Raw onions and peppers add more heat. Depending on the heat of the pepper and the amount of pepper added, pico de gallo can be mild, medium, or hot.
Because pico de gallo is thicker than regular salsa, it is one of the most popular burrito fillings and toppings.
Best served with: any burrito
44. Crema (or sour cream)
Crema is like sour cream with a Mexican twist. In fact, sour cream is a great substitute for crema. But there are differences.
Crema is thicker and richer than sour cream. It does not taste as tangy or sour.
Crema lightens the spiciness of burritos and adds a creamy texture to a savory dish. Try making crema at home with cream, buttermilk, lime juice and salt. Keep it covered on the counter for 12 to 24 hours and then refrigerate.
Best served with: fish burritos, chicken burritos, California burrito
45. Green Chili Sour Cream Sauce
If you want a wet burrito, smothered in sauce, try green chili sour cream sauce. It only takes 15 minutes to cook.
The sour cream in the sauce makes it creamy and it tones down the heat in the green chilies.
Best served with: chicken burritos
46. Enchilada Sauce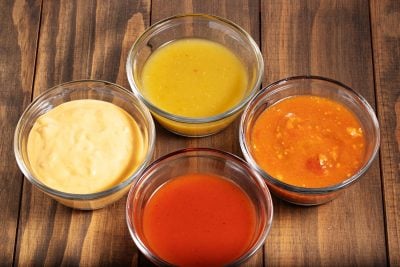 Smother your burrito with a classic red enchilada sauce. Enchilada sauce is made with ancho chili peppers.
Red enchilada sauce can go inside the burrito or on top for a wet burrito. It adds some heat, so pour wisely.
Best served with: steak burritos
47. Chili Con Queso
Queso is a cheesy fondue sauce. Thick and creamy and oh, so very dippable.
Sure, you can melt a block of processed Velveeta cheese slop in Ro Tel tomatoes for quick queso.
But if you really want a tantalizing taste, try making queso with Monterey jack and longhorn cheese. Serve it in a fondue pot, so it stays smooth and melty.
Best served with: beefy frito burrito, cheesy rice and bean burrito
48. Ranchero Sauce
Ranchero sauce is a tomato and onion-based sauce, flavored with jalapeños and chipotles peppers. It is milder than enchilada sauce because the tomatoes tone down the heat of the peppers.
Ranchero sauce is one of my favorite burrito sauces.
Best served with: bean burritos, chicken burritos
49. Salsa Suiza
Swiss immigrants in Mexico started dairies and introduced salsa suiza. It is a cream-based white sauce flavored by tomatillos and jalapeno peppers. The hint of sweetness comes from the tomatillos.
Best served with: chicken burritos, breakfast burritos
50. Queso Fundido
Queso fundido is a hot melted cheese sauce baked in the oven and flavored with poblano peppers, onions, and chorizo. Choose a sturdy cheese that will melt and goo in the oven but will not break down too quickly.
Monterey jack and mozzarella are good cheese choices to use in queso fundido.
Dip warm tortillas into it for a snack. But when you pour it over a burrito you will find a different kind of bliss.
Best served with: California burrito
51. Shredded or Crumbled Cheese
Cheese is one of the most popular burrito fillings. But a little cheese to garnish the top turns a tasty burrito into a good-looking one as well.
Any of the following cheeses would make amazing burrito garnishes.
Queso fresco: Soft, moist, fresh, mild, and salty flavor. Crumble it and use to balance rich, spicy burritos.
Cotija cheese: Dry, firm, and salty cheese. Crumble on top or inside a burrito.
Monterey jack: Creamy, mild, and slightly sweet semisoft cheese. Shred it and melt it on top of wet burritos.
Queso de Oaxaca: Semi-hard cheese that reminds me of mozzarella. Melt it on top of a burrito.
Cheddar cheese: Mild to very sharp full flavor. Shred it and melt it on top of smothered burritos.
Best served with: all burritos, chili cheese burritos
52. Fajita Veggies
Sometimes the veggies are inside the burrito. Sometimes they sit beside it. Fajita veggies make a tasty side for dry burritos (as opposed to wet or smothered burritos).
Slice and then sauté onions and bell peppers (red, green, and orange). Add some mushrooms and asparagus if you are in the mood.
Best served with: chicken burritos, steak burritos
53. Fresh Limes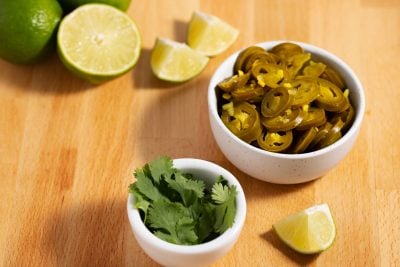 Cut the limes into wedges to garnish the burrito. Let guests squeeze fresh lime juice on their burrito to add flavor.
Best served with: fish burritos, chicken burritos, steak burritos
54. Pickled Jalapenos
Use them from a jar or make your own quick version of pickled jalapenos. You cannot go wrong.
Pickled jalapenos are delicious on top of a dollop of crema or on a burrito smothered with salsa suiza.
Best served with: beef burritos, chicken burritos
55. Roasted Poblanos
Roasted and then diced poblanos sprinkled on a dollop of crema give a smoky flavor to the burrito. If you roast your own poblanos, give yourself enough time to peel and dice them before you serve them.
Best served with: beef burritos
Hearty Entrées to Serve with Burritos
Check out the menu at a Mexican restaurant. Do you see those combination plates with two entrées? Meant for those with large appetites. Or for those who crave variety.
Preparing another entrée takes work. I would not recommend it on a regular weeknight. Unless you buy the food frozen and just reheat. Valid choice. No judging here.
Instead, serve a burrito alongside another entree for special occasions.
Quinceanera? Burrito bar, plus another entrée ensures your guests will not leave hungry.
Family Christmas party?  You will never have enough food. Especially if teenage boys are invited.
Listed below are the most tantalizing entrees to serve with burritos.
56. Tamales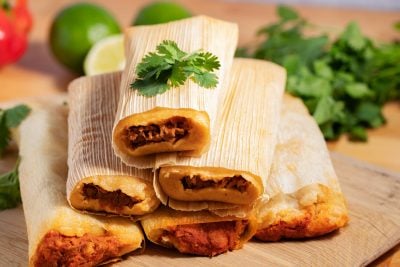 Tamales are labor intensive. But tamales and burritos make a striking couple. Something about the masa tamale next to a warm flour tortilla burrito hits the spot. The two entrées complete each other.
Check out these instructions on how to cook frozen tamales using whatever cooking method is most convenient.
57. Tostadas
For those who like to see what is inside their burrito, pair it with a tostada.
Fry a corn tortilla for the tostadas and top it with whatever fills the burrito.
Or try complimentary fillings to change things up.
58. Gordidas
Gordidas are thick corn tortillas, first baked, and then filled. These are really an entrée side. Use the same burrito fillings to make it easier.
59. Chicken Enchiladas with Sour Cream Sauce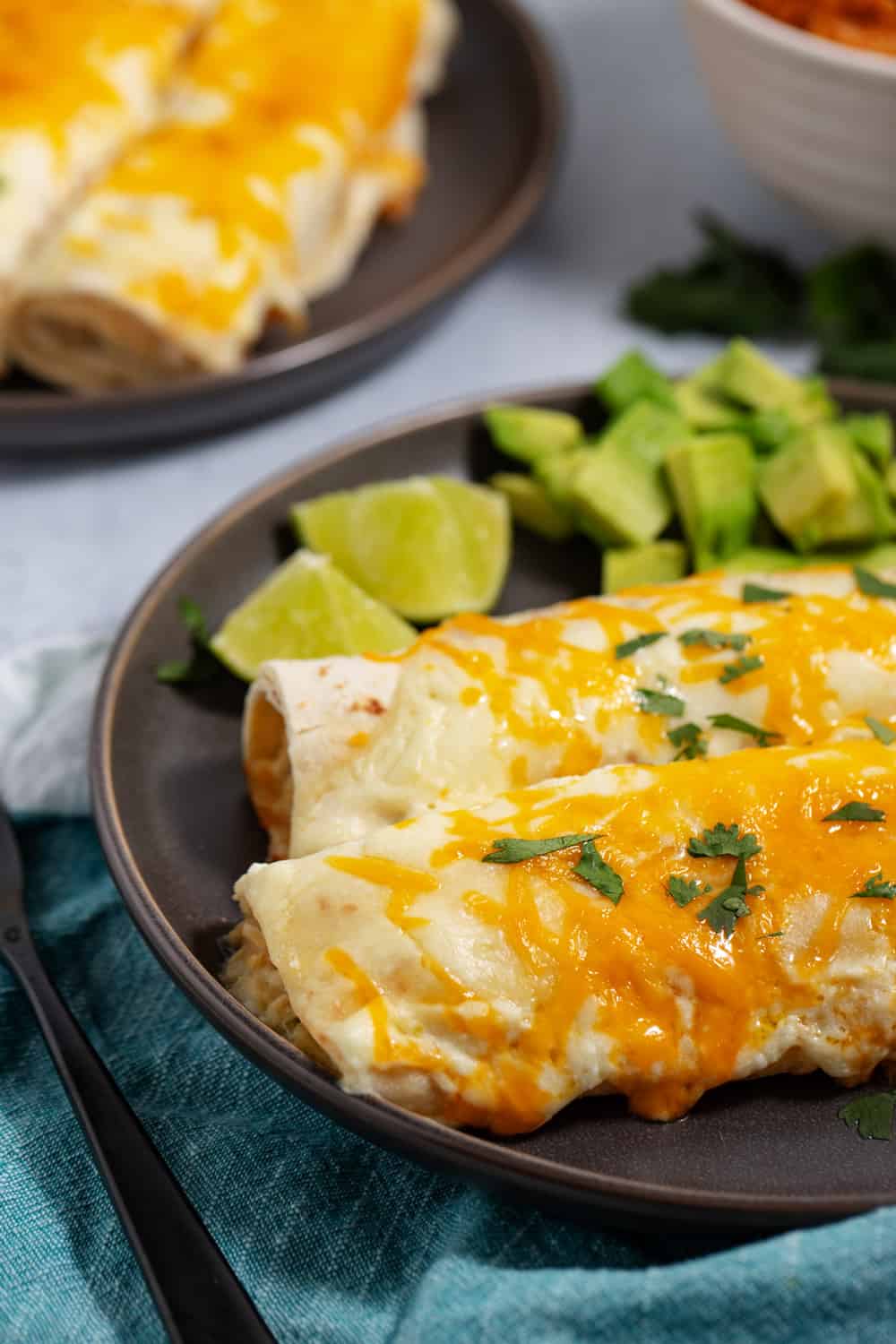 Transform dinner when you learn how to make chicken enchiladas with sour cream sauce. Easy 5-minute sour cream sauce will change your life.
Make a delicious chicken filling with shredded chicken, green chilies, salsa verde, and cream cheese. Then whip up a quick sour cream sauce, thickened with cornstarch.
Roll the enchiladas, smother with sauce, and bake until bubbly.
Sweet Desserts to Serve with Burritos
No meal is complete without dessert, so here are a variety of enticing desserts to serve with any burrito.
60. Churro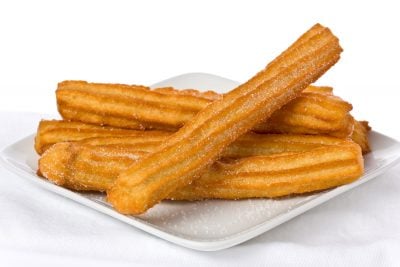 Oh, the sweet savory smell. It reminds me of the county fair, where I always ate a churro.
But you can make your own with the right tools. A churro is an extruded dough deep fried and drenched in cinnamon sugar.
Eat it hot, after you finish your burrito.
61. Fried Ice Cream
Nothing beats fried ice cream. A scoop of creamy ice cream frozen solid, breaded, and then quickly deep fried. You get a hot and crispy outside and a cold and creamy inside.
Fried ice cream is the perfect dessert for any kind of burrito.
62. Flan
Flan is a custard made with condensed milk, evaporated milk, and eggs and topped with a soft caramel sauce and whipped cream.
It is a popular dessert in Mexico. Homemade is much better than from a box.
63. Mexican Bread Pudding (Capirotada)
Capirotada is a Mexican version of bread pudding. It is often eaten during Lent, but certainly that is not the only time to gobble it down.
Mexican bread pudding is a baked pudding. It features sliced French bread, piloncillo (Mexican sugar) or dark brown sugar, cinnamon, almonds, raisins, and Monterey jack cheese. Yes cheese.
Bread pudding is an easy dessert to eat with burritos any night of the week.
64. Tres Leches Cake
Tres leches cake is really a poke cake. It evolved from European soaked cakes (baked sweets drenched with custards and syrups).
Nestle opened manufacturing plants in Mexico around World War II. And Nestle's evaporated and condensed milks are arguably the most common canned milks.
Because canned milks were readily available, dropping syrup in favor of condensed milk happened naturally. Nothing beats what is right in front of you.
To prepare tres leches cake, first make a white sponge cake. Cool the cake, and poke holes all over the top with a wooden skewer.
Now comes the tres leches, or three milks, part. Mix the sweetened condensed milk, evaporated milk, and heavy cream together. Slowly pour the mixture evenly all over the cake. Chill and serve.
It is as pleasurable to eat as it is simple to make. Serve it at a birthday party after the burrito bar meal.
65. Mexican Vanilla Ice Cream
Not just vanilla ice cream. Mexican vanilla ice cream.
With sweet and woody notes, Mexican vanilla flavor is deep and creamy and slightly spicy sweet. Use Mexican vanilla next time you make ice cream.
If you do not want to make your own, try Amy's Mexican vanilla ice cream. It ships nationwide.
66. Sopapillas
Sopapillas are a New Mexico dessert traditionally served at the end of the meal. Just as chips and salsa are served at the beginning of the meal.
A sopapilla is a puffed pastry dough fried in oil until puffy. The dough is like tortilla dough and is fried like Indian fry bread.
Serve it piping hot in a puddle of honey.
67. Mexican Chocolate Cake
What do you taste when you hear "Mexican chocolate"? My flavor memory is chocolate and cinnamon. And sometimes chili powder to give it a kick.
Mexican chocolate cake embodies my flavor memory. It is a rich luscious chocolate cake flavored with cinnamon and chili powder (optional). Eat it with a scoop of Mexican vanilla ice cream.
68. Mexican Rice Pudding (Arroz con leche)
Cook short-grain white rice with condensed milk, whole milk, cinnamon, and sugar to make a rich rice pudding. This sweet custardy pudding is perfect as a dessert after a dinner of hearty burritos.
Thirst-Quenching Drinks to Serve with Burritos
Your burrito meal is not complete without a drink from Latin America. All these drinks are family friendly. No alcohol in the lot.
69. Brazilian Lemonade (aka Swiss lemonade)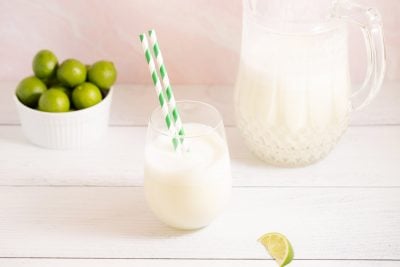 Why would I recommend Brazilian lemonade and burritos? Burritos are not Brazilian. Nor was Swiss lemonade invented by the Swiss.
Put aside your food nationality preconceptions for a second. Trust me when I say that any sweet, frothy, refreshing drink is meant to go with burritos. Especially during the summer.
Make Brazilian lemonade with fresh limes. Blend them whole with condensed milk. What you get is sweet and tart Swiss lemonade. This won't last long.
70. Aguas Frescas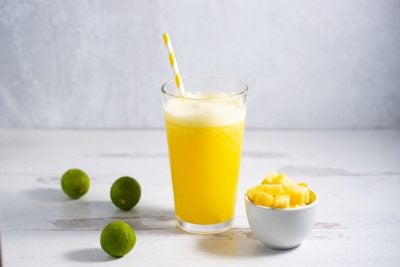 Aguas frescas is an everyday drink in Mexico. It is made by blending seasonal fruit with water. Sweeten as needed with sugar.
It is cool, refreshing, and a perfect drink for any burrito. Try making it with watermelon or pineapple.
You can always strain it after you blend it if you want a smoother drink.
71. Champurrado (atole)
If you are having a Christmas burrito party, serving champurrado with the burritos is just the thing. Champurrado is a hot thick chocolate drink made with milk, chocolate, and masa harina.
72. Horchata
Horchata is a cool drink which begins with a base of soaked uncooked white rice. Blend the rice with a cinnamon stick and sugar. Strain and then chill.
What you get is a sweet rice milk, complimenting especially spicy burritos.
73. Batidos (licuado)
Batidos is like a smoothie or milkshake. Make it with a milk base and a meaty fruit (such as papaya, banana, or strawberry).
Make it with milk to serve with breakfast. Drink this healthy smoothie with your breakfast burrito.
Make it with sweetened condensed milk or ice cream and it transforms into a decadent dessert.
74. Tejate
Originating in Oaxaca, Mexico, tejate is a maize and fermented cacao bean drink.
First, make a paste with pixtle (toasted and ground mamey pits) and cacao flour. Slowly sprinkle water into the paste and mix by hand until the water is incorporated. Add a dash of sugar (if you want) and pour it over ice.
This is not a particularly easy drink to serve. The ingredients may be hard to find. But if you are having a big celebration, serving this drink at your burrito bar will be memorable.
75. Jarritos Soft Drink
Jarritos soda is an original Mexican soft drink founded in 1950. Mexican sugar and native fruit compose the base of the drink. It is the most popular Mexican soda sold in Mexico and the United States.
Mandarin is the original flavor. Other popular varieties include strawberry, lime, tamarind, guava, grapefruit, mango, watermelon, passion fruit, and many more.
And there you have it. An incredible resource when you need to decide what to serve with burritos. An amazing list of 75 bold ideas. Cook them. Share them. And never serve the same burrito meal twice.