Enjoy a rich, creamy butternut squash soup with cream cheese. It is a cozy dinner, perfect for cool weather. Easy to make, easy to freeze.
This post contains affiliate links. Thank you for your support.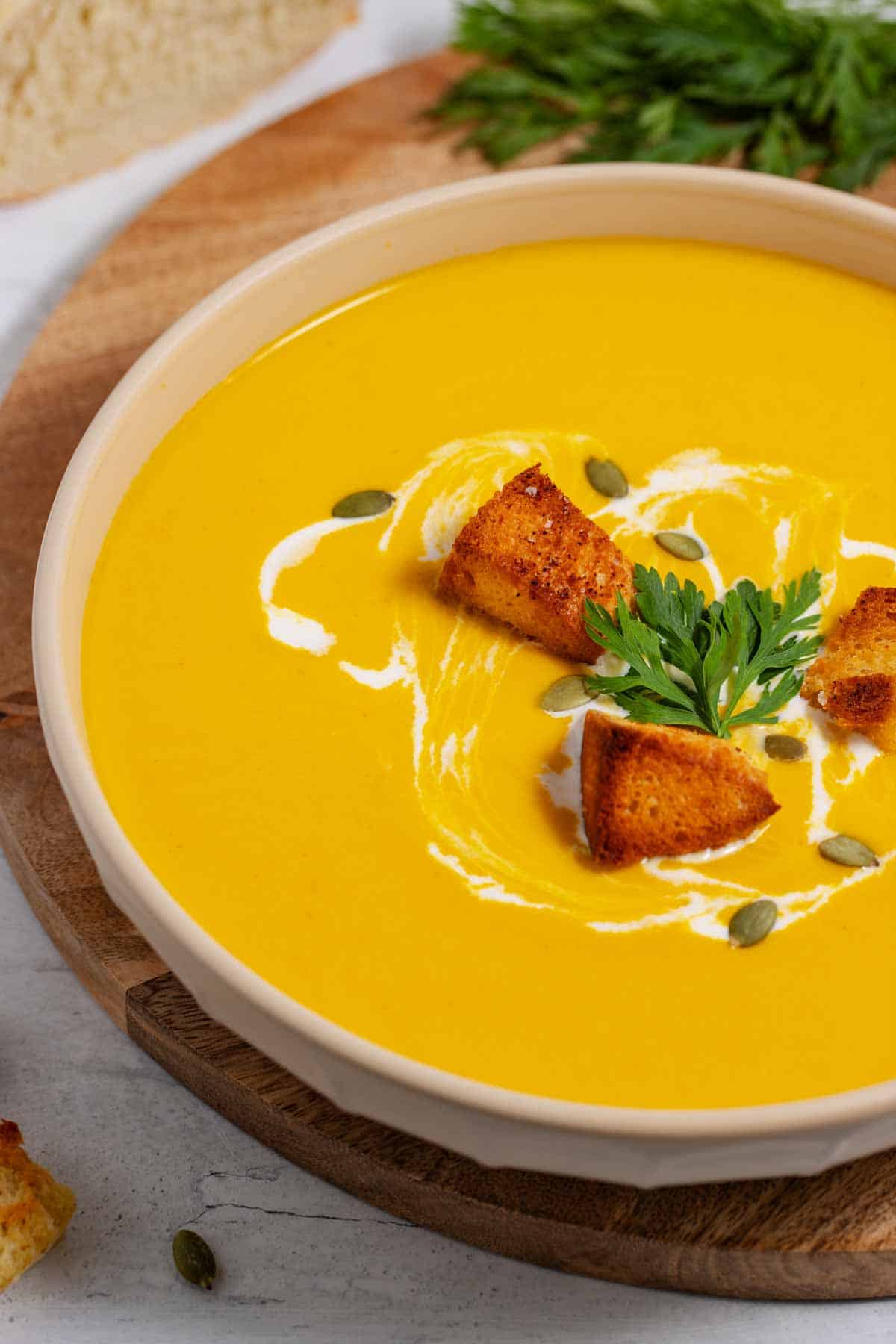 Sometimes I am Sneaky Mom. Especially when persuading my children to eat their veggies. Enter the sneaky recipes.
My butternut squash soup recipe is one of those sneaky recipes. The main ingredient is butternut squash. Technically a fruit, though sometimes thought of as a vegetable. I casually serve it without a word that the soup is nutritious.
What does butternut squash soup taste like? This butternut squash soup is rich, creamy, savory, and spicy. It tastes slightly nutty with a hint of buttery sweetness. The taste and smooth, creamy texture will remind you of pumpkin or pureed sweet potato.
You may also be interested in the best bread for butternut squash soup. If you love bread, you will love this list.
Ingredients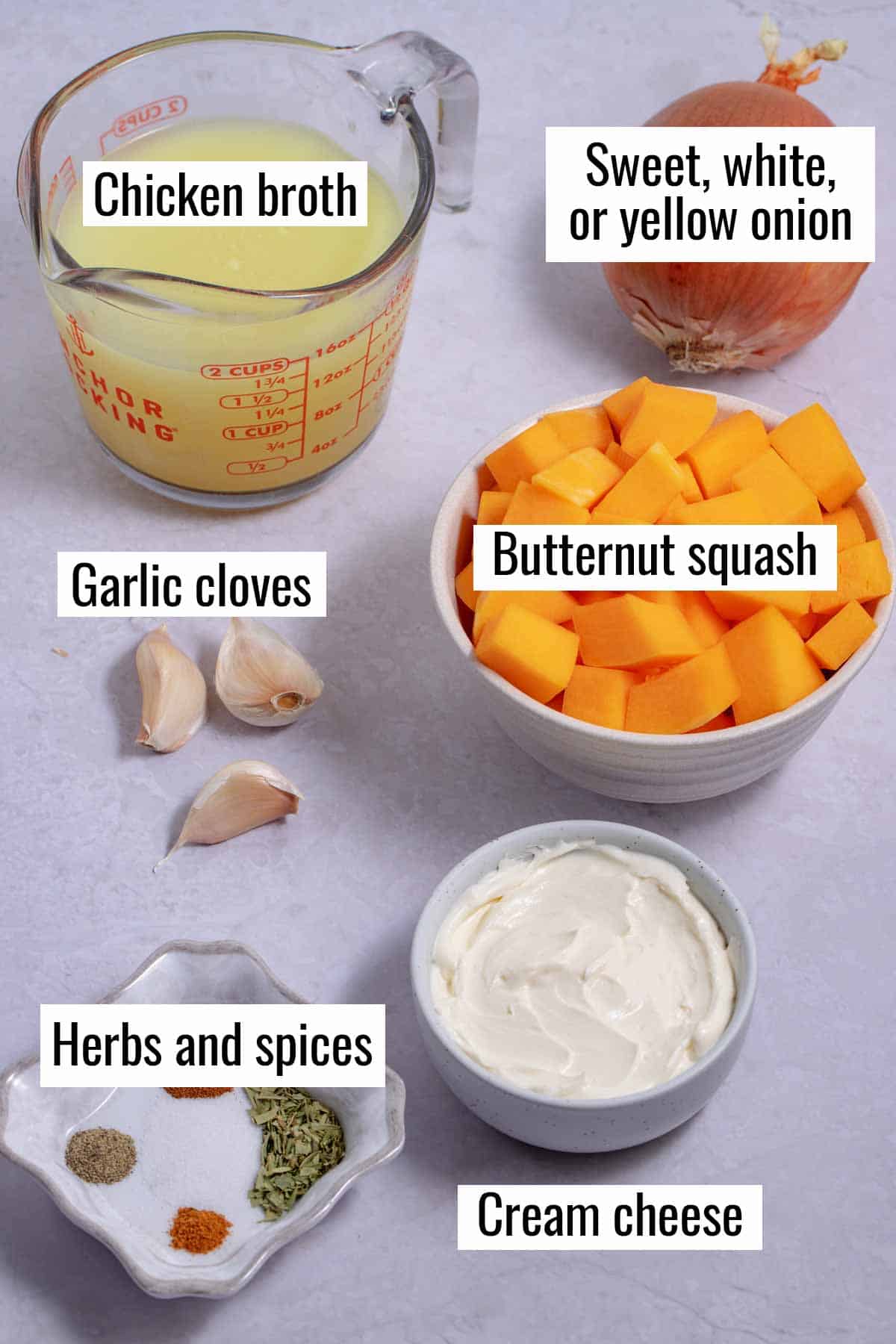 Butternut squash soup ingredients are simple and easy to throw together.
Butternut Squash
Butternut squash is a sweet, creamy thin-skinned squash packed with nutrition. Use a 2-pound butternut squash for this recipe. Two pounds is the medium-sized squash found in many grocery stores.
Fortunately, you don't have to be exact when it comes to the size of the squash you use in your recipe. Soup is a very forgiving dish.
I recommend weighing the squash in the grocery store and selecting one that is close to two pounds.
If the squash (minus the skin and seeds) is less than 2 pounds, use less broth to prevent the soup from being too thin.
Add more broth to avoid a thick soup if the squash is more than two pounds. And adjust the seasoning as needed.
Do you have to peel butternut squash for soup? Most people do peel butternut squash when making soup. Peeled squash gives the soup a smoother consistency when blended.
However, peeling the butternut squash is optional because the skin is edible when cooked. And when you puree the butternut squash soup in a powerful Vitamix, the soup will be smooth. Even with the butternut squash skin.
Onion
What kind of onion for butternut squash soup? The best onion for butternut squash soup is a sweet onion, like a Vidalia or Walla Walla.
A sweet onion enhances the sweetness of butternut squash and gives the best flavor to the soup. However, a white or yellow onion will work too.
Cream Cheese
Some creamy soups use heavy cream. But cream cheese adds a richer depth of flavor and a creamy texture.
There are plenty of healthy substitutes for cream cheese if you must. But the cream cheese really makes the best butternut squash soup.
Chicken Broth
Use your favorite brand of chicken broth. Or use vegetable broth if you prefer. You can also use bouillon cubes and water instead of broth.
I prefer using Better than Bouillon brand to make broth. It is a concentrated paste and makes a flavorful soup. If you ever have a soup lacking flavor, stir in a bit of the bouillon paste to perk it up.
Flavorings
What spices are good in butternut squash soup? Season the delicious soup with thyme and cayenne pepper in addition to salt and black pepper. The seasoning is simple, but the taste is full, spicy, and comforting.
Lemon Juice
A sprinkling of lemon juice is the secret ingredient to brighten the soup. It adds the finishing touch to make the soup complete.
Freshly squeezed lemon juice is best.
Tasty Tips
Don't let the cream cheese curdle. Sometimes cream cheese curdles when it is added to hot soup.

To prevent the cream cheese from curdling in the soup, make sure it is softened to warm room temperature. You can microwave it for 15 to 20 seconds to get it warm and easy to stir.

Then temper the cream cheese by adding a ladle of soup to the cream cheese and whisking until smooth. Repeat with another spoonful of soup.

Finally, add the cream cheese/soup mixture back into the soup pot. Stir it to incorporate the cream cheese into the soup.
Thicken or thin the soup. Based on the size of your butternut squash, you may have to adjust the thickness of the soup.

Thinning is easiest. Adding more broth, water, or milk thins the soup quickly.

Thickening the soup can be more challenging. Use either a thickener like cornstarch, E-Z gel (instant modified food starch), or flour.

Or blend in another ingredient like cooked beans, carrots, or potatoes.

You may be interested in this post on how to thicken pumpkin soup. All of the tips will work with butternut squash soup.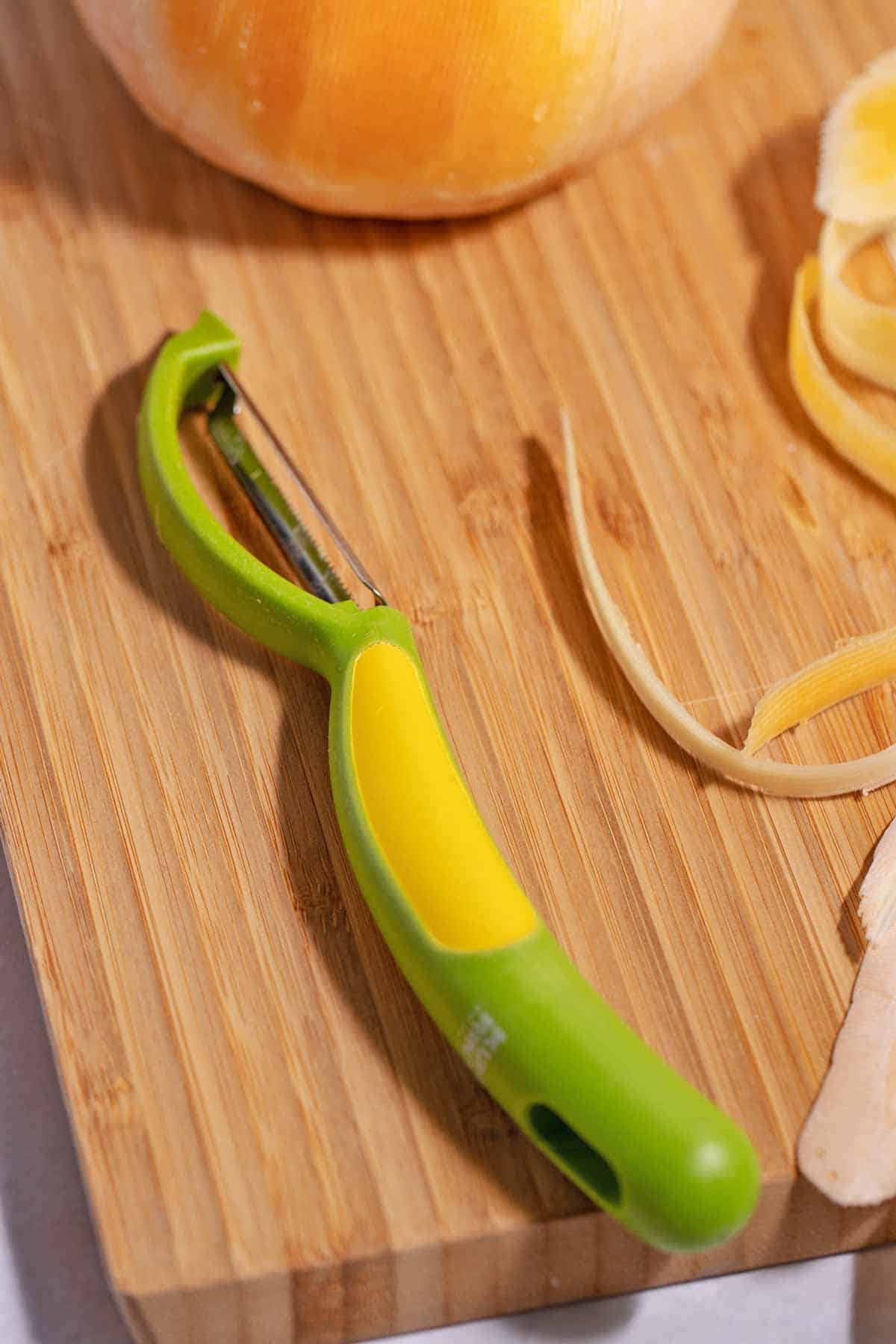 Substitutions
Substitute pumpkin for butternut squash. Soft, cooked butternut squash and pumpkin have a similar taste and texture. They can be interchangeable in recipes.

However, the taste and texture of roasted butternut squash are more like sweet potatoes than pumpkin.
Substitute coconut cream, heavy whipping cream, or half and half for the cream cheese. Each one will add richness, although not as fully as cream cheese.
Variations
Want to make a vegan butternut squash soup? Use coconut cream in place of the cream cheese. Reduce the amount of veggie broth so the soup is not too runny.
Cook up a sweeter soup. Add an apple and 2 tablespoons of maple syrup in place of the cayenne pepper.

Check out this recipe for pumpkin soup with apples and ginger. It is delicious!
How to Make Cream Cheese Butternut Squash Soup
Step 1: Prepare the ingredients.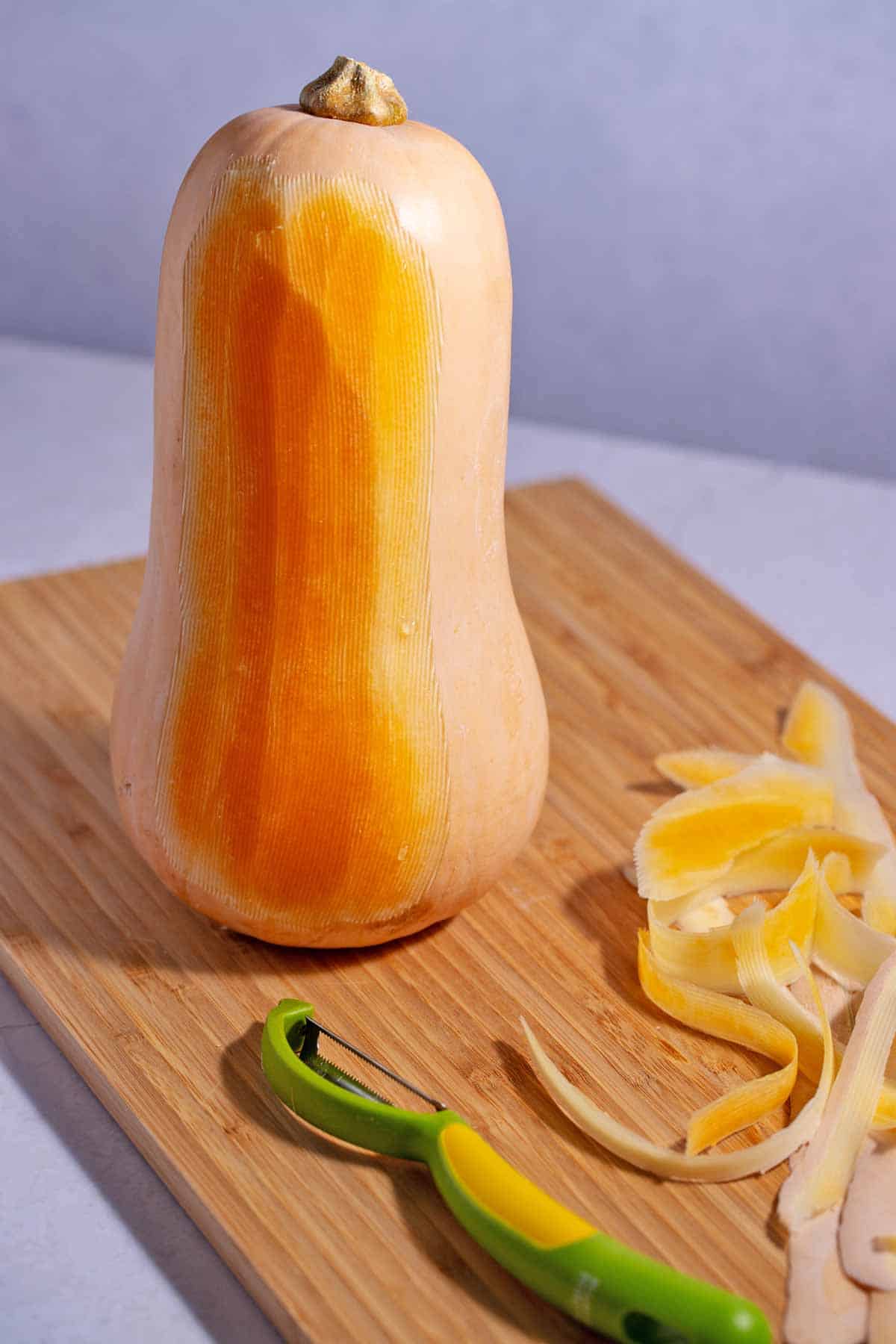 Take the cream cheese out of the fridge to soften.
Wash and peel the butternut squash. Use a sharp knife and a cutting board to cut the squash in half and remove the seeds. Cut the squash into one-inch cubes.
Dice the onion and mince the garlic.
Step 2: Cook the soup.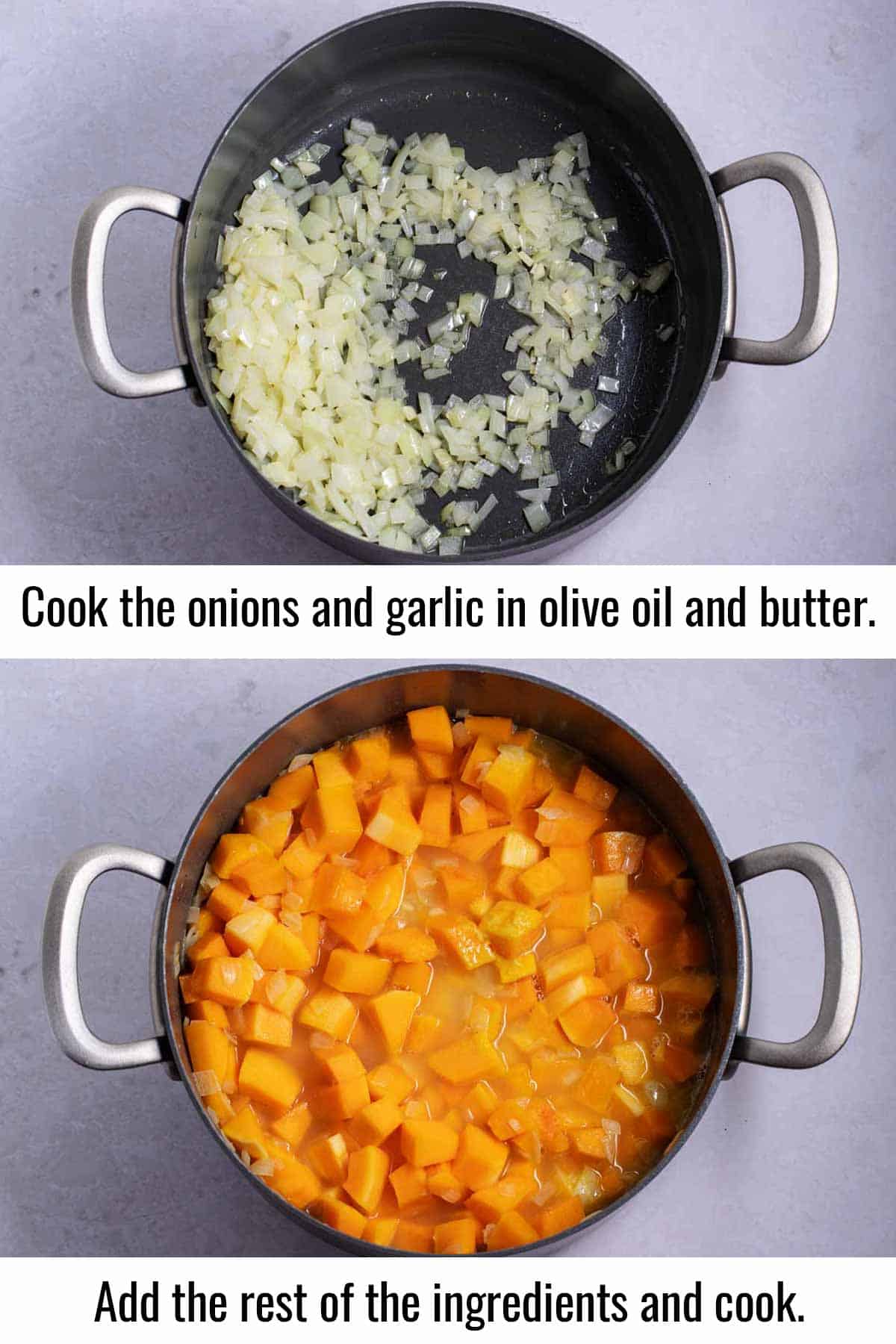 Heat the olive oil and melt butter in a large soup pot on the stove. Cook the onions and garlic until softened.
Stir in the squash, chicken broth, salt, black pepper, thyme, and cayenne pepper.
Place the lid on the pot and bring the soup to a boil over medium heat.
When the soup begins to boil, reduce the heat, and cook over low heat for 15 to 20 minutes or until the squash is soft.
Step 3: Puree the soup.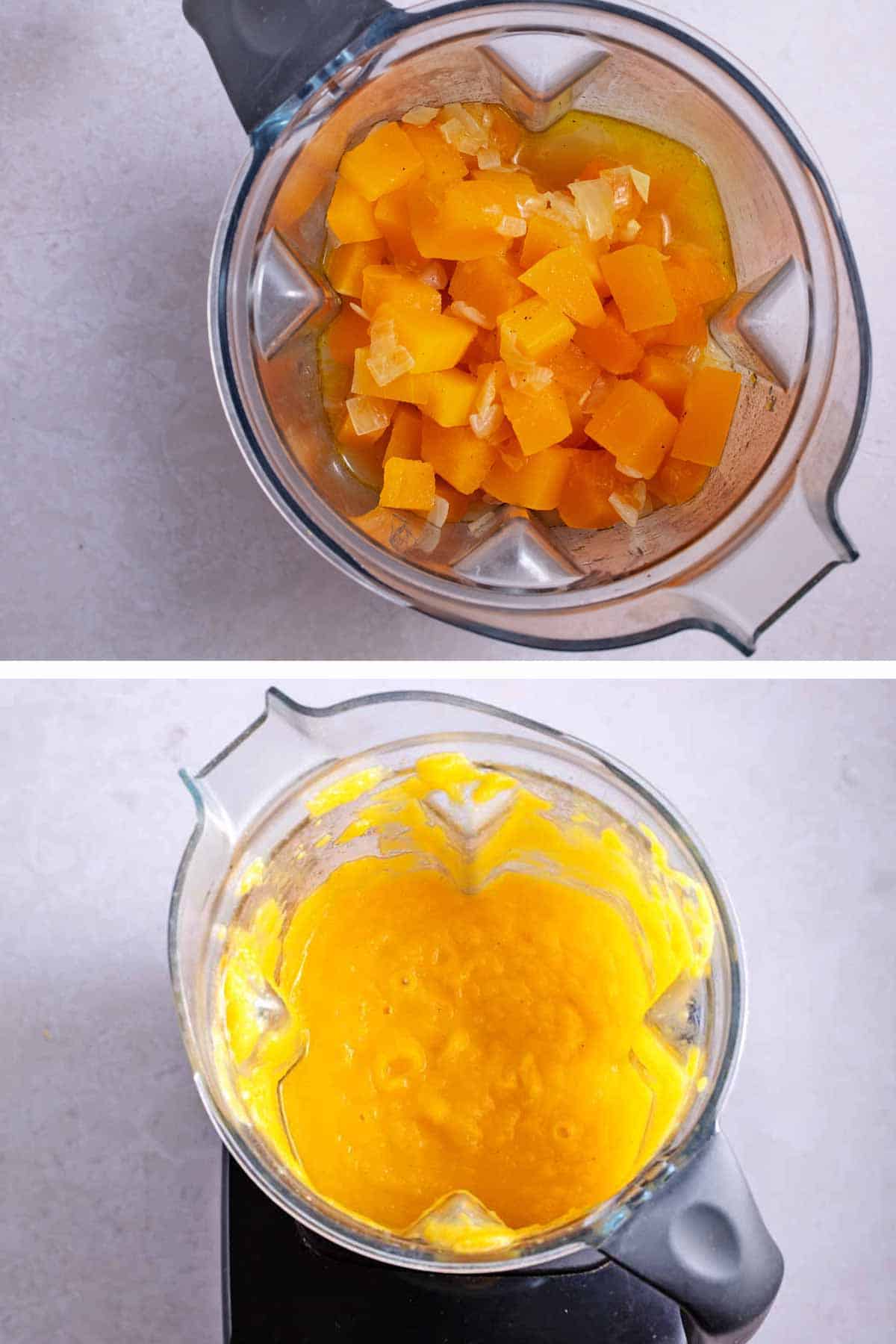 Any high-powered blender can do the job. An immersion blender works too.
Turn the stove off and remove the pan from the heat.
Ladle half of the soup into the container of the Vitamix (or another blender).
Set the variable speed control to 1 and slowly increase the speed to the highest speed.
Blend until the soup is a smooth texture, about 30 seconds.
Pour the blended soup into a big bowl. Repeat with the rest of the soup. Depending on the size of the blender container, you may need to blend the soup in two or three batches.
When all the soup is blended, pour it back into the soup pot and stir with a large spoon to combine.
Step 4: Add the Cream Cheese.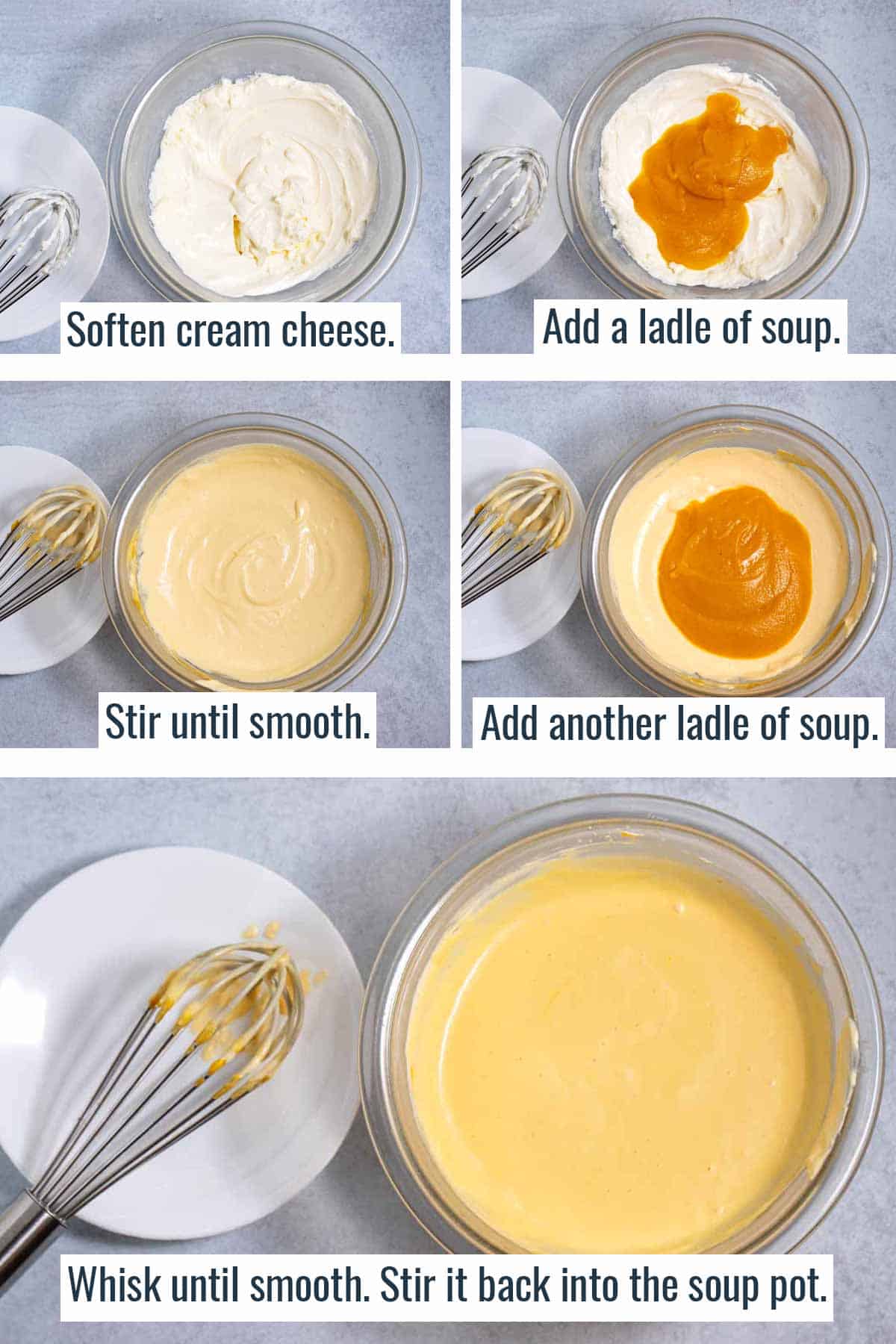 To soften the cream cheese, place it in a microwave-safe bowl. Microwave it for 15 to 20 seconds. Whisk it with a wire whip. If it is not easy to stir, microwave it again in 10-second intervals until it is smooth.
Add a ladle of blended soup to the soft cream cheese and stir until smooth. Repeat with another scoop of soup and stir.
Transfer soup mixture back into the big pot of soup. Stir to combine.
Step 5: Season.
Taste and adjust seasonings if needed.
Step 6: Garnish.
Garnish with fresh chives, crispy bacon, roasted Granny Smith apples, or Parmesan cheese.
Instant Pot Directions
You may prefer to cook butternut squash soup in an Instant Pot or another electric pressure cooker. The ease, convenience, and speed may make it your go-to cooking method.
Pour all the ingredients into the Instant Pot container except the cream cheese and lemon juice.
Replace the lid and pressure cook for 10 minutes.
Follow the rest of the instructions above for blending the soup and adding the cream cheese and lemon juice.
Slow Cooker Directions
A slow cooker is another convenient cooking method. Start the soup in the morning, and it will be ready in time for dinner.
Add all the ingredients except the cream cheese and lemon juice to the slow cooker container.
Cover pot and cook on low heat for four hours.
Follow the rest of the directions above for blending the soup and adding the cream cheese and lemon juice.
Best Way to Puree the Soup
After the soup has been cooked, puree it to make a smooth and creamy soup. A countertop blender is easiest, but an immersion handheld blender will work too.
Vitamix Blender
My favorite blender is the Vitamix. It is powerful! The high-speed blender purees soup better than it purees anything else.
It is also worth noting that the Vitamix company has excellent customer service. Read about how I broke my container, and Vitamix customer service sent me a new one for free.
The only downside to pureeing the soup is that you may need to puree it in batches. The whole pot of soup will not all fit into the Vitamix at the same time. But because the Vitamix is so powerful, it purees each batch of soup in about 30 seconds.
If you don't have a Vitamix, another powerful countertop blender can blend the cooked soup. But it may take a bit longer to get the smooth results you want. Buy a Vitamix here.
Immersion Blender
A handheld blender or immersion blender is an alternative to a countertop blender.
A handheld blender takes longer to puree the whole batch of soup. The immersion blender has a small blade and does not blend at as high a speed as a countertop blender. However, you can still get a smooth soup with a little more effort.
The upside is that you can keep the soup in the pot as you blend, which is convenient and saves you from washing an extra bowl. Buy an immersion blender here.
Food Processor
Another option for blending the delicious butternut squash soup is a food processor. Depending on the size of the appliance, you may be able to blend the soup all together.
Buy a food processor here.
What to Serve with Butternut Squash Soup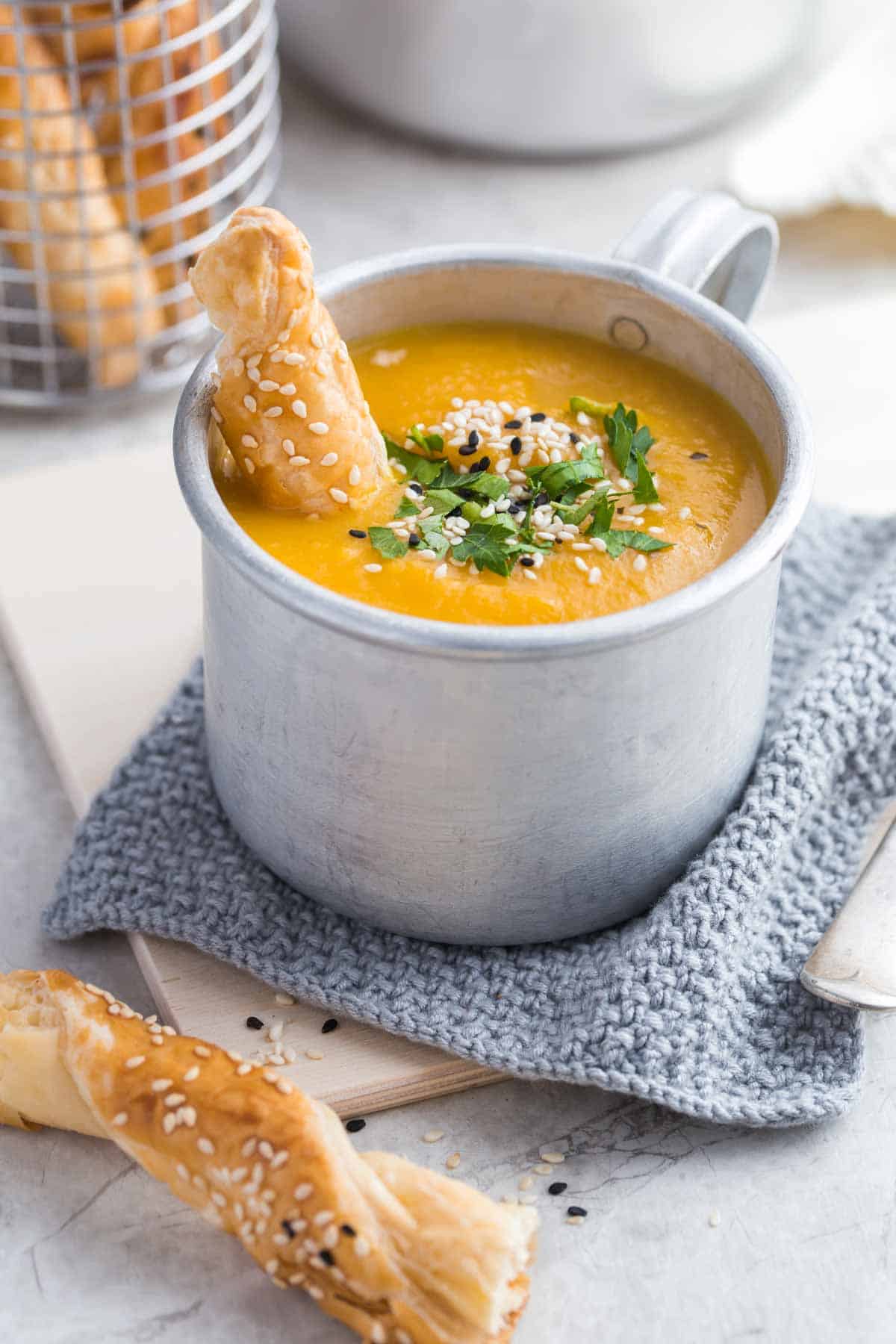 Ever wonder what to serve with butternut squash soup? Turn this fall soup into a hearty meal with a tasty side. You will be ready for any cold day.
Serve crusty bread, a sandwich, veggies or a salad, finger food appetizers, or meat.
Some of the best toppings for butternut squash soup are roasted pumpkin seeds, roasted apples or sweet potatoes, or a drizzle of cream. Spice it up with extra cayenne pepper or red pepper flakes.
Butternut squash soup is one of the easiest and quickest Sunday lunch ideas.
How to Store Leftover Soup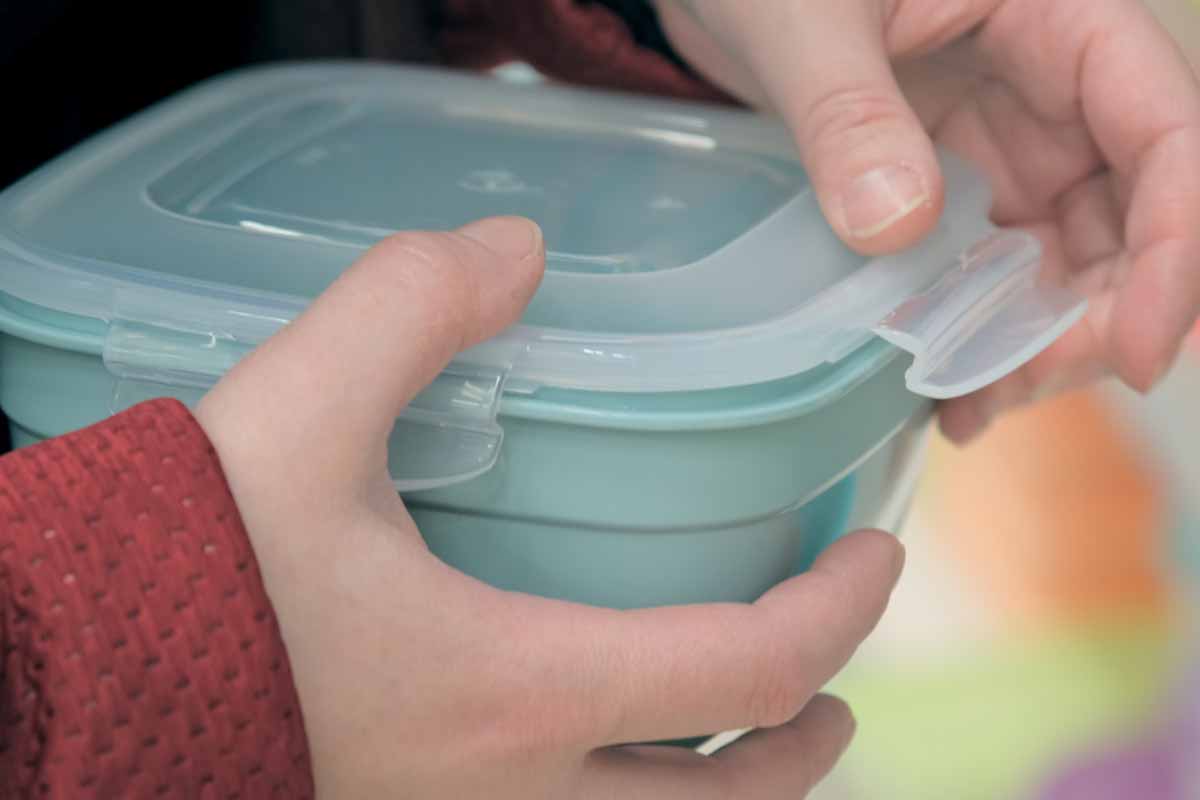 Store the leftover soup in an airtight container in the refrigerator. The leftover soup should last 2 to 3 days in the fridge in a proper storage container.
For longer storage, consider freezing the soup. To freeze leftover soup, place the soup in a freezer container or a zip-top freezer bag.
Do not forget to label and date the soup container. Freeze the soup for up to 3 months.
When you are ready to eat it, thaw the soup in the refrigerator for several hours or overnight. Reheat in a saucepan or in the microwave oven.
FAQ's
Do you need to peel the squash to make butternut squash soup?
Although you can eat the butternut squash peel, the soup may be smoother if the squash was peeled first. Cooked squash peel is edible (and loaded with fiber). However, I have yet to try it.

I prefer to peel the raw squash and then cut it into 1-inch cubes. I recommend using a good vegetable peeler, such as a Kuhn Rikon piranha swivel peeler. It is powerful enough to peel the skin.

If you do not want to peel the squash before cooking it, you can roast or steam it, scrape out the meat, and add it to the soup.
Can you freeze Butternut Squash Soup?
Traditional butternut squash soup freezes perfectly. I always freeze the leftovers. Sometimes I even make a larger batch so there are plenty of leftovers to freeze. It thaws and reheats deliciously, so do not be afraid to double the recipe.

It is the perfect comfort food. And because you can freeze it, it is a great make-ahead option.
Did you love this recipe? Please leave a 5 Star Review and comment below.
Thank you!
Yield: 6 servings
Creamy Butternut Squash Soup with Cream Cheese
Enjoy a rich, creamy butternut squash soup with cream cheese. It is a cozy dinner, perfect for cool weather. Easy to make and easy to freeze.
Ingredients
1 (2-pound) butternut squash, peeled and cubed (about 6 cups)
1 cup of onions, chopped, sweet, white, or yellow (about ½ of a medium onion)
2 cloves of garlic, minced
1 tablespoon of olive oil
1 tablespoon of butter
2 cups of chicken broth (or vegetable broth)
1 teaspoon of salt
⅛ teaspoon of black pepper
½ teaspoon of dry thyme leaves
⅛ teaspoon of cayenne pepper
8 ounces of cream cheese, softened
1 teaspoon of lemon juice, freshly squeezed
Instructions
WASH and PEEL the butternut squash. Cut it in half lengthwise. Remove and discard the seeds. CUBE the squash.
DICE the onion. PEEL and MINCE the garlic.
HEAT the olive oil and butter in a large soup pot on the stove. Add the onions and garlic and cook for 5 minutes or until the onion is soft and translucent.
STIR in the squash, chicken broth, salt, black pepper, thyme, and cayenne pepper. Cover with the lide and bring the soup to a boil.
BOIL the soup (covered) for 15 to 20 minutes or until the squash is soft.
PUREE the soup in a high-quality blender, such as the Vitamix. Or use an immersion blender. Set the soup aside to cool slightly.
SOFTEN the cream cheese by heating it in the microwave in a medium microwave-safe bowl for 20 seconds. Stir the cream cheese with a wire whisk. If the cream cheese is not smooth and easy to stir, return it to the microwave for 10-second intervals until it is smooth.
LADLE ½ cup of the soup into the softened cream cheese and whisk until smooth. Add another ½ cup of soup and whisk again.
STIR the cream cheese soup mixture into the soup pot and continue to stir until it is combined.
SPRINKLE in the lemon juice and stir.
TASTE and adjust seasonings if needed.
SERVE with a garnish of croutons, roasted pine nuts, or green onions.
Notes
If the squash is less than 2 pounds, use a little less broth. If the squash is over 2 pounds, add more liquid and adjust the seasonings as needed.
All images and content are © TheTastyTip.com. If you want to use this recipe and techniques, please take your own photos, write your own description, and link back to this page. Thank you.
Nutrition Information
Yield
6
Serving Size
1 cup
Amount Per Serving
Calories

193
Total Fat

18g
Saturated Fat

9g
Trans Fat

0g
Unsaturated Fat

6g
Cholesterol

45mg
Sodium

799mg
Carbohydrates

6g
Fiber

1g
Sugar

4g
Protein

3g
Nutrition information is an estimate only and may vary based on individual ingredients added and cooking methods used.
---
Did you make this recipe? Tag @thetastytip on Instagram and hashtag it #thetastytip.
---
Hungry for More Soup?