Rich, creamy Butternut Squash Soup recipe made with cream cheese and white beans. It is an easy delicious dinner, perfect for cool weather. Make it on the stove top, in an electric pressure cooker, or in a slow cooker.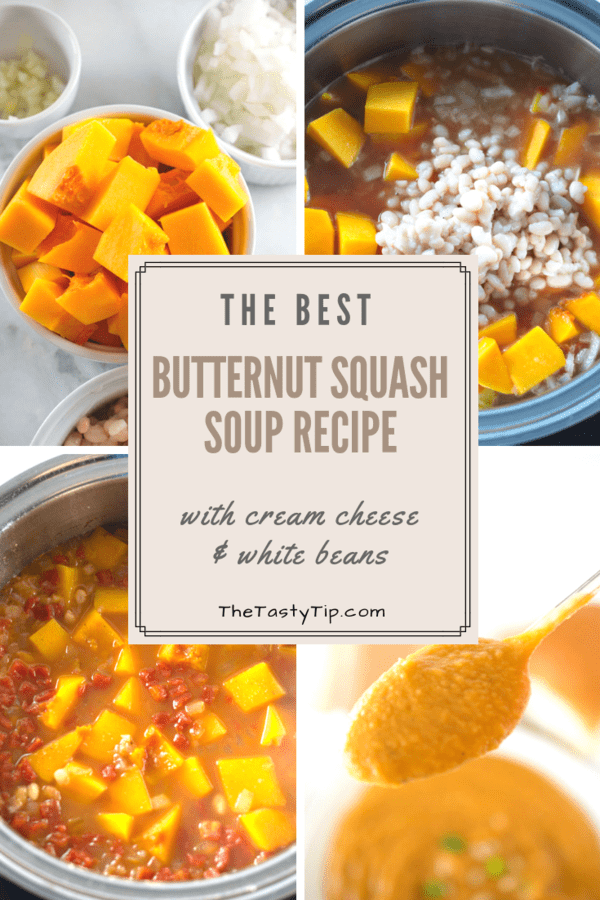 Sometimes I have to be Sneaky Mom. When it comes to enticing my children to eat vegetables, I have to be a little bit tricky.
My Butternut Squash Soup recipe is one of those sneaky recipes with a hidden vegetables. The butternut squash is pureed and I casually serve it without a word that the soup is nutritious.
When the soup is pureed, no one questions too closely what healthy food might be lurking inside. Especially if the soup is creamy and cornbread or dinner rolls are served on the side.
Because I can puree so many vegetables in my soups, I tend to cook soup year round. I'm not hiding the vegetables, but they are not in their scary whole form so my children are not as intimidated.
Note: If I'm not pureeing a soup, I cut the vegetables in tiny pieces and add them to other ingredients my kids like (for example, hamburger) as I did in my popular vegetable soup with ground beef.
What Makes Butternut Squash Soup Recipe So Healthy?
Butternut squash makes this vegetarian soup one of the healthiest foods you can eat today. Butternut squash is a winter squash high in vitamin A, vitamin C, and fiber.
Most squashes have amazing healthy-protective compounds called curcubitacins.
Curcubitacin research shows some remarkable benefits from eating squash. Some of these benefits include preventing cancer, reducing inflammation, and protecting the liver. Butternut squash is truly a superfood.
Butternut squash is similar to pumpkin in both nutrition and taste. Sometimes pumpkin and butternut squash can be used interchangeably in recipes.
My sister's friend grows her own butternut squash in her garden. This smart gal freezes it so she can use the squash year round. She shares some of her bounty with my lucky sister. What a great friend!
She makes a spicy, creamy butternut squash soup. However my Butternut Squash Soup recipe has a hint of sweetness instead of spice.
How to Make a Creamy Butternut Squash Soup Recipe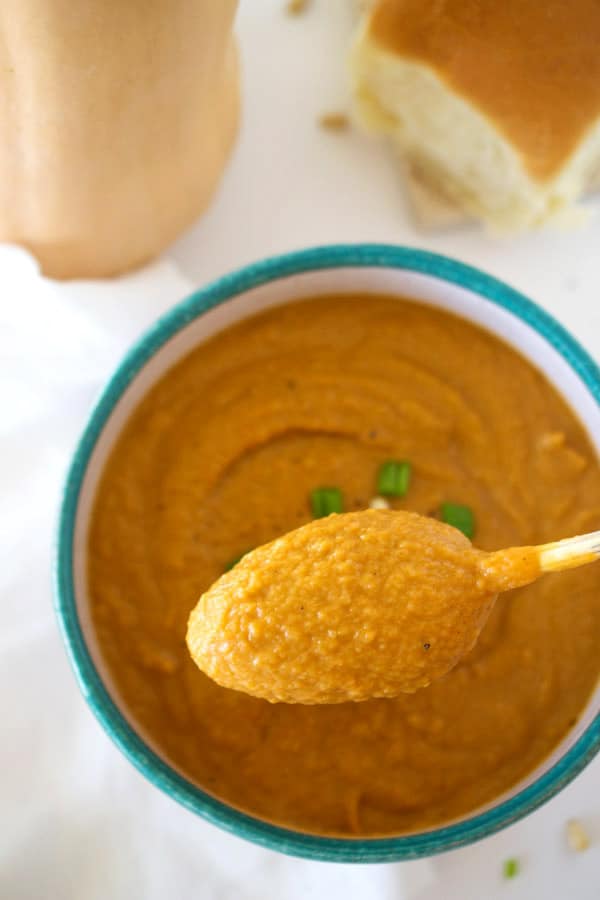 There are several ways to make any soup creamy. Pureeing it helps. But be aware of the amount of broth you add. You want a creamy soup, not a watery one.
Butternut squash itself is very creamy when it is cooked and pureed. However, I wanted a richer flavor so I added cream cheese. This is an optional ingredient and does add some calories, but it also makes it rich and delicious.
My second creamy addition is pureed white beans. In addition to making the soup more creamy, white beans add protein and fiber. The addition of white beans also makes the soup heartier and more filling.
I have used Great Northern beans and navy beans in my Butternut Squash Soup with good results. I prefer small white beans, but it is all getting pureed anyway, so the bean size doesn't really matter.
Butternut Squash Soup Ingredients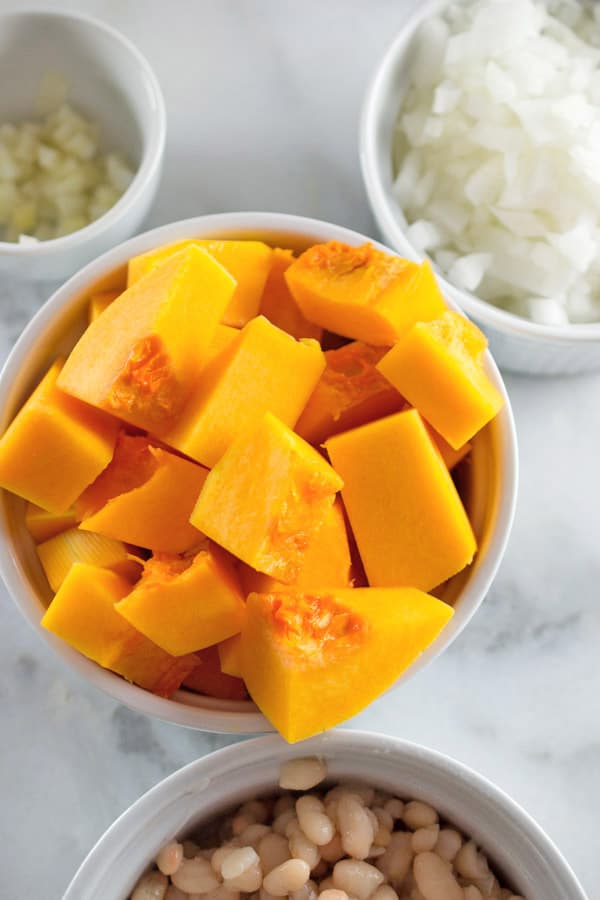 The ingredients in this tasty soup are simple and easy to throw together. The complete rundown of ingredients include:
Butternut squash
White beans (Great Northern or navy beans)
Onions (I usually use white, but yellow or sweet are just as good)
Canned tomatoes (diced or chopped work best)
Cream cheese
Vegetable broth (homemade or your favorite brand)
Spices — fresh are the best, but not always readily available
Best Cooking Method
Stock Pot on the Stove Top
Start by softening the onions and garlic.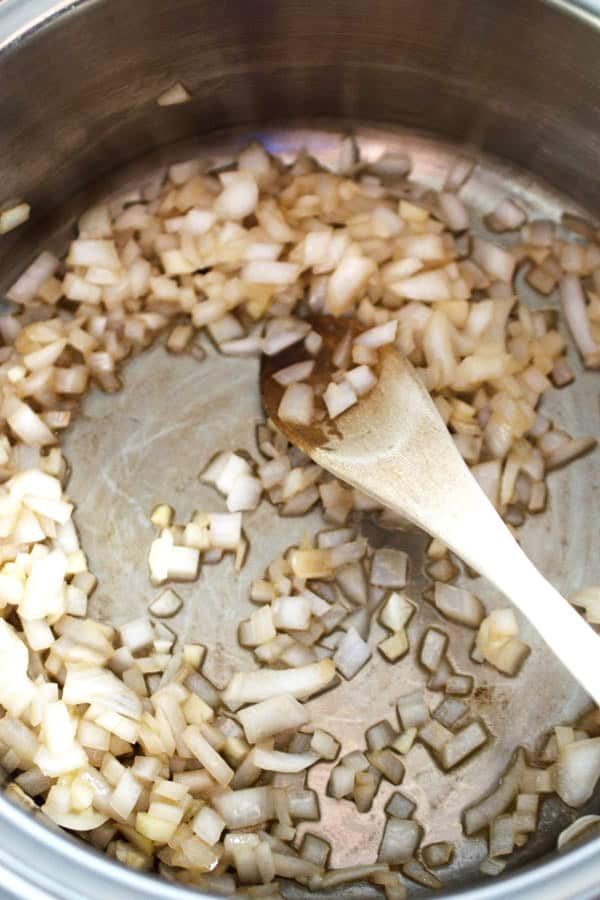 Next, add the remaining ingredients, except for the cream cheese.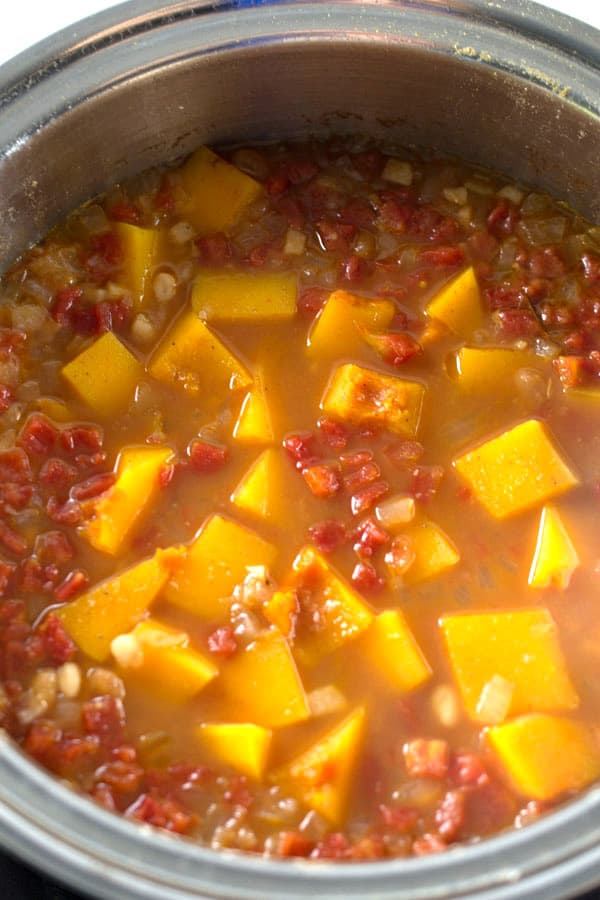 Boil for 20 minutes, or until the butternut squash is soft.
Mix in the softened cream cheese about 5 minutes before the soup is finished.
Electric Pressure Cooker
If you are in a hurry, cook the soup in an electric pressure cooker, like the Fagor Lux™ Multi-Cooker or an Instant Pot. My choice is a Fagor. Read my Fagor Pressure Cooker Review to find out why I think it is the best electric pressure cooker available.
I like the convenience and speed of an electric pressure cooker, so I use this cooking method the most often.
Slow Cooker
A slow cooker is another convenient cooking method. Start the soup in the morning and it will be ready in time for dinner. Cook on low for four hours. Add the cream cheese after the soup has finished cooking and before you puree it.
Best Way to Puree Soup
After the soup has cooked, puree it to make a smooth and creamy soup.
Vitamix Blender
My favorite blender is the Vitamix. It is powerful! And it purees soup better than it purees anything else. It is also worth noting that the Vitamix company has excellent customer service. Read about how I broke my container and Vitamix customer service sent me a new one free.
The only downside to pureeing the soup is that you may need to puree it in batches. It probably won't all fit in the Vitamix at the same time. But because the Vitamix is so powerful, it purees each batch of soup in about 30 seconds.
Of course, if you don't have a Vitamix, another high powered blender can do the job. It may just take a bit longer to get the smooth results you want.
Bamix Immersion Blender
An immersion blender, such as a Bamix, is an alternative to a regular blender. This is not my favorite method since it takes longer to puree the whole batch. The immersion blender has a small blade and you should still get a smooth soup, but with a little more effort.
The upside is that you can keep the soup in the pot as you blend, which is convenient and saves you from washing an extra bowl.
Common Questions
Question: Do you need to peel the squash to make this Butternut Soup recipe?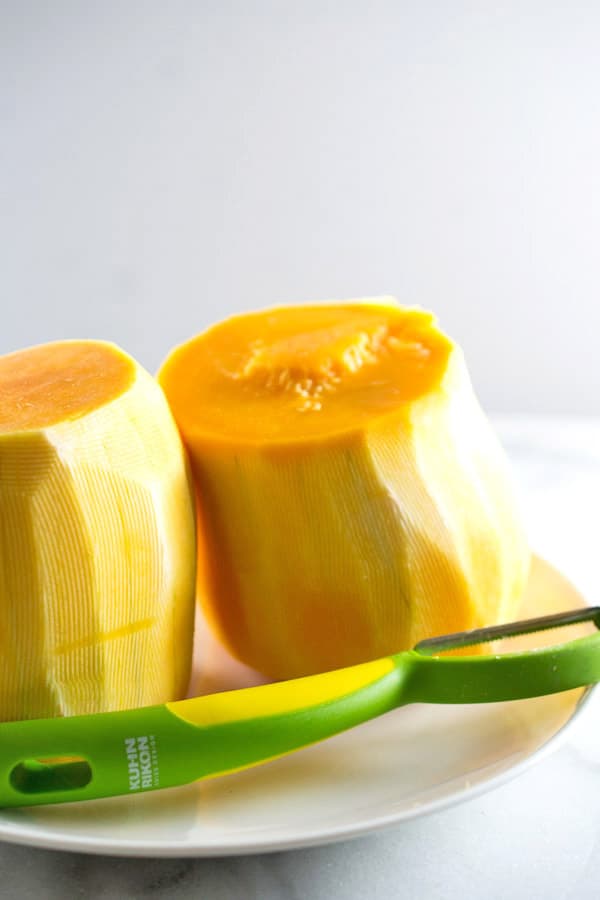 Answer: The short answer is yes, if you want to. Many squash books I have read indicate that the cooked squash peel is edible (and loaded with fiber). However, I have yet to try it.
I prefer to peel the raw squash and then cut it in chunks. I recommend you use a good vegetable peeler, such as a Kuhn Rikon. It is powerful enough to peel the skin.
If you do not want to peel the squash prior to cooking it, you can roast or steam the squash, scrape out the meat, and then add it to the soup.
Question: Can you freeze Butternut Squash Soup?
Answer: Yes. This Butternut Squash Soup recipe freezes perfectly. I always freeze the leftovers. Sometimes I even make a larger batch so there are plenty of leftovers to freeze. It thaws and reheats deliciously, so don't be afraid to double the recipe.
What other butternut squash recipes are you interested in? Comment below and let me know.
---
Did you like this post? Then let's be social. FOLLOW ME on PINTEREST and INSTAGRAM to keep up with the latest tutorials, favorite recipes and interesting happenings.
---
Yield: 12 servings
Best Butternut Squash Soup Recipe with Cream Cheese and White Beans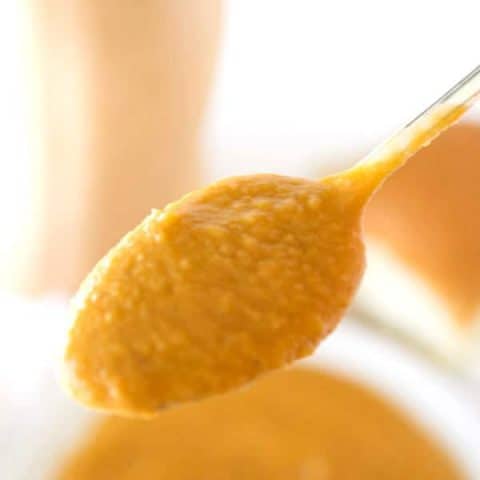 Rich, creamy Butternut Squash Soup with a hint of sweetness is made with cream cheese, white beans, and nutritious butternut squash.  It is an easy dinner recipe, perfect for cool weather.  
Ingredients
5 cups butternut squash, peeled and cubed (about 1 large squash)
1 (14 ounce) can white beans, or 1 cup cooked white beans
1 cup onion, chopped
1 clove garlic, minced
1 (14 ounce) can of diced tomatoes
½ cup (4 ounces) cream cheese, softened
2 cups vegetable broth
1 teaspoon sea salt
½ teaspoon cinnamon
½ teaspoon dry thyme or ½ tablespoon fresh thyme
¼ teaspoon cloves
1 bay leaf
1 tablespoon brown sugar
1 tablespoon olive oil
Toppings
1 tablespoon Pine nuts
freshly ground pepper
2 tablespoons green onions, minced
Instructions
WASH and PEEL the butternut squash. Cut it in half and remove and discard the seeds. CUBE the squash.
DICE onion. MINCE garlic.
HEAT the olive oil in the stock pot. Add the onions and garlic and cook for 5 minutes, until the onion is soft and translucent.
STIR the squash, white beans, tomatoes with juice, salt, cinnamon, thyme, cloves, bay leaf, brown sugar, and 1 cup of vegetable broth into the pot.
BOIL soup (covered) for 15 to 20 minutes, or until the squash is soft.
BLEND remaining 1 cup of vegetable broth with the softened cream cheese until smooth.
STIR the broth and cream cheese mixture into the soup and cook for 5 minutes, until heated through.
PUREE soup in high quality blender, such as the Vitamix. Or use an immersion blender.
TASTE and adjust seasonings if needed.
GARNISH with pine nuts, freshly ground pepper and green onions.
Notes
All images and content are © TheTastyTip.com. If you want to use this recipe and techniques, please take your own photos, write your own description, and link back to this page. Thank you.
Nutrition Information
Yield
12
Serving Size
1
Amount Per Serving
Calories

113
Total Fat

2g
Saturated Fat

0g
Trans Fat

0g
Unsaturated Fat

2g
Cholesterol

1mg
Sodium

320mg
Carbohydrates

21g
Fiber

5g
Sugar

4g
Protein

5g
Nutrition information is an estimate only and may vary based on individual ingredients added and cooking methods used.
More Soups to Try