Use leftover turkey to make this easy 30 minute favorite Turkey Soup with turkey, potatoes, onions, garlic, leeks, celery, and fresh seasonal herbs for a true comfort food experience.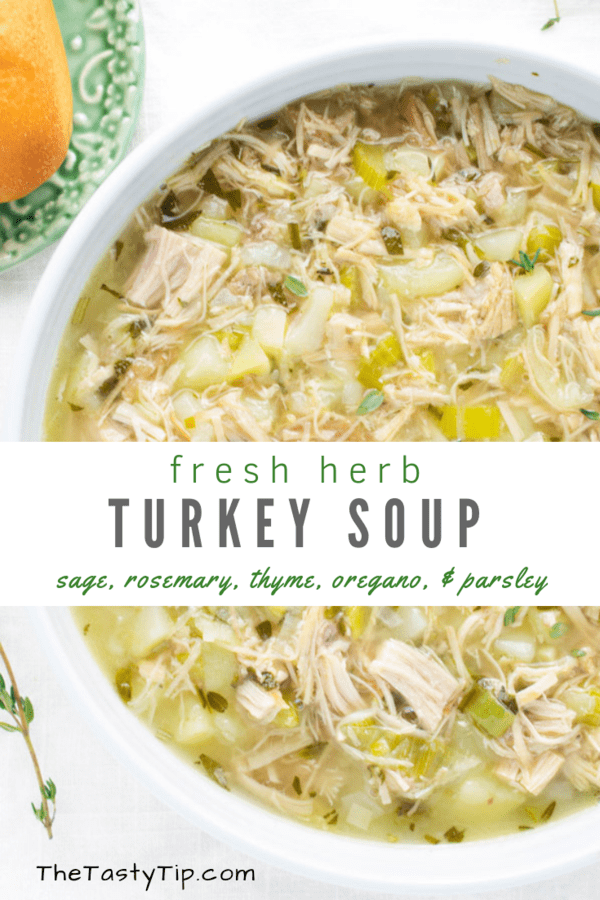 My hubby likes to have leftover turkey, so this year we cooked an extra turkey — just for the leftovers. We made a simple turkey brine and brined the turkey before we cooked it in a turkey pit.
Then we froze the delicious turkey in recipe portion sizes so we could pull out what we needed for any meal.
The first recipe I made with the leftovers was a Turkey Salad with Tart Apple and Bleu Cheese. It was such a healthy lunch and so good. You should give it a try if you like salad.
But I still had some more turkey so I started thinking soup.
I made plans to make my favorite Turkey Soup, a recipe sure to please my hubby. But … have you had one of those days where little incidents snag your schedule?
On the coldest day of the season so far, the kids piled into the car to go to school. As we pulled out of the driveway, I heard and felt a thrwmp thrwmp thrwmp.
Oh no. I pulled over and sure enough — flat tire. Uggg. I had a full day ahead.
Why was this happening today of all days with work, volunteering at the school, and play dates after school?
As if there would be a better day for a flat tire. No day is good for a flat tire.
I pulled myself together and called my friend to drive my kids to school. What a lifesaver she is!
Then I called roadside assistance. (We signed for our summer road trip and hadn't cancelled the policy so I was in luck).
The mechanic arrived to put my spare tire on — I know I should know how to do this, but I don't. I stood shivering in the cold watching and thinking about my new day ahead. Getting the tire patched was the priority.
But then my thoughts strayed to my plan for Turkey Soup. Turkey Soup would be the best on this chilly and frustrating day.
With leftover Thanksgiving turkey and fresh seasonal herbs, I knew this could be one flavorful soup. And it would be an easy meal.
After spending hours in Discount Tire having the tire repaired, rushing to the school to do Art Masterpiece, and driving carpool, I was ready for a quick easy dinner.
Turkey Soup takes only about 30 minutes to throw together. I made it in a stock pot on the stove top. But you can also make it in an electric pressure cooker.
Turkey Soup Ingredients
Turkey is the main ingredient. However, you can substitute chicken in place of turkey. The herbs in this recipe compliment both turkey and chicken.
Potatoes make the soup more filling. I prefer Yukon Gold potatoes for their buttery flavor. But russet potatoes also taste very good in the soup.
Leeks, celery, garlic, and onions give flavor to the soup.
Turkey, chicken, or vegetable broth form the base of the soup. Make your own broth or use your favorite brand.
Because commercial broths have different levels of salt in them, I recommend using only a small amount of salt when cooking your soup. After the soup has finished cooking, taste and add additional salt for flavor, if necessary.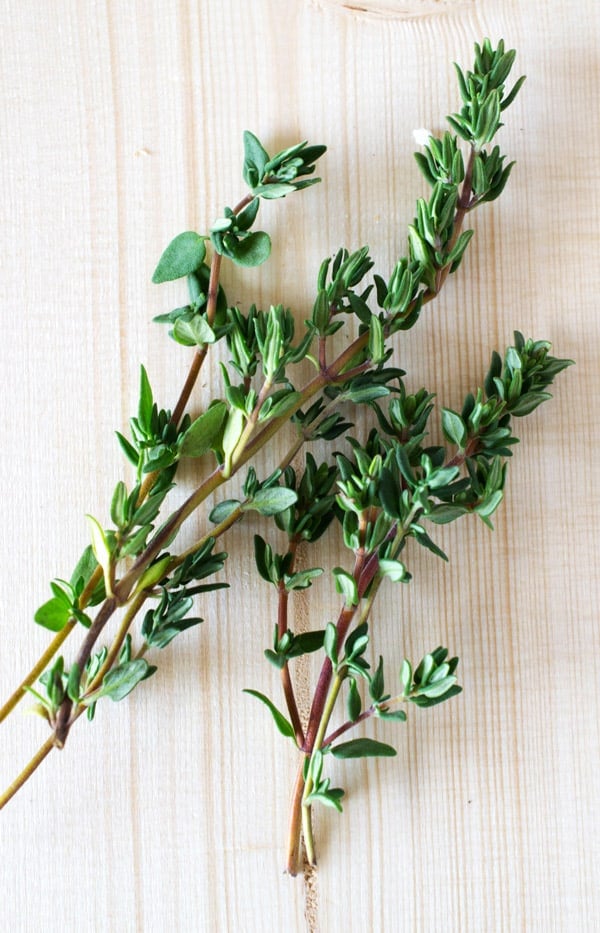 Fresh herbs are the final ingredient.
Turkey Soup Herbs
I see more fresh herbs in grocery stores around the holidays than I do any other time of year. So I was in luck with finding all the herbs I needed for the soup.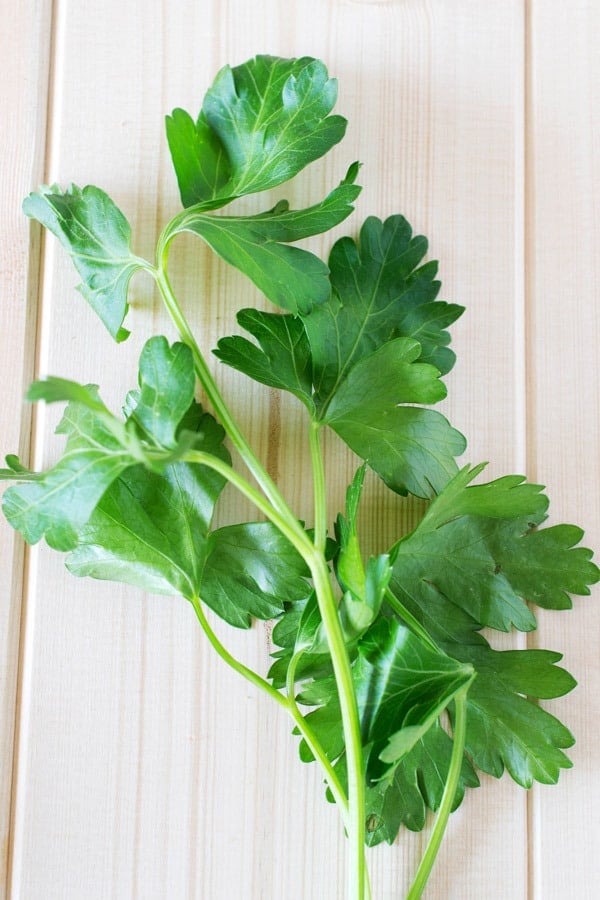 The best fresh herbs to use with Turkey Soup are sage, rosemary, thyme, oregano, and parsley.
Although fresh herbs taste the best with this soup, you can use dried herbs. Just make sure they haven't expired. Otherwise, they won't give much flavor to the soup.
Also, keep in mind, if you are missing one or two of these herbs, you can still make the soup. The soup will still be healthy and delicious. You may not even notice anything missing.
And next time, you can add all the herbs back in.
How to Chop Fresh Herbs
If you have never used fresh herbs, let me give you some advice on how to use them.
Use the herb leaves in recipes. You don't want to eat the stem or anything twiggy or woody. That means you should remove the leaves from the herb stem.
You can pull individual leaves off the stem if the leaf is large like sage. Or hold onto the stem with one hand and use your thumb and index finger of the other hand and run them down the stem to pull off the leaves altogether.
When you chop the herbs, take care not to chop them too small. Herbs chopped too finely can bruise and lose some moisture.
The best way to chop herbs is with a rocking cut.
Gather the herbs together in a mound.
Hold your chef knife by the handle with one hand. Put your other palm on top the blade near the knife point.
Your palm keeps the tip of the blade down while you move the knife up and down with the handle, chopping the herbs.
I like to move the knife in an arch shape to chop herbs.
When the herbs spread out too far, stop and gather them back into a pile. Chop again if they are still too big.
How to Make Turkey Soup
Begin by prepping your vegetables. Mince the garlic, dice the onion, slice the celery and leeks, and peel and cube the potatoes.
Add olive oil and onion to a stock pot and turn it on medium heat.
Cook the onion for 3 to 4 minutes, until it begins to sweat and soften. Then add the garlic and cook for another minute.
Add the leek and celery and cook for another 3 to 4 minutes until they begin to soften.
Pour in the broth, potatoes, turkey, and fresh herbs.
Cover and bring to a boil.
Boil for 10 to 15 minutes, or until the potatoes are soft, but not mushy.
Taste and season with salt and pepper.
What to Serve With Turkey Soup
Any type of bread goes well with Turkey Soup. Try a dinner roll, fresh bread sticks, or even cornbread. Grab a whole list of side dishes to pair with turkey soup.

Also, if you like soup, check out my Butternut Squash Soup recipe. It is creamy and delicious.
You can also find other recipes in the Recipe Box.
What other soup recipes are you interested in? Comment below and I will add them to this site.
Yield: 5 cups
Turkey Soup
Use leftover turkey to make favorite Turkey Soup with turkey, potatoes, onions, garlic, leeks, celery, and fresh seasonal herbs for a true comfort food experience.
Ingredients
3 ½ cups turkey (or chicken), cooked and shredded
1 cup potato (Yukon Gold or russet) peeled and cubed (about 2 medium potatoes)
1 ½ tablespoons olive oil
2 medium leeks (white base and light green parts), sliced (about 1 cup)
⅓ cup celery, chopped (about 1 stalk)
½ cup onion, diced
1 large garlic clove
3 cups turkey or chicken broth
1 ½ tablespoons fresh sage, chopped (or 1 teaspoon dried)
½ tablespoon fresh oregano, chopped (or ½ teaspoon dried)
½ tablespoon fresh thyme, chopped (or ½ teaspoon dried)
½ tablespoon fresh rosemary, chopped or (or ½ teaspoon dried)
1 tablespoon fresh parsley, chopped (or 1 teaspoon dried)
½ teaspoon sea salt
¼ teaspoon pepper, freshly ground
Instructions
SHRED leftover turkey.
PEEL and CUBE potatoes.
SLICE leeks.
CHOP celery.
MINCE onion and garlic.
ADD olive oil and onion to a cold stock pot. Turn on medium heat.
SWEAT the onion slowly and cook for 3 to 4 minutes until it begins to soften.
ADD the garlic and cook for 1 minute.
ADD the celery and leek and cook for 2 to 3 minutes more until they begin to soften.
POUR in the broth, turkey, potatoes, sage, oregano, thyme, rosemary, and parsley.
STIR to combine.
COVER and bring to a boil.
LOWER HEAT and COOK for 10 to 15 minutes, or until the potatoes are soft, but not mushy.
REMOVE from heat and STIR to combine all ingredients.
TASTE and add salt and pepper. ADJUST SEASONINGS as needed.
SERVE with dinner rolls, bread sticks, or cornbread.
Notes
All images and content are © TheTastyTip.com. If you want to use this recipe and techniques, please take your own photos, write your own description, and link back to this page. Thank you.
Nutrition Information
Yield
5
Serving Size
1 cup
Amount Per Serving
Calories

457
Total Fat

17g
Saturated Fat

4g
Trans Fat

0g
Unsaturated Fat

12g
Cholesterol

192mg
Sodium

599mg
Carbohydrates

20g
Fiber

3g
Sugar

3g
Protein

53g