Turkey Salad has a kaleidoscope of flavors to tempt your taste buds. Crisp greens and leftover turkey combined with sweet, tart, crunchy, and chewy mix-ins.
To make the Turkey Salad use mixed greens, leftover turkey, tart green apples, jicama matchsticks, sweet caramelized pecans, pomegranate seeds, dried cranberries, pepita pumpkin seeds, and crumbled blue cheese, drizzled with balsamic vinaigrette.

When I have leftover turkey from the holidays, I start thinking of creative recipes.

Some of my favorite turkey recipes are Turkey Soup with fresh herbs and a hearty lunch or dinner Turkey Salad.
Salad Inspiration
When I was writing 9 Unique Salad Recipes at Interesting Eateries, I came across a salad made at the Liberty Market in Arizona.

Liberty Market is located in a historic building in old downtown Gilbert, Arizona. The Liberty Market owners believe in creating community around food. They connect with local farmers and suppliers for their fresh ingredients.

One salad on the menu is called Picnic Salad. It is a green salad with turkey, caramelized pecans, and green apples.

My taste buds loved the sweet and tart ingredient combination of sweet caramelized pecans and tart green apples.

This sweet/tart combination is added to mixed greens and bleu cheese with turkey as the protein for the salad.

However, the first time I ordered the salad, I was a little disappointed. The salad description on the menu simply listed turkey. I thought it would be real turkey, made from roasted turkey.

However, my salad arrived with sliced turkey lunch meat in the salad. The processed meat didn't leave me very full. And I don't like eating processed food.

But the other combined ingredients complimented each other so well, I wanted to try to make a similar salad at home. I knew I could improve the salad just by adding real turkey. But I wanted to make the salad even better.
My Turkey Salad is inspired by Picnic Salad made at the Liberty Market, but it is not a copycat recipe.

With all the leftover turkey from Thanksgiving in my freezer, I am trying lots of turkey recipes.
This Turkey Salad is a hearty, filling, flavorful dinner salad. It will remind you of fall, but make it anytime you have leftover turkey. Or use grilled chicken instead of turkey in the salad. It works just as well.
If you like salad, you may also like a hearty full meal Cobb Salad.
Turkey Salad Ingredients
Since Turkey Salad reminds me of autumn, I added some more fall ingredients. Dried cranberries and pomegranate seeds added some color to contrast the greens.

Pepita pumpkin seeds and jicama sticks added some crunch to contrast the chewy cranberry.

Mixed Greens
Crisp chilled greens are the base of the salad.
Try a combination of green leaf lettuce, baby arugula, baby kale, and baby spinach.

However, any leafy greens make a good base for the salad.

Turkey
Shred or cube leftover turkey from Thanksgiving for this salad. Turkey roasted with sage, rosemary, parsley, or thyme taste very good in this salad.

Green Apple
Use any apple that is a little tart, even if it is not green. My personal favorite apples for this salad are very tart Granny Smiths or tart, crisp Braeburn apples.

Jicama
Jicama is mildly sweet, nutty and crunchy. The jicama and the apple together add the crunch in the salad.

Caramelized Pecans
Use your favorite brand or make your own caramelized pecans. The pecans add some protein and they are one of the sweet ingedients.

Dried cranberries
Dried cranberries can be sweet if you use Ocean Spray craisons. There is plenty of sugar in them.

Dried cranberries without sugar are available, but I don't recommend using them for this salad.

Pomegranate Seeds
Pomegranate seeds are tart with very mild sweetness. Dried cranberries and pomegranate seeds add a colorful red to contrast the mixed greens.

Blue Cheese
Sharp, tangy blue cheese contrasts the sweet ingredients and offsets the tart ingredients in the salad.

Pepita pumpkin seeds
Pepitas add another crunch to the salad as a topping.
How to Make Autumn Turkey Salad
Caramelize the pecans and let them cool completely while you make the salad.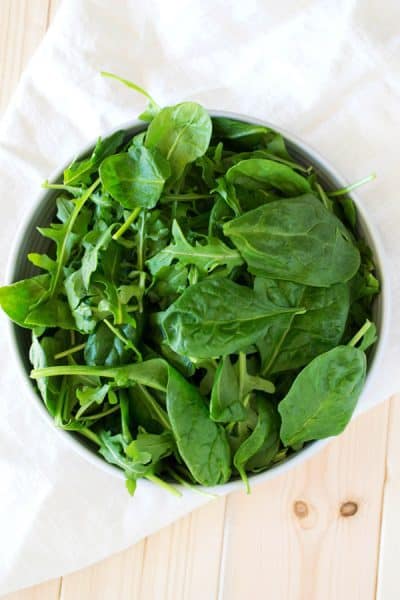 Wash and chop your mixed greens. Or just open a pre-washed bag of greens. Either one is fine.
I prefer green leaf lettuce, arugula, kale, and spinach. The combination of these greens give a nice variety to the greens flavor.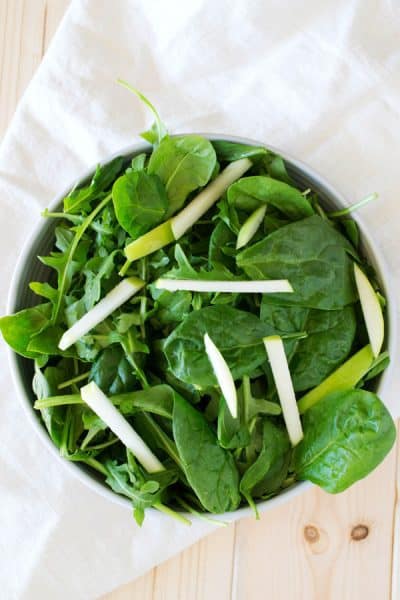 Cut the green apples and jicama into matchstick pieces. Place them in water with lemon juice so they don't turn brown while you prepare the salad.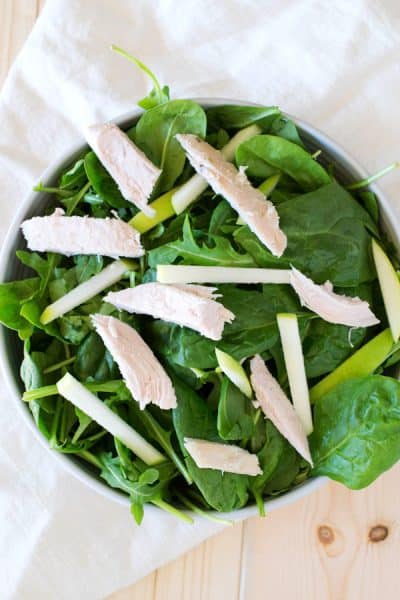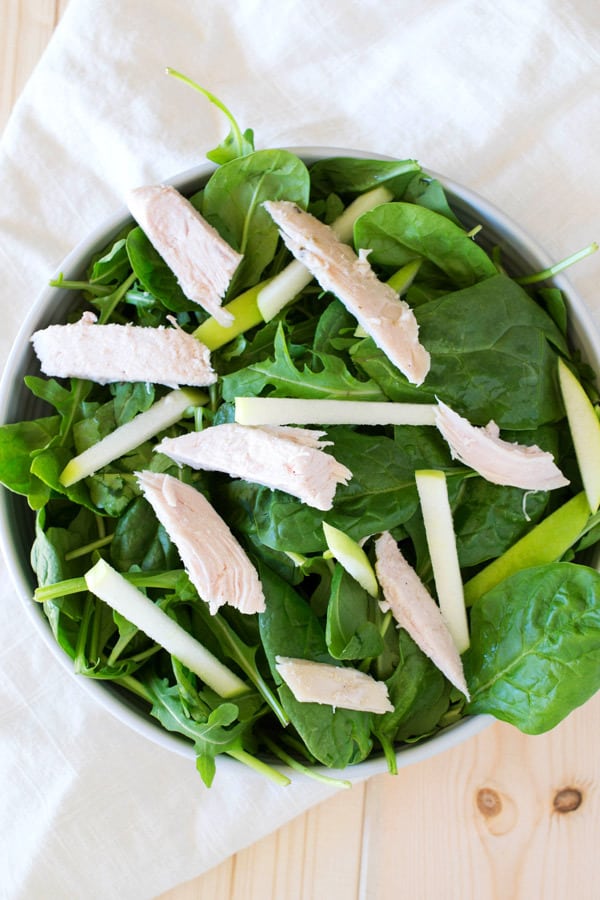 Shred the leftover turkey. If your turkey has been in the freezer, thaw it completely before using it in the salad.
For this Turkey Salad, I prefer cold turkey. However, warm the turkey if that is your preference.
Remove some pomegranate seeds from the rind and membrane.
Toss the mixed greens with the turkey, apple sticks, jicama sticks, pomegranate seeds, and dried cranberries. Sprinkle cheese, pepitas, and caramelized pecans on top.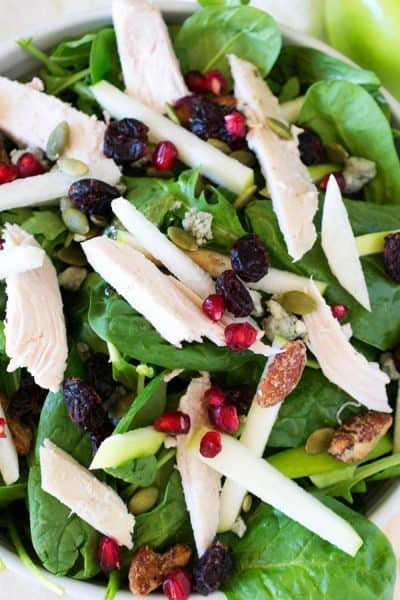 Drizzle with balsamic vinaigrette.
Craving More Salad?
More delicious salads coming your way. Try these crowd-pleasing favorites.
Catalina taco salad with Doritos. Doritos hide salad veggies in plain sight in this main dish taco salad recipe with Catalina dressing. It's like a sweet, spicy, savory bowl of tacos. It is a quick and easy weeknight meal.


Cobb Salad. Ultimate Cobb salad recipe with chicken makes a full meal with greens, protein, vegetables, and a fresh vinaigrette. Cook proteins ahead of time for fast assembly.


Ambrosia salad with Cool Whip or classic 1950s Ambrosia Salad. Effortlessly make the best ambrosia salad recipe with Cool Whip or whipped cream. This quick and easy dessert salad is perfect for potlucks, parties, and dinner tonight. Make it with canned fruit, marshmallows, coconut, and nuts (or not) in a creamy dressing.
Cornbread Salad. This easy layered salad has cornbread cubes, lettuce, tomatoes, corn, green onions, tomatoes, cheese, and bacon. Drizzle with ranch dressing for a tasty and filling side salad.
---
Recipe
Turkey Salad with Tart Apple and Blue Cheese
Turkey Salad has a kaleidoscope of flavors to tempt your taste buds. Crisp greens and leftover turkey combined with sweet, tart, crunchy, and chewy mix-ins. 
Ingredients
3

cups

mixed greens

1

cup

roasted turkey

shredded or chopped

1

Granny Smith apple

or other tart apple

⅓

cup

jicama

cut in match sticks

3

tablespoons

blue cheese

crumbled

2

tablespoons

caramelized pecans

2

tablespoons

dried cranberries

2

tablespoons

pomegranate seeds

1

tablespoon

pepita pumpkin seeds

balsamic vinaigrette
Instructions
CARAMELIZE pecans and COOL completely.

WASH mixed greens, apple, and jicama.

TEAR or CUT greens into bite sized pieces and place in a salad bowl.

CUT apple and jicama into matchstick pieces.

CUBE, SHRED or SLICE cooked turkey into bite sized pieces.

TOSS mixed greens with turkey, apple, jicama, dried cranberries, pomegranate seeds, and pepitas.

SPRINKLE with caramelized pecans and blue cheese.

DRIZZLE with balsamic vinaigrette.

SERVE immediately.
Notes
All images and content are © TheTastyTip.com. If you want to use this recipe and techniques, please take your own photos, write your own description, and link back to this page. Thank you.
Nutrition
Serving:
1
cup
Calories:
260
kcal
Carbohydrates:
28
g
Protein:
13
g
Fat:
11
g
Saturated Fat:
5
g
Polyunsaturated Fat:
5
g
Cholesterol:
53
mg
Sodium:
227
mg
Fiber:
3
g
Sugar:
18
g
---