Bake THE BEST blueberry muffins with five proven tips to bring your baking to the next level of scrumptious.  Concentrate the blueberry flavor, keep the crumb moist and light, do not over mix, and add a tasty muffin topping to bake blueberry muffins that everyone loves.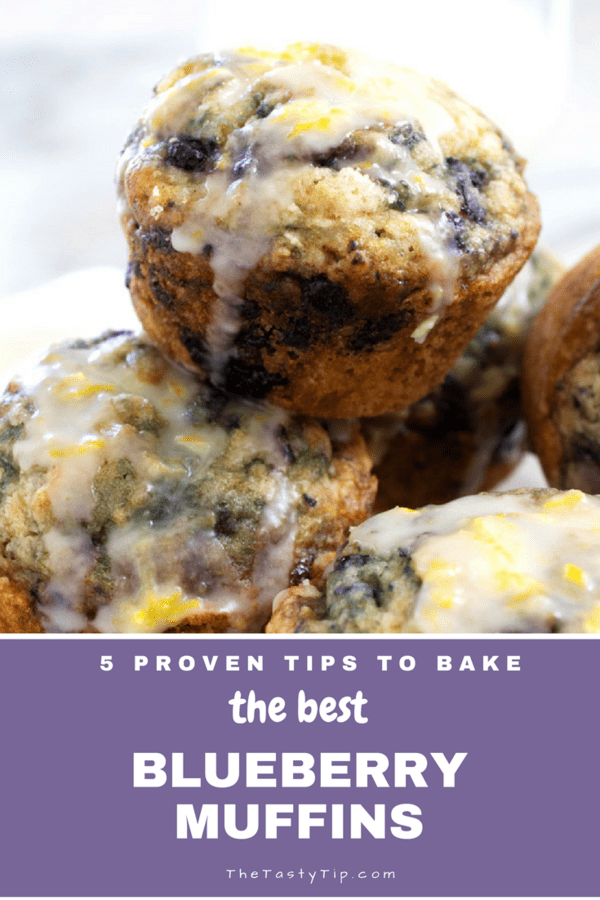 Are you tired of blueberry muffins that only have a few blueberries scattered here and there?  Are you tired of biting into the muffin, and not even tasting blueberry.  The best blueberry muffins should taste like blueberries.
In addition, blueberry muffins should be muffins, not cupcakes.  They should be slightly crumbly with a textured top, not rich and dense like a cupcake.
Before you even start baking your muffins, make sure you know your oven.  Many ovens are not accurate, so it is important to calibrate your oven.  It is easy to do and will save you from overcooking or undercooking your baked goods.
Read more on how to calibrate an oven and find out how easy it is.
You may also be interested in my Banana Muffin recipe, exploding with banana flavor.

You may also be interested in how to make bakery-style muffins at home.
Highlights From the Best Blueberry Muffins
The best blueberry muffins are light and moist and really taste like blueberries.  To create this recipe, I searched for the unique ingredients and techniques that created the best blueberry muffins.  There were a few requirements for the muffins.
First, the muffin had to have a concentrated blueberry flavor throughout the muffin.  Second, the crumb had to be soft and light.  And finally, it had to have a light and tasty topping that paired deliciously with blueberry to finish off the masterpiece.
And so the blueberry muffin experiments began.  After making several batches, my daughter asked me why I was making so many muffins.  I told her I hadn't done my best work.  "Why are you putting yourself down," she asked.  "You are always telling me to be positive.  Your muffins taste fine."
I laughed and explained that I recognized that I could do better.  I wasn't being negative about myself.  The best blueberry muffins ever hadn't yet been made in my kitchen.  But they were coming.
I researched what some of the experts were doing to make their homemade blueberry muffins so good.  There were ingredient variations, different baking techniques, and unique leavening agents used by bakers with decades of experience.  I've pared down their advice to create my own blueberry muffin recipe, along with 5 proven tips to make this recipe the best recipe for blueberry muffins you will find.
Tip #1: Concentrate the Blueberry Flavor
A blueberry muffin should be packed with blueberry flavor.  Cooking some of the blueberries down into a quick jam concentrates the flavor and gives the muffins a taste of pure blueberry.  This idea evolved from the cookbook, The Science of Good Cooking.   I made several adjustments to the technique in this book and ended up with a thick jam with intense blueberry flavor and thick enough to work with muffin batter.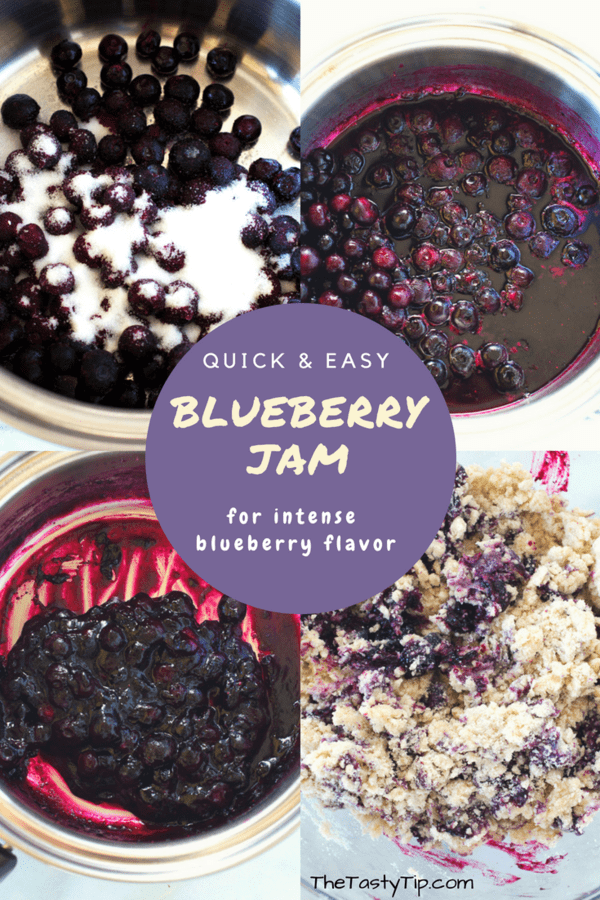 Heat

1 ½

cups of blueberries with

⅓ cup

sugar and 2 teaspoons freshly squeezed lemon juice in a saucepan over medium heat.
When the blueberries begin to simmer, reduce the heat to low and simmer for 5 minutes.
After 5 minutes, remove the pan from the heat and stir in 2 tablespoon Ultra Jel (instant thickener).  This will thicken the blueberry juice into a quick jam.
Allow the blueberry jam to cool at least 10 minutes before mixing into the batter.  (You can also refrigerate to cool the blueberry jam quickly.)  This blueberry jam will still have whole blueberries in it.
**If you are concerned about the blueberry batter being too colored with the blueberry jam, don't fold the blueberries into the whole batter.  Instead, swirl jam into each muffin individually after it has been placed in the muffin tin and before it goes into the oven.  This will take more time, but the batter won't be as colored.
Tip #2: Keep the Crumb Moist
Sometimes a moist crumb is achieved with the use of some sort of hydrogenated oil, like a shortening.  I do not use hydrogenated oil in my baking.  I do not believe it is a safe oil.
Stella Parks, author a Brave Tart recommends using virgin, refined coconut oil.  Refined coconut oil does not have a coconut taste at all.  Refined coconut oil has the consistency of shortening, when it is about 68° Fahrenheit.  At this temperature it can be "rubbed" into the flour, just as shortening can.
However, keeping coconut oil at the right temperature, so it was soft, but not liquid was difficult -- especially in the summer.  After making several unsuccessful batches, I knew I needed to make a change.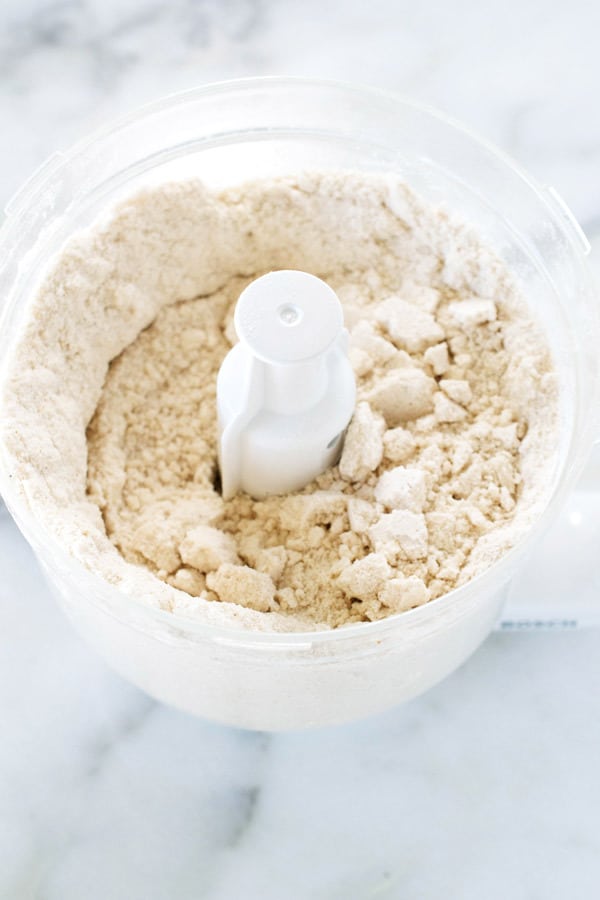 Instead of trying to fight the coconut oil, I substituted butter in its place.  Rubbing cold butter into the flour was perfect.
Keep the butter refrigerated until you are ready to rub into the flour.  Use a food processor if you want an easy job.
But you can certainly use a pastry cutter or even your fingers to rub in the butter.
Tip #3: Make the Muffin Soft and Light
If you don't like to eat muffins that make you feel weighed down, you will enjoy my third tip.  Use sour cream in place of milk to make your muffins soft and light.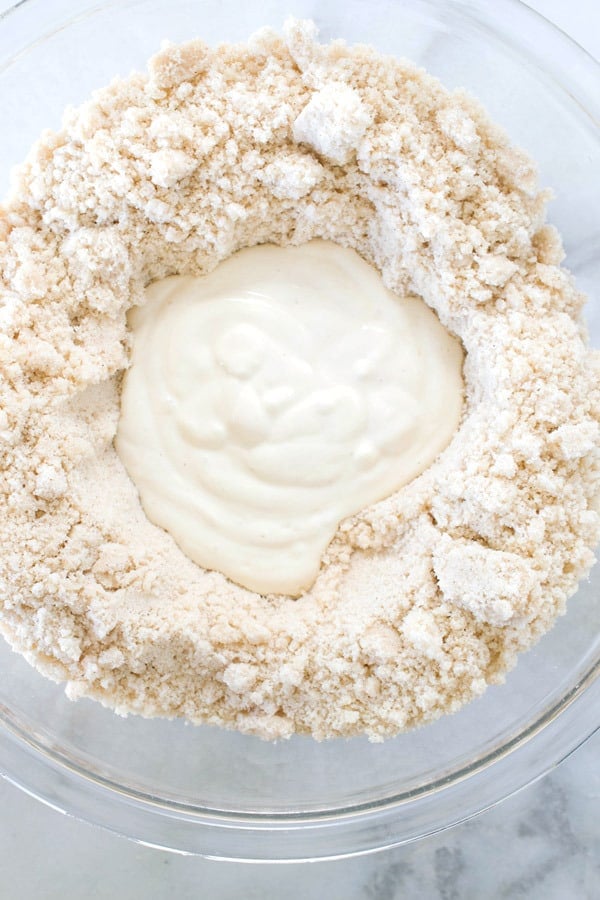 My Experiment with 3 muffin batches:  One batch was made with buttermilk only, one with milk only, and one with sour cream only.  The muffins with sour cream were much lighter than the muffins made with buttermilk or milk.  Sour cream is the winner.
Tip #4: Do Not Overmix
Mix the dry ingredients together.  Then rub the butter into the flour mixture.  Use a food processor (the easiest way), a pastry cutter, or your fingers to rub the butter and flour mixture together.  You are finished when the mixture is the texture of sand.
Mix all the wet ingredients together in a separate bowl.  Lightly fold the sour cream mixture into the flour mixture, until just moistened.  The batter may be a bit lumpy with a few dry flour spots still visible.  But, do not over mix.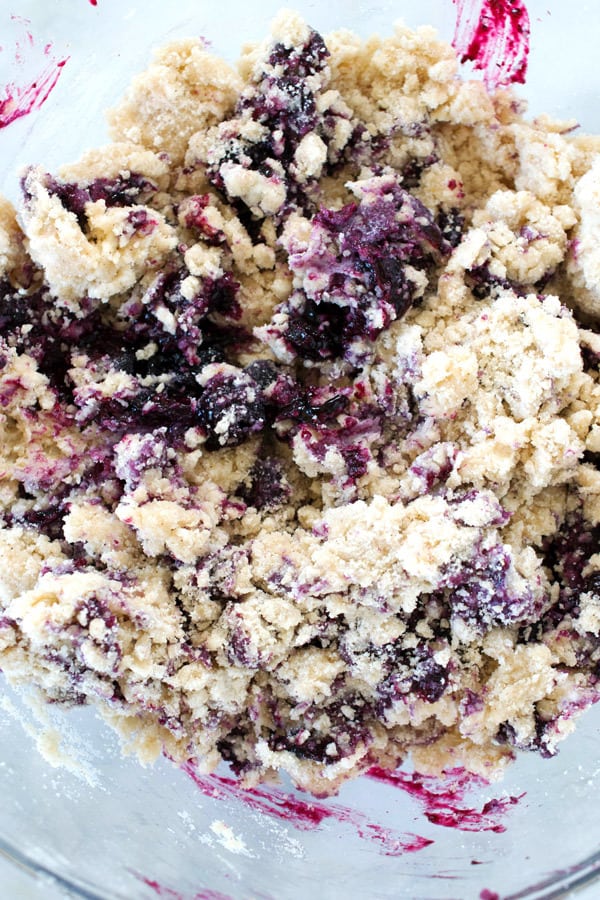 Pour the blueberries into the muffin batter and lightly swirl it around, taking care not to over mix.
Tip #5: Add a Topping
Drizzle a lemon glaze on the cooked and cooled muffins (my favorite) OR sprinkle on a lemony streusel topping on the muffins before they go in the oven.  A topping is optional, but it does add a little something extra to the best blueberry muffins to come out of your kitchen.
---
Equipment Needed to Make the Best Blueberry Muffins
In addition to the recipe ingredients, pull out the following kitchen tools and equipment to make your blueberry muffins.
Kitchen scale: weigh ingredients for more consistent results
2 mixing bowls: one for dry ingredients and one for wet ingredients
Food processor or pastry knife: Use to rub butter into the flour mixture
Hand blender: Mix the wet ingredients
Measuring spoons
Muffin tin: high quality, sturdy
Cupcake scoop (or large cookie scoop), ice cream scoop or measuring cup: measure muffin batter into muffin tin
Cooling rack
---
Recipe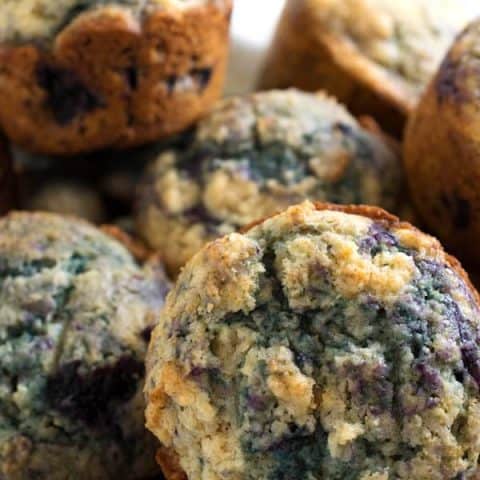 Blueberry Muffins with Sour Cream
Bake THE BEST blueberry muffins with five proven tips to bring your baking to the next level of scrumptious.  Concentrate the blueberry flavor, keep the crumb moist and light, do not over mix, and add a tasty muffin topping to bake moist, light, intense blueberry flavored muffins that everyone will love. 
Ingredients
Blueberries + Sauce
230

grams

1 ½ cup wild blueberries, fresh or frozen

75

grams

⅓ cup granulated sugar

2

teaspoons

lemon juice

freshly squeezed

2

tablespoon

Ultra Gel

instant thickener

1

teaspoon

cinnamon

¼

teaspoon

coriander
Flour Mixture
310

grams

2 cups + 1 tablespoon all-purpose flour, Gold Medal

½

teaspoon

salt

1 ½

teaspoons

baking powder

double acting

½

teaspoon

baking soda

170

grams

¾ cup butter, cold and straight from the refrigerator
Wet Ingredients
75

grams

⅓ cup granulated sugar

200

grams

less than 1 cup sour cream, room temperature

1

teaspoon

vanilla

1

egg

room temperature
Lemon Glaze
65

grams

½ cup powdered sugar

1

tablespoon

lemon juice

1 ½

teaspoon

lemon zest

pinch

of sea salt
Instructions
Blueberry Sauce

COMBINE blueberries, 2 tablespoons sugar, cinnamon, coriander, and lemon juice in a saucepan. Stir.

MACERATE by letting blueberry mixture sit for 30 minutes to pull juices and flavor from the blueberries.

HEAT over medium high heat in a saucepan uncovered, until the blueberry mixture begins to simmer.

REDUCE heat to medium low and SIMMER for 5 minutes.

REMOVE pan from heat.

STIR in Ultra Jel instant thickener. (Flour or cornstarch can be used instead, with mixed results.)

COOL for at 10 to 15 minutes, or longer.

Muffins

PREHEAT oven to 400° Fahrenheit.

SIFT DRY INGREDIENTS TOGETHER: Flour, salt, baking powder, and baking soda.

RUB the cold butter into flour until the mixture resembles a coarse sand. A food processor is quick and easy, but you can also use a pastry cutter, a fork, or your fingers to rub butter into flour mixture.

MIX WET INGREDIENTS: Blend sour cream, sugar, vanilla, and egg until well combined.

MAKE A WELL in the flour mixture. Pour the sour cream mixture into the well.

GENTLY FOLD the sour cream into the flour mixture. Do not over mix. Usually 8 to 10 folds will do the trick.

SWIRL in the blueberries. Do not over mix.

GREASE a muffin tin.

MEASURE out ¼ cup muffin batter into each muffin tin. Use a muffin scoop, measuring cup, or ice cream scoop to distribute evenly. Fill approximately ¾ of the way full.

BAKE 15-18 minutes or until lightly browned and a toothpick inserted in the center comes out with only a few crumbs.

PULL muffin tin from the oven and COOL it for 5 minutes.

DUMP the muffins from the muffin tin.

COOL muffins on cooling rack.

MAKE LEMON GLAZE. Stir powdered sugar, lemon juice, lemon zest and pinch of salt together.

DRIZZLE lemon glaze on top of each cooled muffin and wait for 5 minutes for the glaze to harden slightly.

EAT AND ENJOY!

STORE remaining muffins in an airtight container at room temperature for up to two days or store in the freezer. Bring muffins to room temperature before eating.
Notes
All images and content are © TheTastyTip.com. If you want to use this recipe and techniques, please take your own photos, write your own description, and link back to this page. Thank you.
Nutrition
Serving:
1
muffin
Calories:
295
kcal
Carbohydrates:
42
g
Protein:
4
g
Fat:
12
g
Saturated Fat:
1
g
Cholesterol:
45
mg
Sodium:
148
mg
Fiber:
1
g
Sugar:
22
g