If you haven't learned how to make canned blueberry pie filling taste better, you are missing out. With a few easy tricks, your canned pie filling will taste as if you started from scratch.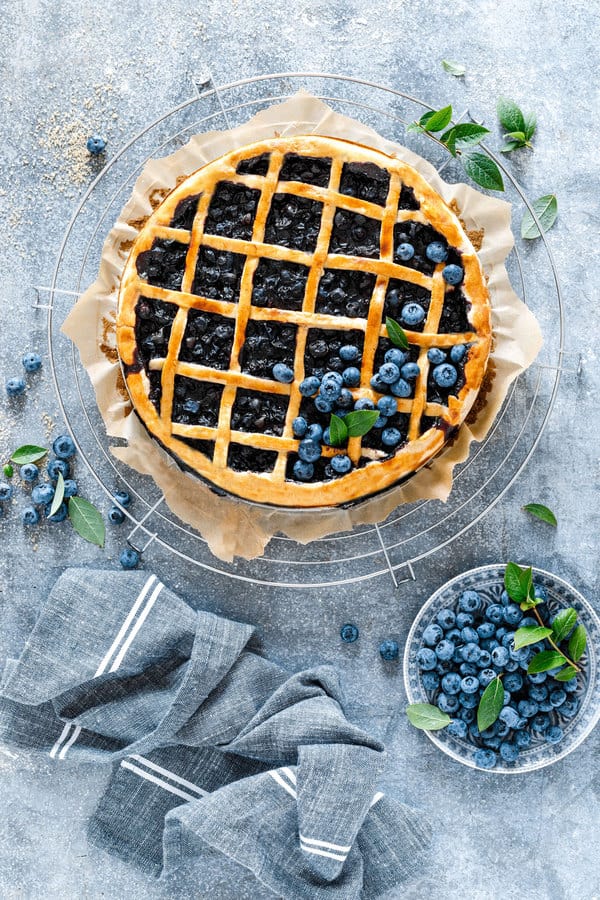 How many times have you tried to make a blueberry pie only to find that the canned filling tastes terrible? It is skimpy on the berries, and the flavor is bland.
If you're tired of opening cans and finding yourself with disappointing results, then this blog post is perfect for you! You can make canned blueberry pie filling taste better by adding fruit, spices, extracts, sweeteners, and more!
Ready to make that canned blueberry pie filling taste homemade? Let's do this.
You may also be interested in the best pie crusts for berry pies. Useful suggestions for when to use each type of crust.
What is the Best Canned Blueberry Pie Filling?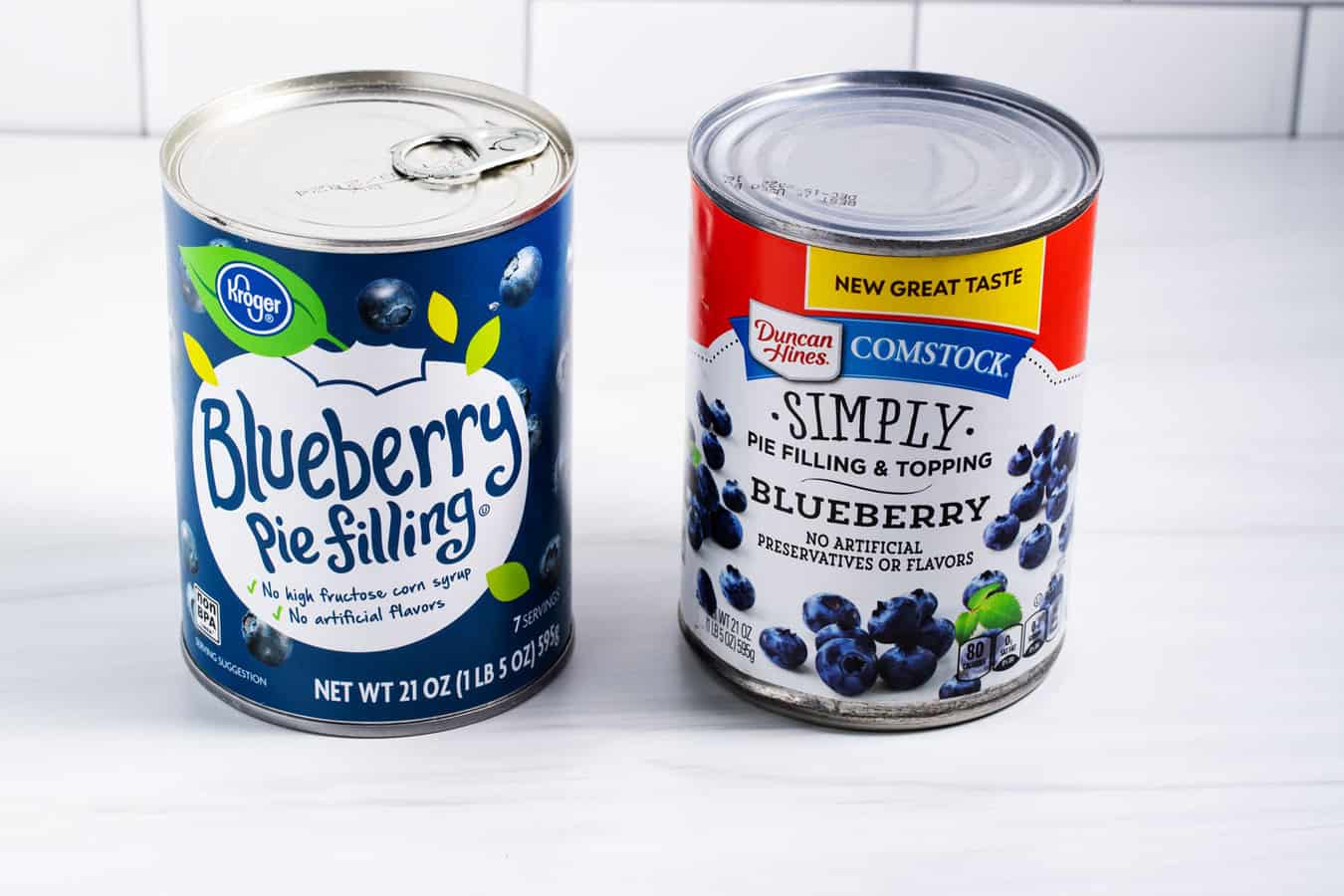 Before you learn how to jazz up canned blueberry pie filling, you must choose the best brand. Canned blueberry pie filling has a bad reputation for being flavorless. If you buy the tastiest brand, you start off on the right foot.
The best-tasting brand of canned blueberry pie filling is Duncan Hines Comstock. Lucky Leaf and the Kroger store brand are both good choices.
More Berries Please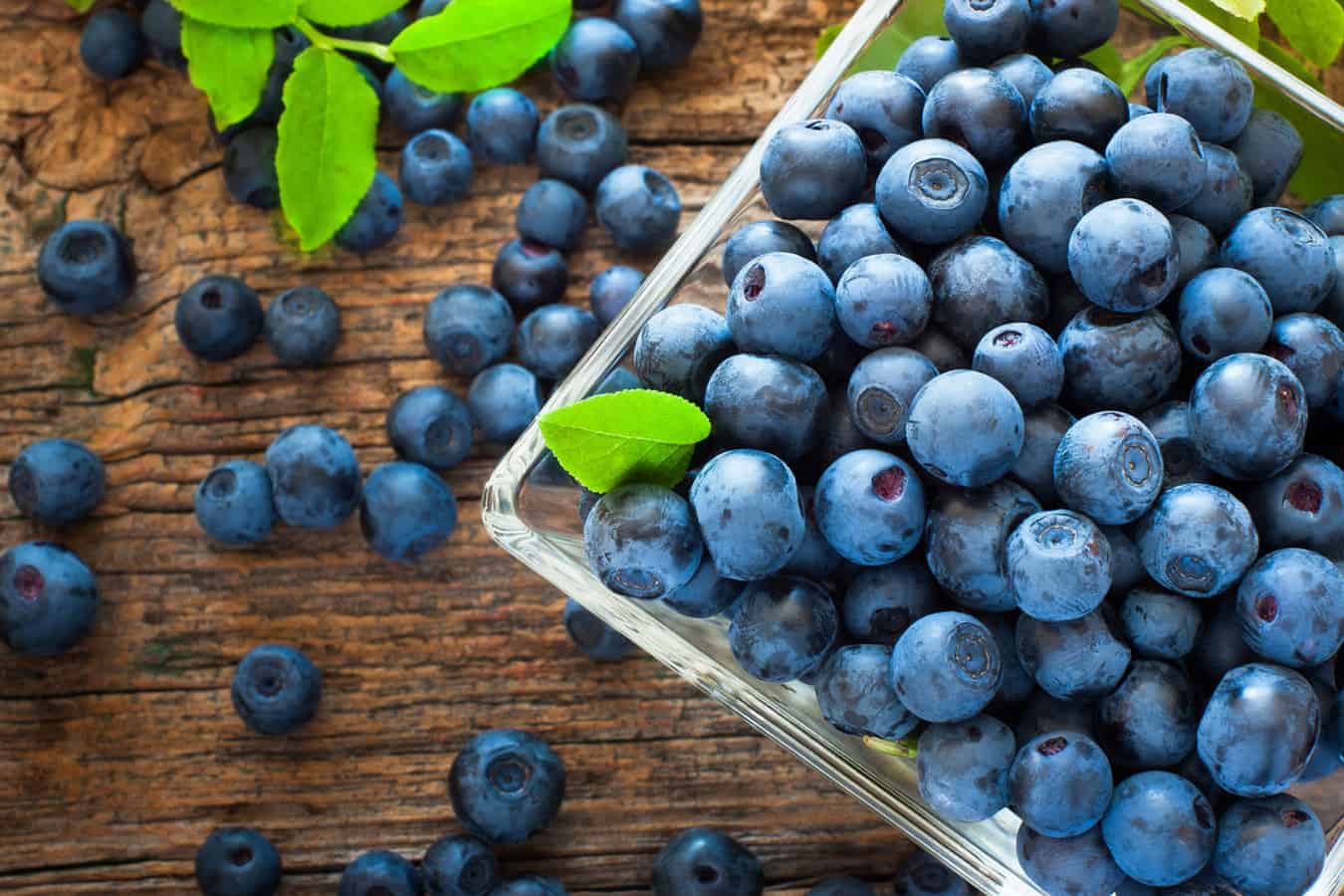 The biggest problem with canned blueberry pie filling is the lack of blueberries. Open a can, and you will find a blue mass of gel with a few berries sprinkled in.
It's easy to think that the only way you can make canned blueberry pie filling taste better is by making it homemade, but there are other ways! One of the easiest tricks is adding more fruit. This will give you a thicker consistency, and improve the flavor.
Change that dismal blueberry to gel ratio by adding more blueberries.
How many blueberries do you add to canned blueberry pie filling to make it taste better? Add at least 1 cup of blueberries for every 21 ounce can of blueberry pie filling. Use fresh, frozen, or canned blueberries. Adjust the added blueberries based on the amount of gel.
What other fruits can you add to blueberry pie filling?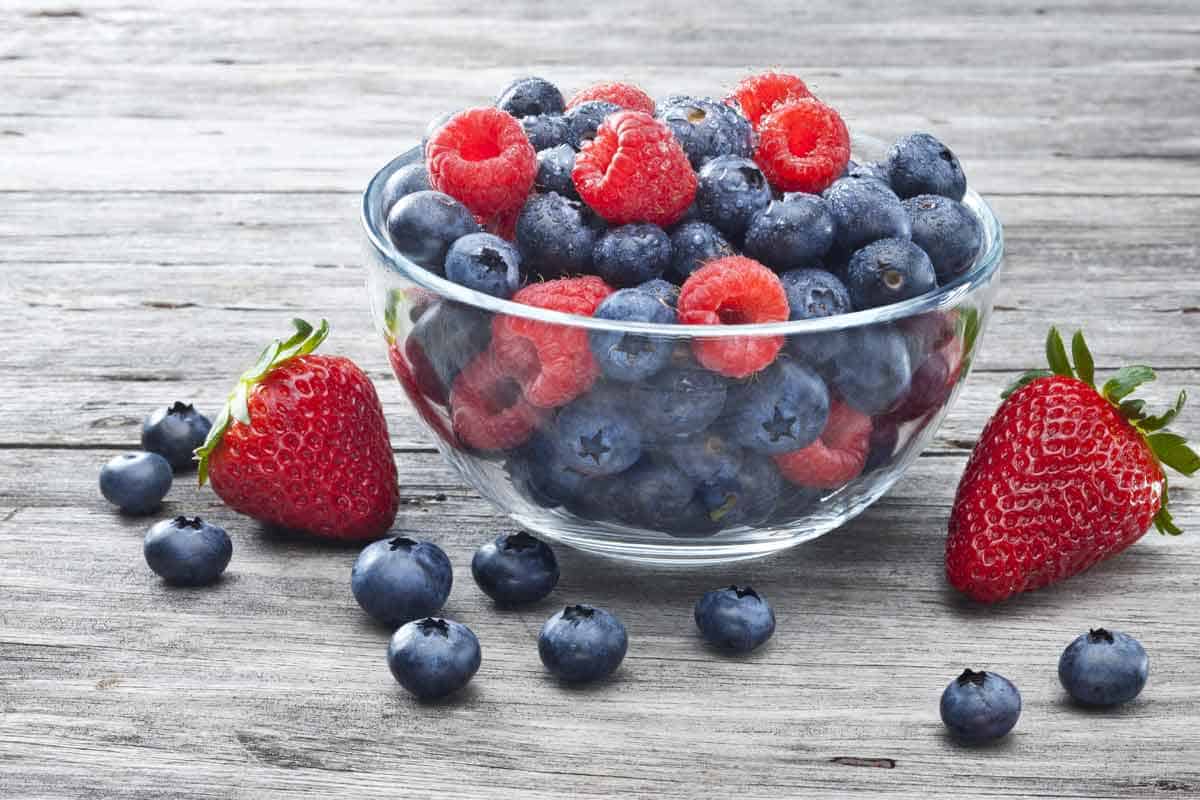 Try a mixed berry pie by adding one of these fruits to the blueberry pie filling. Use one or a combination of fresh, frozen, or canned fruit.
Strawberries
Cherries
Raspberries
Blackberries
Boysenberries
Chokecherries
Cranberries
Sweeten, if Needed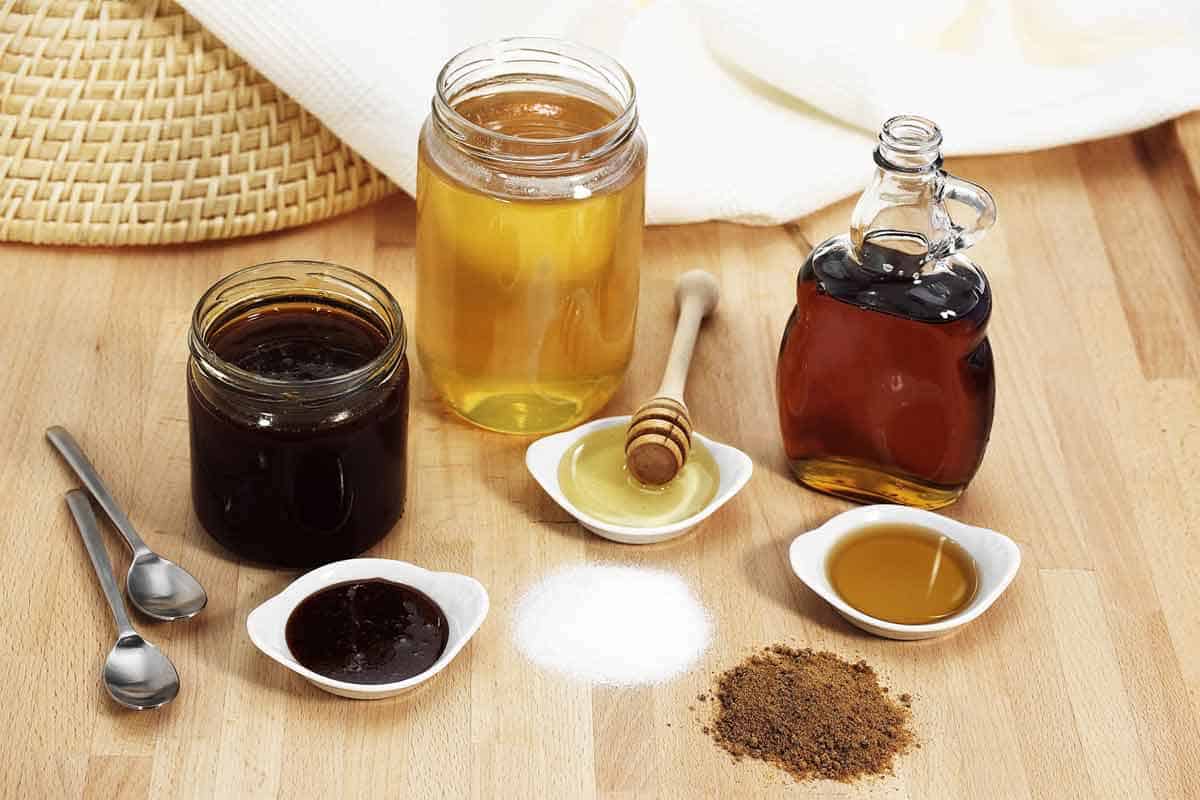 Taste the filling after you mix the extra berries into the blueberry pie filling. If it is not sweet enough, add a sweetener.
You can sweeten blueberry pie filling with brown sugar, granulated sugar, honey, maple syrup, and condensed milk.
Brown sugar and granulated sugar add a subtle sweetness to the filling. Honey, maple syrup, and condensed milk add a richer flavor. Experiment with different sweeteners to find the one that you like best.
Start by adding 2 tablespoons of your choice of sweetener. Stir the filling well to combine the sweetener with the blueberries. Taste it and add more if needed. Be careful not to add too much, or it will be too sweet.
Spice it Up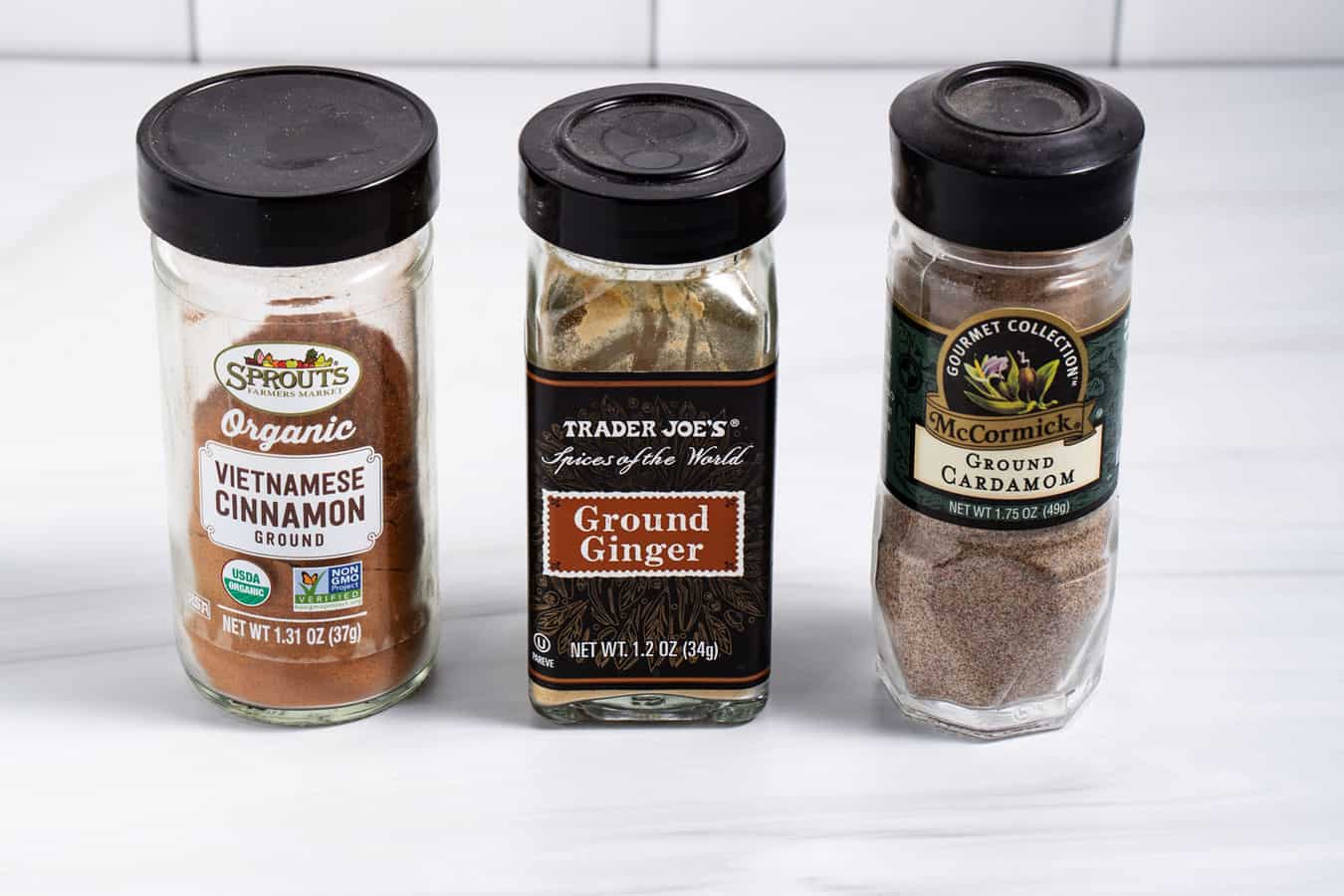 Adding spices can enhance the flavor of your canned blueberry pie filling. Spices give depth and complexity to the flavor. Just a tiny amount of spice can transform the taste.
Cinnamon or cardamom will help bring out more flavor from your canned blueberry pie filling. You can also add a pinch of nutmeg or allspice to the mix.
If you're feeling really adventurous, try sprinkling in some ginger spice as well! These additions will help jazz up the flavor of your pie filling and make it more interesting.
Add Extracts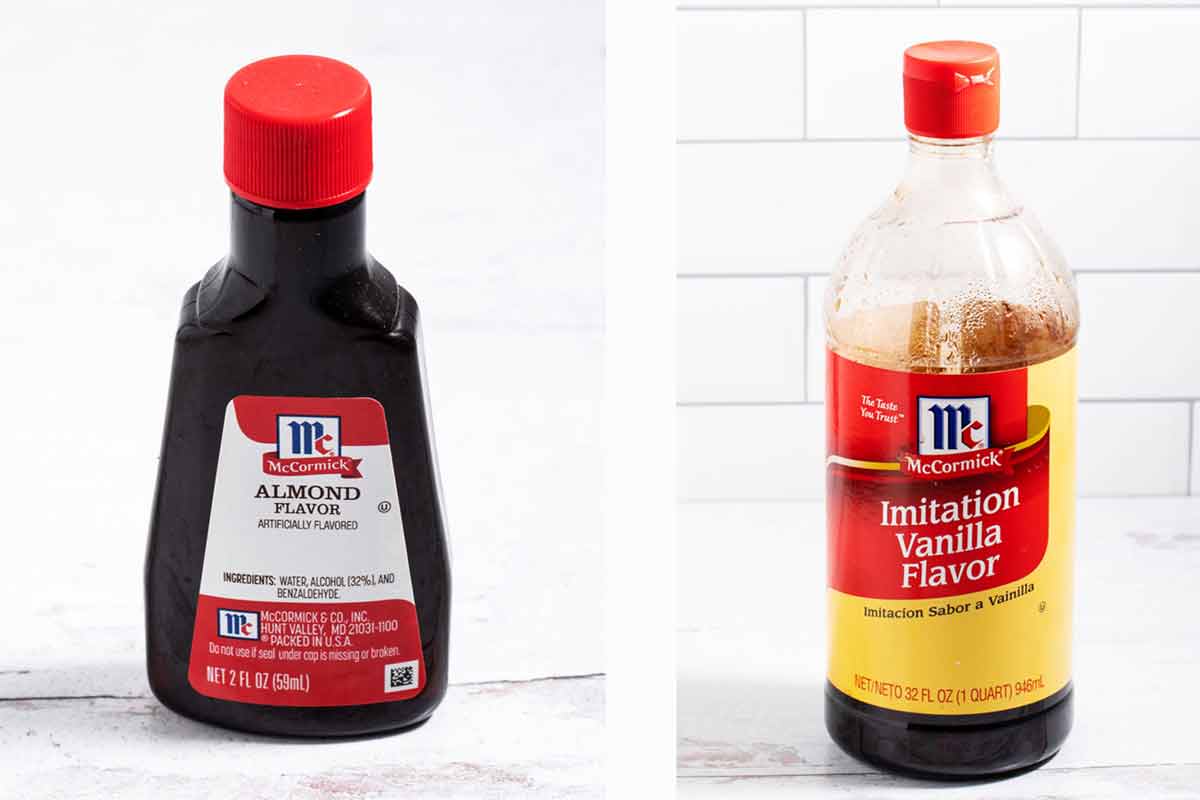 There are a few different extracts that enhance blueberry pie filling. Some of the best options include vanilla, almond, lemon, and cinnamon extract. These extracts will enrich the flavor of the blueberries and create a delicious final product.
If you're looking for something a little bit more traditional, try lemon or orange zest. This will give the canned filling a tart and refreshing flavor that pairs perfectly with the sweet blueberries.
Experiment with various flavors to find the combination that you like best.
Make it Creamy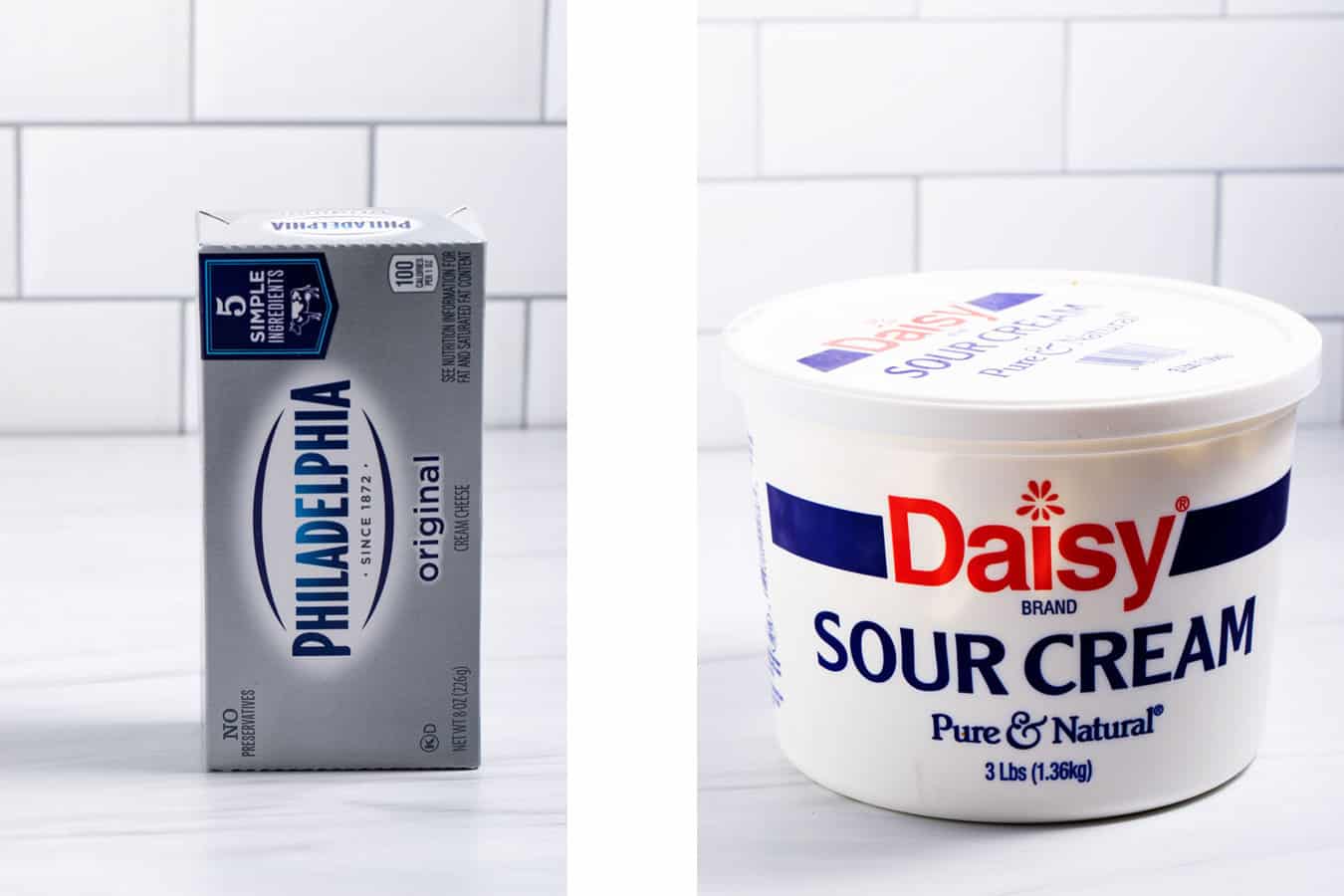 There are a few ways to make blueberry pie creamy. One way is to add a custard or pudding mix to the canned filling. Or you can use cream cheese (or a healthy substitute) in the filling.
If the canned blueberry pie filling is too sweet, try mixing in some sour cream to tone down the sweetness level.
You can also add a layer of whipped cream or a scoop of vanilla ice cream on top of the baked pie. Whichever method you choose, your blueberry pie will be creamy and delicious.
Infuse Some Butter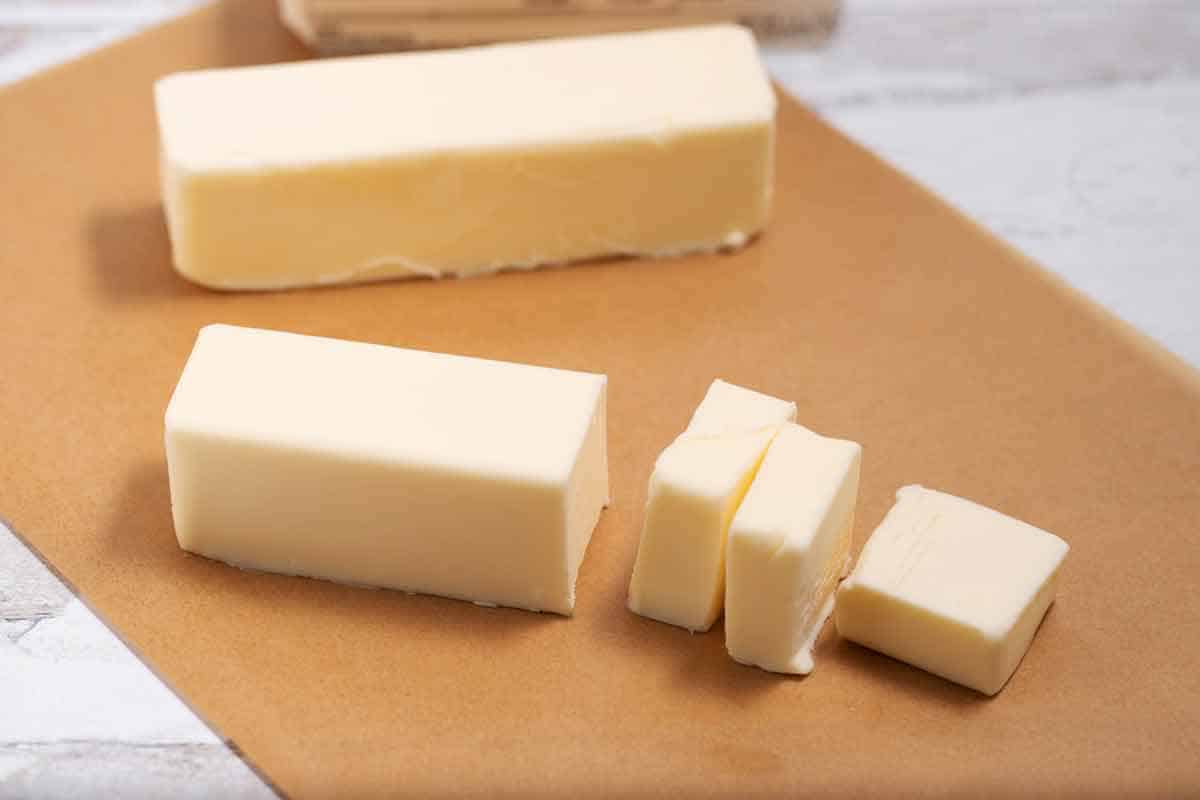 Blueberry pies can be fantastic with just the blueberry filling. However, you can put pats of butter on top of the pie filling before it bakes in the oven. Butter gives flavor and richness to the pie.
Directions:
Spread the canned blueberry pie filling into the pie shell.
Lay several pats of butter all over the top of the filling.
Place the top pie crust, lattice top, or streusel topping on the pie.
Bake in the oven.
Top if Off Right
A good topping can transform a pie. Toppings for blueberry pie vary but most often include streusel or chopped nuts before baking. Top your baked pie with a scoop of ice cream on each slice.
Streusel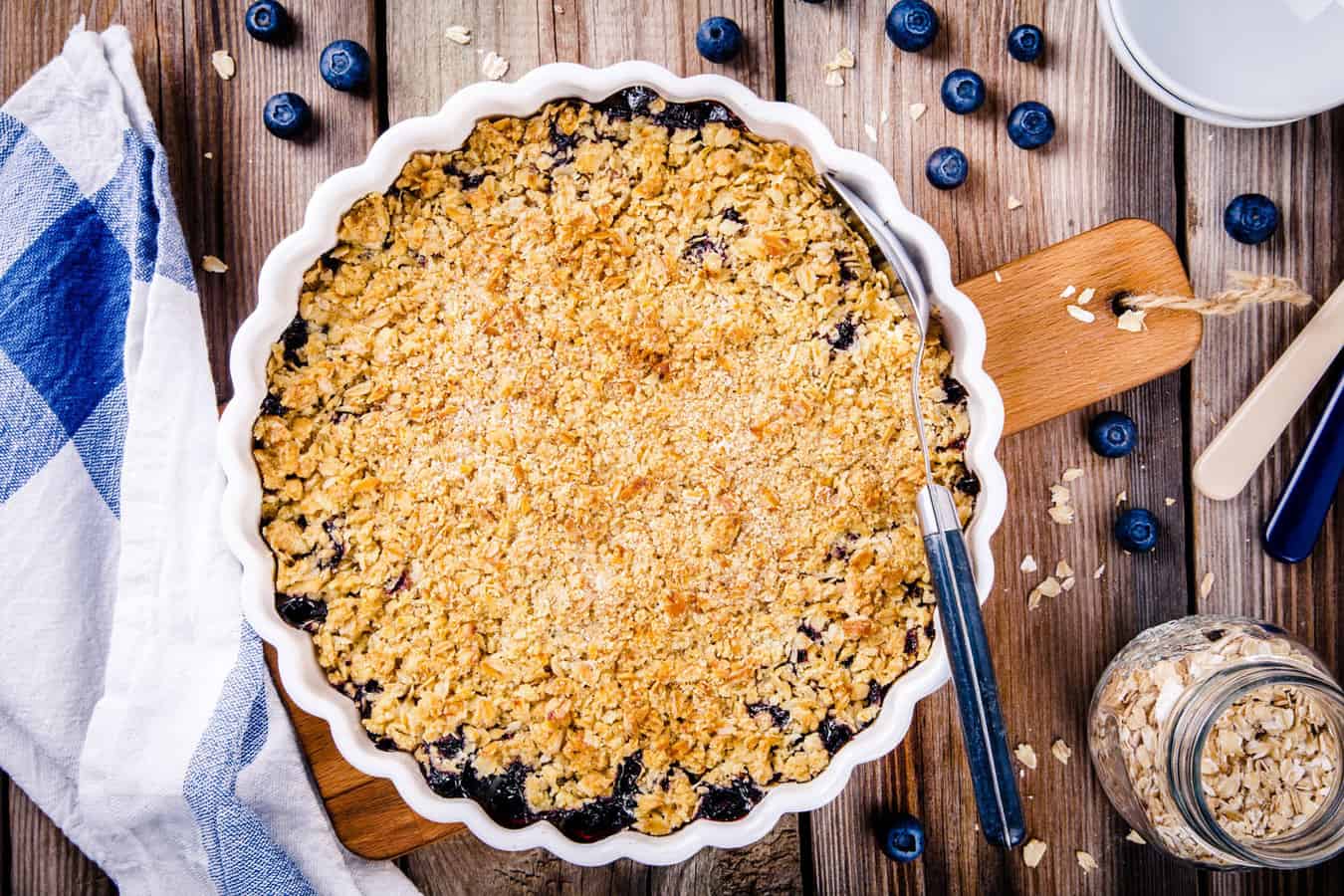 The best topping to bake onto a blueberry pie is a crumbly streusel. Streusel is a mixture of flour, sugar, and butter sprinkled on top of the pie before baking. Sometimes oats make an appearance. It helps to add some crunch and sweetness to the dessert.
The streusel adds more flavor to your pie when it bakes. Additionally, the crumbly texture of the streusel pairs well with the softness of the blueberry pie filling.
Chopped Nuts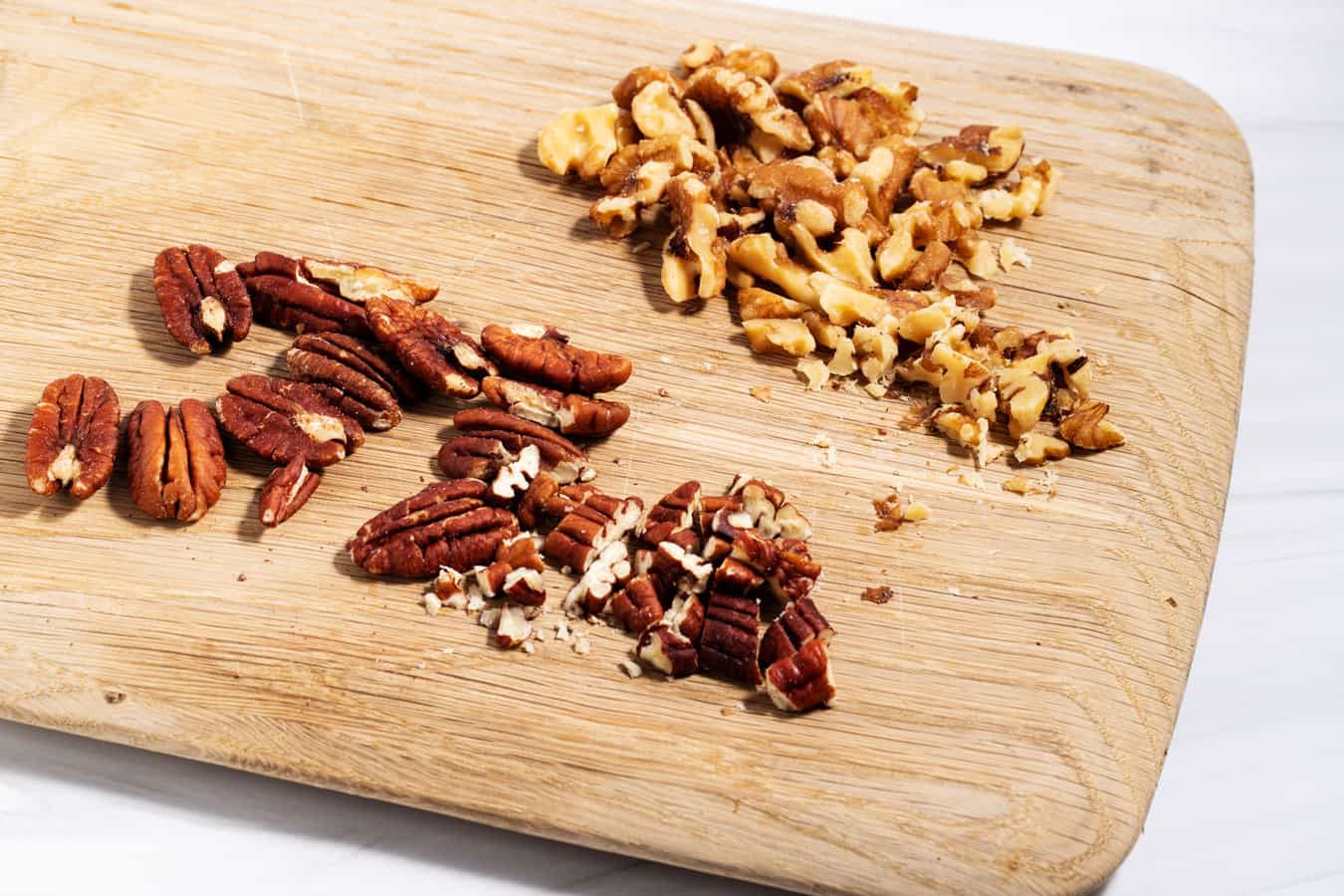 Use any nut you like, but pecans or walnuts are the most popular choices.
Toast the nuts before chopping them to bring out the nut flavor. Either dry toast or toast with sugar. Both varieties of toasted nuts will be delicious on top of blueberry pie.
Chop the nuts with a food processor to get uniformly-sized pieces. Or use a knife and cutting board.
Cold Toppings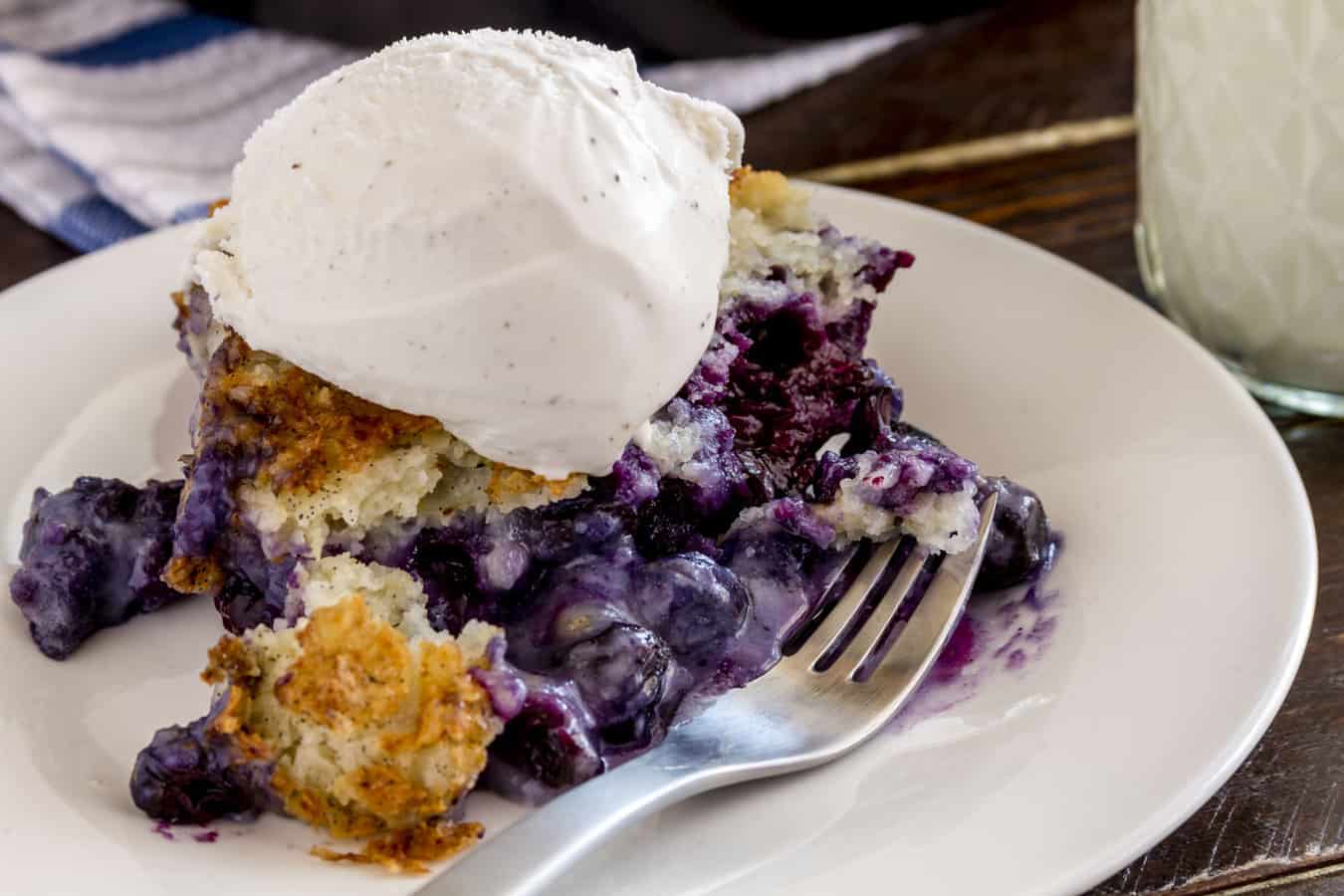 After the pie has baked, add a cold topping to each pie slice. Vanilla ice cream is the best on top of a piece of warm blueberry pie. Whipped cream can also be a good choice.
How do you Make Blueberry Pie Filling Less Runny?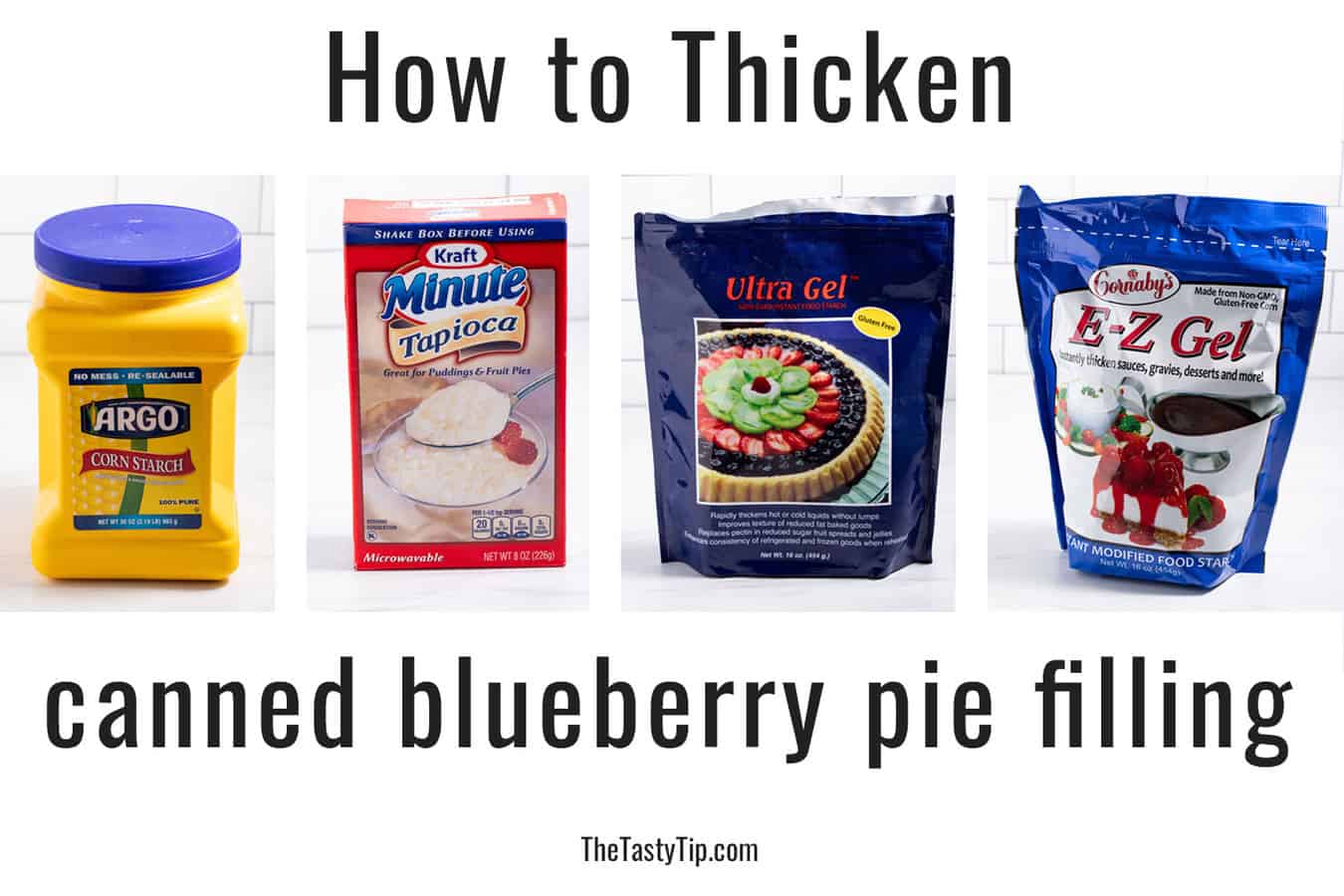 If your canned blueberry pie filling is runny, try one of these methods to thicken it and keep it where it belongs – in the crust!
Pour in more fruit. Additional berries in the filling will not only make the filling more delicious, they will also thicken it.
Cornstarch slurry. A cornstarch slurry is made by mixing cornstarch and water in a ratio of one tablespoon of cornstarch per cup of water. Stir until the cornstarch has dissolved before adding it to the pie filling.
Instant modified cornstarch. Modified corn starch is excellent for both baked and no-bake pies. Try EZ Gel or Ultra Gel. This should be in every household's pantry. It can thicken anything from banana pudding to gravy, and it works hot or cold.
Tapioca flour. Tapioca does not affect the color of the fruit as it thickens the filling. You must grind the tapioca pearls into a powder, or they will be visible in the blueberry pie.
How Long do you Bake a Blueberry Pie with Canned Filling?
If you are making a blueberry pie with canned filling and unbaked pie dough, bake the pie at 400° F (200° C) for 40 to 45 minutes or until the crust is golden brown.
If you are baking a blueberry pie in a premade graham cracker crust (like a Keebler Ready Made graham cracker crust), pour the pie filling into the pie tin. Bake at 375° F (190° C) for 40 to 45 minutes or until the filling is hot and bubbling. You are just warming up the filling.
Canned Blueberry Pie Filling Ingredients
Most canned blueberry pie fillings contain these ingredients:
Blueberries
Water
Sugar (or corn syrup)
Modified corn starch
Salt
Citric acid
What to do with Canned Blueberry Pie Filling
Looking beyond pie? Here are a few ideas on what to do with canned blueberry pie filling.
Make a tart. Tart shells can be found at most grocery stores, and they are a great way to show off the beautiful purple color of the blueberries. Simply fill the tart shells with blueberry pie filling, and bake. You can also add a crumb topping for extra flavor and texture.
Bake a cobbler. Cobbler is another wonderful option for using blueberry pie filling. All you need is a baking dish, some butter, flour, sugar, and milk. It is an easy recipe, and your house will smell amazing while it cooks.
Mix up a fluff salad. This dish is a colorful combination of marshmallows, blueberries, nuts, and whipped cream. Throw everything in a large bowl, mix well, and refrigerate for a few hours. Similar to cherry fluff, blueberry fluff salad can easily be doubled or tripled if needed.
Bake some muffins. Canned blueberry pie filling is a fantastic addition to blueberry muffins.
Cook some pancakes. Blueberry pie filling also works very well in most pancake recipes. Simply add a scoopful of the filling right onto the griddle with your pancakes to create a tasty treat.
Make a blueberry dump cake. One of the easiest cakes to bake. You will love the simplicity.
If these instructions have helped you, check out my post on how to make canned cherry pie filling taste better. Lots of the same tricks are included, plus a couple of extra ones specific for cherry pie.
I hope that this blog post has inspired you to take your canned blueberry pie filling to the next level. You can transform bland canned filling into a treat everyone will love with just a few simple tweaks. So, get baking and enjoy those delicious pies!
---
Did you like this post? Then let's be social. FOLLOW ME on PINTEREST and INSTAGRAM to keep up with the latest tutorials, favorite recipes, and interesting happenings.