There isn't just one best pie crust for berry pie. Learn the most popular types of pie crust and choose the one that best fits your pie needs.
When you want your berry pie to shine, start from the bottom up with the pie crust. A light, flaky crust is an ideal container for any luscious berry filling.
Many flaky pie crust recipes exist. Some have scrumptious flavors. Others are easier to work with. A few are better with a chilled no-bake berry pie.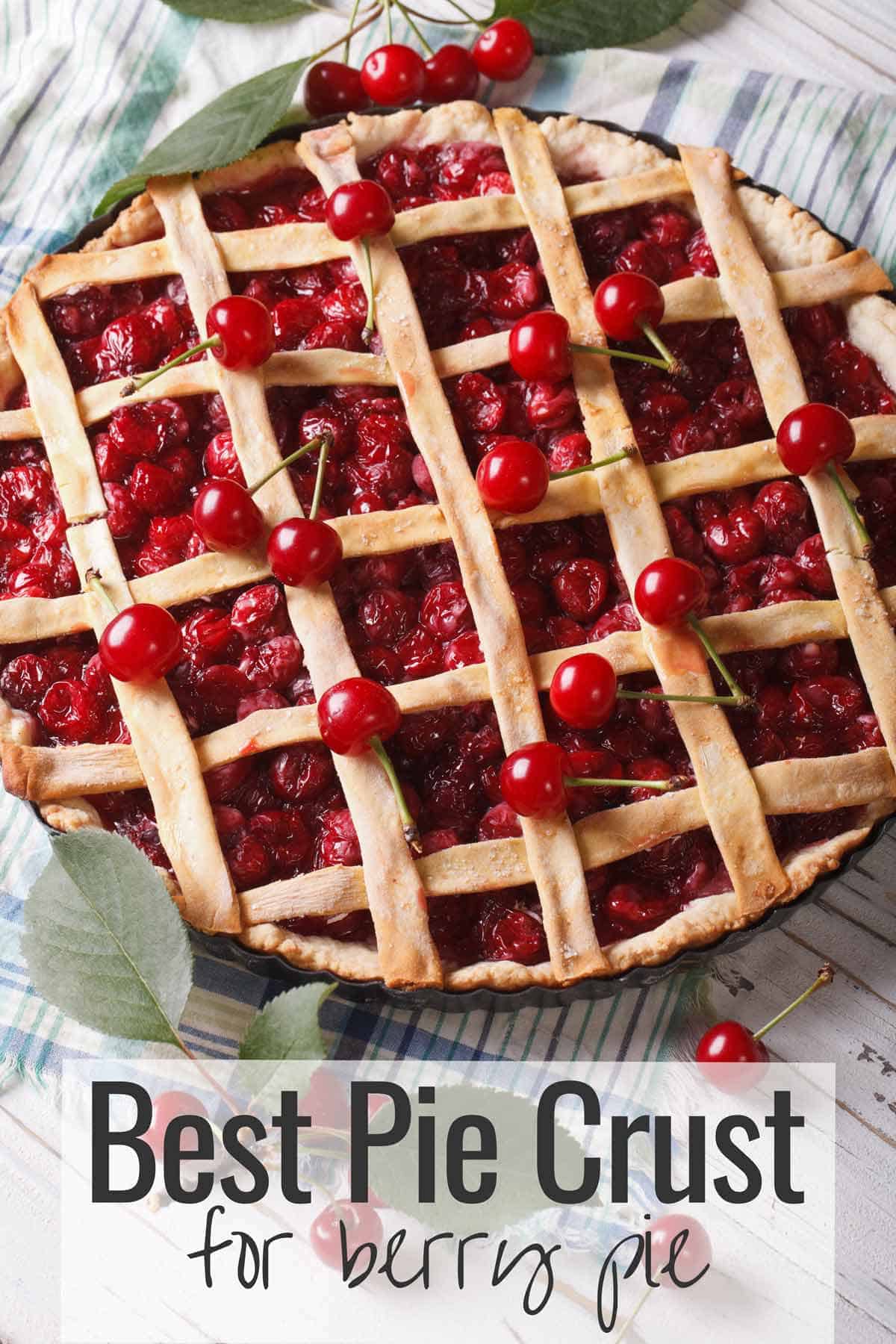 What are the ingredients in a pie crust? The basic ingredients in a pie crust are flour, salt, fat, and water. Variations can include vinegar, cream cheese, sugar, or eggs.
The most important thing you can do for success with any baked pie crust is to keep everything chilled – the ingredients, tools, pie pan, and your hands.
This article will introduce you to several pie crusts that are amazing for berry pie. You will get a description of the crust, how easy it is to work with, and essential tips so you can achieve berry pie success.
All-Butter Pie Crust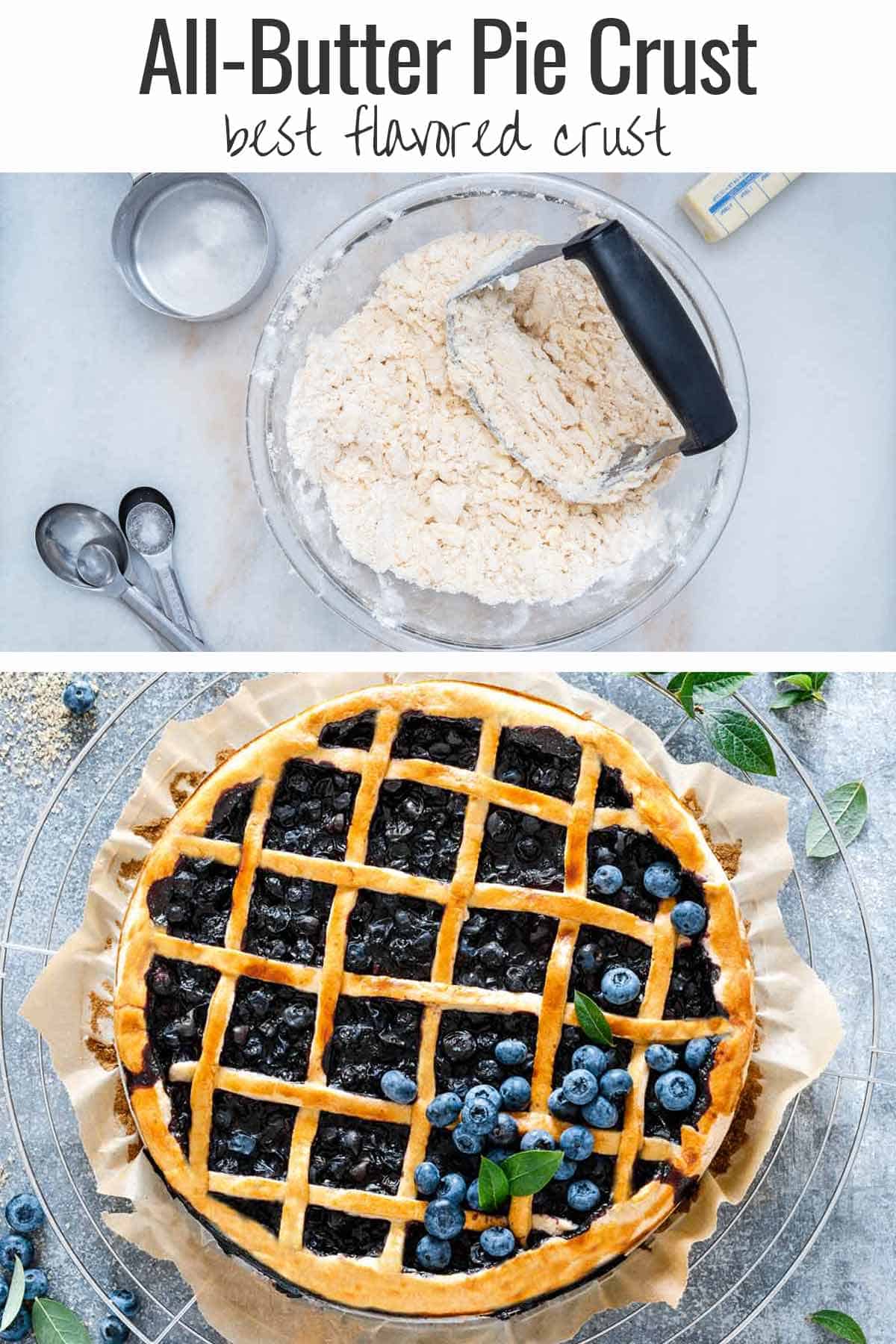 A pie crust made with butter as the only fat is light, flaky, and crisp. Butter pie crusts are the most flavorful because, well, butter tastes better than other fats like shortening and lard.
However, to achieve that fantastic taste, you lose some flakiness that comes from pie crusts using fats that are 100% fat. For reference, butter is usually about 80 to 86% fat.
Butter also starts softening quickly when it comes out of the refrigerator. That means you must work quickly to make the pie dough. For this reason, some people find all-butter pie crusts more challenging to work with.
I love the flavor of butter pie crust and think everyone should use it with berry pie. However, the only way to achieve success is to keep everything cold and work quickly!
Here's a recipe for make blueberry pie with canned filling.
Pastry flour is ideal, but all-purpose can be used too.
Check out the best cookies for cheesecake crust. You will love the variety using different flavors of cookie will bring to your cheesecakes.
Cream Cheese Pie Crust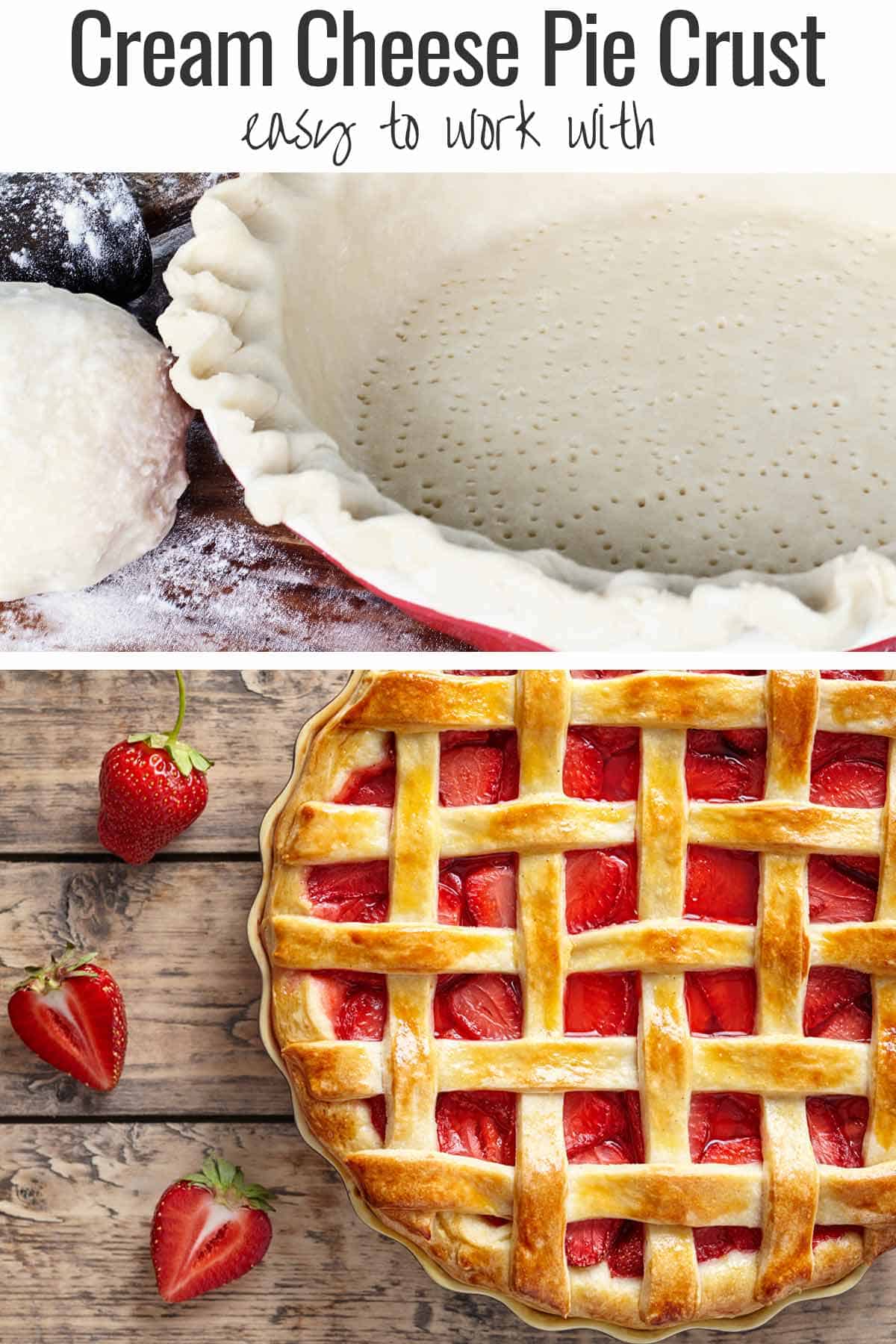 Cream cheese and butter compose the fat in this pie crust. Cream cheese crust is flaky, though not quite as flaky as the all-butter crust. It is also slightly soft and tender. And it browns beautifully.
Using cream cheese makes the pie dough much easier to work with. And the taste is incredible. If butter crust is the tastiest, cream cheese comes in a close second. You could eat the crust all by itself and be satisfied. Here's a recipe to try.
Pastry flour ensures a tender crust, but all-purpose flour can be substituted.
Read up on healthy substitutes for cream cheese. I don't recommend substituting it for pie crust. But you can swap it out for lots of other recipes.
Shortening Pie Crust
Shortening pie crust may be one of the easiest pie crusts to work with. The dough stays soft after refrigeration, making it easy to roll. It also holds its shape magnificently when baked. No need to worry about shrinking crust or destruction of your beautiful decorative border.
However, the flavor of a shortening crust does not compare to an all-butter pie crust. Shortening doesn't have much flavor, so neither will the pie crust.
If you want to make a shortening pie crust, consider using butter-flavored shortening. Though it still doesn't measure up to the taste of butter pie crust, it comes closer.
Another possibility is to use a combination of butter and shortening in your pie crust. Then you a better taste and an easier time working with the dough. Check out this recipe.
Using canned pie filling? Learn how to improve the taste of canned cherry pie filling. Or, discover ways to make canned blueberry pie filling taste better.
Lard Pie Crust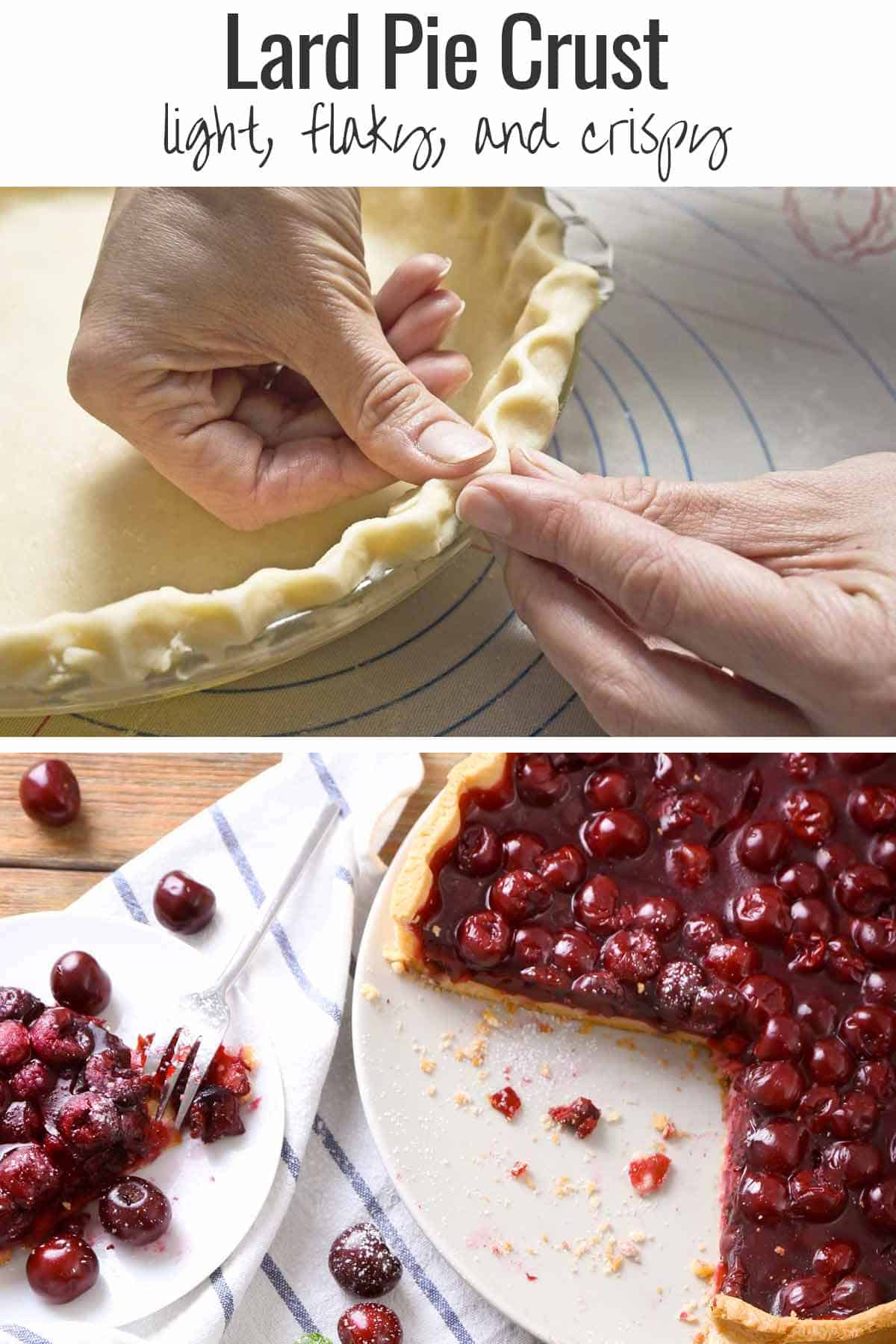 A lard pie crust might be the solution if you want a light, flaky, crispy crust.
Lard pie crusts brown slowly when baked. So when you have a berry pie that must be baked for a long time, use a lard pie crust. This ensures that the crust won't burn during the long bake time.
The key to a superb lard pie crust is the lard's quality. Cheap-o lard yields less than ideal results. Be sure to chill the lard before making the pie crust.
You can also use half lard and half butter. This gives you excellent flakiness with a better taste than using lard only. Give this recipe a try.
Use pastry or all-purpose flour.
Sugar Dough Pie Crust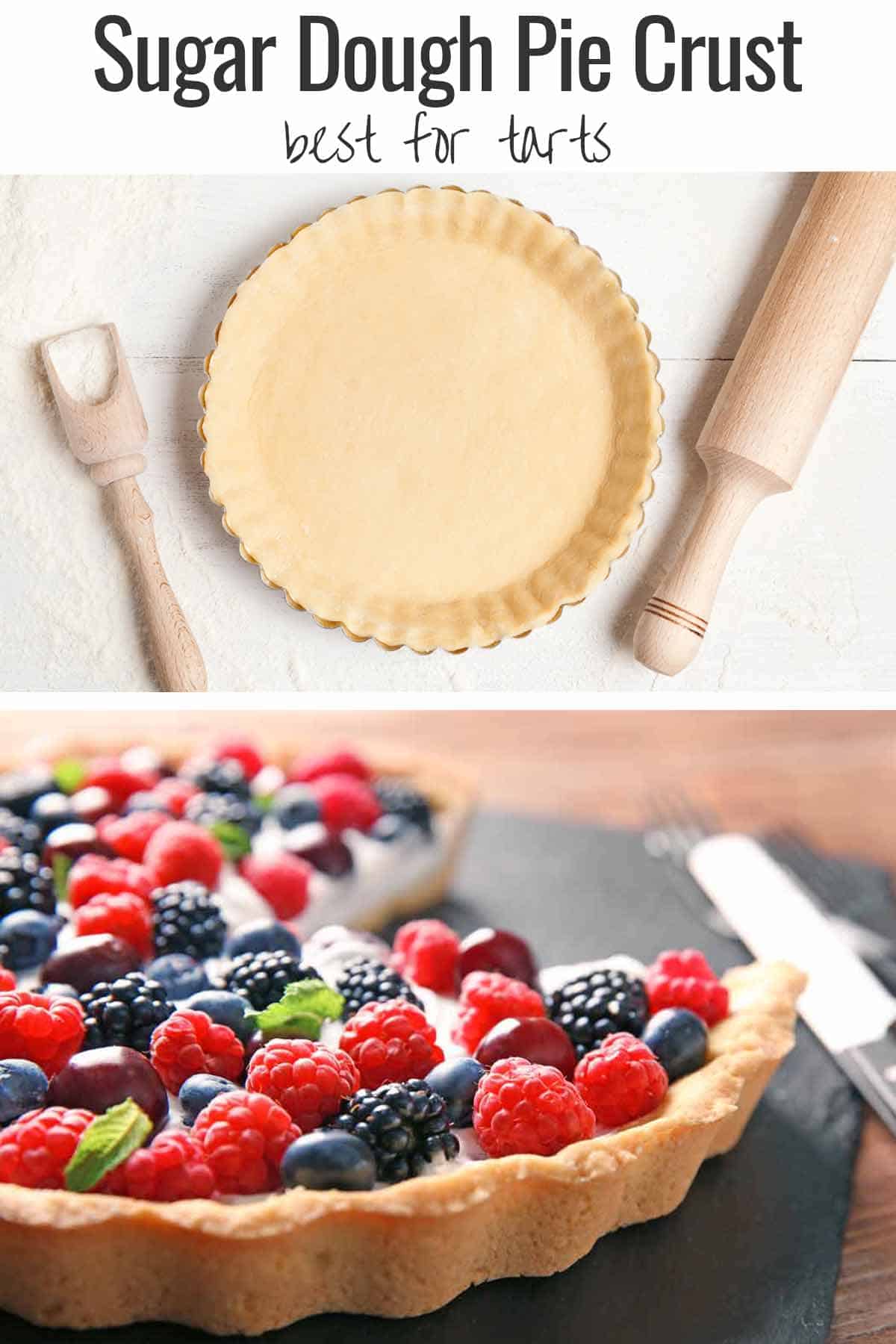 The French call it pâte sucrée. We call it sugar dough.
The sugar dough crust is not as flaky. Instead, it is firm and tender, making it an excellent crust for a tart or open-faced pie. And for mini pies or tarts.
For ease on full-sized pies, use a 2-piece tart pan.
Using egg yolks and cream instead of water in the recipe means more fat is added and less gluten forms. Be aware that the dough usually shrinks, making it tricky to maintain a decorative edge.
You may struggle to roll this dough out. But don't worry if it tears. You can easily patch it with a bit of dough. If it is too difficult to roll, you can press it into the pan instead of rolling it. Give this recipe a go.
Graham Cracker Pie Crust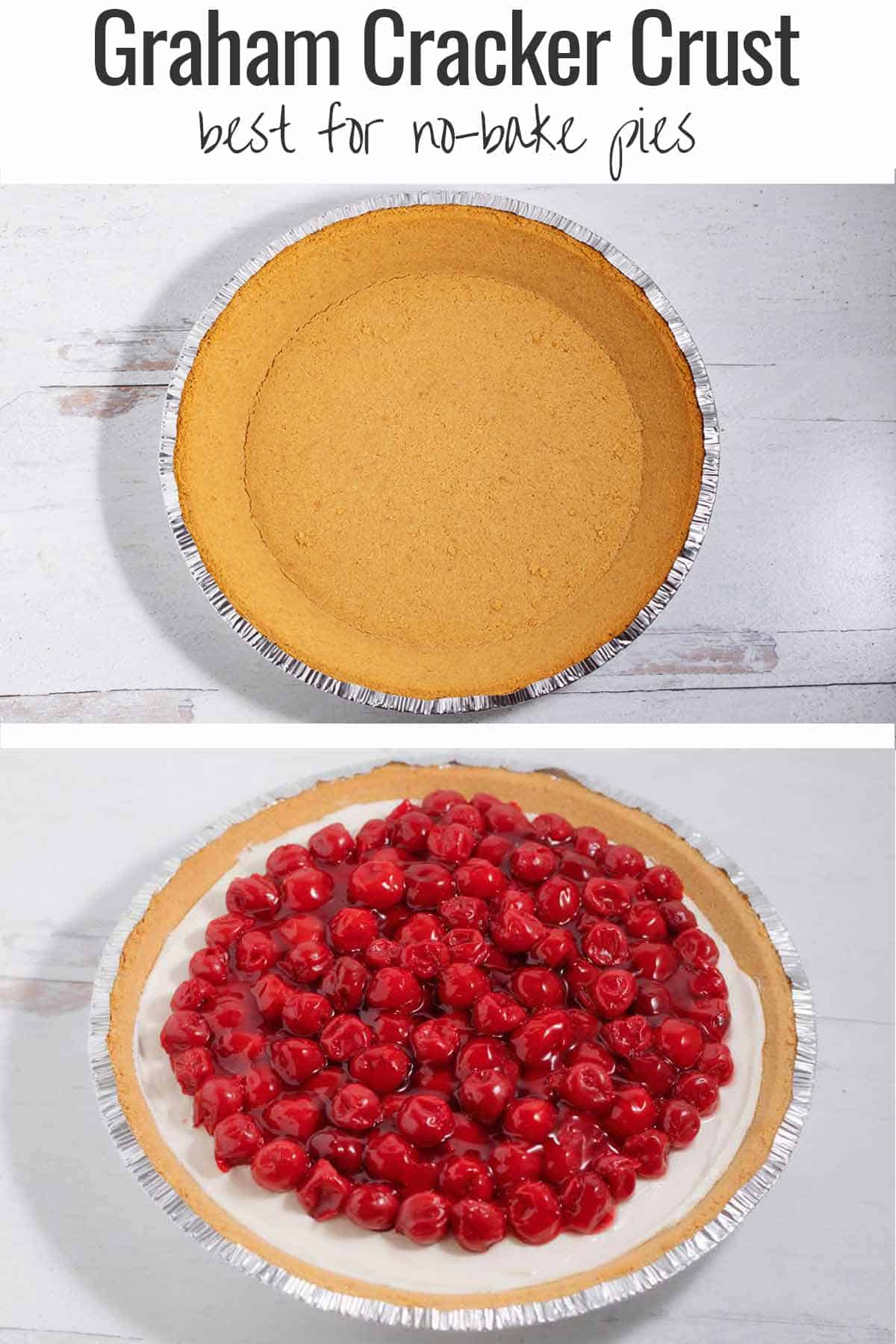 A graham cracker pie crust is a fantastic crust for a no-bake chilled berry pie, like cherry cream cheese pie. The crust holds together very well after a short bake. And it stays together after the pie chills in the refrigerator.
The two best things about graham cracker pie crusts are 1) how easy they are to make and 2) how they don't get soggy from moist fillings.
Graham cracker crumbs, sugar, and melted butter are all you need for this crust. No rolling required. You press the crumb crust into the pie pan.
This is not a good crust for a baked berry pie.
You may also be interested in this ultimate guide to premade graham cracker crusts.
Crumb Pie Crust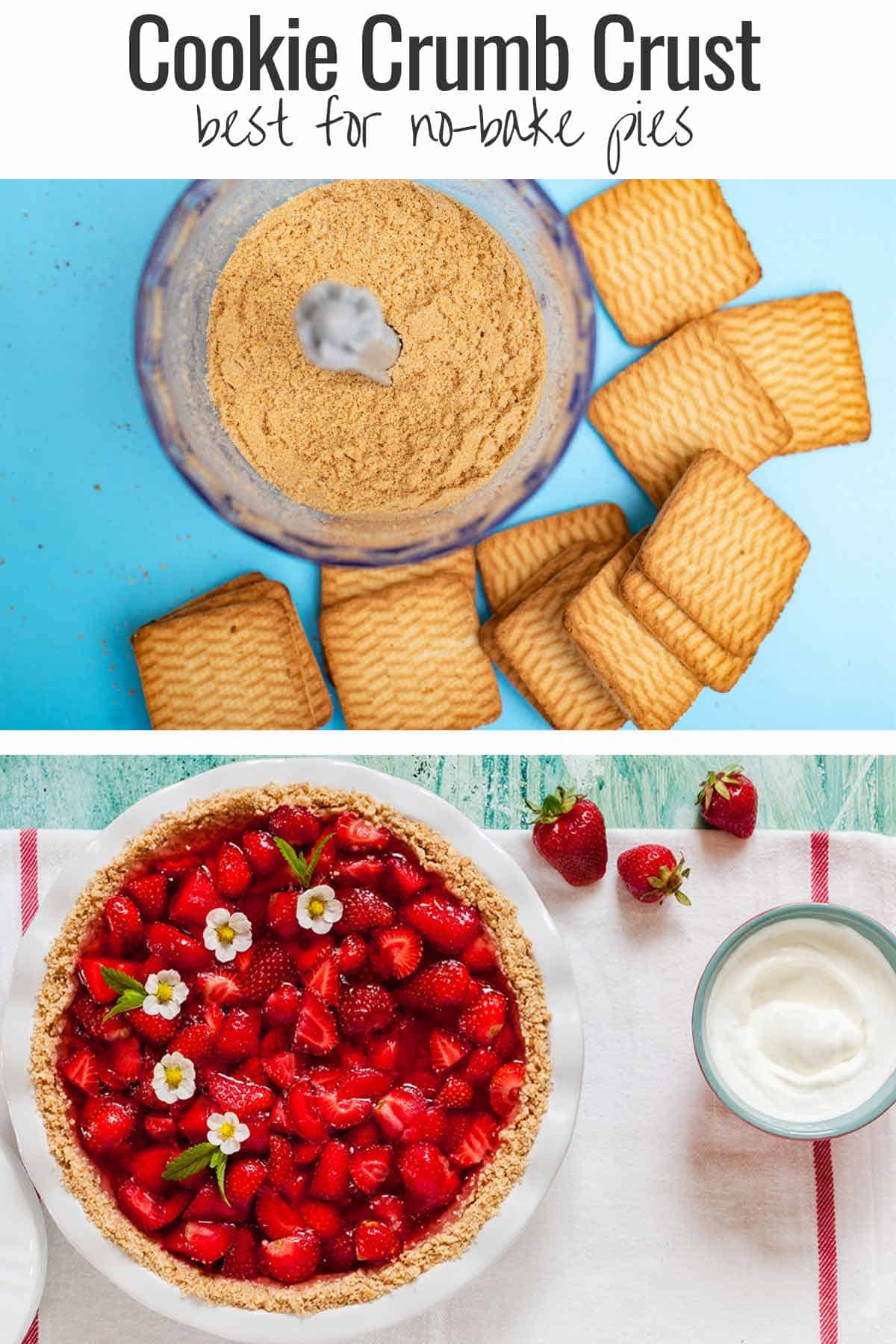 A cookie crumb pie crust is similar to a graham cracker crust. The main difference is that you don't need to add sugar to the cookie crumbs. They are sweet enough.
The best cookies to use are crunchy, crumbly, crisp cookies. Cookies like gingersnaps, shortbread cookies, and Oreos are all excellent choices.
A crumb pie crust is best for no-bake berry pies. Here's a recipe for this crust.
Whole Wheat Pie Crust
Using whole wheat in a pie crust adds more fiber and makes the pie a little healthier. The crust won't be as light or flaky as it would be using pastry or all-purpose flour.
If you want your crust to have some whole wheat flour but most of the benefits of all-purpose flour, try substituting part of the all-purpose for whole wheat flour. Swap out ⅓ of all-purpose flour and replace it with whole wheat flour.
You may need to work the dough a little more to get it to cooperate with you. Because of this, I suggest using either cream cheese or shortening in this crust. Try this recipe.
Gluten-Free Pie Crust
There are many gluten-free flour blends on the market. Many are a 1:1 substitution for all-purpose flour.
Gluten-free crusts do behave differently, though. You will need to add sugar, baking powder, and an egg. For best results, roll it right after making the dough instead of chilling it. Here's a recipe to try.
Best Pie Making Tips (for most baked pie crusts)
Keep everything cold. This includes ingredients, tools, pie plates, and your hands. Anytime the fat starts getting too soft, stop and refrigerate.
Don't let the fat get too small. May pie crust recipes say to process until the fat (butter, shortening, etc.) is in pea-sized pieces. The problem with making sure all the fat is that small is that you tend to over-process because there are some larger pieces.

Instead of worrying about all the fat being the same size, just focus on making sure there aren't really big pieces. Working by hand is a great way to go.
Don't stretch the dough. Roll the dough to a couple inches of extra diameter of what you need. Then lay the dough in the pie plate. If you stretch the dough, it will shrink back to its original shape when baked.
Craving More Pie?
Don't miss out on these delicious pies.
Arizona sunshine lemon pie. This lemon blender pie is easy and perfect for sweeter Myer lemons. Give it a try.
---
Did you like this post? Then let's be social. FOLLOW ME on INSTAGRAM and PINTEREST to keep up with the latest tutorials, favorite recipes, and interesting happenings.