Ultimate Cobb salad recipe with chicken makes a full meal with greens, protein, vegetables, and a fresh vinaigrette. Cook proteins ahead of time for fast assembly.
The first time I had Cobb salad, I was in heaven. It seemed like the perfect salad -- a complete dinner.

As a young adult, my eyes grew wide as the waitress brought me my salad, served on a huge platter. Juicy chunks of chicken, sizzling bacon pieces, sliced hard boiled eggs, Roquefort cheese, and croutons made neat rows on top of the bed of salad greens.

Add the Blue Cheese Dressing and the side of garlic toast and my meal was complete.

It was the perfect salad. Big enough to fill me up with plenty of ingredients I loved to eat. This was back in the day when I thought restaurants presented normal serving sizes. I believed I was justified in cleaning everything on my plate when I ate out.

Since that time I have learned better, but that night was bliss.

The Cobb salad recipe at the end of the post is large enough to share. There is enough protein and greens for 8 servings.

But don't worry if you don't eat it all the first night. It makes an excellent lunch the next day, as my husband will testify.
If you like salad, you might also enjoy Turkey Salad with tart apple and blue cheese.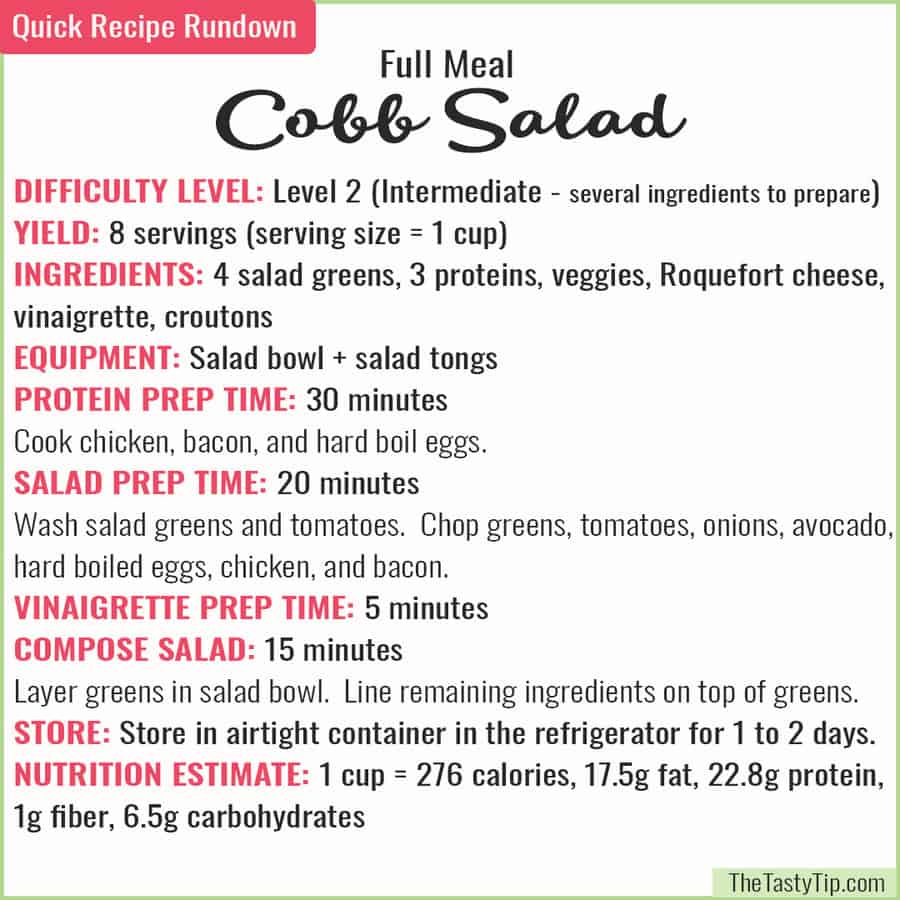 Cobb Salad Recipe Origins

You may have heard the Cobb salad origin story. Or at least one of the versions.

Late one night in 1939 Bob Cobb, owner of the Hollywood Brown Derby restaurant in Los Angeles (or his executive chef, Robert Kreis), threw the salad together with leftover chicken and hard boiled eggs.

Hungry, Cobb grabbed a variety of lettuces, snatched some bacon from the line chef, and threw the three proteins on the lettuce bed. He topped it off with some cheese and drizzled it with French dressing.

He probably wondered why he hadn't thought up the recipe before. It fit the bill for a full meal all in one salad.

Cobb's friend was with him that night and shared in his late night meal. He was so impressed with it that he returned the next day and asked for the Cobb salad.

That probably threw the staff into a frenzy, wondering what a Cobb salad even was. Eventually the hearty salad landed on the menu, was a huge success, and the rest is history. Or so the rumor goes.

Tall tale or not, one thing is certain, the Cobb salad was born in America and the Hollywood Brown Derby restaurant claims the invention.

Pulling a Cobb Salad Together
Though the salad is popular and tasty, it does take some planning and preparation to pull it all together. It isn't one of those throw-it-together-at-the-last-minute salads.

You have to cook the chicken -- or use leftover grilled chicken. That is what we do in our house. Check out my post on how to cook chicken breast on the stove so it doesn't dry out. You'll love it.
You have to hard-boil the eggs and let them cool.
And finally, don't forget the bacon. You need to cook that too. I recommend cooking bacon in the oven for less mess.

It really is a recipe that takes advantage of leftover proteins in the refrigerator.

Cobb Salad Ingredients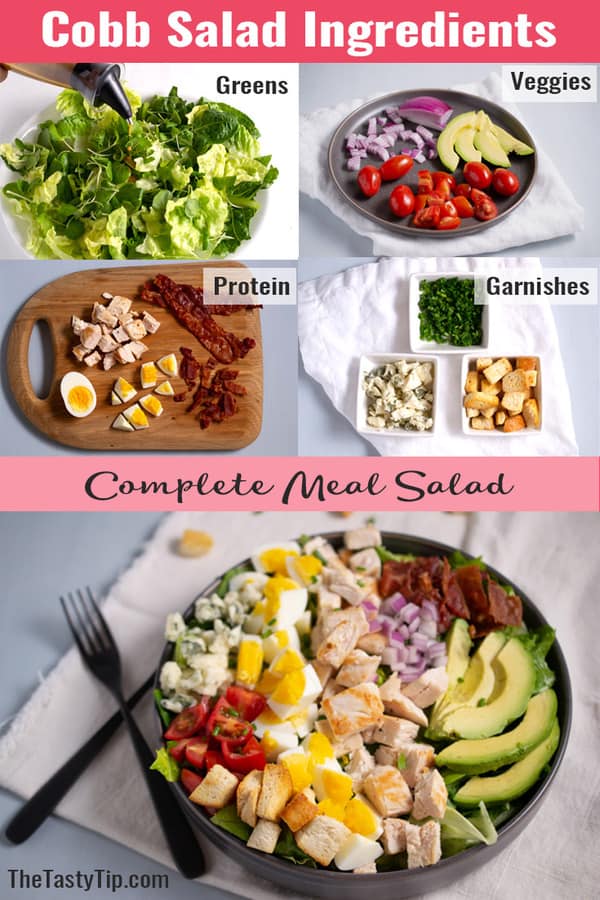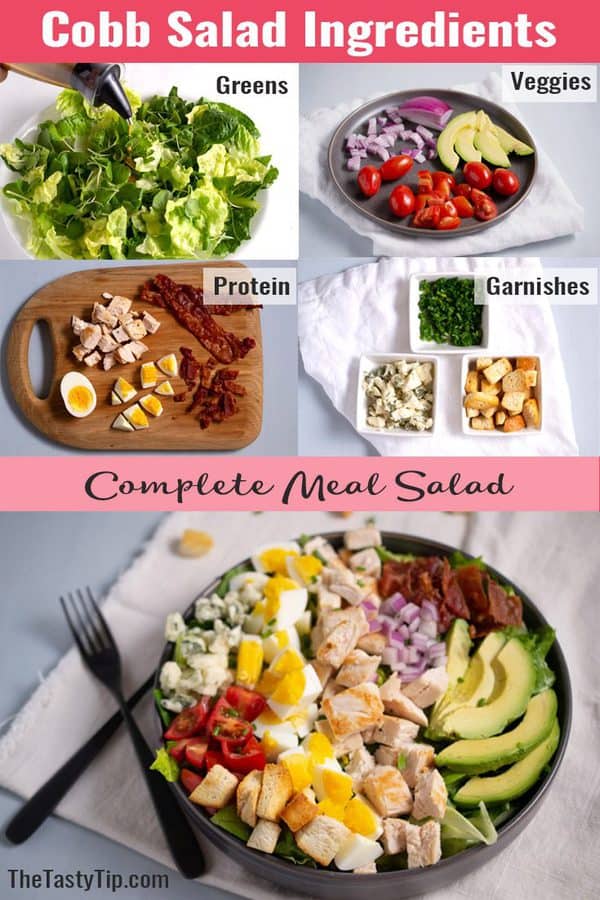 Cobb salad ingredients include four types of lettuce or greens, three kinds of protein, vegetables, a pungent soft cheese, and a acid-heavy vinaigrette.

A traditional Cobb salad has:
4 Lettuces/Greens - these are my favorite 4, but they can be swapped with other lettuce on hand.
Romaine lettuce -crisp, crunchy, tall, narrow leaves with a mild taste
Butterhead lettuce (substituted for what was probably iceberg lettuce) - round, loose, light, tender, green leaves with a mild sweet taste
Endive - narrow, green curly outer leaves with a bitter taste
Watercress - small leaves with mild pepper taste (young leaves) and more deeply peppery taste (more mature leaves)
3 Proteins
Salad Vegetables
Cherry tomatoes
Red onions
Cheese
Roquefort cheese - a type of blue cheese made entirely from sheep milk. It can be expensive so any type of blue cheese can be substituted. However, there is something about Roquefort cheese that just really goes with this recipe. So get it if you can.
Croutons
Croutons may not have been on the original salad, but I think they add something with their crunch. Make your own croutons for this salad. It is easy.
Cobb Salad Dressing
Vinaigrette with 3 acids (red wine vinegar, lemon juice, and Worcestershire sauce) emulsified with olive oil
Blue Cheese Salad Dressing also tastes wonderful on this salad. It is the dressing I had with my first Cobb Salad. Although now, I prefer the Cobb Salad Dressing Vinaigrette.
How to Make Cobb Salad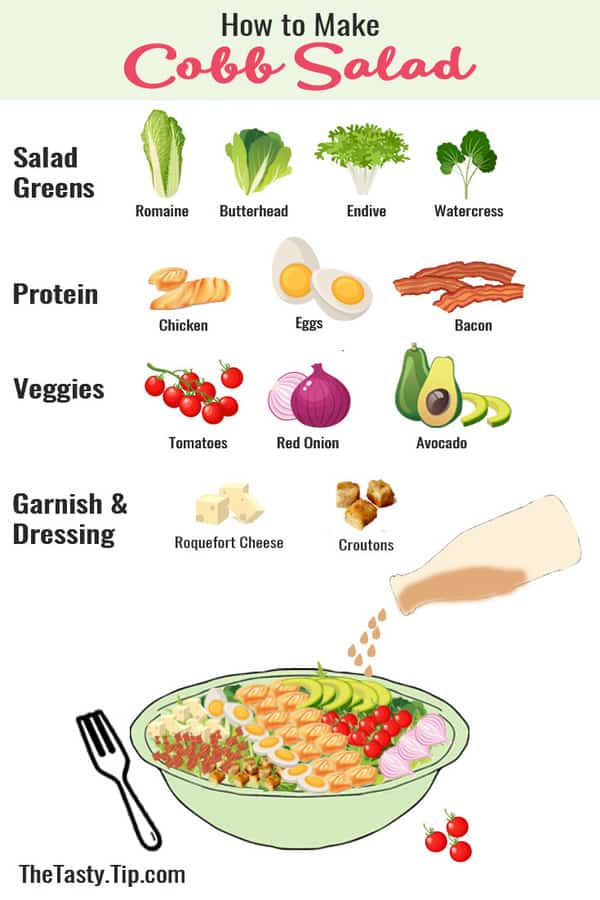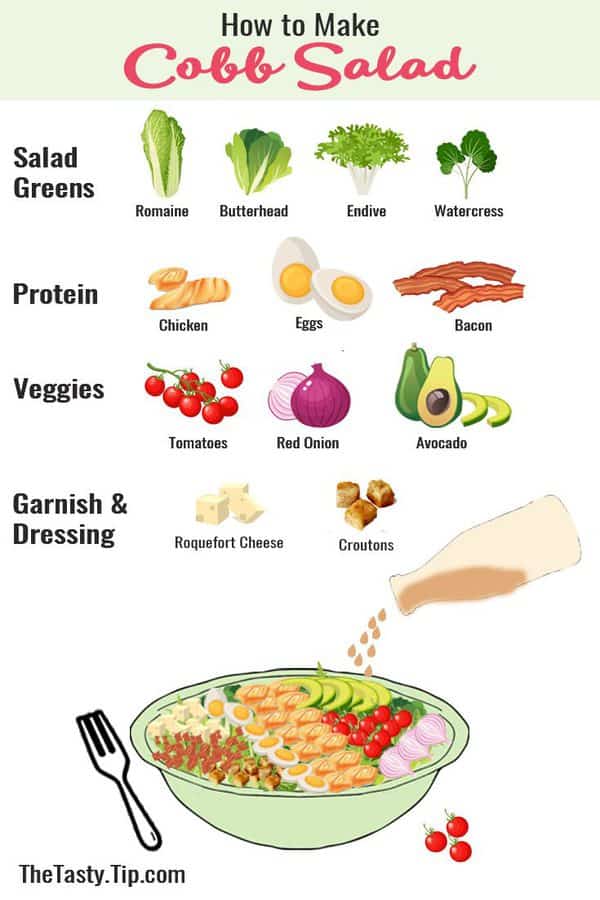 GRILL 2 chicken breasts. Slice or chop.
COOK 6 slices of bacon. Crumble.
HARD BOIL 3 eggs. Slice or chop.
WASH romaine lettuce, butterhead lettuce, endive, and watercress. TEAR into bite-sized pieces.
CUT tomatoes in half. Dice red onions. Slice the avocado.
MAKE the vinaigrette.
MIX lettuces together and layer on a serving platter.
DRIZZLE lettuces with vinaigrette and toss.
LAYER the chicken, bacon, eggs, tomatoes, red onions, and avocado in rows on top of the lettuce.
DRIZZLE with Cobb Salad Dressing Vinaigrette or Blue Cheese Dressing.
SPRINKLE cheese, croutons, and chives on top.
How to Serve a Cobb Salad
Every restaurant serves Cobb salad with the ingredients lined up in rows on a bed of the lettuce greens.

However this is not the best way to eat the salad. It can look overwhelming and you might feel stressed trying to get a little of all the ingredients and still leave some for the rest of your family.

There are two ways to serve a Cobb salad -- toss the ingredients together or do a build-your-own-salad.

To toss a Cobb salad, make sure all the ingredients are in bite-sized pieces. That means chop the chicken and avocado. Don't slice them. Place all of the ingredients in a very large bowl. Toss together with salad tongs and then drizzle with vinaigrette or dressing.

Tossing the ingredients together before serving ensures that all the ingredients are mixed evenly and that leftovers you eat for lunch the next day will still taste like a Cobb salad.

To serve buffet style, toss all the greens together in a salad bowl. Place the rest of the ingredients in smaller serving bowls with a serving spoon and line them up on the counter.

Everyone can then go through the line and select what they want on their salad.

This is a good method if you have picky eaters or allergies. However, it is not my preferred method since there are LOTS more dishes to do.

In addition, you may run out of popular ingredients like bacon, but still have a bowlful of tomatoes. Your leftover salad probably won't have all the ingredients of a regular Cobb.

How to Eat a Cobb Salad
The best way to eat a Cobb salad is by mixing all the ingredients together on your plate before drizzling it with dressing.
Even if the salad is served traditionally with the ingredients isolated in separate sections on top of the greens, try to mix them together on your plate. Your salad will taste better.
What to Serve with Cobb Salad
A Cobb salad can be a stand-alone meal for dinner or for lunch. It is not lacking anything. However, serving it with breadsticks, garlic bread, or a dinner roll is a nice finishing touch.

Make Ahead Tips
If you want to whip up Cobb salad in a flash, make the chicken, bacon, and hard boiled eggs in advance.

Grilled chicken can be made up 1 or 2 days in advance. Bacon and hard boiled eggs can be made up to 3 or 4 days early.

How to Store Cobb Salad
A Cobb salad is a bit tricky to store if you are worried about ingredients staying crisp, like the bacon and croutons.

If you haven't mixed the salad together to serve, pull the bacon, croutons, and cheese off the salad and store them separately.

However, if you are like our family, we aren't too picky. So we store the leftover salad mixed together in the refrigerator in a covered container. Store only 1 to 2 days.
Frequently Asked Questions
How many calories in Cobb Salad?
There are 276 calories in one cup of Cobb salad. This does not include the Cobb salad dressing or vinaigrette.
What kind of dressing goes with Cobb Salad?
A special balsamic vinaigrette with lemon juice, Worcestershire sauce, and red wine vinegar tastes amazing on this salad.  However, Blue Cheese Salad Dressing or even Ranch Dressing taste fabulous with it too.

What is Southwest Cobb Salad?
A southwest Cobb salad recipe follows the same pattern as the original Cobb salad recipe that includes 3 to 4 different kinds of salad greens, 3 proteins, vegetables, and cheese.  However, certain ingredients are substituted.

Substitute black beans for the hard boiled eggs.  Replace the croutons with tortilla strips. Try shredded Monterey Jack cheese instead of Roquefort.  Add corn and a spicy southwest salad dressing to top it off.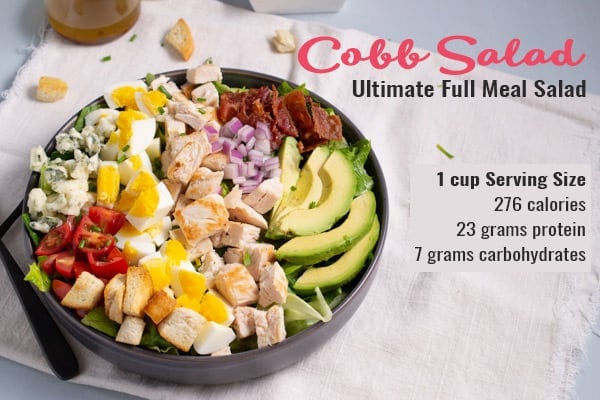 Craving More Salads?
Try these drool-worthy salads. You will be glad you did.
Catalina taco salad with Doritos. Doritos hide salad veggies in plain sight in this main dish taco salad recipe with Catalina dressing. It's like a sweet, spicy, savory bowl of tacos. It is a quick and easy weeknight meal.


Turkey Salad with Tart Apple and Bleu Cheese. Turkey salad has a kaleidoscope of flavors to tempt your taste buds. Crisp greens and leftover turkey combined with sweet, tart, crunchy, and chewy mix-ins.


Ambrosia salad with Cool Whip or classic 1950s Ambrosia Salad. Effortlessly make the best ambrosia salad recipe with Cool Whip or whipped cream. This quick and easy dessert salad is perfect for potlucks, parties, and dinner tonight. Make it with canned fruit, marshmallows, coconut, and nuts (or not) in a creamy dressing.
Cornbread Salad. You'll love the layers of cornbread, lettuce, tomatoes, cheese, corn, and bacon. Drizzle it all with ranch dressing and you are ready to roll.
---
Did you like this post? Then let's be social. FOLLOW ME on PINTEREST and INSTAGRAM to keep up with the latest tutorials, favorite recipes and interesting happenings.

---
Recipe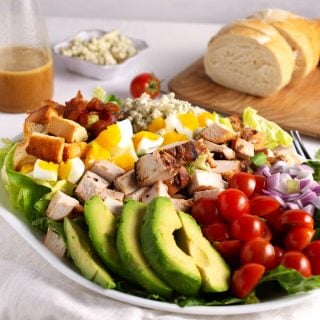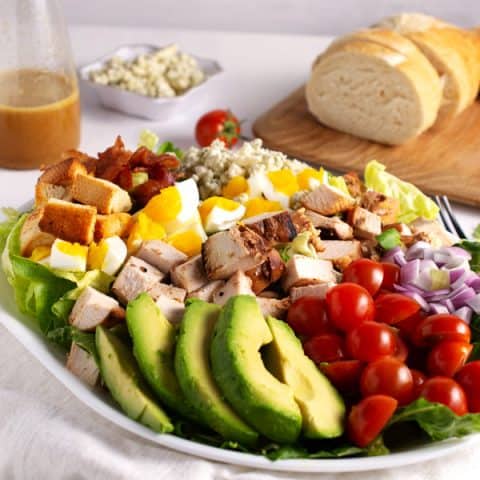 Cobb Salad
Ultimate Cobb Salad recipe with chicken makes a full meal with greens, protein, vegetables, and a healthy vinaigrette. Cook proteins ahead of time to prepare this salad in no time.
Ingredients
Salad
2

cups

Romaine lettuce

chopped

2

cups

butterhead lettuce

chopped

1

cup

endive

chopped

1

cup

watercress leaves

2

cups

cooked chicken breast

sliced or chopped (≅ 1 pound)

6

slices

bacon

cooked and crumbled

4

hard boiled eggs

chopped

1

cup

tomatoes

chopped

1

avocado

sliced or chopped

¼

cup

red onion

diced

½

cup

Roquefort cheese

or blue cheese, crumbled

½

cup

croutons

¼

cup

chives

chopped
Cobb Salad Dressing Vinaigrette
2

teaspoons

shallot

minced

4

tablespoons

red wine vinegar

2

teaspoons

lemon juice

freshly squeezed

2

teaspoons

Worcestershire sauce

2

teaspoons

mustard

2

teaspoons

sugar

½

teaspoon

salt

or to taste

¼

teaspoons

black pepper

freshly ground, or to taste

½

cup

olive oil
Instructions
Prepare the Salad

WASH salad greens, tomatoes, and chives.

SPIN salad greens to remove excess moisture.

CHOP greens, tomatoes, chives, hard boiled eggs, and cooked chicken breast.

CRUMBLE bacon.

PEEL and slice avocado. DICE red onions.

TOSS greens together.

SET salad ingredients aside.

Make the Vinaigrette

MINCE shallot and JUICE lemon.

MIX red wine vinegar, lemon juice, Worcestershire sauce, mustard, sugar, and shallot together.

POUR in olive oil.

BLEND with immersion blender, food processor, or wire whip.

SEASON with salt and pepper to taste.

Compose the Salad

DRIZZLE the vinaigrette over the greens and toss to coat.

COMPOSE salad by placing the remaining ingredients on the bed of greens. Each ingredient should have its own section. Place chicken, hard boiled eggs, bacon, tomatoes, avocado, red onions, Roquefort cheese, and croutons on top of the greens.

SPRINKLE chives on top.

DRIZZLE the whole salad with the vinaigrette.

SERVE immediately.



Notes
Time was calculated assuming the protein (chicken, bacon, and hard boiled eggs) had been cooked in advance.
Nutrition was calculated with no vinaigrette or salad dressing.
All images and content are © TheTastyTip.com. If you want to use this recipe and techniques, please take your own photos, write your own description, and link back to this page. Thank you.
Nutrition
Serving:
1
cup
Calories:
276
kcal
Carbohydrates:
6.5
g
Protein:
22.8
g
Fat:
17.5
g
Saturated Fat:
5.4
g
Polyunsaturated Fat:
2.5
g
Cholesterol:
293
mg
Sodium:
479
mg
Fiber:
1
g
Sugar:
2.2
g
---
Did you make this recipe? Tag @thetastytip on Instagram and hashtag it #thetastytip.