What should you eat with chicken salad instead of bread? You have plenty of choices to make a meal or an appetizer without using bread.
Chicken salad sandwiches? Been there, done that. Don't worry. Although I have plenty of suggestions for the best bread for chicken salad sandwiches, bread is not your only option. There are plenty of tasty foods to eat with chicken salad instead of bread.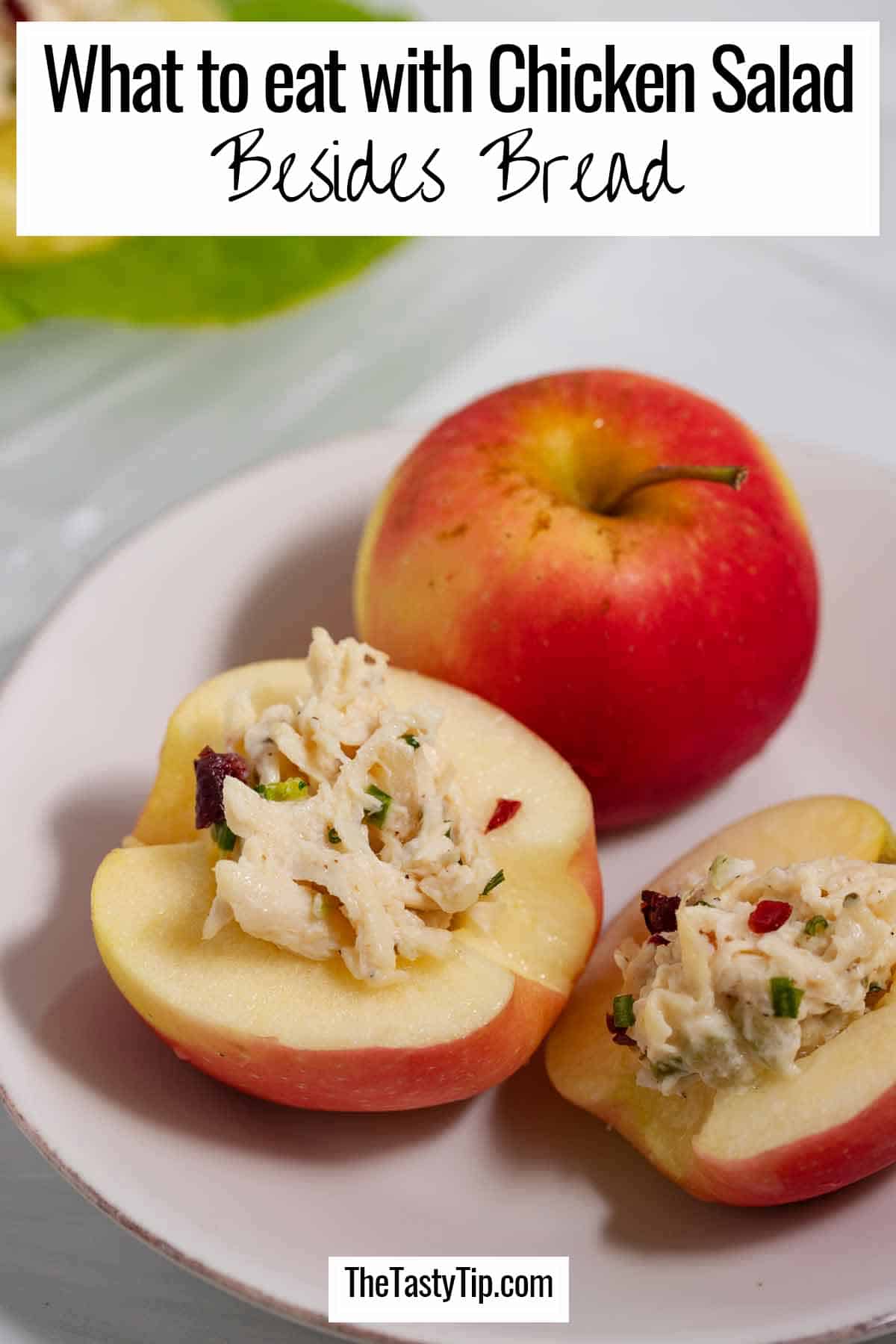 What should you eat with chicken salad instead of bread? The best foods to eat with chicken salad besides bread are crackers, greens, veggies, and fruits. Spread, layer, or stuff the chicken salad filling into one of these bread alternatives.
Chicken salad has never been so versatile.
Get fantastic ideas for side dishes to serve with chicken salad at a luncheon.
Crackers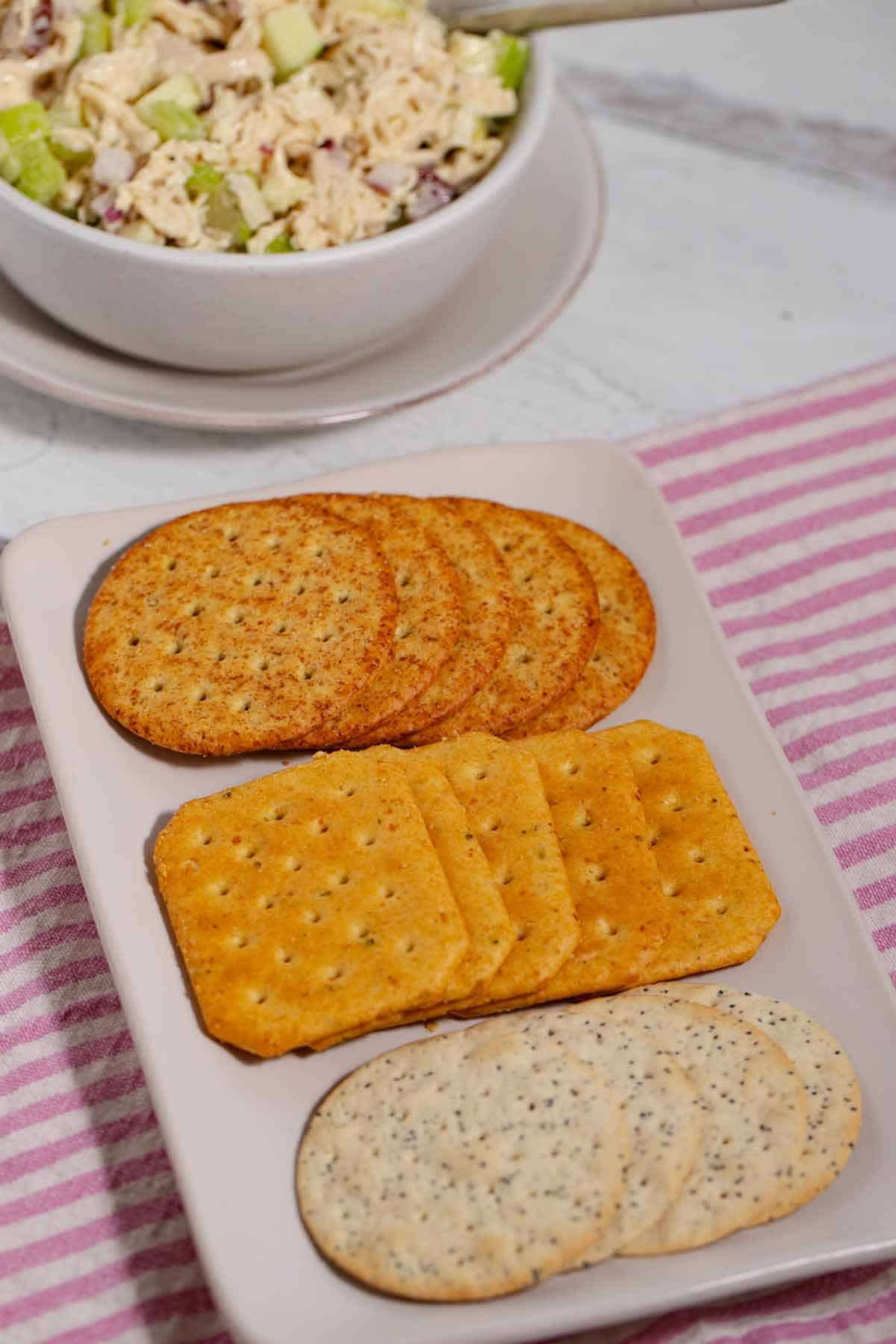 Try crackers if you want to avoid eating bread with chicken salad. Top the cracker with chicken salad, or use the crackers to dip into the salad.
Chicken salad served with crackers makes a wonderful appetizer or snack.
Dozens of crackers are delicious with chicken salad. The best news is that you can find gluten-free and other healthy crackers.
Here are a few favorite crackers to eat with chicken salad.
Nut Thins (made with almonds)
From the Ground Up Cauliflower Crackers
See my post on the best crackers to eat with chicken salad. You will like the variety of crackers on the list.
Wondering how long chicken salad lasts? Find out the logistics of how long it lasts at room temperature and the fridge. Plus, learn the warning signs for salad that has gone bad early.
Lettuce and Other Greens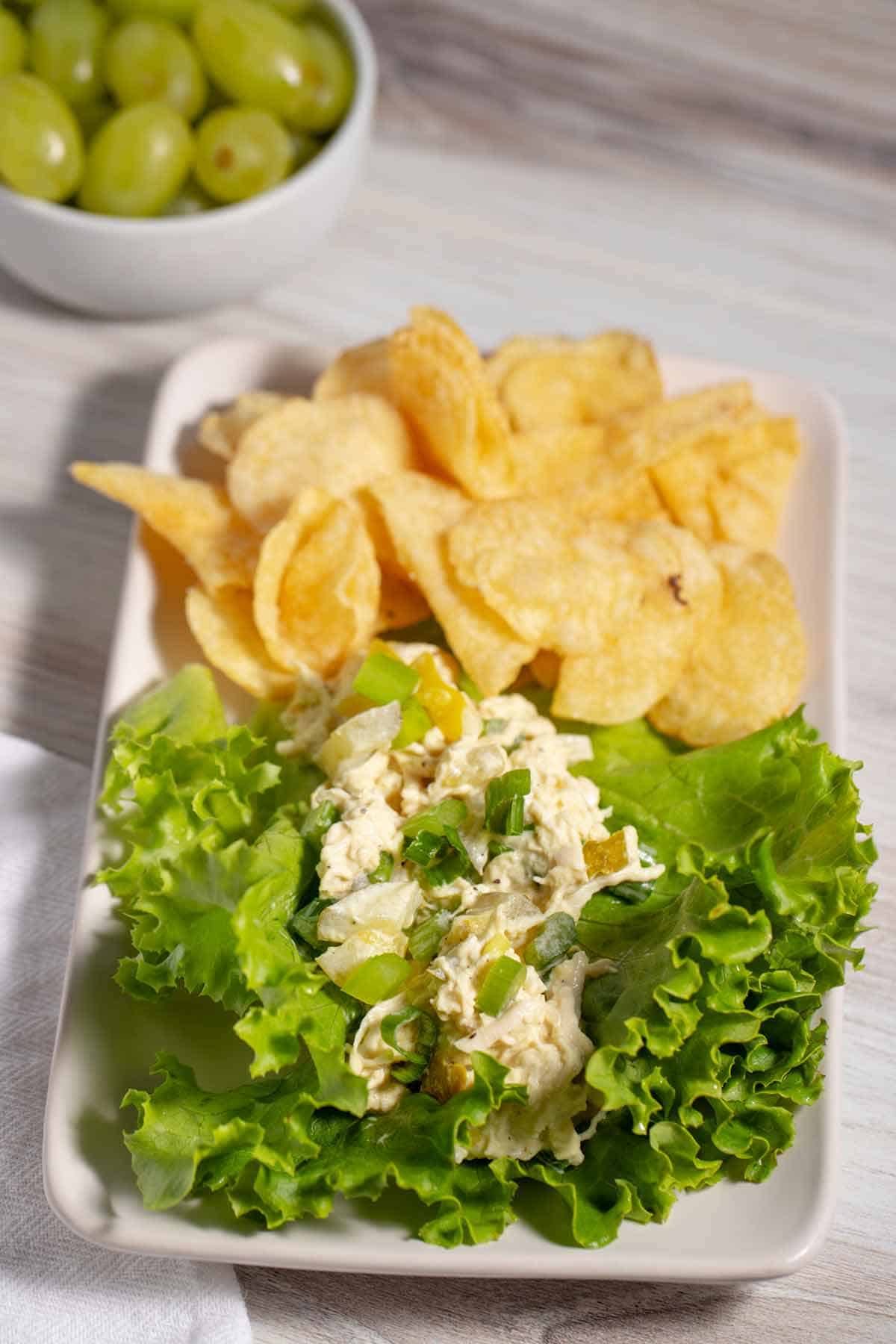 Chicken salad is a perfect topping on a bed of salad greens. It turns into a healthy meal, complete with protein and vegetables.
Another option is to stuff the chicken filling in a large lettuce leaf and eat it like a wrap. This is my favorite way to eat chicken salad for lunch.
Here are some of the best salad greens to eat with chicken salad:
Butterhead lettuce. Boston, butter, and bib lettuces are all examples of butterhead lettuce. This lettuce can be used as a wrap if you use one of the larger outer leaves. Otherwise, smaller leaves make a good salad bed for the chicken filling.
Green leaf lettuce. Loose leaf lettuce is my favorite base for a green salad. The leaves are also big enough for a chicken salad sandwich wrap.
Arugula. Make a bed of baby arugula and microgreens for a hearty chicken salad meal.
Kale. Lacinato makes a good sandwich wrap. I think curly kale is too tough to eat without shredding it first. Check out my ultimate guide to kale.
Cabbage. Do you want a hearty wrap? Then use a cabbage leaf. The wrap will hold its shape without tearing as you munch on it.
Spinach. Use baby spinach as a salad bed and large spinach leaves as the base of a wrap.
Ready for some fun ways to serve chicken salad? I list them all in the post on creative ways to serve chicken salad at a party.
Hard-Boiled Eggs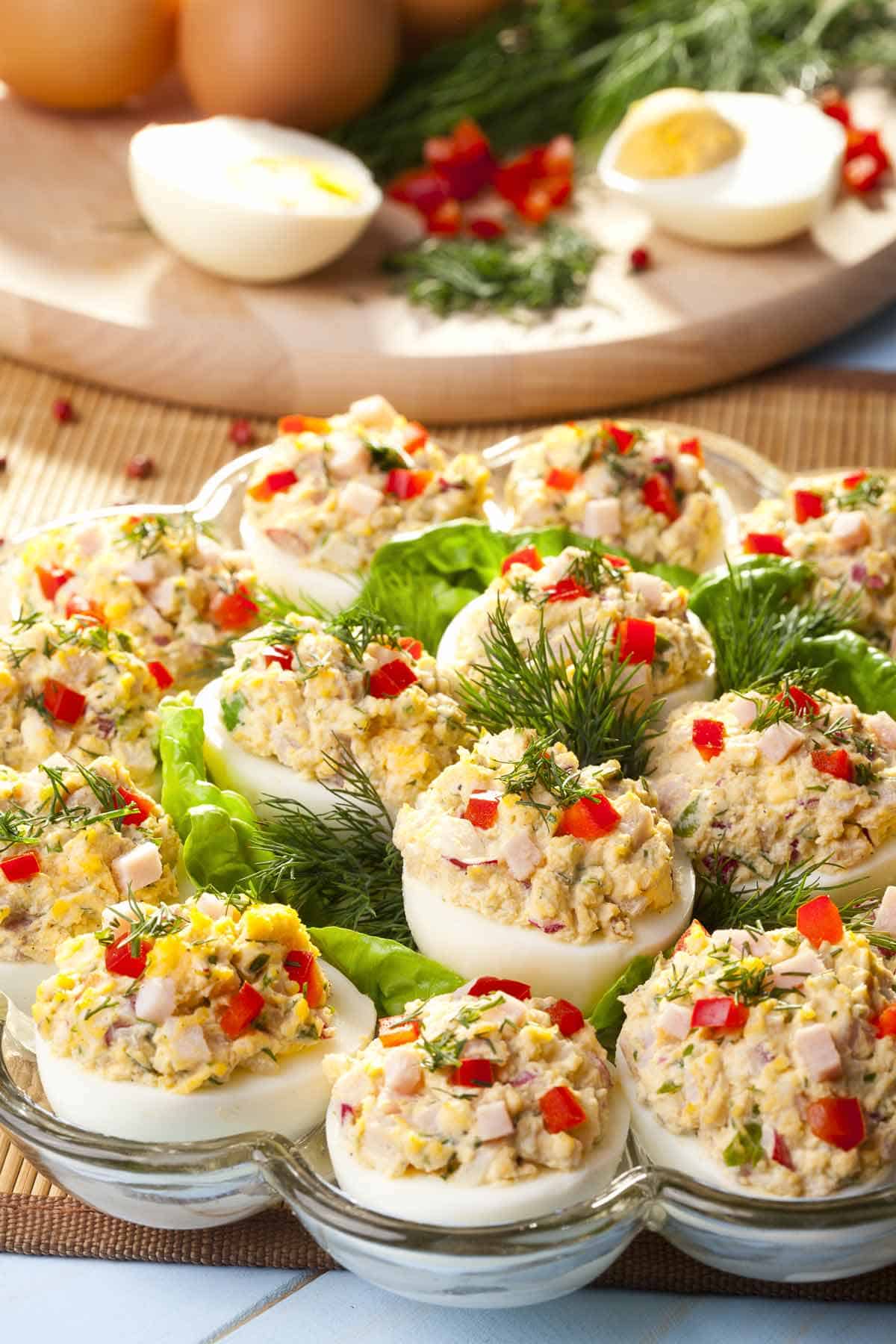 Ever made deviled eggs? Change things up and make chicken salad deviled eggs. It is an unforgettable appetizer.
First, hard-boil the eggs. Check out my post on the perfect way to hard-boil eggs to get moist, delicious yolks.


Then cut the hard-boiled eggs in half and remove the yolks. Mix the yolks in the chicken salad.


Finally, stuff chicken salad in the empty egg crevice.
Rice Cakes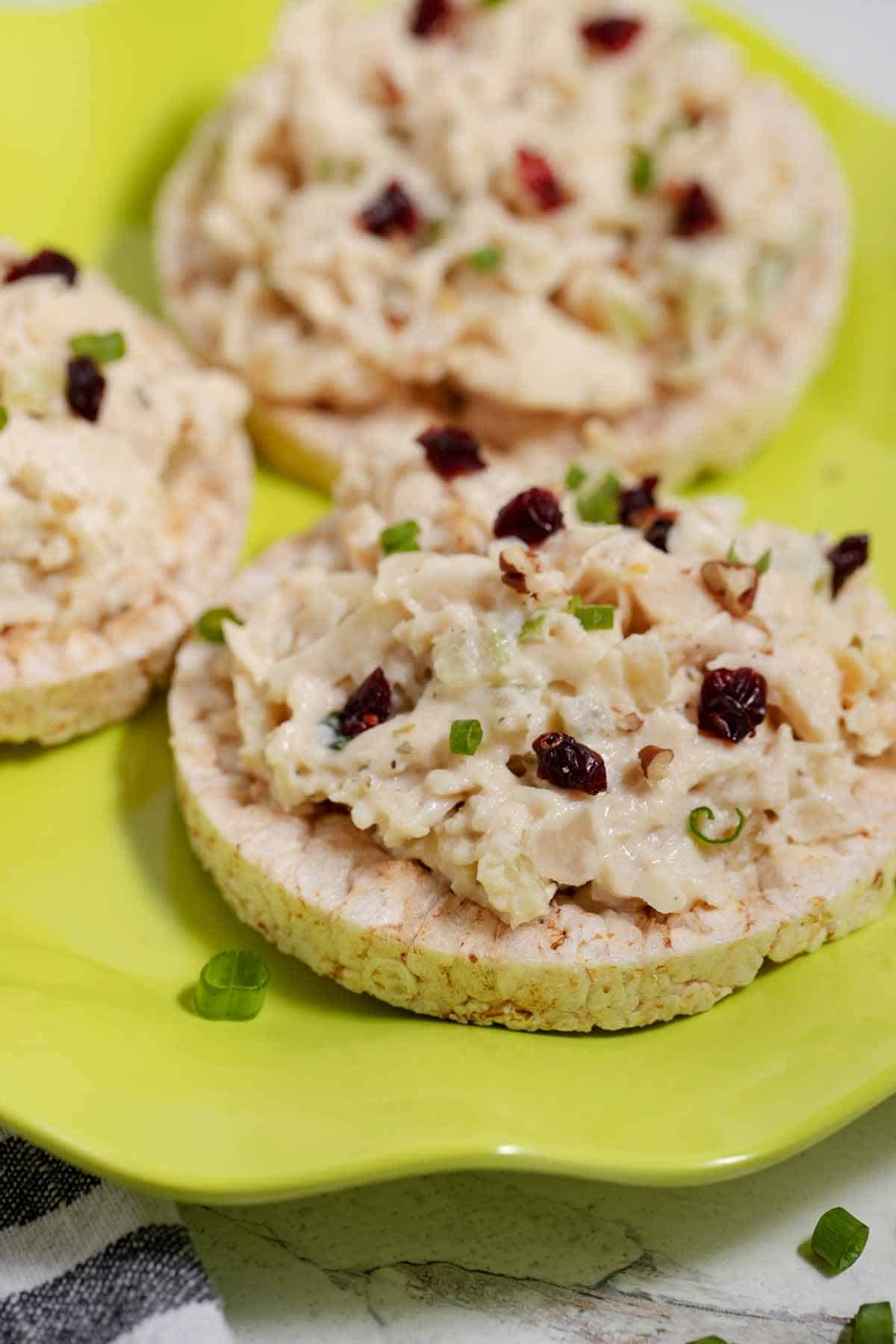 Rice cakes are round snacks made of puffed rice that has been condensed into a shape. They are crunchy just like crackers. However, they are much larger and thicker, so they can hold a lot of sandwich filling without breaking.
Rice cakes can be unflavored or seasoned. Garlic or herb-flavored rice cakes are appetizing topped with chicken salad. After eating a light and filling lunch, you may just forgo bread all the time.
You can also find corn cakes that are almost identical to rice cakes. Try either one in place of bread with chicken salad.
Raw Veggies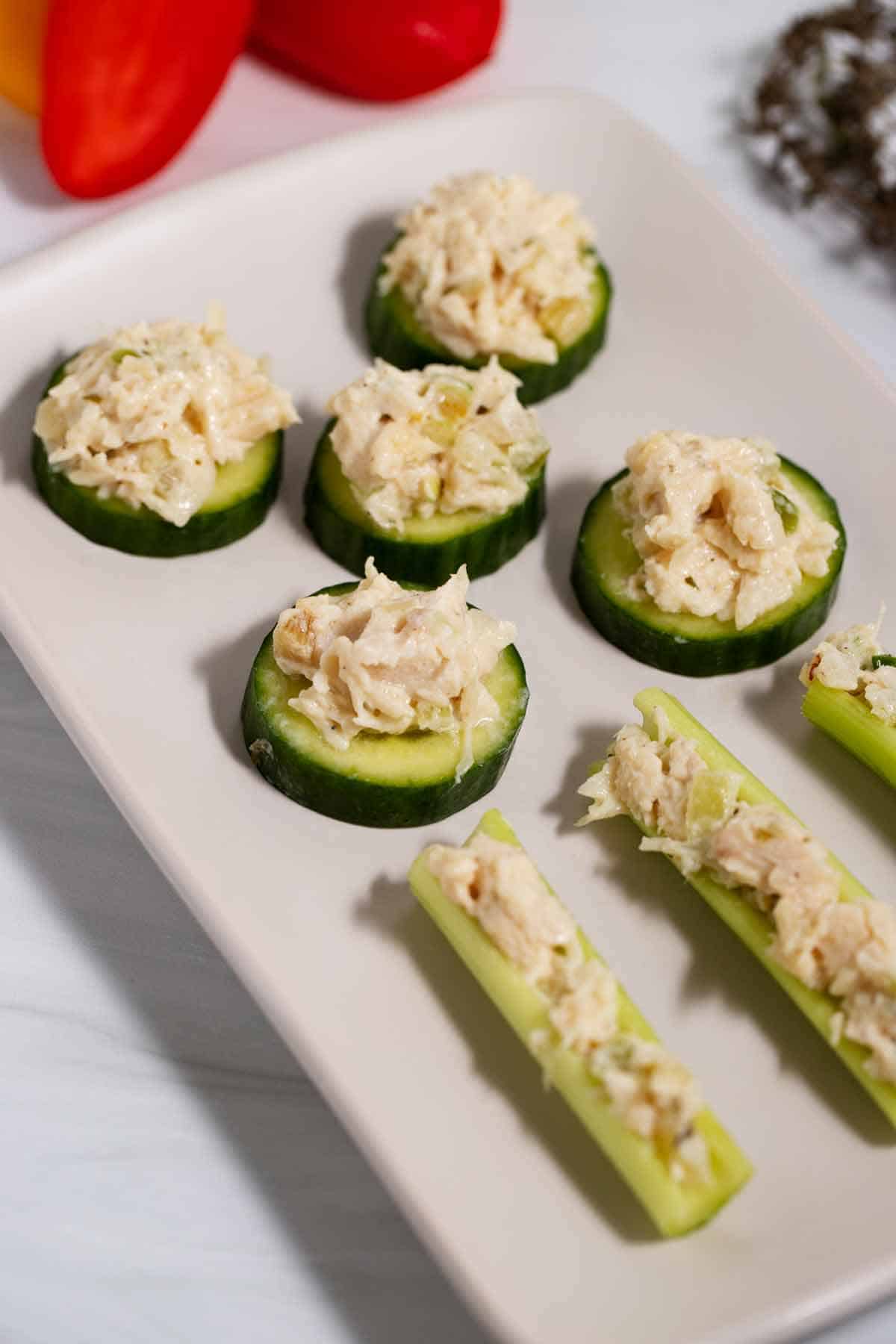 Some raw vegetables are an ideal container to hold chicken salad. Veggie-stuffed chicken salad coming right up. You get a unique raw vegetable appetizer, perfect for any party.
Here are a few favorite veggies to stuff:
Celery Sticks. Forget smearing peanut butter or cream cheese in the center of celery pieces. Instead, try spreading chicken salad inside. After all, most chicken salad recipes call for celery as an ingredient, so the flavor will be delicious.

My chicken salad recipe for a crowd would be delicious on celery sticks.
Cucumber slices. Forget the crackers. Spoon a dollop of chicken salad filling on a cucumber slice. It is the perfect mini plate for a yummy appetizer.
Mini sweet peppers. These mini bell peppers come in colorful shades of red, orange, and yellow. They are small enough to be an appetizer and are vivid enough to make an attractive platter.

You can also stuff a full-sized bell pepper for an entrée. I recommend filling half the pepper with shredded salad greens and topping them with chicken salad.
Water chestnuts. Yes, water chestnuts are vegetables, not nuts. Make an appetizer with chicken salad on top of water chestnut slices. Eating them with a fork may be easier than with your fingers.
Avocado. Ready to get your healthy fats? Cut open a ripe avocado and remove the seed. Stuff ¼ cup of chicken salad in the hole where the seed used to be. It is easiest to eat this one with a spoon.

Read up on how to pick a good avocado and then follow up on the best way to cut avocado for any occasion.
Tomatoes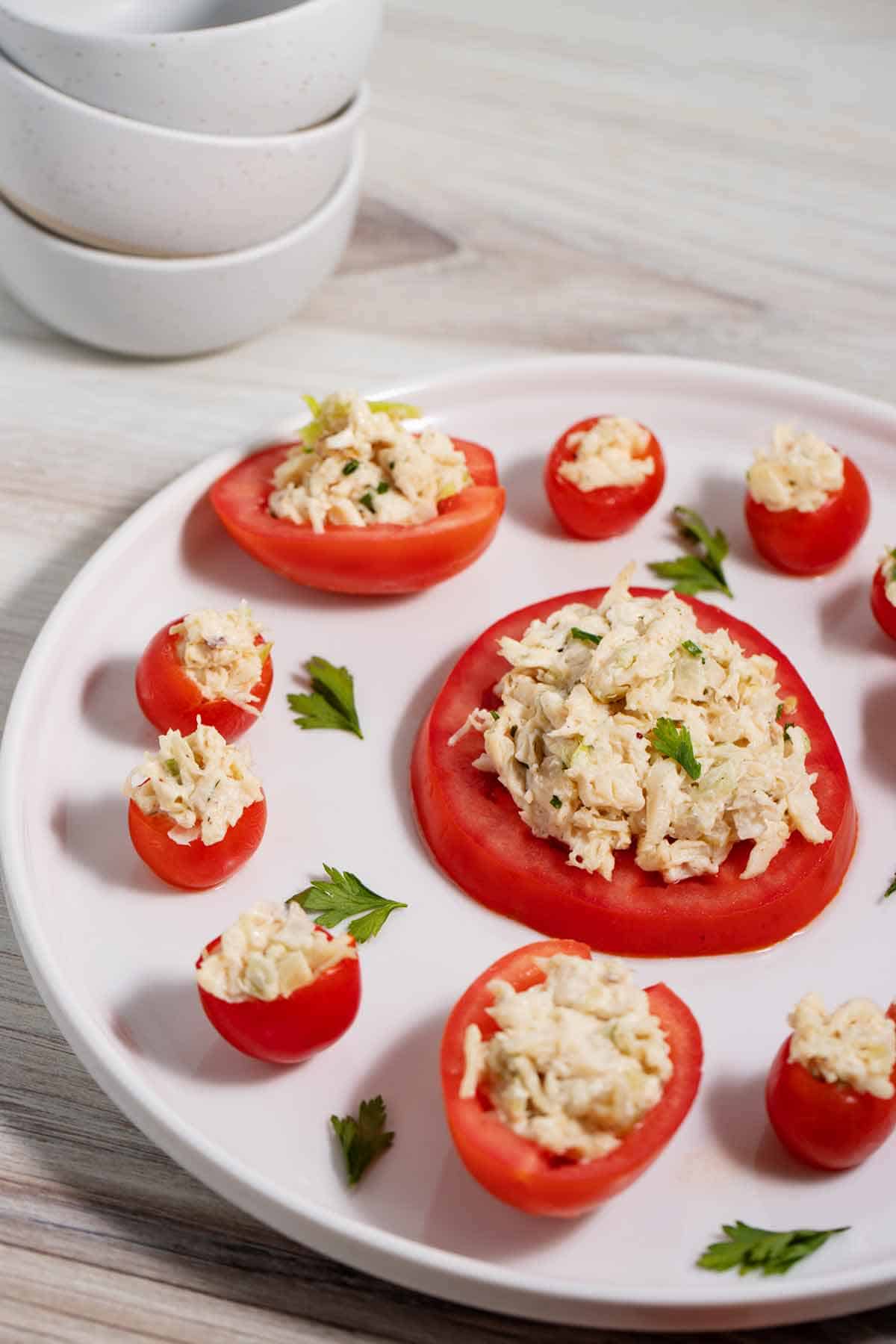 Some say fruit. Others say veggie. I say they get their own category in the food to eat with chicken salad.
Here are some of the best ways to eat chicken salad with tomatoes.
Stuff grape or cherry tomatoes with chicken salad for an appetizer.
Cut a beefsteak tomato into slices and spread chicken salad on top.
Slice a Roma tomato in half. Scoop out the juicy filling. Scoop the chicken salad back into the empty tomato half.
Tortillas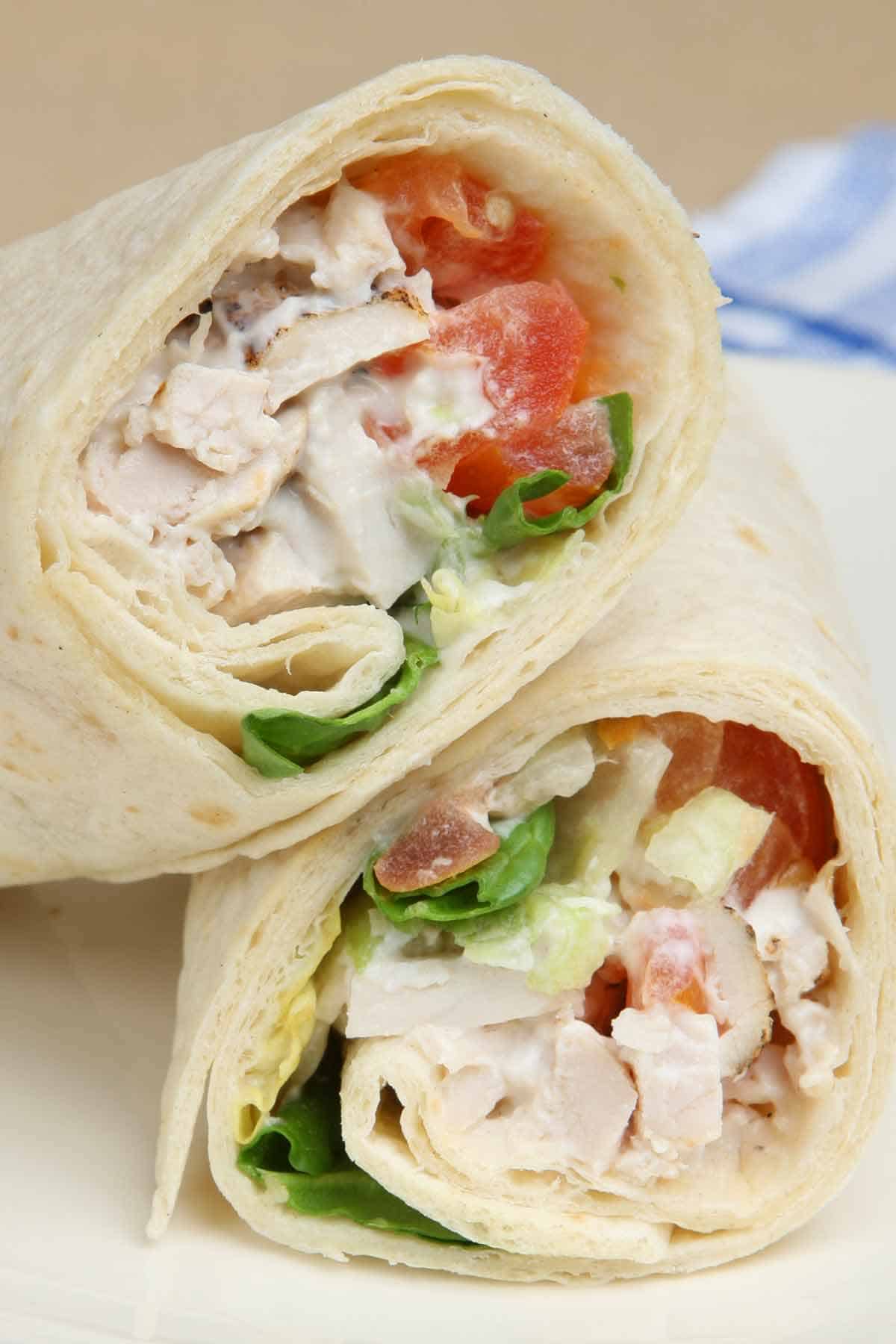 Oh, the variety of tortillas available. Flour, corn, spinach, and gluten-free.
Tortillas are perfect for making a chicken salad wrap. Try one for a delicious lunch.
Or, if you prefer finger food, slice the rolled tortilla into pinwheels. Use this cranberry pecan chicken salad recipe for the filling. It will make a festive appetizer for your next holiday party.
Fruit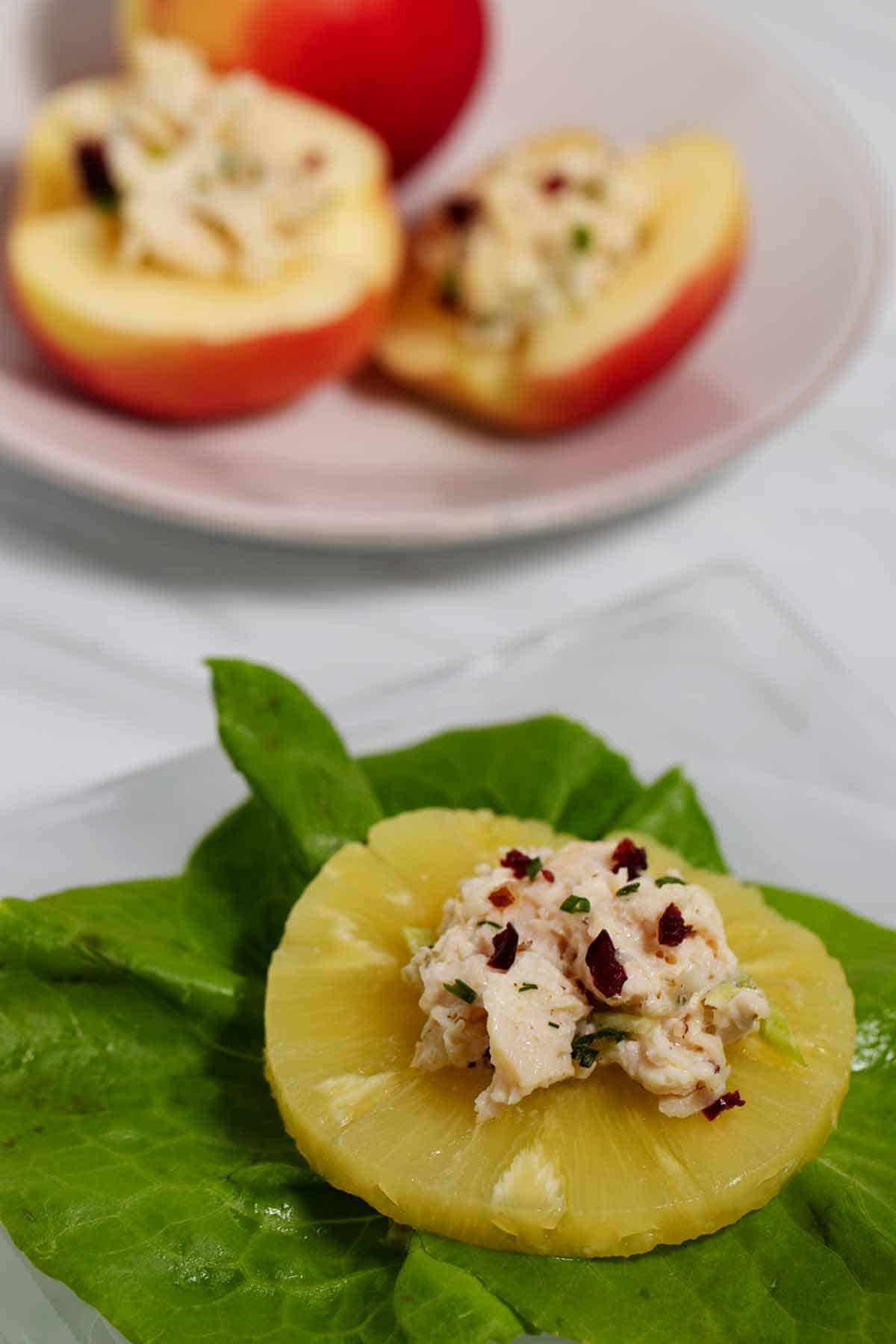 Chicken salad pairs with more than just savory foods. Many fruits are scrumptious with chicken. So why not try one with chicken salad if you want to avoid serving it with bread.
Apple. Cut an apple in half and remove the seeds. Spoon the chicken salad in the empty crevice and enjoy your main dish with your fruit.

Note: The minute you cut the apple, it will start to brown. A splash of lemon juice or vinegar helps a little. Fruit Fresh (affiliate link) is a citric acid product that is more effective than juice.
Pineapple Rings. Pineapple and chicken are a match that may remind you of the beautiful islands of Hawaii. Make your chicken salad with macadamia nuts.

Place a pineapple ring on a small butter lettuce leaf. Then fill the pineapple hole with chicken salad.

Optional: Sprinkle shredded coconut on top. Luau appetizer ready to serve.
Apricots. Small and delicious with chicken. Cut the apricot in half and remove the seed. Scoop the chicken salad in the hole and enjoy. Remember to use a ripe avocado for a sweet, savory taste.
Baked Won Ton Cups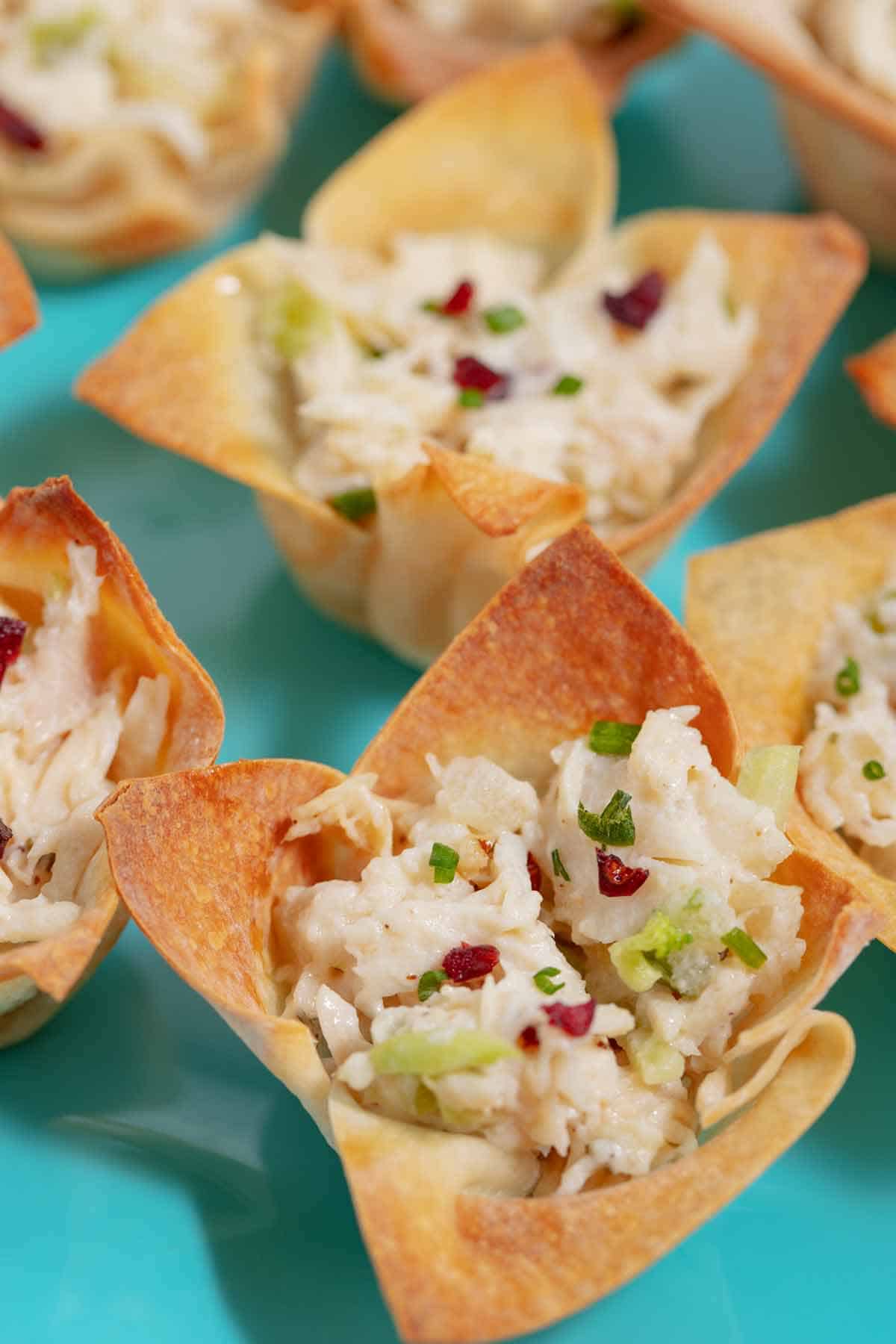 Have you tried baking won ton cups in a muffin tin? It is easy to bake them, and you can use the crispy cups for all sorts of appetizers.
They are cute cups that keep their shape perfectly when they hold a spoonful of chicken salad. This is another attractive appetizer you will be pleased to present to your guests.
Place a won ton paper in a nonstick mini muffin tin. Bake at 350°F for 6 to 8 minutes or until the shell is crispy.
Cool them. Stuff them. Serve them.
Coleslaw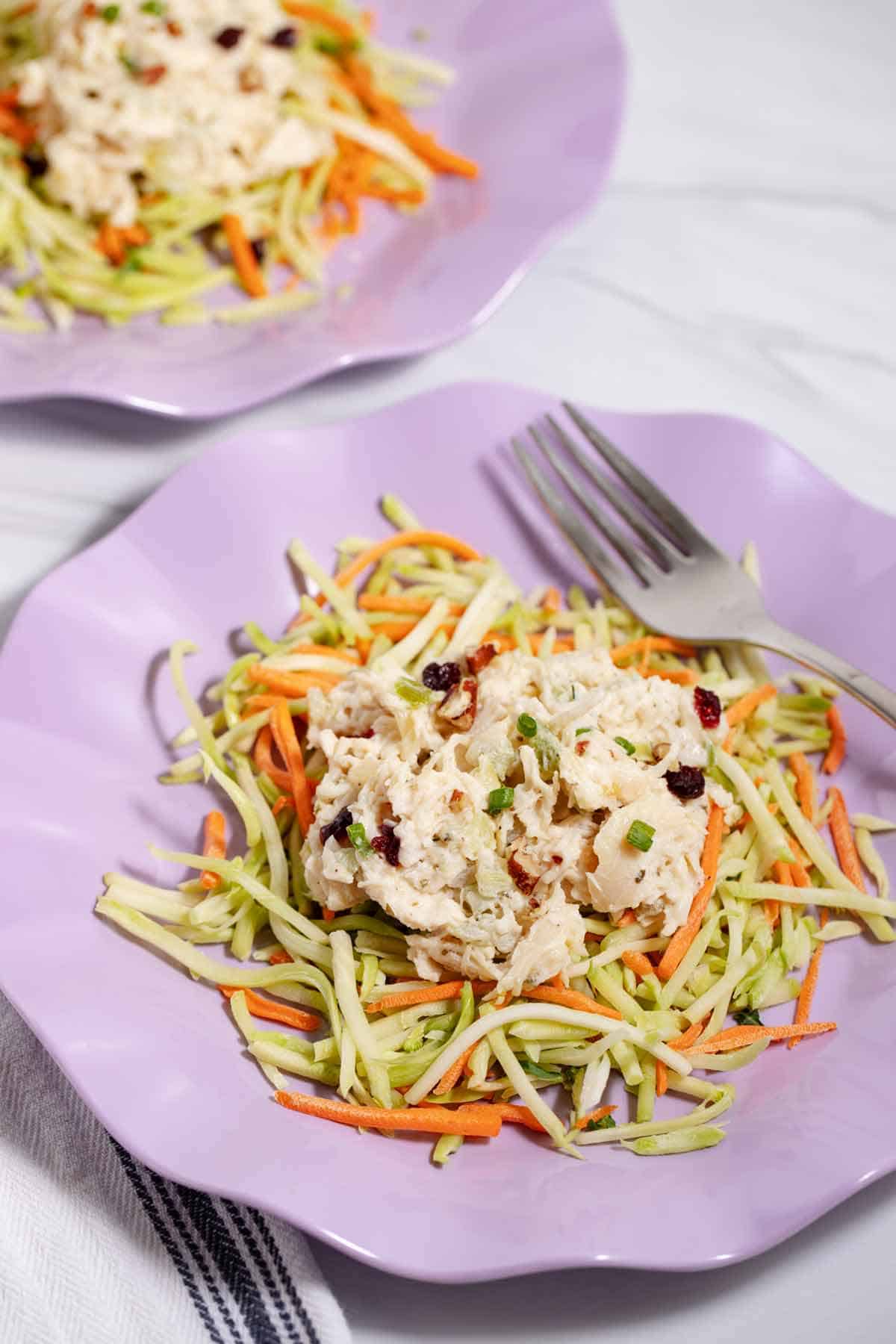 Cabbage and chicken are an excellent combination. Sweet, spicy, or savory coleslaw makes a scrumptious bed for a cup of chicken salad.
Or, if you prefer, pile the chicken filling on any shredded vegetable. Some popular choices include:
Chicken Salad FAQ
---
Did you like this post? Then let's be social. FOLLOW ME on INSTAGRAM and PINTEREST to keep up with the latest tutorials, favorite recipes, and interesting happenings.
---
Did you make this recipe? Tag @thetastytip on Instagram and hashtag it #thetastytip.