Need some fresh chicken salad sandwich topping ideas? Get inspired with greens, bacon, and more. Never eat a dull chicken sandwich again.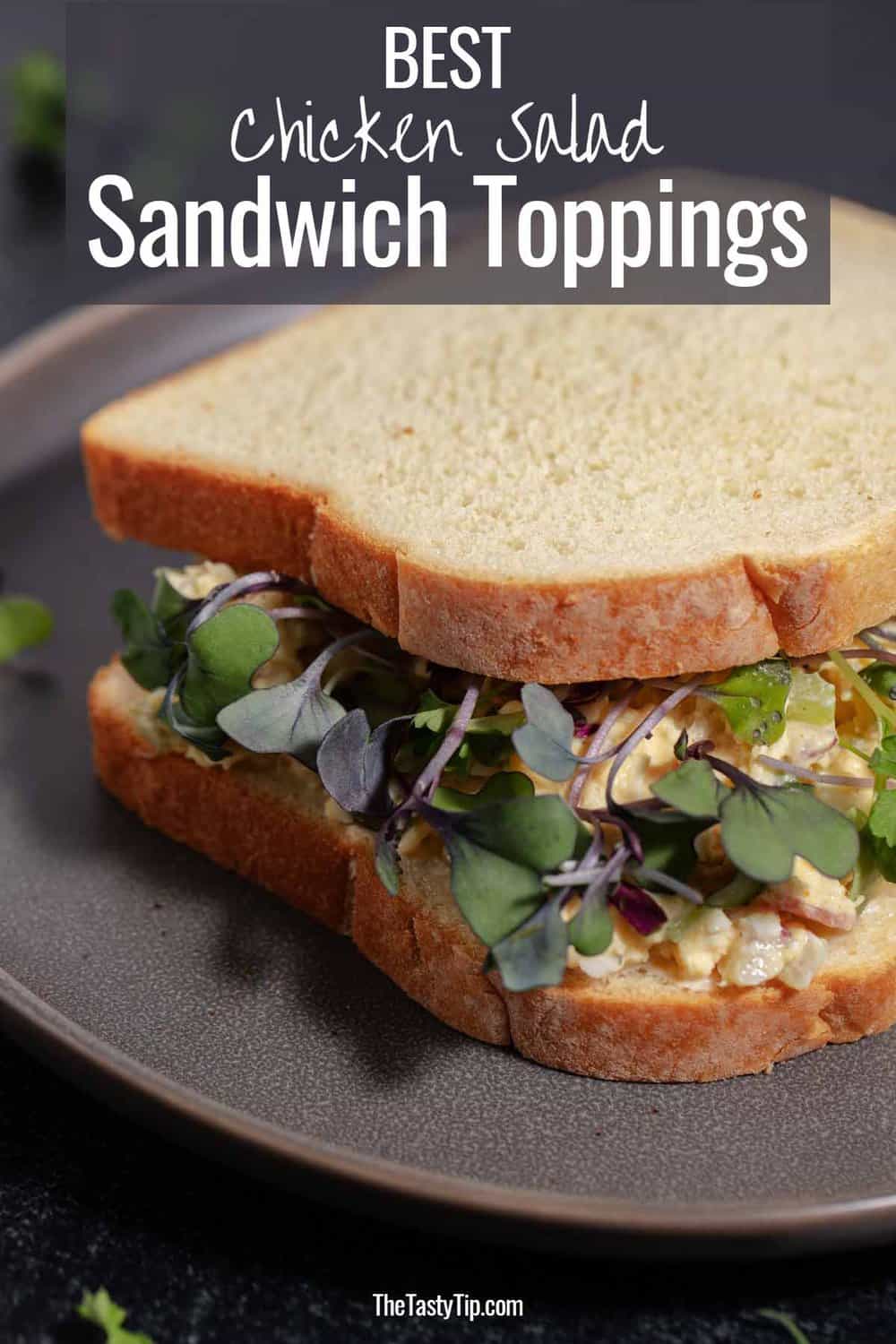 Nothing is better than throwing together a chicken salad sandwich for lunch. But now are you wondering what to put on a chicken salad sandwich to add a little pizazz or to stretch the filling?
Sometimes having sandwich toppings reduces the amount of chicken salad you need per person. That can help if you are planning food for a crowd.
This article will give you tons of ridiculously delicious chicken salad sandwich toppings. Try a few and comment below to let me know your favorites.
Get fantastic ideas for side dishes to serve with chicken salad at a luncheon.
Jump to:
Bacon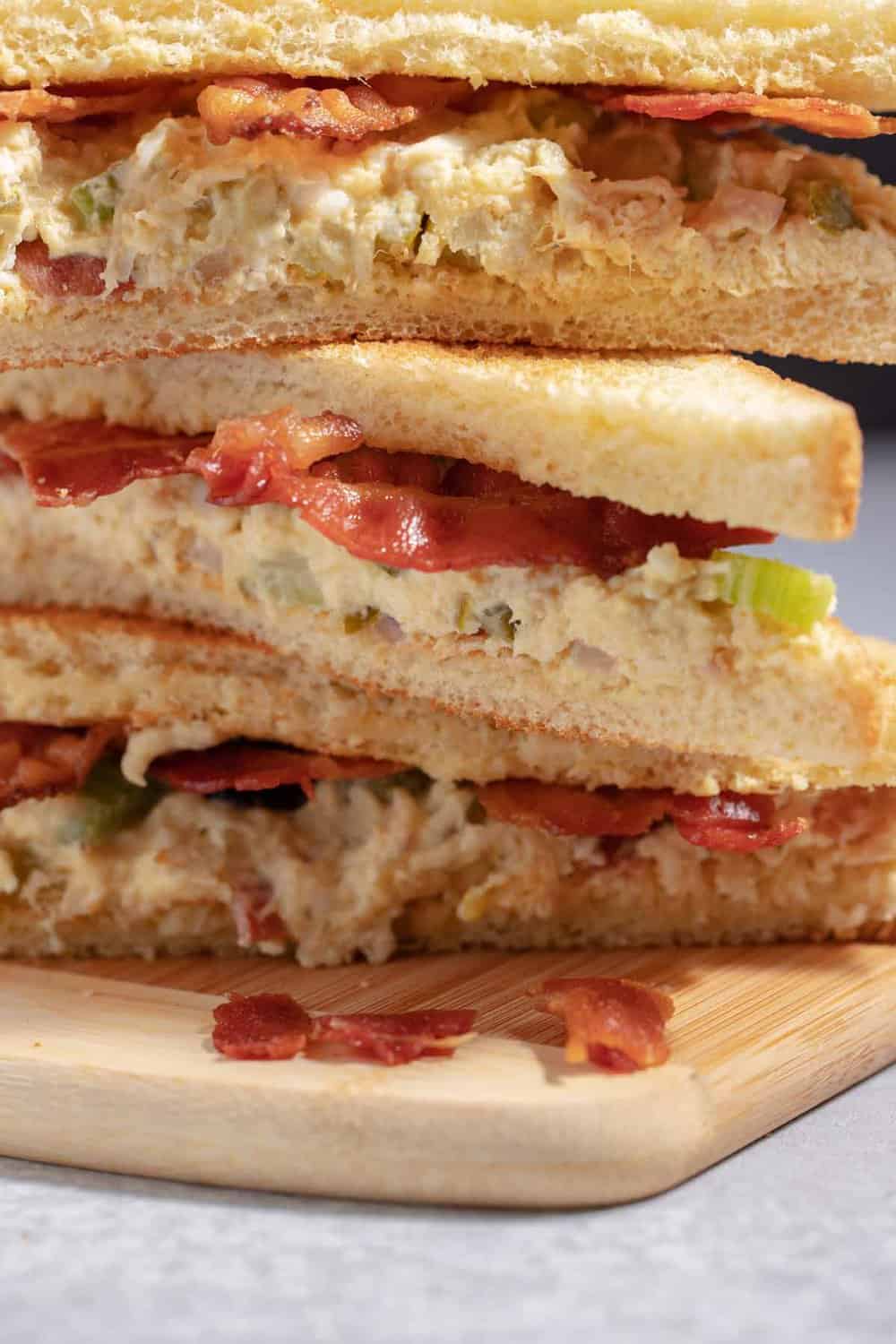 Everything tastes better with bacon! Chicken salad is no exception. Throw a few slices on your sandwich to take it up a notch.
Check out my instructions on cooking bacon in the oven. You will learn tips on how to make the bacon crispy or chewy. Bake it whichever way you like.
Wondering if you can freeze chicken salad? It depends on the ingredients in the salad. Check out this post that teaches when you can and cannot freeze chicken salad.
Avocados
Smash, slice, or dice that ripe avocado. It will taste marvelous on your sandwich. Try it with a bit of salt and pepper before topping your chicken filling.
Learn how to slice, dice, and garnish with avocado in this cool avocado guide. Plus, learn how to pick a good avocado and the discover the best storage tips.
Ready for a party? Get lots of creative ways to serve chicken salad at a party.
Salad Greens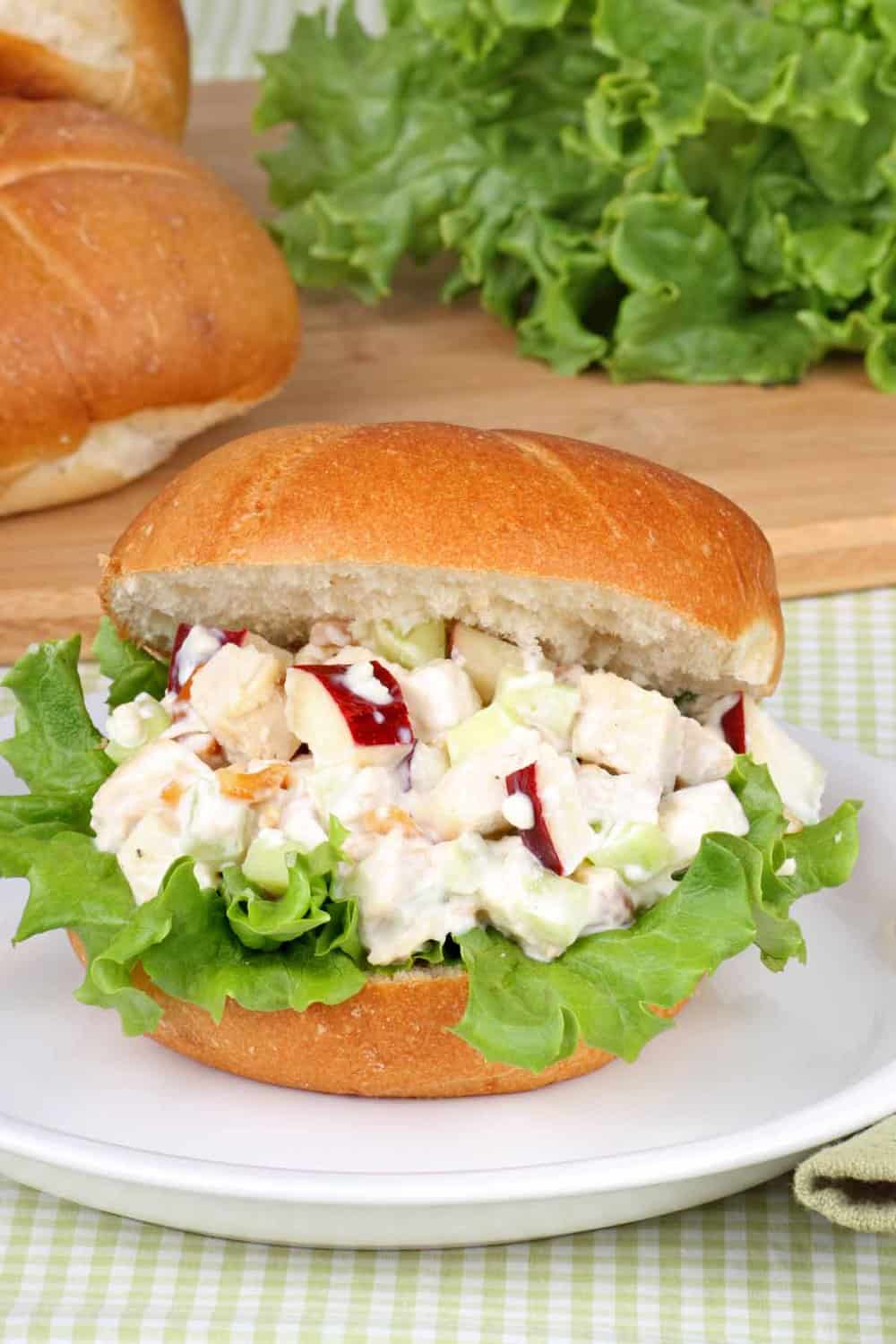 Add some greens to make your chicken salad sandwich a little more healthy. Do you like adding lettuce or other greens to your savory sandwiches? We sure do in our kitchen.
What kind of greens make the best chicken salad sandwich topping? Check these ideas out.
Romaine lettuce. Refreshing, juicy, and crisp, romaine lettuce is stiff and will give your sandwich some crunch. (Read my romaine lettuce guide, which covers choosing, washing, and storing tips.)
Green leaf lettuce. Mild-flavored and bendable, this is excellent lettuce for a chicken salad wrap.
Arugula. Earthy, tart, and peppery, arugula is my favorite green to throw on a sandwich.
Baby kale. Baby kale is not as strong-flavored or tough-textured as mature kale. It has a mild earthy flavor. (Check out the ultimate kale guide for prepping, storing, and eating all types of kale.)
Spinach. Mild and slightly sweet, spinach is a healthy topping for your chicken salad sandwich. Baby spinach is the best.
Endive. Add some bitterness to your sandwich. The slightly bitter taste contrasts and tones down sweet chicken salads.
Watercress. Go bold and peppery with watercress. The leaves are small, so grab a bunch.
You may also be interested in the best bread for chicken salad sandwiches. You will love this list. Or you can check out all the non-bread ideas to go with chicken salad.
Apple Slices
Add a sweet crunch to your sandwich with apple slices. Sweet or tart apples will satisfy you.
No need to peel them. Just core, slice, and top the sandwich. Try these varieties:
Granny Smith: Tart and crisp
Honeycrisp: Sweet and crisp
Gala: Mildly sweet and crisp
Fuji: Sweet and crisp
Granny Smith apples are my favorite for the salad, especially in cranberry pecan chicken salad with poppy seed dressing.
Tomatoes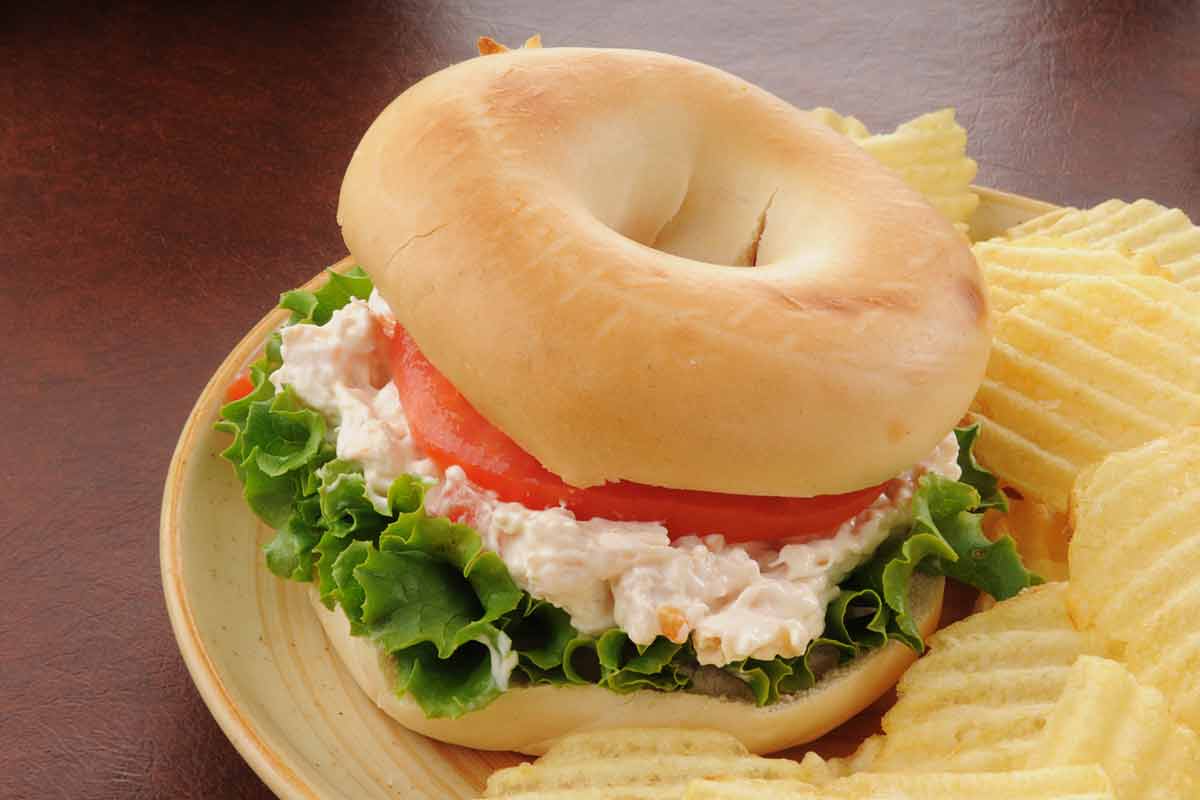 Tomatoes aren't suited for every chicken sandwich. But it would taste terrific on a chicken salad sandwich with celery and pickles.
But maybe not a sandwich with cranberries and apples.
When choosing a tomato for a sandwich, look for one that is hefty and not too juicy. Then it will slice easily and not make your sandwich soggy. Here are some tomato varieties that are easy to find in the grocery store.
Beefsteak tomatoes. These are the ones that are large and look like one slice is enough to cover a whole sandwich (or burger).
Roma tomatoes. Roma tomatoes are not as large, so you may need several slices to cover your sandwich.
Wondering how long chicken salad lasts? Check out this post on the shelf-life of chicken salad. Plus, learn the warning signs of chicken salad that has gone bad.
Sauerkraut
Sauerkraut is made of shreds of fermented cabbage. It is often paired with meat. Think corned beef or bratwurst.
It will add an exciting twist when piled on a chicken salad sandwich. The taste combines salty and sour while the texture is much softer than raw cabbage.
Be sure to drain the sauerkraut thoroughly before topping your sandwich or the bread will get soggy.
Sprouts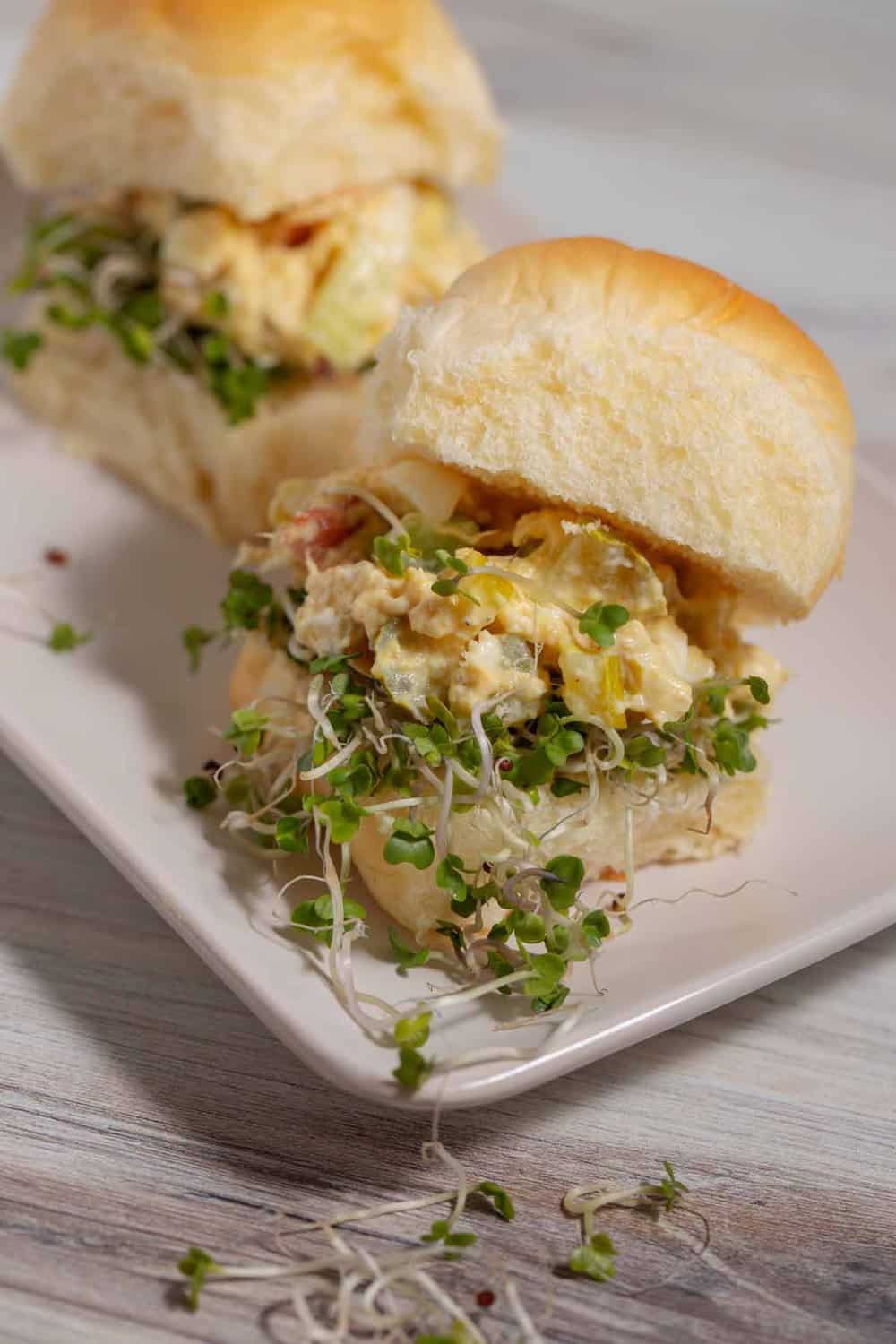 Sprouts are healthy, tasty, and perfect for any hearty sandwich. They pair well with Instant Pot chicken salad with grapes.
Alfalfa sprouts. Tender, crunchy, slightly nutty flavor, alfalfa sprouts go with chicken and any other type of savory sandwich.
Broccoli sprouts. Spicy like a radish, use broccoli sprouts to add a kick to your sandwich.
Mung bean sprouts. Crunchy and juicy, the taste of mung bean sprouts might evoke the memory of freshly harvested peas.
Radish sprouts. Radish sprouts will remind you of the radish. Mildly peppery and crisp. No bland taste here.
Cheese
You can't go wrong with cheese on a sandwich. Cut a few slices, and your sandwich just moved up a level. What kind of cheese is good on a chicken sandwich? Here are some suggestions:
Cheddar cheese
Pepper Jack cheese
Provolone cheese
Swiss cheese
Wondering if you can make chicken salad ahead of time? You can. But only if you follow specific steps. I will walk you through it in my post on making chicken salad early.
Jalapeno Peppers
Need to spice up your life? Then add some pickled OR roasted jalapeno peppers to your sandwich. Or, if you are really brave, sneak a few raw slices on top.
Mouth on fire!
Pickles
My favorite chicken salad recipes have pickles in them or on them. Like canned chicken salad sandwiches for a crowd.
Use pickles to top sandwich recipes that veer toward savory instead of sweet. Chicken salad with celery, nuts, corn, or grated carrots tastes incredible with pickles.
There are plenty of pickle choices to make this sandwich complete.
Dill pickles
Bread and butter pickles
Sweet pickles (for the sweet salad)
Most pickles available in the grocery store are made with cucumbers. However, if you have a specialty grocery store or farmer's market nearby, see if there are other pickled vegetables.
I have found pickled celery, carrots, and cauliflower at my farmer's market. All taste amazing and are delicious as a sandwich topping.
Like to eat chicken salad with crackers? Then you won't want to miss this post on the best crackers to eat with chicken salad.
Microgreens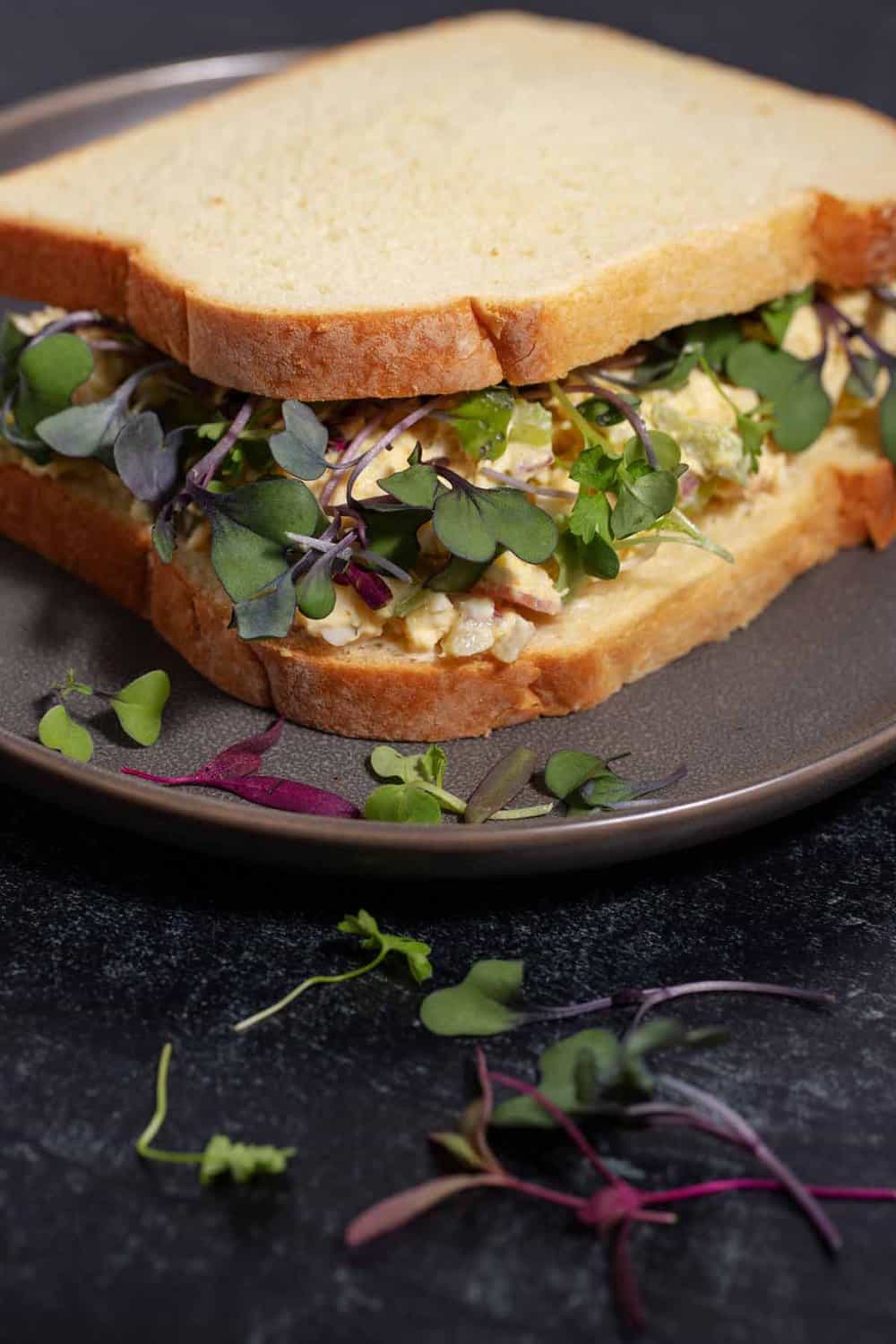 Microgreens are the young seedlings of spouted greens. They aren't sprouts anymore. They have grown for a couple of weeks (compared to days). They are even more nutritious than sprouts (if you can believe it) and very tasty.
Though there are dozens of microgreen varieties, these are the best for sandwiches.
Broccoli microgreens
Arugula microgreens
Cilantro microgreens
Radish microgreens
If you can't find microgreens in a grocery store near you, try a farmer's market or search online. The number of farmers growing microgreens is on the rise. Microgreens aren't just trendy anymore.
Cucumber Slices
Slice a few fresh cucumbers for your sandwich. They are refreshing with a slight crunch. Pile them on almost every chicken salad recipe.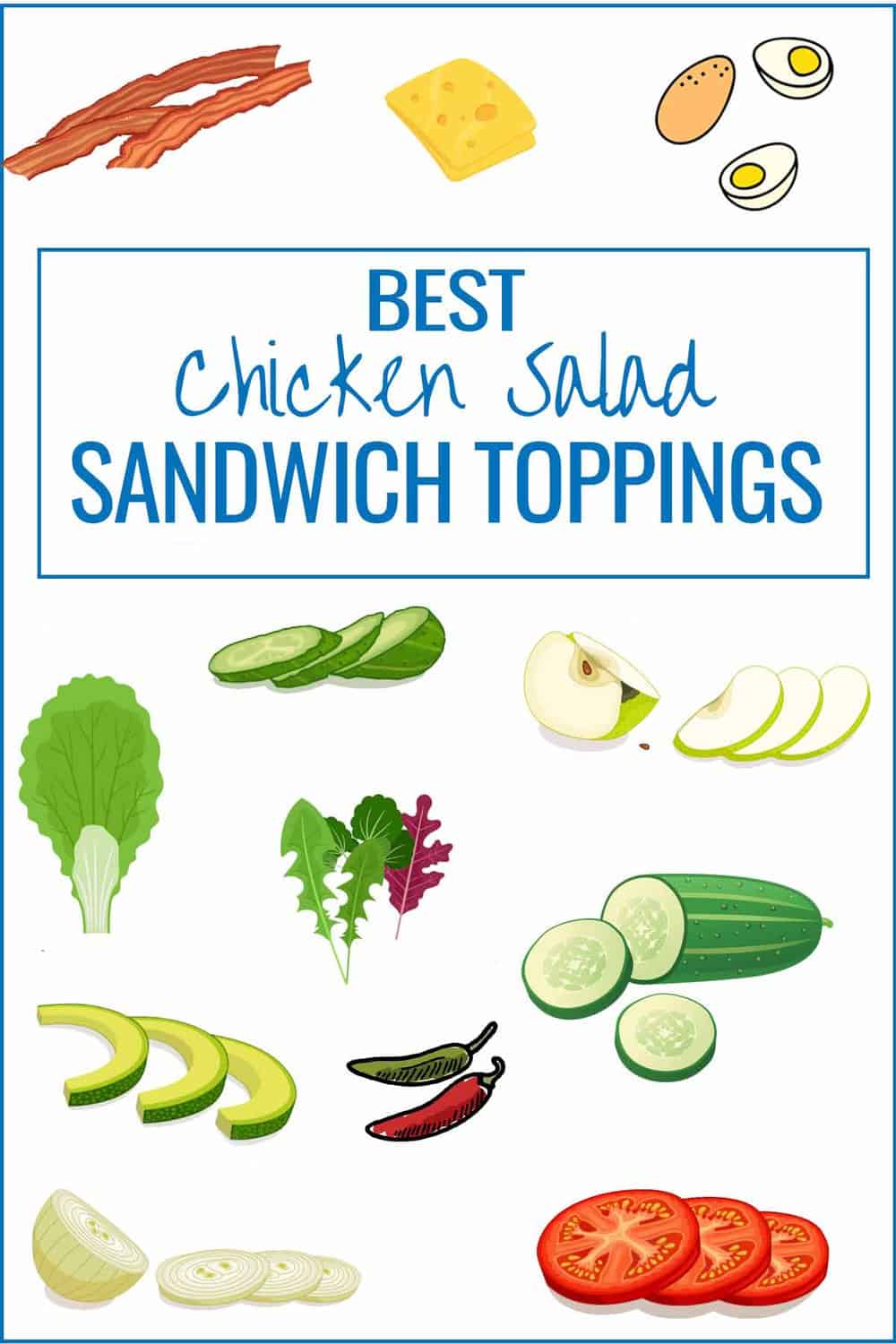 Onions
Do you like raw onions or cooked? Red onions, yellow onions, or white onions?
Any way you slice them, onions are terrific on chicken sandwiches. Raw red onions are especially good.
A second favorite is caramelized onions. Plan to use leftovers on the sandwich because caramelized onions take a long time to cook.
Roasted Red Peppers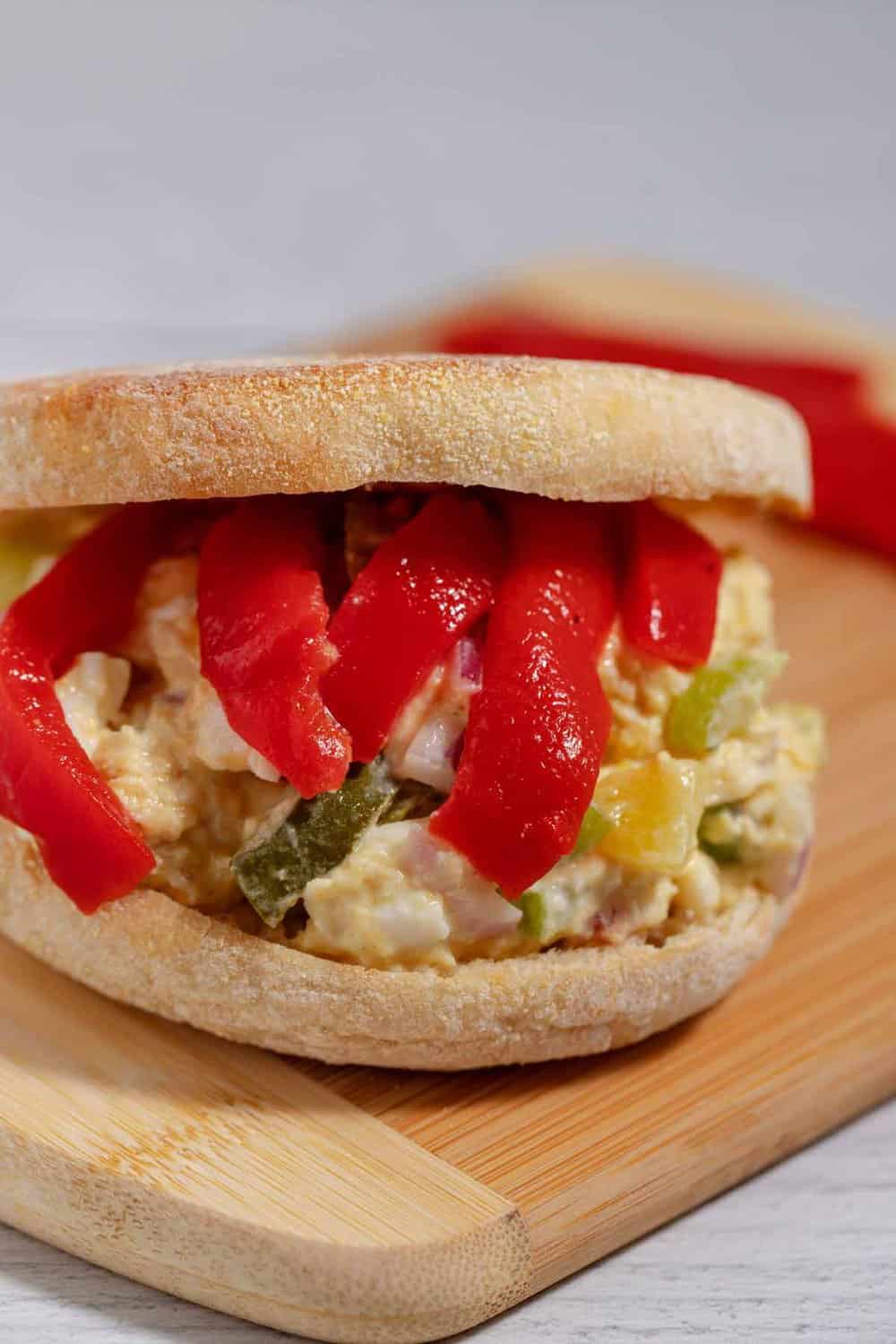 Roasted red peppers were made to top sandwiches, salads, and soups. They add color and flavor as a sandwich topping. Really any roasted pepper works.
If you want to tease out the best sweet, smoky flavor, check out this recipe for roasted red peppers. Yum!
Did you like this post? Then let's be social. FOLLOW ME on INSTAGRAM and PINTEREST to keep up with the latest happenings.