Discover the best bread for chicken salad sandwiches and some non-bread alternatives. These bread options are ideal for a relaxed lunch or a festive party.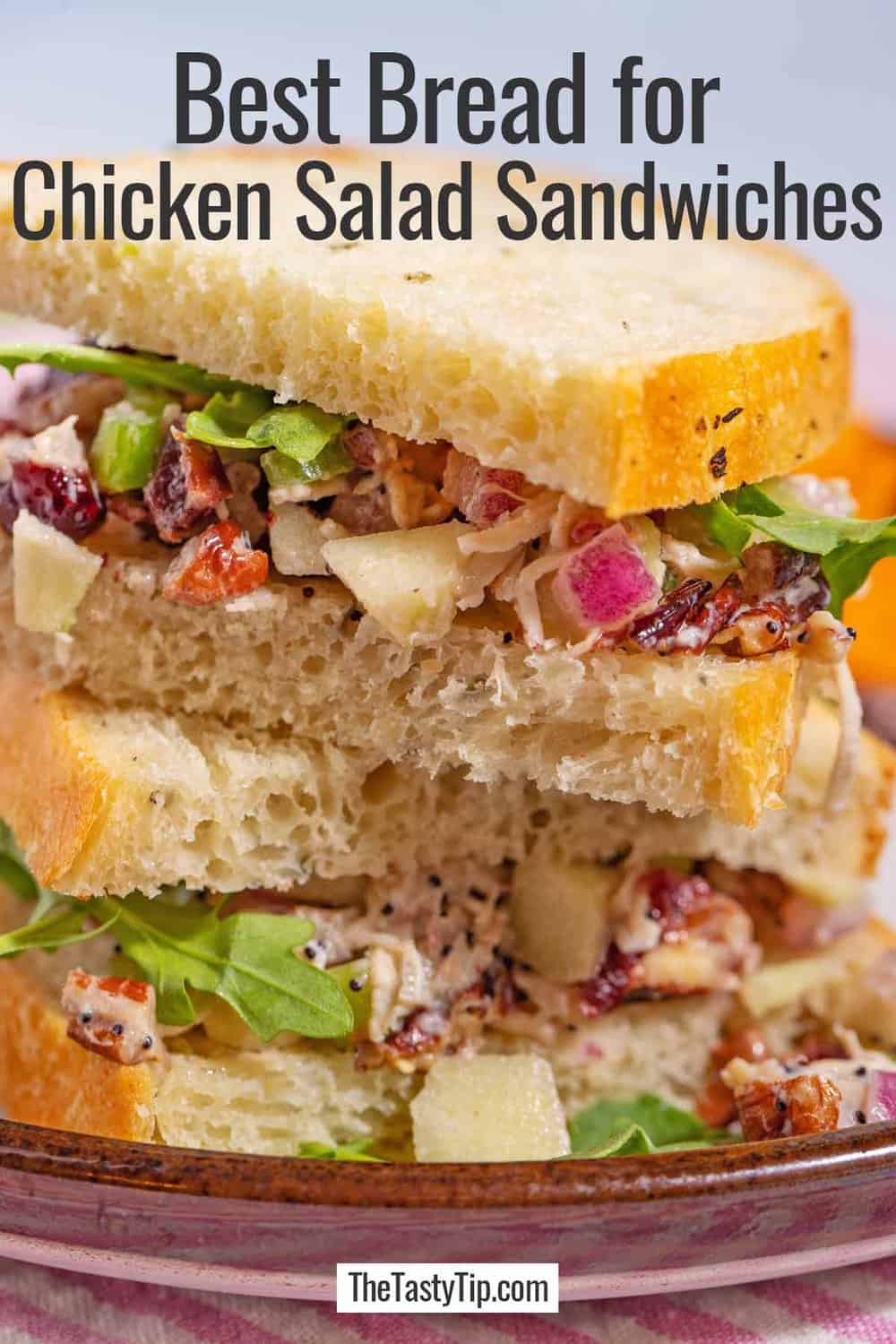 Choosing the proper bread for a chicken salad sandwich is just as important as choosing the right chicken salad recipe. Whether you are making the sandwich for a quick Sunday lunch or serving it to a crowd at a potluck, you want the tastiest bread.
What is the best bread for chicken salad sandwiches? The best types of bread for chicken salad sandwiches include sandwich bread, rolls, croissants, pita bread, and tortillas. Excellent non-bread options are crackers, lettuce, and avocado halves.
Let's dive into the best bread for chicken salad sandwiches and how to prepare each type. Say goodbye to the same old recipe every time. Bread variety will spice up your chicken salad platter.
Wondering if you can make chicken salad sandwiches early? Check out the best tips for making chicken salad ahead.
French or Italian Bread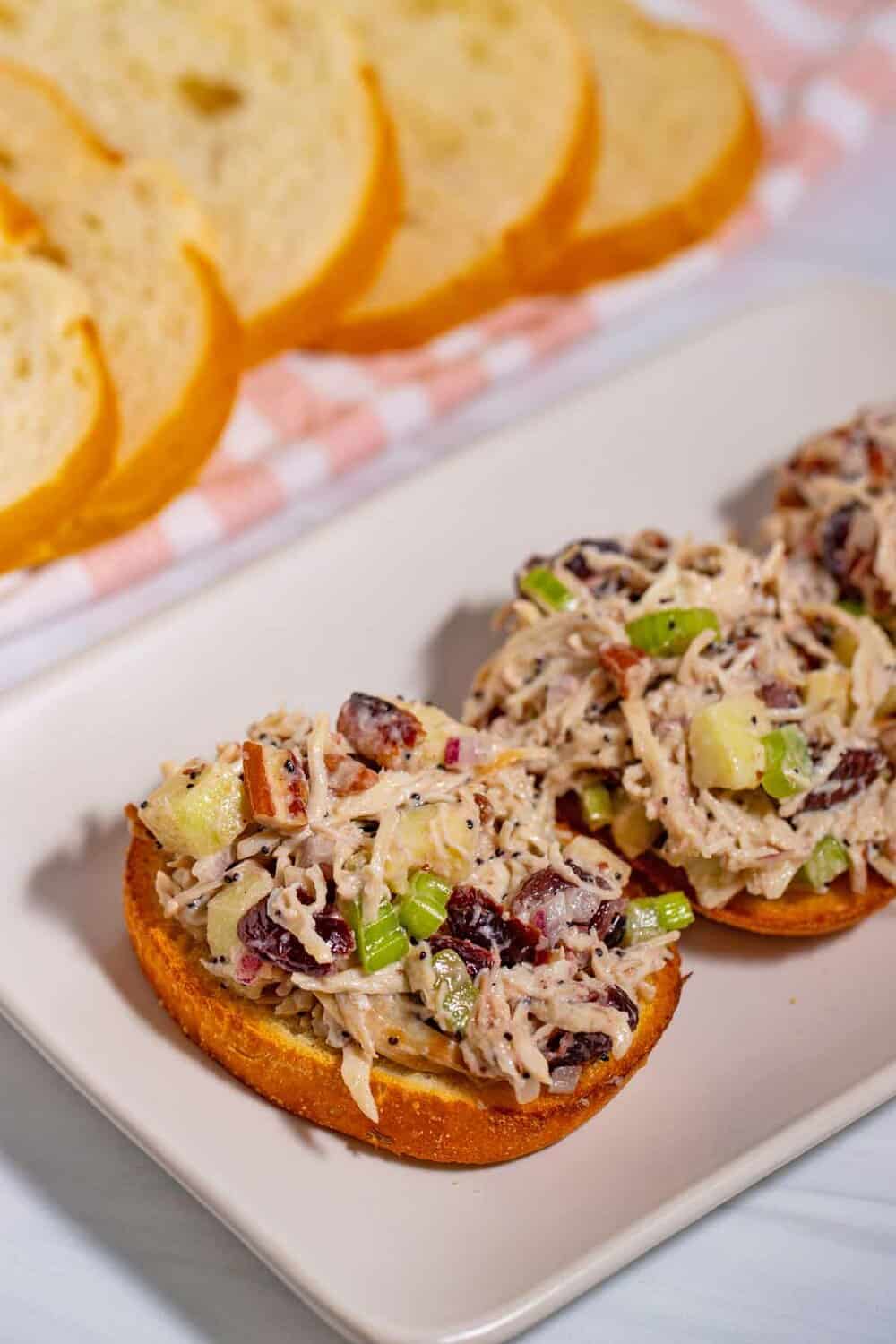 Long flat Italian ciabatta bread and long skinny French baguettes are great bread for small chicken salad sandwiches. They are baked fresh in grocery store bakeries or in local bakeries.
When both types of bread are sliced, they are smaller than sandwich bread. This makes them perfect for open-face finger sandwiches or bruschetta.
Because they slice into small pieces, they are an excellent choice for parties or get-togethers. Chicken salad sandwich appetizer coming right up.
Learn all about how long chicken salad lasts. Plus, how to tell if chicken salad is bad, even if it is within the safe-to-eat time frame.
Sandwich Breads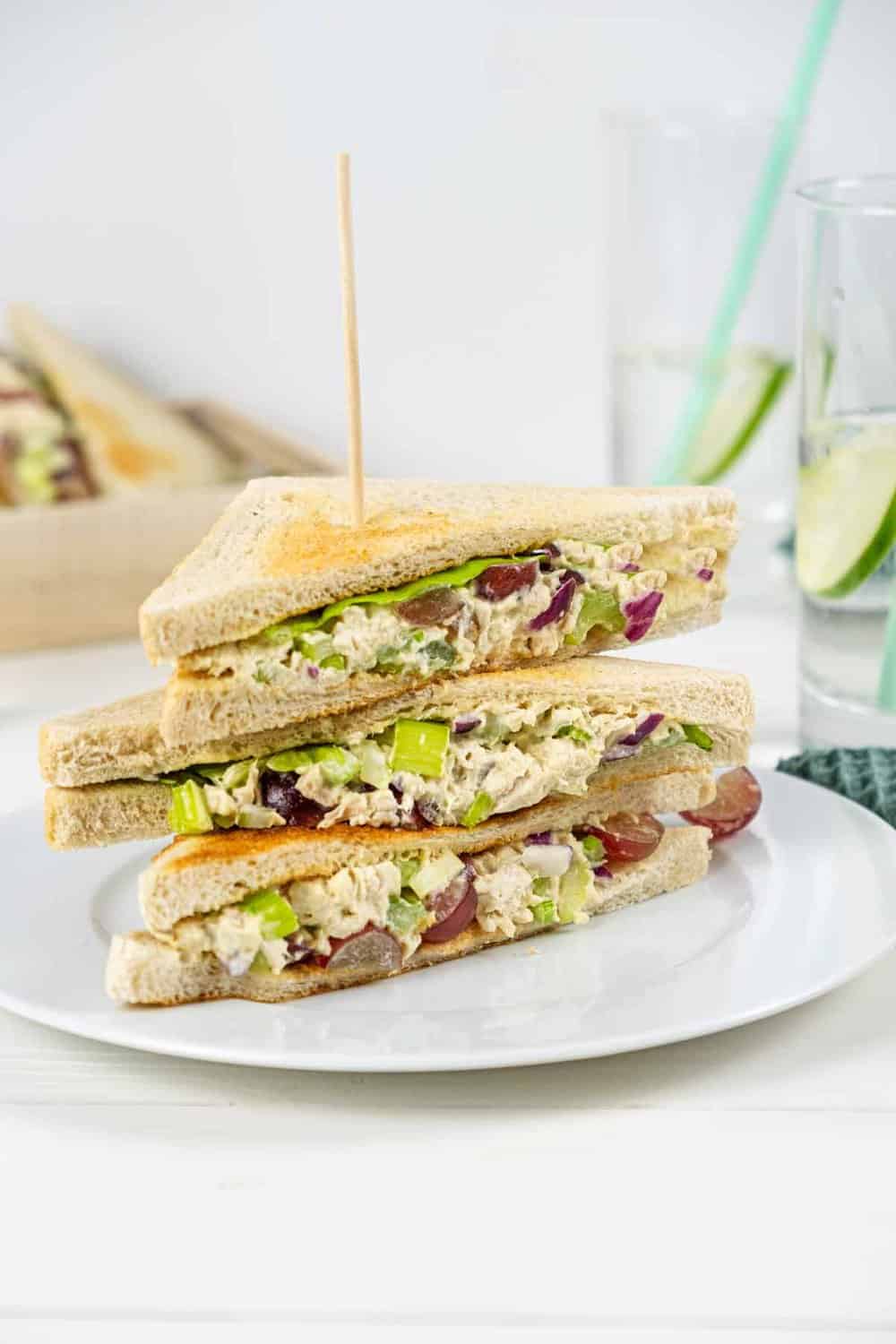 Use any sandwich bread to make a traditional sandwich with chicken salad filling. This type of bread is the easiest and most accessible. You probably have a loaf in your kitchen right now.
The beauty of the square sandwich bread is that it can be cut in many exciting ways. Slice it diagonally for a sandwich you expect.
Or make it interesting by removing the crust and transforming it into finger sandwiches. Cut the sandwiches into rectangles, squares, or triangles.
This is one of the best ways to serve chicken salad to a crowd. Try out my recipe with dill pickles, green onions, and celery.
Try using a cookie cutter to make circles or other shapes. Soft bread slices are the easiest to cut with cookie cutters. To use a cookie cutter, cut the bread first and then add the filling. Keep these sandwiches covered or they will dry out.
Each of the following sandwich loaves of bread is tasty to make into a chicken salad sandwich. Top with lettuce, sprouts, or arugula to finish.
Whole grain bread. For a healthier take on chicken salad sandwiches, use whole grain sandwich bread. Grains are full of fiber and can help you feel full for longer, so choose whole grain bread for lunch.
Potato bread is another tasty selection for chicken salad sandwiches. This bread is filling and has a slight potato flavor that works well with chicken. It's thicker than standard white bread yet offers a deliciously fluffy, airy consistency. Use it for finger sandwiches.
Honey whole wheat bread. Slightly sweet but still soft and hearty. Use with any chicken salad recipe.
Country white bread. White bread is on the softer side. Bakery or artisan white bread holds up better with the weight of chicken salad than the cheaper store brand loaf.
Rye bread. If you haven't tried chicken salad on toasted rye bread, you are missing out. Chicken salad without grapes, apples, or Craisins tastes best with rye. But don't skip the pickles.
Buttermilk bread. Soft and luscious. Cut it in shapes and pack it for school lunches.
Croissants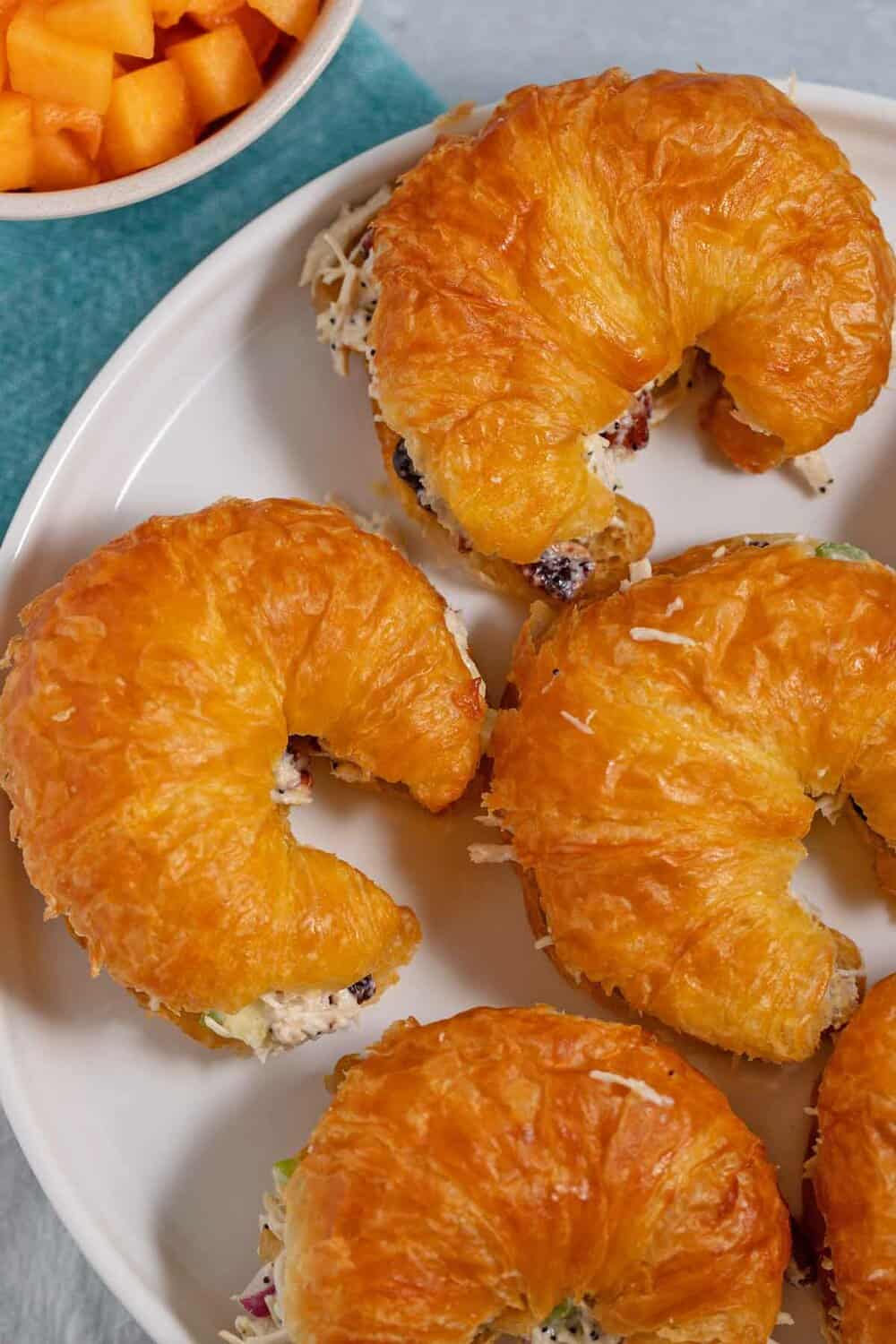 Even though they are technically a pastry and not bread, croissants are one of the most popular preferences for a classic chicken salad sandwich recipe. They are decadent, helping to elevate your chicken salad regardless of your recipe.
Croissants are easily found at most grocery stores in the bakery section and make delicious sandwiches for lunches, dinners, or parties. How many baby showers have you attended with chicken salad croissants on the menu?
Croissants pair incredibly well with chicken salad with cranberries, like in cranberry pecan chicken salad. Read up on how much chicken salad to plan on per person when serving it on a croissant.
Looking beyond bread? Check out this post on the best crackers to serve with chicken salad. You will like your crispy, crunchy, crumbly choices.
Bagel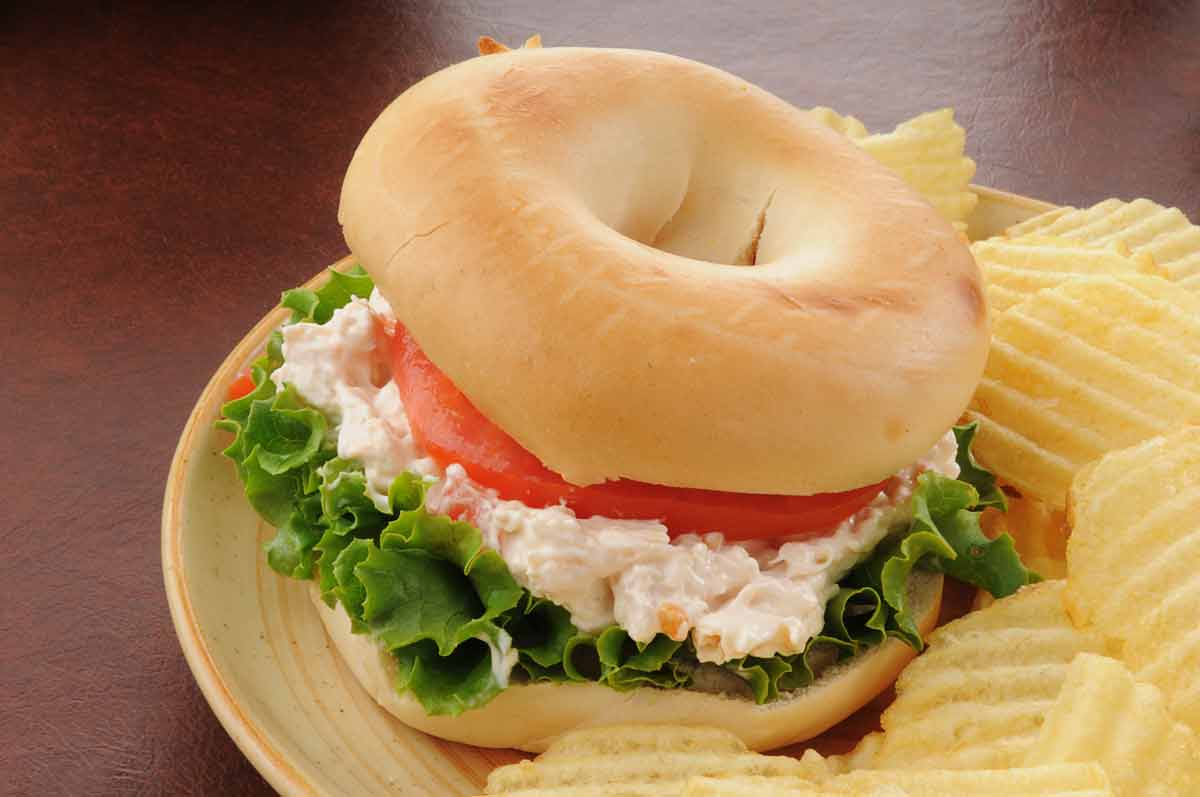 Bagels aren't just for cream cheese anymore. Bagel sandwich popularity has exploded thanks to all the varieties found in bagel shops.
Try a full-size or mini bagel chicken salad sandwich. Yes, there is a hole in the middle. Cover it with a lettuce leaf and then schmear the chicken filling on.
Love cream cheese, but don't love the high calories? Check out healthy alternatives to cream cheese. Lots of suggestions will spread on bagels.
Brioche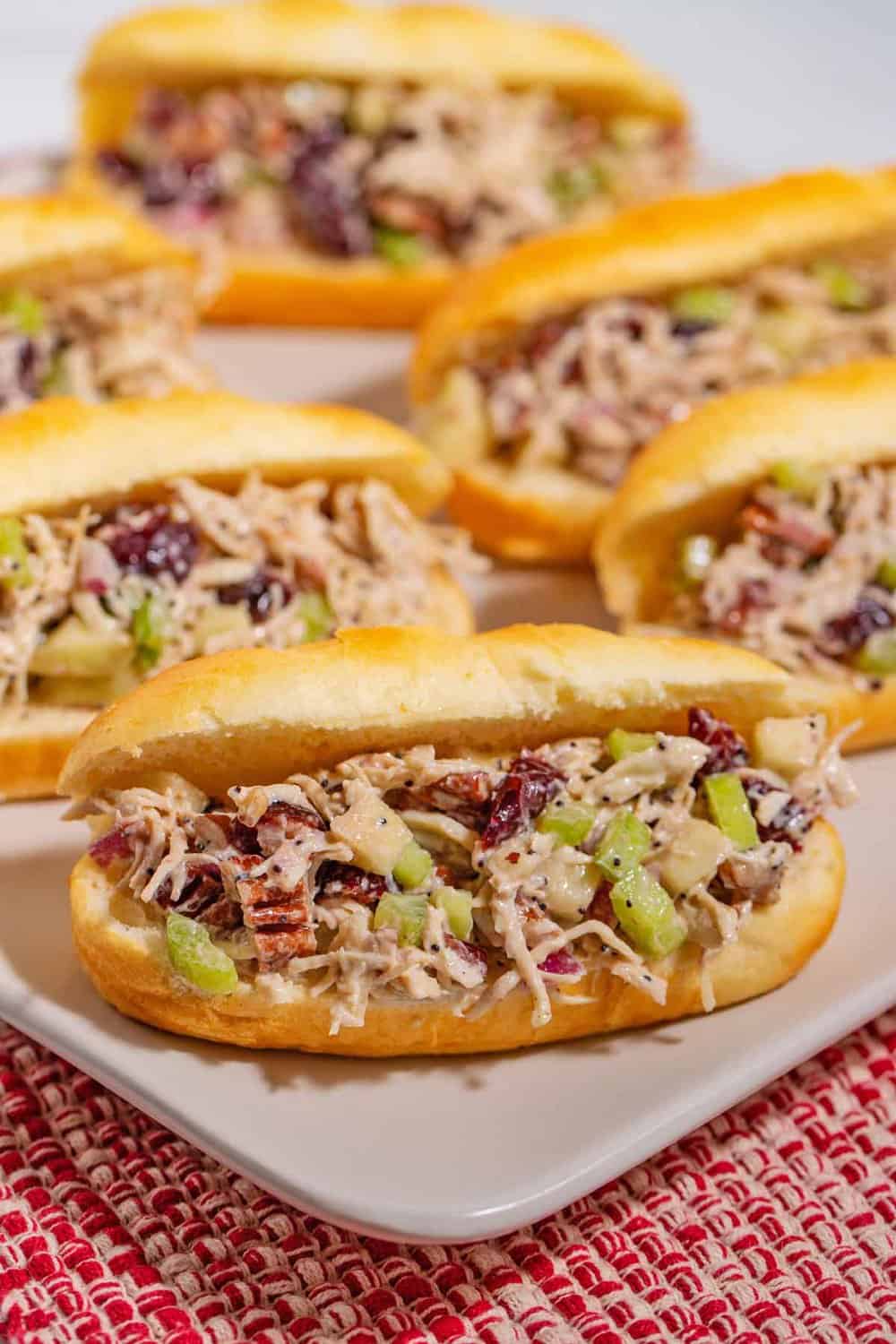 Brioche is a delicious buttery bread that will take your sandwiches to the next level. Find brioche as a loaf of sandwich bread, a bun, or a hoagie roll.
Toast brioche with butter in a pan before making chicken salad sandwiches for an even richer flavor.
Brioche is great for taking on a picnic because it is thicker than other breads. You won't have to worry that it will fall apart due to the moisture from the sandwich.
You may also be interested in the best kinds of bread to serve with soup. You will love this list.
Rolls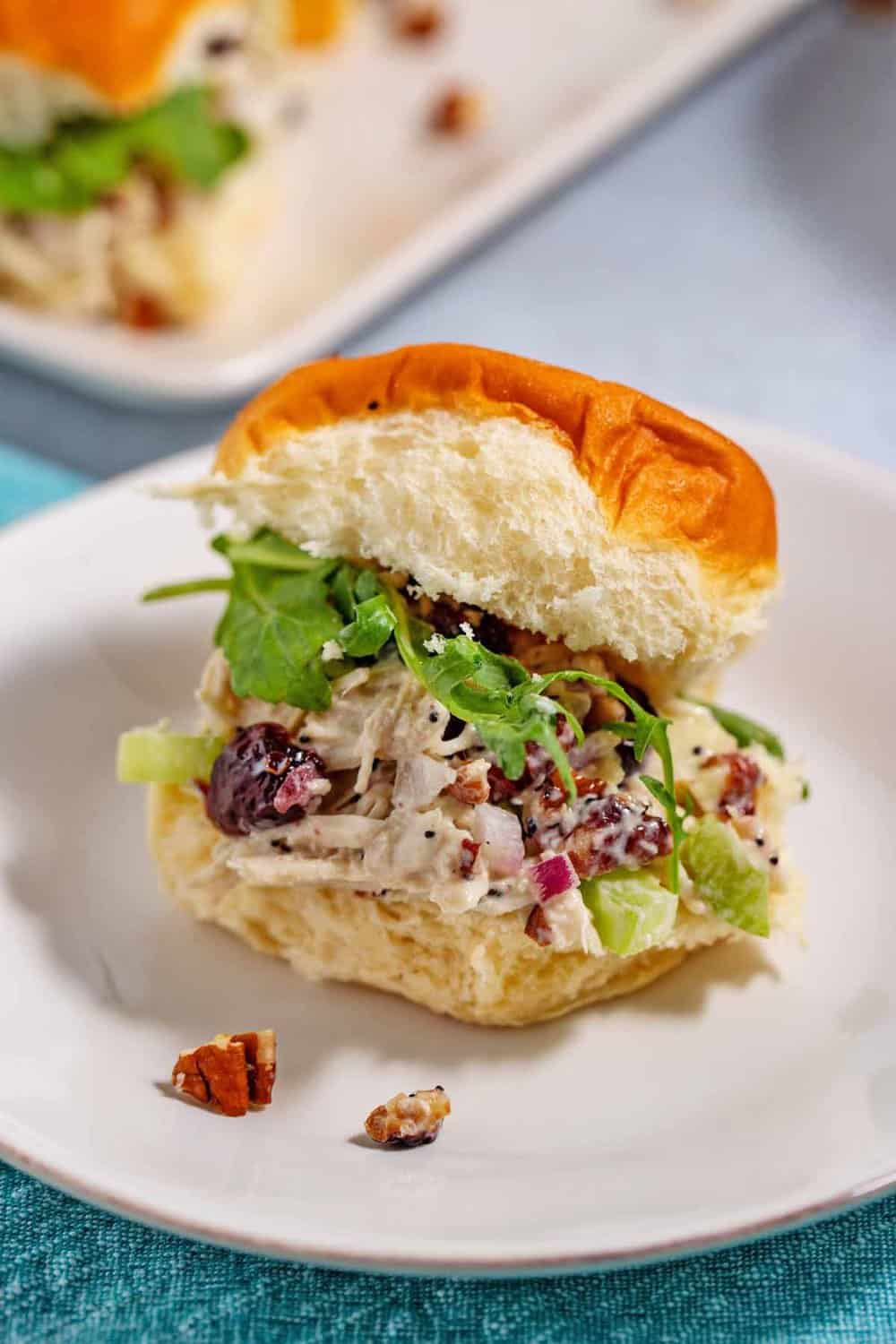 Rolls are the perfect size when you want to serve chicken salad as a side dish. They make it easy for guests to serve themselves at a summer barbecue. Most chicken salad recipes will taste good with any of these rolls.
Soft dinner rolls. These rolls can be sweet or savory.
Sweet Hawaiian rolls. They have a mild sweetness. Make a chicken salad slider.
Focaccia Bread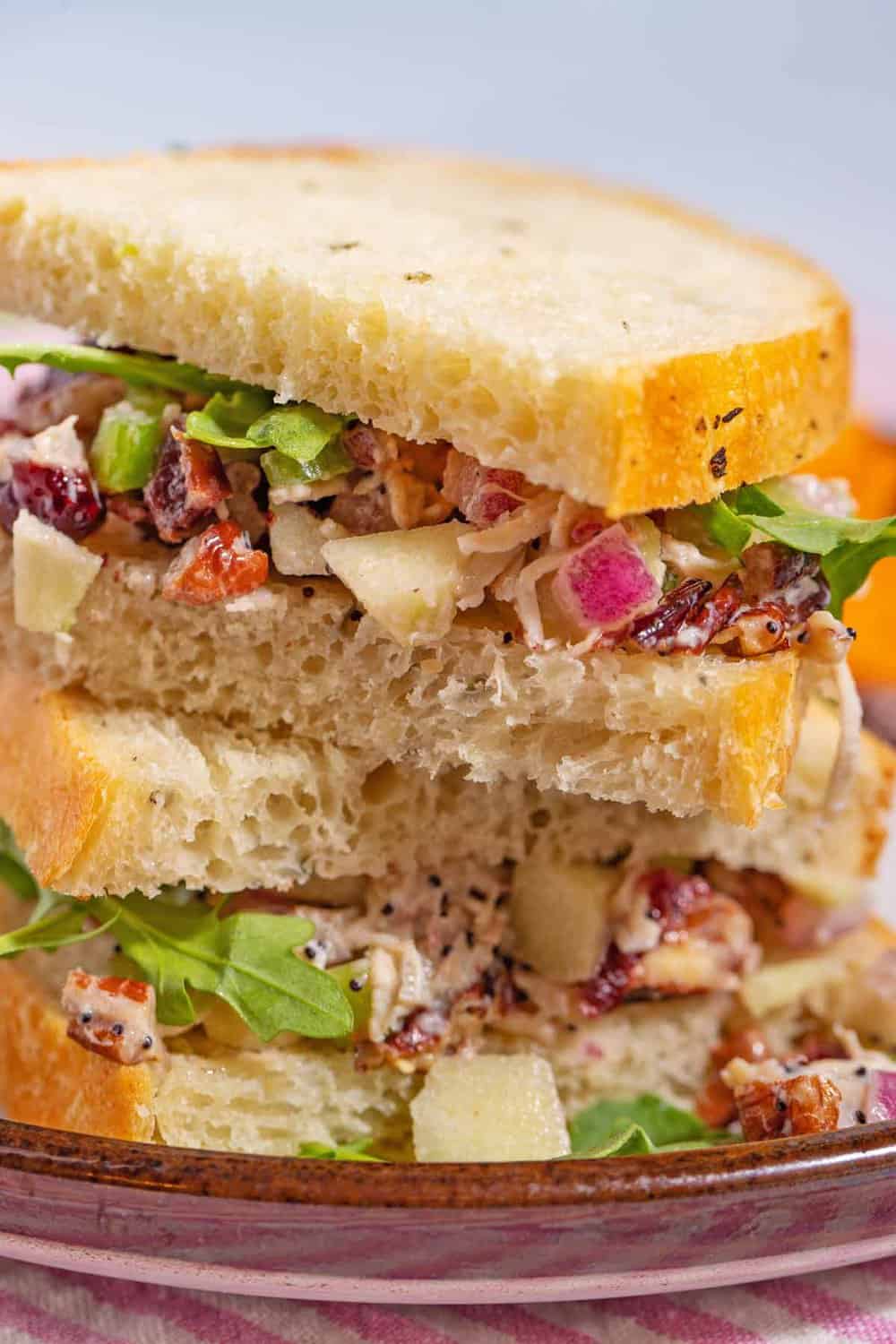 Focaccia bread is similar in texture to pizza but can be baked into a loaf. What makes it so tasty as a chicken salad sandwich bread is that it is often seasoned before it is baked.
Try Panera Bread's rosemary focaccia bread with craisin pecan chicken salad. You will love it!
Making chicken salad for a get-together? Learn tons of creative ways to serve chicken salad at a party. Be prepared to be inspired.
Bagel Thin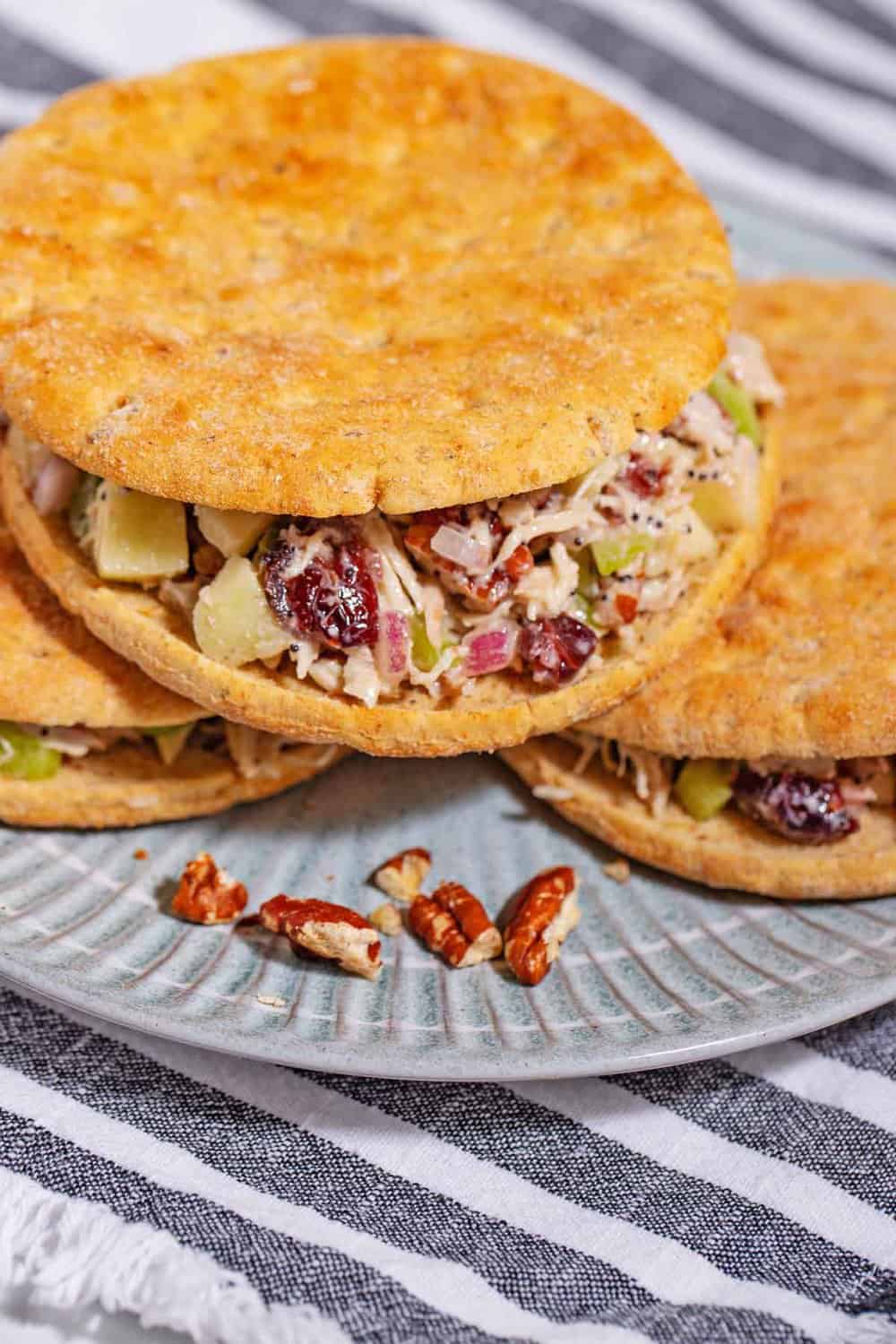 If a bagel is too much of a mouthful for you, try making the chicken sandwich with a bagel thin. All the flavor with less carbs, less calories, and less guilt.
You've got the bread. Now you need the sandwich topping. Check out these ridiculously delicious chicken salad sandwich topping ideas. It is time to level up your sandwich.
Pita Bread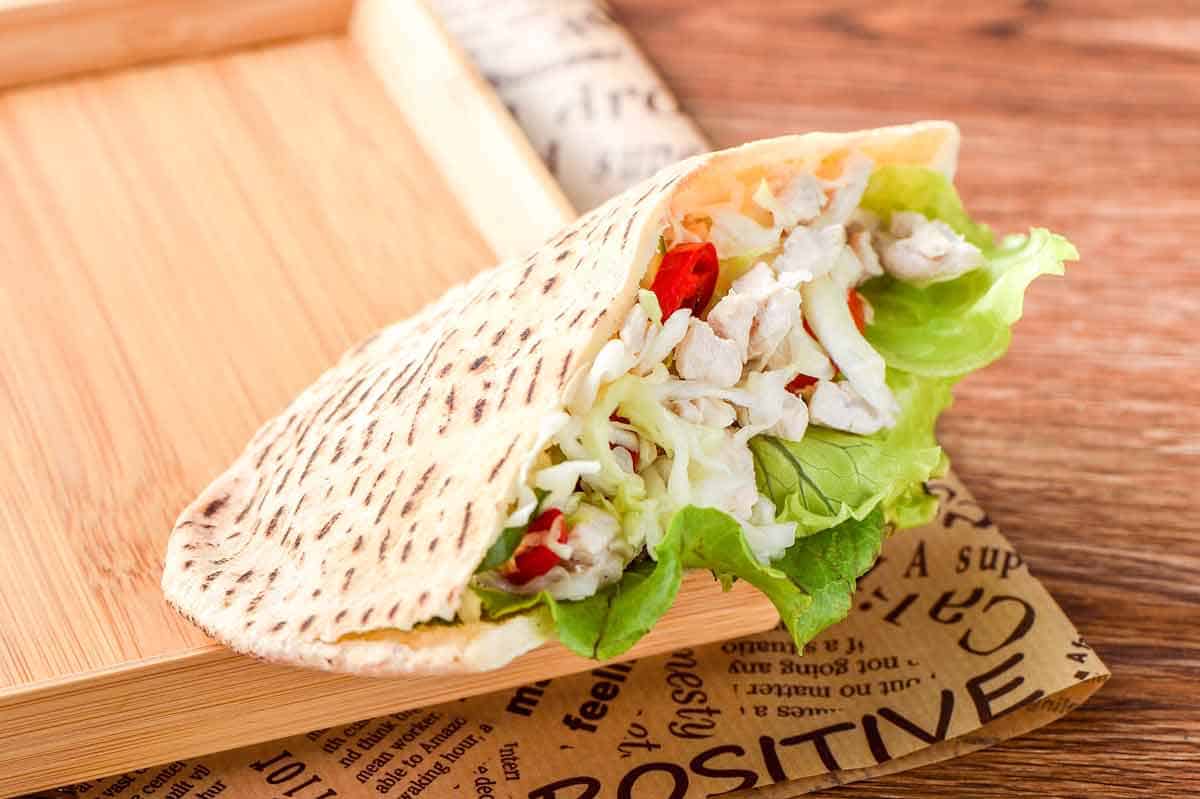 Pita bread is excellent when you are afraid your sandwich filling will fall out. The pocket holds the chicken and any garnishes easily. That is perfect since chicken salad can get messy.
Can you freeze chicken salad? Find out when you can and when you can't. Read up on all about freezing chicken salad.
Bun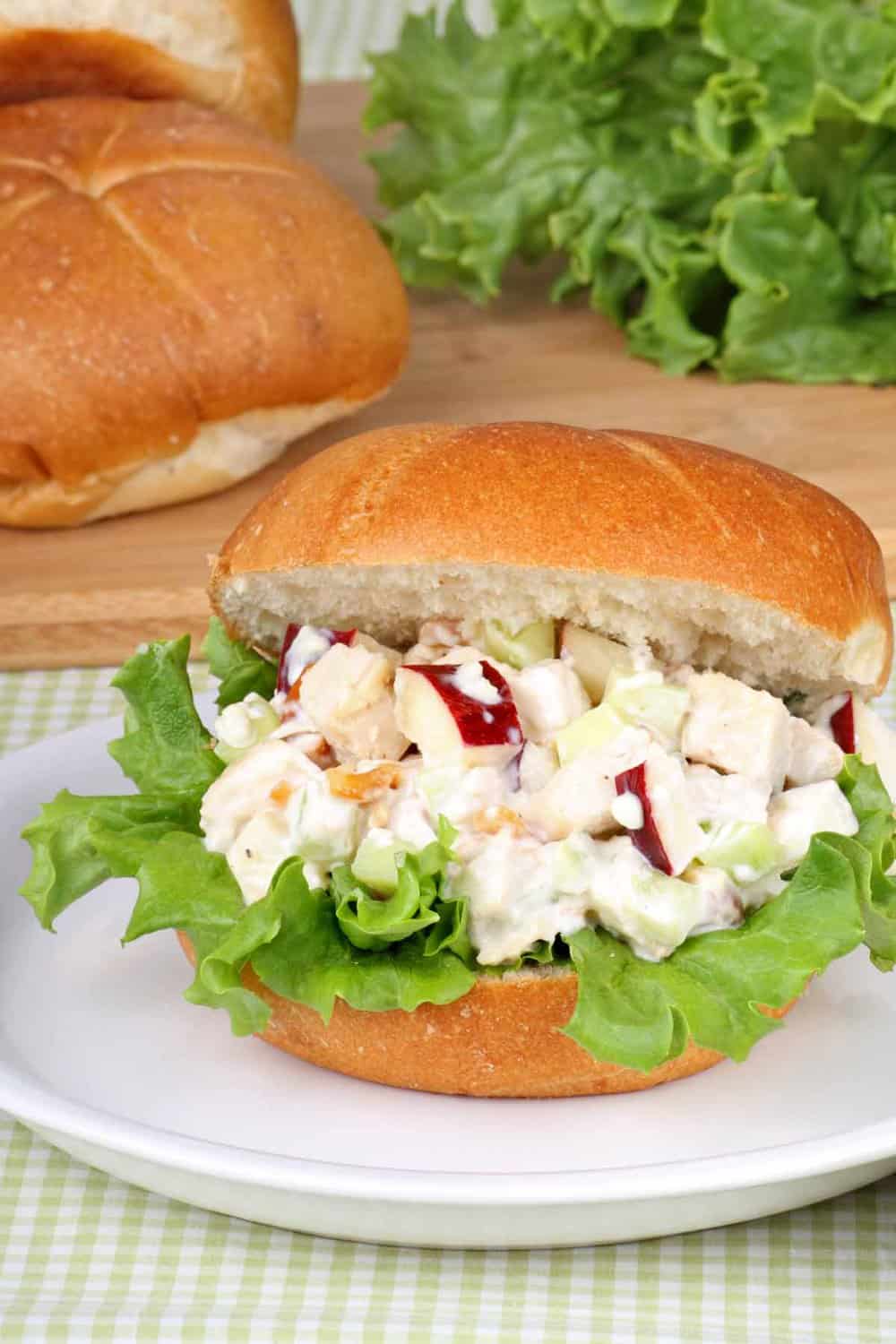 A bun is excellent for a chicken salad sandwich. A little sturdier than rolls, they can survive transportation to a party or picnic. Plus, there are several varieties.
These are the best buns for chicken salad.
Pretzel bun. They have a slightly bitter soap taste but are delicious with chicken salad, heavy on the mustard.
Sandwich bun. These can be hamburger buns or sturdier kaiser roll buns.
English muffin. These are best toasted before adding the filling.
Looking for the best bread for burgers? I surveyed the top 50 burger joints to find the most popular buns. You will like what I found.
Chicken Salad Sandwich Bread Substitutes
Sometimes, you want to enjoy chicken salad without eating an entire sandwich. These alternatives are low-carb and can make a great snack.
Crackers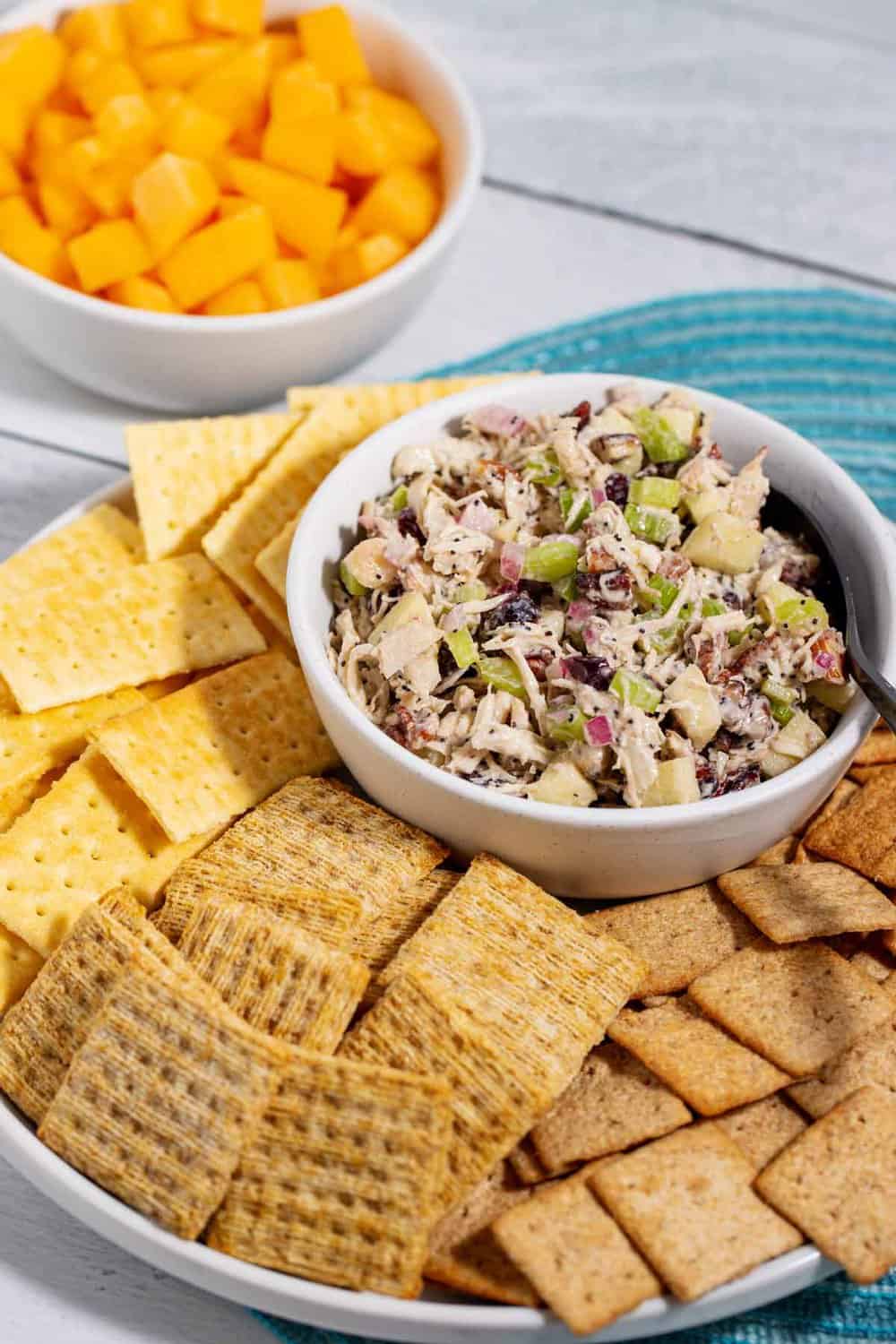 Eating chicken salad with crackers is my favorite. A few cracker suggestions include Ritz, pita chips, Wheat Thins, Triscuits, and butter crackers. Use them to scoop up your chicken salad for an easy snack.
Crackers are also a fun way to serve chicken salad at a party. And they make a beautiful charcuterie board.
Lettuce or Salad Greens
Make a chicken salad sandwich with a large romaine lettuce leaf. Or make a salad cup with a smaller iceberg lettuce leaf. It is a low-carb alternative to bread.
Another idea is to forget finger food altogether. Top the chicken salad on a bed of greens for a new version of cold chicken salad. You'll get a boost of flavor and protein while using chicken salad leftovers. It's a win-win.
Do you love romaine lettuce? Check out the ultimate romaine lettuce guide to get the best tips on washing, storing, and cutting it.
Wonton Wrappers
Using wonton wrappers helps create a fun chicken salad appetizer for get-togethers. Make wonton wrapper cups by baking them in a muffin tin.
Once the wonton cup is cooled, scoop a portion of the chicken salad mixture into each. Serve as a starter.
Tortilla Wrap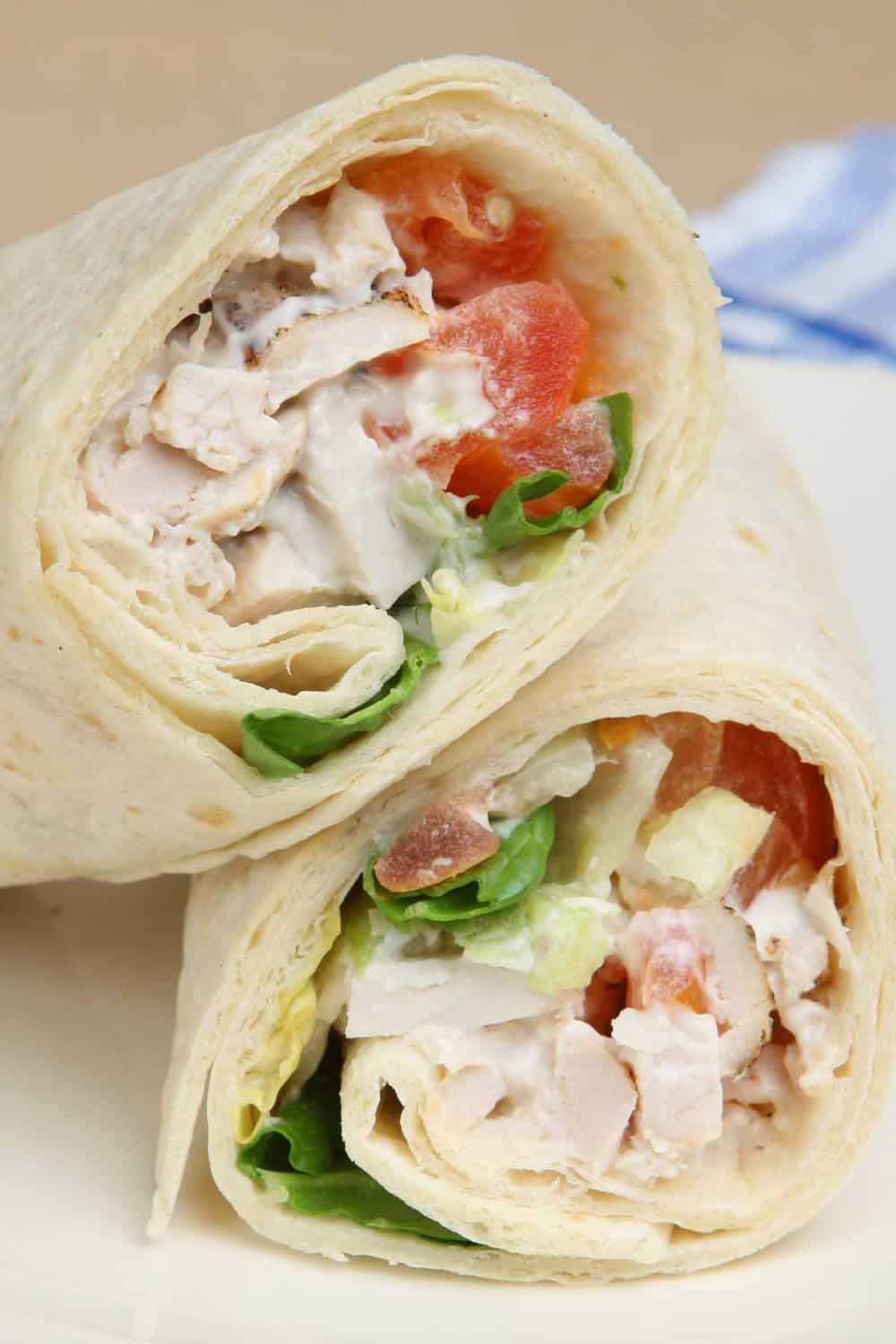 One of the simplest ways to alter a chicken salad sandwich is by using a tortilla wrap instead of bread. It's convenient, easy, and portable. Many kinds of tortillas are low carb, so consider a tortilla if you are looking for low carb options.
If you make chicken salad with cream cheese, you can even roll the salad in the tortilla and then slice it into pinwheels. That is another creative party food idea.
Avocado Half
For an extra creamy chicken salad, slice an avocado in half and serve it with a scoop of chicken salad.
Eating chicken salad in half an avocado can be a hearty meal if you include a side dish. Alternatively, you can slice the avocado fully and incorporate it into the chicken salad on top of a bed of lettuce or greens (like the green salad).
If you love avocado, you will love these posts on how to pick a good avocado. Plus, learn the best way to cut any avocado.
You can also stuff chicken salad in a hardboiled egg. This is a bite-sized way to serve the salad. Learn how to cook the perfect hardboiled egg.
Pro Tips for Making Chicken Salad Sandwiches
Toast the Bread
Next time you're making chicken salad sandwiches, toast the bread. This step only takes a few seconds and it helps keep the bread from getting soggy. Toasting creates a protective barrier between the dressing on chicken salad and the bread.
This tip is essential when packing lunches or meals that will be eaten a few hours later.
Make Homemade Bread (If Possible)
Homemade bread may seem like a daunting task. However, many recipes require minimal ingredients like warm water, sugar, yeast, flour, salt, and vegetable oil. There's nothing quite like fresh bread, and it adds a special touch to any sandwich.
You can even freeze extra homemade bread or loaves for eight months. That way, you can have homemade bread anytime.
Select Thicker Bread
Moist chicken salad can make the bread soggy and fall apart quickly. Choosing thicker bread will help prevent sogginess between sandwich prep and lunchtime.
Pack Your Ingredients Separately
You can still enjoy a chicken salad sandwich without soggy bread, even if you prefer untoasted bread. Pack the chicken salad separately from the bread and assemble it when you're ready for your meal.
Using this method will allow you to enjoy a delicious sandwich without unappealing bread that has soaked up the moisture from the chicken salad.
Get fantastic ideas for side dishes to serve with chicken salad at a luncheon.
FAQ
What should you do if chicken salad is too dry?
If your chicken salad is dry, add mayonnaise, mustard, lemon juice, olive oil, or sour cream. Start with just a little at a time and stir thoroughly before adding more.
Why does chicken salad get watery?
Watery ingredients can lead to watery chicken salad. Grapes, celery, and apples are all ingredients that add moisture to the salad – especially if stored in the fridge for too long.

If your salad is too watery, drain the water out. Do not stir it back in.
How do you make store-bought chicken salad better.
If you don't have to time make it from scratch, I can show you easy ways to make store-bought chicken salad better. Add flavorings and add-ins to improve the taste.
What Kind of Bread Is Good for Chicken Salad?
Many types of bread work with chicken salad, from buttery brioche to crusty baguettes. Pick bread you like and change it up from time to time. Bread variety can make it easier for picky eaters in the house.
For even more variety, check out my best alternatives to bread to serve with chicken salad.
More Bread Serving Suggestions
Did you like this post? Then let's be social. FOLLOW ME on INSTAGRAM and PINTEREST to keep up with the latest tutorials, favorite recipes, and interesting happenings.