Pumpkin soup on the menu? Learn the best breads to serve with pumpkin soup. Rolls, buns, muffins, and garlic toast are just a few tasty ideas.
This post contains affiliate links for your convenience. Thank you for your support.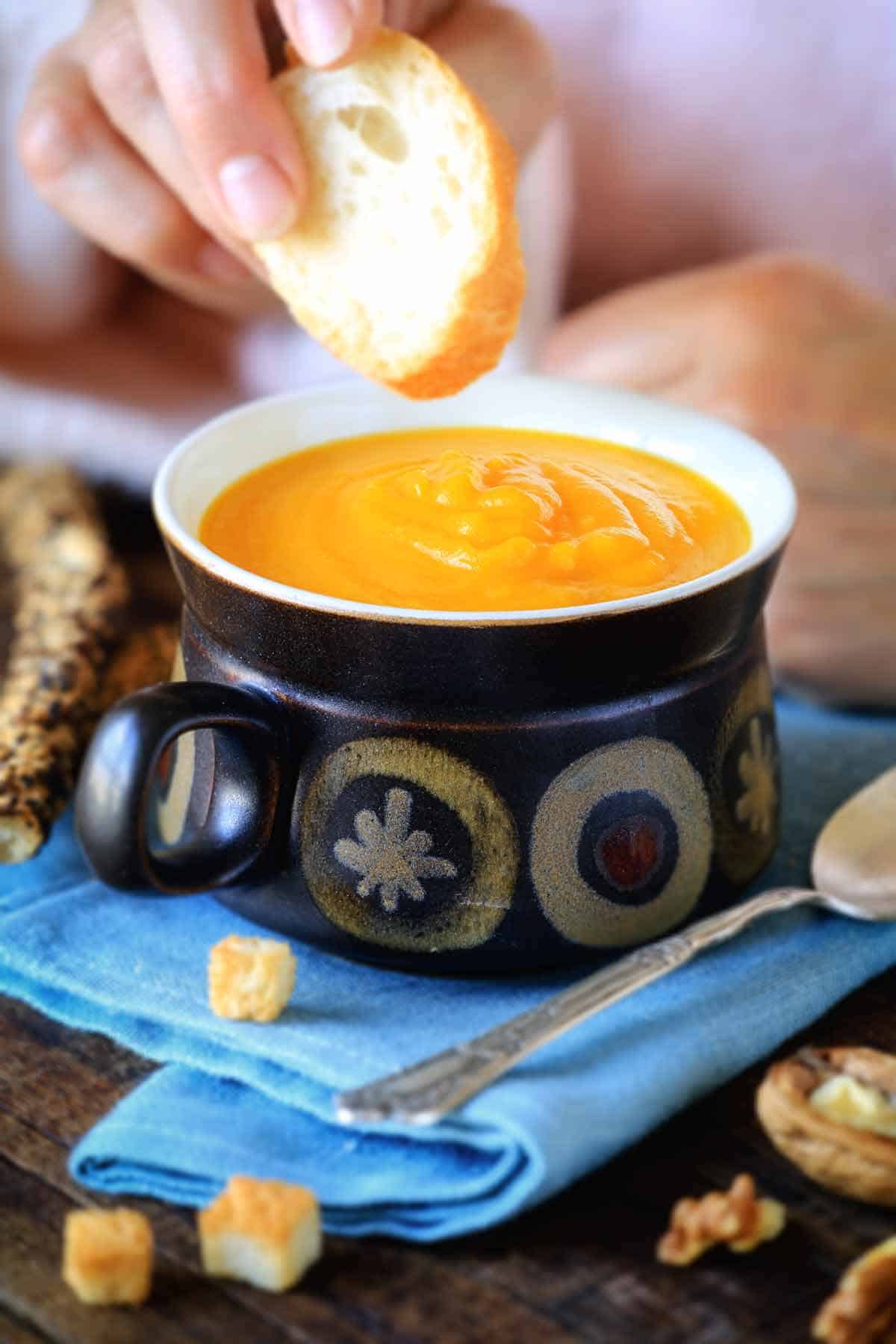 Forget all the other sides. You know that bread is the best choice to serve with soup. But what is the best bread for pumpkin soup?
The best breads for pumpkin soup are bread bowls, rolls, cornbread, garlic bread, scones, and muffins. Crusty breads are best for dipping, but soft breads are popular too.
In case you want other suggestions for sides, check out this post on the best sides for pumpkin soup.
Bread Bowl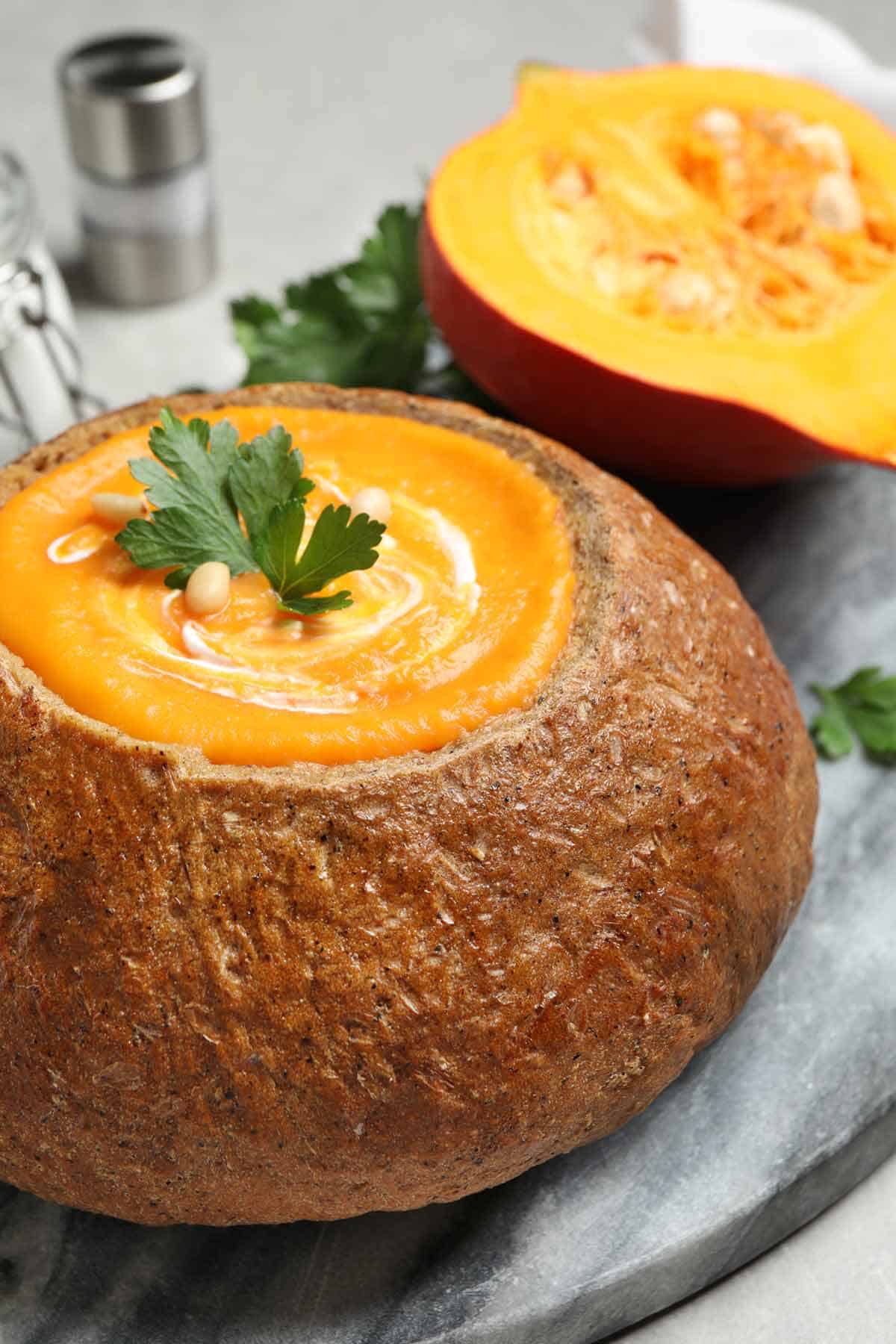 Don't serve bread on the side. Serve pumpkin soup inside the bread. Warm bread bowls are the perfect vessel to serve the soup.
Many bakeries sell bread bowls daily, or they can be ordered. Make sure to cut off the top and warm the bread bowl before serving the soup in it.
Buttermilk Biscuits
Nothing pairs better with soup than biscuits. And buttermilk biscuits are one of the best varieties. But instead of spending a lot of time, take a shortcut and make buttermilk biscuits with pancake mix. You will love how easy and delicious these biscuits are.
Read up on all the ways you can eat pumpkin. Not just for soup and pie anymore.
English Muffins
Toasted English muffins are one of my family's favorite kinds of bread to eat with soup. They go wonderfully with pumpkin soup. Especially seasonal flavors like pumpkin spice or cranberry.
Find those seasonal flavors from Thomas' English muffins.
Crusty Bread
When you need to mop up pumpkin soup, there is no better option than crusty bread. It is rugged on the outside, producing shards of crust when cut. But the inside is soft and pillowy.
Don't want to dunk it? Then spread with homemade ricotta, butter, or pumpkin butter.
Bagels
Bagels slathered with cream cheese are a dream on their own. But match them up with pumpkin soup, and you have an unexpected but scrumptious lunch.
Bagels come in a variety of flavors if you buy them from Einsteins or your local bakery. Change the bagel flavor for a fresh feel for dinner.
By the way, there are tons of healthy cream cheese alternatives if you want to go lighter on the spread.
Cinnamon Rolls
Gooey cinnamon rolls aren't just for breakfast. Serve them warm and sweet with pumpkin soup.
With autumn here, make seasonal cinnamon rolls. They can be spread with apple filling, pumpkin, butternut squash, or cranberries. Your options are unlimited.
Don't worry if you are short on time. You can make canned cinnamon rolls taste better, like homemade, with a few easy tricks.
Need some troubleshooting help? Read all about how to thicken pumpkin soup. You will love the easy tips.
Garlic Bread
There is something about garlic bread that entices you to eat it with soup. Maybe because garlic is more pronounced in the bread than in the soup.
Garlic bread can be made with toasted and sliced French bread. Or breadsticks can be buttered and seasoned with garlic. Whichever way you eat it, be sure to serve it warm.
Homemade Bread
Homemade (or bakery) bread is always a treat. And when you serve warm, fresh-from-the-oven bread with pumpkin soup, your family will drool.
Slather with butter, apple butter, honey, or jam. You can't go wrong with sandwich bread. It makes the best sandwiches that go with pumpkin soup.
You can always toast the bread in the toaster if you want some crunch with your soup.
Cornbread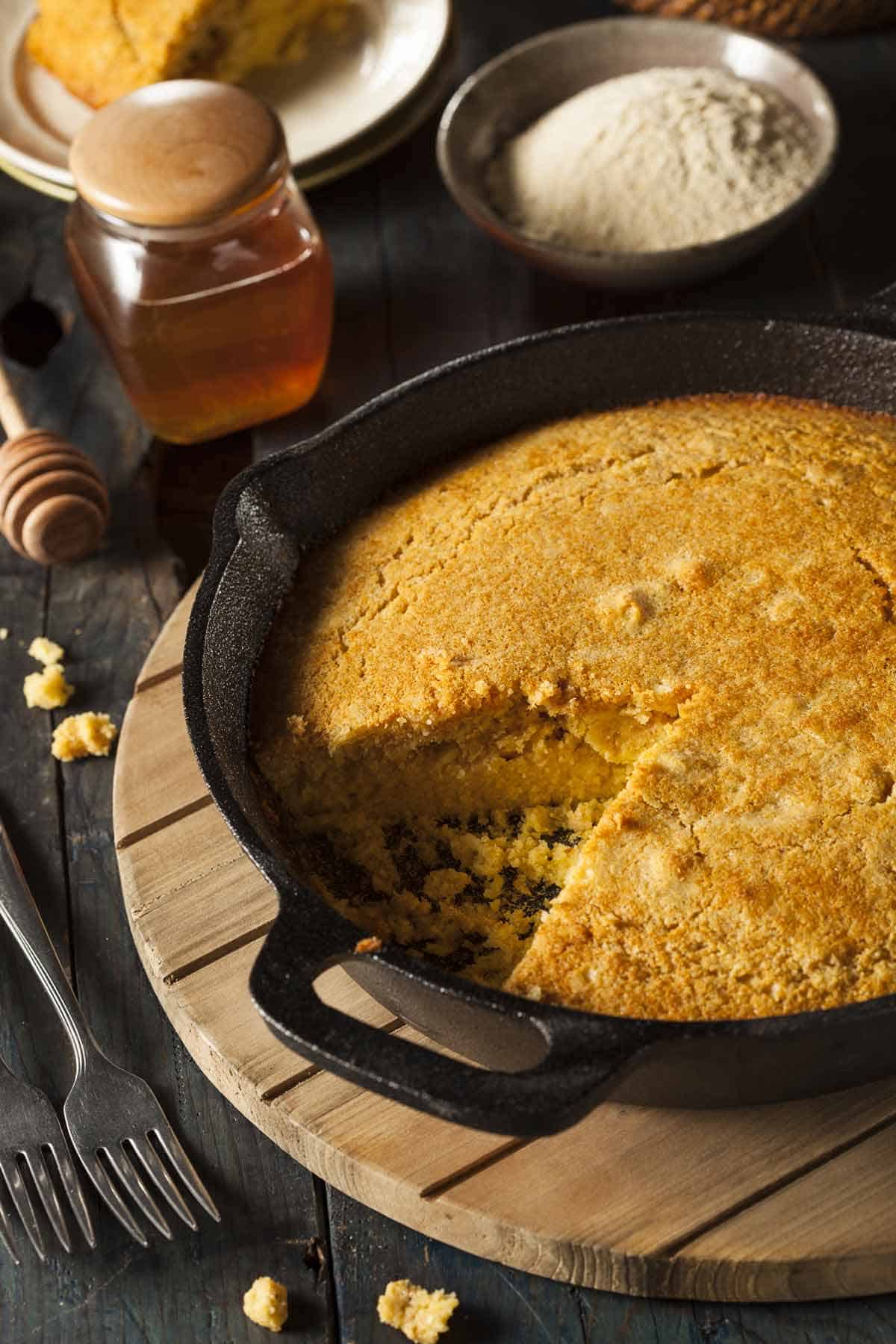 Cornbread might be first on your list as a soup side. It is hearty and easy to make. Do you like it sweet or spicy? Soft or crumbly? You may even prefer corn muffins.
But any way you slice it, cornbread is fantastic with this autumn soup.
Asiago Cheese Bread
If you are lucky enough to have a Kneaders bakery near you (locations out West), they sell a loaf of cheese bread you've just gotta try.
Asiago and Parmesan are baked inside a loaf of bread with a slightly crusty exterior and soft interior. Slice it and slather it with soft butter for a wonderful pumpkin soup side.
Focaccia Bread
Focaccia is an Italian flatbread. You can often find it seasoned with olive oil, Parmesan, and pizza seasonings. I've even seen it at Trader Joe's topped with tomatoes and olives, almost like a pizza.
And there is nothing wrong with focaccia bread pizza and pumpkin soup. Give it a try.
You may also be interested in how to roast pumpkin cubes for salad. Pumpkin soup, pumpkin salad. Only in the fall.
Dinner Rolls
Bake or buy dinner rolls and serve them with pumpkin soup tonight. Dinner rolls from your grocery store's bakery can be warmed in the oven.
Or buy unbaked Rhodes dinner rolls from the frozen section and bake them. Remember to plan ahead. Frozen rolls need time to thaw and rise.
Texas Toast
Texas toast is just a thick slice of toasted bread. But it is hard to find outside the grocery store's freezer section unless you cut your own bread.
Because the slices are so thick, toast the bread in the oven or toaster oven. Sprinkle a little garlic powder or Parmesan cheese on the bread if you want to jazz it up.
Breadsticks
Speaking of dipping bread into soup, nothing does it better than a breadstick. Breadsticks can be warm and soft or room temperature and crunchy.
But one common feature of them all is their long skinny shape. Dunk, eat, repeat!
Soda Bread
Soda bread is a simple no-knead bread. It is for the days you want homemade bread but don't have much time.
It tastes best fresh. Don't worry. Your loved ones will gobble up the family-sized loaf before the night ends. Get recipe.
Homemade Pretzels
If you haven't tried homemade pretzels with pumpkin soup, you've gotta fix that. The unique pretzel flavor and browned crust taste amazing with soup. Eat the pretzel alone or break off a piece and dip it in the soup.
Yup! You liked that, didn't you? Get recipe.
Kolaches
The first fruit-topped bread in Eastern Europe has evolved to a magnificent side. It is like a roll or a bun with a surprise center.
A fruit-flavored or cream cheese-filled kolache is perfect for your soup meal. Get recipe.
Scones
If you thought scones were only for an English tea party, think again. Scones are sweetened bread leavened with baking powder.
They can be baked bare or can have add-ins (like nuts, chocolate chips, or dried fruit) thrown in.
They are a unique bread to serve with soup because they have a unique taste and texture. Give scones a try. Get recipe.
Brioche Bread
Soft, sweet, and dreamy, brioche bread is an excellent sidekick for pumpkin soup. Especially if the soup is semi-sweetened with apples.
You can find brioche bread as a loaf, bun, or roll. Serve any of these with pumpkin soup.
Braided Challah Bread
Challah bread is soft, sweet, and usually braided. It has a Jewish origin and is often found during Jewish holidays.
However, anyone can buy or make the bread. Its sweet flavor and soft texture make it a delicious companion to pumpkin soup.
Muffins
Muffins are a sweet addition to a meal with soup. And seasonal-flavored muffins are even better when served with pumpkin soup.
Try these muffin varieties, warm or room temperature.
Regular-sized muffins are ideal for dinner. But find out all about bakery-style muffins if you want to go bigger.
Quick Bread
Quick breads are sweet loaves of non-yeasted bread. No kneading, no rising, no fuss.
Sometimes they are served as dessert. But tonight, they will be pumpkin soup's sidekick. You won't hear any complaining around the table. About the bread at least.
Pull-Apart Bread
There are two good ways to make pull-apart bread. Either by partially slicing through a loaf of crusty bread before filling the slits with toppings and baking. Or by throwing biscuit dough pieces in a Bundt pan, pouring on a topping, and baking.
Either method makes a terrific pull-apart bread to serve with pumpkin soup. Feel free to make it savory (garlic-flavored) or sweet (brown sugar and apples). Get recipe.
Naan
Naan is a leavened flatbread. One of its purposes is to mop up soups and saucy dishes. The texture and neutral flavor make it perfect for soup. You can find it at Trader Joe's.
Sourdough Bread
With its distinct tangy taste, Sourdough is a perfect combo for pumpkin soup. Sourdough bread comes in loaves, rolls, or breadsticks. Serve it warm for the best results. Find it in most bakeries.
Ciabatta Bread
Ciabatta is the rustic Italian bread created in response to French bread. You can find it in loaves or rolls. I find they aren't as soft as other rolls. Because of this, I recommend serving them warm with pumpkin soup. Find it at Trader Joe's.
Crackers
Crackers are any soup's best friend. Crush them on top, dip them, or eat them alone. Check out these types of crackers to serve with pumpkin soup.
Oyster crackers. Buy here.
Townhouse butter crackers. Buy here.
Saltine crackers. Buy here.
Churros
Churros aren't just meant for burritos. Their cinnamon sugar sweetness is a perfect match for pumpkin soup. Cuz pumpkin and cinnamon go together.
Serve your churros warm. And if you dunk them in your soup, I won't tell.
Tortillas or Quesadillas
I only recommend serving warm, homemade tortillas with pumpkin soup. The stiff, cold, store-bought tortillas aren't as appealing.
But if you do have a package of tortillas, make a quesadilla to go with your soup. Want something even simpler?
Spread butter on the tortilla and sprinkle with sugar and cinnamon. Then warm the tortilla in the microwave for a few seconds.
Garlic Knots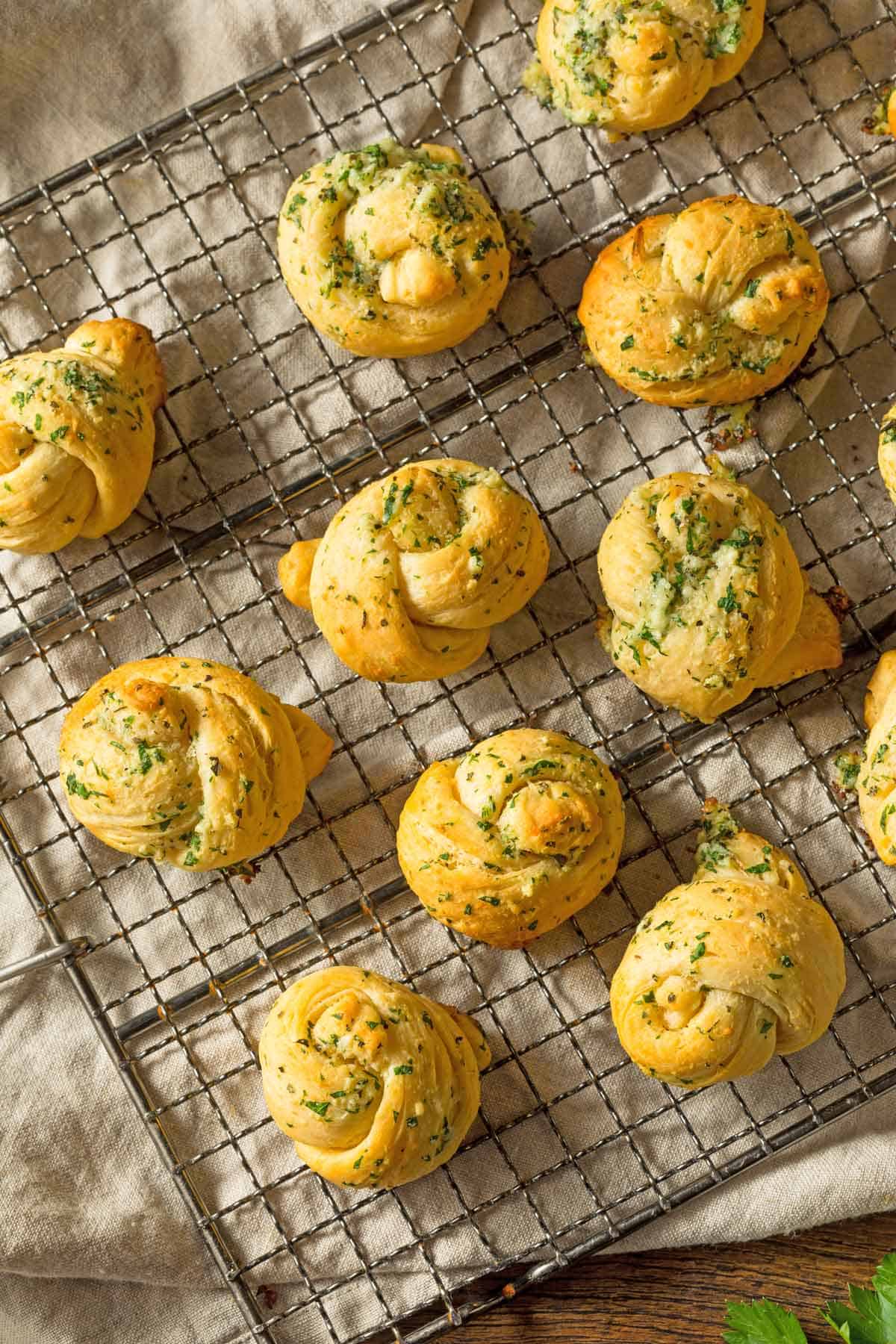 Garlic knots aren't just made in pizza joints anymore. Use your leftover pizza dough and make garlic knots to serve with soup.
Break apart the soft and chewy knots and dip them in pumpkin soup. Get recipe.
Need More Pumpkin?
Did you like this post? Then let's be social. FOLLOW ME on INSTAGRAM and PINTEREST to keep up with the latest tutorials, favorite recipes, and interesting happenings.