The soup is simmering, the table set. But what are the best sides to serve with pumpkin soup? Get a hearty list of favorite dishes to complement this seasonal soup.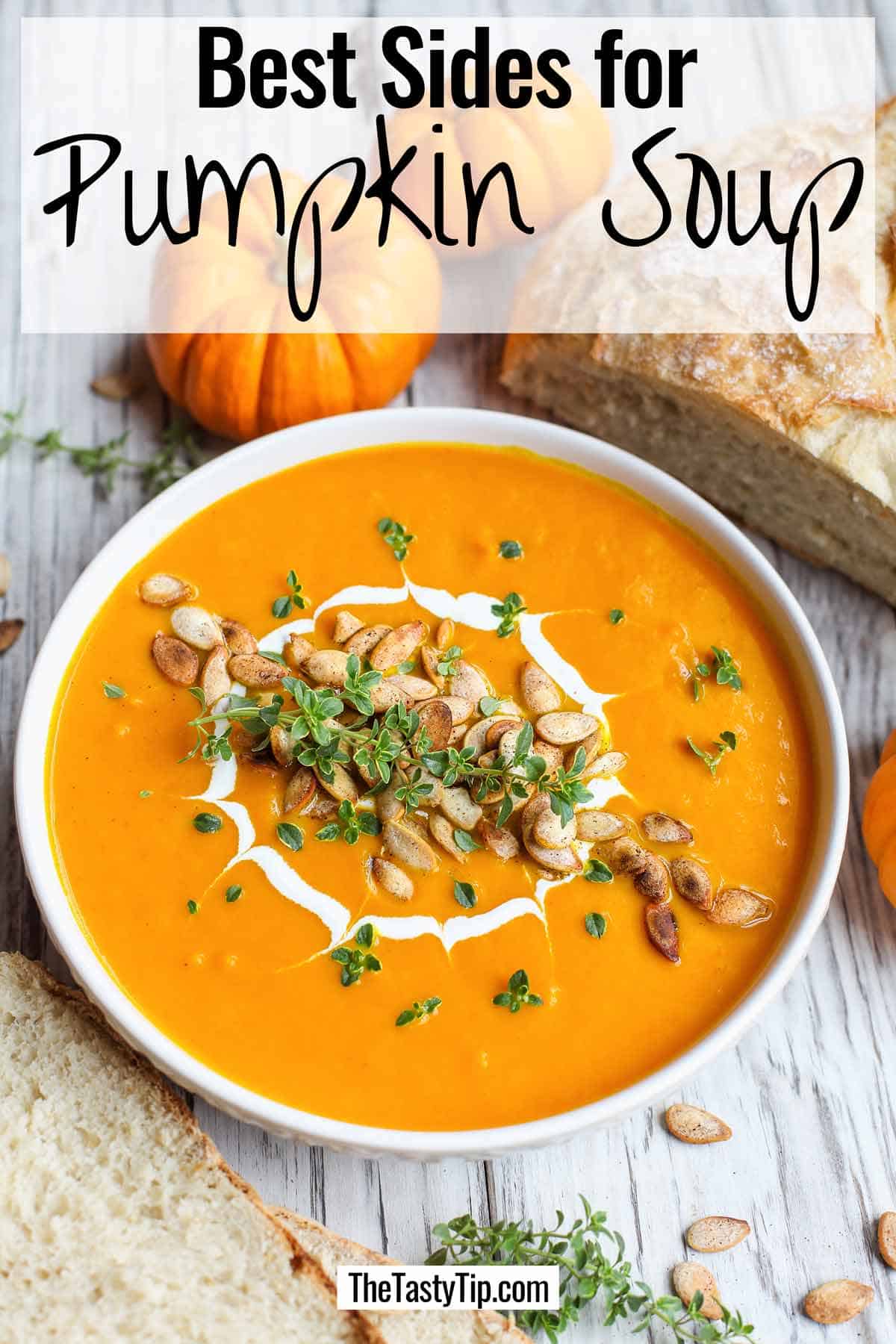 Mmmm. Pumpkin soup. Seasonal and hearty, perfect for chilly dinners. Get the best suggestions to serve with pumpkin soup to complete your meal.
What are the best side dishes for pumpkin soup? The best sides to serve with pumpkin soup are breads (including biscuits, muffins, and scones), salads, sandwiches, meat, and finger foods.
Get the recipe for the best pumpkin soup with apple and ginger. And don't forget your delicious pumpkin soup toppings.
Buttermilk Biscuits
Make an easy version of buttermilk biscuits with pancake mix. You will love how quickly this recipe comes together. And how your family gobbles them down.
Crackers
Crackers can be one of the crunchy toppings on the soup or a side on its own. Not every cracker was made for soup. The best crackers for soup are soft and crumbly. Here are a few excellent choices.
Oyster crackers. Buy here.
Saltine crackers. Buy here.
Learn the best way to peel a pumpkin. Get tips on peeling raw or cooked pumpkin and whole pumpkin or chunks.
Cornbread
If you eat a lot of soup, you know how well cornbread pairs with it. Almost every soup is a good match for cornbread. Below are a couple of variations.
Jalapeno cornbread. Add a bit of a kick with jalapenos. This cornbread recipe is a fantastic addition to any meal with a simple soup. Get recipe.
Corn muffins. Individual servings make life a little easier. Make them in a muffin tin or with cupcake liners. Get recipe.
Dinner Rolls
You can never go wrong when you serve dinner rolls with creamy pumpkin soup. Add a pat of butter and a dollop of jam to enjoy each soft, heavenly bite. Get recipe.
Breadsticks
Breadsticks are fantastic dippers. Warm up a batch with your next bowl of soup. You will be glad you did. Get recipe.
Crusty Bread
Crusty bread dipped in a creamy soup. Now that is a pairing you will never regret. Crusty bread has a rugged, crunchy crust and a soft interior. It is a delicious way to mop up thicker soup. Get recipe.
Garlic Bread
Next time you are in the mood for hot soup, make your own garlic bread. Slice up a loaf of French bread and slather it with butter and a little bit of garlic powder. Toast it in the oven on a baking sheet with parchment paper.
If you want to take it to the next level, sprinkle on some Parmesan cheese. Get recipe.
Texas Toast
Texas toast is a thick slice of toasted bread. It is one of the best options to serve with pumpkin soup because it is so easy to make. You can cut your own thick slice of bread from a homemade loaf. Or find Texas toast in the frozen section of your grocery store.
Heat the toast in the oven while you puree your creamy pumpkin soup recipe with an immersion blender. Both will be finished at about the same time.
Need some troubleshooting help? Read all about how to thicken pumpkin soup. You will love the easy tips.
Blueberry Muffins
Muffins are sweet and soft and a great way to complement delicious pumpkin soup. There are dozens of muffins recipes ideal for the autumn season. Find out all about bakery-style muffins.
Blueberry, cinnamon, apple, ginger, and pumpkin muffins are just a few examples of excellent muffins to serve with soup. Serve the muffins warm or at room temperature. Get blueberry muffin recipe.
Quick breads are muffins' older brother. Banana or pumpkin bread are a couple of great options.
Want even more bread ideas? Check out the best breads to serve with pumpkin soup. You will love the list.
Kale and Brussels Sprouts Salad
Try a salad with kale when you need extra healthiness with your smooth soup. The crisp, crunchy, sweet, and savory combination of kale and Brussels sprouts salad is an excellent side for pumpkin soup.
Cobb Salad
Cobb salad is a hearty salad full of protein. Something your pumpkin soup may not have enough of. Grilled chicken, hard-boiled eggs, and crispy bacon sit on a bed of greens. The salad is so filling, it may end up as the main course with the soup on the side.
Turkey Salad
Making a turkey salad is a good idea if you have leftover turkey. Pair it with seasonal pumpkin soup, and you have the perfect comfort food combo.
Roasted Carrots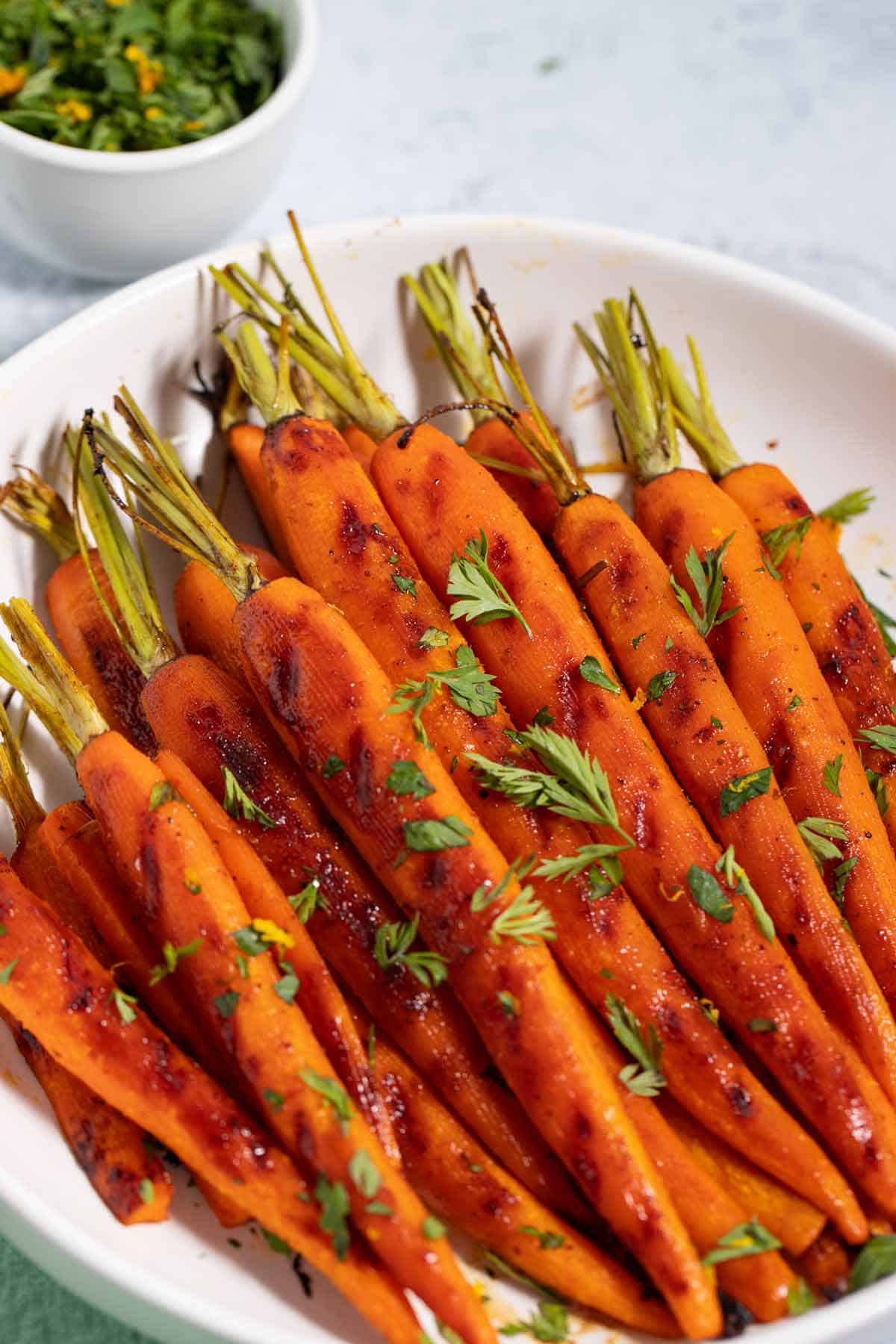 Roasted carrots may satisfy your cravings if you want a warm side with your healthy soup. The sweet and spicy carrots are baked with a brown sugar glaze. Then garnished with fresh carrots tops, parsley, and orange zest. You won't want to miss this great recipe.
Garden Salad
Make your life easy. Serve a garden salad with an easy pumpkin soup recipe at your next autumn dinner party. Your guests will love the soup's creamy texture next to the fresh ingredients in the salad. And you will love making a simple meal that doesn't take much time.
Caesar Salad
A Caesar salad is another simple salad that can be paired with any type of soup. Cool and crisp next to hot and creamy. What could be better?
Cornbread Salad
If you think pumpkin soup won't fill your hungry family alone, consider serving side dishes that are large and hearty. Cornbread salad fits that description.
Layers of cornbread cubes, lettuce, tomatoes, and cheese drizzled with ranch dressing complete the meal in style. Get recipe.
Craving more soup? Try creamy butternut squash soup. And don't worry about the sides. Check out this post on the best sides to serve with butternut squash soup.
Twice baked potatoes
Bring out a large soup pot and a serving tray of twice-baked potatoes. Your family won't know which dish to tackle first. One thing is for sure. No one will leave the table hungry. Get recipe.
Cauliflower Cheese Balls
Crispy, crunchy cauliflower cheese balls are the most incredible side for all your favorite soup recipes. Cauliflower bites are a finger food you can dip in your soup or eat straight from your plate.
They are best freshly baked but can be reheated the next day if you have leftovers. Get recipe.
Quinoa salad with Roasted Pumpkin and Feta
Your soup might have pumpkin puree, but make a salad with roasted pumpkin anyway. You will love this quinoa salad.
It has roasted pumpkin, colorful quinoa, arugula, pecans, and feta cheese. Drizzle with a homemade vinaigrette made with olive oil, red wine vinegar, maple syrup, black pepper, and sea salt. Try it. You will be glad you did.
You may also be interested in how to roast pumpkin cubes for salad. Instructions on peeling before and after roasting.
Sliders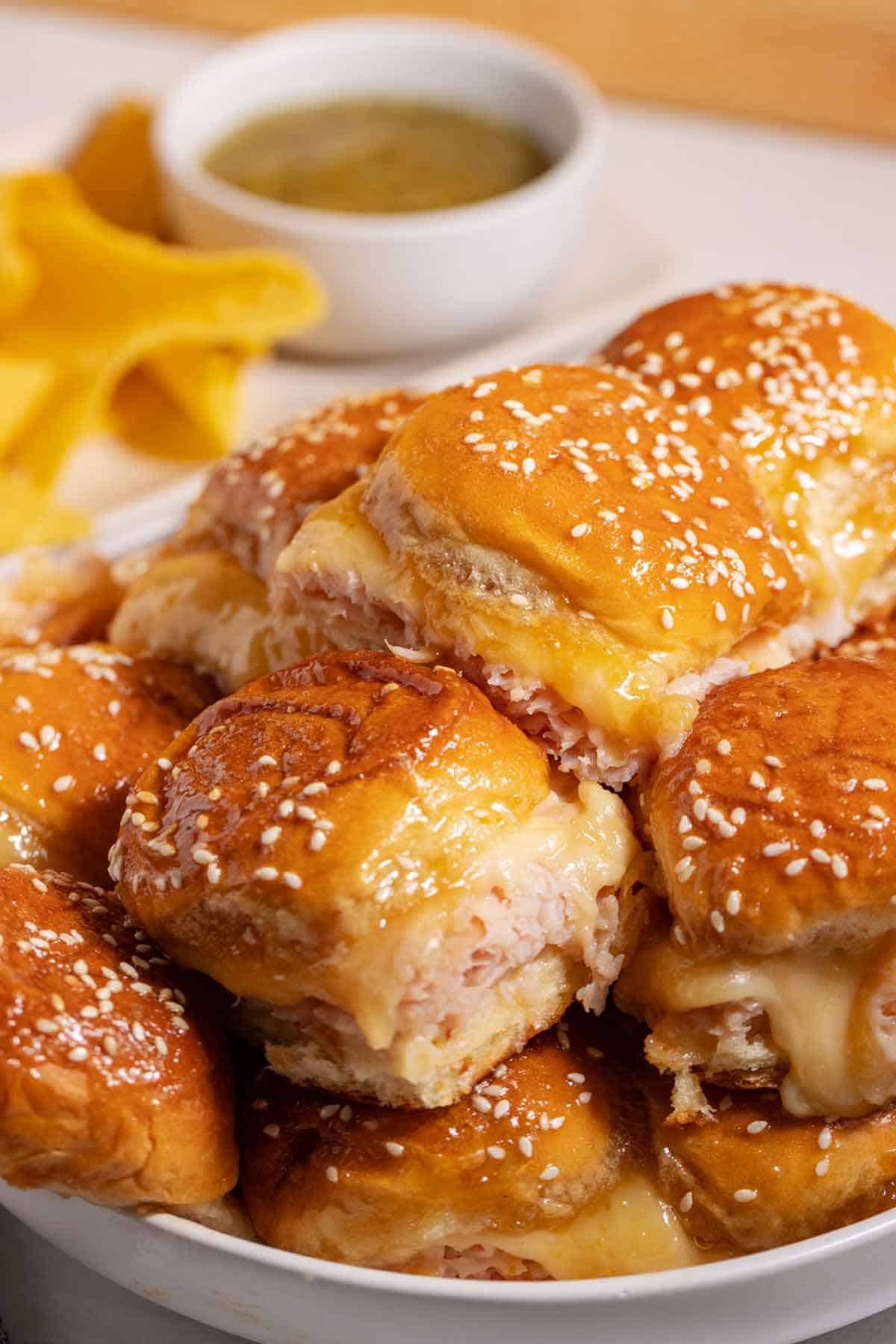 There are plenty of good reasons to serve sliders with a large pot of soup. Sliders are small, filling, and easy to dip in the soup. Try one of these recipes.
Turkey sliders. Baked turkey sliders with a brown sugar mustard glaze are quick to bake and popular with kids.
Pulled pork sliders. Got leftover pulled pork? Throw it onto a Hawaiian bun, and you have the beginnings of a slider. Pork and pumpkin go hand in hand. So serve a pulled pork slider with your next batch of pumpkin soup.
Quesadillas
Veggie quesadillas. Make your meat-free quesadillas with sweet potatoes and black beans, or simply throw on grilled veggies and cheese. Serve either of these healthy recipes with your bowl of pumpkin soup.
Chicken ranch quesadillas. Add a little meat to your soup dinner with chicken quesadillas. They are quick, easy, and addictive.
Cheese Sandwiches
When in doubt, make a grilled cheese sandwich. Grilled cheese isn't just for tomato soup. Pair it beautifully with pumpkin soup too.
Bruschetta
Bruschetta can be served with any kind of pumpkin soup. These appetizers can have customized toppings like diced apples, roasted pumpkins, or toasted pecans. Get recipe.
Avocado Toast
Simple, healthy, and delicious. Avocado toast makes a great side dish to any soup. Plus, it comes together in under 15 minutes. What can be better than that? Get recipe.
Monte Cristo Sandwich
When you want a sweet sandwich, think of the Monte Cristo. A simple ham and cheese sandwich, fried and then sprinkled with powdered sugar. Yes, please. Get recipe.
Club Sandwich
Try a mighty club sandwich with your pumpkin soup. Toasted bread is layered with sliced turkey, ham, bacon, tomato, and mayo.
The unique feature of the sandwich is the toasted slice of bread in the middle of the sandwich. Serve the club cut in quarters with a toothpick holding it all together. Get recipe.
Chicken Salad Sandwich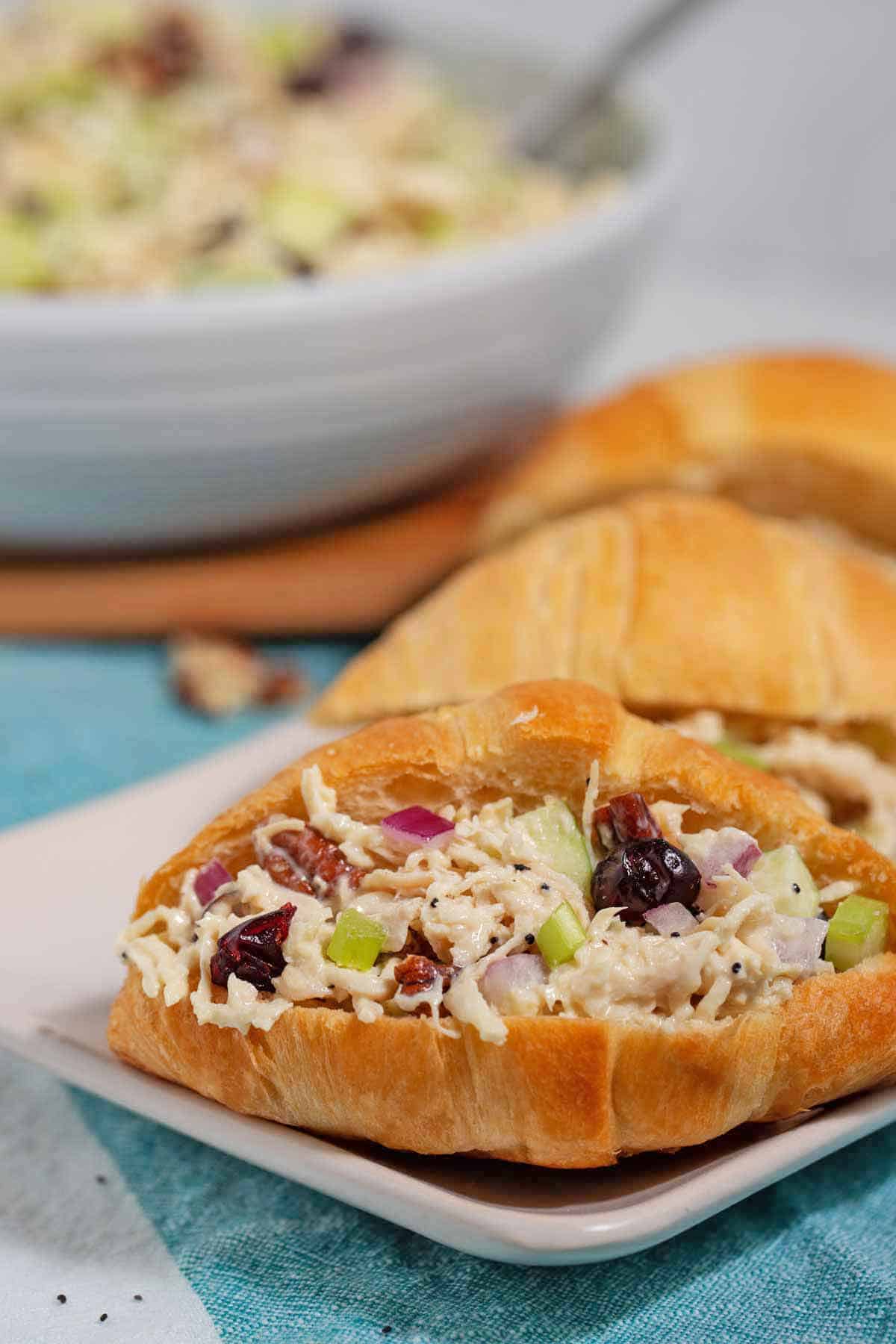 There is always time to quickly whip up a chicken salad sandwich. It is easy and adaptable to the ingredients you have on hand.
When you serve it with pumpkin soup, you add a hefty chunk of protein to the menu.
Leftover turkey salad sandwich. Have leftover turkey? Then make a turkey salad sandwich. You can make turkey salad just like you make chicken salad. Serve this sandwich with seasonal soup.
Get even more sandwich ideas. You will like the list of the best sandwiches that go with pumpkin soup.
Korean Cream Cheese Garlic Bread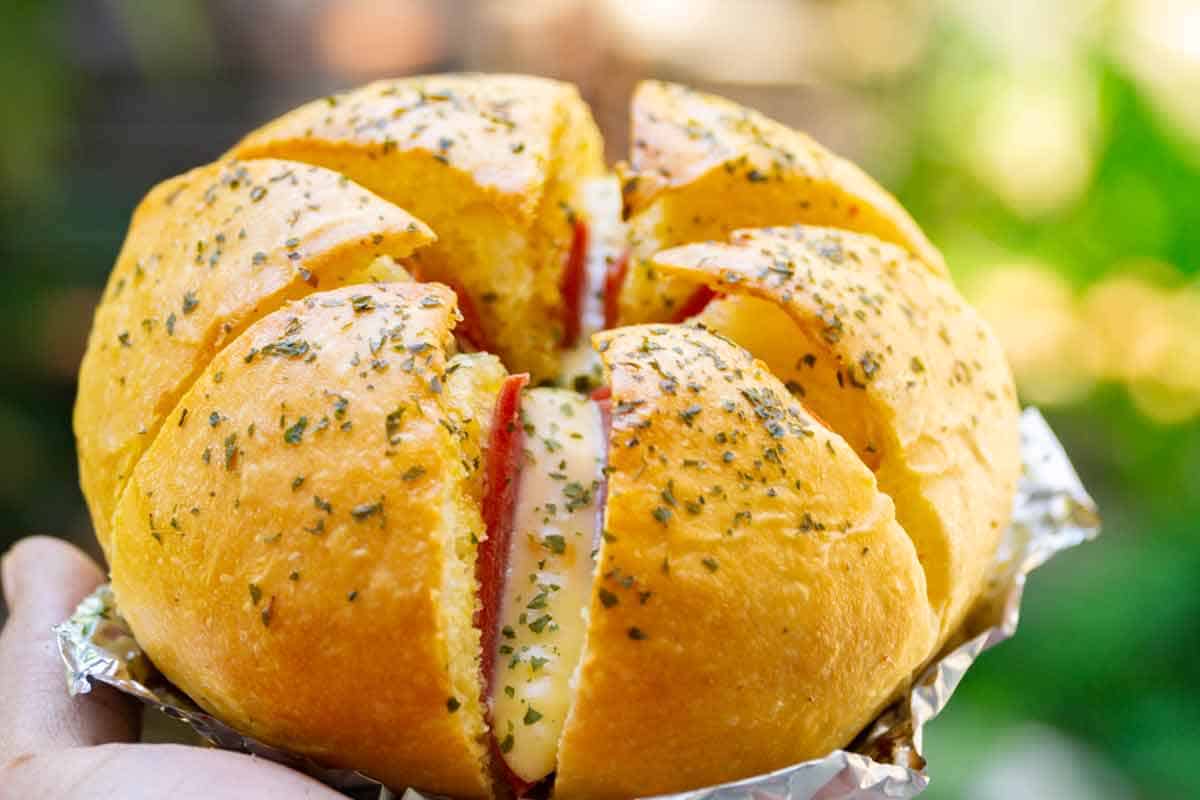 Soft, sweet, and garlicky, your family will look forward to Korean cream cheese garlic bread with pumpkin soup. Get recipe.
It doesn't take a long time to make this dish with Rhodes rolls.
Chicken Breast
To add a healthy protein to a meal, cook chicken breast on the stove. Then cut the moist, juicy meat into strips and serve it next to the soup. You will love the flavor combination of chicken and pumpkin soup.
Fish
You may not have thought of fish and pumpkin soup, but they go well together. Whether you try breaded fish sticks or grilled lemon pepper salmon, you will be glad you paired fish with soup.
Check out this post on the best ways to eat pumpkin. From main dishes to desserts, get tons of ideas to serve pumpkin.
Shrimp
Serve shrimp as finger food with pumpkin soup.
Coconut shrimp. Breaded and fried, serve coconut shrimp with its own dipping sauce. Or, dunk it in the pumpkin soup. Get recipe.
Bang Bang Shrimp. Serve this spicier fried shrimp drizzled with the sauce. Then eat it with pumpkin soup. Get recipe.
Sushi Rolls
Sushi with pumpkin soup? It works! You'll love it.
Sushi rice, smoked salmon (or other sushi meat), avocado, and tuna. Mix them together and roll them in a nori wrap. Cut in slices and serve with your soup. Try this recipe.
Roast Beef
Pull out your air fryer to prepare a pound or two of roast beef. Slice the meat and serve it with pumpkin soup tonight. Get recipe.
Chicken Skewers with Roasted Veggies
Skewers and soup. Now there is a good pairing. Roasted veggies and flavorful chicken on a skewer are just the things to bump up the protein in the meal and complement pumpkin soup. Get recipe.
Quiche
Eat a slice of quiche with your pumpkin soup. Bacon, cheese, a creamy custard, and a flaky crust. Who could say no? Get recipe.
Mini Chicken Pot Pies
Sometimes you want something a little heartier with your soup. That is where mini chicken pot pies come in.
Light and flaky crust, chicken, veggies, and sauce. Single-serving size. What more could you ask for? Get recipe.
Potato Skins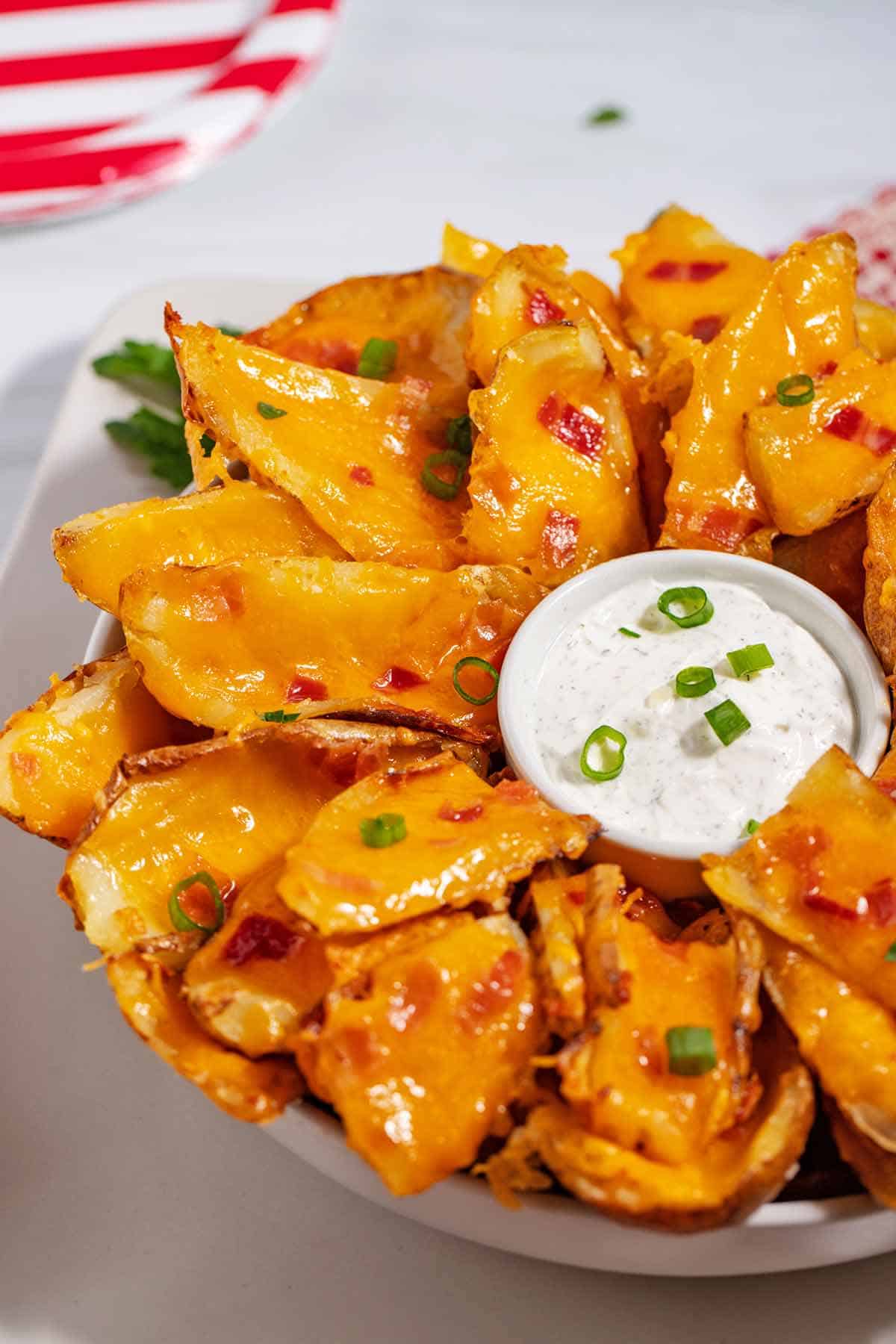 Cheesy, crispy potato skins aren't just party food. They are irresistible dipped in soup. Give them a try, but don't forget to eat them hot.
Baked Mac and Cheese Bites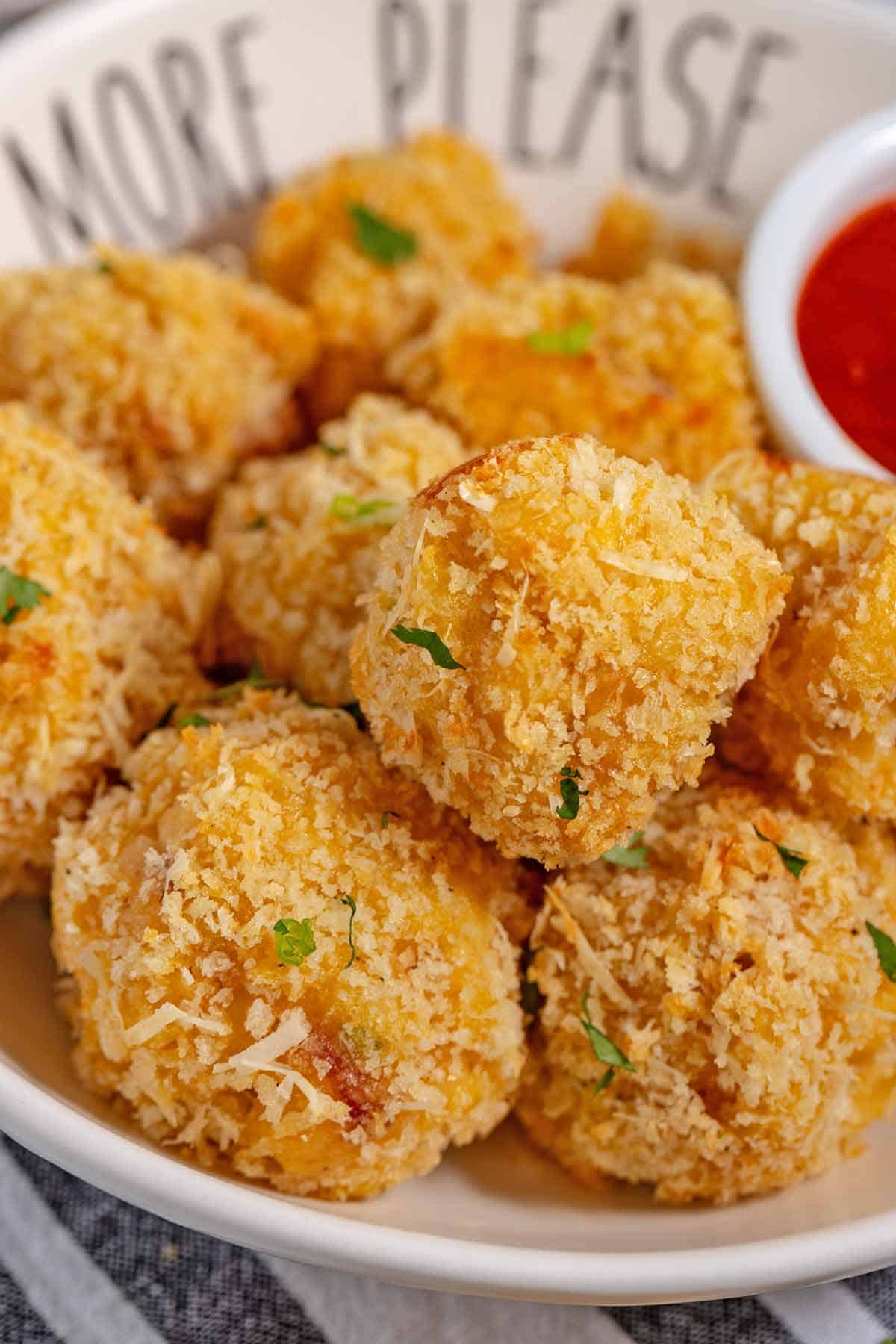 Keep a batch of baked mac and cheese bites in the freezer. Then you will always have some on hand when you need a soup side dish. Pasta and soup are always a good combination.
Falafel
Pull out your chickpeas to make incredible falafel balls for your soup meal. Raw ground chickpeas, herbs, and spices are rolled in a ball and fried until golden. Try falafel with pumpkin soup. You will be glad you did. Get recipe.
Popcorn
Popcorn is one of the easiest side dishes to serve with soup. I confess. If I'm in a hurry, I make a batch of popcorn to go with the soup. Let's just say we have popcorn and soup a lot in our home.
Charcuterie Board
Crackers, deli meat, cheese, and spicy candied pecans. Arrange them on a serving tray, and your charcuterie board is ready to serve with pumpkin soup.
Egg Rolls
Homemade or premade from the grocery store, egg rolls are an excellent finger food to go with pumpkin soup. The combination of flavors from pork, cabbage, and carrots is a delicious pairing with pumpkin. Get recipe.
Pinwheels
One of the best things about pinwheels is how creative you can be with them. You need a tortilla slathered with a spread (cream cheese, peanut butter, or hummus). Then you need a filling (cheese, turkey, bacon, shredded veggies).
Roll the tortilla up and cut it into slices. It is a simple side for your pumpkin soup. Get recipe.
Jalapeno Poppers
Add some fire to your pumpkin soup dinner with a side of jalapeno poppers. Spicy peppers stuffed with cream cheese and wrapped in bacon aren't just appetizers anymore. Get recipe.
Vegetable Fritters
Make veggie fritters out of any vegetable you want. Carrots, zucchini, and sweet potato are popular choices.
Grate the vegetable, season it, and mix it with an egg. Flatten into a pancake shape and fry for a tasty fritter with pumpkin soup. Get recipe.
Mini Eggplant Pizzas
If you haven't tried an eggplant pizza, you are missing out. Slices of eggplant are slathered with marinara sauce and topped with mozzarella cheese and pepperoni.
Roast in the oven and serve with soup for dinner. Get recipe.
Toppings
Pumpkin seeds and chopped dried mango
Dried cranberries, walnuts, and blue cheese
Crumbled bacon. You will love how easy it is to cook bacon in the oven. Get directions for either chewy or crispy bacon.
Also, check out the best side dishes to serve with split pea soup. You will also like the best recipes to pair with turkey soup.
Craving More Pumpkin?
Check these resources out.
Did you like this post? Then let's be social. FOLLOW ME on INSTAGRAM and PINTEREST to keep up with the latest tutorials, favorite recipes, and interesting happenings.