What will you serve with butternut squash soup tonight? This article is crammed with brilliant suggestions to pump fresh life back into soup night with enticing side dishes.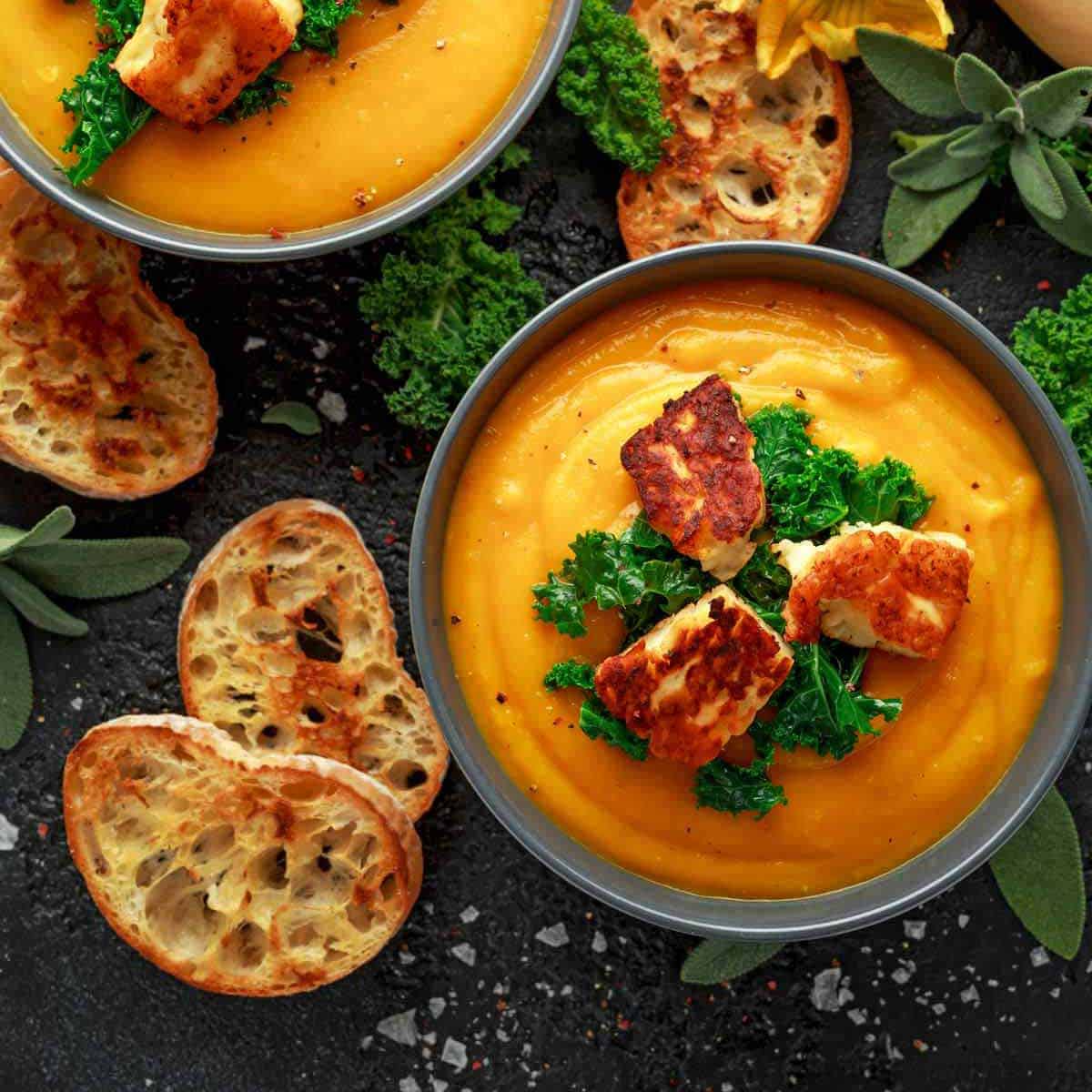 Soup needs a sidekick. Like salt needs pepper. When soup is on the menu, without fail you will be asked, "Soup and …?"
If you have been frantic about what to serve with butternut squash soup, stress no more. The best types of food to serve with butternut squash soup are breads, sandwiches, salads, finger foods, and meat dishes. Oh, and don't forget the soup toppings.
In this article you will find the best ideas for side dishes to serve with creamy butternut squash soup. Try a few out and see which ones your family drools over.
Do you love thick, smooth, spicy butternut squash soup with cream cheese? Serve it on a cold day in the fall, or really any time of year when you crave a bowl of hot soup.
Bread Ideas
Any type of bread can hang out with hearty soup. They are better together. With the plethora of bread choices, your butternut squash soup meal will always feel fresh.
And there you have it. A comprehensive list to consult when wondering what to serve with butternut squash soup. Comment below to let me know your favorite soup side.
Best Soup Toppings
Cheese -- either melty cheese (like cheddar) or crumbly (like feta cheese)
Nuts and seeds -- like sesame seeds, pine nuts, or roasted pumpkin seeds
Fresh herbs -- like parsley or basil
Onions -- green or red onions or caramelized onions
Hungry for More Soup?
Soup can be a main course or a side. Check out this selection and find your new go-to soup.
More Side Dish Ideas
You will love these popular side dish serving suggestions.
Did you like this post? Then let's be social. FOLLOW ME on INSTAGRAM and PINTEREST to keep up with the latest happenings.