What will you serve with butternut squash soup tonight? This article is crammed with brilliant suggestions to pump fresh life back into soup night with enticing side dishes.
Soup needs a sidekick. Like Batman needs Robin. And Frodo needs Sam.
When soup is on the menu, without fail I am asked, "Soup and …?"
If you have been frantic about what to serve with butternut squash soup, stress no more. The best types of food to serve with butternut squash soup are breads, sandwiches, salads, finger foods, and meat dishes. Oh, and don't forget the soup toppings.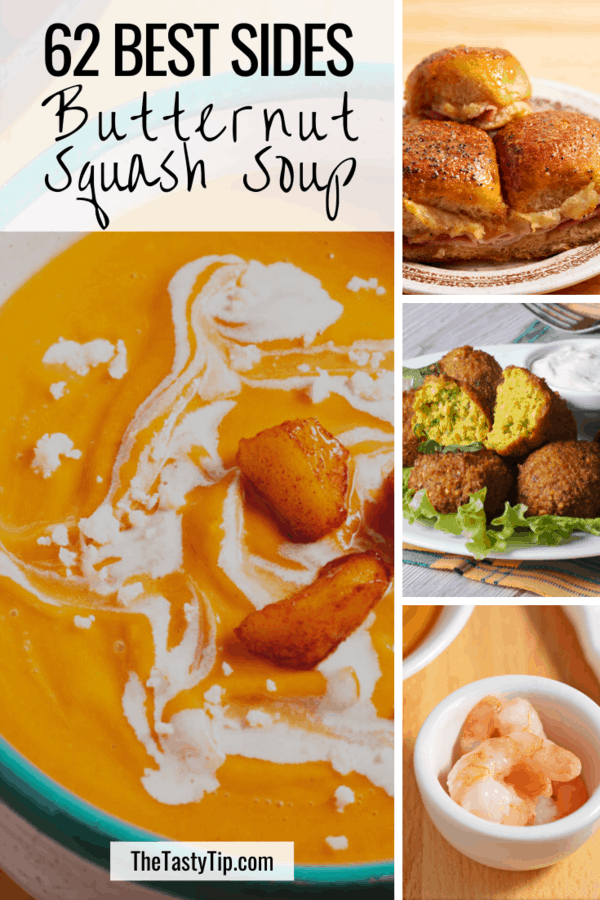 Thick, smooth, creamy, bisque-like, flavorful vitamix butternut squash soup. Serve it on a cold day in the fall, or really any time of year when you crave a bowl of hot soup.
In this article you will find the best ideas for side dishes to serve with creamy butternut squash soup. Try a few out and see which ones your family drools over.
Bread and Soup: The Power Couple
You expect bread to hang out with hearty soup, just like you expect Chewie to hang out with Han Solo. They are better together. With the plethora of bread choices, your butternut squash soup meal will always feel fresh.
• Red Lobster Cheddar Bay Biscuits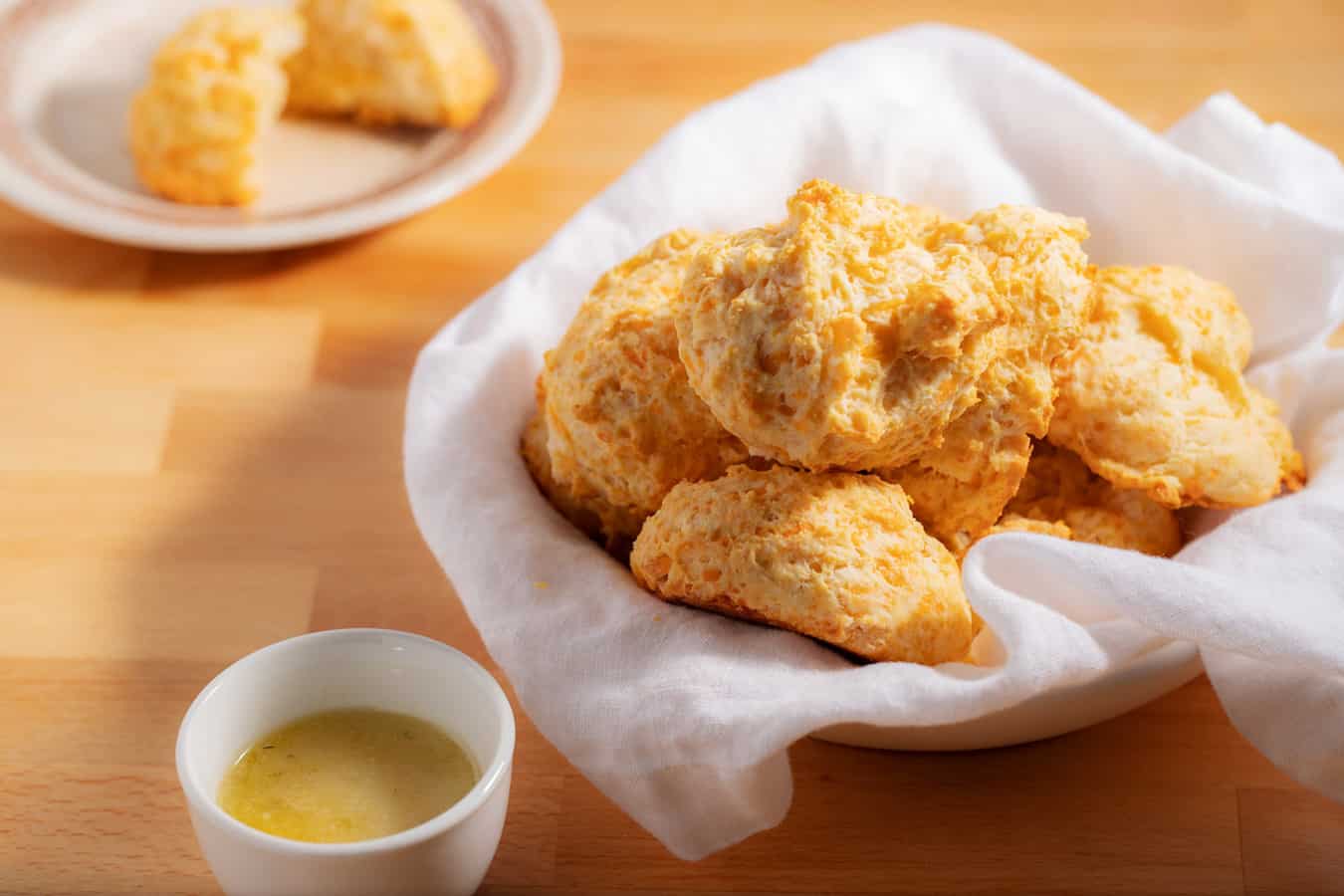 Have you tried cheddar bay biscuits? Red Lobster created these tasty rich cheesy biscuits.
Eat them with or without garlic butter sauce. Dip them in the creamy soup. Crumble as a topping. Butternut squash soup knows cheddar bay biscuits make her complete.
Pick up a Red Lobster biscuit mix at the store or make your own cheddar biscuits at home.
• Soft Pretzel
A glossy brown thin chewy crust. A soft fluffy inside. What is not to love about the unique taste of homemade pretzels.
Shape the dough, boil the dough, and finally bake the dough to make a pretzel. Make a pretzel bun or twist it into a pretzel shape.
Dip them in a sauce or in the butternut squash soup. Satisfying, either way.
• Crusty Bread with Homemade Ricotta
Crusty bread has a hard, crisp outside, with a soft feathery inside. Baguette, sour dough crusty bread, and stirato (Italian baguette) are examples of crusty bread.
The secret to crusty bread is to create steam in the oven as the bread bakes and then cool the bread in the oven when it is done baking.
The bakery section of most grocery stores carries crusty bread. So pick some up on your way home.
Break it apart and dip it in olive oil. Slather with butter. Spread it with homemade ricotta. No matter how you dress it up, you will be glad it is butternut squash soup's dinner partner.
• Texas Toast
Everything is bigger in Texas. Including the toast. Texas toast is a double thick slice of bread, slathered with butter on both sides and then toasted in the oven.
Rumored to have been invented when a bakery delivered bread that was sliced so thick, the slices could not fit in a toaster. To avoid waste, they toasted the bread on the grill.
You can make Texas toast in the oven, panini press, grill, or skillet. The key is to butter and season both sides of the bread. Sprinkle with garlic powder or shredded cheese before broiling in the oven. Toast both sides equally by flipping the bread over as it cooks.
• Pancake Mix Biscuits
Make fluffy, delicious buttermilk biscuits with pancake mix. Only 3 ingredients needed for these lightly sweetened biscuits.
Or add cheddar cheese and herbs for savory biscuits. They will be a hit paired next to butternut squash soup.
• Breadsticks
Power-up your meal with breadsticks. Breadsticks are perfectly shaped to dip in soup.
I made my first recipe of breadsticks in college and never looked back.
No time to make them from scratch? Pick some up in the frozen section of your grocery store and bake them in the oven.
• Cornbread/Corn Muffins
Cornbread is a quick bread made with corn meal. Make it sweet with honey or make it spicy with jalapenos.
Smear with butter and drizzle with honey and you have a popular side bread for butternut squash soup.
Do you have leftover dry cornbread? For great way to use it up, crumble it on top of leftover soup tomorrow for lunch.
• Garlic Bread
Garlic bread is not just for pasta. Try it with your soup and you will not be disappointed.
It is quick and effortless to make. Best of all, one loaf can easily feed a whole family.
Slice a long, thin loaf of French or Italian bread. Butter each slice and place it on a large sheet pan. Season with garlic powder, and oregano. Broil in the oven until the bread is toasted.
• Crackers with Cream Cheese Dip
When you think of crackers, do you think of Saltines or oyster crackers? Though these are common crackers to serve with soup, they are not your only options.
Not every cracker on the market is ideal for soup. Use soft crumbly crackers if you want to crush them in the soup.
But better yet … serve crackers with a cream cheese dip. If you want a lighter dip, use one of the many healthy alternatives to cream cheese.
• Muffins
Fruit muffins make a tantalizing side to flavorful soup. Try banana muffins or blueberry muffins with any favorite soup recipe.
Bake the muffins while the soup simmers in a large pot on the stove. Dinner will be on the table in under an hour.
• Dinner Roll
Almost nothing is more tempting than warm dinner rolls, fresh out of the oven. Rolls may take a little bit longer to make, but they are worth the effort.
If you buy a package of dinner rolls, my little secret is to warm them in the oven for a few minutes before serving them.
Slather with butter and preserves.
• Ciabatta Bread or Roll
Ciabatta (pronounced cha-BAH-tah) bread is a buttery toasty Rustic Italian bread. It is a long flat bread with a blistered crispy crust and an airy crumb in the interior. The crust is chewy. The inside softer.
The crispy crust makes it perfect for dipping – in soup or in olive oil.
Try Trader Joe's Everything Ciabatta Rolls, seasoned with their famous Everything But the Bagel Sesame Seasoning Blend.
• Monkey Bread (or pull apart bread)
Monkey bread is made with pieces of yeast dough that are baked in a cake pan. It is a finger food, meant to be torn apart by hand and eaten.
Monkey bread embodies a true experience of sharing food with family or friends.
Try serving apple cinnamon monkey bread with butternut squash soup. Or if you are after a savory flavor, give garlic monkey bread a try.
• Sweet or Savory Scone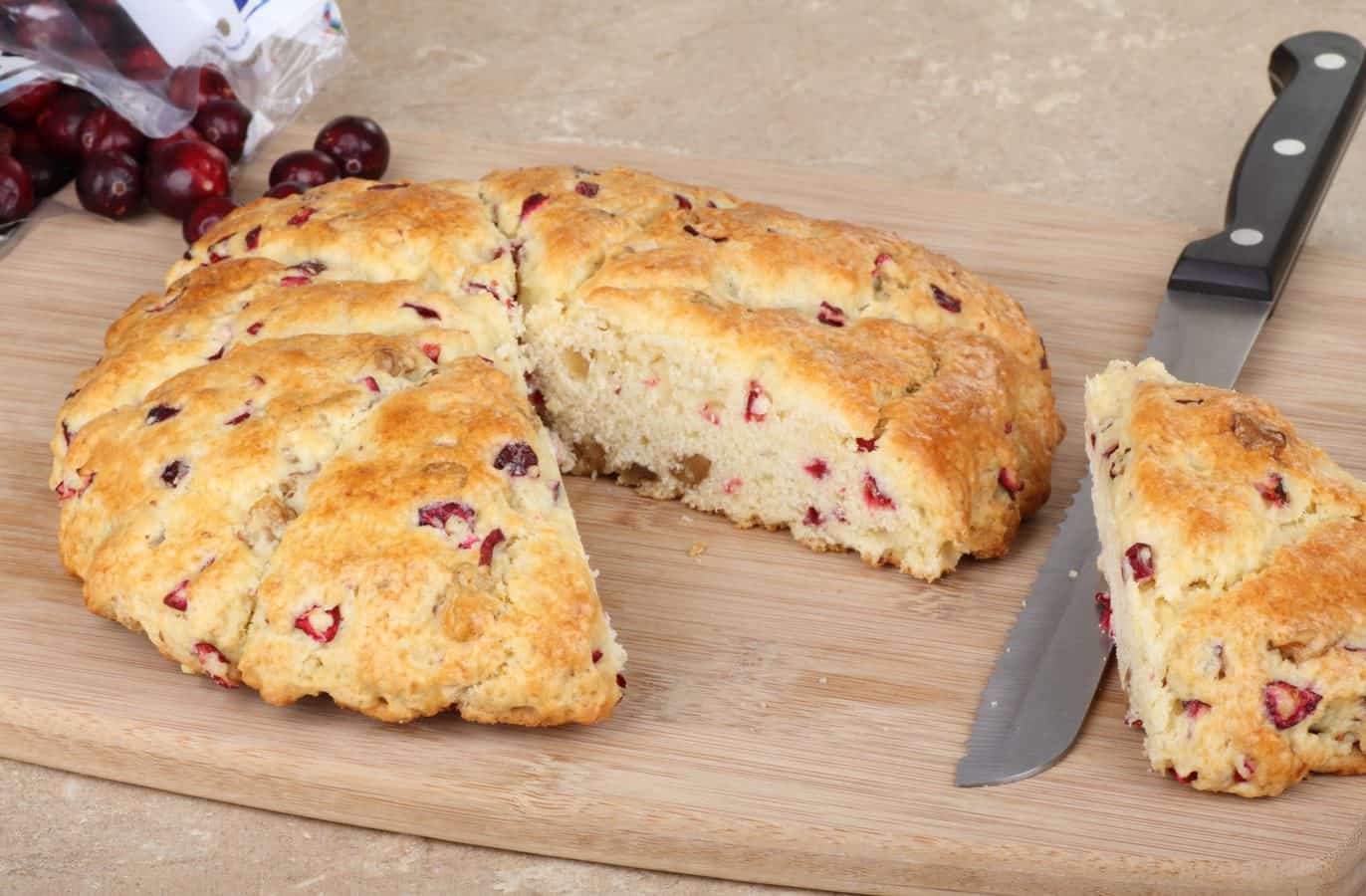 Scones are a great idea to serve with soup. Because they are a quick bread, they do not require rising. Heavy cream and eggs give scones a dense and crumbly texture.
Make sure to chill the dough before you bake for the perfect texture. Scones and butternut squash soup make a satisfying pair.
• Focaccia Bread
Focaccia is a flat bread from Italy with a texture similar to pizza crust. It takes a long time to make, so put it on your schedule. Or buy a loaf of focaccia bread to use as a butternut squash soup side.
Trader Joe's sells a focaccia bread that is tasty with butternut squash soup.
• Cheese Straws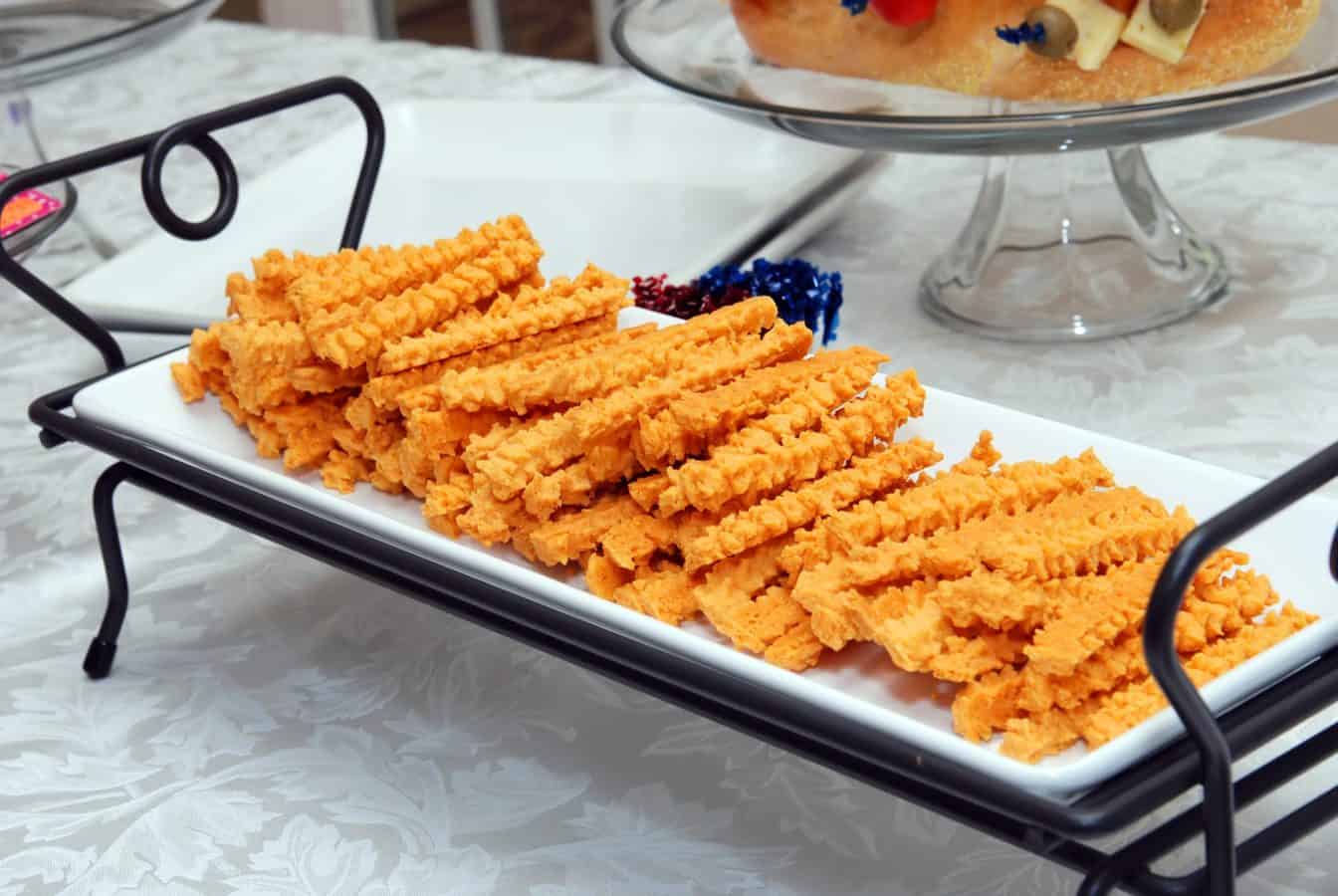 Cheese straws are a southern delight. If you want to be really fancy, you need a stand mixer and a cookie extruder.
Use a stand mixer to cream the butter and cheese until it reaches a smooth creamy texture, like cream cheese. That might take up to 15 minutes of mixing. But with a stand mixer, the job is a breeze.
You need the dough extruder to pump out the dough in a recognizable star shape before baking.
It is not too much work if you have the equipment. And boy do cheese straws look extravagant at dinner.
15 Satisfying Sandwiches to Serve with Butternut Squash Soup
How many times have you ordered a ½ soup, ½ sandwich combo at your favorite restaurant? Now serve that combination yourself with a scrumptious sandwich and butternut squash soup.
All kinds of cheese compliment butternut squash recipes, so watch out. Sandwiches with cheese, coming your way.
• Baked Turkey and Cheese Sliders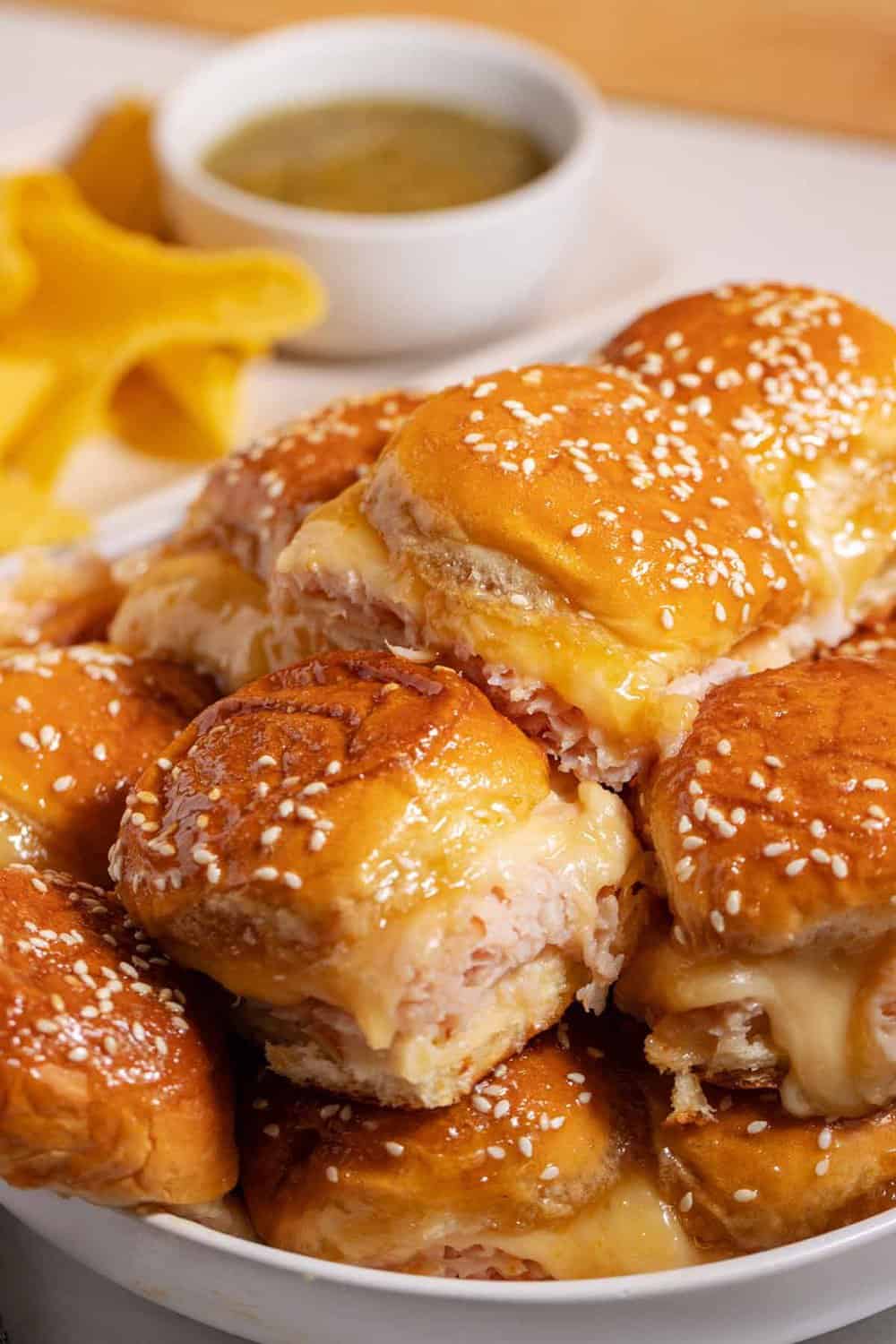 Entice your kids to finish their soup with a slider. Soup and sliders are a popular double act at dinner.
Cheesy baked turkey sliders are a breeze to whip up. Slather them with a sticky brown sugar mustard butter sauce and you will be in heaven.
• Monte Cristo Sandwich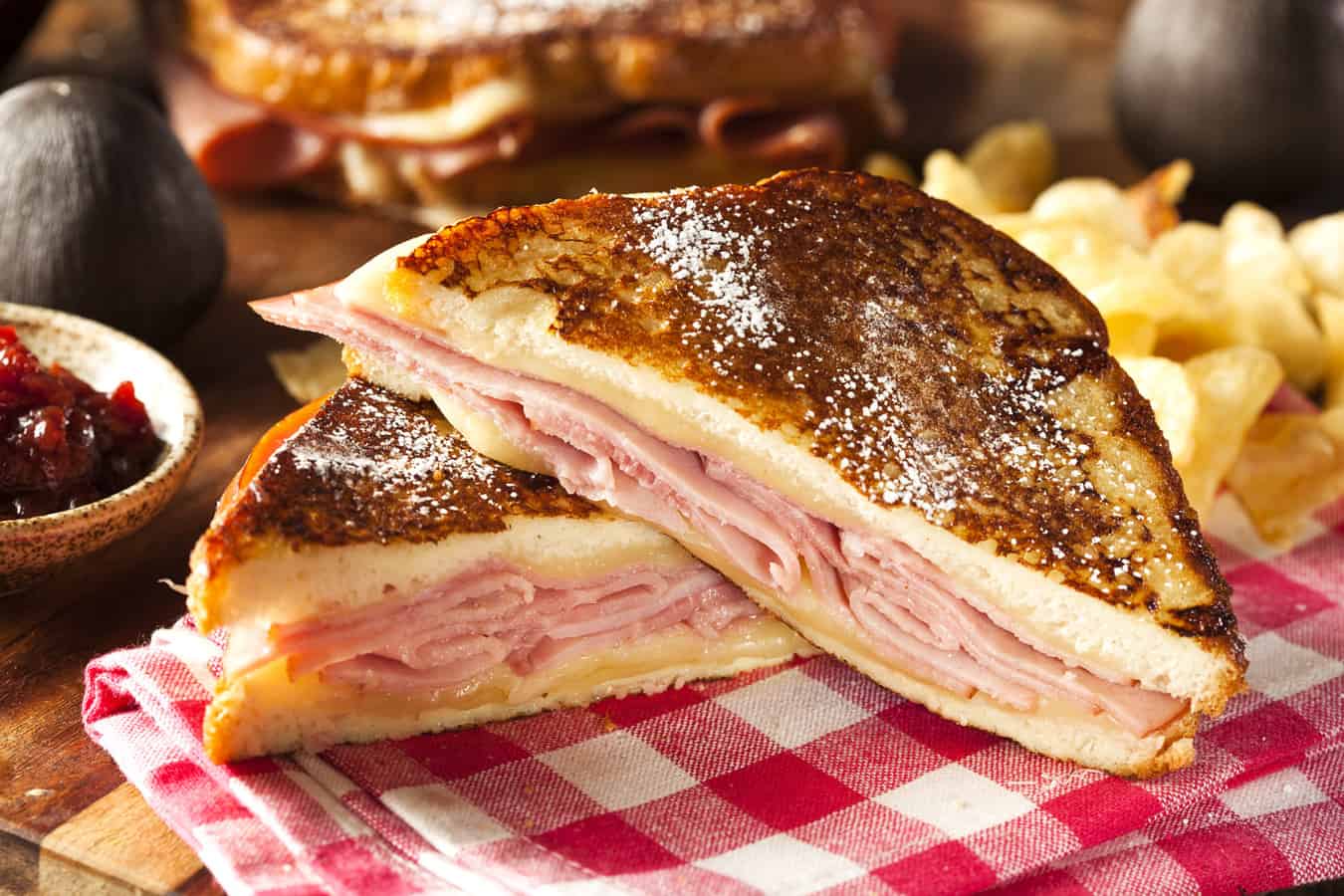 Make a ham, turkey, Swiss cheese sandwich. Dip it in an egg batter. Fry it like French toast. Sprinkle with powdered sugar and serve with a dollop of jam. Yum, yum, and yum.
Your butternut squash soup meal will sparkle with the Monte Cristo sandwich.
• Avocado Toast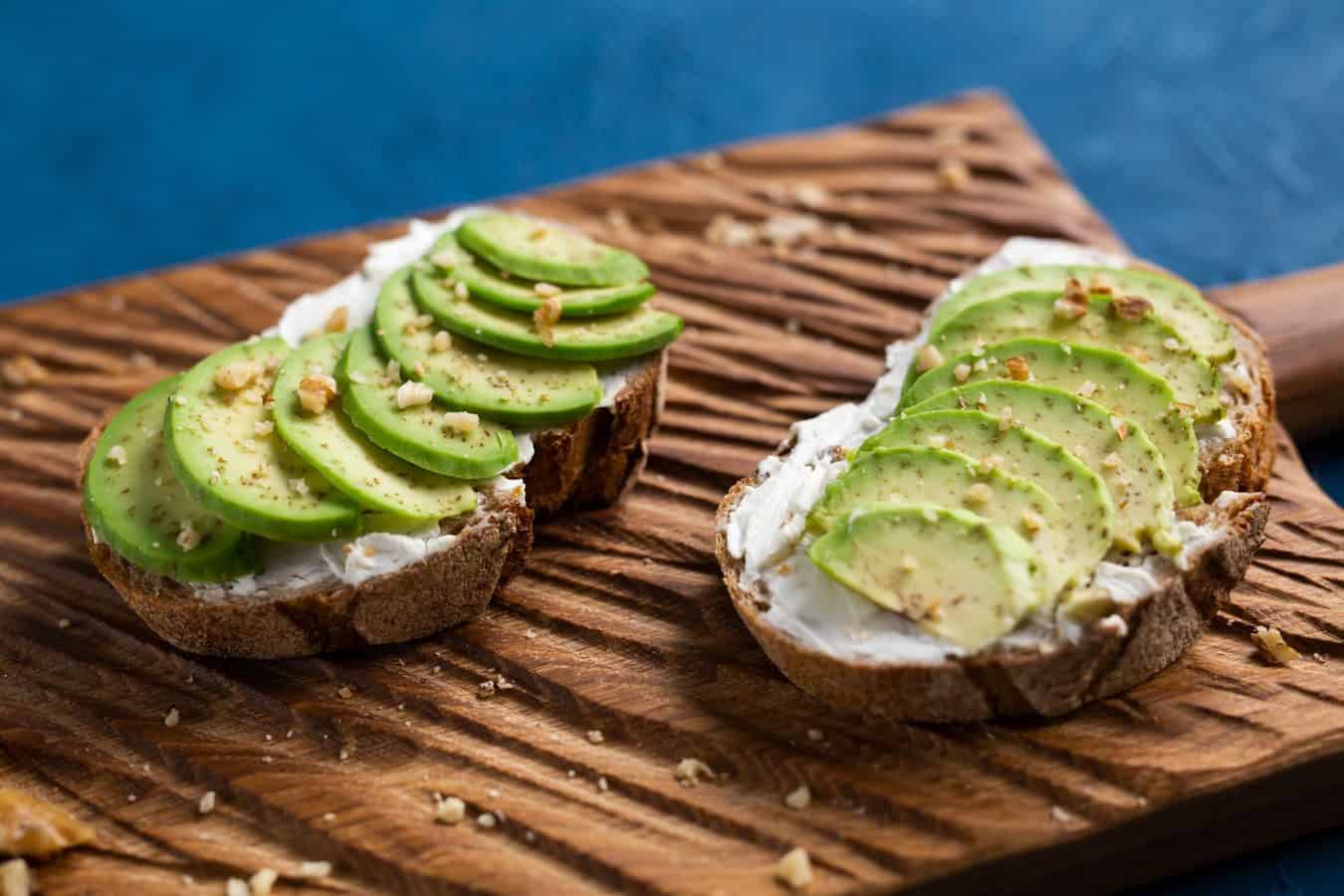 Avocado toast has exploded in popularity over the past couple of years. It is not just a breakfast thing. And it is not just a Millennial favorite. It is simple, healthy, delicious. Soup's perfect partner.
Mash and season an avocado. Remember to add a bit of lime juice to keep the avocado from browning.
Toast a slice of your favorite bread. Spread the avocado on top of the bread and sprinkle with sesame seeds.
Quick and easy. On the table in minutes.
• Apple Bacon Grilled Cheese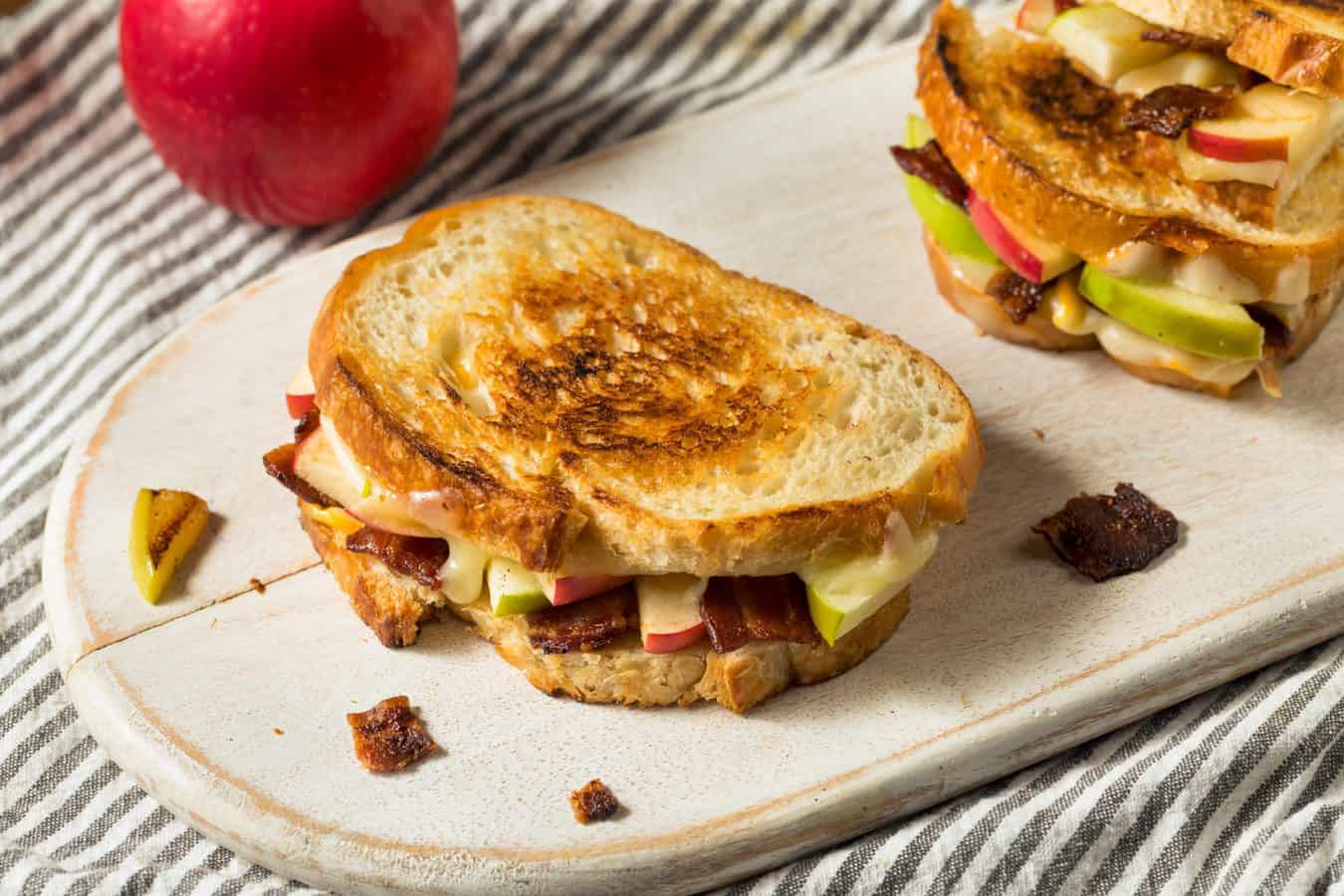 Apples taste good next to butternut squash and bacon tastes good next to everything. Don't miss out on an apple bacon grilled cheese sandwich with butternut squash soup.
Cook the bacon in the oven for an easy job. Slice the apples and cheese while the bacon cooks. Layer the cheese, apple slices, and bacon on the bread. Top it off and grill on a skillet or panini press. Slice and serve.
• Chicken Parm Sandwich
Chicken, cheese, and marinara on a grilled hoagie bun. Half a chicken parm sandwich and a bowl of soup is the perfect soup/sandwich meal.
To make the sandwich, coat chicken cutlets in Parmesan breading and grill until crispy. Place the cutlet on a hoagie and top with mozzarella and marinara sauce. Place the sandwich in a heated panini grill and cook for 3 to 4 minutes, or until the bread is toasted golden and the cheese melts.
• Grilled Veggie and Hummus Wrap
Keep the meal vegetarian with a grilled veggie and hummus wrap. Try homemade hummus. Check out either original hummus recipe or red pepper hummus.
Directions:
Chop red peppers, red onions, mushrooms, asparagus, and summer squash.

Brush with olive oil.

Grill in the oven at 425° F for 15 to 20 minutes, stirring once or twice while it bakes.

Remove the veggies from the oven and let them cool slightly.

Spread hummus on the and place 2 tablespoons of veggies in the center of the tortilla. Add lettuce and avocado slices.

Pull the bottom half of the tortilla over the veggies. Next, fold in the sides one at a time. And that's a wrap.
• Provolone Muenster Grilled Cheese Sandwich on Sourdough
A grilled cheese sandwich might seem simple. But with the endless ways to customize it, a simple sandwich can end up complex and interesting.
Inventive chefs began creating sensational grilled cheese sandwiches in the 1990s. Sandwiches with gourmet cheese and sweet or savory fillings. Sometimes the sandwiches were open-faced and sometimes closed.
For a side to butternut squash soup, I recommend a gooey cheese melted on toasted sour dough bread. Try muenster or provolone or cheddar. Or a combination of cheeses.
• Turkey Melt on Ciabatta Bread
Turkey and butternut squash? Oh, yes. Sign me up. Make a heavenly sandwich in a flash.
Slice bread. Layer turkey breast, Swiss cheese, lettuce, tomato, and red onion. Drizzle with ranch dressing. Grill in skillet or panini press. Quick, easy, done.
• Club Sandwich on White Bread
There is something enticing about a sandwich with an extra slice of bread in the middle. It adds some pizazz to the sandwich. And who doesn't need a little pizazz?
Directions:
Toast 3 pieces of white bread per sandwich.

Smear honey mustard and mayo on one side of the first slice and then layer the lettuce and tomato on it.

Season with salt and pepper.

Add crispy bacon.

Spread mayo on both sides of the second slice of bread and lay it on top of the bacon.

Place the turkey breast and ham on next.

Take the last slice of toasted bread and spread mayo and honey mustard on one side.

Place the bread on top of the sandwich.

Secure the sandwich with toothpicks before cutting it in to triangle quarters.
• Pear and Brie Cheese on French bread
Conquer the boring grilled cheese.
Cut two slices of brie cheese, two slices of pear, and two slices of gruyere cheese. Sandwich them between two slices of French bread. Grill and you have a remarkable sandwich that just might dominate your soup.
• Chicken Salad Sandwich on a Croissant
An unassuming chicken salad sandwich, made with leftover cooked chicken, can be a star in any meal.
The recipe for chicken salad dates to the end of World War II. Chicken prices dropped and middle-class households began buying chicken all the time.
A good chicken salad sandwich can be a meal by itself, but here it is a dependable side.
Chopped chicken mixed with celery, seedless grapes, and toasted pecans is tossed with just the right amount of mayo and relish. Serve it on a light flaky croissant for the perfect side.
• Pulled Pork on a Kaiser Roll
Pulled pork gets us excited over here. Juicy, decadent, almost sinful. When we make it, all leftovers are designated for sandwiches.
Pulled pork sandwiches might overshadow your little 'ol bowl of butternut squash soup. But who cares? No complaints at the dinner table over here.
• Bruschetta on a Toasted Baguette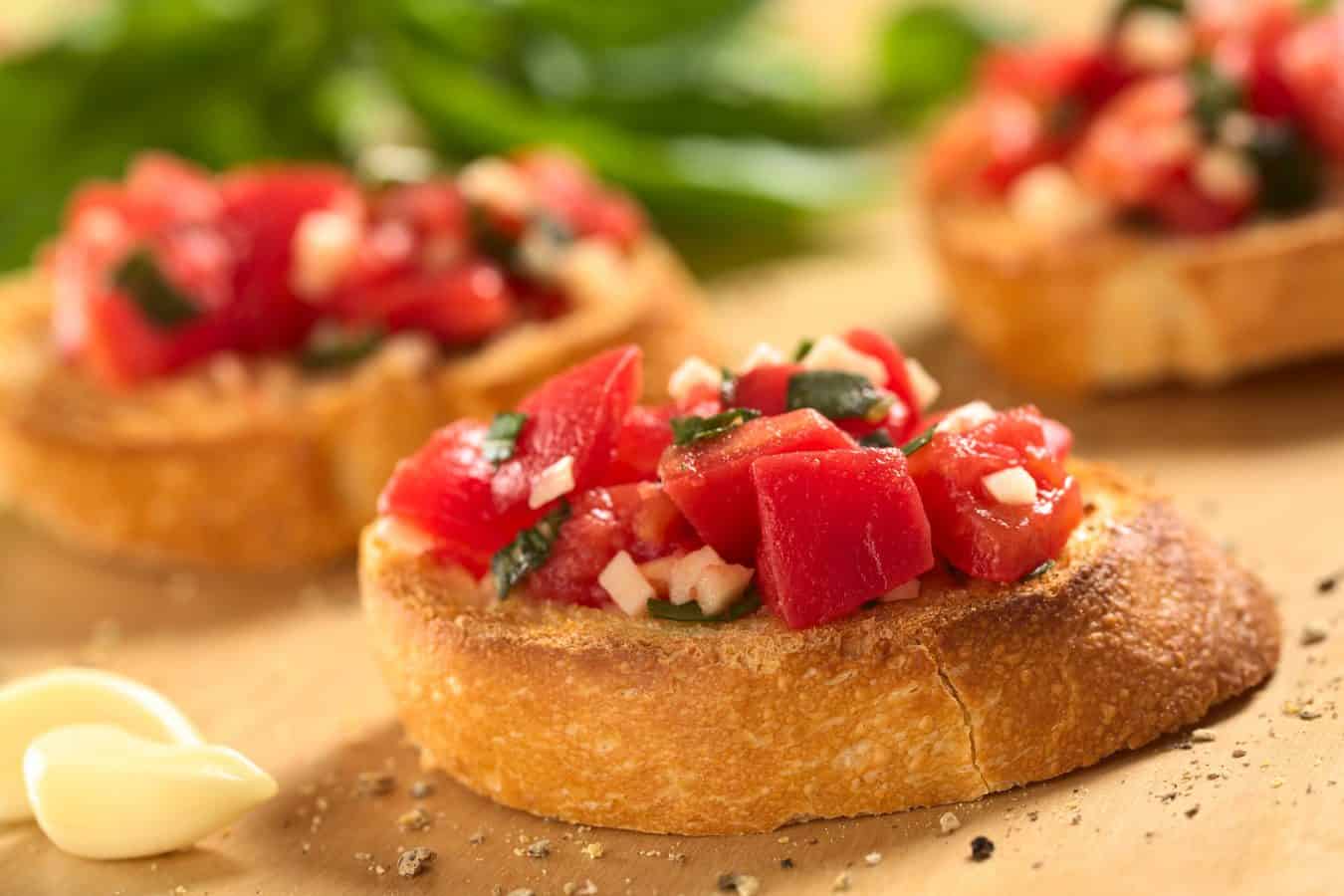 Bruschetta originated in Italy as a starter before a meal. Its simple preparation makes it easy to serve as a side with soup.
The foundation for bruschetta begins with toasted bread brushed with olive oil and roasted garlic cloves. But the toppings you choose add variety to the dish.
Once you have your foundation, top with diced tomatoes, shredded basil, and caramelized onions. Lightly drizzle with balsamic vinegar (optional).
Or top with shredded apple, bacon, and roasted sweet potato.
Create original recipes by combining your own sensational topping combinations.
• Salmon Salad Sandwich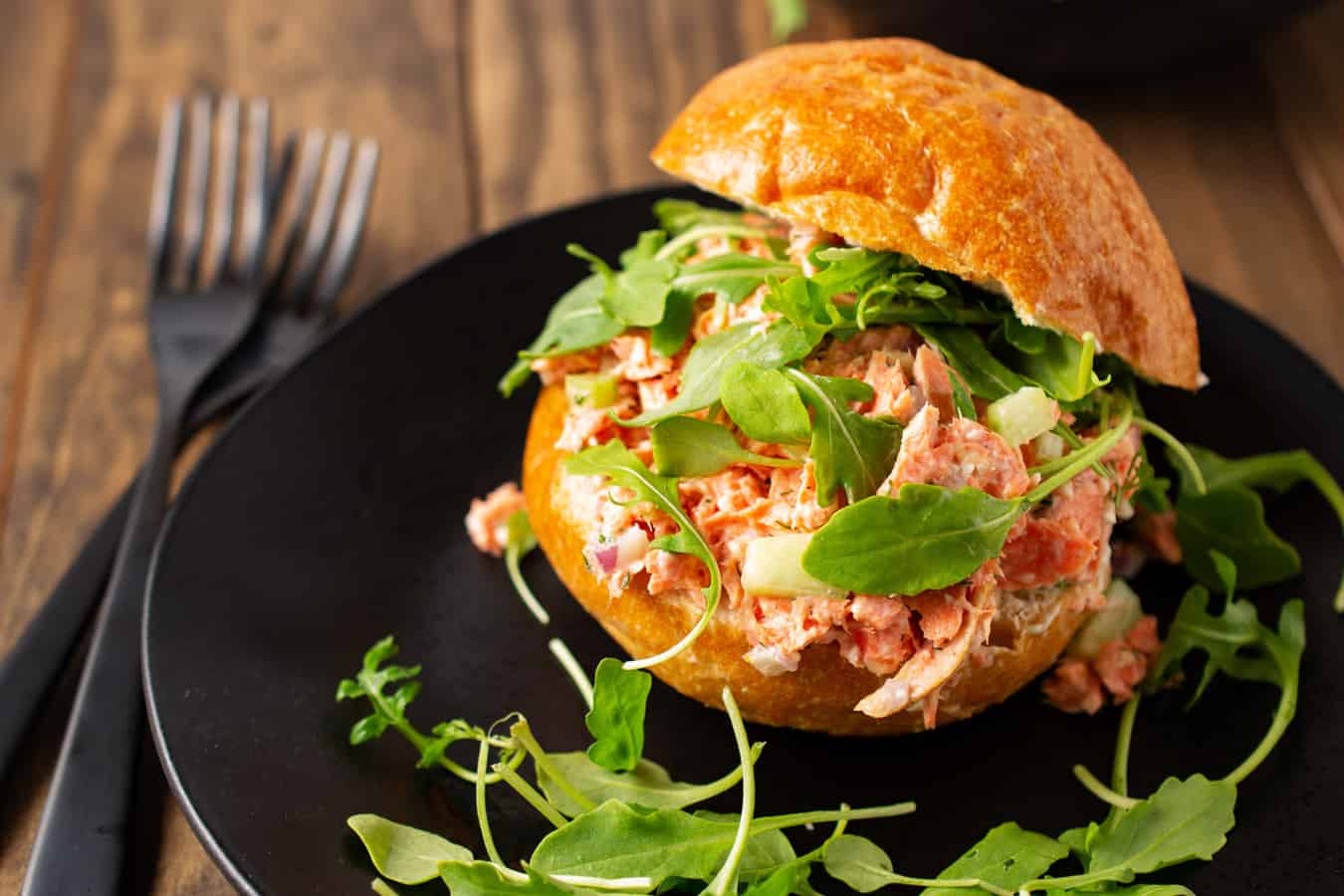 Salmon is light and healthy with omega-3 fatty acids. It is a great side for any healthy soup. Wild caught Alaska salmon is the best and can usually be found at Whole Foods and Costco.
Mix flaky salmon, horseradish sauce, and dill. Spread on a croissant and top with thinly sliced cucumber and arugula.
Oh yes.
• Roast Beef on a Pretzel Bun
Something about a roast beef sandwich slathered with horseradish sauce on a pretzel bun makes you feel like you are eating with foodie royalty.
Shatter your illusion of a boring soup and sandwich meal. Serve a savory roast beef sandwich with thick deli-sliced roast beef, Swiss cheese, sliced tomato, red onion, and horseradish sauce. Your butternut squash soup will thank you.
6 Versatile Veggies and Salads
Make your butternut squash soup complete with even more veggies. A medley of roasted vegetables, veggie casseroles, or any variety of salad are genius choices for your soup and salad combo.
• Brussels Sprouts Salad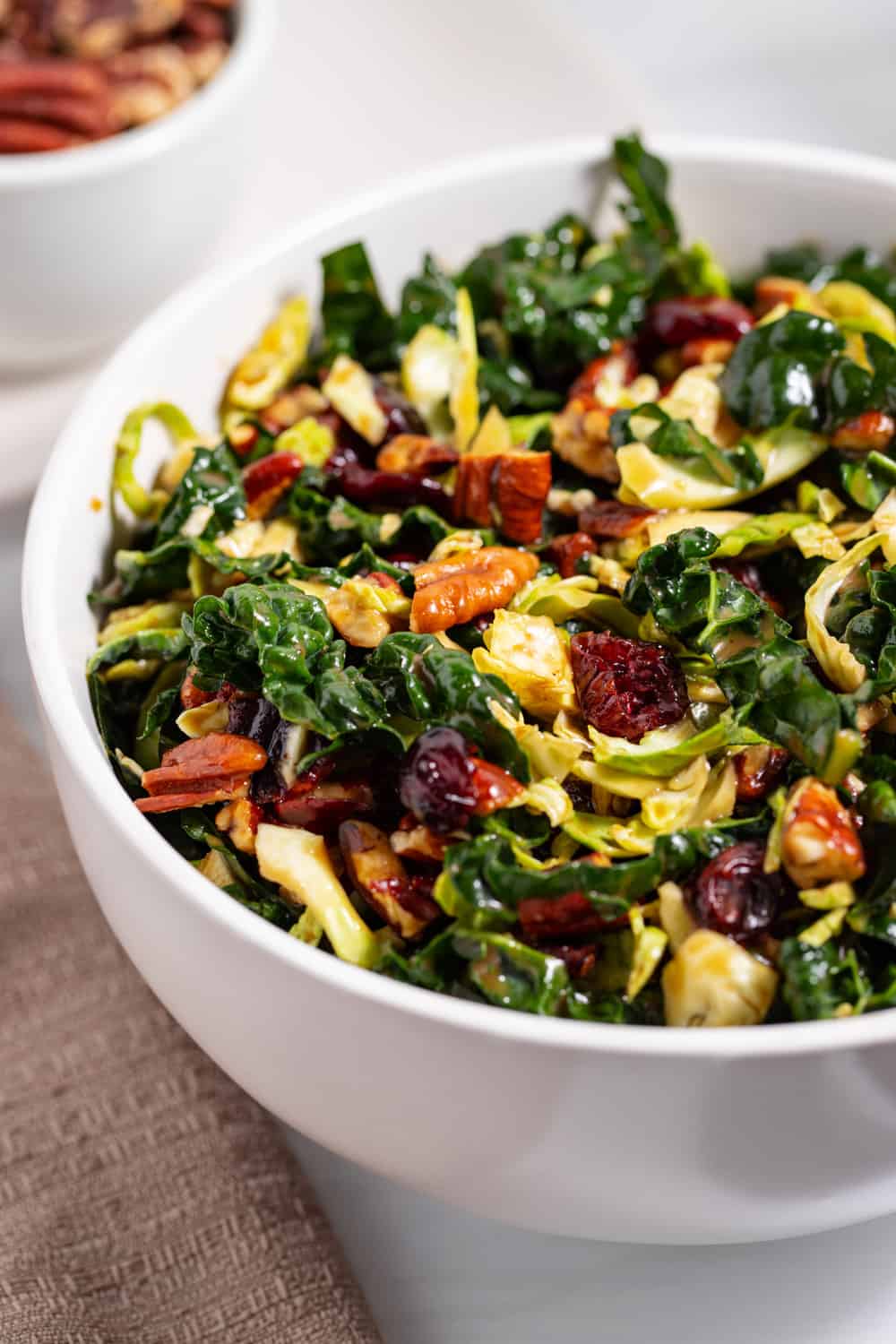 Brussels sprouts and kale star in this two-veggie salad. Shredded veggies, crunchy pecans, and sweet Craisins are drizzled with a creamy maple vinaigrette. Gimme seconds please.
• Roasted Vegetables
You are already on a veggie kick by serving butternut squash soup. But don't stop there. Roast some winter root vegetables for complete veggie overload.
Chop the vegetables and place them on a large sheet pan. For best results, try a combination of carrots, red potatoes, parsnips, and shallots. Drizzle with olive oil, garlic powder, and salt before roasting.
Roast in the oven at 400° F for 30 to 40 minutes. The smaller the cut of the veggies, the quicker they cook. So keep an eye on them.
• Turkey Salad with Tart Apple and Blue Cheese
This turkey salad has a kaleidoscope of flavors to tempt your taste buds. Crisp greens and leftover turkey combined with sweet, tart, crunchy, and chewy mix-ins.
To make the turkey salad use mixed greens, leftover turkey, tart green apples, jicama matchsticks, caramelized pecans, pomegranate seeds, dried cranberries, pepita pumpkin seeds, and crumbled blue cheese, drizzled with balsamic vinaigrette.
• Homemade Kale Chips
Looking for a crunch? Try homemade kale chips on top of your butternut squash soup. Kale chips are unique and an acquired taste.
They can be pricey, so try making them yourself.
Directions:
Wash and dry kale. Remove the ribs.
Toss with olive oil and place on a baking sheet. Sprinkle with kosher salt.
Roast at 350° F for 15 minutes, or until crisp.
Serve immediate on top of the soup.
• Roasted Brown Sugar Carrots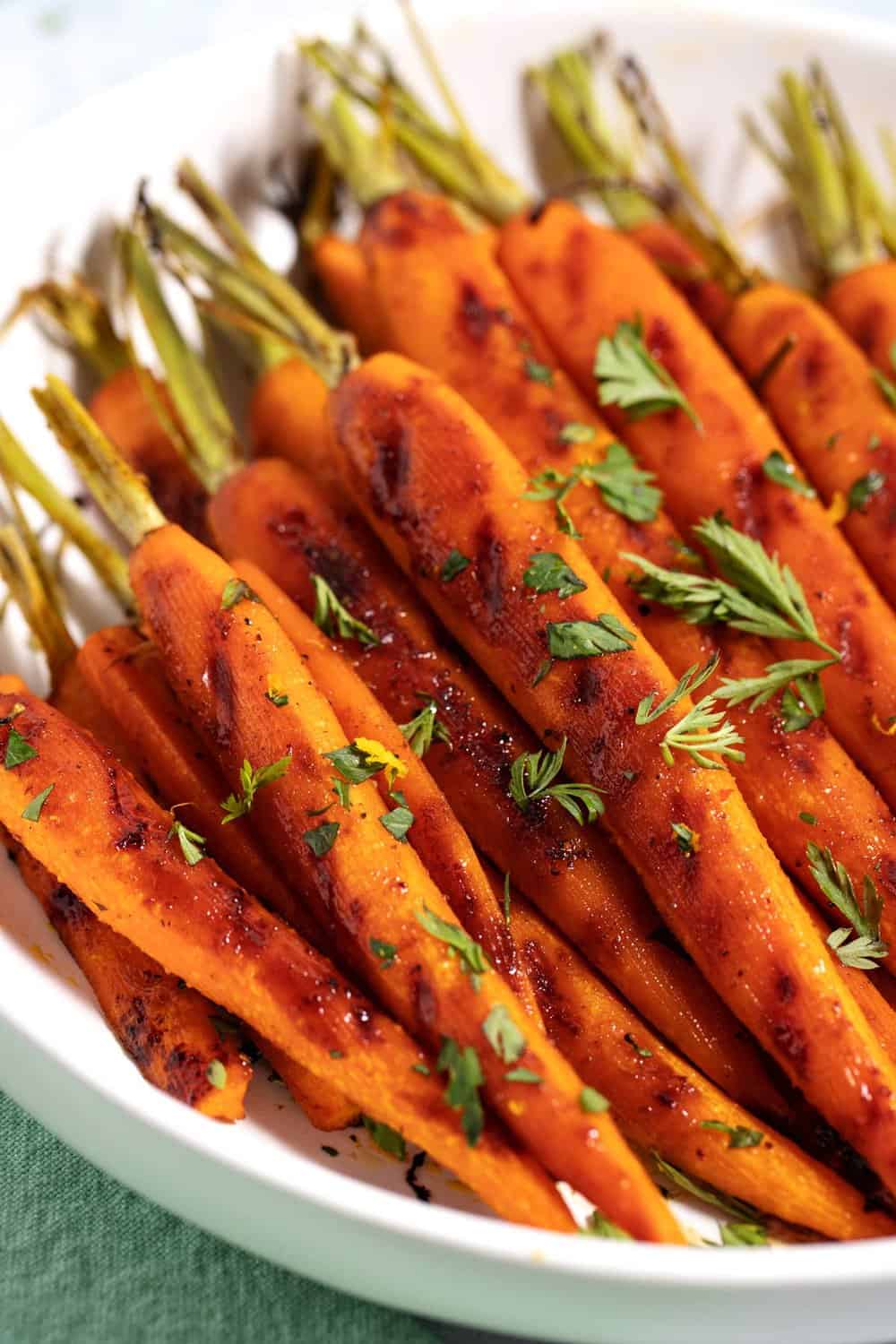 Sweet and spicy roasted carrots with brown sugar glaze make a perfect partner for butternut squash soup. They are easy to make and do not require very many ingredients. Don't skip the fresh carrot top, parsley garnish.
To top it off, these carrots are one veggie you will not have to beg your children to eat.
• Copycat TGIF Potato Skins
If you have leftover baked potatoes, give them new life by making potato skins. Potatoes and butternut squash – always a winning combo.
Try TGI Friday's copycat potato skins recipe.
7 Fabulous Finger Foods
Finger foods are fun. Finger foods add interest. Finger foods create community. Munch on these scrumptious finger food ideas.
• Crispy Baked Mac and Cheese Bites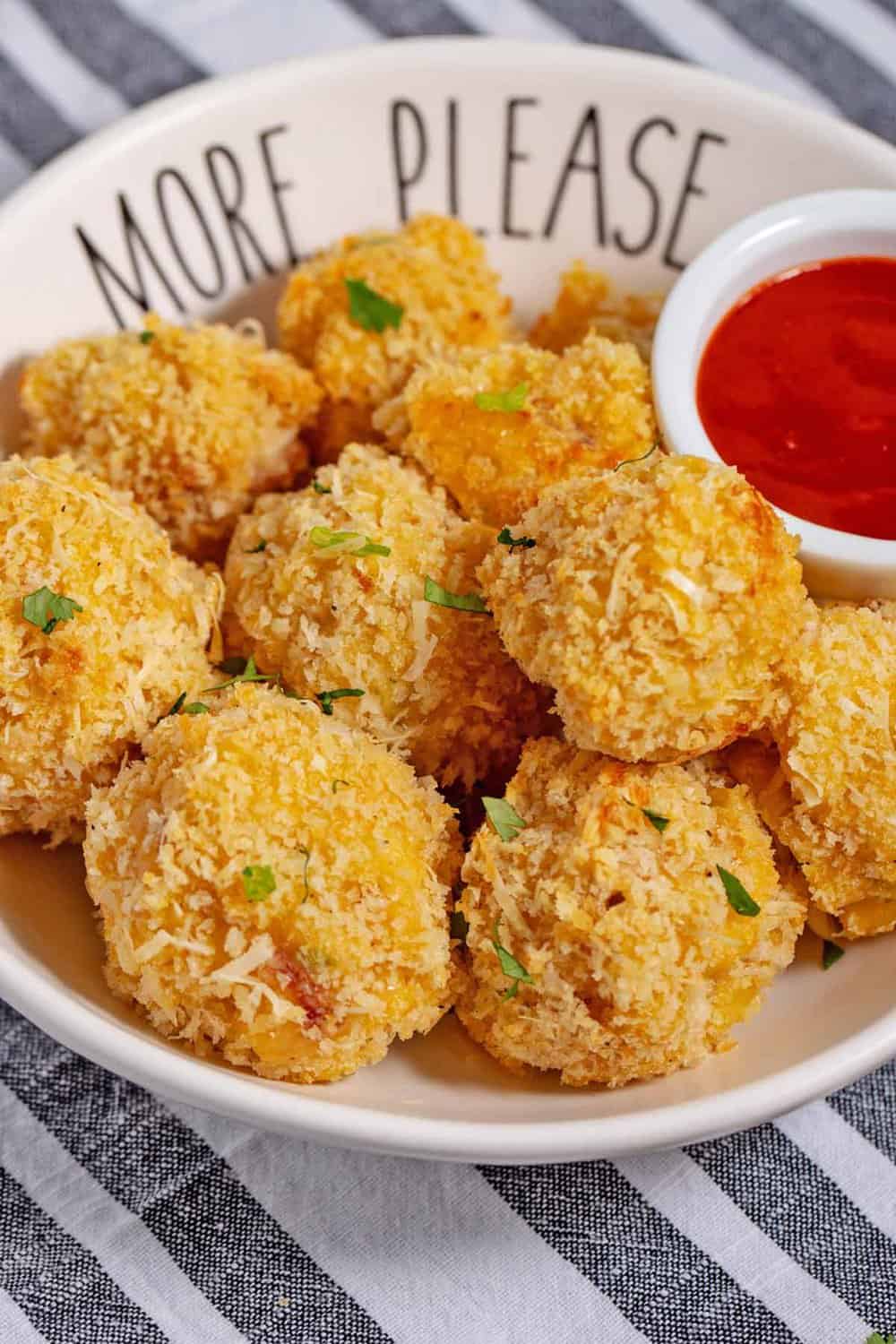 Need a fun finger food for your soup? This baked mac and cheese bites recipe is the perfect appetizer for kids and adults. They are easy to freeze and quick to reheat.
• Sweet Potato Fries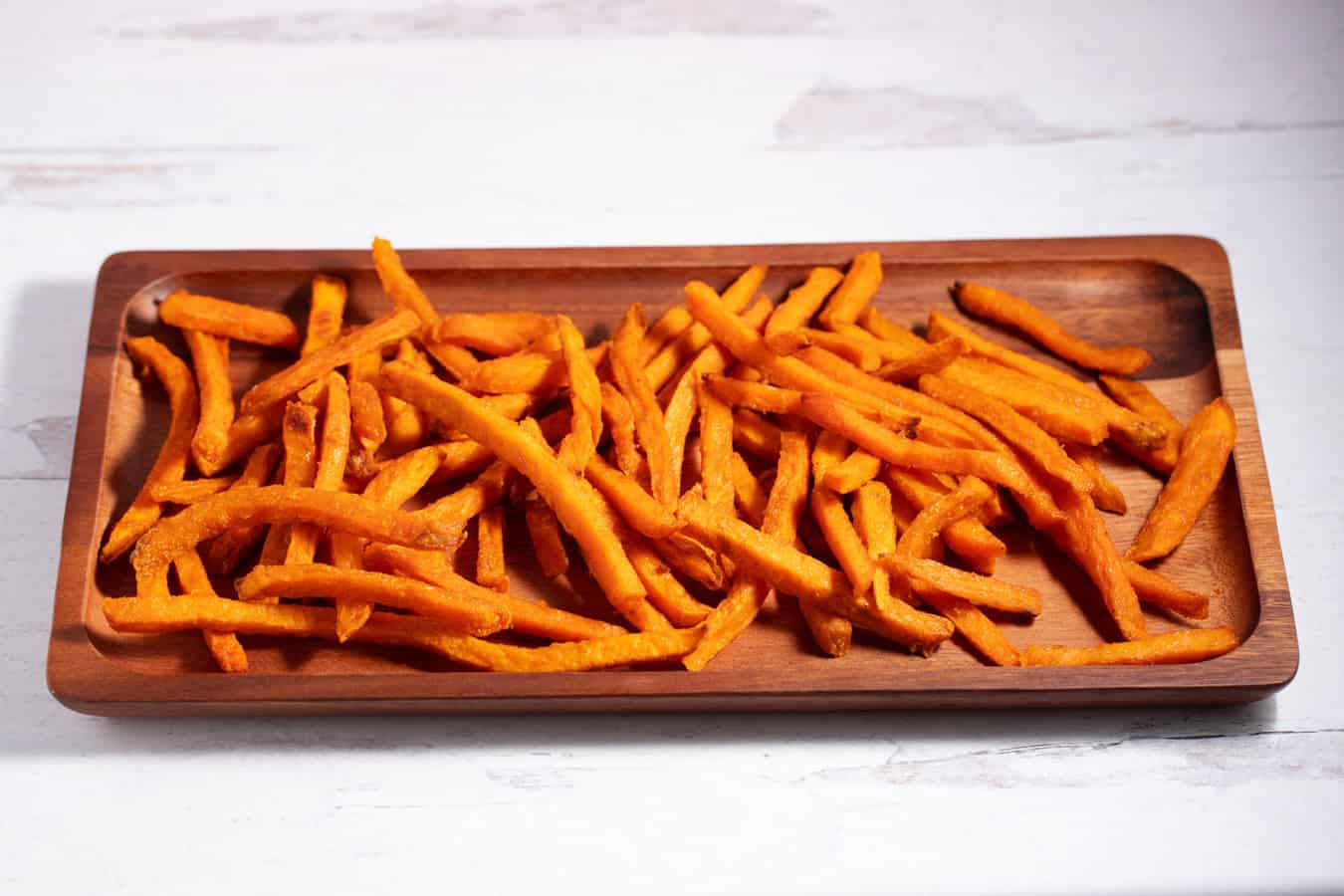 Sweet potatoes are a healthy winter root vegetable. And they make tasty fries.
Directions:
Wash, dry, and peel a sweet potato.
Cut it into fry wedges.
Toss first with olive oil and then with seasonings (salt, black pepper, chili powder, cumin, curry powder).
Roast in the oven at 425° F for 15 minutes. Flip the fries over and roast for another 10 to 15 minutes, until they are crispy.
• Quesadilla
A quesadilla is a stunning side for almost any dish. It only needs a couple of ingredients, it toasts in minutes, and it can be customized to fit any picky taste buds.
My favorite quesadilla is a basic tortilla with shredded cheddar cheese.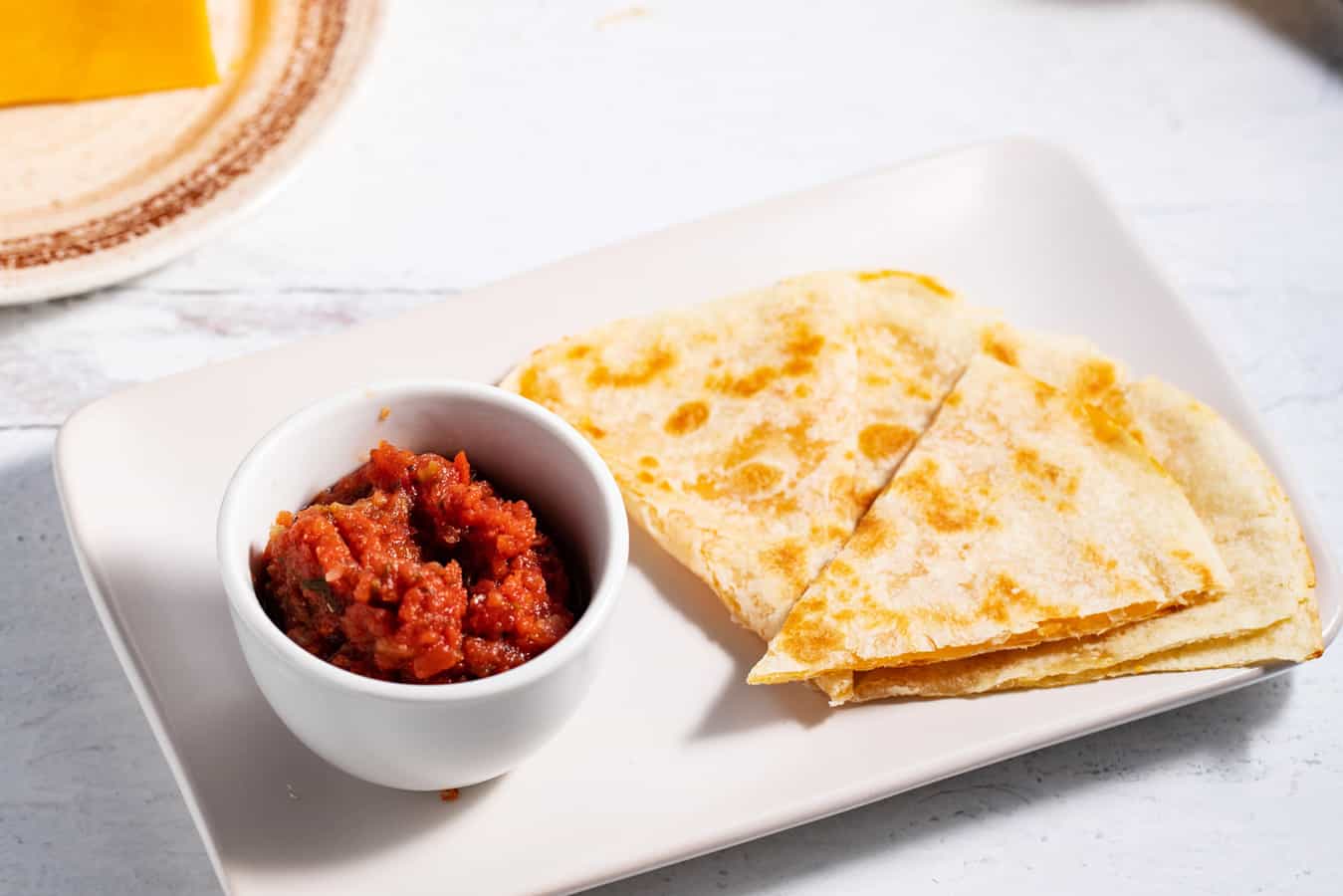 Directions:
Heat a skillet over medium-high heat.
Place a tortilla on the skillet.
Sprinkle with shredded cheese.
Place a tortilla on top of the cheese.
When the cheese begins to melt, flip the whole quesadilla over.
Continue cooking and flipping the quesadilla until the cheese is melted and both top and bottom tortilla are toasted.
Slice the quesadilla in wedges to serve.
• Popcorn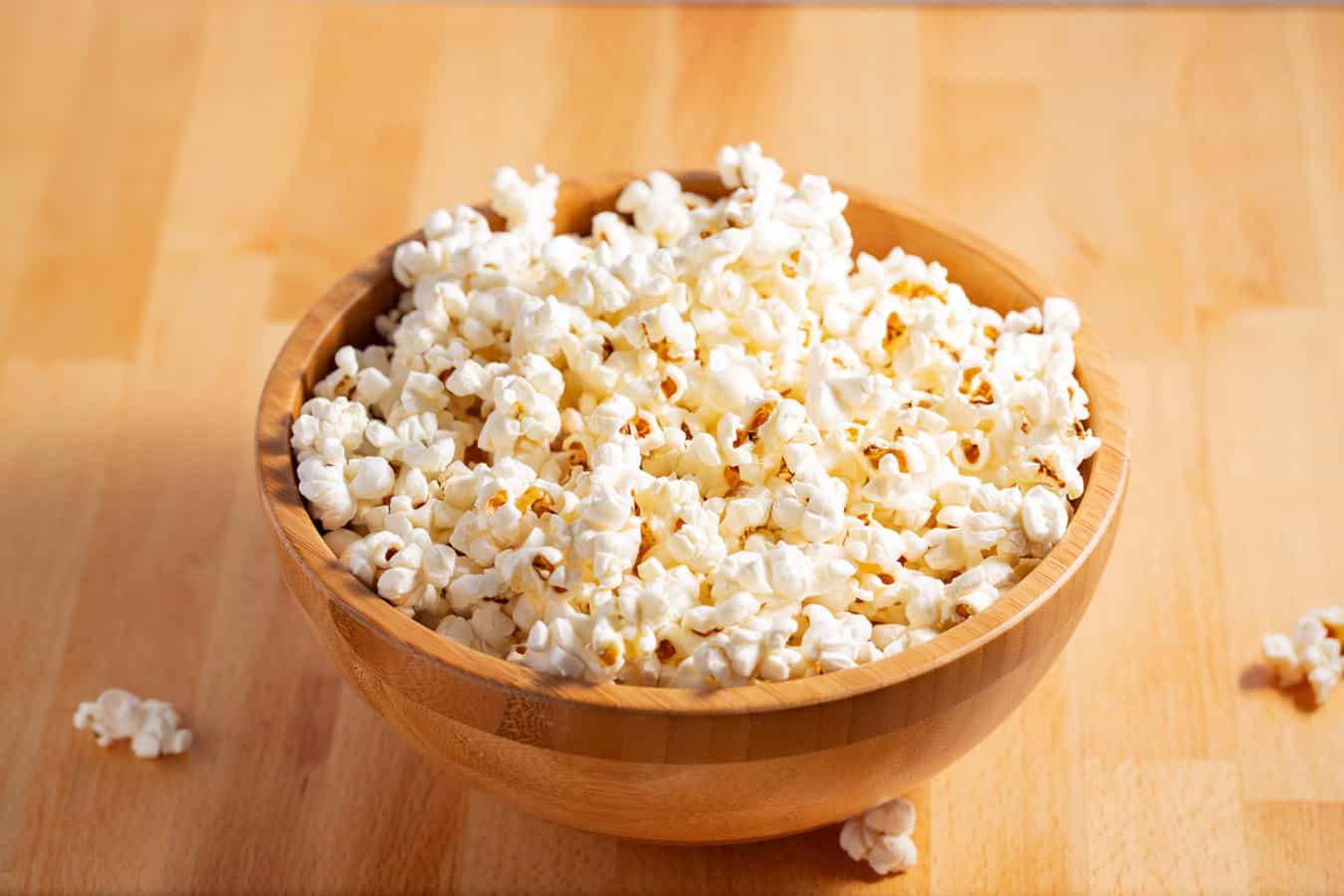 I admit, popcorn is my go-to soup side when I am short on time. Its quick, easy prep time is a good reason to give it a try.
Directions:
Pop the popcorn with an air popper.
Lightly drizzle melted butter, olive oil, or coconut oil over the popcorn.
Season with salt.
Serve.
• Roasted Chickpeas (garbanzo beans)
Chickpeas add protein to a butternut squash soup meal. We love garbanzo beans (chickpeas), but usually make hummus with them. Roasting them is a refreshing change.
Cook the chickpeas before roasting them. I have a great post on how to cook garbanzo beans if you want to start from scratch. Or if you prefer, open a can of garbanzo beans.
Directions:
Dry the chickpeas thoroughly.
Toss with olive oil or coconut oil.
Season with salt and other spices, like cumin, paprika, and cayenne pepper.
Place the chickpeas in a single layer on a baking sheet.
Roast at 400° F for 20 to 30 minutes. Stir the chickpeas every 10 minutes so they cook and toast evenly on all sides.
• Falafel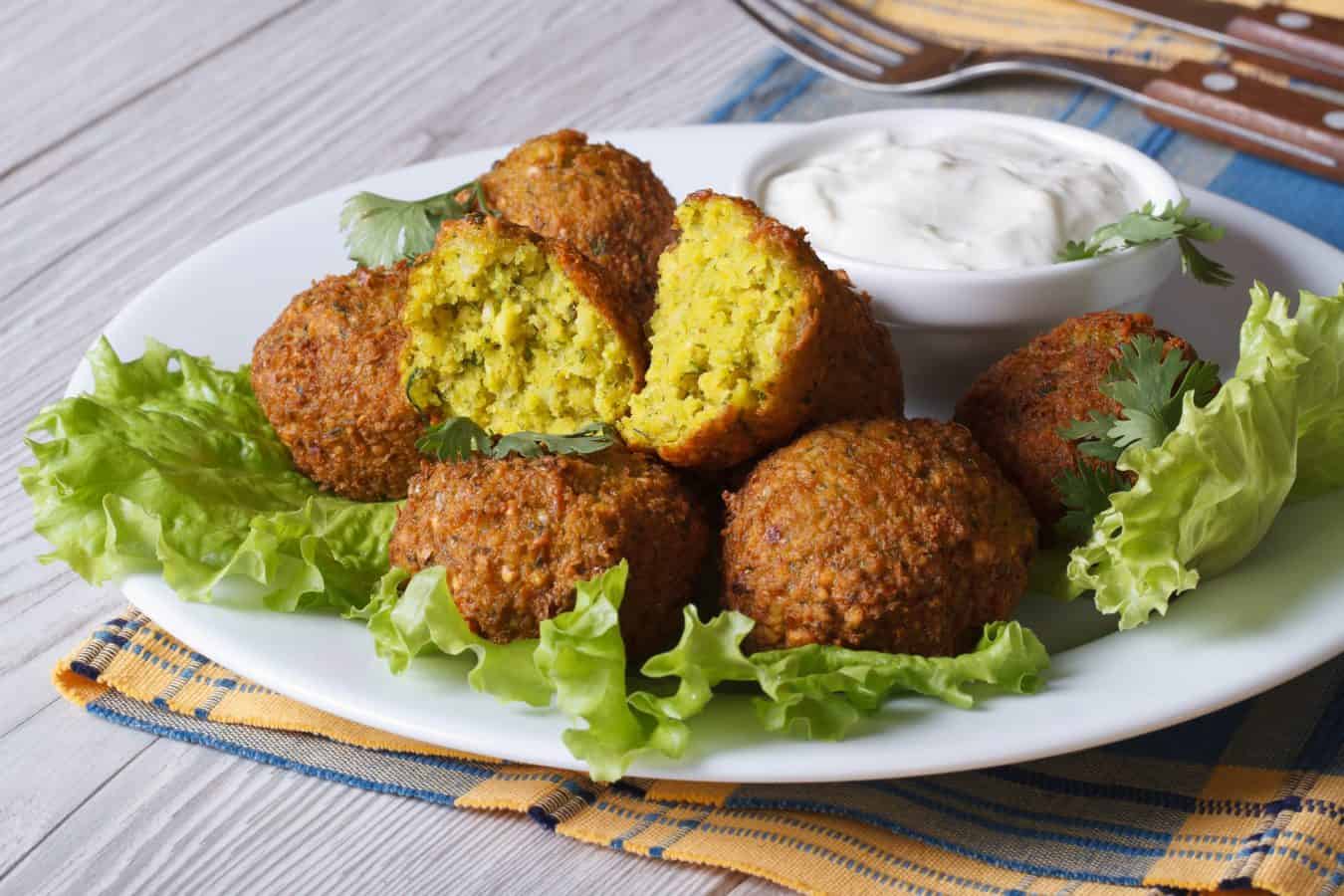 Speaking of chickpeas … Instead of roasting them, try making falafel instead. It is another great protein side for butternut squash soup.
Falafel is made from ground, uncooked chickpeas processed to a fine crumble.
Directions:
Grind the chickpeas with onion, garlic, and seasonings.
Add enough water to form a dough.
Roll it into balls.
Deep fry, air fry, or bake.
• Fritters
Fritters are battered and fried vegetables, fruits, small pieces of cooked meat, or balls of cooked grain. There are endless varieties of fritters. They are often made with odds and ends and leftovers in the refrigerator.
To make a fritter, you must have the following components.
Base ingredient: (carrots, zucchini, apples, rice, quinoa, etc.)
Complimentary ingredients: (cheese, seeds, herbs, spices, etc.)
Binder (eggs + breadcrumbs)
Frying oil (high smoke point)
Directions:
Choose your base ingredient.
Mix it with the complimentary ingredient.
Whisk in the eggs and breadcrumbs.
Shape.
Fry.
Eat.
Best Side Meats to Serve with Butternut Squash Soup
Sometimes you need a little meat to make a butternut squash soup meal more filling. Especially if you are feeding active teenage boys.
Try a few of these meat dish ideas to discover which ones are the most satisfying as a side to butternut squash soup.
• Grilled Chicken Breast, Chicken Cutlets, or Chicken Wings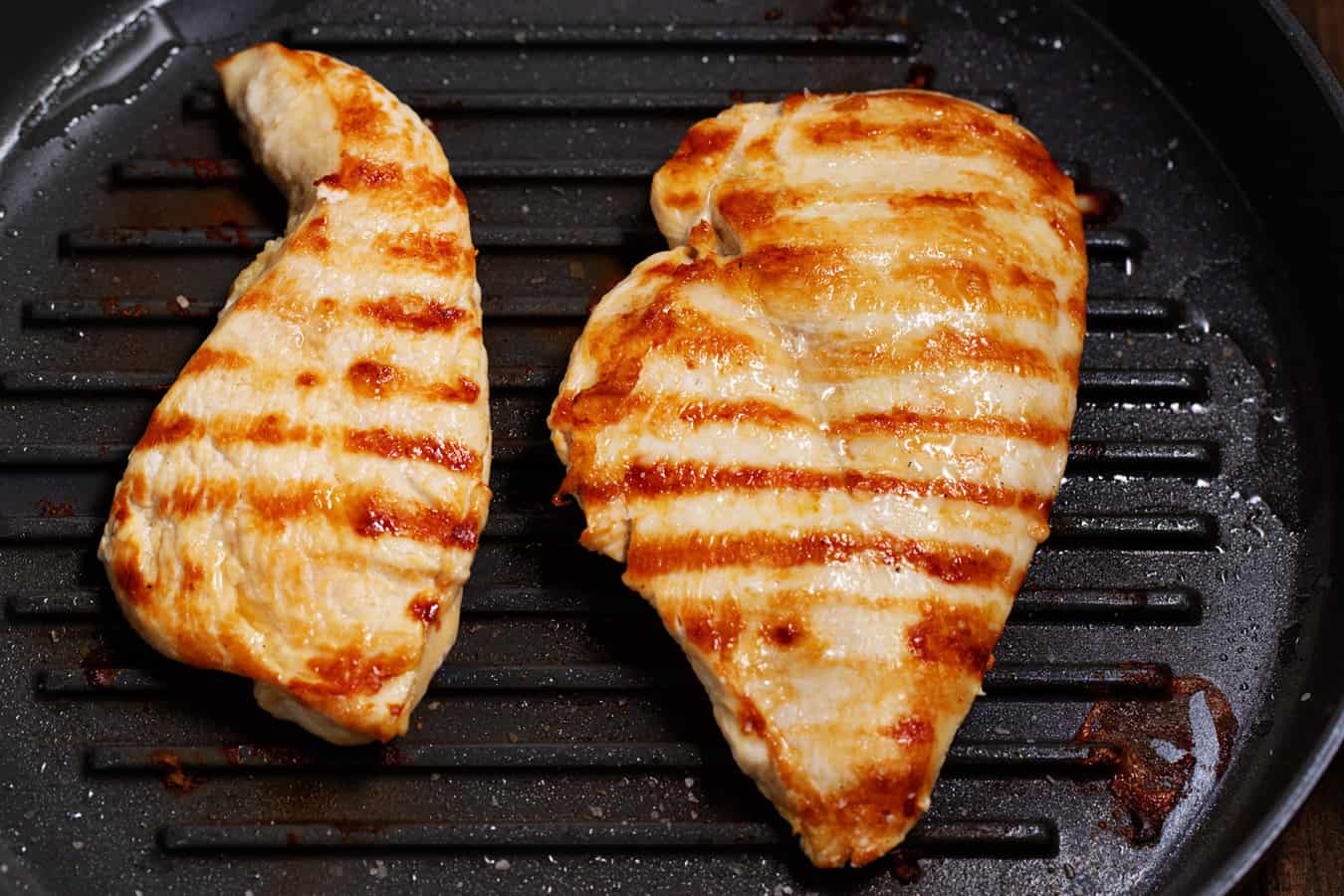 Cook chicken breast on the stove and get tender, juicy chicken. Follow my cooking steps to get moist flavorful chicken every time. Slice it and eat it next to your cup of butternut squash soup.
Alternatively, made either chicken cutlets or chicken wings.
• Shrimp
Shrimp are a sizzling finger-food that are phenomenal paired with butternut squash soup. They are quick to whip up while the soup is cooking.
Directions:
Start with a package of individually frozen shrimp pieces. Pull out 3 to 4 pieces per person. Rinse with warm water for 3 to 4 minutes to thaw them.
Combine ½ cup of honey, 3 tablespoons of soy sauce, ¼ teaspoon of black pepper, and 1-2 tablespoons of lemon juice.
Stir half of the honey mixture on top of the shrimp. Heat the rest of the mixture in the microwave for 15 to 20 seconds.
Heat a skillet to medium high heat and add 1 tablespoon of olive oil.
When the skillet is hot, place the shrimp pieces down in a single layer.
Cook for 2 minutes until they start to turn pink.
Flip them over and cook for another 2 to 3 minutes, or until done.
Remove from the heat and spoon the remaining heated sauce over the shrimp and serve.
• Sausage
My father-in-law likes to hunt. With his bounty he makes delicious elk sausage. His sausage is the best I have ever eaten.
If you have a special sausage, slice it, and serve it alongside your soup to add more protein. Or make a hash by pan frying sliced fingerling potatoes, onions, and sausage.
Any way you eat it, you won't be disappointed when it is hovering next to your soup.
• Pork Tenderloin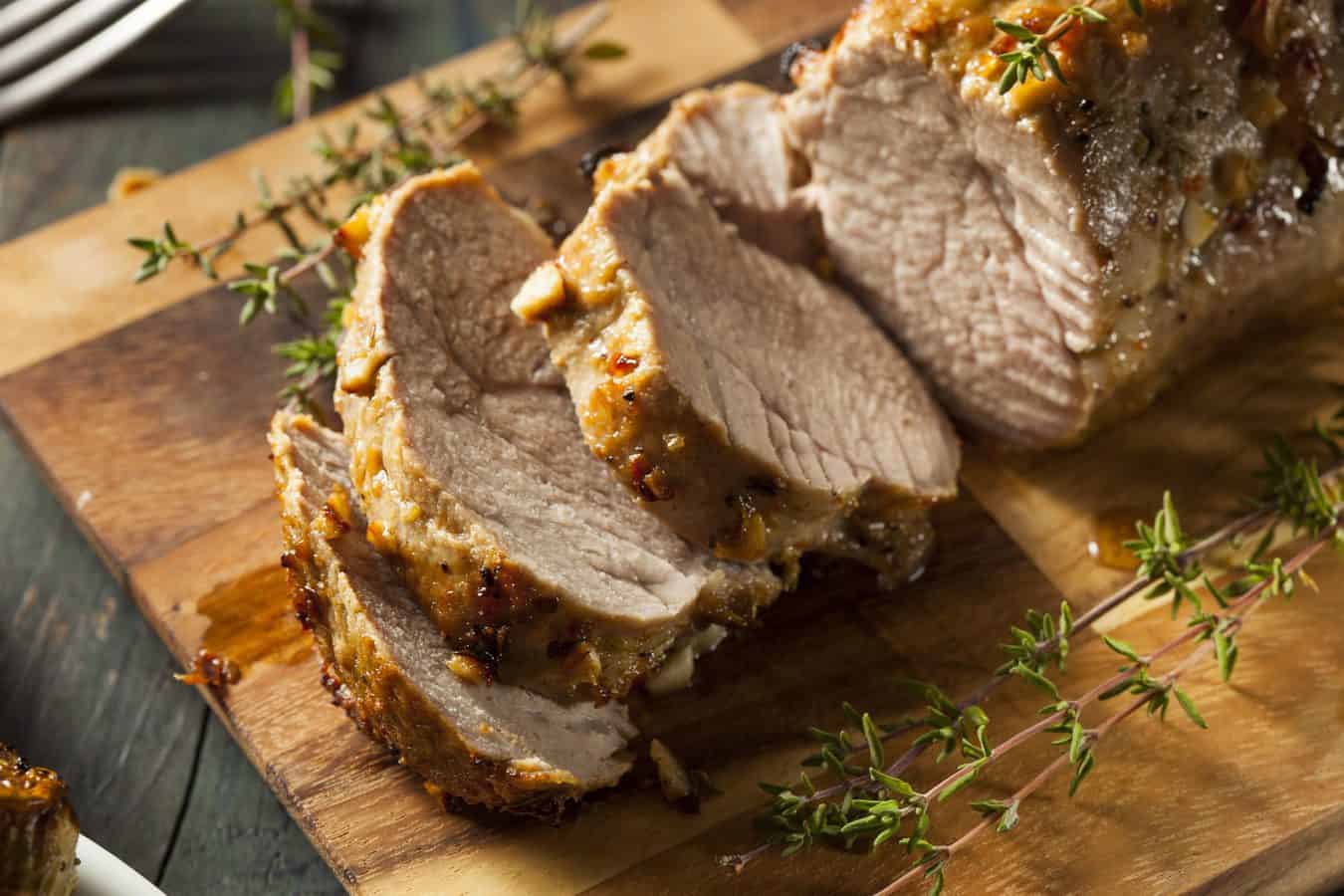 Pork, apple, butternut squash. They are fall comfort foods that complement each other. When you serve butternut squash soup, try delicate pork tenderloin as a side dish.
Directions:
Temper the tender meat and then pierce it with a fork. Rub seasonings all over the meat until it is evenly coated.
Heat a skillet with 3 tablespoons of oil. When the pan is hot, sear the tenderloin on all sides.
Transfer the meat to an oven safe pan and bake uncovered at 400° F for 13 to 15 minutes. According the to the USDA, the pork should reach 145° F and then rest for 3 minutes before slicing and serving.
• Salmon
We never order salmon from a restaurant anymore because I'm always disappointed it doesn't taste as good as the salmon my husband grills at home.
I recommend salmon as a light meat to serve with butternut squash soup. I think it tastes best when it is grilled outside.
Directions:
Sprinkle the salmon filet with lemon juice. Season with salt, black pepper, rosemary, and oregano.
Heat the grill to 400° F. Brush the grill with oil.
When the grill is hot, place the salmon, flesh side down on the grill. The skin should be face up.
Cook for 6 to 8 minutes. Then flip it over so the skin is on the grill. Cook an additional 3 to 4 minutes or until the internal temperature is 145° F.
Let it rest 5 minutes before serving.
Best Butternut Squash Soup Toppings
Toppings make your soup pop. They draw our eyes and whet our taste buds. They enhance the flavor and tease out new flavor profiles.
Best of all, they can change the overall soup taste. Serving the same soup, but with a different topping combination each time, transforms the soup into a different version of itself. So do not forget the toppings when deciding what to serve with butternut squash soup.
• Roasted Apples
Butternut squash and apples are a good pairing. Apples bring out the sweet tones of the squash.
Try roasting apple slices with brown sugar, butter, and cinnamon. Garnish your butternut squash soup with the apples to enhance the sweetness of the soup.
Directions:
Peel two apples.
Slice or dice the apples.
Toss with 1 tablespoon melted butter (or substitute olive oil or coconut oil), 1 tablespoon brown sugar, and 1 teaspoon pumpkin pie spice.
Roast in the oven at 400° F for 20 minutes, flipping the apples over halfway through the cooking time.
Cool for 5 minutes before serving with butternut squash soup.
• Roasted Tofu
Tofu adds vegetarian protein to the soup. It also gives the soup a little variety.
Roasting tofu is easy but does require draining and pressing the tofu first. This can take 30 minutes or more. I usually press for at least an hour.
Directions:
Slice the tofu into slabs about 1-inch thick.
Place paper towels on a flat surface and then put the tofu slabs on top of the paper towels.
Top the tofu with another set of paper towels. Place a flat cutting board on top and then put something heavy on the cutting board to weigh it down. This presses the water out of the tofu. Try heavy cans or your kid's biology textbook.
When the tofu has dried, cut it into cubes.
Gently toss it with olive oil. Mix in ½ teaspoon of curry powder and ½ teaspoon of salt.
Roast at 400° F for 30 minutes, turning the pieces over after 15 minutes, so they toast evenly.
Top the soup.
• Crumbly Cheese
Cheese is one of the easiest soup toppings. Crumble or shred in under a minute and you are set.
Crumble feta cheese, blue cheese, and cotija. Shred cheddar, Parmesan, and Monterey jack. All cheeses make excellent toppings for butternut squash soup.
• Caramelized Onions
Caramelized onions take more time to make than sautéed onions. Like an hour. But boy are they worth it.
If you have leftover caramelized onions, perfect. If not, start the onions before you start the soup. Stir the onions every few minutes as you are making the soup, and cleaning up the dishes, and helping your kids with homework.
They may take work, but you will be glad to top your soup with them.
• Homemade Croutons
No one should buy croutons when homemade ones are so much tastier and a breeze to whip up. Put them in the oven to toast just before you start the soup. Then they will be ready and have a chance to cool before you eat them with the soup.
Directions:
Cube a loaf of French bread.
Toss with olive oil and Italian seasonings.
Toast in the oven at 375° F for 15 to 20 minutes, stirring every 5 minutes.
Remove from the oven and cool.
• Bacon Bits with Crumbled Bacon
Bacon makes everything taste better. It is easy to make your own bacon bits. Simply cook your bacon and then crumble it into bits.
Check out these instructions on cooking bacon in the oven. Cooking bacon in the oven is convenient and frees up space on the stove top to cook the soup.
• Roasted Red Peppers
If you haven't tried roasting red peppers, you are missing out. Those tasteless red segments in a jar you find in the grocery store will never compare to homemade roasted red peppers.
When you roast your own red peppers, you can tease out the best sweet smoky flavor. It takes about an hour for the whole process, so set aside the time.
• Drizzle of Cream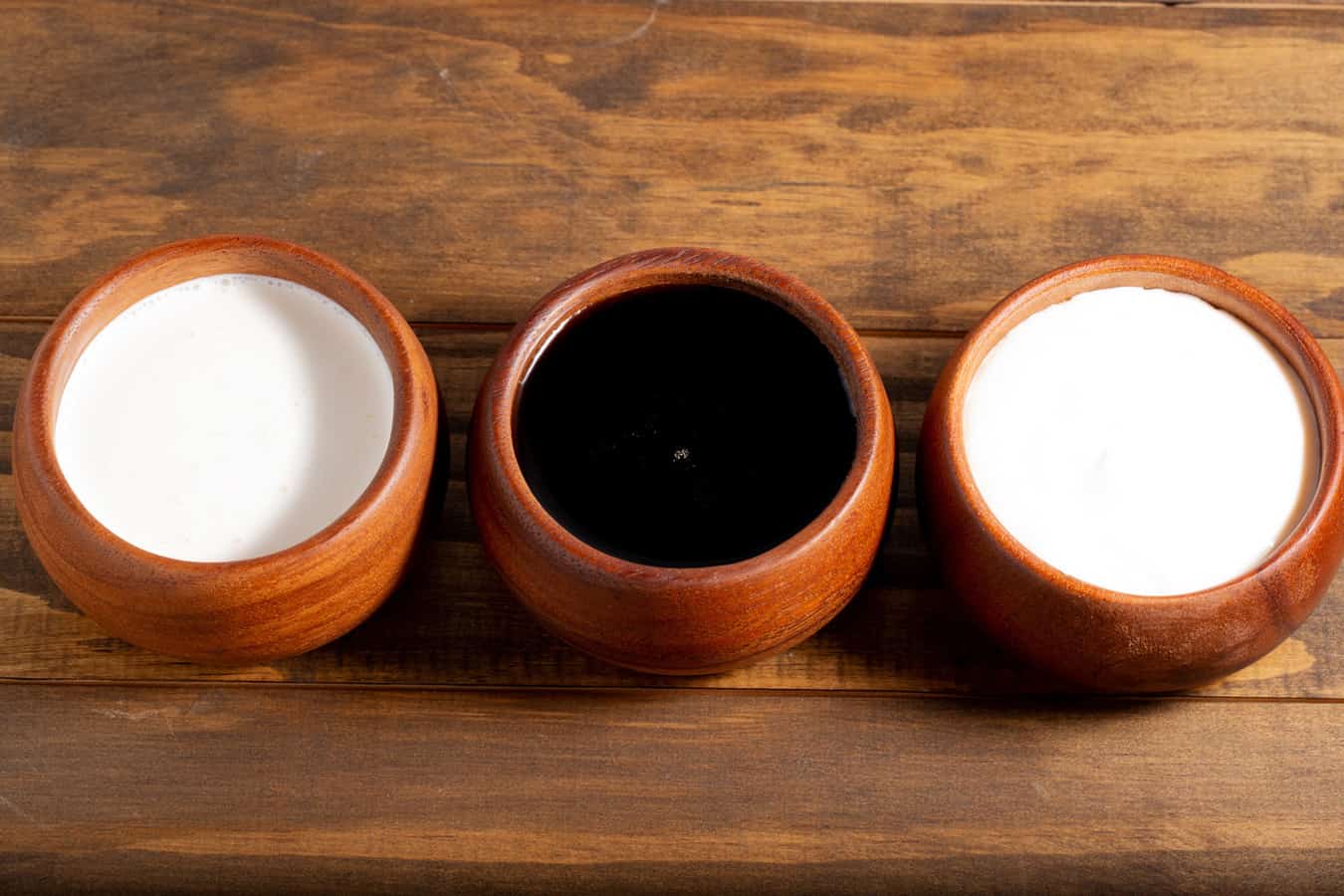 Keep the topping elegant with just a drizzle of cream on the top of the soup. Pour the cream and then swirl it into a pattern, just like soup served at a fine restaurant.
The cream makes the soup rich and decadent. Give it a try.
• Dollop of Sour Cream or Crème Fraiche
Plop a dollop of sour cream, crème fraiche, or crema on top of the butternut squash soup. It cools the soup and adds another layer of creaminess.
Sour cream is readily available, but crème fraiche is lighter. Which one do you prefer?
• Maple Syrup
Instead of pouring heavy cream on the soup, try drizzling maple syrup instead. The sweet flavor of the syrup brightens butternut squash bisque. A little goes a long way, so tread lightly.
Use only pure maple syrup. Not table syrup for pancakes.
• Fresh Herbs
Fresh herbs are not only a lovely garnish, but they also add flavor. Mince and sprinkle mild raw herbs on the soup directly. Cook heartier herbs with the soup.
Garnish your butternut squash soup with one or more of these fresh herbs: parsley, mint, cilantro, basil, oregano. One or any combination of these herbs enhance the flavor of the soup.
• Roasted Butternut Squash Seeds or Pumpkin Seeds (pepitas)
Sure, you can use pumpkin seeds, but why not try roasting butternut squash seeds instead.
After all, you just cut open a squash and yanked out all the seeds. No need to run to the store after pumpkin seeds. Unless you already have them. Use what you have. Here is my post on roasting pumpkin seeds if that is your preference.
Butternut squash seeds are softer so skip the long soak and do this instead.
Directions:
Rinse the squash seeds to remove all the fibrous strings.
Pat the seeds dry with a paper towel.
Line a baking sheet with parchment paper or a silicone baking mat.
Toss the seeds with a little olive oil and spread on the baking sheet in one layer.
Sprinkle with salt.
Roast at 300° F for 10 to 15 minutes, stirring occasionally so the squash seeds cook evenly.
Remove them from the oven when they start to pop or look toasted.
• Pine Nuts
Pine nuts are on the softer side of the nut spectrum. They are small tear-shaped ivory nuts that taste slightly sweet when raw.
Cook them in a dry skillet over medium low heat for 5 minutes or until they are lightly toasted. Keep a close eye on them because they can burn quickly.
Remove them from the pan immediately after cooking, so they don't continue to cook and burn.
• Mascarpone or Fresh Ricotta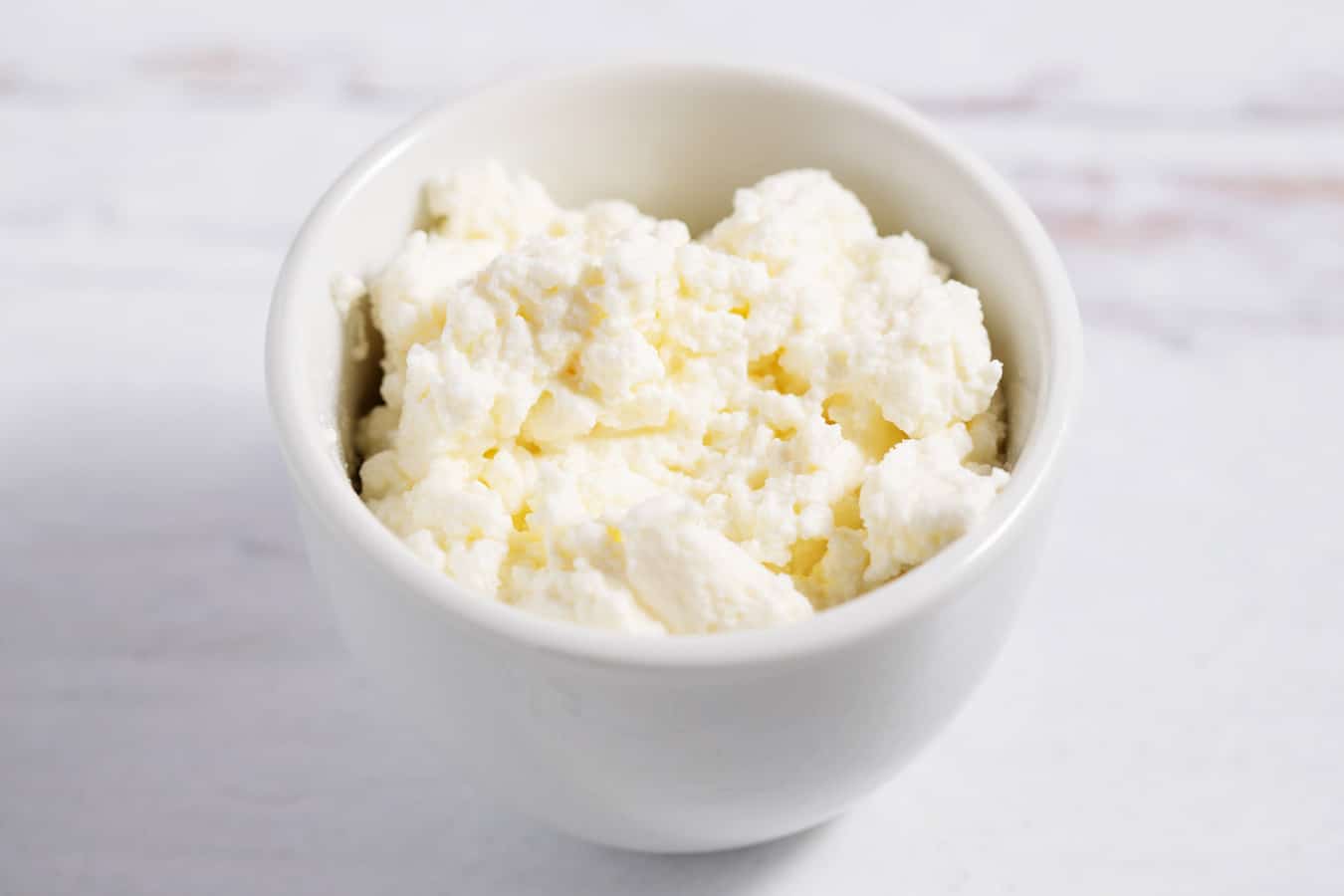 Mascarpone and ricotta are soft cheeses and deserve their own category. Spoon or crumble a bit on top of your soup to add a bright, fresh flavor.
You can easily make your own mascarpone or ricotta. The directions are essentially the same for both. But you use cream to make mascarpone and milk to make ricotta.
You can also buy either at the store. I have purchased some good tasting mascarpone cheese before. However, I have never bought a good tasting ricotta. I always make my own ricotta.
• Roasted Honey Peaches or Nectarines
Instead of apples, try sliced peaches or nectarines to add a fruity component to the meal. Drizzle with honey before roasting.
Directions:
Wash, peel, and slice 2 peaches or nectarines.
Place a tablespoon of coconut oil in a skillet over medium-high heat.
Place a single layer of fruit in the skillet and lightly drizzle with honey. Sprinkle with cinnamon.
Cook until slightly caramelized, turning at least once. Always keep the fruit in a single layer when it cooks.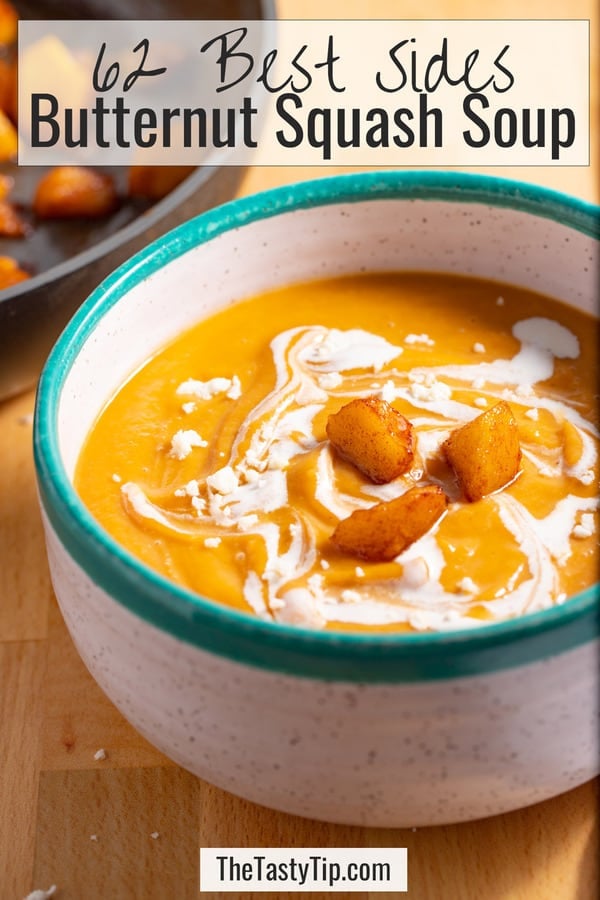 And there you have it. A comprehensive list to consult when wondering what to serve with butternut squash. I hope one of these suggestions caught your attention and you give it a try. Comment below to let me know what you served with the soup.
---
Did you like this post? Then let's be social. FOLLOW ME on PINTEREST and INSTAGRAM to keep up with the latest tutorials, favorite recipes, and interesting happenings.
---
Hungry for More Soup?
For other healthy soup recipes, try these flavorful soups.
More Side Dish Ideas