This layered cornbread salad recipe without beans will be your new go-to potluck dish. It is a vibrant, balanced, textured salad sure to join all your family favorites. Make it easily by using leftover cornbread or boxed Jiffy mix.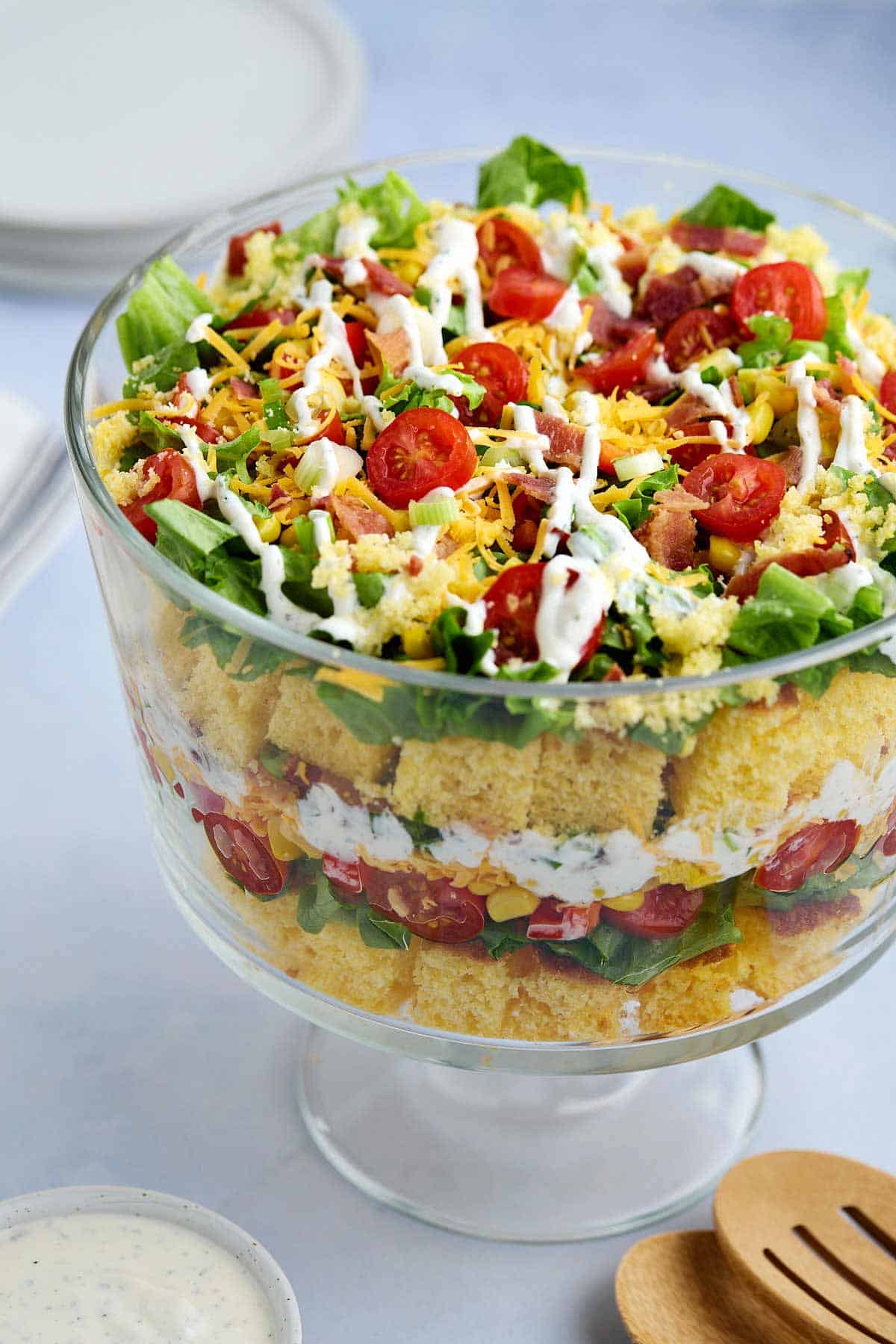 Ready for an amazing recipe that can be a main dish or a side? Jiffy layered cornbread salad is a great dish for everything from family dinners to feeding a large crowd.
It comes together easily with a box of Jiffy mix and fresh salad ingredients. Or use leftover cornbread to speed up the prep time.
It's going to be one of your favorite recipes since you can scale it up or down with no problem.
Whether it is your first time or your hundredth time making the salad, you're going to end up with the best results. It is super easy, versatile, and a great recipe to keep in your arsenal.
Jump to:
You'll Keep Coming Back to This Recipe -- Here's Why
Great way to use up leftover cornbread. There isn't anything better than sweet cornbread straight out of the oven. But if you have leftovers, this salad is the perfect solution to use your extra cornbread the next day.
Not the same old side dish for a summer cookout. Almost every summer get-together has the same old salads. You can count on a family reunion or a block party having classic salad, potato salad, and pasta salad.

Surprise your friends in a good way with this Southern cornbread salad recipe.
Fool-proof, no mistakes salad. This one is pretty hard to mess up. Like all great salad recipes, swapping ingredients or leaving one layer out won't ruin anything.

And you can make the salad any size you want. This is useful when you have just a little leftover cornbread.
Ingredients
If you already have leftover cornbread, you are good to go.
If you need to whip up a batch of cornbread quickly, make it from a box. (Or choose one of your favorite homemade cornbread recipes if you have more time).
Here are the ingredients for a box mix.
Jiffy Corn Muffin Mix: Other cornbread mixes also work, but Jiffy Corn Muffin has been tried and true for me. It's also easy to find at your local grocery store.
Egg: This is what holds your cornbread together.
Milk: The milk and eggs add moisture to the cornbread mix.
A layered salad with cornbread is never complete without a creamy homemade ranch layer. You might think it's the best part of the salad. And it is so easy to make.
Hidden Valley Ranch Dip: Thank you, Hidden Valley, for prepackaging your ranch mix. If you have the giant Costco size, use 2 tablespoons (the equivalent of one envelope ranch salad dressing mix).
Sour cream: This forms the base for the yummy ranch dressing mix.
Buttermilk: The buttermilk thins the dip just a bit. It will help the dressing spread throughout the salad without making the cornbread soggy.

If you're out of buttermilk, check out how you can make a quick buttermilk substitute.
You will love the rest of these fantastic salad layers.
Cornbread: Whether you're using leftovers, fresh homemade, or planning to make it with Jiffy mix, cut it into one-inch cubes for this recipe.
Green leaf lettuce: You can't call it a salad unless you have lettuce, right? Chop up half a head of lettuce to add to these salad ingredients.
Cherry or grape tomatoes: While large tomatoes are also delicious, smaller tomatoes pack an amazing flavor and are easier to cut into bite-size pieces.
Red bell pepper: If you want to add more color, you're welcome to use an orange, yellow, or green bell pepper, but I prefer the flavor of red pepper to green pepper or others.
Corn: You'll want to use whole-kernel corn instead of creamed corn or another variety.
Grated cheddar cheese: Is it even a southern classic recipe if it doesn't include cheese? Freshly grated cheese is much better than already shredded cheese.
Green onions: Did you know you can use the dark green and white part of the green onion in a salad? If you like a little variety in your salad, thinly slice from the ends to just before the roots start. Avoid the white ends if you don't love the super oniony taste.
Bacon: We all know that everything is better with bacon. Crispy bacon adds a delicious flavor to this easy cornbread salad recipe.
Substitutions
Make a batch of cornbread from scratch if you have time.
Use cornbread croutons instead of fresh cornbread for a crunchier taste.
Replace ranch dressing, with tzatziki dressing, barbecue sauce, or mayo with pickles and sweet pickle juice for different flavors.
Try any lettuce or leafy green. Romaine, iceberg, or spinach are all fine alternatives.
Swap regular cheddar cheese with Pepper Jack, mozzarella, or another favorite cheese flavor.
Variations
If you're not a fan of the "no beans" style of cornbread salad, make it with pinto beans, black beans, or chili.
Add some meat. Play around with chicken, pork, or beef flavored with taco seasoning. This salad is an excellent way to use leftover meat.
Forget layered - make confetti cornbread salad! You get all the same delicious flavors without worrying about how it looks. Mix the ingredients in a large bowl and dump them into a casserole dish.
Try playing with some other favorite toppings - black olives, sweet pickles, sweet onion or red onion, green chilis, etc.
If you like it spicy, use jalapeno cheddar cornbread as your starting point.
Try using crumbled cornbread and crumbled bacon rather than cubed and chopped. Even if you stick with cubed cornbread, you can crumble cornbread on top of the salad.
Perfecting the Tasty: How I Developed This Recipe for You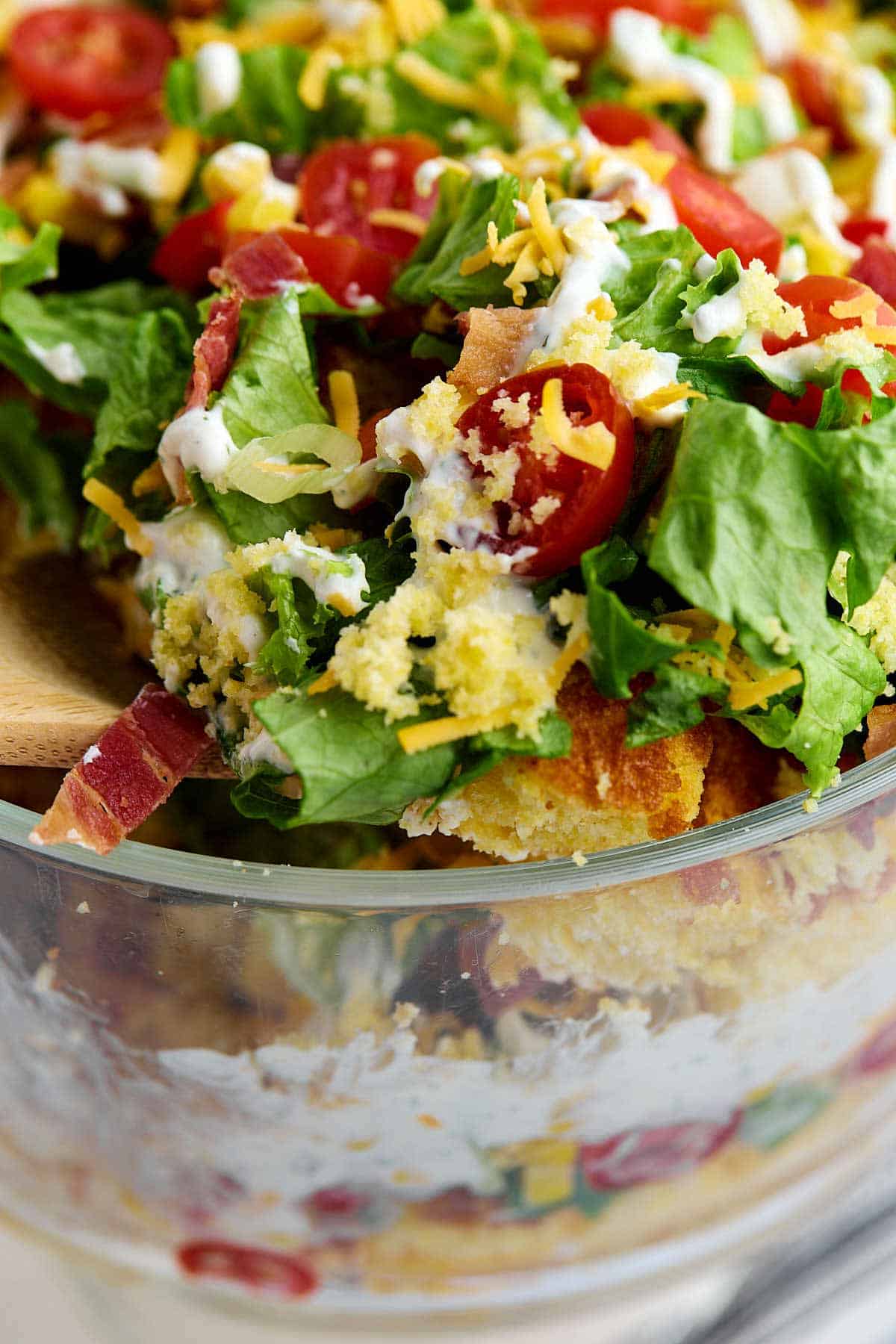 When I developed this recipe, I had one goal – to make your life easier. You needed a tasty recipe that would use up your leftover cornbread.
No leftovers? Well, that's where your trusty box of Jiffy mix comes in. Cornbread quick and easy.
I swapped out this veggie with that, messed with the consistency of the dressing, and tried crumbled vs. cubed cornbread.
The result? A vibrant, balanced, textured salad that will leave you satisfied.
But it's not just about flavor and convenience. It's about making a statement. Forget showing up at your next potluck with just any old salad. No, no, no. I want you to be the star of the show, the talk of the town, the potluck royalty.
That's why this layered salad not only tastes amazing but looks absolutely stunning on display. Colors, textures, and flavors layered in one glass trifle bowl.
Ah, tasty success!
Here's how to make the cornbread salad.
Directions
Bake the Cornbread
You can follow the package directions or read them right here.
Preheat the oven to 400°F (200°C) and grease or spray cooking spray on an 8-inch baking pan.
Whisk together the mix, egg, and milk. It is okay to have some lumps.
Pour the batter into the pan and spread it evenly before putting it in the oven.
Bake for 15 to 20 minutes, and take the pan of cornbread out when it is golden brown. Check the middle with a tester for doneness.
Allow the cornbread to cool to room temperature for at least an hour. Inverting the cornbread on a cooling rack will speed up the process.
Cut the cooled cornbread into cubes.
Cook the Bacon
The easiest way to cook bacon is in the oven. It is easy and hands-free. And since the cornbread and bacon can cook at the same temperature, why not bake them in the oven at the same time.
Be aware that it may take each a few minutes longer to be done.
Preheat the oven to 400°F (200°C).
Line a rimmed baking sheet with foil. Place the bacon in a single layer on the baking sheet. Cook the bacon for 12-17 minutes until it is brown and crispy.
Move to a plate covered in a paper towel to allow excess bacon fat to drain. Chop it roughly when cooled.
Save that bacon grease for other delicious recipes.
Make the Ranch Dressing Dip
In a small bowl, combine the sour cream, ranch packet, and buttermilk. Set it aside.
Prep the Salad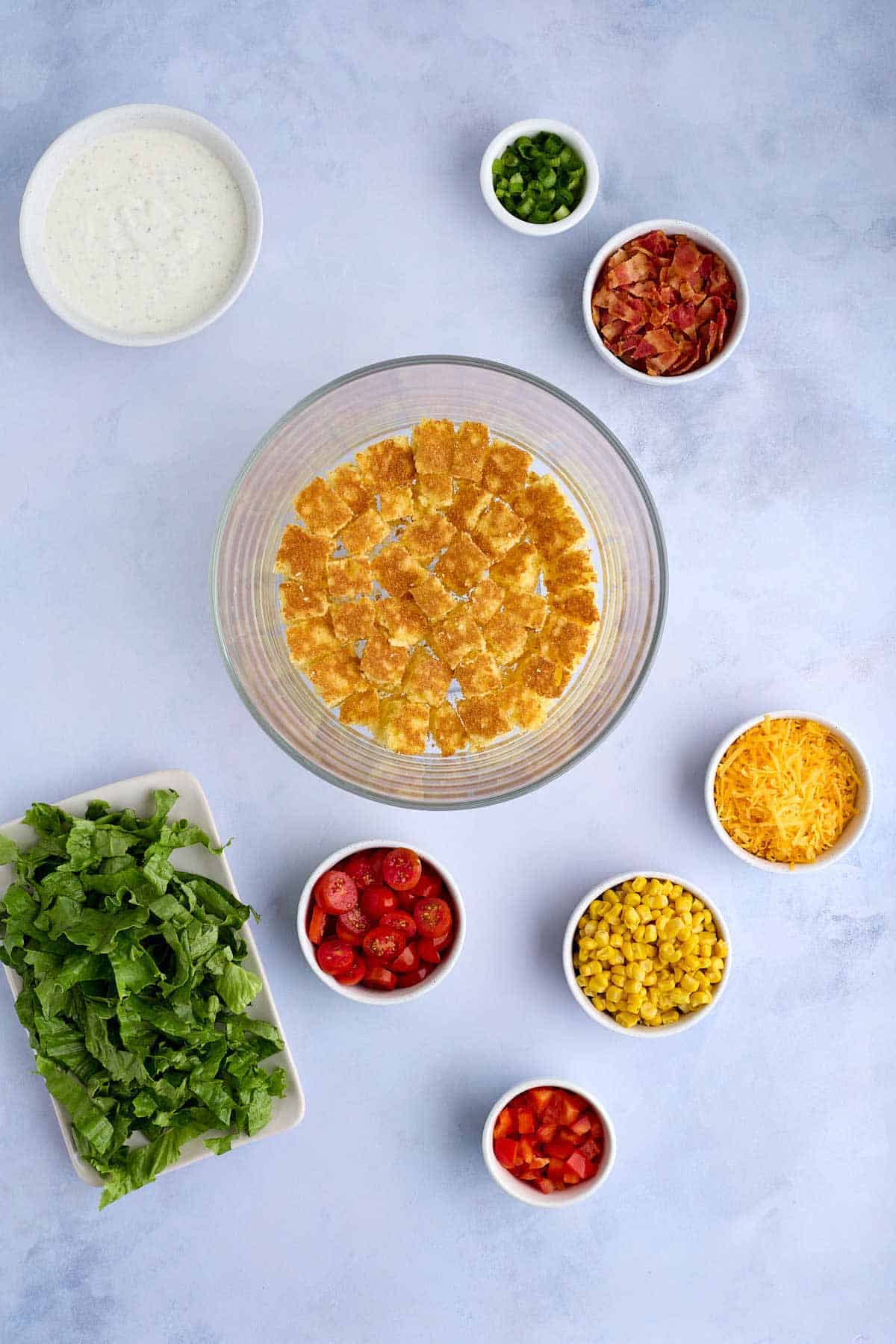 Corn: Open and drain the corn in a colander and set it to the side. You want to be sure it is completely drained to avoid making your salad soggy.
Lettuce: Wash and cut into bite-sized pieces or ribbons.
Tomatoes: Wash and halve the tomatoes.
Bell Pepper: Wash the bell pepper, remove the seeds, and dice it.
Green onions: Wash and thinly slice the green onions.
Cheese: Grate the cheese.
Assemble the Salad
Depending on the size of your trifle dish, you may be able to repeat the layers of the salad. Here's how I like to layer the ingredients.
Layer cornbread, lettuce, tomatoes, red peppers, corn, cheese, ranch dip, green onions, and bacon. Repeat the layers again if you have room in the serving dish.
Cover with plastic wrap and chill in the fridge for a couple of hours.
Serve and impress your friends with the lovely layers!
Tasty Tips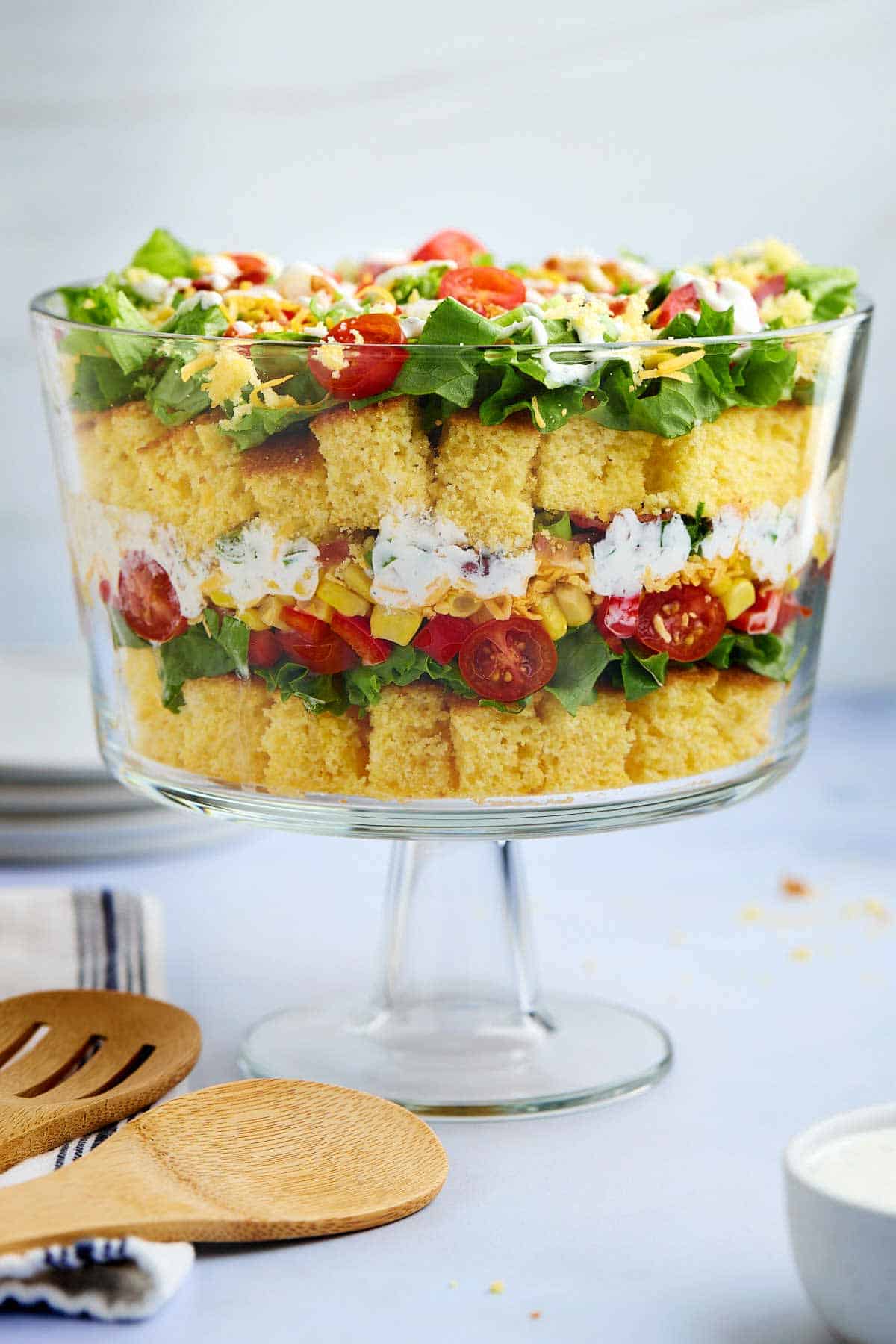 Bake the cornbread and the bacon in the oven at the same time. This saves time and energy. However, you can also use precooked bacon or bacon crumbles.
If you use leftover cornbread from the freezer, thaw it before making the salad.
Make the cornbread, bacon, and dip a day in advance. Cover the cornbread pan securely in plastic to keep it from drying out. Keep in on the counter.

Store the bacon and dip in the refrigerator.
Serve any leftover dip on the side to drizzle on top.
How to Store
If you have leftovers, you can store them in a glass bowl with plastic wrap or in an airtight container.
How Long is Cornbread Salad Good For?
Cornbread salad will last 3 to 4 days in the refrigerator. The cornbread can start to get soggy after a day or two, so you should gobble up those leftovers quickly.
How Far in Advance Can You Make Cornbread Salad?
You can make the cornbread a day or two in advance. The dressing and bacon can also be made a day in advance. Your vegetables will be okay if made the day before as well.
I wouldn't recommend combining everything more than 5-10 hours ahead of time to avoid the cornbread from getting soggy.
If you have everything else prepped, it won't take long to throw it together.
Frequently Asked Questions
Can you freeze cornbread salad?
Cornbread salad doesn't hold up well in the freezer because of the produce. Lettuce, tomatoes, red peppers, and green onions don't freeze and thaw well.

However, you can freeze the cornbread alone.
Does cornbread salad get mushy?
Cornbread salad can definitely get mushy as the cornbread starts soaking up the ranch dressing. If you have a thicker ranch dressing mix, it won't get mushy as quickly, but it can still happen.

Because of this, I recommend eating your leftovers within a day or so.
Where did cornbread salad come from?
People don't seem to be exactly sure where this delicious recipe originated, but all signs point to the South. Whether it's the southeast or Texas, it is my new favorite way to use up my old cornbread.
What to Serve with Cornbread Salad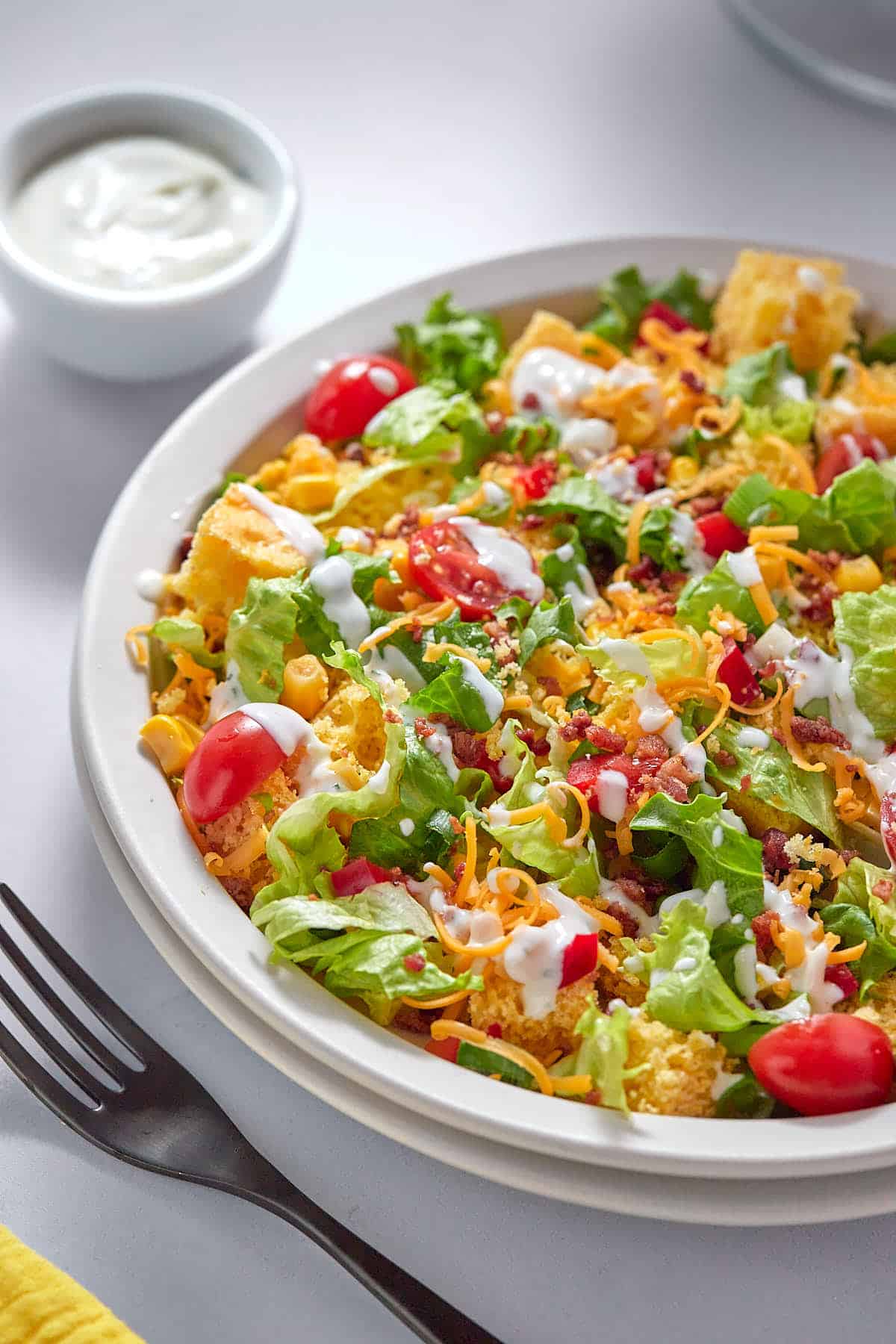 Cornbread salad is a fabulous side dish for all your favorite summer meals! It's perfect for a potluck.
Serve it alongside hamburgers or hot dogs. It would also be great with pulled pork sandwiches or turkey sliders.
And don't forget soup. It is a wonderful side for chicken chili or split pea soup.
Recipe
Easy Jiffy Layered Cornbread Salad without Beans
This layered cornbread salad recipe without beans will be your new go-to potluck dish. It is a vibrant, balanced, textured salad sure to join all your family favorites. Make it easy by using leftover cornbread or boxed Jiffy mix.
Ingredients
Cornbread
1

box of Jiffy corn muffin mix

1

large egg

⅓

cup

of milk

(whole or 2%)
Ranch Dressing Dip
1

packet of Hidden Valley Ranch dip

16

ounces

of sour cream

(reduced fat is fine)

¼

cup

of buttermilk
Salad
6

slices

of uncooked bacon

1

batch of cornbread,

cut into 1-inch cubes

½

head of green leaf lettuce.

chopped (about 2 cups)

1

pint

of cherry or grape tomatoes,

cut in half

1

red bell pepper,

seeded and diced

3

green onions,

thinly sliced

1

(15 ounce) can of sweet corn

1½

cups

of cheddar cheese,

freshly grated
Instructions
Cornbread
Bake the cornbread and bacon in the oven at the same time. See the instructions for the bacon below. (See Note 1.)

PREHEAT the oven to 400°F (200°C). Grease an 8 X 8-inch baking pan.

STIR the corn muffin mix, egg, and milk together in a large bowl until combined. A few lumps are fine.

POUR the batter into the greased pan. Spread it in an even layer. Transfer it to the oven's middle rack.

BAKE for 15 to 20 minutes. The cornbread is done when it is nicely browned, and a tester comes out clean when inserted in the center. Remove the pan from the oven and turn the oven off.

COOL the pan on a wire rack for 10 minutes. Then place the wire rack on top of the pan. Invert the pan so the cornbread comes out onto the wire rack. Cool for 30 minutes to an hour. (Cooling outside of the pan speeds the cooling time.)

CUT the cornbread into cubes and set aside. (See Note 2.)
Bacon
To save time, cook the bacon in the oven at the same time the cornbread bakes.

PREHEAT the oven to 400°F (200°C) if you are baking it separately from the cornbread.

LINE a rimmed baking sheet with aluminum foil. Fold the foil up over the sides so the bacon grease does not leak onto the pan.

LAY the bacon strips onto the foil without overlapping. Touching is fine because the bacon will shrink. Transfer it to the oven. Bake it on the bottom rack if you are baking it with the cornbread. Otherwise, keep it on the middle rack.

BAKE in the oven for 17 to 23 minutes, depending on how crispy you like it.

TRANSFER it to a paper towel-lined plate to drain the excess bacon fat.

ROUGHLY CHOP the bacon when it is cooled.
Ranch Dressing Dip
STIR the ranch dip packet into the sour cream. Add the buttermilk and stir until combined.
Salad Prep
OPEN the can of corn and drain it in a wire mesh colander until you are ready to put the salad together. Make sure it is well drained or it may make the salad soggy.

WASH the lettuce, tomatoes, red bell pepper, and green onions.

CUT the lettuce into ribbons (or chop it). Cut the tomatoes in half. Remove the seeds from the bell pepper and dice it. Thinly slice the green onions.

GRATE the cheese.
Salad Assembly
LAYER the salad in a large glass or trifle bowl. Depending on the size of the bowl you may have room to repeat the layers. Layer in this order, starting on the bottom of the dish. Cornbread cubes, lettuce, tomatoes, red peppers, corn, cheese, ranch dip, green onions, and bacon.

COVER the bowl with plastic wrap and chill the salad for 2 to 3 hours.

SERVE with extra ranch dressing on the side.
Notes
Baking the cornbread and bacon in the oven at the same time saves time and energy. However, each may take about 5 minutes longer to cook when cooked together.
You can make the cornbread a day in advance or use leftover cornbread. Store it in an airtight container to prevent it from drying out too much.
All images and content are ©TheTastyTip.com. If you want to use this recipe and techniques, please take your own photos, write your own description, and link back to this page. Thank you.
Nutrition
Serving:
1
cup
Calories:
204
kcal
Carbohydrates:
6
g
Protein:
7
g
Fat:
17
g
Saturated Fat:
8
g
Polyunsaturated Fat:
1
g
Monounsaturated Fat:
5
g
Trans Fat:
0.02
g
Cholesterol:
59
mg
Sodium:
198
mg
Potassium:
254
mg
Fiber:
1
g
Sugar:
4
g
Vitamin A:
2200
IU
Vitamin C:
20
mg
Calcium:
167
mg
Iron:
0.5
mg
Hungry for More Salads?
Check out these delicious salads, perfect for an everyday dinner or a full-sized crowd.
Did you like this post? Then let's be social. FOLLOW ME on INSTAGRAM and PINTEREST to keep up with the latest happenings.