Hearty, healthy crock pot split pea soup with ham, carrots, onions, celery, and dried herbs, partially pureed for an easy dinner soup recipe.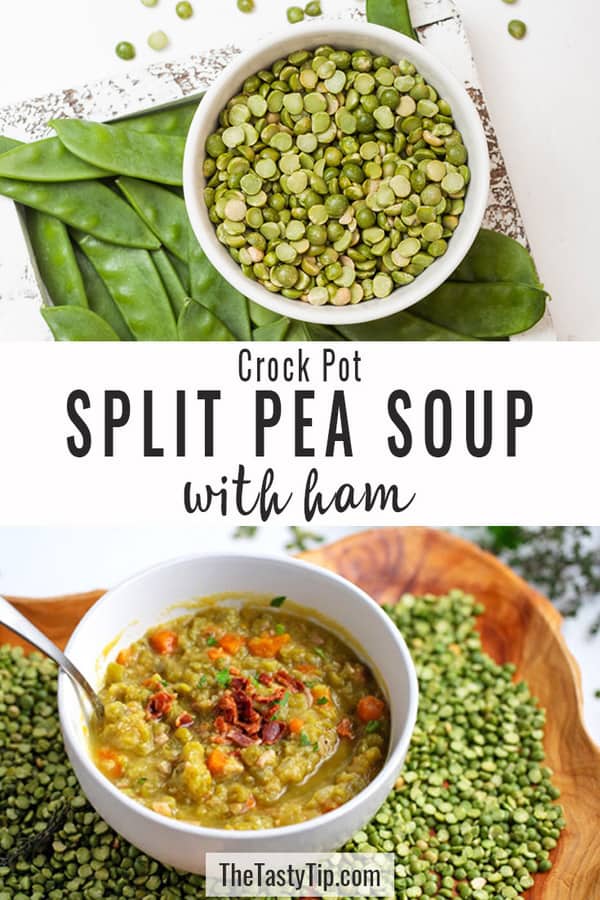 If you need an easy dinner recipe to throw into the slow cooker, split pea soup with ham is your answer. It is a healthy soup filled with protein-rich split peas, hearty vegetables, fresh herbs, and a little diced ham for flavor.
When it is cold outside, nothing tastes better than hot and hearty split pea soup, fresh from the slow cooker. Pair it with cheese biscuits, a grilled cheese sandwich, dinner roll, or cornbread and leave the table feeling full and satisfied.
If you have a whole ham bone, consider making pressure cooker split pea soup with ham bone.
Interested in other soups with beans? Consider butternut squash soup with white beans, pumpkin soup with red lentils, or black bean soup.
Origin of Split Pea Soup
As early as 500 BC, Greeks and Romans made split peas into soup. Today many countries eat some form of split pea soup. It is cheap, substantial, and it can be customized with seasonal vegetables, meats (usually a form of pork), and herbs. In addition, it is full of protein and fiber.
One of my favorite books is The Book Thief by Marcus Zusak. The fictional story revolves around a young girl living in Germany during World War II.
Sprinkled throughout the book are references to the pea soup meals she ate every day. Mama Hubermann cooked a large pot of pea soup on Sunday. She cooked enough soup to last all week, until she made her next pot the following Sunday. Everyone ate it and didn't complain.
Eating pea soup everyday throughout the week was common in Germany and other countries, like England. Remember this old English nursery rhyme:
Pease porridge hot.
Pease porridge cold.
Pease porridge in the pot,
Nine days old.
The "pease" in this rhyme refer to split peas used to make a porridge or soup. Seasonal vegetables, along with meat (when it was available) were added to the pot of split peas and broth daily.
Discussing The Book Thief during book club one month, a gal mentioned how she would hate to eat pea soup all the time. When I told her my family loves split pea soup with ham, she responded with, "That's because you have such a good recipe."
True. During World War II, meat, fresh vegetables and herbs were not always available. So the pea soup or pease porridge was not as tasty as the split pea soup we seek out today.
So what is in my crock pot split pea soup?
Split Pea Soup Ingredients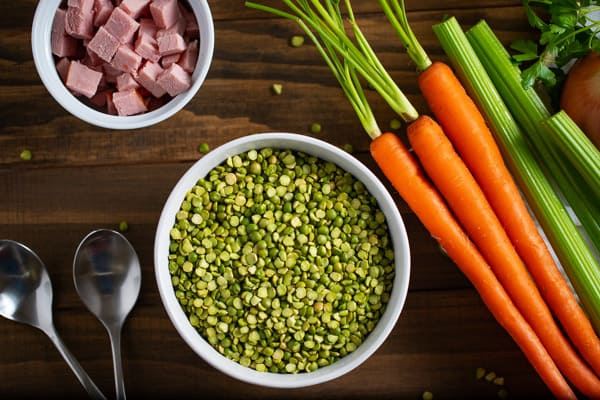 Split Peas: Split peas are the main ingredient, the star of the show. Split peas are peas, which have been removed from their pod. Then they are dried, peeled, and split.
Split peas are low in fat and high in fiber and potassium, iron, B vitamins, and magnesium. You can't go wrong with split peas.
Hurst's beans sells split peas with a ham flavoring packet, which might be worth checking out.
Do Split Peas Need to be Soaked Before Cooking?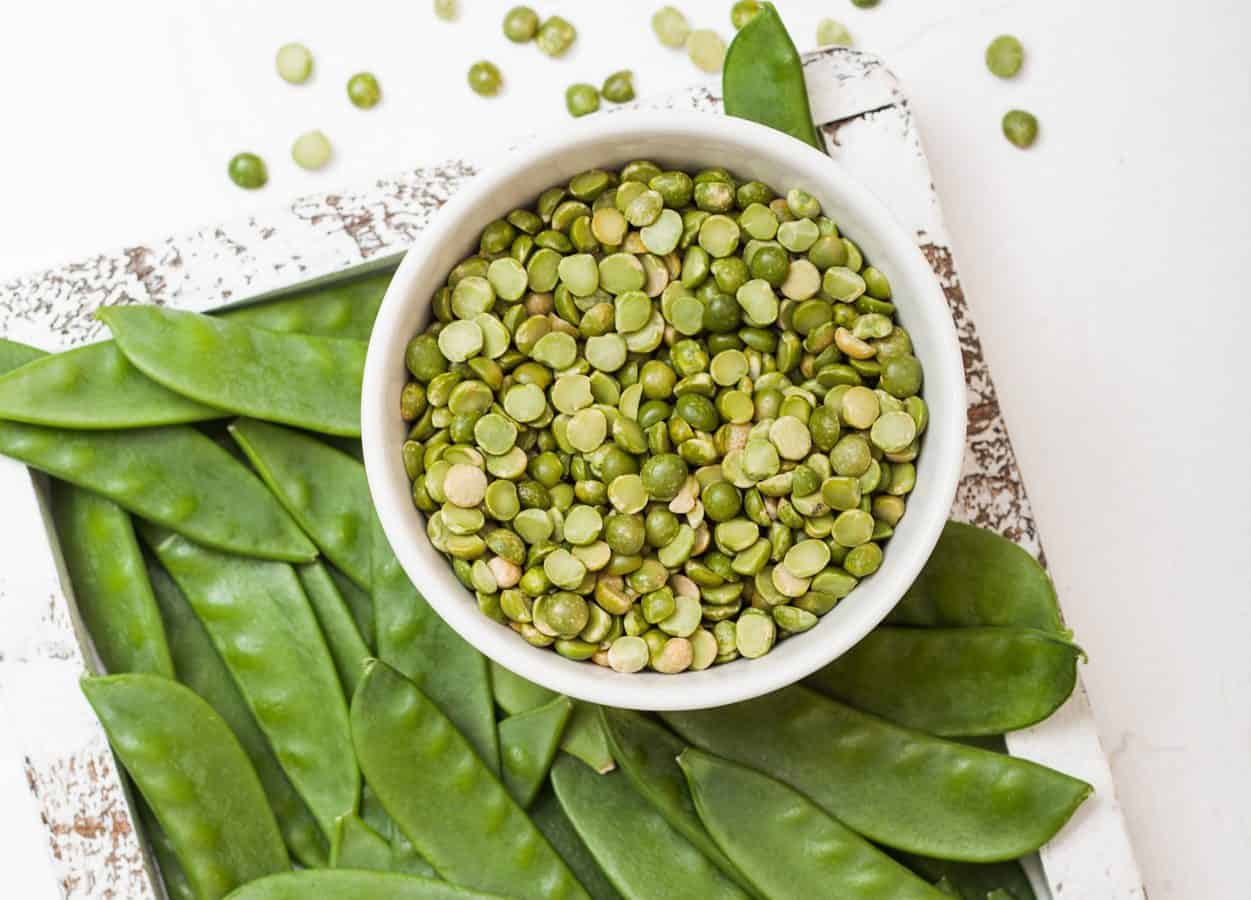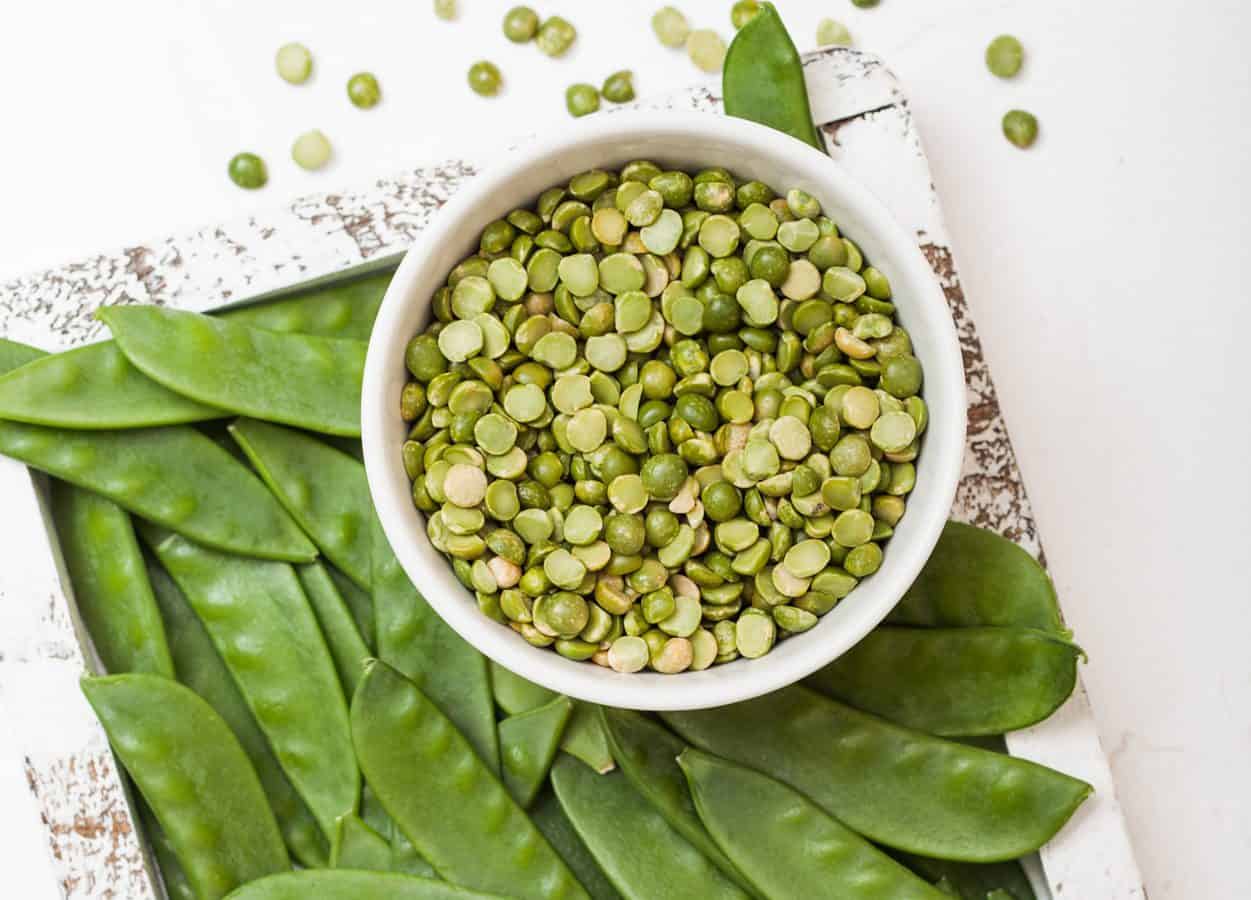 Split peas can be cooked without soaking and many people can eat them without experiencing intestinal gas.
However, I recommend soaking the split peas to shorten cooking time and to help eliminate gas.
To cut down on cooking time, pre-soak the split peas overnight. It will take 3 to 4 hours to cook pre-soaked split peas on the low setting of your crock pot. Otherwise, raw split peas will take 8 or 9 hours to cook on low.
Vegetables: Carrots, celery, and onions are the main vegetables in split pea soup. These three vegetables are the flavor base in many soups.
In this recipe, do not pre-cook these three vegetables as you would when making a mirepoix. Instead, add them raw to the crock pot and they will slow cook with all the other ingredients.
The flavor combination of carrots, celery, and onion balance the taste of split peas, which can be overpowering without other ingredients to soften it.
Ham: Diced ham, ham hock, Canadian bacon, and turkey bacon are all examples of ham that can be added to split pea soup.
Ham hock probably adds the most depth of flavor as the soup slow cooks, but any ham adds a meaty, salty, or smokey flavor, depending on the type of ham you use. After I cook a ham for dinner, I usually use the leftovers in the soup.
You can also buy deli ham if you don't have ham leftovers.
Vegetable or chicken broth: Broth gives the soup more flavor than just cooking the soup with water.
I recommend using Better than Bouillon concentrated vegetable base. The bouillon contains seasoned, concentrated vegetables.
As a bonus, Better than Bouillon also contains less salt than other bouillons or broths. Add 1 teaspoon vegetable base for every cup of water. Whisk together until combined.
Alternately, you can use your favorite pre-made vegetable or chicken broth.
Herbs: Thyme is my favorite herb to flavor split pea soup. Oregano is my second favorite. I also add bay leaves, parsley, salt, and pepper.
Dried herbs are a better choice to use in a crock pot soup since the flavor of fresh herbs diminish when they cook for a long time.
Dried herbs also save time since you don't have to mince anything. Just make sure that when you open your herb container and take a sniff, you can smell the aroma of the herb. Otherwise, the herbs are too stale to use.
Add salt and pepper at the end of cooking time to adjust the taste.
Salt is a little tricky in split pea soup with ham. The salt content of broths vary widely. In addition ham is a salty meat. I recommend only adding 1 teaspoon of salt to the soup as it cooks.
When it is finished cooking, taste it and add additional salt if necessary.
How to Make Crock Pot Split Pea Soup with Ham
Using a slow cooker to prepare the split pea soup is always a lifesaver.
This is a great make-ahead meal if you are gone all day and want minimal meal prep time when you get home.
The directions are very easy.
How Thick Should Split Pea Soup Be?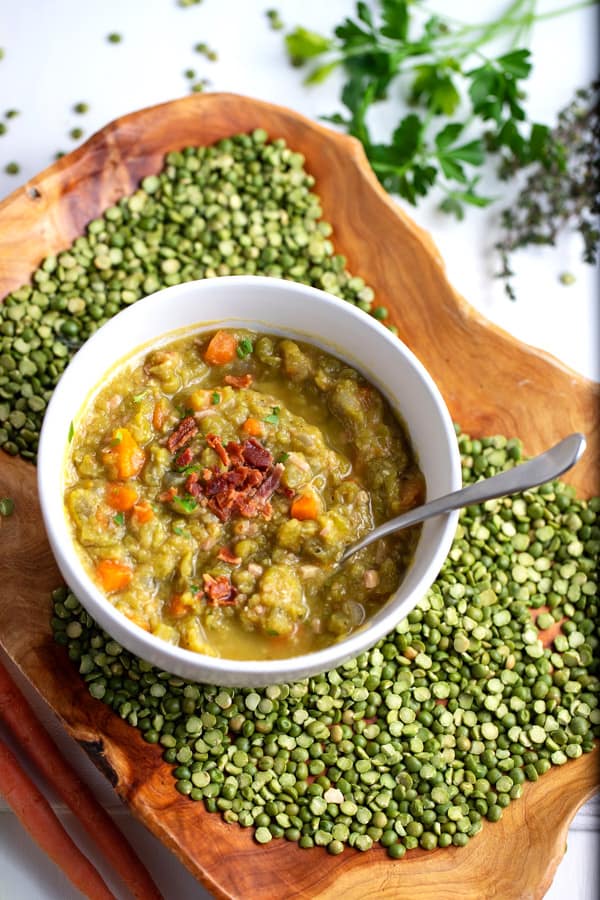 Pea soup that is completely pureed is thick. Some people like a thick texture. But that is not what most people prefer.
I used to completely puree my split pea soup because my son is suspicious of green things in his food.
However, my daughter saw the soup in the slow cooker and said, "That looks so good." But when I started pureeing it, she didn't think it looked as appetizing and wasn't as excited. With only part of the soup pureed, we mixed it all back together and we had a tasty soup that looked and smelled appetizing.
I enjoyed eating the soft carrots, celery and onions in the split pea soup and we could appreciate the broth more. So thank you lovely daughter, for changing up a familiar soup for the better.
Now we always partially blend the soup and get the best of both worlds.
So how thick should split pea soup be? It should be thick enough that you feel the split peas and vegetables pulling at your spoon as you stir the soup.
But it should not be so thick that your spoon remains upright by itself (even for a few seconds). It should not be mush.
I find that pureeing part of the soup gives the soup the right consistency.
Please note: The soup will thicken as it cools. Keep this in mind as you decide how much of the soup to puree. If the soup ever gets too thick, add broth to thin it out.
How to Partially Puree the Soup
When the soup is finished cooking, partially puree it by using an immersion hand blender for 20 to 30 seconds. (Another option is to puree 1 to 2 cups of the soup in a Vitamix blender.)
Then stir the pureed soup back into the rest of the soup.
As a side note: In the United States, pea soup refers to smooth fully blended split pea soup. However classic split pea soup refers to a thinner soup with visible split peas, carrots, onions, and ham.
Toppings for Split Pea Soup
I do not recommend using all of these toppings at the same time. But based on what you have available and your personal taste, these are my favorite toppings.
What goes with Split Pea Soup?
What you serve with split pea soup depends on what you have on hand or what you may want to prepare. The following suggestions are my favorites sides to serve with split pea soup.
Get even more great ideas for side dishes to serve with split pea soup.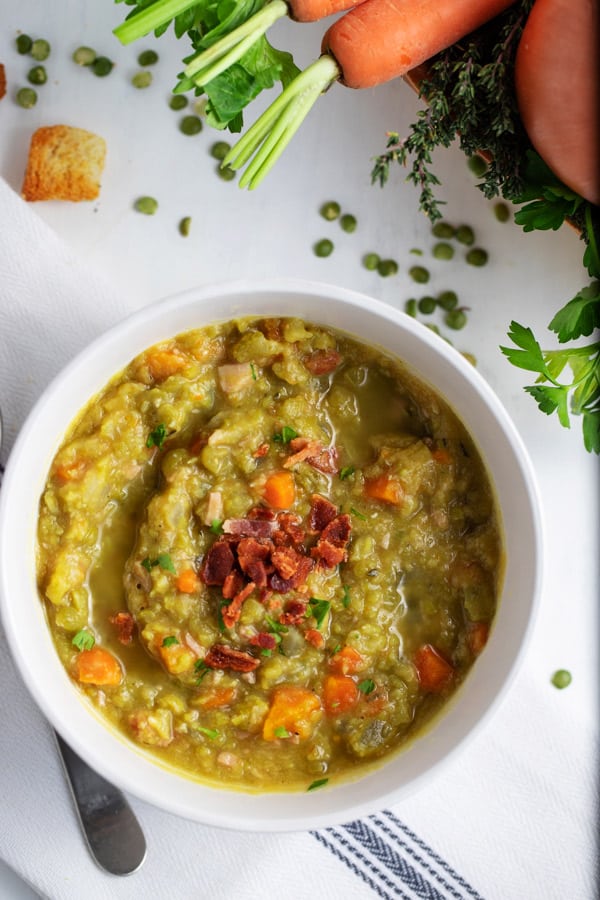 FAQ
How long can you keep split pea soup in the refrigerator?
If you have leftover soup, let it cool completely before putting leftovers in a storage container. The soup will thicken as it cools. Store the split pea soup in the refrigerator for 2 to 3 days.
Does split pea soup freeze well?
Most bean soups freeze exceptionally well and split pea soup is no exception. After the leftover soup has cooled completely, place it in an airtight freezer container. Freeze the soup for 2 to 3 months. Thaw in the refrigerator overnight before reheating.
How to reheat split pea soup
Add broth to the soup when you reheat the split pea soup. Cold soup will be very thick. The amount of broth you need to add depends on how much leftover soup you have.

Add approximately one tablespoon of broth per cup of thick soup and heat on medium low heat, stirring occasionally. As the soup heats, you will be able to see if more broth is needed to get the right soup consistency.
---
Did you like this post? Then let's be social. FOLLOW ME on PINTEREST and INSTAGRAM to keep up with the latest tutorials, favorite recipes and interesting happenings.
---
Recipe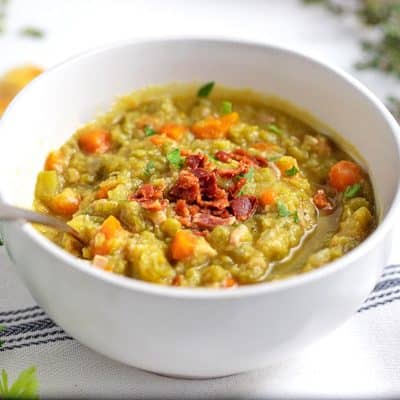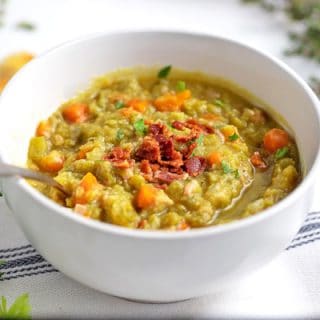 Easy Crock Pot Split Pea Soup with Ham
Hearty, healthy crock pot split pea soup with ham, carrots, onions, celery, and dried herbs, partially pureed for an easy dinner soup recipe.
Ingredients
2

cups

dry split peas

soaked overnight, drained and rinsed

4

cups

vegetable broth

or chicken broth

1

cup

ham

diced or shredded (or ham hock or turkey bacon)

1

cup

yellow onion

diced (about ½ medium onion)

1

cup

carrots

diced (about 4 medium carrots)

1

cup

celery

diced (about 4 medium celery stalks)

1

clove

garlic

minced

1

teaspoon

salt

to taste — depending on saltiness of broth

¼

teaspoon

pepper

freshly ground

2

bay leaves

1

teaspoon

dried thyme

½

teaspoon

dried oregano

½

teaspoon

dried parsley

plus ½ teaspoon fresh to garnish (optional)
Garnishes
Crumbled bacon

Croutons

Sliced green onions

Blue cheese crumbles

Chopped walnuts or toasted pecans
Instructions
SOAK split peas for 8 hours or overnight with at least 8 cups of water in the bowl.

DRAIN and rinse the split peas after they are finished soaking.

DICE onion, carrots, celery, and ham. MINCE garlic and fresh parsley (optional).

POUR all ingredients into a slow cooker, except for the fresh parsley. STIR to combine.

COOK on low for 3 to 4 hours, or until split peas are cooked.  Stir ingredients again.

OPTIONAL: Remove 1 to 2 cups of soup and blend. Stir the blended soup back into the rest of the soup and stir to combine.

TASTE AND SEASON with additional salt and pepper, if needed.

GARNISH with fresh parsley and crumbled bacon, or other desired toppings.

SERVE hot with a dinner roll or cornbread on the side.
Notes
All images and content are © TheTastyTip.com. If you want to use this recipe and techniques, please take your own photos, write your own description, and link back to this page. Thank you.
Nutrition
Serving:
1
g
Calories:
276
kcal
Carbohydrates:
40
g
Protein:
19
g
Fat:
5
g
Saturated Fat:
2
g
Polyunsaturated Fat:
3
g
Cholesterol:
18
mg
Sodium:
931
mg
Fiber:
14
g
Sugar:
7
g
---
Did you make this recipe? Tag @thetastytip on Instagram and hashtag it #thetastytip.
---
More Soups to Try