Mouthwatering vegan black bean soup made with roasted poblanos and tomatillos, corn, red onions, carrots, celery, and cilantro.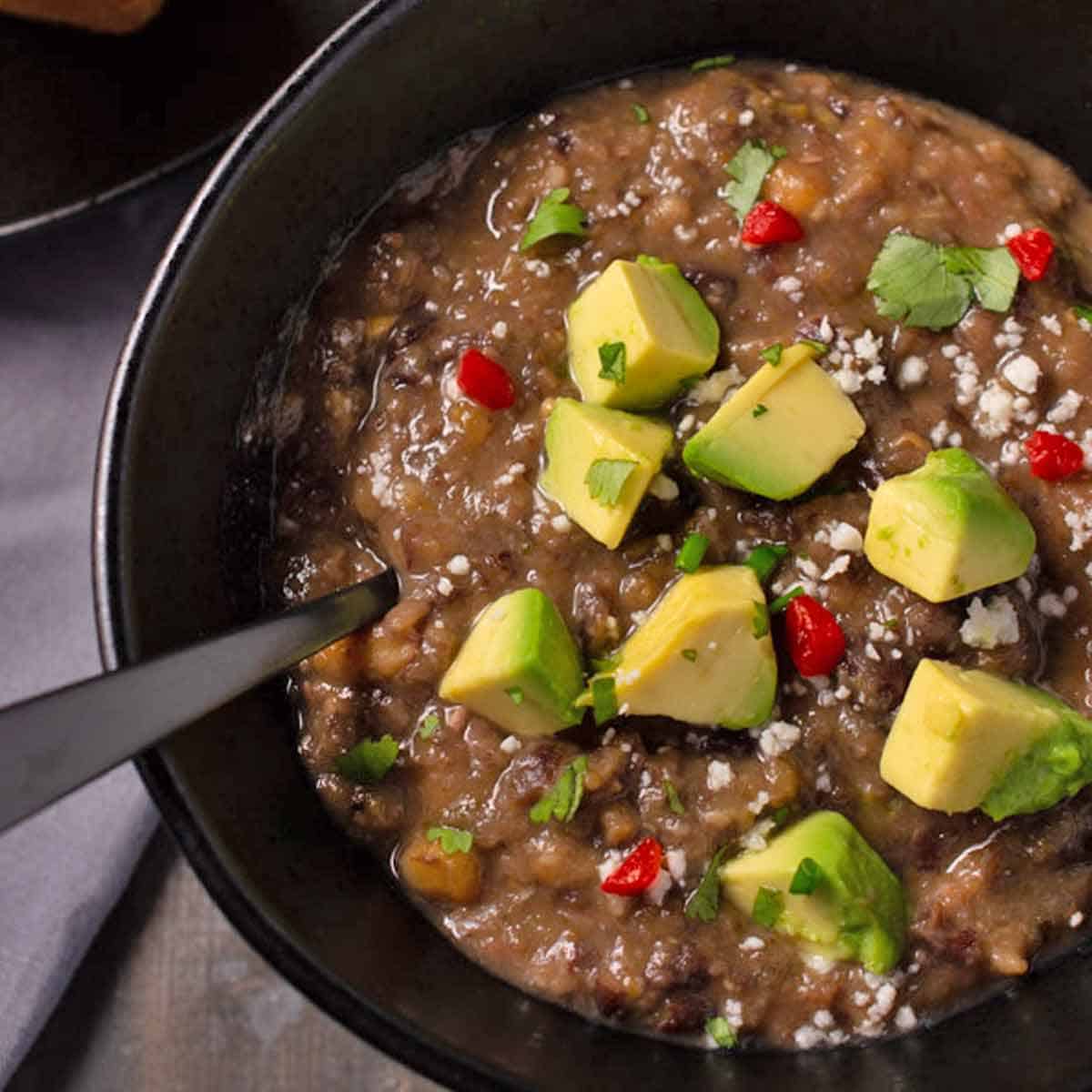 This recipe is not your ordinary black bean soup.  
Awaken the taste of fresh home cooked black beans with roasted poblano peppers and tomatillos in a sautéed mix of aromatic vegetables, herbs, and spices to create a mouthwatering soup layered with flavor and texture.
It will take a bit longer to cook everything from scratch, but the end result will absolutely be worth it.
Stay organized to be efficient. Sauté and roast simultaneously to save time. Pressure cook the soup with an Instant Pot or other electric pressure cooker to finish preparing this hearty dinner.
I recommend the Instant Pot. It never lets me down.
RELATED: You may also be interested in the best sides to serve with black bean soup. Rice, crusty bread, salad, and avocado are a few of the fantastic ideas.
Jump to:
Black Bean Soup Ingredients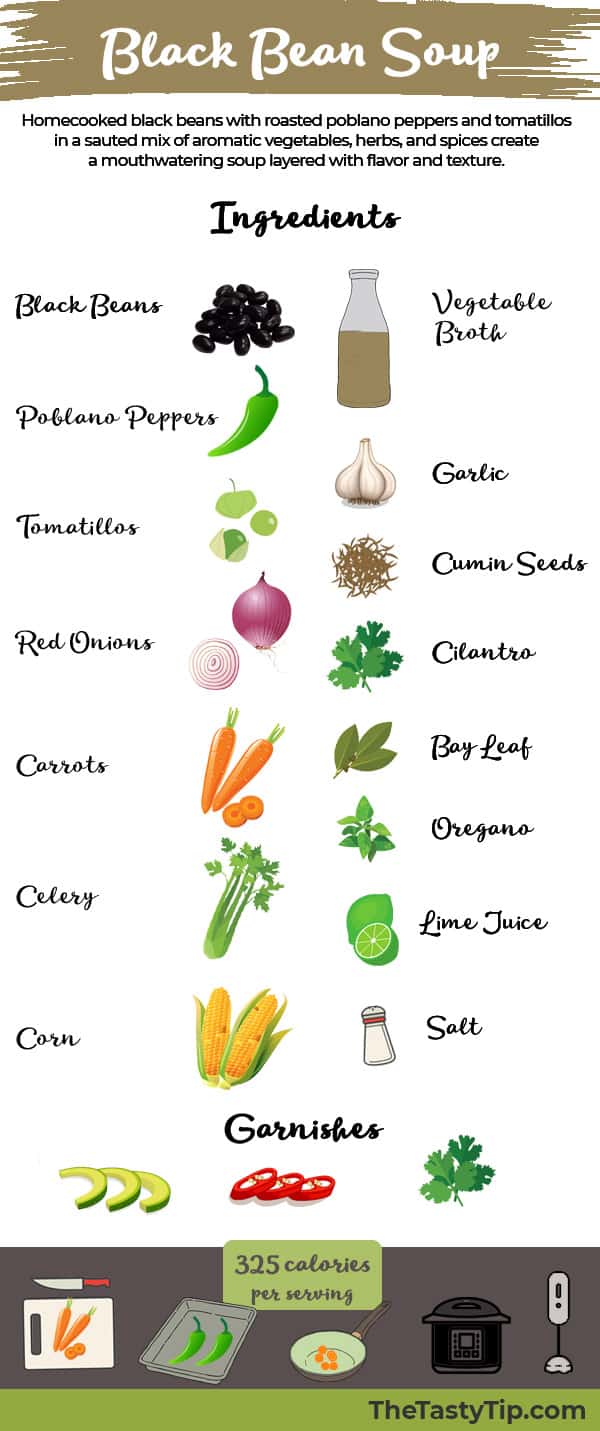 Black turtle beans or frijoles negros in Spanish (commonly referred to just as black beans) are the main ingredient in this hearty vegan soup.  

Black beans are dense, meaty, creamy, fudgy, and earthy. The inky broth from the cooked beans make an ideal base for soup.

Soak black beans overnight for easier digestion and reduced cooking time.
Poblano Peppers are mild chili peppers originating from Mexico. When roasted they have a spicy complex flavor, perfect for adding just a little heat to the soup.
Green Tomatillos, a relative of the tomato, are tart and have their own unique taste.  They provide a sweeter flavor when roasted.

Roast the pepper and tomatillos for a deeper flavor. Skip the roasting if you are short on time.
Flavor base. Carrots, red onion, and celery make an aromatic mirepoix.  

Mirepoix is a French cooking technique used to describe sautéing vegetables to soften them and bring out their sweet taste in a flavorful base.
Flavor boosters. Garlic, cilantro, cumin seeds, oregano, bay leaf, and corn boost the flavor of the mirepoix.
Cooking liquid. Vegetable or beef broth (if you aren't vegan) cooks the black beans.
Flavor enhancers and balancers. Lime juice and salt balance and enhance the flavor of the soup.
Directions
Roasting can be skipped. But if you have time, roasted vegetables add a new dimension of flavor.
Roast
Preheat the oven to 425° Fahrenheit.

The poblano peppers take 25 to 30 minutes to roast while the tomatillos only take 10 to 15 minutes to roast.
Prepare the vegetables.

Use food handlers gloves and cut the stem off the pepper. Slice it in half vertically and remove the seeds.

Remove the husk from the tomatillos and cut them in half.  

Brush the poblano peppers and the tomatillos with a a high smoke point oil.
Place the poblanos in the oven first. Turn them with tongs after 15 minutes.
Add the tomatillos. Turn after 10 minutes.

Keep an eye on the vegetables and remove any that have finished cooking before the rest of the vegetables are roasted.
When everything is done roasting, remove the pan from the oven and cool.
Place the poblano peppers in a bowl covered with a kitchen towel. As they cool, the skin loosens. Cover for about 10 minutes, or until cool to touch.
Use food handlers gloves to peel off the skin.
When the skin is removed, dice the pepper.
In a hurry? You can substitute canned diced chili for fresh roasted poblanos and skip roasting the tomatillos.
Mirepoix
The soup base is the second layer of flavor. Take a few minutes to make a mirepoix with aromatic vegetables - red onion, carrots, and celery.
A mirepoix is a French cooking technique where onions, carrots, and celery are slow cooked to soften and sweeten them.
Dice the vegetables to equal sizes so they will cook quickly and evenly.
Modify a traditional mirepoix ratio by using 1 cup red onion, 1 cup carrot, and ½ cup celery.
Make the mirepoix in the pressure cooker pot on the sauté setting.
Cook the onions and carrots for 10 minutes, until they begin to soften.
Add the celery and sauté for another 5 minutes until it softens.
Add the garlic to boost the flavor, followed by the freshly ground cumin seeds, allowing the flavor to bloom as it cooks in the oil.  
Pressure Cook
When the flavor base is made and the vegetables are roasted, add the remaining vegetables, broth and beans to the pot.
Close the lid and pressure cook for 15 minutes if you are using pre-cooked black beans or black beans from a can.
Partially Blend
When the black bean soup has finished cooking, allow the pressure cooker to release pressure on its own. This gives the beans a chance to cook a little more, resulting in a creamier bean and broth.
Use an immersion blender to partially blend the soup.
Another option is to blend half the soup in an electric blender and then return the pureėd soup to the pot and stir to blend.
Add the lime juice and the salt. Taste and adjust seasonings as needed.
Garnish and serve hot.
Garnish
Black bean soup tastes so good with a few garnishes on top. Try one to three of these garnishes for a tasty meal.
Avocado chunks (learn how to cut an avocado to garnish) or homemade guacamole
Roasted red pepper, diced or sliced
Tortilla strips
Cilantro
Green onion, diced
Red onion, diced
Caramelized onion
Cotija cheese (vegan or regular)
Monterey jack cheese (vegan or regular)
Crema or sour cream (vegan or regular)
How to Store Leftovers
Leftover bean soup can be even tastier the next day for lunch.
Store the soup in an airtight container in the fridge for 4 to 5 days. For longer storage, freeze it.
To reheat an individual portion, warm in the microwave for 1 minute. Stir, test the temperature, and heat again if needed.
To reheat a large amount, warm in a pan on the stove. Bring the soup to a boil and simmer for 1 to 2 minutes.
How to Freeze
Pour the cooled soup in a freezer-safe container. Don't forget to label the contents and date.
Freeze for up to 6 months.
Thaw in the fridge overnight. Then reheat.
Did you like this post? Then let's be social. FOLLOW ME on INSTAGRAM and PINTEREST to keep up with the latest happenings.
Recipe
Vegan Black Bean Soup in Pressure Cooker
Mouthwatering vegan black bean soup made with roasted poblanos and tomatillos, corn, red onions, carrots, celery, and cilantro. 
Ingredients
1

cup

dry black turtle beans

or 2 ½ cups cooked or canned black beans

2

cups

vegetable or beef broth

2

whole poblano peppers or 3 tablespoons of poblano peppers

roasted, peeled, and minced (can of diced green chiles can be substituted)

½

cup

2 ½ ounces tomatillos, roasted and chopped

1

cup

4 ½ ounces red onion, diced

1

cup

5 ounces carrots, peeled and diced

¾

cup

2 ounces celery, diced

1 ½

teaspoons

2 cloves garlic, minced

½

cup

2 ½ ounces corn

2 ½

tablespoons

grapeseed or extra virgin olive oil
Seasonings
1

bay leaf

¼

cup

¼ ounce cilantro, chopped

½

teaspoon

cumin seeds

freshly ground (or cumin powder)

1

teaspoon

fresh or ½ teaspoon dry oregano

1

teaspoon

salt

plus more to taste

1

tablespoon

lime juice

or to taste - about half a lime
Suggested Toppings - 2 or 3 of your favorites
roasted red peppers

queso fresco, shredded Monterey jack cheese, chopped green onions, caramelized onions, tortilla strips, avocado slices, guacamole, crema or sour cream
Instructions
Read the complete directions before you start. With organization you can roast and sauté simultaneously to save time.
PRE-COOK BEANS
SOAK the black beans overnight in enough water to cover them 3 inches.

DRAIN the beans.

PRESSURE COOK BEANS. Place drained beans in an electric pressure cooker and cover with 2 inches of water. Secure the lid on the pressure cooker and cook at high pressure for 12 minutes. Release the pressure naturally.

Alternately, you can use canned beans instead of cooking the beans from scratch. Use 2 (15 oz.) cans of black beans.



ROAST VEGETABLES
GATHER all the ingredients.

PREHEAT oven to 400° Fahrenheit.

CUT stem off the poblano peppers. Cut peppers in half and remove seeds. (Use food safety gloves to prevent juice from stinging your hands.)

REMOVE the husk from the tomatillos. Cut them in half.

BRUSH the peppers and tomatillos with grapeseed or extra virgin olive oil.

PLACE the peppers only on a baking sheet and roast in the oven for 15 minutes.

When the timer goes off, TURN the poblano pepper over to roast the other side. Add the tomatillos to the baking sheet and roast for 15 minutes.

REMOVE the vegetables from the oven.

COVER the poblano peppers in a bowl with a towel or plate on top of the bowl. Allow peppers to steam and cool for 10 minutes. This process loosens the skins from the peppers.

PEEL the peppers using food handler gloves. Dice the peppers.

Roasting the vegetables adds an additional layer of flavor. However, to save time, you can skip this step and add the unroasted vegetables to the soup. You can also used canned green chiles in place of the poblano peppers.
COOK SOUP IN ELECTRIC PRESSURE COOKER
DICE the red onion, celery, and carrot, and mince the garlic.

CHOP the cilantro and grind the cumin seeds with a mortar and pestle or a spice grinder.

HEAT the electric pressure cooker on the sauté setting. When the pot is hot, add 2 tablespoons of grapeseed or extra virgin olive oil.

COOK a mirepoix by sautéing the onion and carrots in the oil for 10 minutes. The sauté setting should be medium low heat.

ADD the celery and sauté for another 5 to 10 minutes or until the vegetables are soft.

STIR the garlic and freshly ground cumin seeds into the mirepoix. Cook for 2 minutes to let the flavor bloom.

POUR the broth, beans, and the remaining ingredients, except for the lime juice into the pressure cooker.

PRESSURE on high for 15 minutes.

RELEASE pressure naturally.

PARTIALLY BLEND the soup with an immersion blender.

STIR in the lime juice.

TASTE and ADJUST seasonings. I usually add another teaspoon of salt and sometimes more lime juice.

SERVE hot with 2 or 3 of the suggested toppings. Avocado, caramelized onions, and queso fresco are especially good choices.
COOK SOUP ON STOVE TOP
If you do not have an electric pressure cooker, you can cook the soup in a stock pot on the stove top.

FOLLOW steps 1 and 2 above.

HEAT a stock pot, add the oil, and follow steps 4, 5, and 6.

POUR the broth, beans, and the remaining ingredients, except for the lime juice into the stock pot and cover with the lid. Bring the soup to a boil.

REDUCE HEAT TO LOW and cook at a simmer for 20 to 25 minutes, or until the vegetables are soft.

FOLLOW steps 10-13.
Notes
All images and content are © TheTastyTip.com. If you want to use this recipe and techniques, please take your own photos, write your own description, and link back to this page. Thank you.
Nutrition
Serving:
1
cup
Calories:
325
kcal
Carbohydrates:
44
g
Protein:
8
g
Fat:
14
g
Saturated Fat:
2
g
Polyunsaturated Fat:
11
g
Sodium:
761
mg
Fiber:
7
g
Sugar:
23
g
Did you taste all the layers of flavor in this vegan black bean soup recipe? Comment below and let me know your experience.
More Soups to Try
Vegetable Soup with Ground Beef: Combine tender vegetables and savory ground beef in a flavorful broth to get a mouthwatering vegetable soup with ground beef, packed with vitamins, minerals, and protein.
Butternut Squash Soup: Rich, creamy soup with butternut squash, cream cheese, white beans, diced tomatoes, and flavorful herbs.
15 Bean Soup: Craving a hearty meal? How about a soup stuffed with protein? Wholesome beans and savory meat crammed into one soup bowl. That is what you get with this colorful, scrumptious 15 bean soup recipe.

Pumpkin Soup: Blend fresh herbs and spices with pumpkin puree, coconut milk, red lentils, and apples in this seasonal soup, ready in 30 minutes.
Turkey Soup: Use leftover turkey, along with potatoes, onions, leeks, celery, and fresh seasonal herbs for a true comfort food experience. Don't have turkey? Substitute chicken instead.
Split Pea Soup: Hearty, healthy crock pot split pea soup with ham, carrots, onions, celery, and dried herbs, partially pureed for an easy dinner soup recipe.
Taco Soup with Ground Beef: Quick, easy crock pot soup featuring ground beef, 3 kinds of chiles, 2 kinds of beans, and fresh herbs and spices.