Learn how to make guacamole in 3 easy steps. Choose the right avocados, control your spicy heat level and be selective with your add-in ingredients.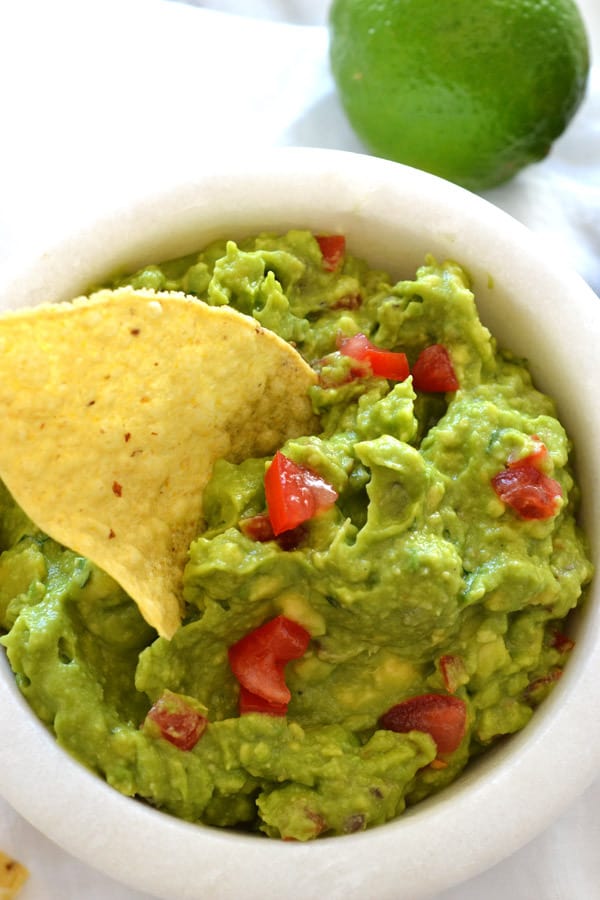 Do you love guacamole? In our house, we do. There are so many ways to eat it.
It is a healthy snack, one layer in 7 layer dip, a delicious topping on enchiladas, a filling for burritos or a spread on a sandwich wrap.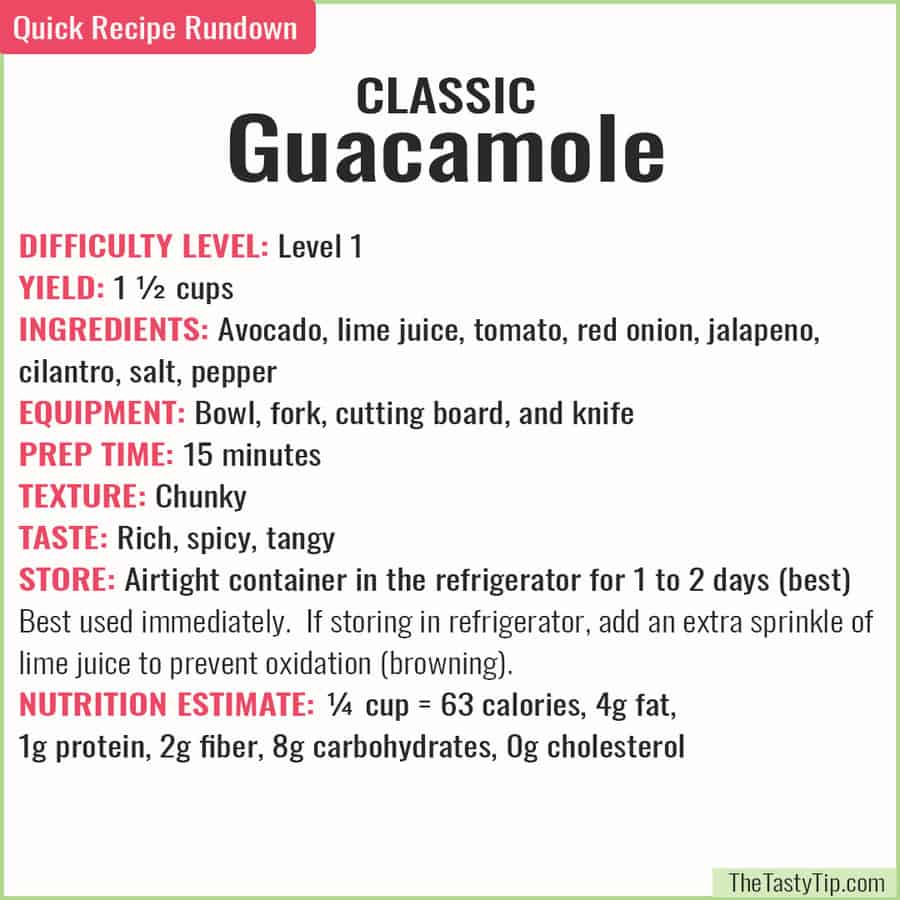 One of the things you will love about this easy guacamole recipe is that it can be customized to your individual taste. I will give guidelines on the amount of ingredients to add, but really it is based on your flavor preferences.
Do you like tangy guacamole? Then add more lime juice. Do you want to turn up the heat? Double the jalapeno or substitute habanero chili peppers for the jalapeno. Or even use a combination of the two chilies.
So is there even a best guacamole recipe if there is so much variety in ingredients? Absolutely! The combination of guacamole ingredients you make in your kitchen, based on your taste is the best guacamole recipe you will make.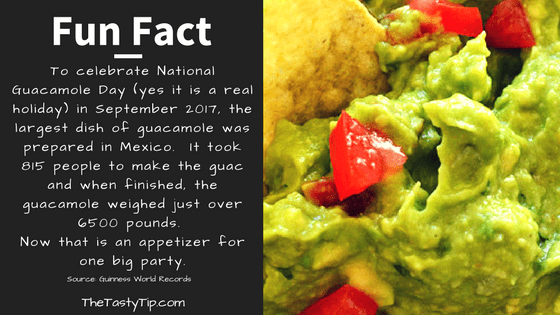 Guacamole Ingredients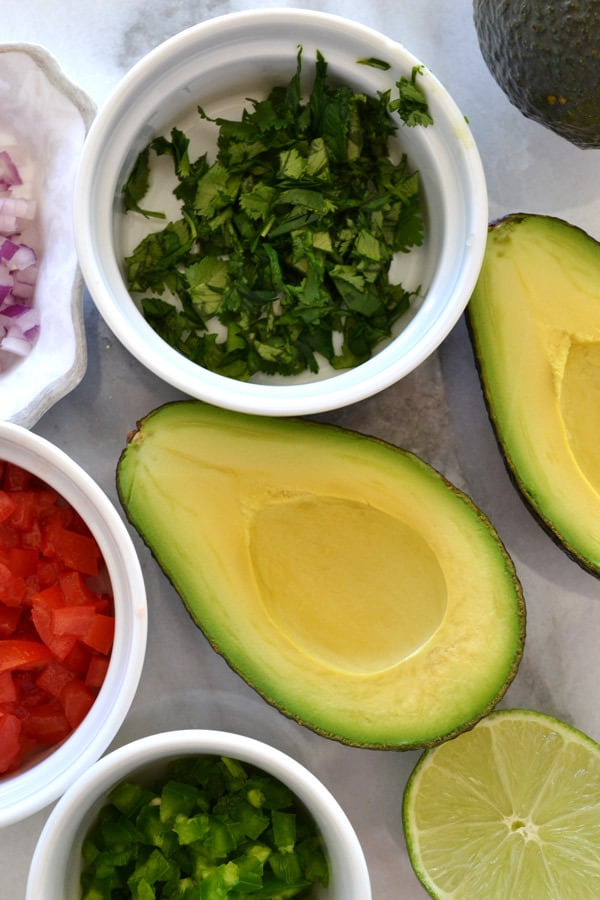 Avocado
Lime Juice
Cilantro
Jalapeno pepper (or other spicy pepper variety)
Red onion
Salt & freshly ground black pepper
How to Make Guacamole Step #1
Begin with the Right Avocado
Avocado Varieties
The first step is to pick a good avocado. The Hass avocado is used most often in guacamole recipes because it is smooth and creamy when ripe. Chipotle uses this variety in their guac recipe.
Fuerte avocadostaste similar to Hass avocados and also mash easily.
Make sure the avocados are ripe before making this easy guacamole recipe. Hard, unripe avocados will not soften, even when blended. Pureed, unripe avocados taste horrible and have an unpalatable texture. Check out the post how to pick a good avocado for more information.
How to Tell Avocado Ripeness
You can test if an avocado is ripe by gently squeezing it in the palm of your hand, recommends California Avocados. The avocado will yield to pressure, but still remain firm.
Too ripe avocados will feel mushy and may be brown inside. Throw these overripe avocados in your compost bin.
How to Cut an Avocado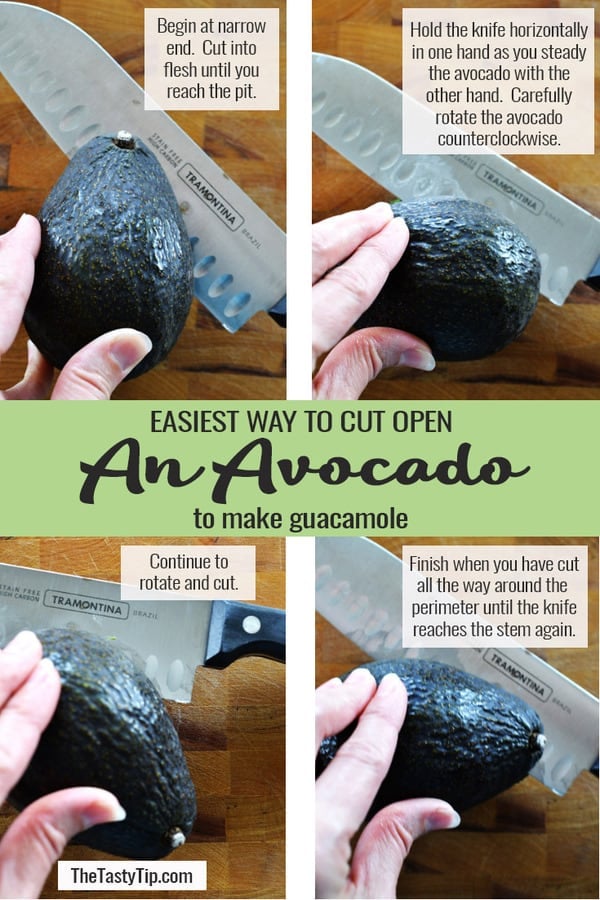 Cut into the avocado until the knife reaches the seed. Cut vertically starting at the stem. Rotate the avocado so the knife cuts around the perimeter until it reaches the stem again. Gently twist the avocado to open. See how to cut an avocado.
Use a spoon or your fingers to remove the pit.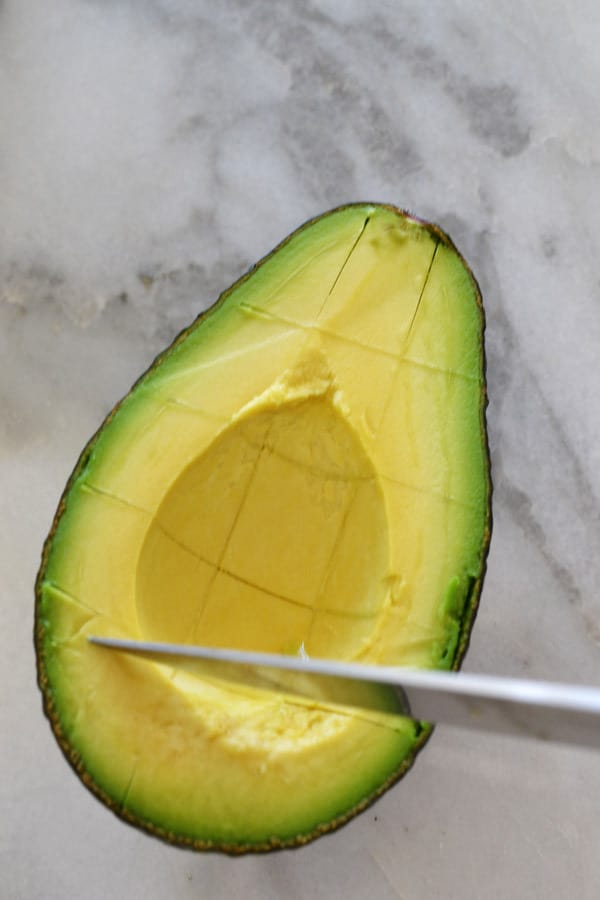 Hold half of the avocado firmly on the cutting board with the peel side down. Then gently cut the avocado vertically from top to bottom, taking care not to cut through the peel.
Rotate the avocado and make 4 or 5 cuts horizontally without cutting through the peel.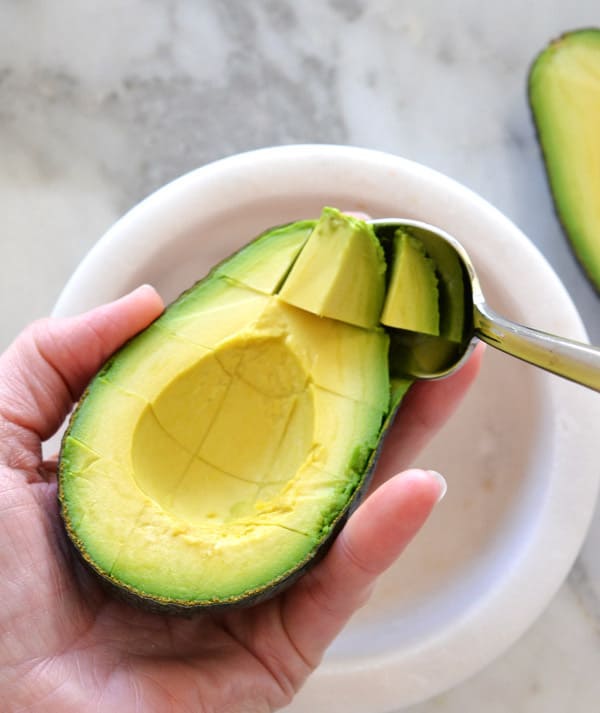 Peel off the skin, or use a spoon to remove the avocado chunks. Repeat with the other half.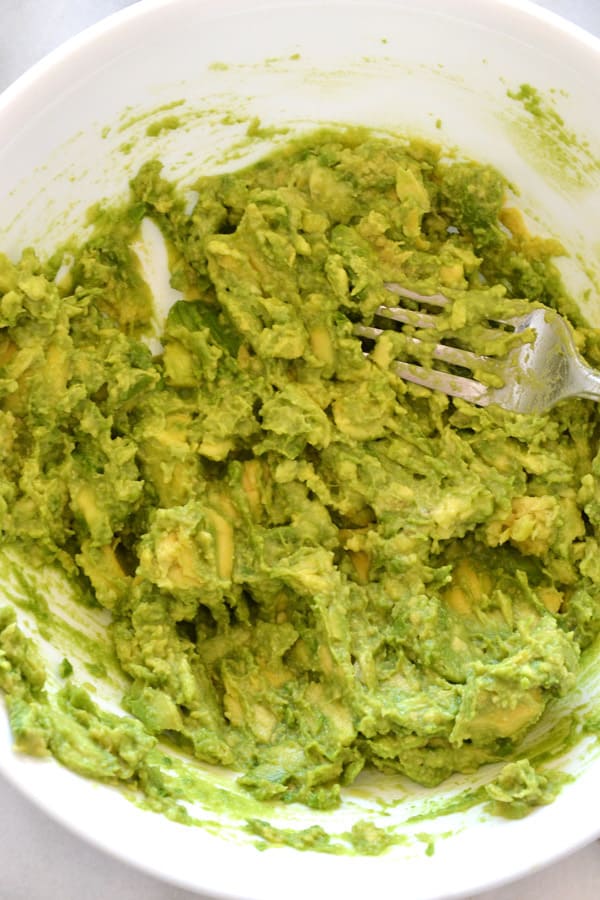 Traditionally, the avocado is mashed with a mortar and pestle. However, you can use any bowl and fork or spoon to mash it.
Use a fork or the back of a spoon to mash the avocado to achieve chunky guacamole. Of course, this is to your taste, so if you want your guacamole smoother, use an immersion blender to puree.
After mashing the avocado, squeeze lime juice into it and mix well. The lime juice is acidic and prevents avocado oxidation (which causes browning).
How to Make Guacamole Step #2
Choose Your Heat Level
You can make guacamole mild or you can turn up the heat. The variety of pepper you use, how much of it you use and whether or not you use the pepper seeds determines the heat level.
Jalapeno peppers are commonly used in the best guacamole recipes. However, habanero chili peppers, serrano peppers, green chilies and poblano peppers can also be used. This easy guacamole recipe calls for jalapeno peppers.
Whichever variety of chili pepper you choose, mince it. Don't bite into large chunks of peppers. A subtle blending of the ingredients creates the best texture.
How to Make Guacamole Step #3
Choose Fresh Add-ins Wisely.
Add diced tomato for a slightly sweet flavor. Beware the supermarket tomatoes. Many varieties found in the grocery store are bland. Choose fresh tomatoes picked from your garden or a farmers market.
Dice the tomatoes and then separate seeds and juice from the pulp. Tomato seeds and excess juice do not belong in guacamole. No runny guacamole here.
Tomatoes and avocado pair nicely together. The avocado helps your body absorb lycopene, an antioxidant found in the tomato. So adding tomato into your guacamole has some health benefits as well as tasting delicious.
Add raw red onion to give your guacamole a slightly sweet pungent kick. Mince it well.
I prefer the flavor of raw red onions. However, sweet, white or yellow onions are good substitutions for red onions.
Add cilantro for a floral peppery addition to guacamole. Mince it up before mixing it in.
I love cilantro, but some people taste a bitter, soapy flavor when they eat cilantro. This is due to natural aldehydes in cilantro (naturally occurring organic compounds that contributes to flavor) . If this describes you, leave the cilantro out.
Season to your taste with freshly ground black pepper and salt. Black pepper add some robust flavor and salt enhances the flavors already present in the guacamole.
How to Store Guacamole
Now that you know how to make guacamole, make it often. It is a healthy snack and it can be eaten with many dishes.
However, if you don't eat the whole batch, store the guacamole in the refrigerator in an airtight container for 1 to 3 days. If it starts to turn brown, simply stir some more lime juice into it. It still tastes good.
If you know you won't finish the guacamole within three days, it is possible to freeze it, but with varying results.
Avocados freeze beautifully. However, the other ingredients added to the guacamole are not as appetizing when frozen and then thawed. Your best option is to make a batch of guacamole that you know you and your family or friends can eat within three days.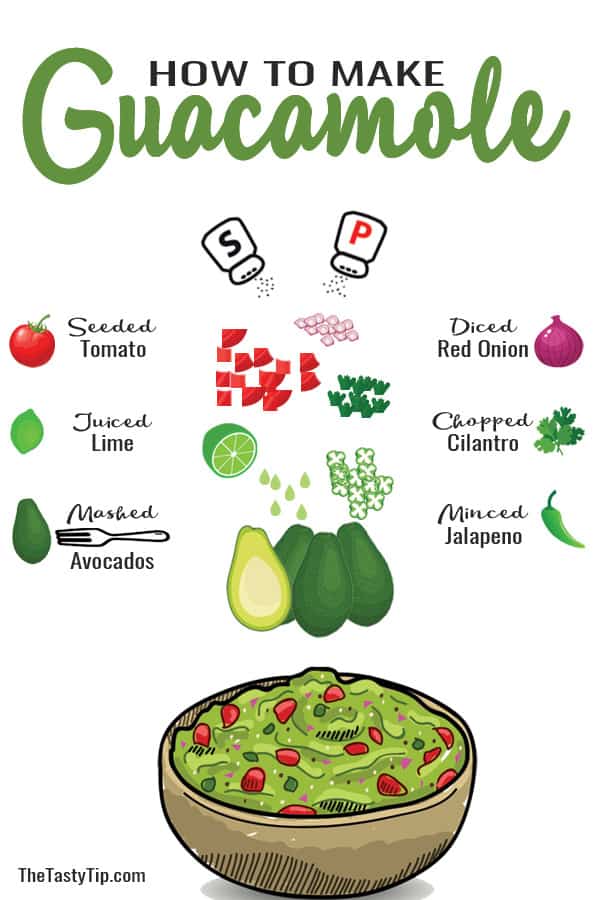 ---
Did you like this post? Then let's be social. FOLLOW ME on PINTEREST and INSTAGRAM to keep up with the latest tutorials, favorite recipes and interesting happenings.
---
Recipe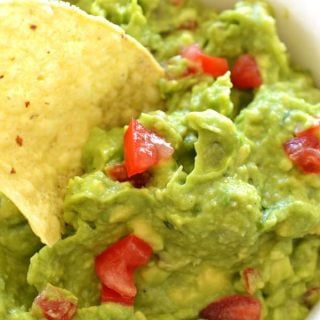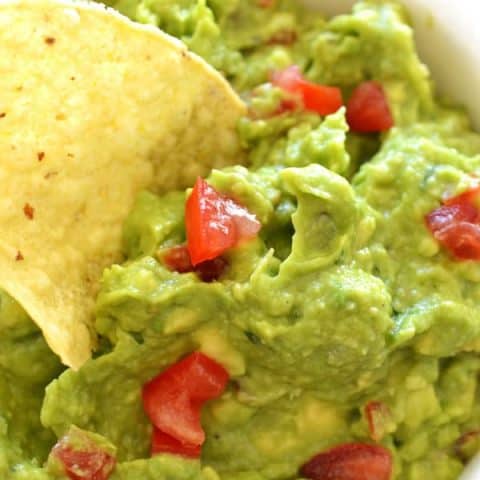 How to Make Guacamole
Chunky guacamole made with rich, creamy Hass avocados, heated with spicy jalapeno peppers and sweet pungent red onion.  Flavored with floral, peppery cilantro, sweet tomatoes, sour lime juice, salt and black pepper.  Use it as a dip, spread it on wraps and burgers or dollop on top of enchiladas and burritos.Adjust heat and spices to your own taste preference.
Ingredients
3

whole medium Hass or Fuerte avocados

ripe

2

teaspoons

lime juice

about ½ lime, freshly squeezed

2

tablespoons

tomato with seeds and excess juice removed

diced

1

teaspoon

red onion

minced

2

tablespoons

jalapeno pepper

minced

1

teaspoon

cilantro

minced

¾

teaspoon

salt

⅛

teaspoon

pepper
Instructions
CUT the avocado in half and remove the skin and pit. Optional: cut the avocado in chunks for easier mashing.

MASH the avocado in a bowl with a fork or the back of a spoon.

SPRINKLE the lime juice into the mashed avocado and stir thoroughly.

STIR in the minced tomato, red onion, jalapeno pepper and cilantro until well combined.

SEASON with the salt and pepper.

TASTE and adjust seasoning and add-ins to your level of perfection.
Notes
All images and content are © TheTastyTip.com. If you want to use this recipe and techniques, please take your own photos, write your own description, and link back to this page. Thank you.
Nutrition
Calories:
63
kcal
Carbohydrates:
8
g
Protein:
1
g
Fat:
4
g
Polyunsaturated Fat:
3
g
Sodium:
291
mg
Fiber:
2
g
Sugar:
5
g
---
Did you make this recipe? Tag @thetastytip on Instagram and hashtag it #thetastytip.