Do you like black bean recipes? If so, you will find it helpful to learn how to cook black beans from scratch. They are easy enough to cook every week. Or make extra and freeze them, so you always have them ready for any recipe.
These instructions will give you plain black beans. Use the cooked beans in recipes such as Black Bean Soup, Southwest Chipotle Kale Quinoa Bowl, black bean hummus, black bean burgers, and black bean brownies.
You may also be interested in seasonings for the black beans, as well as good toppings for the beans if you want to eat a bowl of beans with rice or quinoa.
I recommend cooking more beans than you will need for your recipe and then freezing the leftovers for future recipes.
If you are interested in cooking other staples, see the posts on how to cook quinoa and how to cook brown rice.
How to Cook Black Beans in 7 Steps
Sort and rinse beans.
Soak beans overnight.
Discard soak water.
Rinse beans thoroughly.
Choose your cooking method.
Cook.
Drain and discard cooking liquid.
Step 1: Sort and Rinse Beans
Measure out the amount of beans to cook. Sort them and discard any pebbles or other foreign objects.
If you pour the dry beans on a cookie sheet, it is easy to see if anything needs to be picked out.
Rinse the beans in a colander under running water.
Step 2: Soak Beans Overnight
There are two reasons to soak beans, either overnight or for 6 to 8 hours.
First, hydrating the beans reduces the cook time by about 30%. Pre-soaked beans cook up soft and creamy.
Second, soaking the beans can help reduce gastrointestinal symptoms often associated with eating beans, such as bloating and flatulence.
Black beans contain complex sugars known as oligosaccharides. Unfortunately, our digestive enzymes cannot break down oligosaccharides. As a result, the bacteria in our intestines ferment these complex sugars, causing gas and bloating.
Fortunately oligosaccharides are water-soluble. This means if you soak the beans, discard the soak water, and then rinse the beans really well, you can wash away a lot of these complex sugars.
To soak the black beans: Place the sorted and rinsed beans in a bowl. Add enough water to cover the beans a minimum of one inch, but two inches of water is better. You would be surprised at how much water the beans can absorb.
Step 3: Discard Soak Water
You should never cook the beans in the soak water if you are trying to avoid gas. The soak water will contain all the complex sugars you are trying to get rid of. So toss that bean water out.
Step 4: Rinse Beans Thoroughly
After the soak water is gone, thoroughly rinse the black beans in a colander. The more you rinse, the less likely you will toot when you eat the beans.
Step 5: Choose Your Cooking Method
There are several cooking methods that can be used to cook beans. Learn how to cook black beans with each method and decide which one you like best.
Cook the beans in a pressure cooker (either electric or stove top), in a stockpot on the stove, or in a slow cooker (crock pot).
Each method is effective and will give you a delicious creamy bean. However, the cooking time is different for all cooking methods. Each method also requires varying amounts of hands-on time.
How to Cook Black Beans on a Stovetop
Add the pre-soaked and rinsed beans to a heavy pot.
Add enough water to cover the beans + an inch.
Bring the black beans to a boil on high.
Reduce heat to low and simmer for 1 ½ to 2 hours.
How to Cook Black Beans With a Slow Cooker
Add the pre-soaked and rinsed black beans to a slow cooker.
Add enough water to cover the beans + an inch.
Cook on high 1 ½ hours.
Reduce heat to low and cook an additional 6-7 hours.
How to Cook Black Beans With an Electric Pressure Cooker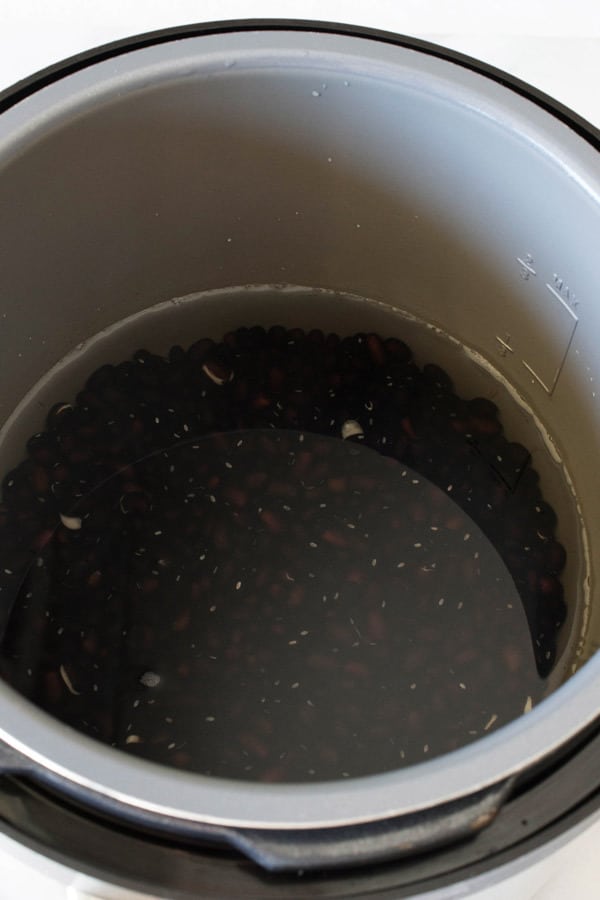 My favorite pressure cooker is the Fagor Lux™ Multi-Cooker. It is similar to the Instant Pot, but it performed better in tests. For more information, read my comprehensive Fagor pressure cooker review.
Add the pre-soaked and rinsed beans to an electric pressure cooker.
Cover with enough water to cover the beans, plus at least an inch.
Bring it to pressure and cook for 15 to 18 minutes. Let the pressure release naturally.
How to Cook Black Beans With a Stovetop Pressure Cooker
Add the pre-soaked and rinsed beans to a stovetop pressure cooker.
Add enough water to cover the beans, plus at least an inch.
Heat on medium high heat on the stovetop until pressure is reached.
Turn the heat to medium low to low and cook for 10 to 12 minutes.
Step 6: Cook
Cook those beans.
If you want to add any herbs or seasonings for taste or to reduce gas, add them before you cook the beans.
Some recipes don't require any herbs or seasonings because the beans will be an ingredient in another recipe.
Step 7: Drain and Discard the Cooking Liquid
When the beans are finished cooking, the water will be a dark purplish black color. For best results, discard the liquid.
Your colander is getting a lot of work today. Use it for the last time as you rinse the bean water off the beans.
Black Bean Seasonings
Some of the seasonings that are tasty with black beans are bay leaf, cumin, ginger, cilantro, and savory.
Black Bean Toppings
If you are just cooking a hearty bowl of beans, there are a number of toppings that will taste good.
Pat of butter or teaspoon of olive oil
Cheese: Queso fresco, Monterey Jack, and cheddar
Roasted red peppers
Caramelized onion, red onion, green onion, and yellow onion
Corn
Roasted sweet potato
Cilantro
Avocado slices or guacamole
Roasted garlic
Finishing Up the Black Beans
Now that you know how to cook black beans, make extra to freeze so you always have some on hand for your favorite bean recipes.
Check out all my other tutorials.