Roasted red pepper hummus is flavored with roasted red peppers and seasoned with smoked paprika. Slightly sweet, smoky, and bright, with a hint of bitter tahini. Quick and easy appetizer or snack, high in fiber and protein.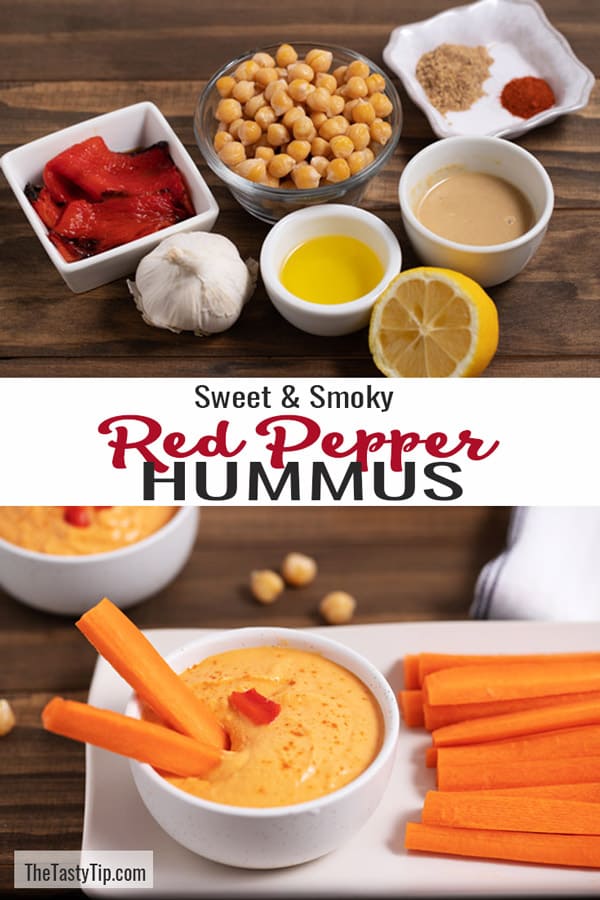 It has been a long journey to get to this roasted red pepper hummus recipe.
I discovered hummus when I was in my 20's, but never tried to make it at home until a decade later when I was married with a family. We were going through a vegan phase and I was desperate to find recipes my children would eat.
After we tasted hummus, we were all hooked. And although we aren't vegan anymore, hummus is one of the recipes that remained in our diet.
Read more about what hummus is and get our family's traditional go-to hummus recipe.
After making hummus for years, I decided to try out a new flavor.
Aside from classic hummus, red pepper hummus is the most common flavor found in grocery stores.
Homemade hummus tastes better than store bought and it is way cheaper to make.
But I bought several brands of red pepper hummus to get a sense of what was out there. I tasted and analyzed each one. This recipe emerged from the taste test.
My goal was to make a delicious recipe for roasted red pepper hummus. The taste of roasted red pepper had to be prominent. The hummus had to be creamy and thick enough to dip a pita chip or carrot into.
What does Roasted Red Pepper Hummus Taste Like?
My recipe for roasted red pepper hummus tastes slightly sweet, smoky, and bright, with a hint of bitter. Roasted red peppers add the sweet flavor, smoked paprika contributes the smoky taste, lemon juice gives the bright tang, and tahini hints at a bitter edge.
What is in Red Pepper Hummus?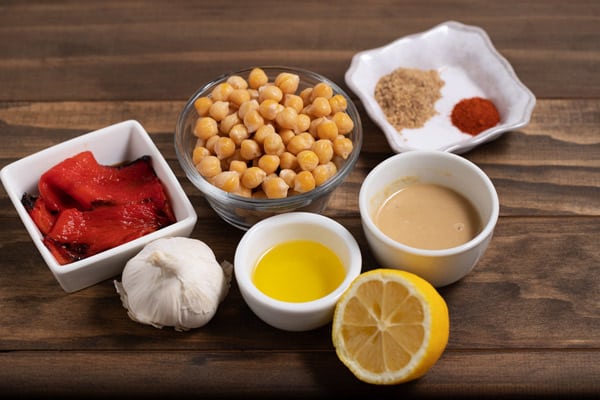 Chickpeas (also known as garbanzo beans)
Roasted red bell peppers
Lemon juice
Tahini (ground sesame seed)
Garlic
Smoked paprika
Flax seed
Salt
Olive oil
Water
What is the Best Equipment to Use to Make Homemade Hummus?
We love hummus so much we eat it almost daily, so I make a big batch of hummus every week.
However, at first I struggled with the tools I had in my kitchen. It was difficult to get the hummus creamy and smooth using an immersion blender, a regular blender, and a small food processor.
I experimented and finally found the Vitamix Blender. It became my most important tool for making homemade hummus successfully. It saved me time and grief.
Perhaps another high quality blender would work as well. And I have heard of success using a large food processor.
But only the Vitamix made the creamy hummus we craved with all the chickpeas blended in. It changed my life.
Now I make my hummus recipe every single week in about 15 minutes (and that includes the cleanup time).
How to Make Roasted Red Pepper Hummus
Step 1: ROAST the red peppers. See my post on how to roast red peppers. (Or use jarred roasted red peppers found in the grocery store.)
Step 2: COOK the dried, pre-soaked chickpeas. (Or use canned chickpeas.)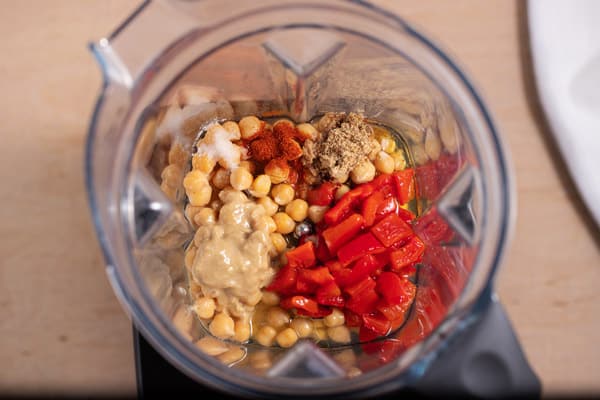 Step 3: LOAD all the ingredients in a Vitamix (or other high powered blender) or in a food processor. Follow this order for loading the blender or food processor.
POUR the liquid on the bottom. Pour in the water, lemon juice, and olive oil.
SPRINKLE the seasoning on top of the liquid: Salt, smoked paprika, flax seed, and garlic.
SPOON in the tahini (the fat).
FINISH with the roasted red peppers and cooked chickpeas. Rinse the chickpeas before throwing them into the blender.
Step 4: BLEND on low speed for 10 seconds and increase the speed to high and blend until the hummus is smooth and creamy (30-45 seconds).
Step 5: CHILL to blend the flavors before serving if you have time.
What Do You Eat With Red Pepper Hummus?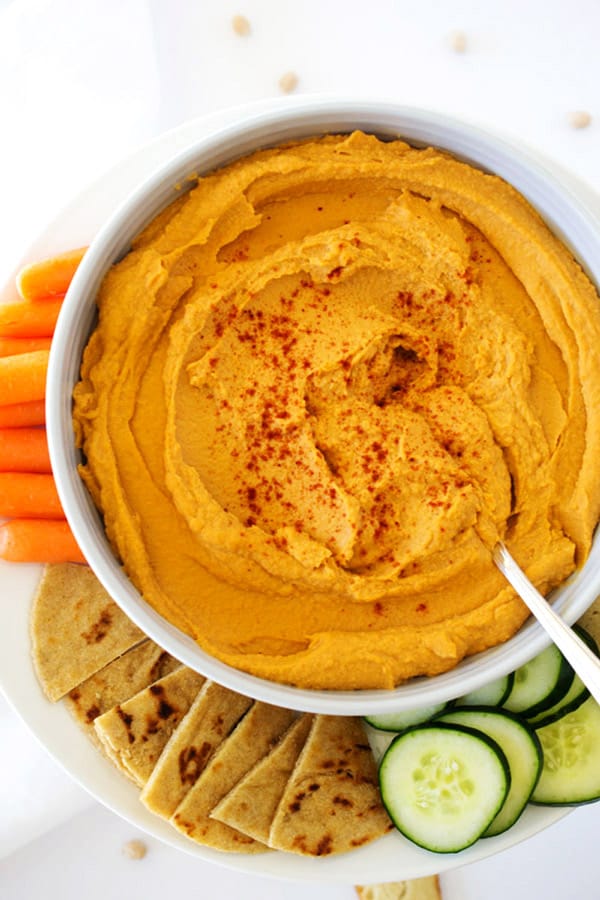 Use hummus as a dip or spread. Alternately, thin hummus with water and use as a pasta sauce, salad dressing, or in a potato salad.
There are a variety of foods to eat with red pepper hummus and a variety of ways to eat it. Here are a few ideas to get you started.
Vegetables: Plunge carrot sticks, cucumber rounds, bell pepper slices (red, green, orange, yellow), celery sticks, pea pods, broccoli, or cauliflower pieces in the hummus.
Tortilla and Pita Chips: Dip plain tortilla chips or pita chips in hummus.
Salad: Drop a dollop of red pepper hummus on your salad, mix it in, and enjoy. Or thin the hummus with water to make salad dressing to drizzle on top.
Tortilla Wraps and Sandwiches: Spread on wraps and sandwiches as a substitute for mayonnaise. Red pepper hummus adds moisture, flavor, and protein to your veggie wrap. But don't just use it in veggie wraps. Chopped chicken and sliced turkey wraps beg for a spread of hummus on them too.
Flatbread: Smear hummus on flatbread and eat as a side.
Crackers and Pretzels: Dunk in hummus for a healthy snack.
How Do You Make Homemade Hummus Creamy?
My tips to make homemade hummus creamy include both technique and ingredients.
ADD A HEALTHY FAT. Fat contributes a good mouthfeel. It makes the hummus luscious and creamy, with a velvety texture. So don't skip the tahini or the olive oil if you want creamy hummus.
COOK GARBANZO BEANS FROM SCRATCH. After experimenting with different cooking methods, I discovered the best way to cook garbanzo beans. These are my top tips.
Soak the dry garbanzo beans in a salt water brine overnight. Brined garbanzo beans produced a softer center when cooked.
Alternately, if you want to peel the skins off the garbanzo beans for an even smoother texture, soak them overnight in water and baking soda. After being cooked, the skins peel off easily. Chickpeas without the skins are silky smooth when blended.
As a side note: I never peel the garbanzo beans. I make hummus every week and I don't have the time or motivation to do it. Since my hummus is already creamy, I don't worry about peeling the beans.
Cook the beans for several minutes longer so the beans are almost overdone. They will blend up very smoothly.
How to Thicken Hummus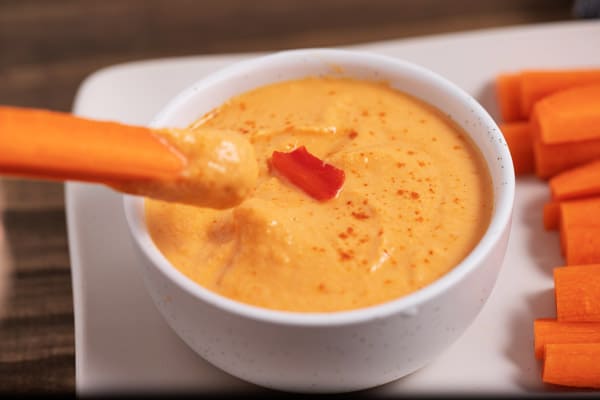 People enjoy hummus at different consistencies. We personally like a thicker hummus that sticks to whatever we are dipping in it. If your hummus is too thin, you have some options.
Add more freshly ground flax seed powder. Flax is a thickener.
Add additional cooked chickpeas. You may have to adjust seasonings slightly with more chickpeas.
How to Thin Hummus
If you want to use hummus as a dressing or sauce, or you simply like a thinner hummus, here are some suggestions.
If the hummus is too thick, add water or lemon juice one teaspoon at a time. Stir in the liquid until you achieve the right consistency.
I like to alternate adding water and lemon juice when thinning hummus to keep it from getting bland.
Add additional seasonings if you add a significant amount of liquid.
How Long Does Homemade Hummus Last in the Fridge?
Homemade hummus will last a full week in the fridge. I make a large batch of hummus at the beginning of the week and we eat it all week. Sometimes we eat leftovers in the first couple of days the following week as well. I would not recommend eating it past this point, however.
Can You Freeze Hummus?
Earlier this year before I went out of town, I pre-made Hubby his hummus. I put the hummus in individual serving-size containers and froze them. He pulled them out each day, dethawed them and ate hummus for his snack. However, he did not think consistency or the taste was as good as fresh hummus.
Is Roasted Red Pepper Hummus Good for You?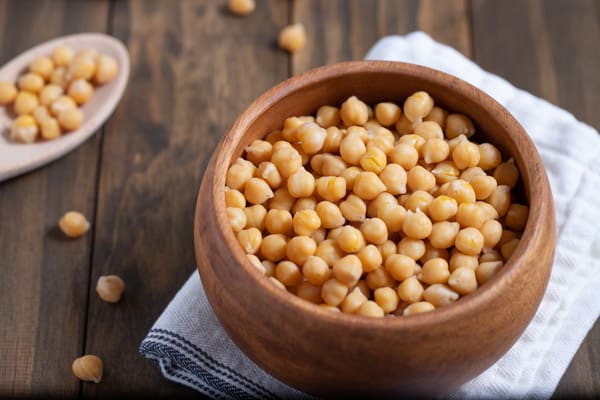 Like all my homemade hummus recipes, roasted red pepper hummus is good for you. Hummus contains protein, fiber, healthy fats, and a generous amount of vitamin C.
The two most prominent ingredients are chickpeas (also known as garbanzo beans) and red bell peppers.
Chickpeas are high in protein and fiber. Increasing fiber in your diet can help reduce bad cholesterol (LDL). Chickpeas also contain essential vitamins and minerals (iron, zinc, folate, phosphorus, and B-vitamins).
Red bell peppers are rich in vitamin C. Vitamin C is an antioxidant that can help your body absorb iron, manage high blood pressure, and reduce risk for chronic disease.
When you eat hummus with cut vegetables, such as carrots and cucumbers, you get a healthy snack.
In addition, homemade hummus has no preservatives or chemicals. You are eating pure food.
Is hummus good for weight loss? Eating hummus increases satiety (the feeling of being full). This is due to the fiber, high protein, and healthy fats it contains. When you eat healthy foods that fill you up, you eat less. This can help in weight loss.
Frequently Asked Questions
How many calories are in roasted red pepper hummus?
There are about 74 calories in ¼ cup of roasted red pepper hummus.
Is roasted red pepper hummus gluten free?
Although I cannot guarantee that any commercial hummus is gluten free, you can make homemade hummus gluten free.

Read the ingredients on your paprika bottle and tahini jar.  Look for added ingredients containing gluten. If they are gluten free, you can use them in the hummus recipe.
Is hummus keto friendly?
Each serving (¼ cup) of roasted red pepper hummus contains about 7 carbs. So consider hummus keto friendly.
Can vegans eat hummus?
Vegans can and do eat hummus frequently. None of the ingredients in this roasted red pepper hummus recipe contain any animal products. Even the strictest vegan is safe to eat it.
Is it ok to eat hummus every day?
Hummus is a perfect snack to eat every day since each ingredient in hummus is healthy.  In addition, dipping vegetables in hummus encourages you to eat more raw vegetables.  

Vary the vegetables you dip in hummus to get the vitamins and minerals your body needs.
What chips to eat hummus with
Both plain tortilla chips and pita chips are the best chips to eat hummus with.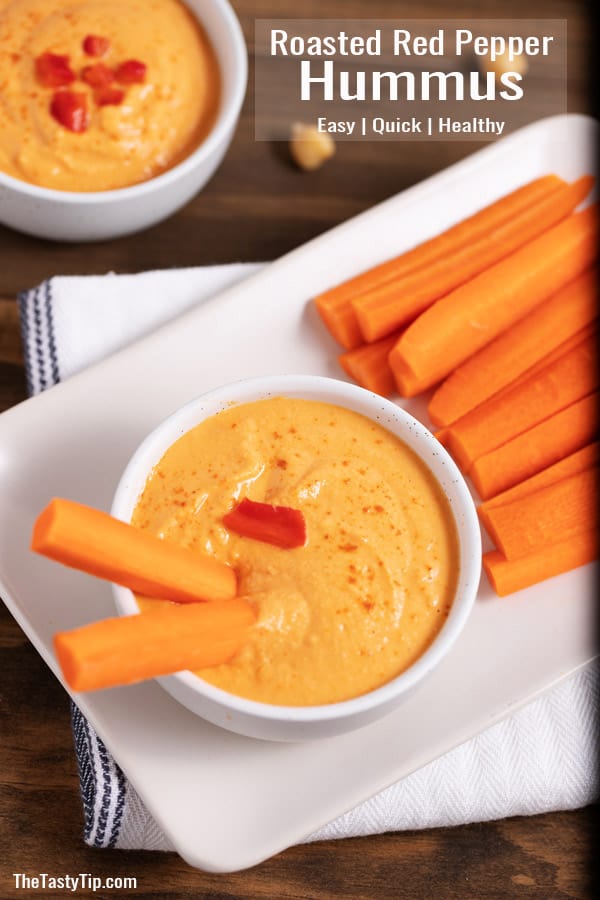 How to Spice Up Bland Hummus
I don't believe you will find this hummus recipe to be bland. But if you run across bland hummus and want to spice it up, here are a few suggestions. Each idea is based on the taste and characteristic you are describing as bland.
If the flavor just falls off, add some salt. Salt doesn't contribute flavor, but it does bring out the flavor of other ingredients.
If the hummus tastes flat or dull, add an acid in the form of lemon juice. The addition of lemon juice will brighten the taste.
If you want to bring the flavor into focus, add some bitterness. A little tahini will do the trick. The hint of bitter will bring the other flavors of the hummus into focus.
If you want to improve the texture and make the hummus more smooth and velvety, add a healthy fat. Tahini is one example, but olive oil is another good option of a healthy fat to add.
If you still need a little something extra, add a few more slices of roasted red pepper for a pinch of sweet.
So, ready to try my roasted red pepper hummus recipe?
---
Did you like this post? Then let's be social. FOLLOW ME on PINTEREST and INSTAGRAM to keep up with the latest tutorials, favorite recipes and interesting happenings.
---
Recipe
Roasted Red Pepper Hummus
Roasted red pepper hummus is flavored with roasted red peppers and seasoned with smoked paprika. Slightly sweet, smoky, and bright, with a hint of bitter tahini. Quick and easy appetizer or snack, high in fiber and protein.
Ingredients
1 ⅓

cups

cooked chickpeas

rinsed

¾

cup

roasted red peppers

½

cup

water

2

tablespoons

lemon juice

freshly squeezed (usually 1 medium lemon)

2

tablespoons

extra virgin olive oil

2

tablespoons

tahini

1

clove

garlic

1

teaspoon

salt

1

tablespoon

flax seed

ground

½

teaspoon

smoked paprika
Instructions
These instructions begin after you have cooked the chickpeas and roasted the red peppers. Alternately, use a can of chickpeas and jarred roasted red peppers.

CHOP the roasted red peppers, RINSE the chickpeas, PEEL AND MINCE the garlic, and JUICE one lemon to get 2 tablespoons of juice.

POUR the water, lemon juice, and olive oil in the Vitamix (or other blender or food processor) first.

SPRINKLE the salt, flax seed, smoked paprika, and garlic on top of the liquid.

SPOON in the tahini.

ADD the chickpeas and roasted red peppers on top.

BLEND on low speed for 10 seconds. Increase the speed to high for 30 to 45 seconds, or until the hummus is smooth and creamy.

SCRAPE the hummus out of the blender container.

CHILL hummus to blend the flavors before serving, if you have time. However, it is still tasty fresh from the blender.

SERVE with vegetables, pita bread, or tortilla chips.
Notes
All images and content are © TheTastyTip.com. If you want to use this recipe and techniques, please take your own photos, write your own description, and link back to this page. Thank you.
Nutrition
Serving:
1
g
Calories:
74
kcal
Carbohydrates:
7
g
Protein:
2
g
Fat:
5
g
Saturated Fat:
1
g
Polyunsaturated Fat:
4
g
Sodium:
180
mg
Fiber:
2
g
Sugar:
1
g
---
Did you make this recipe? Tag @thetastytip on Instagram and hashtag it #thetastytip.