What is Hummus? It is a smooth, creamy, healthy dip, made from chickpeas. Originating in the Middle East, hummus combines the bitter and tart flavors of tahini and lemon juice with olive oil and spices to make a complex and interesting snack.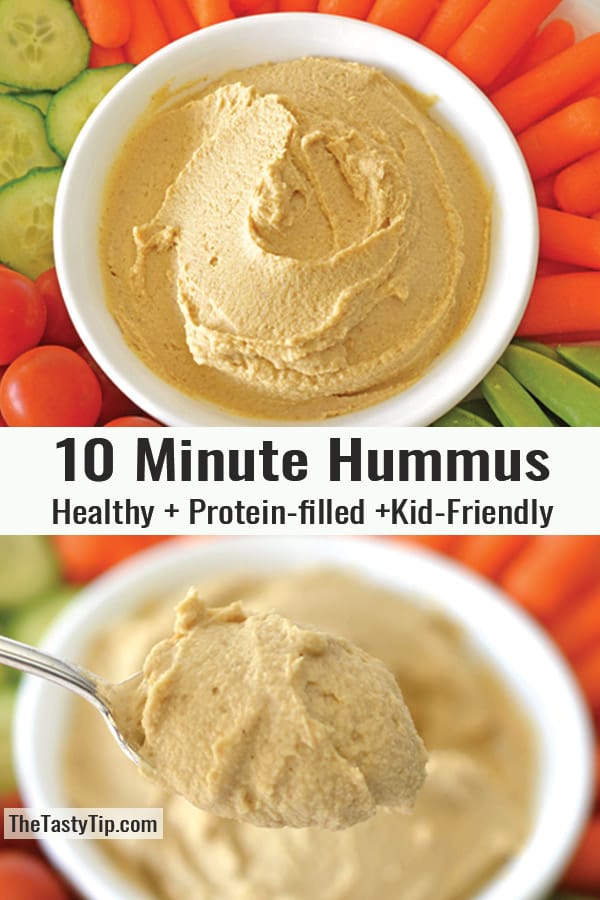 "What is hummus?" I asked at a sandwich shop when I was in my mid-twenties. Suspiciously I eyed the vegetarian sandwich with hummus as one of the main ingredients. I thought I knew food, but this was one item I had yet to taste.
The teen employee tried to explain. "It's like mashed garbanzo beans," she said "But it's really good."
Mashed garbanzo beans? That didn't sound very appetizing to me. Was it like refried beans? Mashed potatoes? Were they seasoned? I didn't know.
I decided to be brave and ordered the sandwich. And I enjoyed the sandwich. But I didn't think much about hummus for years.
Then we entered our vegan era.
Our family had a brief period where we tried to go completely vegan. Husband and I could do it, no problem. But the kids … well let's just say they needed some convincing.
I hunted everywhere for recipes I thought they would enjoy and I scored really big with hummus. It is the one recipe that they liked so much that we still all eat it to this day.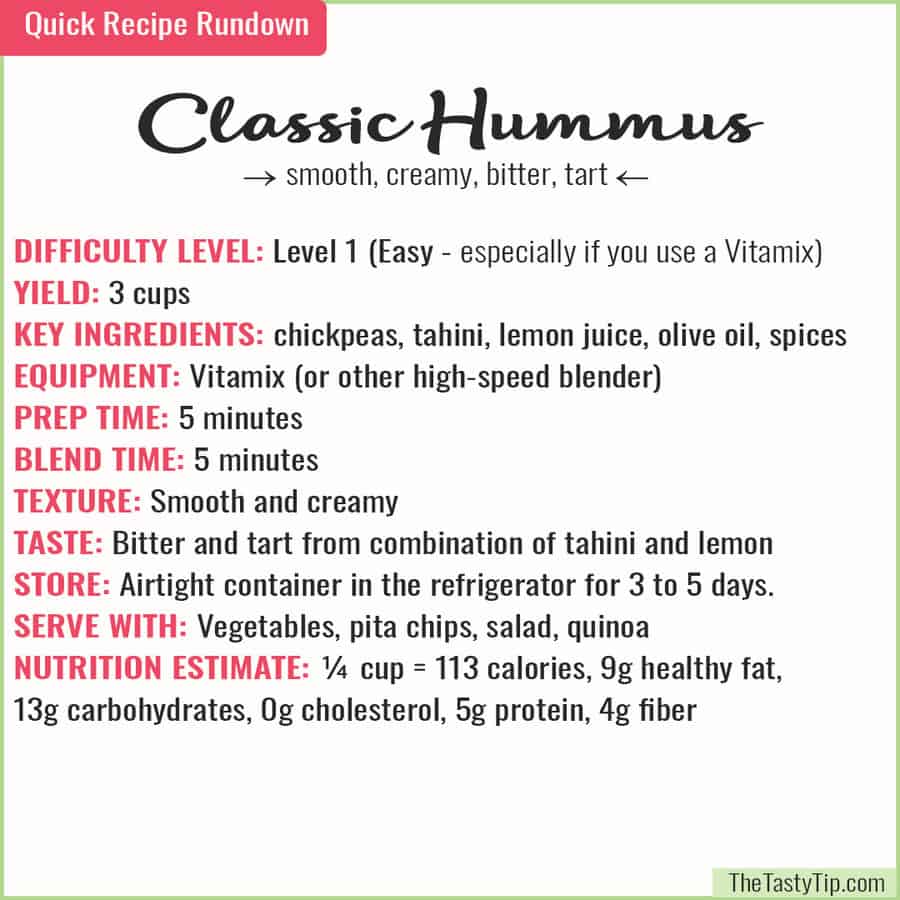 What is Hummus?
Hummus actually means chickpeas in Arabic. Hummus is a dip made of cooked and pureed chickpeas, tahini, lemon juice, olive oil, and other seasonings.
Tahini is a sesame seed paste, kind of like peanut butter. The sesame seeds are ground until they form a paste.
What is Hummus Eaten With?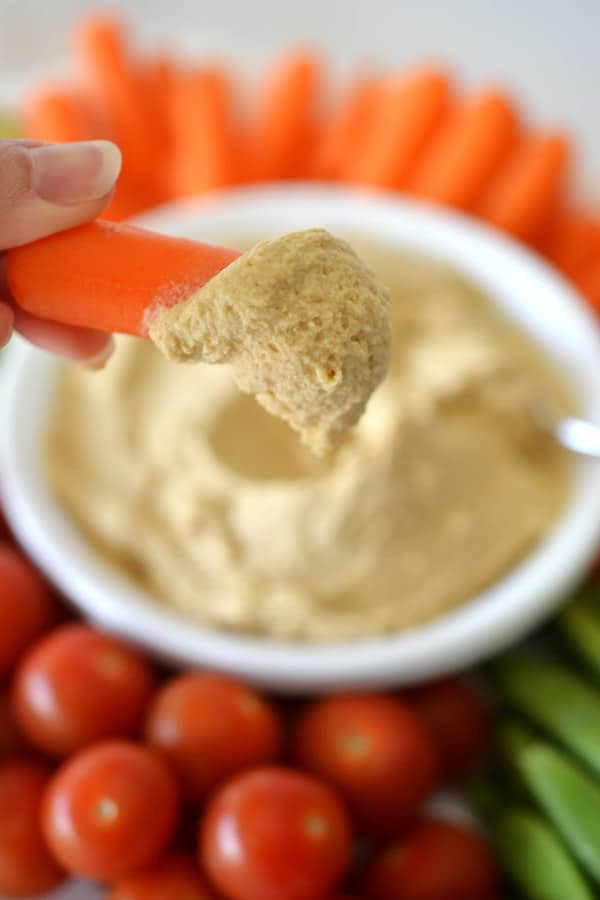 Hummus is a dip for all sorts of vegetables such as carrots, cucumbers and celery. Or try it with crackers and pita bread.
Spread it on flatbread or veggie sandwiches. Top it on a salad or quinoa dish.
The Great Middle Eastern Dip Conflict
Most food historians consider hummus an Arab dish, although it is commonly eaten all throughout the Middle East.
In spite of more urgent conflicts currently seen in the Middle East, hummus, unfortunately, is also causing tension in the region.
Why is hummus causing a disagreement? Though it is sure to be hard to prove, the Lebanese, Palestinians, and Israelis all claim they invented hummus.
Israelis have gone so far as to market it as an Israeli dish, to the dismay of the Lebanese.
According to Fadi Abboud, president of the Lebanese Industrialists Association, Lebanese business owners were enraged when Israeli businesses marketed hummus as an Israeli dish. This angered the Lebanese so much that they planned to file a lawsuit to stop Israel from claiming hummus was authentic Israeli cuisine.¹
Finding proof of the origin of hummus was difficult, so the Lebanese took their case to the world.
Three hundred Lebanese chefs under the direction of Chef Ramzi Choueiri made the world's largest bowl of hummus, weighing over two tons.
In 2010, they won the title of "Largest Serving of Hummus" from the Guinness Book of World Records. The hummus weighed over two tons.²
This strategic victory in world records was planned as a way to shout to the world that hummus is a Lebanese not Israeli food.³
We should all just sit down and eat our hummus together, people. There is enough variety to go around. What is hummus, if it can't be a symbol of peace.
What is Hummus made out of?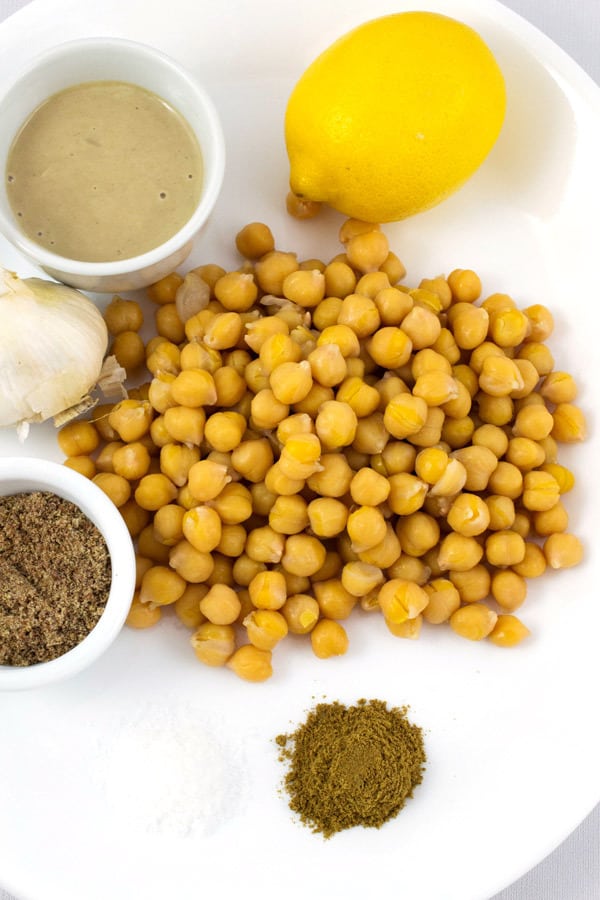 The main hummus ingredients include:
Cooked and pureed chickpeas (also referred to as garbanzo beans)
Tahini (a ground sesame seed butter/paste)
Lemon juice
Seasonings that vary from recipe to recipe
A home chef can swap out any of the main ingredients for a different twist on a hummus recipe.
For example, substitute white beans, black beans, or lentils for the chickpeas.
Or use peanut butter or almond butter in place of the tahini.
Add pureed roasted or raw vegetables along with a variety of herbs and spices.
When you understand what hummus is made out of, it is easy to customize it to your own taste.
Why Make Hummus?
Making your own food is always a good idea, if only to know what ingredients you are eating. However, making your own hummus also has another major benefit.
Hummus can be expensive to buy at the store. That never made sense to me since the main ingredient is chickpeas, a relatively inexpensive bean.
But in spite of the simple main ingredient, expect to pay over $3 for a 10 oz. container of hummus packaged by a large company such as Boar's Head or Sabra.
You will roughly double that price ($6 for 10 oz.) for small business specialty hummus (which can taste as good as homemade). I have found incredible hummus at farmers markets and other specialty grocery stores.
But it often comes with a high price tag.
If you love hummus and want to make a healthy snack, it is worth it to make your own.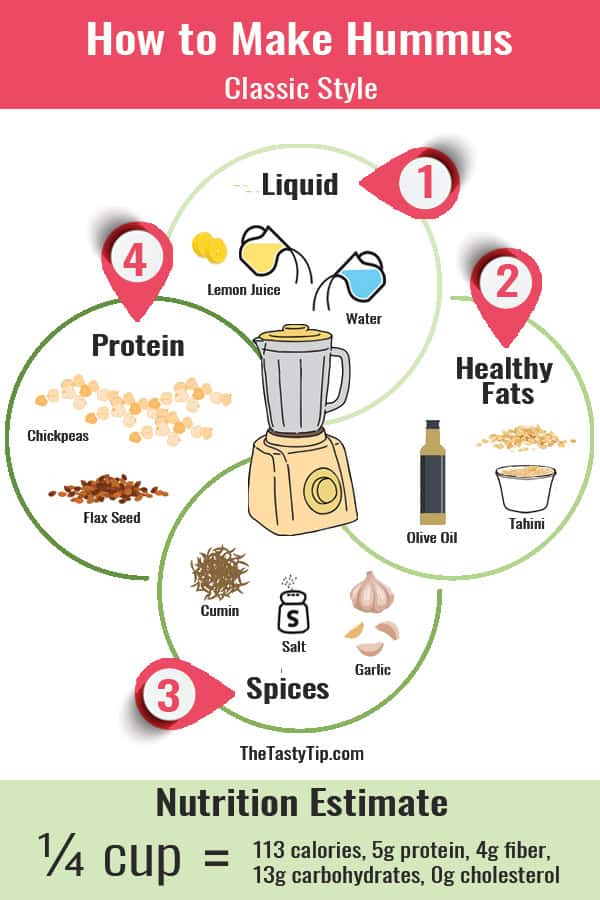 3 Tasty Tips for the Smoothest Creamiest Hummus Ever
Tasty Tip #1: Use the Right Equipment
If you plan on making hummus weekly (like we do), you need the right equipment.
Use a high-powered blender that can puree really well, like a Vitamix.
Trust me when I say that a Vitamix is essential for making hummus. Especially if you want it as smooth and creamy as any brand you can buy in the store.
When I started trying to make hummus, I didn't own a Vitamix. They are expensive. I admit it. So I tried every other appliance I owned that I thought would work.
I tried a regular blender, a Bamix Immersion Blender, a food processor and a Ninja chopper/blender.
None of these tools worked. Either they lacked sufficient power, did not have a large enough bowl, or the blade just couldn't puree.
When I tried my Bamix Immersion Blender, my arm got so tired holding it and blending, I had to give up. Occasionally, I moved the not-quite-pureed hummus between these blenders hoping something would click.
It took a long time to puree and I was never satisfied with the result.
Finally I decided enough was enough. We bought the Vitamix and have never looked back.
As a bonus, the Vitamix customer service is amazing and can help with any Vitamix concerns.
Tasty Tip #2: Use Fresh Chickpeas
There is no comparison to the taste of hummus made with fresh chickpeas, instead of canned chickpeas.
Soak chickpeas overnight, as you would any other bean.
The best and quickest way to cook them is in an electric pressure cooker. Or you need the patience to boil them in a pot for 90 minutes.
An electric pressure cooker like the Instant Pot is my preferred pressure cooker. It only takes 15 minutes to cook pre-soaked chickpeas.
Note: You can blend the hummus with freshly cooked, warm chickpeas. Refrigerate the dip to chill before eating. Be aware that this will add time to the 10 minute recipe.
Another alternative is to use canned garbanzo beans. They work in a pinch, but they just don't taste as good as freshly cooked chickpeas.
Tasty Tip #3: Layer Ingredients
Layer the liquid and then the tahini, spices and the chickpeas in the Vitamix.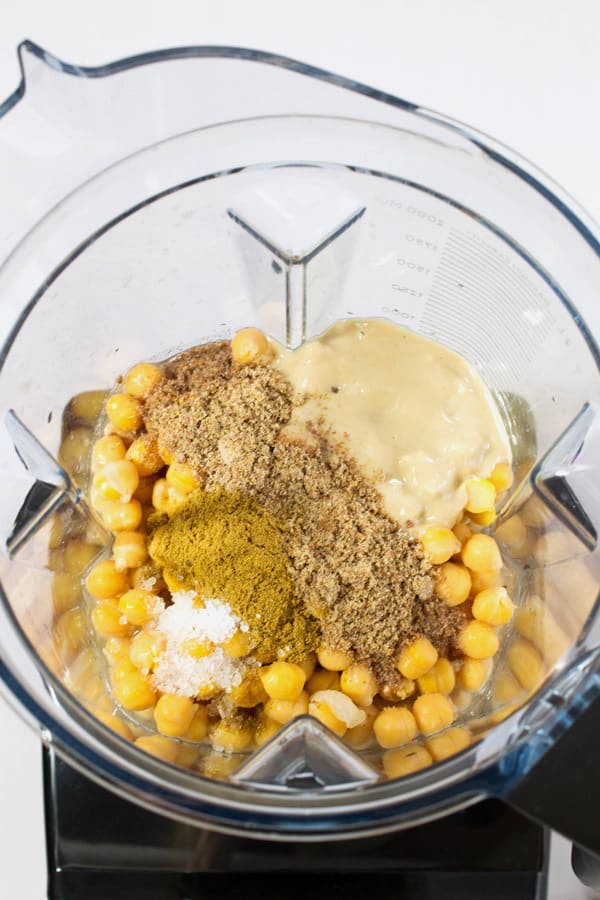 Put the lid on and turn on your Vitamix. First start blending slowly on speed 1, using the tamper to get the chickpeas from the sides. Increase the speed slowly up to speed 10 and blend for 30 to 45 seconds. Stop to scrape sides if necessary.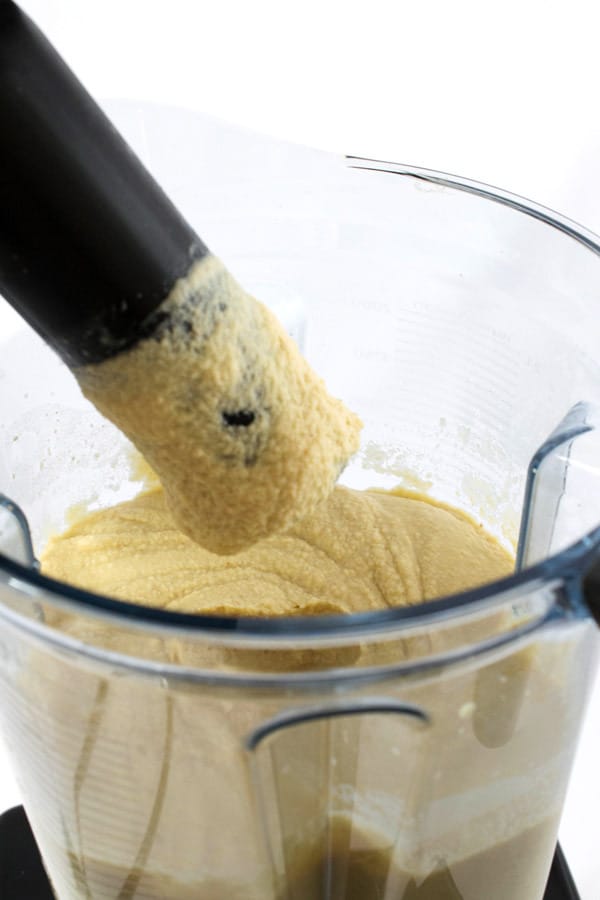 Add more water if the hummus is too thick and it is difficult to blend.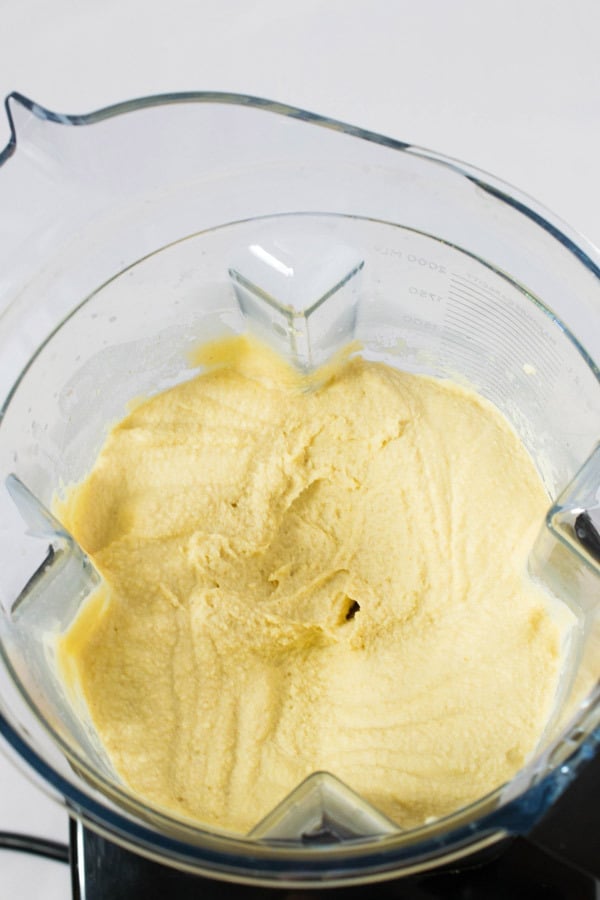 ---
Did you like this post? Then let's be social. FOLLOW ME on PINTEREST and INSTAGRAM to keep up with the latest tutorials, favorite recipes and interesting happenings.
---
Recipe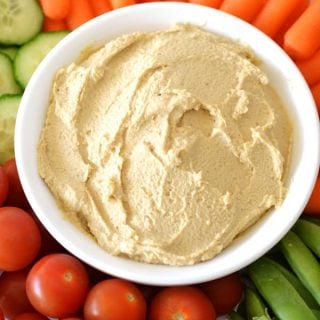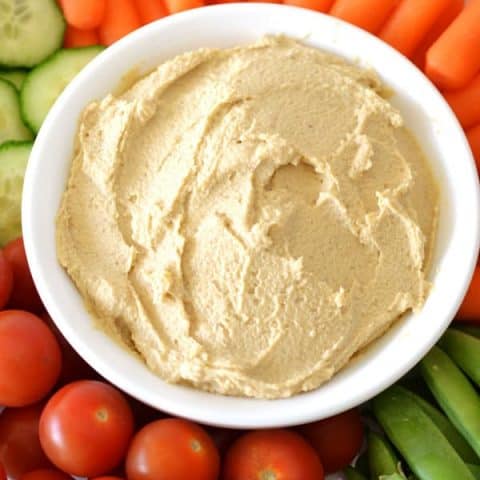 Classic Hummus
Hummus is a smooth, creamy, healthy dip made from chickpeas and pureed with tahini (sesame seed paste), lemon juice and spices.  The tahini lends a slightly bitter taste combined with tart lemon juice to create a complex dip perfect for dipping vegetables, crackers or pita bread.
Ingredients
16

oz.

2 cups chickpeas, freshly cooked and cooled (or used canned)

1 ¼

cups

10 fluid ounces water

⅓

cup

2.5 fluid ounces lemon juice, freshly squeezed

2 to 4

tablespoons

extra virgin olive oil

¼

cup

2 ounces tahini (sesame seed paste)

1

clove

garlic

minced

1

teaspoon

sea salt

½

teaspoon

cumin

ground

2

tablespoon

flax seed

freshly ground
Instructions
DRAIN freshly cooked or canned chickpeas.

POUR water, lemon juice, and extra virgin olive oil into the bottom of the Vitamix container (or other high-speed blender).

ADD the tahini, garlic, sea salt, cumin, and flax seed.

TOP with chickpeas.

PLACE the lid on the blender.

POWER on the Vitamix to the lowest speed and slowly increase the speed.

USE the Vitamix tamper to get ingredients off the sides. If necessary, stop and scrape down the sides.

INCREASE POWER to the highest speed and puree for 60 to 90 seconds, or until the hummus is a smooth, creamy consistency.

ADD additional water, if necessary to get the right consistency.

SCRAPE hummus into a bowl.

TASTE and adjust seasonings if needed.

CHILL in the refrigerator if needed.

SERVE with raw vegetables, pita bread, or on top of quinoa.
Notes
Please note: If you chill the hummus, bring to room temperature about 15 minutes before eating for the best taste.
All images and content are © TheTastyTip.com. If you want to use this recipe and techniques, please take your own photos, write your own description, and link back to this page. Thank you.
Nutrition
Calories:
113
kcal
Carbohydrates:
13
g
Protein:
5
g
Fat:
9
g
Saturated Fat:
1
g
Polyunsaturated Fat:
7
g
Sodium:
187
mg
Fiber:
4
g
Sugar:
2
g
---
Did you make this recipe? Tag @thetastytip on Instagram and hashtag it #thetastytip.
---
More Healthy Snacks