Try this tasty homemade applesauce recipe with one ingredient — apples. Chunky, sweet, tasty, and healthy all in an easy snack. With the right tools, this easy recipe comes together quickly. Never buy canned applesauce again.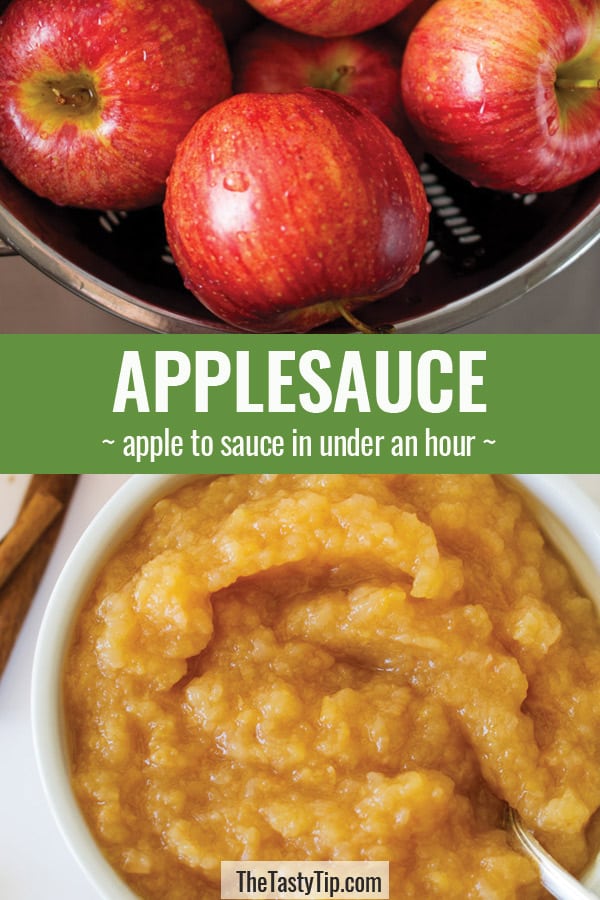 When apples are in season, it is time to pull out the homemade applesauce recipe.
We are applesauce snobs at our house. My children will only eat homemade applesauce – thanks to Grandma.
At Grandma's house my little munchkins ate fresh applesauce, made in Grandma's kitchen. After they tasted that sweet, fresh goodness, they would never go back to commercial applesauce.
They can go through a whole jar in a day. And they have been known to receive a jar of applesauce from Grandma as a birthday present. And what a nice birthday present it is.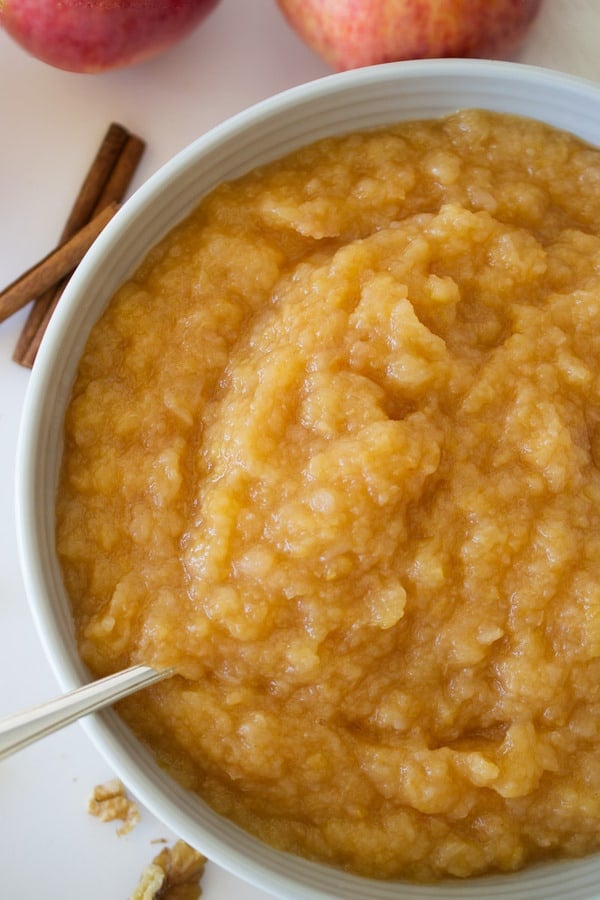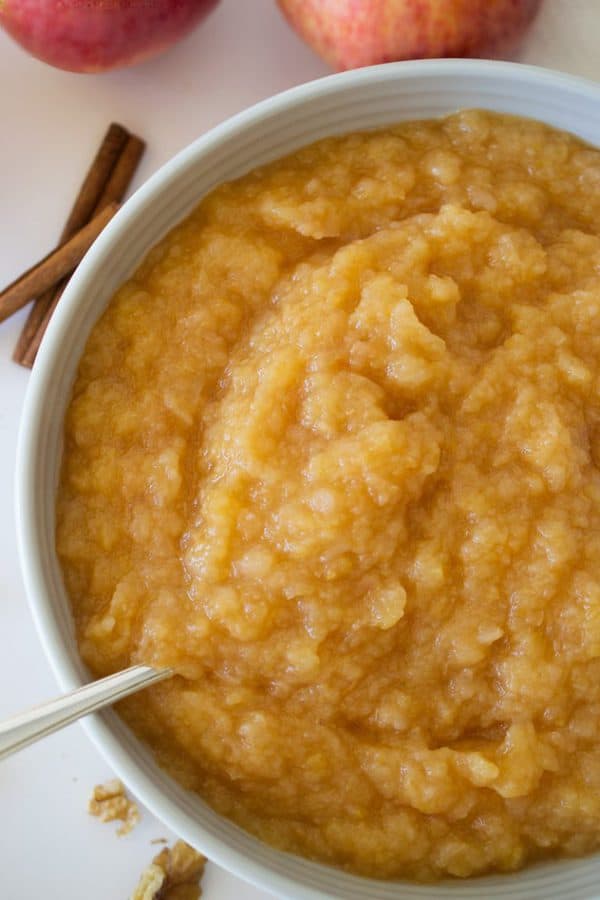 Unsweetened homemade applesauce is possible when you choose an apple variety that is sweet, such as the Gala apple.
Gala apples are my favorite variety to use, although there are many other good apple varieties as well.
Making small batches of applesauce is easy if you have the right equipment. However, it can be daunting if you are doing a large quantity by yourself.
So enlist some help from family who will be eating your applesauce. Or have an applesauce party. Make a large batch with some friends and then share the finished product with them.
Essential Equipment For Homemade Applesauce
When I first started making applesauce, I came across pickyourown.org. The site lists some ideas for equipment to use that makes it much easier to make a batch of applesauce. They also list lots of places where you can pick your own fruit.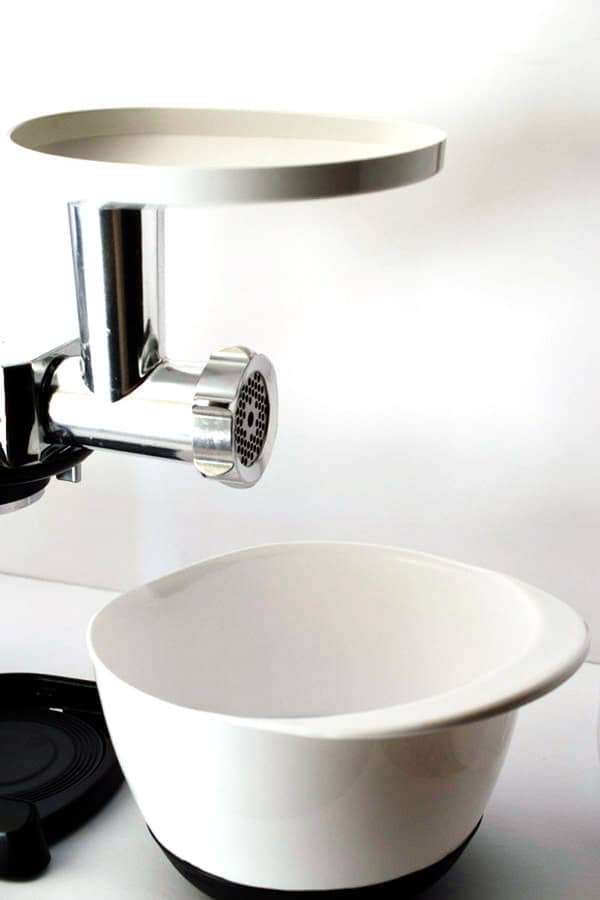 Apple slicer/coreer
Apple peeler (optional)
Pressure cooker (like the Fagor Pressure Cooker or Instant Pot) or regular stove top pan
Food mill attachment for a stand mixer (sometimes called a meat grinder attachment) OR a food mill
Ball Fruit-Fresh Produce Protector (optional)
Homemade Applesauce Recipe Ingredients
The only ingredient in my applesauce recipe is apples. The sweet apple varieties are the best ones to use for applesauce.
Gala apples are my favorite to use when making applesauce. Because apples are the only ingredients, you can have as many or few apples in your recipe as you would like.
The recipe below calls for 4 pounds of apples, but you can just as easily make applesauce with 2 or 3 apples.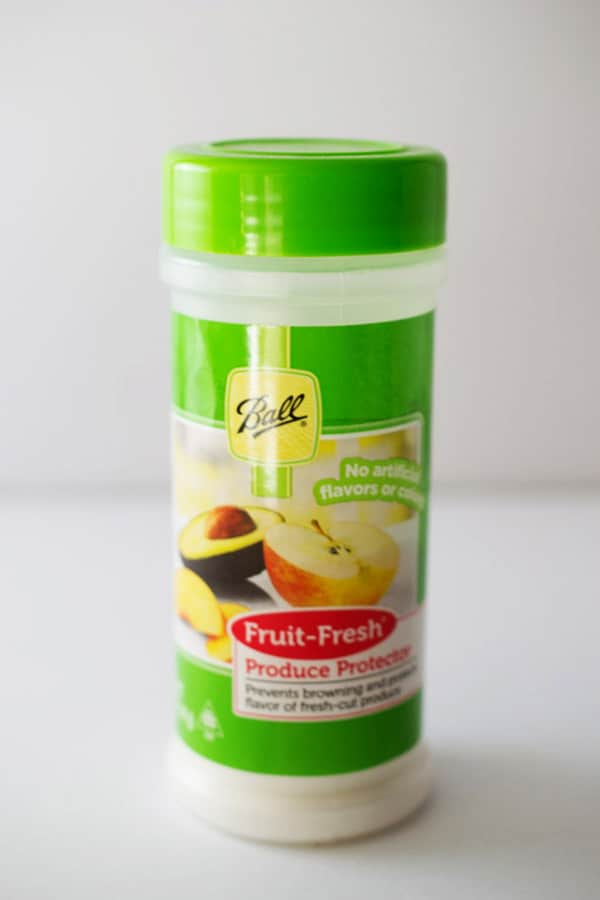 To prevent apples from browning, use Ball Fruit-Fresh Produce Protector. This is optional.
However, your applesauce appearance will be more appealing when you use it.
I use 1 teaspoon per cup of applesauce and I have never have any problems with browning.
For variety, add spices for a different flavored recipe. Cinnamon, cloves, and allspice are good additions. However, this recipe is simple classic applesauce with no added sugar or other spices.
How to Make Homemade Applesauce
To make homemade applesauce, first select a sweet variety of apple, such as the Gala apple.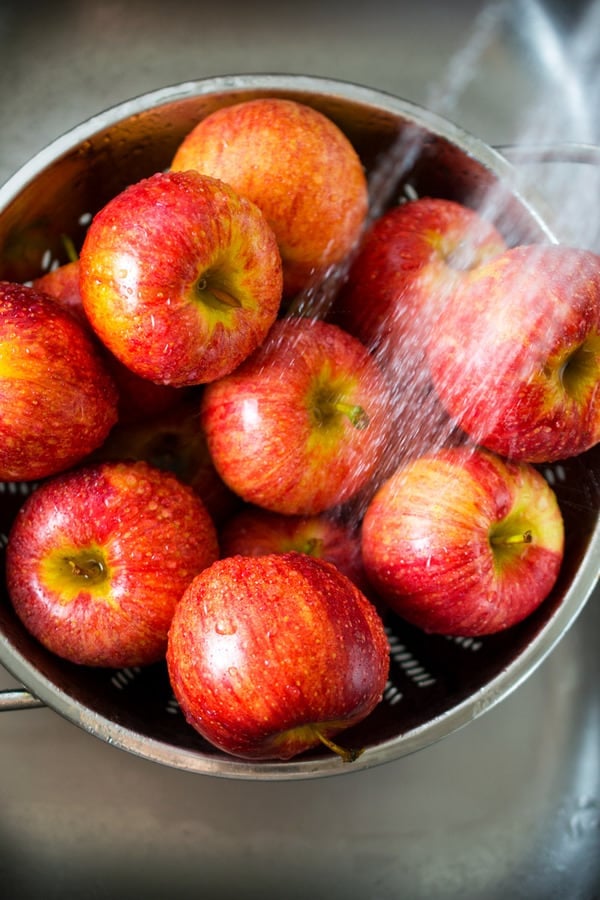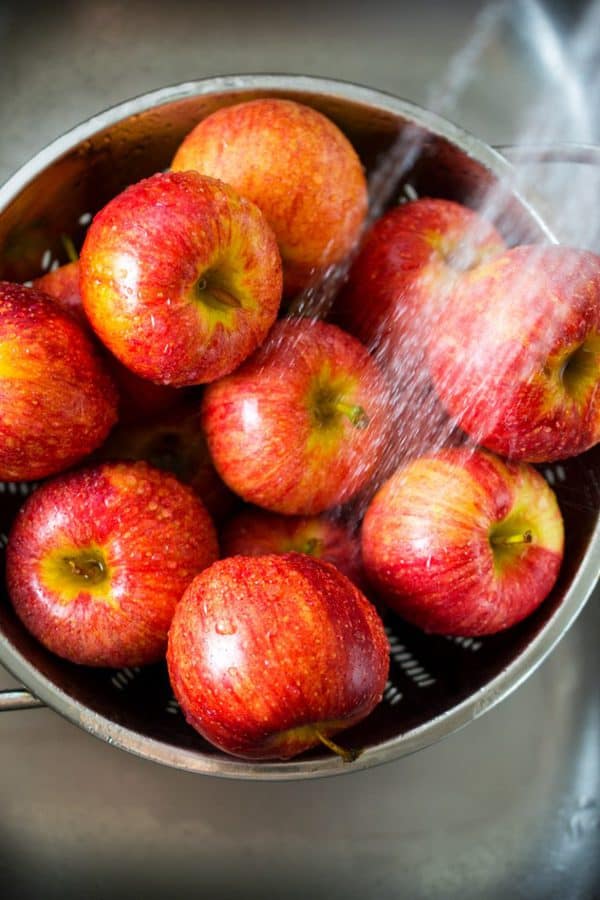 Then peel the apples (optional). This step is not necessary if using the food mill attachment of your stand mixer. However, if you are not going to peel the apples, it is best to choose organic apples.
Note when using the grinder attachment: I only use my food mill grinder attachment for fruit. I have never used it for meat and I won't ever.
I know it can be cleaned, but I hesitate to use the same dishes on raw meat and fruit/vegetables. That is a personal preference.
If you do use this attachment for multiple foods, clean and sanitized it thoroughly before using it for applesauce.
Core and slice the apples using the apple slicer/corer.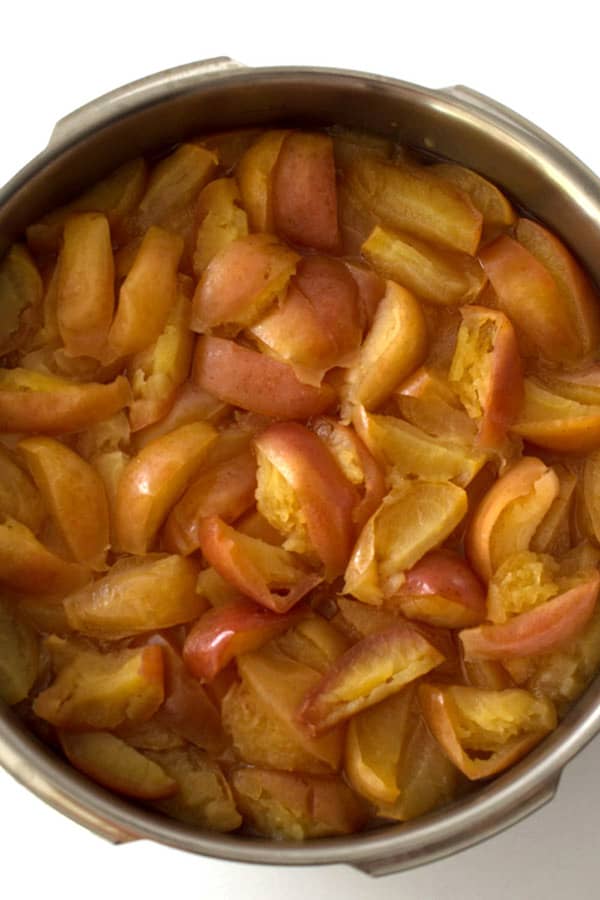 Cook the apples. Place apple slices in your stove top pressure cooker or an electric pressure cooker, such as the Fagor Lux™ Multi-Cooker (similar to the Instant Pot). Read my Fagor Pressure Cooker review and find out why it is my absolute favorite electric pressure cooker. I cook everything from pumpkin puree to black beans in it.
Add ¼ to ½ cup water so the apples do not stick to the bottom.
Place the lid on the pan and bring the pan up to pressure following your pressure cooker instruction manual.
Cook for 5 minutes and remove from heat. Allow pan to depressurize. Drain the apples.
** Pressure cooking the apples is the quickest, easiest, and tastiest method for preparing apples for applesauce. If you do not have a pressure cooker, you can cook the apples in a regular stove top pan. It will just take longer.
If cooking in a stove top pan, fill pan with apples and ¼ to ½ cup water. Turn on medium high and when water begins to boil, turn pan to low and cook until apples are soft (15 to 20 minutes).**
Grind the Cooked Apples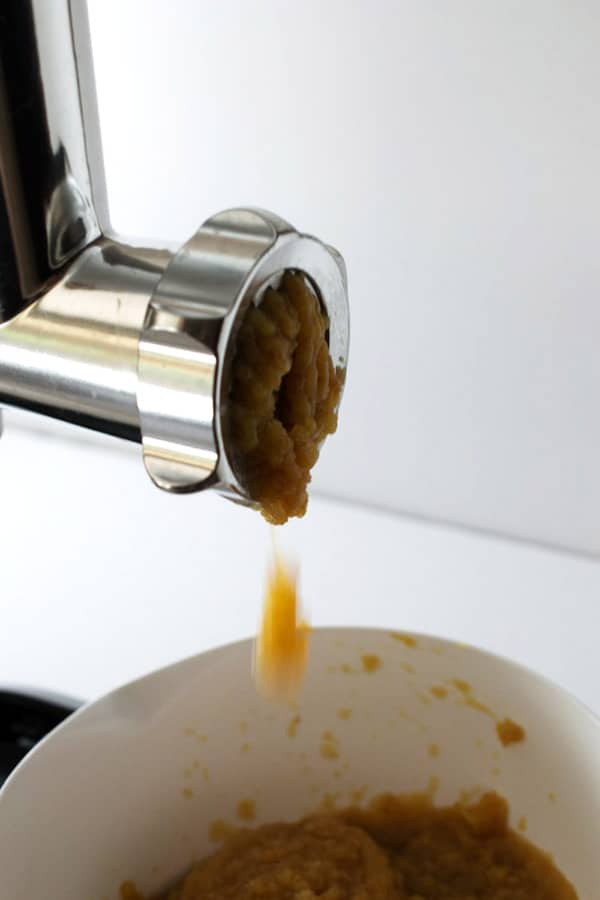 Run the apples through the food mill grinder attachment on your stand mixer. It grinds up the peel along with everything else and leaves a nice chunky texture in the applesauce. You cannot tell that the apples haven't been peeled.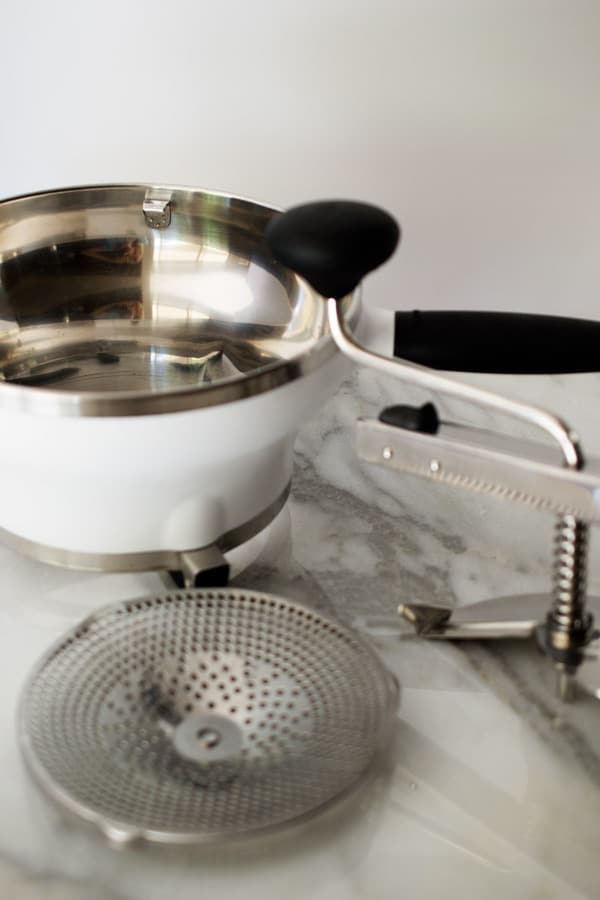 ** The food mill grinder attachment for a stand mixer is by far, the easiest and quickest method to prepare applesauce. But if you do not have a stand mixer, use a regular nonelectric food mill.
A food mill will take more time and patience. After assembling the mill, add ½ to 1 cup of cooked apples at a time. Turn the handle to mash the apples.
If you are using this method, you will find it much easier to peel the apples before you cook them.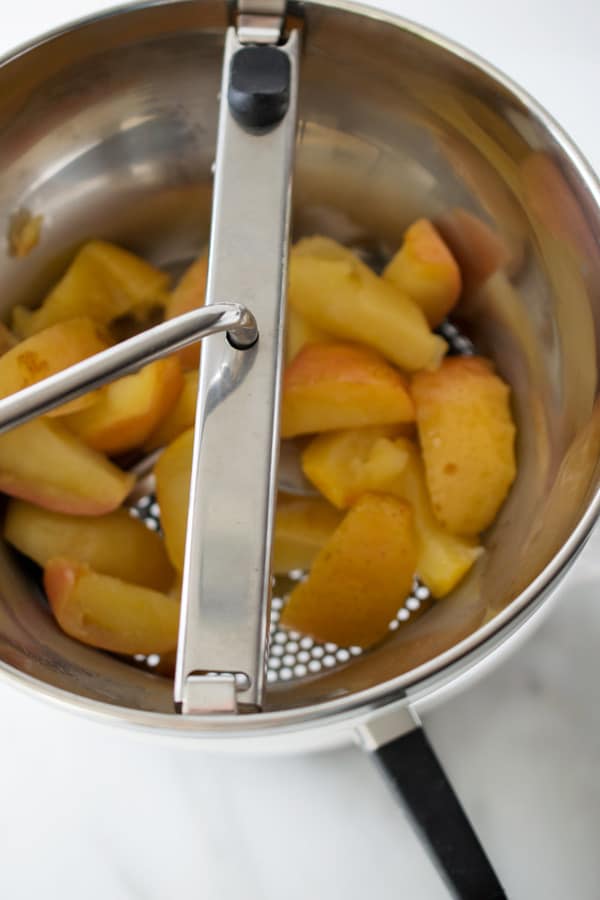 You can also use a potato masher or an immersion hand blender to mash up the cooked apples. It will get the job done, but the texture will not be the same. It will still taste good though.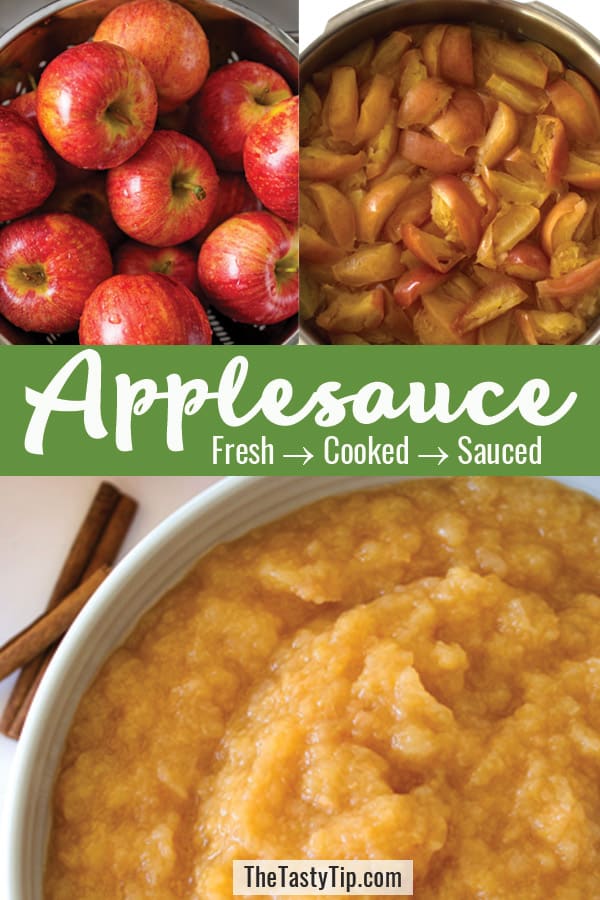 If you are going to can the applesauce, keep the applesauce warm until you have enough applesauce to fill the jars.
If you will not be canning the applesauce, allow it to cool. Refrigerate until ready to eat.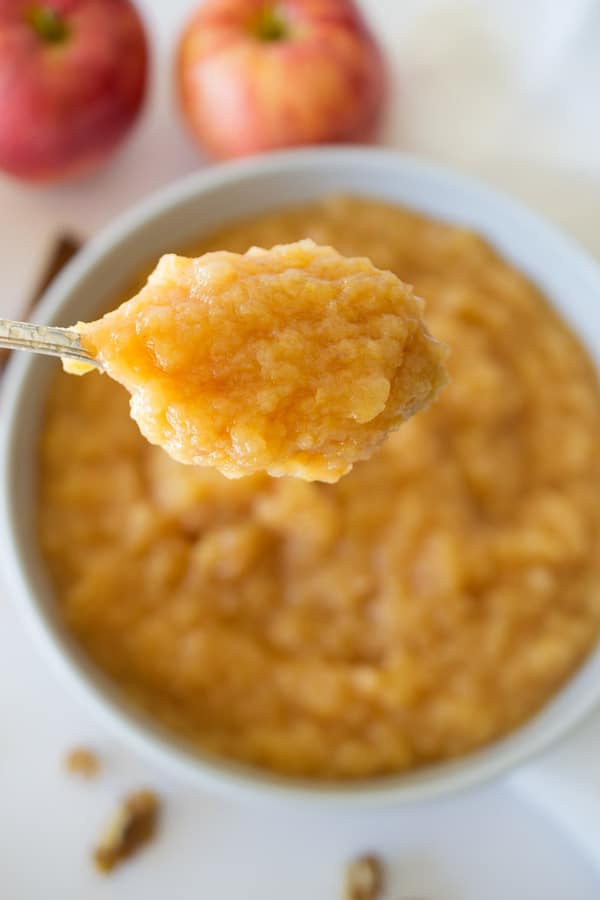 ---
Did you like this post? Then let's be social. FOLLOW ME on PINTEREST and INSTAGRAM to keep up with the latest tutorials, favorite recipes and interesting happenings.

---
Yield: 2 cups
Chunky Applesauce Recipe - No Sugar Added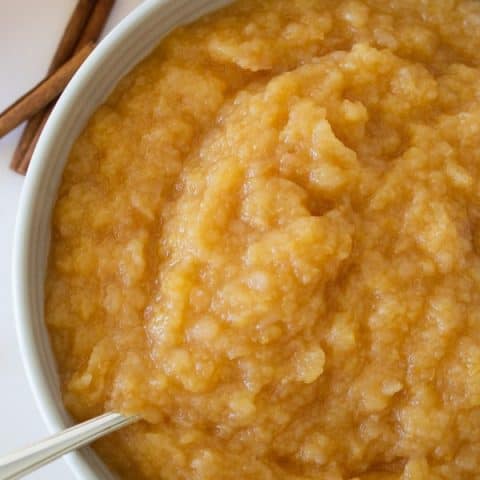 Try this tasty homemade applesauce recipe with one ingredient -- apples.  Chunky, sweet, tasty, and healthy all in an easy snack. With the right tools, this easy recipe comes together quickly.  Never buy canned applesauce again.
Additional Time
15 minutes
Ingredients
4 pounds apples, Gala (or your favorite sweet apple variety)*
3 teaspoons Fruit-Fresh Produce Protector
Instructions
WASH apples.
PEEL apples. This step is not necessary if you are using an electric food mill attachment on a stand mixer AND if your apples are organic.
CORE and SLICE apples with an apple corer/slicer.
PRESSURE COOK apples with ¼ to ½ cup water. Bring up to pressure and cook for 5 minutes. Allow pan to depressurize.
DRAIN apples thoroughly.
RUN apples through the food mill attachment of stand mixer. Alternately, use a non-electric food mill, a potato masher or an immersion blender to mash apples.
DRAIN in wire mesh strainer if applesauce has too much liquid.
COOL applesauce.
STORE in airtight container and REFRIGERATE two hours or until well chilled.
Notes
*Note: 4 pounds of apples yields approximately 2 cups of applesauce.
All images and content are © TheTastyTip.com. If you want to use this recipe and techniques, please take your own photos, write your own description, and link back to this page. Thank you.
Nutrition Information
Yield
4
Serving Size
½ cup
Amount Per Serving
Calories

105
Total Fat

0.3g
Saturated Fat

0g
Trans Fat

0g
Unsaturated Fat

0g
Cholesterol

0mg
Sodium

5mg
Carbohydrates

27g
Fiber

4.4g
Sugar

21g
Protein

1g
Nutrition information is an estimate only and may vary based on individual ingredients added and cooking methods used.
---
Did you make this recipe? Tag @thetastytip on Instagram and hashtag it #thetastytip. 
---
Do you make small or large batches of applesauce? Comment below and let me know.