Ready for the best applesauce recipe without sugar? Chunky, sweet, tasty, healthy applesauce with just one ingredient – apples. With the right tools, this easy recipe comes together quickly. Never buy canned applesauce again.
We are applesauce snobs at our house. My children will only eat homemade applesauce – thanks to Grandma.
At Grandma's house my little munchkins ate homemade applesauce for the first time. After one taste they were hooked. They refused to go back to commercial applesauce. I think you will feel the same after you taste my unsweetened applesauce recipe.
Can you make applesauce without sugar? Will it be sweet enough? You absolutely can make sweet applesauce without sugar if you choose a sweet variety of apple.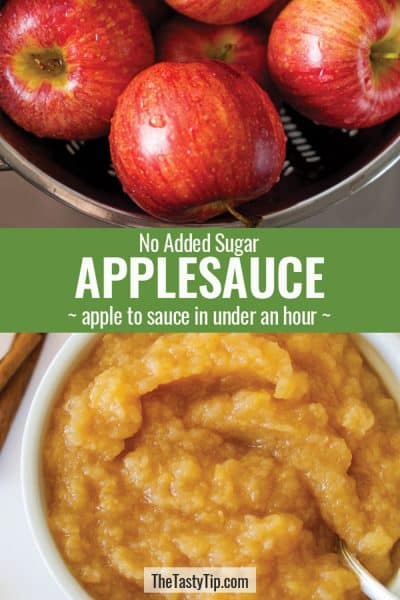 An applesauce recipe without sugar is a snack I feel confident feeding my young children day after day. It is refreshing to have a simple recipe with only one ingredient.
In this article you will discover the tools you need to make applesauce and the best apple varieties for applesauce. Learn the 5 apple cooking methods, 7 ways to mash the cooked apples, and a secret trick to keep your applesauce looking fresh. Finally, find out the best way to store your homemade applesauce.
Essential Tools
Vegetable scrubber
Apple peeler
Cutting board
Knife to core and cut the apple
Something to cook the apples in
Something to mash the cooked apples
Ball Fruit-Fresh Produce Protector or a bit of lemon juice (optional) to prevent discoloration
Airtight container to chill and store the applesauce
Apples
The recipe below calls for 4 pounds of apples, but you can just as easily make applesauce with 2 or 3 apples.
How to Make Applesauce Without Sugar
Making applesauce is simple. Wash, cook, and mash the apples. Easy as that. Sound good?
Let's break it down a bit and get all your questions answered.
Step 1: Choose the right apple variety.
If you want sweet applesauce without sugar, you need to choose a sweet apple. Do not use tart apples. Although you may like a tart apple for a snack, you probably want your applesauce to be more sweet than sour.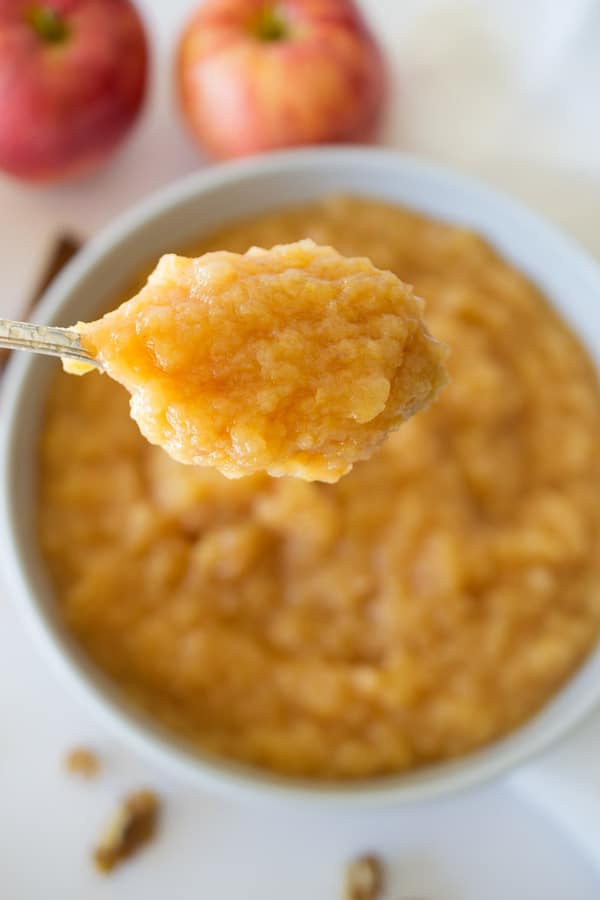 A variety of apples are sweet enough for applesauce. So, let's talk apples.
What is the best apple for applesauce? A single type of sweet apple is always a safe bet. However, a combination of sweet apple varieties produces amazing applesauce. Try any of these apples.
Gala: These are my go-to apples for applesauce. They are distinctively sweet and crisp. They taste like what you expect applesauce to taste like.


Fuji: Fuji apples are crunchy and very sweet. They are large and firm. Their sweet aromatic taste is the best flavor for applesauce.


Golden Delicious: Golden Delicious apples are mellow, sweet, juicy, and crisp with white flesh. They produce a lighter colored applesauce.


Cameo: Cameo apples are sweet and do not brown as quickly when sliced. This can help prevent discoloration in your applesauce.


Ambrosia: Ambrosia apples have a reputation for being sweet as honey. Their sweet low-acid aroma makes them an excellent choice for applesauce.


Honeycrisp: Honeycrisp apples are sweet, crisp, and juicy. They have a subtle tartness. Unsweetened applesauce with only Honeycrisp apples will only be mildly sweet.

Try combining Honeycrisp apples with Fuji or Gala for added sweetness.
Jonagold: Jonagold apples have a sweet and mildly tart flavor. For a sweeter applesauce without added sugar, combine Jonagold apples with Gala or Golden Delicious.
Use only organic apples. Apples routinely end up on the Dirty Dozen list of the most highly pesticided produce. Data is compiled by EWG (Environmental Working Group) and is based on tests conducted by the USDA (US Department of Agriculture).
In 2021, apples are #5 on the Dirty Dozen list. Choose organic apples!
Step 2: Wash. Then Peel (optional).
Wash each apple with a vegetable scrubber and water. Scrubbing will help remove any bacteria from the apple surface.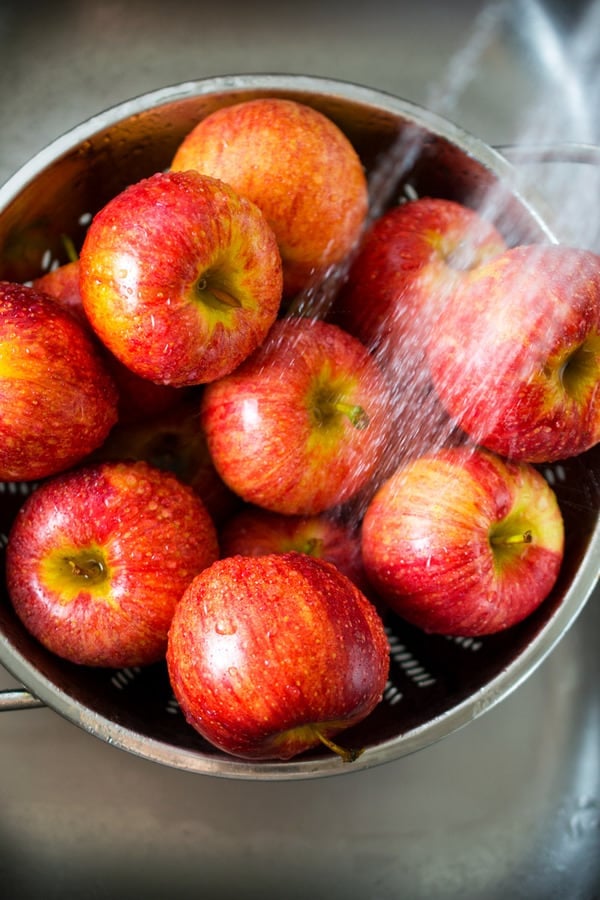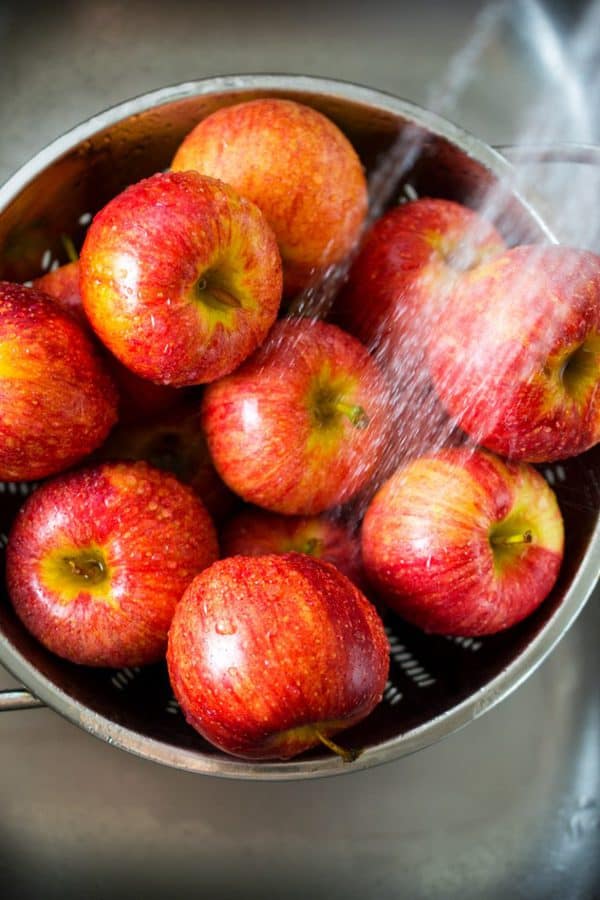 Should you peel apples for applesauce?
Peeling is optional for homemade applesauce. If you want chunky applesauce with skins, do not peel. If you plan to run the cooked apples through a food mill, you also do not need to peel them.
However, if you want applesauce with a smoother texture, peel the apples. If you want a sweeter applesauce recipe without sugar, peel the apples.
Some apple skins are slightly bitter. And even if the skins are not bitter, apple skins never add to the apple's sweetness. The ideal apples for an applesauce recipe without sugar will be peeled.
Step 3: Core and chop the apples.
No matter how you plan to cook the apples, cut them up. Chopping the apples in slices or chunks will help them cook faster. It will also make the mashing process easier.
Step 4: Cook the apples.
There are many ways to cook apples to prepare them for applesauce. The method you choose is a personal preference based on the equipment you have.
How many apples should you cook? One apple per person is a good guideline. When cooked, one apple will reduce to about ⅓ to ½ cup of applesauce.
However, you can use any number of apples to make applesauce. You are only limited by the number of apples that will fit in the cooking pot.
If you want quick, easy, and tasty, cook the apples in an Instant Pot or other electric pressure cooker.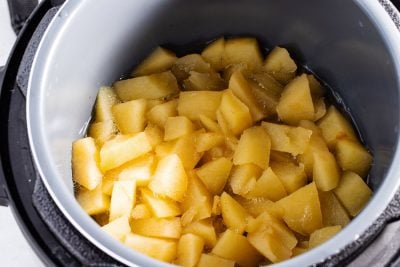 Pros
Quick, easy, hands-free.
Apples cook uniformly.
Cons
Limited ability to check while cooking.
Applesauce can be watery and have diluted flavor.
Directions:
Place apple slices in the electric pressure cooker, such as the Instant Pot. I cook everything from pumpkin puree to black beans in it.

Add a couple of teaspoons of water to the bottom of the pot so the apples do not stick.


Place the lid on the pressure cooker. Cook on high pressure for 5 minutes.


Allow the cooker to depressurize. Drain the apples before mashing.
I tried cooking the apples without water. I thought the juice from the apples would be enough liquid in the pot so the apples would not stick.
However, the Instant Pot kept beeping to inform me that my food was burning. It wasn't burned when I checked. But Mr. Instant thought it might burn.
To ensure no apple burning, add a little water to the pot.
To cook apples on the stove, use a large pot, big enough to hold the apples.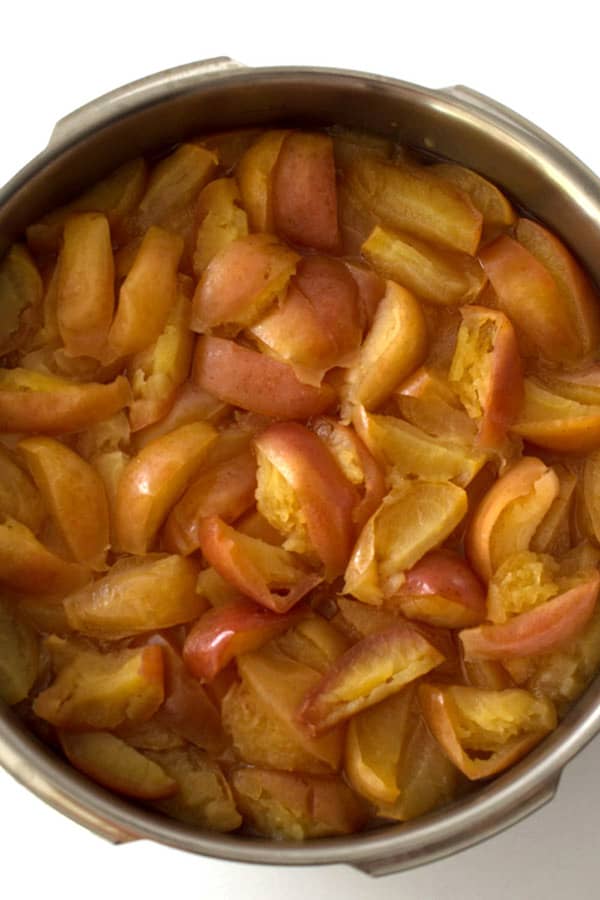 Pros
Easy, pretty quick.
Check on the apples anytime.
Cons
Must keep a close watch.
Apples can be watery and have diluted flavor.
Directions:
Use a large pot or Dutch oven. Fill pan ½ to ¾ full of apple slices.


Add ¼ to ½ cup water to the bottom of the pot.


Turn on medium heat and bring water to a boil. Turn to low heat and cook until apples are soft, about 15 to 20 minutes.


Drain the apples before mashing.
Because it takes such a long time to cook, use a slow cooker only if you have a large batch of apples to cook. Large slow cookers can hold up to a dozen (or more) apples at a time.
Pros
Slow cooking releases apple juices, so just a teaspoon or so water is needed. Sometimes you can get away without adding water.
Cons
Directions:
Fill the slow cooker no more than ¾ full of apples. Add enough water at the bottom of the pot so the apples will not stick as they cook.


Cook on low heat for 4 to 5 hours or on high for 2 to 3 hours.
Want a quick healthy snack? Try the microwave. The quickest way to make applesauce is to use a microwave. The microwave is the best method for cooking just one or two apples.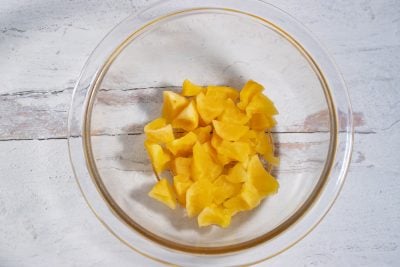 Pros
Con
Apples were dry.
Did not like the taste as much.
Cooked unevenly.
Directions:
Place the chopped apples in a microwave-safe bowl.


Microwave for 5 to 7 minutes until apples are soft enough to mash. Be aware that the apples will burn if overcooked.
Baking apples for applesauce is not a common method, but it is one of my favorites. Baking can dry out apples, which in turn make a less moist applesauce. However, they have a wonderful taste.
Juicy apples like Honeycrisp and Golden Delicious make especially good baked applesauce.
Baking or roasting the apples give the applesauce a unique depth of flavor.
Pros
Best tasting method.
Flavor is undiluted because no water is needed.
Cons
Long cook time.
Can cook unevenly.
Directions:
After washing, cut the apples into 1-inch chunks.


Bake at 375° F for 30 to 40 minutes.
Step 5: Mash the apples.
Small batches of applesauce are easy to make if you have the right equipment. However, it can be daunting if you are doing a large quantity of applesauce by yourself.
Do not do it alone. Enlist help from family or friends. Have an applesauce party. Make a large batch with some friends and then share the finished product with them.
Any way you choose to mash, first cool the cooked apples for 5 minutes or so. Just long enough so that you will not burn yourself when you handle them. Now you are ready to mash.
There are several ways to mash the apples for applesauce. Choose the easiest and most convenient method based on the amount of applesauce you are making.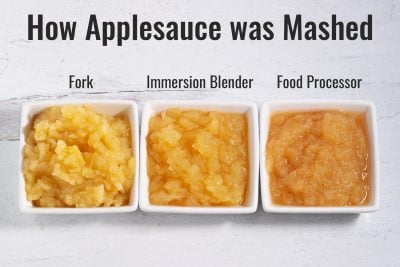 For example, if you cooked one apple, mash it with a fork or immersion blender. However, if you bought a 25-pound box of apples and intend to can the applesauce, you will need a heartier mashing method.
Let's go over your apple mashing options.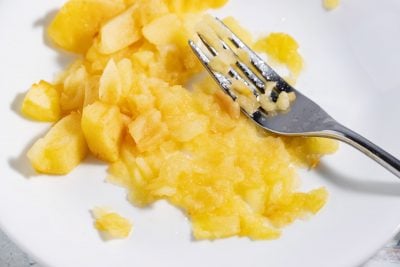 A fork is the simplest way to mash apples for applesauce. The nice thing about using a fork is that you can mash and then fluff it. That way you get a better texture.
A fork is easiest when you only have one or two apples to mash. The cooked apples must be very soft to mash with a fork. Crispier apples are harder to mash.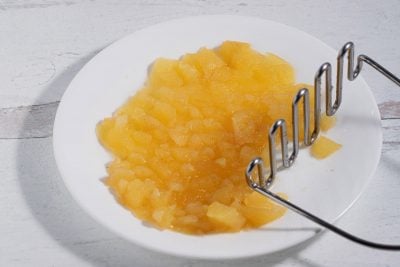 A potato masher is good for mashing half a dozen apples. You will not get quite as nice of a texture with a potato masher as you do a food processor. But it is still a good choice. Apples must be soft to mash easily with a potato masher.
A ricer gives a smoother texture than a potato masher. But you will have to keep feeding the apples into the ricer. It is more work than a potato masher. But it can handle crisper cooked apples.
A food mill is another good choice for mashing applesauce. Though it takes a bit more work, time, and patience, the end result is applesauce with a uniform consistency.
One problem I found was that the peel often got stuck in the masher. I cleaned it out several times mashing just one batch of applesauce.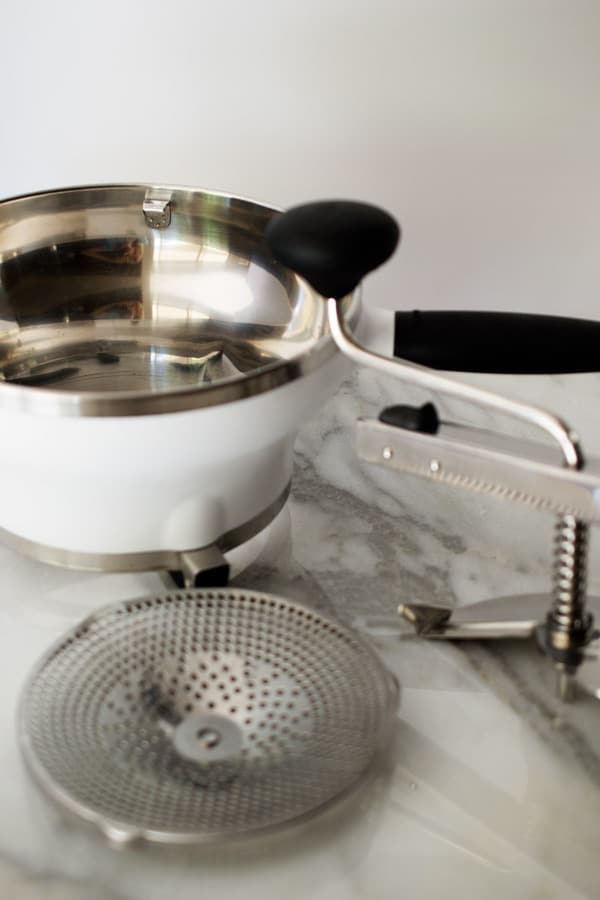 Directions:
After assembling the mill, add ½ to 1 cup of cooked apples at a time.


Turn the handle to mash the apples.
If you are using this method, you will find it much easier to peel the apples before you cook them.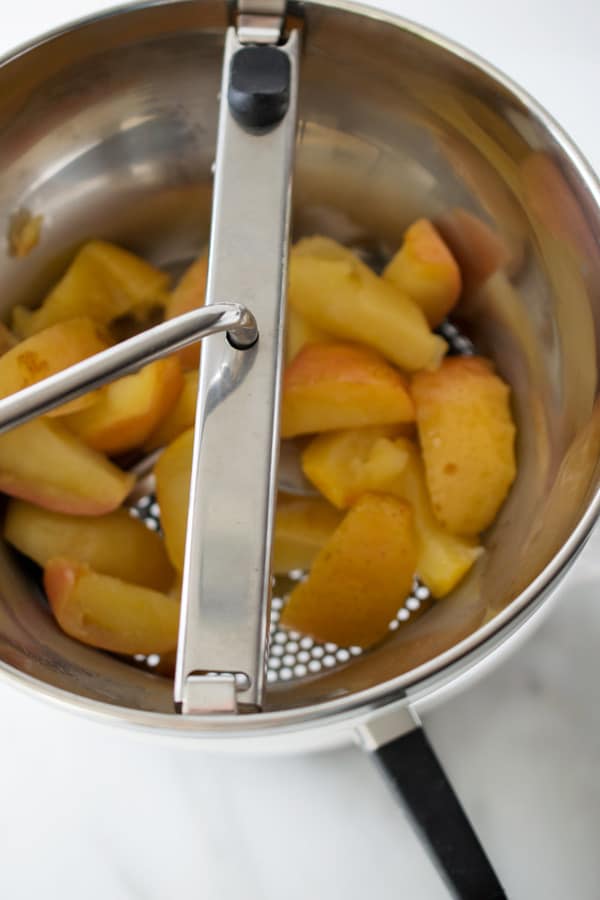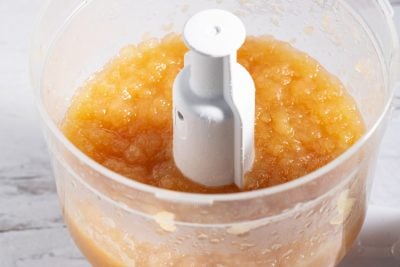 A food processor is one of the better options to mash apples for applesauce. If you can fit all the cooked apples in the container at once, all the better.
Pulse instead of continually running the food processor for best results. It produces the best texture of applesauce.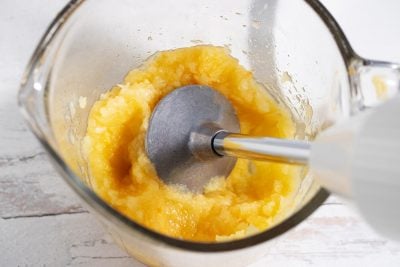 An immersion blender is a handheld stick blender. It produces a smooth applesauce.
Place the cooked apples in a deep bowl and blend. Stir occasionally to make sure you are getting all the apple pieces and to prevent excessive blending in one spot. This could lead to pureed apples. Not the texture of applesauce you want.
Food Mill Attachment for a Stand Mixer

If you have a lot of applesauce to process, use the food mill attachment for your counter top stand mixer. Sometimes the attachment is called the grinder.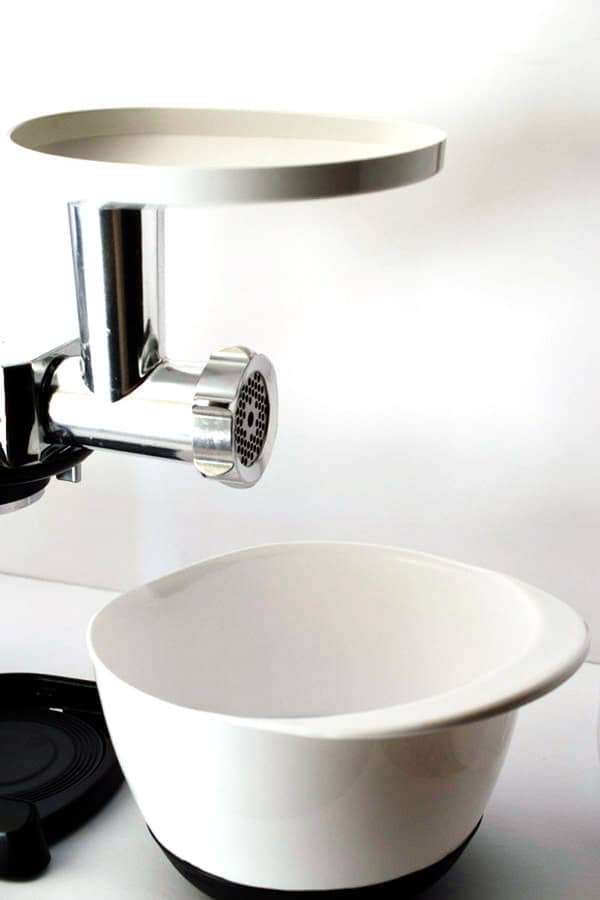 Run the apples through the food mill grinder attachment on your stand mixer. It grinds up the peel along with everything else and leaves a nice chunky applesauce. You cannot tell that the apples haven't been peeled.
The food mill grinder attachment for a stand mixer is by far, the easiest and quickest method to prepare applesauce.
You can run dozens of apples through it in 5 minutes. The best part is that you do not have to peel or core the apples before cooking them. The grinder grinds and filters all of that out.
You will get the best applesauce texture with the food mill attachment. It is slightly chunky, but highly uniform. The consistent texture makes it the perfect unsweetened applesauce recipe for baking.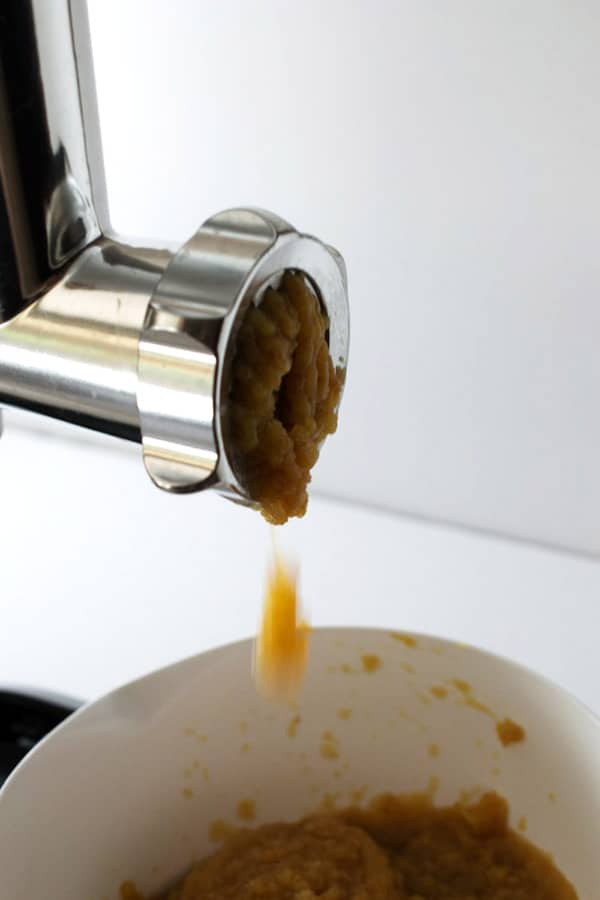 The only downside is the big cleanup job. Well worth it if you are making a bushel of applesauce to can. Not so much if you are only working with two apples.
Note when using the grinder attachment: I only use my food mill grinder attachment for fruit. I have never used it for meat, and I won't ever.
I know it can be cleaned, but I hesitate to use the same dishes on raw meat and fruit/vegetables. That is a personal preference.
If you do use this attachment for multiple foods, clean and sanitized it thoroughly before using it for applesauce.
Step 6: Add lemon juice or citric acid to prevent browning.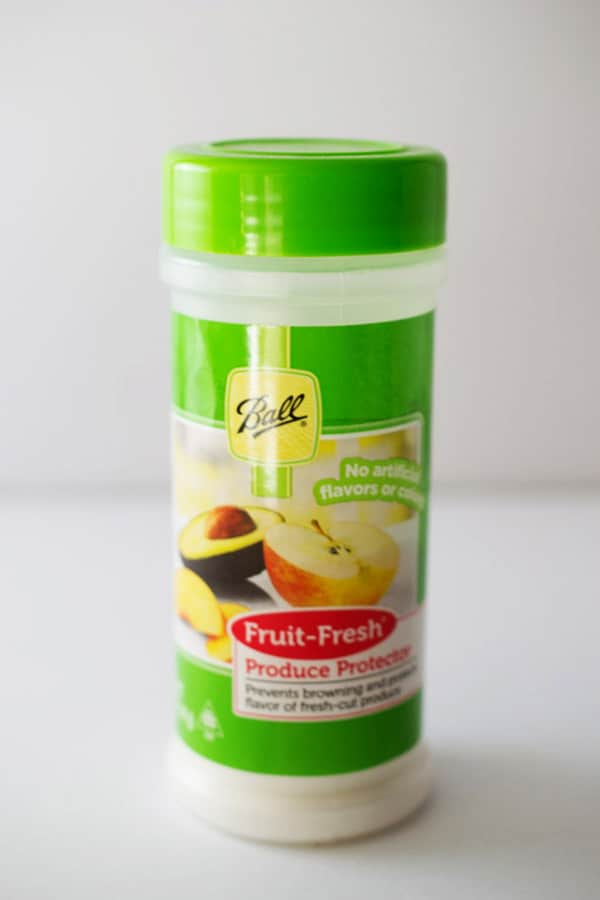 Eating the applesauce right away? Skip this step. If not, be aware that the moment oxygen hits the apple flesh, oxidation or browning begins. Browning fruit does not mean it is spoiled. It is just unsightly.
To prevent apples from browning, use Ball Fruit-Fresh Produce Protector or add a small amount of lemon juice.
Your applesauce will look fresh and will not brown when you use it.
Use 1 teaspoon Fruit-Fresh per cup of applesauce to avoid browning.
If you prefer lemon juice, use ½ teaspoon of juice per cup of applesauce.
Step 7: Add spices (optional).
For variety, add spices for a different flavored recipe. Cinnamon, cloves, and allspice are good additions. This is completely optional.
Suggested Spice Additions:
Caution: If you add too much spice to an applesauce recipe without sugar, it may taste bitter. Or you might think you need to add a sweetener. Start with the lowest recommended amount. Taste and slowly add more if you want.
¼ teaspoon cinnamon per 2 cups of applesauce
⅛ to 1/16 teaspoon cloves per 2 cups of applesauce
⅛ to ¼ teaspoon allspice per 2 cups of applesauce
How to Store Applesauce
If you are going to can the applesauce, keep the applesauce warm until you have enough applesauce to fill the canning jars.
If you will not be canning the applesauce, allow it to cool to room temperature. Then refrigerate it in an airtight container until it is chilled.
An applesauce recipe without sugar has a shorter lifespan than applesauce with sugar. Sugar is a natural preserver. Homemade unsweetened applesauce tastes freshest when eaten within 3 days. However, it will still be good to eat for up to 4 or 5 days.
Looking for longer term storage? You can freeze applesauce in a freezer-safe container or freezer bag. However, when the applesauce thaws, the texture will be very watery.
This won't be the ideal texture to eat as a snack. However, it is perfect to bake with. Drain the excess water before baking with it.
What Can You Do with Homemade Applesauce?
An applesauce recipe without sugar can be used for so many things.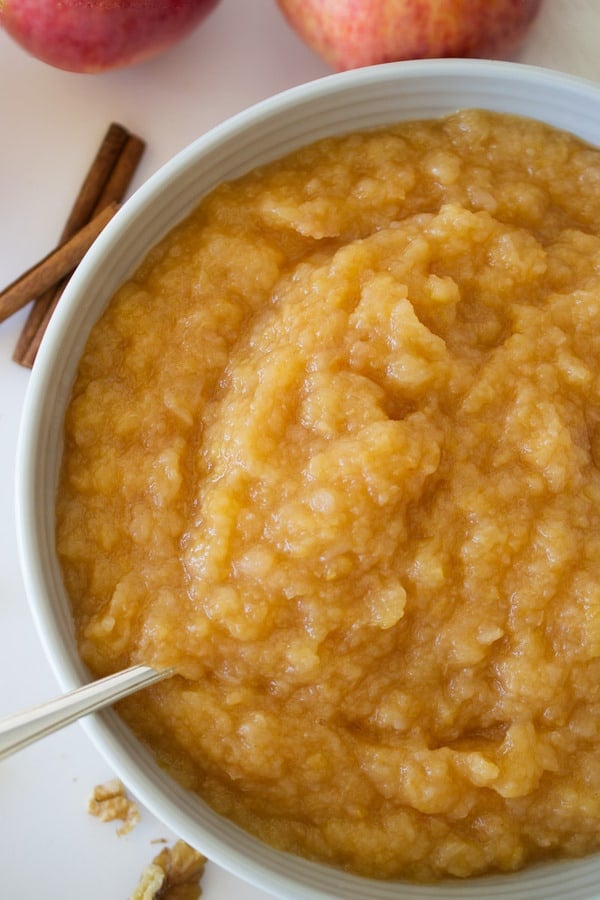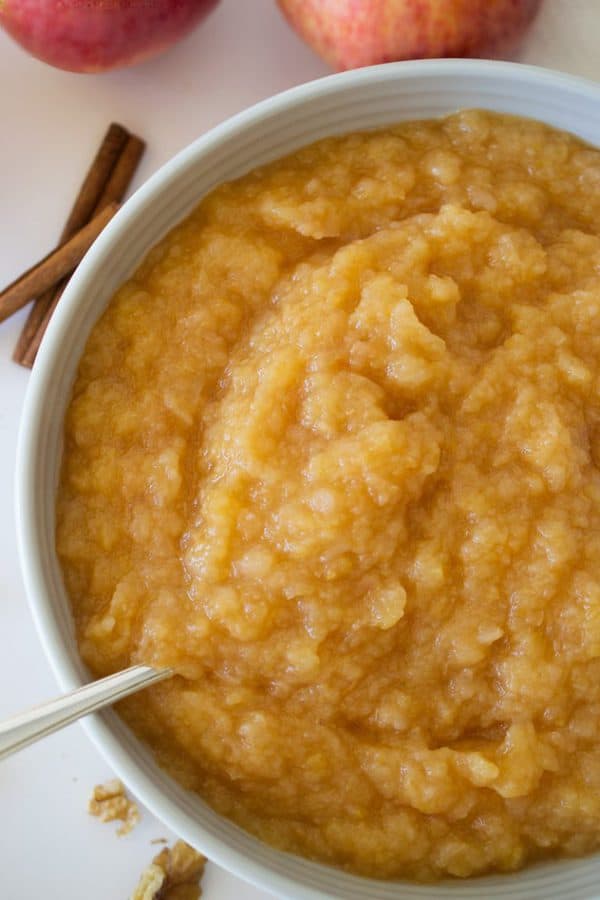 Make apple butter.

Eat it as a school snack or at lunch.

Serve it as a healthy snack for kids with braces.

Serve it as a side dish for turkey burgers.

Spoon it on top of pork chops.

Use this unsweetened applesauce recipe for baking.
Baking with Unsweetened Applesauce
The best baked goods start with an applesauce recipe without sugar. Applesauce can be a substitute for sugar, fat, or eggs in a recipe. But not at the same time. Some great recipes to try include:
Carrot cake with applesauce

Applesauce brownies

Applesauce muffins

Chocolate cake with applesauce

Applesauce pancakes

Applesauce cupcakes

Pumpkin cake with applesauce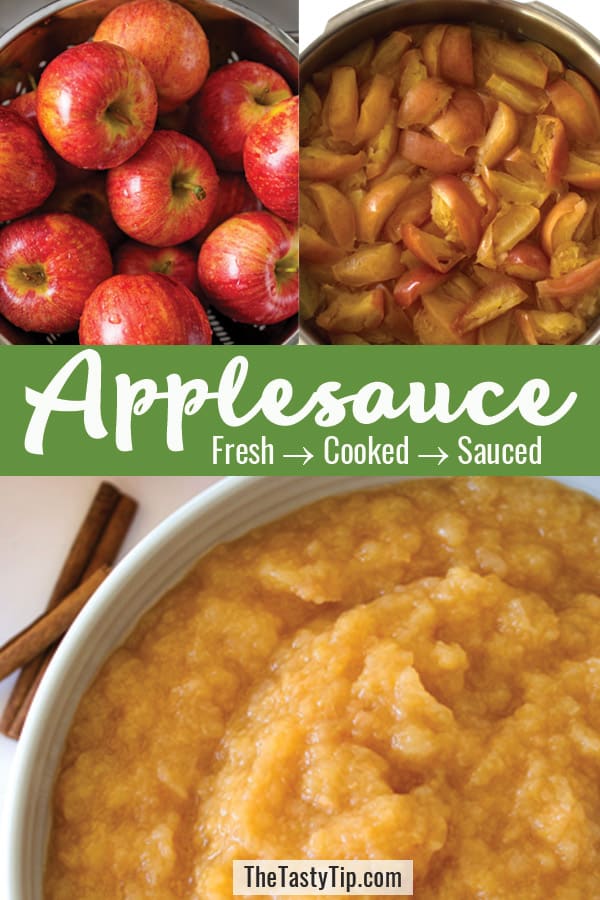 ---
Did you like this post? Then let's be social. FOLLOW ME on PINTEREST and INSTAGRAM to keep up with the latest tutorials, favorite recipes and interesting happenings.

---
Recipe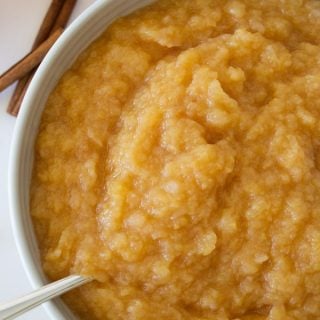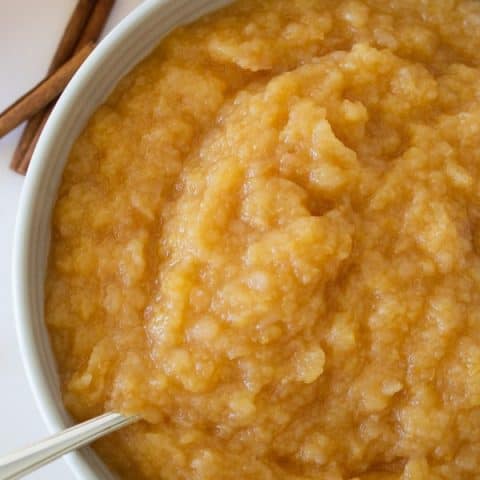 Chunky Applesauce Recipe Without Sugar Added
Try this tasty homemade applesauce recipe with one ingredient -- apples.  Chunky, sweet, tasty, and healthy all in an easy snack. With the right tools, this easy recipe comes together quickly.  Never buy canned applesauce again.
Ingredients
4

pounds

apples

Gala (or your favorite sweet apple variety)*

3

teaspoons

Fruit-Fresh Produce Protector
Instructions
WASH apples.

PEEL apples. This step is not necessary if you are using an electric food mill attachment on a stand mixer AND if your apples are organic.

CORE and SLICE apples with an apple corer/slicer.

COOK apples. In pressure cooker: Add apples and a few tablespoons of water. Bring up to pressure and cook for 5 minutes. Allow pan to depressurize. (For additional cooking methods, see instructions below.)

DRAIN apples thoroughly.

MASH apples. Use a fork, potato masher, ricer, immersion blender, food mill, food processor, or a food mill attachment of stand mixer. 

DRAIN in wire mesh strainer if applesauce has too much liquid.

COOL applesauce.

STORE in airtight container and REFRIGERATE two hours or until well chilled.
Additional Cooking Methods
To cook in microwave: Cook for 5 to 7 minutes, or until apples are soft enough to mash.

To cook on stove top: Add apples slices and ¼ cup of water. Bring to boil. Reduce heat and cook for 15 to 20 minutes, until apples are soft.

To cook in slow cooker: Add apple slices. Cook on low 4 to 5 hours or on high 2 to 3 hours.

To bake in the oven: Add the apple slices to baking dish. Cook at 375° F for 30 to 40 minutes.
Notes
*Note: 4 pounds of apples yields approximately 2 cups of applesauce.
All images and content are © TheTastyTip.com. If you want to use this recipe and techniques, please take your own photos, write your own description, and link back to this page. Thank you.
Nutrition
Calories:
105
kcal
Carbohydrates:
27
g
Protein:
1
g
Fat:
0.3
g
Sodium:
5
mg
Fiber:
4.4
g
Sugar:
21
g
---
Did you make this recipe? Tag @thetastytip on Instagram and hashtag it #thetastytip.
---
Do you make small or large batches of applesauce? Comment below and let me know.