Save time with an easy, foolproof immersion blender hollandaise sauce. Blend ingredients with the immersion blender to get smooth, creamy hollandaise sauce, identical to classic hollandaise sauce.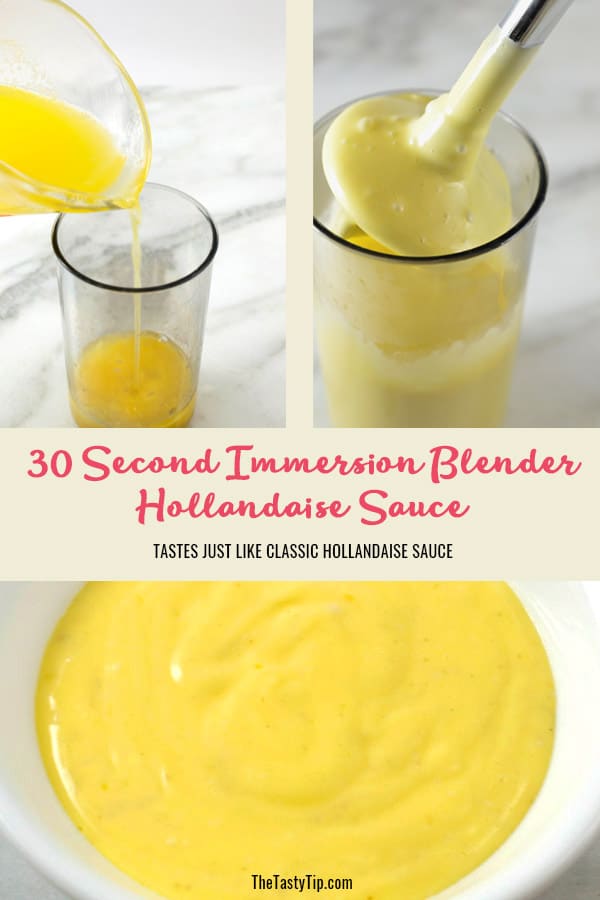 If you haven't tried an immersion blender hollandaise sauce, you are in for a treat. It is so easy. Practically foolproof. And best of all, it tastes just like a classic hollandaise sauce recipe that has been whisked forever on a stove top.
It pours and drizzles like classic hollandaise sauce too. And you will WOW your kids when they watch you make it, which is always fun.
So, is there a catch?
Well, maybe. Its all about the temperature the eggs reach.
My biggest concern with the immersion blender hollandaise sauce recipe was that the eggs were not heated high enough and for a long enough period of time to kill any potential bacteria.
What Temperature Kills Bacteria in Eggs
The US Food and Drug Administration recommends that eggs be cooked to a temperature of 160° Fahrenheit. This temperature is high enough to kill any potential salmonella bacteria an egg may have.
The risk of salmonella in eggs in the United States is small, due to safety regulations for egg farms. However, salmonella has been found in eggs before, so it is something to consider.
Some specialists are skeptical about the high cooking temperature recommended for eggs. Dr. Terry Simpson, a weight loss surgeon certified in Culinary Medicine, says that salmonella bacteria cannot grow at 130° Fahrenheit. Therefore, higher cooking temperatures are unnecessary.
Conflicting views to be sure. I like to err on the side of caution, which is one reason I came up with a healthy hollandaise sauce recipe that can be heated to 160° Fahrenheit.
However, I also realize that the risk of getting sick is minimal if you eat eggs cooked to a slightly lower temperature than 160° Fahrenheit.
If you are concerned about the temperature of the eggs, I have two suggestions.
First, heat the butter to a higher temperature. This may end up turning the clarified butter into ghee, which is fine. When I made this recipe with hot ghee, the temperature did get to over 160º Fahrenheit.
The second suggestion is to make a smaller batch of the recipe. A smaller recipe will need less heat to get all the ingredients hot enough to satisfy you.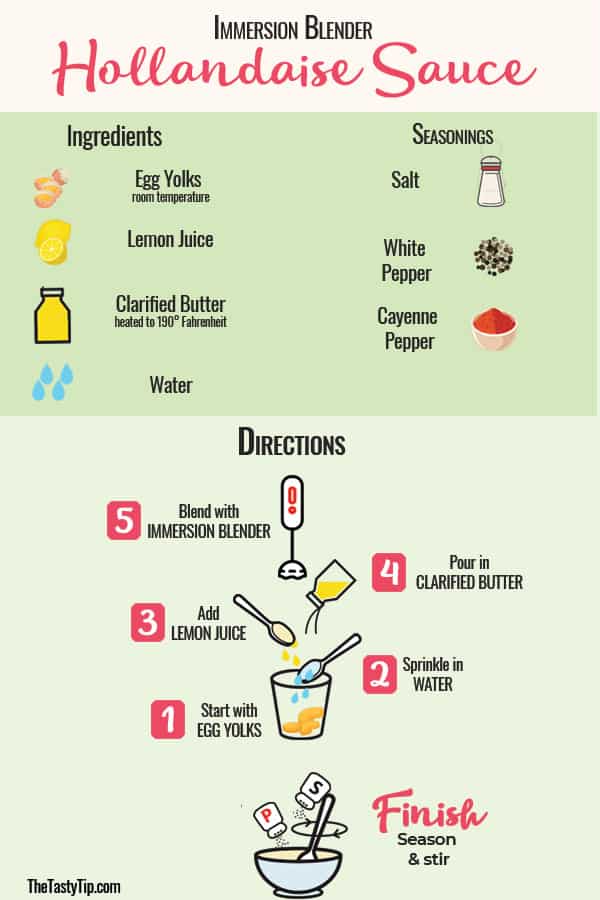 Immersion Blender Hollandaise Sauce Ingredients
Egg yolks, room temperature
Water
Lemon Juice
Clarified butter, very hot
Salt
White Pepper
Cayenne Pepper
Wondering what to do with leftover egg whites? Try making Trader Joe's sweet and spicy pecans with them.
How to Make Immersion Blender Hollandaise Sauce
It is quick, easy and (almost) foolproof to make hollandaise sauce with an immersion blender.
An immersion blender, also referred to as a stick blender or wand blender, is a a blender with a long thin body with a blade at the end. This blender blends or purees the ingredients in their own container. You stick the immersion blender into the food, rather than pour the food into a blender container.
My favorite immersion blender is the Bamix Immersion Blender. I've had mine for years and I use it almost weekly. Use the beater blade for this recipe.
Bring eggs to room temperature.
Heat the clarified butter to 190° Fahrenheit.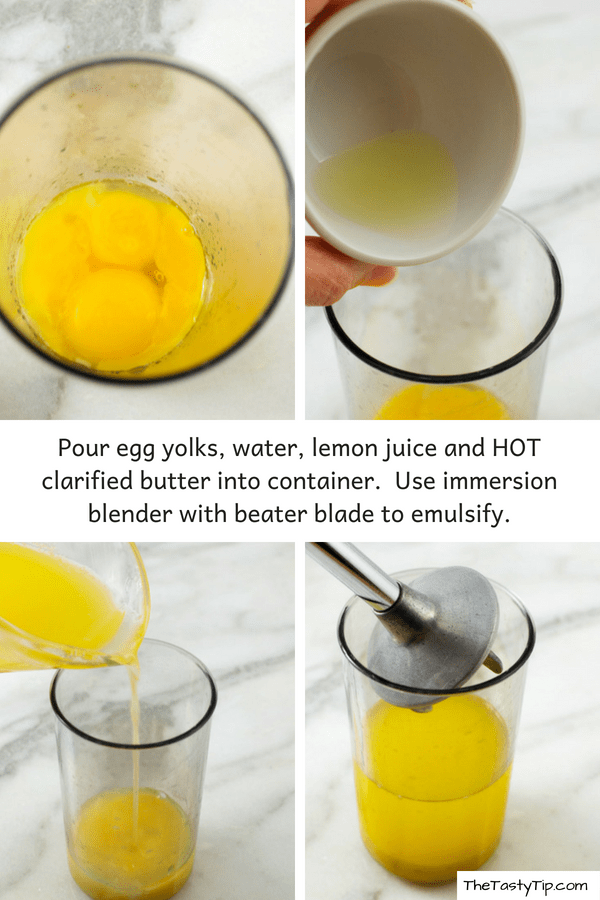 Pour egg yolks, lemon juice and warm water into a immersion blender container. If you don't have one, use a tall drinking glass or a container that just fits the head of the immersion blender. Do not mix yet.
Pour the hot butter into the mixture.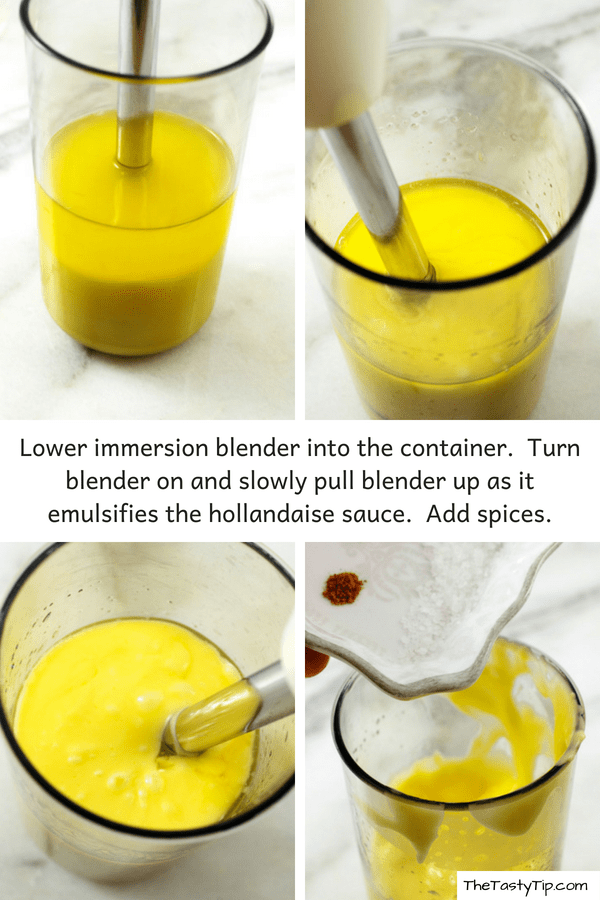 Insert the immersion blender and blend for 30 to 45 seconds (or until the sauce has emulsified and come together) drawing the blender wand up against the side of the container.
Troubleshooting the Immersion Blender Hollandaise Sauce
This method is quick and easy. However, avoid the following problems.
DO NOT turn the immersion blender on before all the ingredients are added.
Traditional hollandaise sauce recipes call for whisking the egg and water before adding the clarified butter. DO NOT WHISK EGGS before adding the clarified butter when making an immersion blender hollandaise sauce.
I made the mistake of trying to mix the eggs, water and lemon juice before adding the clarified butter. It does not work. The emulsifying action never happened. All ingredients need to be mixed at the same time.
DO NOT use a container that is too wide for the immersion blender.
The container you use for this recipe should only be slightly wider than the immersion blender head. This small space with the beater blade allows the egg to emulsify with the clarified butter.
If you do not have an immersion blender container, try a tall drinking glass.
DO NOT blend without drawing up the blender wand.
Be sure to draw the blender wand up slowly when emulsifying the immersion blender hollandaise sauce.
Hold the immersion blender at the bottom of the container for 2 or 3 seconds. Hold the wand at an angle and slowly draw it up against the side of the container.
All the ingredients will draw up with the beater blade. Repeat starting at the bottom of the container and drawing up again until the hollandaise sauce is as thick as you want it.
You may also be interested in the best practice for correct food storage in the fridge.
Did you like this post? Then let's be social. FOLLOW ME on INSTAGRAM and PINTEREST to keep up with the latest tutorials, favorite recipes, and interesting happenings.
Recipe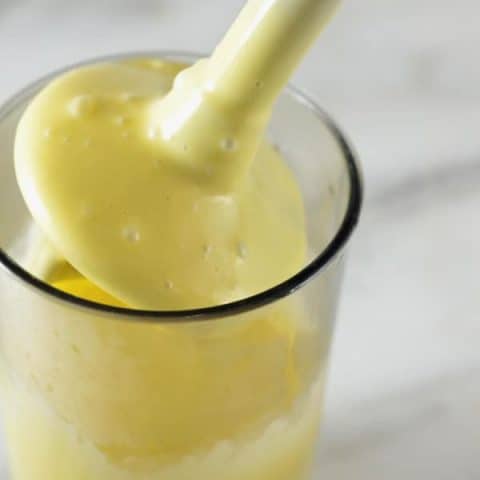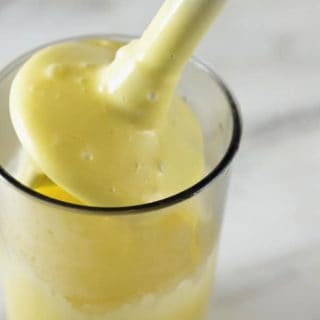 Immersion Blender Hollandaise Sauce Recipe
Make smooth and creamy hollandaise sauce with balanced flavors of butter and egg and just a hint of lemon.   Use an immersion blender to get classic hollandaise sauce finished in under a minute.  Quick, easy and almost foolproof.
Ingredients
3

fresh egg yolks

1

tablespoon

water

1

tablespoon

lemon juice

freshly squeezed

½

cup

clarified butter

heated to at least 190° Fahrenheit

¼

teaspoon

salt

or to taste

⅛

teaspoon

white pepper

or to taste

pinch

1/16 teaspoon cayenne pepper (or to taste)
Instructions
BRING eggs to room temperature.

HEAT clarified butter to at least 190° Fahrenheit.

CRACK the eggs and separate the egg yolk from the whites. Save the whites for another recipe.

POUR egg yolks, water, lemon juice and hot clarified butter into an immersion blender container with an opening just large enough to fit the immersion blender head. A tall drinking glass is a good a substitute.

USE the whipping blade on the immersion blender.

PLACE immersion blender into the bottom of the container with the ingredients.

POWER on the blender and mix for 30 to 45 seconds, slowly bringing the blender up to the top of the container. The mixture will immediately emulsify and thicken.

MIX in salt, white pepper and cayenne pepper.

TASTE and adjust seasonings as needed.

SERVE immediately.
Notes
All images and content are © TheTastyTip.com. If you want to use this recipe and techniques, please take your own photos, write your own description, and link back to this page. Thank you.
---
Do you like using the immersion blender to make hollandaise sauce or do you prefer the classic method? Comment below and let me know.