Make a healthy hollandaise sauce with about half the fat and calories of regular hollandaise that tastes virtually the same as the classic version. Substitute pureed cauliflower for part of the clarified butter and eat a healthier version of this French mother sauce.

Do you want a healthy hollandaise sauce for your eggs Benedict or to drizzle over asparagus? You do, right? But you don't want to sacrifice the taste either. You want the best of both worlds.
Luckily, there is a way to reduce fat and calories in hollandaise sauce, add a little something healthy to the sauce and keep the hollandaise flavor virtually the same.
If you are looking for classic hollandaise sauce or 30 second immersion blender hollandaise sauce, check out those recipes. But if you want something a little more healthy, read on.
How to Make a Healthy Hollandaise Sauce
Hollandaise sauce is a smooth, creamy sauce, and is classified as one of the five French mother sauces, along with béchamel, espagnole, veloute and tomate. It is a sauce made by emulsifying egg yolks and clarified butter with just a hint of lemon.
Clarified butter is the ingredient in hollandaise sauce with the highest calories and highest fat content. It is also one of the main flavors of the sauce. We want to keep the flavor.
But what if we could substitute part of the clarified butter with something that not only has low fat, but is actually healthy?
Enter cauliflower.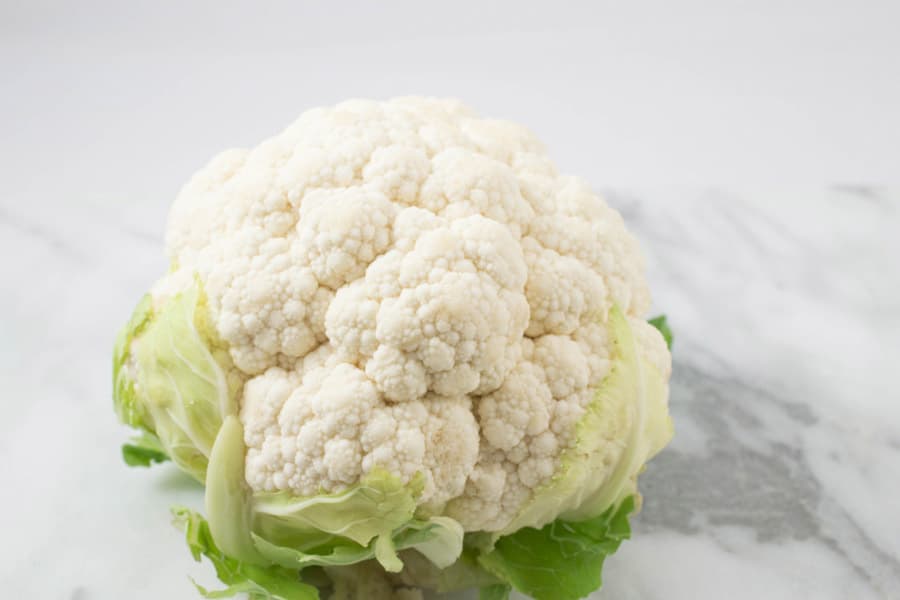 Cauliflower is a vegetable in the cruciferae vegetable family (Brassica oleracea), famous for their antioxidant properties and glucosinolate content (a substance that reduces the risk of cancer). Cauliflower, in particular, is also a good source of potassium and vitamin C.
Eating a small amount of cauliflower in a healthy hollandaise sauce may not carry the full health benefits of eating half a cup of cauliflower. However, substituting cauliflower for part of the butter is a step in the right direction.
How Does Healthy Hollandaise Sauce Taste?
Cauliflower has a very mild flavor. When it is pureed and then combined with other ingredients, the subtle cauliflower flavor often blends with the stronger food flavor. Cauliflower absorbs and highlights the flavor of the egg yolks and butter in this sauce.
It is possible to substitute cauliflower puree for half the butter without changing the healthy hollandaise sauce flavor. There is no cauliflower taste to the sauce.
How to Puree Cauliflower
Cook the cauliflower before pureeing it. To prepare the cauliflower for cooking:
Remove the cauliflower leaves.
Wash the cauliflower.
Cut the head in half.
Separate the florets.
The easiest way to cook cauliflower is to pressure cook it for 5 to 8 minutes (for about 1 pound of cauliflower) in an electric pressure cooker. My favorite electric pressure cooker is the Fagor Lux™ Multi-Cooker. See my full review of the Fagor pressure cooker. You can also steam it for about 20 minutes either in a multi-cooker or in a steamer pan.
Note: DO NOT BOIL cauliflower. Cauliflower, along with other healthy Brassica oleracea vegetables contain a large concentration of glucosinolates, which metabolize into substances that help reduce the risk of cancer. Boiling cauliflower significantly reduces glucosinolate content. So pressure cook or steam instead.
After the cauliflower is cooked, puree it when it is still warm in a blender, such as the Vitamix or with an immersion blender, such as the Bamix immersion blender. Don't add any water unless necessary. The freshly cooked cauliflower should have enough moisture from pressure cooking or steaming to puree to a smooth sauce.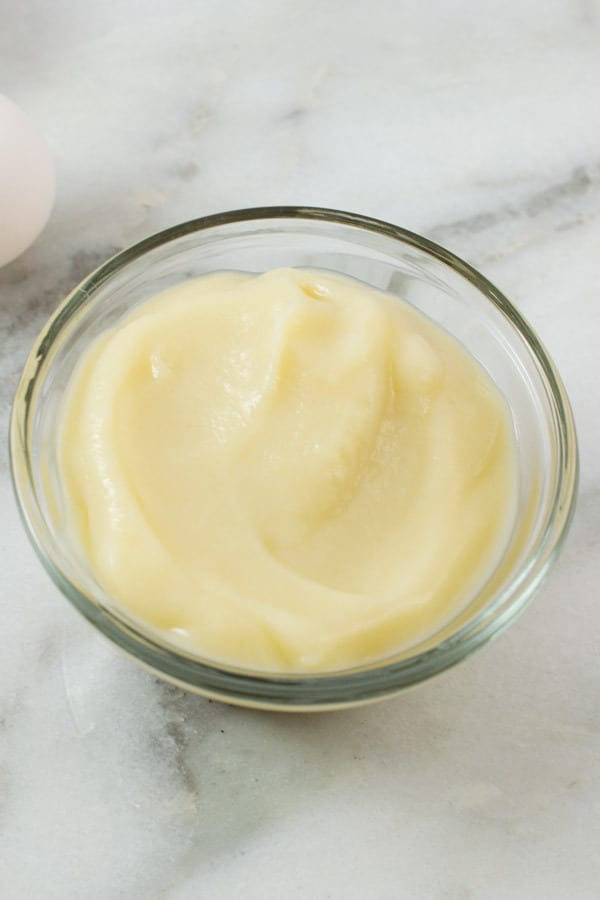 Cool it slightly before using it in the hollandaise sauce recipe. It is a bit harder to use it when it is cold. It should at least be room temperature for best results in the recipe.
Cauliflower Stabilizes the Hollandaise Sauce
Healthy hollandaise sauce can be cooked to a higher temperature than the classic sauce. Adding cauliflower puree stabilizes the sauce, and makes it possible to cook it to 160° Fahrenheit.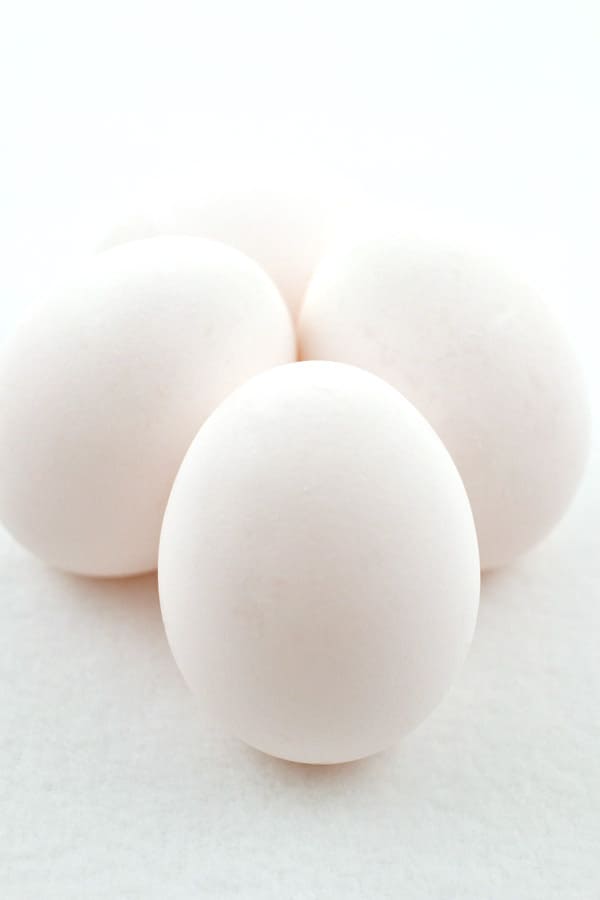 Why is this important? Its all about the eggs. The US Food and Drug Administration recommends cooking eggs to 160° Fahrenheit to kill any potential salmonella bacteria that might be hanging around. However, classic hollandaise sauce is difficult to cook to that high temperature without having the sauce break down or curdle.
So with the classic version, you are left with a sauce that hasn't heated the egg yolks high enough according to the FDA. Now, you will probably be fine eating from a classic recipe, especially since in the United Sates, there are regulations for egg farmers to help prevent contamination of the eggs. But there is always a slight risk. I always like to err on the side of caution.
Read my post on food safety to learn more.
How to Make Healthy Hollandaise Sauce
Healthy hollandaise sauce recipe begins like the classic version.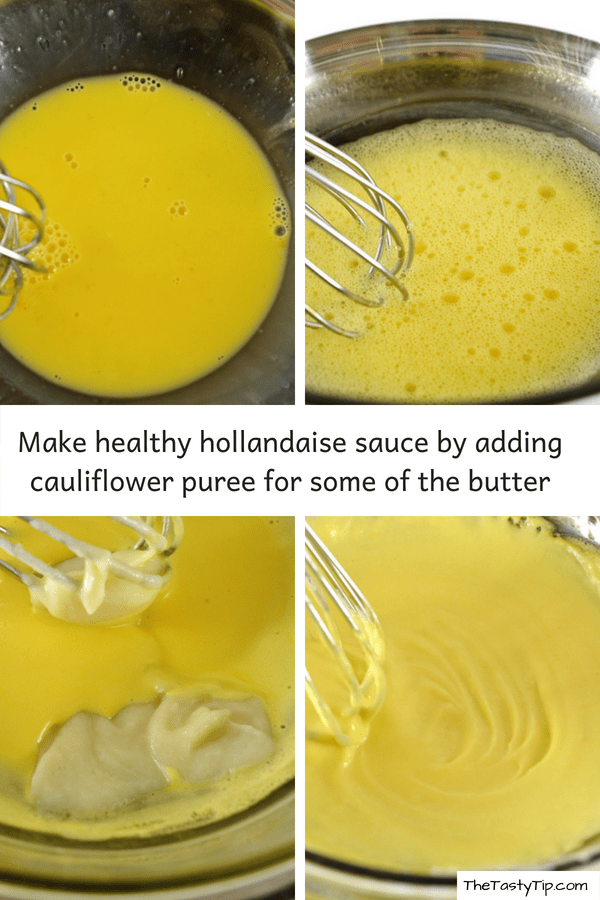 Bring eggs to room temperature.
Separate the egg yolks from the egg whites. Use the egg whites in another recipe, like Trader Joe's sweet and spicy pecans.
Simmer water in a double broiler or a pan with a glass or silicone bowl.
Add egg yolks, water, and lemon juice and whisk away. There is a lot of whisking with hollandaise sauce.
As soon as the sauce thickens, add the warm pureed cauliflower and whisk to combine.
Slowly drizzle in the clarified butter, whisking as you go.
Storing and Reheating Healthy Hollandaise Sauce
Because the pureed cauliflower stabilizes the sauce, you can refrigerate and then reheat the leftover healthy hollandaise sauce recipe. This is not possible with the classic sauce since the emulsification of the egg yolk and clarified butter breaks down over time.
To reheat, use a double boiler or glass or silicone bowl over simmering water. Whisk constantly until it is warm. This sauce is served warm, not hot.
Adding cauliflower to hollandaise sauce makes it healthier, safer to eat and more stable and convenient.
---
Yield: 2 cups
Healthy Hollandaise Sauce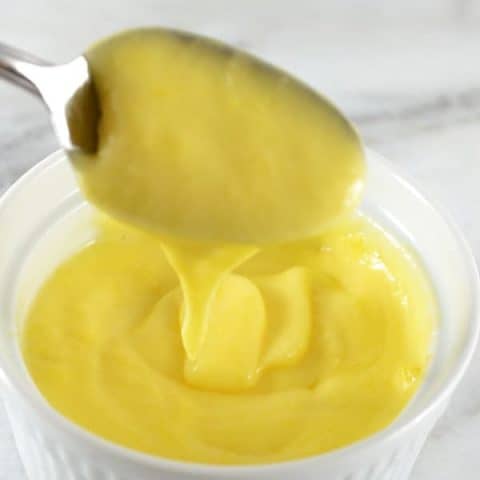 Make a healthy hollandaise sauce with about half the fat and calories of regular hollandaise that tastes virtually the same as the classic version. Substitute pureed cauliflower for part of the clarified butter and eat a healthier version of this French mother sauce.
Ingredients
3 egg yolks, fresh
3 tbsp water
2 tsp lemon juice
1/4 cup cauliflower, pureed
1/4 cup clarified butter, warm
1/4 tsp salt
1/8 tsp white pepper
1/16 tsp cayenne pepper
Instructions
BRING eggs to room temperature.
SEPARATE egg yolks and whites. Save the whites for another recipe.
SIMMER water in a double broiler or a pan with a larger glass or silicone bowl sitting on the top. The simmering water should not touch the bowl.
WHISK the egg yolks, water and lemon juice together in bowl over simmering water. It will begin to froth and then will thicken.
ADD the pureed cauliflower, whisking until smooth.
DRIZZLE the clarified butter into the sauce while whisking.
SEASON with salt, white pepper and cayenne pepper.
TASTE and adjust seasoning.
Notes
All images and content are © TheTastyTip.com. If you want to use this recipe and techniques, please take your own photos, write your own description, and link back to this page. Thank you.