Learn how to cook brown rice on the stove perfectly every time. No more mushy overcooked or crunchy half-cooked brown rice. Get soft, moist, yet distinct grains, perfect to eat alone or as an ingredient in a healthy recipe.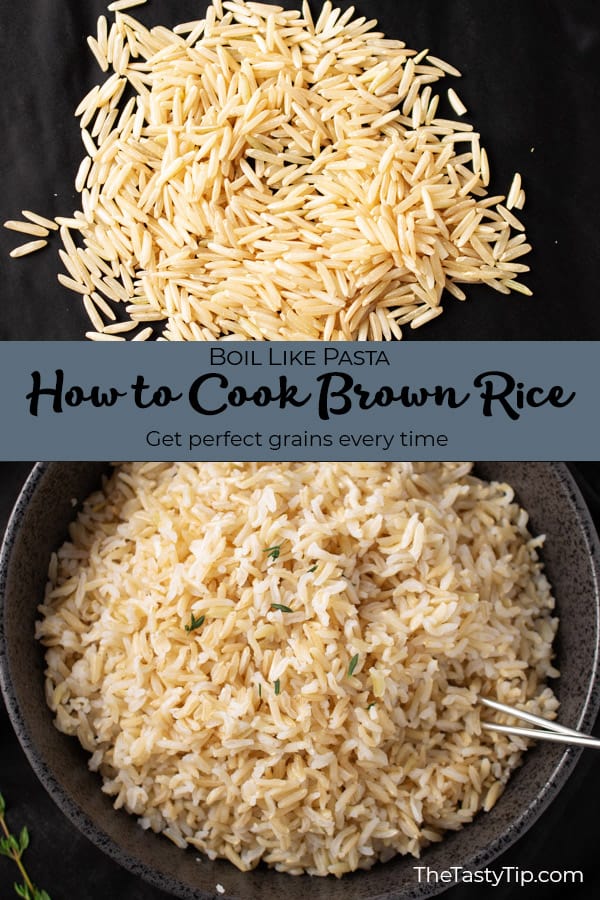 The brown rice cooking method I will teach you will change your life in the kitchen. It changed my life.

To be honest, I struggled with brown rice for a long time. My experience with brown rice may be like yours.

Following directions found on the rice package produced inconsistent results. I cooked the rice with a 2:1 water rice ratio (2 cups water and 1 cup brown rice). The result — mushy rice.

So I experimented by changing the water to rice ratio, reducing the water each time. By the time the rice was no longer mushy, I ended up with dry, not fully cooked rice.

Little did I know that the size of rice grain AND the quality of the cooking pan affect the amount of water needed for the rice.
With such frustrating experiences, I didn't think I could learn how to cook brown rice with a pan on the stove.

Alternatives to Cooking Brown Rice on the Stove

A rice cooker and electric cooker have a good track record for producing great brown rice. If you have a rice cooker or electric cooker, use them to cook the rice for an easier hands-free method.
Just a quick bit of info on them before we jump to cooking brown rice with a pan on the stove.

Rice Cooker
My rice cooker makes moist and tender rice with a 1½ to 1 water to rice ratio.

Electric Pressure Cooker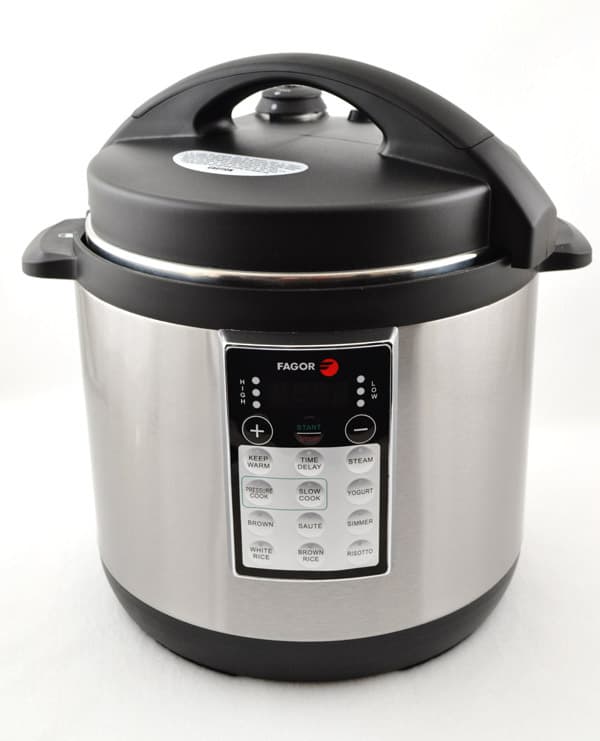 My electric pressure cooker can also cook brown rice. It has a brown rice setting, which is handy. I use a 1½ to 1 water to rice ratio.
If you are going to use an electric pressure cooker, I recommend the Fagor pressure cooker.
Read my review of the Fagor pressure cooker to find out why I prefer it over the Instant Pot.
I also use the pressure cooker to cook black beans, which I like to eat with my brown rice.
However, I know that many of my readers only have a pot and a burner, so I revisited my brown rice dilemma.

A Word about Rice Grains

Not all grains of rice are the same. They don't look the same, they aren't the same size, and they aren't the same color.

Therefore, you should cook each rice variety differently because each variety is unique.
For example, you need different water to rice ratios for long and short grain rice. It is a lot to keep track of.
So, the solution for brown rice — boil it like you would pasta.

How to Cook Brown Rice Like Pasta

The only way I have found to cook brown rice perfectly every time is to cook it like pasta.

This means your water to brown rice ratio is closer to 4 to 1 (4 cups of water to 1 cup of brown rice). However, you don't have to measure either the water or the rice precisely — just like pasta.


Start by boiling 4 cups of water in a stock pot.
After the water reaches a boil, add the brown rice.
Reduce the heat to low and simmer it covered for 25 to 30 minutes.
Check the grains at 25 minutes to see if they are soft enough. If they aren't, keep cooking for another few minutes.

When the rice grains are ready, drain the rice in a colander just like you drain pasta.
I always shake the cooked rice in the colander a few times to get the excess water out.

Return the rice to the pan, cover with the lid, and let it sit OFF HEAT for about 5 minutes. This helps dry it out a little more and evenly cook.
Finally, fluff it with a fork and serve.
If you are going to use the rice in another recipe, liked fried rice, let the rice cool for best results.

Cooking by boiling is quicker than cooking the rice with the water absorption cooking method. Water absorption method takes 45 minutes versus 25 minutes for the pasta method.

Do You Have to Soak Brown Rice Before Cooking?
I wasn't sure if it was better to soak the rice before cooking so I did an experiment.
Once I started cooking brown rice like pasta, I wasn't going back to any other cooking method. But I wanted to see if there was any other tips to enhance the texture and appearance.

I used Trader Joe's brown basmati rice for all of the experiments and I used the pasta cooking method.

Experiment
The best texture of brown rice is soft, moist, a tiny bit sticky, but the grains of rice are separate.

Presoaked rice result: Cooked rice finished cooking in 25 minutes. The cooked rice grains were shorter and much stickier.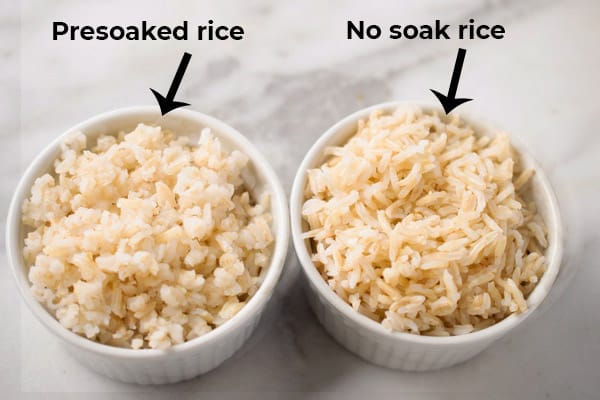 My first impression was not favorable. When the rice cooled down, the texture was a little better. This was my least favorite method. I would only use this rice in a casserole or soup.

Cooking Rice Without Rinsing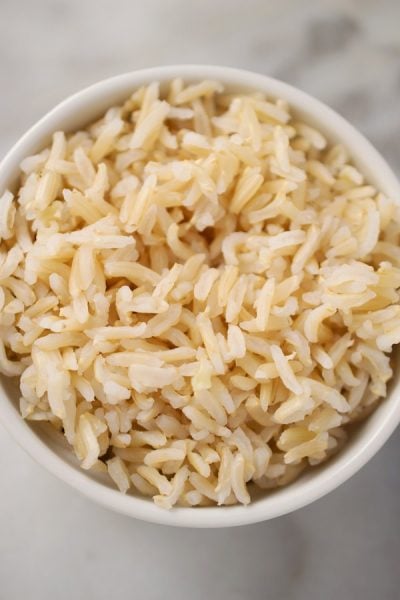 Cooking rice without rinsing: This rice was soft, long, somewhat sticky, and the grains were separate. This rice had the best texture. It was finished cooking in 25 minutes.

Rinsing Rice Before Cooking
Cooked rice finished cooking in 25 minutes. This rice also had a nice texture. It was slightly stickier than the rice cooked without rinsing.

Rice Cooked in Rice Cooker and Electric Pressure Cooker – for comparison
Conclusion: I preferred the texture of non-rinsed brown rice.

Please note: When you use the boiling method, soaking brown rice does not reduce the cooking time.

FAQ About Cooking Brown Rice
How long does it take to cook brown rice?
It takes 25 to 30 minutes to cook brown rice by boiling it with a 4 to 1 water to rice ratio. Add 5 minutes of sitting after draining it to get a total of 30 to 35 minutes.

It takes 45 minutes to cook rice using the water absorption method (where the rice absorbs all the water as it cooks).

What is the ratio of water to rice?
To boil the rice like pasta, the water to rice ratio is approximately 4 to 1. Neither the water nor the rice need to be measured precisely with this method. Treat it like you would cook pasta.

If you are cooking rice by absorption (rice absorbs all the water as it cooks), you may have mixed and inconsistent results.

But in general, cook long grain brown rice with a 1½ to 1 ratio of water to rice.

Use a 2 to 1 ratio of water to rice if you are cooking short grain brown rice.

It is also important to use a high-quality pan as well.

However, to be absolutely sure to get the perfect brown rice, cook the brown rice like pasta or use a rice cooker with a brown rice setting or a pressure cooker.
What can I add to brown rice for flavor?
Cook brown rice in vegetable, chicken, or beef broth to add flavor as it cooks.

Additionally, add other ingredients for flavor.
• Sauté brown rice with olive oil, minced garlic, salt, and pepper.
• Top cooked brown rice with pesto. Homemade pesto is the best.
• Sauté with olive oil, cilantro, and lime juice.
How do I fix mushy brown rice?
Mushy brown rice can be hard to fix, but here are a few tips.

Try draining the rice in a colander. After excess water drips out, return it to the pan, cover with lid, and set OFF HEAT to continue to cook and dry out in the warm pan.

If the rice is too mushy to be eaten on its own, add the mushy rice to a recipe. When it is mixed in a casserole or in brown rice pudding, the mushiness may not be so noticeable.
Can you freeze brown rice?
Yes, brown rice freezes very well.




To freeze, allow the rice to cool completely. Then place it in a zip top freezer bag or another freezer container and place it in the freezer.

Because it freezes so well, it makes sense to cook a large batch of brown rice and then freeze it in serving portions.

To thaw the rice, place it in the refrigerator for 2 to 6 hours, depending on the portion size.
Why does brown rice take longer to cook?
Brown rice takes longer to cook because it is a whole grain that only has the outermost layer (the husk) removed. It still has the hull, bran, and germ layers.

White rice has the hull, bran, and germ layers removed. As a result, white rice cooks more quickly than brown rice.

If you are interested in cooking other staples, see the posts on how to cook quinoa and how to cook black beans.
Yield: 2 cups
How to Cook Brown Rice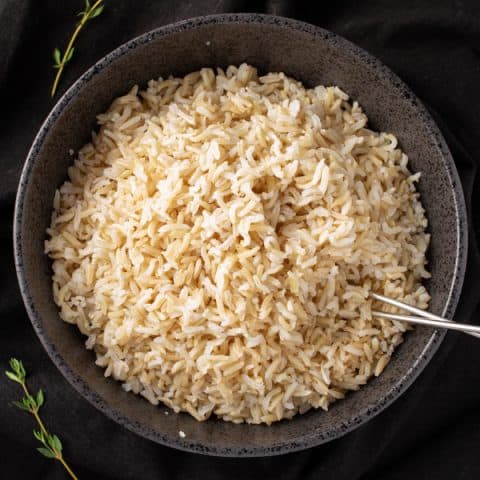 Cook brown rice on the stove perfectly every time with the pasta boiling method. No more mushy rice. Use the brown rice in recipes or as a side dish.
Additional Time
5 minutes
Ingredients
1 cup brown rice
4 cups water
Instructions
BOIL 4 cups of water in a large stock pot.
POUR the rice into the boiling water.
COVER with a lid and turn the heat to low. Keep the water at a low simmer.
COOK for 25 to 30 minutes, or until the rice grains are soft and cooked through.
DRAIN the water from the rice in a colander. Shake the colander to get all the excess water out.
RETURN the rice to the warm pan. Cover with the lid and let it sit OFF HEAT for 5 minutes.
FLUFF with a fork.
SERVE with a dollop of homemade pesto or use it in any recipe.
Notes
All images and content are © TheTastyTip.com. If you want to use this recipe and techniques, please take your own photos, write your own description, and link back to this page. Thank you.
Nutrition Information
Yield
4
Serving Size
1/2 cup
Amount Per Serving
Calories

55
Total Fat

0g
Saturated Fat

0g
Trans Fat

0g
Unsaturated Fat

0g
Cholesterol

0mg
Sodium

10mg
Carbohydrates

11g
Fiber

1g
Sugar

0g
Protein

1g
Nutrition information is an estimate only and may vary based on individual ingredients added and cooking methods used.
What did you think of the pasta method to cook your brown rice? Comment below and let me know your experience.