Delicious, spicy vegan Southwest Chipotle Kale Quinoa Bowl with black beans is a quick one skillet dinner, easy to make in 30 minutes or less.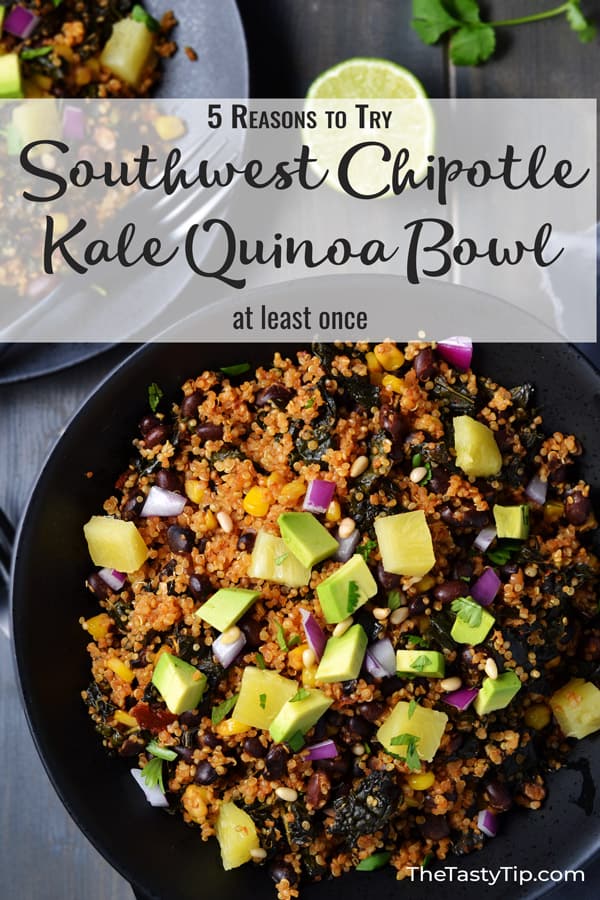 Are you trying to eat more kale?  It is an amazing superfood.  You can read all about it in the Ultimate Kale Guide.
My ambitious goal is to serve kale at least 3 times a week in such an enticing way that my picky don't-want-to-eat-anything-green son will be tempted to try it.
To achieve this goal, I knew I needed some appealing kale recipes that looked tasty and non-threatening to him. They also had to be quick and easy to make to preserve my sanity.
The result was a spicy, southwest recipe with kale (with an option to substitute spinach) and black beans piled on quinoa.  I topped it with sweet pineapple, rich, savory avocado and soft, crunchy pine nuts.
The spicy and complex taste is enough of a reason to try it once, but here are 5 more reasons why you should try Southwest Chipotle Kale Quinoa Bowl – at least once.  Although you will probably want to eat it more than once.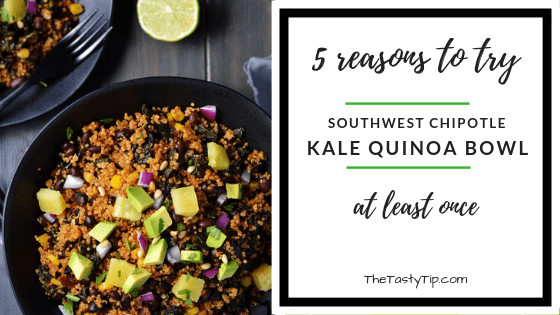 #1:  You can make the Southwest Chipotle Kale Quinoa Bowl in 30 Minutes
It is difficult to find tasty homemade recipes that can be on the table in 30 minutes, but this kale quinoa recipe is one of them.  Prep time consists of washing and chopping the kale and toasting the quinoa.  However, you can save time by purchasing pre-washed and chopped kale.
This tantalizing recipe has contrasting flavors (spicy chipotle with sweet pineapple) and varying textures (soft beans and crunchy pine nuts).  You won't even need a side dish with so much variety in this power bowl.  This is a complete meal -- and in 30 minutes.
#2 You Only Need 1 Skillet + 1 Cutting Board
Not only does the Southwest Chipotle Kale Quinoa Bowl take only 30 minutes to make, but it also requires only a couple of dishes.
Because you only need one skillet, clean up is a breeze.
You also need a cutting board and knife to prep the kale, cilantro, avocado and red onions.  Save time in the kitchen, so you can spend more time doing what you love to do.
#3: Kale + Quinoa = Nutritional Powerhouse Couple
A whole lot of nutrition is packed in every serving.
With kale, quinoa and black beans as the "meat" of this vegan recipe, you will be getting a powerhouse of nutrients in every serving.
Quinoa: Quinoa is a gluten-free food with magnesium, phosphorus, folate, iron, and zinc.  It is also a popular source of vegan protein.
Several years ago, my husband was trying to eat less meat, while attempting to gain muscle mass.  We were always looking for vegan sources of protein.  Enter quinoa into our diet.  Quinoa is a wonderful source of complete protein, meaning it contains all of the nine essential amino acids.
Kale:  Kale is a one of the cruciferous vegetables that is high in vitamin K, vitamin C and lutein.  In addition, many of kale's nutrients are anti-inflammatory, which means they can help prevent pre-mature aging and strengthen the immune system.
Kale is a rich source of antioxidants, which can promote healthy cells.
Kale is one of the best sources of vitamin K, which leads to strong bones and healthy blood function.
Black Beans: Black beans are a healthy source of iron and protein.  Protein is the body's building material, and is necessary for growth and repair.
In addition, beans also reduce the risk of heart disease.  For example, they lower the bad LDL cholesterol and help raise the good HDL cholesterol.
Each serving also contains magnesium, potassium, phosphorus, folic acid, vitamin K, vitamin C and B vitamins.
Learn how to cook black beans and make your own from scratch.  It is quick and easy in an electric pressure cooker. Check out all these recipes with dry beans.
Or try Favorite Black Bean Soup.  So yummy! Also, read up on the best black bean soup sides.
#4: This skinny dish is packed with protein and fiber to fill you up and keep you full, with only 200 calories per serving
6 grams of dietary fiber
7 grams of protein
Beans have high satiety, which means they digest slowly.  So they fill you up.  And they also keep you full longer.
And the fiber?  Most Americans do not get enough fiber in their diet.  Beans are a heart healthy source of fiber.
#5: The contrasting flavors and textures – sweet and spicy or soft and crunchy make a refreshing power bowl
Here are some of the contrasting flavors and textures, giving this power bowl an interesting taste.
Spicy chipotle and sweet pineapple
Chewy corn and soft beans
Savory avocado and crunchy pine nuts
Components of the Southwest Chipotle Kale Quinoa Bowl
Quinoa: The base of the power bowl is the protein-packed, slightly nutty flavored quinoa.  This is a one-skillet kale quinoa recipe, so the quinoa is not pre-cooked.
But be sure to rinse the quinoa before cooking it to remove the saponin (a protective coating over the quinoa that tastes bitter).
Kale: To prepare kale in an approachable, non-intimidating way requires skill with a chef's knife.  Cut the kale in small, bite sized ribbons.  Read more on how to choose and cut kale.
Although this recipe calls for kale, substituting spinach for the kale gives similar results.  Alternately, use half kale and half spinach.
Black Beans: Black beans, either from a can (or soaked and cooked at home) add more protein and fiber to the power bowl.  Add some frozen or fresh corn kernels and you have a winning southwest-inspired combination.
Southwest Heat: We like a little southwest heat, so chipotle in adobo sauce was the answer.  Mince or puree it for easy blending into the recipe, rather than chopping it and ending up with spicy chunks in one bite and nothing in the next bite.  The quinoa will take on the spicy flavor, so add heat at your own discretion.
Interesting Toppings: Pineapple, avocado, red onions and pine nuts combine to mix up the flavor and texture.
How to Make the Southwest Chipotle Kale Quinoa Bowl
This Kale Quinoa Bowl is an easy dinner recipe that can be made in 30 minutes and is a one pan recipe.
Wilt kale.  Heat a skillet on medium heat.  Add olive oil, kale, salt, and pepper.  Cook and stir for about 3 minutes.  The kale will turn a bright green appetizing color.
Note: If you are using spinach, please be aware that it cooks faster than kale.  Keep an eye on it.  It will only take 30 to 45 seconds to wilt spinach.
Mix the spices with the black beans.
Add remaining ingredients to the pan (except for the toppings).  Mix to combine.  Cover with lid.
Boil and then reduce heat.  Simmer on low, with lid on pan 15 or 20 minutes, until the quinoa is cooked and the liquid is absorbed.
Rest off heat, covered for 3 minutes.  Fluff with a fork.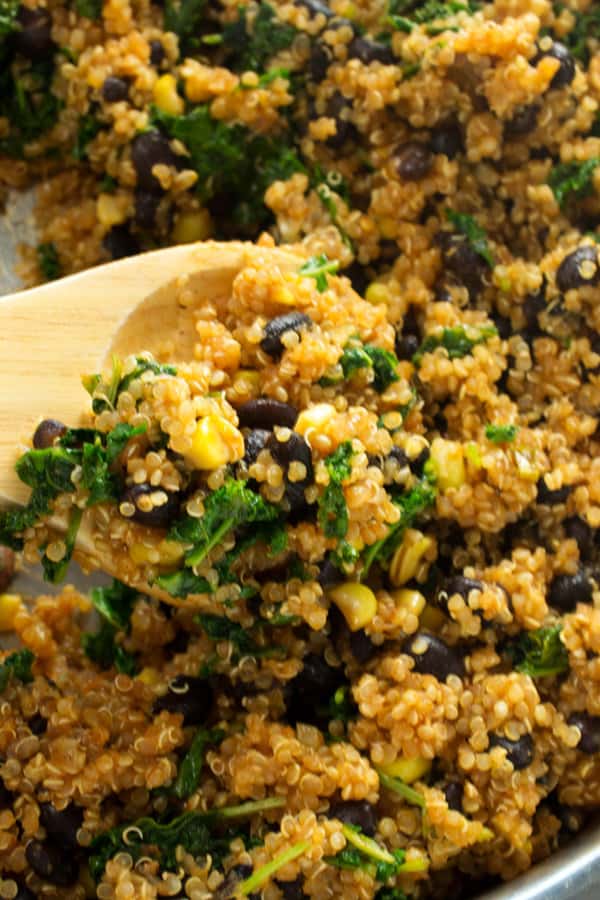 Serve hot with the toppings.
---
Recipe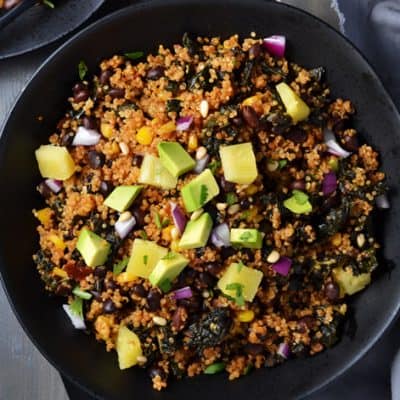 Southwest Chipotle Kale Quinoa Bowl
Delicious, spicy vegan Southwest Chipotle Kale Quinoa Bowl with black beans is a quick one skillet dinner, easy to make in 30 minutes or less.  Packed with protein and fiber to fill you up, with calories so low, it will keep you skinny.
Ingredients
2

cups

water or vegetable broth

1

cup

quinoa

1

tablespoon

olive oil

1 ½

teaspoon

salt

¼

teaspoon

pepper

3-4

cups

kale

chopped in ribbons

1

15 ounce can black beans (or 1 ⅓ cup home cooked black beans)

½

cup

corn

frozen

2-4

tablespoons

Chipotle in Adobo Sauce

minced or pureed

½

teaspoon

cumin

ground

1

teaspoon

smoked paprika

½

teaspoon

salt

2

tablespoons

lime juice

freshly squeezed
Toppings
1

can

20 ounce pineapple tidbits, drained

1

avocado diced

3

tablespoons

red onion

diced

1

tablespoon

cilantro

chopped

½

cup

pine nuts

Salsa to taste
Instructions
Prep Work

CHOP kale into ribbons.

DICE red onions.

PUREE or MINCE chipotle in adobo sauce.

CHOP cilantro.

JUICE lime.

MIX cumin, smoked paprika and ½ teaspoon salt.

Cooking

HEAT skillet over medium heat. Add 1 tablespoon olive oil, kale, ½ teaspoon salt and ⅛ teaspoon pepper. Stir to coat the kale.

SAUTE kale in hot skillet for 3 minutes, until it starts to wilt and turns a bright green.

MIX cumin, smoked paprika and ½ teaspoon salt with the black beans until the black beans are coated with the spices.

ADD black beans, corn, quinoa, water, and lime juice to the skillet and bring to a boil.

REDUCE heat. Simmer covered for 15-20 minutes, or until quinoa is cooked and liquid is absorbed. Remove from heat.

REST covered for 3 minutes.

FLUFF with a fork.

SERVE warm and garnished with pineapple tidbits, avocado, red onion, salsa, and pine nuts.
Notes
All images and content are © TheTastyTip.com. If you want to use this recipe and techniques, please take your own photos, write your own description, and link back to this page. Thank you.
Nutrition
Serving:
1
CUP
Calories:
199
kcal
Carbohydrates:
25
g
Protein:
8
g
Fat:
10
g
Saturated Fat:
1
g
Polyunsaturated Fat:
7
g
Sodium:
708
mg
Fiber:
8
g
Sugar:
4
g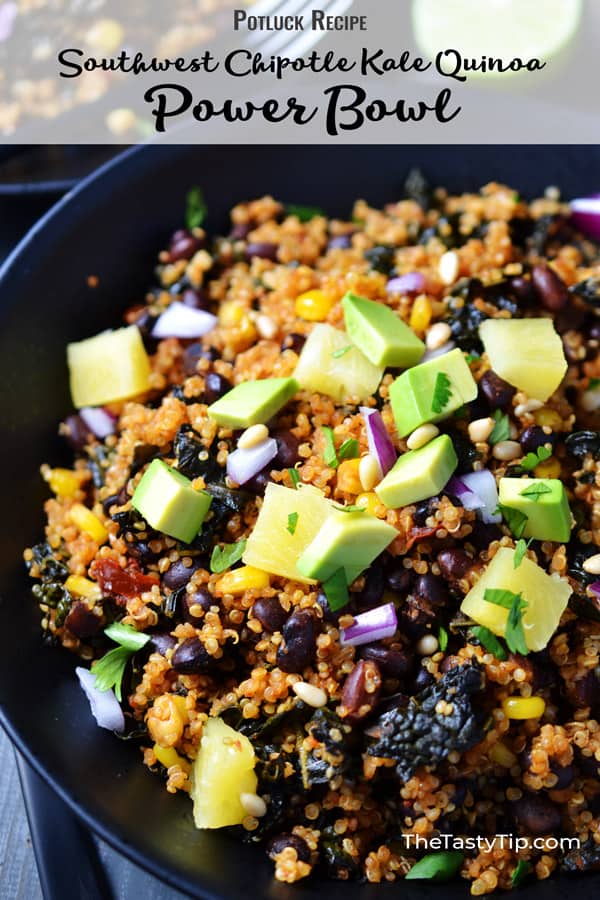 This power bowl is also a wonderful potluck recipe.  Bring your toppings and let everyone make their own bowl.
Did you make the recipe?  Comment below and let me know if you liked all the contrasting flavors and textures.