Bread, sandwiches, salads, and finger foods are tasty examples of what to serve with chicken chili. Get tons of ideas for side dishes you can easily make while the chili cooks.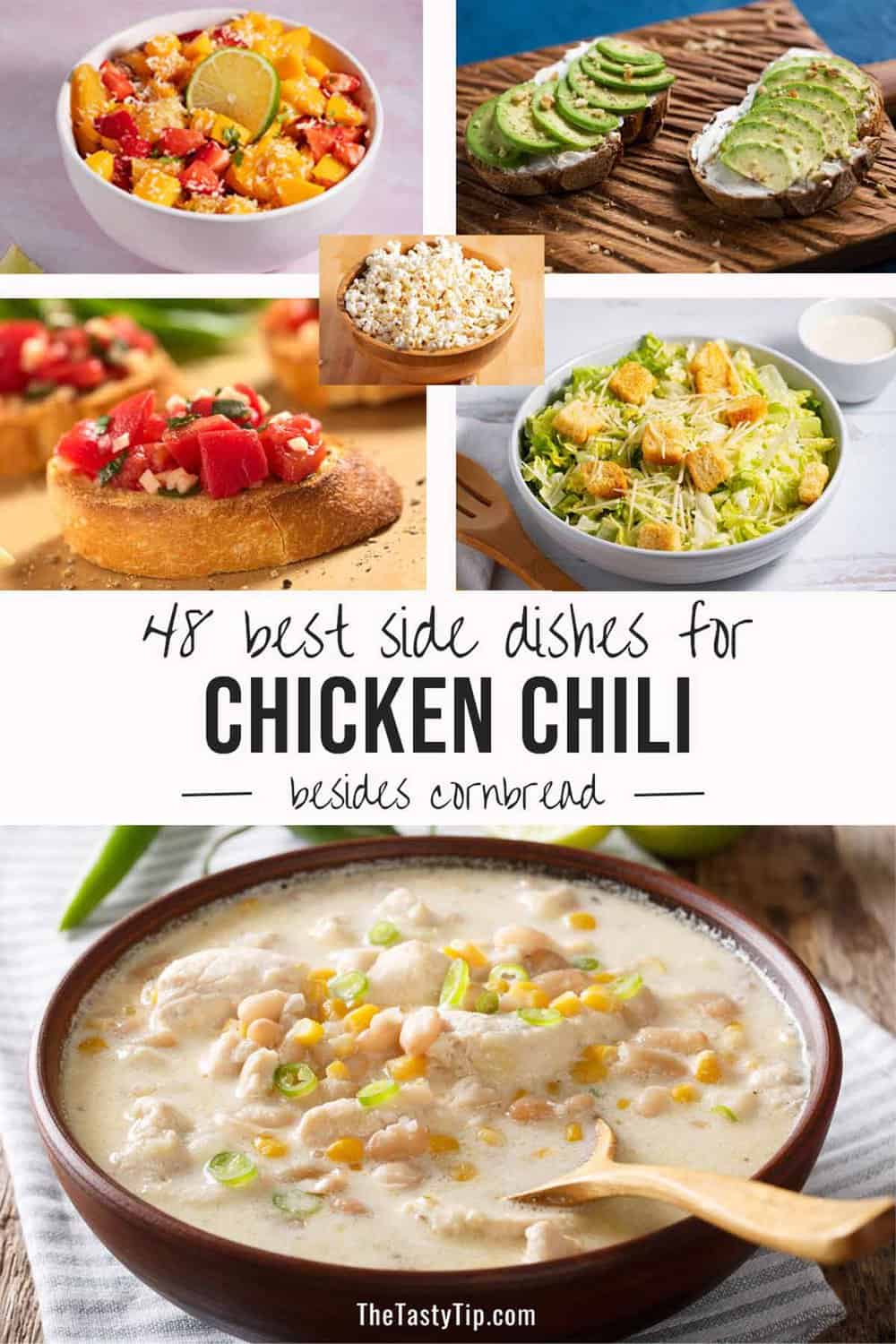 Mouthwatering chicken chili is a delicious medley of shredded chicken, white beans, and creamy broth with a kick from green chiles. It is perfect for cool weeknight dinners or anytime you want a satisfying Tex-Mex meal. You will drool over every bite.
But even flavorful white chicken chili needs a side dish to enhance the flavor and complete the meal.
What should you serve with chicken chili? The best side dishes to serve with chicken chili are breads, salads, vegetables, and finger foods. Pair the white chili with one of these dishes to enjoy a hearty meal.
What Breads to Serve with Chicken Chili (in addition to cornbread)
Cornbread is a classic side to serve with chicken chili. However, there is an amazing list of breads that pair just as well as cornbread. Consider rolls, breadsticks, and quesadillas.
Check out all the other delicious suggestions for chicken chili sides.
Buttermilk Biscuits (made with pancake mix)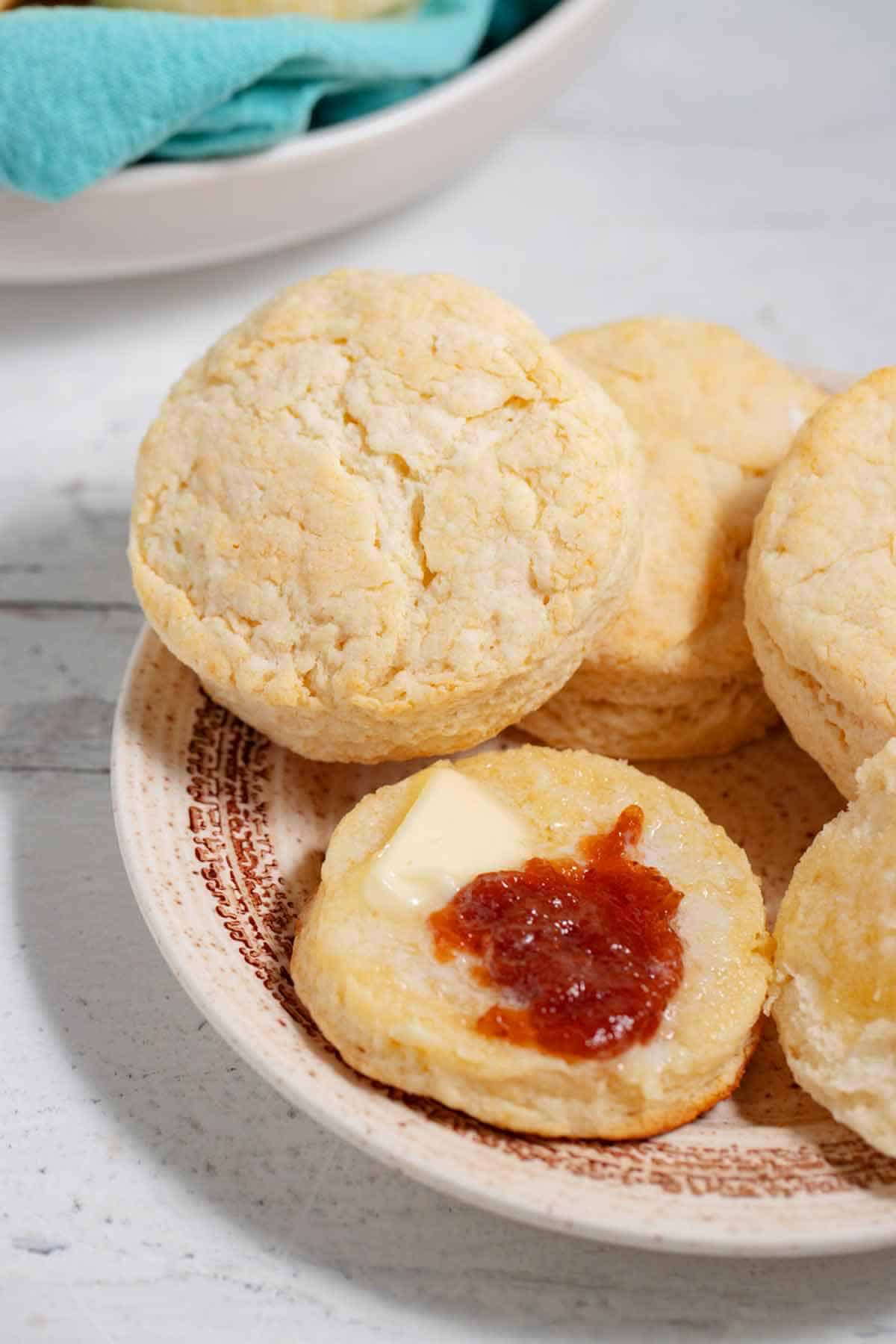 Ready for an easy 3-ingredient biscuit? It is ready for you too. Grab your pancake mix, butter, and buttermilk and you are ready to bake in 5 minutes.
In the mood for savory? Then throw in some shredded cheddar cheese and seasonings. Sweet or savory. You are covered.
Garlic Bread
Garlic bread is versatile and can be served with almost anything. The texture of the crisp, fluffy bread sprinkled with garlic powder is perfect for easy chicken chili, simmered with a crushed garlic clove. Dip the bread into the bowl and scrape up every morsel.
Dinner Roll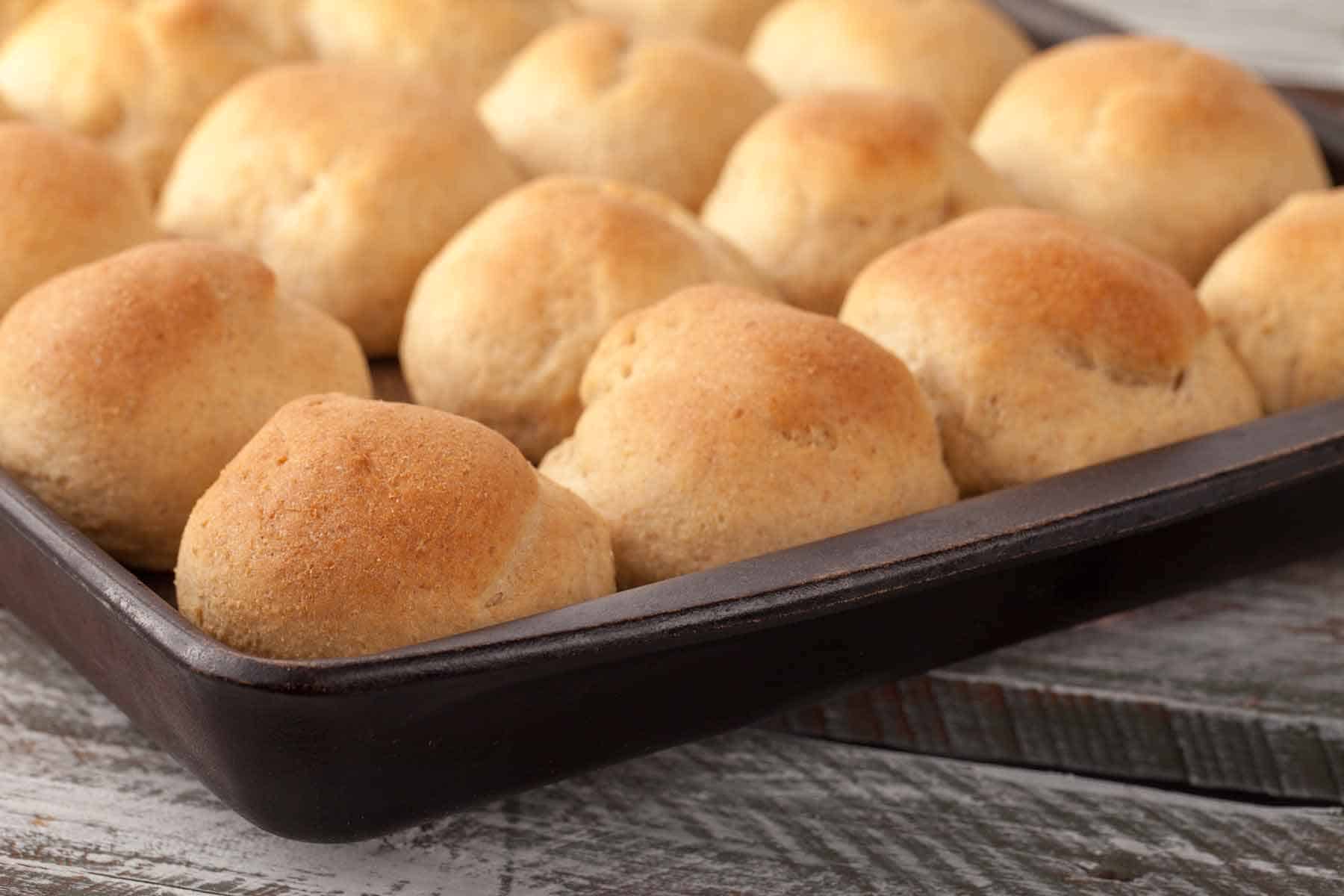 Buttery dinner rolls go with anything. Soak up the chili with the bread or slather it with butter and a spot of jelly. Who can resist a warm dinner roll fresh from the oven? Not me. It is excellent with a variety of chili and soup recipes.
Breadsticks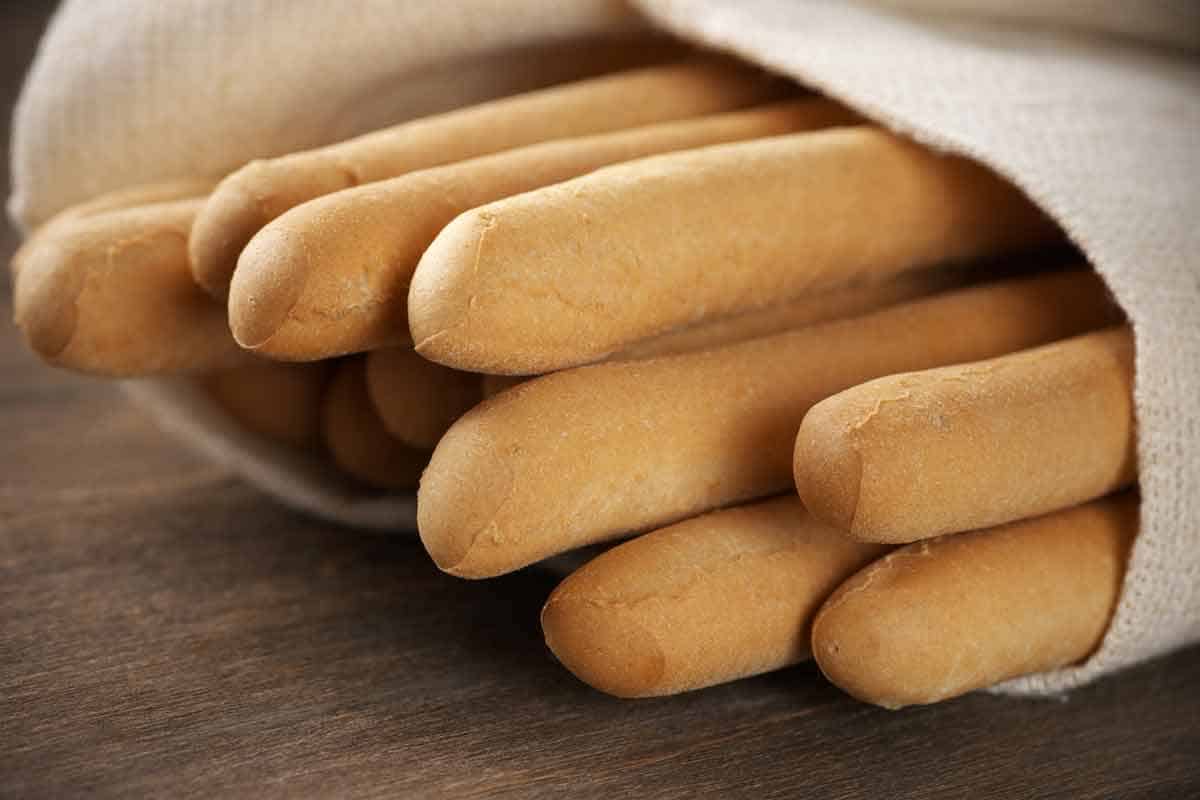 Warm, soft breadsticks fresh from the oven make a terrific side for a big bowl of easy white chicken chili. A crusty exterior contrasting with a fluffy middle. You can never make too many.
Korean Cream Cheese Garlic Bread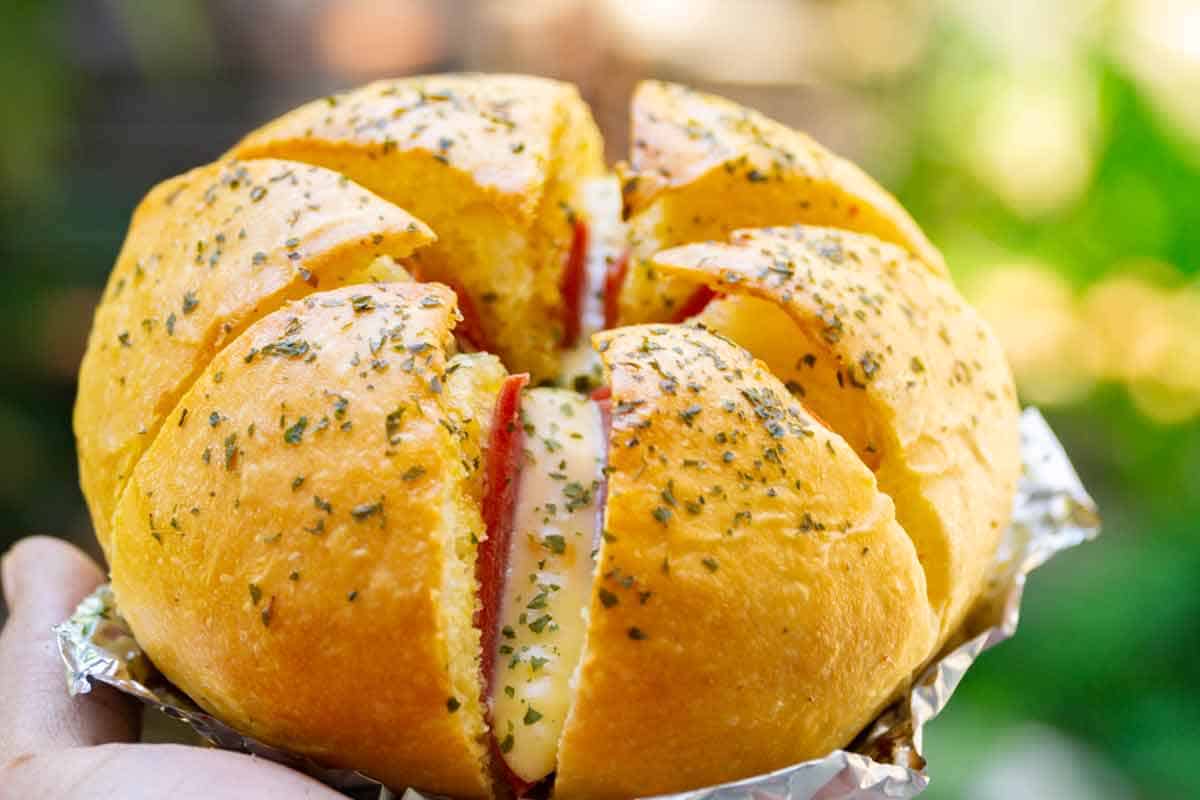 Garlic bread with a sweet cream cheese filling is classic Korean street food. Try this sweet, savory pull-apart bread next time you pour a scoop of chicken chili into your soup bowl.
Want to go lighter? Check out all the healthy substitutes for cream cheese.
Butter Crackers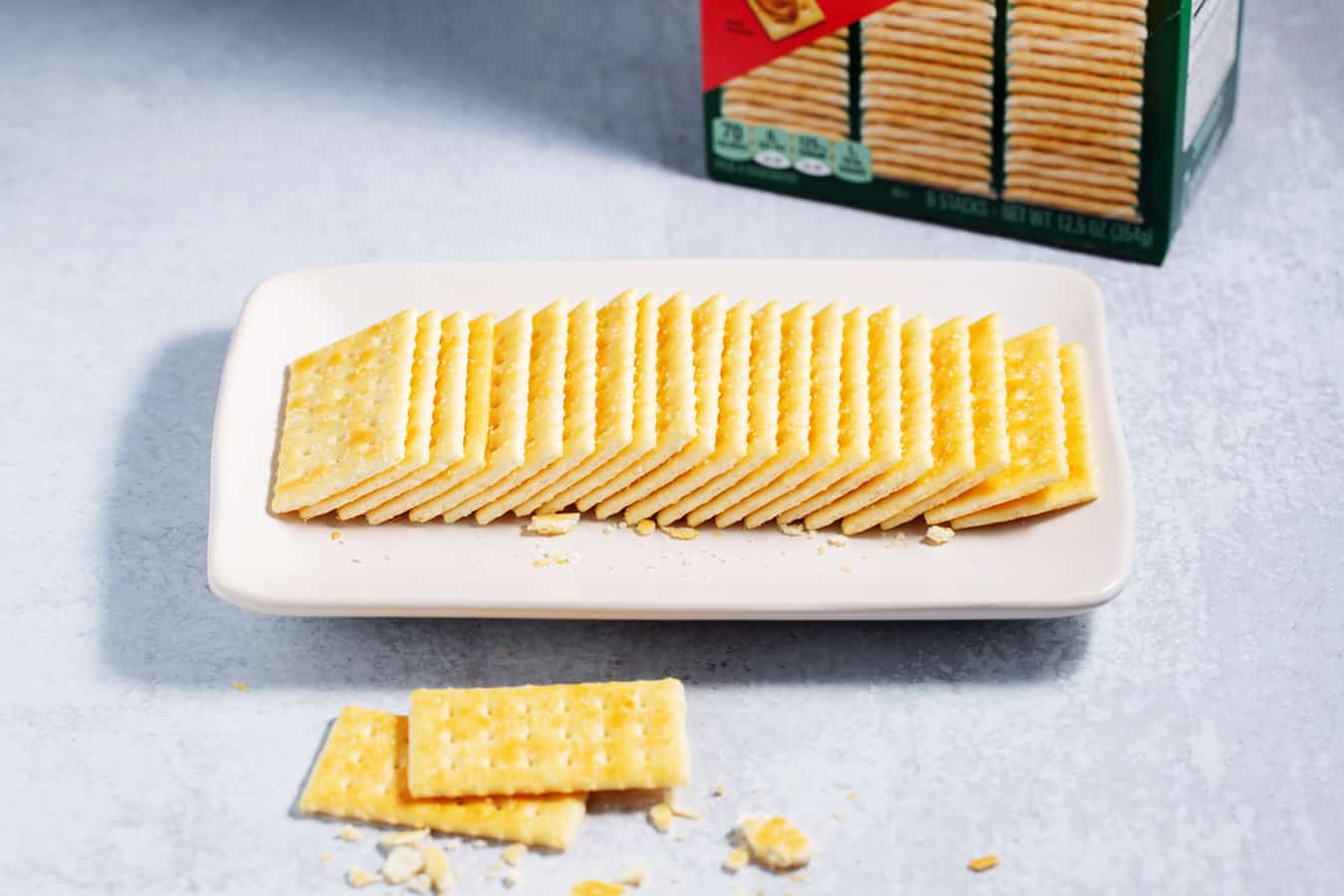 Crumble, dip, or scoop. Crackers are the best in any soup or your favorite chili recipes. Butter crackers are great way to get a crunch in creamy chili.
Garlic Ciabatta Bread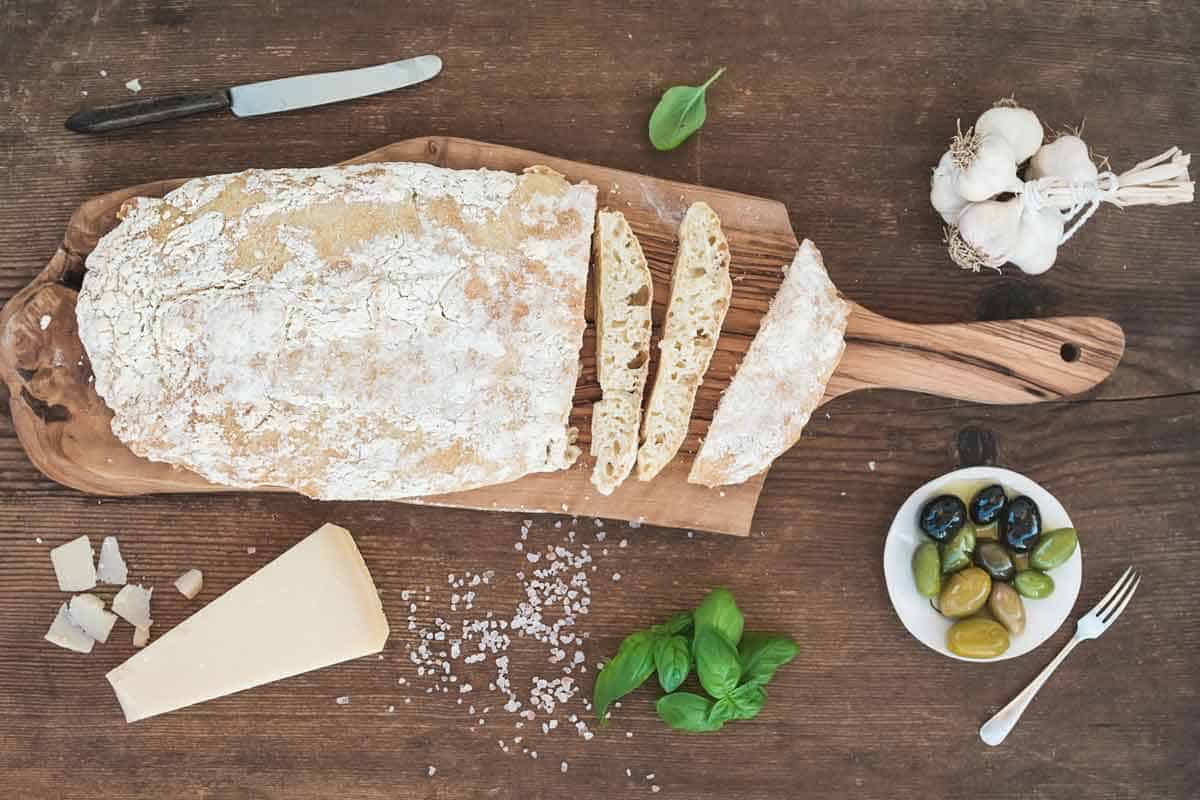 Warm a loaf of ciabatta bread and season it with garlic powder. You can make it from scratch, but sometimes it is easier to pick up a loaf from your local bakery. Serve it with hearty chili for a complete meal.
Blue Corn Tortillas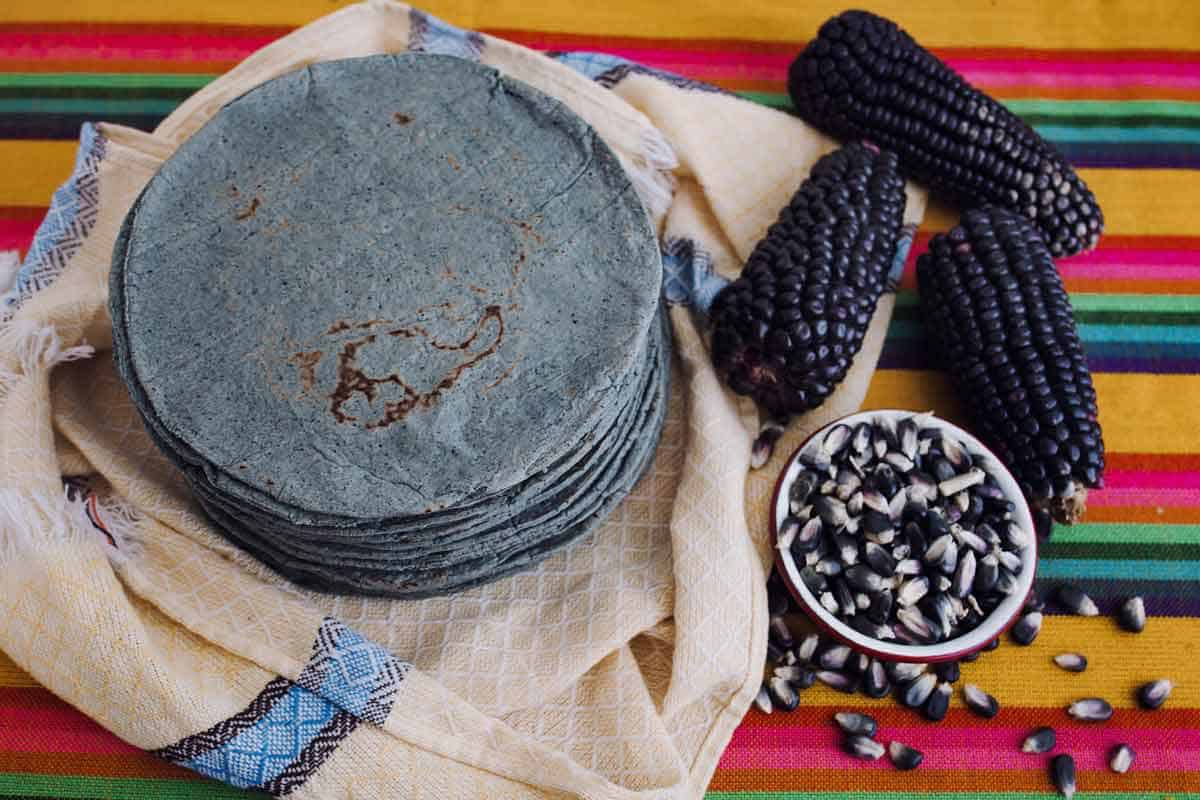 Tortillas made with blue corn (maize) are nutritious, delicious, and gluten-free. While easy to make at home, be prepared to rest the dough before cooking the tortillas. They taste fantastic, dipped into your easy white chicken chili recipe.
Corn Tortilla Quesadilla
Elevate blue corn tortillas by making a quesadilla with them. You can still dip it into the chicken chili, but it has a bit more substance with melted cheese.
Indian Fry Bread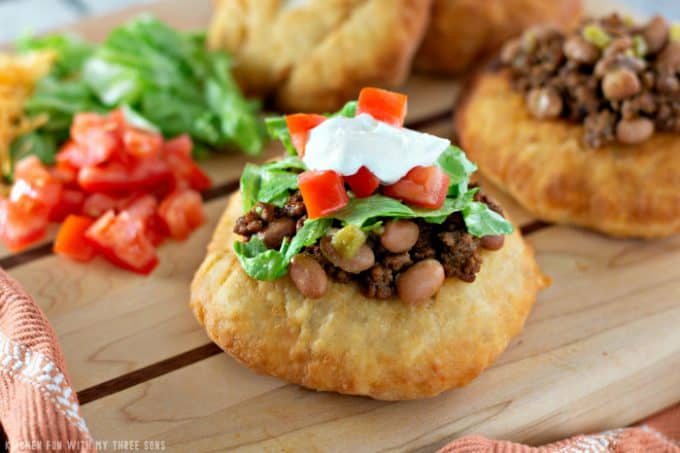 Fried dough made with flour, salt, baking powder, and water transforms into Native American fry bread. Change up the whole menu by spooning chicken chili on top of the fry bread. Now that is a new way to eat chili.
Texas Toast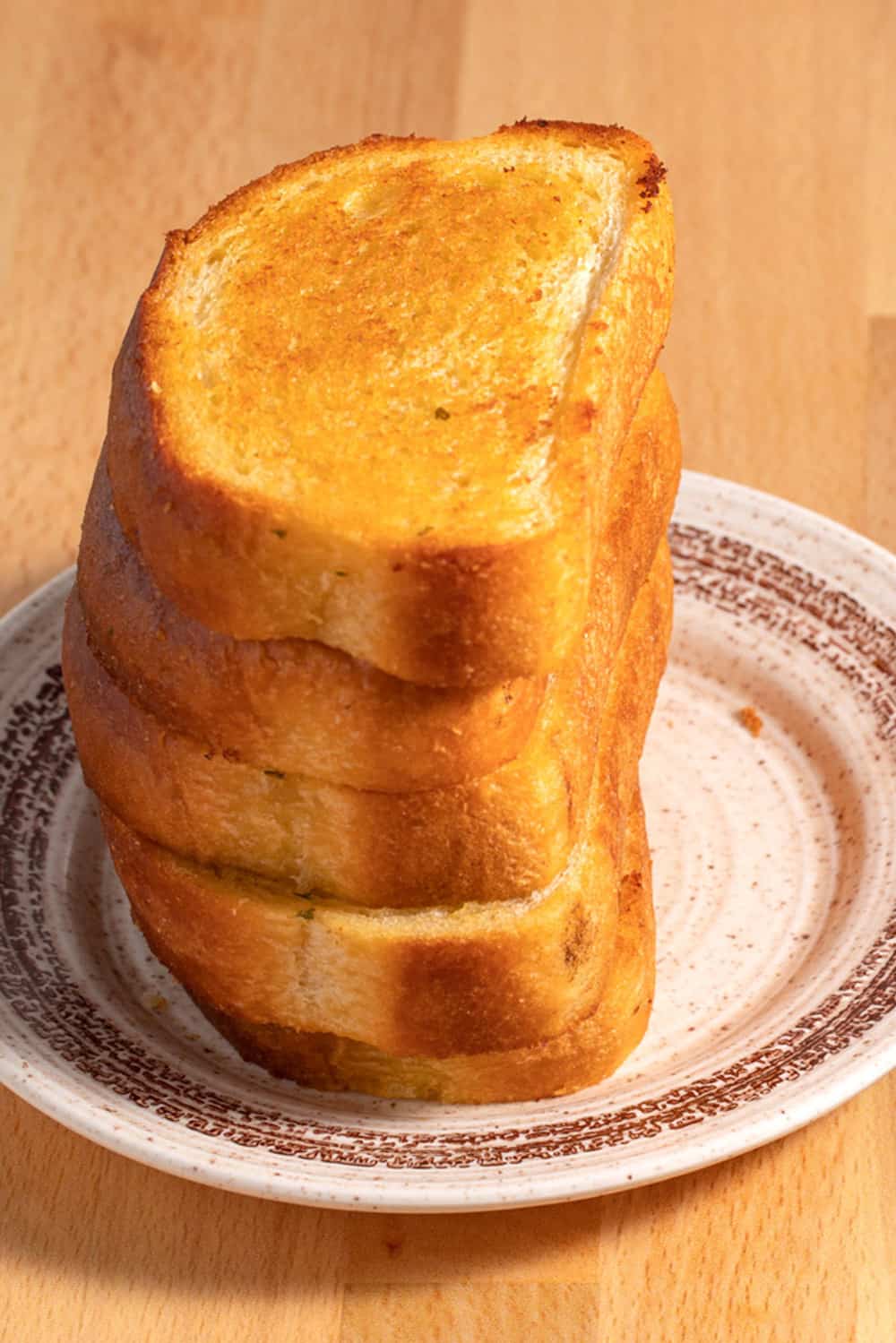 Everything is bigger in Texas. Including the toast. Texas toast is a double-thick slice of bread, slathered with butter on both sides and then toasted.
You can make Texas toast in the oven, air fryer, panini press, grill, or skillet. Butter and season both sides of the bread. Sprinkle with garlic powder or shredded cheese before toasting. Toast both sides equally by flipping the bread over as it cooks.
Serve on a platter with a large pot of chicken or turkey chili.
Corn Muffins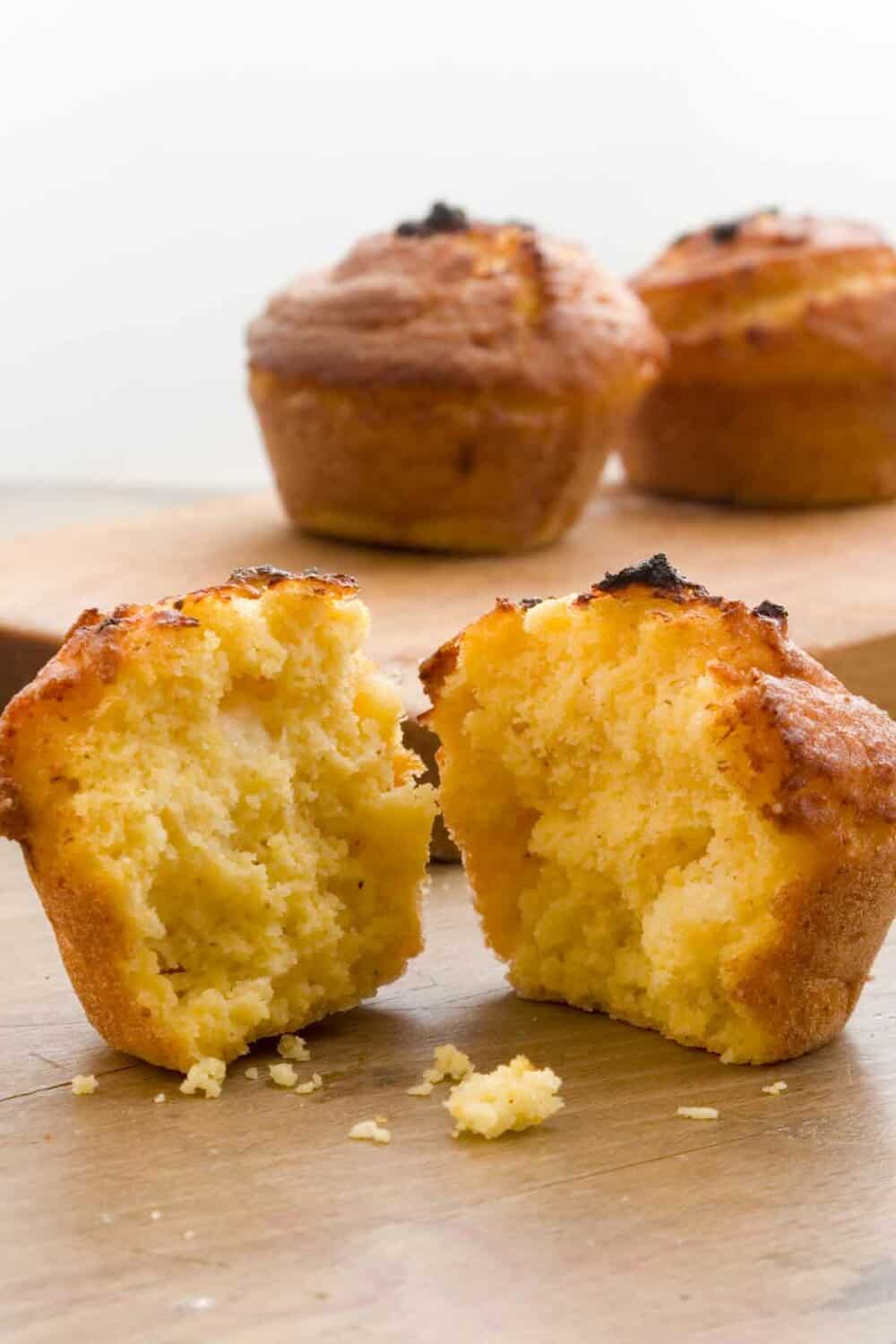 Cornbread is a quick bread made with cornmeal. It has Native American origins and is a popular side dish in the southwest United States. You will see many versions at chili cook-offs.
The grainy, dense texture comes from the cornmeal. Soak in the chili flavor with your side of cornbread. You'll never go wrong with a cornbread and chili pairing.
What Sandwich Goes with Chili?
Not just bread, but sandwiches go with chili too. The best sandwiches to serve with chicken chili are open-faced or small, light sandwiches. Tortillas or flat breads make a simple sandwich too.
Vegan Avocado Toast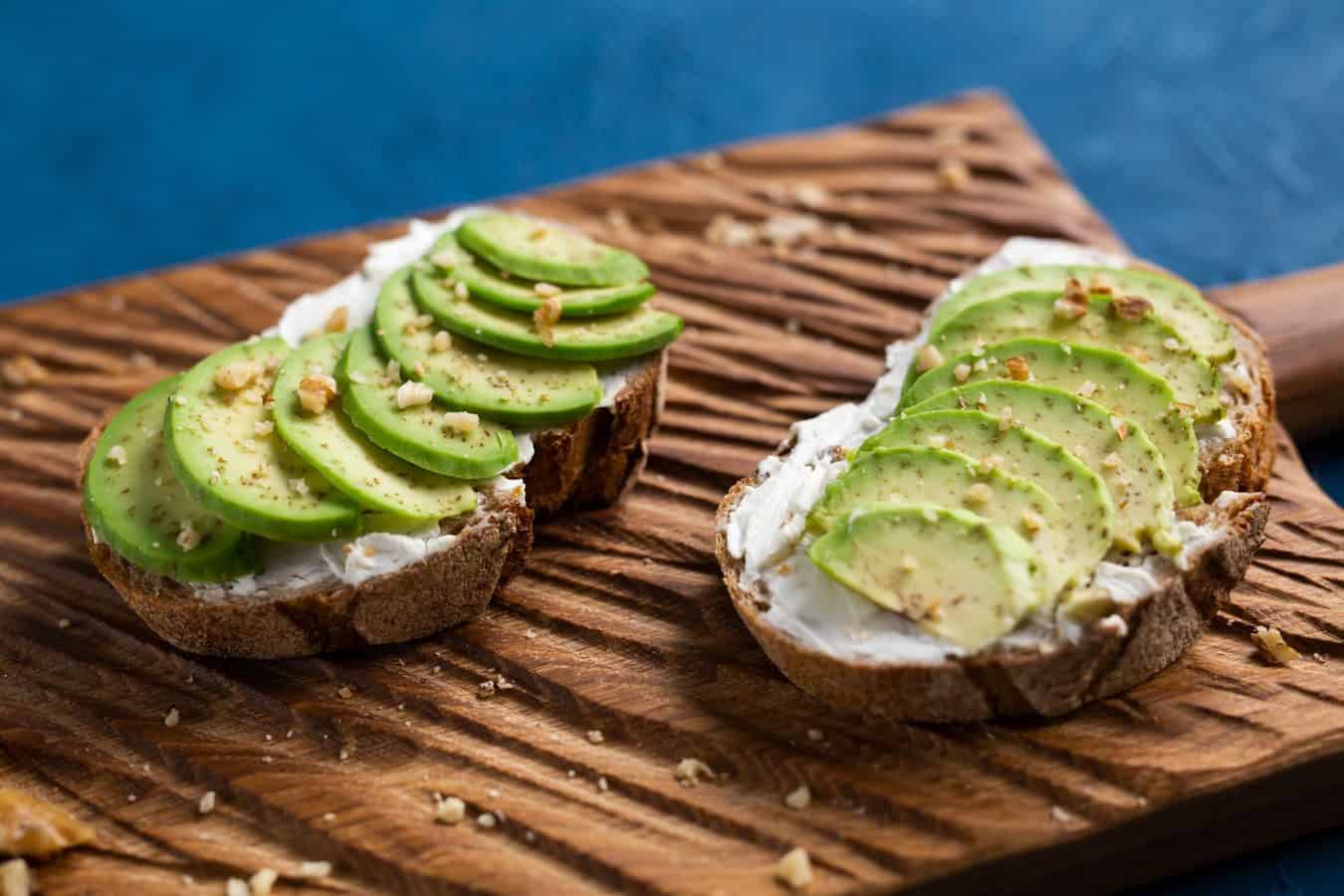 Avocado alone is a scrumptious garnish for spicy chili. But avocado toast?
Crispy toast topped with creamy mashed avocado drizzled with lime juice and a pinch of black pepper. That open-faced sandwich belongs on the dinner table next to a big pot of white chicken chili.
Bruschetta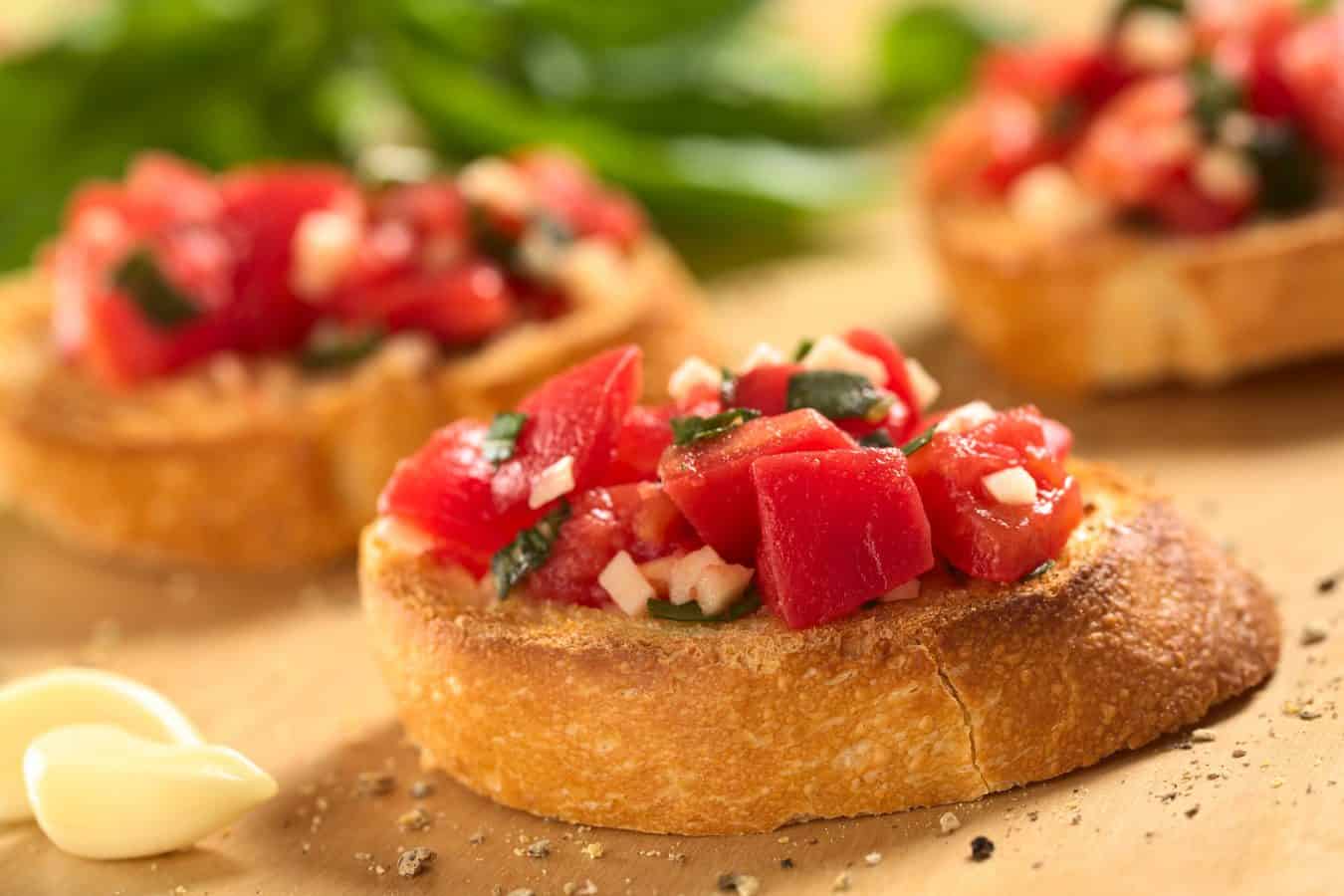 Bruschetta originated in Italy as a starter before a meal. Its simple preparation makes it easy to serve as a side with chili.
Brush toasted bread with olive oil and roasted garlic cloves. Top with mozzarella, diced tomatoes, shredded basil, and caramelized onions. Lightly drizzle with balsamic vinegar and serve.
Mini Grilled Cheese Appetizers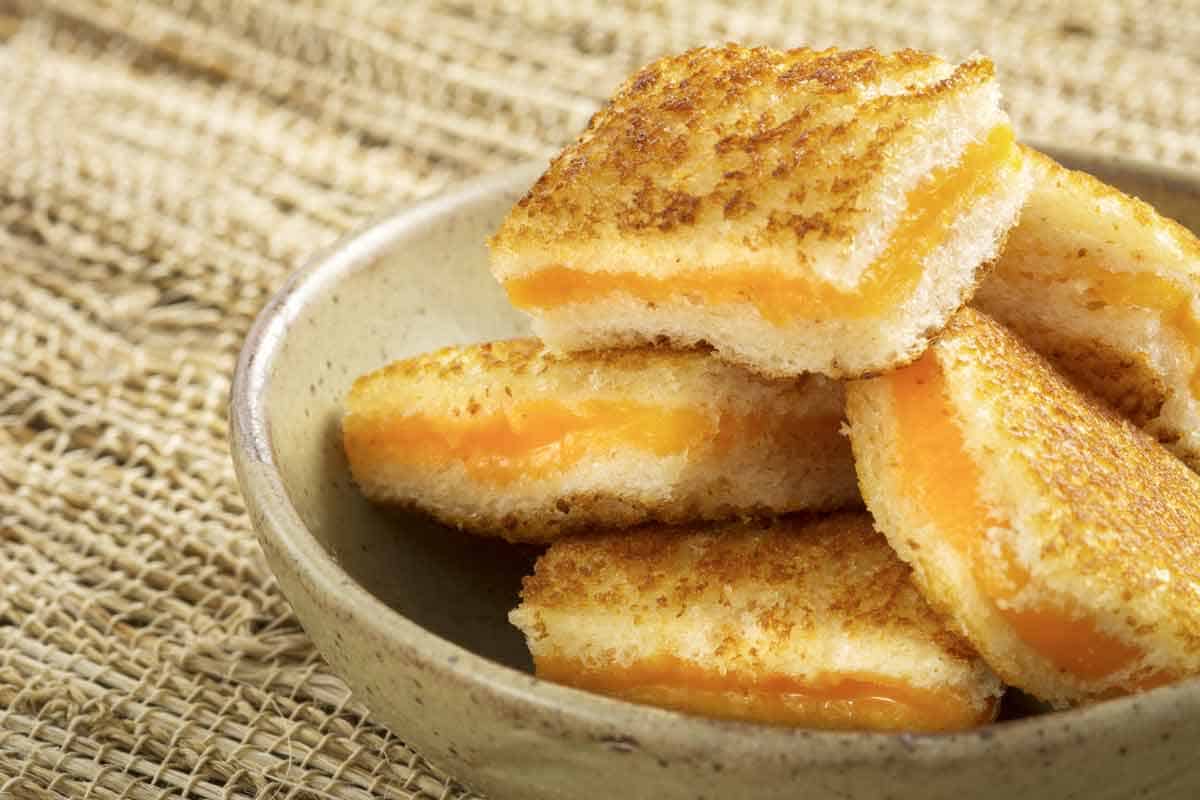 Make mini grilled cheese sandwiches on baguette slices. Or cut wedges or triangles with regular bread. Their appetizer size is satisfying next to a soup pot filled with chicken chili.
Quesadilla
Quesadillas are the perfect light sandwich-like side. The cheesy tortilla compliments the creamy chicken chili. Whether you make a plain cheese, spinach, vegetarian, or leftover chicken quesadillas, you will be glad you chose this easy side.
Grilled Veggie and Hummus Wrap
Smear a tortilla with homemade hummus (original or roasted red pepper). Grill some veggies (bell peppers, onions, and asparagus). Then fill the tortilla and fold it into a wrap. The veggie wrap is a tasty sandwich for chicken chili.
Cheese and Pickle Sandwich
This is an English dish. Weird to pair English and Tex Mex food, but it works. Your favorite bread, some aged cheddar, and a sweet chutney make up this sandwich. Lightly toasted, it is an outstanding pairing with chili.
Where is the pickle? An English pickle is not a pickled cucumber. Instead, it is sweet relish made with vegetables and fruits (carrots, cauliflower, apples, and onions). If you prefer an American pickle, substitute that instead.
Pinwheels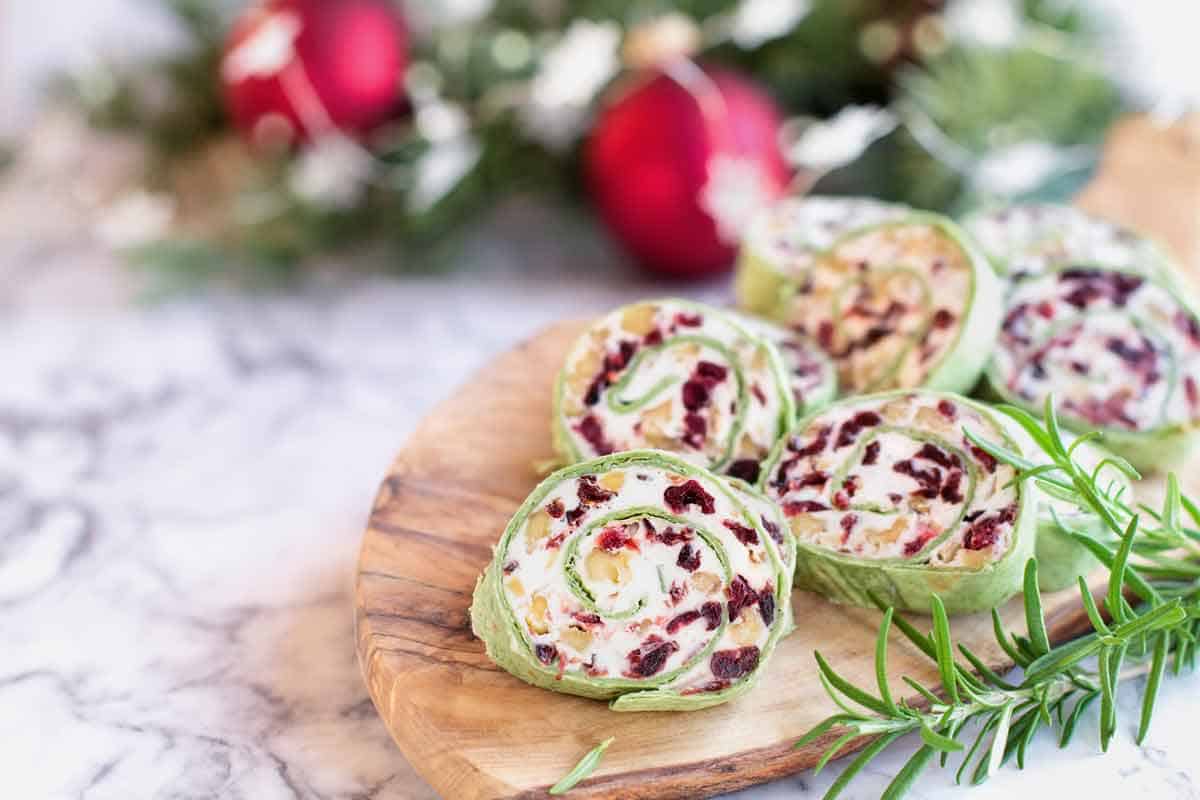 Vegetable or vegan pinwheels are perfect to pair with chicken chili. A simple tortilla smeared with cream cheese and sprinkled with shredded veggies. Then rolled and sliced into pinwheels. Try it today with your hearty bowl of chili.
Best Salads to go with White Chicken Chili
Sometimes a cold salad is the best pairing for white chicken chili. Not all salads are made with greens as you will see from the list below.
Brussels Sprouts Salad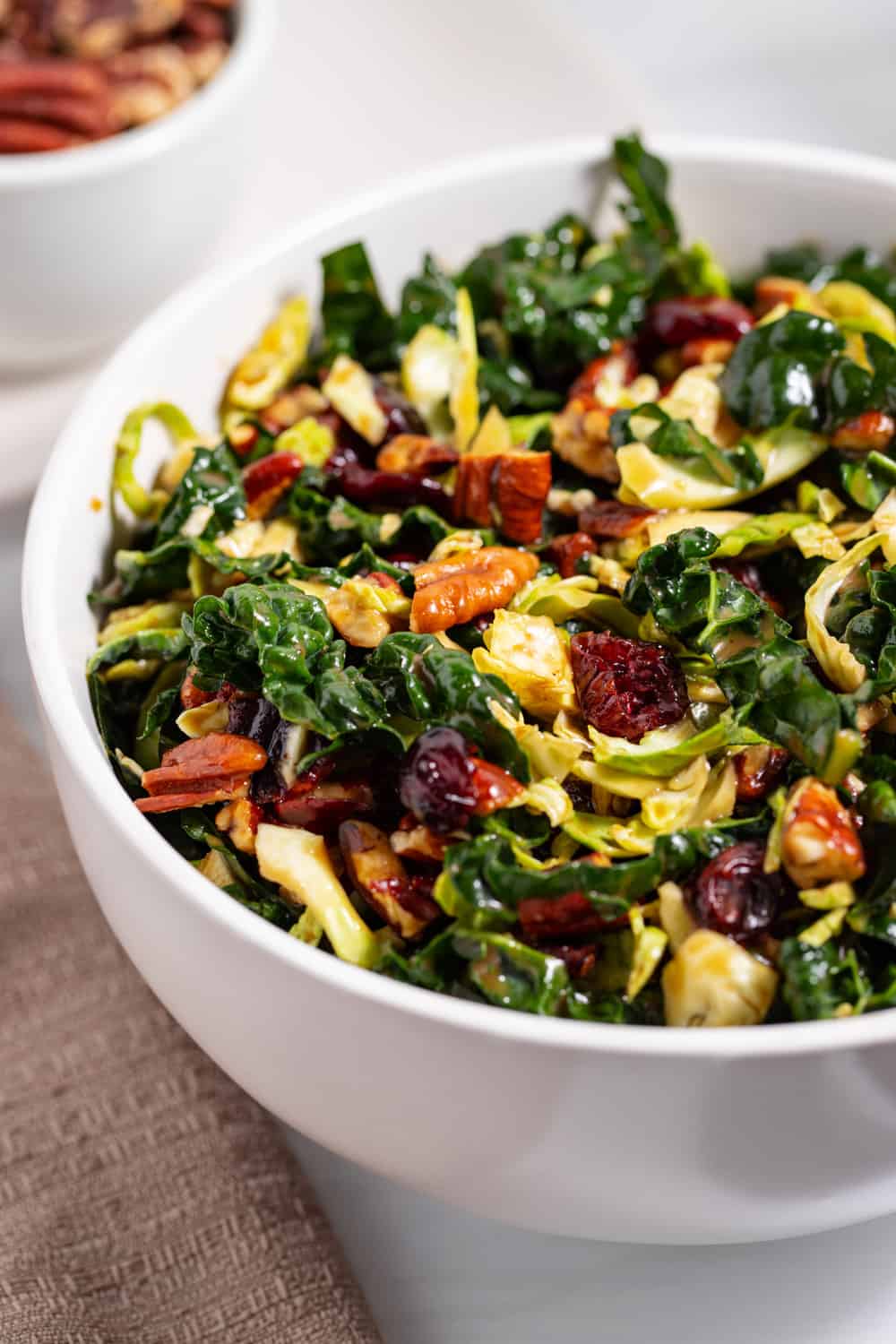 Brussels sprouts and kale star in this two-veggie salad. Shredded veggies, crunchy pecans, and sweet Craisins are drizzled with a creamy maple vinaigrette. Gimme seconds please.
Black Bean and Corn Salad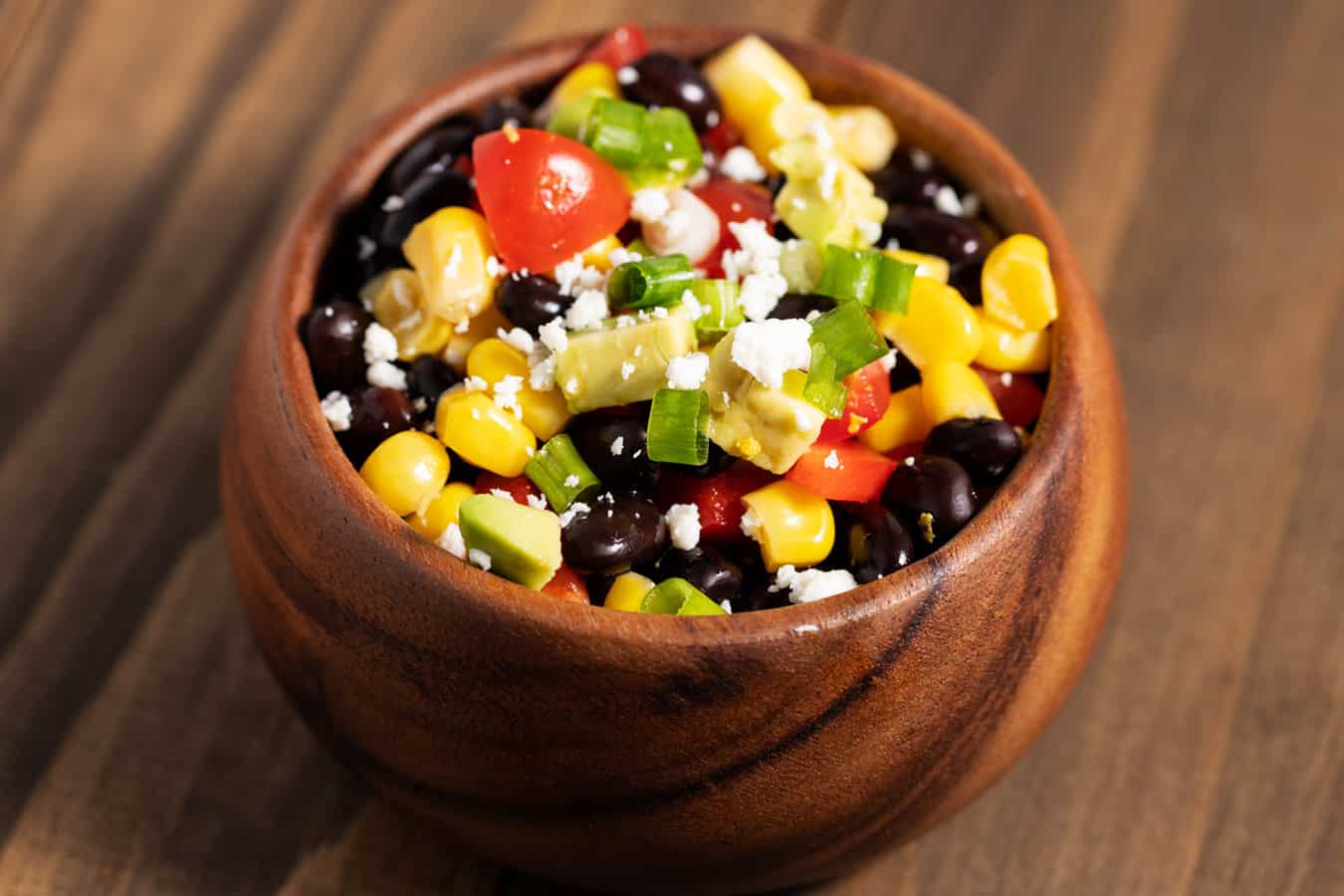 Make the salad with well-drained black beans, sweet corn, diced red bell peppers, chopped tomatoes, and cubed avocado. Drizzle with lime vinaigrette and chill before serving. A cold salad with hot chili? Sounds like a good combination.
Drum up excitement by serving this Tex Mex salad with chili.
Green Salad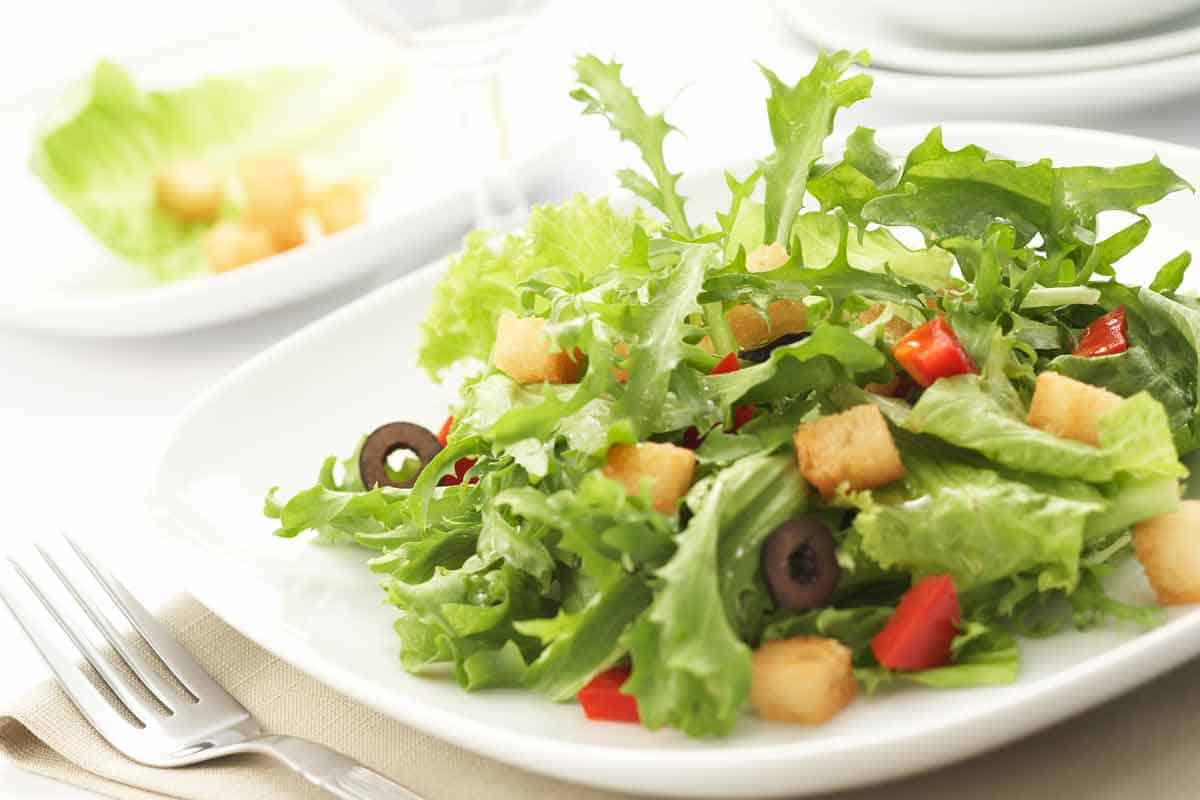 A fresh salad cools chicken chili. The crisp lettuce and crunchy vegetables help tone down the heat of the chili.
Use an array of seasonal produce to give a new twist to a chopped salad. Radishes, green onions, and red bell peppers in the salad will complement the healthy white chicken chili flavors.
Mexican Caesar Salad
The Caesar salad originated in Mexico. Crisp romaine, shredded Parmesan, and crunchy croutons make this simple salad a refreshing side for chicken or traditional chili.
Mexican Fruit Salad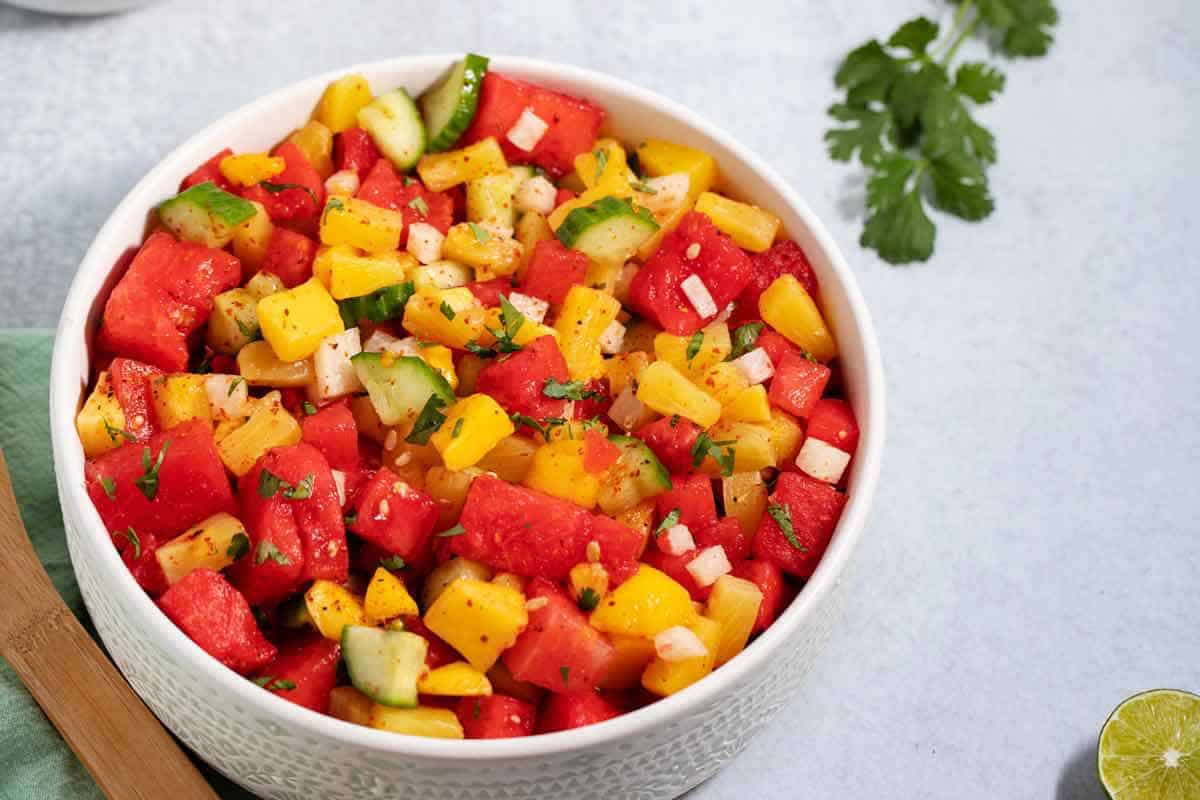 Mexican street vendors sell fruit cups sprinkled with chili powder. This Mexican fruit salad uses the same idea.
The salad is made with fresh fruit like watermelon, pineapple, and mango. Then it is sprinkled with a chili-lime seasoning (or use Tajin) and garnished with fresh cilantro.
Catalina Taco Salad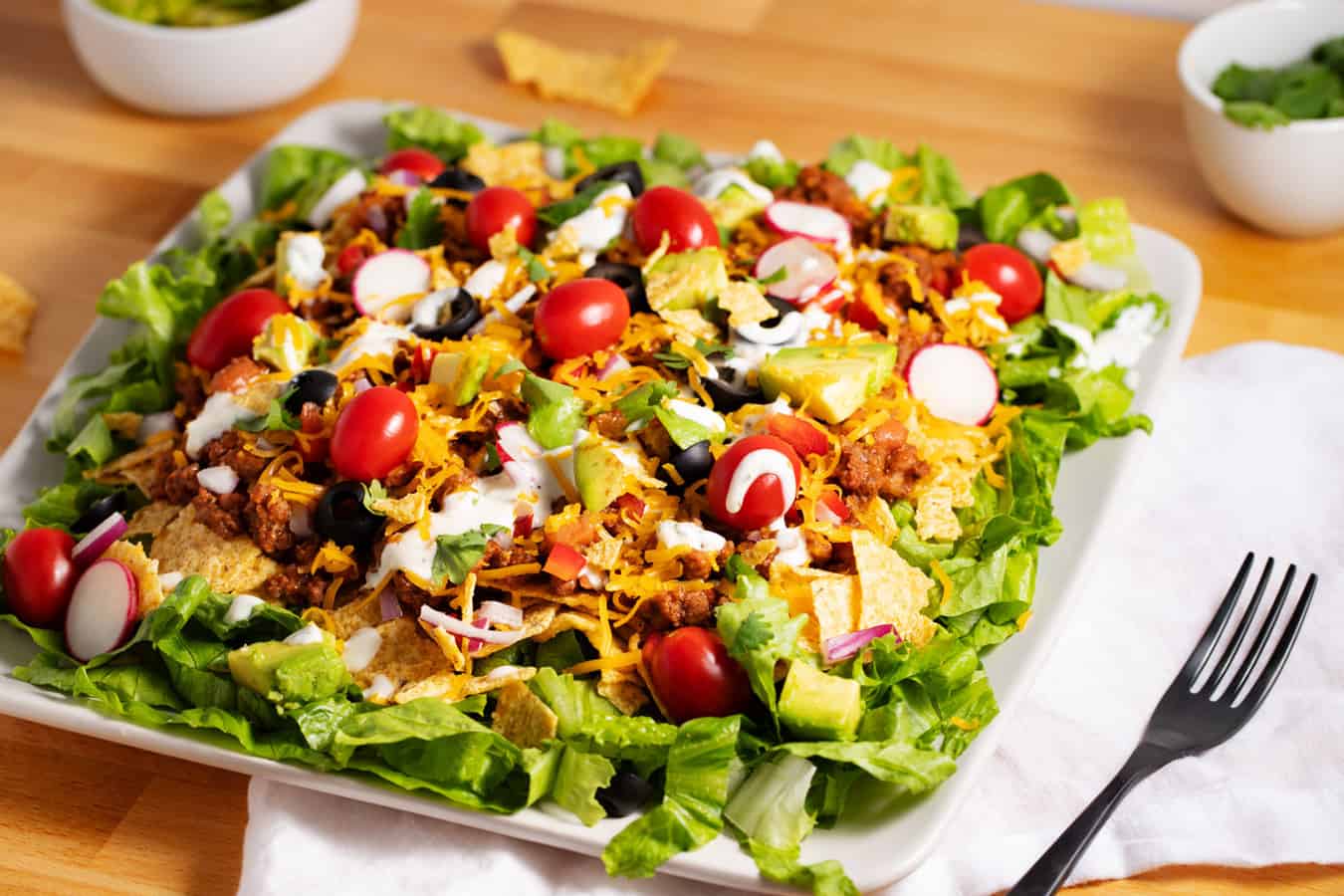 Doritos hide salad veggies in plain sight in this side dish taco salad. It's like a sweet, spicy, savory bowl of tacos. With chicken already in the chili, don't add leftover shredded chicken breasts to the salad. The beans are enough protein.
Mango Avocado Salad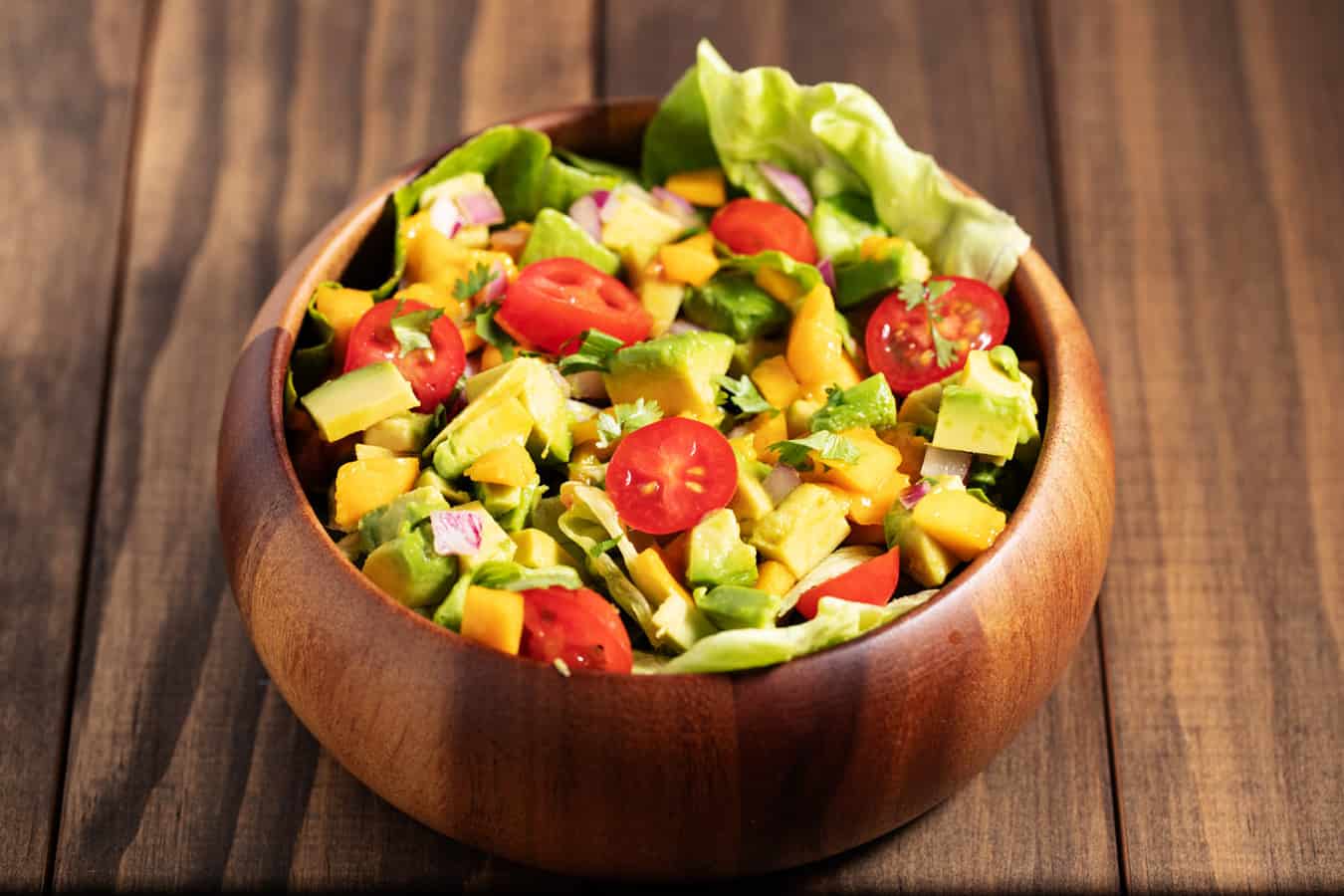 Avocado anything compliments chili, and avocado salad is no exception.
An avocado salad is not guacamole. Instead of mashing the avocado, cube it.
Line the serving bowl with butter lettuce. Then add avocado, mango, cherry tomatoes, diced red onion, queso fresco, and cilantro. Drizzle with lime juice and olive oil. Finally, season with salt and pepper.
Ambrosia Salad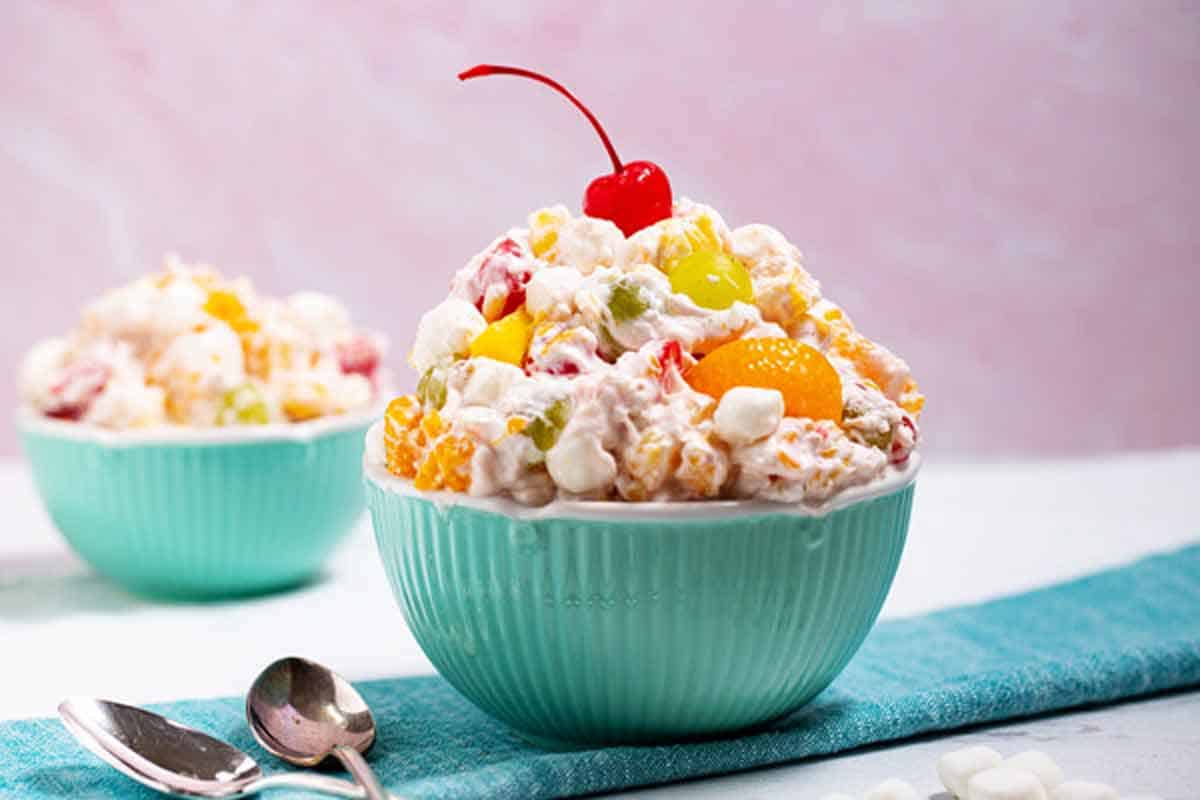 Add a little sweetness to your spicy chili dinner with ambrosia salad. Grapes, mandarin oranges, pineapple, and marshmallows swim in a creamy dressing. This quick and easy dessert salad has a special place beside chili.
Quinoa Black Bean Salad Recipe with Zucchini + Lime Dressing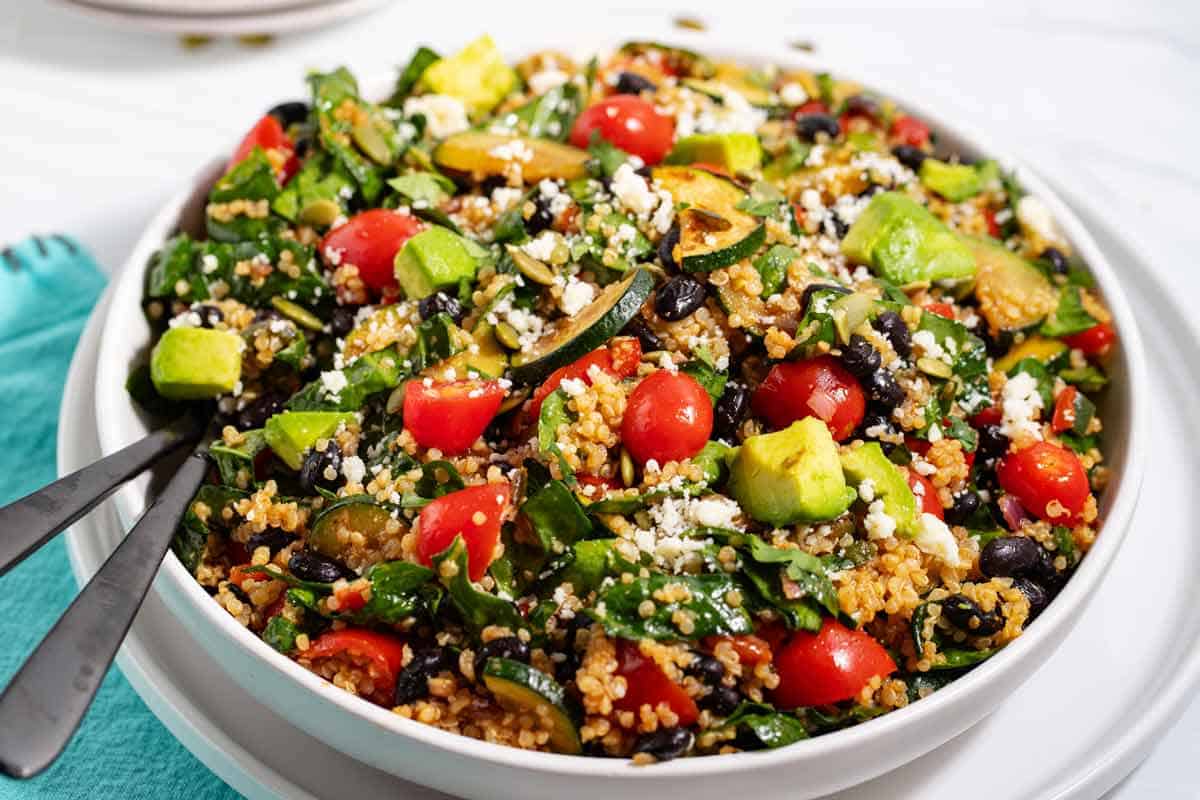 Think again if you associate rice (not quinoa) with Latin American food. Quinoa is an ancient grain originating in the mountains of Bolivia, Chile, and Peru over 3,000 years ago.
Quinoa black bean and mango salad starts with a fresh batch of quinoa. Read this post on how to cook quinoa.
Then add drained black beans, cubed mango, chopped red bell pepper, sliced red onions, and minced cilantro leaves. Toss with a spicy lime jalapeno vinaigrette.
Tasty Appetizers to go with White Chicken Chili
There are plenty of sides to serve with chili besides rice. Finger foods such as fries and fried vegetables are popular sides to serve with chicken chili.
Crispy Baked Mac and Cheese Bites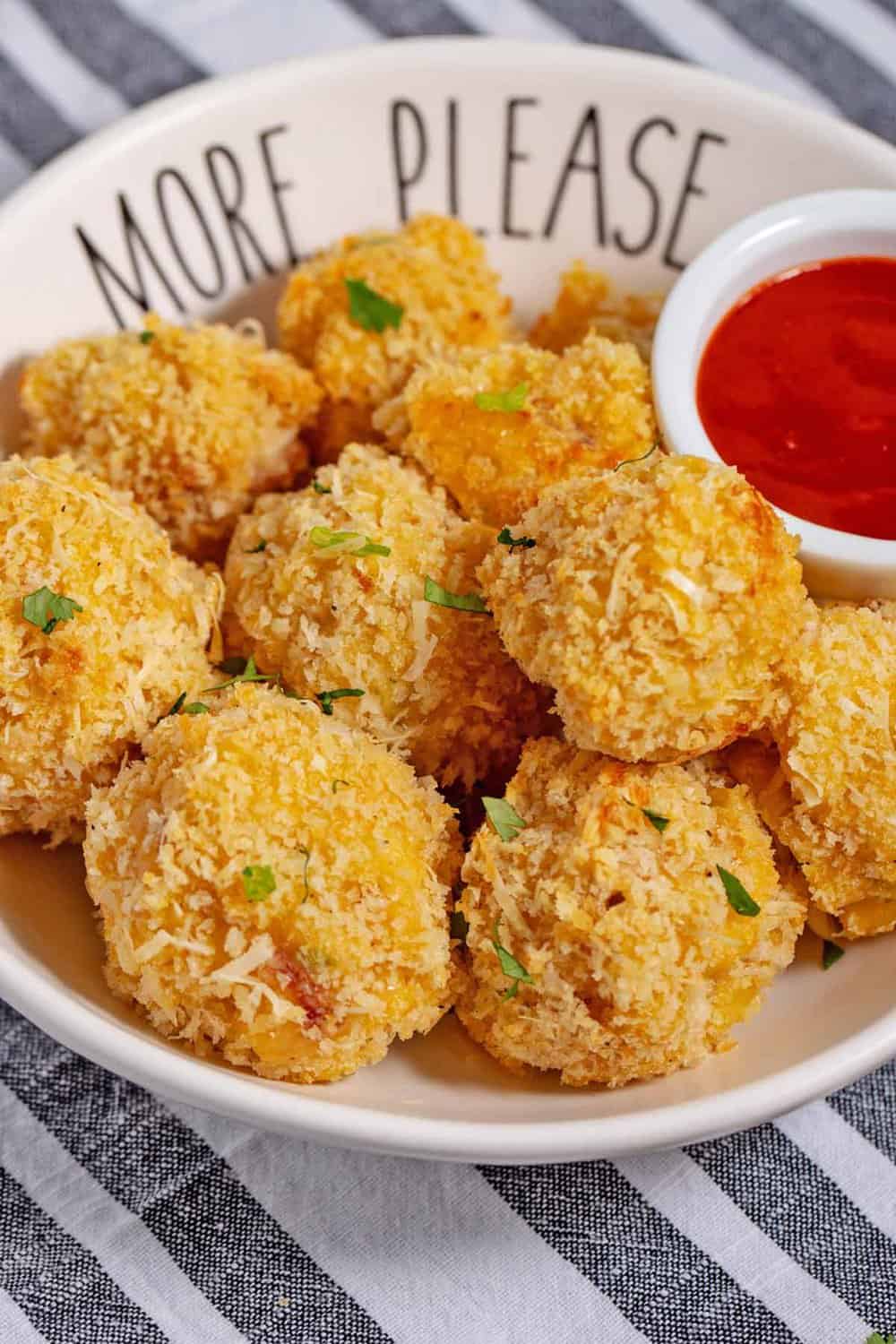 Need a fun finger food for your chili? This baked mac and cheese bites recipe is the perfect appetizer for kids and adults. It is easy to freeze and quick to reheat.
Sweet Potato Fries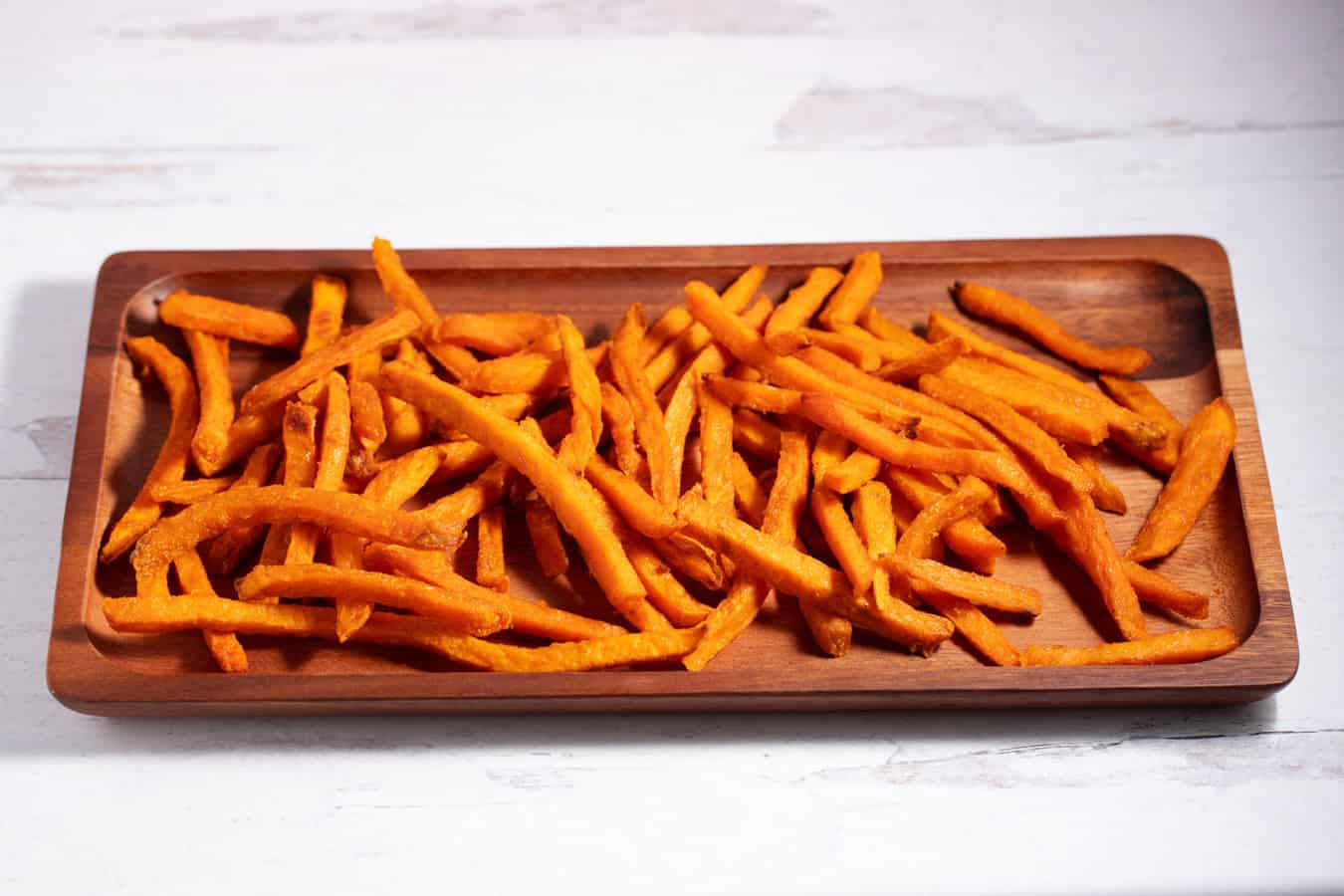 Sweet potatoes have a distinct sweet and starchy flavor. Make them into sweet potato fries, and they will be addicting. You've been warned. Fry, air fry, or bake them. You will be glad you served them on chili night.
Fried Okra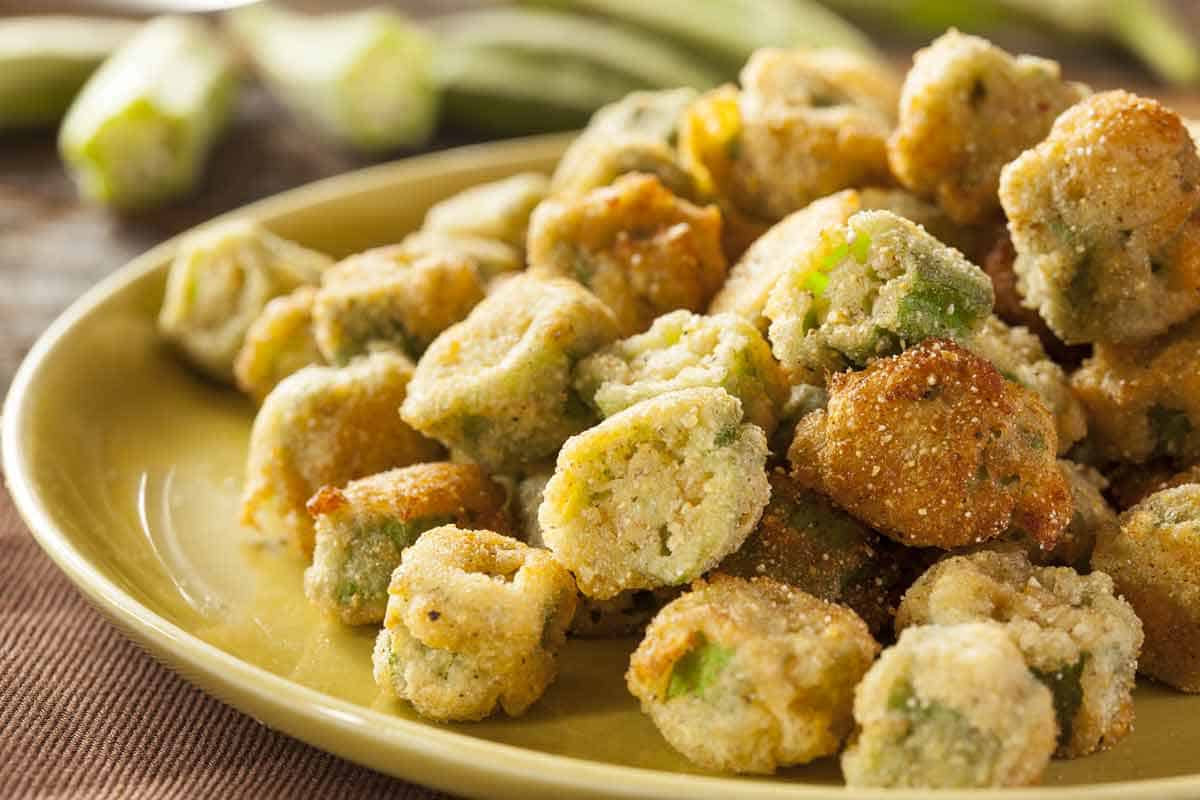 Don't wait any longer if you haven't tried fried okra. Crunchy golden-brown okra are crispy and savory nuggets, ideal for regular chicken chili. You don't have to dip them in the chili to enjoy this finger food.
Fried Pickles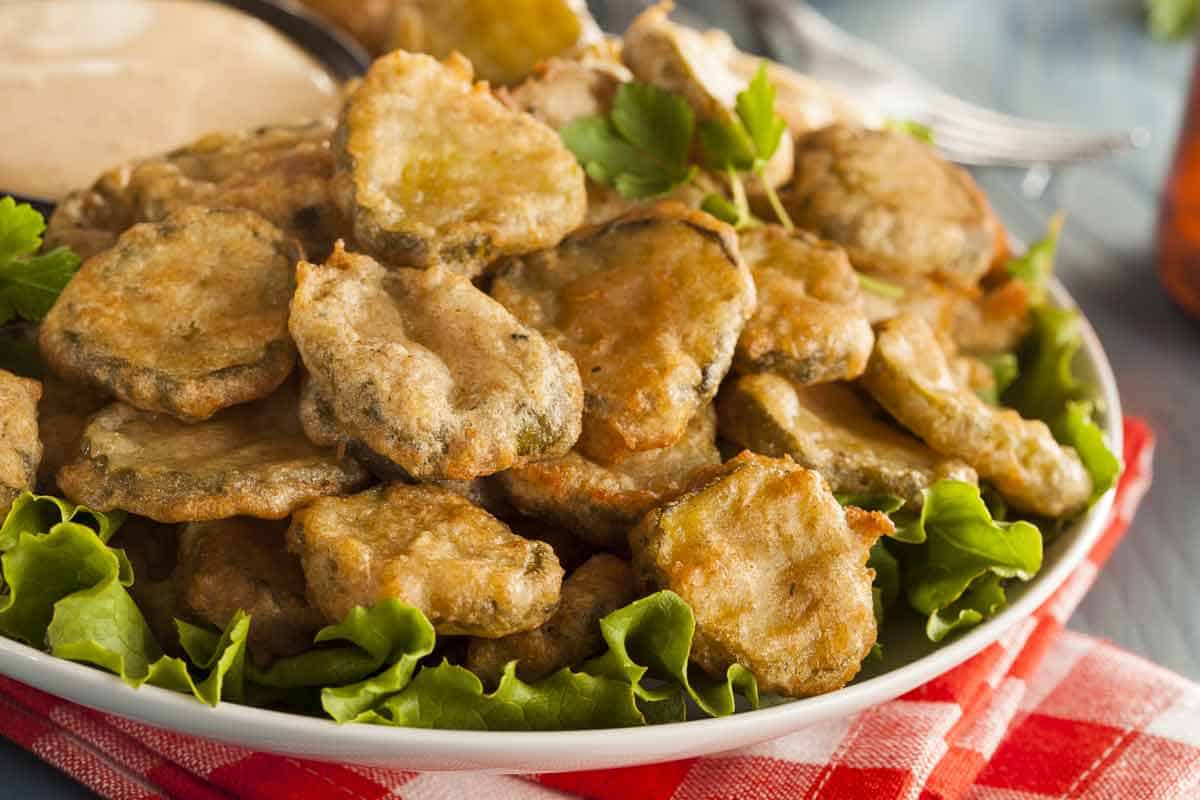 Fried pickles are crispy on the outside and juicy and tangy inside. The combination of chicken chili with a tart pickle coated with crispy breading is delicious and intriguing. Give it a try if you love pickles.
Fried Jalapenos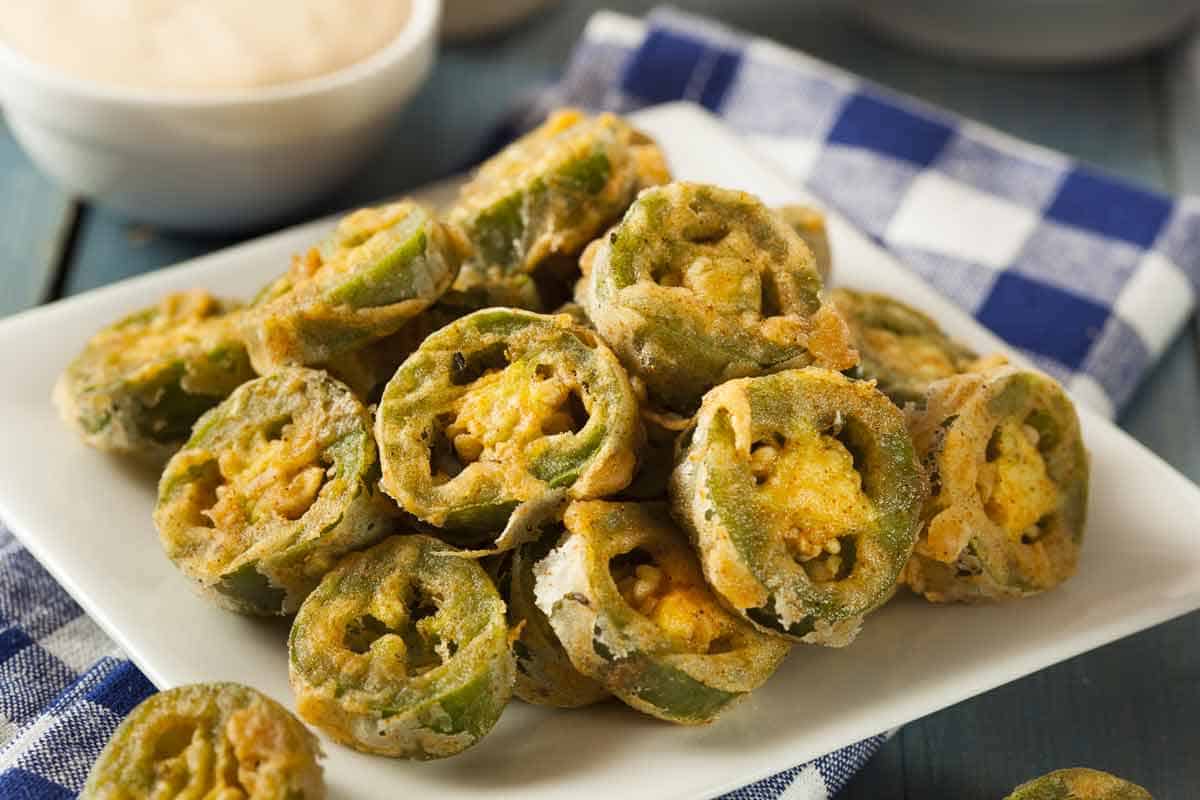 Jalapenos and chicken chili sound perfect together. Fry the jalapenos for a little kick of heat. Fried jalapenos have a deep smoky taste that you will crave after trying it with chicken chili.
Remove the jalapeno seeds before battering up and frying, or your mouth will be on fire with every bite.
Fried Green Tomatoes
Batter green tomatoes and fry them into golden nuggets. The sweet and tangy taste of green tomatoes plus the crispy exterior is a finger food worth trying with your creamy white chicken chili recipe.
Air Fryer Sweet Potato Chips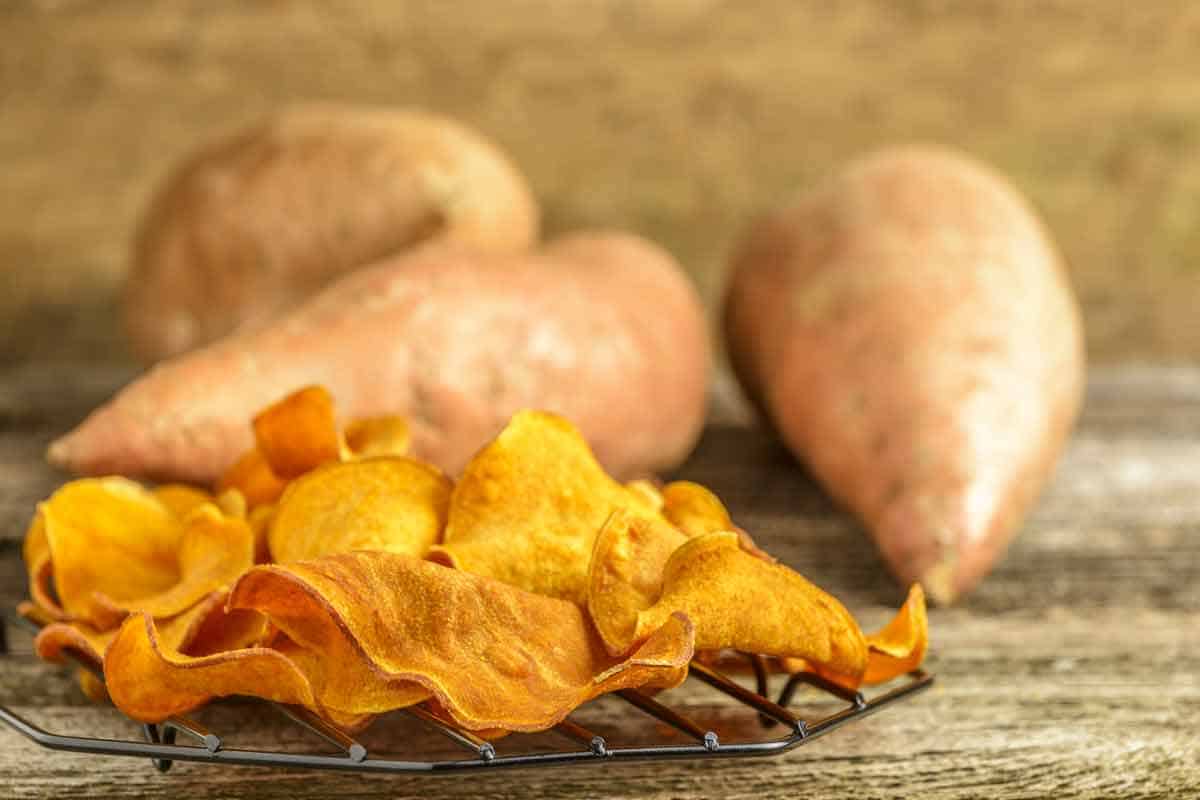 Serve sweet potato chips right out of the air fryer. That is when they are best. They are crispy, crunchy with a hint of earthy sweetness. Eat as a finger food or scoop a bite of chicken chili with them.
Taquitos
Taquitos are a genius appetizer to serve with creamy chicken chili. Smear a thin layer of shredded rotisserie chicken filling on a corn tortilla. Roll it up like a cigar. Bake or fry it. Dip in salsa, queso, or crema.
Jalapeno Poppers
Wake up your taste buds with stuffed jalapenos before you dig into your hearty bowl of chili.
Fill the jalapenos with cream cheese or queso fresco. Or stuff them with Mexican chorizo and smoked gouda cheese.
Make your own stuffed jalapenos or find them in the frozen section of your grocery store.
Instant Pot Popcorn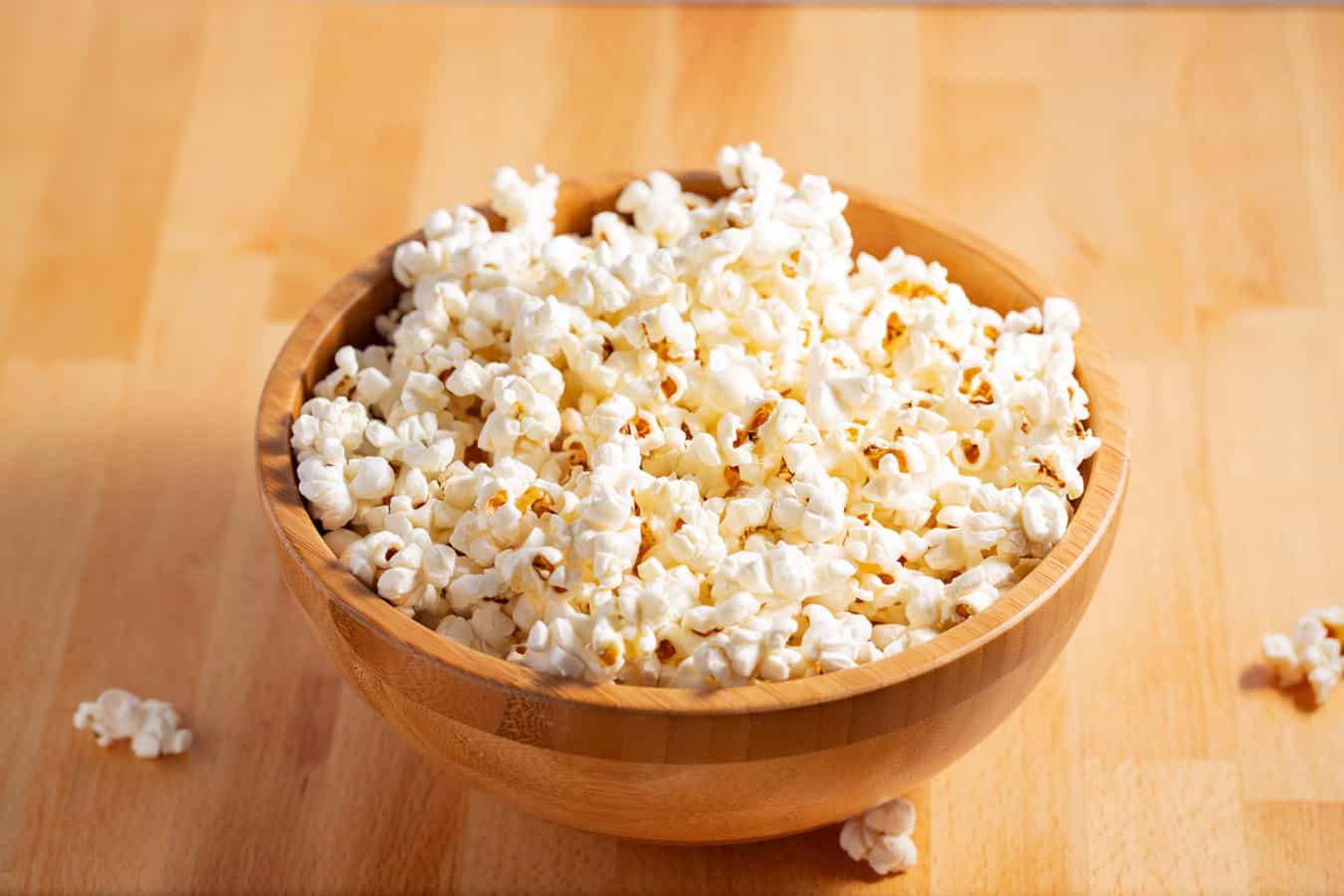 I admit, popcorn is my go-to soup or chili side when time is short on busy weeknights. Its quick, easy prep time is a great reason to give it a try. You can make it in a flash in your pressure cooker. The salty, buttery flavor is always satisfying with delicious chili.
Cheese Fritters
Cheese fritters are melty, gooey cheese inside a crispy shell. The toasted cheesy flavor is perfect with any soup, stew, or chili (even traditional beef chili).
Tortilla Chips with Bean Dip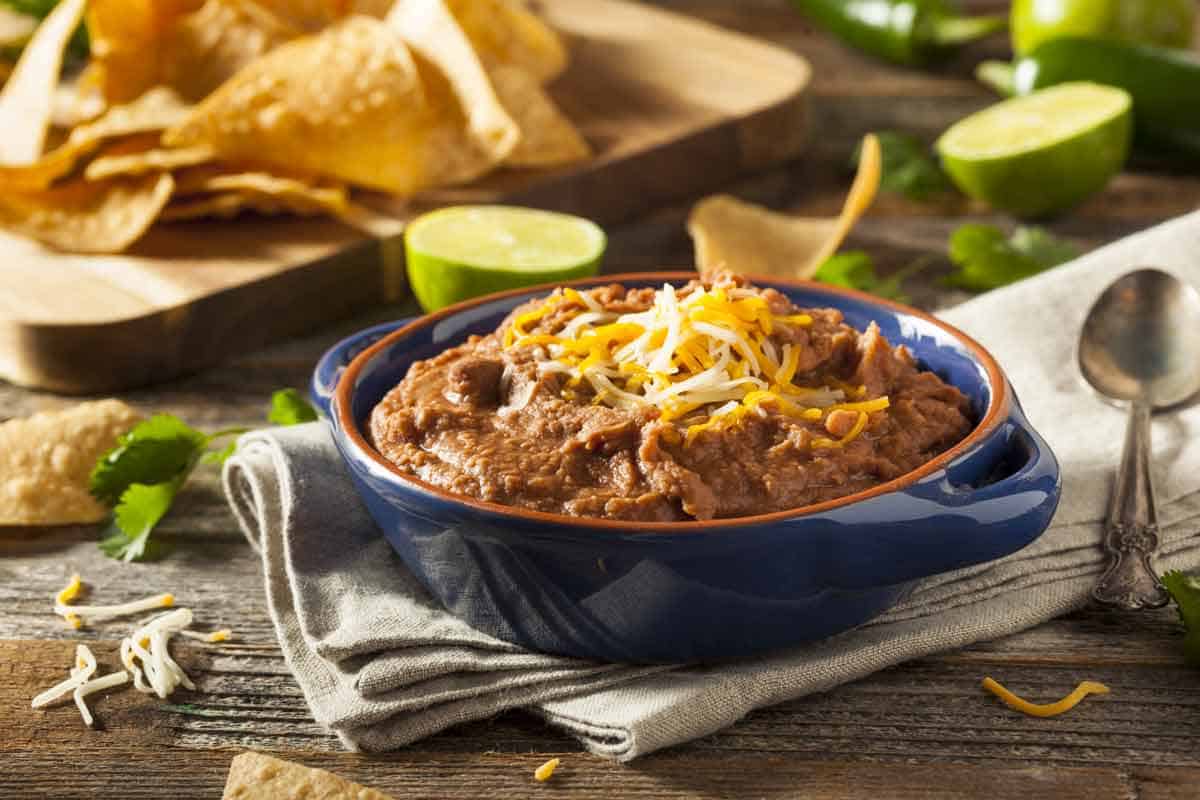 Crunchy tortilla chips dunked in homemade bean dip make a tasty appetizer for chicken chili. Make homemade tortilla chips if you have the time. Using an air fryer is the best.
Ultimate Nachos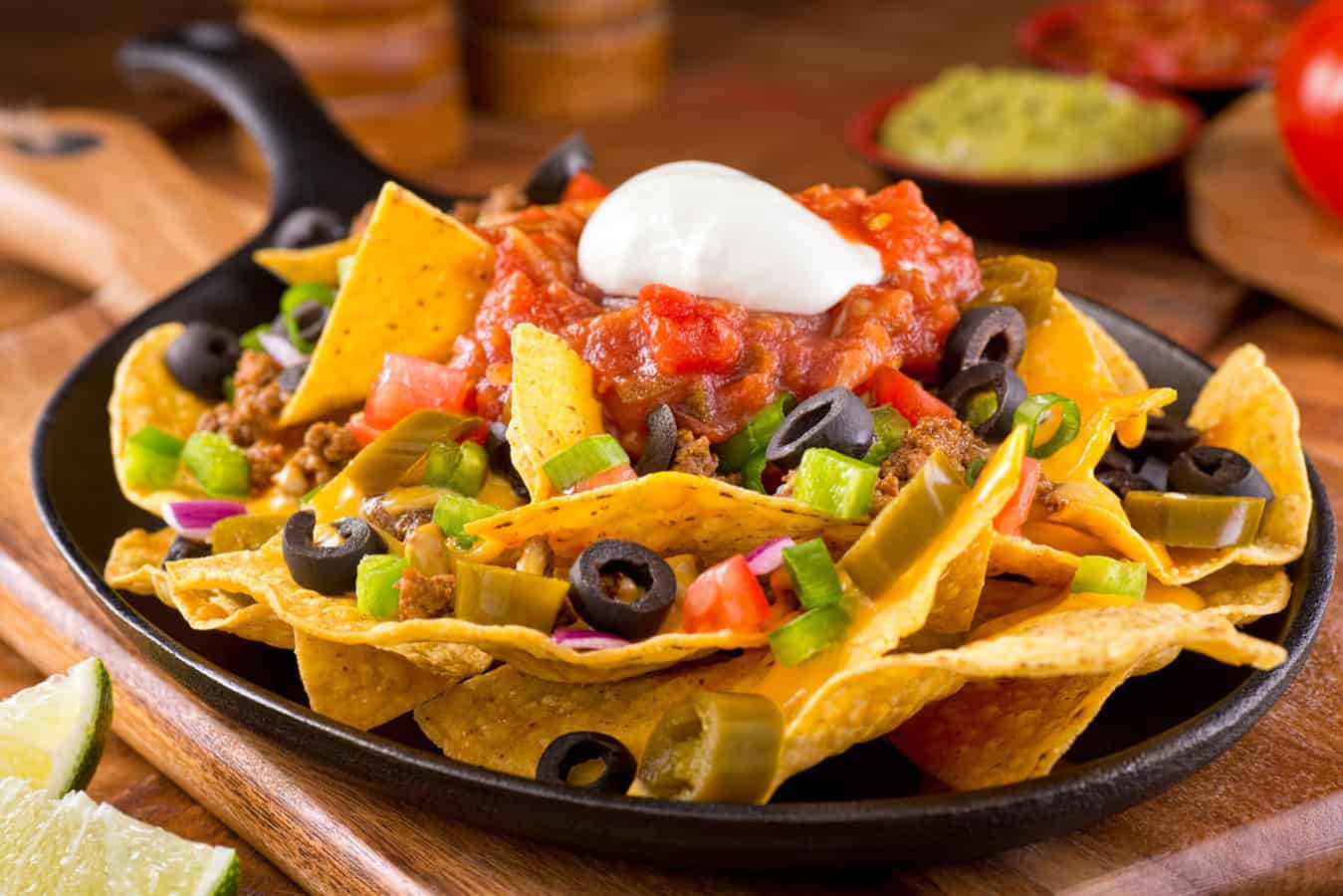 Thick tortilla chips dripping in a nacho cheese sauce make the best appetizer for a white bean chicken chili. Make homemade nacho cheese sauce. It makes a huge difference.
Side Dishes and Veggies to go with White Chicken Chili
Spanish Rice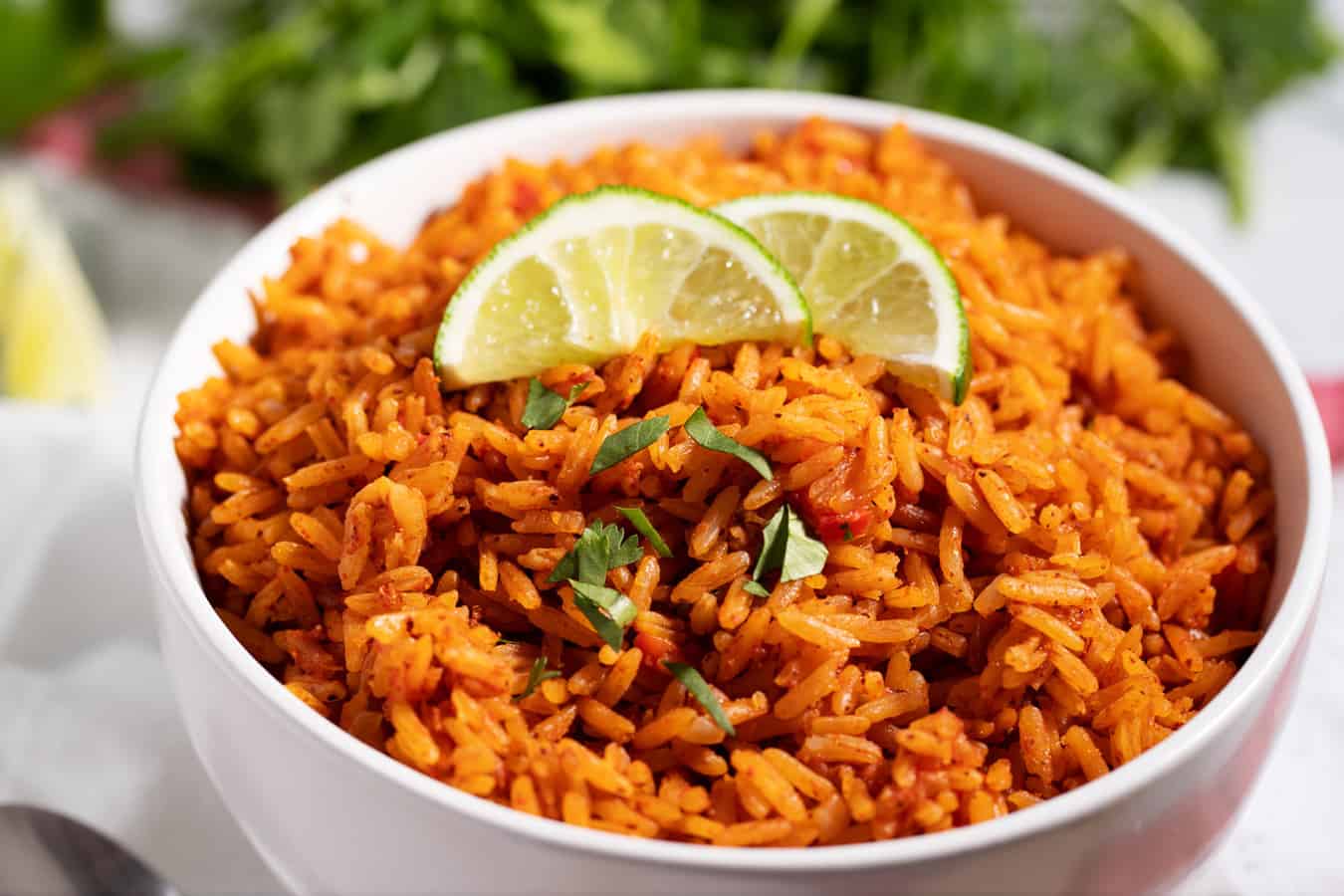 Spanish rice is seasoned with garlic, tomato sauce, and spices. Its deep sweet and savory flavor makes it the perfect combination to go with a simple pot of chili.
Try my expert tips for the easiest flavorful rice that never sticks to the pan. It is a simple recipe you can make in 30 minutes.
Sweet Potato Souffle
Mashed sweet potato baked with brown sugar, butter, and eggs. This dish should not be reserved only for Thanksgiving. Instead, make it as a side dish at least once during chili season.
Mexican Street Corn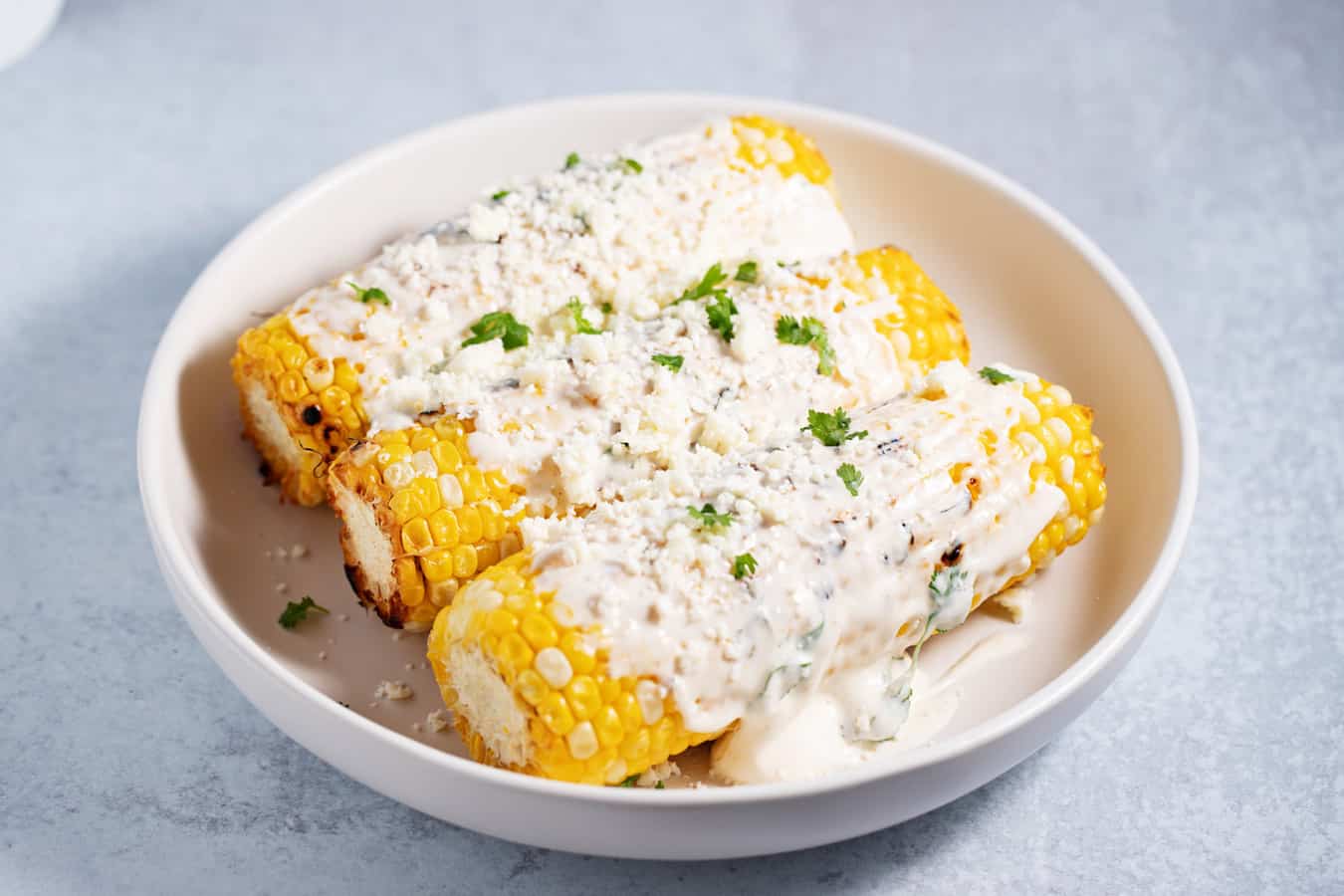 Mexican street corn is boiled or grilled corn on the cob. Season first, then slather with a creamy sauce. Finally, top with queso fresco or feta cheese.
In Mexico, the aroma of Mexican street corn permeates the food peddler's vicinity. These vendors peddle sweet corn alongside burritos, tacos, or fresh salsa.
Fire up your appetite for chili with Mexican street corn.
Amazing Toppings for White Chicken Chili
A charcuterie board is an easy way to present your chicken chili toppings. There are many options to liven up your hot bowl.
A dollop of sour cream, plain Greek yogurt, or crema will add more creaminess to the white chili.
Monterey Jack cheese, cheddar cheese, or Cotija cheese. Chili and cheese were meant to be together. Melt your favorite cheese on top.
Salsa verde with tomatillos brings in a touch of sweetness to the spicy chili.
Chipotle corn salsa adds a level of spiciness to the white chili.
Peach mango salsa infuses sweetness into the chili.
Fresh veggies like fresh cilantro, green onions, and chopped red or green bell pepper add cool crispness to your bowl.
Guacamole goes with any chicken dish and chicken chili is no exception.
Fajita veggies are roasted peppers and onions that make light chicken chili even healthier.
Crushed tortilla chips sprinkled on chicken chili is an easy, natural garnish to your dish.
Tasty Desserts to Pair with Chicken Chili
Churro
Oh, the sweet, savory smell. It will remind you of the county fair.
But you can make your own with the right tools. A churro is an extruded dough deep-fried and drenched in cinnamon sugar.
Mexican Bread Pudding
Capirotada is a Mexican version of bread pudding. It is often eaten during Lent, but certainly, that is not the only time to gobble it down.
Mexican bread pudding is a baked pudding. It features sliced French bread, piloncillo (Mexican sugar) or dark brown sugar, cinnamon, almonds, raisins, and Monterey jack cheese. Yes, cheese.
Tres Leches Cake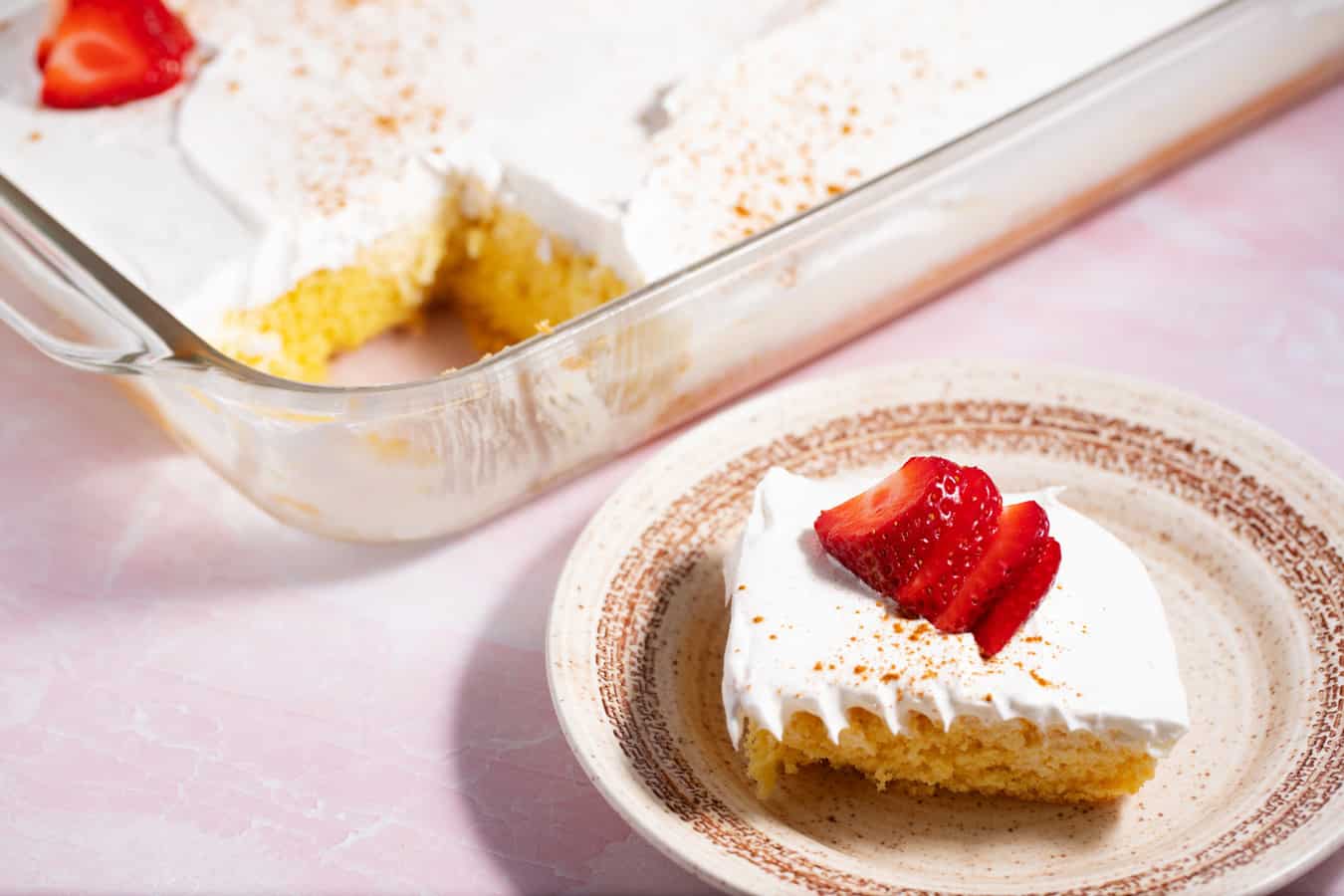 Tres leches cake is really a poke cake. It evolved from European soaked cakes (baked sweets drenched with custards and syrups).
To prepare tres leches cake, first, make a white sponge cake. Cool the cake, and poke holes all over the top with a wooden skewer.
Now comes the tres leches, or three kinds of milk, part. Mix the sweetened condensed milk, evaporated milk, and heavy cream together. Slowly pour the mixture evenly all over the cake. Chill and serve.
Mexican Vanilla Ice Cream
Not just vanilla ice cream. Mexican vanilla ice cream.
With sweet and woody notes, Mexican vanilla has a deep, creamy, and slightly spicy-sweet flavor with woody notes. Use Mexican vanilla next time you make ice cream.
Try Amy's Mexican vanilla ice cream if you do not want to make your own. It ships nationwide.
Rice Pudding
Cook short-grain white rice with condensed milk, whole milk, cinnamon, and sugar to make a rich rice pudding. This sweet custardy pudding is perfect as a dessert after a hearty chili dinner.
Family-Friendly Drinks to Serve with White Chicken Chili
Brazilian Lemonade
Why would I recommend Brazilian lemonade and chicken chili? Chili is not Brazilian. Nor was Swiss lemonade invented by the Swiss.
Make Brazilian lemonade with fresh limes. Blend them whole with condensed milk. What you get is sweet and tart Swiss lemonade. It is refreshingly tasty with chicken chili.
Conclusion
Chicken chili might be mouthwatering by itself. However, pairing it with these delicious side dishes enhances the flavors and makes a full meal.
More Side Dishes
Did you like this post? Then let's be social. FOLLOW ME on INSTAGRAM and PINTEREST to keep up with the latest happenings.