Craving some Mexican rice for dinner? Looking for a tasty Taco Bell seasoned rice recipe? Try my expert tips for the easiest flavorful copycat version of this fan-favorite dish. It is a simple recipe you can make in 30 minutes from the comfort of your own kitchen.
Three crucial tips produce the best copycat Taco Bell seasoned rice recipe. First, use long-grained white rice. Second, toast the rice until golden brown. Third, after you add water to the rice, DO NOT stir the rice as it cooks. Never, ever!
Seasoned rice is one of those easy recipes that are a breeze to whip up on a busy weeknight. It is ready in about 30 minutes and can be used as a side dish or mixed into a main dish.
However, if you stir the rice after you add the water, the rice will stick to the bottom of your pan like glue. This can be extremely frustrating.
Fortunately, I have an easy solution for you. Read on.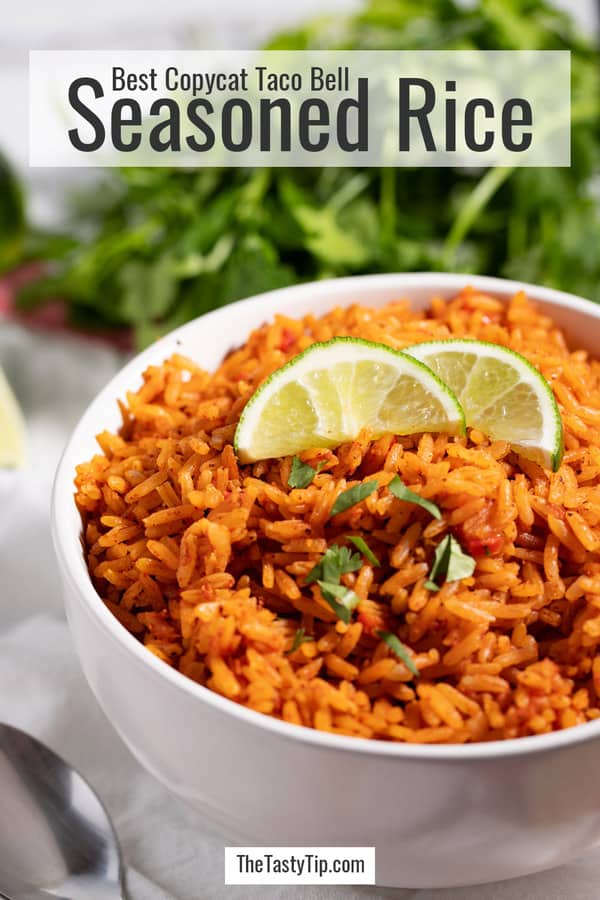 How to Keep the Rice from Sticking to the Bottom of the Pan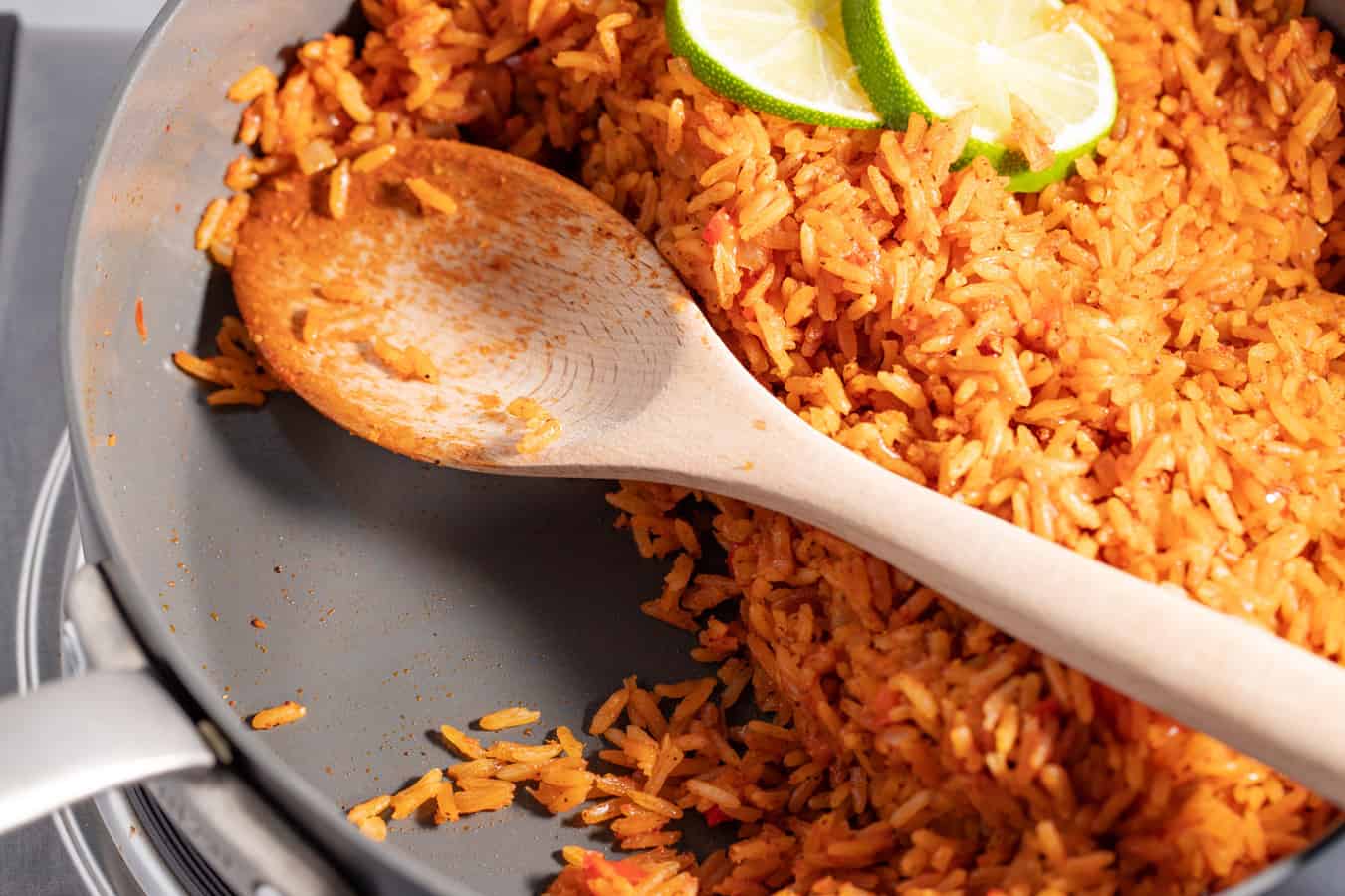 Let's address a potential problem that can happen when cooking rice – rice sticking to the bottom of the pan.
My rice used to always, and I mean always, stick to the bottom of the pan when I made seasoned rice.
I thought it was my pan. I thought it because I used chicken broth or tomato sauce in addition to water.
However, it wasn't until I learned some authentic Mexican food preparation techniques that I was able to say goodbye forever to rice stuck to the bottom of the pan.
Follow this one simple step to make seasoned rice (as good as any Mexican restaurant's) without it sticking to the pan.
DO NOT STIR THE RICE AFTER POURING WATER INTO THE PAN.
This technique might seem too simple to really make a difference. But don't be fooled.
After making multiple batches of the recipe using different methods, NEVER STIRRING THE RICE was the only technique that made a significant difference in an easy-to-clean pan vs. scrubbing half your seasoned rice off the bottom of the pan.
This might go against everything you instinctively want to do.
I always want to pour the water in and give things a quick stir. However, every time I stirred (even if was a once-around-the-pan stir), the rice glued itself to the pan bottom.
So I plead with you. Resist the urge to stir. Walk away. Involve your spouse to break this habit. Phone a friend.
Whatever you must do to keep yourself from stirring the rice, do it.
Ingredient Checklist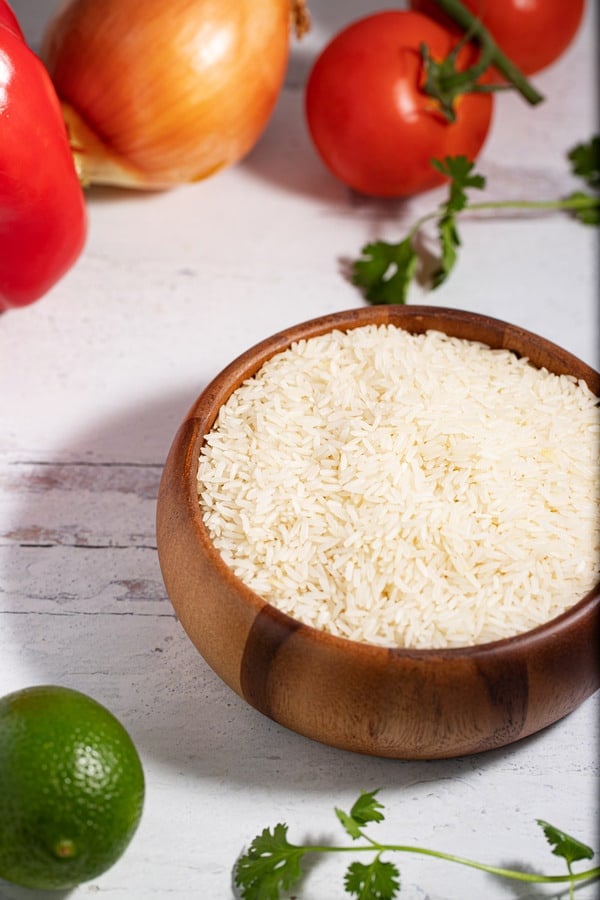 1 cup long-grain white rice (jasmine or basmati are great options)
Olive oil
1½ cups of water
½ cup + 2 tablespoons tomato sauce (6 ounce can)
Diced onion and red bell pepper
DIY seasoning mix (better than any packet of taco seasoning): 1 teaspoon paprika, 1½ teaspoons chili powder, ½ teaspoon garlic powder, ¼ teaspoon coriander, dash of cayenne pepper
How to Make the Best Copy Cat Taco Bell Seasoned Rice Recipe
Taco Bell seasoned rice is mildly seasoned and is not spicy. It is moist but the grains are separated, rather than being sticky. My copycat Taco Bell seasoned rice recipe mimics these characteristics.
Follow these simple steps to get your own authentic version.
Step 1: To Rinse or Not to Rinse (that is the question)
Normally I rinse long-grain rice before cooking it. However, since seasoned rice calls for extra ingredients, I wasn't sure if rinsing was the best method. Some recipe directions say to rinse the rice and some directions leave that step out.
To evaluate the result of rinsing vs not rinsing, I did a side-by-side comparison. I made a Taco Bell seasoned rice recipe without rinsing the rice and another version with rinsed rice.
And the taste was pretty much identical. The texture difference was indistinguishable.
Neither batch of cooked rice stuck to the bottom of the pan. However, if I had to say which rice was easiest to spoon out, I would say the rinsed rice stuck to the pan less than the non-rinsed rice.
The biggest difference between rinsed vs non-rinsed was that the rinsed rice was much harder to toast in the oil. The grains stuck to each other and stirring them in the oil was difficult.
Because there was no significant taste or texture difference between the rinsed and non-rinsed rice, I cannot recommend rinsing it.
However, it is your rice and your kitchen. So if you choose to rinse, here are a few tips.
Pour the rice into a strainer. Rinse under cold water for 30 to 45 seconds.
After rinsing, keep the rice in the strainer and let the excess water drain. Use your hand or a spoon to stir the rice, releasing as much of the water as possible.
Let it drain for 10 minutes or so.
Toast normally. It will be slightly difficult to stir and will take a few minutes longer to toast.
Step 2: You Gotta Use the Right Pan
Use a large skillet or other medium saucepan with a lid. The pan must have a lid. This is crucial to get soft, fluffy grains.
Step 3: Toast Until Golden
Toast the rice in your chosen pan on the stove top. You will love the flavor toasting gives rice.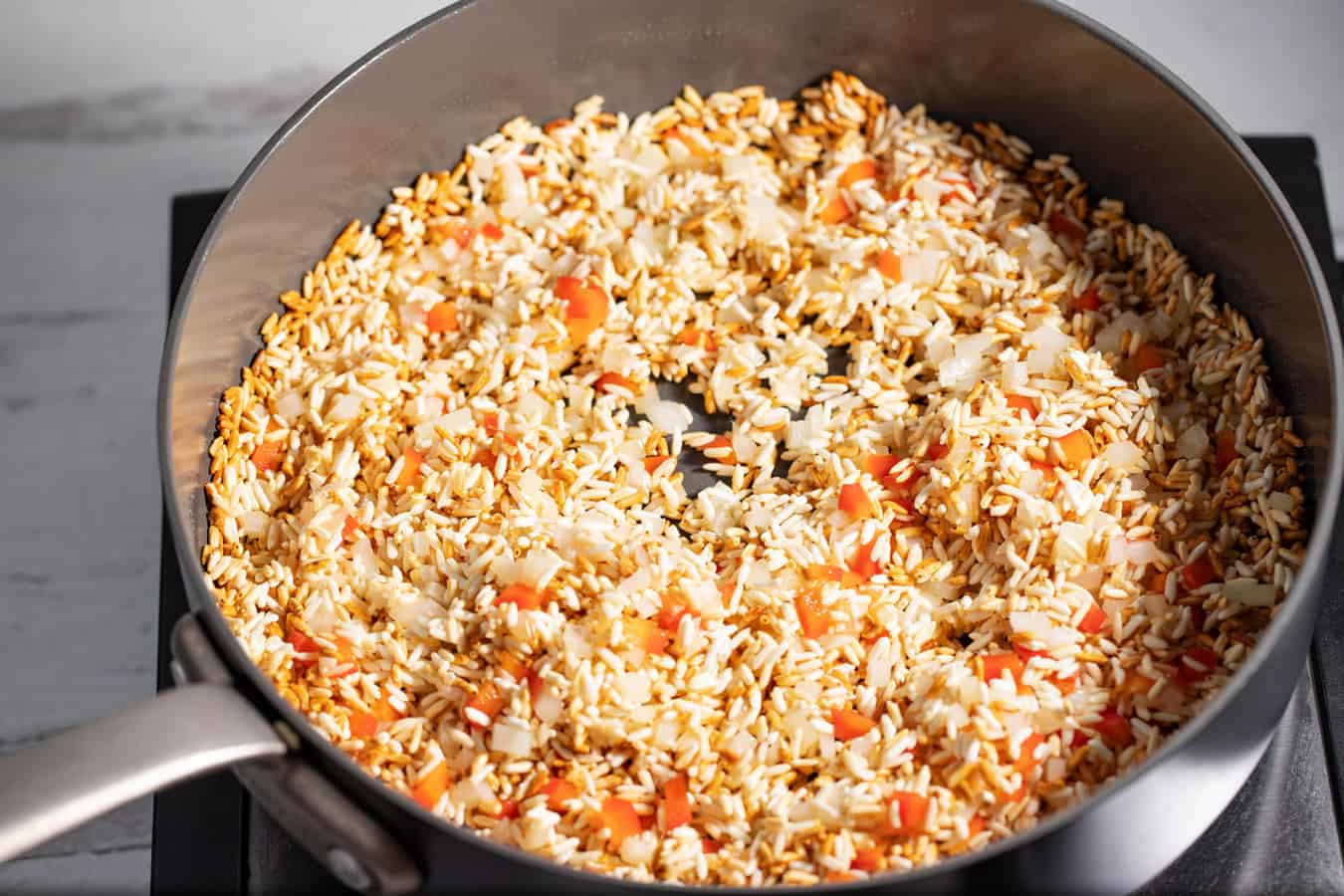 To Toast the Rice:
Heat oil over medium-high heat. Add the rice to the hot oil. Stir to toast and brown rice in the oil. Toasted rice takes your rice dish to the next level. Your taste buds will thank you.
Dice the onions and red bell pepper. When the rice looks almost toasted, sauté the onions and bell pepper in the olive oil with the rice until they begin to soften.
Step 4: Prep the Liquid
As the rice is toasting, prepare the liquid.
Measure 1 ½ cups of water into a liquid measuring cup that is larger than you need. Add the tomato sauce (not tomato paste) to the water and stir to combine. Tomato sauce adds more moisture than tomato paste.
Sprinkle in the seasonings and whisk to distribute.
Stir the liquid and spices together BEFORE pouring the water into the pan of toasted rice. Because remember… You NEVER STIR THE RICE after pouring the liquid into the pan.
Step 5: Pour, But
DO NOT STIR
This is the most important step to prevent the rice from sticking in a goopy mess to the bottom of your pan.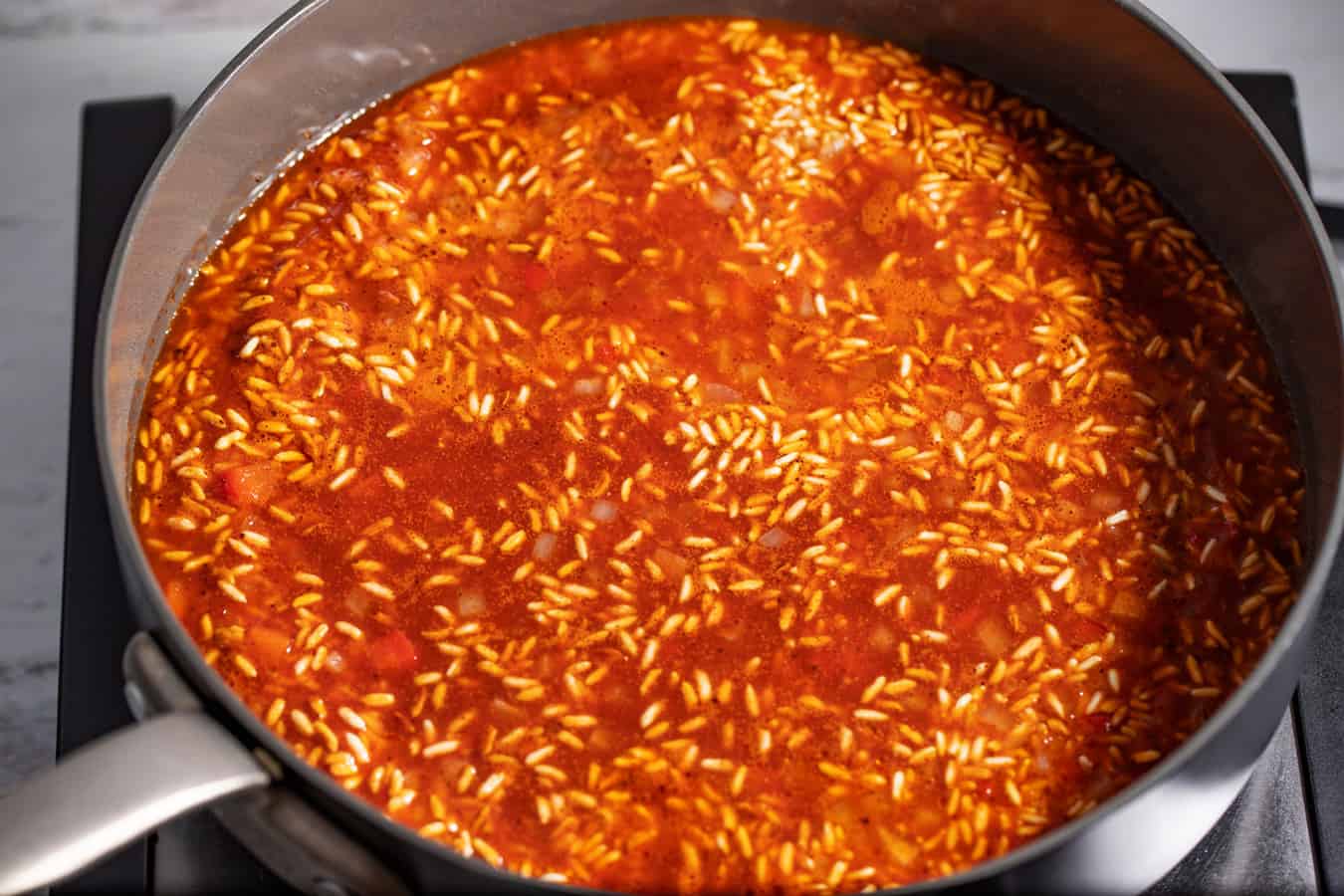 Pour the liquid evenly on top of the rice. DO NOT STIR.
Maybe you didn't get all of the rice wet. If you notice that some of the rice looks dry, RESIST THE URGE TO STIR. Instead sprinkle water a tablespoon at a time on top of the dry rice.
Step 6: Now It Cooks
Rice can sometimes be tricky. But if you refrain from stirring it and keep the lid on as it cooks, you will get tender, moist grains.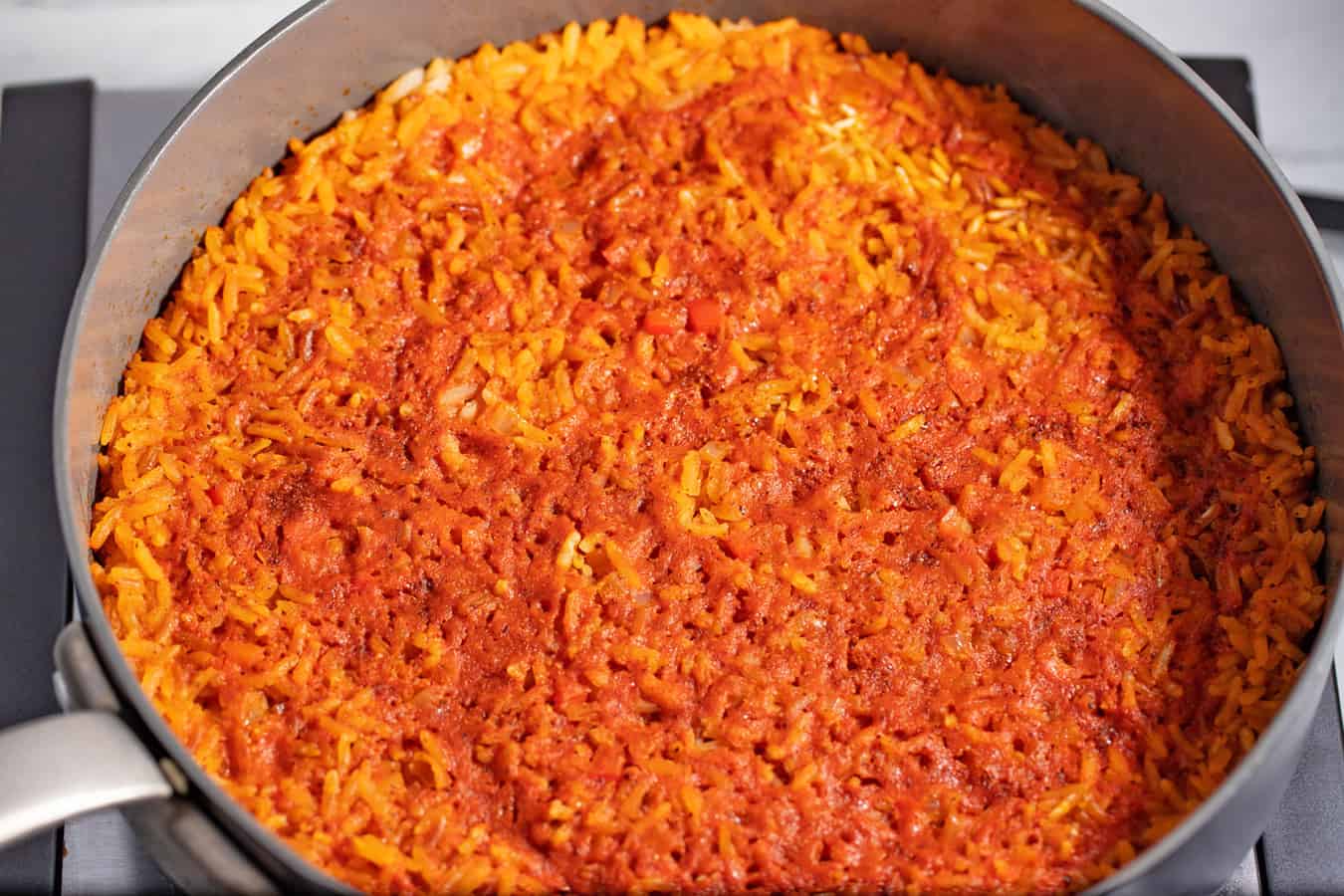 Bring the liquid to a boil. NEVER STIR. After it begins to boil, place the lid on top of the pan WITHOUT STIRRING. Turn the heat to low.
Cook on low for 20 minutes. DO NOT STIR. DO NOT REMOVE THE LID.
After 20 minutes, remove the pan from the burner and turn off the stove. Remove the lid and observe the rice. Has the liquid evaporated into the rice? If so, it is done.
If the rice still looks wet with lots of liquid left, return the lid to the pan and the pan to the stove. Cook for a few minutes longer until the rice absorbs the remaining liquid.
Step 7: Rest, Fluff, and Garnish
Give the rice the final touches to ensure perfect copycat seasoned rice, worthy of any Mexican restaurant.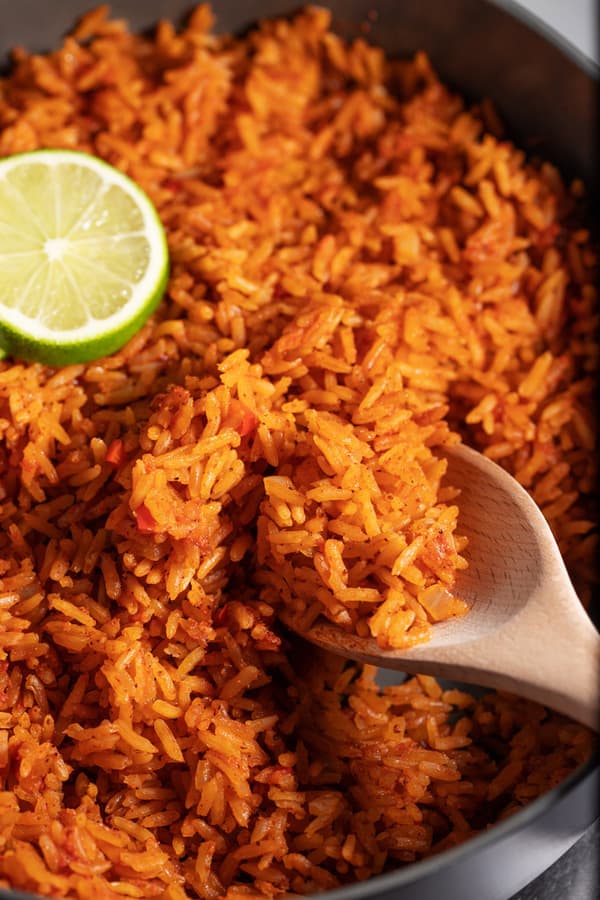 If the rice looks done, sprinkle the lime juice on top of the rice. Then and only then, you can briefly stir to distribute the lime juice.
Place the lid back on the pan and let it rest for 5 or 10 minutes OFF HEAT.
The off-heat rest allows the rice to finish absorbing any remaining liquid. It evens out the moisture of the grains and makes it easy to fluff.
I discovered how crucial resting the grain off-heat is when I learned how to make no-fail brown rice and when cooking quinoa. Resting is just as important with seasoned rice as it is with brown rice and quinoa.
Remove the lid and spoon the rice in a medium bowl to serve. Fluff it with a fork. Garnish with a slice of lime or fresh cilantro leaves.
Best Uses for Taco Bell Seasoned Rice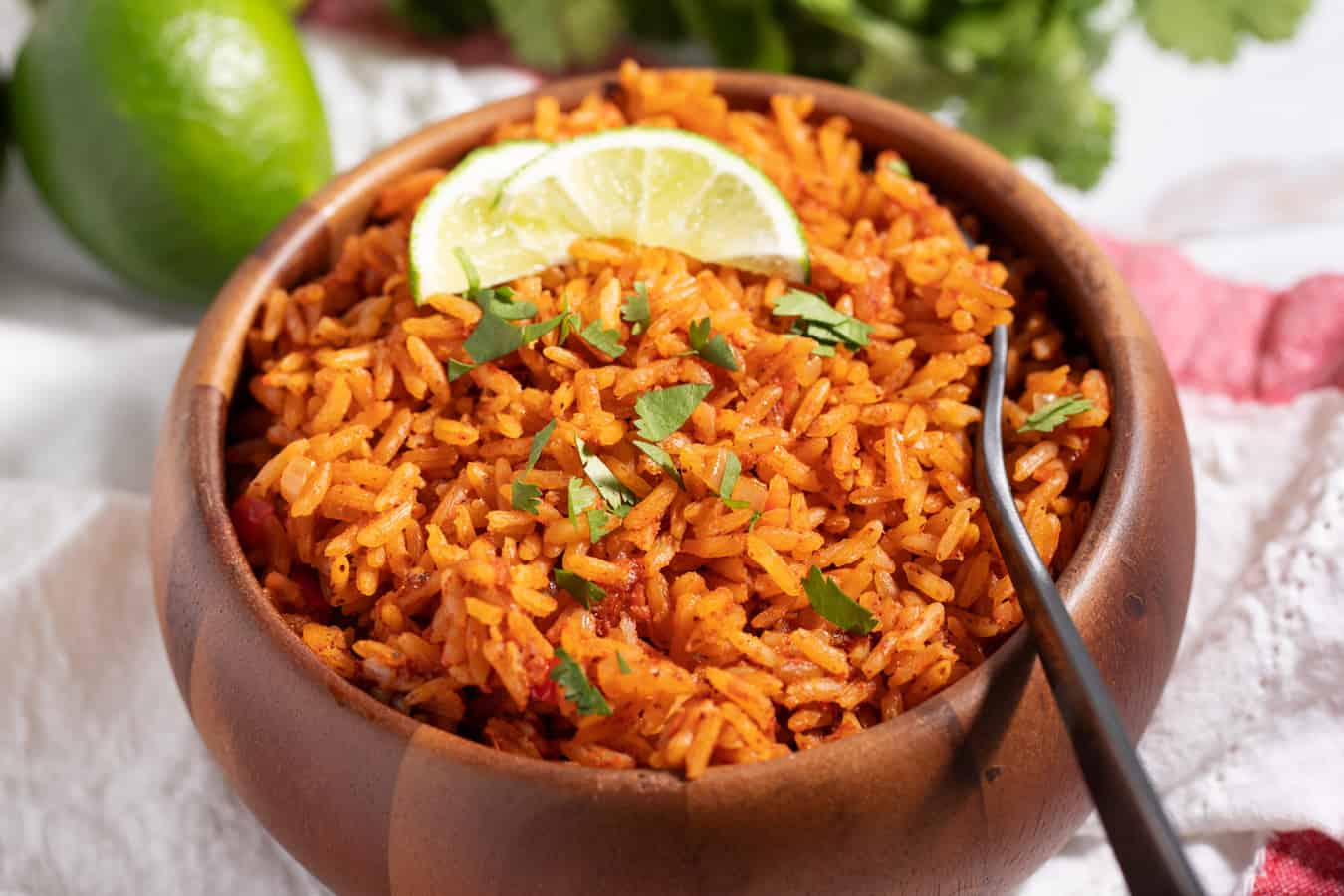 Use seasoned rice as a flavorful side dish. It is one of the healthier alternatives to serve with Mexican recipes, instead of chips. Try serving it with Catalina taco salad with Doritos. So yum!
Serve this delicious dish alongside Taco Bell bean burritos, tacos, chimichangas, taquitos, tamales, or enchiladas.
Use Taco Bell seasoned rice inside burritos.
Taco Bell's cheesy bean and rice burrito has seasoned rice, and really most burritos taste good with some Mexican rice added.
Fill a flour tortilla with your choice of meat and/or beans, seasoned rice, green onions, cheese, and your favorite salsa.
Make it every week for Taco Tuesday. Put it in your schedule. Buy taco shells and make a batch of good Taco Bell rice.
Cook a pound of ground beef and season with hot sauce. Fill your taco shell with beef, rice, green onions, cheese, and sour cream. It's a perfect meal and can be thrown together quickly.
Make a Mexican salad by mixing seasoned rice with black beans, shredded chicken, and cheese. Throw a dollop of sour cream on top and you have a full meal salad.
Mexican salad recipes are good for busy weeknights. Quick, healthy, and easily customizable for the picky eaters in the family.
Add seasoned rice to a taco salad made with fresh produce, shredded chicken, corn, and salsa. The possibilities are endless.
Make your own Taco Bell power bowl with seasoned rice, refried beans, chicken or steak, cheese, guacamole, and sour cream. Top with crushed tortilla chips.
Double the recipe for your Cinco de Mayo celebrations when you are expecting a lot of people to come party with you.
Restaurant style rice is a great side dish for your favorite homemade party tamales.
Layer seasoned rice in Mexican lasagna or other casseroles.
Make Mexican lasagna by lining a casserole dish with flour tortillas. Add a layer of shredded beef, seasoned rice, salsa, and cheese. Add a second tortilla layer and repeat with the fillings. Bake in the oven until bubbly.
Seasoned rice can turn a leftover burrito into a full meal. See how to reheat a burrito and serve it with your rice.
Best Way to Store Leftover Cooked Rice
Store leftover cooked rice in an airtight container in the refrigerator for up to three days.
For longer storage, place the cooked rice in a freezer safe container or freezer zip top bag and store in the freezer for up to three months.
To thaw, remove the rice from the freezer and place it in the refrigerator overnight.
To reheat the rice in the microwave:
Place the rice in a bowl or on a plate.
Add 2 or 3 tablespoons of water per cup of rice.
Cover the rice with a wet paper towel.
Heat for 1 ½ to 2 minutes per cup of rice. The rice should be hot, steamy, and moist.
To reheat the rice on the stove top:
Place 2 or 3 tablespoons of water at the bottom of a medium saucepan for each cup of rice.
Add the rice.
Place the lid on the saucepan and heat over medium low heat.
Heat for 5 to 10 minutes, depending on pan size and quality and the amount of rice to be reheated. Heat until rice is hot, steamy, and moist. Add additional water at any time if your rice needs some more moisture.
Now that we have covered all the bases, you are ready to try your hand at the best copycat Taco Bell seasoned rice recipe.
---
Did you like this post? Then let's be social. FOLLOW ME on PINTEREST and INSTAGRAM to keep up with the latest tutorials, favorite recipes, and interesting happenings.
---
Yield: 4 cups
Taco Bell Seasoned Rice Recipe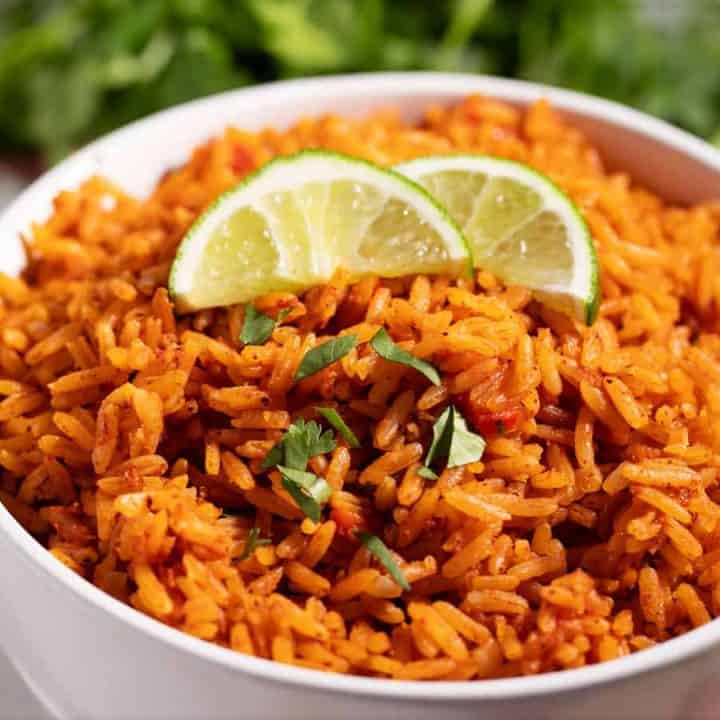 Craving some Mexican rice for dinner? Looking for a tasty Taco Bell seasoned rice recipe? Try my expert tips for the easiest flavorful copycat version of this fan-favorite dish. It is a simple recipe you can make in 30 minutes from the comfort of your own kitchen.
Ingredients
2 tablespoons olive oil
1 cup of long-grain rice (such as jasmine or basmati rice)
⅓ cup yellow onion, finely minced
2 tablespoons red bell pepper, finely minced
1½ cups water
½ cup + 2 tablespoons tomato sauce (6 oz. can)
1½ teaspoons salt
1½ teaspoon ancho chili powder (or other mild chili powder)
1 teaspoon paprika
½ teaspoon garlic powder
¼ teaspoon coriander
dash of cayenne pepper
juice of ½ a lime (approximately 1 tablespoon)
Instructions
HEAT olive oil in a medium saucepan over medium high heat.
POUR rice in hot oil and stir to coat.
STIR the rice frequently as it toasts and begins to brown. Take care to not let it burn.
ADD the onions and peppers to the browning rice and stir for 3 to 4 minutes, or until the onions and peppers begin to soften.
As the rice toasts, MEASURE the water and then add the tomato sauce, salt, chili powder, paprika, garlic powder, coriander, and cayenne pepper to the liquid. Stir to combine.
POUR the water/tomato sauce mixture over the rice after the rice is toasted and the onions, and peppers are soft. DO NOT STIR. When the liquid starts to boil, place the lid on the pan and turn the heat to low.
COOK on low (without stirring or removing the lid) for 20 minutes. Check to see if the rice has absorbed all the liquid. If not, replace the lid and cook for a few minutes longer. During this time, do not stir the rice.
REMOVE the pan from the heat when the rice has finished cooking.
SPRINKLE juice from half a lime over the rice. Give it a quick stir to combine.
REPLACE the lid and let the rice rest off-heat for 5 minutes.
SPOON the rice into a serving dish and garnish with fresh cilantro or lime slices. Serve immediately.
Notes
All images and content are © TheTastyTip.com. If you want to use this recipe and techniques, please take your own photos, write your own description, and link back to this page. Thank you.
Nutrition Information
Yield
8
Serving Size
1
Amount Per Serving
Calories

81
Total Fat

4g
Saturated Fat

1g
Trans Fat

0g
Unsaturated Fat

3g
Cholesterol

0mg
Sodium

450mg
Carbohydrates

12g
Fiber

1g
Sugar

4g
Protein

1g
Nutrition information is an estimate only and may vary based on individual ingredients added and cooking methods used.
---
Did you make this recipe? Tag @thetastytip on Instagram and hashtag it #thetastytip.