Looking for the best bread for soup? From bread bowls to dinner rolls, find the perfect soup side. Get smart ways to prep and serve the bread.
This post has affiliate links for your convenience.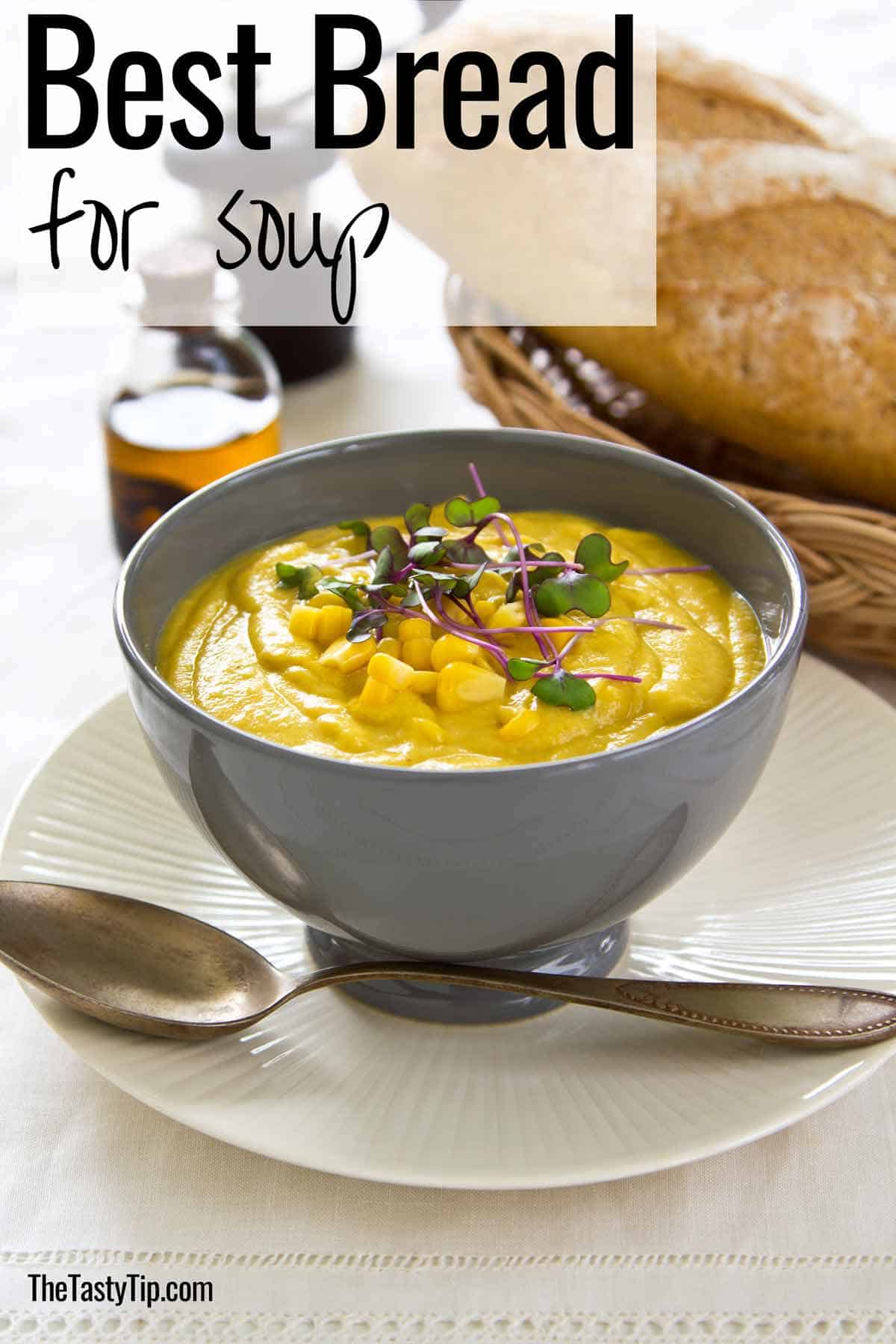 Soup is warm, comforting, and easy to whip up for dinner. But it is lonely without a bit of bread at its side.
With all the healthy, mouthwatering soups you can prepare, you want bread that is just as delicious. One that compliments the flavor and style of the soup.
What is the best bread to serve with soup? Pair your soup with a bread bowl, sourdough bread, dinner rolls, flatbread, crusty French bread, biscuits, or breadsticks. Change your bread by toasting it, grilling it with cheese, smearing it with butter and jam, or seasoning it with garlic.
Countless varieties of bread. Dozens of ways to present it. Endless combinations ensure your soup and bread pairings will always be exciting.
Check out this list of delicious types of bread to try with your soup tonight. Make homemade bread or pick up a loaf at your local bakery.
Did I miss your favorite bread? Comment below and let me know.
You may also be interested in the best side dishes to serve with soup for dinner. Go beyond bread in this list and get suggestions for salad, meat, sandwiches, and finger foods.
Bread Bowl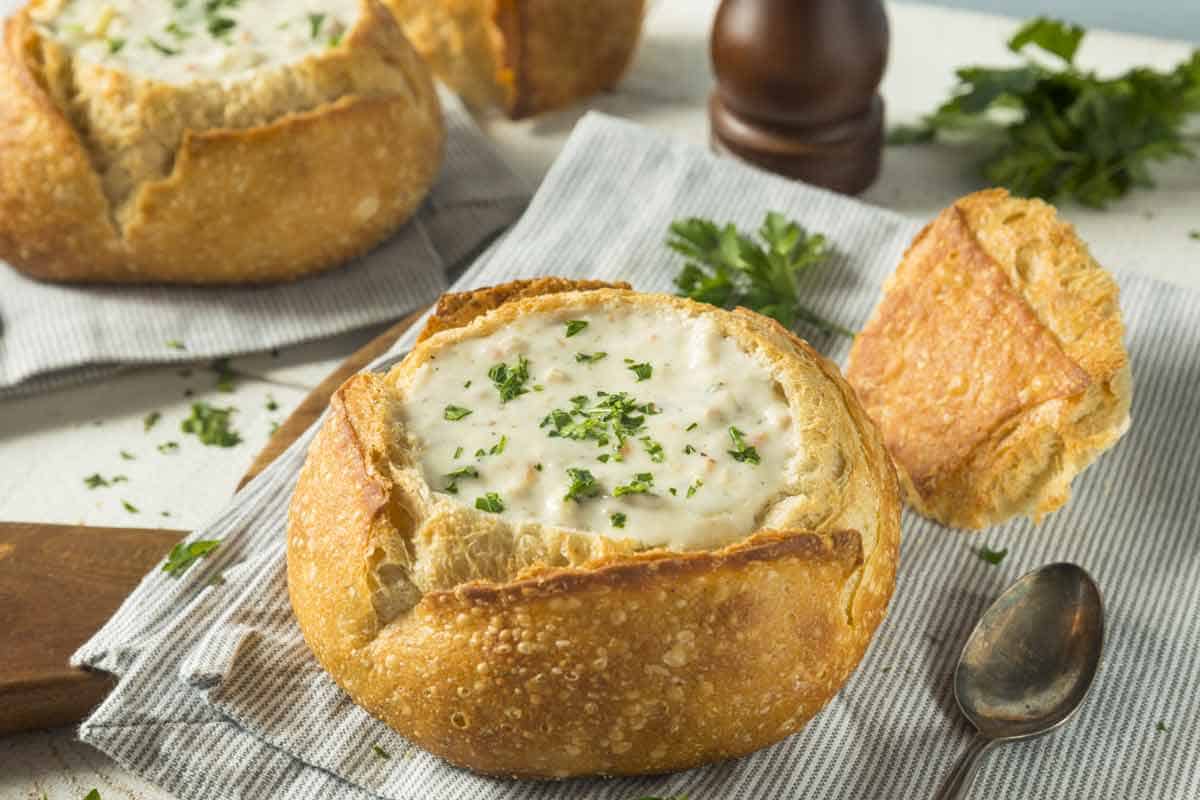 Serve your soup in an edible bread bowl — functional and tasty.
You can find bread bowls in bakeries, including grocery store bakeries. However, they can be seasonal. Locating them in the store might be hit and miss unless you preorder them.
Making homemade bread bowls may be the solution for you.
Best soups to serve in a bread bowl:
Crusty Bread
Crusty bread has simple ingredients — flour, yeast, salt, and water. Nothing that would make the texture soft.
The outside bakes up crisp and chewy, opening to a softer inside. A piece of crusty bread is firm enough to mop up creamy soup off the sides of the bowl during dinner.
There are many versions of the popular crusty bread.
Long, skinny stirato is a crusty artisan bread from Italy with a crispy exterior. French baguettes are another example of bread with a crusty surface that shatters into shards when sliced with a sharp knife. Some rolls are crusty too.
Sandwich Bread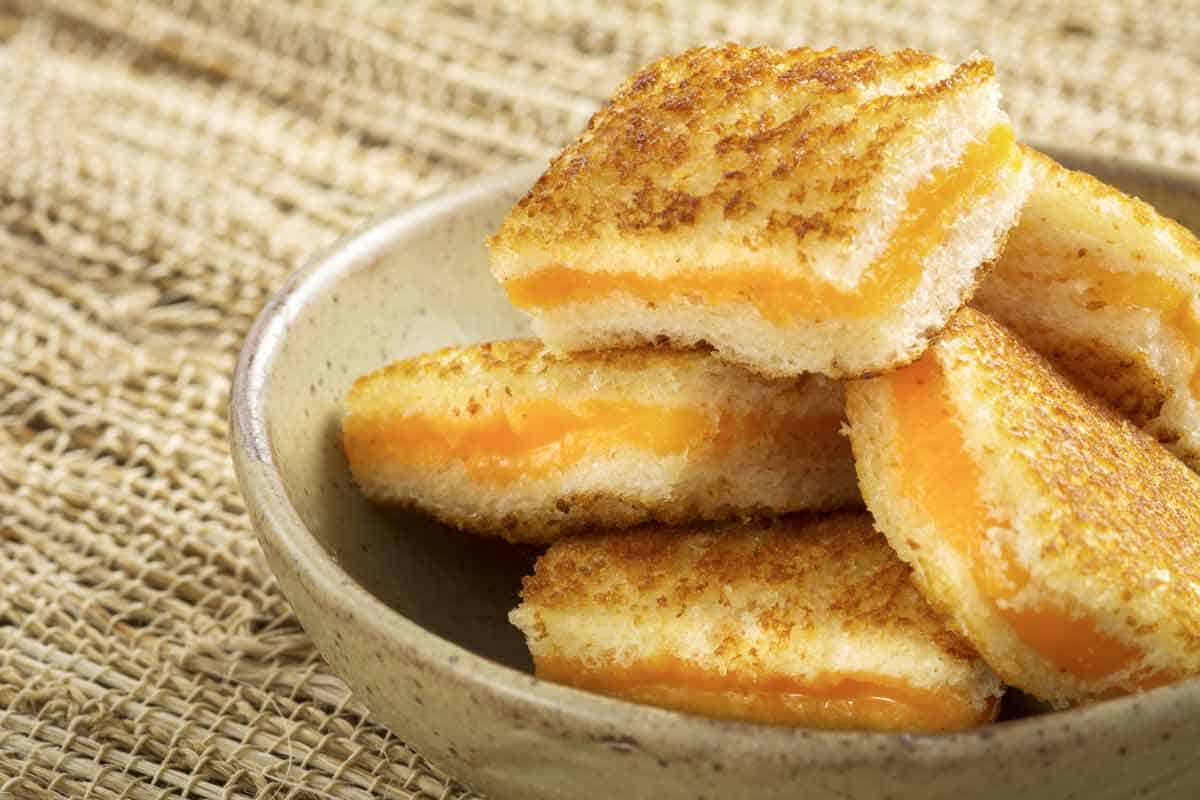 Fresh bread is always wonderful to eat with hot soup. There are dozens of delicious bread varieties that you can make at home if you give yourself a little time. These are some of the best sandwich bread recipes to bake.
What can you do with sandwich bread?
Smear it with butter and homemade jam
Toast and spread with peanut butter
Make a grilled cheese sandwich
Top with avocado for avocado toast
Garlic Bread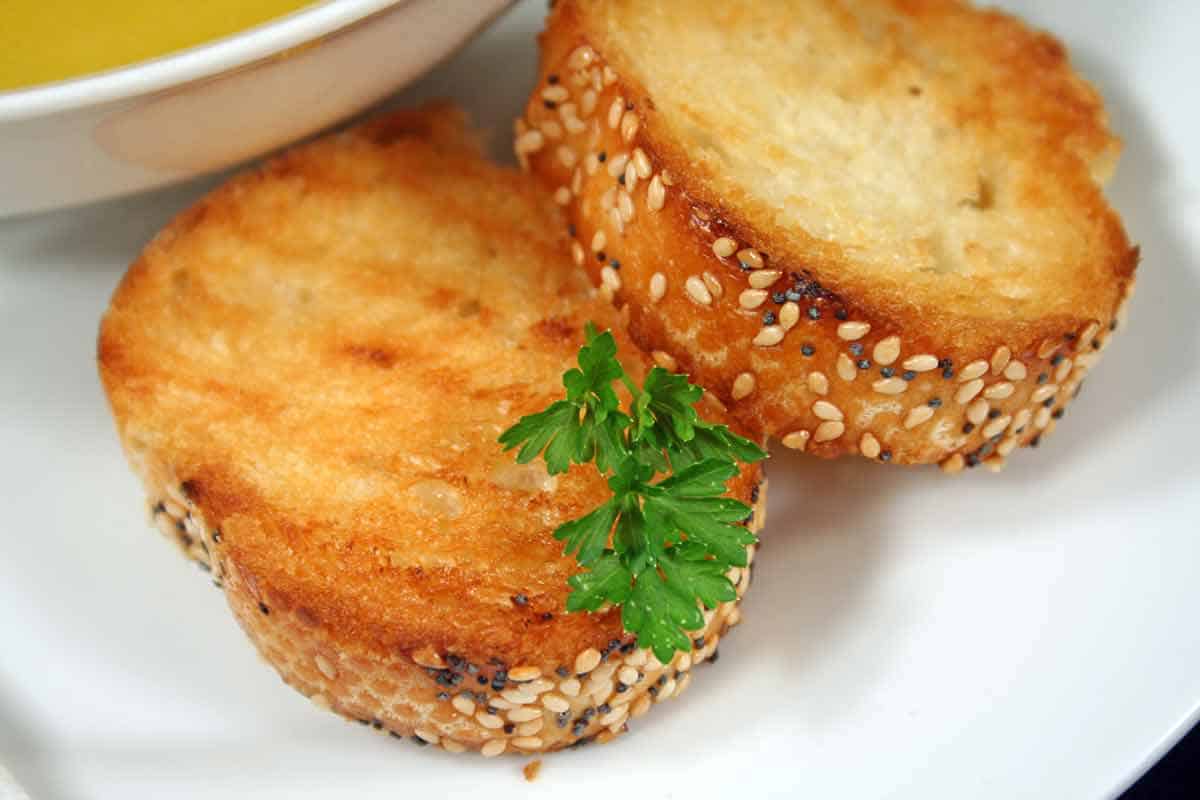 Most loaves of breads are an excellent base for garlic bread. French bread and some Italian breads are my favorites.
Slice, butter, and sprinkle the bread with garlic powder. Then broil in the oven for 3 to 5 minutes. And voila! Garlic bread is ready to eat with your favorite soup.
Looking for some garlic bread variations? Try sprinkling the buttered bread slices with:
A pinch of sugar and cinnamon (this will hit your sweet spot)
Korean garlic bread is another tasty variation. Make it with freshly baked rolls filled with a sweet cream cheese filling.
Try garlic bread with:
Cajun 15-bean soup. Ready to spice up your traditional 15 bean soup? You will love the Cajun seasoning, sausage, shrimp, and okra in this mouthwatering Cajun 15 bean soup.
Cornbread or Cornbread Muffins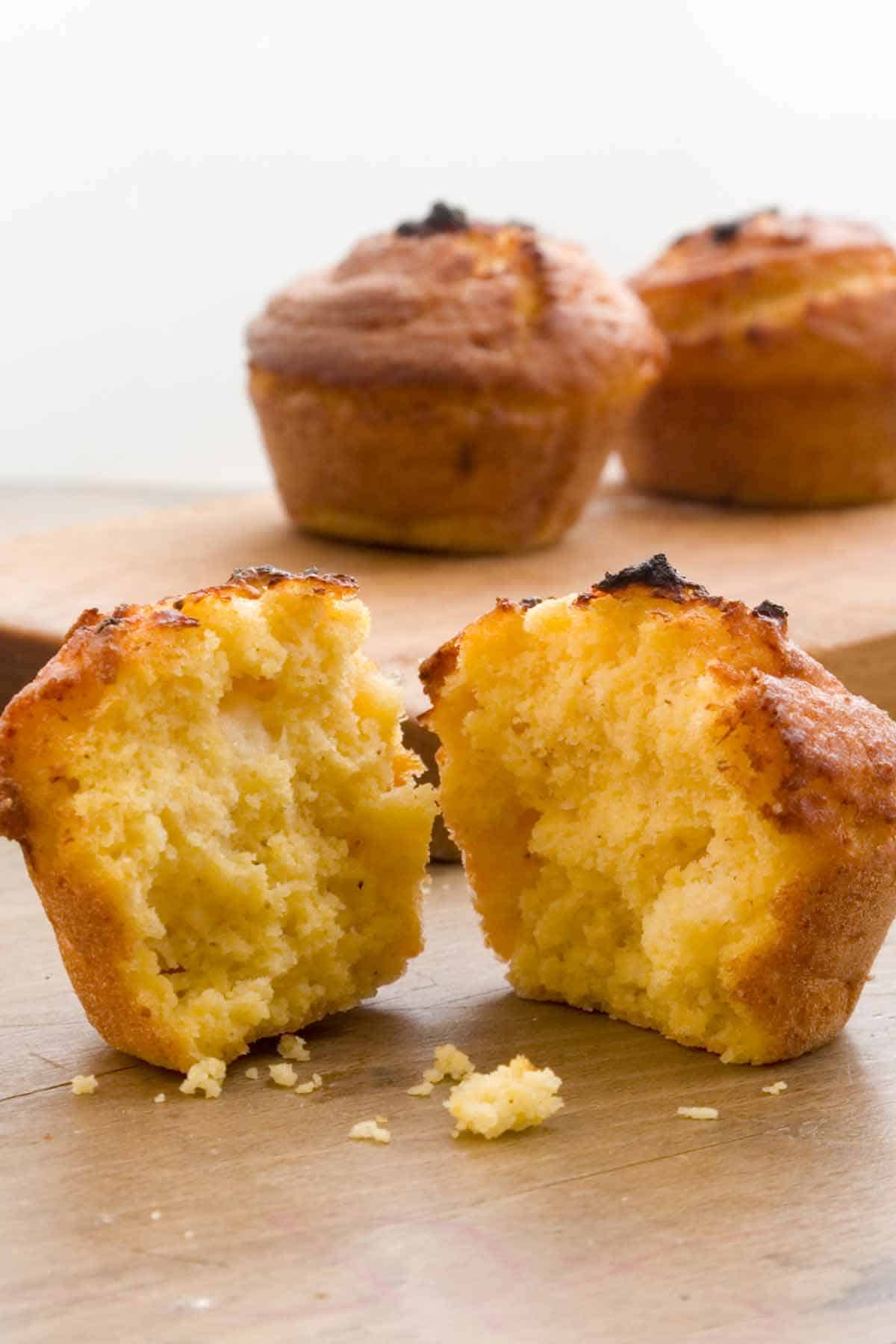 Cornbread often appears during the chilly time of year when you need a big bowl of warm soup. It is the perfect complement to chili or a hearty bean soup.
Want a cornbread tip? Melt a spot of butter in an oven-safe hot skillet. Then pour in the cornbread batter and bake it in the oven. You will love the cornbread's crispy edge.
Try cornbread with:
Black bean soup. Mouthwatering vegan black bean soup made with roasted poblanos and tomatillos, corn, red onions, carrots, celery, and cilantro.
Sourdough Bread
Join the craze and slice up sourdough bread to eat with your next soup meal.
Sourdough baked goods have a distinct tangy ("sour") flavor. This comes from the fermented starter (made with warm water and flour). Many sourdough recipes are no-knead and can even be baked in a Dutch oven.
The crisp crust, chewy texture, and tangy flavor make this bread a popular accompaniment to soup. Try it with these soup recipes:
Focaccia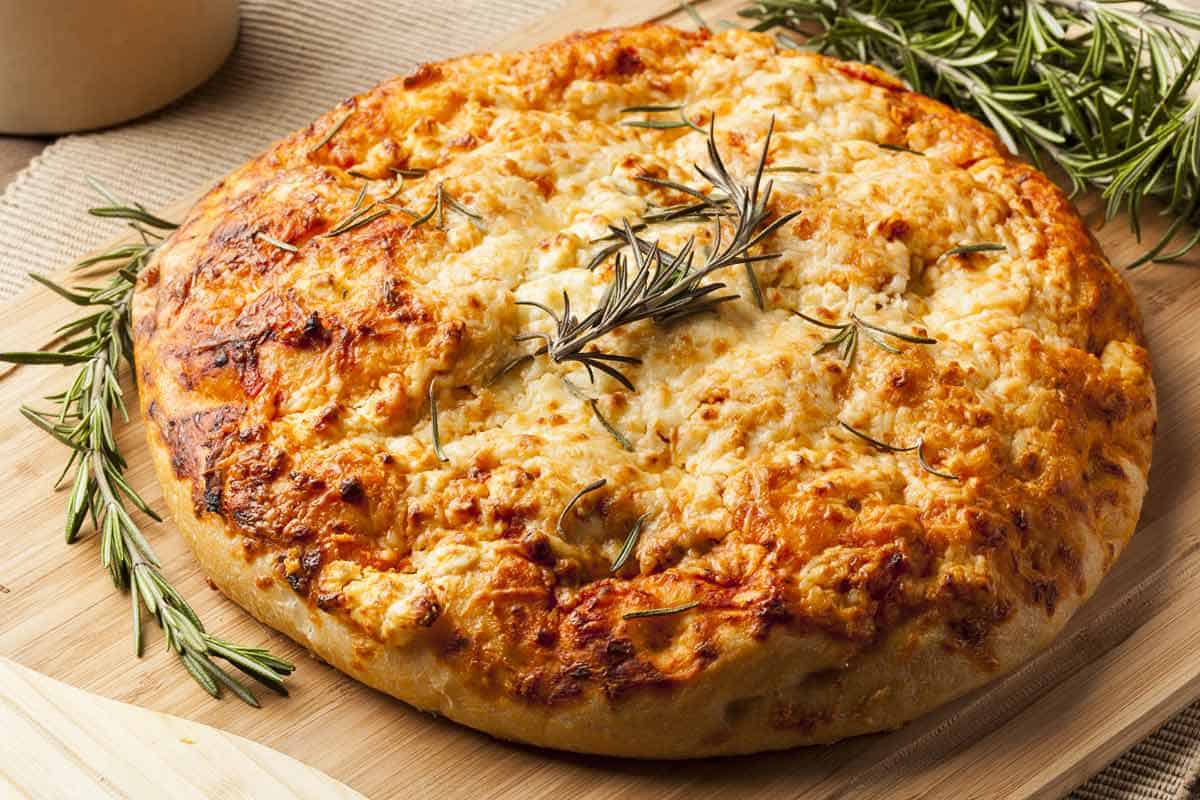 Round, rectangular, or square, focaccia is an Italian flatbread. It is similar to pizza, especially when seasoned with Italian spices. However, it is lighter, fluffier, and thicker than pizza dough.
Though it is an easy bread, it takes a long time to make because it has to rise twice. Cover dough and let it rise in the fridge overnight. Then let it rise in the kitchen for another 2 to 4 hours.
If this seems too much to bother with, pick up focaccia at a bakery (or Trader Joe's). Heat the bread in the oven on a pizza stone.
Serve focaccia with these soups:
Pumpkin soup. Blend fresh herbs and spices to make amazing pumpkin soup. Quick and easy to make with an electric pressure cooker. Ready to serve in just 30 minutes.
Ciabatta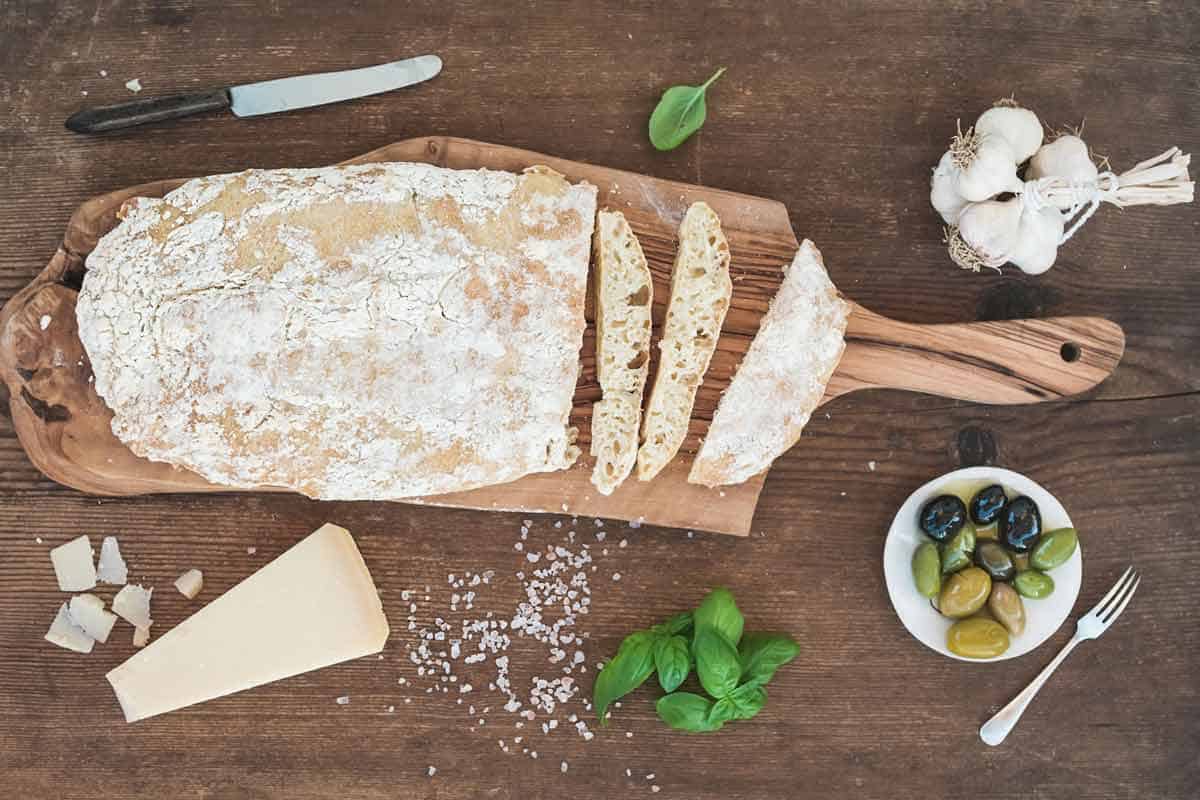 Ciabatta is Italy's response to a French baguette. One of the most significant differences between the two breads is ciabatta's large air pocket holes in the interior. Ciabatta comes as a loaf or in rolls.
Try ciabatta with these soups:
Turkey soup. Use leftover turkey to make this easy 30 minute favorite turkey soup with leftover turkey, potatoes, onions, garlic, leeks, celery, and fresh seasonal herbs for a true comfort food experience.
Vegetable soup with ground beef. Combine tender vegetables and savory ground beef in a flavorful broth to get a mouthwatering vegetable soup with ground beef, packed with vitamins, minerals, and protein.
You may also be interested in the best bread for burgers. I surveyed the top 50 burger joints to find the most popular buns/bread. Find out what they are.
Challah
Challah is a braided bread that originates from the Jewish religion. It is often present during Jewish holidays. Whatever your faith, challah is a bread worth discovering.
Challah is a yeast bread with eggs, oil, and sugar. It is soft and sweet with a spongy texture. Try it if you feel like pairing sweeter bread with your soup.
Braided with either three or an impressive six strands, try challah bread with:
Naan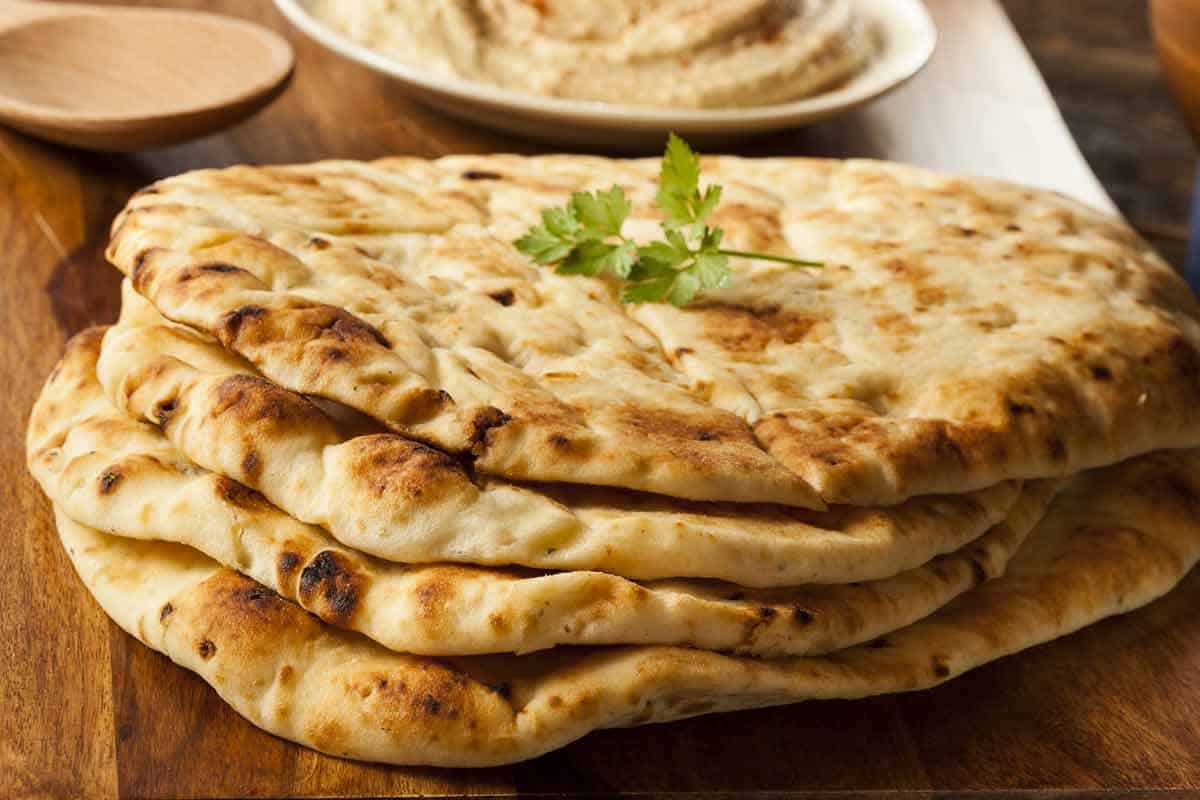 Naan is a baked flatbread that is leavened with yeast or a bread starter. It is commonly cooked in a tandoor, a round metal or clay oven. I like it when it has been brushed with butter or ghee.
Naan is perfect for mopping up soup from your bowl. Serve it with your soup and you will see how handy it is.
Brioche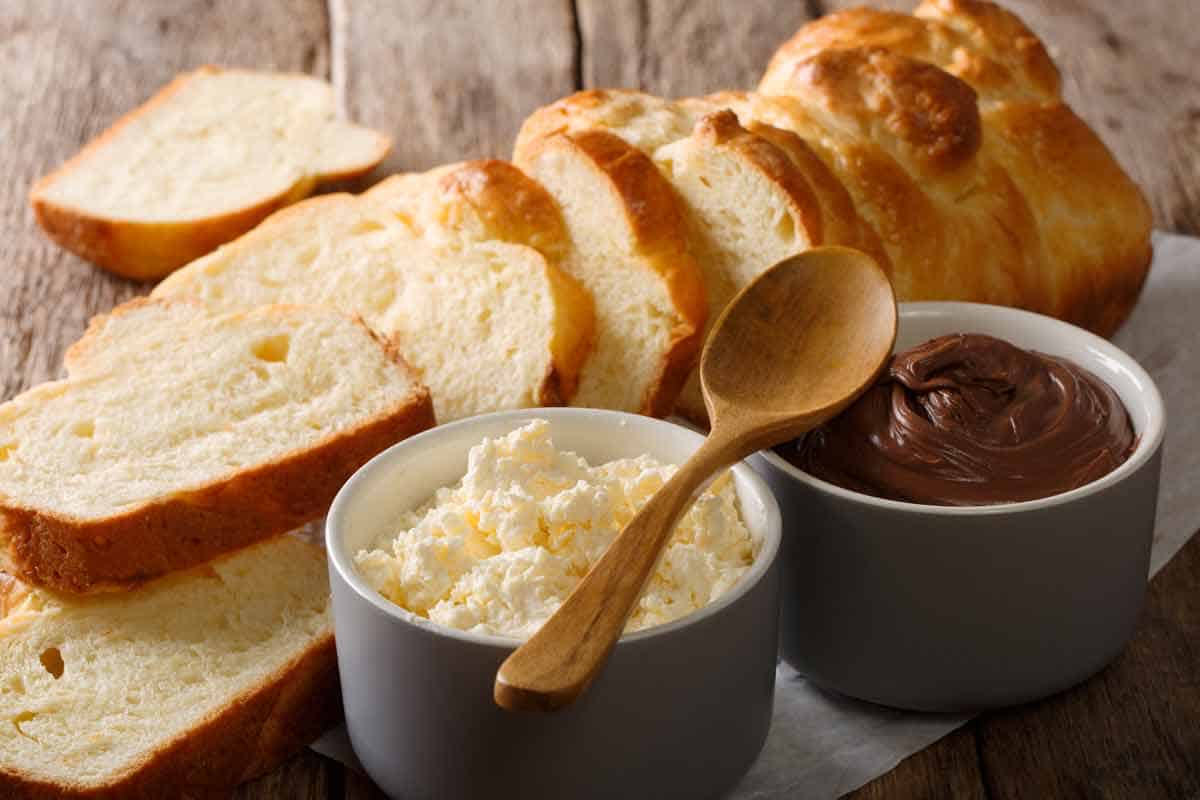 Brioche is a sweet French bread with plenty of butter and eggs, giving it a great flavor. It is soft, sweet, and tender.
It takes some time to bake because it must rise twice. The first rise happens after you mix the dough. After the dough is refrigerated overnight, it has a second rise before baking.
If you don't have it in you to make brioche for dinner, pick up a loaf at your local grocery store bakery.
You may also be interested in the best bread for chicken salad sandwiches. Cuz sandwiches and soup go hand in hand.
Gluten-Free Bread
If you are allergic to gluten or want to give your body a gluten rest, try gluten-free bread with your large bowl of soup. I always enjoy toasting this type of bread.
Here are some brands of gluten-free bread to try:
Dave's Killer Bread. Buy it here.
Three Bakers. Buy it here.
Canyon Bakehouse. Buy it here.
Bob's Red Mill gluten-free bread mix (if you want to bake your own). Buy it here.
Breadsticks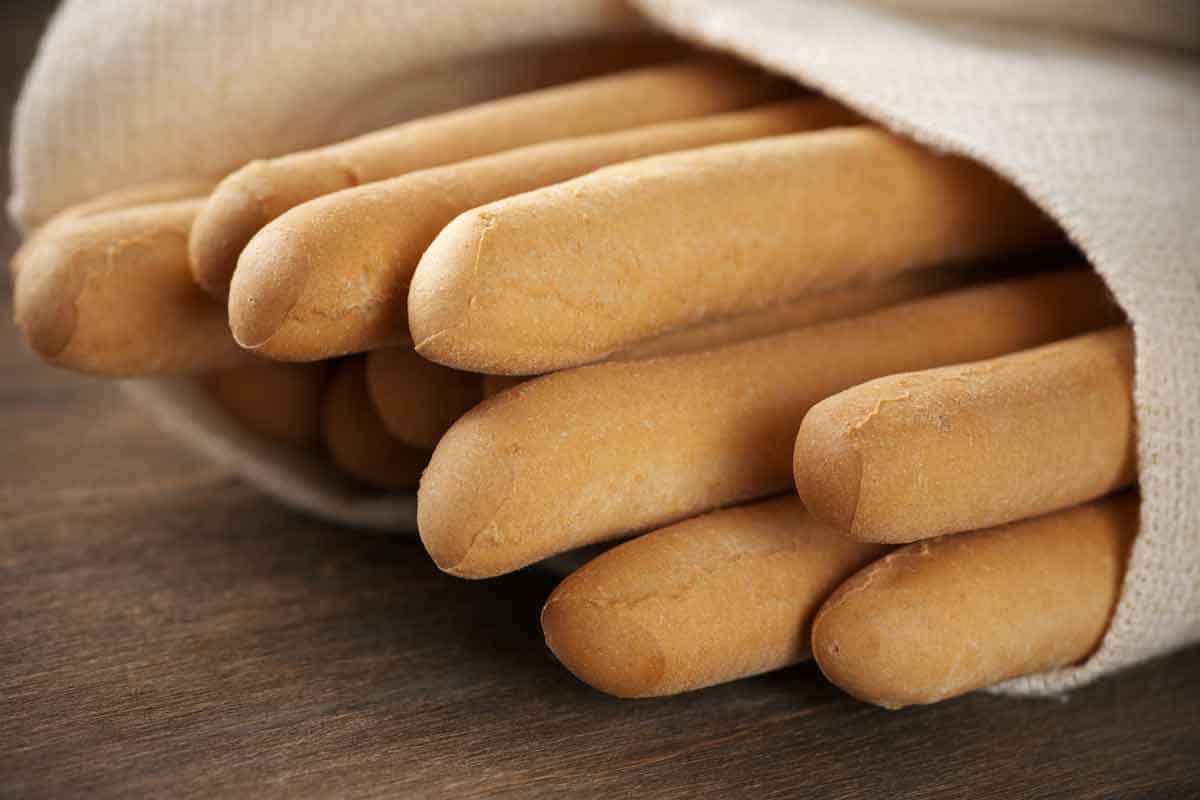 Breadsticks are awesome. They are easy to make out of regular sandwich bread dough. You can easily make a smaller batch. The best part is they don't take too long to bake.
You will love how you can season them to change up the flavor. Top with sesame seeds for a classic feel. Or sprinkle with black pepper and Parmesan cheese.
Soda Bread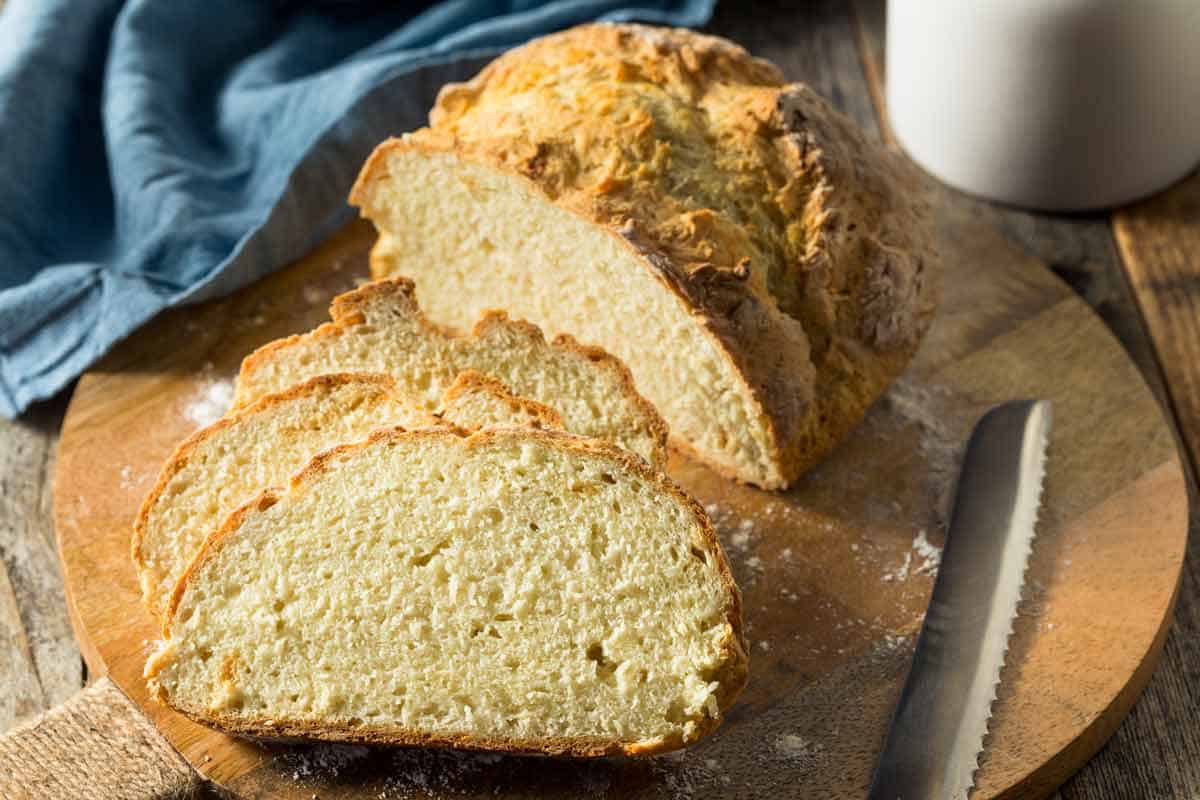 Soda bread is a quick bread made with baking soda instead of yeast. It has a neutral flavor (like a biscuit) and is meant to be eaten with something … like soup.
The prep work is simple. Hardly any kneading — the less, the better if you want a lighter bread. Just a few quick turns on a floured surface are all you will need. This might be a great place to start if you have never baked bread before.
Pair soda bread with these soup recipes:
Crockpot split pea soup. Hearty, healthy crockpot split pea soup with ham, carrots, onions, celery, and dried herbs, partially pureed for an easy dinner soup recipe.
Boule
Boule is a traditional French bread that is round and somewhat flat. Because of its shape, you can cut it in half, hollow it out, and make two large bread bowls.
But the more common way to serve boule bread is to slice it when it is warm. You may have been served boule bread with soup at your favorite soup restaurant. Smear a bit of cinnamon honey butter on it, and you are in heaven.
Make boule bread soup combos with these fine soups:
Split pea soup with a ham bone. Full-flavored split pea soup with ham bone is hearty, nutritious, and easy to whip up in the Instant Pot. The pressure cooker releases the flavor and nutrition from the ham bone to create a crave-worthy soup to satisfy your appetite.
15 bean soup. Craving a hearty meal? How about a soup stuffed with protein? Yes, I'm talking wholesome beans and savory meat crammed into one soup bowl. That is what you get with this colorful, scrumptious 15 bean soup recipe.
Japanese Milk Bread
Japanese milk bread is a sweet, soft, feathery sandwich bread. It gets its light soft texture through a technique called tangzhong.
Before baking, you add a little bit of pre-cooked milk and flour paste to the bread dough. This helps the bread stay moist and fresh longer.
Pita Bread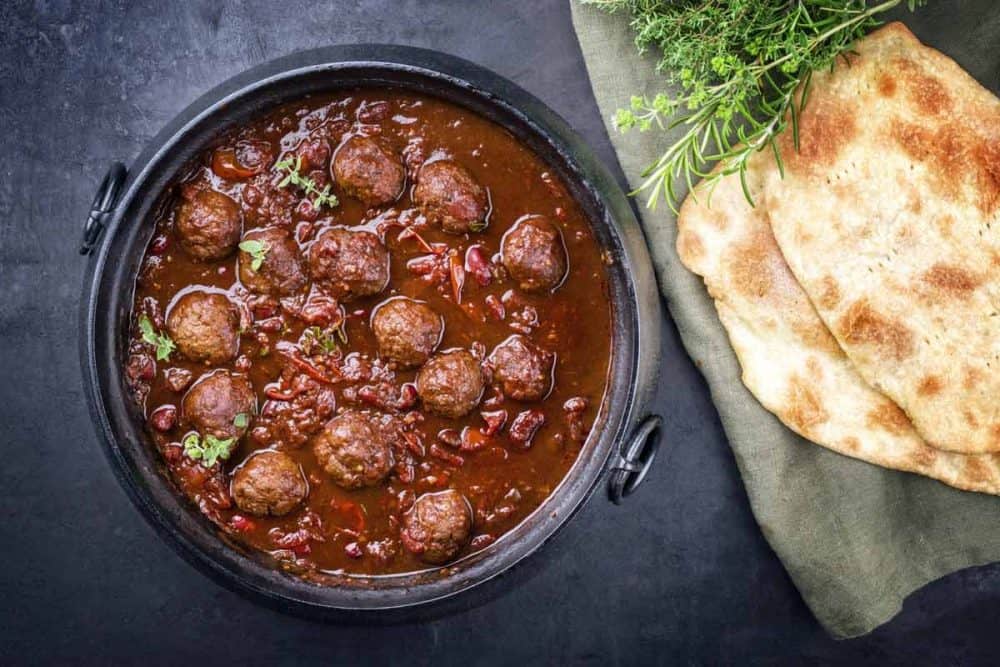 Pita bread is a round flatbread made with yeast. The dimples on its surface are one of pita bread's distinguishing characteristics.
Tear warm, homemade pita bread apart when you eat it with your soup.
Monkey Bread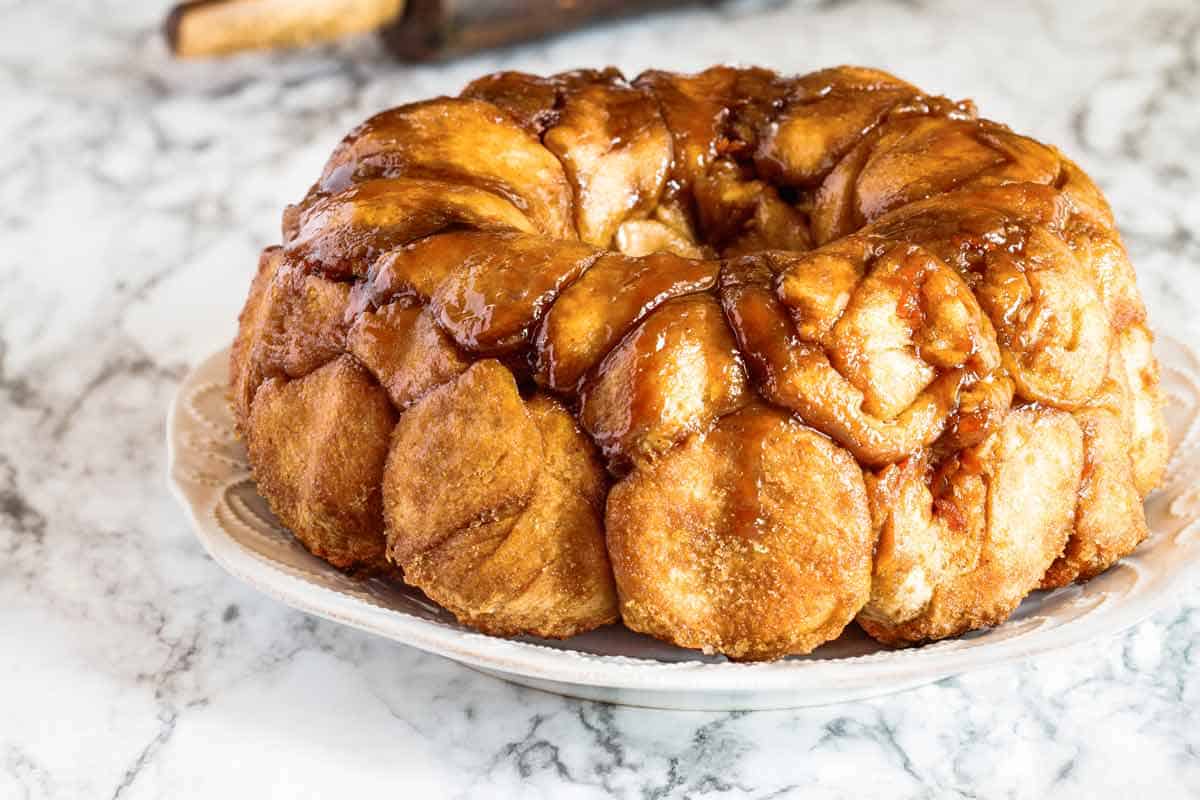 Ready for a sweet, soft pastry bread? Then you will love monkey bread.
Monkey bread is made in a Bundt pan with biscuit dough cut into equal pieces. Roll each dough ball in cinnamon and sugar, and pack them into the pan. Drizzle with a mixture of melted butter and brown sugar before baking.
It's the perfect bread when you want something sweet with your savory soup.
Croissants
A croissant is a pastry rather than an actual bread. It bakes up light, flaky, and buttery.
Croissants make good sandwiches, especially chicken salad sandwiches.
But warm and fresh, they are marvelous with soup.
Dinner Rolls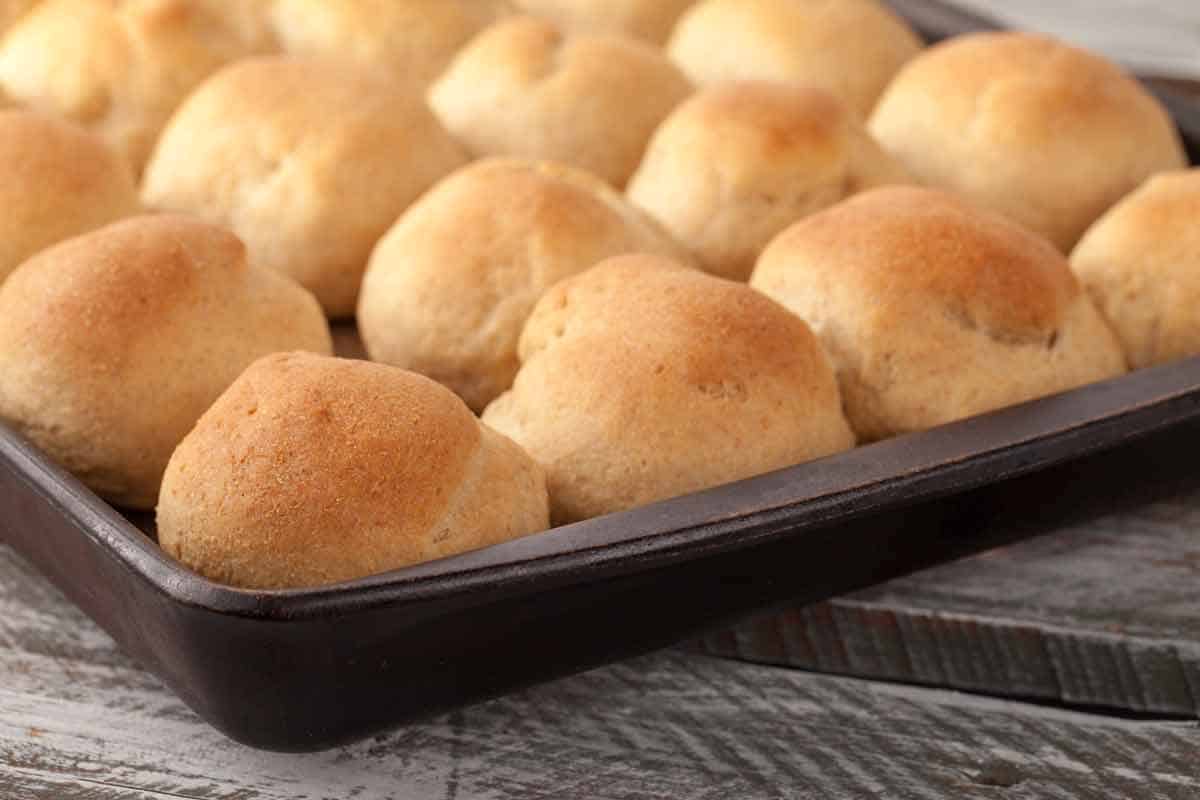 A dinner roll is one of the most popular breads to pair with soup. Soft and light, spread the roll with butter for a nice soup/roll combo.
Dinner rolls from scratch are unforgettable. However, Rhodes has frozen dinner rolls that are light and tasty. Remember, they still need time to thaw and rise.
You can eat a dinner roll with any variety of soup.
Crescent Rolls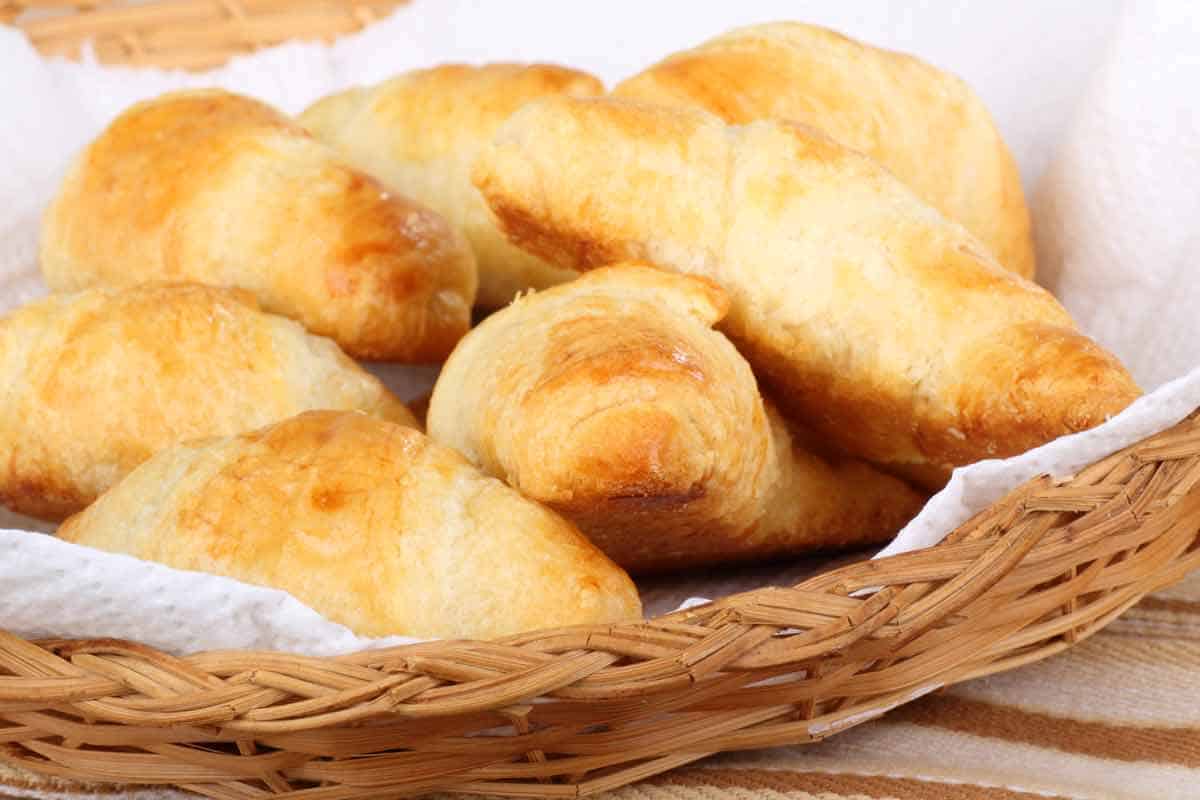 Pillsbury is known for their refrigerated crescent roll dough. Crescent rolls are flaky and fluffy and quick to get on the table.
The rolls are often smeared with a filling before being rolled and baked. Try that if you are preparing a lighter soup.
Biscuits
It is a terrific idea to serve biscuits with soup when you are short on time. Since biscuit recipes don't have a yeast mixture, you don't need to wait for the dough to rise. Mix, bake, eat. Simple.
Make a sweet, savory, or neutral biscuit. Then spread with butter and jam. You will have difficulty finding a soup that doesn't go with biscuits. Try these biscuit recipes.
Easy buttermilk biscuits made with pancake mix. Make a fluffy, delicious buttermilk biscuit recipe with pancake mix. Only 3 ingredients needed. Or add cheddar cheese and herbs for savory biscuits. They will be a hit any time of day!
English Muffins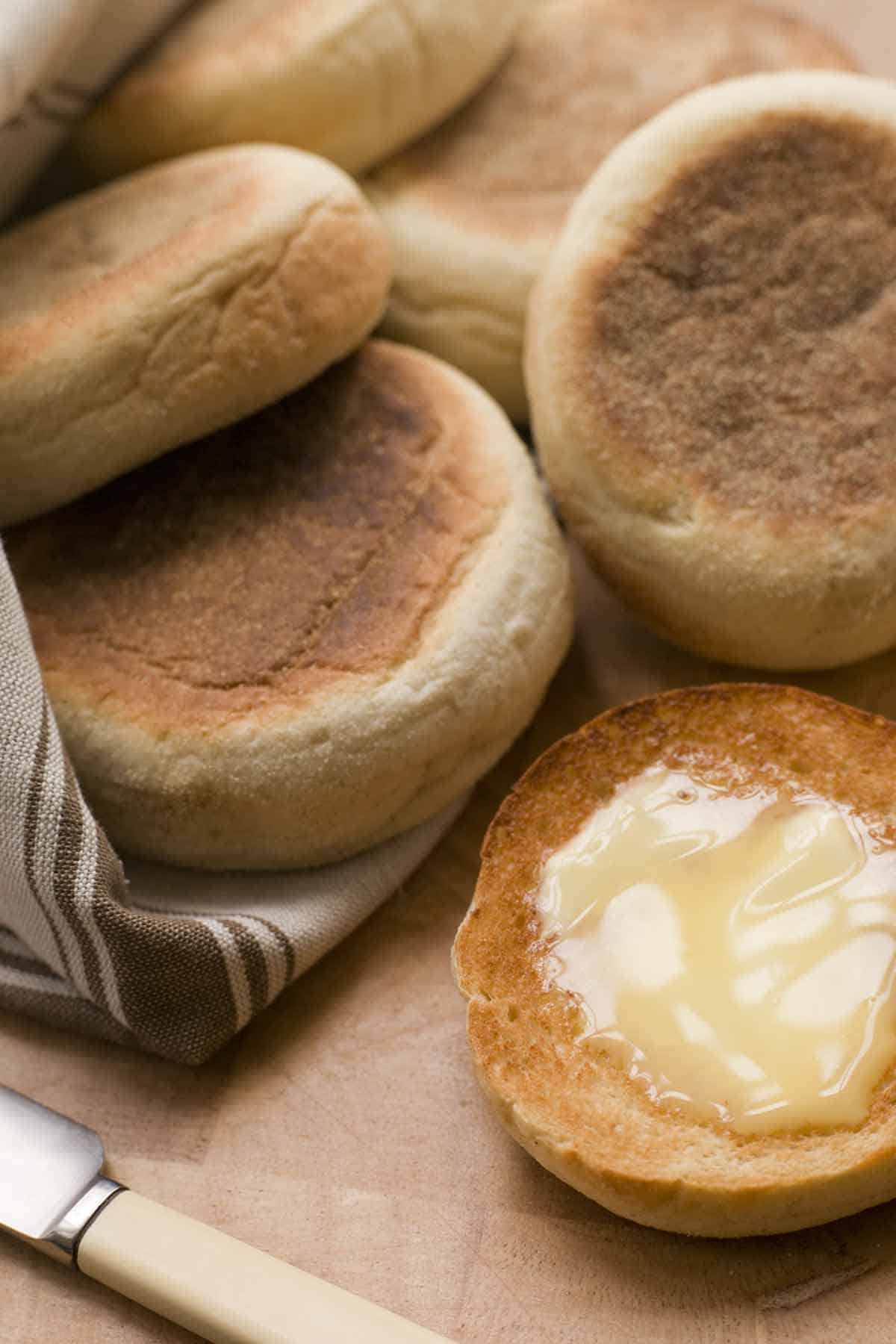 English muffins are simple, round flatbreads that beg to be toasted. Toast them in a toaster and spread with a bit of butter. Or sprinkle them with cheese and toast them in a toaster oven.
Any way you toast them, you will enjoy them with soup.
Pretzels
Homemade pretzels are the way to go if you want to eat them with soup. Think of how much you love dipping thick, chewy pretzels in a cheese sauce.
Now instead of a cheese sauce, think of dipping that pretzel in Wisconsin cheese soup or broccoli cheddar soup.
Delish! Give it a try.
Bagels
Bagels are round, ringed bread that is first boiled and then baked. That gives them their distinct shiny appearance.
Dense and chewy, bagels can hold up to a more robust spread like cream cheese. Or check out healthier cream cheese alternatives to use instead.
If you prefer, melt some cheese on the bagel and serve it with these soups:
Muffins
Muffins can be sweet or savory. Both kinds have their place alongside soup.
Eat them warm or cold, buttered or plain. Here are a few muffin recipes you will want to try with soup.
Blueberry muffins. Bake THE BEST blueberry muffins with five proven tips to bring your baking to the next level of scrumptious. Concentrate the blueberry flavor, keep the crumb moist and light, do not over mix, and add a tasty muffin topping to bake blueberry muffins that everyone loves.
Banana muffins. Discover the secrets that lead to the ultimate banana muffin recipe. Bake a muffin with an intense banana flavor, a moist, light, tender crumb, and slightly crunchy top.
Scones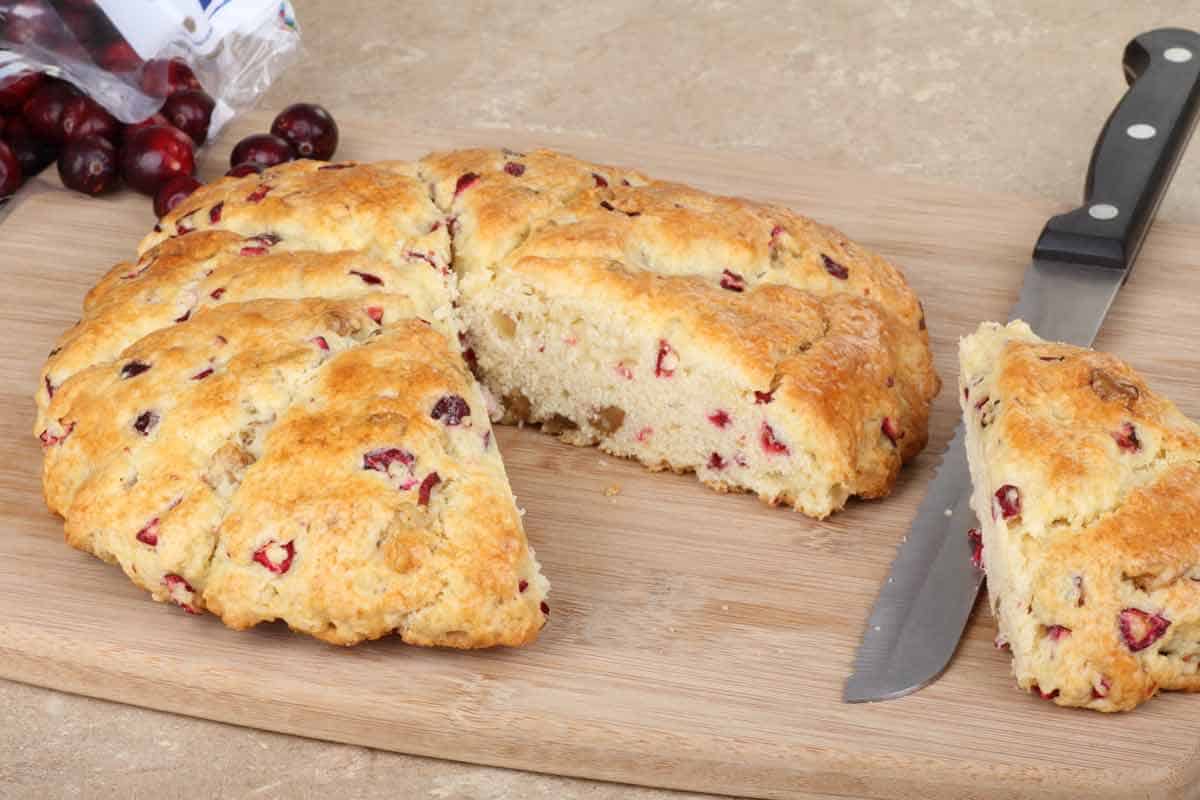 Scones are similar to biscuits, but they are made with eggs. They rise with baking powder and are often baked with an egg wash.
They are scrumptious when sweetened. And in fact, the first time I ate one, it had chocolate chips in it. Yum!
You may have only thought about serving scones at teatime. But trust me, you will love them with soup.
Tortillas
Have you tried eating tortillas with soup? Warm them up. You will love how they taste with taco soup, chicken chili, and refried bean soup.
If you make homemade tortillas, even better.
Or, if you prefer, make them into a quesadilla. A cheesy or veggie quesadilla is my favorite soup pairing.
Hawaiian Buns
Sweet and soft, Hawaiian buns are a wonderful match for soup.
But if you want to take it a step further, make sliders with the buns. Try turkey sliders with pumpkin soup or pulled pork sliders with butternut squash soup.
Crackers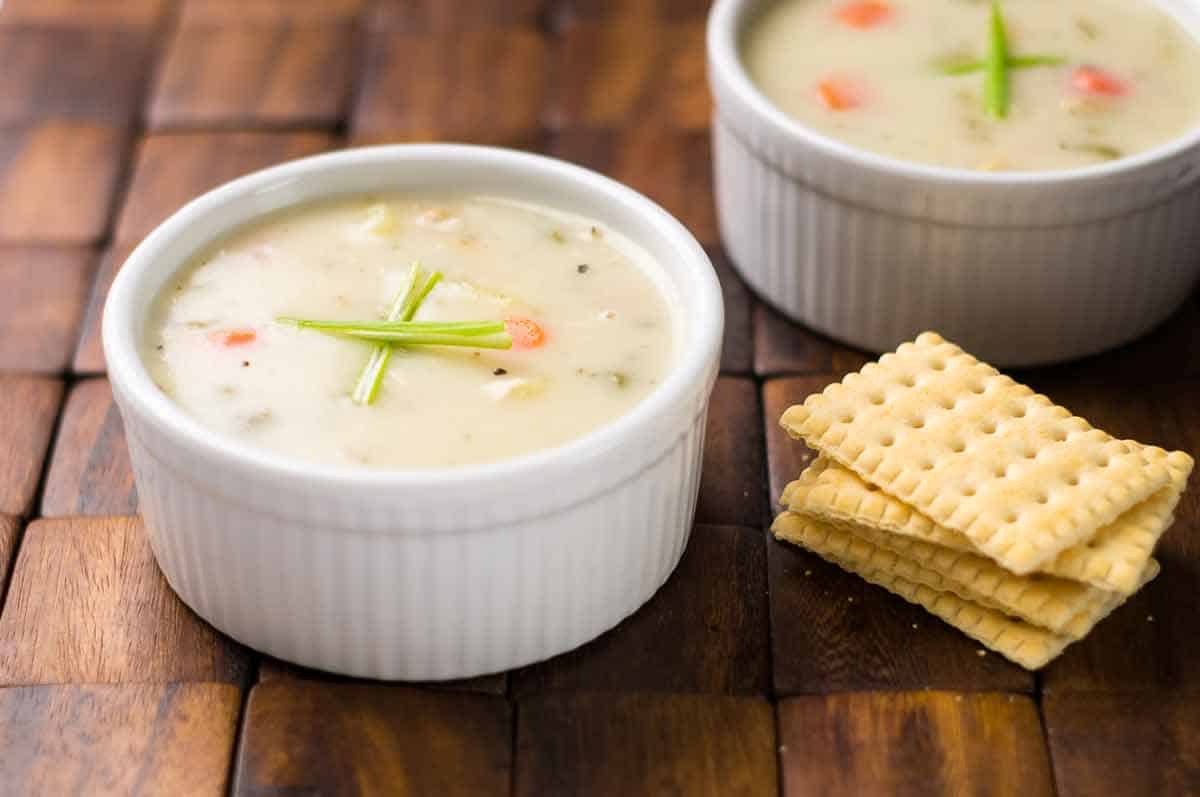 Though not bread, crackers are tasty to crush on top of a bowl of soup. But there are so many more options besides saltines. You want soft and crumbly in soup. Not hard and crunchy crackers.
Here are a few:
Townhouse crackers. Buy here.
Oyster crackers. Buy here.
Bruschetta
Bruschetta is an appetizer made from grilled bread. It is flavored with garlic and olive oil and topped with tomatoes, cheese, or cured meat. You can make it with many kinds of bread. Sliced Italian and French loaves of bread are the most common.
My favorite thing about bruschetta is that it is like a sandwich but not quite as heavy. So, it will compliment bisque-type soups as well as heartier soups. It is a step up from bread.
Since you can make many kinds of bruschetta, it can go with practically any soup. Which soup will you pair it with?
What to do With Leftover Bread
Now that you have tons of ideas for the best bread for soup, what should you do with leftovers? Glad you asked. Here are a couple of easy recipes to make with the bread remnants.
Toast croutons. Cut any leftover bread into cubes. Toss the bread with a little bit of olive oil, salt, and garlic powder in a small bowl. Then toast the cubes on a baking sheet in the hot oven for a few minutes. Don't forget to stir them once, so both sides bake into a nice golden brown.
More Bread Ideas
---
Did you like this post? Then let's be social. FOLLOW ME on INSTAGRAM and PINTEREST to keep up with the latest tutorials, favorite recipes, and interesting happenings.