Learn how to prepare pumpkin to use in any pumpkin recipe. Scrub, remove seeds, and cut or slice your pumpkin. Cook pumpkin chunks or mash and puree pumpkin and discover the taste of fresh, whole pumpkin.
When you prepare pumpkin from scratch, it is very rewarding. There are many reasons to cook pumpkin rather than opening a can. For years, the maker movement has inspired people to cook from scratch. There are a variety of ways to cook pumpkin from scratch, such as roasting pumpkin, baking pumpkin, and pressure cooking pumpkin.
But before you cook, you must prepare the pumpkin by washing it safely, cutting it open, and removing the seeds and fibrous strings.
How to Prepare Pumpkin
Once you have decided on your cooking method, prepare your pumpkin. Choose a fresh pumpkin – one that hasn't been decorating your front porch for a month. Make sure it is firm and hearty.
Choose a variety meant to be eaten. Tasty varieties include sugar pumpkins or pie pumpkins. They are readily found in your local farmers market and grocery store every autumn.
Avoid very large pumpkins best suited for carving and decoration.
Prepare Pumpkin for Cooking Whole or in Halves
Brush off any dirt clinging to your pumpkin.
Scrub your pumpkin with a good quality vegetable wash and a vegetable brush. If you don't have a vegetable wash, just use water and the vegetable brush. Don't skip the scrubbing. It is an important food safety step.
Dry thoroughly. Pumpkins can be slick, especially when wet. When they are dry, they will slide around less on your cutting board.
Cut the stem and top off and cut the pumpkin in half.
Remove the seeds and pulp. Clean the seeds and set them aside to roast later. Roasted pumpkin seeds are delicious.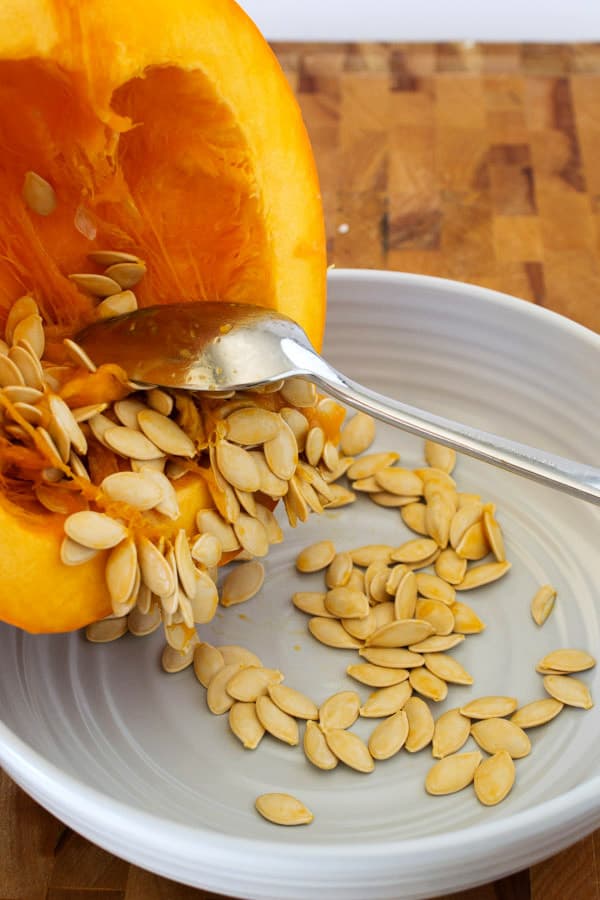 Scrape as much of the stringy flesh out of the pumpkin as possible. The more strings are left intact, the less smooth your puree will be. Younger pumpkins have less stringy goo than older pumpkins.
Cut the pumpkin into halves or quarters. It will cook faster in quarters.
Roast, bake, or pressure cook the pumpkin.
Prepare Pumpkin for Cooking Cubes or Slices
Follow the cleaning and drying steps above.
Cut the pumpkin in half and then cut the pumpkin in slices. Pumpkin slices can be baked or roasted with the skin on.
OR
Use a sharp knife to peel the pumpkin.
Cut the pumpkin in half and then cut it in slices.
Cut each slice into cubes.
Try cooking a whole, fresh pumpkin this fall, even if you have never tried it before. Prepare pumpkin for whichever cooking method you prefer and discover all the benefits from eating a pumpkin you have prepared from scratch.