Looking for the best way to eat pumpkin? You can eat almost the whole pumpkin. Get ideas for sweets, savory dishes, drinks, and substituting.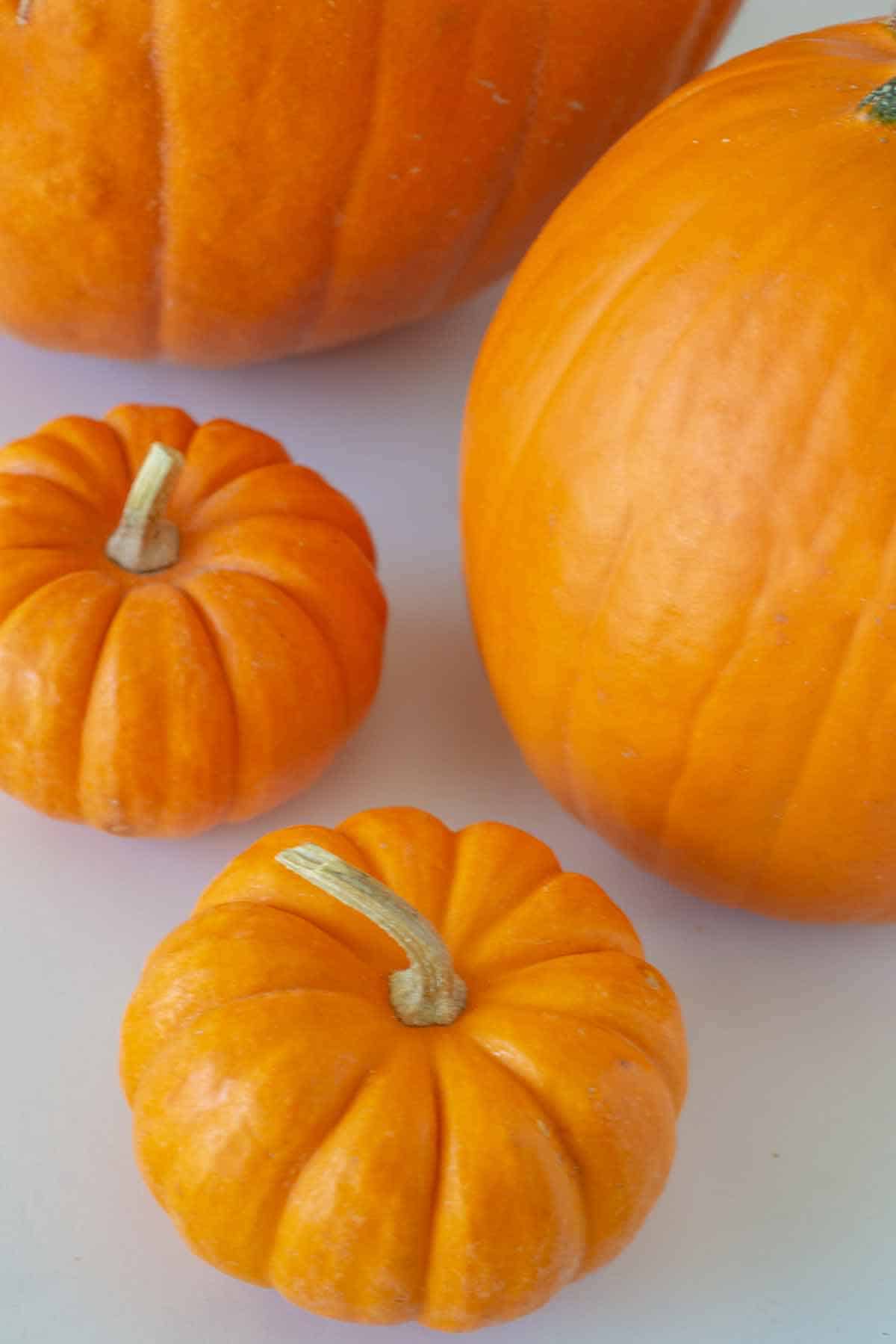 Pumpkin, pumpkin everywhere! If you love this orange squash, you will love this list of the best ways to eat pumpkin.
Happily, almost the whole pumpkin can be eaten in a variety of ways. So, if you have a whole pumpkin (leaves and all) from your garden or farmers market, you are in luck. This list includes ideas for all parts of the edible pumpkin.
If you have canned or frozen pumpkin, you can use it in most of these recipes year round.
Roast Pumpkin Cubes for Salad
Peel and cube a fresh pumpkin before roasting it in the oven. Roasted pumpkin bakes at a high dry heat resulting in a browned, caramelized, savory finish.
Check out this post on how to roast pumpkin cubes for salad.
Use it to top any salad, but you will especially love it on quinoa salad with roasted pumpkin and feta.
Make Pumpkin Soup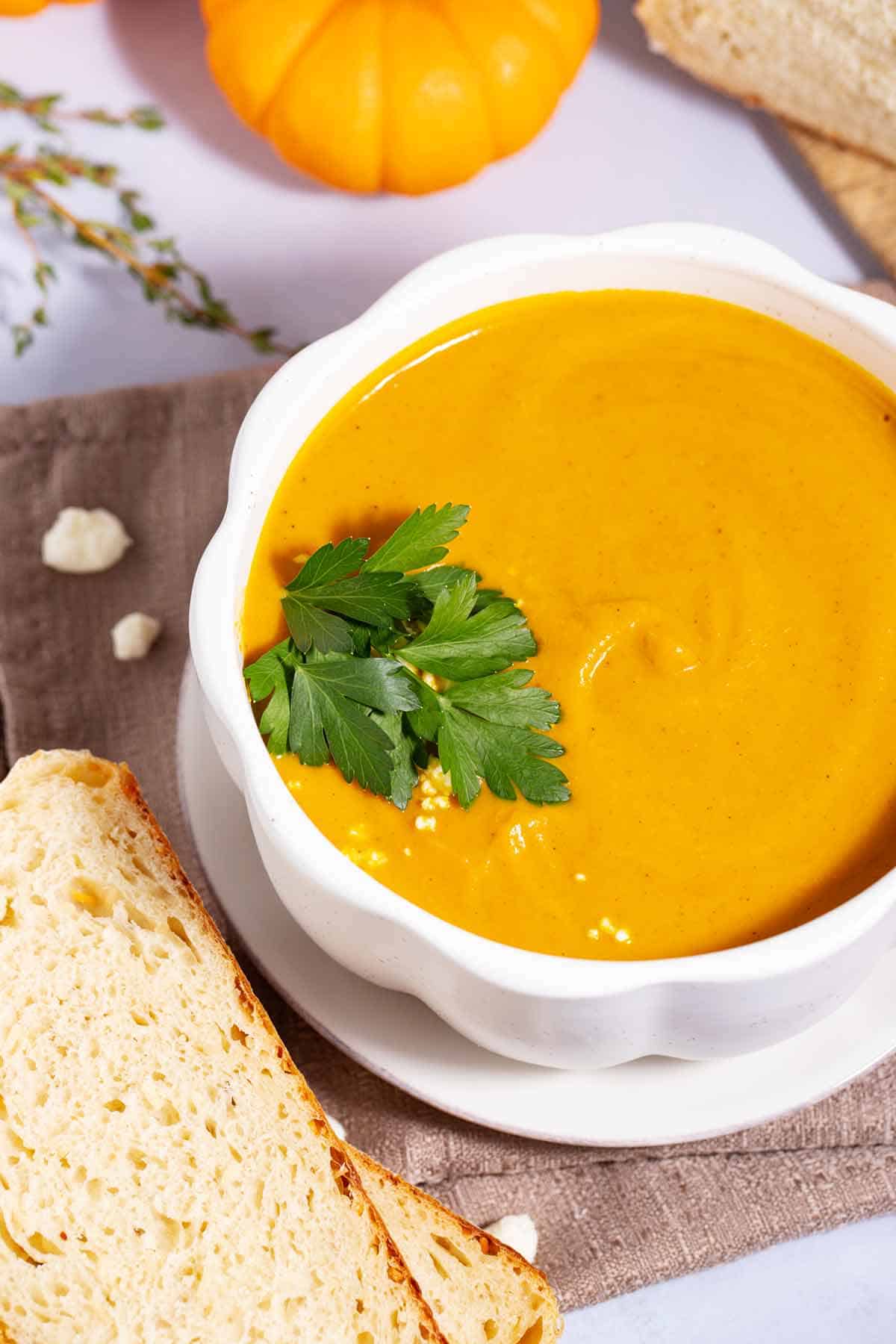 Warm, hearty, and seasonal, pumpkin soup is an excellent dinner to add to your autumn meal rotation. Blend fresh apples and ginger with pumpkin and coconut cream to make silky smooth pumpkin soup.
Quick and easy to make with an Instant Pot or on the stove. Ready to serve in just 30 minutes. Remember to grab a few pumpkin soup garnishes.
Need some troubleshooting help? Read all about how to thicken pumpkin soup. You will love the easy tips.
Don't forget to check out the best sides to serve with pumpkin soup. And if you only want bread, read up on the best bread to pair with pumpkin soup. Or try this list of sandwiches that go with pumpkin soup.
Bake Pumpkin Pie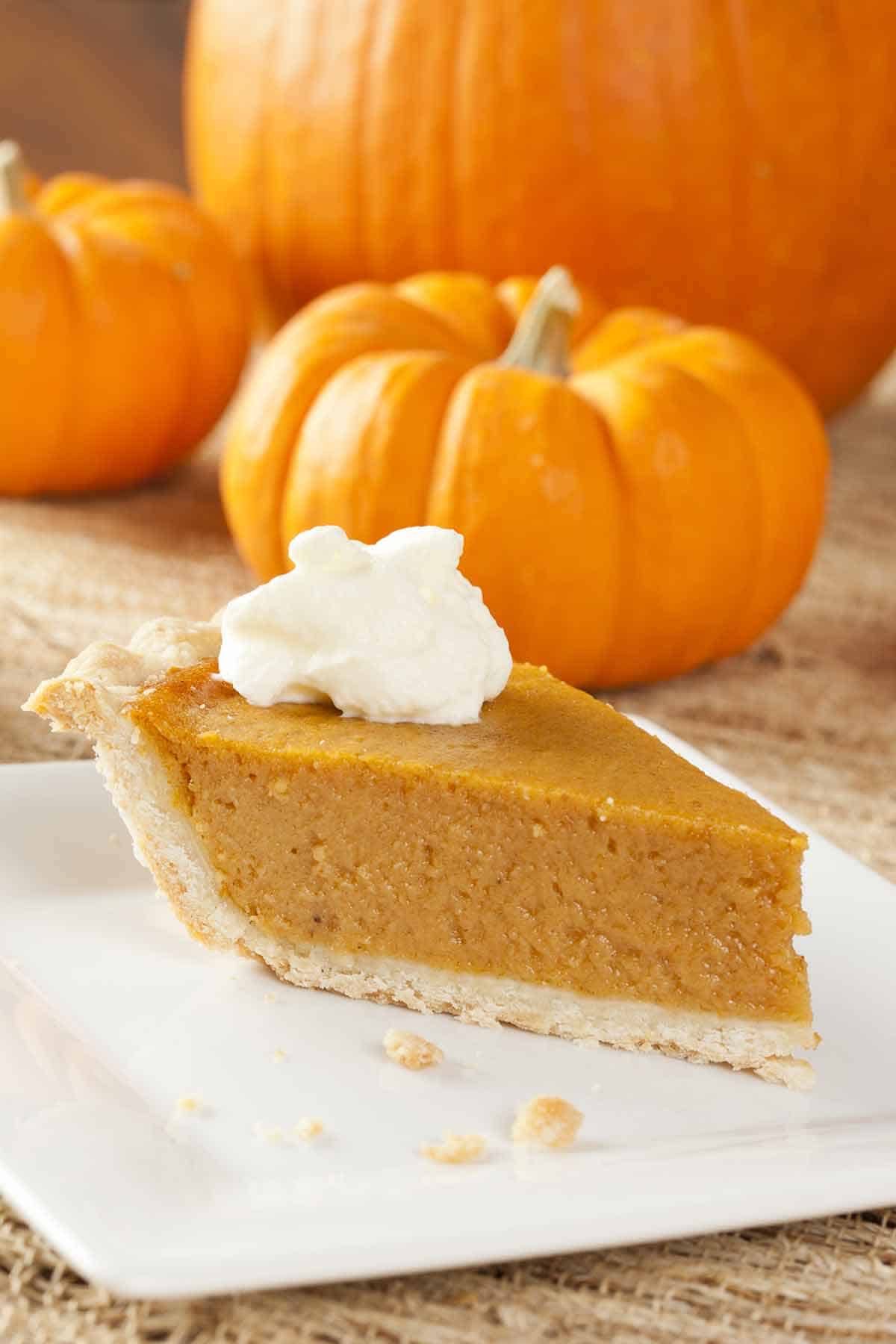 Nothing says Thanksgiving like a pumpkin pie. Spiced, smooth, and topped with homemade whipped cream. Everyone will love it.
The good news is that pumpkin pie is easy to freeze, so go ahead and bake a few pies. Eat one now and save one for later.
Roast Pumpkin Seeds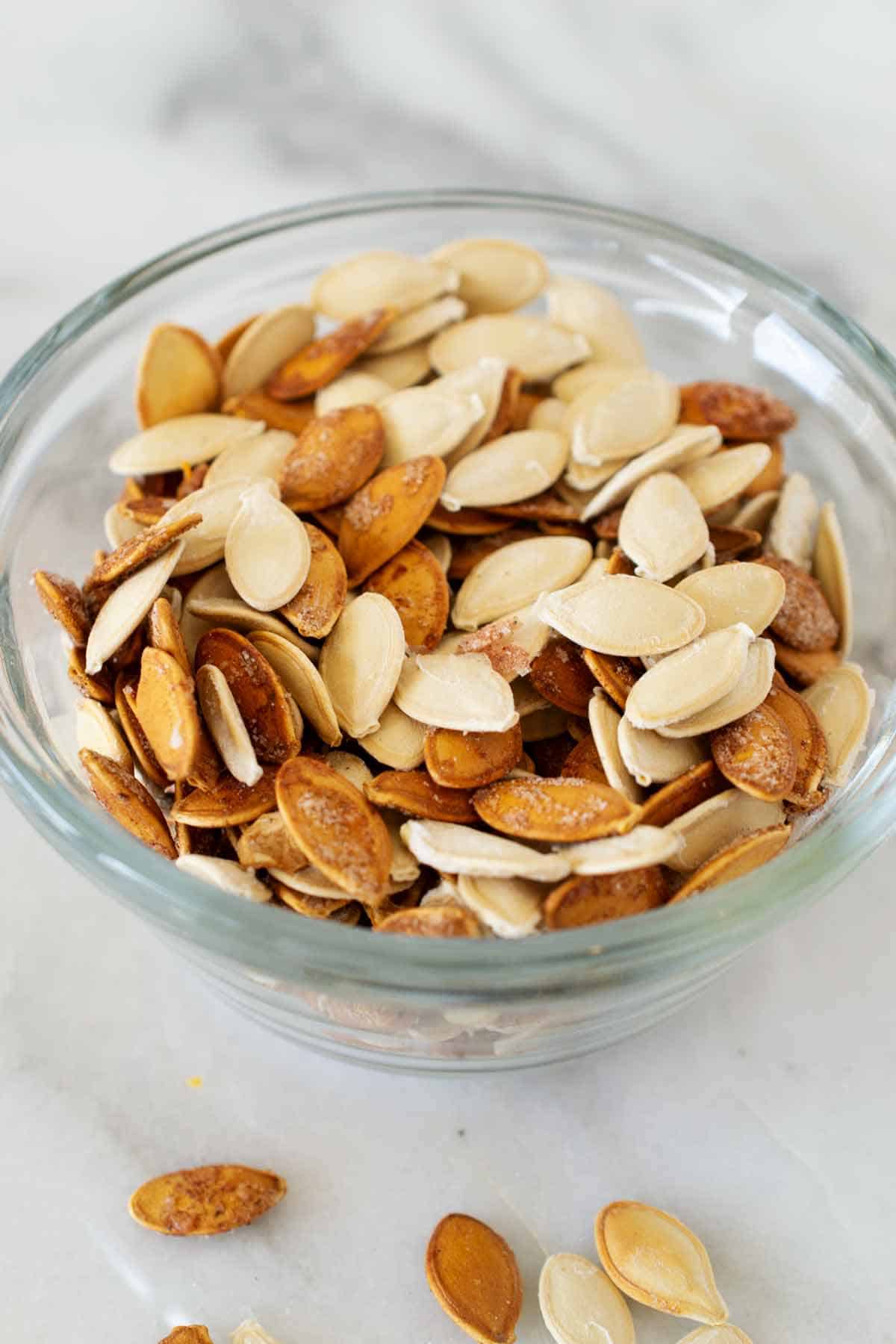 Don't throw out the seeds from a fresh pumpkin. Instead, make a healthy snack by roasting the seeds. Tasty, salty, crispy, and crunchy, roasted pumpkin seeds are a unique autumn snack.
Your kitchen will smell heavenly with pumpkin seeds roasting in the oven.
Puree Pumpkin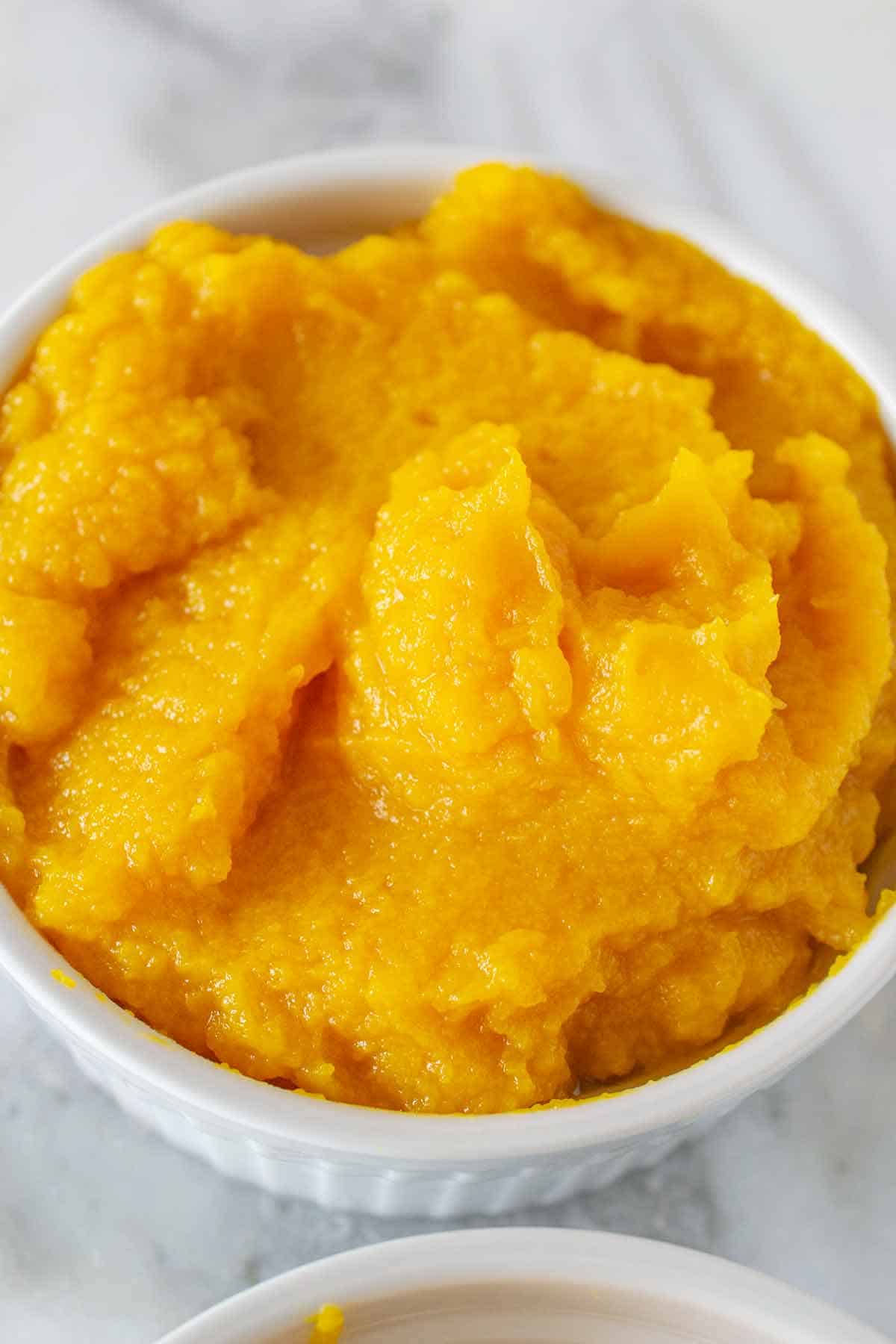 Pureeing pumpkin is one of the easiest ways to prepare it. In addition to puree being easy to pop in recipes, it is also simple to freeze in this form.
Pumpkin puree can be thrown into almost any dish to add some extra fiber. Use in baby food recipes. Applesauce mixed with pumpkin puree is a nutritious baby food combo.
You can also serve it to pets. Dogs love it!
Read up on the best way to peel pumpkin. You will need it to make puree.
Substitute Pumpkin for Part of the Fat in Recipes
If you want to decrease the fat in baked goods, consider substituting pumpkin puree for part of the fat.
Pureed pumpkin is like applesauce in this way. It can be used to replace oil, butter, and eggs. Here are some general replacement guidelines.
Use 1 tablespoon of pureed pumpkin for 1 tablespoon of oil in a recipe.
Use 1 tablespoon of pureed pumpkin for 1 tablespoon of butter in a recipe.
Use ¼ cup of pumpkin puree for 1 egg.
Keep in mind that if you use it to replace all the fat in a recipe, the baked good's structure and/or texture will be affected.
In addition, pumpkin can change the color of the finished product. You may not care, but you might.
It can also add flavor but not sweetness the way applesauce does. You may need to adjust your sweetener.
Bake Pumpkin Snickerdoodles
If you love snickerdoodles, you will LOVE pumpkin snickerdoodles. These soft cookies have cream cheese, spices like ginger and cinnamon, and a surprise filling.
You won't want to miss them. Bake more than one batch and freeze them.
Create Pumpkin Baked Goods
Baked goods might come to mind first when you think of pumpkin recipes. Some of the pumpkin-flavored baked desserts you should try are pumpkin muffins, breads, cakes, or rolls.
Eat Pumpkin Flowers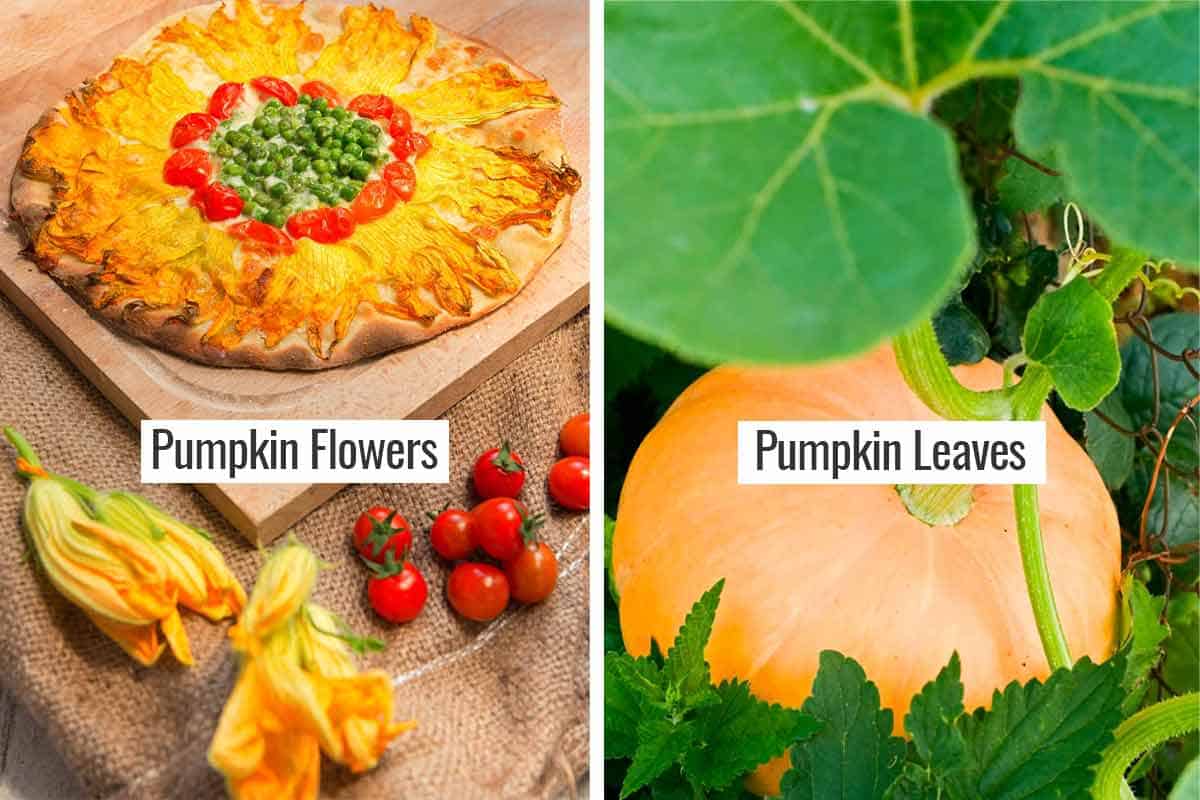 Orange and yellow pumpkin flowers are edible but are only seen before the pumpkin is ready to harvest. If you plant your pumpkins in the summer, that is when you will see the flowers.
The female flowers grow into the pumpkin. Don't eat those flowers if you want a whole pumpkin. Only eat the male blooms. But don't eat all of them unless you plan to be the pumpkin pollinator.
Pumpkin flowers are tasty and colorful in a summer salad or cooked in a Mexican quesadilla. They taste mildly like a pumpkin with slightly earthy and sweet flavors.
Eat Pumpkin Leaves
As a pumpkin grows, so do the leaves. And its leaves are edible. Younger leaves are the best ones to eat raw.
More mature leaves are fuzzy and prickly with prickly spines that must be cut off before eating. These leaves are an excellent substitute for spinach in cooking.
Chop them up and use them in soups, curries, and stir-fries. See a recipe here.
Older leaves don't have the best taste or texture. However, they are great for wrapping food for steaming. Think tamales.
Gobble it Raw
Eating pumpkin raw may not be your first instinct. And in fact, it is tougher and more bitter than cooked pumpkin.
However, there are a couple of good ways to eat it raw.
Peel, cube, and freeze the pumpkin. Blend the frozen pumpkin cubes into your smoothie.
Peel the pumpkin. Then use the peeler to slice off thin pieces and toss them in your salad.
Use as a Filling for Ravioli
A ravioli filling is an easy way to use up leftover pumpkin puree. It is a simple filling with complimentary spices.
But don't forget to cook it down a little, so it loses some of the moisture. You don't want soggy ravioli, after all.
Make Pumpkin Pasta Sauce
Pureed pumpkin heated with some cream makes a thick, smooth sauce for various pasta dishes. This is another wonderful use for leftover pumpkin puree. Get recipe.
Cook Pumpkin Beef Stew Inside Shell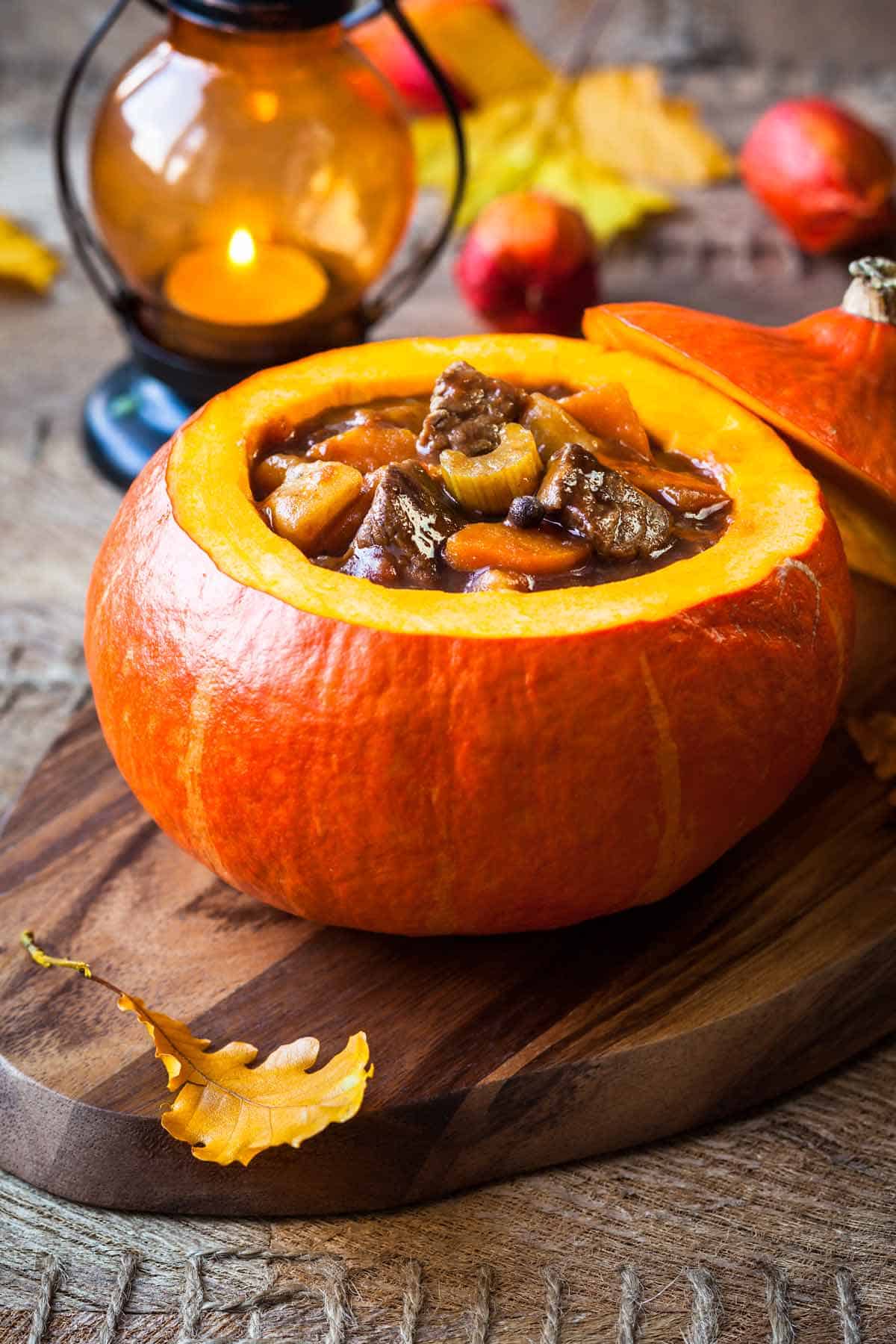 Now here is an unforgettable stew pot – a baked pumpkin. You will cook the stew first before prepping the pumpkin. Don't forget to choose a pumpkin known for its taste (like a pie, sugar, or Cinderella pumpkin).
Fill a hollow pumpkin with the stew and bake in the oven until the pumpkin is tender. As you scoop out the stew, scrape a little cooked pumpkin too. Get recipe.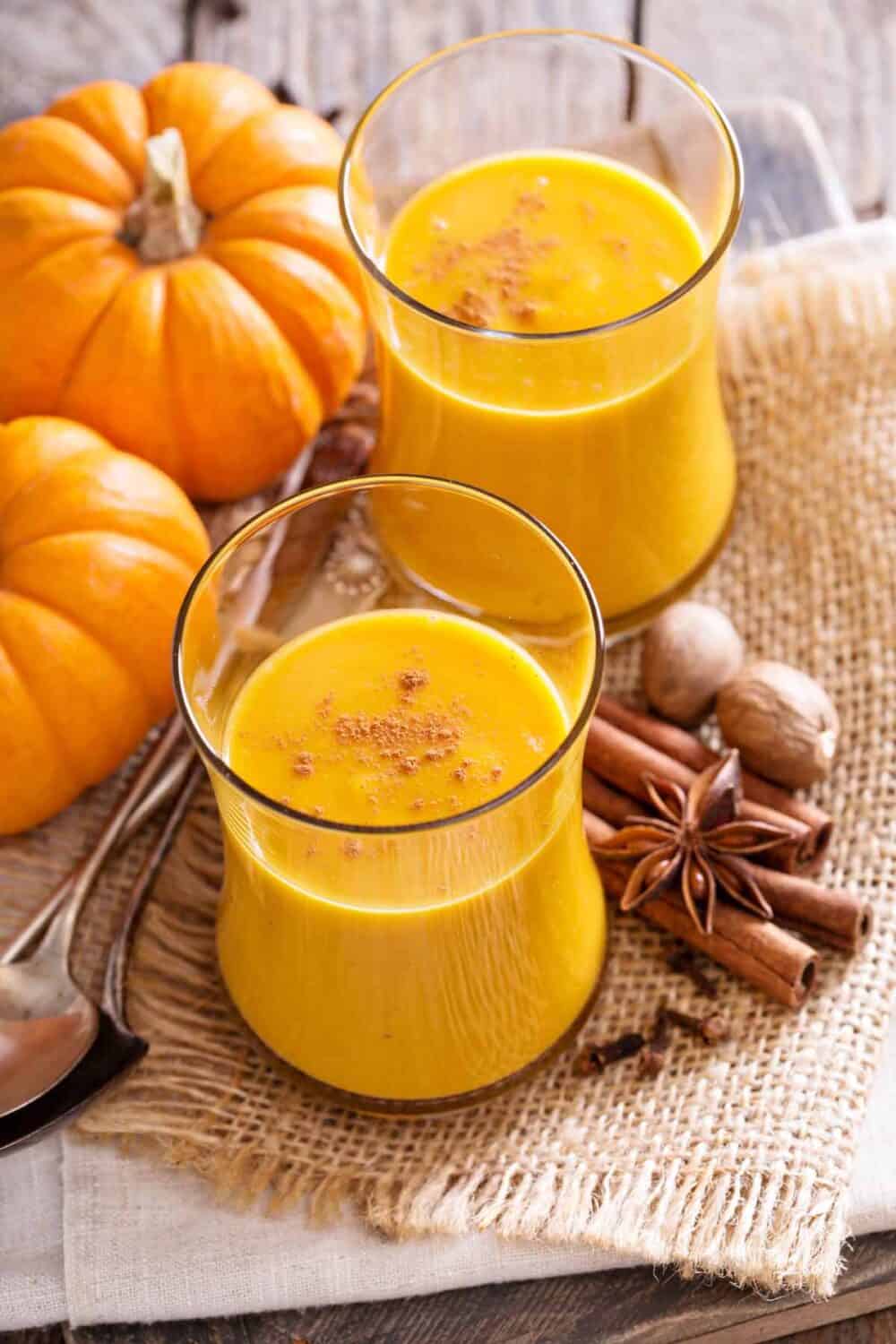 Drink Your Pumpkin
Smoothies
Milk or lattes
Eggnog
Slurp as a Pumpkin Smoothie
If smoothies are your thing, you will love a pumpkin spice smoothie. A frozen banana, yogurt, pumpkin puree, and spices make an excellent breakfast.
Or, add protein powder for a post-workout meal. Get recipe.
Drink Pumpkin Milk
This blended drink makes a no-coffee latte. A few tablespoons of pumpkin puree, milk, sweetener, and plenty of complimentary spices are all you need. Don't forget your blender.
You can drink it warm or cold. Get recipe.
Drink Pumpkin Eggnog
Nothing says the holidays like eggnog. Why not make pumpkin eggnog this year. It is perfect for your holiday parties – something unexpected and seasonal. Make a batch today. Get recipe.
Grill Pumpkin for a Veggie Side Dish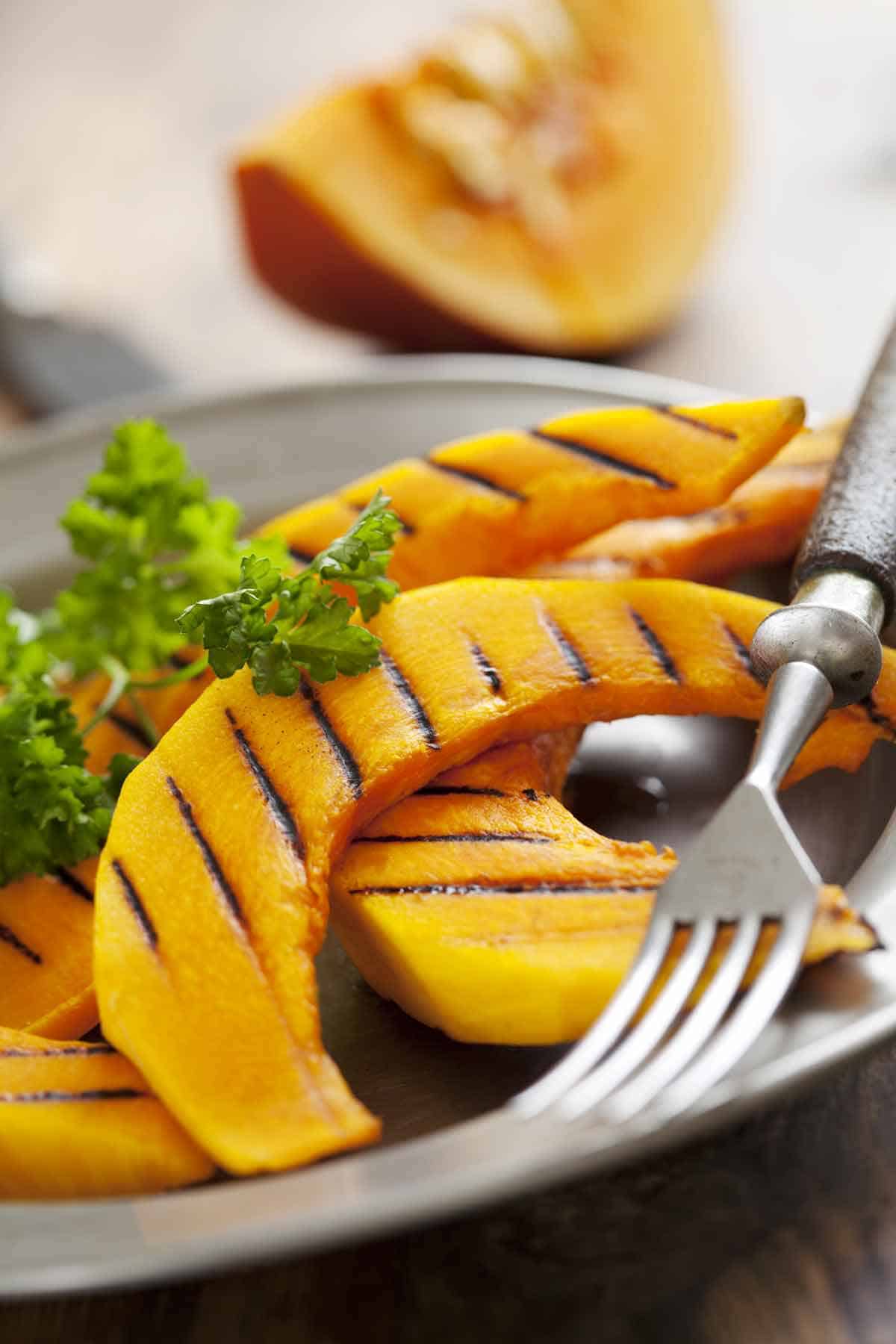 Who says a pumpkin can't stand on its own? Not me.
Fire up that grill and roast pumpkin wedges for a side dish. Grilled pumpkin compliments any main meat course, like smoked pork, chicken thighs, or beef brisket.
Churn into Pumpkin Ice Cream
You may not think pumpkin season is ice cream season. But don't worry. Save a can of pumpkin puree for next summer and churn it when you need an icy cool treat.
You will love pumpkin ice cream. Get recipe.
Pickle the Pumpkin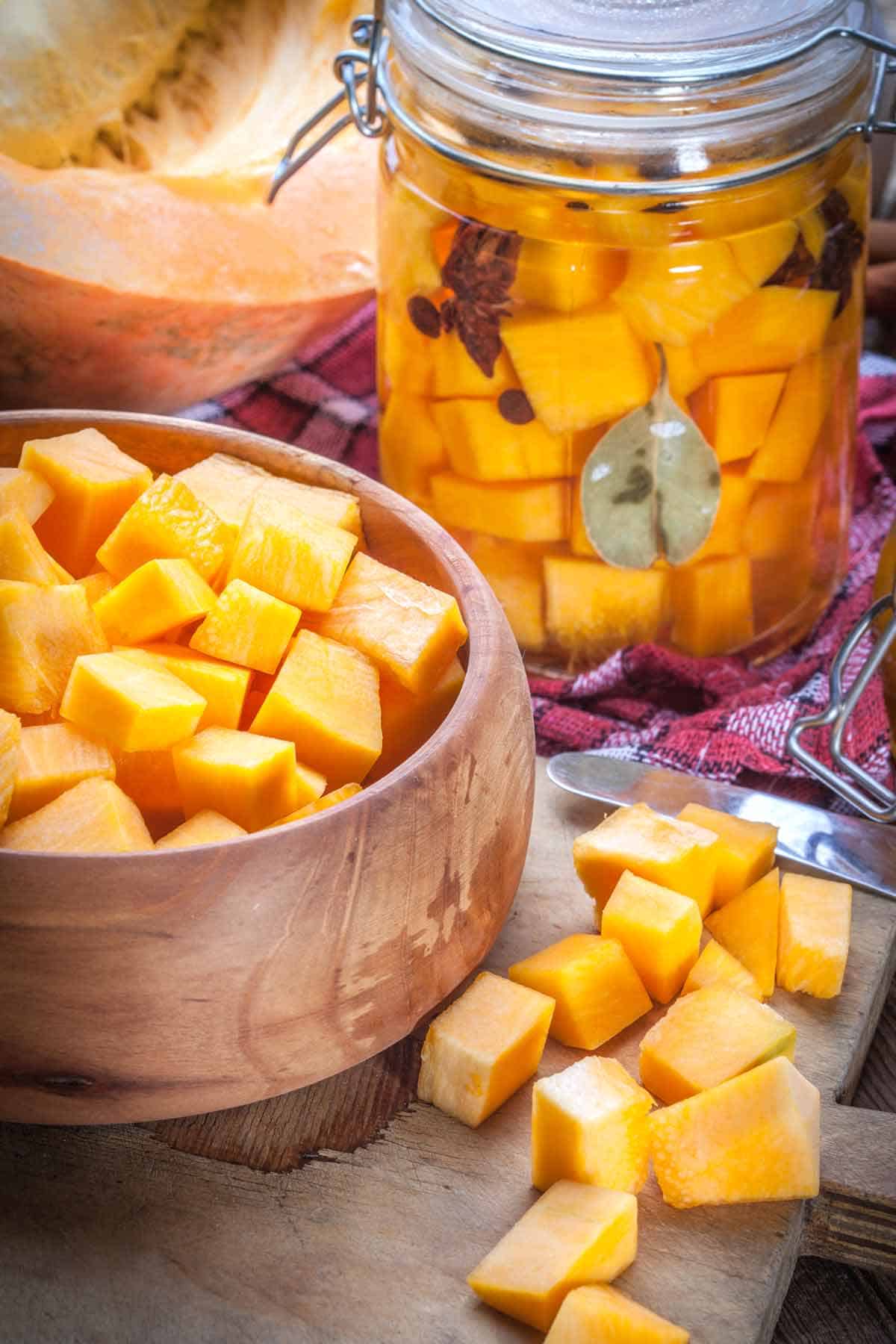 Pumpkins are an unexpected food that can be pickled successfully. You will enjoy pickling pumpkins if you like canning to preserve food.
You can also make a small batch of refrigerator pickles to eat within a few days. Get recipe.
Air Fried Pumpkin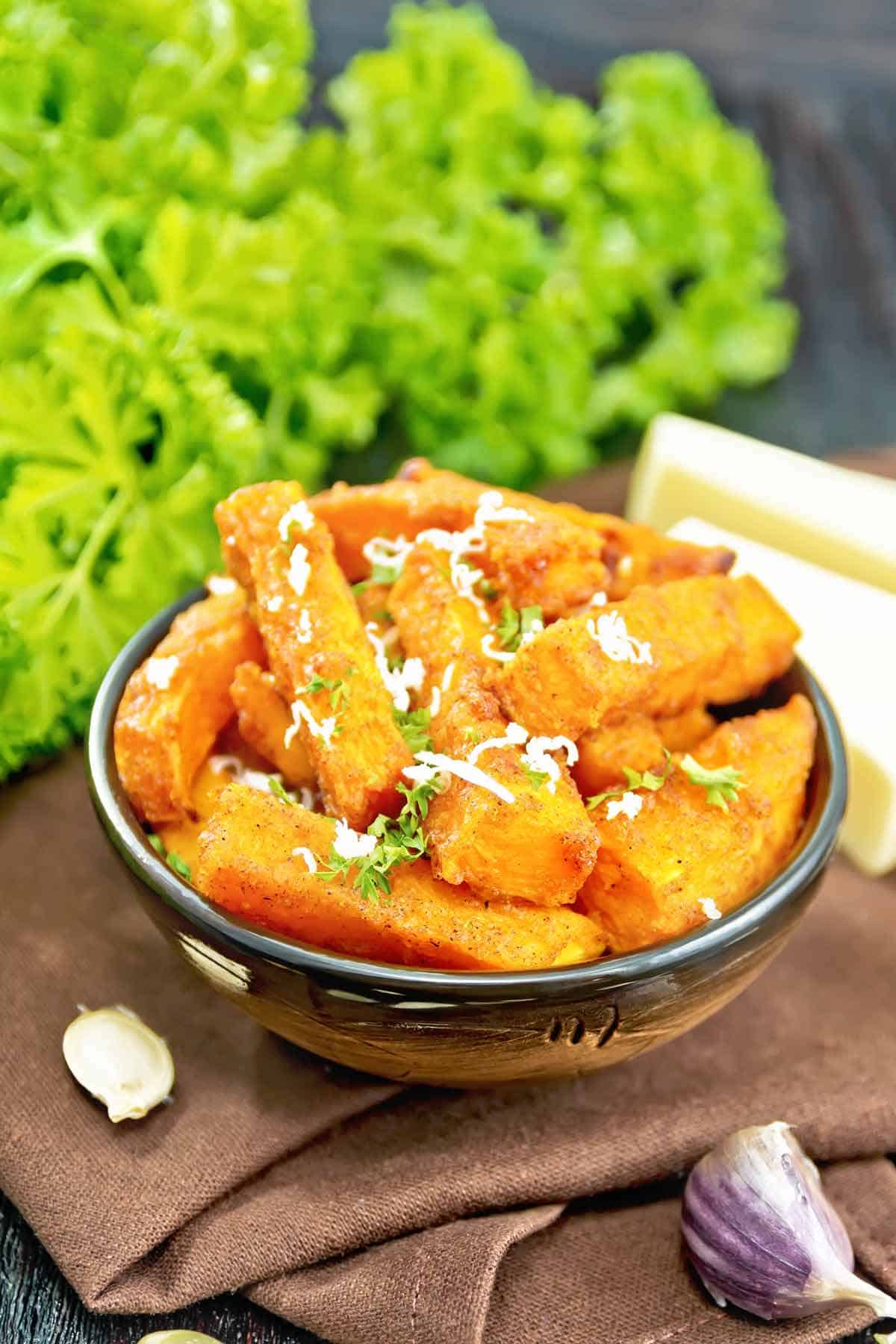 You knew pumpkin couldn't escape the air fryer, didn't you? Wedges or chunks are easy to fry in the air fryer.
Spray or brush with olive oil. Sprinkle some seasoning salt. Then process. Quick, easy, seasonal snack! Get recipe.
Dehydrate to Make Pumpkin Powder
If you want pumpkin to last all year, dehydrate it to make pumpkin powder. Dehydrate instead of canning (time-consuming) or freezing (how much room is in your freezer?).
Bake, puree, and dehydrate. Then process the dried pieces in a blender to make the powder.
The powder can be used to infuse pumpkin flavor into dishes. Or it can be rehydrated into pumpkin puree again. Get recipe.
Eat Pumpkin Candy
Pumpkin caramel and pumpkin fudge are two of the best homemade pumpkin candies. Seasonal and fun, they are a unique holiday treat.
Pumpkin caramels are soft, chewy, and sweet. And pumpkin fudge can be made with white or milk chocolate.
Whip Up Pumpkin Frosting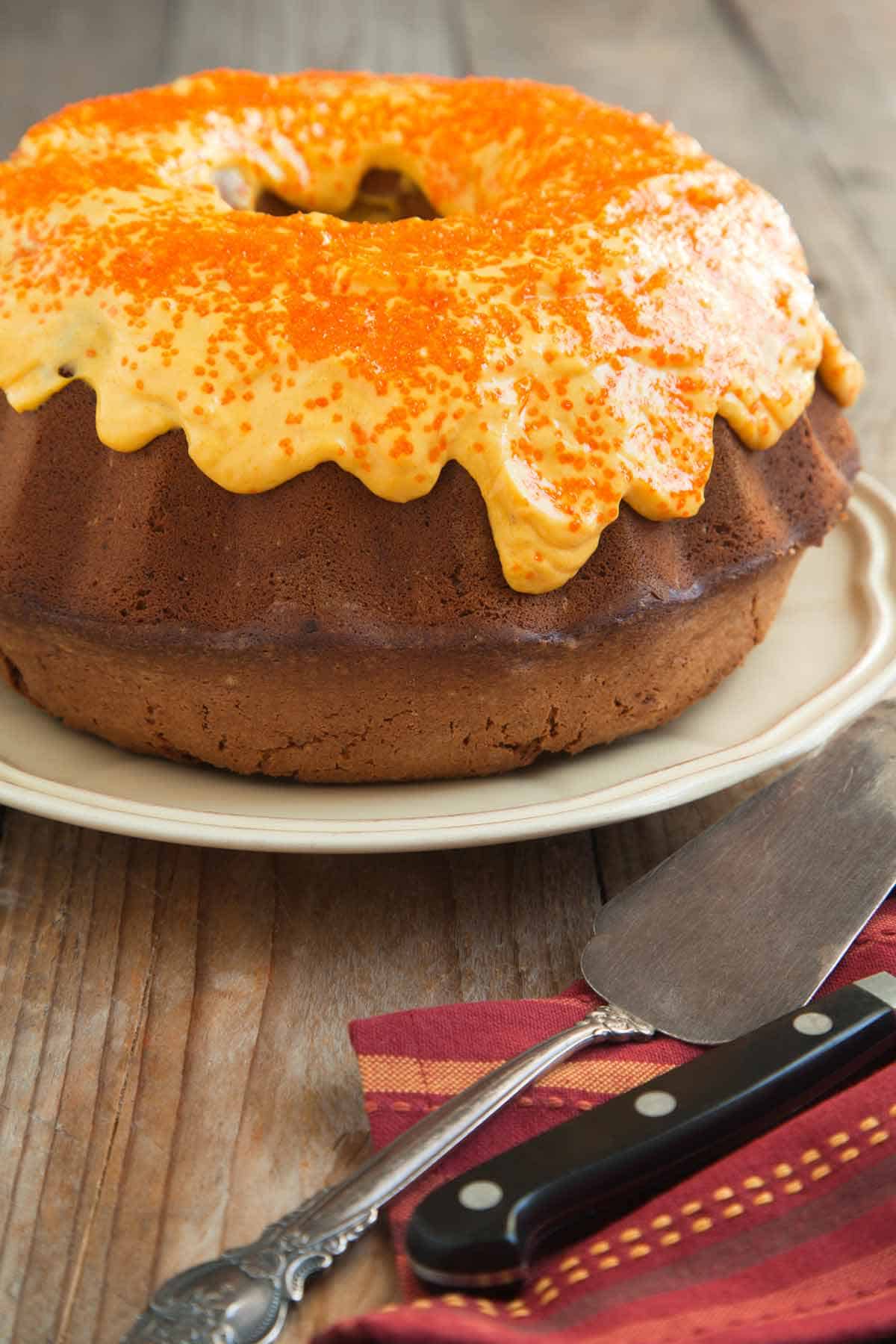 When your cake or cupcake needs to be paired with the flavor of pumpkin, make pumpkin frosting. You can make buttercream, cream cheese, or chocolate pumpkin frosting. Get recipe.
Make Pumpkin Ganache
Decorate cupcakes or cakes with pumpkin spice ganache. Beware that this recipe needs to be chilled. This will increase the preparation time. But it is worth the extra time. Get recipe.
Spread with Pumpkin Butter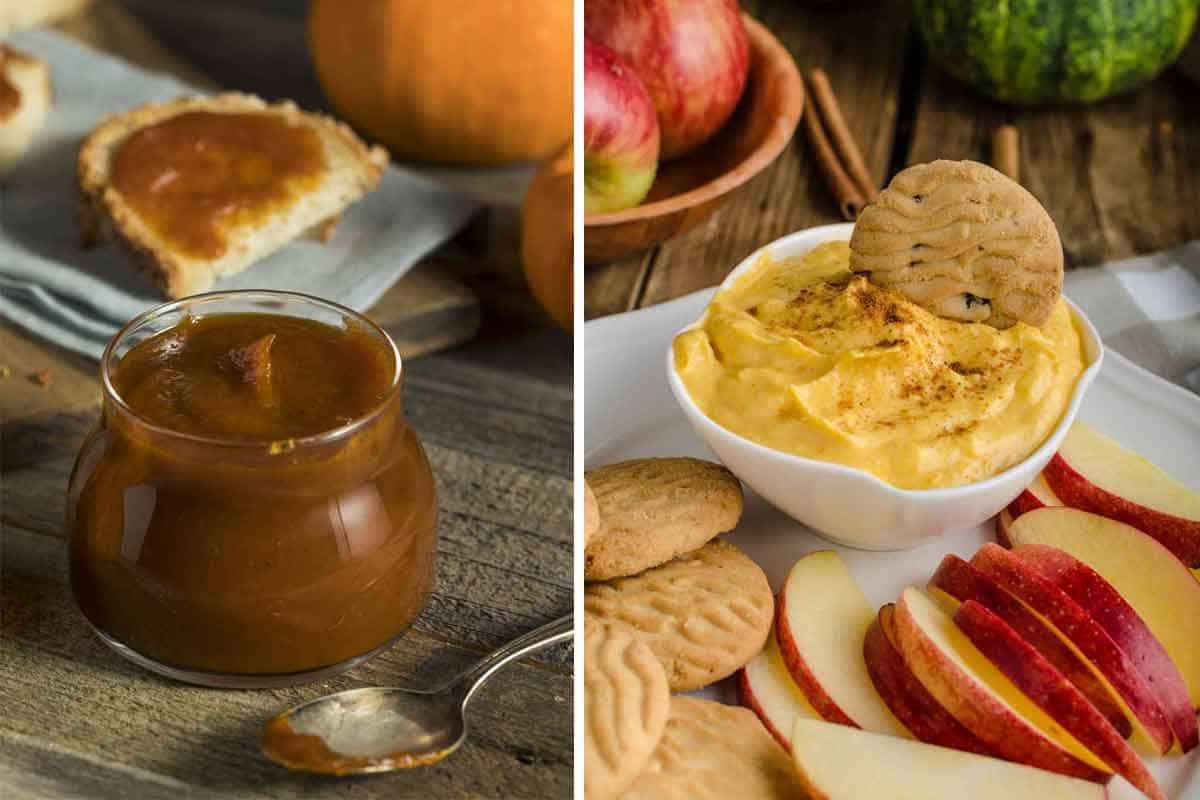 Pumpkin butter is a fat-free spread for rolls, biscuits, and scones. It is straightforward to make with pumpkin puree, apple juice, and pumpkin pie spices.
Simply cook until it thickens to a spreadable consistency. You don't want it runny.
Give it a try!
Dunk Crackers in Pumpkin Dip
Another use for pumpkin puree is a pumpkin dip. Usually, the puree is blended with softened cream cheese and spices.
You can make a sweet or spicy pumpkin dip. Make a charcuterie board with the pumpkin dip as the centerpiece. Or use a bowl of savory dip on a vegetable tray. Get recipe.
Eat Pumpkin Yogurt
Silky smooth, pumpkin spice yogurt makes an excellent breakfast or afternoon snack. For best results, use Greek yogurt and a little cream to keep the yogurt thick after you add the pureed pumpkin. Get recipe.
Cold Pumpkin Desserts
Baked goods are usually warm or room temperature. But what about all the delicious cold pumpkin desserts you can make.
Think pumpkin parfait, pudding, or cheesecake. Each one is served chilled, making the treat stand apart from other pumpkin treats.
---
I hope you enjoy this arsenal of suggestions for the best ways to eat pumpkin. Try a few, and you may get addicted to eating pumpkin in new and exciting ways.
Did you like this post? Then let's be social. FOLLOW ME on INSTAGRAM and PINTEREST to keep up with the latest tutorials, favorite recipes, and interesting happenings.