Get creative quick Sunday lunch ideas to bring the family together. Sliders, soup, salad, quesadillas, pasta, tacos, finger foods, sandwiches, and breakfast foods make the best Sunday lunches.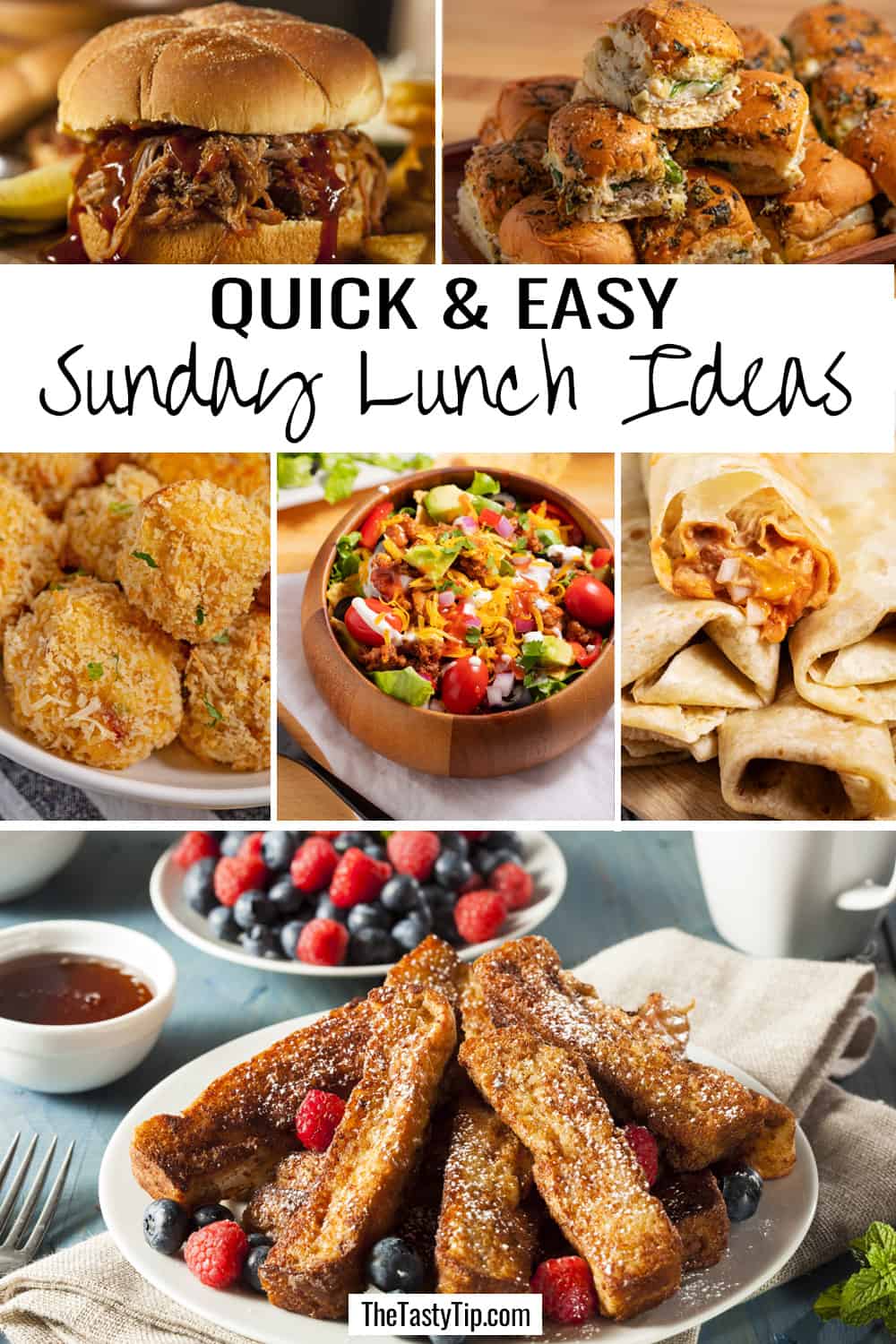 Sunday mornings can be busy. Church is in the morning. And when we get home, we are hunggggry. I needed some quick Sunday lunch ideas that were easy and tasty. A lunch meal to bring everyone around the kitchen table for some family time.
If you have a busy Sunday morning and need some quick Sunday lunch ideas too, you are in the right place. The best quick Sunday lunch ideas are sandwiches, soups, salads, pasta, and breakfast foods.
A few need early prep work, so the meal comes together quickly. All these lunch ideas are tried and tested family-approved meals. Sample a few and find your favorites.
Sliders, Quesadillas, Sandwiches, and Wraps
Any sandwichy-type food makes the best Sunday lunch. They are easy recipes with many variations to keep everyone happy. Best of all, they come together in under 30 minutes. (Even baked sliders.) And they are quicker if you prep everything early.
Pair with a side salad, chips, fries, or ambrosia salad.
Sliders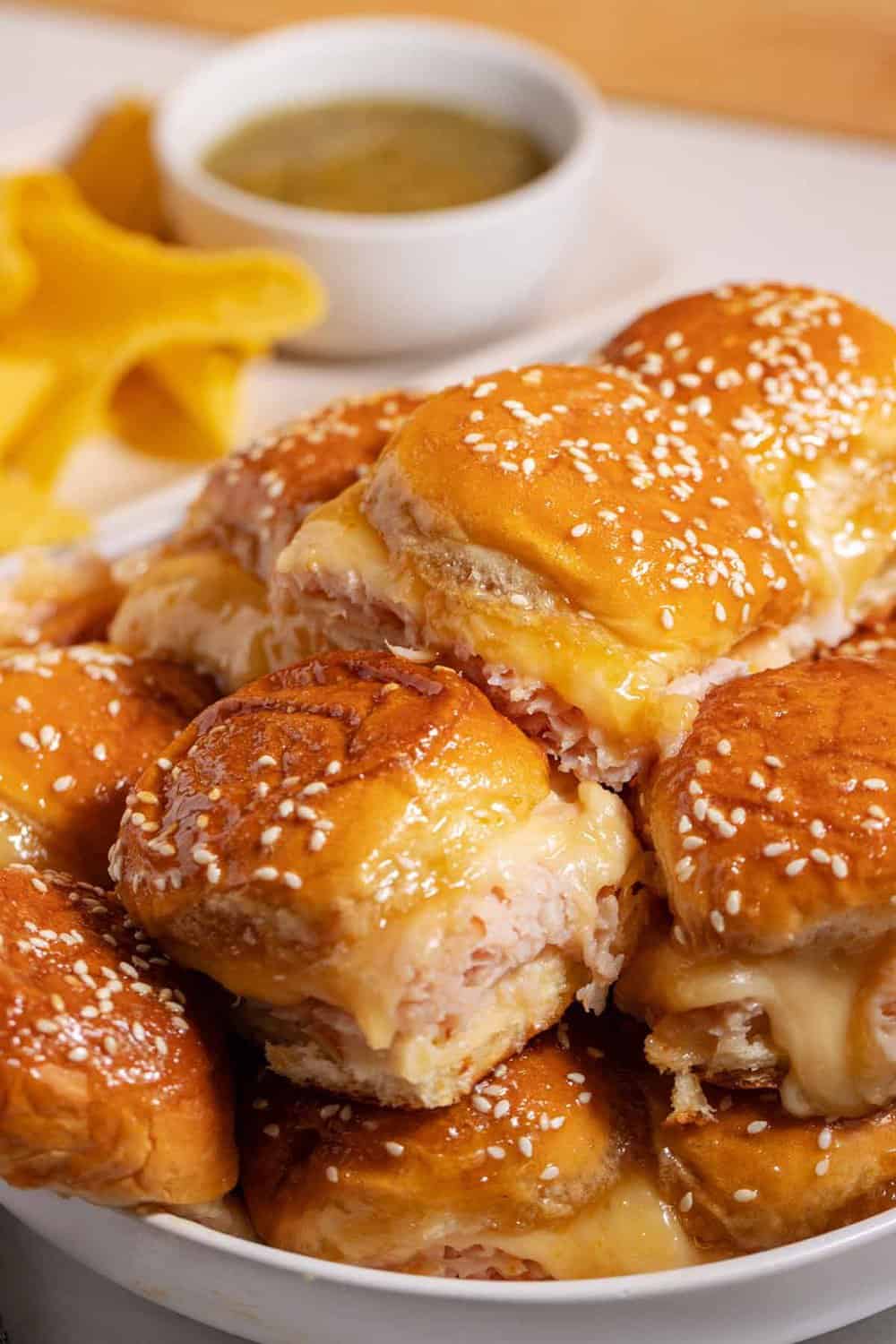 Turkey Sliders. Make easy baked turkey sliders recipe with a brown sugar mustard glaze. It is a tasty side dish, snack, or party food. Quick to whip up and easy to freeze. Simple to adapt to picky eaters. Try a turkey cranberry slider, spicy turkey slider, or veggie turkey slider.
Quesadillas
Spinach Quesadilla. Warm a few wheat flour tortillas in a skillet and fill them with spinach, cheese, crispy green onions, and ripe tomato slices. These beauties shine with a splash of sour cream.
Vegetarian Quesadilla. If you are eating a Sunday roast for dinner, try a vegetarian quesadilla for lunch. Black beans, sweet potatoes, onions, peppers, and cheese make a hearty filling for a quesadilla. Don't forget your delicious quesadilla dipping sauce.
Chicken Bacon Ranch Quesadilla. Chicken quesadillas? That's comfort food right there. Fill a flour tortilla with cubed sautéed chicken, crispy bacon, and cheddar. This one is even better with a bacon-ranch dipping sauce.
Taco Bell Quesadilla (copycat). Nothing is easier to throw together in a hurry than a cheesy quesadilla. Make one like Taco Bell's version with cheese and enchilada sauce.
Steak Quesadilla. There's no better lunch than a crispy flour tortilla stuffed with a thick-cut steak tossed with grilled onions and peppers. Add loads of Pepper Jack cheese, drizzle with sour cream, and serve with salsa.
Sandwiches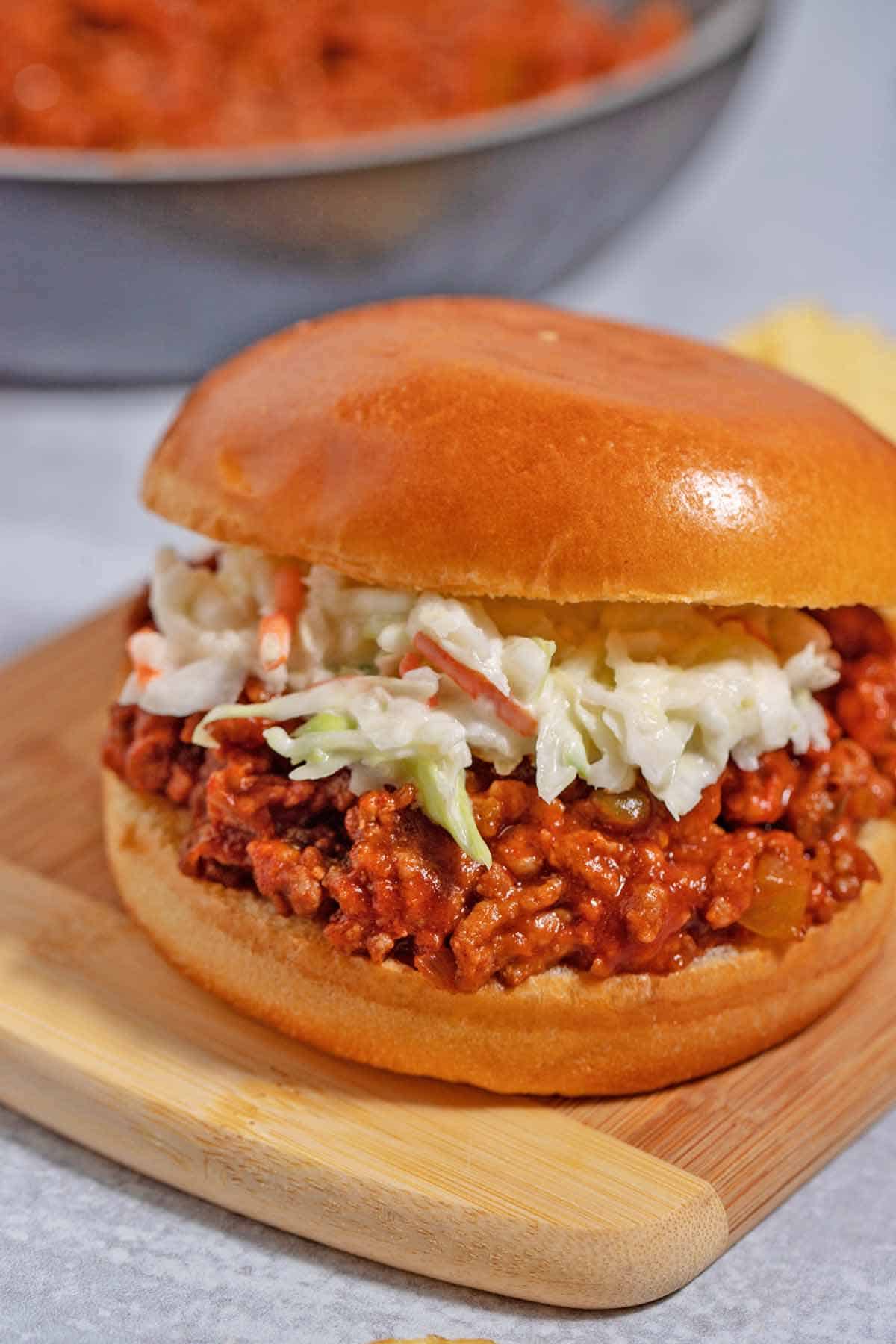 Turkey Melt. A turkey melt gives a sparkle to an ordinary deli meat sandwich. Use sourdough bread, turkey, and provolone cheese. Want to make it extraordinary? Yep, bacon. You knew it was coming, right? Grill the sandwich on a skillet or in a panini press.
Chicken Parm Sandwich. It doesn't get any better than this sandwich. A golden, grilled chicken breast coated with grated Parmesan and vibrant marinara sauce — all in a crusty Italian sandwich roll.
Italian Sausage Sandwich. If life gives you sausages, make yourself a sandwich! This one comes with grilled onions and bell peppers, lots of mozzarella, and pizza sauce. All tucked tightly in a sandwich bun.
Copycat Subway Tuna Sandwich. Grab a hoagie bun and your favorite tuna to make a copycat Subway tuna sandwich. Sometimes the bun makes all the difference.
Chicken Salad Sandwich. You made perfect roast chicken for Saturday night. Now use the leftovers. Throw together a chicken salad recipe with grapes. Yum. Serve the filling on a light crescent roll or multi-grain bread.
Roast Beef Sandwich. Deli roast beef has never tasted better. Make yourself a rye bread roast beef sandwich with tangy sauerkraut, horseradish sauce, a dab of Dijon, and plenty of Swiss cheese.
Buffalo Chicken Sandwich. Toss shredded chicken with Buffalo sauce and ranch for a spicy chicken sandwich like no other. Mozzarella and crispy shredded cabbage elevate this one to deliciously new heights.
Leftover Meatloaf Sandwich. When you have meatloaf from last night, make a sandwich with the remains. Slice it and warm it. Then layer it on buttered bread with ketchup, pickles, and cheese. Finally, grill it until the bread is toasty.
Avocado Toast. Light, but filling. Avocado toast is healthy and quick to put together. Smashed or sliced avocado and peppy seasonings make this a healthy Sunday lunch idea.
Bruschetta. Toasted bread, mozzarella cheese, fresh tomatoes, and basil make this dish an appetizing treat. Speedy to throw together for a quick Sunday lunch.
Crispy Chicken Wraps. Turn crispy chicken into a whole meal inside a tortilla wrap, along with lettuce, tomatoes, and grilled onions. Ranch makes this one heavenly good.
Fast Sunday Breakfast for Lunch Suggestions
We just love breakfast for lunch and all brunchy food. The best place to start is waffles. They make quick lunch ideas (and good Sunday dinner ideas too).
Pancakes, crepes, and breakfast sandwiches also have their place at lunchtime.
Try a few of these delicious recipes.
Waffles for Lunch
Banana Waffles. If you've never combined waffle batter and mashed bananas, be prepared for the tastiest waffles with a lovely tropical feel. They're creamy and tender as well! Perfect for Sunday afternoons spending quality time with your family.
Strawberry Waffles. Top your waffles with strawberries and whipped cream for a restaurant-quality lunch as pretty as it is satisfying. This one's even better in summer with a scoop of ice cream. Yum!
French Toast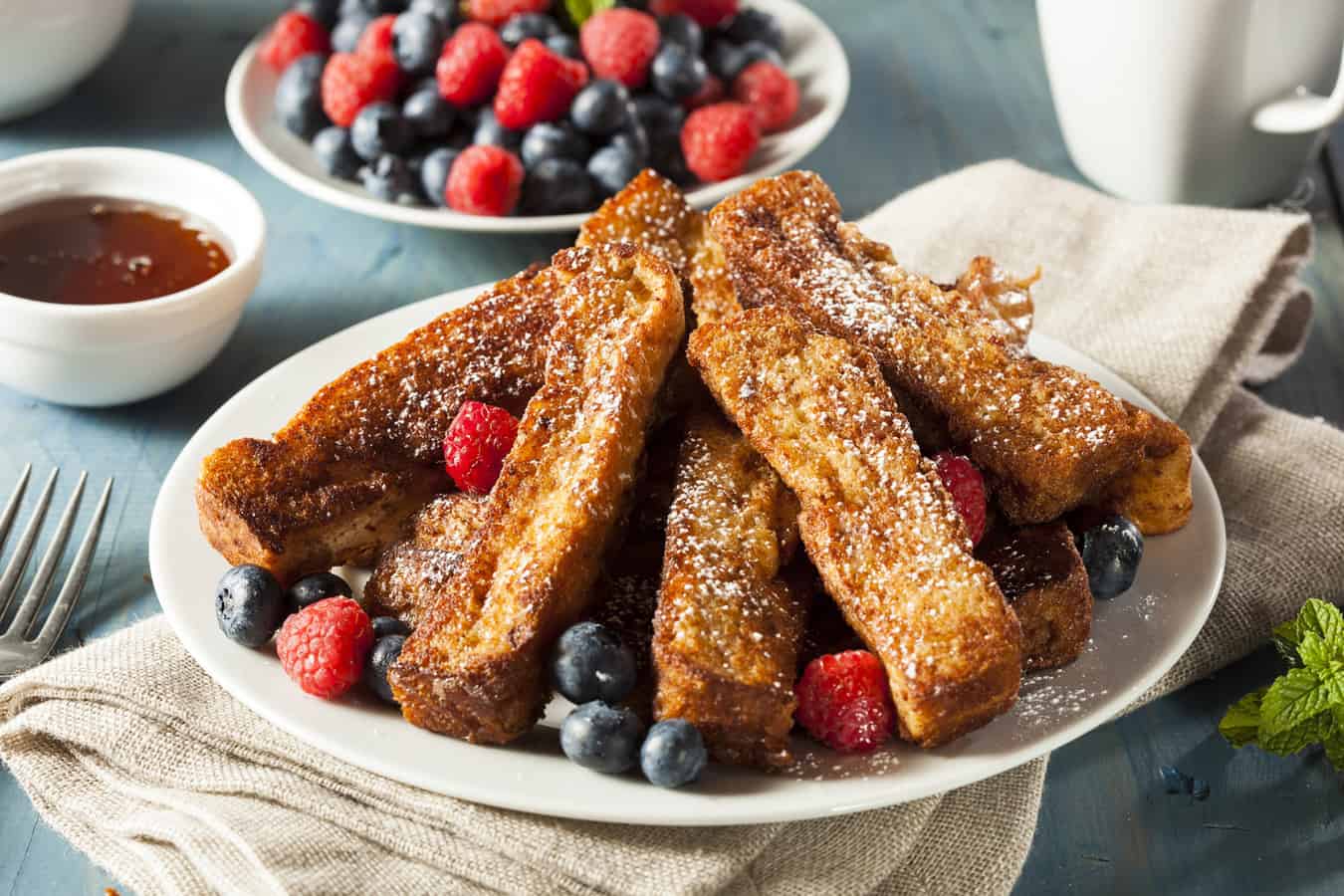 Start with brioche bread for a tasty French toast recipe. Slice the bread, dip, and cook. Sprinkle with powdered sugar and serve with fresh berries.
Pancakes
Out of eggs? Make these pancakes with applesauce or mashed bananas. Healthy, delicious pancakes ready to go in a jiffy.
Chocolate Pancakes. Think of pancake mix as a white canvas! In this case, why not take it to the next level with cocoa powder, brown sugar, and chocolate milk? Yes, chocolate pancakes are as tasty as they sound.
Instant Pot Egg Bites
Eggs become extraordinary when mixed with creamy cottage cheese, cheddar, and crispy bacon. The combination is pure magic!
More Egg Recipes
Ham and Cheese Omelet. Do you need quick and easy? Make yourself a tender omelet with deli ham and cheddar. Beauty in simplicity right here.
Instant Pot Omelet. Mix eggs, cheese, bacon crumbles, and milk together. Pour it into a greased dish and pressure cook it for 15 minutes. Delicious omelet coming right up.
Spinach Bacon Quiche. Spinach, bacon, and eggs cooked in a refrigerated pie crust. It takes a while to bake. But if you bake it the night before, this is an excellent lunch to reheat quickly.
Healthy Breakfast Pizza
Try spinach, tomatoes, eggs, and bacon as toppings on crescent rolls for a healthy breakfast pizza. Comes together in a flash. Healthy breakfast pizza is about to become the most important meal of the day.
Fruit Crepes
Bananas, strawberries, peaches, raspberries. They all are excellent fillings for fruit crepes. Cook up a fresh crepe, make a cream cheese filling, and add your favorite chopped fruit. Dust with powdered sugar, and you have a crave-worthy lunch.
More Crepe Ideas
Chicken Crepes. Savory crepes make a wonderful lunch. Fill your crepes with chicken, spinach, sliced mushrooms, and a fistful of mozzarella. Then drizzle with a creamy Bechamel sauce. This one's fancy.
Vegetarian Breakfast Sandwich
Vegetarian doesn't mean bland. Turn a buttery croissant with scrambled eggs, spinach, tomatoes, and refreshing sprouts into a lunch that just feels right. And what mom doesn't love sneaking in those extra veggies!
Try pancake mix biscuits with your next breakfast sandwich.
More Breakfast Sandwiches
Jimmy Dean Breakfast Sandwich in Oven. You don't always need to start from scratch. Buy premade sausage breakfast sandwiches and warm them up in the oven. You will even have time to make a chopped salad while the sandwiches bake.
Healthy Breakfast Burrito
Scrambled eggs, shredded potatoes, and spinach. A healthy breakfast burrito for lunch is effortless and so tasty. Especially with a delicious salsa.
Salads
A salad can be more than a bowl of boring lettuce. Add some meat, try it with pasta, or go completely vegan. Salad add-ins transform a salad into a full meal.
A salad is healthy, but it can also be customized with toppings. Every salad you make can be a new experience.
Best of all, when you make a salad ahead of time, it truly becomes a quick Sunday lunch idea. Just wash up and gather 'round the dinner table.
Try these sensational salads.
Taco Salad with Catalina Dressing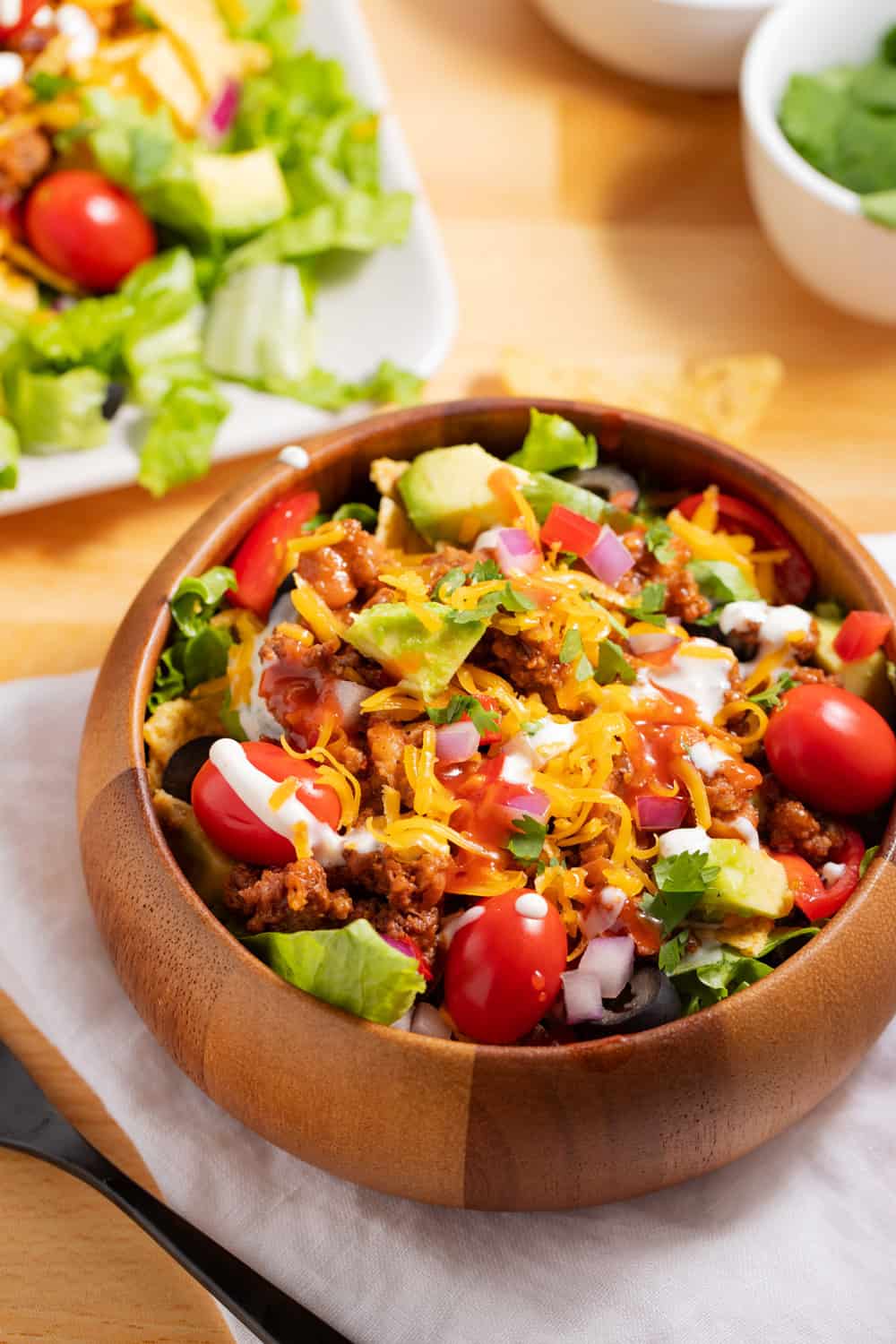 Doritos hide salad veggies in plain sight in this hearty salad recipe with Catalina dressing. It's like a sweet, spicy, savory dish of tacos. Quick, throw together lunch on a lazy Sunday afternoon.
Quinoa and Black Bean Salad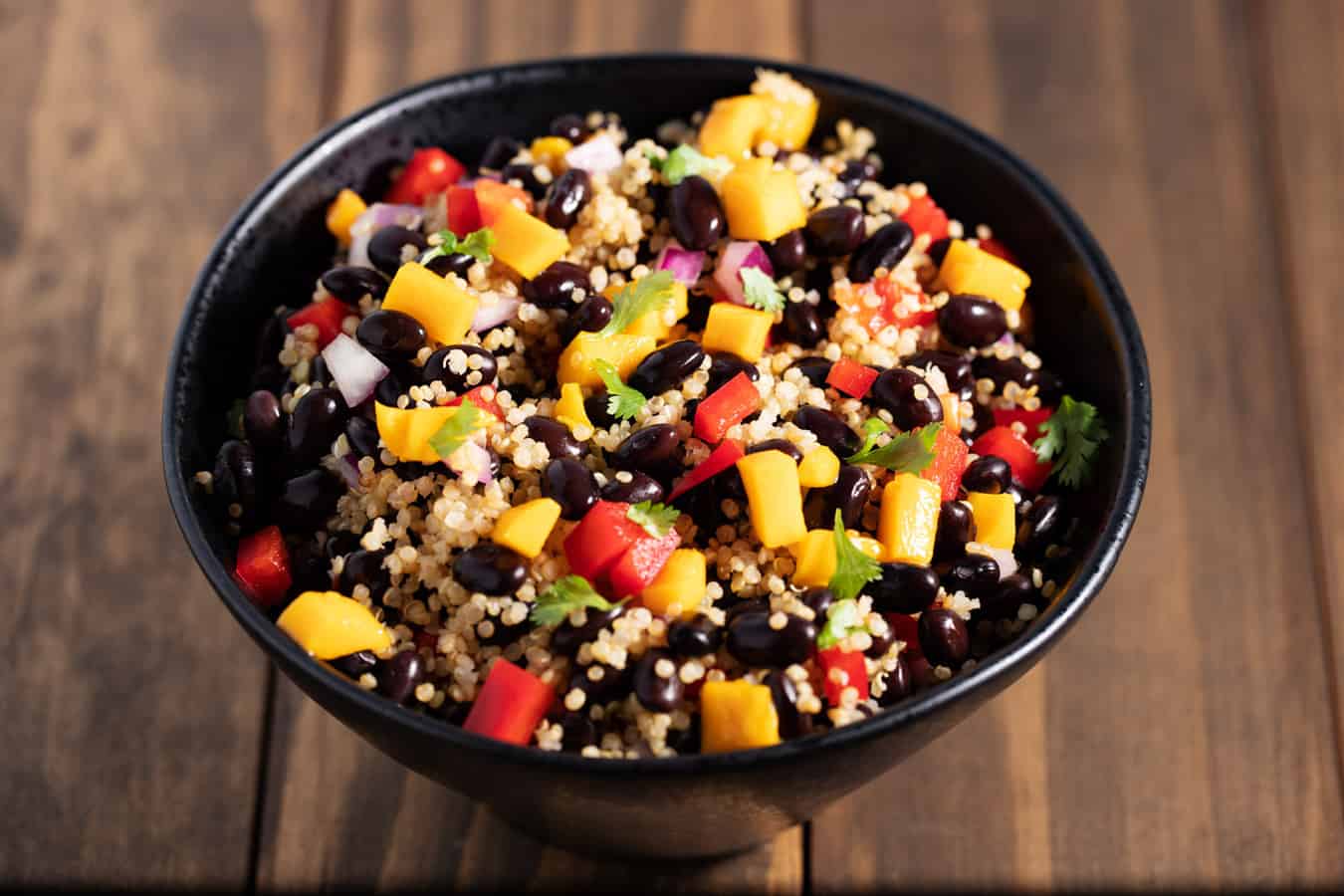 Healthy, hearty, and utterly satisfying. If you haven't tried South American quinoa, you've been missing out! Especially if combined with black beans, peppers, tomatoes, black olives, and crumbly queso fresco. Drizzle with fresh lemon juice, and you will be in heaven.
Mango Avocado Salad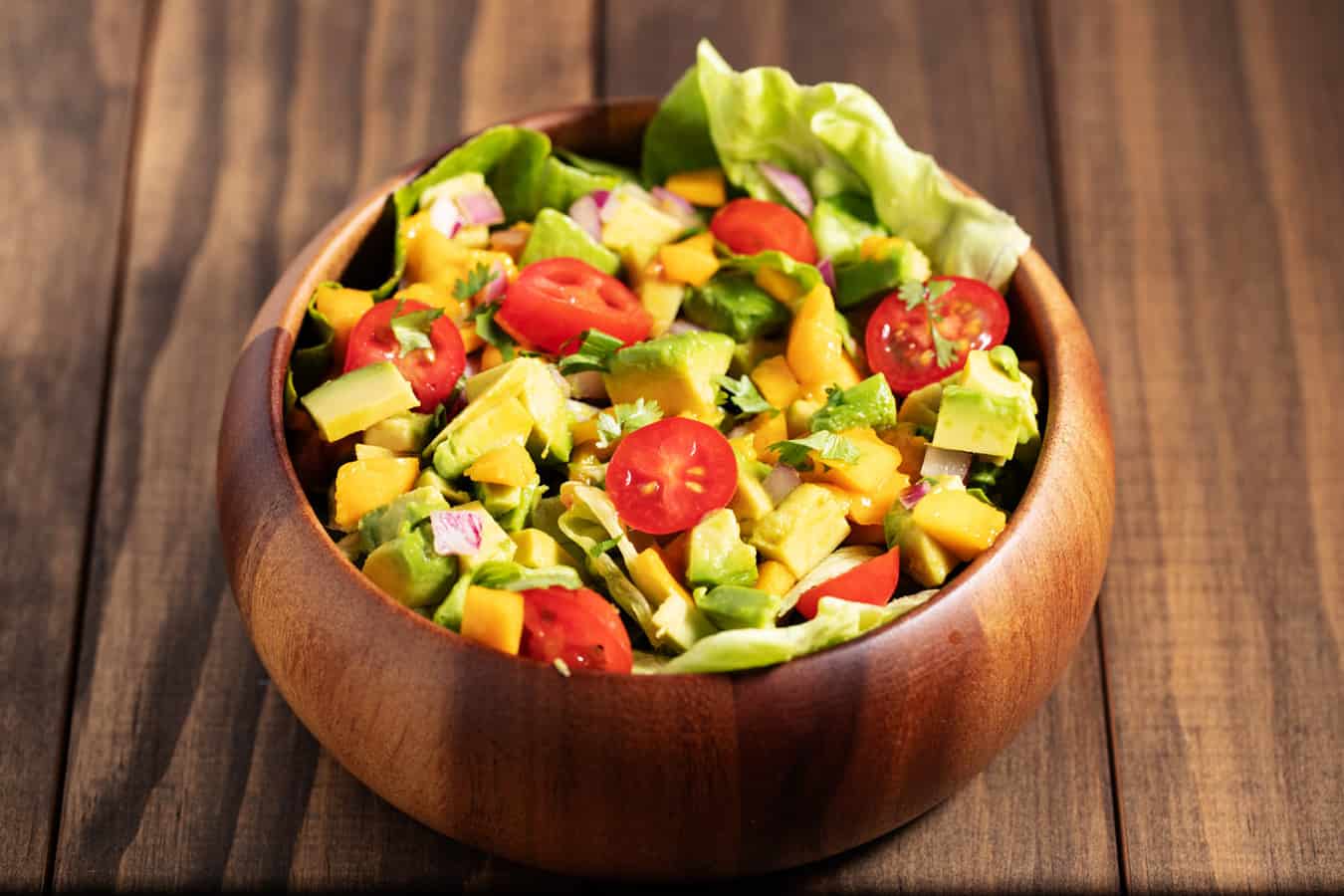 The ultimate combination. Mangoes and avocados are a match made in heaven. They come to life together with goat cheese, crunchy toasted almonds, green onions, and chunky pico de gallo.
Instant Pot Chicken Salad with Grapes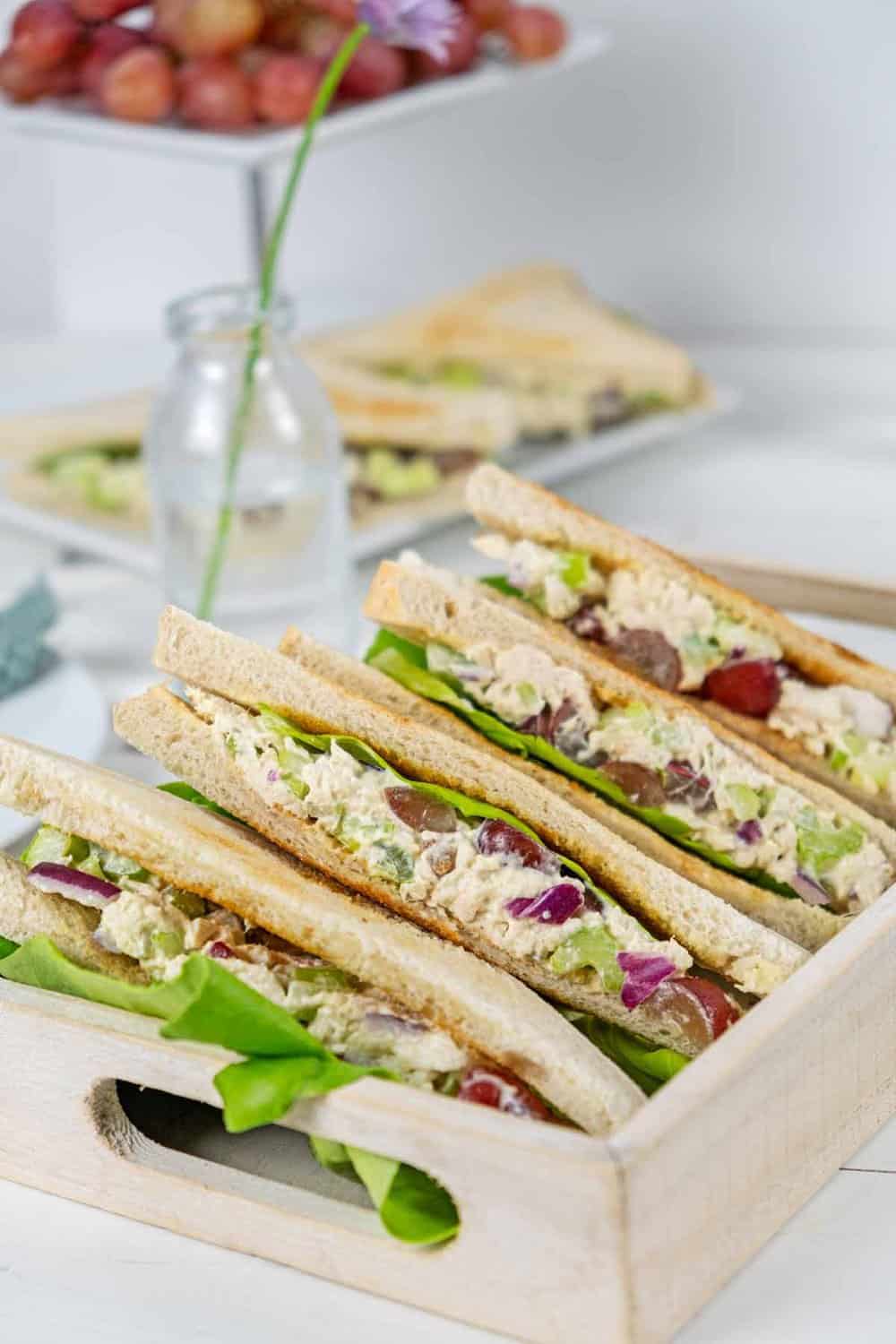 Use your Instant Pot to make a quick easy chicken salad recipe with grapes. Avoid overcooked dry chicken with 5 crucial pressure cooker tips for cooking chicken.
Antipasto Pasta Salad
Toss fusilli with silky artichoke hearts, roasted bell peppers, green olives, and red onion for a dreamy salad. Add some savory meatiness with bacon and mini pepperoni!
More Pasta Salad Ideas
Hawaiian Macaroni Salad. What an easy pasta salad! Elbow macaroni, green onions, shredded carrots, and celery. You will love the zesty flavors in the creamy, tangy dressing made with red wine vinegar and olive oil. If you need to bulk the salad, add pineapple and leftover chicken.
Tortellini Pasta Salad. Stuffed pasta in your salad? Of course! Cheese tortellini tossed with bell peppers, spinach, and feta are a fantastic combo. Spice things up with jalapeño peppers and a tangy vinaigrette for extra flavor.
Italian Pasta Salad with Pepperoni. Tender corkscrew pasta comes to life with juicy grape tomatoes, red onion, mozzarella balls, and delicious mini pepperoni. Toss everything with Italian dressing and enjoy a genuinely colorful and vibrant salad.
Classic Egg Salad
Chop hard-boiled eggs and add mayo, mustard, and relish. Eat a classic egg salad sandwich on toast, a crescent roll, or sourdough bread.
Cornbread Salad Recipe without Beans
Leftover cornbread makes a great lunch salad. Crumble the dry cornbread. Then add corn, diced bell peppers, chopped tomatoes, cucumbers, and sliced avocados. Don't forget the crispy bacon. Make your own ranch dressing with sour cream. Mix, garnish, and serve.
Southwest Chicken Salad
Looking for a way to use up leftover chicken thighs? Cut them in pieces to make southwest chicken salad. Make a bed of lettuce and top with chicken, corn, black beans, and tortilla strips. Finish it off with a spicy chipotle ranch dressing.
More Salad Ideas
Club Salad. You will love how easy it is to throw together a club salad. Make a bed of greens. Then slice your favorite deli meat. Try turkey, ham, and salami. Shred some cheese and drizzle on some ranch dressing. Finally, top with croutons, and you are ready to go.
Tacos, Burritos, and Nachos
It is always taco time. Sunday lunch is no exception. I might really have a problem with someone who didn't like tacos.
The best thing about tacos and burritos is that the entire family makes their own taco with your fillings. No complaining about not liking this or that. Everyone adds what they want.
Rolled Chicken or Beef Tacos
Rolled and baked chicken tacos are tasty dipped in guacamole or salsa. Flavorful, juicy chicken makes all the difference in this recipe.
These take about 30 minutes to bake. It is best to prep in the morning, so it is ready to bake just before lunch.
More Taco Ideas
Instant Pot Ground Beef Tacos. Tacos are a fast and easy lunch idea, especially if made with instant-pot ground beef. Stuff your taco shells with meat, lettuce, cheese, tomatoes, and green onions. Of course, you must also drizzle them with tangy sour cream for the real deal!
Leftover Pot Roast Tacos. Pot roast isn't just for Sunday suppers. Make it Saturday night so you have leftovers for a quick Sunday lunch. It is easy to heat a leftover pot roast while you prep the other taco fillings. Quick, tasty, filling.
Burritos
A burrito for lunch? Yes! Homemade tortillas or store-bought -- doesn't matter. Roll up a burrito, warm it, toast it, or smother it. No lunch complaining here.
Copycat Taco Bell Burrito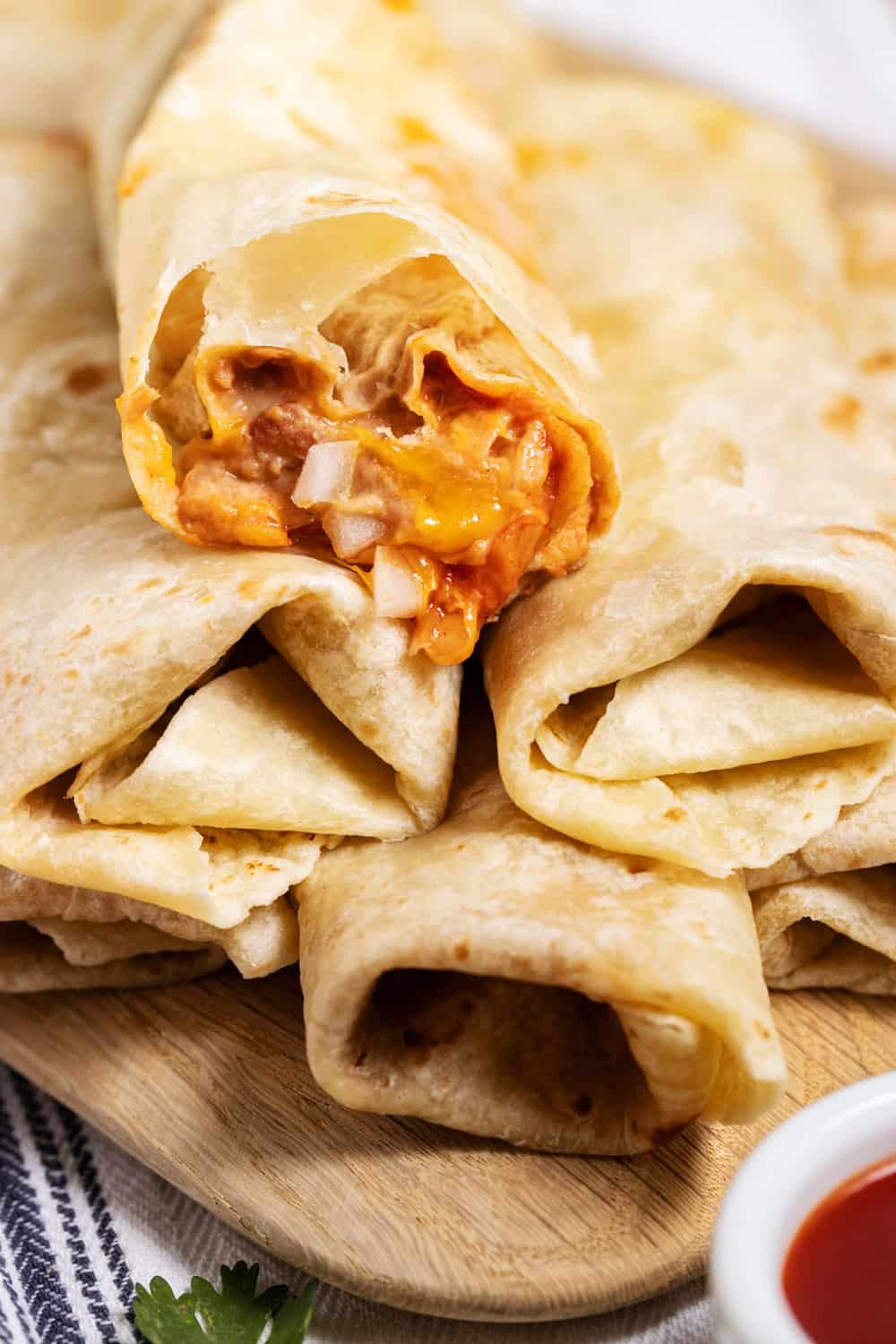 Turn to this 5-ingredient copycat Taco Bell bean burrito recipe when you need a quick, no-fuss burrito. Fill, roll, and dip in taco sauce.
More Burritos for Sunday Lunch
California Burrito Recipe with Fries. Make an authentic California burrito recipe with juicy carne asada, crispy French fries, homemade pico de gallo, guacamole, and sour cream.

Leftovers? No problem. Choose your favorite way to reheat leftover burritos.
Chicken Burrito Bowl. Layer seasoned rice, black beans, and chicken in a bowl. Top with tomatoes, cheese, and sour cream. No tortilla required.

Make sure the rice, beans, and chicken are already made for a quick lunch. Otherwise, open a can of beans, Costco canned chicken, and ready rice in a pouch.

Check out my post on what to serve with burritos. Tons of ideas to choose from.
Ultimate Nachos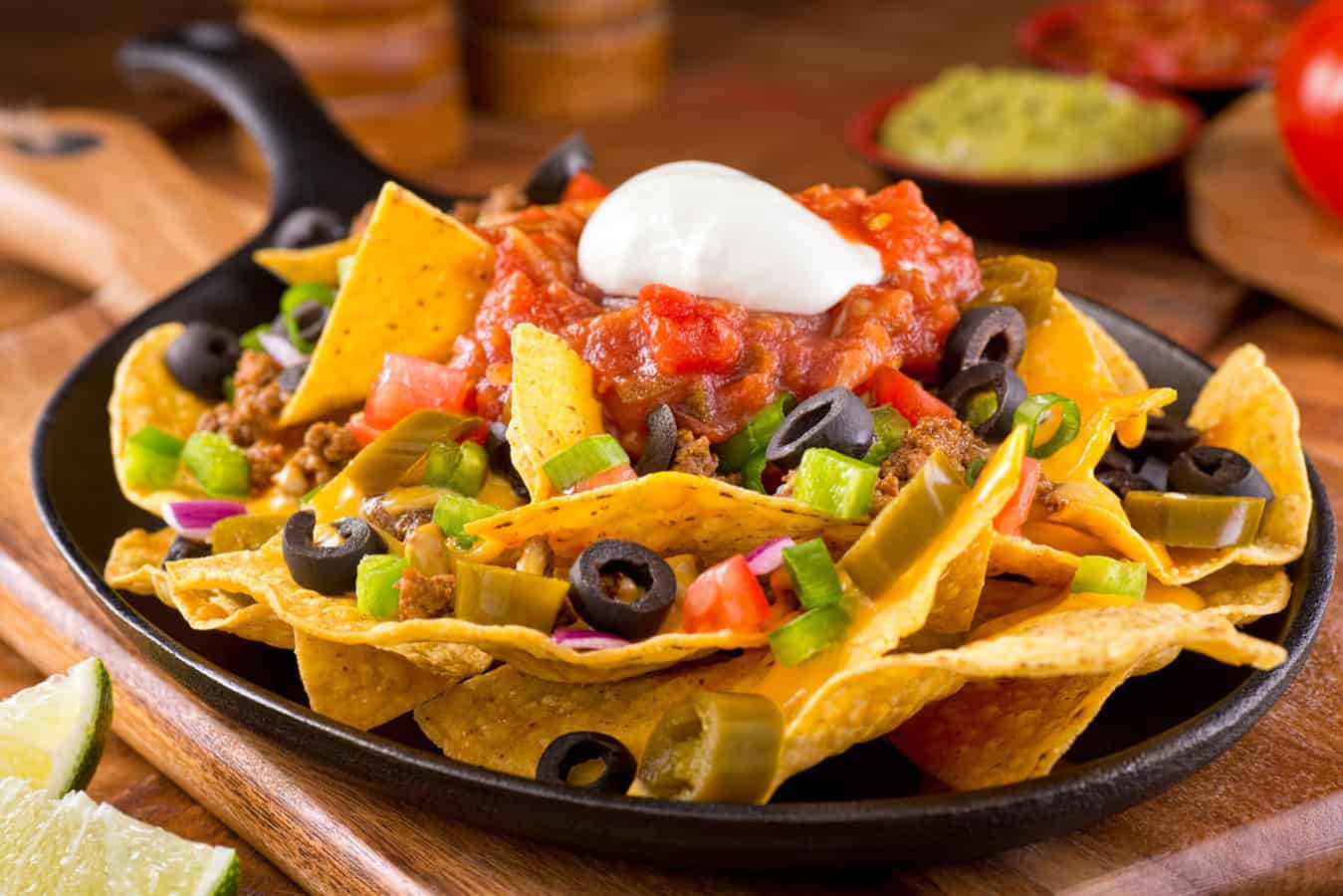 Nachos are easy to make with seasoned ground beef, beans, and all your toppings. Spread a layer of meat and beans on hefty tortilla chips. Drizzle nacho cheese sauce, and then top with everything you love in nachos. (Tomatoes, onions, jalapenos, olives, corn, cilantro, salsa, etc.)
7 Layer Dip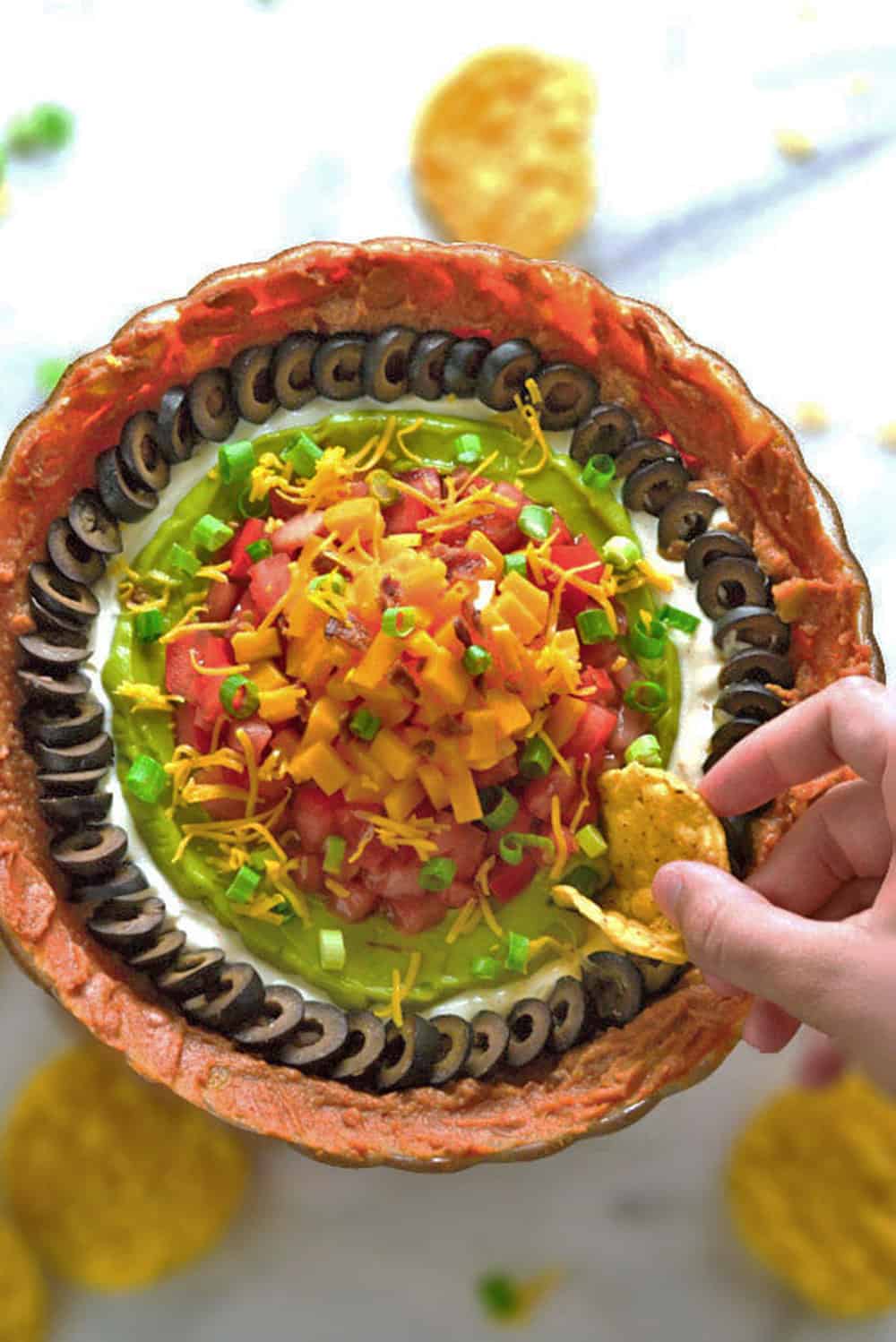 Nothing is quicker to whip up or more delicious to eat in a group. It feels like party food, but it is hearty enough for lunch. Layer refried beans, guacamole, sour cream, tomatoes, olives, green onions, and cheese.
Eat with tortilla chips. Or make a 7-layer dip wrap with a tortilla.
Quick Sunday Lunch Ideas with Pasta
We have talked carbs, but not pasta yet. So many pasta dishes to make, so little time. Sunday lunch is the best time to try out new recipes with pasta.
The best thing about pasta is how quickly it comes together and the simple ingredients it requires.
Pair it with breadsticks, salad, or fruit.
Baked Mac and Cheese Bites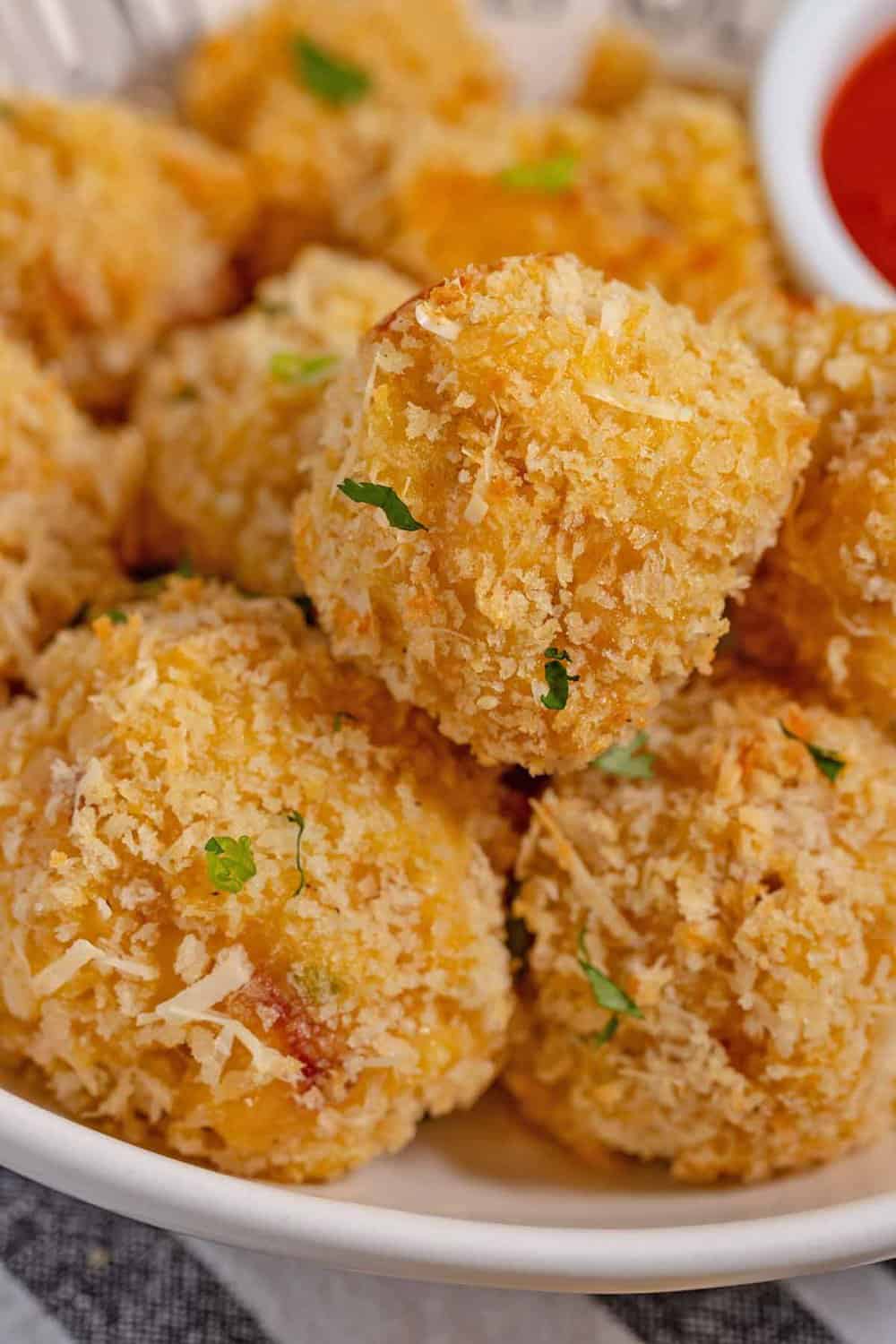 Once you try these baked mac and cheese bites, you won't want to eat regular M&C ever again. Macaroni elbow pasta, cheesy cream sauce, panko breadcrumbs, and bacon combine for the cheesiest one-biters.
Instant Pot Mac and Cheese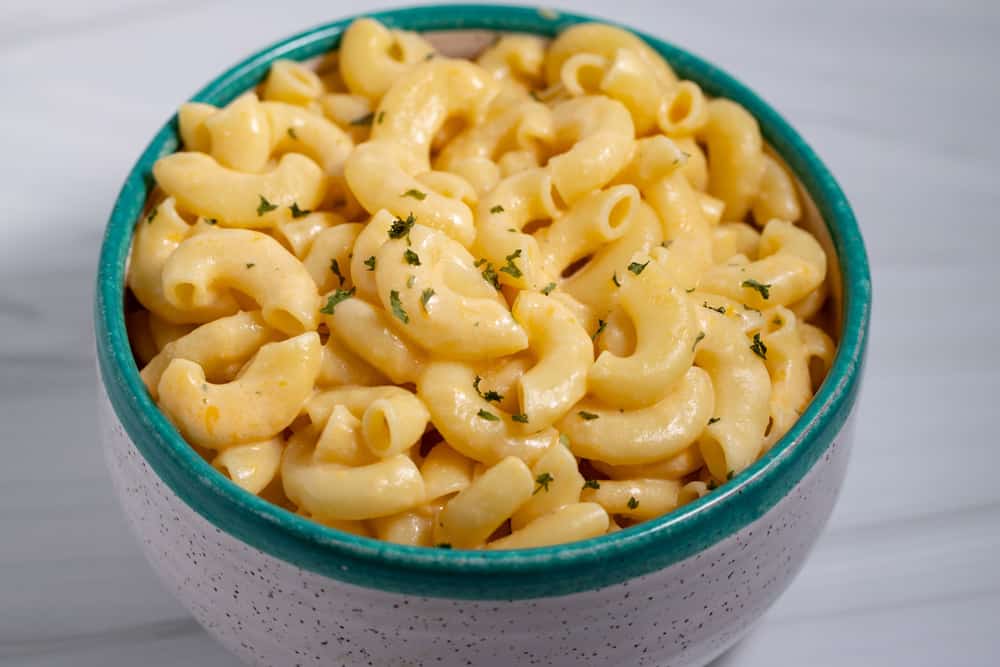 Yes, mac and cheese has become easier and tastier! This instant-pot version of the classic dish calls for macaroni, evaporated milk, cheddar, and gruyere for a rich sauce with extra creaminess. Talking about easy lunch ideas, right?
More Pasta Lunch Ideas
Instant Pot Lazy Lasagna. This is a recipe to throw together in the morning before you leave for church. It takes 45 minutes to cook, but it will be ready in an instant when you get home.
Skillet Macaroni and Beef. This wholesome meal calls for ground beef, macaroni, tomato sauce, onions, and lots of cheddar. What could go wrong? This one's a charmer! An authentic skillet meal to quench your most ferocious cravings.
Speedy Italian Lunch Suggestions
Nothing says exciting lunch like pizza and calzones. Quick Sunday lunch ideas can include pizza if you prep the dough and ingredients early. Then just bake and eat in under 30 minutes.
Spinach Calzone
Make a healthier calzone with spinach, mozzarella, and onions. Simple, delicious, and addicting.
More Quick Italian Lunch Ideas
Pizza Roll Appetizers. Use refrigerated pizza crust and all your favorite pizza toppings. Roll it into a tight log, cut it into slices, and bake. Quick, delicious, and cheesy.
Meatlovers Pizza. Use a premade crust and top with pepperoni, sausage, bacon, salami, Canadian bacon, and plenty of cheese. It will only take 15 to 20 minutes to melt the cheese. Then your pizza is ready to go.
Cauliflower Pizza Bites. Use frozen cauliflower rice, mozzarella, Parmesan, and eggs to make this fun finger food. It is healthy and quick to throw together. Don't forget your dipping sauce.
Cheese Calzone. Try a three-cheese calzone with mozzarella, Parmesan, and ricotta. Save time by using premade pizza dough.
Bagel Bites. If you don't want to cook from scratch, cook some frozen bagel bites. Easy to heat. Quick to disappear.
Pizza Bites. Throw together mini pizza muffins quickly. This family favorite has mini pepperoni, crumbled sausage, and mozzarella cheese. Make the batter in the morning and throw them in the oven right before lunch. They don't take a long time to bake.
Italian Calzone. Pepperoni, salami, sausage, and basil come together in a crave-worthy Italian calzone. This is the calzone that started it all.
Quick Meaty Lunch Ideas
Sometimes you need some heft to your lunch. These meaty protein ideas are just the thing.
Air Fryer Fish Sticks and Fries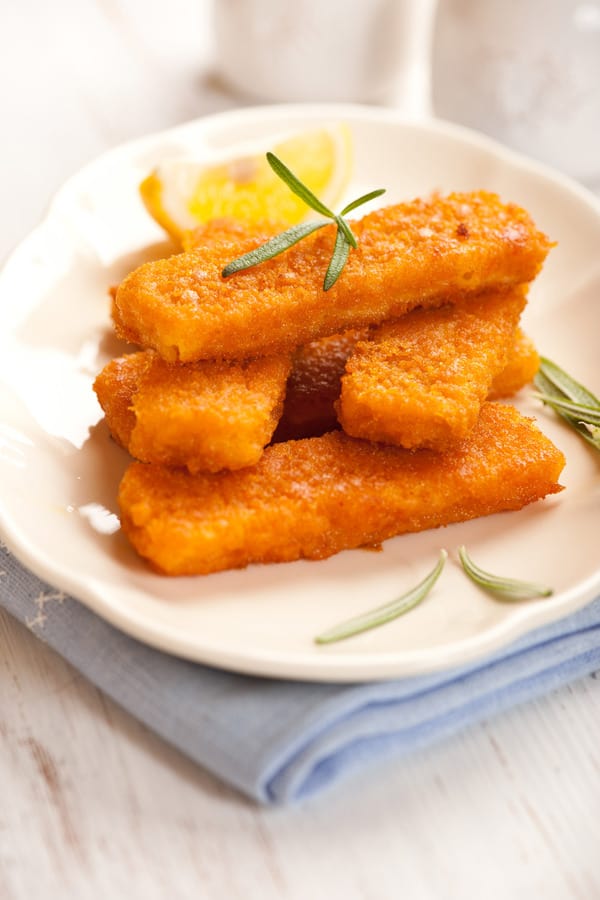 Use the air fryer to crisp up your fish sticks and fries (or sweet potato fries). Plenty of crispy with no extra oil. The whole family will appreciate this good meal at lunch, not just dinner time.
More Meaty Lunch Ideas
Frozen Chicken Nuggets & Tots. Bring out the kid in everyone by serving frozen chicken nuggets and tots. Don't be surprised if this becomes one of your most popular quick Sunday lunch ideas.
Brats in the Oven. Too cold outside to use the grill? No problem. Cook juicy mouthwatering bratwursts in the oven in just 15 minutes. That is just enough time to gather your mustard, sauerkraut, and pickles. Set the table, and the brats are done.
Oven-Cooked Hamburgers. Need to cook for a crowd? Or just some hungry teens? Then cooking hamburgers in the oven is the way to go. It's one of those sheet pan dinners that are perfect for lunch.

Burgers will be done in under 30 minutes and ready to serve. Flip the burgers over halfway through. And add cheese if you want.

This juicy burger is not for the faint of heart. You can go for meatless Monday tomorrow.
KFC Bowl. Make your own copycat KFC bowl with crunchy popcorn chicken, mashed potatoes, sweet corn, and gravy! This is a best seller for a reason.
Chicken Skewers. These beauties are oven-roasted, not grilled, so the chicken is extra tender! Add red peppers, squash, and pineapple for colorful skewers. You'll love the honey mustard glaze, by the way.
Black Bean Burger. These burgers are meaty, but they have no meat! Instead, make your patties with mashed black beans, panko breadcrumbs, and spices. Together with feta, garlic, and jalapeño, this is a burger hard to forget.
Savory Pies
Easy Shepherd's Pie (with instant mashed potatoes)
Everyone likes a hot filling lunch every once in a while. To make a quick shepherd's pie, you need shortcuts. Try instant mashed potatoes and frozen vegetables to whip this dish up in a flash.
More Savory Pies for Lunch
Chicken Pot Pie with Crescent Rolls. When you need a warm, hearty meal, try chicken pot pie. Don't let it just be a Sunday dinner recipe. Bake it in 30 minutes for Sunday lunch. Use Costco canned chicken, frozen veggies, and crescent rolls to prep this pie in a hurry.
Upside Down Pizza Pot Pie. These single-serving pizza pot pies are charming and exquisitely familiar. Use crescent rolls, sausage crumbles, onions, peppers, and mushrooms. Then top them with pizza sauce and gooey mozzarella.
Copycat TGIF Potato Skins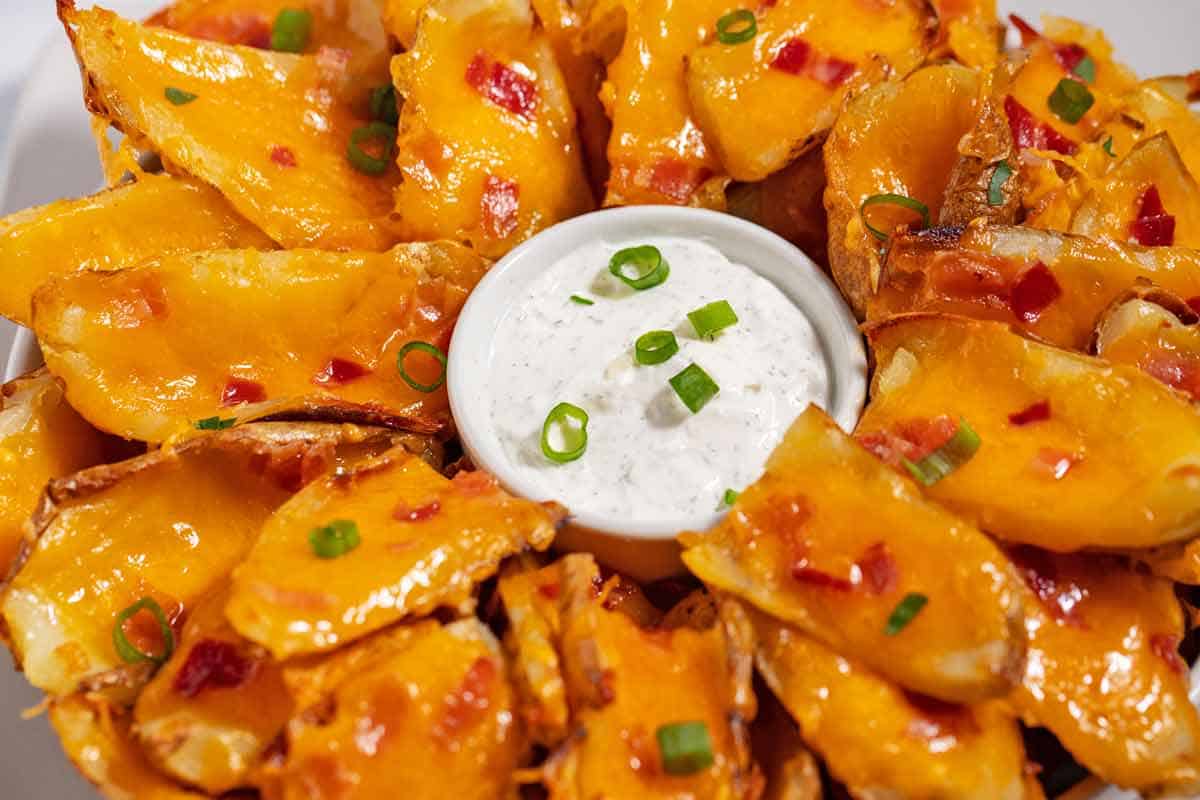 Change leftover potatoes into a crispy skin treat. Potato skins aren't just side dishes. Fill them with cheese and bacon. Then serve them with green onion sour cream dip for a satisfying lunch.
Soup
Homemade soup is the perfect Sunday lunch. Sure, you can open a can of soup. But the best soups are homemade. For a quick Sunday lunch, make the soup ahead of time in the crockpot or instant pot.
Pair soup with bread, salad, sandwiches, or sliders. Check out my post on what to serve with butternut squash soup. All the sides can be paired with any soup.
Taco Soup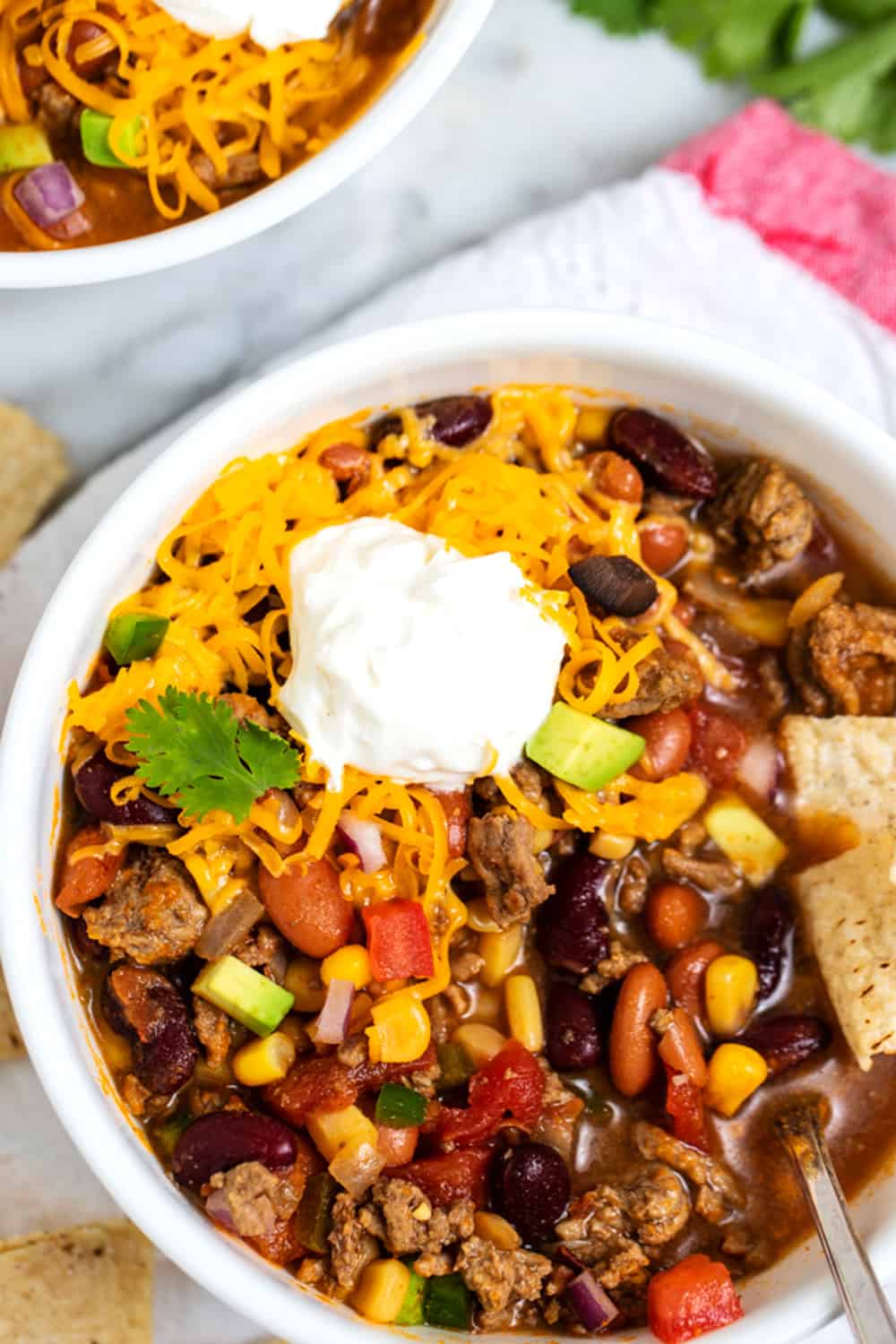 Slow cooker taco soup with ground beef is a perfect make-ahead meal. Features ground beef, 3 kinds of chiles, 2 kinds of beans, and fresh herbs and spices. You can put together a quick prep, easy meal on Sunday morning right before you head out the door.
More Soup Ideas
Cheeseburger Soup. The beefiest of soups, this combination of ground beef, onions, and jalapeños in a cheesy tomato-based broth is cheeseburgers reinvented. Throw in some tater tots and pickles, and let the feast begin!
Slow Cooker Sausage Tortellini Soup. Now, this is a hearty soup that takes you to Tuscany. Three-cheese tortellini, crumbled sausage, tomatoes, and cream cheese make this soup taste like home. Spinach brings extra color and nutrition to the rich soup.
Tomato Soup and Grilled Cheese. Creamy tomato and basil soup pair beautifully with a grilled cheese sandwich. It will remind you of the homemade lunch Mom used to make you when you were a kid. It comes together in a flash on Sunday, just before your hunger overwhelms you.
Butternut Squash Soup. Enjoy a rich, creamy butternut squash soup recipe with cream cheese and white beans. It is a cozy lunch, perfect for cool weather. Make it on the stove top, in an Instant Pot, or in a slow cooker.
Black Bean Soup. Mouthwatering vegan black bean soup made with roasted poblanos and tomatillos, corn, red onions, carrots, celery, and cilantro. It has as much flavor as a meaty soup. Throw it in the Instant pot for 15 minutes, and you are ready to blend and serve.
Vegetable Beef Soup. Combine tender vegetables and savory ground beef in a flavorful broth to get a mouthwatering vegetable soup with ground beef, packed with vitamins, minerals, and protein.

It is a main course for lunch or one of your back pocket easy dinner recipes.
Hopefully, these recipes have given you some quick Sunday lunch idea meal plans. Make Sunday lunch your favorite meal of the week.
Healthy Dinner Recipes
Now that lunch is covered, do you need some easy dinner ideas? Here are a few to get you started.
Chicken enchilada lasagna. Chicken, corn tortillas, and a fresh jalapeno salsa verde sauce. Take the extra time to make the sauce from scratch. You will be glad you did.
Cajun 15-Bean Soup with sausage, shrimp, and okra. Don't forget to soak the beans overnight. It only takes a few minutes of your time to start the soak. But it will be worth it when the beans cook quickly.
Cobb Salad. Chicken, bacon, and hard-boiled eggs on a bed of crisp greens make this salad unforgettable.
---
Did you like this post? Then let's be social. FOLLOW ME on PINTEREST and INSTAGRAM to keep up with the latest tutorials, favorite recipes, and interesting happenings.
---
Did you make this recipe? Tag @thetastytip on Instagram and hashtag it #thetastytip.